On a Friday morning, two years ago this month, an unexpected e-mail from SoundStage! publisher Doug Schneider appeared in my inbox. I say "unexpected" because, at the time, I barely knew Doug. We'd met a few times at such audio events as CEDIA and the Consumer Electronics Show, and I knew Doug by reputation, having been a regular reader of SoundStage! publications since the Network's launch, in 1995. We arranged to chat by phone.
In that conversation, Doug asked if I'd be interested in reviewing products for SoundStage! Simplifi. I was more than interested -- I was honored to be asked.
Still, I wondered if I'd be a good fit. Earlier that year, my wife and I had moved into a small Edwardian rowhouse in Toronto's West End. That meant that I no longer had a dedicated listening room, which would restrict the kinds of products I could review -- for most audio-review publications, a gig-killer. But, as Doug pointed out, for Simplifi it was an advantage. Simplifi is about "convenient, lifestyle-oriented hi-fi," and my setup fit that mandate to a T.
Since August 2018 I've reviewed 42 products for Simplifi, and discussed several more in my feature articles. To mark my second anniversary in this fantastic gig, I thought I'd pick my top ten Simplifi'd products of that period. Per Simplifi's mandate, all of these products make it possible to enjoy audiophile-quality sound in multipurpose living spaces.
I've included in this list only one product from any given brand. All prices are in US dollars.
10. KEF LSX Active Loudspeakers
If there's a smaller-footprint way to get true stereo sound than KEF's LSX active speakers ($1249.99/pair), I don't know about it. I'm not talking about fake stereo from a tabletop system, but the real thing.
Each LSX enclosure measures 9.5"H x 6.1"H x 7.1"D, and houses a UniQ coaxial driver with a 0.75" waveguided aluminum-dome tweeter at the acoustic center of a 4.5"magnesium-aluminum midrange-bass driver. The woofer is powered by a 70W class-D amp, the tweeter by a 30W class-D amp.
The LSX, cute as a button, is available in white, green, red, blue, or black. Units in all colors but white are covered on four sides with a matching fabric. White units have a high-gloss finish on all surfaces, and the driver is in complementary silver-gray. Red and blue units have drivers of the same color as the cabinet; the others have drivers of a complementary color.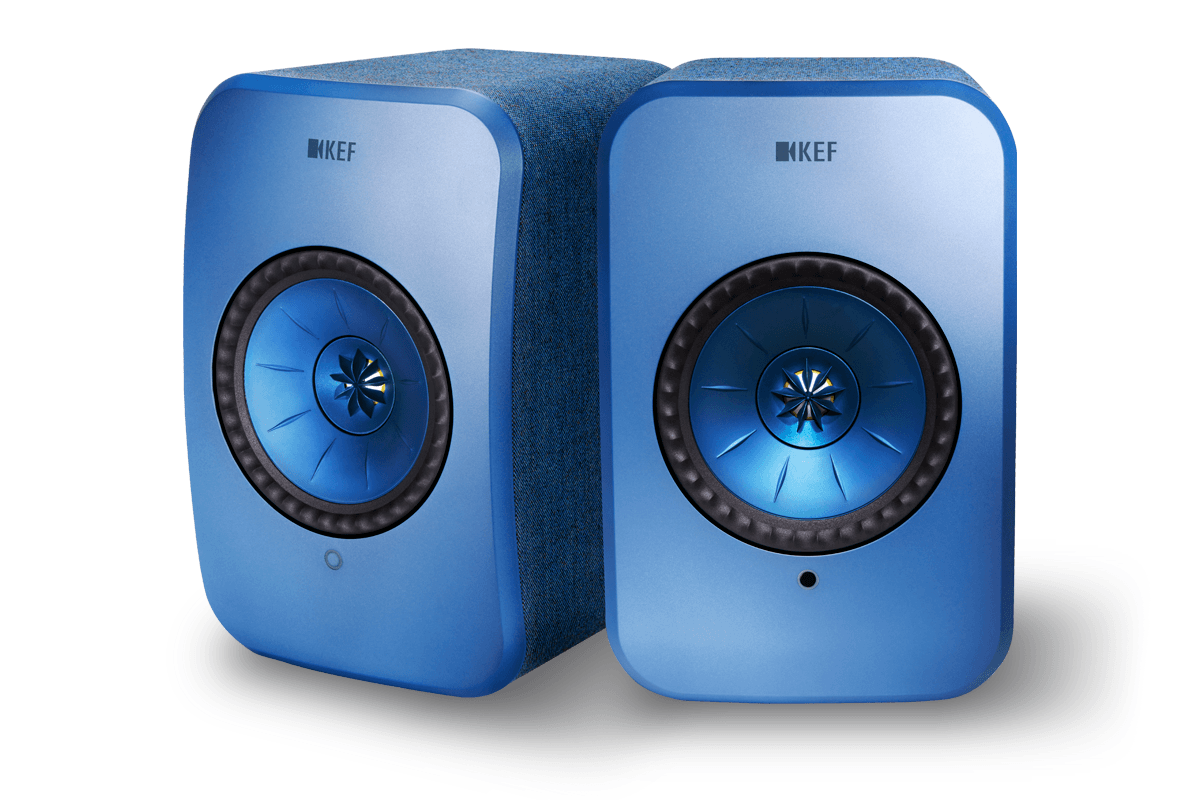 The system is entirely self-contained. If you want to just stream, you have everything you need. The LSX has built-in Wi-Fi and Bluetooth; it supports Apple AirPlay 2, Roon, and Spotify Connect, and its companion app has a client for Tidal. The app also includes useful options that let you tailor the LSX's sound to your listening environment.
If you want to connect other components, the right-channel speaker has optical S/PDIF and 3.5mm analog inputs, plus a subwoofer output. Inside the right speaker are the LSX's networking components and Music Integrity Engine, a digital signal processor. You can send digital to the left speaker wirelessly at 24-bit/48kHz resolution, or with a wired connection at 24/96. The LSX can accept audio streams up to 24/192.
In addition to implementing the digital crossover, the Music Integrity Engine performs such functions as dynamic equalization, phase correction, and distortion reduction. The result is that the LSX can play much louder and go much deeper than its small size would lead you to expect -- as my listening tests confirmed.
While the LSXes could sound a little congested when playing dense, bass-heavy music at high levels, they never sounded ugly doing so. Otherwise, the sound was wonderful. A pair of LSXes threw a huge soundstage with excellent spatial layering, and the timbres of voices and instruments were close to perfect. This is about as modern as hi-fi gets.
9. Totem Acoustic Kin Play Powered Loudspeakers
I've heard Totem Acoustic's powered two-way Kin Plays many times since I reviewed them in February 2019. After auditioning the Totems and two other speakers I was reviewing at the time, my sister-in-law and her husband bought my review samples.
The Kin Play ($1100/pair) is a powered as opposed to an active speaker, with a conventional passive crossover that comes after the amplifier in the signal path. Each speaker has a 5" natural-fiber hybrid woofer and 1" metal-alloy dome tweeter. The left-channel speaker houses the single 120Wpc, class-D amplifier that powers both speakers. It also has all the connections -- RCA analog in (switchable between MM phono and line-level), TosLink S/PDIF, subwoofer out, and a 3.5mm stereo jack -- as well as a Bluetooth radio with aptX support. Just add a source or two (turntable, disc player, smartphone) and you've got a killer little audio system.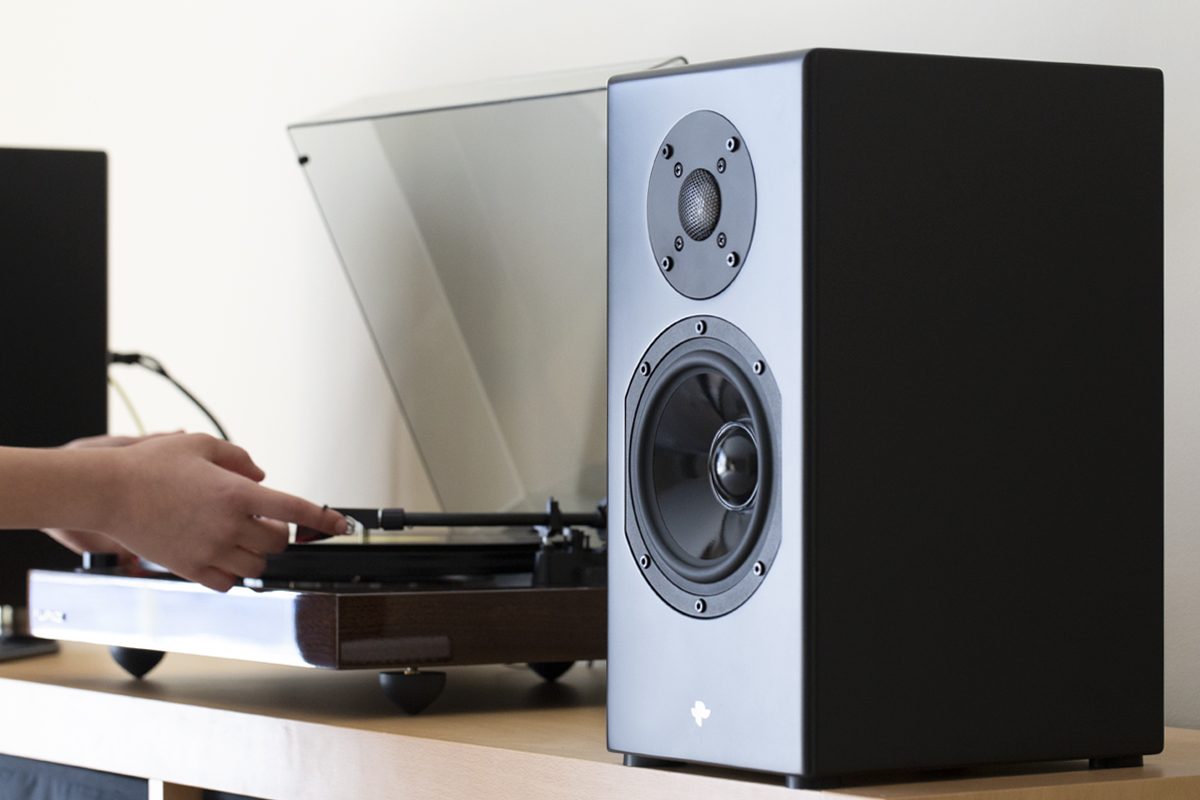 The press release announcing the Kin Play quoted Totem founder and chief designer Vince Bruzzese touting the speakers' "all-in-one simplicity with spatially outrageous DNA." That simplicity is what made the Kin Plays such an attractive choice for my in-laws. Petrea and Paul live only a few blocks away, and whenever my wife and I visit them, we play some music. I'm always struck by the qualities I noted in my review -- especially the Kin Plays' dynamic excitement, their speed and articulation, and their huge, enveloping soundstage. "Spatially outrageous" is only slight hyperbole.
Note: My No.9 and No.10 picks could have gone either way -- it was a virtual tie. I rank the Totems above the KEFs because I found the Kin Plays a bit more exciting and dynamic (if also a little less refined), but mainly because I've enjoyed them so much during my visits to my in-laws. This might seem arbitrary -- but hey, my list, my rules.
8. Naim Audio Mu-so 2nd Generation Wireless Music Player
At Munich's High End 2019, Naim Audio introduced a successor to its acclaimed Mu-so Wireless Music Player. From the outside, the Mu-so 2nd Generation ($1690) looks practically identical to its predecessor; but inside, says Naim, the new Mu-so was "95% re-engineered."
Like the first Mu-so, the Mu-so 2nd has for each channel a dome tweeter, a midrange driver, and an oval woofer, each with its own 75W class-D amplifier. Improvements include a more powerful DSP that allows for a more sophisticated digital crossover, resulting in a wider listening window; more ways to connect to it, including HDMI-ARC, Chromecast Built-in, and Roon Ready-ness; and new drivers designed in conjunction with Naim's sister company, Focal.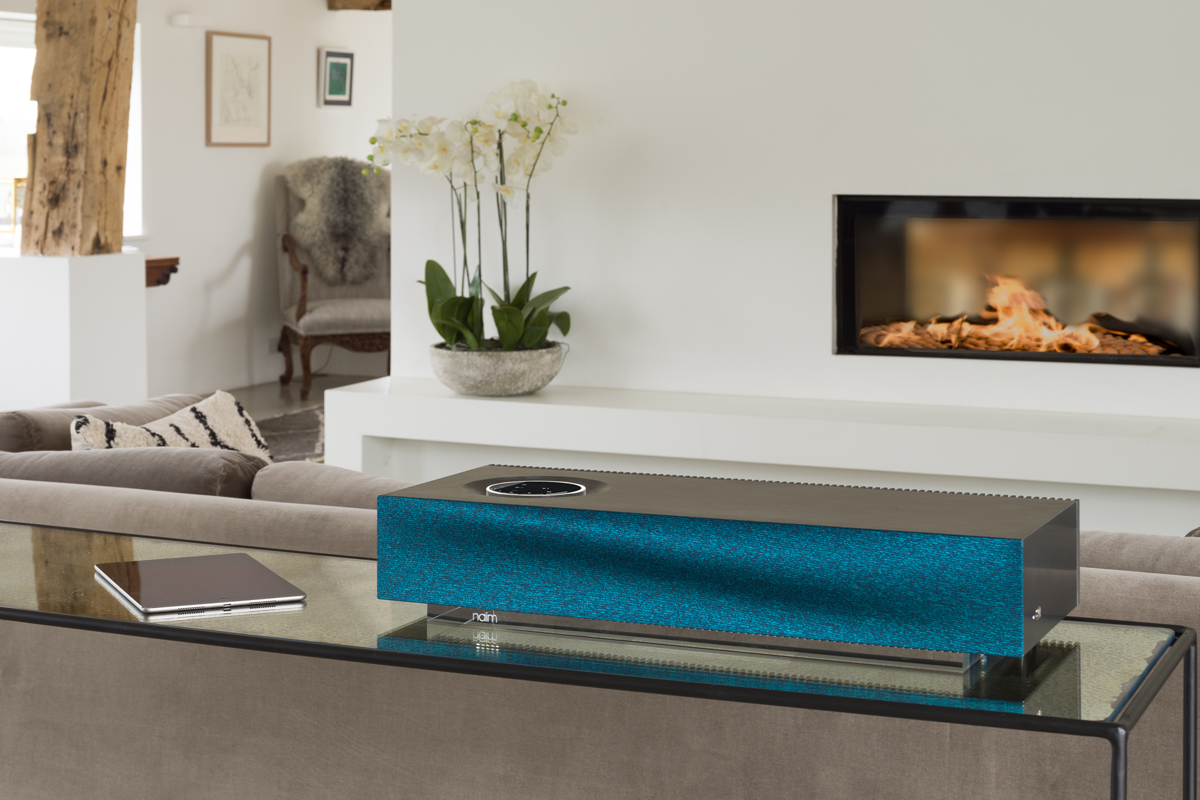 For serious sit-down listening, an all-in-one music system like the Mu-so 2nd can't take the place of a true stereo setup, with speakers placed several feet apart. But the Mu-so 2nd is ideal for settings where music is a secondary activity -- a bedroom, den, kitchen, or home office. And, of course, there are lots of non-audiophiles who want an elegant, easy-to-use system that delivers great sound.
The Mu-so 2nd delivers on all counts. It can play surprisingly loud for a tabletop system, without its sound losing composure or becoming harsh. Its bass is taut, tuneful, and deep. Dynamics, macro- and micro-, are excellent. I can't think of any other all-in-one music system that can outclass this gorgeous product.
7. Dynaudio Focus 20 XD Active Loudspeakers
Strictly speaking, Dynaudio's Focus 20 XD speakers ($5999/pair in standard finishes) don't belong on this list, because I've never reviewed them for Simplifi. But they were reviewed for Simplifi by Al Griffin in October 2017, when they received Reviewers' Choice honors. What's more, I owned a pair of Focus 200 XDs, which, after a firmware update, were sonically and functionally identical to the newer Focus 20 XDs. I wrote about them in my September 2018 feature, How I Simplifi'd My Hi-Fi, and have used them as references for reviews of many other speakers.
As I observed in that feature, the Focus XDs' ability to stream high-resolution music wirelessly from Dynaudio's optional Connect transmitter ($499.99) made it practical for me to enjoy hi-fi in my urban living room, which I (and my design-conscious wife) did not want to clutter with components and cables.
Equally important, I loved the sound. Like the Focus 200 XD, the Focus 20 XD is a two-way rear-ported design, with a 6.5" magnesium-silicate polymer woofer and a 1" soft-dome tweeter, each powered by a 150W pulse-width-modulation amp. Not only were these Danish speakers wonderfully smooth throughout the audioband, they had commendable solidity and ease of delivery. Dynamics were excellent -- they could play loud without compression or distress, but could also convey exquisite detail with quiet music.
Note: Dynaudio introduced the Focus XD series in 2014, and updated it in 2017. Besides refreshed cosmetics, the new models had new software that enabled them to play more loudly than their predecessors, without distortion. The new software also improved their speaker-position compensation. Commendably, Dynaudio made these improvements available to owners of the previous generation via a software update.
So I have to wonder: after three years, can we expect to see another update to the Focus XD series soon? Those models, as well as Dynaudio's Xeo range of wireless speakers, seem to be on a three-year upgrade cycle.
6. Focal Shape 65 Active Loudspeakers
When computer audio became a thing in the early aughts, some intrepid audiophiles discovered that nearfield studio monitors could work really well for home listening. I've reviewed three such products for Simplifi: PMC's result6 ($2950/pair), HEDD's Type 07 ($1700/pair), and Focal's Shape 65 ($1998/pair). All are two-way active analog designs, and all sound wonderful.
The PMC and HEDD monitors look pretty utilitarian -- not unattractive, but not ideal for elegant living spaces. The Shape 65 is more striking. Its front baffle slopes upward to the top panel; both surfaces are finished in dark walnut veneer. This, combined with the black wire-mesh grilles that snap in place over the drivers, and the side-mounted passive radiators, gives the Shape 65 a funky retro look.
The Shape 65 has a 6.5" woofer driven by an 80W class-AB amp and 1" aluminum-magnesium inverted-dome tweeter driven by a 25W class-AB amp. The woofer has a flax-sandwich cone that's also used in the step-up Aria and premium Kanta series from Focal's High Fidelity Collection, combined with Focal's Tuned Mass Damper (TMD) and Neutral Inductance Circuit (NIC) technologies, both used in their high-end Sopra series.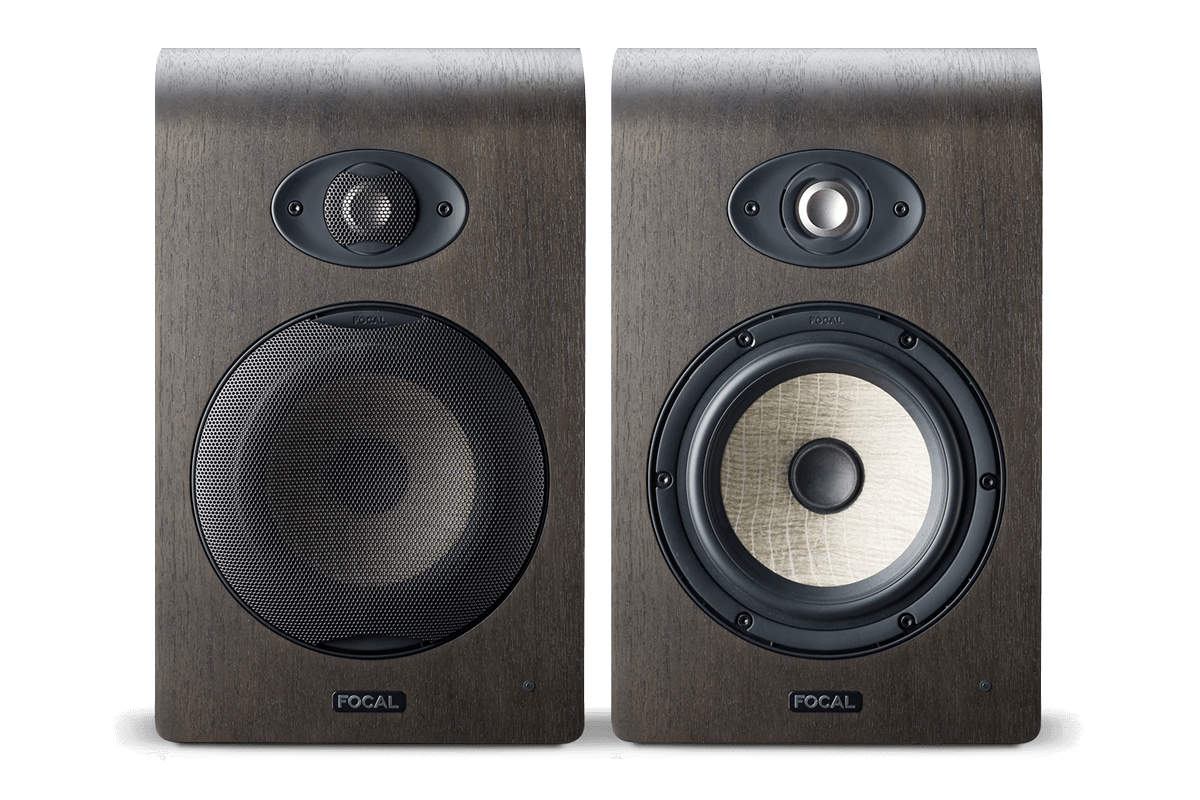 The tweeter's M-shaped inverted dome fires into a waveguide that provides constant horizontal and vertical directivity. That's useful in the studio, where a seated engineer and standing musicians might be evaluating a mix together. In the home, it could lead to better musical experiences for listeners who aren't sitting in the sweet spot.
Using side-mounted passive radiators rather than a rear port for bass loading means the Shape 65 can be placed close to the wall behind them, a welcome attribute not only in a studio control room but in a small urban living room or desktop audio system. And the Shape 65's rear-panel controls -- low- and high-frequency shelving EQ, and a low-midrange peak-dip adjustment -- proved very useful for compensating for less-than-ideal placement during my listening tests.
I found the Shape 65s equally useful in a conventional living-room setup, and in a family-room system in which their positions approached nearfield conditions. In both rooms the bass was surprisingly robust and superbly defined. The Shape 65s could generate loads of raw excitement as well as moments of beauty and refinement.
I think the Focal Shape 65 is one of the best bargains in hi-fi. For just under two grand, you get a superbly engineered pair of two-way minimonitors, each with 105W of onboard amplification and useful adjustments that let you tailor their response to your listening setup.
5. Elac Navis ARF-51 Active Loudspeakers
Except for studio monitors like Focal's Shape 65, most of the active speakers I've reviewed for Simplifi use digital signal processing to implement their active crossovers; and many use DSP for other functions, such as room-boundary compensation and dynamic equalization.
Elac's Navis speakers are different. These active designs have dedicated amplifiers for each frequency range, and crossovers that come before the amplifiers in the signal path -- but they employ analog crossovers, with inductors, capacitors, and resistors.
I've reviewed for Simplifi both the stand-mounted Navis ARB-51 ($2299.98/pair) and the floorstanding Navis ARF-51 ($4599.96/pair). Both models use a coaxial driver comprising a 4" aluminum midrange powered by a 100W BASH amplifier and a 1" soft-dome tweeter powered by a 40W class-AB amp. The stand-mount has a single 5.25" aluminum woofer, the floorstander three -- in both cases, the bass section is powered by a 160W BASH amplifier.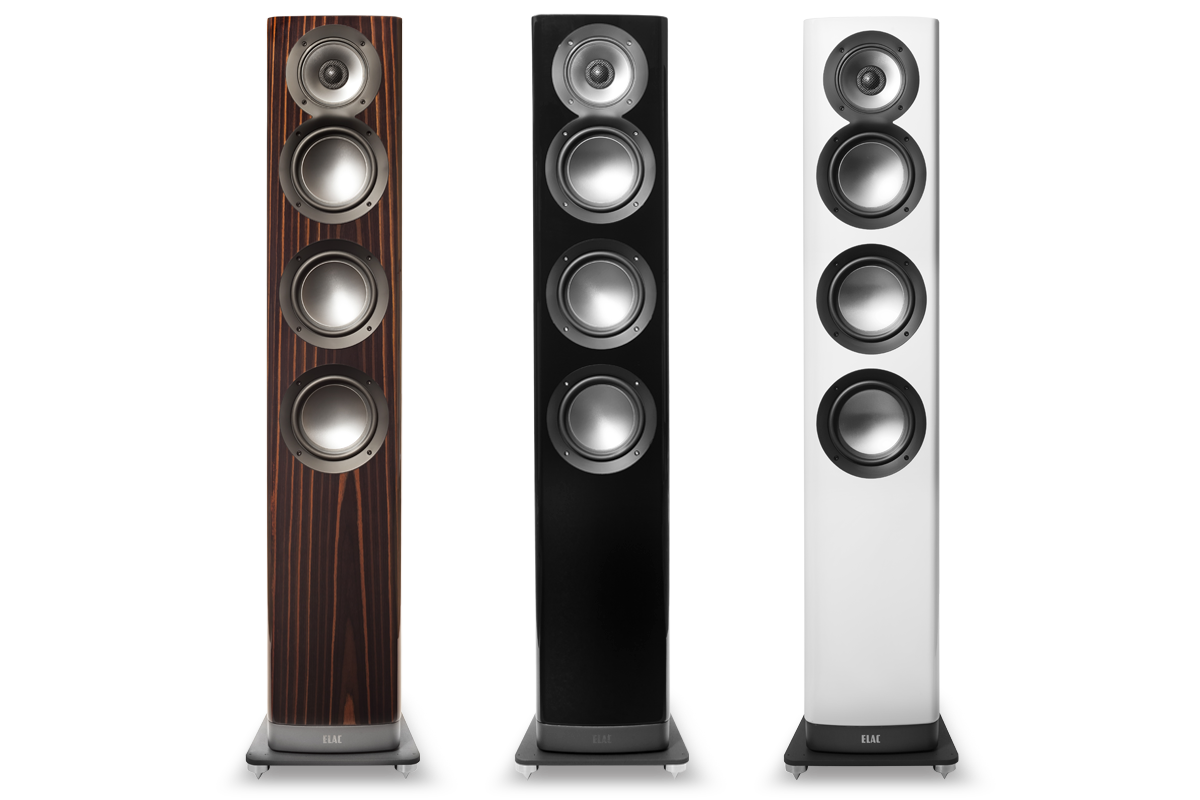 From 2013 to 2019, my music systems were built around two-way minimonitors. The moment I began listening through Elac's Navis ARF-51 active floorstanders, I heard something I hadn't known I'd been missing all those years: weighty, authoritative bass. The active Elacs had other virtues: superb micro- and macrodynamics, wonderful articulation, and a big soundstage with precisely delineated aural images. I ended up buying the review samples, and I've enjoyed them immensely.
The Navis ARF-51's analog design was also a factor -- it made it possible for me to review such products as streaming DAC-preamps. With DSP-based active speakers, the signal would be converted to analog by the streaming DAC, then back to digital by the speakers -- the extra D/A and A/D cycles would make it much harder to assess digital source components. So the Navis ARF-51s are now my reference speakers.
Note: I could easily have chosen the ARB-51 as one of my top ten products. Like the ARF-51, the ARB-51 received Reviewers' Choice honors, and was named a SoundStage! Network 2019 Product of the Year for Exceptional Value. I went with the floorstanders because they were this reviewer's choice for his own system.
4. DALI Rubicon 6 C Active Loudspeakers
The last hi-fi show I attended before COVID-19 shut everything down (and maybe ended hi-fi shows forever) was Audio Video Show 2019, in Warsaw. The product exhibited there that most grabbed my interest was the Rubicon 6 C active loudspeaker ($7999/pair), from Danish Audiophile Loudspeakers Industries (DALI).
Each Rubicon 6 C has a line-level input (RCA), but the speakers are mostly intended to be used with DALI's Sound Hub ($799), which can send wireless audio at up to 24/96 resolution. The Sound Hub has RCA and 3.5mm analog line-level inputs, one coaxial and two optical S/PDIF inputs, subwoofer and preamplifier outputs, and two slots for optional expansion modules.
What makes this system really interesting is its BluOS NPM-1 module ($449), which lets you wirelessly stream to the Rubicon 6 Cs music from services like Qobuz and Tidal, and control playback using the excellent BluOS app. You can also stream from Roon.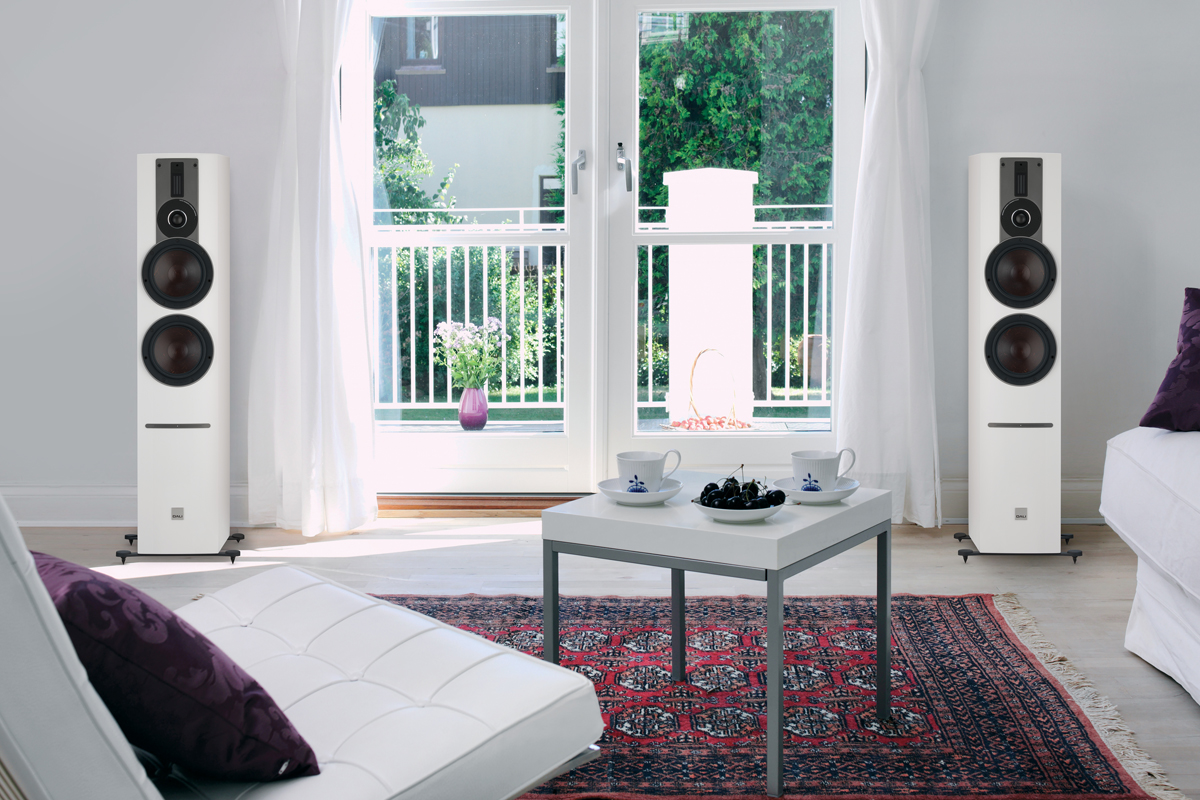 The Rubicon 6 C has two 6.5" woofers with wood-fiber cones. The upper woofer operates all the way up to 2.6kHz, at which point it's crossed over in DSP to the tweeter; the lower woofer operates from 800Hz down. The hybrid tweeter comprises a 1.15" soft dome mated to a 17x45mm ribbon that kicks in at 14kHz. The low- and high-frequency sections each have a dedicated class-D amplifier, specified to produce 30W continuous output and short bursts of 300W.
Listening to the Rubicon 6 Cs, I was wowed by their rhythmic prowess, effortless dynamics, transparency, exquisitely detailed but never etched highs, and robust, well-controlled bass. Those virtues, coupled with the flexibility offered by the Sound Hub and BluOS module, make the Rubicon 6 C a compelling proposition. For $9247, you get a completely self-contained music system with killer sound quality.
3. Bowers & Wilkins Formation Duo Active Loudspeakers
In April 2019, Bowers & Wilkins introduced their Formation series of wireless streaming products: a tabletop speaker, a soundbar, a subwoofer, a compact satellite speaker, a streamer-preamplifier, and an active stereo minimonitor, the Formation Duo ($3999.98/pair). The Formation Duo received a Reviewers' Choice award, and was named a 2019 SoundStage! Network Product of the Year for Outstanding Performance.
Formation components communicate over a proprietary mesh network capable of sending 24/96 PCM audio with latency of less than 1µs. They're Roon Ready, and support Apple AirPlay 2 and Spotify Connect.
Available in finishes of black and white, the Formation Duo has B&W's iconic design of the tweeter perched atop the cabinet. That tweeter is a 1" dome, accompanied by a 6.5" woofer, each with its own 125W class-D amp. Throughout my testing, I was blown away by the Formation Duos' holographic imaging, big soundstage, effortless dynamics, and bass that was much weightier than I'd have expected from a pair of stand-mounted speakers -- there's got to be some DSP cleverness going on here.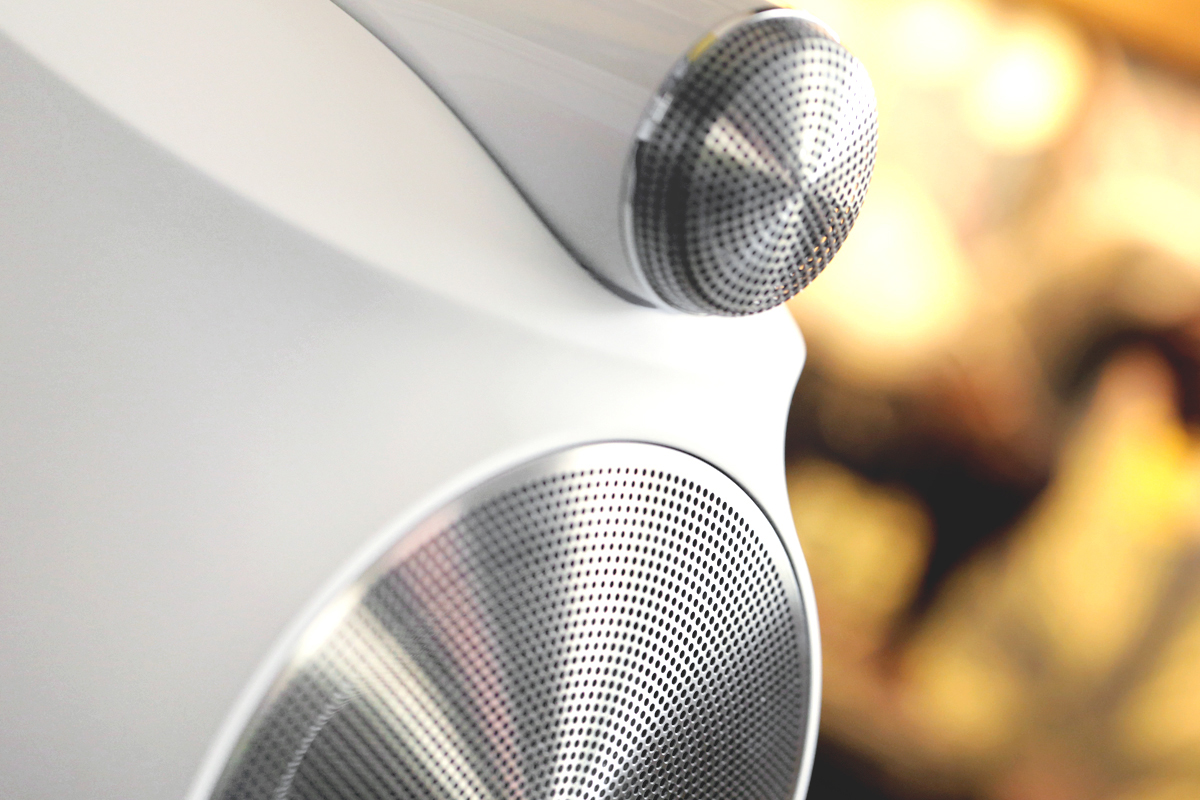 For the past two decades, the audio industry has agonized over how to expand its audience and attract younger music lovers. If any single product can do this, the Formation Duo can. Unpack the pair of them, set them on their matching stands ($799.99/pair), plug them into the wall, get them on your Wi-Fi network with an easy-to-use app, then sit back to enjoy glorious, audiophile-grade sound. No other components are needed. This is hi-fi for the streaming era.
Note: When I reviewed the Formation Duos, Bowers & Wilkins was owned by Eva Automation, a Silicon Valley startup. In February of this year, B&W and Eva parted ways; and in June, Sound United LLC, parent company of Boston Acoustics, Classé, Definitive Technology, Denon, Marantz, and Polk Audio, announced it was in talks with B&W about acquiring the brand.
2. NAD Masters M10 Streaming Integrated Amplifier
For people who want to use passive speakers in small, multi-purpose living areas, I can't think of a better solution than NAD's Masters M10 streaming integrated amplifier ($2749), which was named a 2019 SoundStage! Network Product of the Year for Innovation in Design. With its extruded aluminum case, Gorilla Glass top and front panels, and 7" touchscreen, the M10 is a thing of beauty. And though it's small, it packs a lot of punch -- its Hypex NCore class-D output stage is specified to produce 100Wpc into 8 ohms.
Inside is a network streamer based on Lenbrook's robust, flexible BluOS platform. You can stream from services like Qobuz and Tidal, and integrate the M10 into a whole-home music system with other BluOS components. Playback can be controlled via the BluOS app installed on an iOS or Android device, or from the M10's touchscreen. There are other options -- the M10 is Roon Ready, and supports Apple AirPlay 2 and Spotify Connect.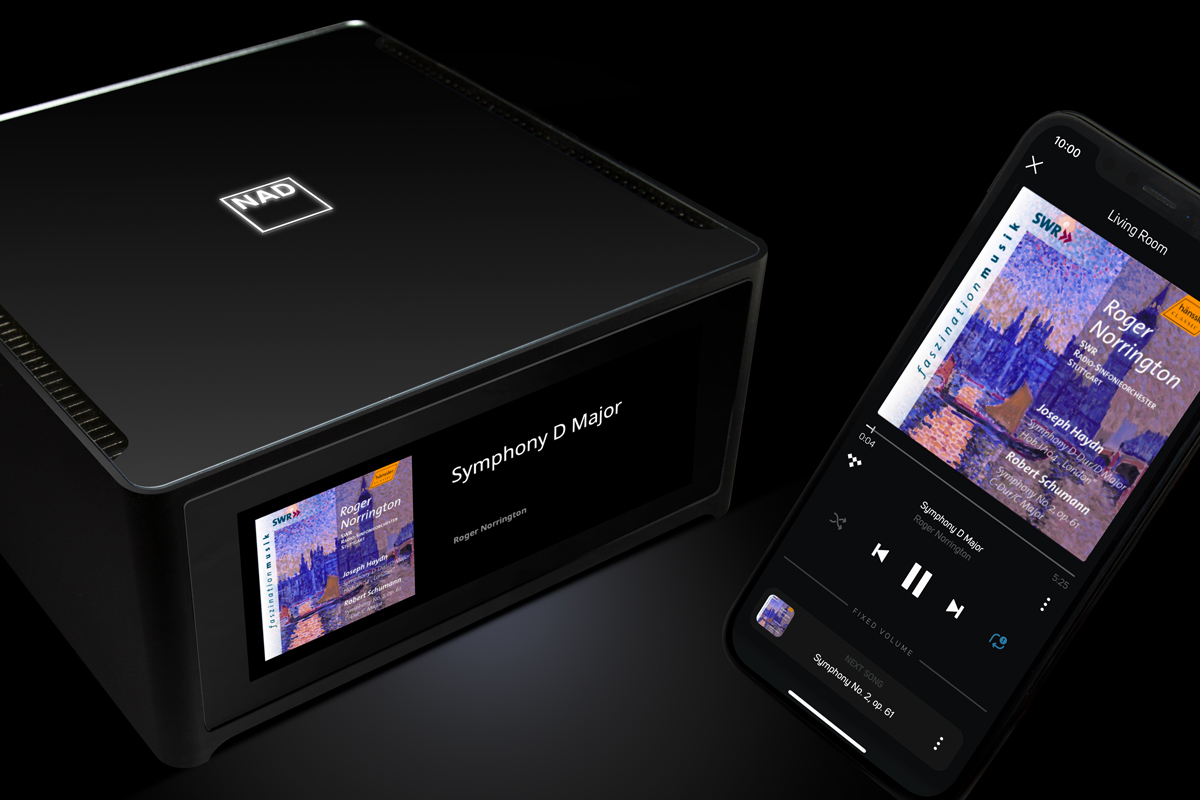 The M10 has an HDMI-ARC port, plus optical and coaxial S/PDIF inputs, a USB port for connecting an external drive, and two sets of RCA line-level inputs. There are also subwoofer and preamp outputs.
The Masters M10's killer feature is Dirac Live room correction. This is incredibly useful in multipurpose spaces, where there are typically fewer choices of speaker and listener position than in a dedicated listening room. I loved the M10's sound, especially with Dirac Live engaged: transparent and spacious, with excellent dynamics.
Note: I'd have liked to find room on this list for NAD's Classic C 658 streaming DAC-preamp ($1649), if only because I use one in my system. But I suspect the M10 has broader appeal -- and it's way prettier than the C 658.
According to Greg Stidsen, chief technical officer for Lenbrook Inc., NAD's parent company, the Masters M10 was a response to requests from Lenbrook's distributors "for a more premium -- luxurious even -- version of the Bluesound PowerNode" streaming integrated amplifier. If Lenbrook offered a "premium -- luxurious even" version of the Bluesound Node streaming DAC, with features like Dirac Live, and the M10's sumptuous build quality and small size, I'd be all over it -- especially if, like the C 658, it had balanced outputs.
1. Kii Audio Three Active Loudspeakers
I agonized over many of the choices on this list, but choosing my No.1 product was easy. The Kii Audio Three ($16,985/pair in standard colors; price includes Kii Control module) delivered the best sound I've ever heard in my home -- period. The Kii Three was recognized as a 2018 SoundStage! Network Product of the Year for Pioneering Design Achievement.
A problem with all speakers, but especially those with narrow front baffles, is that their radiation patterns vary with frequency. Bass is omnidirectional, while highs are radiated only in front of the speaker. The farther you move off axis, the more bass-heavy they sound. And sounds reflected off the front and side walls interfere with the speakers' direct output, which smears transients.
The Kii Three has four 6.5" woofers, one on each side and two on the rear, each with its own 250W NCore class-D amplifier. Output from the DSP to the amplifiers driving the rear woofers is inverted in phase and slightly delayed relative to the side woofers, to cancel out the rearward low-frequency output.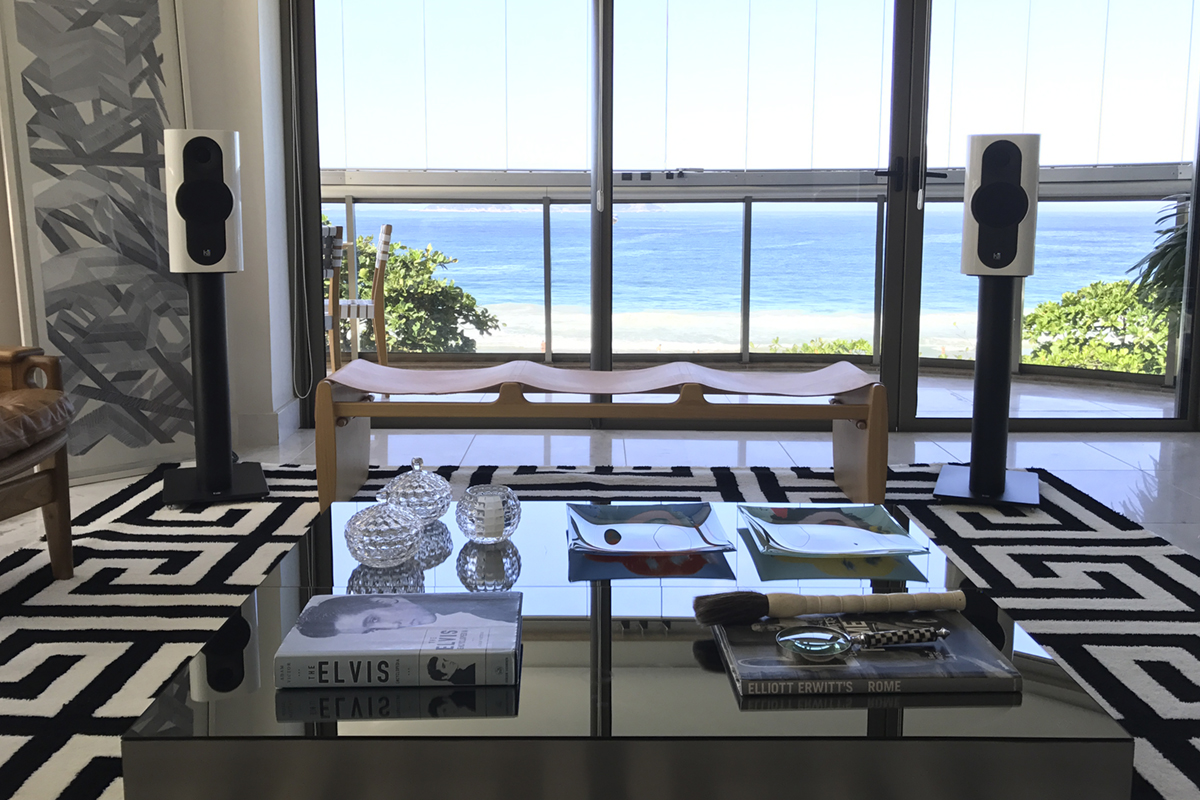 The radiation pattern of midrange frequencies is controlled in a similar manner. On the Kii Three's baffle are a 1" tweeter with waveguide and a 5" midrange driver, each powered by a 250W NCore amplifier. Midrange frequencies from 250 to 700Hz are phase-inverted, slightly delayed, and sent to the side woofers. Again, the result is that midrange sounds are radiated only forward.
The result of all this DSP, Kii says, is that the speakers produce "a completely coherent wavefront that is only emitted forward, and behaves as if all of it came from the midrange driver."
That was apparent in my listening. I'd never heard in my home a system that could so convincingly reproduce transients, fundamentals, overtones, sustains, and decays as aspects of a single acoustic event, rather than as a progression of connected sounds. The Threes also sounded effortlessly powerful yet wonderfully articulate. I loved every moment I spent listening to them -- it was a dark day when I had to return them to Kii.
And the Kii Threes fit beautifully into our small living room. Because the Threes direct all frequencies from 50Hz up only frontward, they can be placed very close to a wall or corner, instead of having to be positioned out into the room -- a significant benefit in multipurpose living areas, where every inch is precious.
In the conclusion to my review, I called the Three "a tour de force -- a game-changer." It's more than that. I think Kii Audio's Three is one of the most important products in the history of hi-fi.
Note 1: Four months after my review of the Kii Audio Three appeared, SoundStage! Hi-Fi published Diego Estan's review of the Dutch & Dutch 8c active speaker. Like the Three, the 8c is designed to reduce the effect of the room on the sound.
The Dutch & Dutch 8c has two rear-mounted subwoofers powered by a 500W class-D amp. The subwoofers use the front wall as a sounding board, and their output is tuned in DSP to produce a hemispherical radiating pattern. The rearward output of the front-mounted bass-midrange driver is routed through slots in the side panels, to cancel out this driver's sideward output. As with the Kii Three, the result is to minimize reflections from sidewalls.
I would dearly love to hear the Dutch & Dutch 8c's in my own home. I strongly suspect that it would rank near the top of a list such as this one.
Note 2: Kii Audio's cofounder and chief designer is Bruno Putzeys, whose accomplishments include the Hypex NCore amplifier. Putzeys is involved in another venture, Purifi Audio, which claims to have developed amplifier modules that produce zero distortion, and loudspeaker drivers that have vanishingly low distortion.
Doug Schneider wrote about Purifi in a June 1 feature on SoundStage! Hi-Fi. His article got me thinking: Might we see a new version of the Kii Three that uses Purifi's amplifier and transducer technologies? I can't begin to imagine how great such a speaker could sound.
. . . Gordon Brockhouse
This email address is being protected from spambots. You need JavaScript enabled to view it.