Five years ago, if someone had asked me if there was a market for a tabletop all-in-one music system that cost $1499 (all prices USD), I'd have replied, "You're kidding, right?" For that kind of dough, you could get a nice integrated amp and speakers, or a really good set of powered speakers. I had nothing against all-in-one music systems -- not then, not now. But for serious listening, I want the immersive experience you get from a stereo pair of speakers spaced several feet apart.
It's a good thing Naim Audio didn't listen to people like me. Their Mu-so wireless music player, introduced in late 2014, has been a huge hit. So has their smaller Mu-so Qb (pronounced cube), launched a year later. Reviewed by Al Griffin on Simplifi in January 2017, the Mu-so Qb was a SoundStage! Network Product of the Year.
In retrospect, the Mu-so's success is no surprise. As an objet, it's drop-dead gorgeous, and it sounds fantastic. Turns out there are many reasons that people who are serious about sound would covet such a product. An all-in-one music system is ideal for settings where music is a secondary activity -- a bedroom, den, kitchen, or home office, or when you're entertaining or reading -- and with the Mu-so, you definitely don't settle sonically. And, of course, there are lots of non-audiophiles who nonetheless want an elegant, easy-to-use system that delivers great sound. The Mu-so checks all those boxes.
The subject of this review, the Mu-so 2nd Generation ($1599), is better in every respect.
The next generation
The Mu-so 2nd Generation was formally announced in early May, at High End, in Munich. Naim says they began developing the new model two years ago, and describes it as "95% re-engineered" over the original.
The new Mu-so looks almost identical to its predecessor. Both have beautiful anodized-aluminum enclosures supported by illuminated mirrored bases, with bead-blasted, anodized-aluminum heatsinks along the rear. I found the new model's dark-gray finish more elegant than the original's silver. On the front is a black cloth grille -- accessory grilles in Olive, Terracotta, and Peacock are available for $85 each.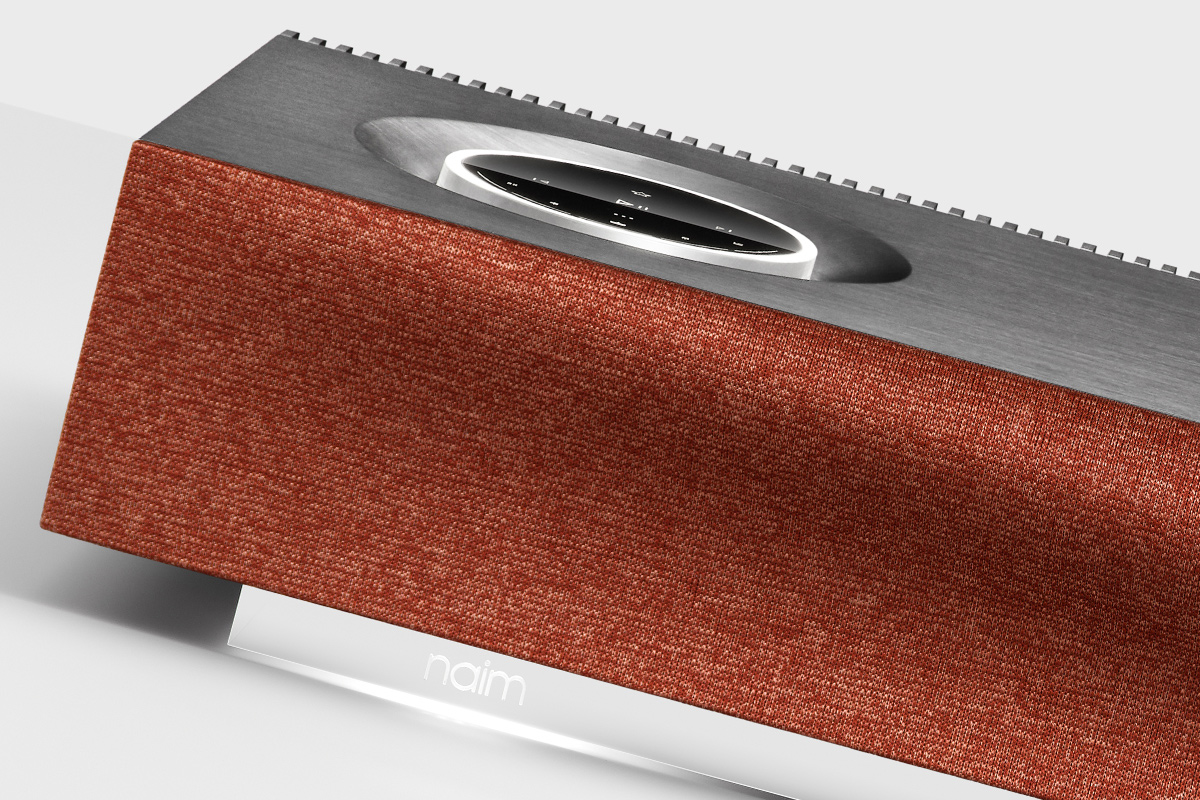 Like its predecessor, the new Mu-so has a weighted rotary controller on its top panel, to the left, with a proximity sensor that wakes the controller when you wave your hand above it. With its luxurious feel, the controller just begs you to give it a spin. As with the original Mu-so, you can use the 2nd Generation's controller to adjust the volume, pause and resume playback, skip to the next or previous track, and select among hardwired sources. On the original, you could select from among five preset Internet Radio stations, which you program with the Naim app. With the new Mu-so, you can use this function for Spotify presets as well as favorite Internet stations. The controller on the 2nd Generation also lets you pair with a Bluetooth device, create a multi-room music system with other Naim components, play music from an attached USB drive, and resume playback from a Spotify queue.
Like the original Mu-so, the 2nd's controller channels This Is Spinal Tap in having 11 illuminated segments that indicate volume level -- yes, you can turn the Mu-so 2nd Generation up to 11. Which brings us to the new model's sonic enhancements.
Measuring 24.7"W x 4.8"H x 10.4"D, the Mu-so 2nd Generation has almost the same outer dimensions as the original, but at 24.7 pounds is four pounds lighter. Changes to the enclosure's design have increased its internal volume by 13%, which Naim says results in "a significant improvement" in bass performance. The baffle now incorporates honeycomb bracing made from a polymer similar to the material used in riot shields, to better suppress cabinet resonances.
Like the original Mu-so, the 2nd Generation has for each channel a dome tweeter, a midrange driver, and an oval woofer, each with its own 75W class-D amplifier, for a total of 450W. The drivers have been completely redesigned, in conjunction with Naim's sister company Focal. The new woofers have bigger magnets and longer voice coils, to produce higher maximum SPLs with less distortion, Naim says. The new midrange driver has a redesigned surround incorporating mass damping, and a smaller dustcap, which Naim says improves midrange clarity. The power supply has also been improved.

The original Mu-so could play digital files of resolutions up to 24-bit/192kHz PCM via a wired connection or from an attached USB drive, and up to 24/48 via Wi-Fi. Like all of Naim's latest streaming products, the Mu-so 2nd Generation can play files of resolutions up to 32/384 PCM, as well as DSD64 and 128, via Ethernet, USB, and Wi-Fi. All digital streams are resampled to 24/88.2, then passed on to the new Mu-so's digital processing engine. As Naim points out, the math is simpler for converting CD-resolution and DSD files to 24/88.2 than to 24/96. Audio from the 3.5mm analog input is digitized at 24/88.2.
The first-generation Mu-so employed a single-core digital signal processor (DSP) capable of executing 150 million instructions per second (MIPS). Specified at 2000 MIPS, the 16-core DSP on the Mu-so 2nd Generation is 13 times more powerful. Implemented in DSP, the crossovers have 24dB/octave slopes, to prevent lobing and thus produce smooth off-axis response, for a wide listening window -- an important consideration in a lifestyle product such as this. Among other functions, the new DSP has an enhanced limiter algorithm that improves control of driver excursions at high listening levels.
Connectivity has also been upgraded. Right now, in fact, the Mu-so 2nd Generation is one of the best-connected tabletop music systems on the planet. In addition to Ethernet, Wi-Fi, and Bluetooth, the original Mu-so had a bottom-mounted optical input with 24/96 maximum resolution, a 3.5mm analog input, and a side-mounted USB port for connecting an external drive. The new Mu-so adds HDMI-ARC, also on the bottom. The original Mu-so supported Apple AirPlay and Spotify Connect; the 2nd Generation expands Apple support to AirPlay 2, for multi-room playback with other components compatible with AirPlay 2. The 2nd Generation also adds Chromecast Built-in, for playback via Wi-Fi from Android devices at resolutions up to 24/96, and multi-room playback using Google Home.
You can also group the Mu-so 2nd Generation with up to eight Naim components, and control playback with the Naim app. A Naim whole-house music system can include other Mu-so players, as well as streaming amplifiers such as the Uniti Atom, reviewed by Al Griffin in September 2017, and network streamers like the NDS XS5, which I'll review for Simplifi in late summer.
Unlike the original Mu-so, the Mu-so 2nd Generation is Roon Ready -- you can stream PCM audio at up to 32/384 resolution from Roon, as well as DSD64 and 128 (again, the Mu-so resamples the data to 24/88.2 for playback), and the Mu-so 2nd can be grouped with other Roon Ready devices for synchronized multi-room playback. Roon support was available with the original Mu-so, but only via AirPlay, which limits the maximum resolution to 16/48. While Roon will stream to AirPlay and Chromecast devices, these devices can't be grouped in Roon for multi-room playback.
Setup and software
The Mu-so 2nd Generation is set up using the Naim app, available for iOS from Apple's App Store, and for Android from Google Play. If this is the first Naim device you're installing, you'll see a Setup option the first time you launch the app. In the next screen, you'll see a range of Naim products, with Mu-so players at the top of the list. Choose that option, and in the next screen the app will show your Mu-so player. Confirm that this is the device you want to connect, and you'll be asked to enter your network password. After the app uploads that information to the player, it performs a firmware update, then asks you to confirm your location and choose a room name for the player.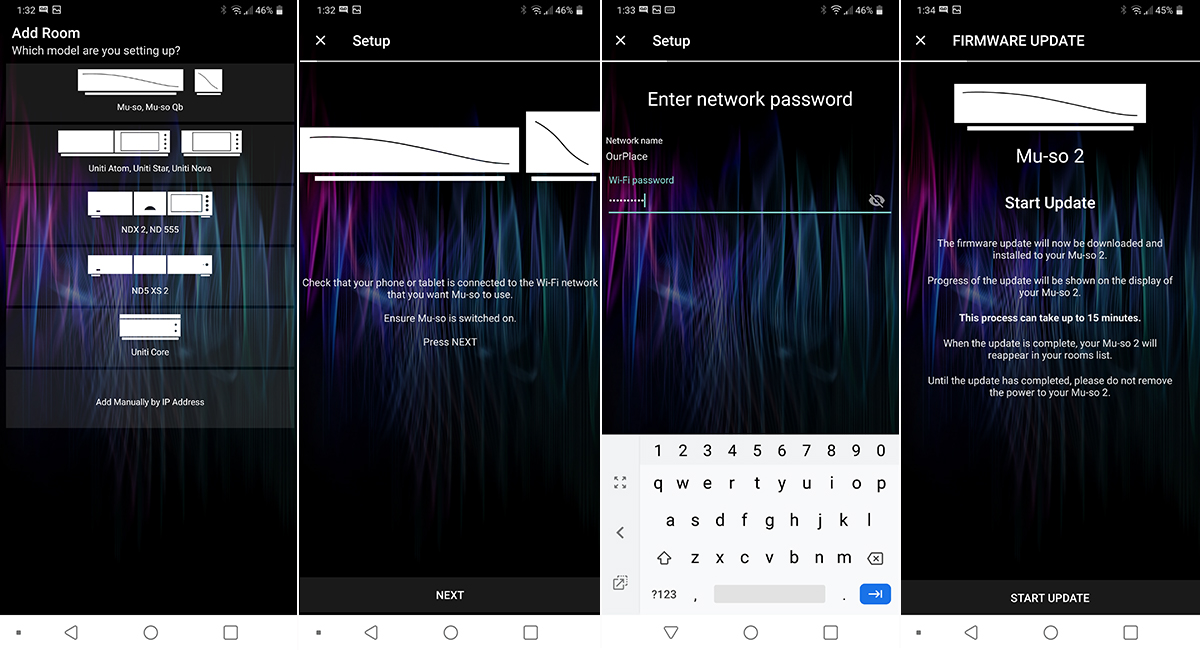 Having reviewed the Naim Uniti Core music server last spring, I already had the Naim app installed on my LG G7 ThinQ smartphone. After launching the app, I clicked the + icon in the upper right corner to add the Mu-so 2nd Generation to my setup, after which installation proceeded smoothly, as outlined above.
For Android users there's one more step: registering the Mu-so 2nd Generation in the Google Home app. That will allow you to stream music to the Mu-so 2nd via Chromecast from Android devices.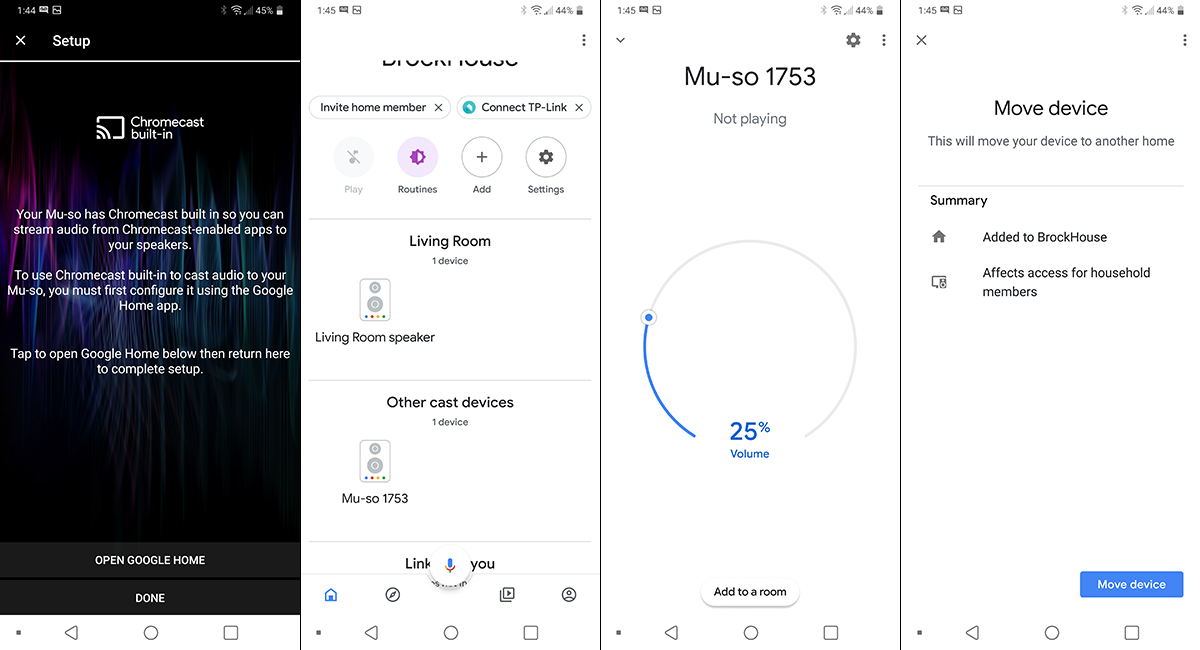 After you launch the Naim app and select the Mu-so 2nd Generation as your player, you'll see several playback options: Servers, for streaming from Universal Plug and Play (UPnP) music servers such as the Uniti Core; Spotify (you can also use the Spotify app to stream to the Mu-so); Analogue, for the 3.5mm input; Digital, for the TosLink input; USB, for playing from an attached drive; as well as Tidal, Internet Radio, HDMI, and Bluetooth.
The Naim app's support of streaming services is limited to Tidal and Spotify. However, you can stream from other services, such as Qobuz, from an iOS device using Apple AirPlay 2, or from an Android device using Chromecast, or from any app on any mobile device using Bluetooth. You can also stream Qobuz content from Roon.
During my listening, I used the Naim app to stream from Tidal, to play music from an attached USB drive, and from an SSD drive attached to a Naim Uniti Core music server on my home network. I also streamed music from my LG smartphone to the Mu-so 2nd via Chromecast, from my iPhone SE via AirPlay 2, and from the Mac Mini in my home office via Roon. For the most part, everything worked swimmingly.
On a couple of occasions, though, the Naim app on my LG G7 couldn't find the Mu-so 2nd, even though both were connected to the same network. Nor could the Google Home app on my G7 "see" the Mu-so, which meant that I was unable to stream via Chromecast. Restarting the Mu-so and the G7 did not fix this problem. While this was happening, the Roon app on my G7 could see the Mu-so 2nd, and could stream music to it from my Mac Mini, which I use to run Roon Core. I could also stream to the Mu-so 2nd from my iPhone SE via AirPlay 2. Restarting my network router fixed that problem. On another occasion, the Internet Radio function was available in the Naim app on my iPhone SE, but not on my LG G7 Android phone. Given the fact that a router reset fixed these problems, it's quite likely that they had more to do with my network setup than with the Mu-so 2nd Generation -- although the Google Wifi, which I use, is a very popular and well-reviewed router.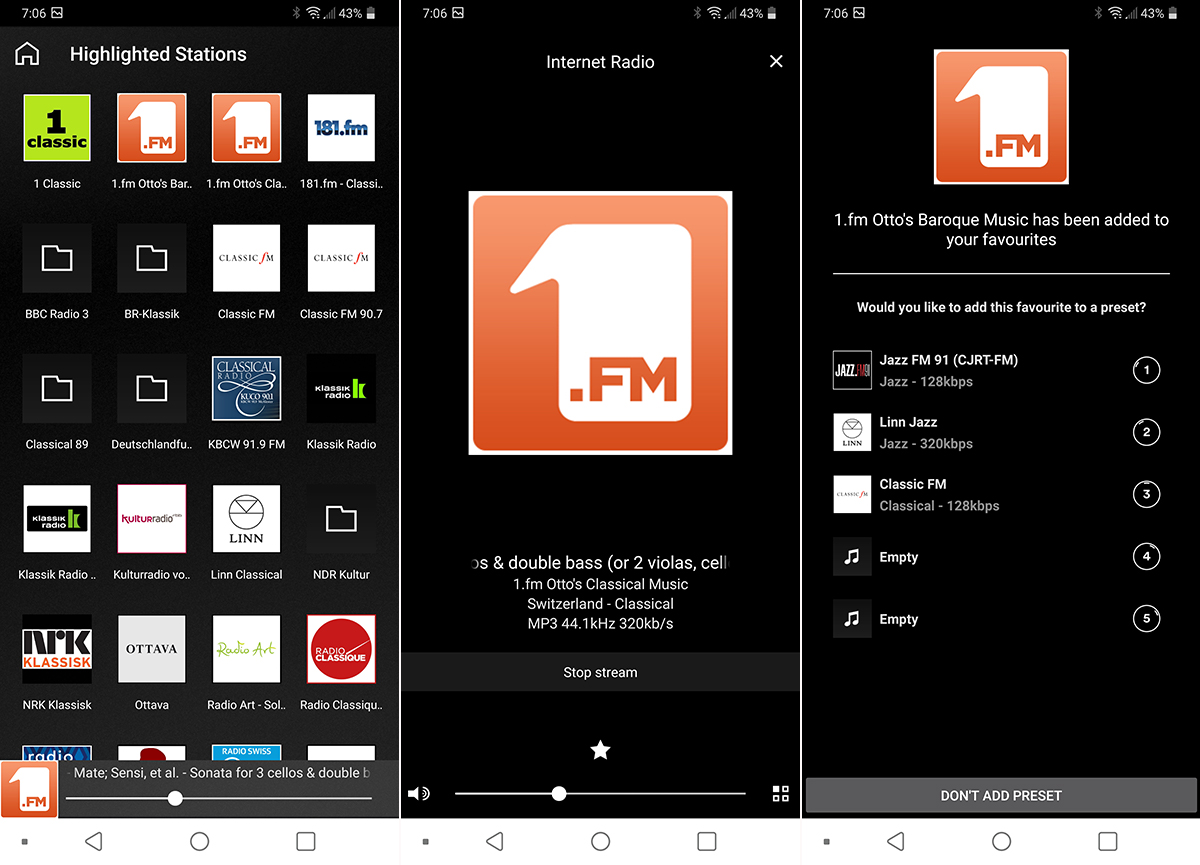 I used the Naim app to program five favorite jazz and classical stations. After finding a station I liked in the app's Internet Radio menu, I tapped the star icon in the playback screen. That opened a new screen, where I could add the station as a preset. Now those stations were accessible from the Favorites function on that super-cool rotary controller -- a godsend for such users as my technophobic but infinitely better half, who would rather not use an app just to cue up some background music.
Listening
I installed the Mu-so 2nd Generation on a wide, deep credenza in the family room in the basement of my Toronto home, and connected its HDMI-ARC input to the HDMI-ARC jack on the Vizio 50" D50 D1 HDTV mounted on the wall directly above the credenza. I also used the new Mu-so in my second-floor home office, and in a main-floor sitting room that also serves as my wife's office and consulting room.
In the Naim app's Settings menu, accessed by tapping the little gear icon, there's an Audio Settings function that optimizes response. There are three Room Compensation settings: No Compensation (when the Mu-so is more than 1' from any room boundary), Near Wall (within 1' of a boundary), and Room Corner (within 18" of a corner). I chose Near Wall, which suited all the spots in my home where I placed the Mu-so 2nd and listened to it. I also turned off Loudness (which the Naim app turns on by default), even though its effect is subtler than the loudness contours of other products I've used.
I made a point of playing "Blue Monk," from the Chick Corea Trio's live album Trilogy (24-bit/96kHz FLAC, Concord Jazz), streaming the file via Chromecast from my LG G7. At High End 2019, I'd been blown away by the Mu-so 2nd's reproduction of Christian McBride's walking-bass introduction to this Thelonious Monk classic, reporting that "it had far more depth and impact than I could have imagined coming from a tabletop music system."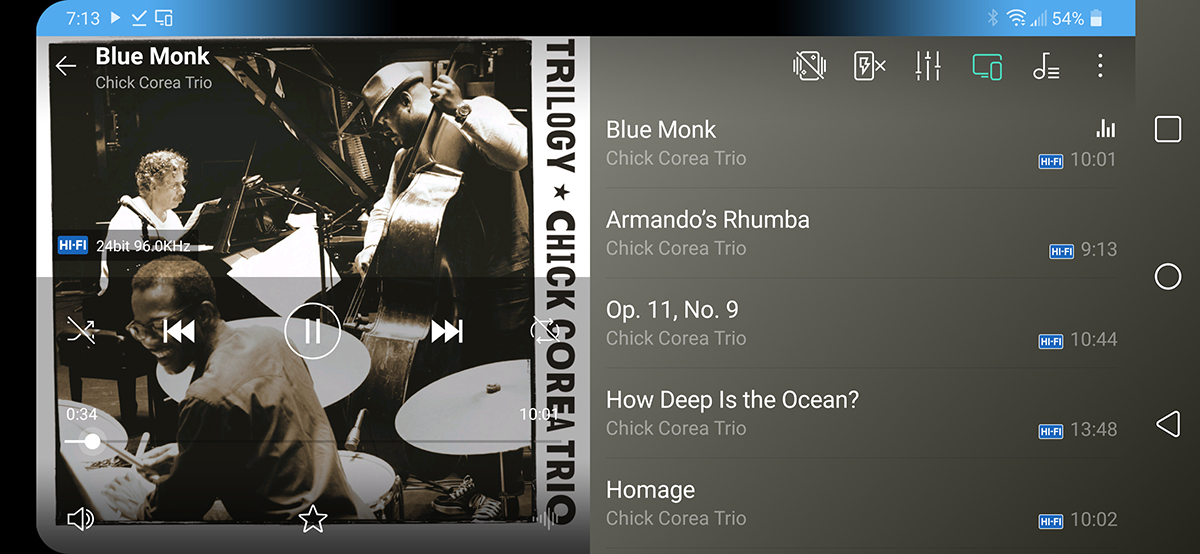 That impression was reinforced by hearing the Mu-so 2nd in my home. McBride's impossibly rapid plucking in his solo later in the number was beautifully delineated, losing only a slight bit of definition at the very bottom of his double bass's range. Brian Blade's snappy rim shots and snare rolls, and Corea's sharp staccato attacks, exploded into my family room without sounding the least bit strident, showing off the new Mu-so's dynamic capabilities. I also admired the system's reproduction of microdynamics when Corea played with a lighter, more legato touch -- sustains and decays were disarmingly natural.
One of the most joyous pieces of music in my library is MGV (Musique à Grande Vitesse), by the contemporary British composer Michael Nyman, performed by the Michael Nyman Band and Orchestra (16/44.1 ALAC, Argo). Commissioned for the inauguration of France's Train à Grande Vitesse in 1993, MGV is scored for an eclectic group of instruments -- piccolos, flutes, oboes, clarinets, saxophones, horns, trumpets, trombones, violins, cello, double bass, bass guitar, piano, and percussion. In the work's five sections, or Regions, rhythmic, melodic, and harmonic lines continually intertwine, evoking the experience of train travel. There are sudden tempo shifts, as when the train slows to take a curve, and sudden changes in volume, as when it chugs up a steep grade.
I streamed MGV from my Mac MIni, under control of the Roon app on my iPad Mini. While the sound was at times a little dense -- it's a dense score -- I was really impressed with how well the Mu-so 2nd Generation unraveled the disparate elements, and how well it tracked MGV's sudden dynamic shifts. Through this elegant tabletop system, I was simultaneously able to "hear" the train's horn and the clickety-clack of wheels on rails, and the train's passage through towns, tunnels, and countryside. Without exception, instrumental timbres were very satisfying -- saxophones tooted and horns blared with impressive verisimilitude.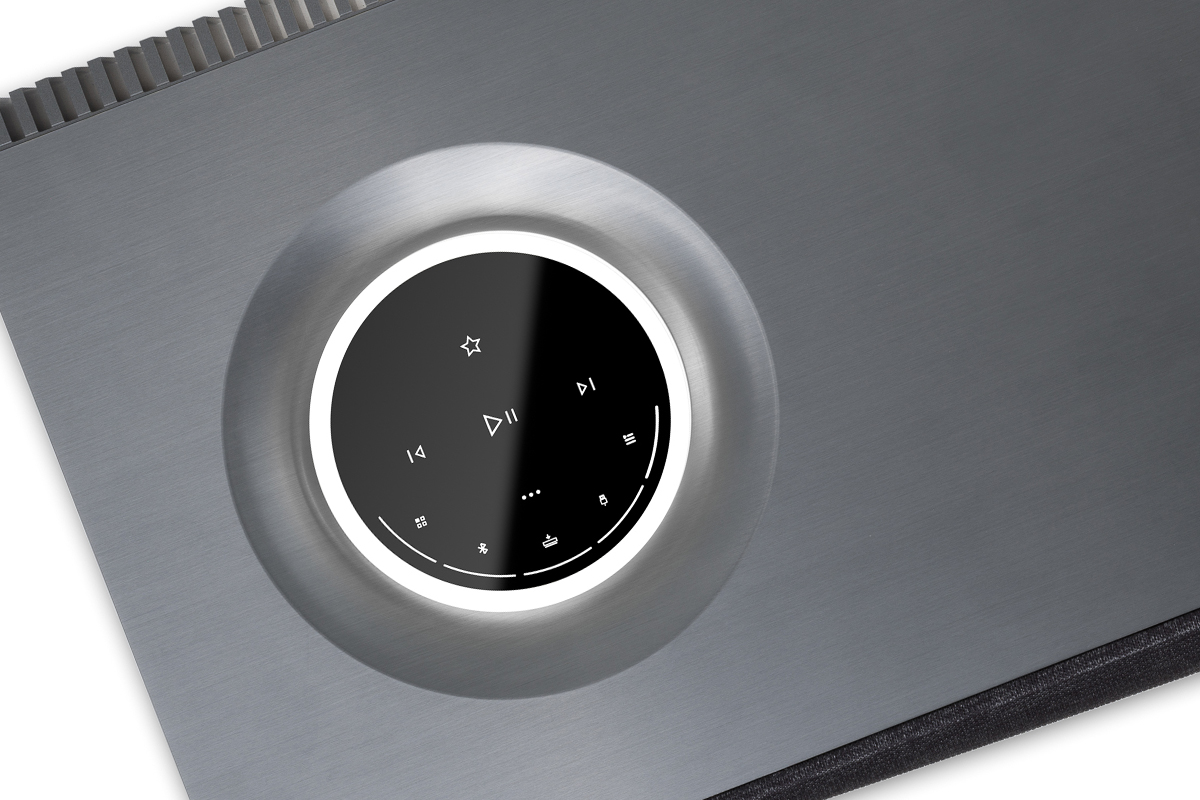 HDMI-ARC is a really useful addition to the new Mu-so, as I confirmed by streaming from Netflix Martin Scorsese's new documentary, Rolling Thunder Revue: A Dylan Story, with the Mu-so 2nd Generation connected to the HDMI-ARC port of my Vizio HDTV. A significant benefit of this type of connection was the ability to use my TV remote to control the Mu-so 2nd's volume. No surprise -- the concert footage from the 1975 tour really benefited from the Mu-so 2nd, greatly enhancing the performances of Bob Dylan, Joan Baez, and the scores of collaborators. Vocal and instrumental timbres were excellent -- far better of course than the Vizio TV's built-in sound, but also far better than almost any soundbar you'd use with a TV of this type. While the Mu-so 2nd would probably not reproduce concert scenes with as much left-to-right spread as a premium soundbar, it played these scenes with power and scale that very few soundbars could approach, let alone match. I also appreciated the Mu-so 2nd's contribution to dialog intelligibility during interviews and tour scenes.
Comparison
As outlined above, Naim's Mu-so 2nd Generation offers many features not found in the original model. But did it sound better? To find out, I ventured out to Trutone Electronics, a Naim dealer in Mississauga, Ontario, ten miles from my home in Toronto. Trutone kindly allowed me to take as much time as I needed to compare my review sample to a first-generation Mu-so they had in stock.
After getting the Mu-so 2nd Generation onto Trutone's store network, I went into the players' Audio Settings menus, turned off Loudness, and chose the Near Wall option for Room Compensation (it took me one false start to figure out that I had to do this to get a valid comparison).
As regular readers may have gathered from my choice of reference recordings, I'm a big fan of jazz piano trios -- not only because I love the genre, but because I find it very useful for evaluating equipment. Piano, double bass, and drums can all produce sharp transients that tell me a lot about a system's reproduction of macrodynamics, and a pianist's use of the sustain pedal and legato phrasing can tell me much about the system's handling of microdynamics and reproduction of space. Too, the consistency of tone throughout a piano's range is a good indicator of timbral neutrality. And, of course, the double bass is very helpful for evaluating low-frequency performance.
So after setting up the two players in one of Trutone's sound rooms, I cued up a favorite track by one of my favorite trios: "Ten Tune," from the Brad Mehldau Trio's Seymour Reads the Constitution! (16/44.1 FLAC, Nonesuch/Tidal). Through the Mu-so 2nd, the deepest bass notes were slightly indistinct, both in Mehldau's piano and Larry Grenadier's double bass -- even so, I found this tabletop system's low-frequency reach really impressive. Beyond the lowest notes, Mehldau's piano tone was natural and consistent, Grenadier's bass tuneful and snappy, and Jeff Ballard's rapid snare and cymbal attacks were deliciously sharp.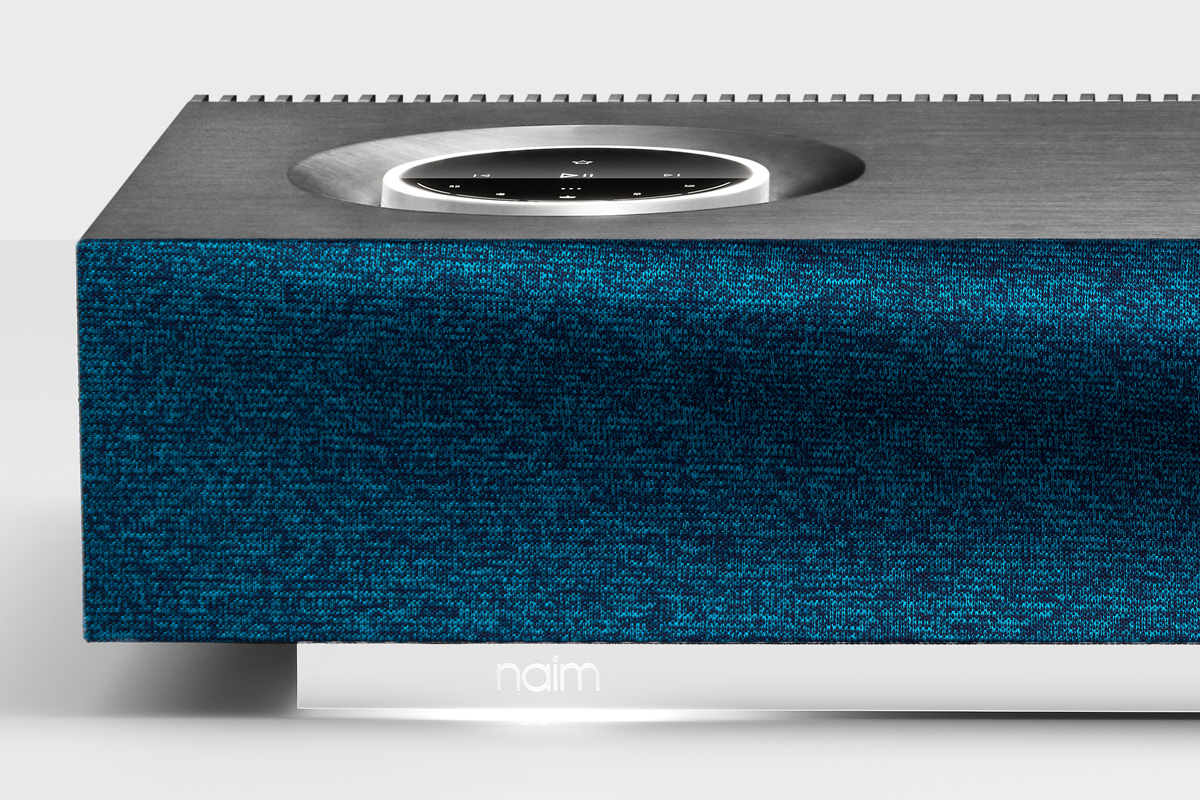 I switched to the original Mu-so and the piano tone slightly hardened. Piano tone was more consistent from top to bottom through the Mu-so 2nd, and the lower octaves had greater solidity. Through the Mu-so 1st, the double bass and kick drum sounded a little thuddier than through the 2nd, especially with the volume cranked up. Played loud, the Mu-so 2nd Generation maintained better composure, sounding less congested than the original.
For something louder and denser, I went back 50 years, to a live album by Quicksilver Messenger Service. "Calvary," from this West Coast band's Happy Trails (16/44.1 FLAC, Capitol Records/Tidal), features incredible guitar playing by Gary Duncan and John Cipollina. The track begins with chaotic jamming drenched in feedback and reverb. Three minutes in, a big guitar theme emerges, accompanied by floor tom, followed by eight minutes of stunning guitar work before chaos re-emerges. Imagine the soundtrack of a spaghetti western on acid and you have a pretty good idea of this music -- there's even wordless vocalizing, gongs, and what sounds like a wind machine.
This wall-of-sound track would challenge any tabletop system, and it sounded a bit dense through both Mu-sos. But considering that these are tabletop stereos, their sound was downright miraculous. The Mu-so 2nd Generation sounded better, though, with sharper guitar transients, better bass definition, and less congestion.
Conclusion
As the foregoing makes clear, Naim's Mu-so 2nd Generation is a very versatile device. Though I've tried to provide a good idea of what it can do, I haven't covered all its capabilities. This might give the impression that its daily use is forbiddingly complicated, and it definitely is not. The Naim app is straightforward, and, aside from a couple of networking hiccups, worked solidly throughout my review period. And if you'd rather use the Spotify app, or any streaming app on an iOS or Android device, you can do that.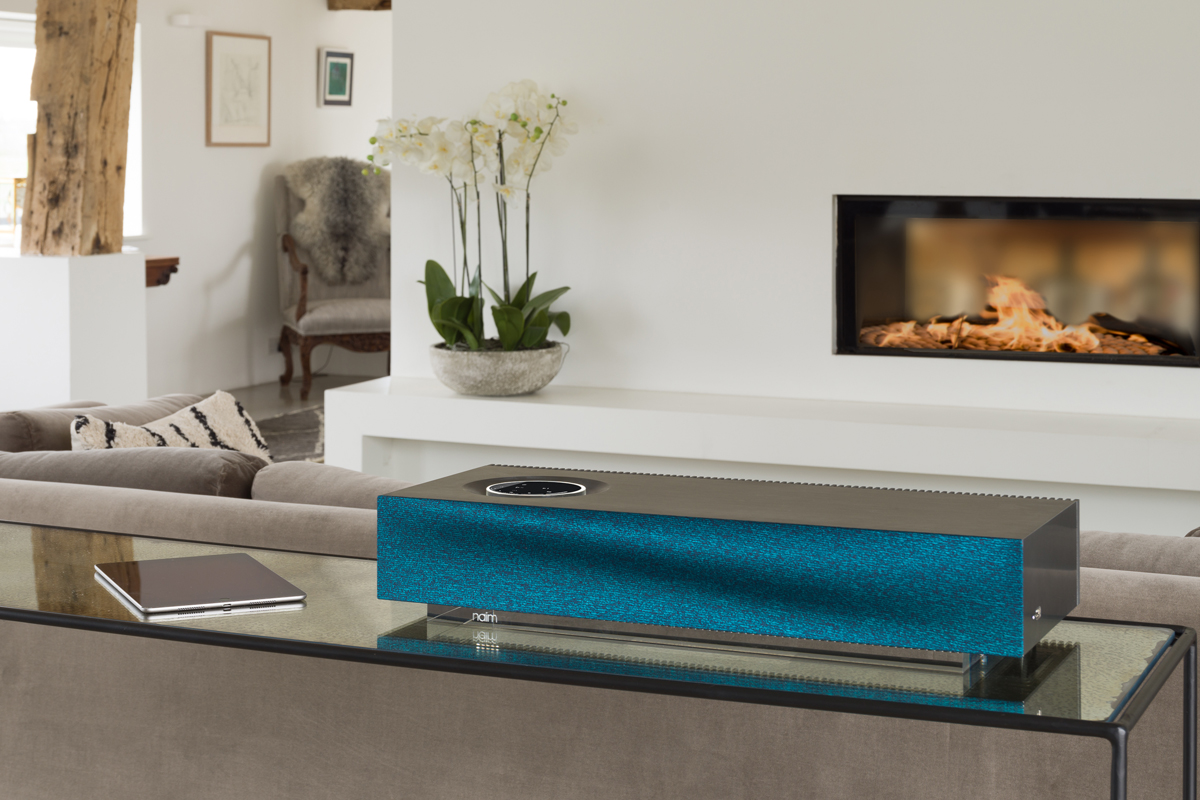 Like the original Mu-so, the Mu-so 2nd Generation looks gorgeous and feels downright luxurious in use, and it's a solid sonic upgrade over the original -- not night-and-day, but more than merely incremental. It can play surprisingly loud for a tabletop system, without losing composure or becoming harsh. Its bass is likewise remarkable -- taut, tuneful, and deep -- losing only a little definition in its lowest reaches. In terms of timbral neutrality, macro- and microdynamics, and the ability to convey fine details, the Mu-so 2nd Generation excels. It's hard to imagine any other all-in-one music system that could outclass this gorgeous product.
. . . Gordon Brockhouse
This email address is being protected from spambots. You need JavaScript enabled to view it.
Associated Equipment
Speaker -- Naim Audio Mu-so (original version)
Sources and control devices -- Apple iPhone SE, LG G7 ThinQ smartphones; Naim Audio Uniti Core server with Audata USB solid-state drive (256GB), Apple Mac Mini (mid-2011) running Roon Core 1.6, with music library on LaCie 2Big Thunderbolt 6TB RAID system
Display -- Vizio D50 D1 HDTV
Network -- Google Wifi three-node network
Naim Audio Mu-so 2nd Generation Wireless Music System
Price: $1599 USD.
Warranty: Two years parts and labor.
Naim Audio Ltd.
Southampton Road
Salisbury SP1 2LN
England, UK
Phone: +44 (0)1722-426600
Fax: +44 (0)871-230-10-12
E-mail: This email address is being protected from spambots. You need JavaScript enabled to view it.
Website: www.naimaudio.com