Judging by the crowds at Audio Video Show 2019, held Friday-Sunday, November 8-10, in Eastern Europe hi-fi is a family affair. The 23rd edition of the show was held in three venues in central Warsaw, in Poland: the Radisson Blu Sobieski and Golden Tulip hotels, and the PGE Narodowy, or National Stadium.
On Friday and Sunday, the crowds at all three venues were pretty good. On Saturday, the show was packed -- it was one of the best-attended consumer audio shows I've ever witnessed. Moreover, the demographic mix was far more diverse than the crowds of male baby boomers typically seen at North American audio shows. There were lots of young couples and singles, and young families with children -- and the kids didn't look as if they were attending under protest.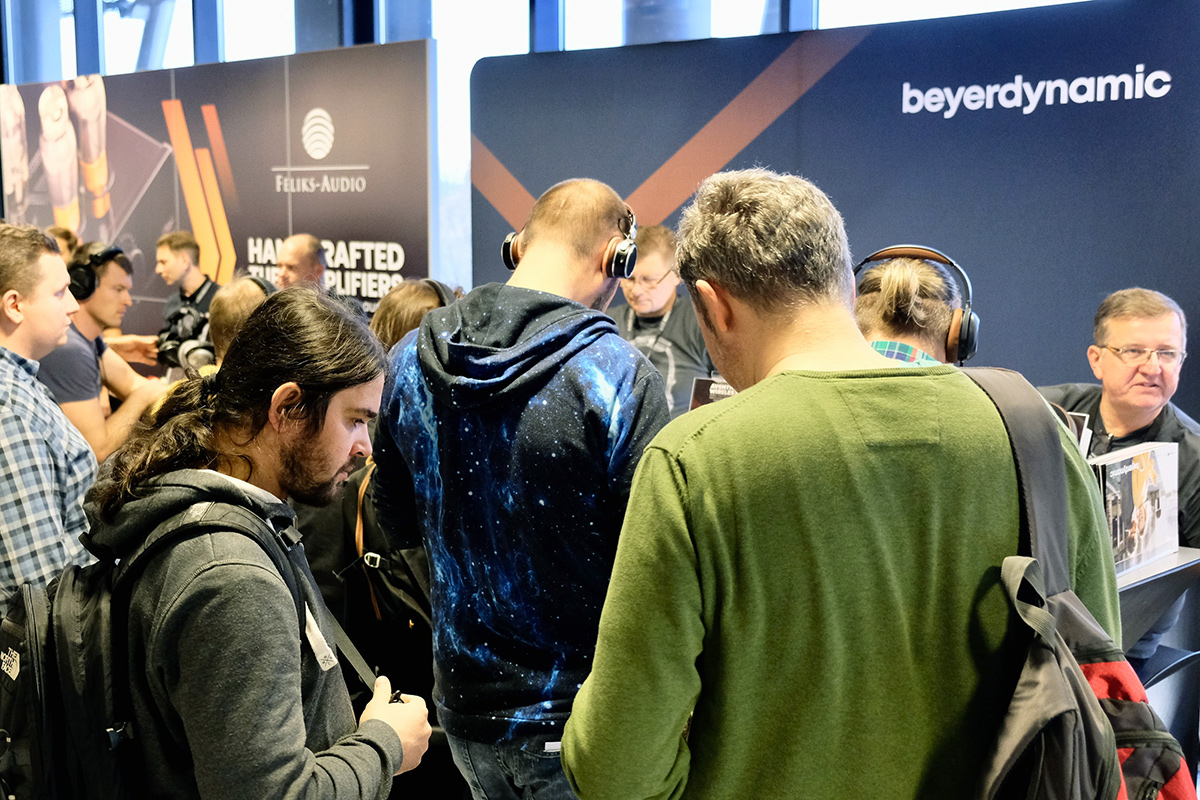 The two hotels housed mainly high-end exhibitors, but there were lots of high-end exhibitors at the National Stadium as well -- some in hallways, some in suites overlooking the athletic field. Loads of new loudspeakers, turntables, and electronics were unveiled; you can find out more about them in Jason Thorpe's exhaustive coverage on SoundStage! Global.
At the National Stadium, I found lots of new products that fit Simplifi's mandate to cover "convenient, lifestyle-oriented hi-fi," and those products are the subjects of this report. All prices are in Polish zlotys (zł) or euros (€). (Currently, the zloty trades at about 26¢ USD. Prices in Europe typically include value-added tax, which in Poland is 23%.)
Active loudspeakers
One of my first reviews for Simplifi was of the Callisto 2 C active stand-mount speaker from Danish Audiophile Loudspeaker Industries (DALI). They won a Reviewers' Choice Award, though I found their cosmetics somewhat dated.
At AVS 2019, Horn Distribution, DALI's Polish distributor, demonstrated two new active speakers: DALI's Rubicon 2 C stand-mounter and the Rubicon 6 C floorstander. Both are way prettier than the Callisto 2 C and 6 C. I really liked the gloss-white finish of the Rubicon 2 C and the walnut veneer finish of the Rubicon 6 C shown in Warsaw. The new Rubicons are also available in gloss black and rosewood, and I'm sure I'd like those finishes just as much.
I also liked what I heard. With some acoustic jazz playing, the Rubicon 6 C reproduced the sounds of double bass and percussion with delicious slam and impact, and trumpet with impressive bite and clarity.
The official European announcement was expected some time after the show, but hadn't been made by our deadline. The Rubicon 2 C and 6 C will be launched in North America in early 2020. The representatives of Horn Distribution were unable to tell me anything about either model -- not the specified output of their built-in amplifiers, not even their prices. Still, I was able to figure out a few things. The Rubicons are active versions of DALI's Rubicon 2 and Rubicon 6 passive loudspeakers, with the same driver complements and cabinet designs. The Rubicon 2 C has a 1" (29mm) soft-dome tweeter and a 6.5" wood-fiber cone woofer; the Rubicon 6 C has two 6.5" woofers, and a hybrid tweeter that combines the 1" dome with, for the highest frequencies, a 17 x 45mm ribbon tweeter.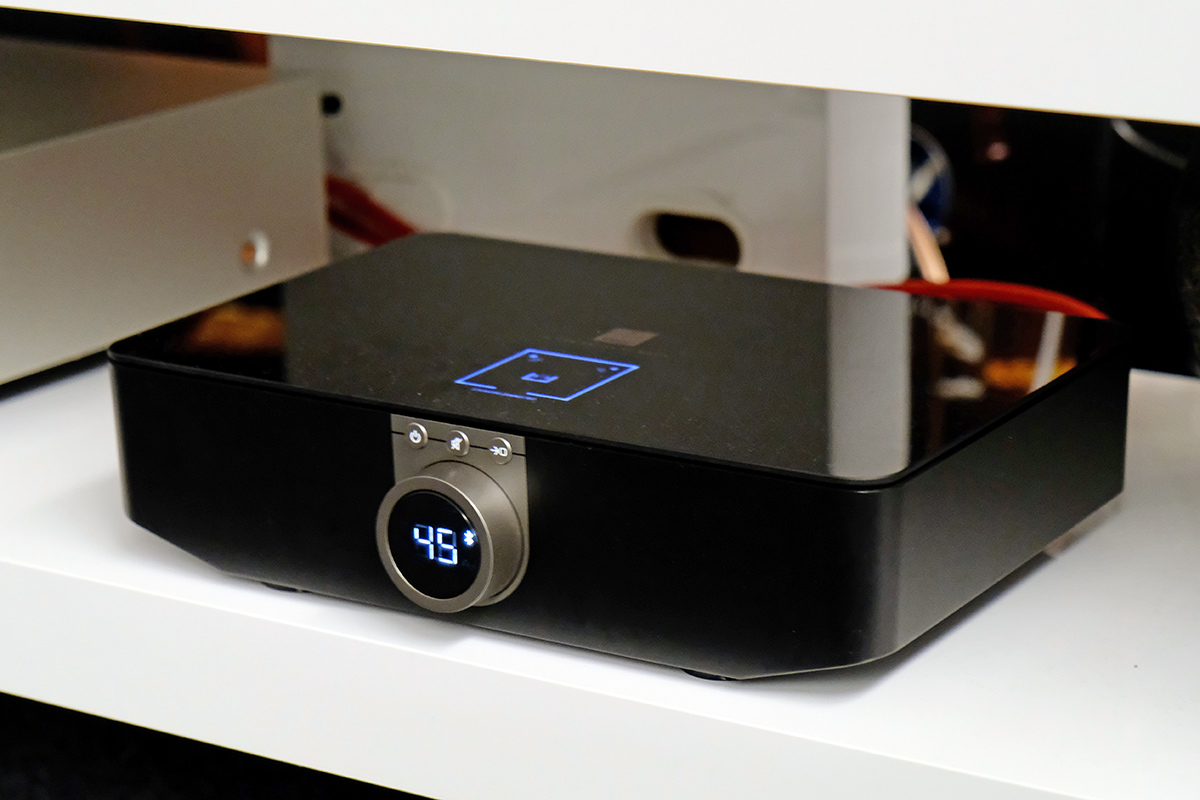 Like DALI's Callisto active speakers, the new active Rubicons have line-level RCA inputs on their rear panels, but they're really intended for use with DALI's Sound Hub, with which they were demonstrated in Warsaw. The Sound Hub has optical and coaxial digital inputs, analog inputs, and Bluetooth connectivity, and sends digital audio to the speakers at up to 24-bit/96kHz resolution.
The Sound Hub also has a slot that can accept a BluOS module that enables the speakers to be used as part of a Bluesound whole-house audio system, under control of the BluOS app for iOS or Android. The BluOS module also adds support for Apple AirPlay 2 and Roon Ready capability, making it a very attractive option. I'll be pitching hard to get a review sample of one of the new active Rubicons.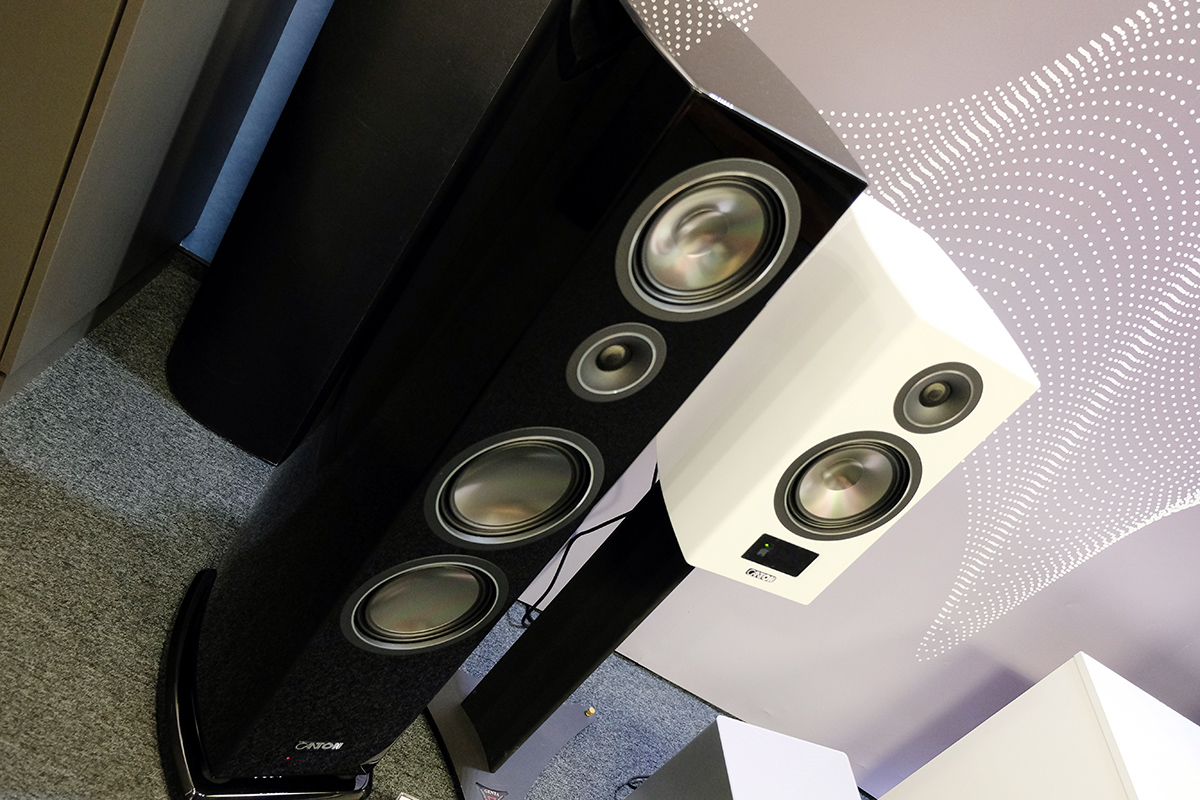 Horn Distribution also distributes in Poland the German brand Canton, and in an adjacent suite was demonstrating Canton's Smart Vento 9 active floorstanding speakers (zł18,999/pair) and Smart Vento 3 active stand-mounts (zł9999/pair). Both are available in gloss-black and gloss-white finishes.
The Smart Vento 9 is a four-driver, three-way system with a 1" ceramic-dome tweeter, a 7" titanium-cone midrange, two 8" titanium woofers, and four amplifiers with 600W total output. The Smart Vento 3 is a two-way system with a 1" ceramic tweeter and 7" titanium woofer, and two amplifiers with 350W total output. On both models, the master speaker contains the jack panel -- which includes USB, coaxial and optical S/PDIF, and XLR and RCA analog line-level inputs -- and communicates wirelessly with the slave.
The Smart Ventos 9 and 3 have onboard Dolby Digital and DTS surround decoders, and for surround-sound applications can be grouped with other Smart models, including the Smart Sub 8 (zł2599), Smart Soundbar 10 (zł3999), and Smart Soundbox tabletop speaker (zł1499).
The newest addition to Canton's Smart range is the Smart Connect 5.1 wireless six-channel preamplifier (€500), which has four HDMI inputs, optical and coaxial S/PDIF inputs, and analog inputs, as well as Dolby Atmos and DTS-HD Master Audio decoders with virtual surround processing, Chromecast Built-in, and Spotify Connect. It can send lossless signals from any connected source to all Canton Smart products, allowing them to be grouped for surround audio and/or multi-room music.
Canton has a solid following in Europe, but has had a hard time getting a foothold in North America. Currently, they lack a distributor on the left side of the pond.
Powered loudspeakers
Harman/Kardon introduced its Citation Wireless speakers a little over a year ago, but somehow they fell under my radar. The series includes two mono and two stereo tabletop speakers, a soundbar, a surround speaker, and a subwoofer.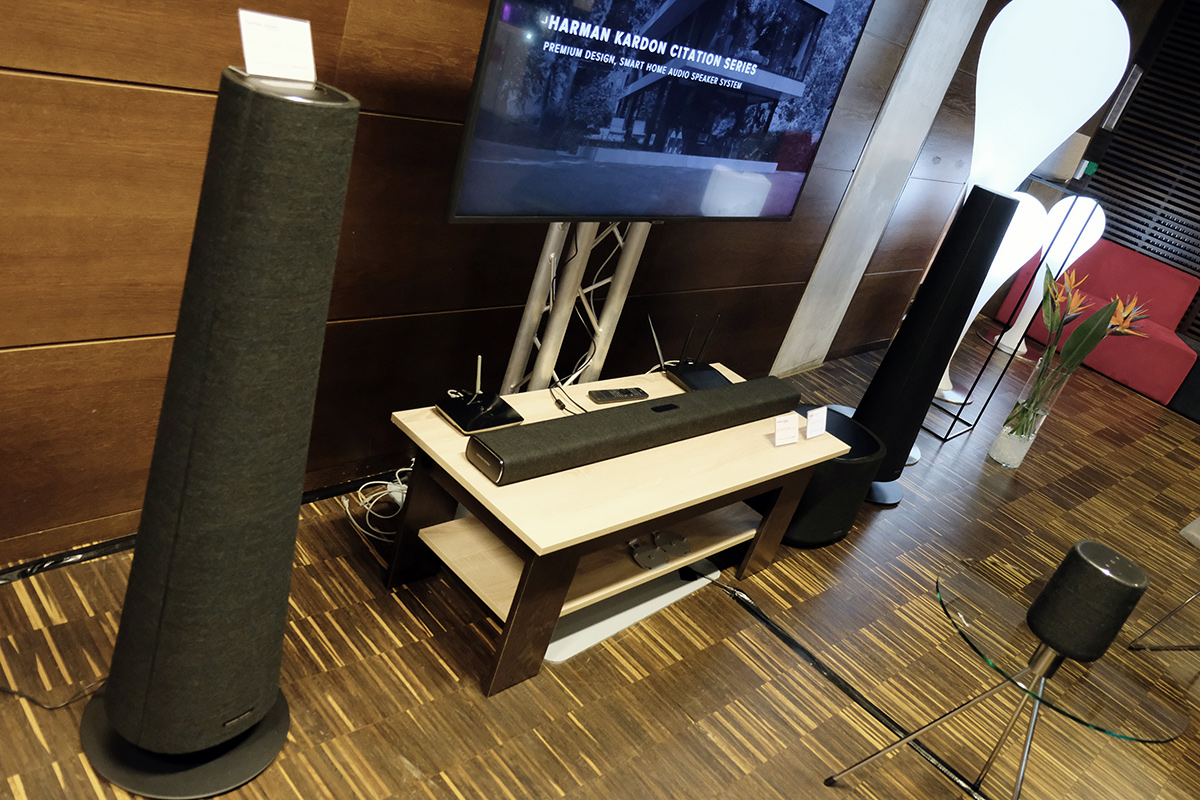 This year H/K has added the Citation Tower floorstanding speakers (zł5399/pair), which were demonstrated in Warsaw. Like all Citation models, the Tower features Chromecast Built-in and support for Google Assistant voice control. The master, right-channel speaker has a touchscreen on its top panel for selecting sources, adjusting volume, and configuring the system.
Each Citation Tower contains a 200W amplifier powering a 1" dome tweeter, two 4" midrange-woofers, and an 8" woofer. A pair can be used on their own for stereo playback, or grouped with the Citation Bar, Surround, and Sub for home-theater use, and/or with Citation tabletop speakers via Google Home for multi-room music. I think I need to get a pair of Citation Towers in for a review on Simplifi.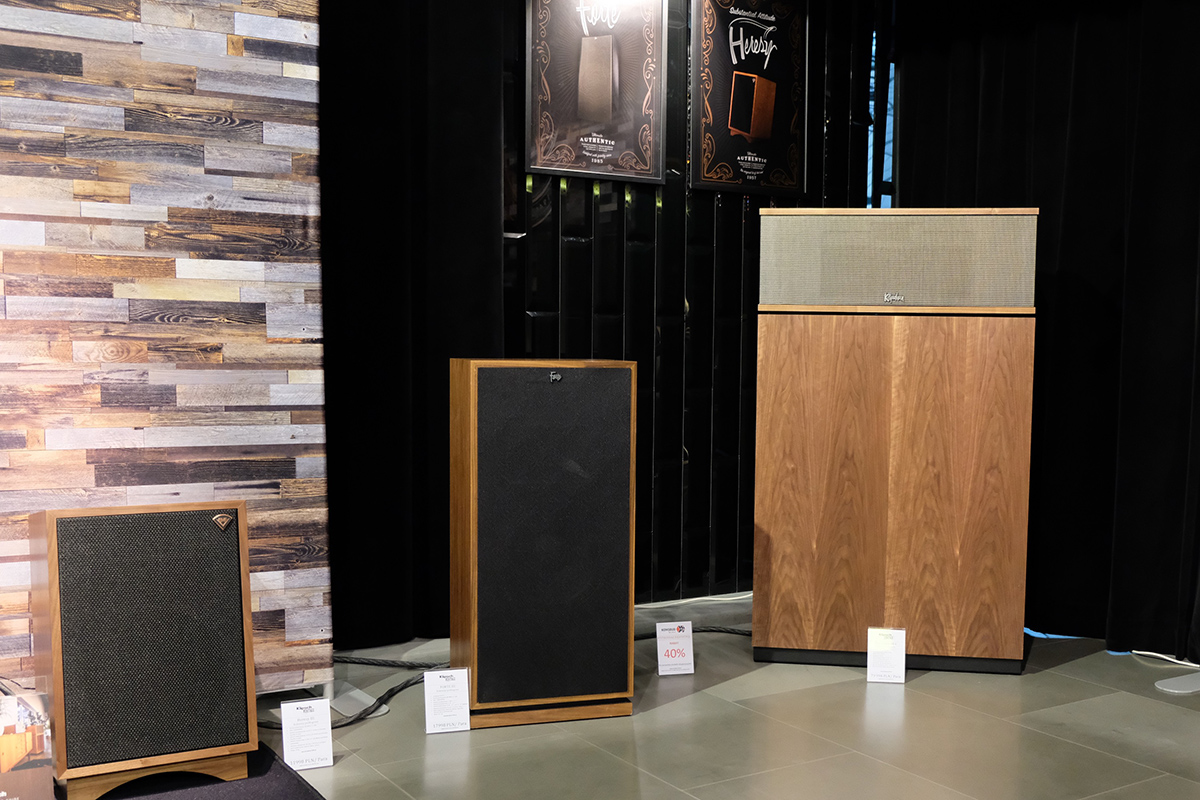 One very popular demo at the National Stadium took place in the suite of Konsbud Hi-Fi, which distributes Klipsch in Poland. Konsbud was playing a pair of big Klipschorn corner horns (at right in photo) -- they sounded exciting and dynamic, much as I'd expected, but also fast, articulate, and well integrated. The Klipschorns don't really fit under the Simplifi umbrella . . .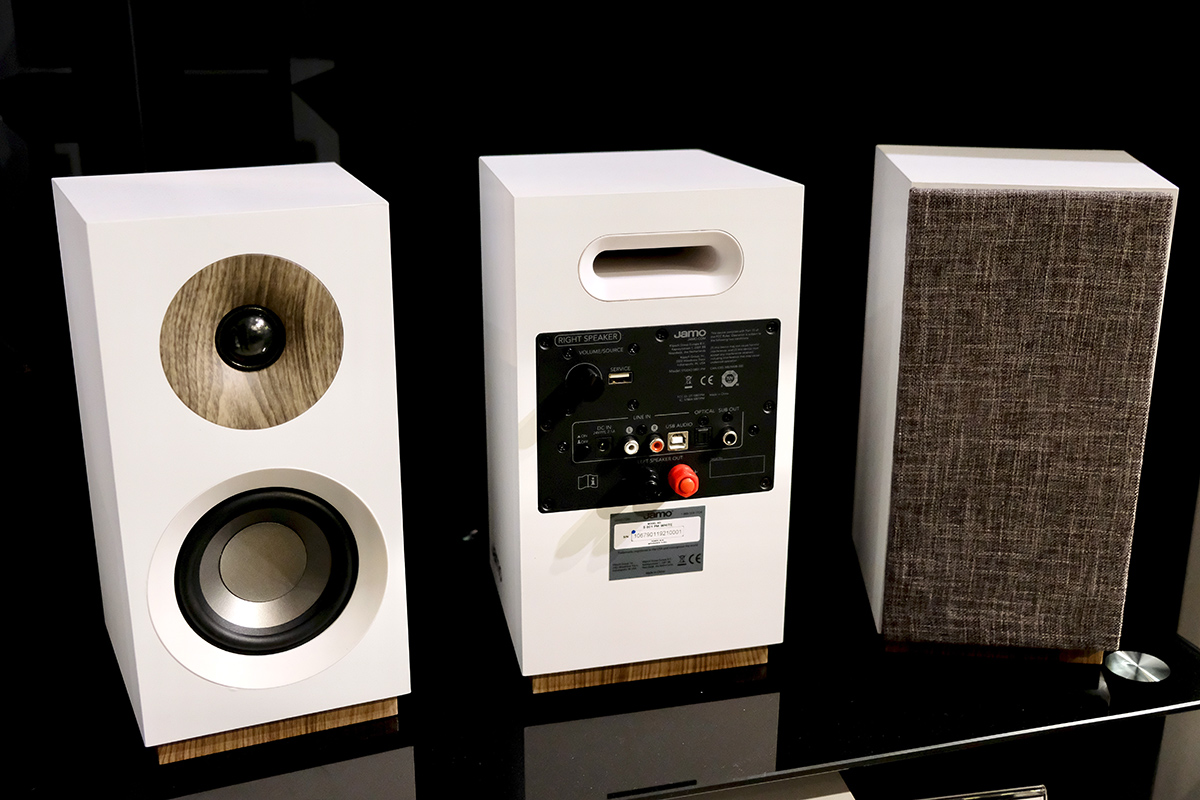 . . . but the Jamo S801 PM powered speakers do. A Danish brand, Jamo is now owned by Klipsch. The S801 PM (zł1199/pair) employs a 1" dome tweeter and a 4" woofer, driven by a 60Wpc class-D amp. They're available in black and white finishes. The master speaker has optical and analog inputs, and a USB DAC with maximum resolution of 24/96 PCM, plus Bluetooth wireless connectivity and subwoofer output.
Streaming audio
Based in Vienna, Austria, Pro-Ject Audio Systems is best known for its turntables -- more than any other company, Pro-Ject is responsible for the vinyl revival. But Pro-Ject also makes a wide array of digital components, including the CD Box RS2 T (zł11,190, top in photo below) and Pre Box RS2 (zł8990, middle in photo below) -- the combination won a 2019-2020 EISA Award for Best Digital Source. Those products were on silent display in Pro-Ject's hallway exhibit in the National Stadium, along with the Amp Box R (zł3990, bottom in photo).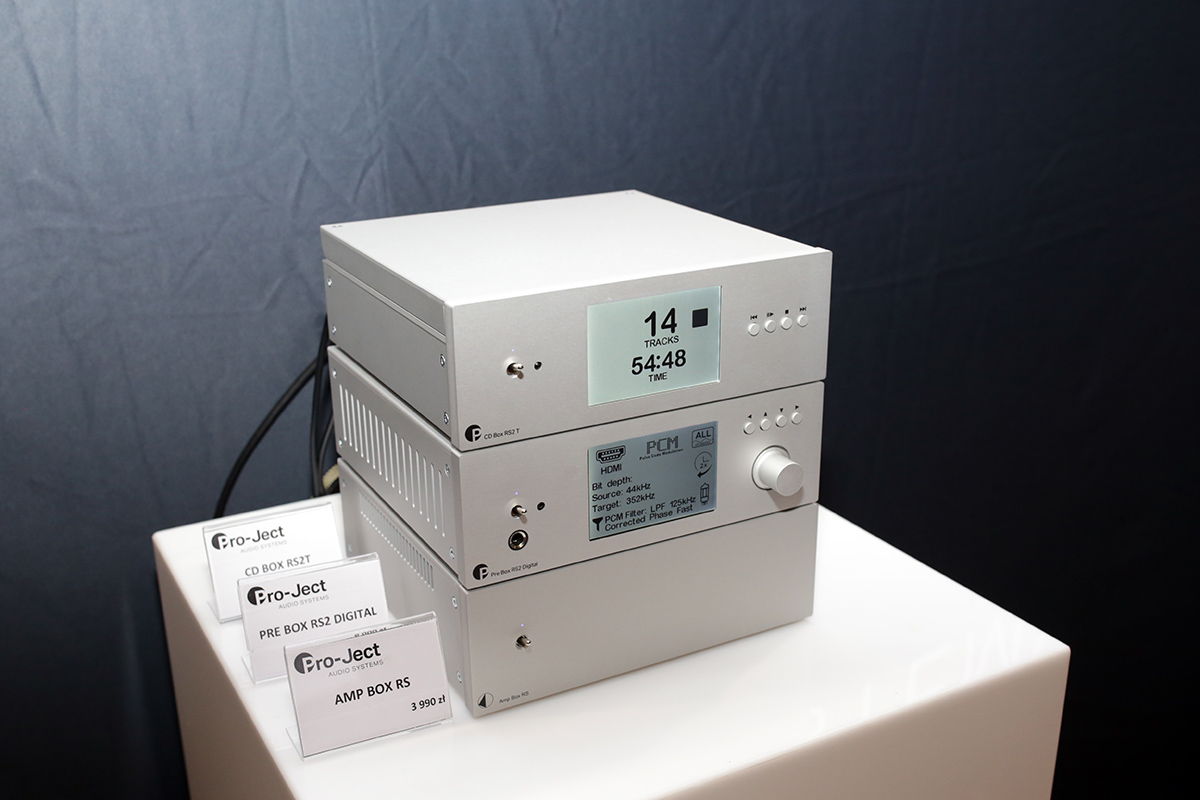 The CD Box RS2 T is built around the CD-Pro8 top-loading mechanism and CD84 servo developed by Vienna-based StreamUnlimited, a company formed by ex-Philips engineers. As Pro-Ject founder Heinz Lichtenegger explained to me with characteristic enthusiasm, the mechanism is suspended in a carbon-fiber subchassis, developed by Pro-Ject, that damps high-frequency resonances from the motor. The transport has optical and coaxial S/PDIF outputs, AES/EBU balanced output, and I2S + Masterclock output via HDMI.
A fully balanced design, the Pre Box RS2 employs two ESS Sabre 32-bit DACs in dual-mono configuration, with maximum resolution of 32/768 PCM and DSD512 via USB. Other digital inputs include AES/EBU, two optical and one coaxial S/PDIF, and I2S HDMI, all with maximum resolution of 24/192 -- there are also XLR and RCA analog inputs. Other features include full hardware MQA decoding, a headphone amplifier, and a class-A output stage switchable between tubed and solid-state operation.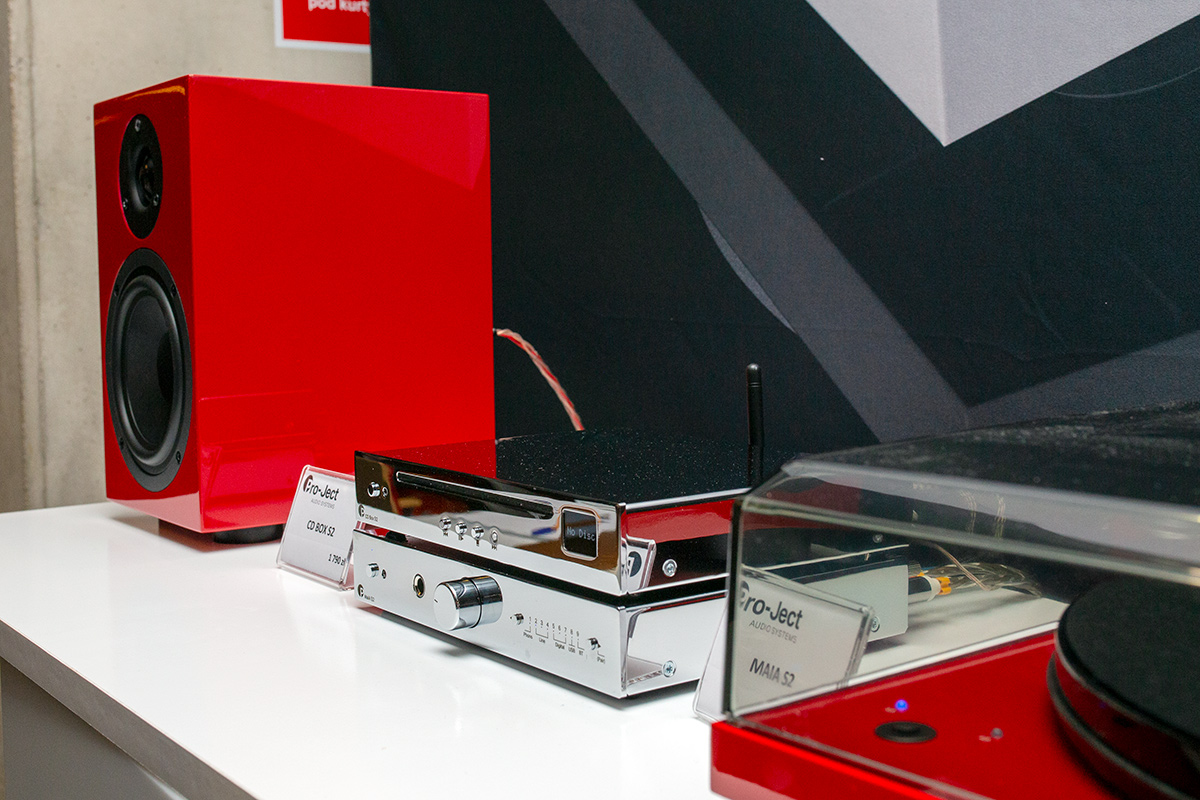 The CD Box S2 and MaiA S2 amplifier aren't new products, but these beautiful chrome versions are. Specified to output 30Wpc, the MaiA S2 (zł2190) has moving-magnet phono, line-level analog, USB, coaxial and optical inputs, along with aptX-capable Bluetooth. Maximum resolution is 24/192 via USB and coaxial S/PDIF, 24/96 via TosLink. The CD Box S2 (zł1790) has both optical and line-level analog outputs. In addition to the chrome faceplate, the MaiA S2 has copper heatsinks. Lichtenegger said it has a "beautifully warm sound -- like tubes," and called it "a micro-Devialet."
In one of its suites at the Warsaw National Stadium, Top Hi-fi & Video Design was demonstrating the Evolution CS 5.2 LE streaming CD receiver (zł11,999) from the German brand AVM, which it distributes in Poland. The CS 5.2 LE is a scaled-down version of the CS 5.2 with specified output of 200Wpc, compared to the CS 5.2's 330Wpc. It combines a slot-loading CD player, network streamer with built-in support for Tidal and Qobuz, and USB DAC with maximum resolution of 24/192 PCM.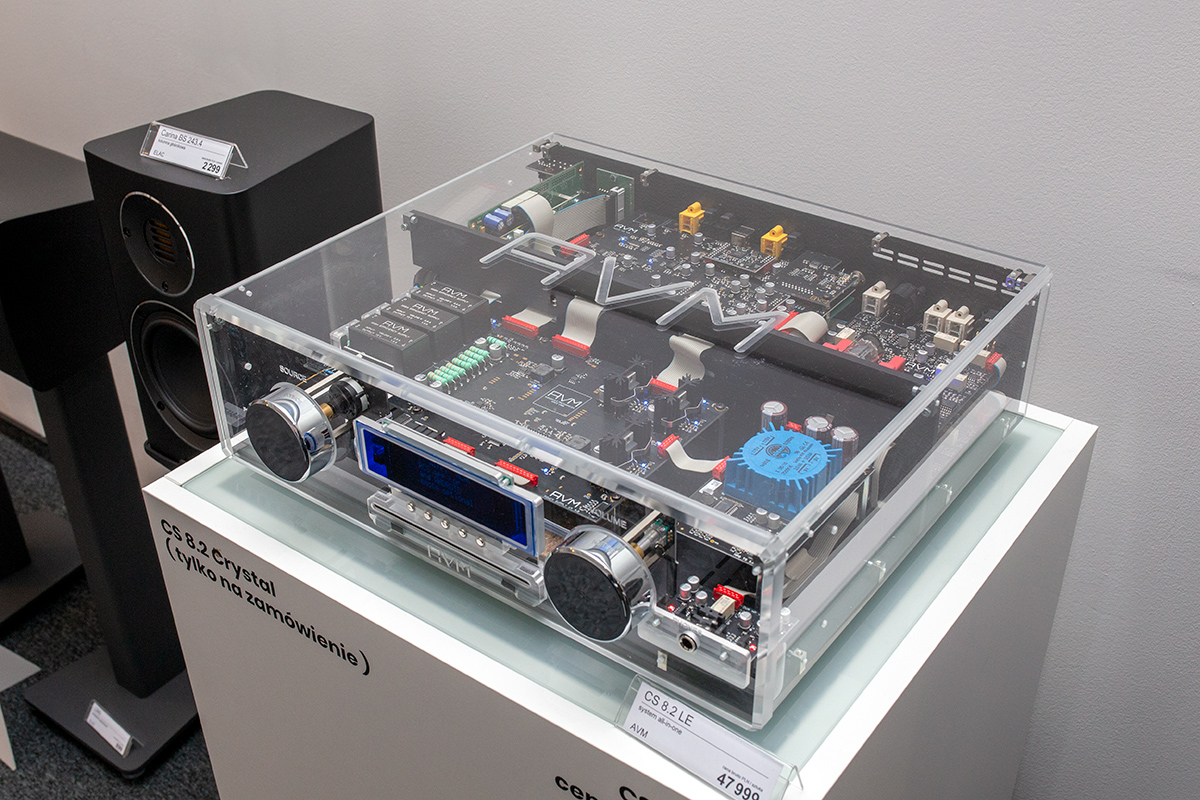 On silent display in the same room was the Ovation CS 8.2 Crystal streaming CD receiver (zł47,999) -- a new version of the Ovation CS 8.2 with a transparent acrylic case. With promised power outputs of 500Wpc, each model has a tubed line stage, quad DACs with maximum resolutions of 32/384 PCM and DSD128, a network streamer with support for Tidal and Qobuz, and a class-A headphone amp.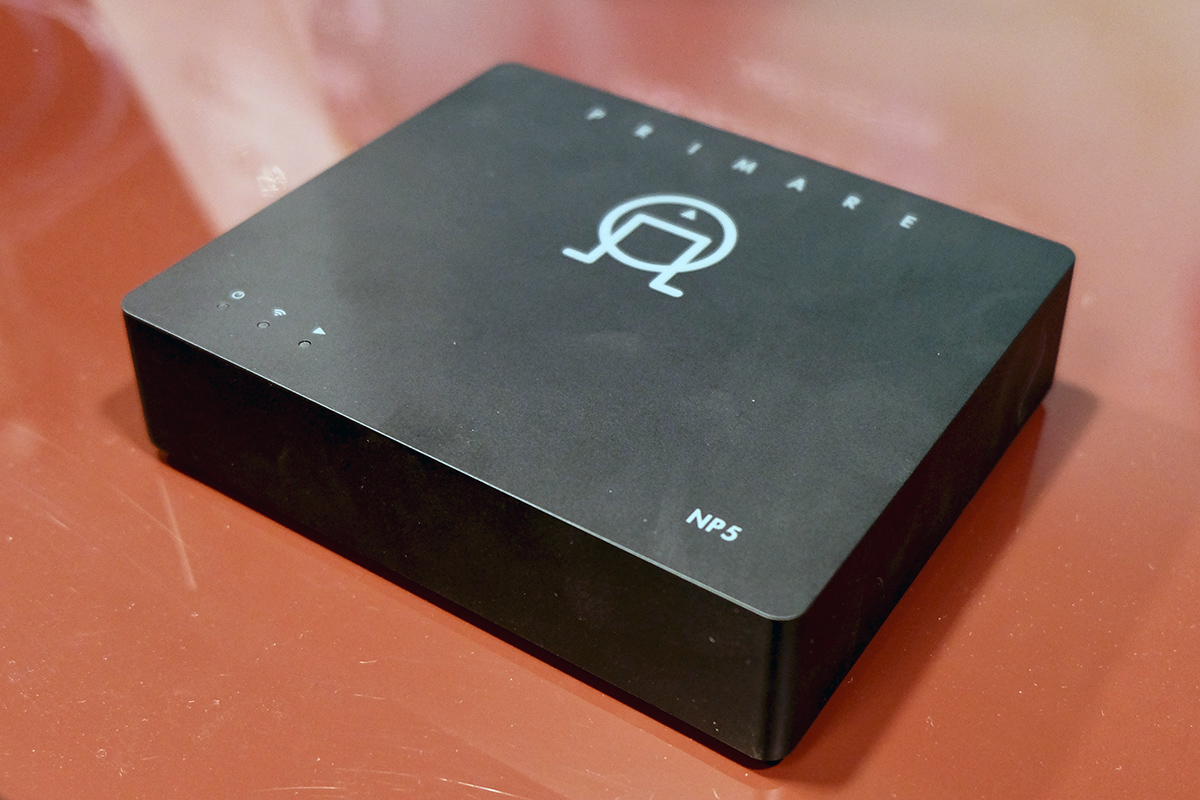 New from Sweden-based Primare is the NP5 Prisma network player (€500), shown for the first time at Audio Video Show 2019. The NP5 contains the same streaming features found in Primare's CD15 Prisma and CD35 Prisma CD players; I15 Prisma, I25 Prisma, and I35 Prisma integrated amplifiers; and SC15 Prisma preamplifier (which I reviewed in May). Like all of those products, the NP5 Prisma features Chromecast Built-in, AirPlay, Bluetooth, and Spotify Connect. A forthcoming update will add AirPlay 2 capability and full Roon support to all Prisma products, including the NP5.
Big-brand music
In Europe, mass-market brands like Pioneer offer some two-channel products that aren't available in North America, where they focus more on home theater. Two of these were on active display in the room of DSV, Pioneer's Polish distributor. DSV was using Pioneer's A-70DA integrated amplifier (zł6000) and N-70AE network music player (zł6500) in a system with KEF R11 floorstanding speakers.
The A-70DA is a MOSFET-based class-D design with specified outputs of 90Wpc into 4 ohms or 65Wpc into 8 ohms. Its digital section employs a 32-bit ESS Sabre DAC with maximum resolution of 32/384 PCM and DSD256 via USB -- TosLink and coaxial S/PDIF connections are also available. Analog inputs include MM/MC phono, balanced XLR, and four sets of unbalanced line-level RCA inputs. The A-70DA's three-part case has separate shielded sections for its power supply, preamp, and power amp circuits.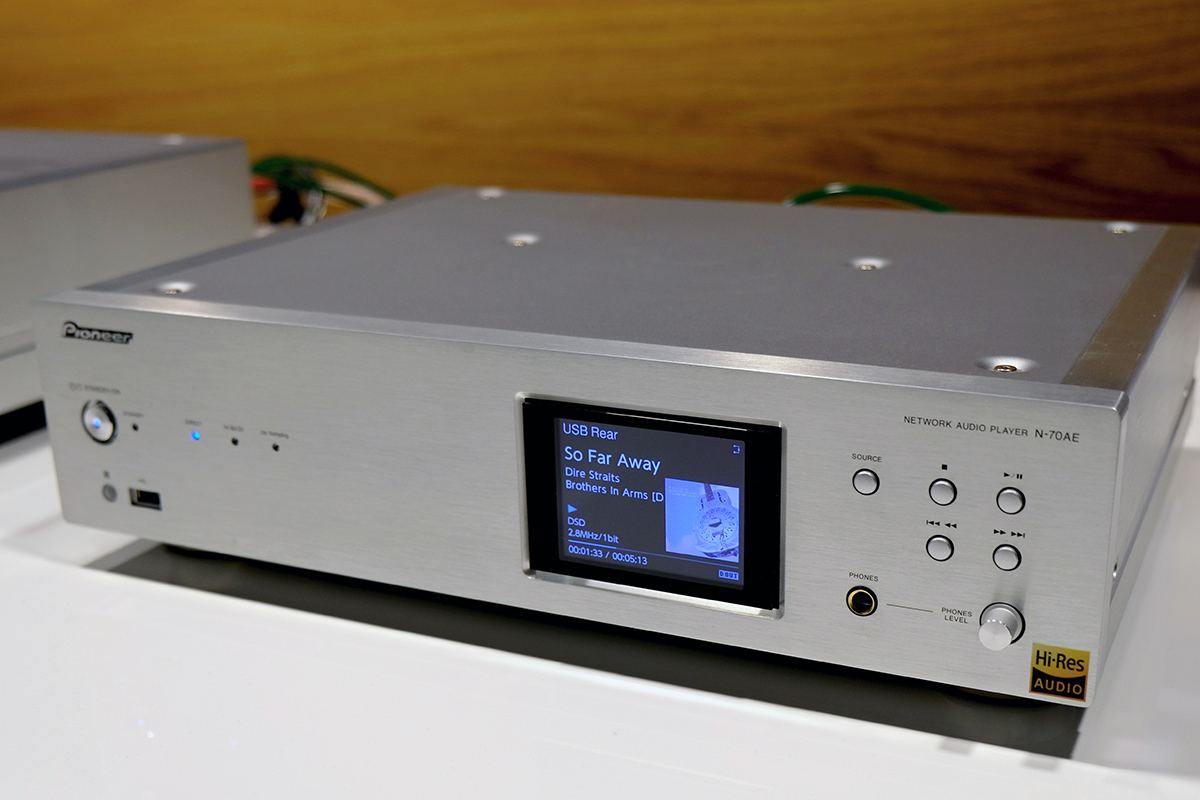 The N-70AE integrates a network streamer with support for AirPlay, Chromecast Built-in, DTS Play-Fi, and MQA, with an ESS Sabre-based DAC with maximum resolutions of 32/384 and DSD512 via USB. Supported streaming services include Spotify, Tidal, and Deezer. In addition to a USB Type-B port for connection to a computer, the N-70AE has front and rear USB Type-A ports for connecting external drives. Output options include balanced (XLR) and unbalanced (RCA) analog, and TosLink and coaxial S/PDIF.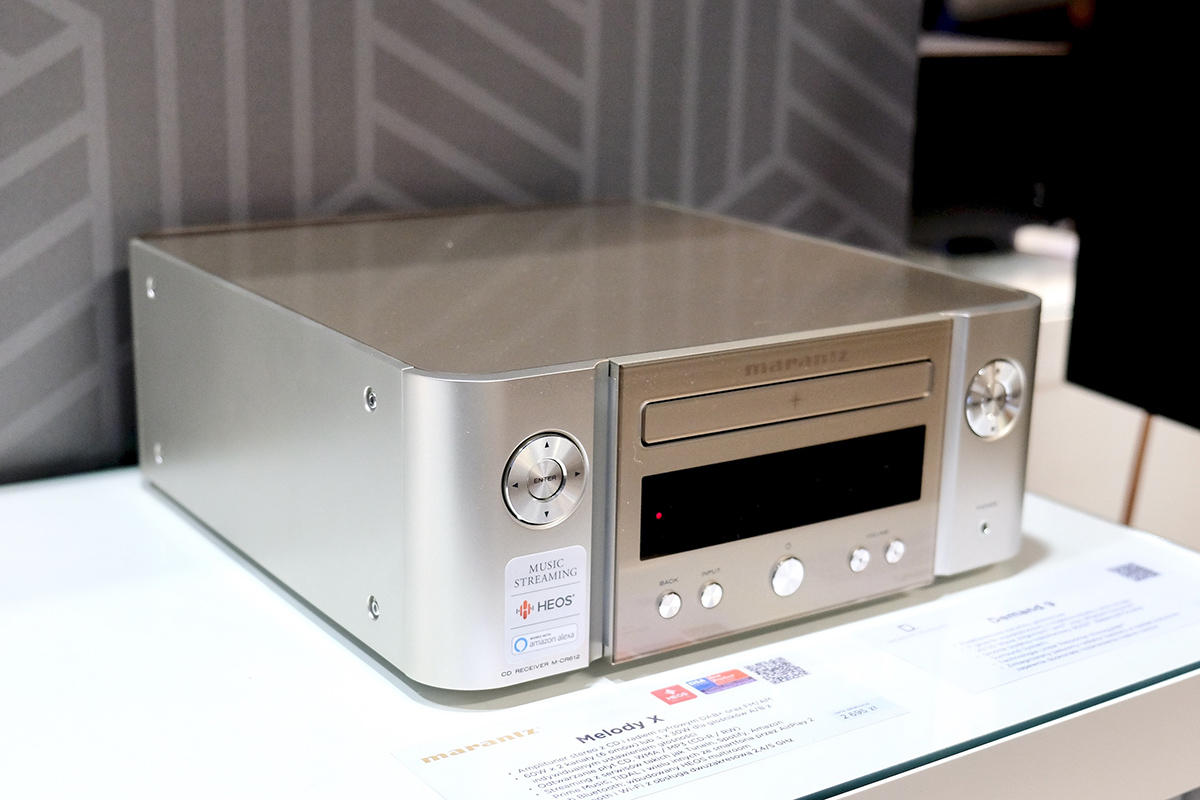 As I've discovered since downsizing my residence a couple of years ago, it can be hard to fit a full-fledged component system into a multipurpose room, especially in a small urban home or apartment. For this kind of setting, a compact all-in-one system like the Marantz Melody X (zł2695) will fill lots of people's entertainment bills.
Available in bronze and black finishes, the Melody X houses a CD player, a 60Wpc amplifier, Wi-Fi and Bluetooth radios, and a network streamer that supports AirPlay 2, Spotify, Amazon Prime Music, Tidal, TuneIn Internet Radio, and Denon/Marantz's HEOS multi-room audio technology. Marketed as the M-CR612 in North America, the Melody X won a 2019-2020 EISA Award in the Compact Stereo System category.
In a hallway exhibit at the National Stadium, Marantz's Polish distributor, Horn Distribution, was playing a trailer for Black Panther through the Melody X and a pair of Definitive Technology Demand 9 floorstanding speakers. Given the environment and program content, I can't make any meaningful comments on sound quality, other than to say it was big and dramatic, considering the small size of the Melody X.
Surround sound
Because of the multitude of components and cables required for true surround sound, it's a real challenge to get a great home-theater experience in a multipurpose living space. But a couple of products shown at Audio Video Show 2019 proved that surround sound can be domesticated.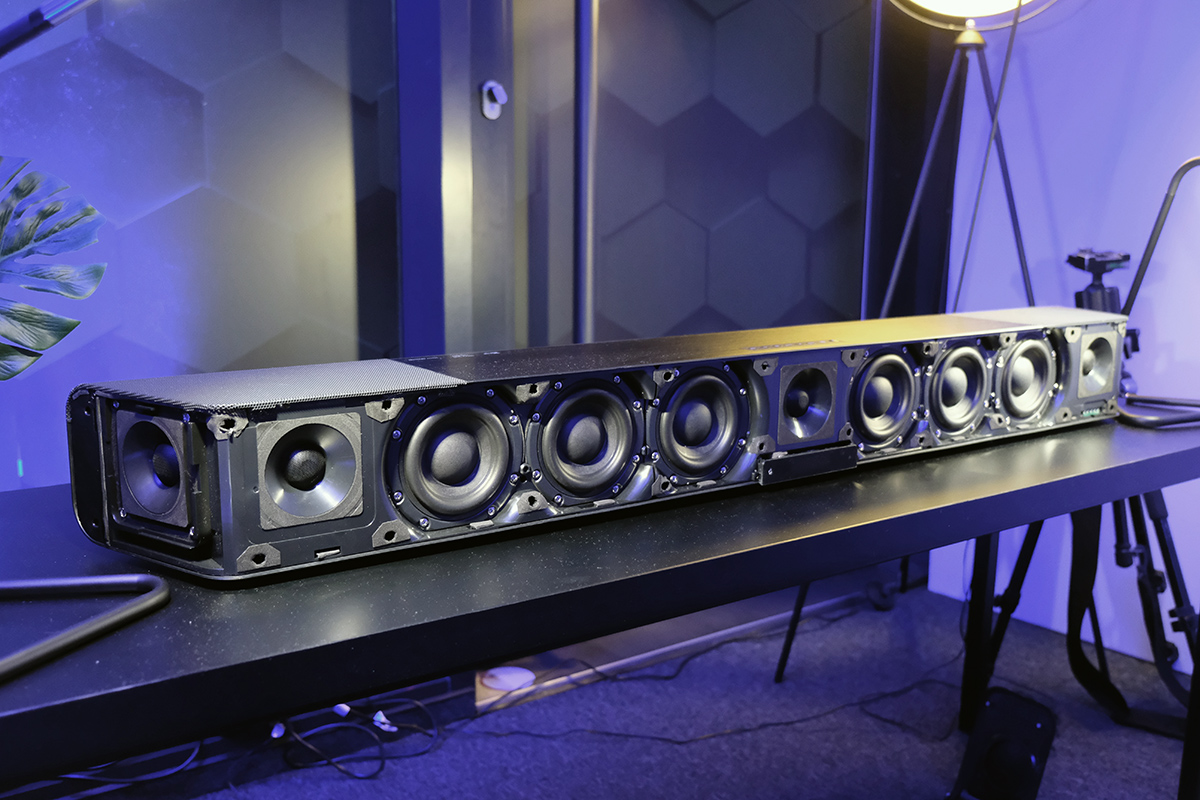 I was pleased to find that Aplauz, Sennheiser's Polish distributor, was demonstrating the Ambeo soundbar (zł10,000) in one of its suites at the National Stadium. I'd been wanting to hear this product for some time -- it won a 2019-2020 EISA Award in the Home Theater Audio category for best premium soundbar.
The Sennheiser Ambeo soundbar's complement of 13 drivers comprises six long-throw 4" woofers, five 1" aluminum-dome tweeters, and two upfiring 3.5" effects drivers. Its virtualization technology, developed by Germany's Fraunhofer Institute, enables the soundbar to deliver a 5.1.2-channel immersive soundfield from Dolby Atmos and DTS:X soundtracks. The Ambeo can also upmix 5.1-channel and stereo content.
The Ambeo has three HDMI 2.0a inputs, HDMI 2.1 output with support for eARC (required for lossless surround audio), as well as an optical output. For music streaming, the Ambeo has Bluetooth and Wi-Fi connectivity, and Chromecast Built-in.
The first demo I took in included clips from one of the later Star Wars movies. The dramatic musical score and sound effects extended far to either side of the soundbar and far out into the room, but lacked the vertical dimension that immersive formats like Dolby Atmos can produce. While it was pretty impressive, the experience didn't match demos I've heard of 5.1.2 systems comprising multiple separate speakers. When Doug Schneider visited Aplauz's room later that day, he said the sound was nowhere near as enveloping as the demo he'd heard at the EISA presentation last summer. This was confirmed by journalists from other countries who were part of the EISA Awards.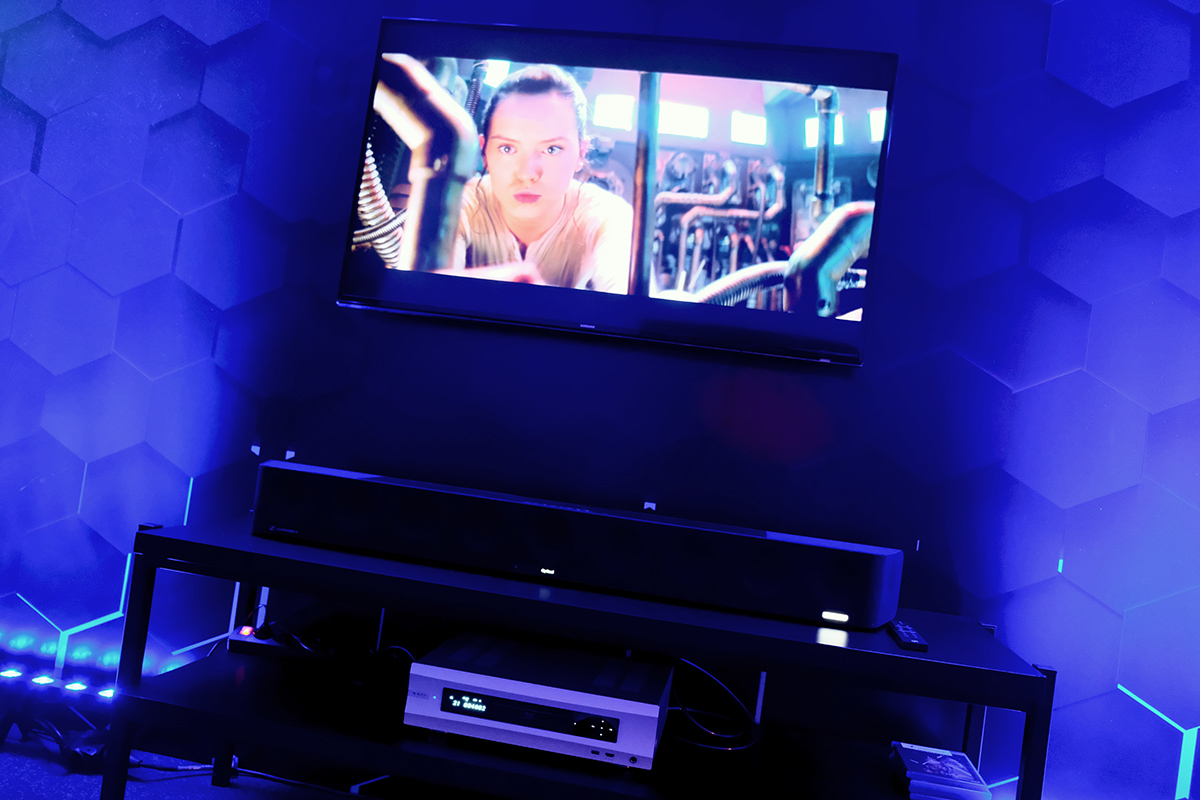 The explanation is simple. Aplauz had connected the Ambeo soundbar to the Oppo Blu-ray player it was using for this demo with an optical cable -- not HDMI. An optical connection can't carry a Dolby Atmos or DTS:X stream, so what I was hearing was either an upmix of a 5.1-channel Dolby Digital or DTS stream (if the Oppo was set to bitstream output), or an upmix of two-channel stereo (if the player was set to PCM output).
It was disappointing not to have fully experienced what the Ambeo soundbar can do, which is one reason I'd like to get one in for review. A $2600 USD soundbar that can deliver 5.1.2-channel immersive audio with bass that goes down to 30Hz without a subwoofer fits Simplifi's mandate to a T.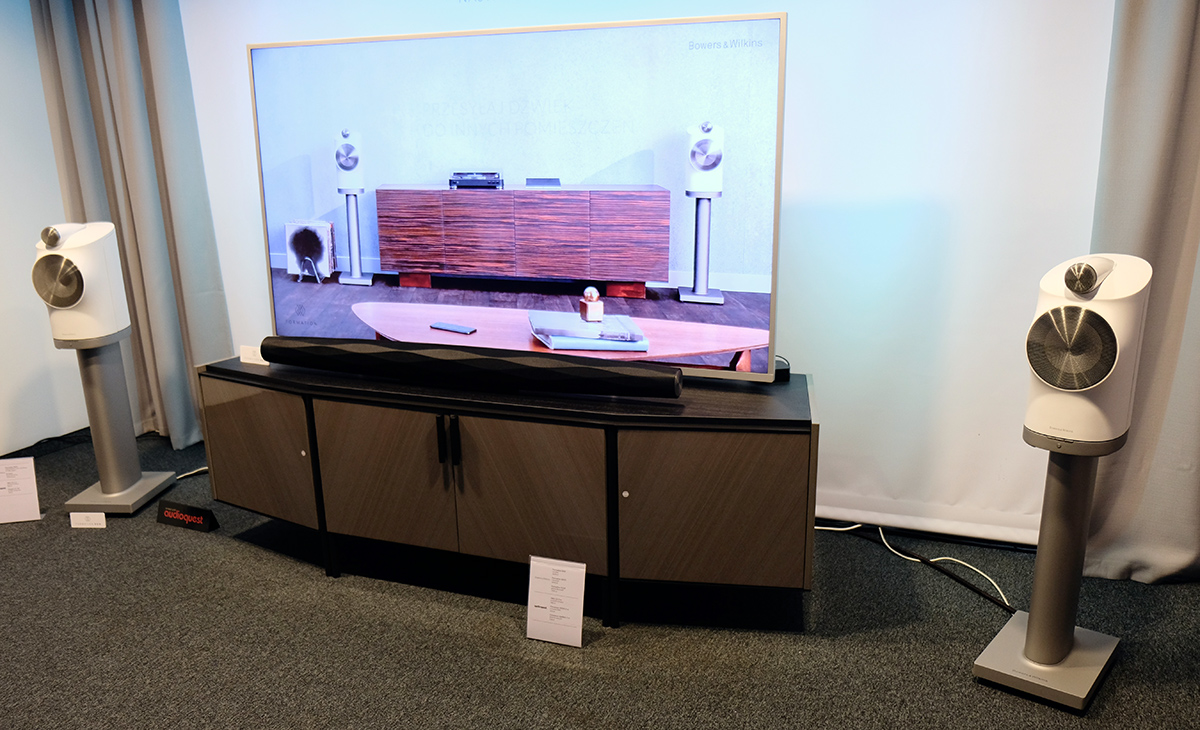 In one of its rooms at the National Stadium, Top Hi-Fi & Video Design was demonstrating Bowers & Wilkins's Formation Duo active speakers, which may be my favorite of the 20-plus products I've reviewed so far this year.
B&W recently added a new product to its Formation range of wireless products, which, in addition to the Formation Duos, also includes the Formation Bar soundbar, Formation Wedge tabletop speaker, Formation Bass subwoofer, and Formation Audio streaming preamp. On silent display in Warsaw, the new Formation Flex (zł1199 each) has a 1" dome tweeter and a 4" glass-fiber woofer, each driven by its own 50W amplifier.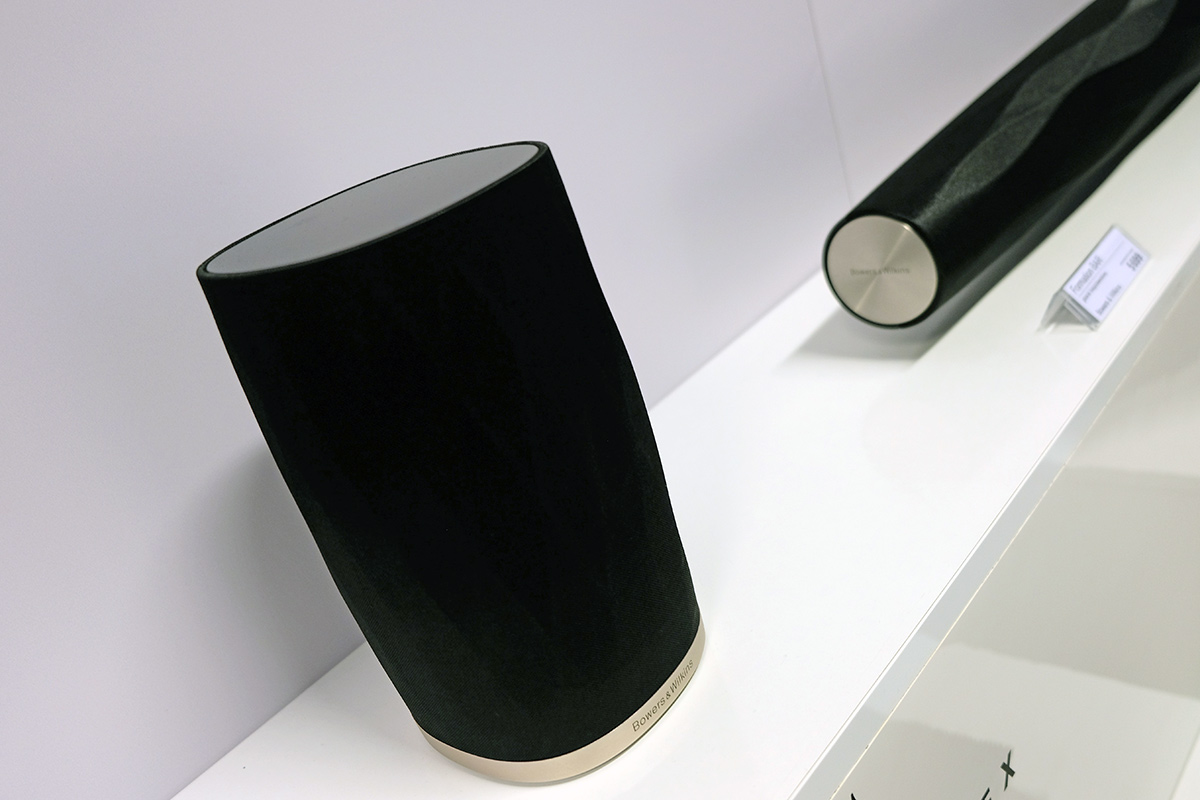 What's particularly interesting about the Flex is that a pair of them can be combined with a Formation Bar and Bass to create a 5.1-channel surround-sound system. The only wires will be the power cord running to each speaker, and the signal cable(s) connecting the Bar to the TV and/or video source components. The speakers communicate with each other wirelessly via a proprietary mesh network, with maximum resolution of 24/96 and latency of less than a microsecond.
History lesson
Something that became clear to me at Audio Video Show 2019 is that enthusiasm for audio is much more broadly based in Eastern Europe than it is in North America. I have a theory about this, and the dates of this year's show bear a coincidental relationship to my theory.
Day two of the show happened to fall on the 30th anniversary of the dismantling of the Berlin Wall, and the Monday following the show was Poland's National Independence Day, celebrating the anniversary of the restoration of the country's sovereignty in 1918.
What's the relationship between history and hi-fi? Other than such iconic products as Levi's jeans, I'd bet that stereo components were the consumer goods that residents of Eastern Europe most longed to own during the Cold War. That era coincided with the boom years of component stereo in the West, when audio became part of the mainstream. Now, in North America, audio is more of a niche pursuit. But in Eastern Europe, more people appreciate the value of great audio, and I think part of the reason is that for so long it was simply unattainable. Clearly, they're making up for lost time.
. . . Gordon Brockhouse
This email address is being protected from spambots. You need JavaScript enabled to view it.