In the Toronto home I share with my infinitely better half, the hi-fi lives in the living room. Of course, I want it to sound great -- and it does -- but it also has to look as if it belongs. We've put a lot of effort into the design and décor of our home: If the hi-fi is to occupy a public space, it must be suitable for civilized company.
That's why, when we moved here just over a year ago, I opted for active loudspeakers. As I've often written here on Simplifi, active speakers have some compelling technical advantages over passive designs. But my primary motivation for the choice was domestic: I didn't want to clutter up our living room with a bunch of audio gear. A full-size amplifier and connected sources were out of the question.
My Danish-made Dynaudio Focus 200 XD active speakers sit to either side of our faux fireplace, below framed portraits of my wife's Danish ancestors. The Focus XDs' amplifiers are built into their enclosures, so the speakers are the only audio components visible in the room.
If we were moving in today, we might have done things differently. NAD's new Masters M10 BluOS streaming integrated amplifier ($2499, all prices USD) is gorgeous, but with its small footprint, it's not visually overbearing. It houses a network streamer, DAC, and powerful 100Wpc amplifier in one super-stylish package. I'd be happy to have the M10 on our mantle, or on a small side table near our sofa, powering conventional passive speakers. So would my design-conscious wife.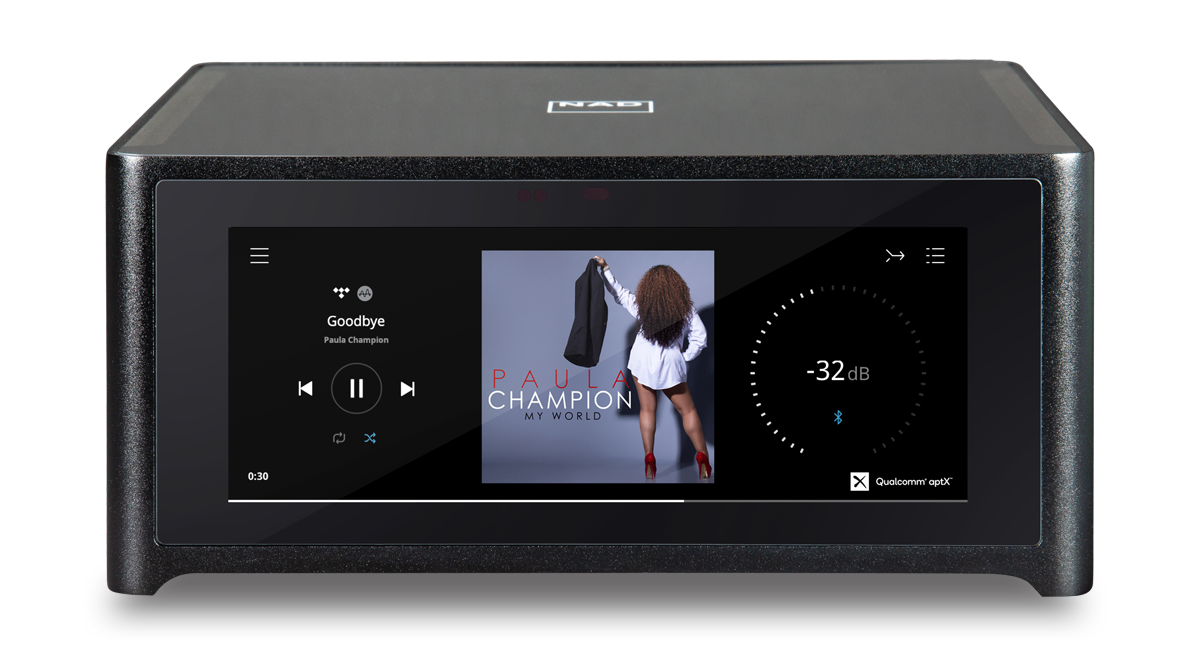 Nor would we be settling sonically, because (spoiler alert) the M10 sounds fantastic. One of its signature features is built-in Dirac Live room correction, which compensates for our living room's less-than-ideal acoustics.
Outside and in
NAD's parent company is Lenbrook International, which also owns the PSB and Bluesound brands, and the M10 is based on the same BluOS software platform that underpins the Bluesound line. An M10 could be part of a whole-house audio system that included a Bluesound Pulse Soundbar 2i in the TV room, a Pulse Mini 2i tabletop speaker in the home office, and a battery-powered Pulse Flex 2i on the patio. Of course, the M10 can also be used solo, as the center of a standalone music system.
In these respects, the M10 is functionally similar to the Bluesound PowerNode 2i streaming amplifier ($799). Greg Stidsen, Lenbrook's chief technology officer, says the M10 is based on requests from Lenbrook's worldwide distributors "for a more premium -- luxurious even -- version of the Bluesound PowerNode." The M10, which is part of NAD's upscale Masters series of models, is definitely more luxurious and more feature-laden than the PowerNode 2i.
Let's start with connectivity. In addition to premium speaker terminals that accept spade lugs and banana plugs, the M10 has a set of preamp and two subwoofer outputs. When you use a sub, the BluOS app lets you choose any crossover frequency between 40 and 200Hz. This implements a low-pass filter for the sub outputs, but the M10 still sends full-range audio to the main speakers.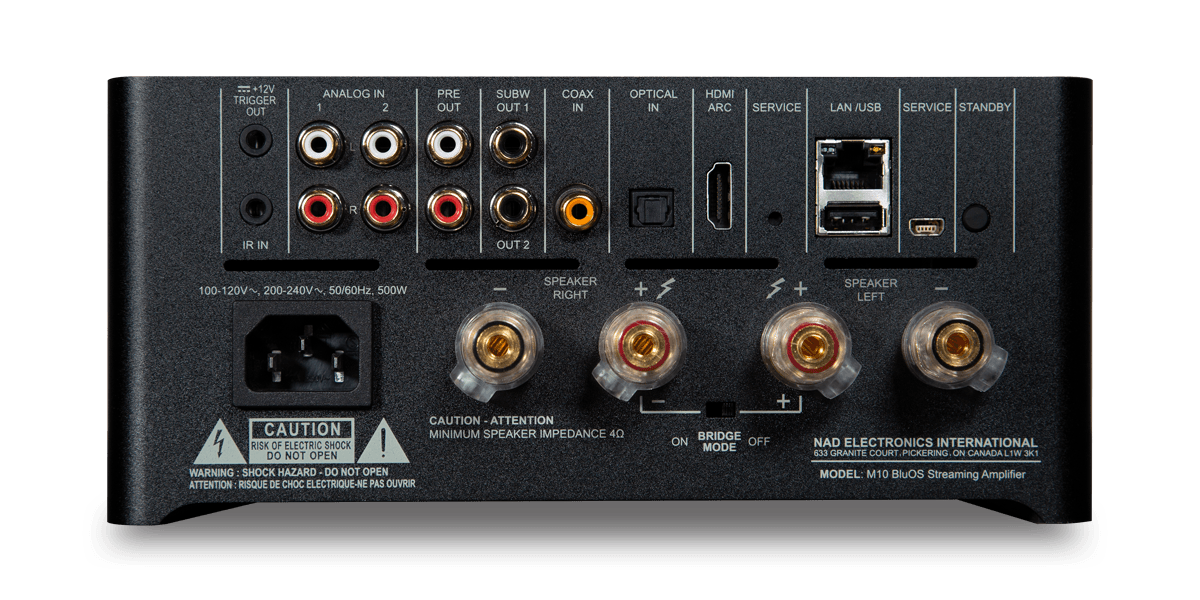 Input options include two sets of RCA line-level inputs, plus TosLink optical and S/PDIF coaxial digital inputs. For home video, there's an HDMI-ARC (Audio Return Channel) input, which accepts digital audio from an HDMI-ARC port on your TV (or, in my case, the One Connect set-top box for my Samsung Frame TV). Sources connected to any of these inputs can be played through other BluOS devices in your home simply by grouping them with the M10. There's also a USB Type-A port that accepts USB drives. Content on an attached USB drive is accessible from other zones in a BluOS music system. In addition to a Gigabit Ethernet port, the M10 has dual-band Wi-Fi with 802.11ac support, and Bluetooth.
As to luxury, a quick look at the front, top, and sides will tell you everything you need to know: this compact amplifier oozes class and quality. Weighing 11 pounds and measuring 8.5"W x 3.94"H x 10.25"D, the M10 has a case of extruded aluminum, with Gorilla Glass top and front panels. On the top is an illuminated NAD logo that flashes red during boot-up, glows solid red when there's a boot error, and solid white when it's connected to your network. I found this status indicator a bit too bright during regular use and in standby mode, but you can dim it or turn it off altogether in the Player Setting menu in the BluOS app.
Occupying almost the entire surface of the front panel is a 7" TFT touchscreen with Now Playing and Control Panel modes. When streaming from BluOS, the touchscreen shows album art on the left, and track, album, and artist names on the right. The layout is clean and uncluttered, and metadata can be easily read from a listening chair 10' away. When playing from hardwired sources, the touchscreen shows a pair of peak-reading VU meters.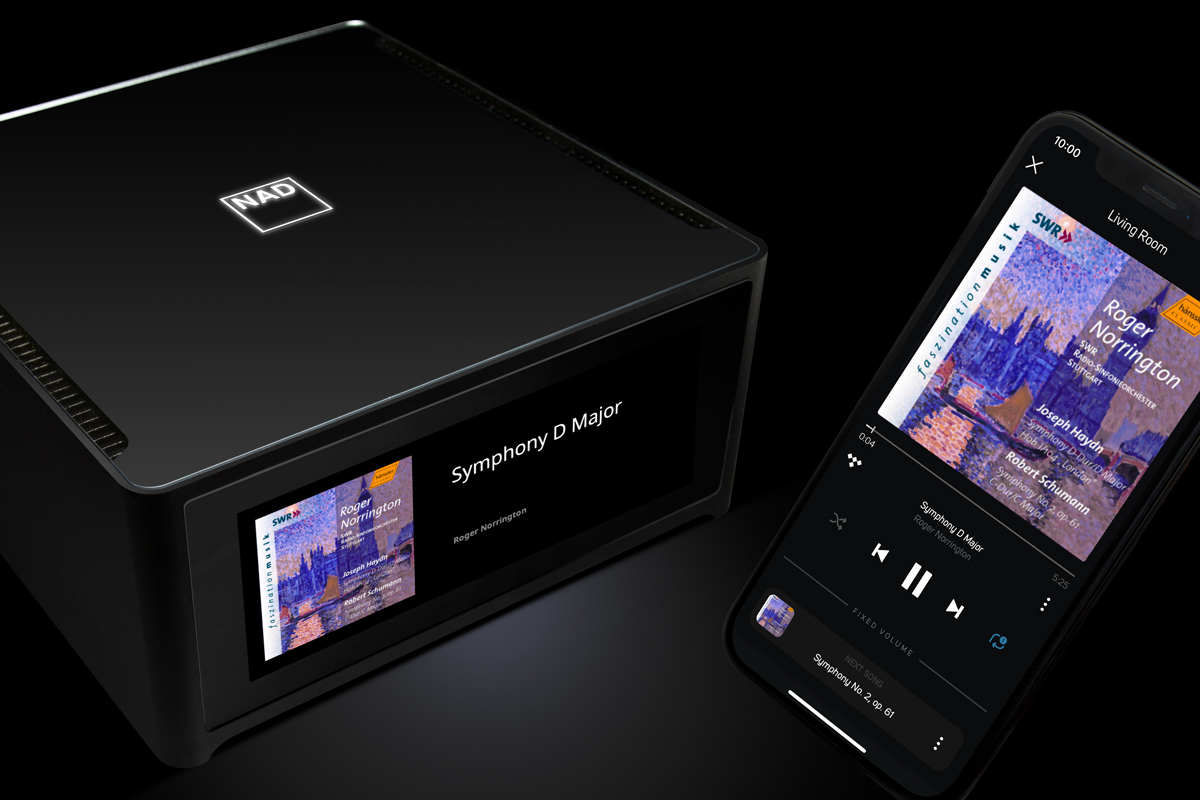 When you tap the screen, it goes into Control Panel mode. Then, if streaming music over your home network, you'll see album art at the center of the screen, and a progress bar at the bottom. At left will be controls that let you pause or skip tracks, and at right a rotary volume control. Tapping the three-line menu icon in the upper left of the screen brings up a menu that lets you switch sources, choose presets, and configure settings for the M10. Tapping the small icon in the upper right displays the current play queue, allowing you to jump to any track you wish.
The player settings menu, accessible from the M10's touchscreen and the BluOS app, provides a wealth of customization options. For example, you can hide inputs that you're not using so they don't clutter up menus, rename inputs, and select icons for each active input. I used this function to rename the HDMI-ARC input "Frame TV," and chose a TV icon for that input.
In past reviews I've expressed my admiration for Lenbrook's BluOS software, noting its robustness, clarity, and functionality. I have the same high regard for the M10's user interface. Menus are well organized, and all options are commendably clear. Similarly, the downloadable manual is a model of clarity. It's worth downloading this document -- the Quick Start Guide packaged with the M10 is essentially an expanded wiring diagram.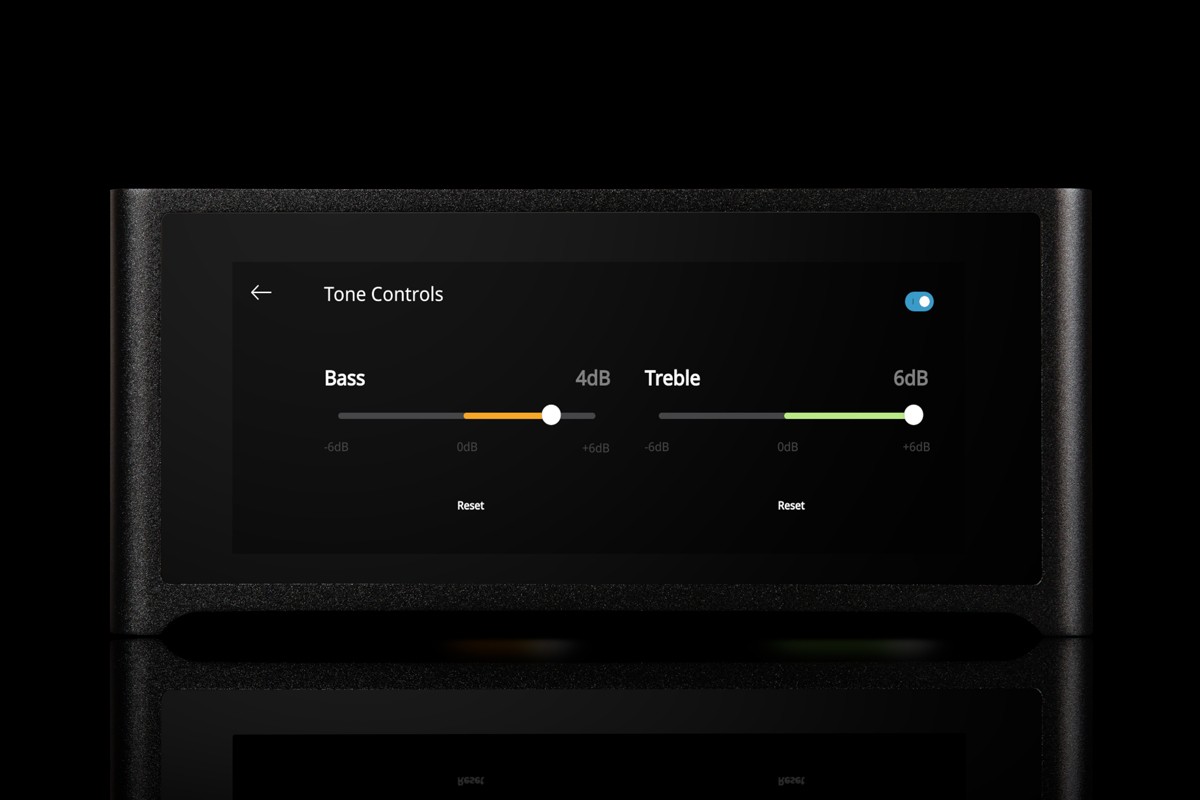 You'd expect a component that's part of NAD's Masters series to have serious audio chops, and the M10 does. Employing Hypex Ncore technology, the M10's class-D amplifier is specified to output 100Wpc into 4 or 8 ohms, both channels driven, 20Hz-20kHz, 0.03% THD. For musical transients, the M10 can deliver peaks of 160Wpc into 8 ohms, or 300Wpc into 4 ohms. Its maximum resolution is 24-bit/192kHz PCM. Like all BluOS components, the M10 supports MQA, for high-resolution streaming from Tidal. NAD says the programmable filter of the ESS Sabre DAC used in the M10 makes it very suitable for MQA playback.
Setup and software
If you don't already own a BluOS product, you'll have to download the BluOS app from Apple's App Store or Google Play. In the past few months I've reviewed several BluOS-compatible products for Simplifi, and recently bought a Bluesound Node 2i streaming preamp ($499), so I already had the BluOS app running on my LG G7 ThinQ smartphone, iPhone SE, and iPad Mini, and a BluOS component on my home network. The first time I powered up the M10, the BluOS app on my LG G7 ThinQ smartphone detected it. All I had to do was select my home network and enter the password, after which BluOS connected the M10 to my network.
BluOS supports more than 20 streaming services, including Qobuz and Tidal, both of which offer hi-rez content. I'd already entered login information for Qobuz and Tidal in the BluOS app, so was able to stream music from both services using BluOS. I also used Roon software to play music stored on the LaCie 2Big Thunderbolt drive connected to the Mac Mini (running Roon Core) in my second-floor office.
Over the past several months, Lenbrook has made some major enhancements to BluOS and its Bluesound line. These include support for Apple AirPlay 2 and Siri voice control, Alexa voice control, and bidirectional Bluetooth connectivity with aptX HD support. All of these features are offered in the NAD M10. I've covered them in recent reviews, so won't repeat myself here. To learn about how BluOS works with AirPlay 2, check out the "AirPlay and Siri" section of my review of the Bluesound Vault 2i CD ripper-server-streamer. In the "Bluetooth" section of the same review, you can read about BluOS's support for aptX HD and bidirectional Bluetooth. To learn about how BluOS works with Alexa, check out the "Voice control" section of my review of the Bluesound Pulse 2i speaker.
For this review, I want to focus on one of the M10's signature features: Dirac Live room correction, which measures the room's response to a system's sound, then uploads customized filters to the M10 that correct impulse response and room response in the bass region, up to 500Hz.
For my listening tests, I connected the M10 to Totem Acoustic's Sky Tower floorstanding speakers using AudioQuest Rocket 44-SBW biwire speaker cables. Priced at $2250/pair, the Sky Towers were favorably reviewed by Philip Beaudette in November 2018 on our sister site SoundStage! Hi-Fi. A two-way, rear-ported design, the Sky Tower has a 5.75" woofer crossed over at 2.5kHz using a first-order filter to a 1.3" soft-dome tweeter, to produce a specified frequency response of 36Hz-30kHz, ±3dB. I placed the Sky Towers in the same spots normally occupied by my Dynaudio Focus 200 XD speakers, toed in slightly toward the sweet spot on our sectional sofa reserved for yours truly.
The firmware update enabling Dirac Live room correction was pushed out in mid-April, so for the first few weeks I listened to the M10-Sky Tower combo without room correction. The sound was lively, dynamic, detailed, and impressively large in scale, considering the M10's dimensions.
After allowing the BluOS app to update the M10's firmware, I downloaded the Dirac Live app to my LG G7 ThinQ smartphone, per the leaflet packaged with the M10. The app insisted on running full-screen, obscuring the app-switching controls at the bottom of the phone's screen, until I figured out that I had to swipe upward to switch apps.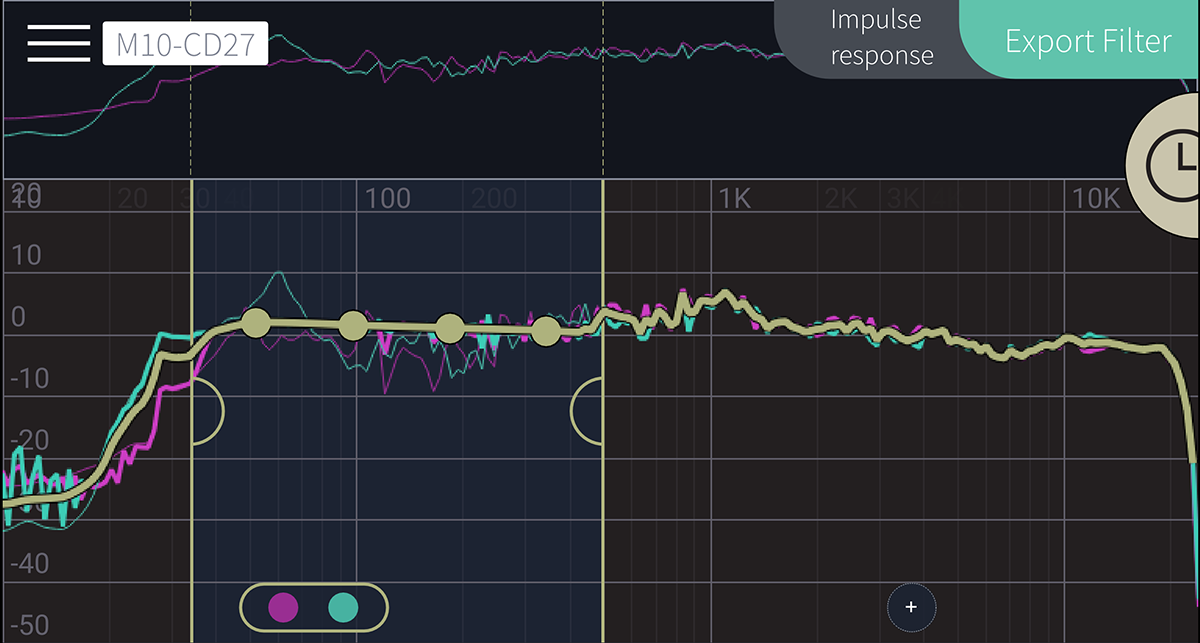 Other than that, implementing Dirac Live proceeded smoothly. The Dirac app detected the M10, and asked if I wanted to implement correction for a single listening position (indicated by a picture of an armchair) or a wider area (indicated by a sofa). I'm our household's listener-in-chief, so I chose the armchair option. Per the instructions, I connected the supplied microphone to the M10's USB port, mounted the mike on a camera tripod, and placed it in the primary listening position. The app asked me to confirm the level, then emitted a series of test tones. It repeated this process for eight more locations, above, below, behind, and in front of the sweet spot. After the process was complete, it showed me a graph with frequency and impulse response (there was a 10dB peak at 60Hz), created a correction filter, asked me to give it a name, and uploaded the filter to the M10. It was time for some serious listening.
Listening
Among non-classical listeners, one of the most popular orchestral works in the catalog is The Planets, by the British composer Gustav Holst. No surprise: this seven-movement suite is immediately accessible yet enormously varied, encompassing terror, poetry, magic, tenderness, mystery, and exuberant joy. These qualities make The Planets really useful for auditioning audio gear, which is why I cued up a 2006 live recording of the piece by the Berlin Philharmonic Orchestra under Sir Simon Rattle (24-bit/44.1kHz MQA, Warner Classics/Tidal).
The first movement, Mars, the Bringer of War, opens with the strings played col legno -- that is, with the strings struck with the wooden back of the bow -- to create an ominous march rhythm, as the brass plays behind them. Through M10 and Sky Towers, this passage had wonderful transparency. The bows beating on the strings had a marvelous tactile quality: sharply woody, but not edgy. About three minutes in, the drama suddenly increases, with massed strings (now bowed), brass instruments, and percussion creating a sense of ever-growing fury. As the music progressed toward its shattering conclusion, the M10 kept pace, tracking sudden dynamic changes with no sense of strain.
Especially with Dirac Live room correction turned on, the M10 admirably unraveled the dense orchestration of the dramatic middle section of Mars, presenting the Berlin players on a wide, deep soundstage that extended well past the speaker plane, and created a satisfying sense of the Berlin Philharmonie's acoustic.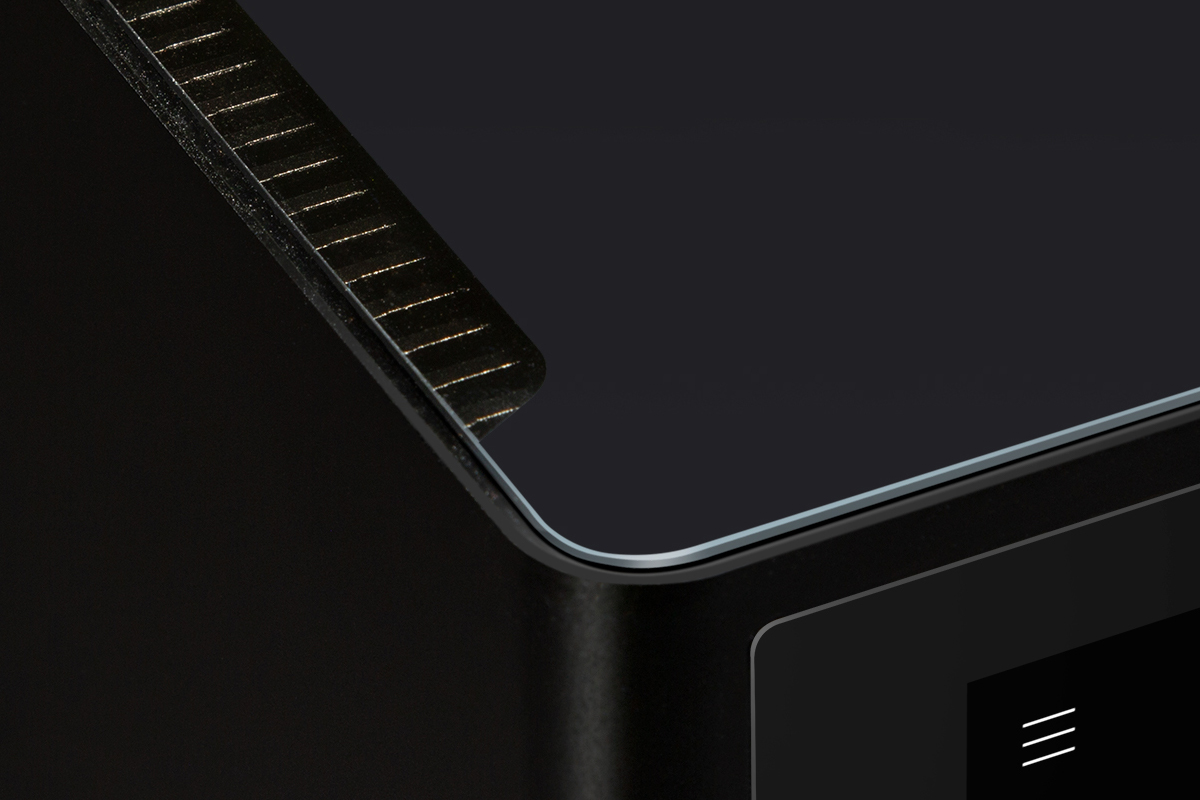 The second movement, Venus, the Bringer of Peace, is a complete contrast: tranquil, almost magical. Here, the M10 proved that it was as capable of poetry as of power. Orchestral textures were admirably clear, instrumental solos beautifully nuanced. String tones were lovely -- shimmery, never wiry. In this movement, I definitely favored Dirac Live -- the soundstage was wider, and the reproduction of the hall was more convincing, with no cost to image specificity. Without Dirac Live, everything sounded more closed-in.
I came across the New York-based blues-swing-klezmer band Hazmat Modine eight years ago, when the title track of their album Bahamut (16/44.1 ALAC, Sony Music) was played in Pina (2011), Wim Wenders's documentary about the German choreographer Pina Bausch. That album has a wild mix of instruments -- dual harmonicas, tuba, trumpet, drums, electric guitar, steel guitar, plus a bunch I'd never heard of. With Dirac Live switched off, bandleader Wade Schuman's bluesy baritone sounded slightly cavernous -- this coloration disappeared with Dirac switched on. And Dirac opened up the image, making it easier to appreciate the huge range of tonal colors produced by this eclectic grouping of instruments. With Dirac Live switched off, the image collapsed to the center.
My wife and I are in the midst of bingeing on Treme (pronounced tre-MAY), an HBO series set in post-Katrina New Orleans. I'd rank Treme as the third-greatest TV show ever, right behind The Sopranos and The Wire. The city's rich musical heritage forms a major subplot in the series, which features appearances by Dr. John, Allan Toussaint, Troy Andrews (aka Trombone Shorty), Kermit Ruffins, Elvis Costello, McCoy Tyner, Steve Earl, John Boutté, and many more. The M10-Totem Sky combo showed their musical chops throughout this series, starting with the snappy walking bass line and marching snare drum in the show's theme music (also by Boutté), and continuing through every episode.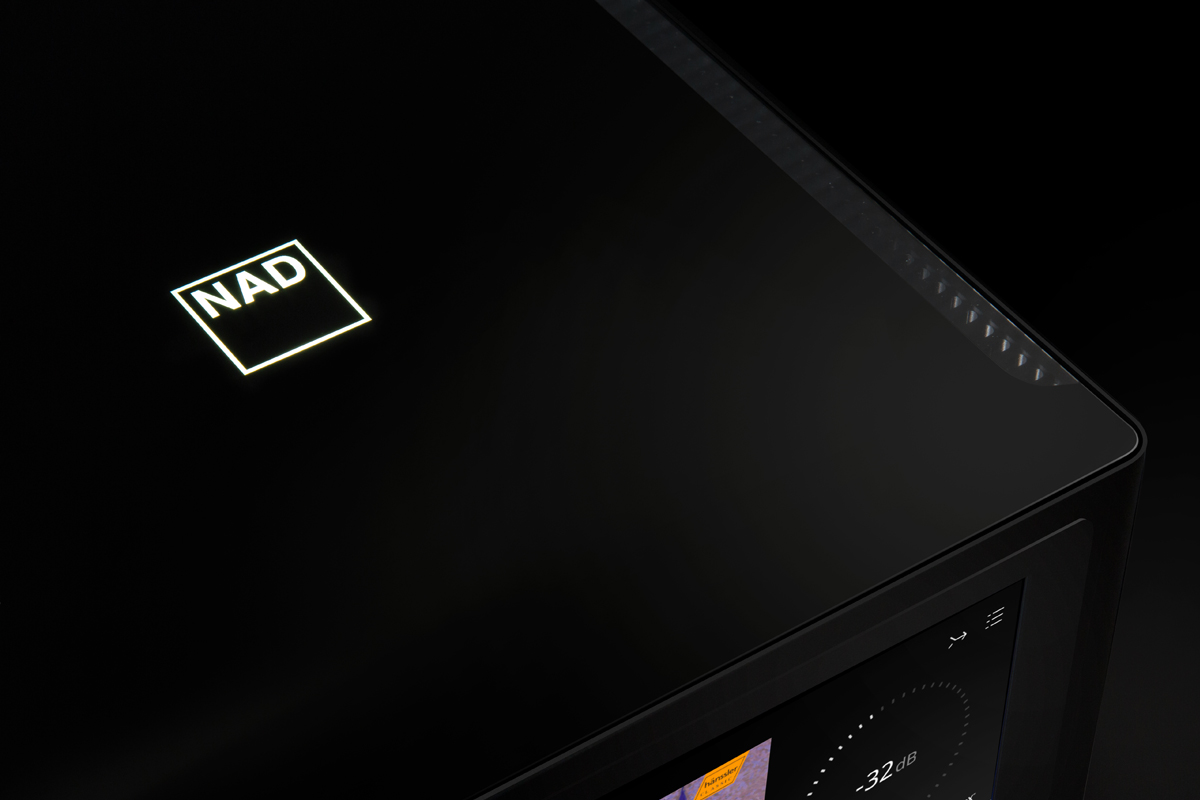 Dirac made a major contribution with Treme. It expanded the soundstage significantly. The spaces where events like second-line parades and jazz concerts occurred were much more convincingly portrayed. Voices and sound effects were more intelligible. I also appreciated the way the M10's HDMI-ARC connection perfectly synchronized video and audio. I've found that, with an optical connection from the TV, latency can be a problem.
True, the M10 won't do surround, but if your cinematic tastes tilt toward sci-fi and action flicks, you can get rock-'em, sock-'em sound effects by adding a subwoofer. As Diego Estan explains in a feature on SoundStage! Access, Dirac Live is incredibly useful for achieving a good blend between your subwoofer and main speakers, and it's built into the M10.
Comparison
An almost-direct competitor for the NAD Masters M10 is Naim Audio's Uniti Atom wireless streaming DAC-amplifier ($3295), which was enthusiastically reviewed by Al Griffin on this site in September 2017, and received Reviewers' Choice honors.
At 9.65"W x 3.74"H x 10.43"D and 15.43 pounds, the Uniti Atom is slightly larger and heftier than the M10. Accounting for some of the extra weight is a big toroidal power transformer and extruded-aluminum heatsinks. The Uniti Atom's class-AB amplifier is specified to produce 40Wpc. Input options include TosLink optical (24/96 maximum resolution), S/PDIF coaxial (24/192 max), and RCA analog. HDMI-ARC connectivity is available as an option. For networking, the Uniti Atom has an Ethernet port, Wi-Fi with 802.11ac support, and Bluetooth aptX HD. There are also front- and rear-panel USB Type-A ports that can accept USB drives containing up to 20,000 tracks. For network playback, the Uniti Atom supports AirPlay, Chromecast Built-in, Spotify Connect, Tidal, and UPnP -- and it's Roon Ready. Its maximum resolutions with network playback are 24/384 PCM and DSD128.
Unlike the M10, the Uniti Atom comes with a remote control -- it can also be controlled with the Naim app for iOS and Android. While I found the BluOS app richer and more polished, I can't fault the Naim app in any way. It's well organized, and seems robust. However, Naim doesn't support nearly as many streaming services as does Lenbrook's BluOS platform. The Uniti Atom can be grouped with other Naim components, including the Mu-so and Mu-so Qb wireless speakers, for whole-house music -- but a much greater range of products is compatible with BluOS.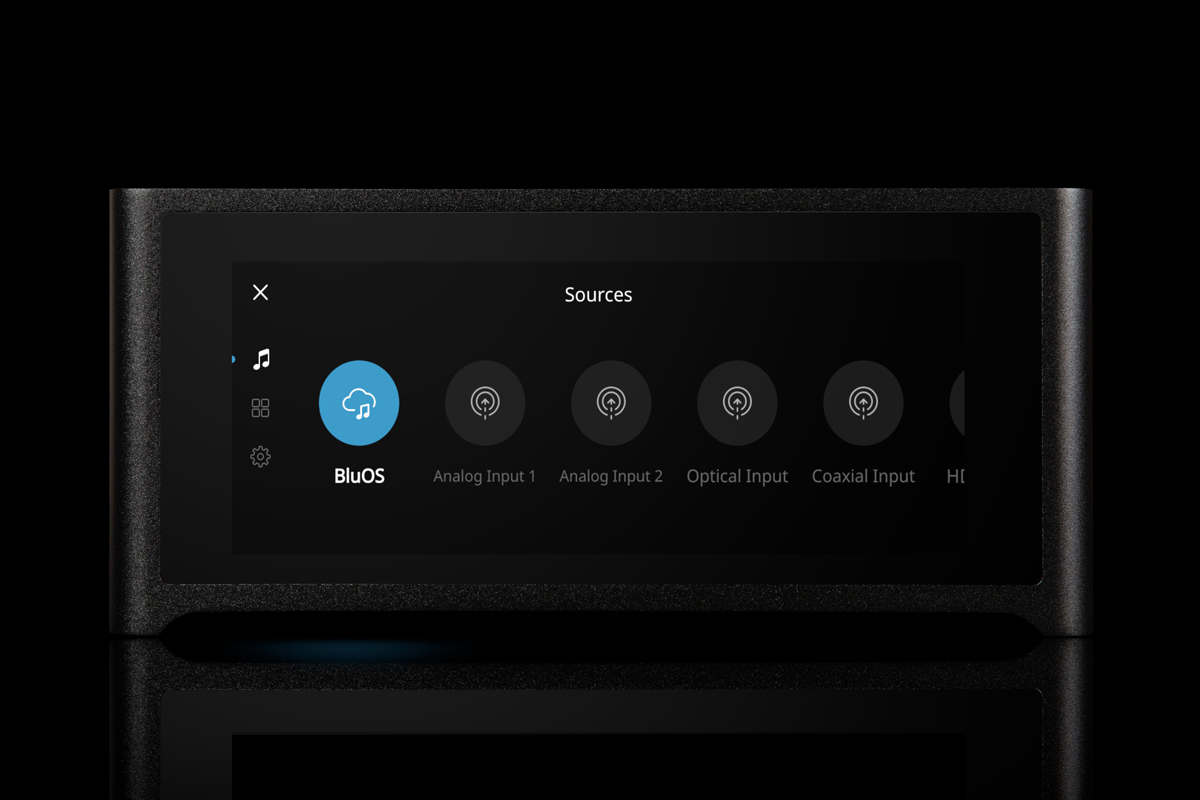 The Uniti Atom is even more luxurious than the M10. On the front is a 5" touchscreen with proximity sensor. Though smaller than the NAD's screen, the Naim's has warmer, more attractive colors. During network playback, the Uniti Atom's screen shows album art, but no metadata. Approach the screen and it switches to a menu that lets you select inputs, search for music, and adjust settings. On the brushed-aluminum top panel is a supersmooth rotary volume control surrounded by an illuminated segmented indicator.
Playing the exquisitely beautiful "Pastorale: After Robert Schumann" from jazz pianist Fred Hersch's 2017 live album Solo (16/44.1 ALAC, Palmetto), the M10 had more dynamism and drive than the Uniti Atom, but the Naim amplifier had more body and a better sense of palpability. Hersch's runs and trills were articulated a little more clearly through the M10. Attacks were sharper through the M10, more rounded and natural through the Uniti Atom. With the Naim, I was more aware of Hersch's subtle dynamic shading in this track's many quiet passages. However, when I switched back to the NAD, I found that it, too, beautifully conveyed Hersch's poetic touches. And when Hersch ramped up the volume to express a phrase more emphatically, the M10 tracked those changes more convincingly.
Switching in Dirac Live room correction shifted the balance. The M10 now threw a much bigger soundstage -- without Dirac, the two components were more or less equal in this respect. Moreover, Dirac tamed the slightly clangy piano tone. But even with Dirac switched in on the M10, I found that the Naim had an extra degree of warmth and tactility that I found hard to resist.
Playing Norah Jones's cover of Hank Williams's "Cold, Cold Heart," from her Come Away With Me (24/192 ALAC, Blue Note/HDtracks), the NAD M10 had more dynamic swing than the Uniti Atom, and tracked Jones's vocal modulations more convincingly. But Jones's voice sounded less edgy through the Naim. The Uniti Atom sounded more cohesive, but with the M10 I was more aware of the individual musicians' contributions.
In my late 20s I got big into classical, and later into jazz. Before that, my favorite genre was prog rock, and there were few bands I enjoyed more than Yes. When I streamed "Roundabout," from the band's 1972 breakthrough album, Fragile (24/96 MQA, Atlantic/Tidal), Steve Howe's opening acoustic guitar riff sounded sharper through the M10, rounder through the Uniti Atom. I was more aware of the decay in the guitar's strings through the Naim amplifier, which also more convincingly reproduced the dynamic swells of Rick Wakeman's Moog synthesizer.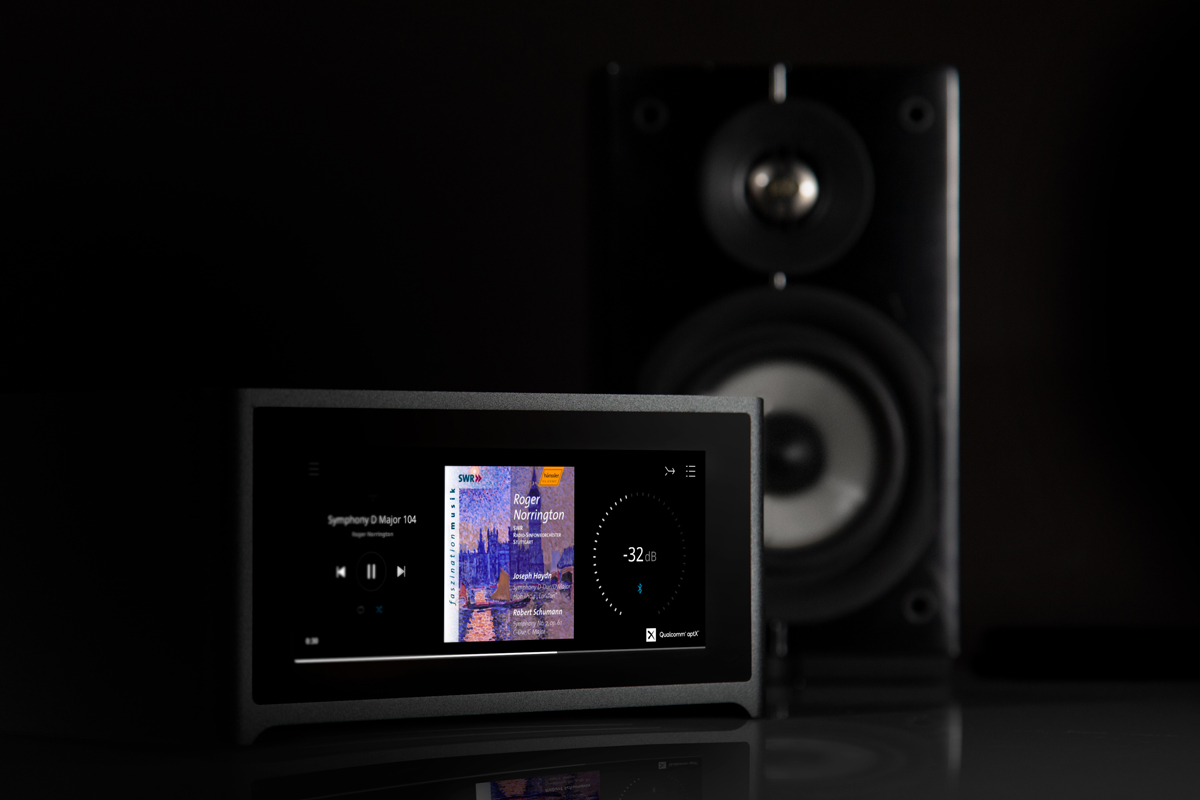 As the amperage increased, the advantage shifted to the M10, which reproduced Chris Squire's frenetic bass guitar with greater ease. This is a lean, dense mix, and the M10 cut through it a little more clearly than the Uniti Atom. Once again, Dirac Live room correction was the M10's ace in the hole. Enabling Dirac broadened the presentation and opened up the mix. This was especially noticeable in the vocal harmonies, which the M10 unraveled more clearly with Dirac turned on.
If I had to sum up the sonic differences between the NAD Masters M10 and the Naim Uniti Atom in a single phrase, I'd say that the M10 presents a sound similar to what you'd hear sitting in row ten of a concert hall; with the Uniti Atom, you're in row 20. It comes down to taste, price, and feature set, and how well the amp pairs with your speakers -- the kind of choice audiophiles agonize over. If prospective purchasers are pained by the fact that there's no perfect choice, they should be comforted by the fact that there's also no wrong one.
Conclusion
I'm still sold on active speakers, but I can certainly understand why many listeners would prefer a component system with passive speakers. With a conventional system, there's more scope for tinkering and upgrading. You can choose from a much wider range of speakers -- not only for their sound quality, but also for their styling and finish.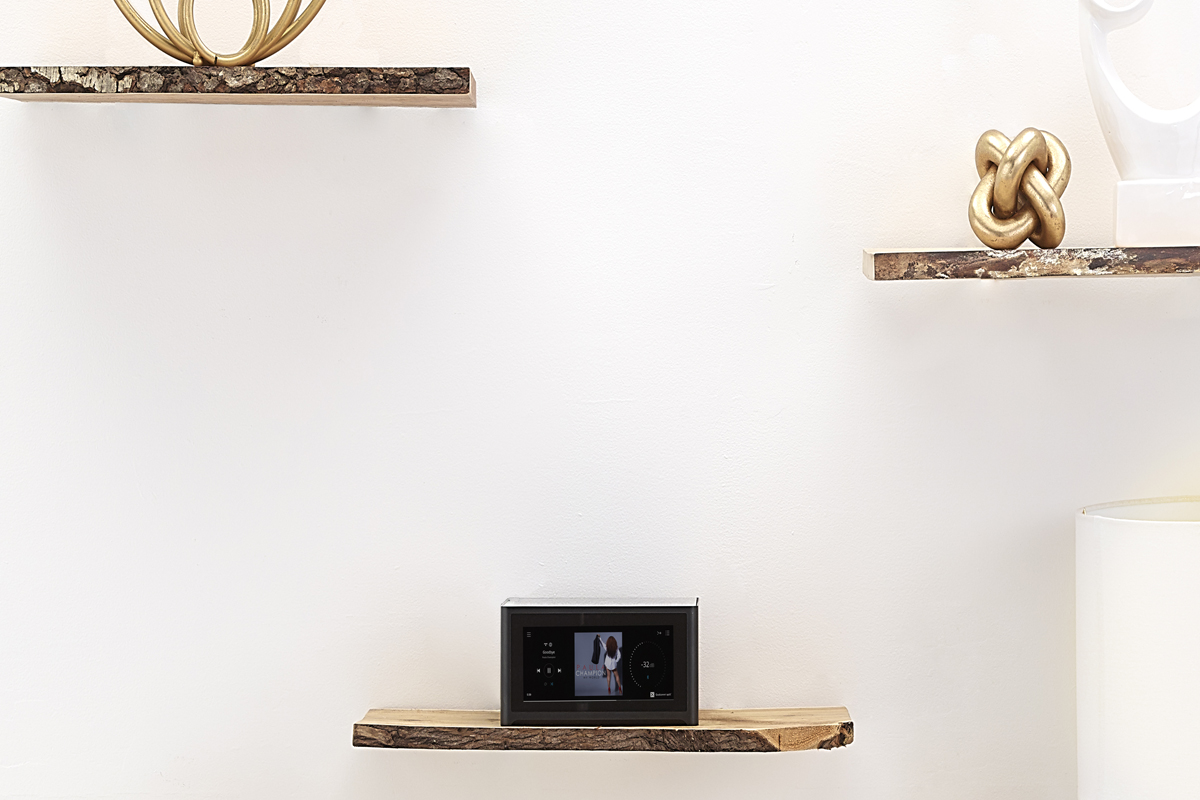 If you want high-performance hi-fi in a stylish living space with a minimum of clutter, NAD's Masters M10 BluOS streaming integrated amplifier is a great choice. It looks gorgeous, sounds wonderful, and, with the BluOS app, works seamlessly. Add a good pair of speakers and you've got a killer system. Warmly recommended.
. . . Gordon Brockhouse
This email address is being protected from spambots. You need JavaScript enabled to view it.
Associated Equipment
Speakers -- Totem Acoustic Sky Tower
Streamer-amplifier -- Naim Audio Uniti Atom
Sources -- Apple Mac Mini running Roon Core 1.6, Samsung One Connect set-top box for UN55L003 55" Frame TV
Cables -- AudioQuest 10' Rocket 44-SBW single biwire speaker cables, with spade connectors for amp and banana plugs for speakers
Control devices -- LG G7 ThinQ smartphone, Apple iPhone SE, Apple iPad Mini
Network -- Google Wifi three-node mesh network
NAD Masters M10 BluOS Streaming Integrated Amplifier
Price: 2499 USD.
Warranty: One year parts and labor.
NAD
Bluesound International
Lenbrook Industries Limited
633 Granite Court
Pickering, Ontario L1W 3K1
Canada
Phone: (905) 831-6333
Website: nadelectronics.com