KEF's little LSX active speakers ($1099 USD per pair) would seem to contain everything you need for high-resolution stereo sound. Each enclosure houses a KEF Uni-Q driver array comprising a 0.75" aluminum-dome tweeter mounted at the acoustic center of a 4.5" magnesium-aluminum midrange-woofer, each powered by its own amplifier. The LSXes are small enough to virtually disappear into your room, but if you look their way they'll grab your eye. They're available in five colors: white, green, red, blue, and black. Speakers in all colors but white are covered on four sides with a matching industrial textile. The white version, which I reviewed, has a high-gloss finish on all surfaces, and the driver is in complementary silver-gray. It's gorgeous. The red and blue models have drivers of the same color as the cabinet; the others have drivers of a complementary color.
As for sound, consider the LSX's pedigree. Think of the LSX as the kid brother of KEF's LS50 Wireless, very positively reviewed on SoundStage! Access by Hans Wetzel in 2017. The LS50W is in turn an active wireless version of KEF's acclaimed LS50 monitor, just as positively reviewed on SoundStage! Hi-Fi by Doug Schneider in 2013. Both speakers, which received Reviewers' Choice Awards, employ a Uni-Q driver array: a 5.25" aluminum-magnesium-alloy midrange-woofer and a 1" aluminum-dome tweeter.
I've never heard a pair of LS50 Wirelesses in my home, but I've heard that model several times at audio shows. And I'm very familiar with the LS50, two of which were part of my reference system for several years.
With a retail price half that of the LS50 Wireless, it would be unreasonable to expect the LSX to match its big brother's sound quality, especially in bass extension and maximum SPL. The radiating area of the LS50W's woofer is 36% greater than the LSX's, its amplifier is twice as powerful, and its cabinet has a volume 2.75 times as great.
All of this made me wonder: Can hi-fi be flashy and discreet at the same time? And sound wonderful to boot? And would the LSX have many -- or any -- of the sonic virtues of KEF's costlier LS50 and LS50 Wireless models? I didn't have to spend much time with KEF's new active speakers to learn the answers to these questions.
Outside and in
The LSX definitely looks like a younger sibling of the LS50W: Its front baffle is convex, not only to create a graceful shape but to prevent soundwaves generated by the drivers from being diffracted by the cabinet. There's no grille, but the tweeter is protected by a waveguide that matches its dispersion with the midrange-woofer's. Like the LS50W, the LSX is a fully active design, with a DSP-based crossover.
Inside each enclosure are two class-D amplifiers: a 70W amp for the midrange-woofer and a 30W amp for the tweeter. The high efficiency of class-D amplification means that no heatsinks are necessary. In addition to implementing the crossover, the LSX's custom DSP -- KEF dubs this its Music Integrity Engine -- corrects phase and reduces distortion. The latter function enables the LSX to deliver deeper, stronger bass than one would expect from so small a speaker -- one of the big advantages of DSP-based active speakers.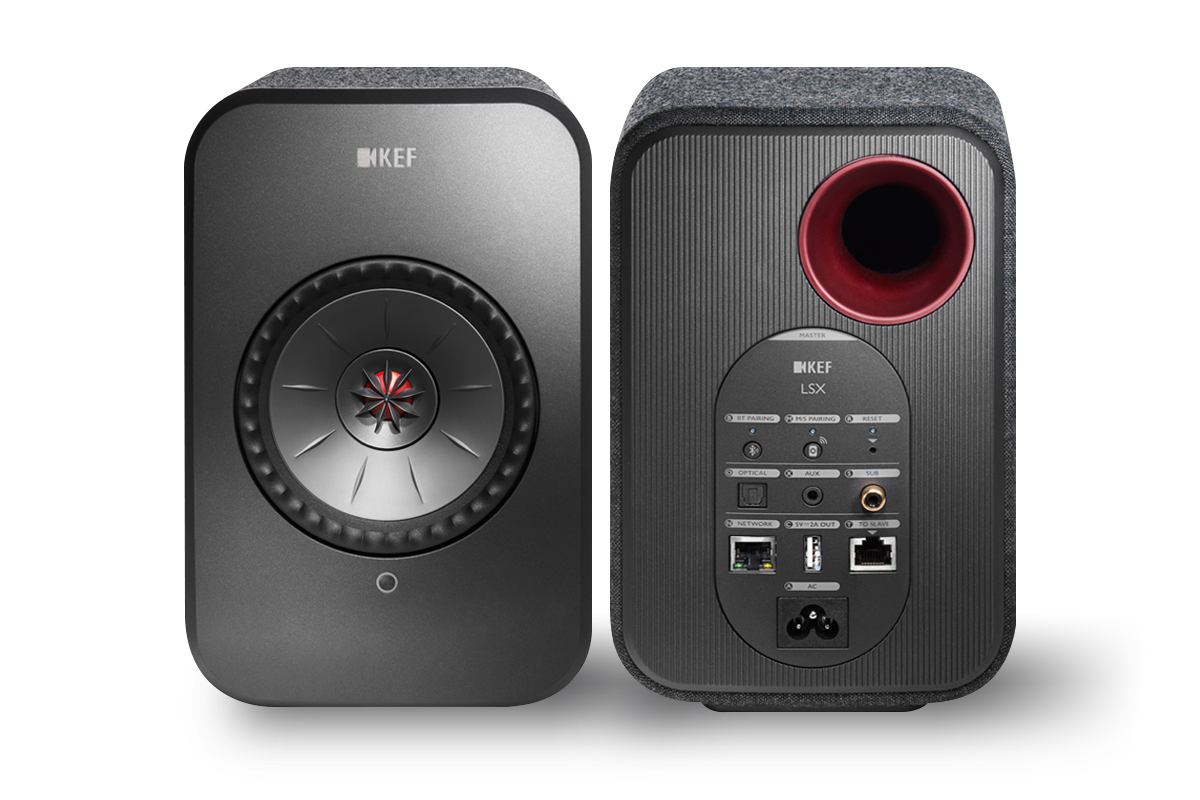 On the rear of the master speaker are a 3.5mm stereo analog input, a TosLink digital input, a subwoofer output jack, an RJ45 Ethernet port for connecting the speakers to a home network, a second RJ45 connector for pairing with the left-channel slave speaker, and a USB port for powering and/or charging mobile devices. The master speaker also has built-in 802.11a/b/g/n dual-band Wi-Fi and Bluetooth 4.2 with aptX support.
Included with the system are color-matched power cords for the two speakers; a 3m-long umbilical cable for connecting the master and slave speakers; and a small remote-control handset with buttons for power, play/pause, source selection, volume control, muting, and previous and next track.
But you don't have to use that umbilical cable -- the speakers can be paired wirelessly using KEF's proprietary protocol. The LSX's maximum resolutions are 24-bit/96kHz with a wired connection, 24/48 with wireless pairing. However, it can accept streams to 24/192.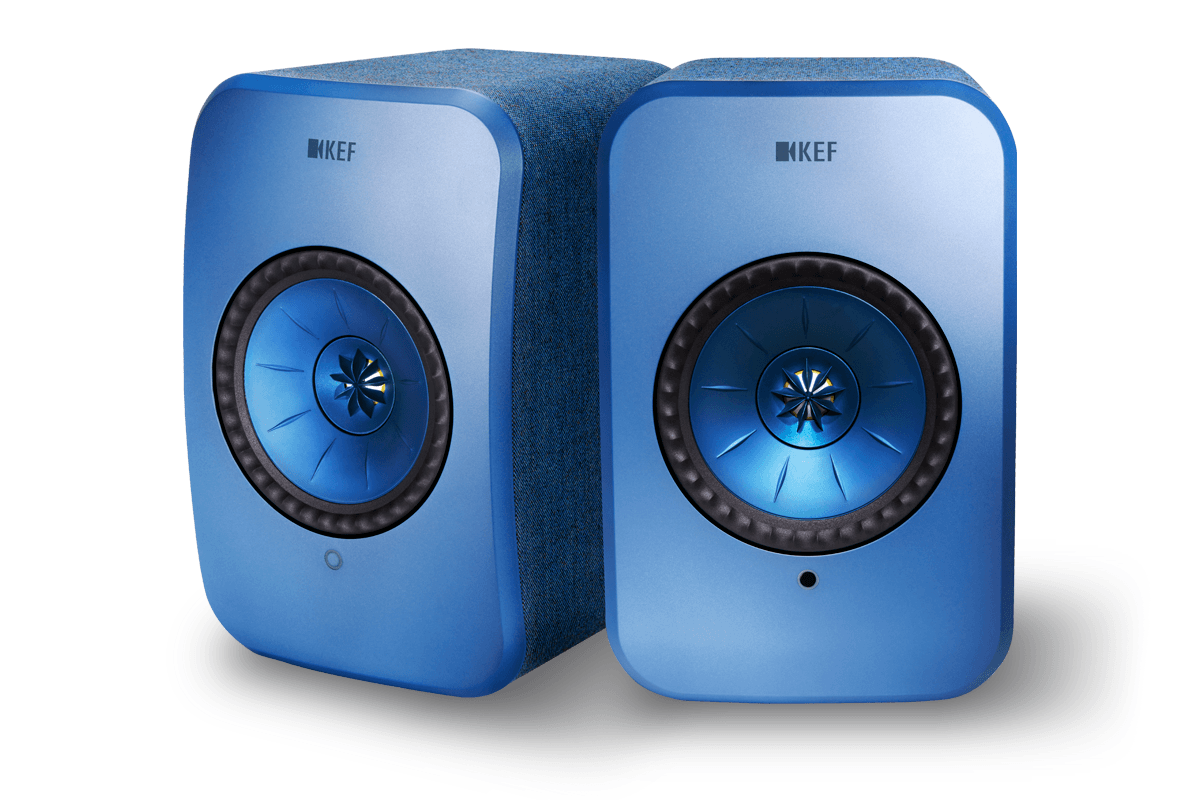 Setup and software
A pair of KEF LSXes can serve as a primary hi-fi system in an urban condo, but in most dwellings I think they'd be more at home in smaller rooms. So instead of my main-floor living room, I installed the LSXes in my basement family room, on a wide, deep credenza, above which is a wall-mounted 50" Vizio HDTV. This is a long, narrow space, with a pair of viewing/listening armchairs along the opposite wall, about 8' away.
To set up the LSXes, the first step is to download the free KEF Connect app, available at Apple's App Store and Google Play. Fire up the app, and it will ask you which model you want to connect, and whether you're using a wired or wireless network. I wanted to use Wi-Fi, so the app directed me to tap the Home button on the front baffle of the master LSX, go to the Wi-Fi section of my smartphone's Settings app, select the hotspot network created by the LSXes, then return to KEF Connect to choose my network from a dropdown list and enter my password. The app then uploads those settings to the LSXes, connects them to your network, and you're done. Piece of cake.

Other options are, somewhat confusingly, divided between two sections of KEF Connect. In the Settings menu (accessed by touching the three-dot menu icon in the upper-right corner), you can choose whether you're pairing the master and slave speakers in Cable or Wireless mode, and whether you want to designate the left or right speaker as the master. The default setting is the right speaker, but I switched to the left because that speaker was closer to my Vizio HDTV's optical output.
On the lower right of KEF Connect's home screen is a little three-bar icon (it looks like three slider controls) for creating an audio profile for the LSXes. When you've saved your profile, the LSXes' DSP will adjust the sound for your listening environment. None of these adjustments is difficult, and they're all clearly explained by the app. Here is another advantage of DSP-based active speakers: They provide a degree of customization not possible with conventional passive or basic powered speakers.
In the Basic view of the profile menu, you specify whether your speakers are on a stand or desk, their distance from the wall behind them, the acoustics of your listening room (Damped, Live, or something in between), the volume of your listening room, and whether you're using a subwoofer. If the speakers are on a desk, you'll be asked how close they are to the desk's front edge. If you're using a subwoofer, you'll see slider controls for setting speaker/sub balance and sub volume. With this information, the LSXes' DSP can lower the treble for a lively room, or reduce the bass if the speakers are very close to a wall.
The Expert view lets you tweak the settings even further. You can specify the bass cut for wall mode, and treble cut for room acoustics. If you're using a sub, you can specify a crossover frequency for the low-pass filter for the subwoofer, and the high-pass filter for the LSX. It's impressive that the LSX's DSP implements a high-pass filter when a subwoofer is used, as this should result in lower distortion and higher output. For this review, I used the settings recommended by the KEF Connect app after I'd entered the details of the speakers' positions.
To stream music to the LSXes you need another app: KEF Stream. The home menu shows playlists, favorite tracks and albums, and recently played music. Tapping the three-button icon on the left of the screen brings up a menu that lets you play music from Spotify or Tidal (the only streaming services the LSX directly supports), from media servers attached to your network, or from a music library on the device running KEF Stream.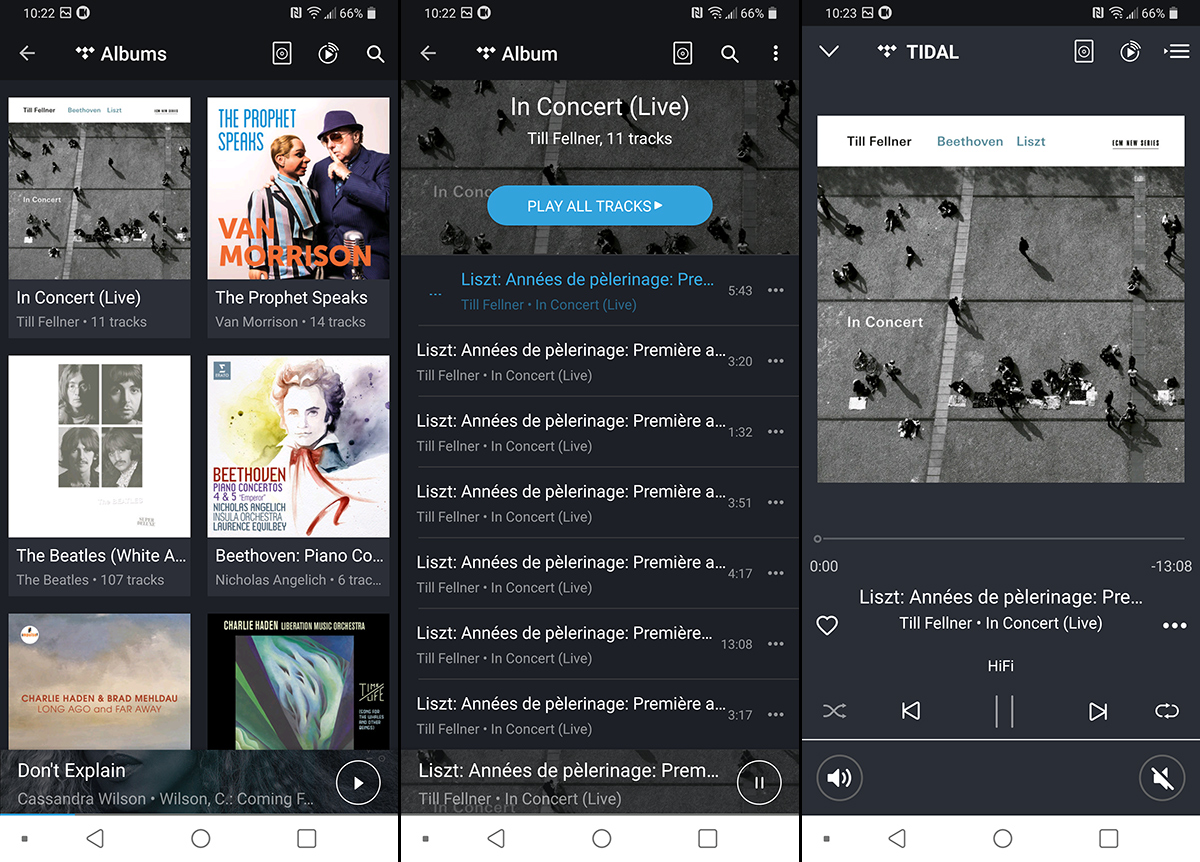 The LSX supports Spotify Connect, so you can control speaker functions such as volume from within the Spotify app. KEF Stream's Tidal client will show your favorite albums and artists under My Music collection, as well as new albums and playlists.
I don't quite understand KEF's insistence on spreading control and music-selection functions between two different apps, though it's easy to switch between apps, and without exiting to your device's OS.
There were some weirdnesses with KEF Stream. The Tidal client was sometimes very slow to respond, despite a strong Wi-Fi signal. Occasionally, it would play a different track from the one I'd requested and the one shown on the screen, while the track-time bar stayed stuck at zero.
On my iPhone SE, the Library function insisted on displaying not only the music I'd loaded onto my iPhone, but also all the music that I and my daughter had ever bought from the iTunes Store. The Music app in iOS has an option for showing only music downloaded to your phone. Even with that option selected, KEF Stream insisted on showing me albums I no longer want to hear, making it harder to navigate to the music I wanted.
There will soon be a workaround for the last problem. KEF says support for Apple AirPlay 2 will be enabled by a firmware update expected in "early 2019." The update hadn't been released as I completed this review, but when it arrives, you'll be able to stream to the LSXes from an iPhone, iPad, or Mac via Wi-Fi. This will work not only with the KEF Stream app but with any audio app on your device, for both streaming content and locally stored music. If you wish, you can set the iOS Music app to show only the music on your device. (For a fuller description of what AirPlay 2 offers, see the "AirPlay and Siri" section of my recent review of the Bluesound Vault 2i.)
There's one more software option: Roon. The LSX is Roon Ready, so you can stream music to the speakers using the Roon Control app for Windows, macOS, iOS, or Android. If you use Roon instead of KEF Stream to stream Tidal to the LSXes, Roon will perform, in software, the first unfolding of MQA-encoded high-resolution content. The LSX system itself doesn't support MQA -- if you use KEF Stream, you're limited to CD resolution with MQA content.
Listening
I listened to music on the LSX from many different sources: direct from KEF Stream's Tidal client, from the music library on my LG G7 ThinQ and iPhone SE smartphones using KEF Stream, and from the Mac Mini in my home office using Roon.
From my G7 smartphone, I streamed several tracks from Coming Forth by Day (24-bit/96kHz ALAC, Sony Legacy), an homage to Billie Holiday by jazz singer Cassandra Wilson. Released in 2015, the 100th anniversary of Holiday's birth, the album was produced by Nick Launay, Nick Cave's longtime producer, and features the rhythm section of Cave's band, the Bad Seeds. A reviewer for All About Jazz perceptively described the album as "music noir."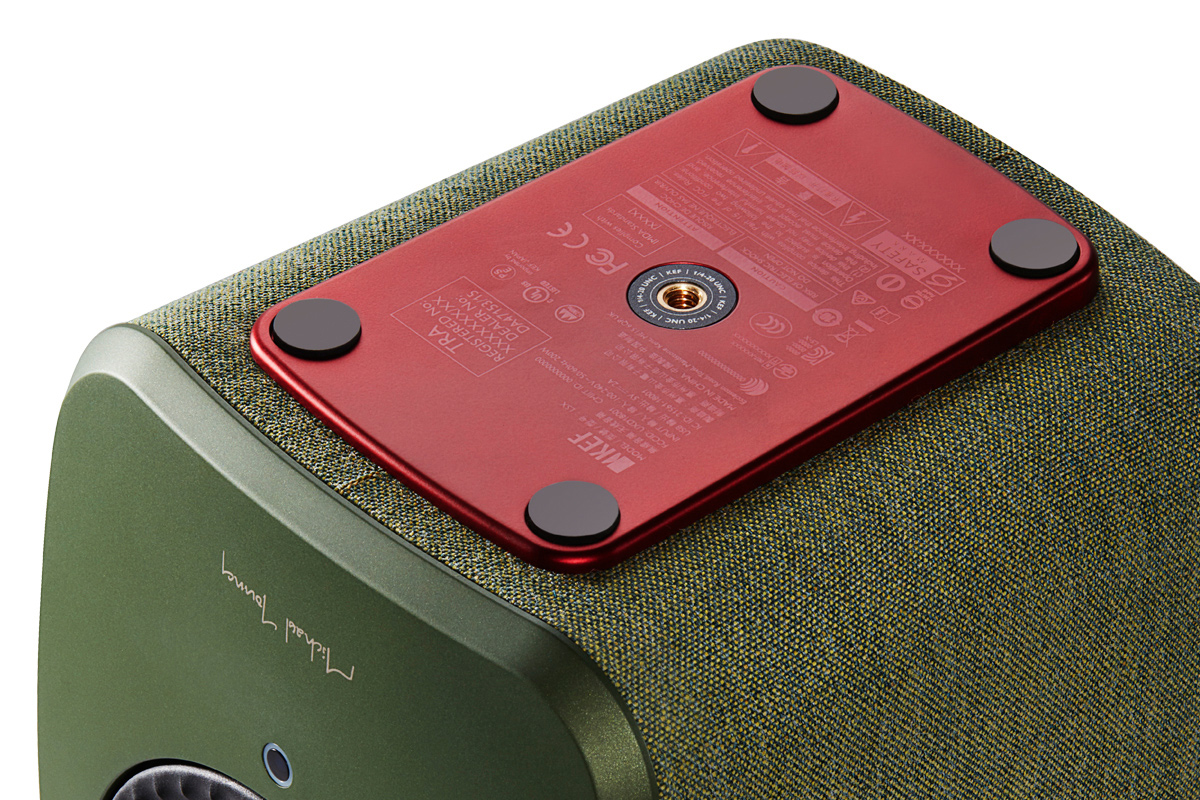 I can imagine this reverb-heavy album sounding like mush through many systems in this price range. It didn't through the LSXes. From their positions at the front edge of a 20"-deep credenza, the KEFs threw an impressively deep soundstage and created a dark, steamy atmosphere, like a seedy nightclub in a rough part of town. In "Don't Explain," the excellent spatial layering of the varied instruments (electric guitars, upright piano, floor toms, bass, sax) highlighted their individual contributions. Wilson's dark, sultry alto, wrapped in reverb, occupied a large, center area of the image. Sibilants were clear but never spitty. While the big floor toms and bass were a bit flabby and lacking in impact, they sounded hugely impressive for little speakers with only one 4.5" coaxial driver each -- thanks, no doubt, to the LSXes' DSP.
Featuring major works by Liszt and Beethoven, In Concert, by the Austrian pianist Till Fellner (16/44.1 FLAC, ECM New Series/Tidal), is one of the best recordings of a concert grand I've ever heard. Recorded in 2002 at Vienna's Grosse Musikvereinssaal, the First Year: Switzerland of Franz Liszt's series of programmatic Années de pèlerinage (Years of Pilgrimage) demonstrated the LSXes' strengths and weaknesses. As you'd expect from its title, the fourth movement, Au bord d'une source (Beside a Spring), is scored mainly for the middle and upper octaves, creating a sense of flowing water. The LSXes wonderfully conveyed Fellner's expressive nuances, especially his creative use of the sustain pedal, and the subtly arpeggiated chords at the end of this movement were beautifully delineated. The LSXes placed the piano on a wide, deep soundstage, making it easy to appreciate the Musikverein's legendary acoustic. The fifth movement, Orage (Storm), proved more of a challenge. The big middle-octave chords in the opening were very satisfying, but the fortissimo chords in the lower octaves later in the movement were somewhat thuddy and indistinct. And as the score became denser, the sound became compressed. Importantly, though, the LSXes never sounded the least bit distressed -- another testament to their use of DSP.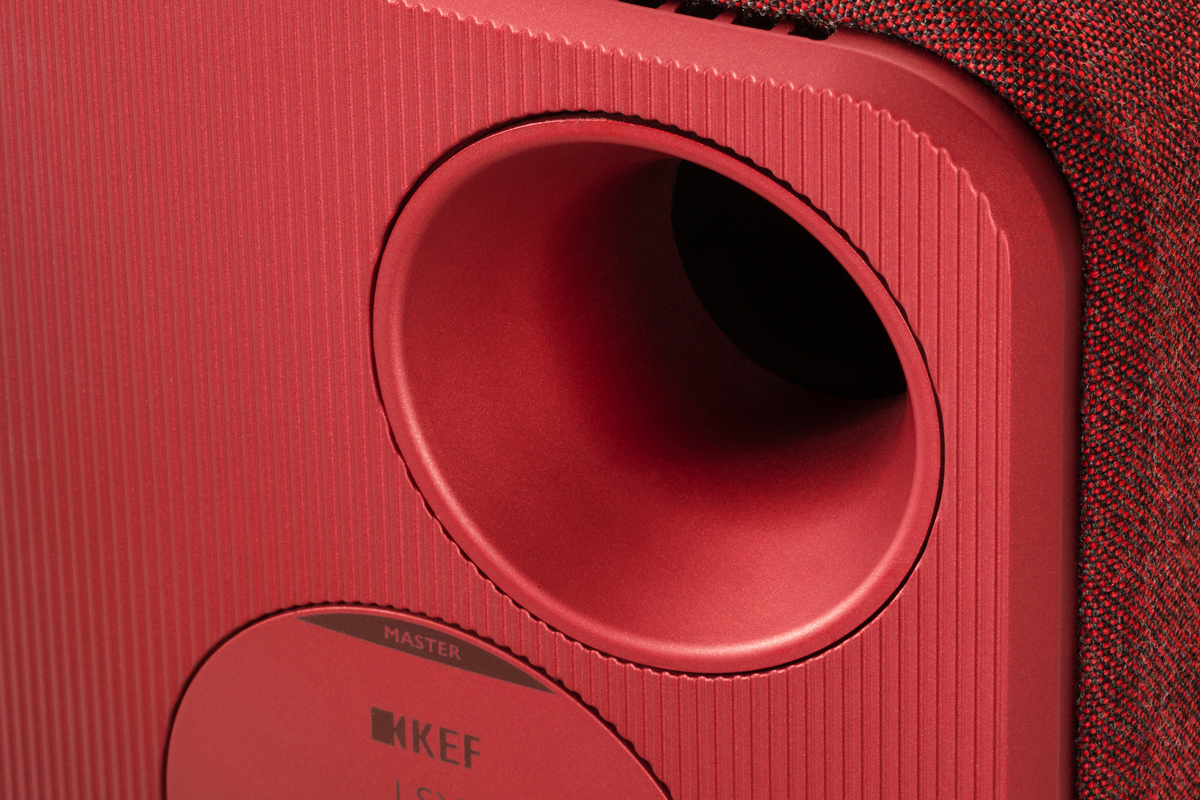 I was won over by the LSXes' reproduction of one of my go-to test tracks: "Deep Space/Solar," from Somewhere, by Keith Jarrett's Standards Trio (24/96 FLAC, ECM/HDtracks). In this track, drummer Jack DeJohnette uses mainly cymbals and toms, and they sounded nigh-on perfect. Piano tone was consistently natural from top to bottom, with lovely sparkle in the highs and satisfying heft down low. Gary Peacock's double bass was snappy and impactful, becoming a little thuddy only in the lowest notes. That said, the bass performance was hugely impressive for speakers of the LSXes' size. Imaging was excellent -- spacious, yet precise -- providing a reminder (as if any were needed) of what a real stereo setup delivers, compared to an all-in-one tabletop speaker.
Harking back to my dissolute youth, I cued up the title track of the Doors' The Soft Parade (24/48 FLAC, Elektra/Tidal). Jim Morrison's baritone was one of the greatest rock voices ever, and the LSXes reproduced it with no hint of coloration. The song builds to a pagan frenzy driven by John Densmore's tribal drumming -- these compact speakers more than held their own.
For a change of pace, I connected the LSXes to the optical output of the Vizio HDTV above my basement credenza, then streamed from Netflix one of my favorite films of 2018. The KEFs added immeasurably to my enjoyment of the Coen Brothers' The Ballad of Buster Scruggs. Carter Burwell's lush orchestral score sounded gorgeous. Foley effects, such as the sound of wind whistling over the prairie, extended way past the speaker plane. Dialogue was natural and completely intelligible.
Comparisons
I'm in process of reviewing two speakers with many similarities to the KEF LSX: Totem Acoustic's Kin Play (review scheduled for February 15), and SVS's Prime Wireless (March 1).
Totem's Kin Play powered speakers ($999/pair) have less connectivity than the LSXes: only RCA analog and TosLink digital inputs and aptX HD Bluetooth. Unlike the LSX, the Kin Play has no network capability, but it does have a switchable moving-magnet phono stage. Each enclosure houses a 5" woofer, a 1" aluminum-dome tweeter, and a passive crossover. The Kin Plays are powered by a single 120Wx2 class-D amplifier in the left speaker, and each enclosure is 2.25 times the volume of each LSX.
When I streamed Cassandra Wilson's recording of "Don't Explain" via Bluetooth aptX HD to the Kin Plays from the Music app on my LG G7 smartphone, the big floor tom had better definition than through the LSXes, and the soundstage was larger and less congested overall. With their more forward sound, the Totems were more effective at separating instruments from each other in this album's reverberant soundfield. But the sound seemed more integrated with the LSXes -- as if the KEFs were showing more of the forest, less of the trees.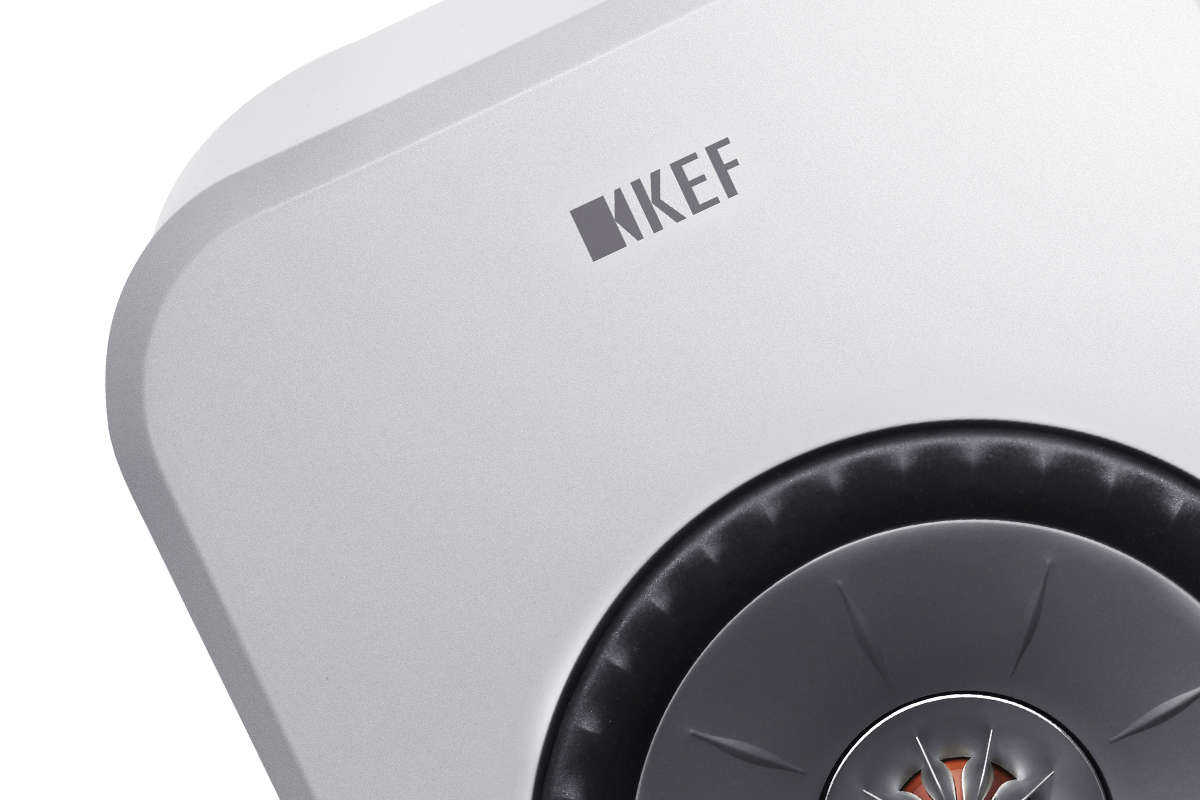 With Till Fellner's performances of Liszt, transients were sharper through the Totems, but the piano tone was more natural through the KEFs. Especially in the (melo)dramatic fifth movement, Orage, piano tone was a little clangy through the Kin Plays compared to the LSXes. However, the Totems were more effective at conveying the huge dynamic range of Fellner's instrument. And both pairs of speakers' portrayals of space were excellent. The Totems' more forward sound made it seem as if I sat in Row 10 of the Musikverein; with the KEFs, I was in Row 20.
Like the LSX, SVS's Prime Wireless ($599/pr.) is an active design, with a 4.5" woofer and 1" dome tweeter, each driver powered by a dedicated 50W class-D amplifier. The Prime Wireless has built-in Wi-Fi and Bluetooth, and is compatible with DTS's Play-Fi multi-room technology. There are also 3.5mm analog and TosLink digital inputs.
The Jarrett trio's performance of "Deep Space/Solar," streamed from my LG phone via Wi-Fi using the Play-Fi app, was very enjoyable through the SVSes. Jarrett's piano sounded a little sharper but also a little clangier than through the KEFs, which reproduced the lower notes with more authority. The lower notes of Peacock's double bass were fainter but not muddy.
Conclusion
It turned out that the LSX does have many of the sonic virtues of KEF's costlier LS50 and LS50 Wireless models: excellent timbral accuracy; expansive and precise imaging; and smooth, extended highs. And as for my question of whether hi-fi can be simultaneously flashy and discreet while sounding wonderful: Yes, it can.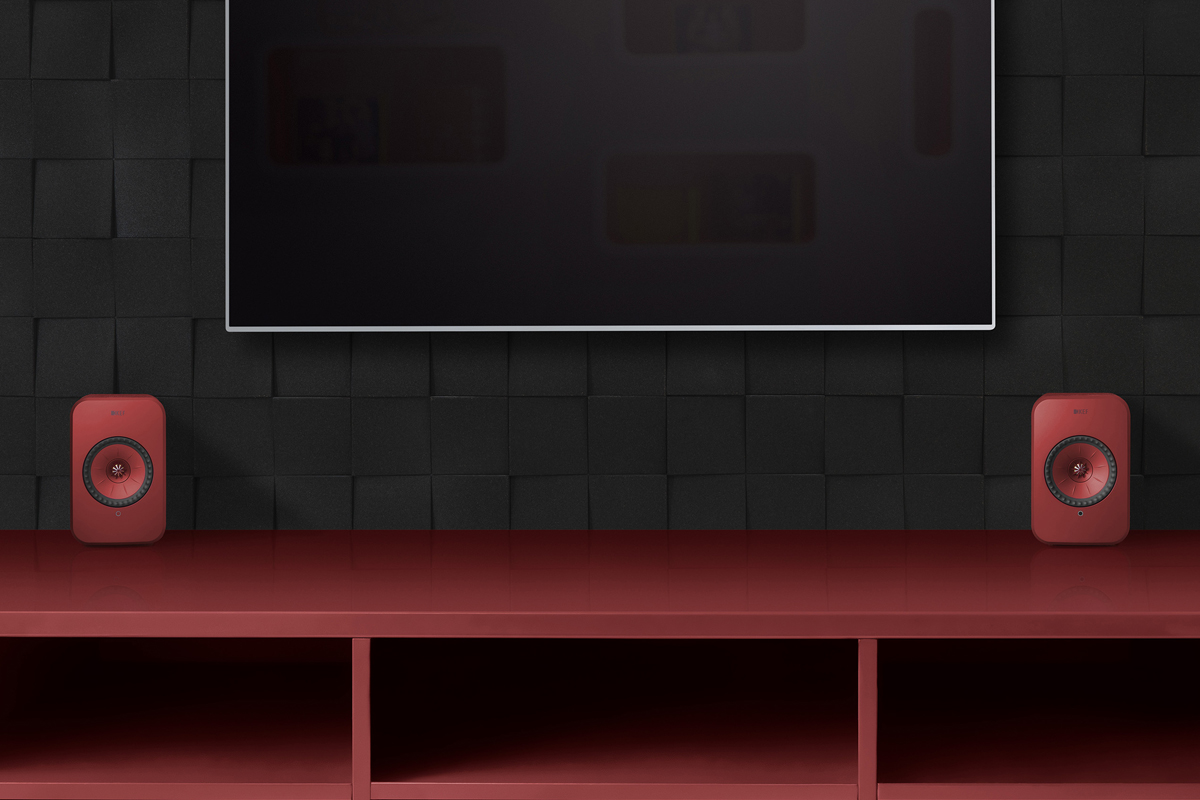 Of course, with any system of this size and price, compromises are inevitable. But with the LSX, not only are the compromises well chosen, they're effectively managed by KEF's Music Integrity Engine DSP. The LSXes' compromises became evident only when I played dense or bass-heavy music at high volumes. But even then, there was nothing the least bit objectionable about their sound. In fact, quite the opposite: for such small speakers, the LSXes had surprising bass extension and definition.
Visually and sonically, KEF's LSX active loudspeakers are very much part of the same family as the acclaimed LS50 and LS50 Wireless. I can imagine the two versions of the LS50 beaming with pride at what their little sibling can do, and saying, "Way to go, kid!"
. . . Gordon Brockhouse
This email address is being protected from spambots. You need JavaScript enabled to view it.
Associated Equipment
Speakers -- SVS Prime Wireless, Totem Acoustic Kin Play
Sources -- Apple iPhone SE, LG G7 ThinQ smartphones; Apple Mac Mini computer running Roon Core and Audirvana 3.2.14; Vizio D50-D1 HDTV
Network -- Google Wifi three-point mesh network
KEF LSX Active Loudspeakers
Price: $1099 USD per pair.
Warranty: Five years parts and labor; one year, active electronics.
KEF
GP Acoustics (UK) Ltd.
Eccleston Road, Tovil
Maidstone, Kent ME15 6QP
England, UK
Phone: +44 (0)1622-672261
Fax: +44 (0)162-750653
E-mail: This email address is being protected from spambots. You need JavaScript enabled to view it.
Website: www.kef.com
North America:
KEF
GP Acoustics (US) Ltd.
10 Timber Lane
Marlboro, NJ 07746
Phone: (732) 683-2356
Fax: (732) 683-2358
E-mail: This email address is being protected from spambots. You need JavaScript enabled to view it.
Website: www.kef.com/us