I've never thought of myself as having sharp elbows. But here I am, the new guy in the SoundStage! neighborhood, and I keep muscling in on my colleagues' territories. For my first review on Simplifi, I tackled LG's G7 ThinQ MQA-compatible smartphone, a product that would fit nicely on SoundStage! Solo. More recently, I opined that the Kii Audio Three DSP-controlled active speakers would be right at home on SoundStage! Hi-Fi or Ultra.
Now I'm about to stick out my elbows again. I think the subject of this review, Totem Acoustic's new Kin Play, would be just as at home on SoundStage! Access, or in Doug Schneider's popular "System One" section of SoundStage! Hi-Fi, as here on Simplifi.
Priced at $999/pair (all prices USD), the Kin Play is Totem's first-ever powered loudspeaker. Each cabinet is a two-way, rear-ported design with a 5" natural-fiber hybrid woofer and a 1" metal-alloy dome tweeter. The left-channel master speaker contains the single 120Wpc class-D amplifier that powers both cabinets. The right-channel slave speaker is a conventional passive design with its own internal crossover network and terminals on the back. Each speaker measures 13.97"H x 7.08"W x 9.25"D; the master speaker weighs 15.85 pounds, the slave 12 pounds.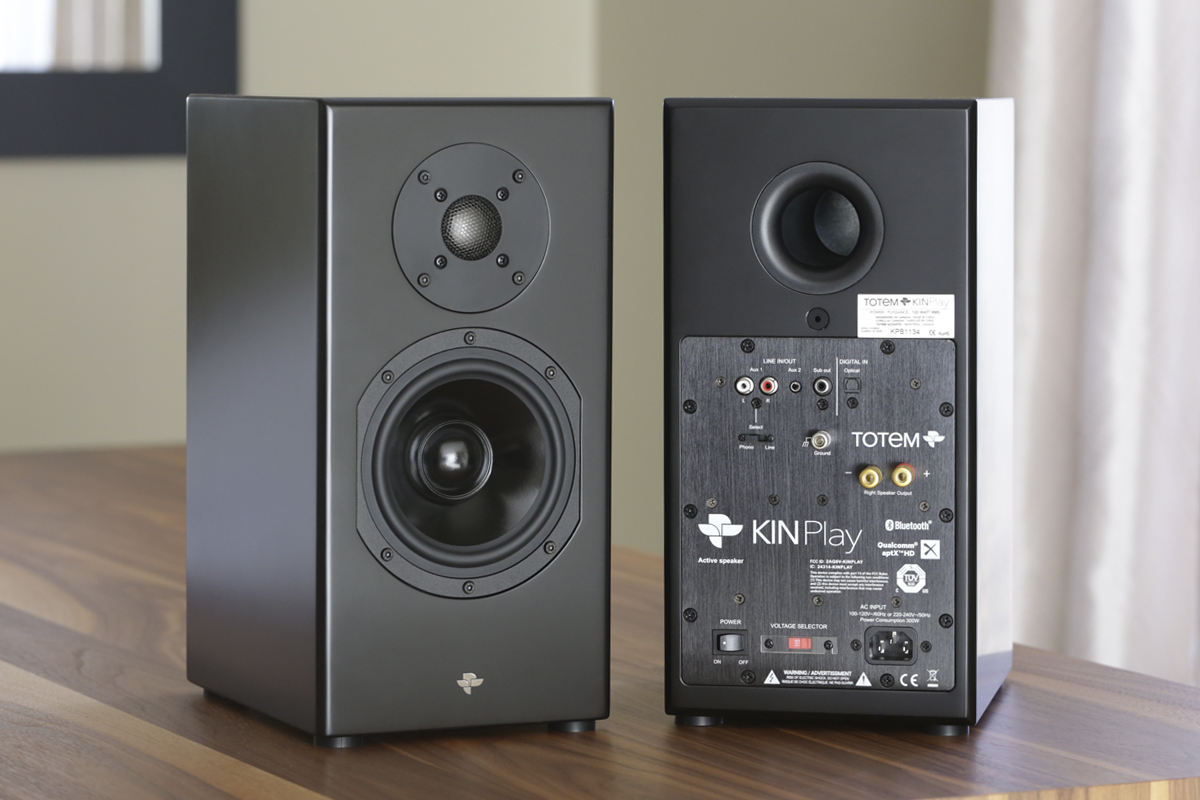 The Kin Play is a powered as opposed to an active speaker. In an active design, crossover filtering takes place before amplification, and each driver has its own dedicated amplifier. Powered speakers like the Kin Plays have one amplifier, and crossover filtering takes place after amplification. This all works like a conventional system of amp plus speakers, except that the amplifier is built into one of the speaker enclosures.
Included in the box is just about everything you need to start playing music: a small remote control, a power cord for the master speaker, speaker cables terminated in banana plugs to connect the slave's inputs to the master's outputs, and two interconnects: TosLink for connecting a digital source such as a TV or disc player, and 3.5mm stereo for connecting a smartphone or portable music player. More about all this below.
The build quality of the Kin Plays is excellent. They have a lovely Satin Black finish (Satin White is available), with gracefully radiused edges on the front baffle. They're supplied with black cloth grilles that magnetically attach to the baffle, and four adhesive feet that attach to the bottom to decouple the speakers from the surface on which they're placed. I thought the Kin Plays sounded better without their grilles -- instruments and voices had greater clarity, the sound was more open, and details such as rapid piano trills were better resolved. Using the Kins sans grilles isn't a big risk, as each tweeter is protected by its own wire-mesh grille.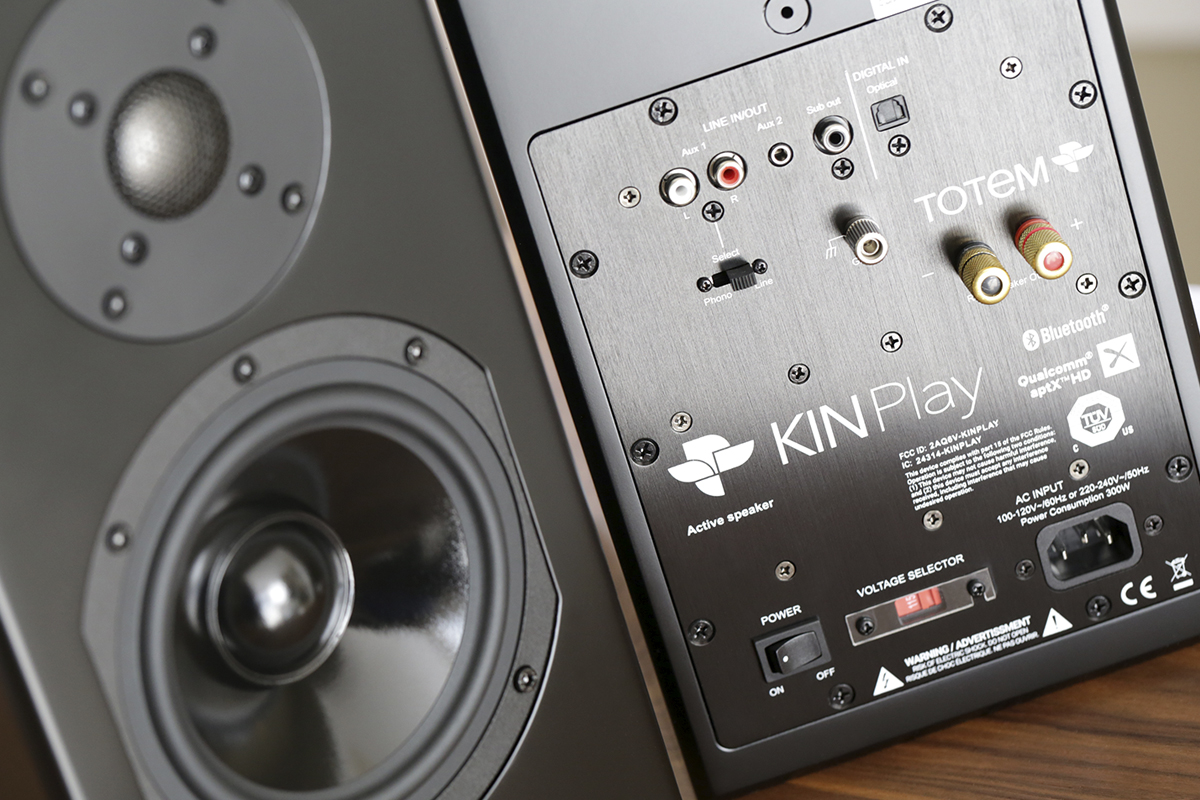 On the rear of the master speaker are two analog inputs (RCA) switchable between phono and line-level sensitivity, a 3.5mm mini stereo input, a TosLink digital input that can accept datastreams of resolutions up to 24-bit/192kHz, a subwoofer output (RCA), and output terminals for the right-channel speaker. The Sub Out implements a low-pass filter with a 220Hz crossover frequency. No high-pass filter is implemented for the main speakers when you attach a sub.
In addition to wired sources, the Kin Plays can be wirelessly paired to a Bluetooth device. They support Bluetooth aptX HD, which can stream 24/48 audio at 4:1 compression.
On the left front of the master speaker, an LED indicator glows red when the Kin Plays are in Standby mode, blue during playback from a Bluetooth device, and green during playback from any of the wired inputs. It flashes red when the mute function is activated, blue when pairing to a Bluetooth device. On the right is a multi-controller knob. This can be turned to adjust the volume, or pushed and turned to switch sources. For Bluetooth pairing, give the controller a long press, then complete pairing on your device.
When switching inputs, especially from a line-level or Bluetooth source to phono, I experienced a moderately loud transient thump from both speakers, accompanied by a fairly dramatic movement of the woofer cones. I recommend lowering the volume, or activating mute, when switching to phono.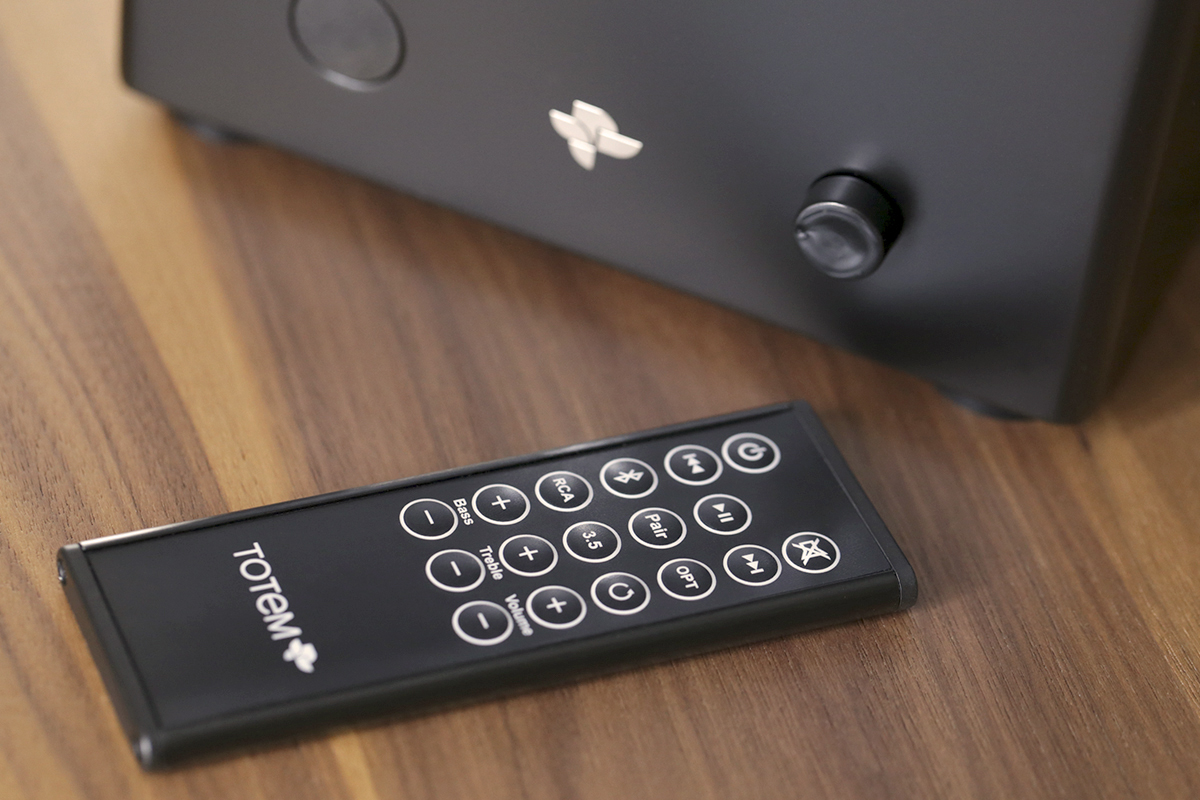 You can perform all of the above operations with the remote, which has a metal rather than plastic outer casing. This gives it a satisfying heft, despite being fairly small and having membrane keys. It has direct-access buttons for the RCA, 3.5mm, optical, and Bluetooth inputs, each clearly labeled -- there's no need to toggle through sources to find the one you want. There are also volume up/down, bass up/down, treble up/down, and mute keys. A potential source of confusion: the Kin Plays provide no visual feedback about their bass, treble, and volume settings. However, the remote's Reset button returns the bass and treble settings to flat. There are also play/pause, previous-track, and next-track buttons for controlling playback from a paired Bluetooth device.
The Kin Plays lack network connectivity via Ethernet or Wi-Fi, and there's no companion app. But powered stereo speakers with line-level and phono inputs, along with Bluetooth capability, are attracting a growing audience of young listeners who want a small-footprint system for music playback, gaming, and video entertainment. This configuration can accommodate sources as varied as a turntable, disc player, game console, TV, portable music player, and mobile device. I think there's another audience for this type of product: boomers and Gen-Xers who got seduced by iPods and smartphones, and who now want to rediscover the joys of listening out loud.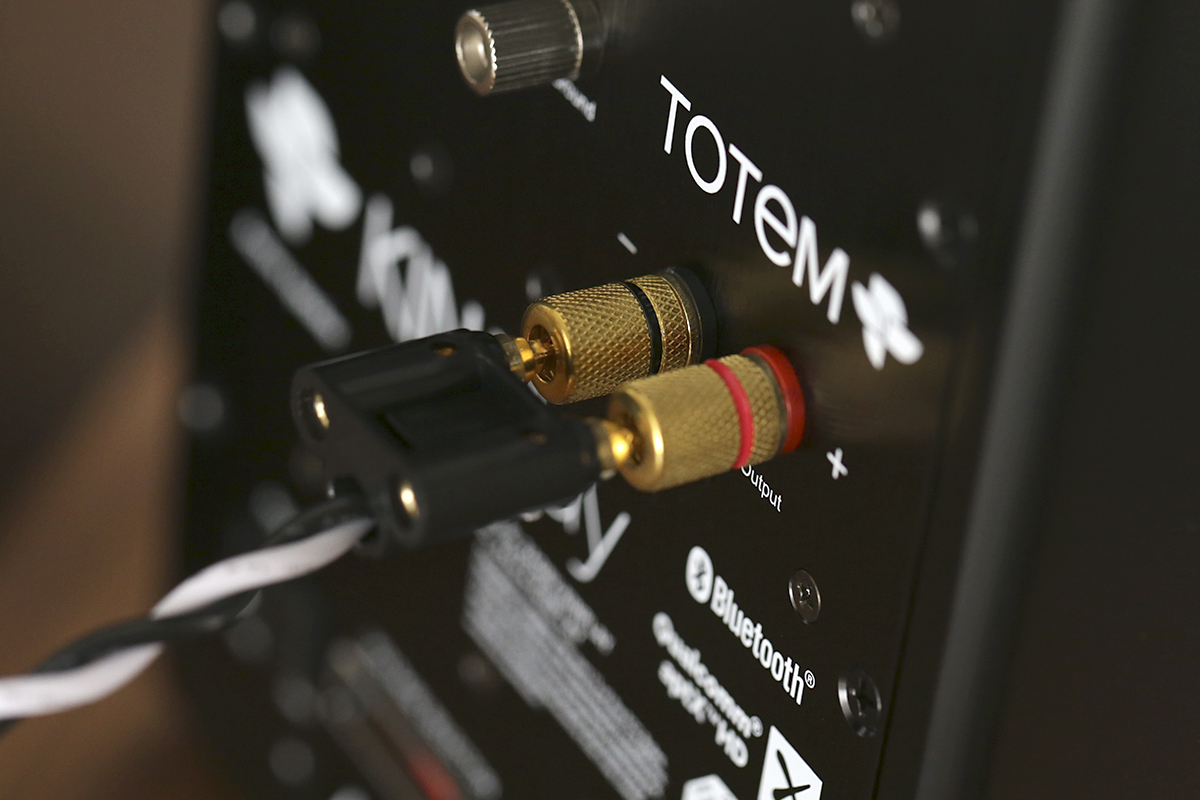 Totem says its goal for the Kin Play was to offer a compact, convenient system that would deliver performance on a par with other Totem models. The press release announcing the product quotes president and founder Vince Bruzzese saying, with characteristic bravado, that the Kin Play combines "all-in-one simplicity with spatially outrageous DNA."
Listening
As I did for the recently reviewed KEF LSX active speakers, I set up the Totem Kin Plays on a wide, deep credenza in my basement family room. With their baffles at the front edge of the credenza, their rear panels were 12" from the front wall -- exactly the distance recommended in the manual.
Mounted on the wall behind the credenza is a Vizio D50-D1 HDTV, whose TosLink output I connected to the corresponding input on the left speaker. For music, I paired my LG G7 ThinQ smartphone with the Kin Plays, and plugged into the Totems' phono jacks a Pro-Ject Debut Carbon belt-drive turntable with pre-mounted Ortofon 2M Red cartridge ($399.99).
The first album I spun on the 'table was Two, by jazz pianist Chick Corea and banjoist Béla Fleck (3 LPs, Stretch/Concord Jazz CJA 3869701). Recorded in concerts between 2007 and 2015, Two really showed off the Kin Plays' dynamic capabilities. There's a point about three minutes into Corea's "Señorita" where, at the end of four consecutive bars, Fleck stretches, then suddenly releases a string of his banjo. These transients exploded out of the Kin Plays -- it was thrilling, but not exaggerated. In Fleck's "The Climb," a solo-banjo piece, I admired the convincingly twangy tone of his instrument and how the Kin Plays resolved his rapid, varied picking, and how the decays of these sounds into the background gave a realistic sense of the concert space. This segues into another Fleck composition, "Mountain," which begins with a short dialogue between Corea and Fleck followed by some dazzling duo playing, the two musicians weaving in and around each other. I marveled at how the Totems separated the two strands, even though they were mostly in the same tonal range.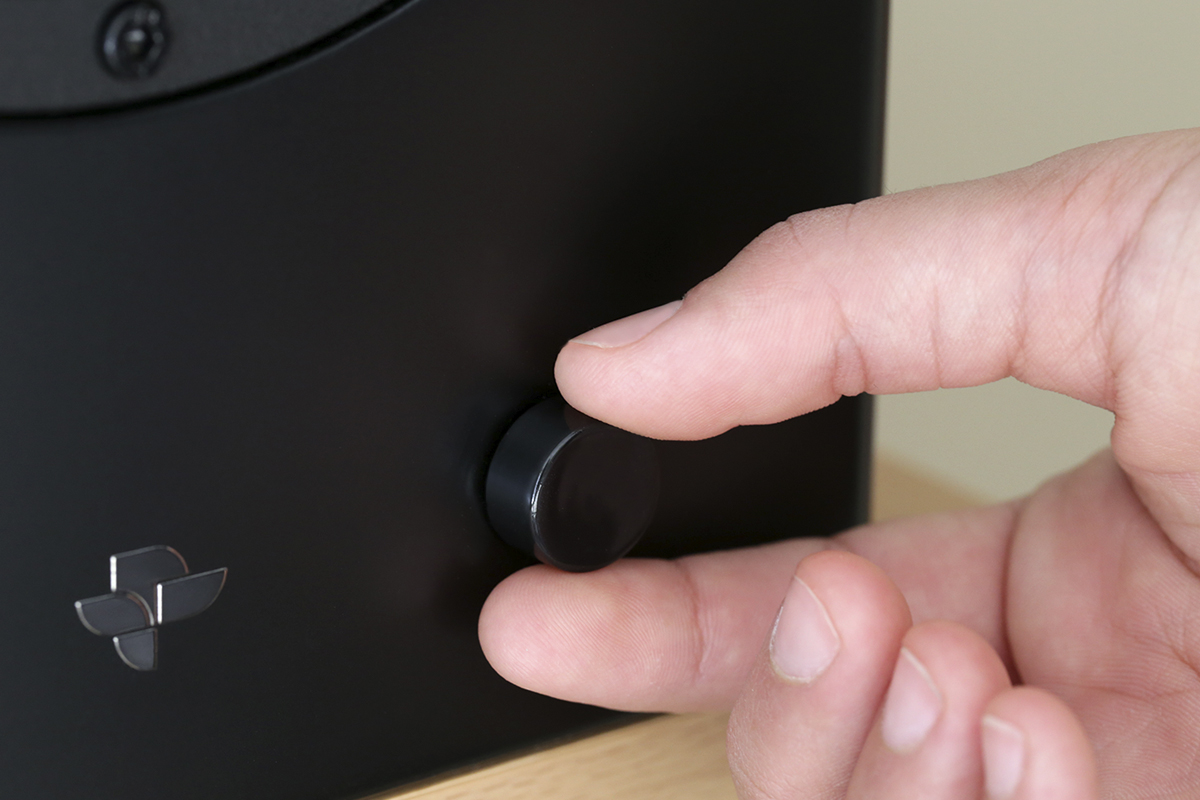 At various points in Two, I heard some timbral inconsistency in piano tone. From the third octave up, piano tone was excellent, and the second octave was definitely satisfying. But the bottom octave was a bit lightweight and thuddy. This was evident in loud lower-octave chords, and with Corea's occasional percussive effects.
Something that stood out was the huge (no -- YUGE!) soundstage thrown by the Kin Plays: deep, and extending far beyond the speaker plane. I also loved the warm, inviting sound produced by the Kin Plays and my Pro-Ject/Ortofon record player -- clearly, the Kin Plays' phono stage played a role here. With my ear 2' from a tweeter, the phono input selected, the volume set to a comfortable level, and nothing playing, I heard no noise.
Streaming a high-resolution download of Two (24-bit/96kHz FLAC, Stretch/Concord/ProStudioMasters) from my G7 smartphone to the Kin Plays via Bluetooth, I found the tonal balance more forward. Piano tone was clangier, and the banjo had more twang. Transients were softer but more natural from the LP. The G7 has two connection options for Bluetooth audio: Most stable and best sound quality. The second option activates Bluetooth aptX HD -- when I selected it, the sound was noticeably fuller, with less dryness and glare, though the LP still sounded softer and warmer. The LP produced a bigger soundstage, but the Bluetooth aptX HD stream had better image specificity.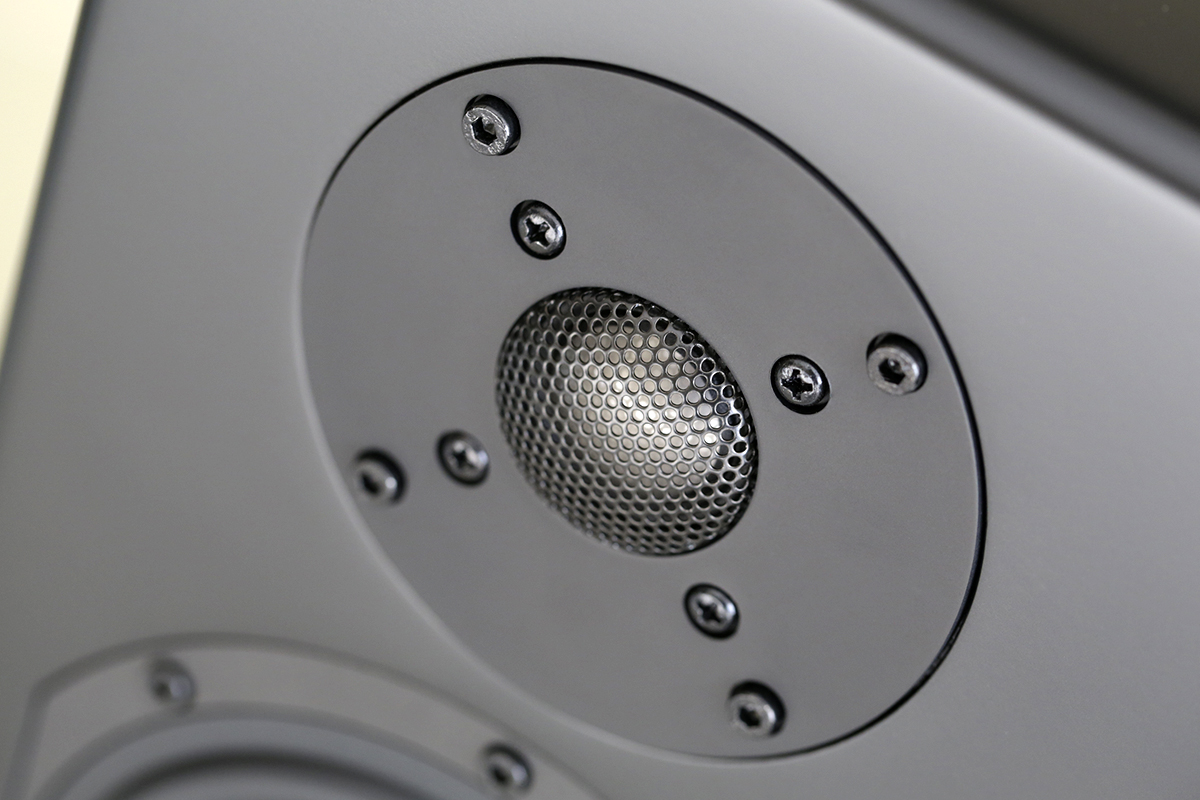 Next, I connected the G7's headphone output to the Kin Play's 3.5mm input, so that I could use the G7's Hi-Fi Quad DAC. This improved the sound even more, making it very close to the LP in terms of spaciousness, and better in terms of clarity and articulation.
Chris Thile & Brad Mehldau (2 LPs, Nonesuch 558062), a duo project by the acclaimed mandolinist, singer, and songwriter and the equally acclaimed jazz pianist, was one of my favorite albums of 2017. About half of the tracks on the album include vocals, one of these with both musicians, the others with only Thile singing. One of the vocal tracks is a cover of "Marcie," from Joni Mitchell's first album, Song to a Seagull (1968). On the LP, Thile's voice had a very slight nasal coloration in its lower range but was otherwise admirable. The Kin Plays' agility highlighted the expressive nuances in Thile's singing, enhancing the song's pathos. Mandolin transients were detailed and articulate, never hard or etched. Mehldau's piano had impressive authority in the left hand, becoming a little tubby only in the bottom octave -- his right-hand playing sounded fantastic.
"Tabhair dom do Lámh" (Give Me Your Hand) is a meltingly beautiful arrangement of a 17th-century traditional Irish song. Through the Kin Plays, the piano and mandolin were completely divorced from the speakers' positions. Again, I admired the way the Totems resolved the different strands when the two musicians played in the same range. Here, the Kin Plays showed their rhythmic prowess -- I found it impossible to keep from swaying to their gentle triple-time dance beat.
Streaming a hi-rez digital (24/96 FLAC) version of this album via Bluetooth, I didn't hear the same vocal coloration I'd noticed with the LP, and the lower octaves of the piano sounded less muddy. Was there a difference in the way the analog and digital versions were mastered? Was I experiencing the limitations of vinyl? Or was the fact that turntable and speakers were sitting on the same credenza muddying the lows? I had no other indication of any acoustic problems during phono playback. In any event, my layout is typical of how a turntable will be connected to powered speakers.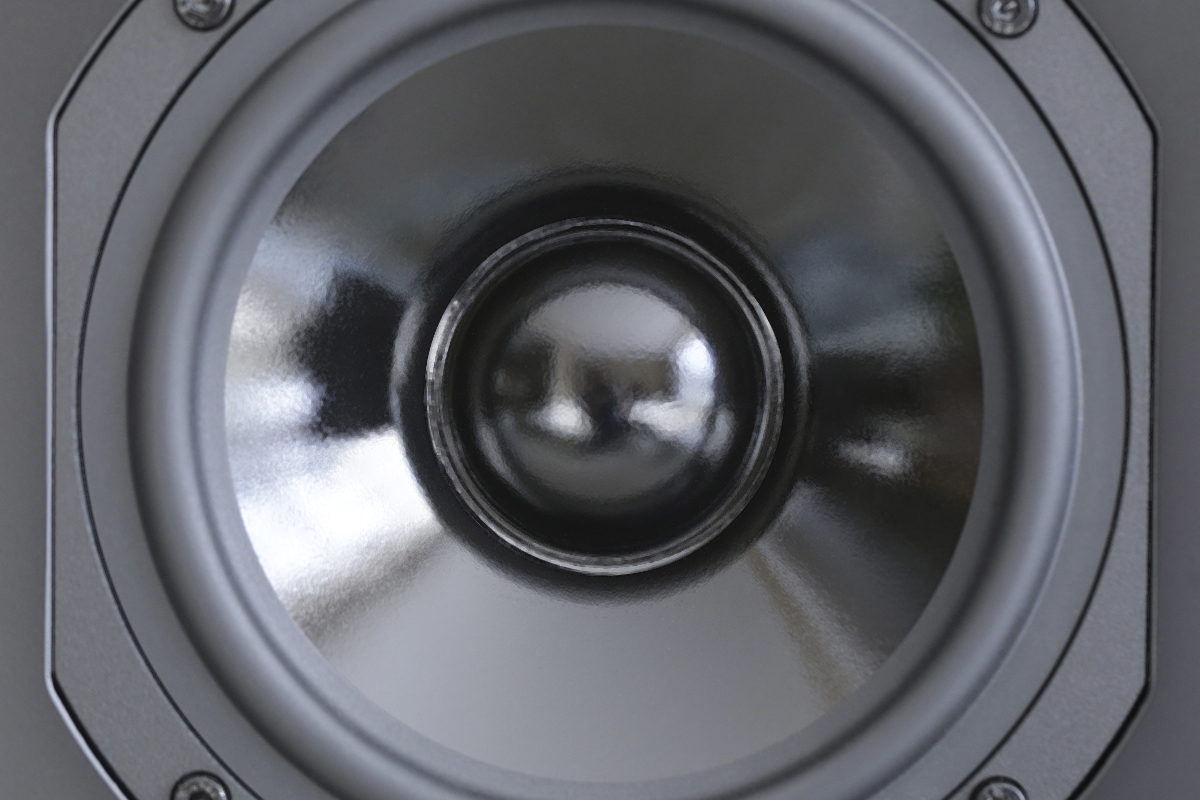 Through the Bluetooth connection, I heard more of Thile's mandolin fingerwork, and better reproduction of his and Mehldau's voices. But the LP produced a bigger soundstage, and sounded less sterile. Again, enabling aptX HD on my G7 smartphone improved spaciousness and added body. A direct connection using the 3.5mm input made further improvement, the soundstage now extending way beyond the speaker plane.
In some audiophile circles Patricia Barber is considered overplayed, her recordings too often used as references or to demo systems. Not around our home. My better half and I admire Barber's cool, sophisticated musicianship, her literate songwriting, her imaginative arrangements of other people's compositions. Her album Café Blue (DSD, Premonition/Blue Note/SuperHiRez) features a particularly inventive cover of Bobbie Gentry's 1967 hit, "Ode to Billy Joe." The only accompaniment to Barber's dark, moody vocal are her snapping fingers and Michael Arnopol's double bass.
A 3.5mm direct connection between the G7 and the Totems allowed me to play the DSD file through the smartphone's premium DAC. Despite being wrapped in heavy reverb, Barber's voice remained clear and well defined. Combined with the Kin Plays' spaciousness, the reverb created the impression of a huge, cavernous space, making it easy to imagine I was at Chicago's Green Mill Jazz Club on a Monday night.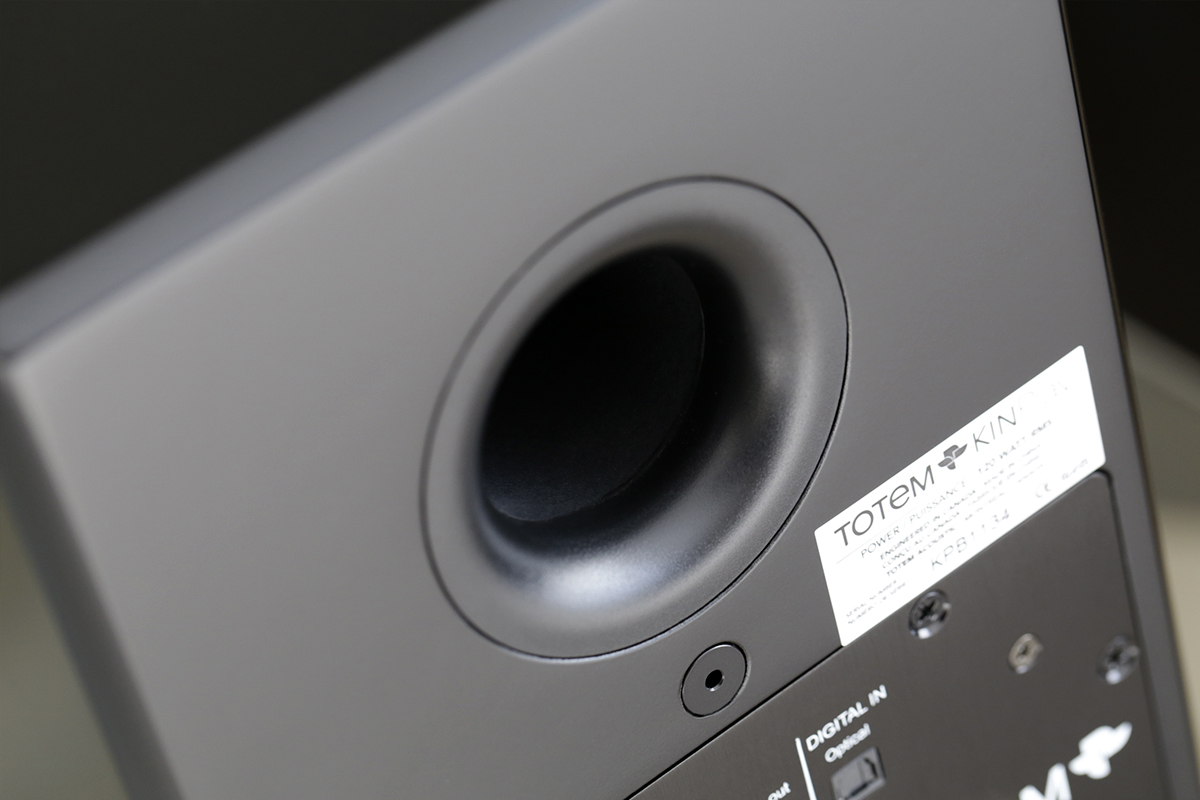 All this arty stuff is fine, but could the Kin Plays get down? Yes, they could, judging by their reproduction of "Here Come the Girls," from New Orleans drummer Stanton Moore's With You in Mind: The Songs of Allen Toussaint (24/44.1 MQA, Cool Green/Tidal). This track begins with a ten-second drum-and-percussion riff before the horns enter. The Kin Plays nailed this raucous beginning, the drums exploding into my family room, then did full justice to the joyous singing of Cyril Neville and two female backing vocalists. The highlight was a long solo by Trombone Shorty, the Kin Plays presenting his sliding and blowing in 3D.
I'm not a gamer and don't own a game console, so I can't comment on how well the Kin Plays might work with videogames. But judging from their performance with a big sci-fi flick, I expect they'd do just fine. I streamed a long section of Solo: A Star Wars Story from Netflix on my Vizio HDTV, its optical output connected to the Kin Plays. The sound was wonderful, right from John Powell's ominous music for the film's opening. The monsters and special effects in the scenes that follow were truly dramatic, if a bit strident. Like many action-movie soundtracks, Solo's has a hard edge, and the Totems accentuated this. I would have welcomed more low-frequency punch, but realistically, that would require a subwoofer.
For action movies, compact powered stereo speakers can't take the place of a full-blown surround-sound system. And serious gamers will probably gravitate to a system that can do full-blown positional audio. But the Kin Plays handled this fare way better than most soundbars or computer speakers.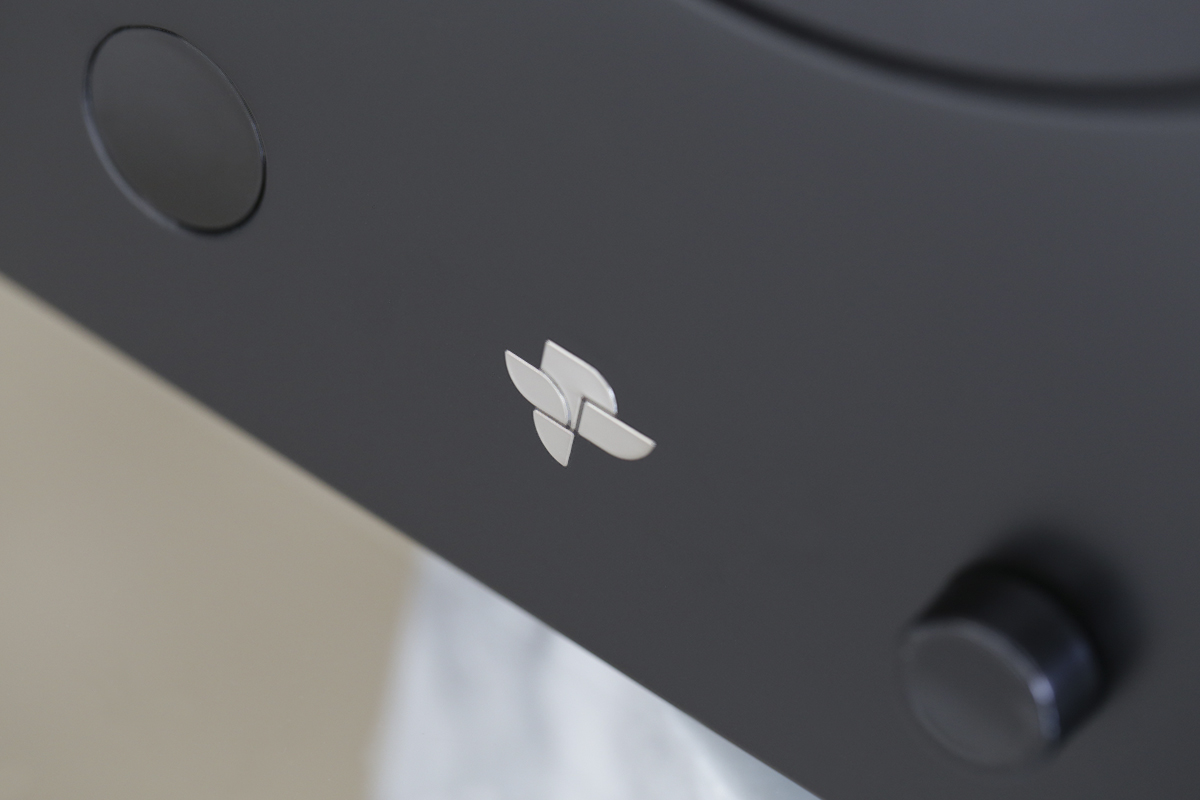 Comparisons
Unlike the Kin Plays, KEF's LSX (reviewed February 1) and SVS's Prime Wireless (review scheduled for March 1) are app-controlled active designs, with DSP-based crossovers and a separate class-D amplifier for each driver. They also have built-in Wi-Fi, which the Kin Plays do not. But the Kin Plays have a built-in phono stage, which the other speakers don't. All three systems have Bluetooth connectivity, but only the Kin Plays have aptX HD support. The KEFs and SVSes support only aptX.
The KEF LSXes ($1099/pair) employ a Uni-Q driver array, with a 0.75" aluminum-dome tweeter at the acoustic center of a 4.5" midrange-woofer driver. Playing a 24/96 FLAC version of Corea and Fleck's Two through the LSXes, and the LP through the Totems, I found that the KEFs sounded smoother and more refined, the Totems more exciting. I heard more of Fleck's incredible fingerwork through the Totems, and in Corea and Fleck's duets, especially when they play in the same range, the Totems more clearly differentiated each musician's contributions from the other's. These differences were accentuated when I played the hi-rez download on my G7 through the Totems.
The SVS Prime Wireless ($599/pair) has a 4.5" midrange-woofer and a 1" tweeter, each with its own 50W amp. Through the SVSes, the 24/96 download of Thile and Mehldau's performance of "Marcie" sounded smoother than either the LP or the 24/96 FLAC through the Totems. But the Kin Plays were more dynamic, and produced a greater sense of space. With a more energetic track from this album, "The Old Shade Tree," the SVS speakers sounded slightly more compressed than the Totems. Piano tone had more body through the Kin Plays; mandolin transients were gentler through the SVSes, sharper with the Totems.
Conclusion
Not only are Totem Acoustic's Kin Plays easy to set up and use, they delivered amazing sound for their asking price of $999/pair. Some of their limitations, especially in bass extension and definition, are the inevitable results of their small size -- no matter how well designed, there's only so much you can ask of a two-way speaker with a 5" midrange-woofer.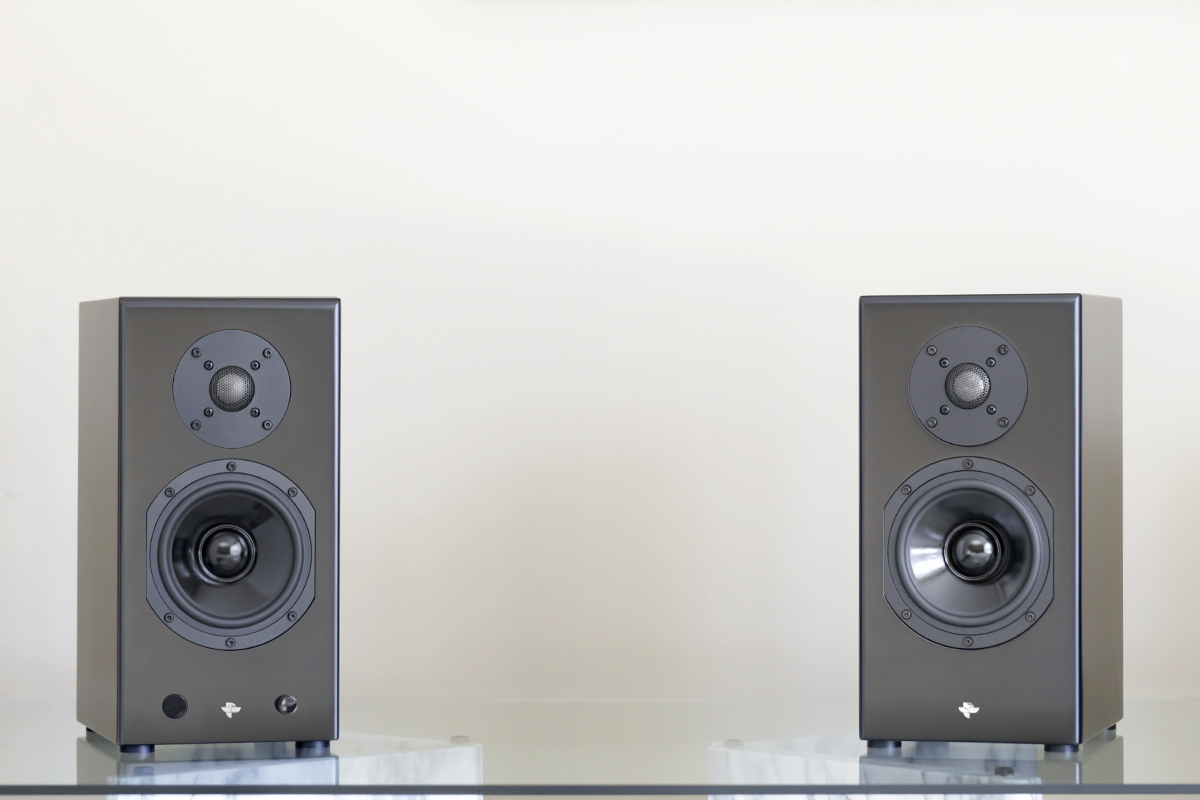 But if the Kin Plays occasionally sounded a bit rough around the edges, that's because they refused to play it safe. I wouldn't call them unrefined, but they traded some smoothness for dynamic excitement and rhythmic swing. Per Vince Bruzzese's claim, the Kin Play is every (cubic) inch a Totem, with the speed, articulation, and spacious sound for which the brand is famous. Given the huge soundstages they threw, I don't think it's a stretch to call them "spatially outrageous."
In short, the Kin Plays are a wonderful way for music-lovers to discover -- or rediscover -- the joys of high fidelity. Add a source component, and you've got a killer little stereo system.
. . . Gordon Brockhouse
This email address is being protected from spambots. You need JavaScript enabled to view it.
Associated Equipment
Sources -- Pro-Ject Debut Carbon turntable with Ortofon 2M Red cartridge, LG G7 ThinQ smartphone, Vizio D50-D1 HDTV
Active speakers -- KEF LSX, SVS Prime Wireless
Totem Acoustic Kin Play Powered Speakers
Price: $999 USD per pair.
Warranty: Two years parts and labor.
Totem Acoustic
9165 rue Champ D'Eau
Montreal, Quebec H1P 3M3
Canada
Phone: (514) 259-1062
Fax: (514) 259-4968
E-mail: This email address is being protected from spambots. You need JavaScript enabled to view it.
Website: www.totemacoustic.com