It was a deal that left many audiophiles scratching their heads. In May 2016, the venerable British loudspeaker manufacturer Bowers & Wilkins was sold to California-based EVA Automation Inc. If few people had ever heard of EVA Automation, that's not surprising -- the Silicon Valley startup had been founded only two years before, and had never released a product.
But EVA had serious backers, with deep pockets and big plans. Its founder and executive chairman is Gideon Yu, a venture capitalist whose CV includes stints as chief financial officer for Facebook and YouTube. Yu's stated goal in forming EVA Automation was "creating fantastic home AV user experiences," and the acquisition of B&W was intended to fast-track that process.
Three years later, Bowers & Wilkins unveiled the result: the Formation series of streaming audio products. Formally announced in late April of this year, at a press event at the company's headquarters in Sussex, England, the series comprises the Formation Wedge tabletop music system ($899.99, all prices USD), the Formation Bar three-channel soundbar ($1199.99), the Formation Bass subwoofer ($999.99), the Formation Audio streaming preamplifier ($699.99), and the subject of this review: the Formation Duo, an active stereo speaker ($3999.99/pair).
Multiple Formation products can be grouped for whole-house audio. You could have a Formation Bar soundbar below the flat-screen TV in your family room, with a Formation Bass subwoofer tucked away in a corner; a Formation Wedge in the master bedroom; and a pair of Formation Duos in the living room.
For audiophiles, by far the most interesting model in the series is the Formation Duo. It's a two-way design, with a 1" dome tweeter and a 6.5" woofer, each powered by a 125W class-D amplifier.
The Formation Duo exemplifies the kind of hi-fi gear Simplifi was designed to cover: It offers a way for music-lovers who don't want clutter or complexity in their lives to get really serious sound.
Inside and out
No need to hunt for a logo or brand name -- a quick glance at the Formation Duo is all you need to know that it's a Bowers & Wilkins product. Available in finishes of black or white, the speaker has the same distinctive tweeter-on-top design as B&W's flagship 800 Series Diamond, and the 702 S2 floorstander and 705 S2 minimonitor from the 700 Series.
The main enclosure, molded of plastic, measures 15.5"H x 7.8"W x 12"D and has a gracefully curved shape that tapers to the back, much like the flagship 805 D3 stand-mount. It's a strikingly modern design that won't be to everyone's taste. In rooms with traditional décor, the Formation Duos may stand out a little too much.
The Duo's carbon dome, mounted in a bullet-shaped subenclosure that's decoupled from the main cabinet, is derived from the tweeter used in the premium 700 series, B&W says. The midrange-woofer has the Continuum composite cone found in the premium models of the 700 and flagship 800 series. Both drivers are protected by metal grilles.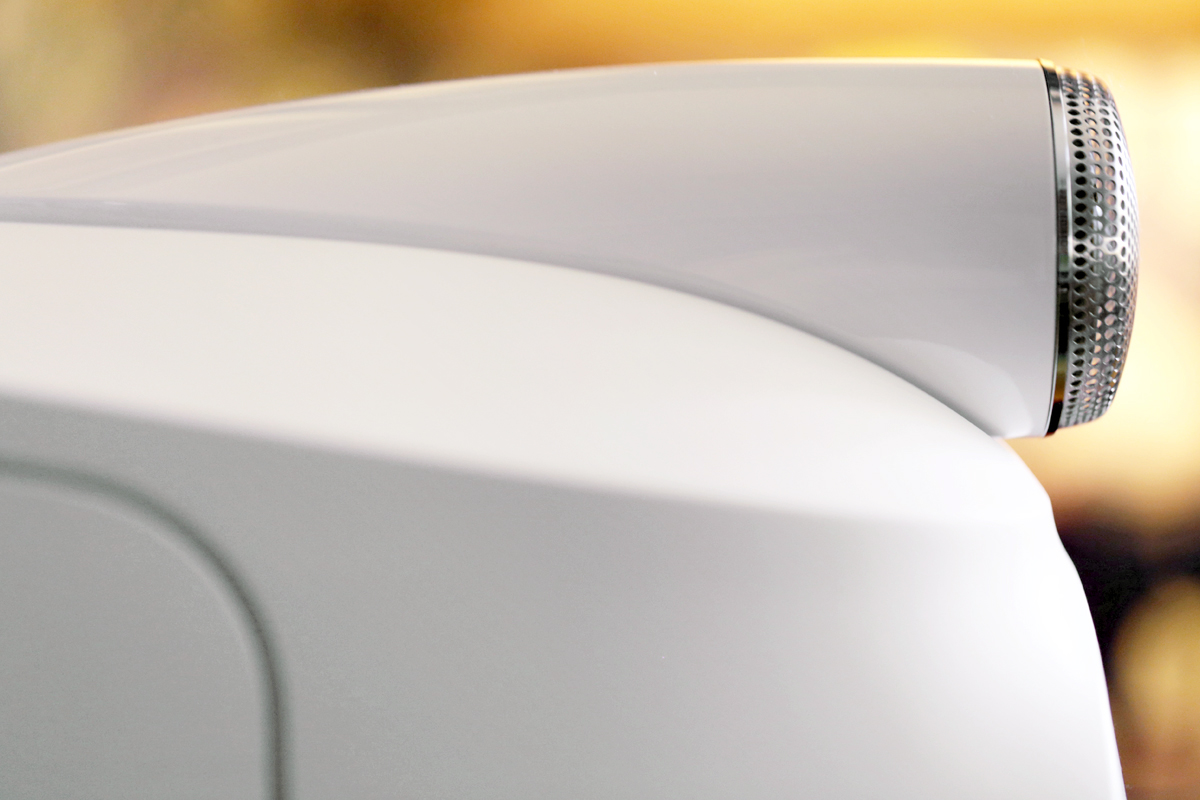 The Formation Duo is not B&W's first active stereo speaker. The John Bowers Active 1, introduced in 1984 and long since discontinued, was a three-driver, 2.5-way design with a 200W amp for the bass section and a 100W amp for the tweeter. Clearly, much of the technology that has gone into the Formation Duo originated in Sussex.
But there's also a lot of Silicon Valley in the Formation Duo. Like other Formation products, these speakers communicate with each other over a proprietary mesh network at resolutions up to 24-bit/96kHz PCM. B&W claims that this model's latency -- the brief lag in time between sounds produced by the left and right Formation Duos, or between the sounds output by Formation products sent the same signal but in different rooms -- is less than a microsecond. At 24/96 resolution, that's very impressive.
On the bottom of each Formation Duo are a two-pronged AC connector and an Ethernet port. Notably absent are any audio inputs -- no S/PDIF of any type, no line-level analog. Anything played through the Formation Duo will have to have been streamed over your home network, or via Bluetooth. Formation products support the advanced Bluetooth codecs, including aptX HD.
All Formation products also support AirPlay 2, for multiroom streaming of 16/44.1 PCM audio from Apple devices; and Spotify Connect, for streaming from the Spotify app. Formation products are also Roon Ready, allowing streaming at up to 24/96 from a Roon server.
If you want to play hardwired sources through the Formation Duo, you'll need a Formation Audio streaming preamp, which does have a TosLink input and one pair of line-level analog inputs (RCA). The Formation Audio can stream to other Formation products, and also has coaxial S/PDIF and line-level analog outputs for connection to an external amplifier, or powered or active speaker with analog inputs, so that you can integrate legacy components into a Formation system.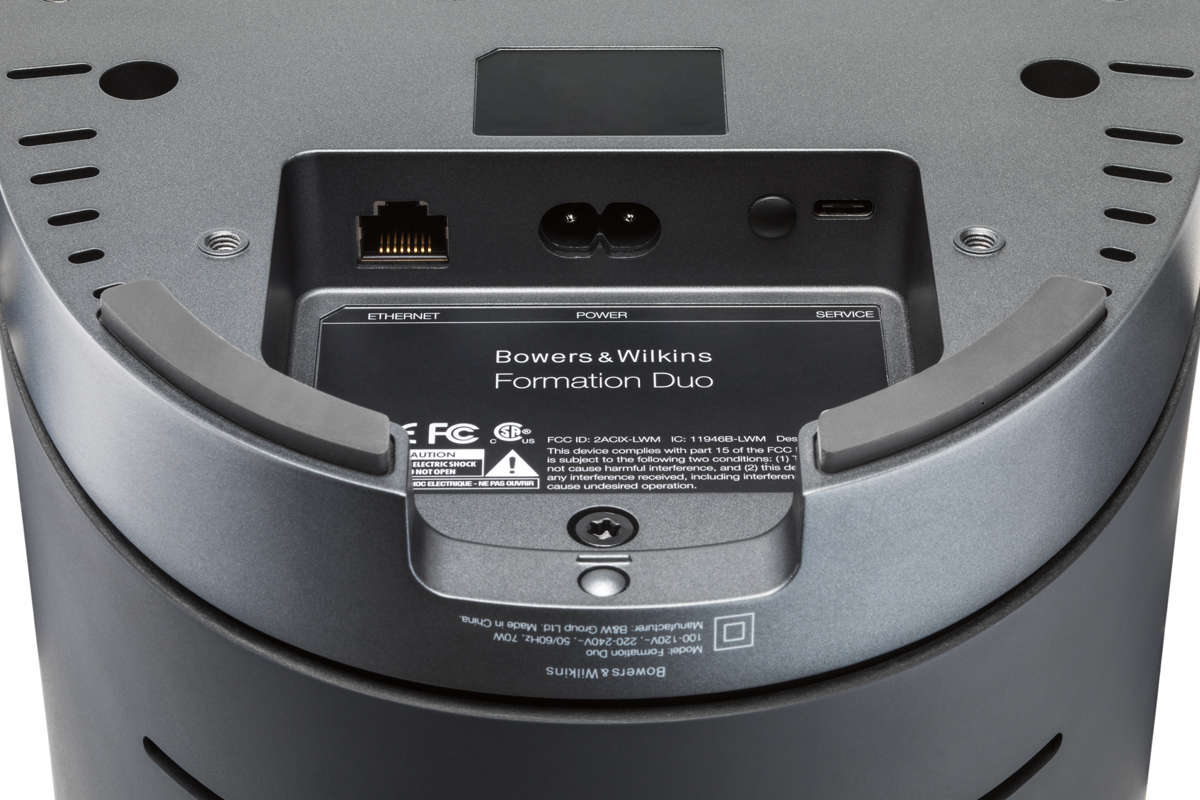 I'd have liked to provide more technical information about the Formation Duo. Other B&W speakers whose tweeters occupy a subenclosure that stands proud of the main cabinet have aluminum housings for their tweeters. But like the Formation Duo's main enclosure, its tweeter housing is made of some kind of plastic. Other than reporting that the tweeter and main enclosures both seem very rigid, and that the latter is a sealed box, I can't tell you much about their construction.
Nor can I provide information about crossover frequency and slope. The crossover is implemented by a digital signal processor (DSP) inside each enclosure. The Formation Duo uses DSP for other functions as well, including dynamic equalization. You can also adjust the bass and treble in 13 steps (from -6 to +6), using the Bowers Home app. But the lack of any room-boundary compensation strikes me as an opportunity missed. KEF's LSX ($1100/pair) and LS50W ($2200/pair) active speakers both have this feature, enabled via the KEF Control app; and Dynaudio's Focus XD active speakers have Speaker Position controls on their rear panels.
Does B&W plan to enable room compensation through a software update? Does the Duo perform phase correction in DSP? If you mate the Formation Bass with the Duos, or with a Formation Bar or Wedge, what kind of crossover is used? I posed all these questions, as well as questions about the driver, enclosure, and crossover design, to B&W's media representatives, but despite my follow-up e-mails, these questions went unanswered.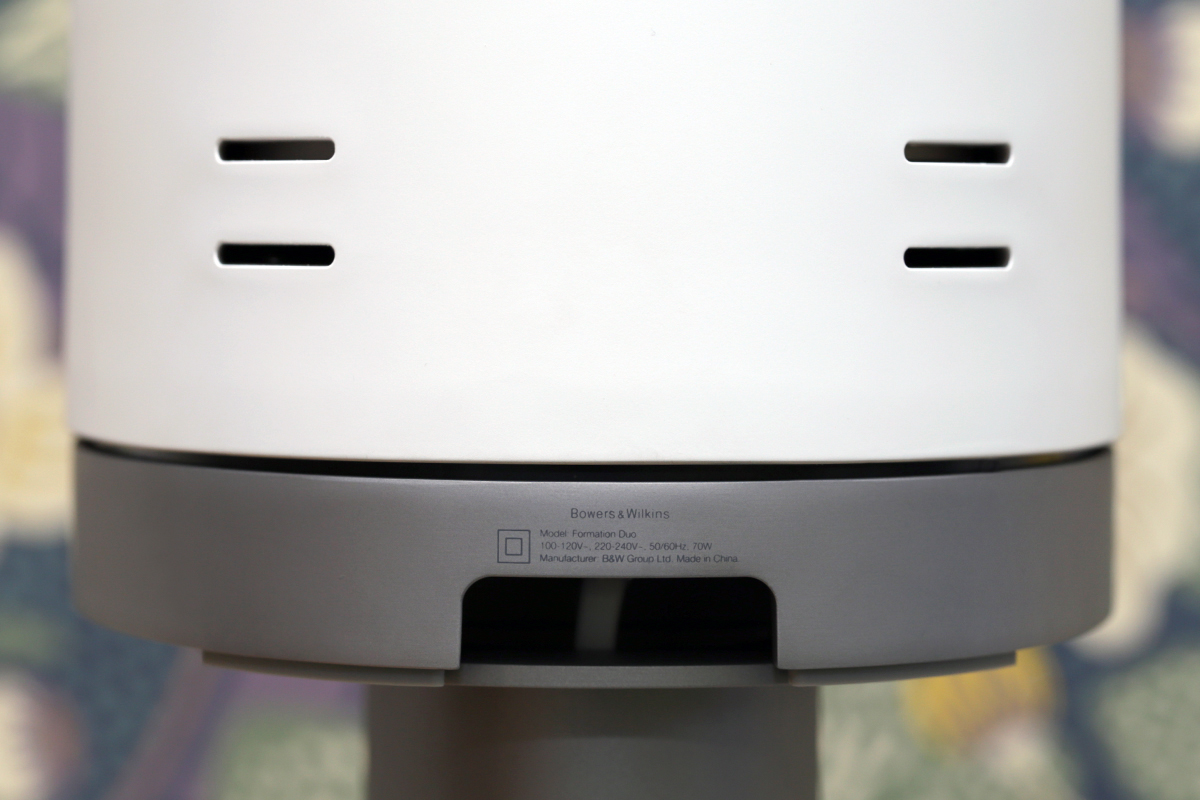 A remote control is not included with the Formation Duo. You can adjust the volume, and pause and resume playback, with front-panel buttons at the base of each speaker. Of course, most of your interaction with the Duos will be with the software you use to play music.
Software and setup
Along with review samples of the Formation Duo finished in white, Bowers & Wilkins provided a pair of matching stands ($799.99/pair) finished in silver gray (also available in black). Spiked feet for use on carpets, and rounded feet for bare floors, are both supplied. After assembling the stands, I fed the speakers' power cords up through the stands' rear columns, in channels provided for wire routing, and connected them to the speakers' AC inputs. The last step was to bolt the Formation Duo speakers to the stands.
The power cords provided with the Formation Duos are surprisingly thin -- considerably skinnier than the cords for my toaster and kettle. Would the Duos sound better with better power cords? I can't say. But when I replaced the stock cords for my Dynaudio Focus 200 XD active speakers with AudioQuest HRG-Y3 cords, I heard improvements in solidity and articulation -- and the Dyns' stock cords are more substantial than the Duos'. If I were buying the Duos, I'd definitely investigate better power cords.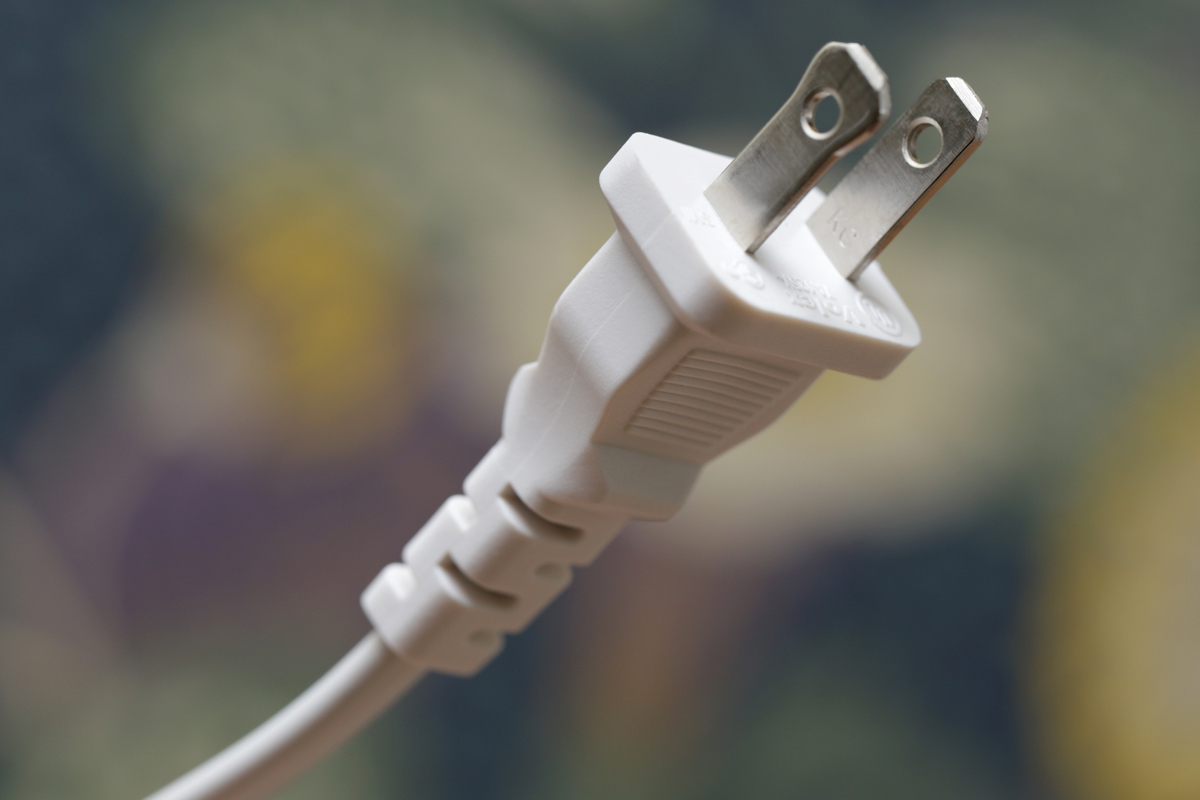 I installed the Formation Duos on either side of the faux fireplace in the living room of our Toronto home, toed in slightly toward the sweet spot on the end cushion of our sectional sofa -- a spot reserved for yours truly. These are the same spots normally occupied by my Dynaudio active speakers: 16" from the front wall, 7' apart, and 7' from the sweet spot.
My next task was to get the speakers on my home network. After I'd downloaded the Bowers Home app to my LG G7 ThinQ smartphone and launched it, the app asked permission to access my device's location. That granted, it found the Formation Duos, then instructed me to name the space in which I was using them, press the illuminated Form button at the center of the left speaker's base, select my Wi-Fi network from a list of available networks, and enter my network password. A moment later, it was connected. I was then instructed to press the right speaker's Form button; I did, and that speaker was connected to the network within a few seconds. Piece of cake!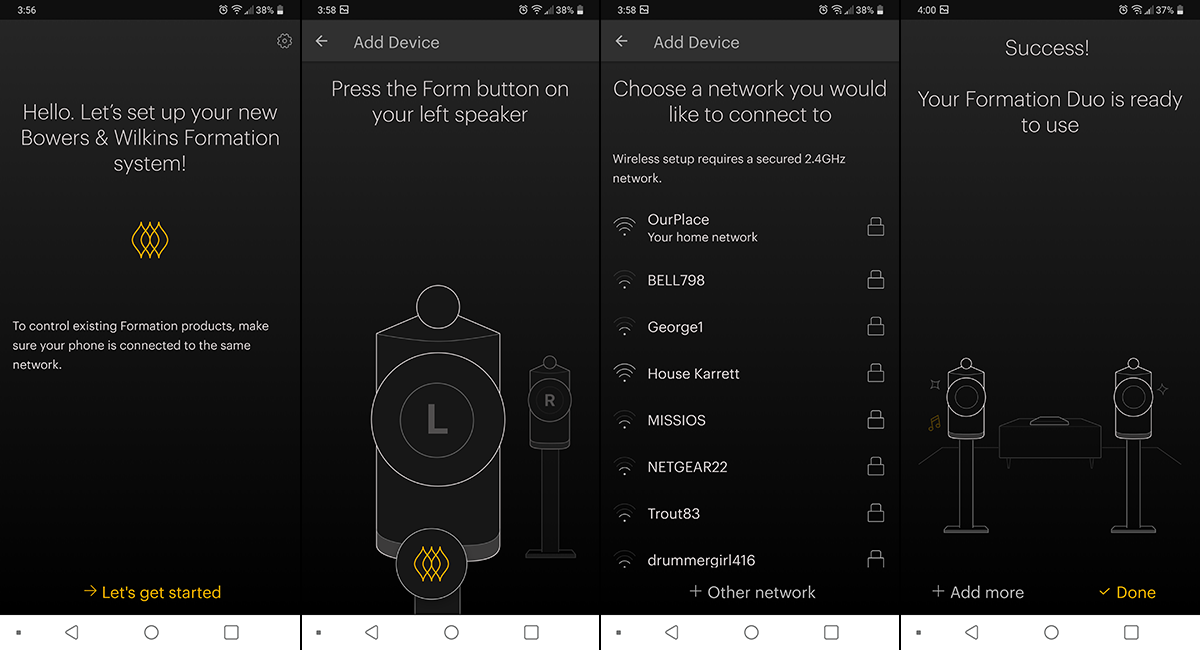 Mounted above our mantle is a 55" Samsung UN55L003 Frame TV that displays some of our favorite art when we're not watching TV. I'd have liked to route the sound from the TV to the Formation Duo, but B&W's support page clearly states that the "Formation Bar is the only product within the Formation suite designed for connection to a TV." Like many families, however, especially those who live in smaller homes, we use the same space for music and video, and there's no way we'd install the Formation Duo and Bar in the same room. But the Formation Duo has Bluetooth connectivity, as does the One Connect set-top box for my Samsung TV, which dates from 2017. Could I use Bluetooth to send TV audio to the Formation Duo?
Yes and no. I had no problem pairing the Formation Duo and Frame TV. When I selected Bluetooth in the TV's Sound menu, the TV found the Formation Duos and played sound through them. But dialog was badly out of sync -- in the many musical scenes of the HBO series Treme, which is set in post-Katrina New Orleans, audio was a full measure behind video.
With the Formation suite's low latency, I could presumably stream audio to the Formation Duo by inserting a Formation Audio in the chain, then connect the set-top box's TosLink output to the Audio's TosLink input and stream audio over the Formations' mesh network -- an expensive fix.
So I used the Formation Duos only for music. During my listening, I streamed music from a Samsung Galaxy S10E smartphone via Spotify Connect, from an iPhone SE via AirPlay 2, and from a Mac Mini running Roon Core 1.6, using the Roon Control app on an iPad Mini. Everything ran as smooth as silk, with one exception.
At one point, I grouped the Formation Duo with another Roon Ready component, the Naim Mu-so 2nd Generation, so that I could simultaneously stream music to both systems. That worked fine. However, after I ungrouped them, something weird happened. Everything was fine with the Mu-so, but when I tried to play music through the Formation Duo there was no sound, and the progress bar at the bottom of the screen didn't move. I rebooted the Formation Duo in the Bowers Home app, but the problem persisted. Nor was it fixed by closing and restarting Roon Core on the Mac Mini, then restarting the Mac. What finally did the trick was unplugging both Formation Duos for a while, then reconnecting them. I raised this issue with B&W, but again there was no response.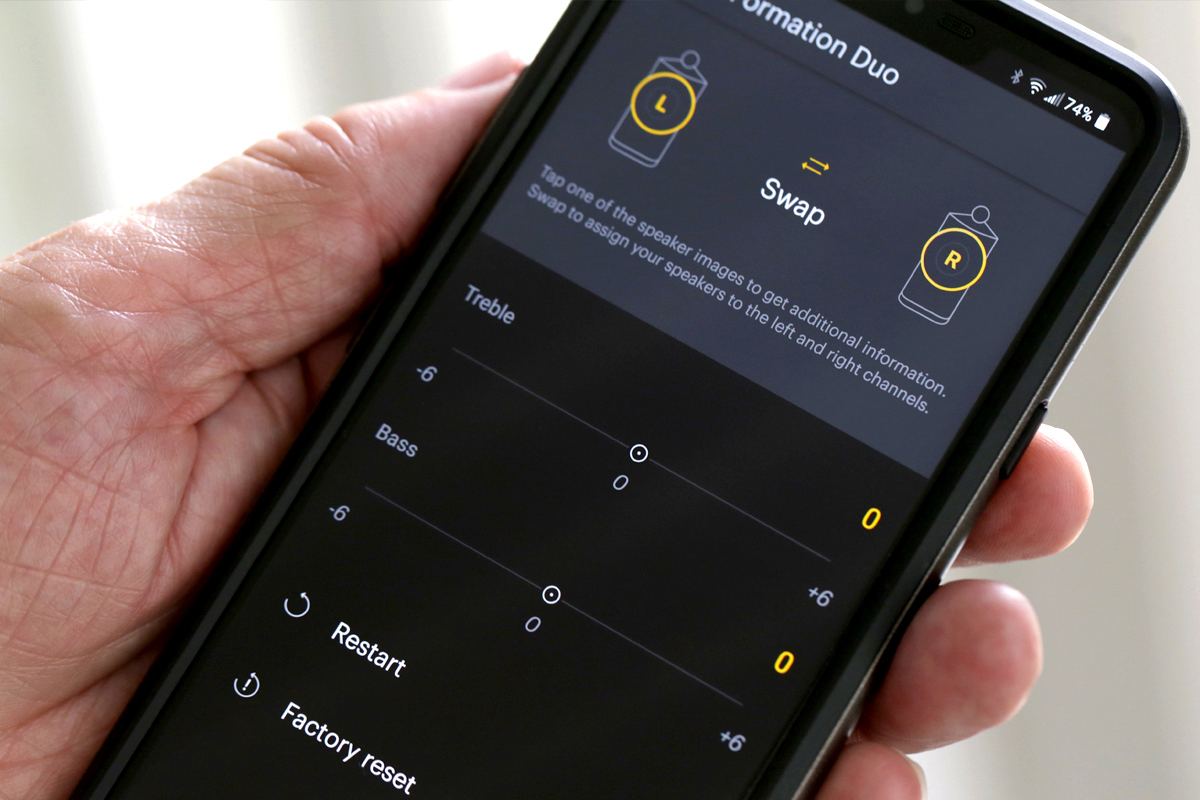 The Bowers Home app is well designed, solid, and attractive, but it's a minimalist affair intended to be used to set up the speakers, adjust their settings, and group Formation products for multiroom playback. Having only the Formation Duos for review, I didn't have a chance to test the last feature.
Listening
I used Roon for most of my listening, playing downloaded and ripped music from my digital library, and streaming music from Tidal and Qobuz. B&W's Formation products lack MQA capability, but with Tidal Masters tracks Roon did the first unfolding, sending audio at up to 24/96 to the Formation Duos over my home network.
It didn't take me long to appreciate that the Formation Duos delivered amazing sound, especially considering their price. For four grand, you get a complete hi-fi system -- speakers, amplification, and network streamer. Some qualities stood out:
The imaging was almost holographic. Was this because the tweeter-on-top design eliminates diffraction effects, and decouples the tweeter from cabinet vibrations caused by the midrange-woofer? Was it the extremely low latency? Whatever -- these speakers imaged superbly.
The Formation Duos sounded really big. They threw a huge soundstage that extended far behind and beyond the plane established by the speakers' front baffles. This was especially noticeable with orchestral music.
Dynamics were impressive but natural. I admired the way the Formation Duos ramped up volume during orchestral swells, and the way they tracked singers' voices.
Bass was remarkable for a pair of compact stand-mounted speakers, extending down into the 30Hz area. Almost certainly, B&W is using DSP-based dynamic EQ to achieve this, but the effect was completely natural.
Highs were extended and detailed. In his April 2019 coverage of the Formation series launch, Roger Kanno raved about the Duos' imaging, soundstaging, and bass response, but found the highs a bit too crisp. I occasionally noticed some excess brightness in violin tone, but overall, I thought the Duos' highs had a beguiling crystalline quality that, among other things, gave a wonderful bell-like tone to piano.
"Regular Pleasures," from Patricia Barber's Verse (16-bit/44.1kHz ALAC, Premonition/Blue Note), begins with a descending line from double bassist Michael Arnopol, Joey Baron adding a big bass-drum thwack at the end of each bar -- a sequence that underpins the entire track. I'd bet that bass drum has frequency components in the 30-40Hz decade, and most of the double-bass line is in the instrument's lower range, which bottoms out at 41Hz for the open E string. Throughout this track, the Formation Duos filled my listening room with big, glorious bass. Those bass-drum thwacks were huge and enveloping but perfectly controlled, with no hint of overhang or bloat. And that double-bass line was wonderfully tuneful and taut, but also full and warm.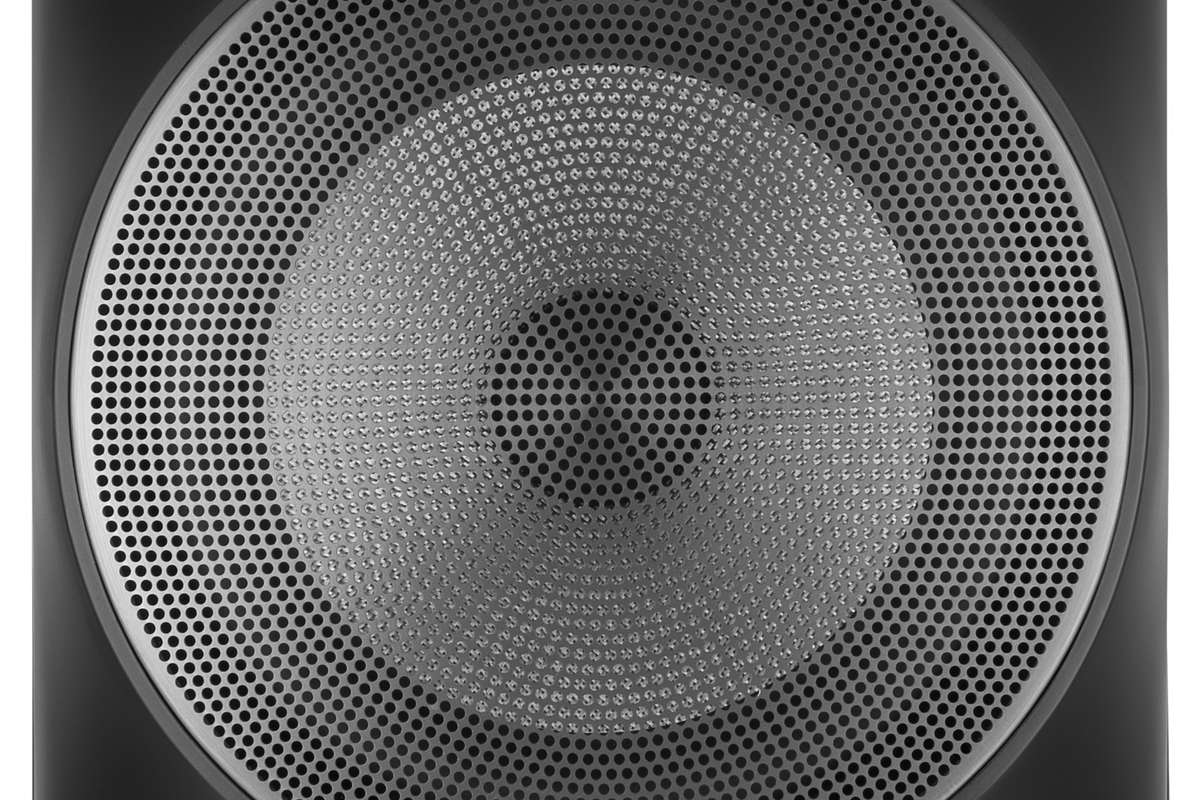 It wasn't all about the bass. Baron's rim shots, tapped and brushed cymbal, and hi-hat had just the right amounts of snap and sizzle -- dramatic, but not exaggerated. Barber's jazzy singing was likewise very convincing, conveying the ennui of her song's ultra-jaded protagonist. Her alto was locked in place, just to right of center, behind the speaker plane. Her bandmates, too, occupied very specific spots on the soundstage. My only complaint is that her sibilants were slightly hot, but as these were reproduced as an integral part of the sound of her voice, rather than as something distinctly separate being imposed on the voice, the effect was not at all distracting.
Lately I've been enjoying orchestral recordings by the French ensemble Les Siècles, which, under the direction of François-Xavier Roth, specializes in historically informed performances of the romantic and early 20th-century classical repertoires. Their 2018 recording of Debussy's Prelude à l'après-midi d'un Faune (24/44.1 FLAC, Harmonia Mundi/Qobuz), played on period instruments, is lithe and energetic yet sensual and exotic, and I loved the way the Formation Duos presented it. The soundstage was huge, creating a convincing facsimile of the Phiharmonie de Paris, where this recording was made. Solo passages for flute, English horn, French horn, violin, and harp appeared out of thin air, each with a firmly defined location on the soundstage. I could see the speakers, but I couldn't "hear" them -- all I could hear was music.
Equally impressive were the dynamics, micro- and macro-. In this recording, Roth elicits exquisite phrasing from his players, and I loved the way these active stand-mounts tracked the flutist's expressive modulations. Harp arpeggios were fast and articulate. Through the Formation Duos I could hear every note, while appreciating these passages' places within the work as a whole. When strings swelled to express longing, the Formation Duos' response sounded completely natural -- and utterly thrilling.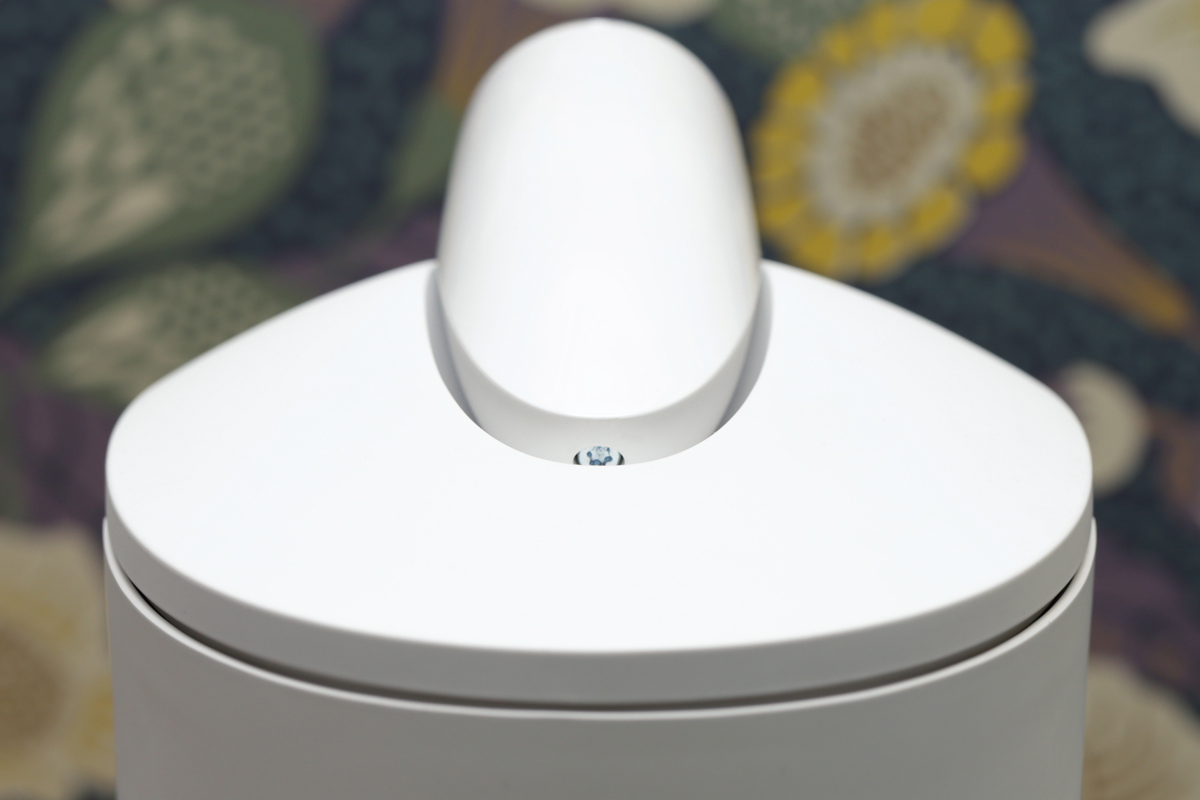 String tone was very good -- violins were a touch bright, but not wiry. Double basses sounded surprisingly robust for a system of this stature, providing the music with a thoroughly satisfying foundation. At times, however, they sounded slightly one-notish and indistinct -- I tried dialing the bass back to -2 and -1 in the Bowers Home app, but those increments were too coarse for my purposes -- the sound became a bit too lean. This was one time with this system that I missed having room compensation.
One of my favorite albums of 2018 was All Ashore, by the Punch Brothers (24/96 FLAC, Nonesuch), an American roots quintet led by mandolinist Chris Thile. It won a Grammy for Best Folk Album, and one of my favorite tracks from it is "The Gardener." This reflective ballad opens quietly, with finger-picked guitar by Chris Eldridge on the right, Thile's mandolin at center, and Paul Kowert's bowed double bass at left. Every aspect of this introductory passage -- instrumental timbres, transients, decays -- sounded completely natural through the Formation Duos. So did, later in this track, Noam Pikelny's banjo at extreme left, and Gabe Witcher's fiddle (sometimes bowed, sometimes plucked) at extreme right.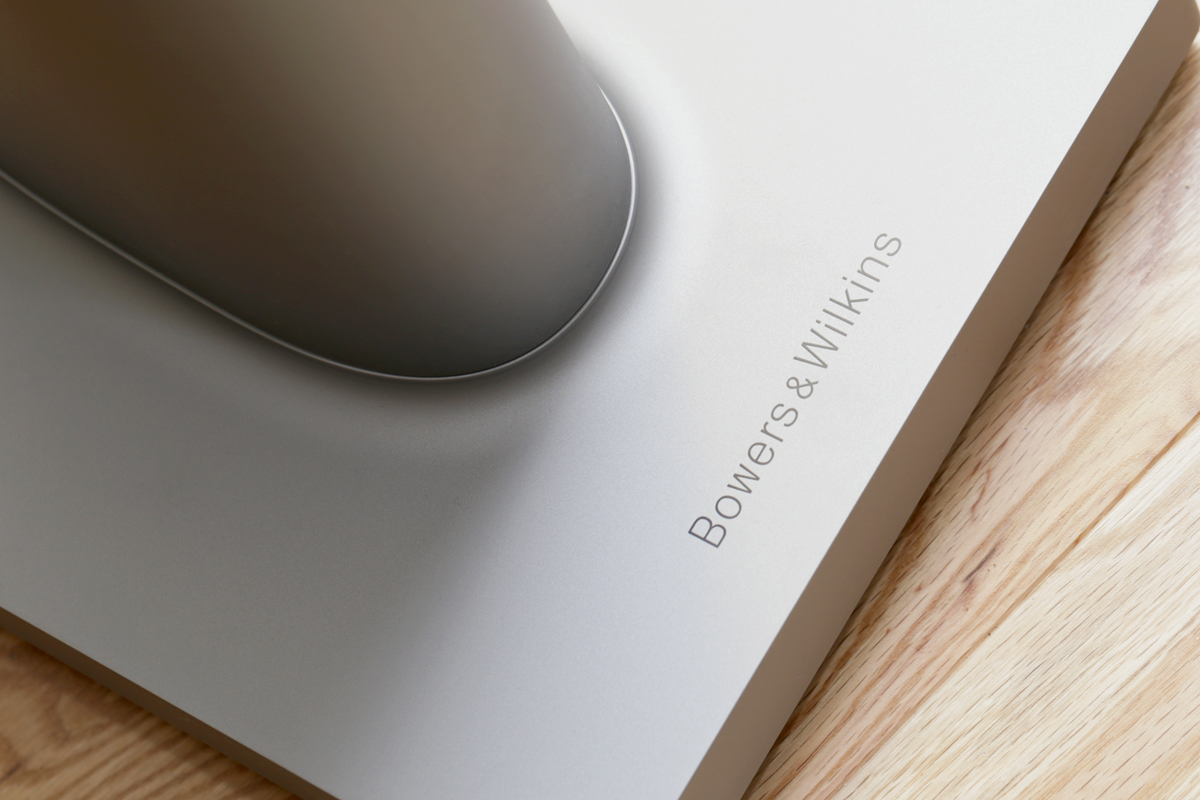 Thirty seconds into the track Thile begins to sing, accompanied by Eldridge on guitar, and the effect is magical. If sibilants were very slightly over-emphasized through the Formation Duos, it wasn't at all bothersome because they weren't at all spitty, and were perfectly integrated into the overall sound of Thile's voice. This made it easy to appreciate his subtly evocative word-painting.
It sounded as if Thile were in the room with me. When he began plucking his mandolin in the interlude between the first two verses, his instrument seemed a foot or so below his voice, as no doubt it was. The imaging of Thile's bandmates was just as convincing -- not only their instruments, but their harmonizing voices as well. Not only were the images of these instruments and voices specific, they were embodied and three-dimensional -- the Formation Duos didn't present them as cardboard cutouts.
How to describe something that's close to perfect? That's the challenge I face in conveying my response to hearing through the Formation Duos a 2013 recording of J.S. Bach's French Suites, played by the American pianist Murray Perahia (24/96 MQA, Deutsche Grammophon/Tidal). Part of the challenge is Perahia's entirely natural approach to these dance-like pieces. While he has technique to burn, he doesn't try to dazzle. The recording has the same quality: it sounds completely natural.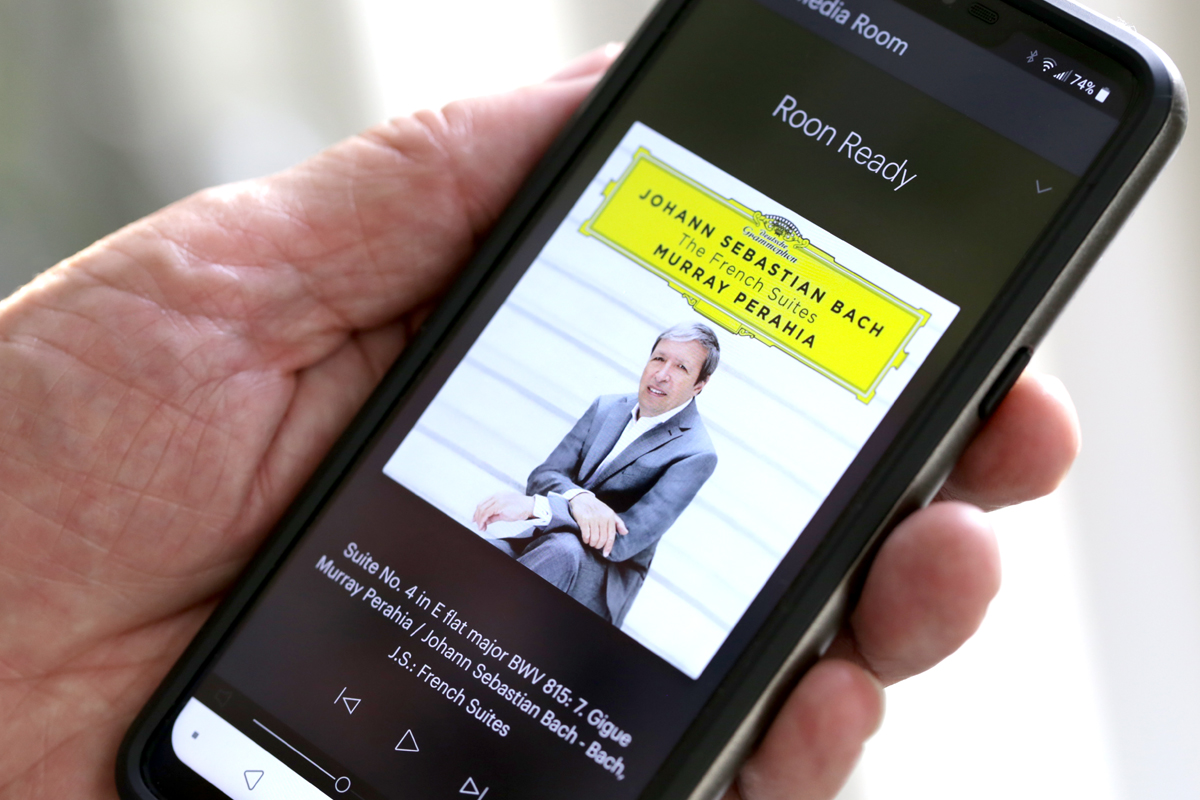 The first movement of the French Suite No.4, Allemande, was meltingly beautiful. Perahia's touch here is subtle and probing, and the Formation Duos nailed it. There were no pyrotechnics, just disarming sonic accuracy at the service of music and listener. I loved the way the Duos rendered Perahia's staccato attacks at the beginning of the second movement, Courante, his playful runs later in that movement, and his delicate trills in the third movement, Sarabande.
Piano tone was natural from top to bottom. The upper octaves had a crystalline clarity that was not at all overdone, and the lower octaves had satisfying heft. Through these active stand-mounters, I greatly appreciated that Perahia was playing a big concert grand.
Comparison
My reference system includes Dynaudio's Focus 200 XD active loudspeakers, with a firmware update that makes them functionally and sonically equivalent to the newer Focus 20 XD. Favorably reviewed by Al Griffin on Simplifi in October 2017, the Focus 20 XD retails for $5999/pair in standard finishes, $6499/pair in premium finishes.
The Focus 20 XD is similar to the Formation Duo in many respects. Both are active stand-mounted speakers, with 6.5" woofers, 1" dome tweeters, and DSP-based crossovers. However, the Dynaudios have more connectivity options. You can use them wirelessly, with the optional Dynaudio Connect wireless transmitter ($499). Equipped with analog, TosLink, coaxial, and Micro-USB inputs, the Connect can stream PCM audio from attached sources to the Focus XDs at resolutions up to 24/96. The Focus XDs also have analog inputs, and S/PDIF digital inputs and outputs with a maximum resolution of 24/192.
My main music source is a Bluesound Node 2i streamer ($499), connected to the right-channel Focus 200 XD with a 2m AudioQuest Carbon coaxial interconnect. A 5m AudioQuest Carbon link runs from the right speaker's digital output to the left speaker's digital input. The Node 2i is a Roon endpoint, so I can stream music over my Google Wifi network from the Mac Mini, which runs Roon Core, in my second-floor office.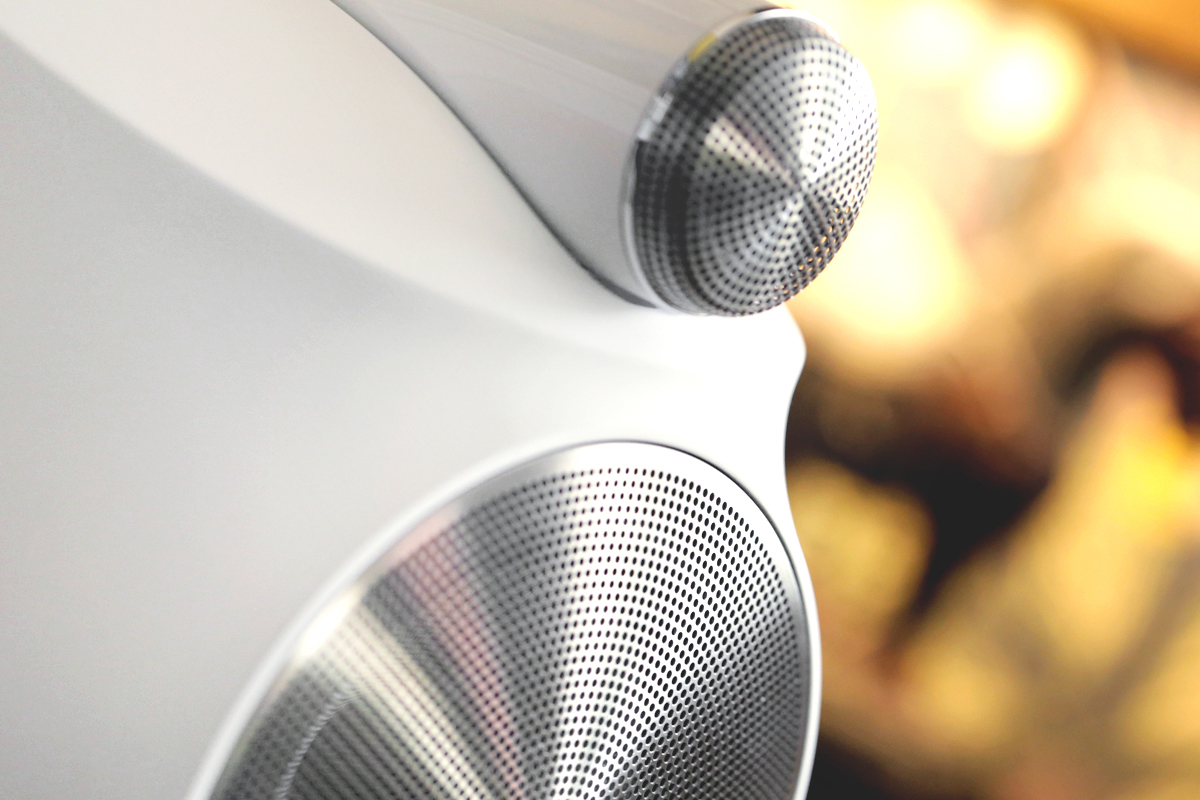 Given their similarities in design, it's not surprising that the Formation Duos and Focus 200 XDs sounded more alike than different. But there were differences:
While both speakers imaged well, the Dynaudios lacked the razor-sharp, holographic imaging of the B&Ws, which also threw a bigger soundstage.
Bass was deeper and more powerful through the Formation Duos, but better controlled through the Focus XDs. Part of the reason is surely the Dynaudios' room-boundary compensation, adjustable for each channel; the Duos lack any such compensation.
Dynamics were slightly faster with the Formation Duo, with superior gradation.
The B&Ws' sound was brighter and more transparent, the Dynaudios' slightly smoother.
Through the Dynaudios, the Punch Brothers' "The Gardener" didn't sound as crisp as it did through the B&Ws -- the transients of Thile's mandolin and Pikelny's banjo were sharper with the Formation Duos. But the tone of Witcher's fiddle was sweeter with the Dynaudios, Thile's vocal sibilants less pronounced. The Focus 200 XDs sounded a bit warmer and smoother. But the Formation Duos were more transparent, more clearly differentiating instruments and voices while still presenting them as part of an organic whole. Especially in the lower strings, plucked double-bass notes were more impactful through the Formation Duos.
With the Debussy recording, imaging was very good through the Dynaudios, but not as specific as the Formation Duos. The B&Ws also created a bigger, more expansive soundstage. Dynamics were slightly faster through the Formation Duos, so that orchestral swells were more expressive. Details like harp arpeggios and bowed violins were clearer through the B&Ws. But violin tone was sweeter, less steely, with the Dynaudios. On the other hand, treble extension of the violin's sound seemed a little truncated through the Focus XDs compared to the Formation Duos. There was more definition of the double basses with the Dynaudios. The fact that I'd adjusted the Focus XDs' Speaker Position controls for their positions in my room -- both near the front wall, and one also near a corner -- no doubt played a role.
Conclusion
By now it should be clear that I loved what I heard from Bowers & Wilkins's Formation Duos. My main reservations are their lack of physical connections and their limited software suite, and I suspect that many others will feel the same. It's especially problematic if you want to play TV sound through the Duos.
There's no software for playing music stored on a mobile device, or on a computer. That's not a big deal for people whose musical lives revolve around Spotify -- you can stream direct to the Formation Duos from the Spotify app. If you're an Android user and not on Spotify, Bluetooth will be your only choice for playback through the Formation Duos.
iOS users have more flexibility. Just use whatever music app you want on your iDevice, then tap the AirPlay icon in the playback window, and choose the Formation Duos from the list of options. But AirPlay's resolution is 16/44.1. Out of the box, there's no way to stream hi-rez music to the Formation Duos.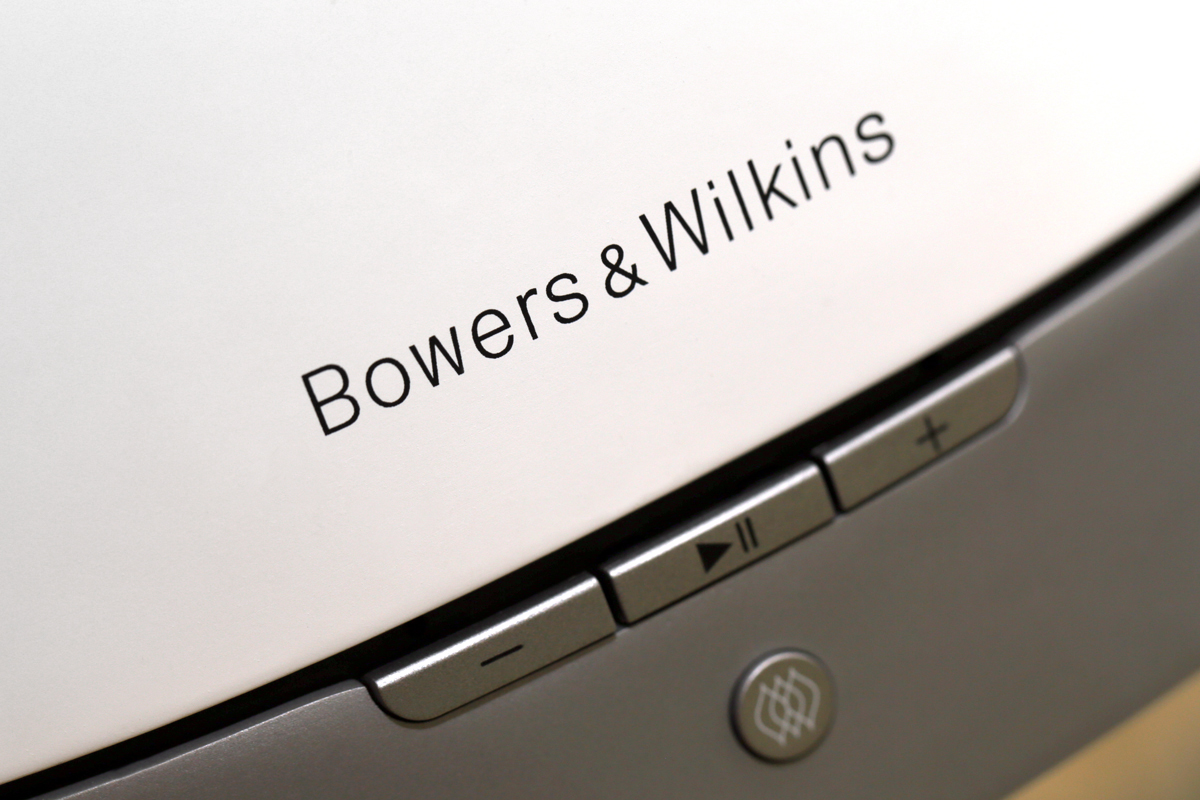 Bowers & Wilkins's minimalist software will definitely be a problem for listeners with digital libraries. For those with music collections stored on hard drives, and who've embraced hi-rez music, Roon is an essential accessory for the Formation Duo, so factor that cost ($119/year, $499/lifetime) into your calculations. Unless you add a Formation Audio to your setup, Roon is the only way to play hi-rez files through the Formation Duos, and the only way to stream hi-rez music to them from Qobuz and Tidal.
However, I don't think the Formation Duo is aimed at audiophiles with traditional components, physical media, and big libraries of ripped and downloaded music. It's aimed at listeners who have wholeheartedly embraced streaming but want to up their audio game. For these people, the Formation Duos may be transformative. You just plug them into the wall, run an easy-to-use app to connect them to your home network, and immediately start streaming music with sound quality that any audiophile couldn't help but admire. This is, almost literally, plug-and-play hi-fi.
Is this what Gideon Yu meant by "creating fantastic home AV user experiences"? If so, I think he's pulled it off.
. . . Gordon Brockhouse
This email address is being protected from spambots. You need JavaScript enabled to view it.
Associated Equipment
Sources -- Samsung Galaxy S10E smartphone running Spotify, Apple iPhone SE smartphone, Apple Mac Mini computer running Roon Core 1.6, Bluesound Node 2i
Active speakers -- Dynaudio Focus 200 XD, with firmware update making them equivalent to Focus 20 XD
Control devices -- Apple iPad Mini, LG G7 ThinQ smartphone
Network -- Google Wifi three-node mesh network
Display -- Samsung UN55L003 Frame 55" TV
Bowers & Wilkins Formation Duo Active Loudspeakers
Price: $3999.99 USD per pair; stands, $799.99/pair.
Warranty: Two years parts and labor.
B&W Group, Ltd.
Dale Road, Worthing
West Sussex BN11 2BH
England, UK
Phone: +44 (0)1903-221-800
E-mail: This email address is being protected from spambots. You need JavaScript enabled to view it.
Website: www.bowers-wilkins.com
B&W Group North America
54 Concord Street
North Reading, MA 01864
Phone: (978) 664-2870
Fax: (978) 664-4109
E-mail: This email address is being protected from spambots. You need JavaScript enabled to view it.