Last November in Warsaw, Poland, at the Audio Video Show 2019, I saw several products that fit Simplifi's mandate to cover "convenient, lifestyle-oriented hi-fi," many of which I knew I wanted to get in for review. At the top of the list were two new active loudspeakers from Danish Audiophile Loudspeaker Industries (DALI): the Rubicon 2 C stand-mount ($5799/pair, all prices USD) and the Rubicon 6 C floorstander ($7999/pair). DALI's passive Rubicon models are just one tier below their flagship Epicon series, so the prospect of reviewing these new active versions was mighty appealing.
One of the first products I reviewed for Simplifi, in November 2018, was DALI's Callisto 2 C active stand-mount speaker ($3499/pair), which received a Reviewers' Choice designation. The two models demonstrated in the suite of Horn Distribution, DALI's Polish distributor, had finishes of gloss white and walnut veneer, which I found far more appealing than the Callistos' vinyl-clad cabinets.
The active Rubicons have the same drivers and enclosure designs as their passive cousins, and the same internal amplifiers and digital signal processor (DSP) as the active Callistos. Like the active Callistos, the active Rubicons can receive 24-bit/96kHz PCM audio signals from the DALI Sound Hub ($799), a small component with coaxial and optical S/PDIF inputs, RCA and 3.5mm mini analog inputs, Bluetooth connectivity, and subwoofer output. The Sound Hub also has two large bays that can accept optional modules such as the BluOS NPM-1 ($449), which enables the Sound Hub to be used as part of a Bluesound whole-house music system controllable with the BluOS app for iOS and Android.
For me, these speakers exemplify Simplifi'd hi-fi. Pair them with the Sound Hub with BluOS module and you have a self-contained, high-performance system that can stream music from many different on-demand services. And if you play physical media, the Sound Hub will let you connect disc players and other components.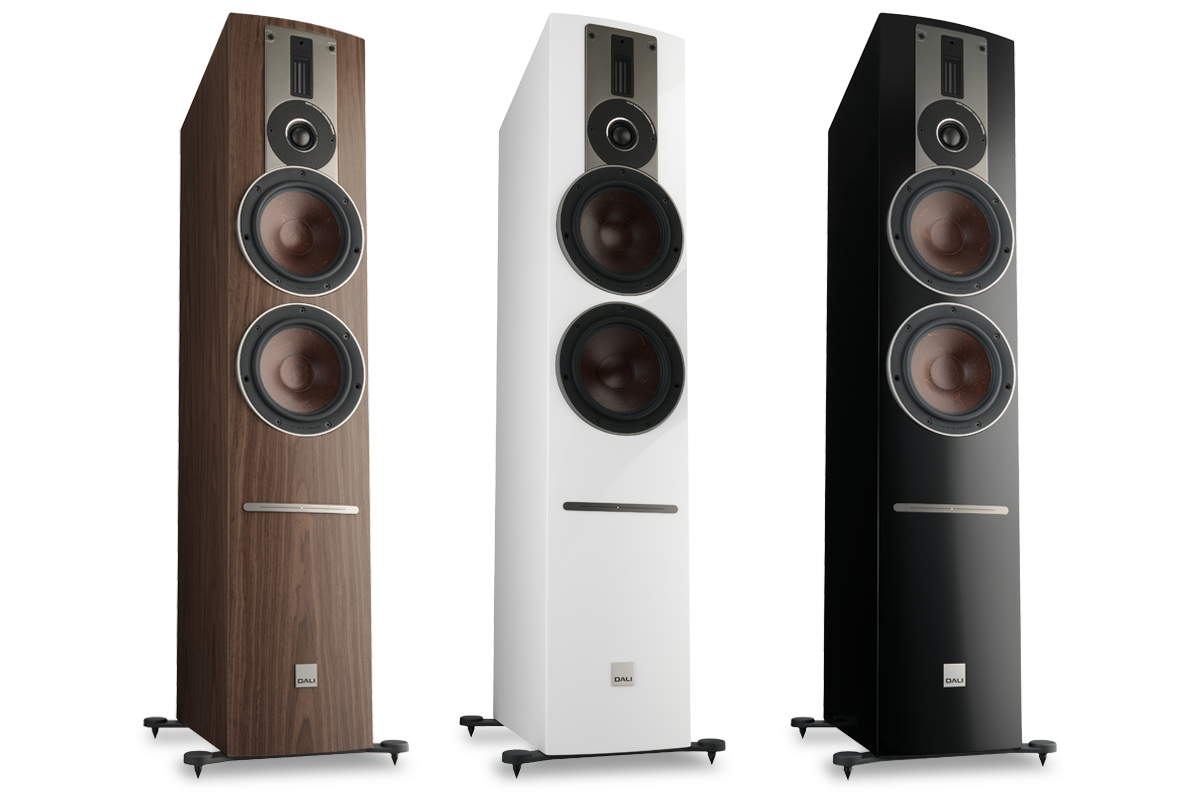 The Warsaw show provided a sneak preview of the active Rubicons, which debuted in North America in early January, at the annual Consumer Electronics Show, in Las Vegas. Later that month, I picked up a pair of Rubicon 6 Cs at the offices of DALI's US distributor, Lenbrook Industries, along with a Sound Hub with pre-installed BluOS NPM-1 module. My review samples had the gloss-black finish -- like the gloss-white and walnut Rubicons I'd seen in Warsaw, they were gorgeous.
The speakers
Measuring 39"H x 7.9"W x 15"D and weighing 45.8 pounds, the Rubicon 6 C looks identical to the passive Rubicon 6, except for one thing: a third of the way up the Rubicon 6 C's convex front baffle is a strip of LEDs that light up to indicate the volume level whenever the volume setting is changed -- a clear indication that there's more inside the cabinet than drivers and a crossover. During playback, only one LED is lit, its position on the strip indicating the current volume setting. Above that strip are two 6.5" woofers with wood-fiber cones; above them is DALI's hybrid tweeter module, comprising a 1.15" soft dome and a 17x45mm ribbon.
In a recent article in which I attempted to establish naming conventions for the components that can be used in a Simplifi'd music system, I said, "No matter how granular our definitions, they'll never cover all the possibilities. At some point there are just too many subcategories, and it's better to rely on descriptions." The Rubicon 6 C is a case in point.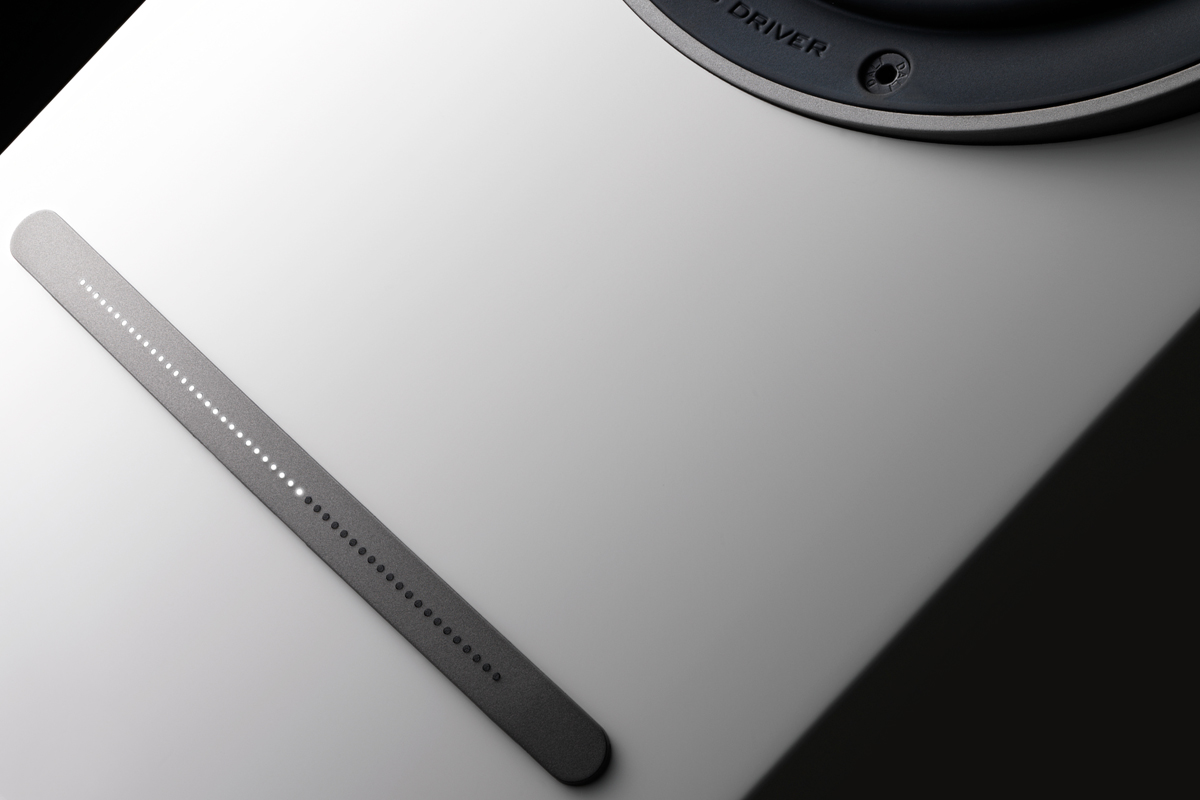 According to our definitions, this is an active speaker; that is, its crossover comes before the amplifier in the signal path. Each enclosure contains a DSP specified to process 50 million instructions per second (MIPS); among other functions, this DSP implements an active crossover centered on 2.6kHz, with filters optimized for the drivers. The DSP outputs two datastreams -- one each for the bass section and the hybrid tweeter module -- to a Burr-Brown 1796 24-bit DAC, whose balanced outputs then send analog audio to two class-D amplifiers, each specified to produce 30W continuous output and short bursts of 300W. The power supply inside each Rubicon 6 C can deliver a continuous 50W to these amps, and 250W for bursts as long as five seconds.
The Rubicon 6 C also contains passive crossovers that come after the amplifiers in the signal path. The upper woofer operates from 2.6kHz downward, but the lower woofer operates only from 800Hz down. Between the lower woofer and the amp powering the bass section is a passive low-pass filter. There are also passive filters between the hybrid tweeter and the amp that powers it. The soft dome is gently rolled off and the ribbon gently rolled in at 14kHz. DALI describes this as a "2½+½-way" design -- which is what makes the Rubicon 6 C a hybrid active speaker, per the main headline of this review.
The dome tweeter has a copper-clad aluminum voice-coil that DALI says is lighter than conventional copper coils and thus can produce a broader effective bandwidth. Traced on the ribbon's flat diaphragm, which is suspended in a magnetic field, are four bands of conductive material. The ribbon acts as a supertweeter, broadening dispersion and extending bandwidth. The dome and ribbon are mounted together on a solid aluminum plate affixed to the 1"-thick baffle with four screws.
The woofer's pole piece is made of Soft Magnetic Compound (SMC) and enclosed within a large ferrite magnet. As DALI explains, SMC has very high magnetic conductivity but very low electrical conductivity. This prevents current in the voice-coil from modulating the magnetic flux in the voice-coil gap, DALI says, resulting in significantly lower distortion. A slit copper cap surrounding the pole piece keeps voice-coil inductance consistent regardless of frequency and excursion, further reducing distortion.
The Rubicon woofer's wood-fiber cone is sourced from the same company that makes cones for the woofers on DALI's flagship Epicon series, and is terminated in a custom low-loss rubber surround, so that the cone behaves pistonically, DALI claims. On the rear of the enclosure of the Rubicon 6 C are two bass ports tuned to 36.5Hz. The Rubicon 6 C's specified frequency response is 37Hz-30kHz, ±3dB, and its maximum SPL is 110dB.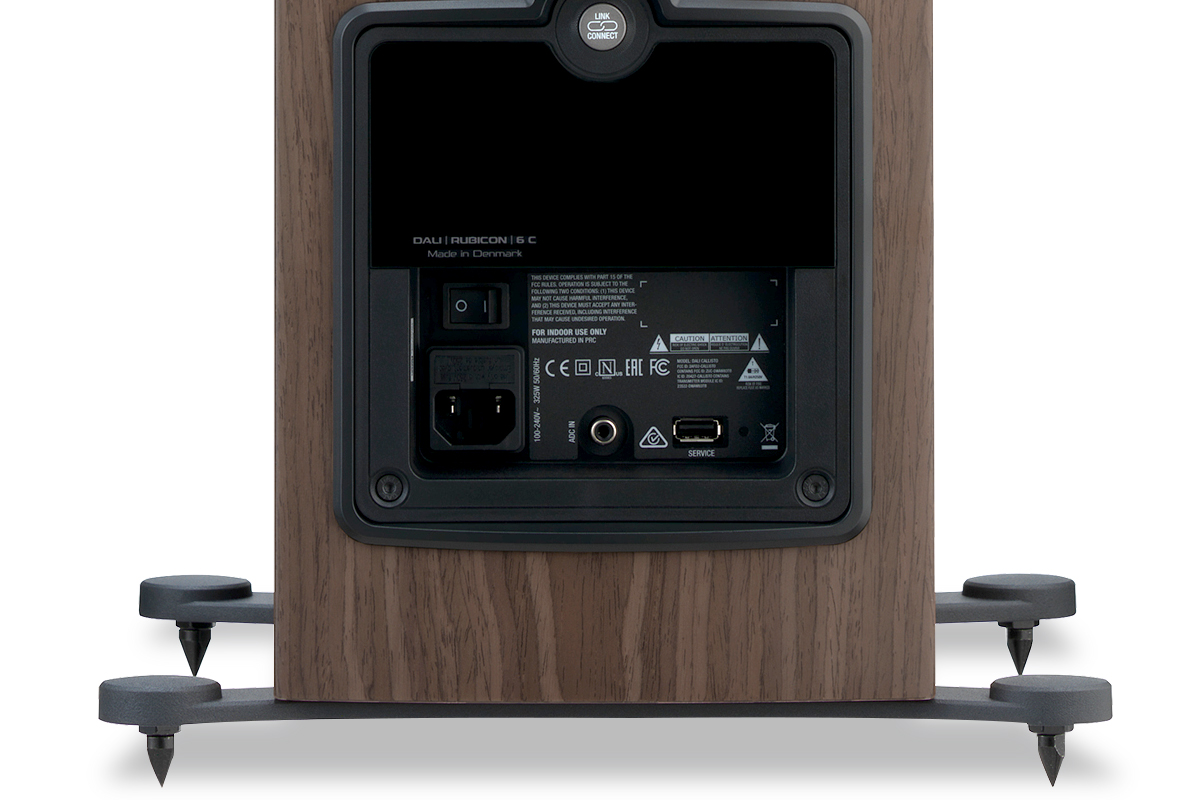 On the bottom rear of each speaker is an IEC power connector, an on/off switch, a USB port for installing firmware updates, a line-level RCA analog input marked ADC In (for analog-to-digital converter), and a large button labeled Link Connect. The ADC In jack lets the user feed the Rubicon 6 Cs from the line-level outputs of a conventional preamplifier, but I think most people will use the wireless options enabled by the Sound Hub.
Sound Hub and BluOS module
At 11.8"W x 3"H x 8.4"D, the Sound Hub is small enough to fit on a mantle or end table -- it's room-friendly. On the front panel is a knob for adjusting volume, and above that are three buttons: On/Off, Mute, and Source Select. Keep pressing Source Select to cycle through sources; these are indicated by icons around the knob's perimeter.
These functions can also be performed with the supplied remote control, which communicates with the Sound Hub via Bluetooth. That's a nice touch -- remote and Hub don't need to be in each other's line of sight to work together. If you have the BluOS NPM-1 module installed, you can also select sources and adjust volume from the BluOS app.
On the Sound Hub's rear panel are one coaxial and two optical S/PDIF inputs, one set of line-level RCA inputs, a 3.5mm stereo input, line-level analog outputs, a subwoofer output with 100Hz low-pass filter -- and, above all these, two expansion bays. The only expansion module currently available is the BluOS NPM-1, but DALI says that future modules could enable multiroom or multichannel applications. Between the bays is the Link Connect button, which pairs the Hub to the speakers. The Hub also has Bluetooth connectivity, with support for the AAC, aptX, and aptX HD codecs.
The Sound Hub uses a proprietary 30-bit protocol to transmit uncompressed PCM audio to the active Rubicons (or Callistos) at 24/96 resolution, along with other data -- e.g., volume setting and speaker ID -- over the 2.4 and 5.8GHz bands. Multiple speakers can receive the same stereo signal, though they can't be independently controlled. DALI says the Hub's latency is less than 25ms -- plenty low enough for good A/V sync in home-theater applications. Except for one afternoon when I occasionally heard some staticky interference through the speakers, wireless transmission between the Sound Hub and the Rubicon 6 C speakers worked seamlessly and reliably.

Sold separately, the BluOS NPM-1 module comes with a Wi-Fi dongle and extension cable that attaches to one of the module's two USB ports. There's also an Ethernet port, which you can use if the Sound Hub is installed near your network router or an access point. Unlike Lenbrook's latest BluOS-powered products released under the Bluesound and NAD brands, the BluOS NPM-1 module doesn't support Apple AirPlay. However, it can function as a Roon endpoint -- users can stream to the Sound Hub from Roon as well as from the BluOS app. And it supports Spotify Connect, so that the Hub can be controlled from the Spotify app.
Like all BluOS devices, the BluOS NPM-1 can decode and render MQA, for hi-rez playback from Tidal. It also has clients for Amazon Music HD and Qobuz, both of which offer uncompressed CD- and hi-rez content, and for the classical-music service Idagio, which offers uncompressed CD-rez music.
When a FAT32-formatted USB drive is inserted in one of the BluOS NPM-1's USB ports, that drive will show up in the Navigation Drawer of the BluOS app, allowing you to view its contents by Artist, Album, Song, Genre, Playlist, Composer, or Folder.
Setup
When I got the active Rubicon 6 Cs home, I lugged them down to my basement family room, unpacked everything, and set up the system so that I could break the speakers in. The first job: turn each 45.8-pound speaker upside down, attach the supplied outrigger feet and floor spikes, then flip it back up and place it on one end of our home-entertainment credenza. Phew!
Next, I paired the Rubicons with the Sound Hub. The Quick Set-up Guide uses IKEA-style visual instructions -- but hardly any text -- to explain the process, which is pretty simple. Press the Link Connect button on the Hub's rear panel, then the Link Connect button on the back of one speaker. Press Link Connect on the speaker again to confirm the channel assignment, which is shown on an illuminated graphic on the Sound Hub's top panel. Repeat for the other speaker. A piece of cake, once you've interpreted DALI's hieroglyphics.
As noted, my review sample of the Sound Hub came with the BluOS module pre-installed. But because Hub and module are sold separately, most purchasers will have to install the module themselves, in a process clearly explained in the module's Installation Guide: Turn off the Hub, slide the module into an expansion slot, insert the Wi-Fi dongle in a USB port, and turn the Hub back on. Easy-peasy.
Something the Installation Guide doesn't explain is that in order to get the module connected to your home network, you must download and run the BluOS app. Anyone who's ever used a BluOS product will know this, but newbies may not.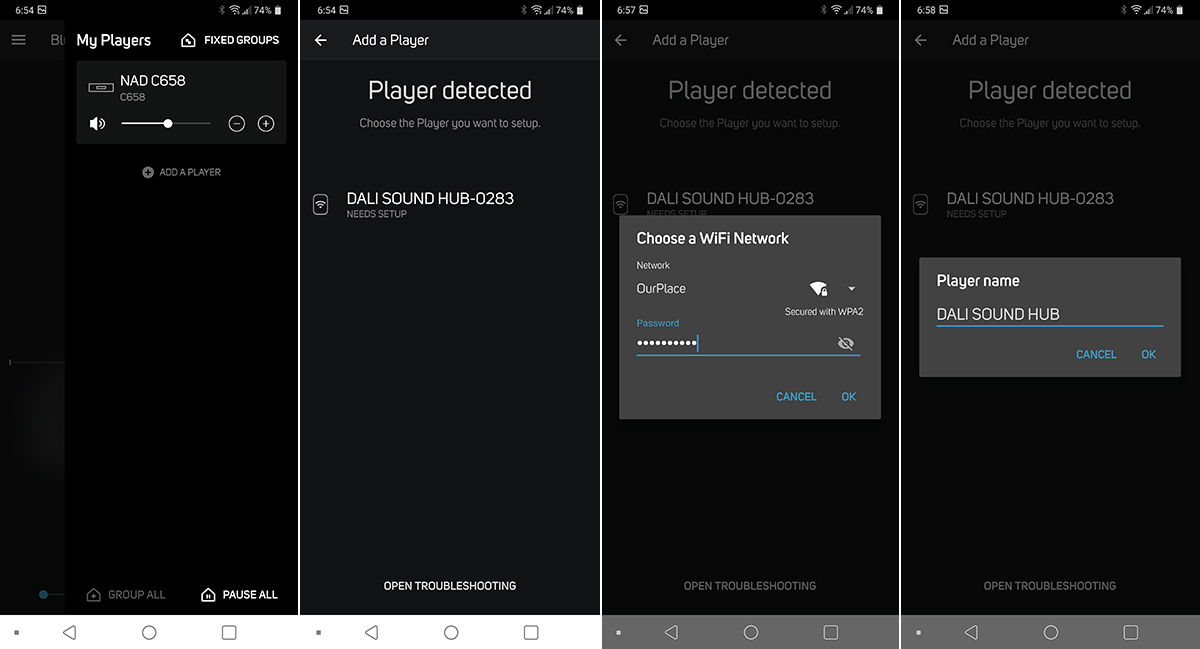 I already had the BluOS app installed on my LG G7 ThinQ smartphone, and the NAD's C 658 streaming preamplifier that I reviewed in November, and subsequently purchased, was already connected to my network. From the Players drawer of the BluOS app I selected Add a Player -- the app detected the Sound Hub and told me that it needed to be Set Up. When I selected that option, it found my Wi-Fi network and prompted me to enter my password, then give the player a name. Pretty easy if you've done this kind of thing before, as I expect most readers have.
If you have other BluOS players and have entered login information for streaming services, those services will automatically be enabled for the Sound Hub. If you haven't, click the Music Services icon in the Hub's Navigation drawer, and on the following screen select the service you want to set up. You'll be prompted to enter your username and password, after which the service will appear in the Navigation drawer of the BluOS app. Again, pretty straightforward.
First impressions
After breaking in the Rubicon 6 Cs for about 100 hours by playing jazz from a Toronto Internet Radio station via TuneIn, I lugged them back upstairs and placed them on either side of the faux fireplace in our living room, in the positions usually occupied by my Elac Navis ARF-51 active floorstanding speakers: 7' apart, and 7' from the sweet spot on the end cushion of our sectional sofa. Both speakers were 16" from the wall behind them.
Nonetheless, my setup is asymmetric. The right speaker was 30" from a sidewall, but the left speaker was beside an archway that opens into our dining room, so it had no sidewall reinforcement. This less-than-ideal layout is necessitated by our house's floorplan, and by the fact that we use our sound system for movies and music, watching video on the 55" Samsung Frame TV mounted above the fireplace.
I began with some casual listening, streaming from the Tidal and Qobuz clients in the BluOS app, and from the music library on my Apple Mac Mini using Roon. Right away, several characteristics struck me.
The Rubicon 6 Cs imaged wonderfully. Pointed straight ahead, as the getting-started leaflet recommends, and not slightly toed in, as I normally orient speakers in my living room, they threw a soundstage whose width extended a couple of feet past both speakers' outer side panels. Aural images had clearly defined positions on a soundstage of impressive depth, height, and breadth.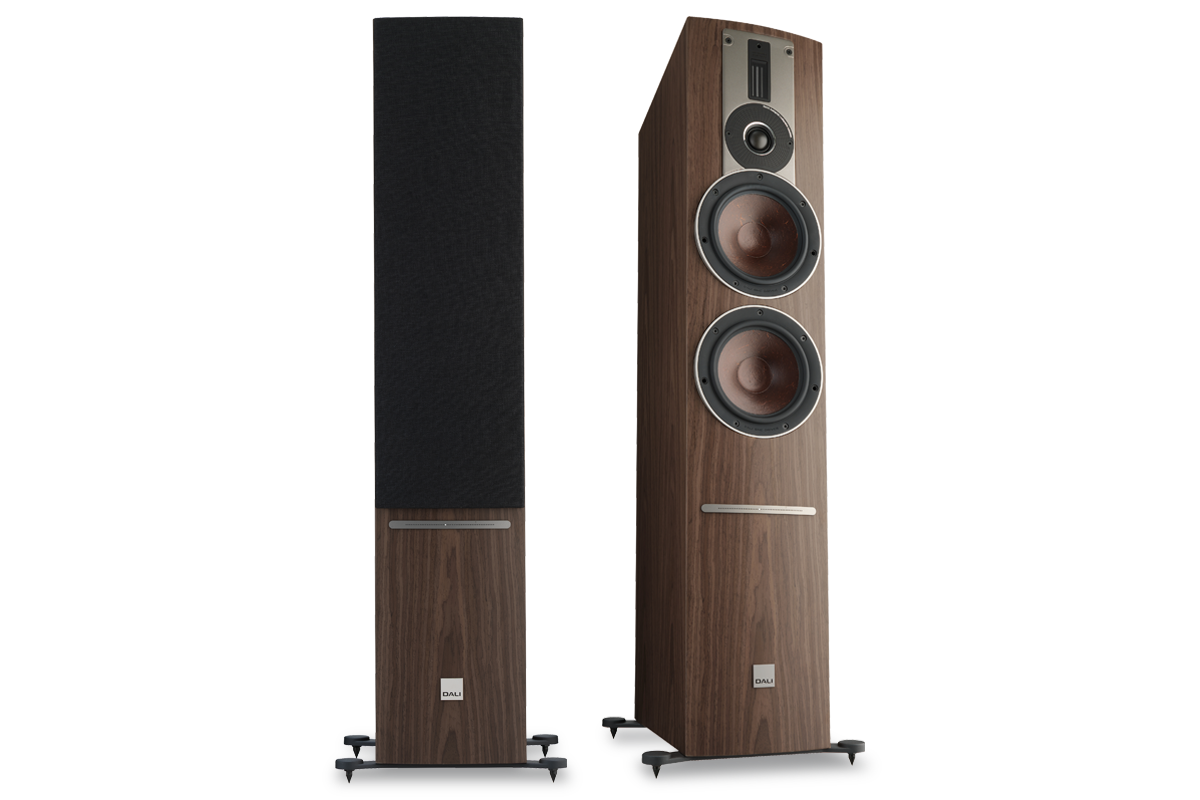 Their dynamic range was outstanding. Not only could the Rubicon 6 Cs go from pianissimo to fortissimo in a heartbeat, they beautifully resolved gradations of volume between those extremes -- their sound was expressive and exciting.
The Rubicon 6 Cs also demonstrated wonderful rhythmic prowess. Again and again, I felt almost compelled to conduct, or dance, or play some kind of air instrument -- guitar, piano, bass, drums. The Rubicon 6 Cs engaged me physically, as well as emotionally and intellectually.
That amazing hybrid tweeter delivered some of the most convincing reproductions of hi-hat and ride cymbals I've ever heard in my home, and pizzicato violins had wonderful tactility.
Bass was impressively robust, which in my room was a bit problematic. When I set up Dirac Live room correction during my review of NAD's C 658 streaming preamp, the software identified and compensated for some serious room modes, including a +18dB peak at 60Hz in the right channel and a +10dB peak at 50Hz in the left. Those modes manifested themselves when I streamed Life Goes On, a wonderful new album by jazz pianist Carla Bley, bassist Steve Swallow (Bley's husband), and saxophonist Andy Sheppard (24-bit/96kHz FLAC, ECM/Qobuz). Swallow plays a five-string electric bass, its lowest string tuned to B0, or 31Hz -- about 10Hz lower than E1, the lowest note of a four-string electric bass guitar or acoustic double bass. Swallow uses the entire range of his instrument, and especially on the bottom two strings, it sounded boomy with my default speaker layout -- definitely too much of a good thing. Similarly, double basses in orchestral recordings sounded boomy, and on rock and jazz records, kick drums and floor toms were thuddy.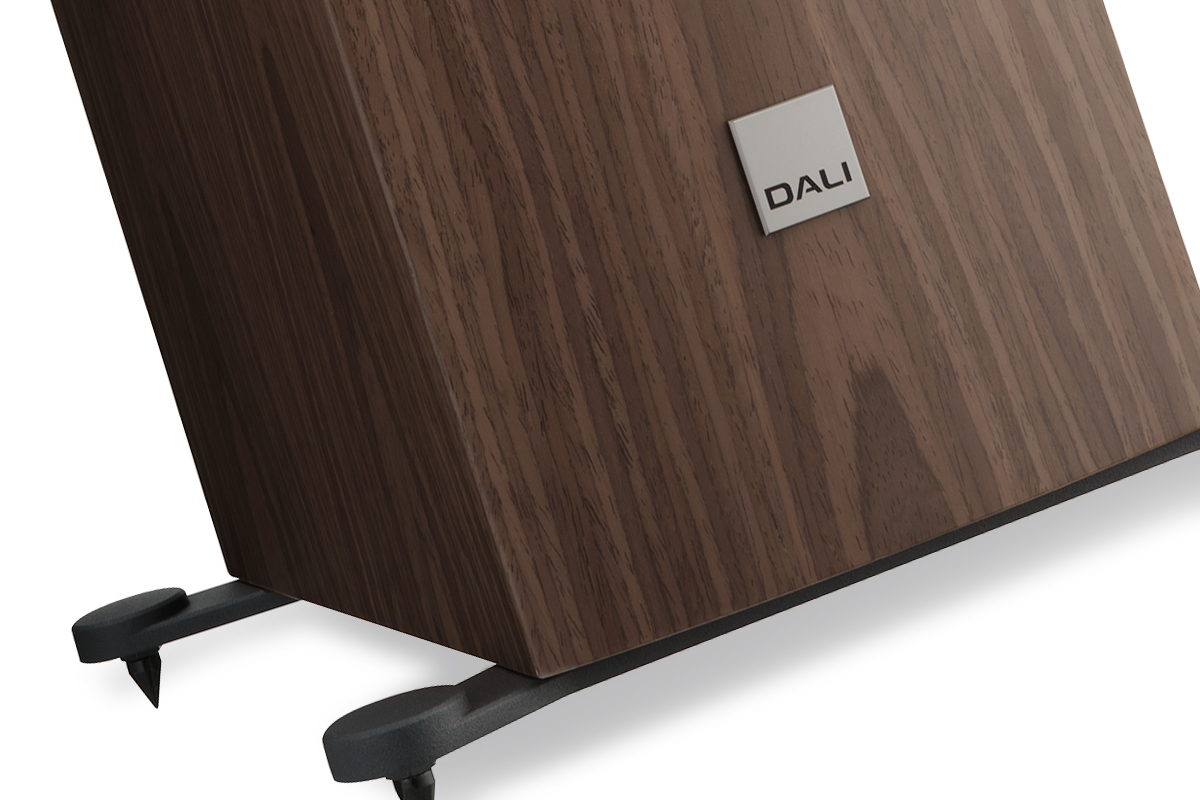 I performed a little experiment: I moved the speakers away from their spots on either side of the fireplace, to either side of the archway between the living and dining rooms, then listened from the center cushion on the sofa's other section. Their new positions put the speakers 7' apart, 9' from my new listening perch, and 13 feet (not inches) from the far wall of the dining room behind them. The right speaker was near a sidewall, and the left near a short wall between the archway and the entrance to the living room. These new spots weren't perfect either -- there was still some asymmetry -- but with the speakers so far from the front wall, there was less reinforcement from room boundaries, which I hoped would clear up that bass boom.
To a large extent it did, and there were other salubrious effects as well. The soundstage, already impressively big, was now even deeper, with even more air around instruments and voices.
Listening
Now it was time to settle in for some serious listening. I began again with Bley, Swallow, and Sheppard's Life Goes On, which begins with the titular suite, its sections whimsically titled "Life Goes On," "On," "And On," and "And Then One Day." The suite begins with a bluesy motif played mostly in the piano's lower register. Through the Rubicon 6 Cs, Bley's piano had fabulous solidity -- it was obvious she was playing a big concert grand. In their new positions, the Rubicons created a deep soundstage, the piano several feet behind the plane described by the speakers' front baffles while not sounding at all recessed -- its sound was fast and immediate, its image clearly outlined. A few bars in, Bley begins playing the melody on the right, accompanied by Swallow in the upper range of his five-string bass. The upper register communicated Bley's characteristic muted brilliance, with lots of expression, and thanks to the DALIs' excellent microdynamics I could appreciate her touch -- for example, the little sashaying effect she adds at the end of some phrases. Piano tone was consistent throughout the instrument's range.
Swallow's bass had marvelous tactility -- I could practically see him bending each string as he played. At around 1:30 he picks up the melody, playing a slow theme through the full range of his bass. When he plays the bottom string, it was clear that the Rubicons were maintaining serious output right down to that open B0.
Sheppard's tenor sax, toward the front on the left side of the soundstage, sounded powerful and full-bodied but also beautifully detailed. His honking effects were rich, reedy, and characterful.
The Rubicon 6 Cs created a convincing reproduction of the ambience of the Auditoria Stelio Molo RSI in Lugano, Switzerland, where this album was recorded. The entire performance was big and powerful, but also refined -- I couldn't resist returning to it again and again during my listening for this review.
With "Roundabout," from Fragile, Yes's 1972 breakthrough album (24/96 MQA, Atlantic/Tidal), the DALIs showed that they could deliver both poetry and power. In the quieter moments, the sound of Steve Howe's acoustic guitar at the center of the soundstage, surrounded by Rick Wakeman's swirling keyboards, was exquisite: His string harmonics had a beautiful ringing tone, his fingerpicked notes and chords had crisp attacks and extended decays -- and under it all was the rich, woody tone of his instrument's body.
In the more frenetic sections, Chris Squire's Rickenbacker bass and Bill Bruford's drums just pounded, but the bass was also taut and well defined, the drums snappy and impactful -- just as they should be. The dense mix was unraveled as clearly as I've ever heard it, dynamically and spatially, which made it easy to appreciate the contributions of each musician. Jon Anderson's choirboy lead singing, Squire's and Howe's vocal harmonizing, Wakeman's dazzling keyboards, Howe's electric and acoustic guitars, the characteristic buzz of Squire's Rickenbacker bass, Bruford's pounding drums -- each of these elements was delivered with an infectious energy that pulled me into the music.
Composed in 1939, Joaquín Rodrigo's Concierto de Aranjuez is the most popular guitar concerto in the standard repertoire. A 2014 recording by the Montenegrin guitarist Miloš Karadalić, with the London Philharmonic Orchestra conducted by Yannick Nézet-Séguin (24/96 FLAC, Deutsche Grammophon/Qobuz), sounded wonderful through the Rubicon 6 Cs. Orchestral textures were beautifully transparent. In the first movement, Allegro con spirito, little phrases for solo woodwinds were fast and dynamic, appearing almost magically on a wide, deep soundstage. In dramatic moments, the LPO strings sounded muscular -- I could practically see the players leaning on their bows -- but became a bit steely when Nézet-Séguin drove them hard. The droning double basses were a bit boomy and one-note, but that's a characteristic of the recording that was accentuated by my listening environment.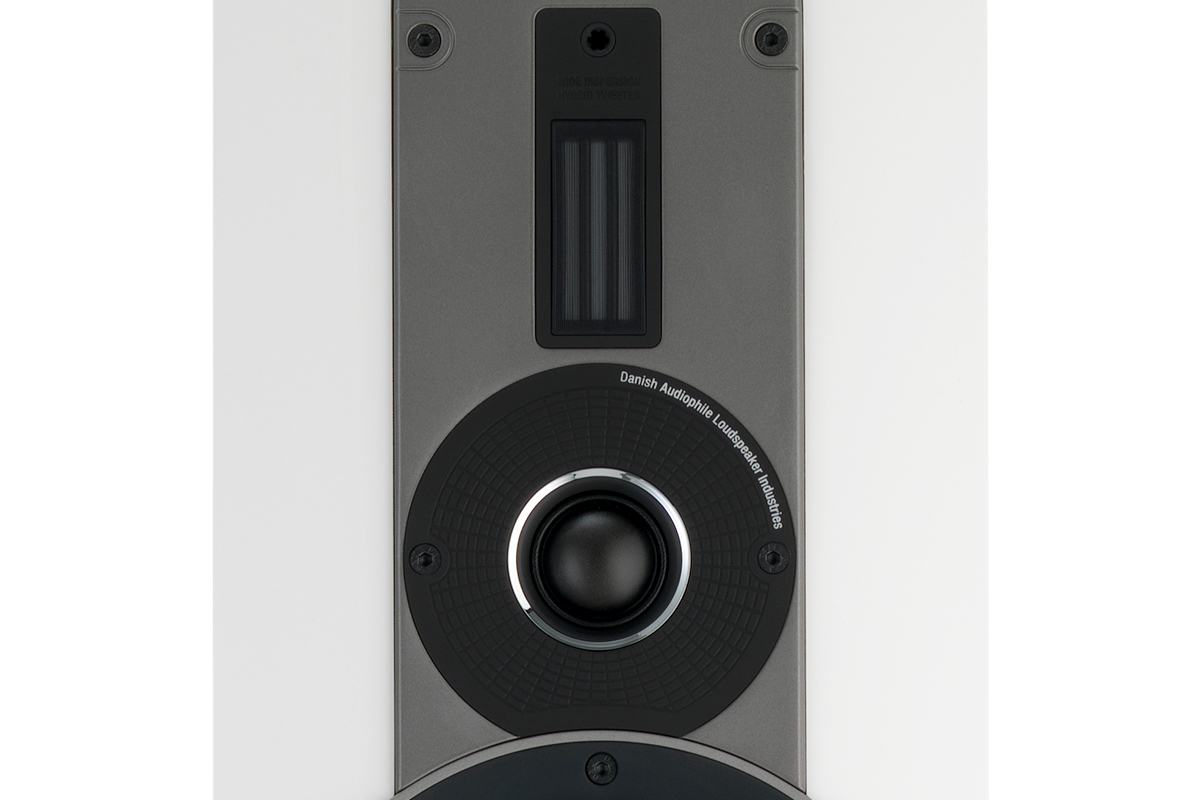 The star of the show was Karadalić's guitar. His playing is simultaneous crisp and subtle, with nary an ugly sound, and those characteristics shone through. His runs and chords were beautifully articulated, and not at all over-etched. I could appreciate not only the rich, warm sound of his Australian-made Greg Smallman guitar, but also its gentle D'Addario nylon strings. In the cadenza of the second movement, I loved the way the sound of the guitar decayed into the expansive soundstage re-created in my living room by the Rubicons.
I've listened to "The Panther," from the 2009 remastering of Jennifer Warnes's The Well (16/44.1 ALAC, Impex), hundreds of times -- maybe thousands. Streaming this track to the Sound Hub from my Mac Mini via Roon, I was aware of little quavers in her voice that I hadn't noticed before. These nuances had been there all along, of course, but hadn't grabbed my attention as they did through the Rubicon 6 Cs. Lenny Castro's atmospheric percussion instruments -- woodblocks, chimes, brushed snare -- emerged from the ether, each precisely positioned on a wide, deep soundstage. The acoustic guitar of co-composer (with Warnes) Doyle Bramhall II had wonderful body, with a lovely steely ring on the upper strings. Later in the song, the bluesy slide guitar jumped into the room, enhancing this track's spooky atmosphere.
Comparison
Unlike DALI's Rubicon 6 Cs, which have DSP-based crossovers, my Elac Navis ARF-51 speakers are analog designs with analog active crossovers. After moving them into the same spots just vacated by the DALIs -- flanking the archway between my living and dining rooms -- I connected the Elacs' line-level inputs to the Sound Hub's outputs with AudioQuest Mackenzie interconnects (RCA). At $4599.96/pair, the Navis floorstanders cost about $3400 less than the Rubicon 6 Cs. You'd expect the DALIs to sound better, and for the most part they did -- but the Elacs definitely held their own.
The lower register of Carla Bley's piano on Life Goes On sounded slightly less authoritative through the Elacs, and slightly less crisp in the upper register. Through the DALIs I was more aware of the instrument's size and of her unique touch -- the way she pulls back on attacks in her statements of the melody. Through the Elacs, Steve Swallow's five-string bass was deliciously tactile, but with slightly less body in the upper strings and less oomph in the lower strings than through the DALIs -- I could hear the ARF-51s start to run out of gas as he approached that low open B0. Andy Sheppard's tenor sax had more body and swing through the DALIs. This album sounded great through the Elacs, but through the DALIs it was bigger -- more of an event.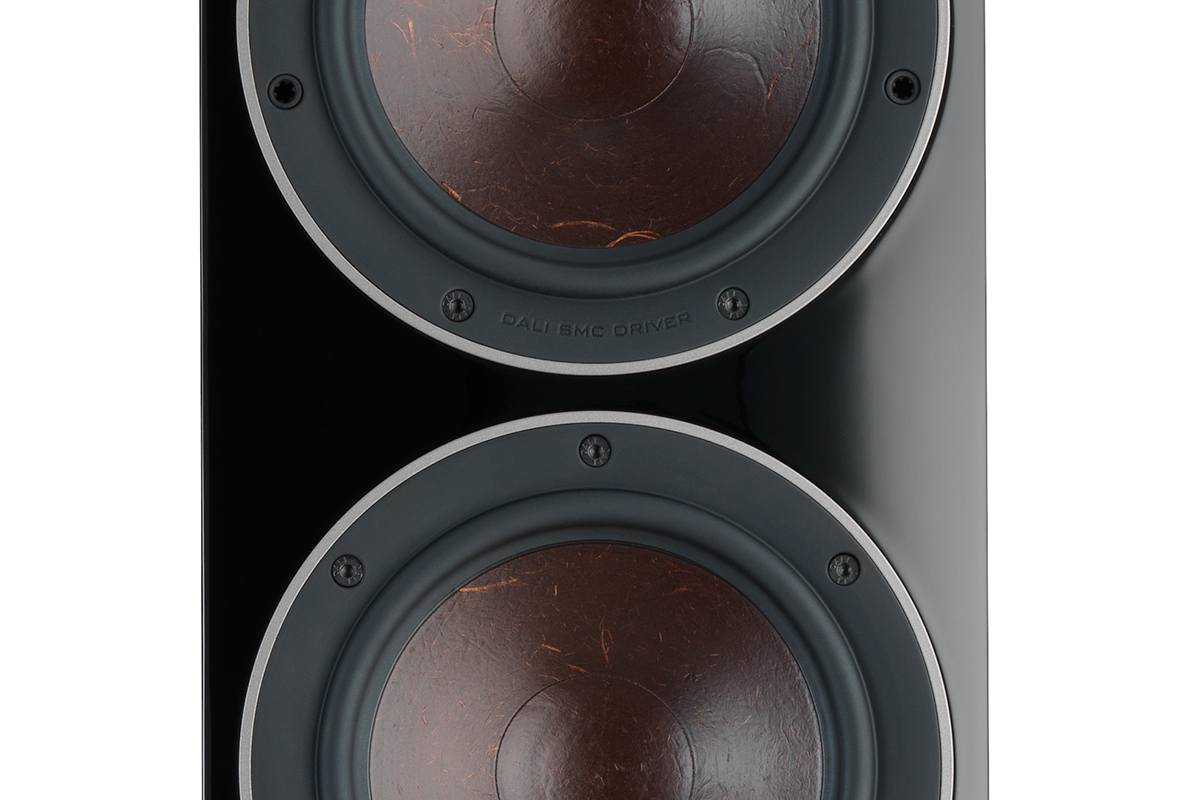 Given Yes's "Roundabout," the Elacs threw a soundstage that was every bit as high, wide, and deep as the DALIs', but with slightly less image specificity. Steve Howe's acoustic guitar didn't sound as crisp and articulate as it had through the DALIs, but had comparable body. Chris Squire's Rickenbacker bass and Bill Bruford's drums didn't hit quite as hard, and the more frenetic sections weren't unraveled as well, sounding a bit congested by comparison. The Navis ARF-51s rocked this song -- but I preferred the Rubicon 6 Cs.
Similarly, I found the Navis ARF-51s' sound a tad more congested in the loud orchestral passages of Rodrigo's Concierto de Aranjuez. Little woodwind phrases stood out more through the DALIs, with more precisely delineated positions on the soundstage. The DALIs were also more dynamic and expressive -- I could better appreciate conductor Yannick Nézet-Séguin's dramatic shaping of phrases. Through the active Rubicons, soloist Miloš Karadalić's runs and chords were more crisply articulated. But either pair of speakers let me fully appreciate the rich sound of Karadalić's Greg Smallman guitar and D'Addario strings.
In "The Panther," I thought Jennifer Warnes's voice sounded a bit warmer through the Elacs, if a tad less expressive. Lenny Castro's percussion instruments -- chimes, snare, woodblocks -- didn't jump out as startlingly through the Elacs as through the DALIs, and the electric guitar had a bit less crunch.
Conclusion
I very much enjoyed my time with DALI's Rubicon 6 C active speakers and the companion Sound Hub and BluOS module. I've expressed my admiration for Lenbrook's BluOS platform in many of the reviews I've written for SoundStage! Simplifi, and that admiration has been only reinforced by my experience with the Rubicons and Sound Hub.
I found the Rubicon 6 Cs' bass too prominent from the default speaker positions in my living room, and while that's ultimately a problem with the room, not the speaker, it led to a couple of observations.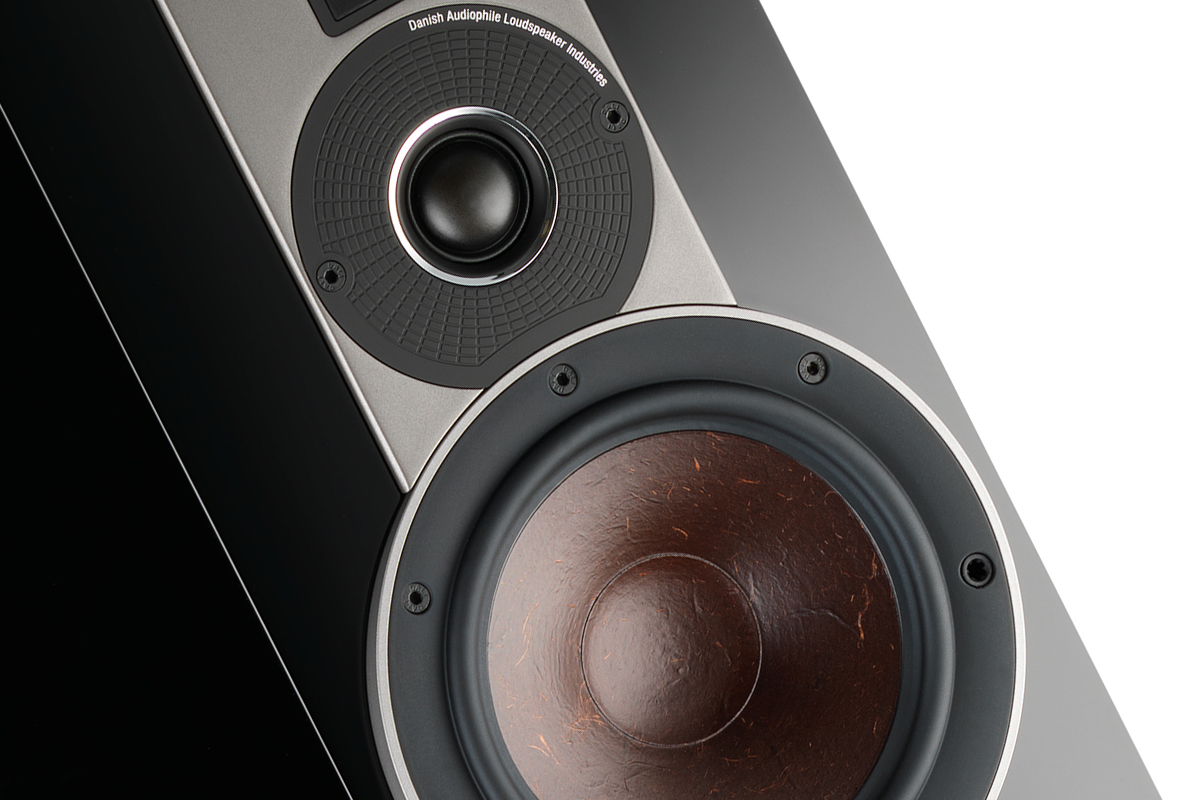 In addition to implementing the active crossover, the Rubicons 6 C's DSP performs some dynamic limiting at very loud volumes, to prevent amplifier clipping. But unlike DSP-based active speakers from companies such as Dynaudio and KEF, the active Rubicons lack room-boundary compensation. Is this a missed opportunity?
On the other hand, the Rubicon 6 C's active design and wireless capability make possible a lot of flexibility in speaker positioning, and that may make the lack of boundary compensation less of an issue. In my home, there's no way I could install a conventional system with amplifier and passive speakers near that archway, where the DALIs worked so well -- it would require speaker cables laid across the high-traffic area between our living and dining rooms.
The fact is, big floorstanding speakers that can produce deep, robust bass pose challenges in many listening environments, particularly multipurpose living areas. But if you can deal with those challenges and are looking for a high-performance, self-contained music system for under $10,000, these are speakers you have to hear. This is a magnificent system.
. . . Gordon Brockhouse
This email address is being protected from spambots. You need JavaScript enabled to view it.
Associated Equipment
Active speakers -- Elac Navis ARF-51
Interconnects -- AudioQuest Mackenzie, unbalanced (RCA, 2m and 5m)
Source -- Apple Mac Mini (mid-2011) running Roon Core 1.7, with music library on a LaCie 2Big Thunderbolt 6GB RAID system
Control Devices -- Apple iPad Mini 3, LG G7 ThinQ smartphone
Network -- Google Wifi three-node mesh network
DALI Rubicon 6 C Hybrid Active Loudspeakers
Price: $7999 USD per pair.
DALI Sound Hub
Price: $799 USD.
DALI BluOS NPM-1 Module
Price: $449 USD.
Warranty (all): Two years parts and labor.
DALI
Danish Audiophile Loudspeaker Industries
Dali Allé 1
9610 Nørager
Denmark
Phone: +45 9672-1155
E-mail: This email address is being protected from spambots. You need JavaScript enabled to view it.
Website: www.dali-speakers.com