Among my better half's innumerable gifts is an acute nose for real estate. I experienced this firsthand seven years ago, when we were enjoying a two-week holiday in Southampton, Ontario—a funky little Canadian beach town on Lake Huron. In addition to its lovely beaches, Southampton has some excellent restaurants, good shopping, an interesting history, and glorious sunsets.
As she likes to do when we're on holiday, Camilla scanned the local real-estate ads just to see what's out there. She spotted a listing for a condo townhouse three short blocks from the beach, and two longer blocks from High Street, where the shops and restaurants are. This was very intriguing, so we arranged a viewing. A day later, after crunching some numbers, we had a deal.
If this is beginning to sound like a tourism brochure or real-estate primer, stay with me. My goal here is to describe the A/V technology I've deployed at our lakeside getaway, and how I've made this stuff easy to use for our guests—and how other people who are fortunate enough to own a vacation property can do the same.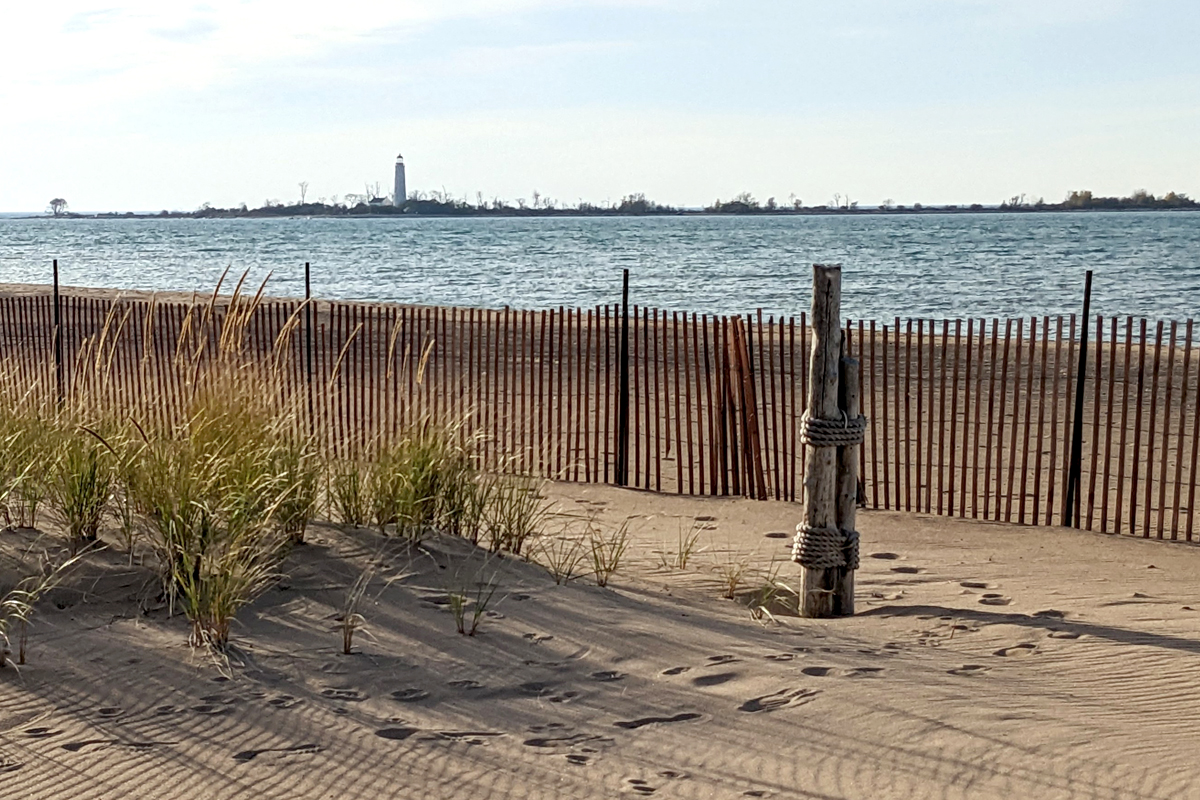 My wife and I try to spend one week a month in Southampton—and more during the summer. When we're not using the condo, we make it available to family and friends. Of course, we come up here to swim and hike, not to watch movies or listen to music. But it's great to have those amenities at night and on stormy days.
A second life
As many people do after buying a second property, we equipped our Southampton getaway with stuff we were no longer using in our primary residence. Surplus linen, cutlery, dinnerware, cookware, furniture, and small appliances were ferried up to Southampton and pressed into duty.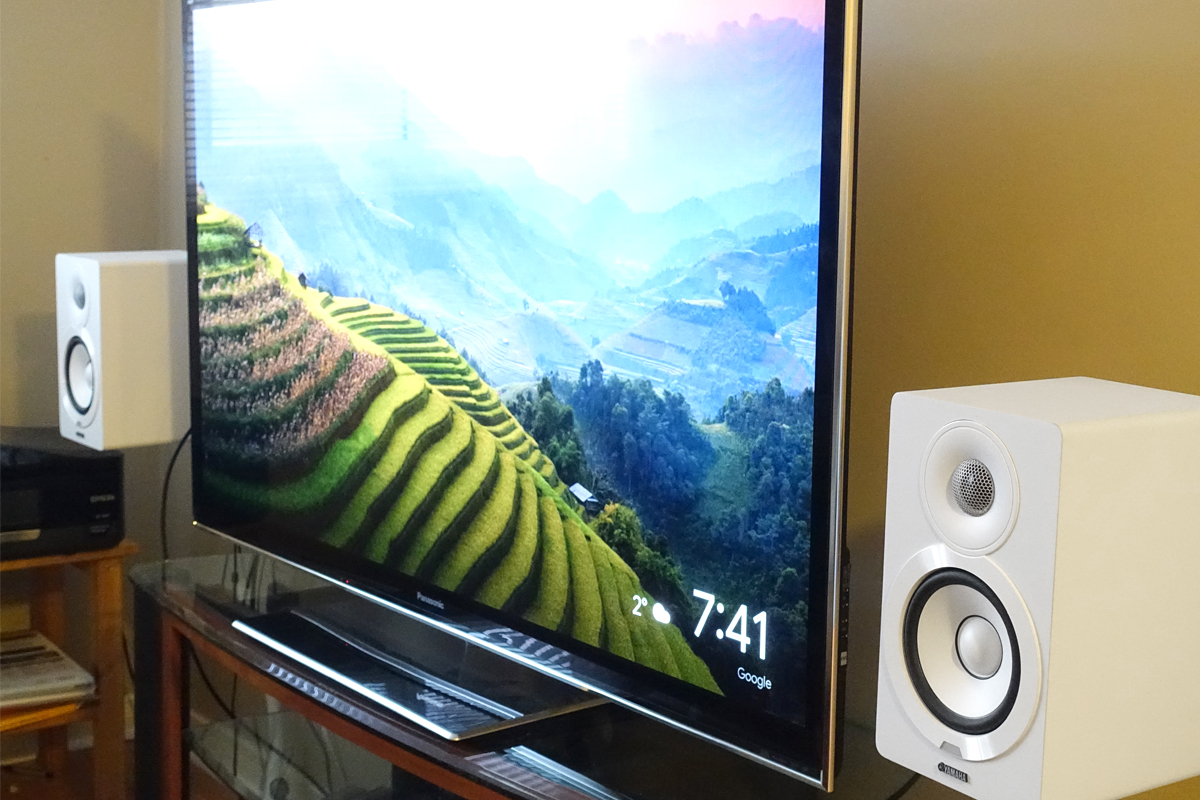 Some A/V gear also got a second life in our second home. For movie nights in our second-floor den, I have an 11-year-old Panasonic 55″ plasma television. The Viera TC-P55VT50 was one of Panasonic's top-line TVs back in 2012, and it still looks fabulous. It's not a 4K TV—resolution is 1080p—so it's not as sharp as today's premium televisions. But in terms of black levels, contrast, and color accuracy, it's superb.
Connected to the optical S/PDIF output of the Panasonic TV is a wall-mounted Yamaha NX-N500 active speaker system. Long since discontinued, the NX-N500 has ethernet, Wi-Fi, and Bluetooth connectivity, a USB DAC, and digital optical and line-level analog inputs. It works with Yamaha's MusicCast app, which has integrated support for several streaming services, including Tidal and Deezer. The NX-N500 also supports Apple AirPlay and Spotify Connect.
Along with bunk beds for visiting families, the basement family room has a wall-mounted Vizio D50-D1 50″ HDTV that I picked up dirt cheap at Costco. When we don't have guests staying in the room, I use it for work and relaxing. Recently, I've put in a pair of Buchardt Audio A500 active loudspeakers and the companion Stereo Hub so I can enjoy real hi-fi when I'm in the basement. When we have young 'uns staying, those speakers get locked away in a storage room.
In the main-floor living room, I have a pair of Dynaudio Xeo 4 active standmount speakers and the companion Xeo Hub. I got a very good deal on that system from a Toronto-area store. A customer had knocked one of the speakers off its stand, denting a corner and damaging the grille. Connected to the Hub's USB input is an iFi Audio Zen Stream music streamer ($399).
There's one more item, and a very important one: internet service. Wanting to save a few bucks, I had arranged service from a local ISP that provides DSL internet over the telephone line—copper, not fiber. It was very slow at times—maxing out around 6Mbps, and sometimes falling to 2Mbps. When streaming music from Tidal or Qobuz, I sometimes experienced dropouts. And forget about video if the internet gods were the least bit angry. Quite often, when we tried to stream a movie or TV show, it would take several minutes for the TV to buffer the stream. The show would begin, but a few minutes later the buffer would run out, and then we'd have to wait for it to refill. So we nixed that arrangement, and arranged service from the cable TV provider that services the Southampton area. Now we get download speeds north of 300Mbps.
Being able to get fast internet is one of the advantages of having a vacation home in a town rather than out in the boonies. There are other advantages as well. We appreciate being able to walk to restaurants and other amenities, rather than having to drive everywhere.
Making it simple
My infinitely better half may be Team Brockhouse's real-estate guru, but I'm the IT and A/V guy. Some of the components I installed in our vacation condo were up-to-date. But others were rather long in the tooth, with their own operational idiosyncrasies. When family members were staying in our vacation place while we were in the city, I'd sometimes get calls asking how they could watch a movie in the upstairs den or play music through the living-room speakers. It could take 15 or 20 minutes to figure out what they'd tried to do and advise them what they should do to fix it.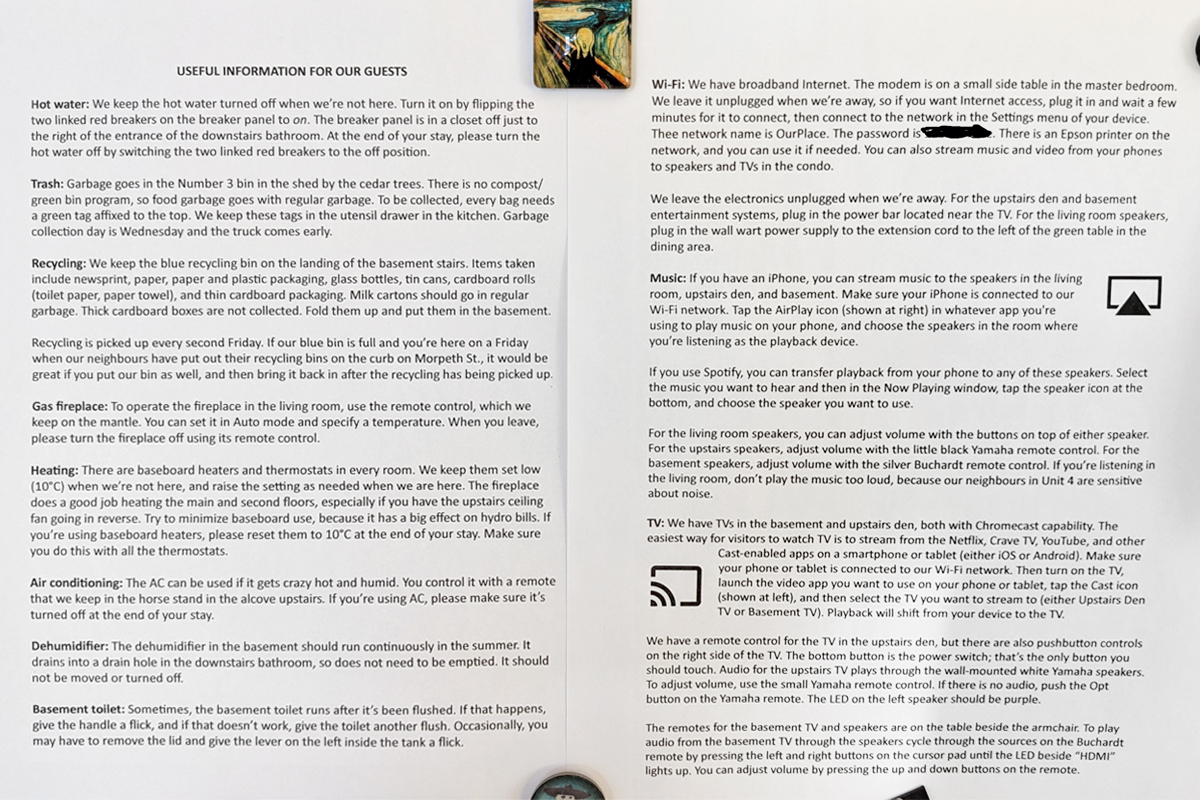 I thought I'd explained all that in a guide on the fridge door. That guide covers other essential information, like garbage pickup days and how to use the various appliances. I realized I'd have to find a way to simplify the entertainment stuff if I didn't want to be a 24/7 tech support service when visitors were using our condo.
Fortunately, this was simple. I'd already made a start in the way I'd configured the Wi-Fi network. The Wi-Fi networks in our Toronto home and Southampton getaway have the same network names and passwords. I did that for my own benefit. Sometimes I'll start a review of a networked A/V component in Toronto and continue it in Southampton. Using the same network name and password in both locations means that I don't have to reconfigure the component under review when I change locations. But there's a side benefit. If a family member has been using the Wi-Fi network in our Toronto home, their device will automatically connect to the Wi-Fi network in our Southampton condo.
To make it easy for visitors to stream movies, I connected Google Chromecast media adapters to HDMI ports on both TVs. In the Google Home app, I gave the dongles easy-to-understand names: Basement TV and Upstairs Den TV. Before guests arrive, I make sure to select the HDMI input where the Chromecast adapter is connected on each TV so that guests don't have to fiddle with input selection.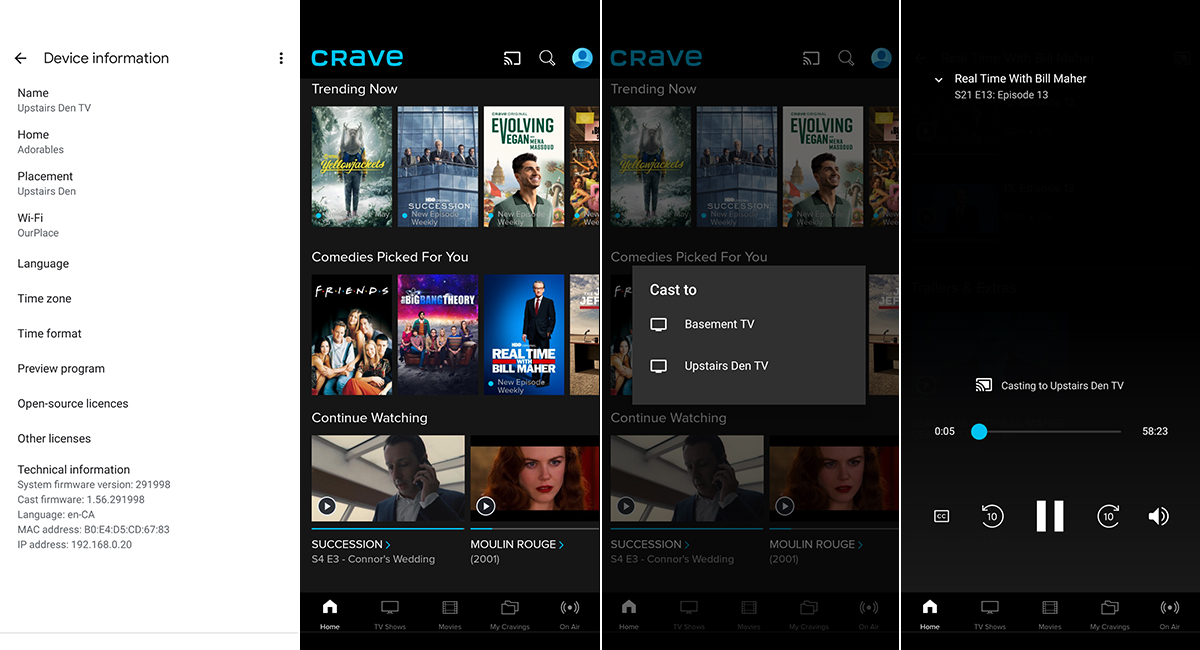 Now, visitors can select what they want to watch using their own apps on their own mobile devices. If they want to catch an episode of Real Time with Bill Maher on the upstairs TV, they can launch the Crave TV app (Crave TV is a Canadian service that offers content from HBO and Showtime), cue up the episode, and then touch the Cast icon in the app and choose Upstairs Den TV. Playback will shift from their phone to the television. Ditto for other services such as Netflix, Disney+, CBC Gem, YouTube, and Amazon Prime Video that support Chromecast. The beauty of this setup is that guests are using their own accounts, with up-to-date lists of the shows they are following. If they want to rent a movie from Amazon or YouTube, they can, and it will be on their dime. Except for the additional step of casting playback to the TV, which I've spelled out on the guide on our fridge, it's all pretty familiar.
I've done something similar for music. The Yamaha active speakers in the upstairs den, the iFi Audio Zen Stream feeding the Dynaudio setup in the living room, and the Buchardt Stereo Hub in the basement all support Apple AirPlay and Spotify Connect. Again, I've given these devices obvious names (Upstairs Den Speakers, Living Room Speakers, and Basement Speakers). I've made sure to enable the AirPlay emulator in the iFi Zen Stream, and to select the USB input on the Xeo Hub. Many of our guests are iPhone users, so they can cue up music on their phones, tap the AirPlay icon in the music app or the phone's Control Center, and select the speakers that they want to use. Quite a few guests are Spotify subscribers, so they can cue up music in the Spotify app and transfer playback to the speakers they want to use. Again, the beauty of this approach is that guests are using their own devices and their own apps, so operation will be familiar; and they're accessing their own accounts. I've carefully explained the process of switching playback to one or other of our speaker systems in that fridge-door guide.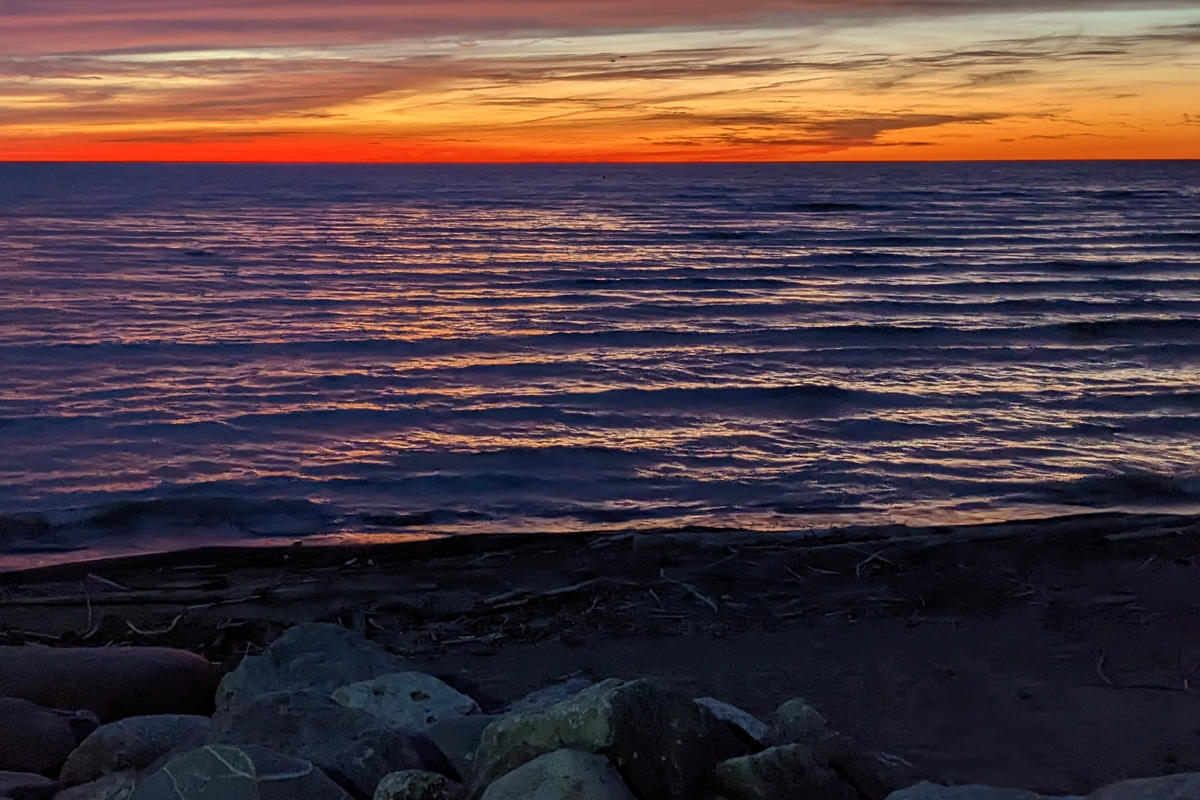 Since I've made these adjustments, calls for help have decreased dramatically. As long as visitors don't fiddle with input settings, everything should just work—and it almost always does. If it doesn't, and I can't address the problem quickly and easily, then our guests will just have to read a book or go for a walk.
What about yours truly? At home, most of my listening is done from Roon. The KEF LS60 Wireless active speaker system I use in my living room is Roon Ready, and so is the Q Acoustics Q Active 200 system I use in my home office. However, you can only use Roon on devices connected to the same network as your Roon Core. But last year, Roon Labs introduced Roon ARC, a mobile app that lets users access their Roon libraries when they're out-and-about. I've been using Roon ARC for personal listening at our Lake Huron getaway. And because Roon ARC supports Apple CarPlay and Android Auto, I can use it on the road as well. But Roon ARC is a subject all of its own, which I'll tackle later this summer.
. . . Gordon Brockhouse
This email address is being protected from spambots. You need JavaScript enabled to view it.