In the past few years, UK-based iFi Audio has introduced an impressive series of compact, affordable components under its Zen sub-brand. These include the Zen Blue V2 Bluetooth DAC ($189, all prices in USD unless noted otherwise), Zen DAC V2 DAC-headphone amp ($189), Zen Phono MM/MC phono stage ($199), and Zen Can balanced headphone amp ($199).
iFi's latest Zen-series component is the Zen Stream network streamer ($399). The most natural partner for the Zen Stream is the Zen DAC V2. Add a pair of powered speakers, and you'd have a very nice Simplifi'd desktop audio system. But as I have found, there are many other applications for this versatile little component.
In addition to wired digital inputs, many modern music systems have built-in Bluetooth, for convenient streaming from a mobile device. When connected to such a system, the Zen Stream can deliver better sound quality than the built-in Bluetooth. And if you're streaming from Spotify or Tidal, or from any music app on an iOS device, it's just as convenient as simply using Bluetooth.
Many audiophiles already own a DAC for playing digital audio from physical media, or from local and network drives. The Zen Stream can add streaming capability to any DAC with a coaxial or USB input.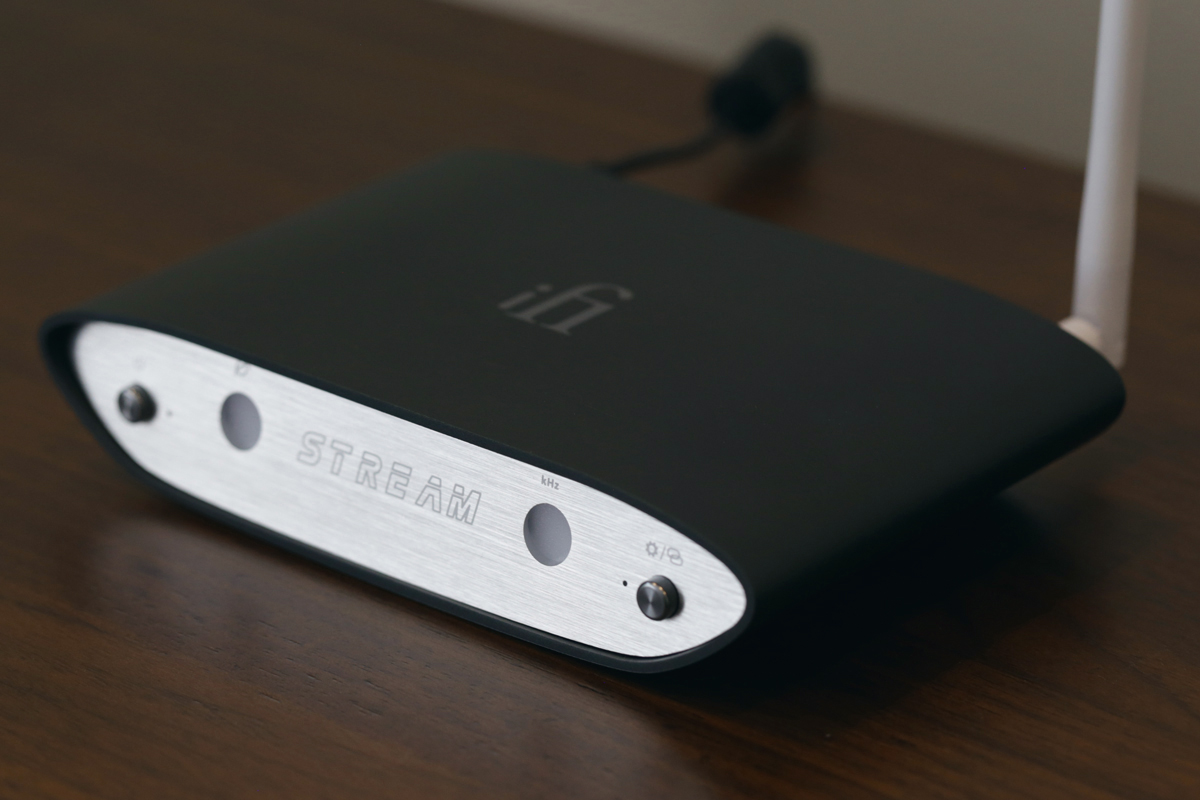 The Zen Stream doesn't support every streaming protocol under the sun, but it supports most of them. Its software suite includes an open-source Apple AirPlay emulator called Shairport Sync, so you can stream to the Zen Stream from any app on an i-device or Mac, or from an iTunes library on a PC. It supports Spotify Connect and Tidal Connect, so you can cue up music from the apps for those services, and transfer playback to the Zen Stream. It also supports UPnP/DLNA, so you can send music from a UPnP-capable music player app—such as Audirvana Plus on a PC or Mac, or mConnect on an Android device—and NAA (Network Audio Adapter), for streaming from computers running Signalyst HQPlayer software.
According to iFi, support for Google Chromecast is pending; so is Roon Ready certification. But the Zen Stream's software suite already includes Roon Bridge, so Roon will see the Zen Stream and a connected DAC as a playback device, and stream to it using its RAAT (Roon Advanced Audio Transport) protocol.
You can also play music from network drives or a USB drive connected to the Zen Stream, controlling playback from the iFi Stream app or from the Zen Stream's own web interface.
Inside and out
The Zen Stream has the same funky styling as other Zen-series components. It measures 6.2″W × 1.4″H × 3.9″D, not including cables, connectors, or Wi-Fi antenna, and weighs 1.14 pounds. For its price, the Zen Stream has impressive build quality, with brushed-aluminum front and rear panels inset into a curved black aluminum shell that bows outward toward the top.
On the left side of the front panel are a small on/off button, a tiny LED that glows white when the unit is powered up, and a larger LED that glows different colors to indicate network status. On the far right is a button that activates a hotspot network for setting up the Zen Stream, and to its left a small LED that glows or flashes to indicate hotspot status, and a larger LED that glows different colors to indicate the resolution of an incoming datastream.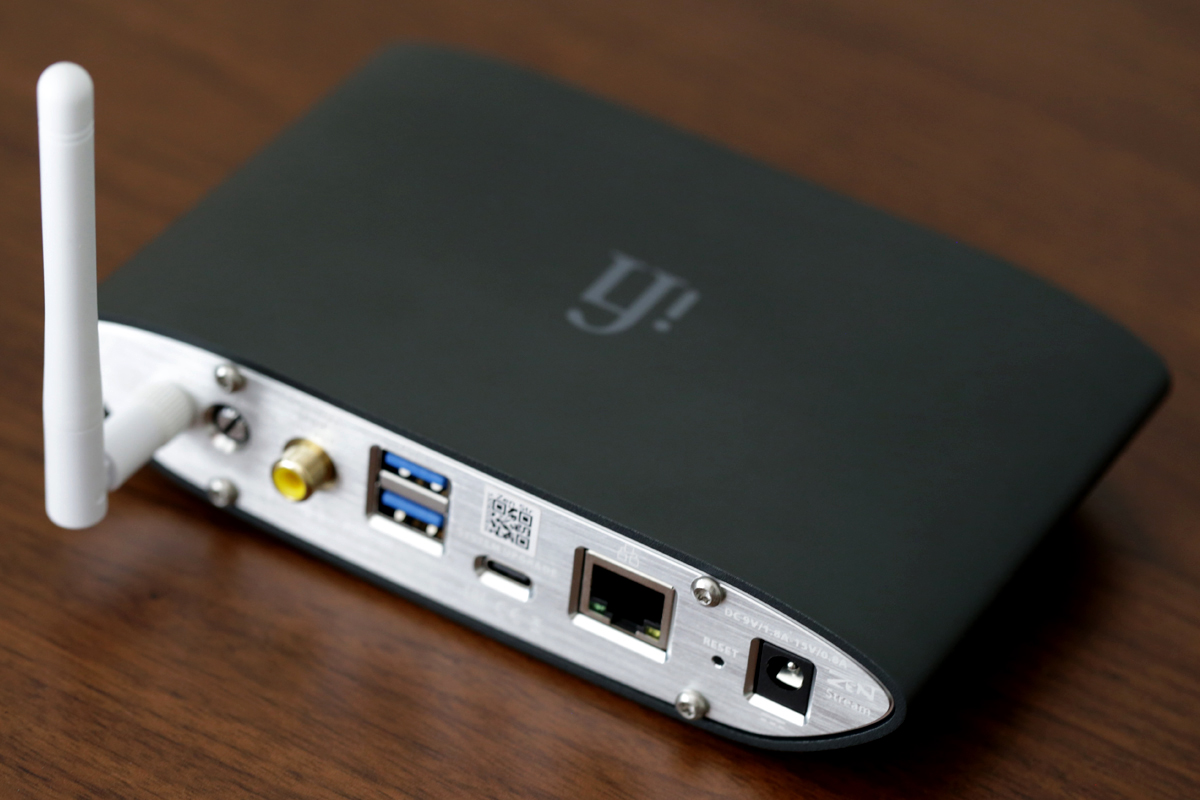 From left to right on the back panel are a screw for the supplied Wi-Fi antenna; a five-position Exclusive Modes selector switch; a coaxial RCA S/PDIF output; two USB Type-A ports (the top one for connecting a USB drive containing music files, the bottom one for a USB DAC); a USB-C port used for updating the Zen Stream's firmware (this can also be done using the component's web interface or companion app); an Ethernet port; and an inlet for the supplied 12V adaptor.
The USB and coax interfaces are regulated by iFi's Global Master Timing femto-precision clock technology, which the company says "eradicate[s] jitter." Noise is minimized by iFi's Active Noise Cancellation II technology on the USB interface, and its iPurifier technology on the coax RCA interface. iFi notes that the Zen Stream uses premium parts, such as TDK C0G multilayer ceramic capacitors, and inductors from Taiyo Yuden and Murata.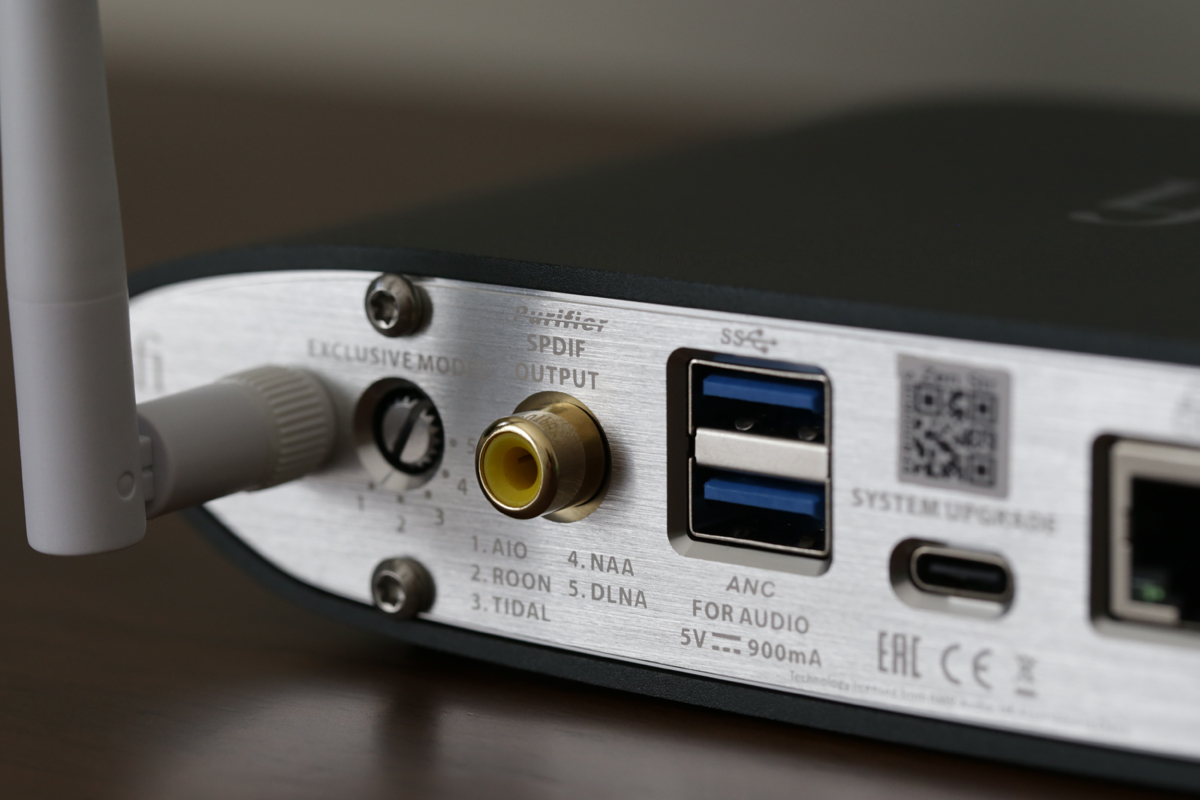 The Zen Stream comes with a screwdriver-like tool for operating the Exclusive Modes selector switch. Mode 1 is the default All-in-one (AiO) position. This general-purpose mode is used for setup and regular operation. There are also four exclusive modes, each dedicated to running a single streaming protocol. Mode 2 is for Roon. This will become functional when the Zen Stream receives Roon Ready certification—it's not for use with Roon Bridge. Mode 3 is for Tidal, mode 4 is for NAA, and mode 5 is for DLNA. If you're using just one of these protocols, selecting the corresponding mode will result in "the purest performance possible," according to iFi.
Inside this little component is a 64-bit quad-core ARM Cortex processor running a reskinned version of Volumio, a popular open-source music player with over 400,000 installations worldwide. IFi claims to have optimized Volumio's code "to achieve the purest streaming software bar none."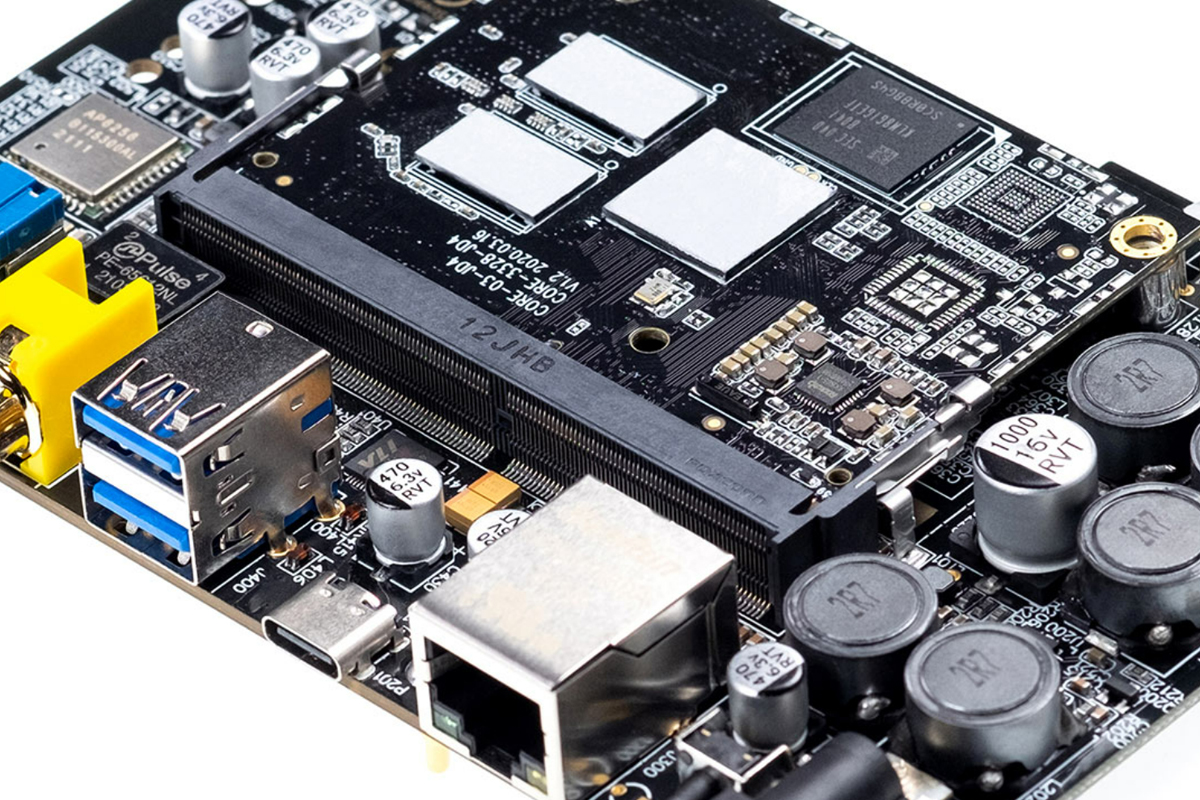 The Zen Stream can receive datastreams with resolutions up to 32-bit/384kHz PCM and DSD256 via Ethernet and Wi-Fi. It can output audio at those resolutions via USB, and up to 24/192 PCM via coax RCA S/PDIF. iFi says the Zen Stream will convert DSD64 and DSD128 streams to 24/192 PCM for playback over coax RCA. But when I tried this, the app displayed an error message: "SPDIF: not supported sample rate." Of course, you can always play DSD files via Roon through the Zen's coax RCA output, because Roon converts the DSD datastream to PCM before sending it over the network.
Setup and software
Setup instructions for the Zen Stream are provided on a Quick-Start Guide, which has instructions for a hardwired Ethernet connection on one side, and for a Wi-Fi connection on the other. The instructions are a little cryptic, but sufficient for all but the most technophobic users.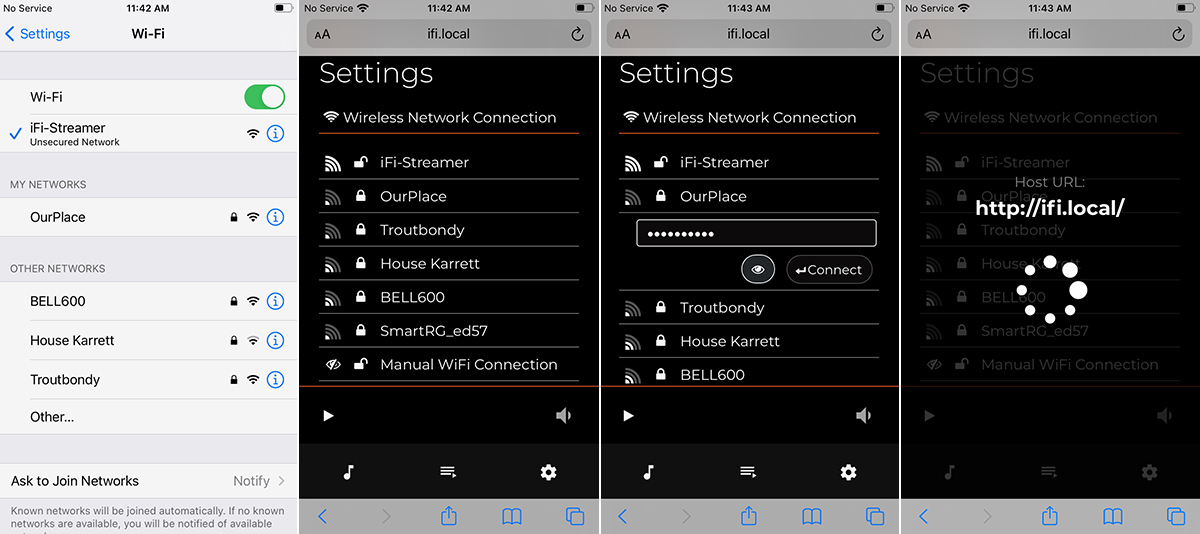 I used a Wi-Fi connection for this review. Per the Quick-Start Guide, I pressed the hotspot button on the right side of the front panel for two seconds and waited for the small hotspot LED to flash. Then, in the Wi-Fi menu of the Settings app on my iPhone 8, I selected iFi-Streamer as my network. After that, I opened the browser and entered ifi.local on the address line (Android users have to enter the Zen Stream's IP address on its hotspot network: 192.168.211.1). That took me to a page where I could select my home Wi-Fi network from a list, and enter my network password. The web interface uploaded network information to the Zen Stream, and a minute later it was connected to my home network. Easy-peasy!
For day-to-day use, you can stream to the Zen Stream via AirPlay, Roon, Spotify Connect, Tidal Connect, or Roon without using the Zen Stream's web interface. But you will need to use it if you want to play music from a USB or network drive. In Windows, macOS, and iOS, you can enter ifi.local in the address line; in Android, you have to enter the IP address assigned by your router. For mobile devices, it's less fiddly to use the companion iFi Stream app, which is available for iOS and Android.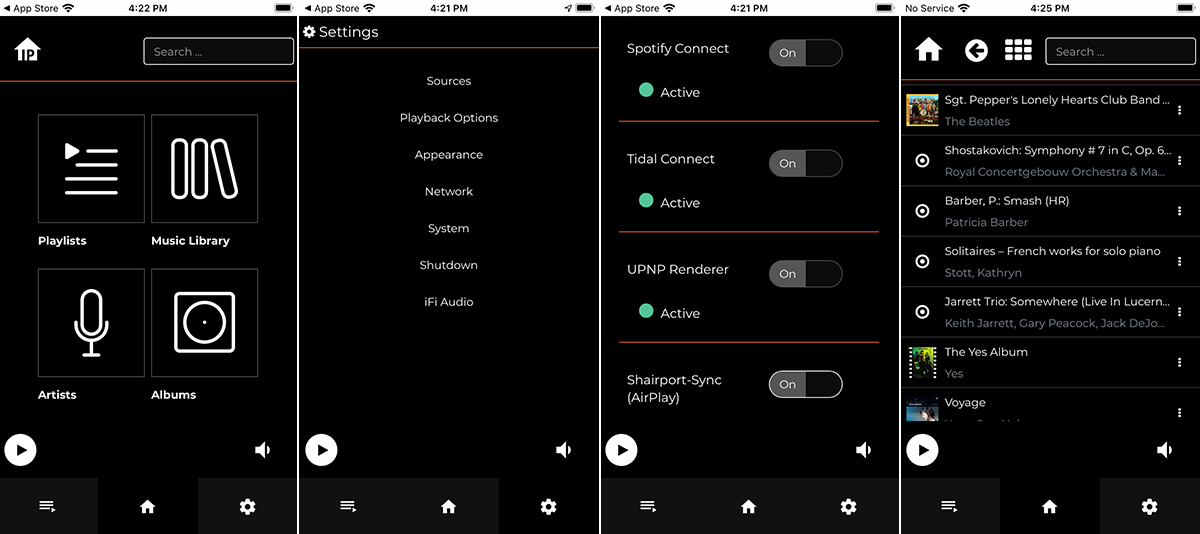 For this review, I loaded up an Adata 256GB SSD with music and connected it to the upper USB port on the Zen Stream's rear panel. In the web interface and iFi Stream app, Artist view correctly sorted artists alphabetically, complete with photos of most of the artists whose music I had loaded onto that drive. The Music Library view sorted folders alphabetically, and within those folders, individual tracks appeared and played in the correct order. But in Album view, the app and web interface presented my albums in seemingly haphazard order. What's more, they displayed art for only a few of the albums on my drive, even though I'd embedded album art into all these files. But again, tracks appeared and played in the correct order, including tracks on multidisc albums. I've noticed the Album view glitch with other Volumio-based devices, including Pro-Ject Audio Systems' Stream Box S2 Ultra ($899) and Volumio's Primo (€499 for the Community Edition).
In addition to playing files from local and network drives, the iFi Stream app (or web interface) is useful for housekeeping chores, such as downloading firmware updates, and enabling or disabling streaming options like AirPlay emulation, Roon Bridge, Spotify Connect, and Tidal Connect. You access these functions by clicking the gear icon at the bottom of the screen. Aside from the Album view issue, the app and web interface worked as expected.
However, I ran into a few network glitches during my testing. On a few occasions, the Tidal app on my Google Pixel 4a and iPhone 8 smartphones refused to transfer playback to the Zen Stream. And sometimes, playback just stopped in the middle of the song. There were also occasions when Roon refused to connect to the Zen Stream, or jumped through songs on an album without actually playing them. I could identify no pattern to explain any of these behaviors, and I experienced no such problems streaming to my NAD C 658 streaming DAC-preamp ($1649) via Roon or Tidal Connect.
Listening and comparisons
For my first round of listening, I connected the Zen Stream's coaxial S/PDIF output to the coaxial input of Andover Audio's Model-One Turntable Music System ($1999), with the bass output of its built-in speakers augmented by a Model-One subwoofer ($799). For my comparisons, I streamed the same music through the Zen Stream or direct to the Model-One's Bluetooth receiver from my iPhone 8.
"What Are Their Names," from the 2021 remastered version of David Crosby's 1971 début solo album If I Could Only Remember My Name (16-bit/44.1kHz ALAC, Atlantic Records/Apple Music), opens (and closes) with long guitar passages featuring Crosby, Jerry Garcia, Neil Young, and Graham Nash. Just past the one-minute mark, Phil Lesh enters on bass guitar, and a half minute later, Michael Shrieve enters on drums. The uncompressed CD-resolution stream, sent to the Zen Stream via AirPlay, resolved the magical interplay among these legendary musicians more clearly than the compressed Bluetooth stream. Via Bluetooth, everything was a little more mushed-together.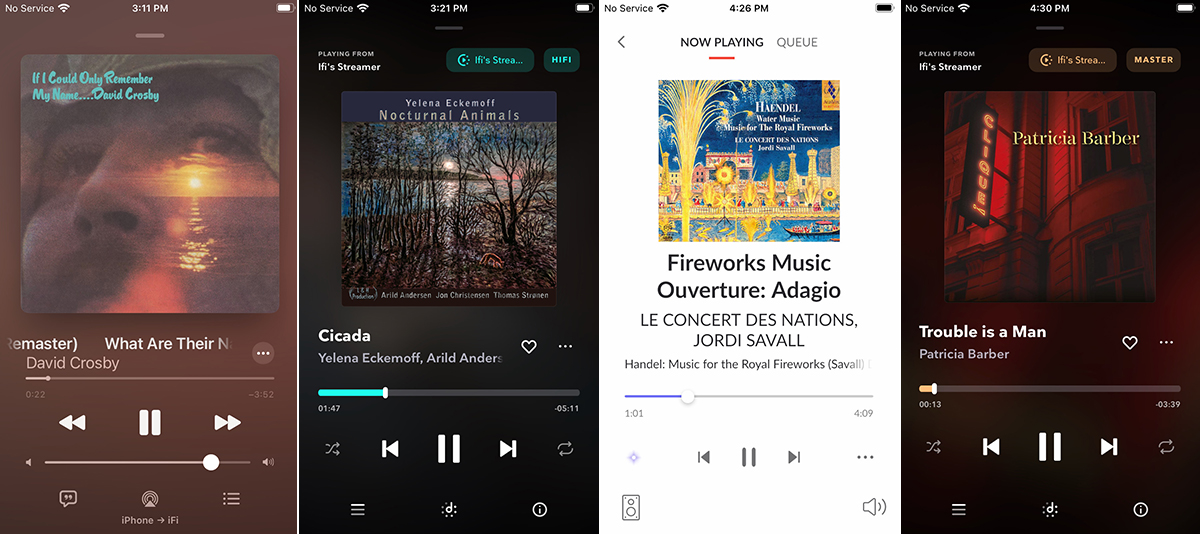 The differences were even more pronounced with the vocals, for which Crosby, Nash, Young, Garcia, and Lesh are joined by Joni Mitchell, David Freiberg, Paul Kantner, and Grace Slick. Their harmonized voices sounded denser and more homogenized when streamed via Bluetooth to the Model-One, and more distinct when streamed via AirPlay through the Zen Stream. The soundstage was wider with the Zen Stream, extending out beyond the sides of the Model-One; with Bluetooth, the soundstage was pretty well confined to the Model-One's built-in speakers.
Next, I cued up "Cicada," the opening track of Yelena Eckemoff's Nocturnal Animals (16/44.1 FLAC, L&H Production/Tidal), in the Tidal app on my iPhone 8. The Russian-born, US-based pianist-composer is joined on this lovely 2020 jazz album by Arild Andersen, on double bass, and Jon Christensen and Thomas Strønen, on drums and percussion. As the title suggests, this two-CD set comprises musical portraits of 14 creatures of the night. I transferred playback to the Zen Stream using Tidal Connect, and then streamed the same track direct to the Model-One via Bluetooth.
Again, the uncompressed CD-resolution stream sounded noticeably better than the compressed Bluetooth stream. Via Tidal Connect and the Zen Stream, I could hear more of Eckemoff's gentle piano attacks. The brushed floor tom had greater palpability, and cymbals were a little less splashy. Andersen's double-bass plucks sounded a tad faster, and the decays that followed were a little bigger and woodier. As with "What Are Their Names," the soundstage was wider and instruments were better differentiated via the Zen Stream.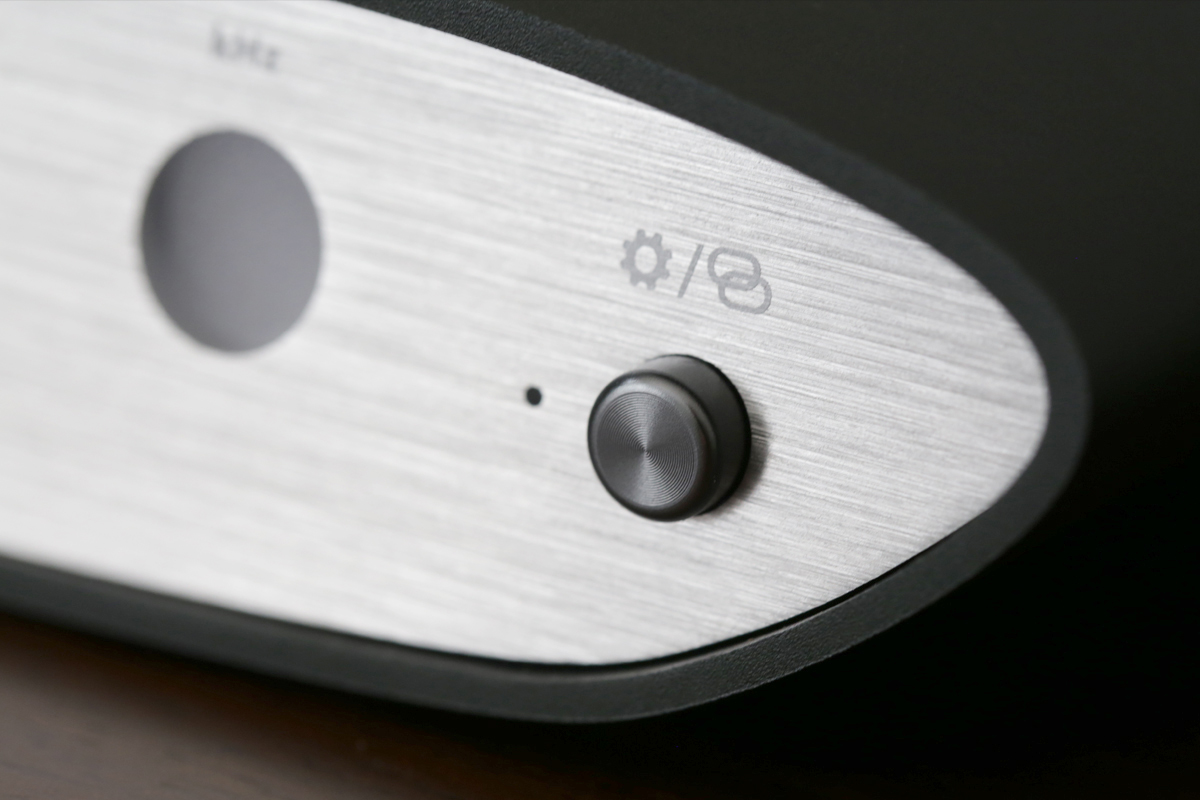 To hear how the Zen Stream would fare with a more ambitious system, I connected its USB output to an iFi Audio Pro iDSD DAC-preamp-headphone amp ($2749), and connected the Pro iDSD's balanced outputs to the balanced inputs of my Elac Navis ARF-51 active loudspeakers ($5399.96/pair). The Pro iDSD has solid-state and tubed output stages, and a huge range of digital filters and remastering options. I used it in solid-state mode, selected the Bit Perfect filter, and left the DSD Remastering function turned off.
I compared the Zen Stream with the new Bluesound Node streaming DAC-preamp ($549). For this comparison, I used the Node just as a streamer, connecting its coaxial S/PDIF output to the Pro iDSD's coaxial input. The Node has many features that the Zen Stream does not, including a DAC and basic preamp functions, so it can be connected directly to an amplifier, or to powered or active speakers. The Node's BluOS software is richer and more robust than the Zen Stream's Volumio-based software. For example, BluOS has built-in support for dozens of streaming services, including several that deliver lossless and hi-rez audio. You can stream to the Zen Stream via AirPlay, Roon, Spotify Connect, Tidal Connect, and UPnP/DLNA, but the iFi Stream app does not have clients for any streaming services. On the other hand, the Zen Stream is specced to play audio up to 32/384 PCM and DSD128 through its USB port; the Node maxes out at 24/192.
With this difference in mind, I intentionally threw a curveball at the Node by streaming the overture from Handel's Music for the Royal Fireworks, with period-music specialist Jordi Savall leading Le Concert des Nations (DSD64, Alia Vox), via Roon. To play this track through the Node, Roon resampled the DSD64 stream to 24/176.4 PCM; the Zen Stream played the DSD64 stream natively.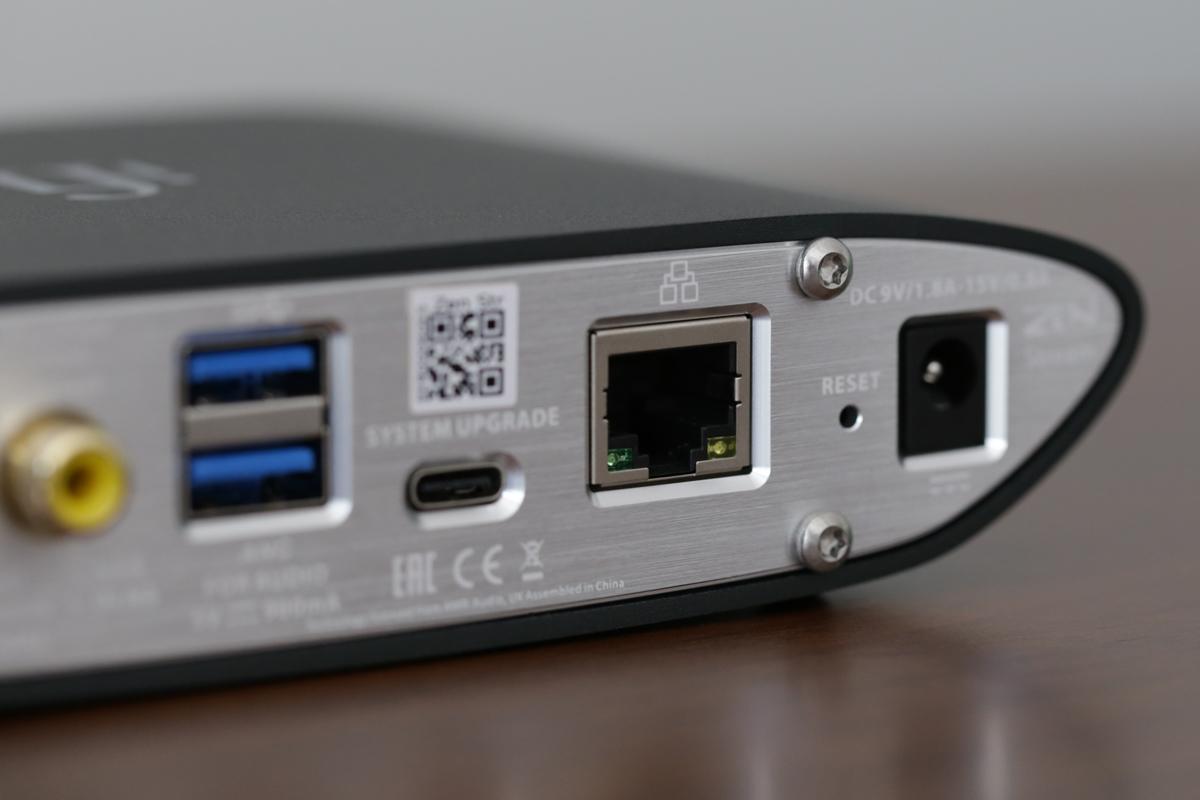 Through the Zen Stream, the horns, trumpets, and antique violins had a little more bite, and the timpani thwacks sounded a little richer and more resonant. Orchestral tone was slightly more transparent—the sound through the Node was just a bit more homogenized. The soundstage was a little broader and deeper through the Zen Stream, and front-to-back layering was more precise, so that groups of instruments were differentiated a little more clearly.
Next, I cued up "Trouble Is a Man" from Clique (24/352.8 MQA, Impex Records/Tidal), Patricia Barber's new album of jazz standards, in the Tidal app on my iPhone 8, and used Tidal Connect to transfer playback to the Zen Stream and Bluesound Node. Again, I preferred the sound of the Zen Stream, but as before, the differences were very small. The Zen Stream delivered a "blacker" background with slightly better microdetail. Barber's voice sounded a little fuller and more embodied through the Zen Stream, and her gentle attacks on piano were rendered a bit more clearly. The spatial presentation was a little flatter through the Node, and bigger and livelier through the Zen Stream.
To check out the Zen Stream's exclusive modes, I connected its USB output to my iFi Audio Micro iDSD Black Label DAC-headphone amp (discontinued; replaced by the Micro iDSD Signature, $749), cued up "Trouble Is a Man" in the Tidal app on my iPhone 8, and listened through my HiFiMan Edition-X V2 headphones (discontinued, $1299 when available), alternating between modes 1 and 3 (AiO and Tidal only).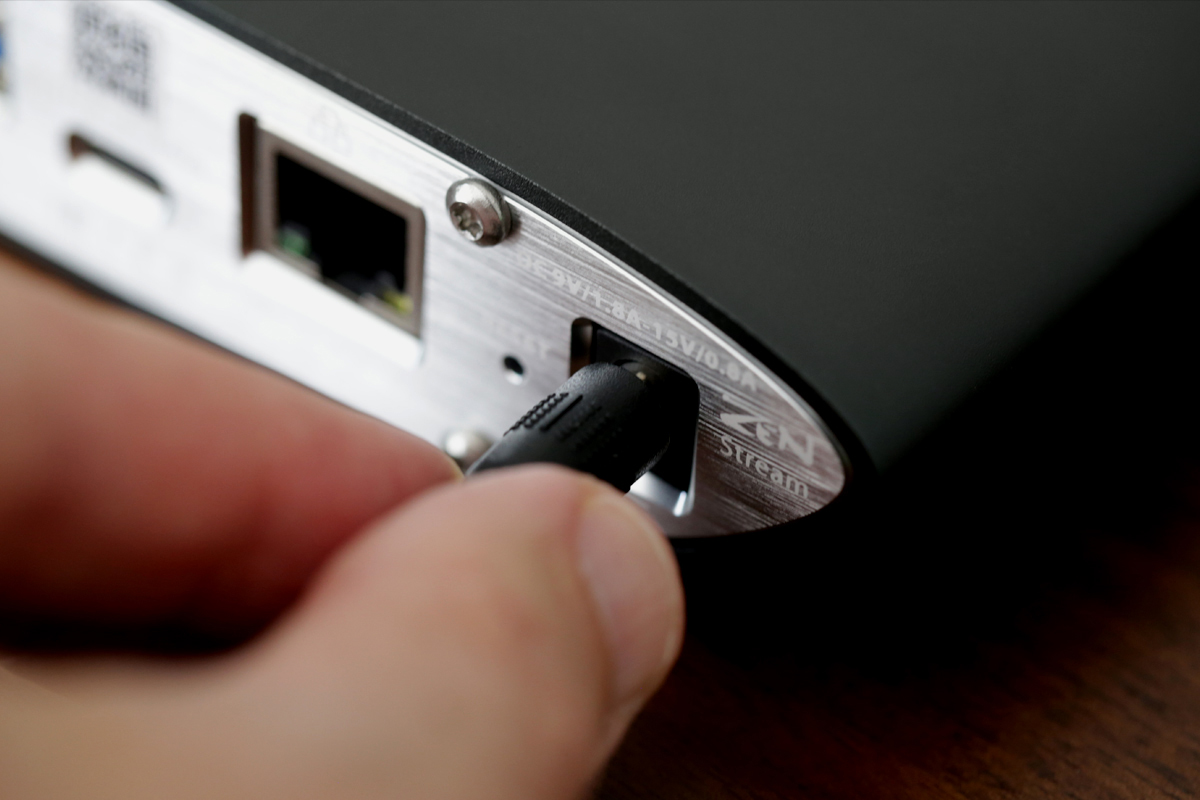 In Tidal-only mode, the background seemed just a tad blacker and Barber's sibilants a bit smoother. The sound seemed a little more organic, a little less electronic. Or was this my imagination? Each switchover took about 30 seconds, so the change wasn't instantaneous. Whatever the differences were, they were very subtle.
I repeated the same exercise, this time streaming Savall's Music for the Royal Fireworks via UPnP from the Audirvana Plus app on my HP Spectre convertible laptop PC, and alternating between modes 1 and 5 (AiO and DLNA only). Again, the background seemed a little blacker in the exclusive mode. The period violins had just a bit more bite, and the orchestral textures seemed a little more transparent. But again, the differences were very subtle.
My takeaway from this: if I only wanted to use the Zen Stream with Tidal, a UNnP/DLNA-capable music app, HQPlayer, or Roon (after the Zen Stream receives Roon Ready certification), I'd probably use the corresponding exclusive mode. But if I wanted to use more than just one of the protocols, I'd leave it in the default AiO mode. And of course, you have to use AiO mode for AirPlay or Spotify Connect.
Conclusion
I've picked a couple of nits in this review. The software has a few rough edges, particularly in the way it displays albums on connected drives. And I experienced a few network blips during my testing, some of them requiring me to restart the Zen Stream. But these blips were very infrequent. Neither of these issues came close to being a deal-breaker for me.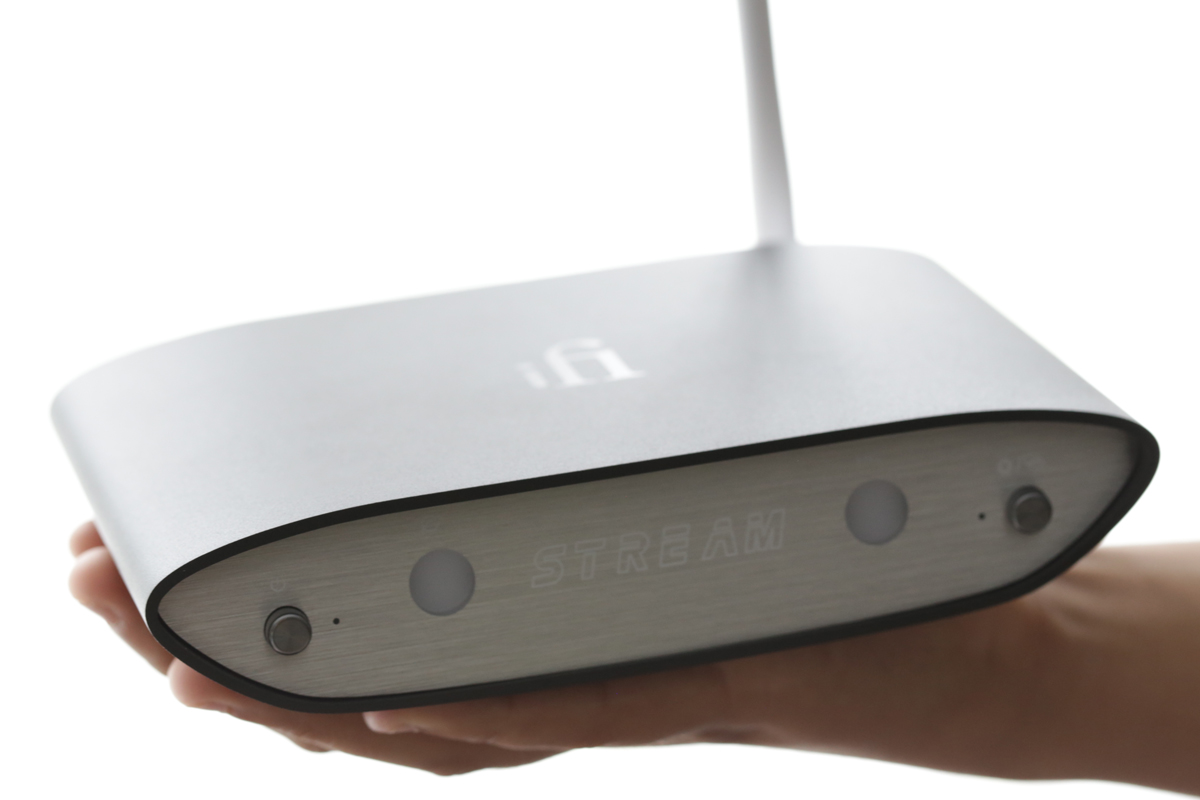 Overall, I was very impressed with the Zen Stream's build quality, sound quality, and usability. It's an easy recommendation for anyone looking for an affordable way to add network streaming to a system with coaxial S/PDIF and/or USB inputs.
. . . Gordon Brockhouse
This email address is being protected from spambots. You need JavaScript enabled to view it.
Associated Equipment
Music system: Andover Audio Model-One.
Active loudspeakers: Elac Navis ARF-51.
DACs and streamers: iFi Audio Pro iDSD, Bluesound Node.
DAC-headphone amp: iFi Audio Micro iDSD Black Label.
Headphones: HiFiMan Edition-X V2.
Cables: Argentum Acoustics Mythos (2m, XLR), AudioQuest Carbon (coaxial S/PDIF, 2m), AudioQuest Pearl (USB, 1m).
Sources and control devices: Apple iPhone 8 and Google Pixel 4a 5G smartphones, HP Spectre x360 13″ convertible PC.
Network: Google Wifi four-node mesh network.
iFi Audio Zen Stream Wi-Fi Streamer
Price: $399.
Warranty: One year, parts and labor.
iFi Audio
Guildford, 79 Scarisbrook New Road
Southport PR8 6LJ
United Kingdom
Phone: +44 1704 543858
Website: www.ifi-audio.com