Sometimes when things don't work out the way you'd planned, it's all for the best. This article is a case in point. In my June 1 feature, "Lakeside Streaming," I explained how I've made it simple for guests to stream video and music to the various TVs and smart speakers in our vacation home. In the conclusion of that article, I noted that I use Roon for music playback at home and explained how the Roon ARC app lets me access my Roon library when I'm away from home. "But Roon ARC is a subject all of its own," I added, "which I'll tackle later this summer." That time has now come.
I'd been meaning to write this feature ever since the launch of Roon 2.0 and Roon ARC in September 2022. But one thing after another got in the way—other topics I wanted to cover, other demands on my time, a few lingering questions about how Roon ARC worked. I'm glad I waited, because last month, Roon introduced a new feature that expands the usefulness of Roon ARC: Muse Precision Audio Control, a set of DSP tools that lets you tailor the sound to your playback environment, just as you've always been able to do when using Roon at home.
Remote access
Roon 2.0 was the most significant update to Roon since the software first launched in 2015. Its most important feature was the support for the Roon ARC app, but there were other enhancements as well, including native support for Apple processors. That's an attractive feature for people like me who run Roon Core on a non-Intel Apple computer.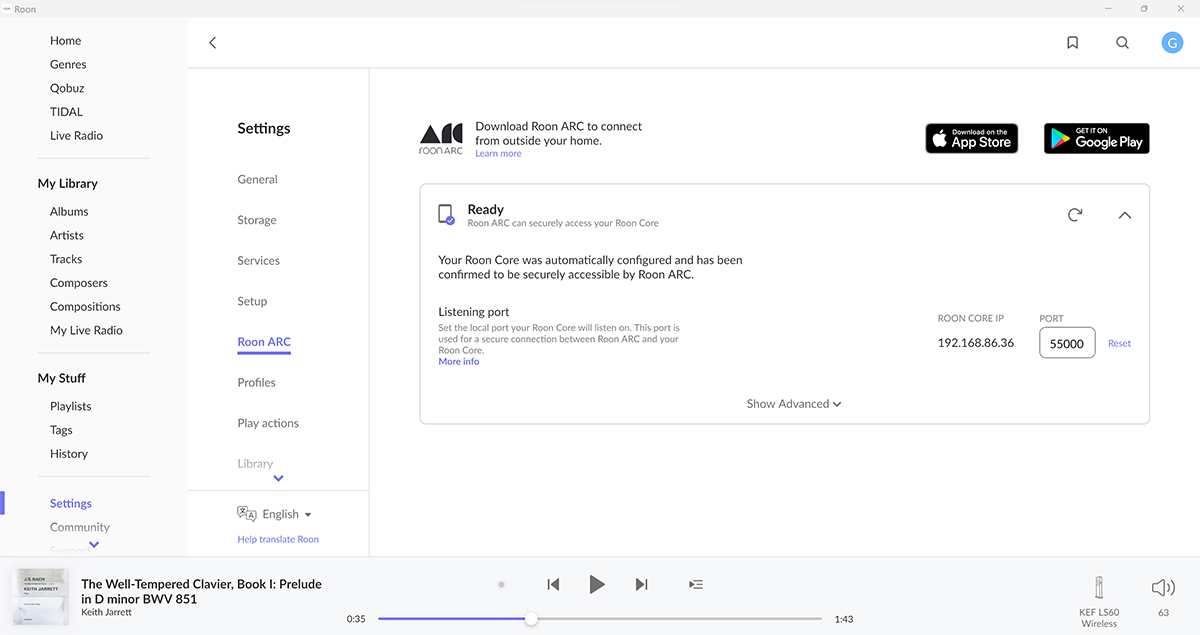 Roon 2.0 will automatically open a port on the computer that's running Roon Core to allow access by Roon ARC. You can confirm this by selecting the Roon ARC item in Roon's Settings menu on the Roon Control app. In almost all cases, Roon will display a Ready message, stating, "Your Roon Core was automatically configured and has been confirmed to be securely accessible by Roon ARC." If Roon is unable to open a port for remote access, you'll have to set port forwarding for Roon ARC manually. You can find guidance on this fiddly process on Roon's help pages.
I didn't have to worry about manual configuration, because my Roon Core was ready to work with Roon ARC as soon as I upgraded to Roon 2.0. After installing the Roon ARC app on my iOS and Android devices, I was able to access all the music in my Roon library from any location where I could get a Wi-Fi or mobile-data connection. That could be in my primary residence, my vacation home, a hotel room, a café, or my car. Using the Roon ARC app, I could listen to downloaded and ripped music files stored on the LaCie 2Big RAID system connected to the Apple Mac Mini running Roon Core in my home office, and to albums that I had designated as favorites in the Qobuz and Tidal apps.
If you use Roon ARC to play music from Qobuz or Tidal, audio data will flow directly from the service to the device running Roon ARC—it doesn't go through your Roon Core. If you're using Roon ARC to play downloaded or ripped files from your Roon library, audio is sent from the Roon Core in your home to the device you're using to run Roon ARC. In effect, your Roon Core becomes a personalized streaming service containing all the music you actually own.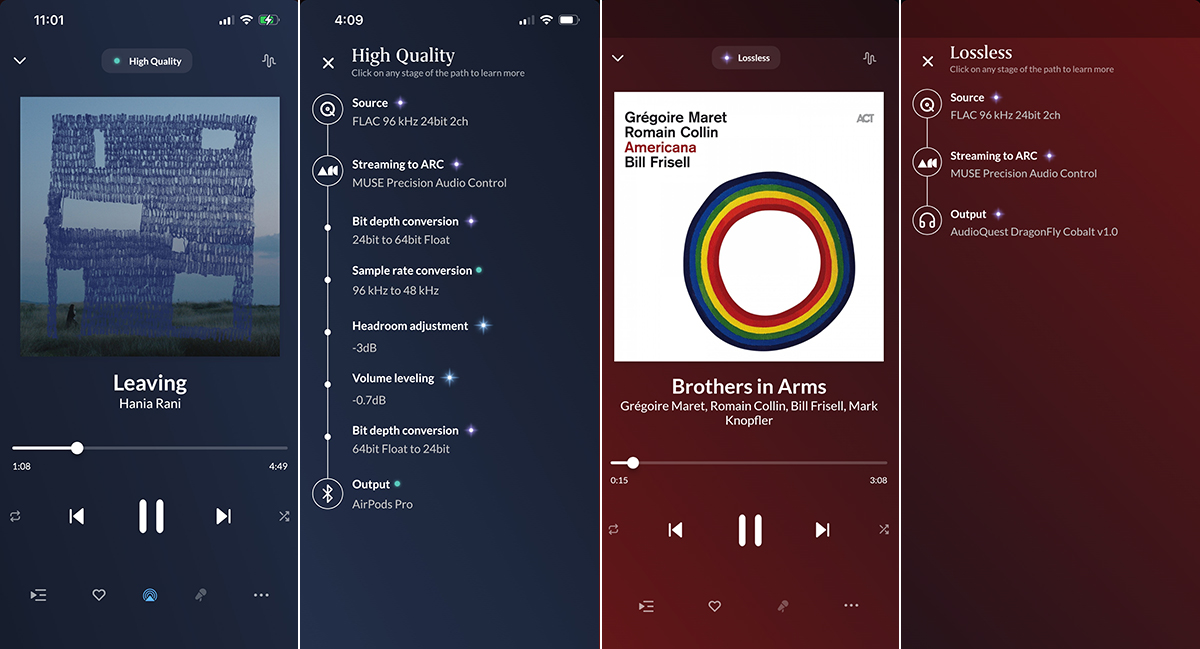 Roon ARC automatically scales resolution for the quality of connection and playback environment. If you're on a Wi-Fi network, data will be streamed at native resolution, then resampled by Roon ARC as required. For example, when I use Roon ARC on my iPhone 14 to play 24-bit/96kHz, 24/192, or DSD64 files through my Apple AirPods Pro 2 earphones, data is sent at native resolution, whether it's coming from a streaming service or my Roon Core, then resampled by Roon ARC to 24/48.
If I use Roon ARC on my Google Pixel 4a smartphone to listen through an AudioQuest DragonFly Cobalt DAC and NAD Viso HP50 headphones, streams up to 24/96 are played losslessly, 24/192 streams are resampled to 24/96, and DSD streams are resampled to 24/88.2 PCM. That's because DragonFly DACs support PCM audio up to 24/96, and Roon ARC now has a USB driver for Android devices that supports automatic sample-rate switching. (This isn't an issue on Apple devices.)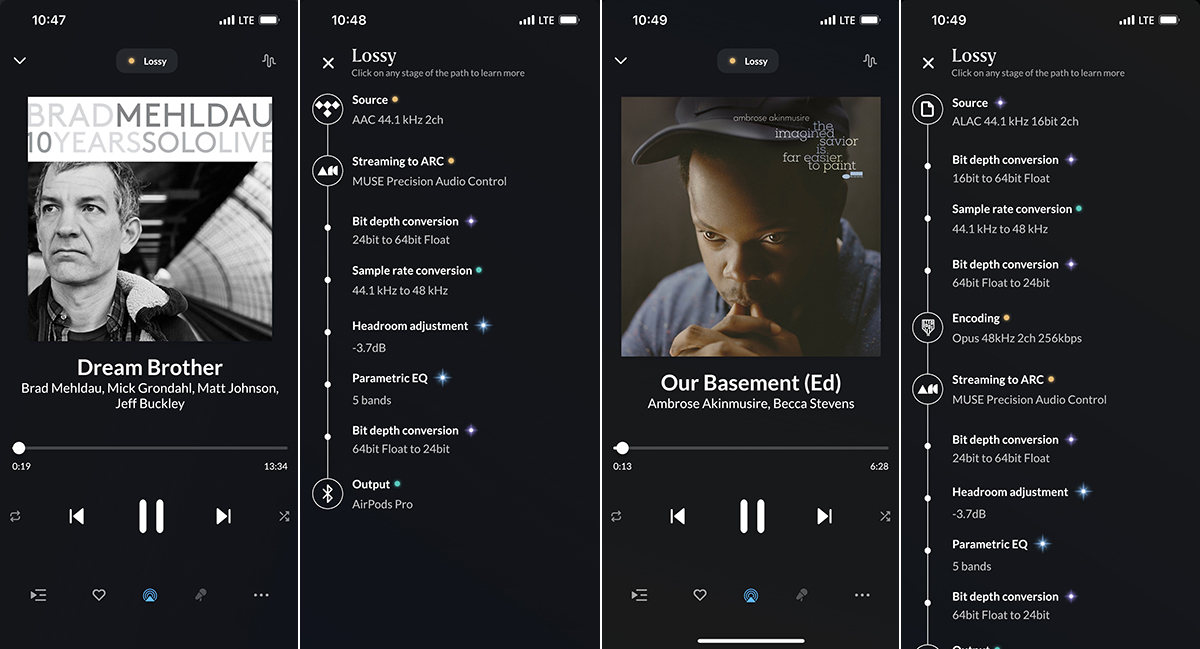 But if you're connecting through a public mobile-data network, Roon ARC will switch to lossy compression. When I use Roon ARC to stream music from Tidal while I'm sitting in a café, Tidal sends an AAC stream. If I switch to Qobuz, that service will send an MP3 stream. If I stream a song from the music library on my LaCie RAID system, Roon will use the Opus format to send 24/48 audio at 256kbps.
If you expect to be in situations where there's no network connection available, or if you want to use Roon ARC to listen to lossless and hi-rez files when only a mobile-data connection is available, you can download those files from your Roon Core to your mobile device. But you can't use Roon ARC to download music from streaming services. You can, of course, download your favorite albums using a streaming service's own app, but then you'll have to use that app to play them.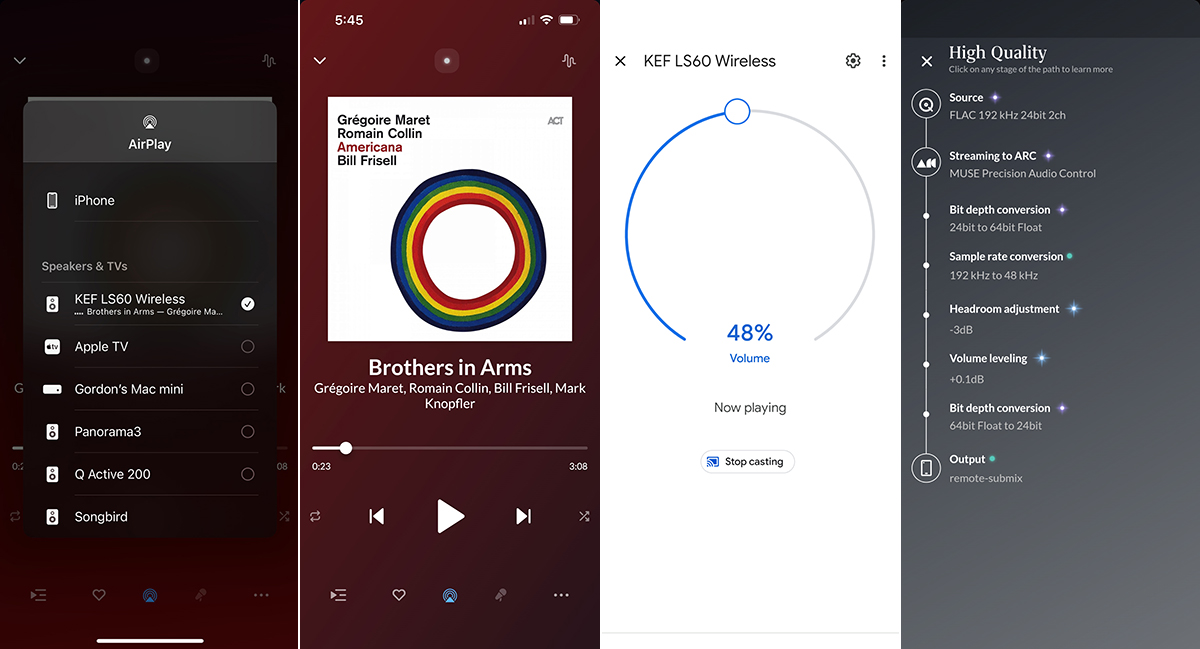 So far, I've focused on using Roon ARC for headphone listening, but it's useful for out-loud listening as well. Roon ARC supports Apple CarPlay and Android Auto, so you can use it to play music in your car. If you're using the iOS version of Roon ARC, you can send audio to any music system with AirPlay support. Just tap the AirPlay icon in Roon ARC's Now Playing screen to see all AirPlay devices on your network, and then choose the one(s) you want to listen through. If you're using the Android version of Roon ARC, you can shift playback to Chromecast devices on your home network. To do this, you find the device in the Google Home app and cast audio to it. After that, audio from any app (including ARC) on your Android device will be played through the Chromecast device you've selected.
You can do all (or most) of this stuff with a streaming service's own app, so why bother with Roon ARC at all? Why not just use the app for your streaming service, and a music-player app to play music files stored on your smartphone? In some cases, that makes sense. For example, when I'm out at a café, I'll sometimes listen to spatial-audio tracks on my AirPods from Apple Music on my iPhone. I can't do that with Roon ARC—I have to use the Apple Music app for that. If you've built playlists using the app for your streaming service, or if you rely on your streaming service for music recommendations, you likely won't want to switch apps.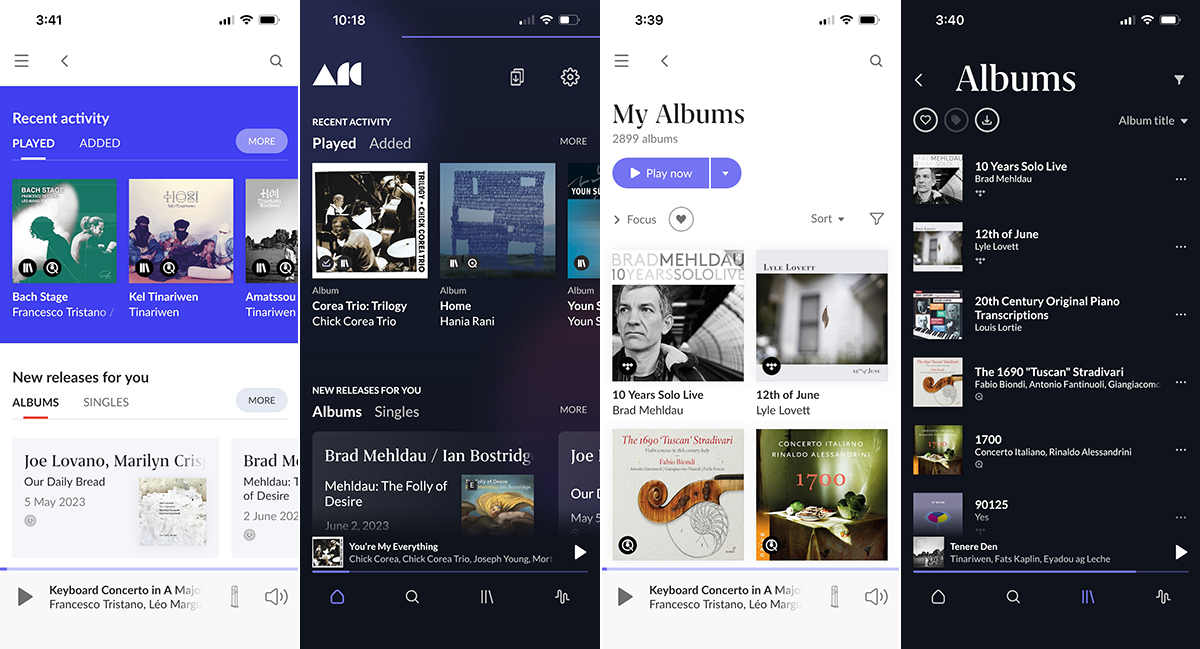 But there are many compelling reasons for Roon subscribers to use Roon ARC when they're out and about. Roon ARC looks a little different from the Roon Control app that is used for home playback, but the overall organization is very similar, so the learning curve is very gentle. For anyone who uses a smartphone to control Roon at home, Roon ARC will be instantly familiar.
And of course, Roon provides a single interface for accessing your music library and streaming favorites. With Roon, you can create playlists that combine music you own with streamed content. You get the same benefit with Roon ARC. Roon synchronizes playback history for at-home listening via Roon Control and on-the-go listening with Roon ARC.
Roon's rich editorial content, which includes artist bios and album reviews, is available through Roon ARC. At home, Roon Control will display liner notes when these are available. Unfortunately, Roon ARC does not offer this feature.
Just as you can do at home, you can tap the Signal Path icon in Roon ARC's Now Playing screen to view a window showing all the processing that is being applied to the signal, from input to output.
But there's one downside to Roon ARC. If your Roon Core goes offline because of a power outage or an unexpected restart of your computer, you won't be able to use Roon ARC until your Core is back online—which could be a while if you're on vacation. That has happened to me more than once. The obvious solution is to plug mission-critical components (in my case, my Mac Mini computer, LaCie RAID system, and my Wi-Fi router and internet gateway) into an uninterruptable power supply. That won't eliminate outages entirely, but it will make them much less frequent.
Taking control
Announced on June 14, Muse Precision Audio Control makes Roon ARC even more compelling. Before that, I'd been sitting on the fence about making Roon ARC my application of choice for away-from-home listening. Muse tipped the balance.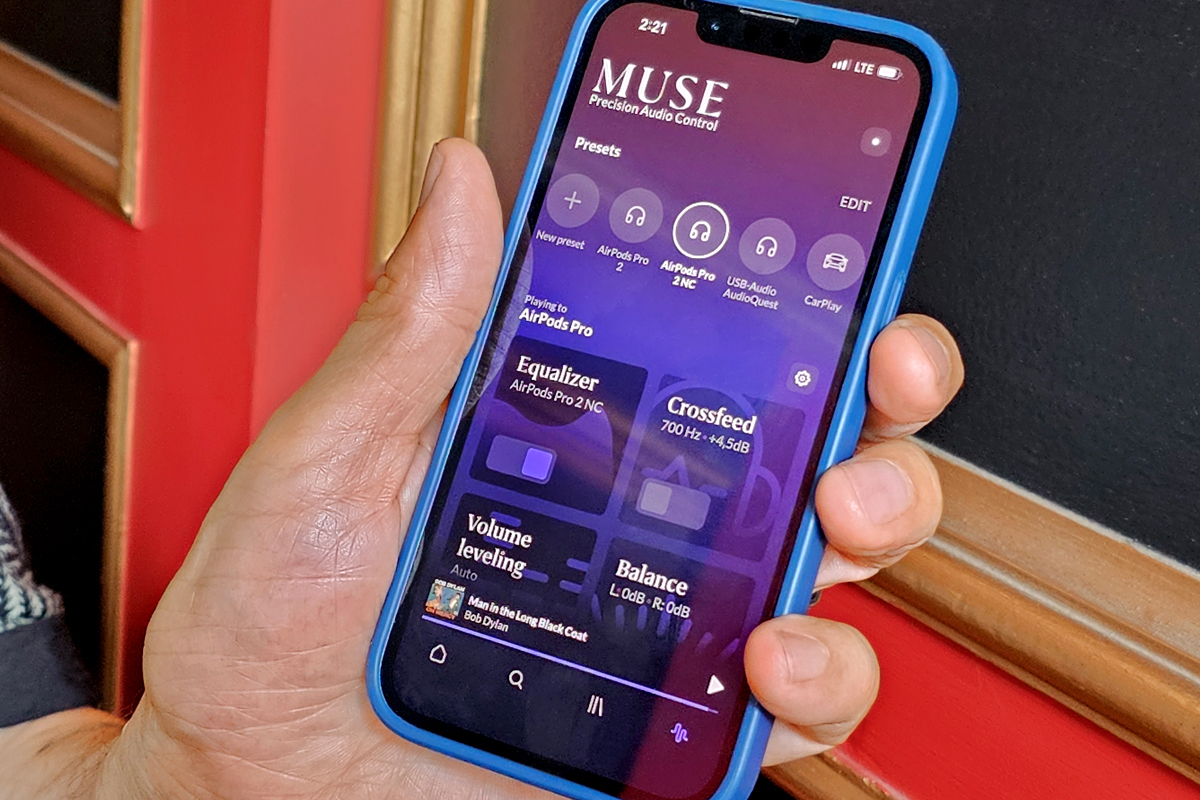 As I explained in a January 15 feature about my new hi-fi setup, I use Roon's procedural EQ function to counteract some nasty standing waves in our living room. This results in a marked improvement in bass definition and a significant reduction in room boom. Now I can enjoy similar benefits when I'm listening away from home.
Because Roon ARC runs on smartphones rather than PCs, less processing power is available for signal processing. This means that some functions that are available when using Roon at home aren't available with Roon ARC. For example, at home I can use the procedural EQ function to apply different filters to the left and right channels. That feature isn't available in Roon ARC.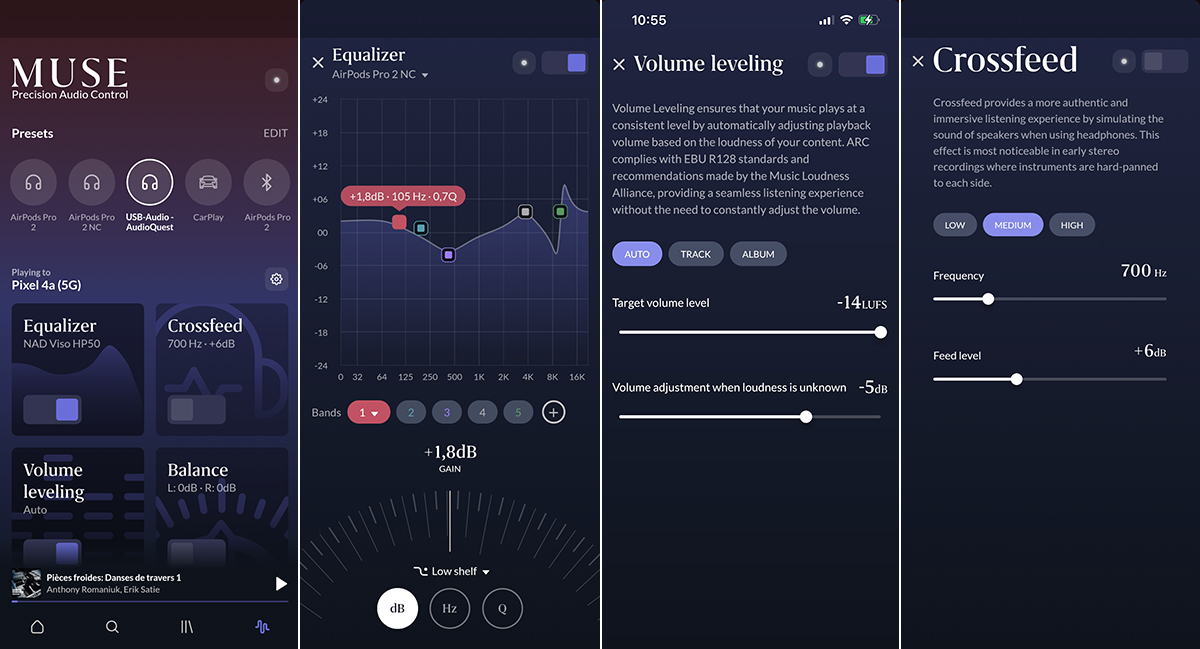 That said, Roon ARC has an impressive range of DSP functions, including parametric EQ, crossfeed (for reducing separation during headphone listening), volume leveling, left-right balance (with an optional mono mode), headroom management, and sample-rate conversion. The interface is slick, intuitive, and flexible. For example, when creating parametric EQ filters, you can adjust values for frequency, boost/cut, and Q by dragging on the graph in the middle of the screen, rotating a virtual control knob at the bottom of the screen, or entering the exact value you want on a virtual keypad.
Using settings I found on AutoEQ.app, I've created three EQ presets for my AirPods earphones: one for use with noise cancelation, one for listening without noise cancelation, and a third for Transparency mode. I've created another preset for my DragonFly Cobalt and Viso HP50 headphones. The app lets you choose your target curve: for the AirPods, I used Harman's 2019 in-ear target curve; for the Visos, I used Harman's 2018 over-ear target curve. I'm enjoying the effects of these EQ settings. Through the AirPods, I hear an improvement in clarity and impact with EQ enabled.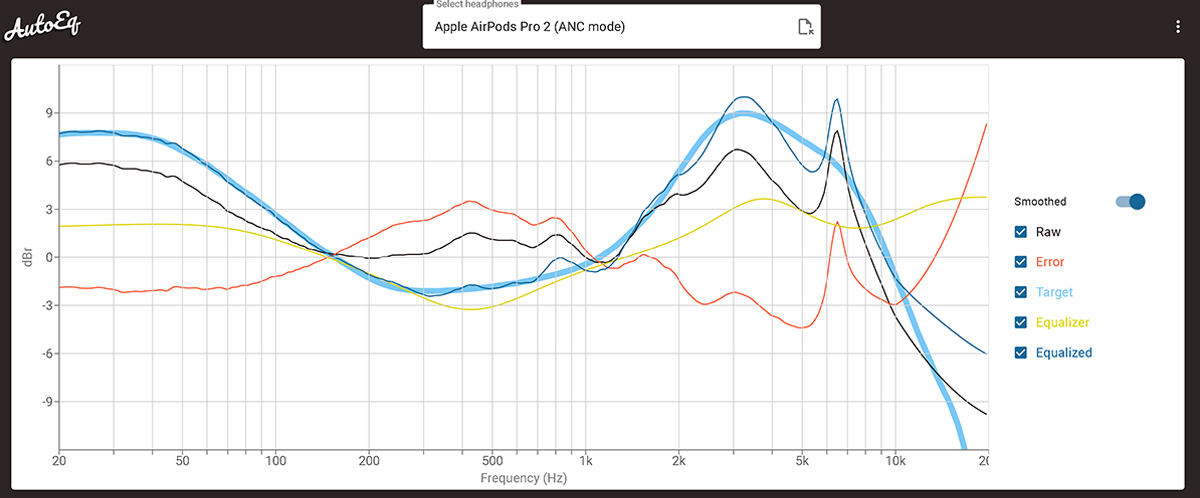 Roon ARC will automatically switch presets when you connect a different device. When I connect my DragonFly Cobalt to my Google Pixel phone, Roon ARC automatically switches to the preset I've created for the DragonFly. If I connect my iPhone to my car audio system, Roon ARC automatically switches to the CarPlay preset. A project I hope to complete soon is the creation of EQ curves for in-car listening.
In the latest version of Roon ARC, the Signal Path feature is accessible from more areas of the app. The Signal Path icon is now more prominently displayed in the Now Playing window, and it's also shown on all Muse screens. This useful feature provides a detailed view of the way that Roon ARC and your mobile device are processing the signal.
Not cheap
Currently, Roon costs $14.99 per month (all prices in USD), $149.88 annually, or $829.99 for a lifetime subscription (up from $499.99 when the service first launched). A big attraction of Roon ARC is that it makes Roon available when you're away from home—there's no need to get another subscription if you want to use Roon in a vacation home.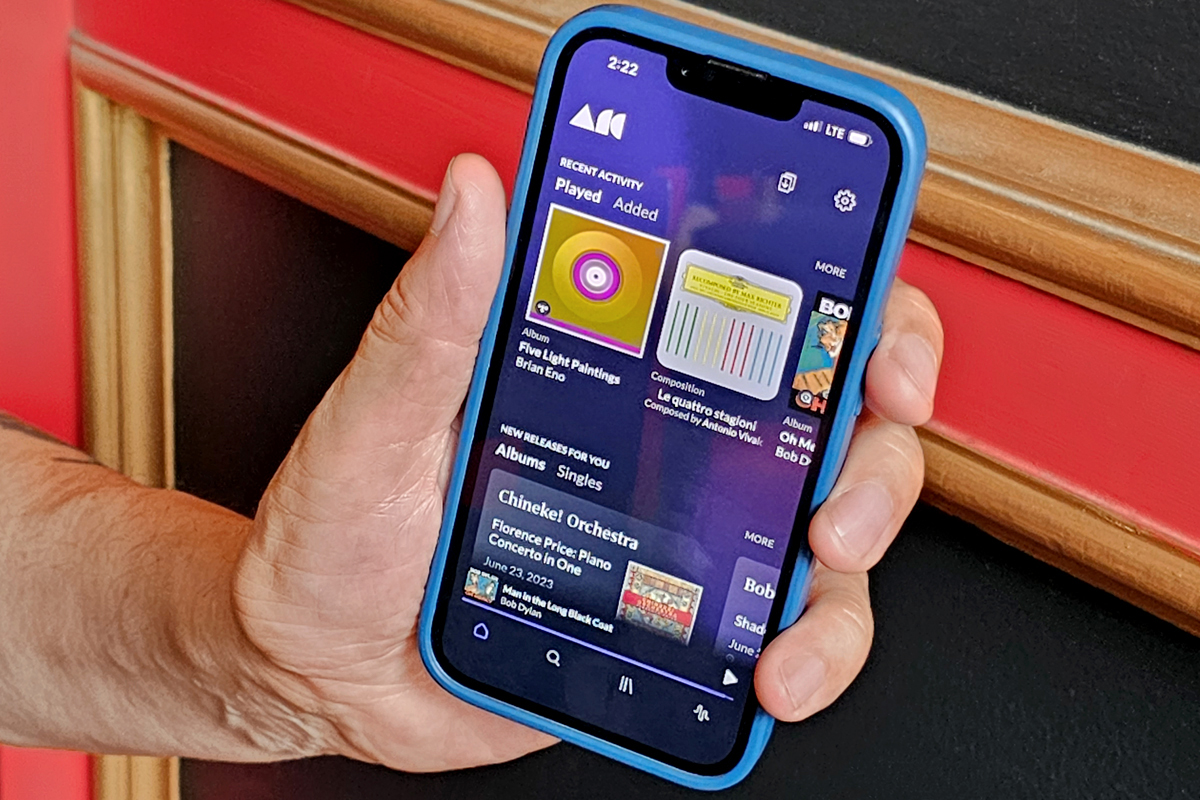 As many have observed, Roon isn't cheap—but I think it offers real value. Roon is flexible, intuitive, and robust. And it continues to grow in functionality—witness last year's launch of Roon ARC and this year's launch of Muse Precision Audio Control. For people who have a high-performance sound system that they use for file-based and streamed music, Roon is now even better value for money.
. . . Gordon Brockhouse
This email address is being protected from spambots. You need JavaScript enabled to view it.