Making predictions is a risky business. You can look like a genius if things work out the way you say they will, or a doofus if they don't. In my annual "State of Streaming" feature, which was published February 15 on Simplifi, I made four predictions: Spotify would finally launch its lossless music service; Apple would release its long-awaited classical-music app; Apple might introduce an enhanced version of AirPlay that supports hi-rez audio (and possibly spatial audio as well); and Tidal might make it easier for subscribers to listen to Atmos-encoded multichannel music. I was quite confident about the first two predictions, moderately confident about the third, and only mildly so for the last one.
There were some other developments I anticipated (e.g., Qobuz's entry into Canada) and others I did not (e.g., MQA Ltd.'s entry into receivership and Tidal's adoption of the FLAC format for hi-rez streaming). I'll have more to say about these stories at the end of this report.
But first, it's time for some scorekeeping. So far, I'm one-for-two. I'm definitely not a genius, but hopefully not a doofus. We're only one-third of the way through 2023, so things could change. It's a bit like the end of the first period in a hockey game (hey, I'm Canadian).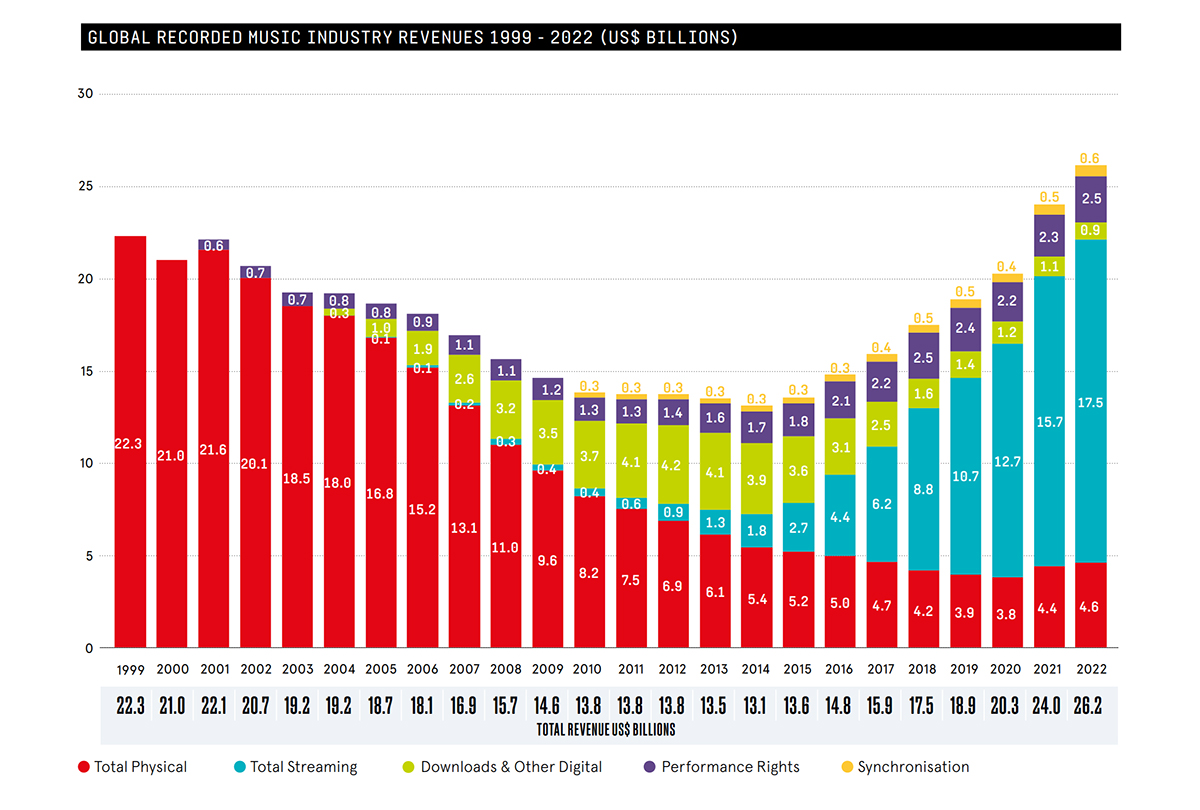 Before jumping into some first-intermission analysis, I want to briefly explain the purpose of these streaming updates. First, streaming is central to this corner of the SoundStage! empire. To quote the blurb on the SoundStage! Network portal, Simplifi is all about "convenient, lifestyle-oriented hi-fi." Second, streaming is how most people discover and experience recorded music nowadays.
In 2017, the year Simplifi started, worldwide revenues from streaming were $6.2 billion (all amounts in USD), according to the International Federation of the Phonographic Industry (IFPI). That year, streaming represented 39% of worldwide music-industry revenues, which totaled $15.9 billion.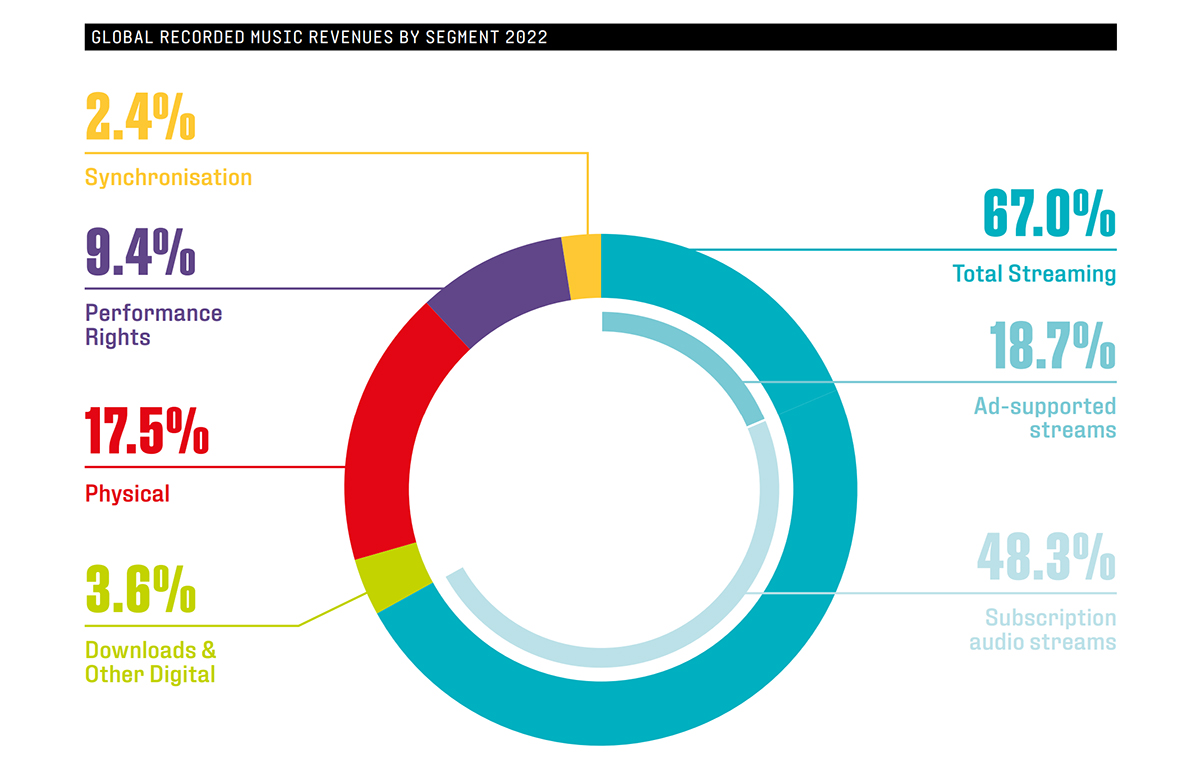 On March 21, IFPI released its Global Music Report for 2023. Worldwide music-industry revenues for 2022 were $26.2 billion, an all-time high and 9% greater than 2021 revenues. Revenues from streaming were $17.5 billion, representing over two-thirds of total revenues. Free ad-supported streaming accounted for 16.7% of total revenues, paid subscriptions for 47.3%.
Waiting on Spotify
With 660 million active users, China's QQ Music is the world's most popular streaming service. Spotify holds the number-two spot, with 500 million active users. But Spotify has more paid subscribers than any other service—205 million.
Ever since the service launched in 2011, Spotify has used lossy compression to encode and distribute music. But at its inaugural Stream On event in February 2021, Spotify announced plans for a new service offering lossless CD-resolution music. There was no mention of hi-rez audio. The new service would begin operation "later this year," promised Jeremy Erlich, Spotify's global co-head of music. More than two years later, the world is still waiting for Spotify HiFi.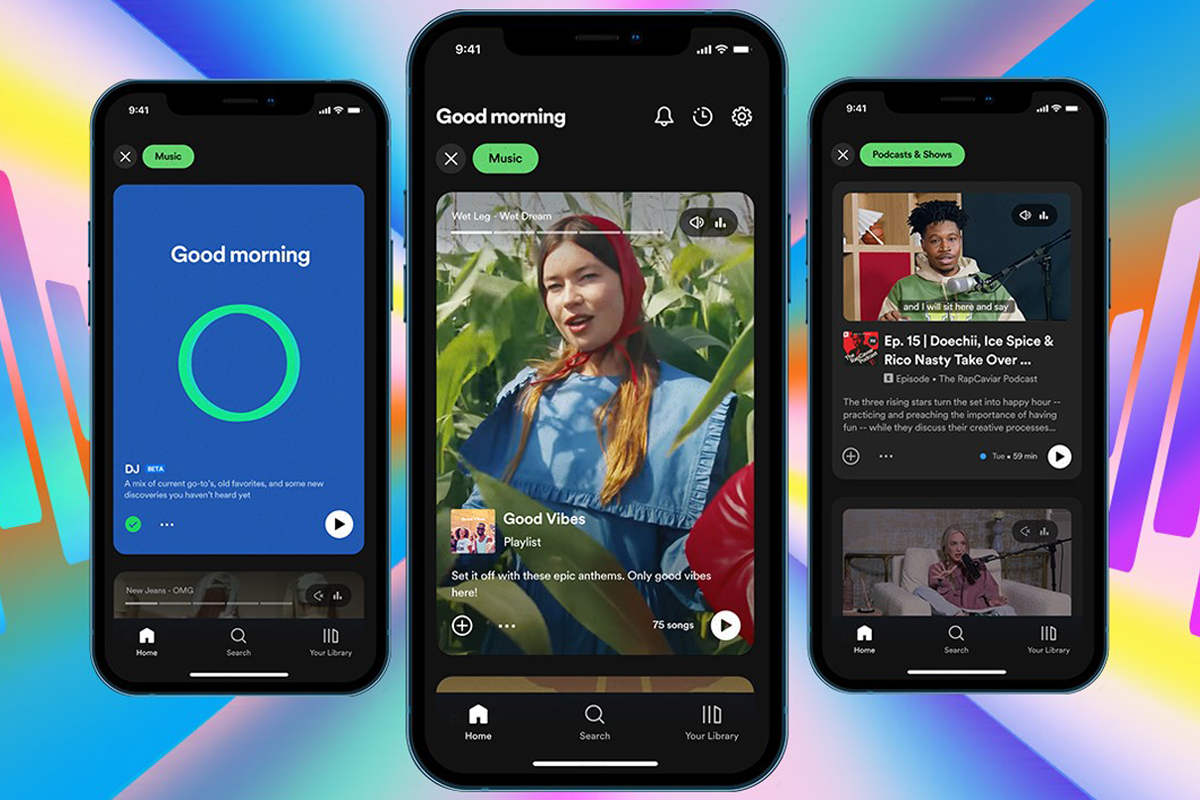 In January 2023, when Spotify announced that a second Stream On event would be held on March 8, I anticipated that the company would have something to say about its plans for lossless audio, and maybe hi-rez and spatial audio as well. I held this opinion even though the stated focus of the event was creators. "During Stream On, we'll share how Spotify is unlocking new possibilities for more creators than ever before so they can better connect with and build a truly global audience," Spotify's pitch stated. "We'll also share the latest developments and tools to help more creators chart their pathways to success, get discovered by new audiences, build an engaged community, and connect with fans worldwide."
I should have taken Spotify at its word because there was no mention of Spotify HiFi during the event. Spotify did announce tools that will create new revenue opportunities for musicians, such as the ability to sell concert tickets and merchandise from their profile pages. The company also announced several enhancements to the Spotify app. Users can now see previews of targeted music, podcasts, and audiobooks on Spotify Home. Artists can embed short video clips into their profile pages. Available to premium subscribers in the US and Canada, Spotify DJ will stream music targeted at the subscriber, with AI-driven commentary between songs.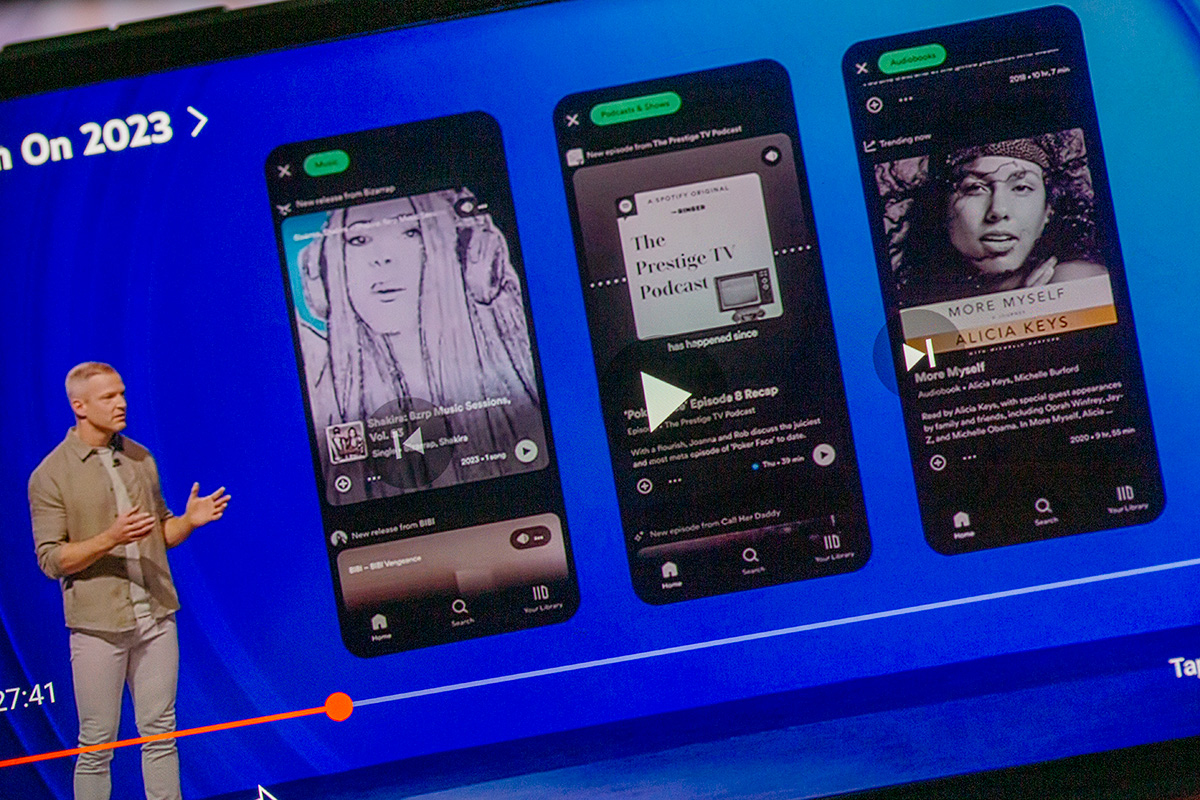 So lots of bells and whistles were announced at Stream On 2023, but no Spotify HiFi. That means I was oh-for-one as of March 8. Will Spotify ever launch its hi-fi tier? Or has Apple Music's aggressive pricing ($10.99 per month for a service where everything is available in lossless CD resolution, plus a generous selection of hi-rez and spatial audio tracks) led Spotify to give up on the idea?
Apple delivers the classics
With 88 million paid subscribers, Apple Music is a distant runner-up to Spotify, which brings me to my second prediction: that Apple Music would make good on the promise it made following its acquisition of Primephonic, which specializes in classical music. When Apple bought the Amsterdam-based service in September 2021, it said it would "launch a dedicated classical-music app next year combining Primephonic's classical user interface that fans have grown to love with more added features."
It took longer than Apple promised, but on March 9, Apple announced that it would shortly release the dedicated classical app; and on March 28, the Apple Music Classical app appeared in the App Store as a free download. So as of that date, I'm one-for-two on my predictions. Apple Music subscribers can use Apple Music Classical at no extra charge.
Initially, Apple Music Classical is available only for the iPhone and iPod touch running iOS 15.4 or later; an Android version is forthcoming. But there's no word of a native iPad version, macOS version, tvOS version, or Windows version. That's too bad, because as I'll discuss later in this piece, there are limitations to using it on the iPhone.
Soon after Apple Music Classical appeared on the App Store, I installed it on my brand-new iPhone 14 and spent many hours exploring the app and listening to music. I found a lot to like, along with some weirdnesses and limitations.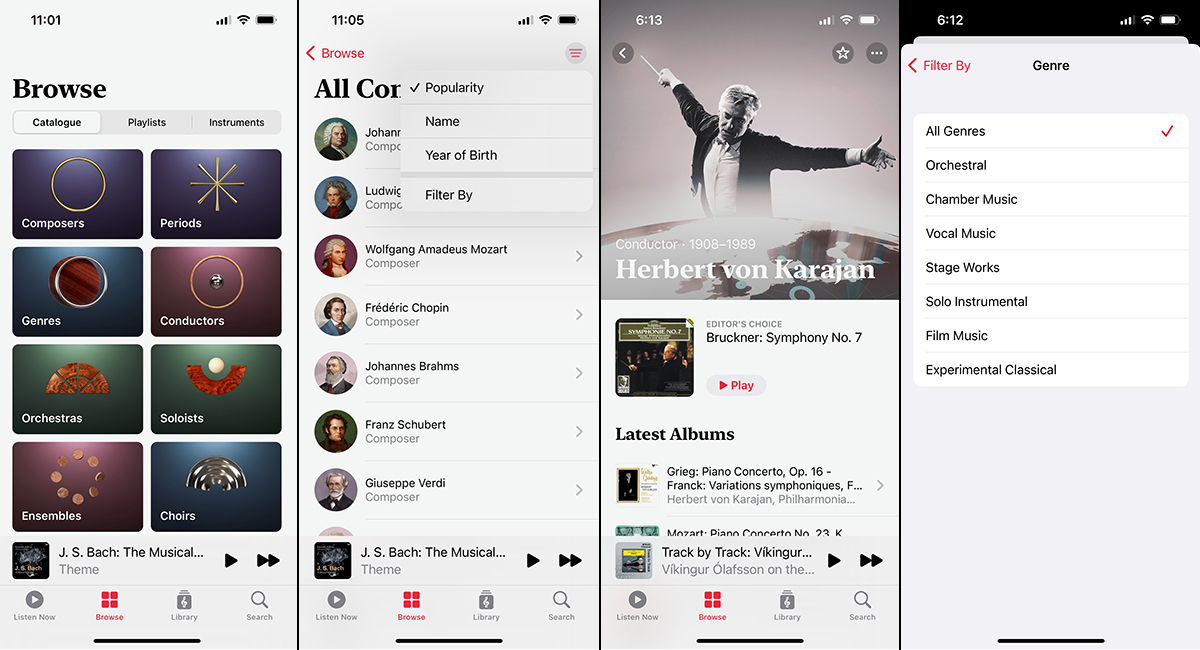 Powerful browsing capabilities: In the Browse view, you can explore music by composer, period, genre, conductor, orchestra, soloist, ensemble, and choir. Within each of these views, you can sort results by popularity, name, or year of birth (or year of formation in the case of an orchestra, choir, or ensemble). A fourth option—Filter By—lets you specify additional search parameters. With conductors, for example, you can specify a genre (e.g., orchestral or film music), period (e.g., baroque or classical), or instrument (e.g., piano or violin—useful if you're looking for a performance of a concerto). Bravo, Apple!
Weird search results: Now for some weirdness. I got inconsistent results whenever I used the search tool to look for something specific. For example, when I keyed in "Bach St John Passion," the app listed all of J.S. Bach's passiontide oratorios under works: not just the St. John Passion, but the more frequently performed St. Matthew Passion, and the more obscure St. Luke Passion and St. Mark Passion. If I used the original German title as my search term (Bach Johannes Passion), I got the same list of works. The list of albums was different for the two search terms. And if I sorted albums by release date, I saw recordings of the St. John Passion, but also recordings of the St. Matthew Passion and weird stuff that didn't belong at all, such as a compilation of piano music entitled Je ne comprends rien au classique ("I understand nothing about classical music").
As I've previously noted, delivering accurate and consistent metadata is critically important but enormously challenging with this genre. I had hoped that the custom music database that Primephonic had created would enable Apple Music Classical to deliver consistently reliable search results. Maybe it just can't be done. I don't think any of the other streaming services do this better than Apple Music Classical's app, and most do it worse.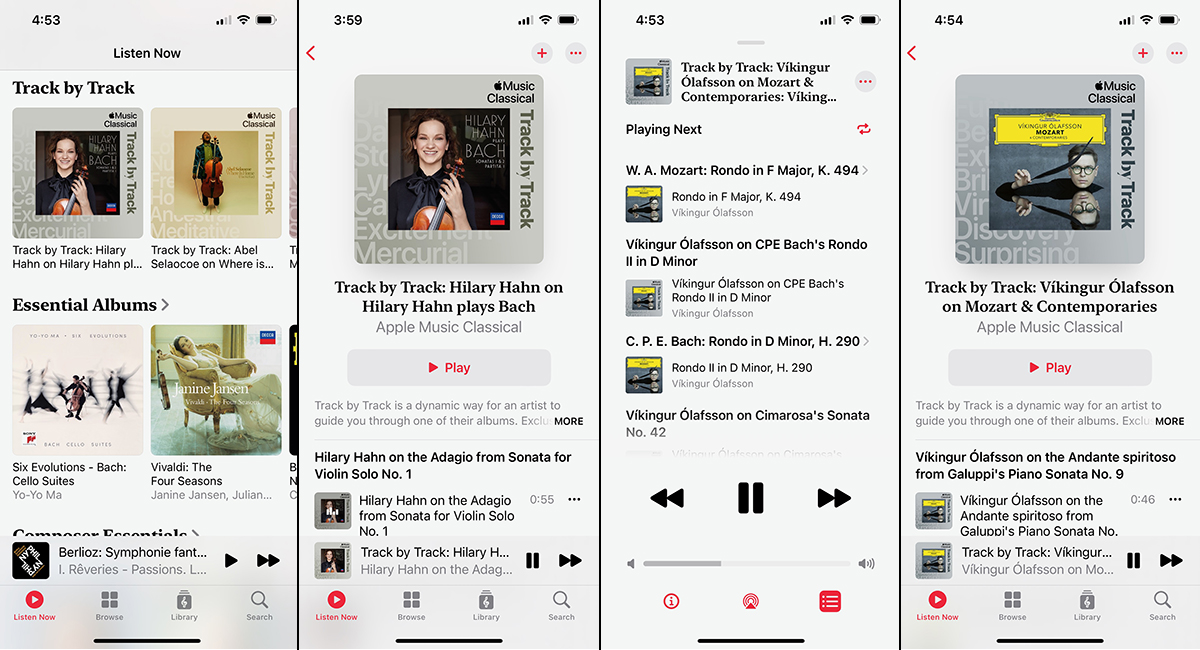 Exclusive content: Something I've enjoyed about the app is the editorial content that Apple provides. For example, it has a feature called Track by Track, where artists offer insights into the music they're playing. On one such commentary, violinist Hilary Hahn guides listeners through her recording of Bach's Sonata No. 1 and Partita No. 1 for solo violin. On another, pianist Víkingur Ólafsson gives track-by-track commentary on his album Mozart & Contemporaries.
Limited linking: One disappointment about the app is the inability to link to artist information from an album. With some streaming services, I can tap on the name of a soloist, conductor, or ensemble, and be taken to a page on that artist. Apple Music Classical doesn't have that capability. It's a weird omission.
Spacing out
Another thing I'm enjoying about Apple Music Classical is listening to spatial audio tracks. Soon after I got my new iPhone 14, I splurged on a set of second-generation Apple AirPods Pro noise-canceling earphones ($249). Something I find useful about the AirPods is their ability to switch automatically from stereo to spatial audio whenever you're streaming Dolby Atmos–encoded content from Apple Music. In the Control Center for iOS, you can toggle spatial audio on or off, making it easy to compare stereo and Atmos streams.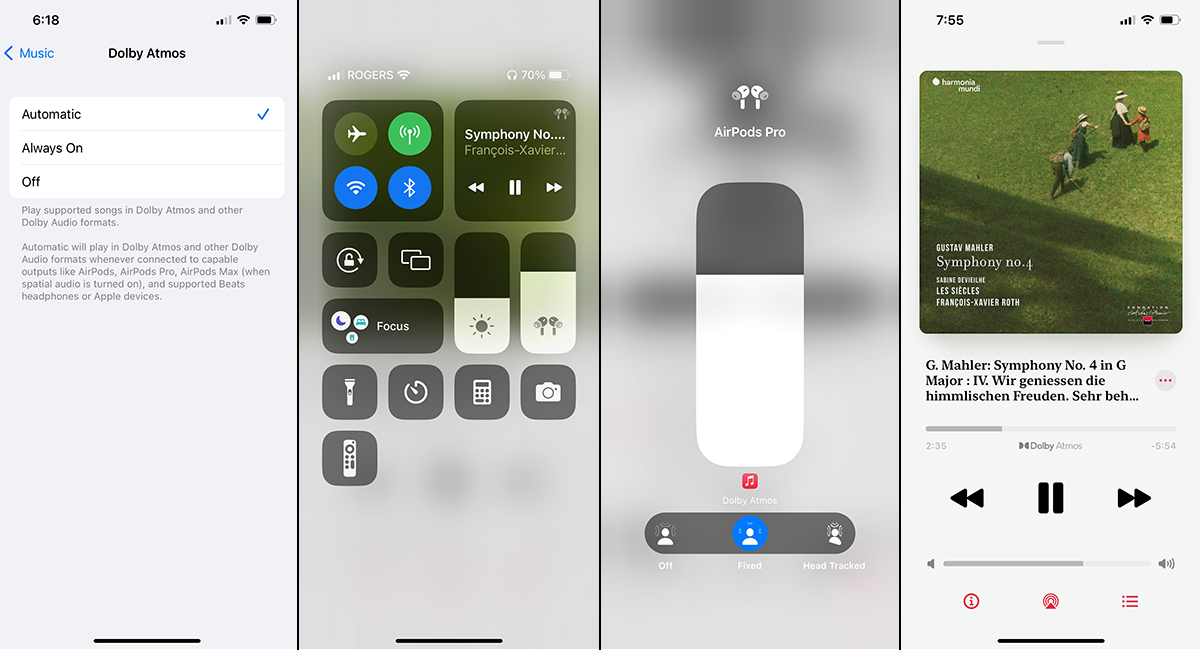 I have no way of knowing how many classical albums Apple Music offers with spatial audio, but it's a varied mix. Every period and genre is represented: orchestral, chamber, instrumental, opera, and vocal from the baroque era to the present day. There are lots of recent recordings, as well as some classic albums that have been remastered (for example Georg Solti's 1966 recording of Wagner's "Ring" cycle and Glenn Gould's 1955 and 1981 recordings of Bach's Goldberg Variations).
I've listened to a wide range of symphonic, instrumental, and vocal music on the AirPod Pro earphones, toggling between Atmos and stereo. Possibly because Apple uses the compressed Dolby Digital+ format to deliver spatial audio tracks, most of this music sounded harmonically richer in stereo, a little drier in Atmos. On a recording of J.S. Bach's keyboard music by Víkingur Ólafsson, piano tone was a tad harder on the Atmos stream, and the transitions from attack to sustain less nuanced. On a recording of Mahler's Symphony No. 4 by Les Siècles, conducted by François-Xavier Roth, string tone wasn't as warm as it was with the hi-rez stereo stream.
Nonetheless, I preferred the Atmos-encoded versions. With stereo, the sound seemed to originate just outside my left and right ears. With Atmos, it wrapped all around my head. With the Mahler symphony, the increased spatial resolution helped unravel orchestral strands so that I could hear more deeply into the score. With the Ólafsson recording, I could hear the decay of the piano into the concert hall more fully.
Listening out loud
What if you want to use Apple Music Classical to play spatial audio through a full-blown Atmos setup or an Atmos soundbar? Because the app is available only on mobile devices (iPhone now, Android to come), that's not possible. If Apple Music Classical were available for tvOS, you'd be able to run it on an Apple TV media adapter and play Dolby Atmos–encoded spatial audio tracks through a surround-sound setup. You can play those tracks using the standard Apple Music app on an Apple TV, but as I mentioned, the classical-music app has a much better search capability and more complete metadata.
The situation is even more complicated with hi-rez audio. You can connect a micro-DAC like an AudioQuest DragonFly to an iPhone and then listen to hi-rez audio through hardwired headphones. But if you're using Bluetooth earphones, you'll hear a compressed stream.
If you want to listen out loud, you can use AirPlay to stream music from an iPhone to an AirPlay-capable component, but you won't be hearing hi-rez audio. For audio, AirPlay maxes out at CD resolution—16-bit, 44.1kHz. But i-devices convert lossless and hi-rez audio to 256kbps AAC when streaming music via AirPlay. There is a workaround for sending lossless (but not hi-rez) audio from a Mac to an AirPlay device. That's fine if you're using the Apple Music app on a Mac. But there's no macOS version of Apple Music Classical.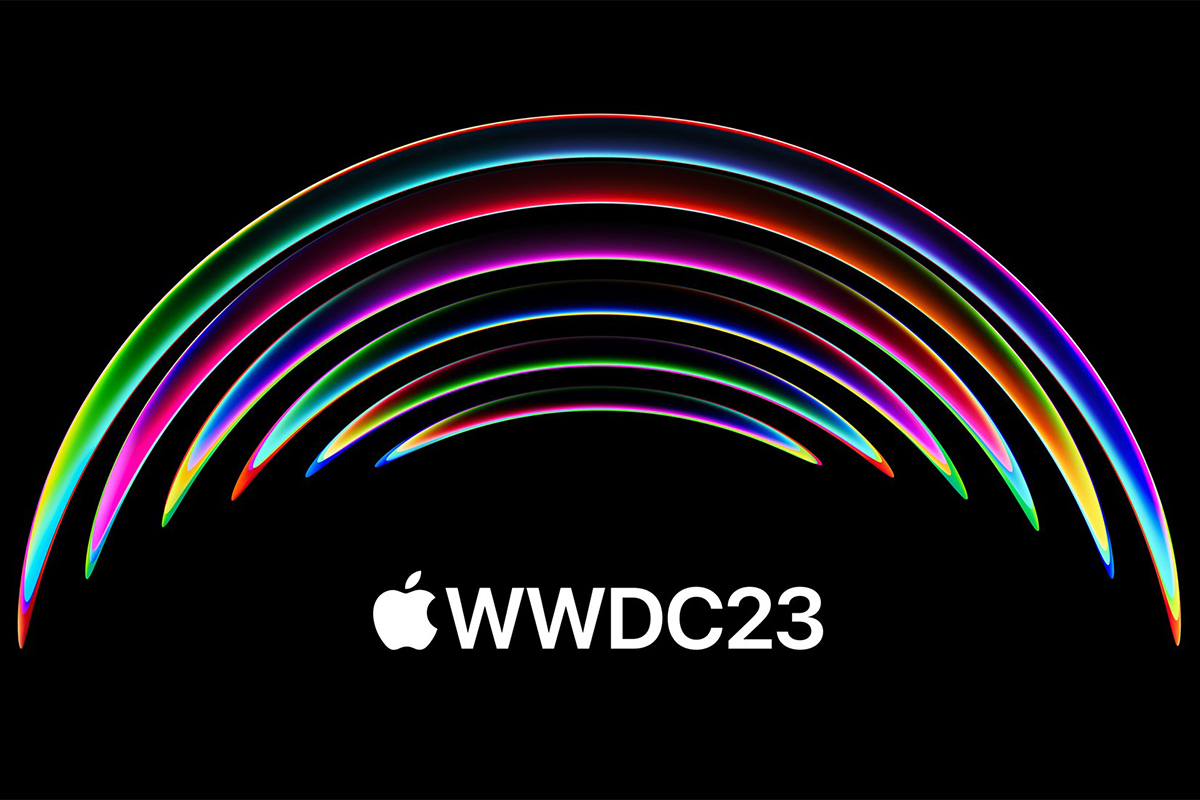 Which brings me to my third prediction: that Apple might introduce a new version of AirPlay that supports hi-rez audio. Listeners with Atmos-capable music systems would also welcome a new version of AirPlay that could carry Dolby Digital+ audio, which is probably a bigger ask. Alternatively, could Apple allow third-party companies to use ultra-wideband technology to hand off playback from an i-device to a UWB-capable Atmos system? You can do this with Apple's second-generation HomePod smart speaker ($299 each); so why not to third-party components?
Apple's annual Worldwide Developer Conference, which will be held June 5 to 9, would be an appropriate occasion for these kinds of announcements. Might we hear something about this at WWDC, I asked rhetorically in my "State of Streaming" feature. "I wouldn't bet more than a dime on this," I wrote, "but I wouldn't be surprised if it happened." If it does, that'll raise my prediction store to two-for-three—not quite genius territory, but certainly well above doofus. If not, my prediction score will fall to one-for-three, dangerously close to doofus territory.
Other developments
There have been some other developments since my "State of Streaming" feature was published: the launch of a new service that specializes in classical and jazz, the entry of my favorite streaming service into Canada, and a change in the status of MQA Ltd.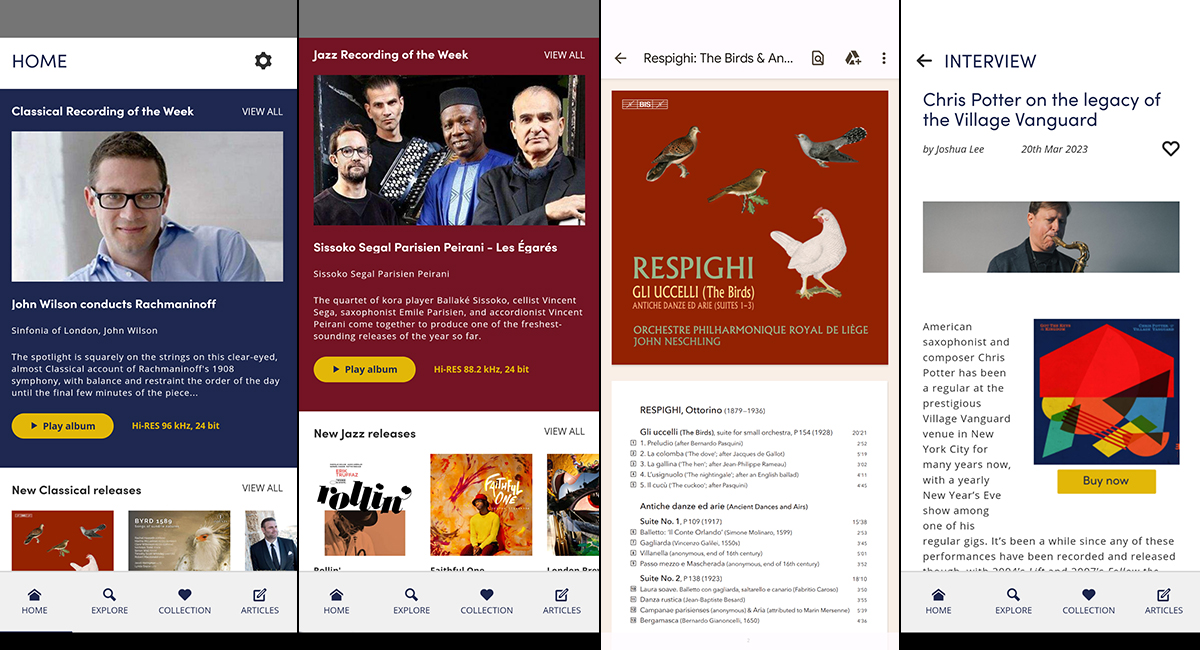 On March 6, Presto Music, a UK-based e-tailer specializing in jazz and classical music, announced a new streaming service with a catalog of 200,000 albums, all of which are available in lossless CD resolution, and some in hi-rez—up to 24/192. In the US, a subscription costs $10 per month.
I haven't had time to do a deep dive into the service, but I've found some things I like, and some things I don't. Presto has some appealing editorial content, such as artist interviews, roundups of new releases, and lists of editorial recordings. Another welcome feature: the ability to view liner notes, if they're made available by the record label. The home page presents new classical and jazz releases, and new articles on classical music and jazz. If you're looking for a quick musical fix, but have nothing particular in mind, this is really useful. I like this aspect of Presto Music better than Apple Music's Listen Now page. On the other hand, Presto's search tools are nowhere as comprehensive as Apple Music Classical.
Presto Music has apps for iOS and Android. For headphone listening, these should work just fine. But for out-loud listening, they're somewhat limited. The iOS version supports AirPlay, so iPhone users can stream audio to other AirPlay devices on their home network. But the app doesn't support Chromecast, so other than Bluetooth, there's no way for Android users to stream music to other devices. You can play music from a browser on a PC or Mac, but the stream will be resampled to match the resolution set by the computer's operating system. Not a deal-breaker, but something purists might want to consider.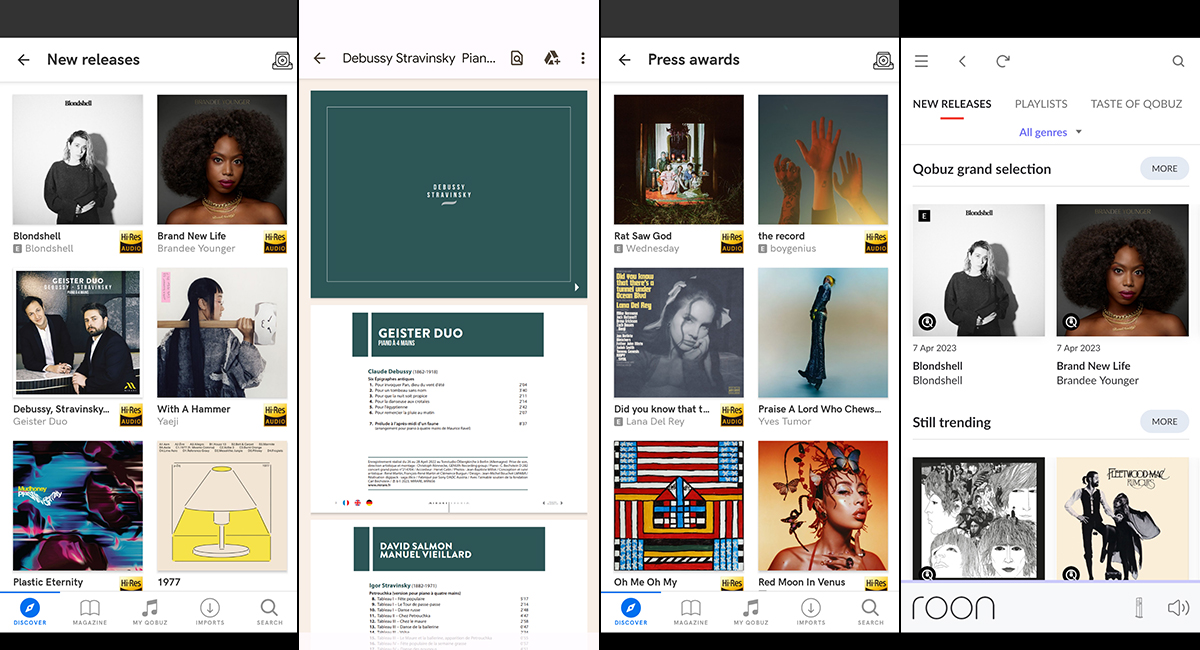 On February 17, two days after my "State of Streaming" feature was published, Qobuz announced that it would soon launch service in Canada. Qobuz, which is based in France, said it would integrate the catalog of the Québecois streaming service QUB Musique into its Canadian offering. The service went live in Canada on April 19.
The entry of Qobuz into Canada is great news for digital audiophiles in my country. Qobuz has a huge catalog of lossless and hi-rez music, with a maximum resolution of 24/192. The Qobuz app, available for iOS, Android, macOS, and Windows, is excellent—feature-rich yet easy to navigate. I can always find new music I want to hear on the app's Discover page. One feature I really appreciate is the ability to view liner notes. To my knowledge, Presto Music is the only other service with that feature. I also like the ability to see releases that have received press awards. Most important, Qobuz is one of two services integrated into Roon, which is my go-to music app for at-home listening.
The other service integrated into Roon is of course Tidal, which uses the controversial MQA format to deliver hi-rez audio. Just before Easter, news broke that MQA Ltd. had begun a restructuring process. MQA's main financial backer "is seeking an exit," the company said. The restructuring process, which is similar to Chapter 11 of the US Bankruptcy Code, is intended to facilitate the sale of the company, MQA explained. Just after Easter, word came out that Tidal now plans to deliver hi-rez audio in the standard FLAC format, just as Amazon, Presto, and Qobuz do. MQA has developed a codec called MQAir SL6, which they say can deliver hi-rez audio over Bluetooth, UWB, and Wi-Fi connections, and that this codec has attracted investor interest. Will that be enough to save the company? Will MQA remain in use as a streaming format? Time will tell.
So there's a lot happening with music streaming. I wouldn't be at all surprised if I have to write yet another update later this year.
. . . Gordon Brockhouse
This email address is being protected from spambots. You need JavaScript enabled to view it.