One of the occupational hazards of writing for an audiophile website is a condition photography enthusiasts call GAS—Gear Acquisition Syndrome. After hearing about a new lens (or amplifier), you decide you really, really need this new toy, even though the gear you already own is more than adequate for your needs. During my adult life, I've experienced GAS hundreds—maybe thousands—of times, and succumbed to it more often than I care to admit.
It can happen while conducting a review. If a component under test does some things better than my reference gear, and it's not priced too far beyond my means, I'll start dreaming about acquiring it, even if the component doesn't do everything better than the stuff I already own. Sometimes I can't stop obsessing about the new toy, despite the fact that my current gear is a better fit for me, overall. Thankfully, I've been at this game long enough to resist scratching those itches—most of the time.
Catching the bug
Over the last 18 months, I've been experiencing a case of GAS that I haven't been able to shake. The mania took hold early in 2021 while I was reviewing PSB's Alpha AM3 powered loudspeakers ($449/pair, all prices in USD unless noted otherwise), and intensified when I reviewed Sony's SA-Z1 active nearfield monitors ($7999.99/pair) a few months later.
I conducted both reviews with the speakers placed on IsoAcoustics ISO-155 desktop speaker stands on the top shelf of the secretary desk in my second-floor home office. During both reviews, I discovered how much I enjoyed having music in the room where I work (and where I also spend a good chunk of my free time). I can't have music playing when I'm on a focused task, like writing a review or feature article. But if I'm doing routine office work—filing receipts, answering emails, or paying bills—it's nice to have some music in the background.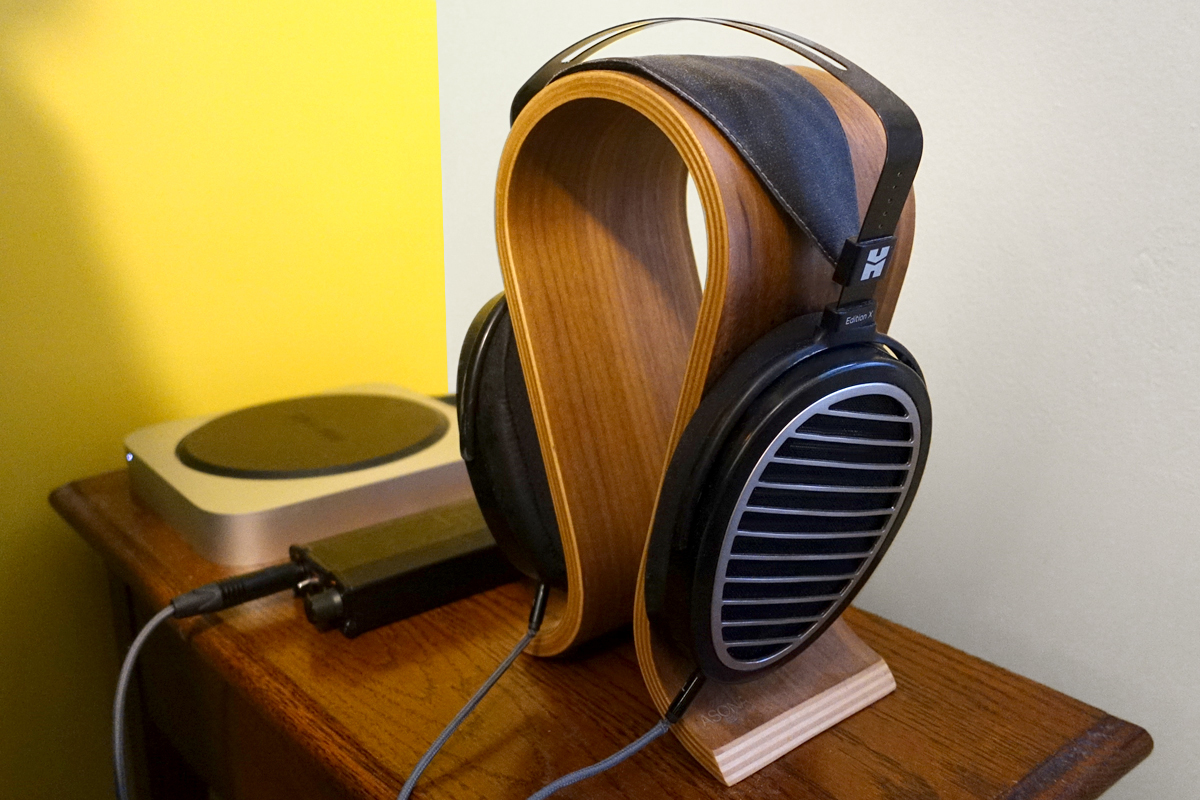 Of course, I could listen through headphones, because my headphone rig—HiFiMan Edition X V2 planar-magnetic cans and iFi Audio Micro iDSD Black Label DAC-headphone amp—lives on the top shelf of a small table next to my desk. The same table holds the Apple Mac Mini that I use to run Roon Core 1.8 music-management software, and the LaCie 2big Thunderbolt RAID system where I store my digital music library.
If I'm sitting in one place—on my office chair or the convertible sofa bed against the adjacent wall—headphone listening is an option. But if I'm moving around to sort papers or print documents, it isn't. Hence my wish for a desktop audio setup that would let me enjoy out-loud music in my home office.
Recently, my wish was granted—at least temporarily. I want to describe how this came about, because the story illustrates the possibilities offered by Simplifi'd hi-fi for music lovers without the space for a conventional component system.
Laying the foundation
It all started in early January of this year. The Mac Mini I'd been using as a music server for over a decade was beginning to show its age. Occasionally, music streamed to my main stereo rig in our living room would stutter or stop altogether. Believing my 11-year-old Mac Mini might be the cause of that problem, I ventured up the street to a local Apple dealer and emerged with a brand-new model.
As it turned out, my old Mac wasn't responsible for the stuttering; but even so, it was time for an upgrade. The old machine could not run the latest version of macOS, so sometime in the not-too-distant future, software incompatibilities would start to be a problem. The new Mac Mini has an Apple M1 processor, 8GB of memory, 256GB of SSD storage, an HDMI port, two USB Type-A ports, and two Thunderbolt 4 ports.
The Thunderbolt ports led to another upgrade. I'd been using a 21″ Samsung monitor with my old Mac Mini. That monitor was too big for the space on the top of my secretary, so it sat awkwardly next to the Mac Mini on the side table off to the right.
I started looking for a smaller screen and discovered a product category that was new to me: portable monitors that get power and video via a single USB-C/Thunderbolt cable. After reading a few reviews, I pulled the trigger on a Lenovo ThinkVision M14 14″ flat-screen monitor ($249). The M14 fits perfectly on the top shelf of my desk with plenty of space to the wall-mounted bookcase above it. And it gets power and video over the 2m Thunderbolt cable that connects it to my new Mac Mini, reducing the rat's nest of wires below and beside my desk. Most of the time, I run Roon full-screen on the M14.
My old Mac Mini and the Samsung monitor still have some life in them. They've gone to one of my wife's grandkids, who is using them for school projects and Zoom classes.
Scratching the itch
Now it was time to think about sound, and the solution was sitting in my basement. I had recently unpacked my review samples of Q Acoustics' Q Active 200 loudspeakers ($1499/pair) so that I could use them as a comparison product in my review of Mission's LX Connect active speakers and hub ($1699.99). A light bulb went on—the Qs looked like they'd fit perfectly on top of my secretary. So I trundled them up to my office, set them up on my secretary, and paired them wirelessly to the companion Q Active Hub.
The Q Active speakers have no hardwired audio inputs, which might make them an odd choice for a desktop system. Most speakers intended for desktop audio have physical inputs; typically, a combination of line-level audio, S/PDIF (coaxial and/or optical), and USB. With the PSB and Sony speakers I reviewed in early 2021, I could just run a USB cable from my Mac Mini to the primary speaker and I'd be all set.
With the Q Actives, all inputs are on the Hub, which transmits 24-bit/96kHz digital audio to the two speakers. The Q Active Hub does not have a USB port, but does have HDMI eARC, TosLink, and analog inputs. The analog inputs are switchable between line-level and moving-magnet (MM) phono operation via a small toggle switch.
Theoretically, I could have run a 3.5mm stereo/dual RCA cable from my Mini's headphone jack to the Hub's RCA analog inputs. But that would not be ideal—I'd be using the Mac's DAC and audio output circuitry, which is far from audiophile grade—and the signal would be going through extra digital-to-analog and analog-to-digital conversions.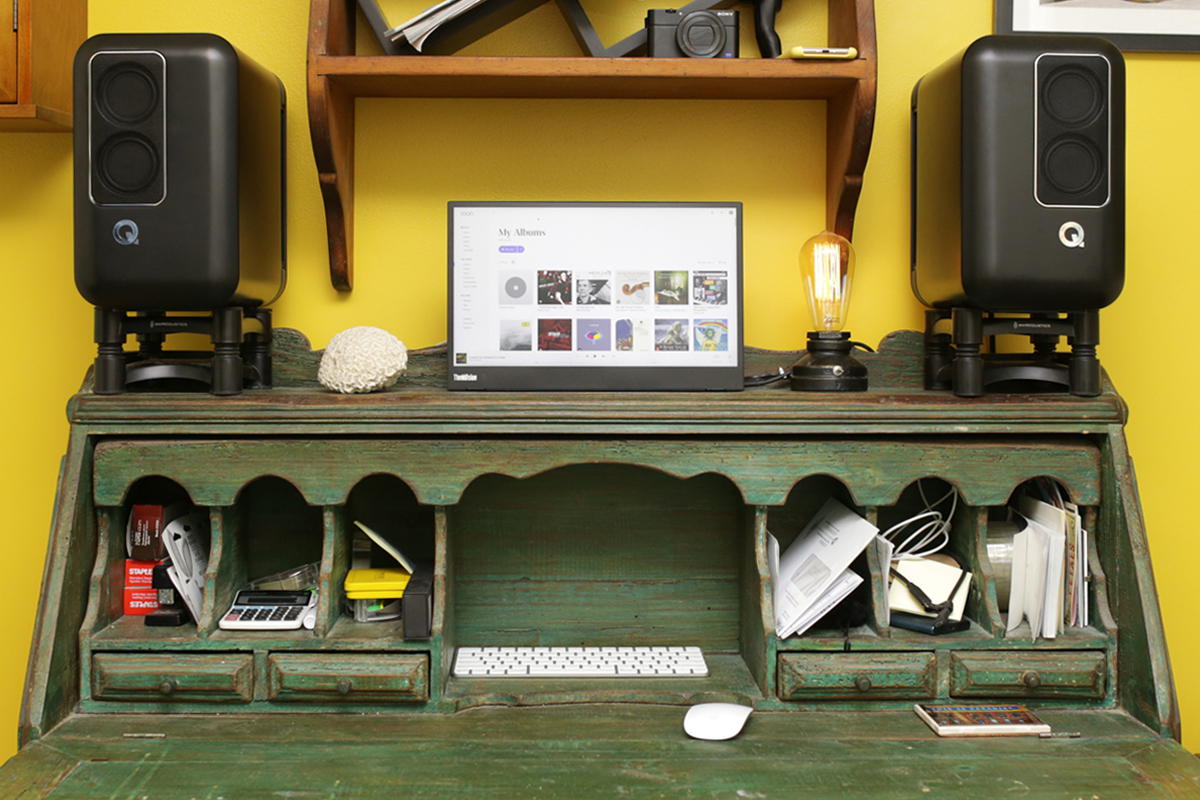 It made more sense to send audio to the Q Active Hub via Wi-Fi. The Q Active system is Roon Ready, and also supports Apple AirPlay 2, Chromecast, Spotify Connect, and UPnP/DLNA. Using Roon, I can stream music to the Qs from my music library and from Qobuz. If I want to watch a YouTube video on the little Lenovo screen, I can stream audio to the Qs via AirPlay. For listening to digital audio in my home office, the Q Actives do everything I could ask of them.
I love the setup. In my review, I raved about the Q Actives' midrange clarity, coherence, soundstaging, and consistent on- and off-axis timbral balance. I also noted their tendency to sound compressed and congested at high volumes. The virtues I cited in my review are all apparent in my desktop setup. And given the small size of my home office, the Qs aren't challenged dynamically, so I don't notice the congestion and compression I sometimes heard when they were set up in my main-floor living room.
With their balanced-mode radiators hidden behind mesh grilles in the molded enclosures, the Qs have a funky look that really suits my room. Between the left-channel Q and the M14 monitor is a piece of fossilized brain coral I found on a Barbadian beach 37 years ago. Between the right-channel Q and the screen is a small Edison lamp. Both objects are symbols of the intense cogitation that goes on in this space.
Spinning
For digital playback, what the Q Active system does isn't all that different from what I'd have been able to achieve with a desktop system like the PSB Alpha AM3, Sony SA-Z1, or a host of other nearfield speakers. Another option would have been to connect a DAC to the Mac Mini, and connect the DAC to a set of active studio monitors like HEDD's Type 05 MK2 ($999 each) or Focal's Shape 65 ($999 each).
But the Q Active 200's wireless capability presented another intriguing possibility: spinning vinyl. A year ago, I bought a Pro-Ject Audio Systems Debut Carbon Evo turntable ($799 CAD with Ortofon 2M Red cartridge) so that I could evaluate the phono stages of products like the Q Active 200. Until then, I'd been borrowing a Pro-Ject Debut Carbon 'table from my wife's sister and her husband, who live a few blocks away, when I needed to spin some vinyl for a review; but COVID-19 made that impractical.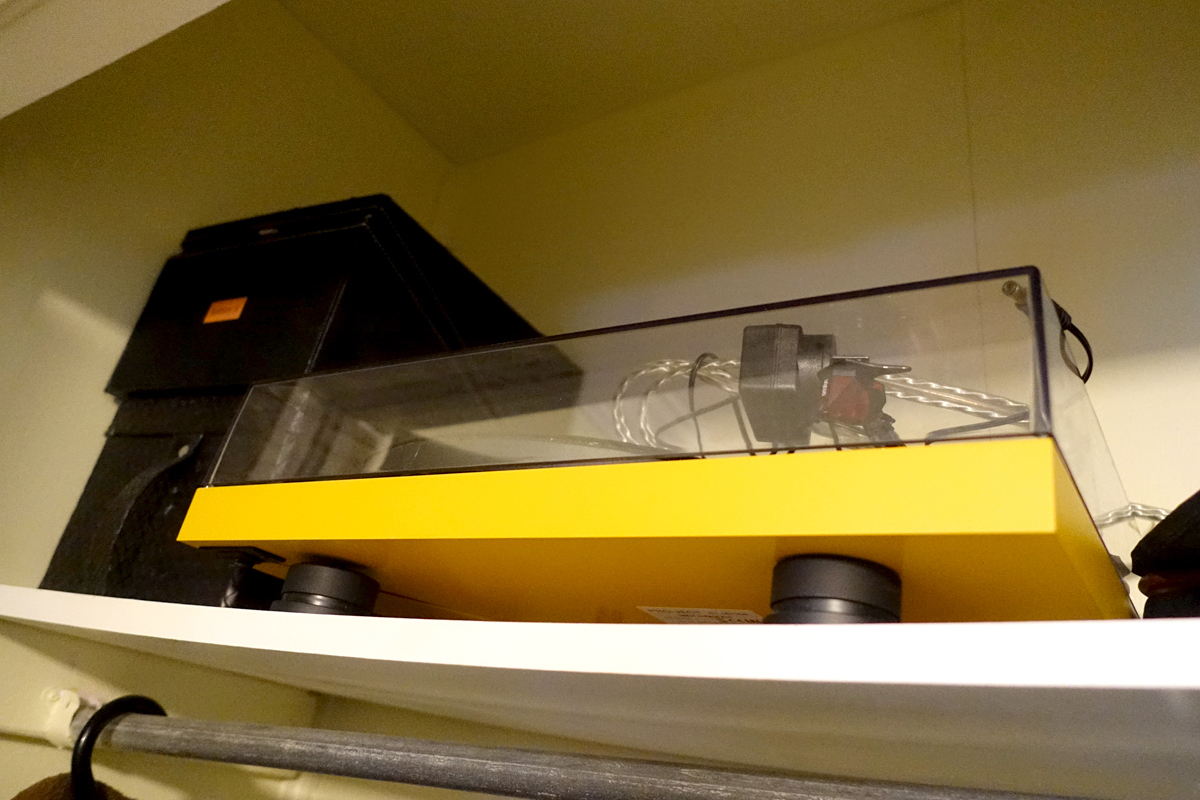 Most of the time, my yellow Pro-Ject 'table lived on a top shelf in my clothes closet. I'd haul it down whenever I needed it for a review, then stow it away when I was finished. But the Q Active setup gave me an opportunity to put the Debut Carbon Evo to full-time use.
I bought a Kilby frame end table from Wayfair Canada ($125 CAD) and placed it next to the pull-out sofa. With the Debut Carbon Evo on the top shelf and the Hub on the second shelf, I switched the Hub's analog input to MM, connected the 'table, and placed a few LPs on the bottom shelf. In moments, I was playing vinyl through the Qs.
I'll be honest: I'm not really an analog guy. Over on SoundStage! Hi-Fi, Jason Thorpe has written about the pleasure he derives from spinning LPs, and I completely get that. While I still love the convenience and accessibility of streaming and file-based playback, I've been enjoying the ritual of analog playback.
I'm also rediscovering the joy of collecting. I'll never have a big vinyl collection—there's not enough space in our small urban rowhouse for that. But I like having a physical object connected to an artist whose music I love, even if I'm streaming that artist's music most of the time. I'm going to make it a point to budget for a couple of LPs a month so I can keep those mementos on my shelf.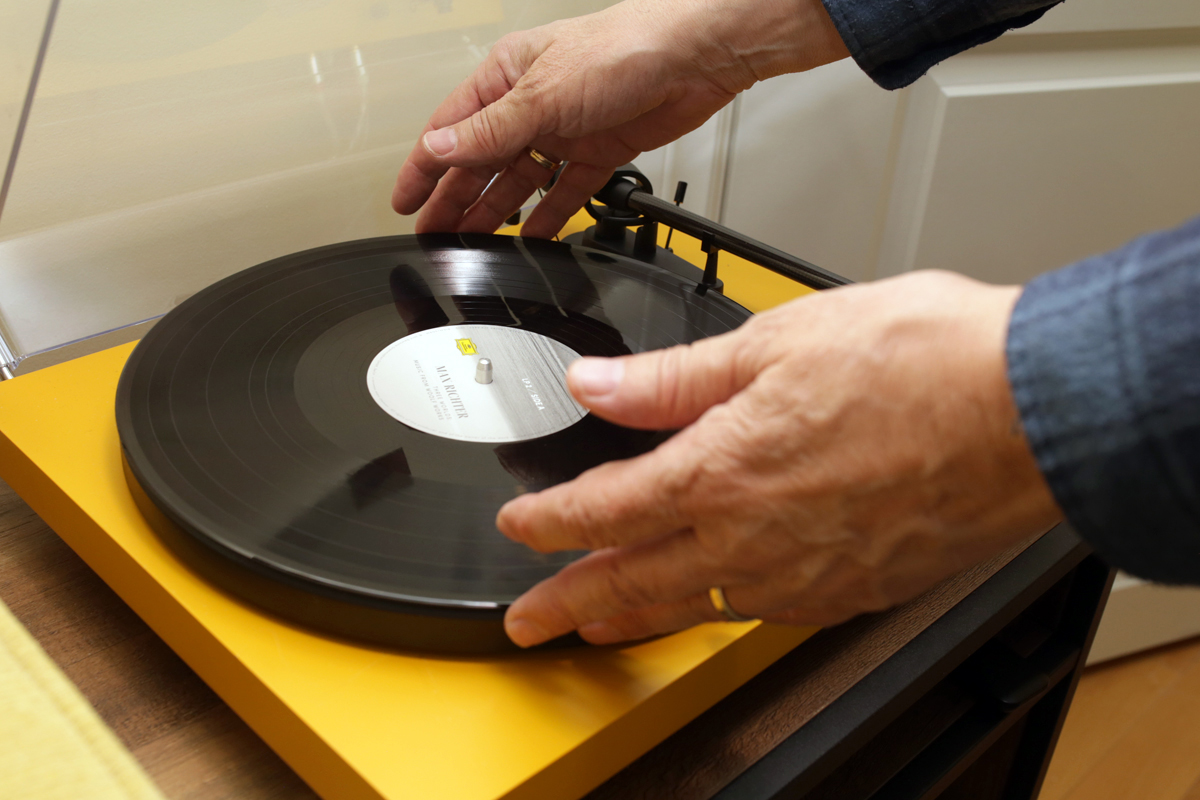 At some point, the Q Active 200 review samples will have to go back to their rightful owner. In the meantime, I'm really enjoying this little system. Q Acoustics recently dropped the price for the Q Active 200 from $1999 to $1499. At its new price, I think it's a screaming bargain.
Possibilities
In previous articles, I've discussed the benefits of active speakers: value for money, tight integration between amplifiers and drivers, and the use of DSP to counteract driver non-linearity and room acoustic problems.
This story illustrates another benefit of Simplifi'd hi-fi. As I've noted, there are many products that I could have used for digital music playback in my home office. But with its wireless hub, the Q Active 200 system let me take my Pro-Ject 'table out of the closet and add analog to the mix. Given the layout of my home office, this would have not been possible with regular component hi-fi.
Today's hi-fi market presents possibilities that go beyond component hi-fi. Buyers can choose from many different configurations, including active speakers that work with wireless hubs, like the Q Active 200, or active speakers with built-in networking and streaming, like KEF's LS50 Wireless II ($2799.99/pair). These products make it possible to get serious hi-fi in spaces where conventional component systems won't work.
I'd like to close with an invitation. Have you been able to use a non-traditional system to get hi-fi into a room where regular components won't fit? Or do you have a space where you'd like music, but haven't been able to figure out a way to make this happen? Click the link below, and send me an email describing your application, and if possible, attach some pictures. I'll discuss your responses in a future article.
. . . Gordon Brockhouse
This email address is being protected from spambots. You need JavaScript enabled to view it.