I'm old enough to remember a time, in the 1970s and '80s, when component hi-fi was a mainstream thing. It seemed everyone either owned or planned to soon buy a stereo system.
But people who bought decent gear didn't necessarily get decent sound. I recall visiting friends who'd brought home new systems, and placed one speaker on the floor behind a houseplant, the other high up on a bookshelf in the opposite corner. Forget about stereo imaging and timbral consistency.
If I, or any other audiophile, recommended a more optimal system layout, these friends would pooh-pooh the idea. If the speakers were placed where they sounded best, that would disrupt the room layout, they said. My friends seemed happy to settle for much less than second best.
In the decades since, hi-fi has gone in and out of fashion several times, and for a long time now has been a niche pursuit. But I think serious audio is about to re-enter the mainstream—and maybe this time around, more listeners will take better advantage of their systems' capabilities.
Stream on
These ideas came to me after a conversation with SoundStage! head honcho Doug Schneider in early April about Simplifi's evolution since its debut on New Years' Day, 2017. Doug was commenting on the volume of new products we're seeing with built-in networking and streaming—products that meet head-on Simplifi's mandate to cover "convenient, lifestyle-oriented hi-fi."

Some of these are all-in-one streaming DAC-amplifiers, such as Cambridge Audio's gorgeous Evo 75 ($2250) and Evo 150 ($3000), both announced on April 7. (All prices USD except as noted.) Employing Hypex NCore class-D amplifiers respectively specified at 75 and 150Wpc, both models have built-in Wi-Fi and 6.8″ front-panel screens that display program metadata and album art. Both are Roon Ready, and support Apple AirPlay 2, Chromecast, Spotify Connect, and Tidal Connect. And both work with Cambridge's Stream Magic app, which provides support for additional streaming services, including Qobuz.
The Evos 75 and 150 also have connectivity for other components. Both have coaxial and TosLink S/PDIF inputs, analog inputs (RCA), and HDMI-ARC connectivity. The Evo 150 adds a moving-magnet phono stage, USB DAC, and balanced line-level inputs (XLR). I hope to soon review one of the new Evos for Simplifi.
In the past few years, the SoundStage! Network has published reviews of several great streaming DAC-amplifiers, all with capabilities and cosmetic appeal comparable to the new Evos. These include the Lyngdorf Audio TDAI-3400 ($6499), the NAD Masters M10 ($2749) and NAD Masters M33 ($4999), and the Naim Audio Uniti Atom ($3290).
I know of several other brands with imminent plans for similar products. This exploding category is one of the most exciting in audio. Just connect the amp to your home network, add your choice of passive speakers, cue up the music you want on your smartphone, and enjoy.
Plug and play
A category I find even more exciting is active speakers with built-in networking and streaming. The poster child for this category is the KEF LS50 Wireless. Last fall, KEF announced the LS50 Wireless II ($2499.99/pair), which has one of KEF's Uni-Q driver assemblies, this one comprising a 5.25″ aluminum-cone woofer powered by a 280W class-D amplifier, and a coaxially mounted 1″ aluminum-dome tweeter powered by a 100W class-AB amp.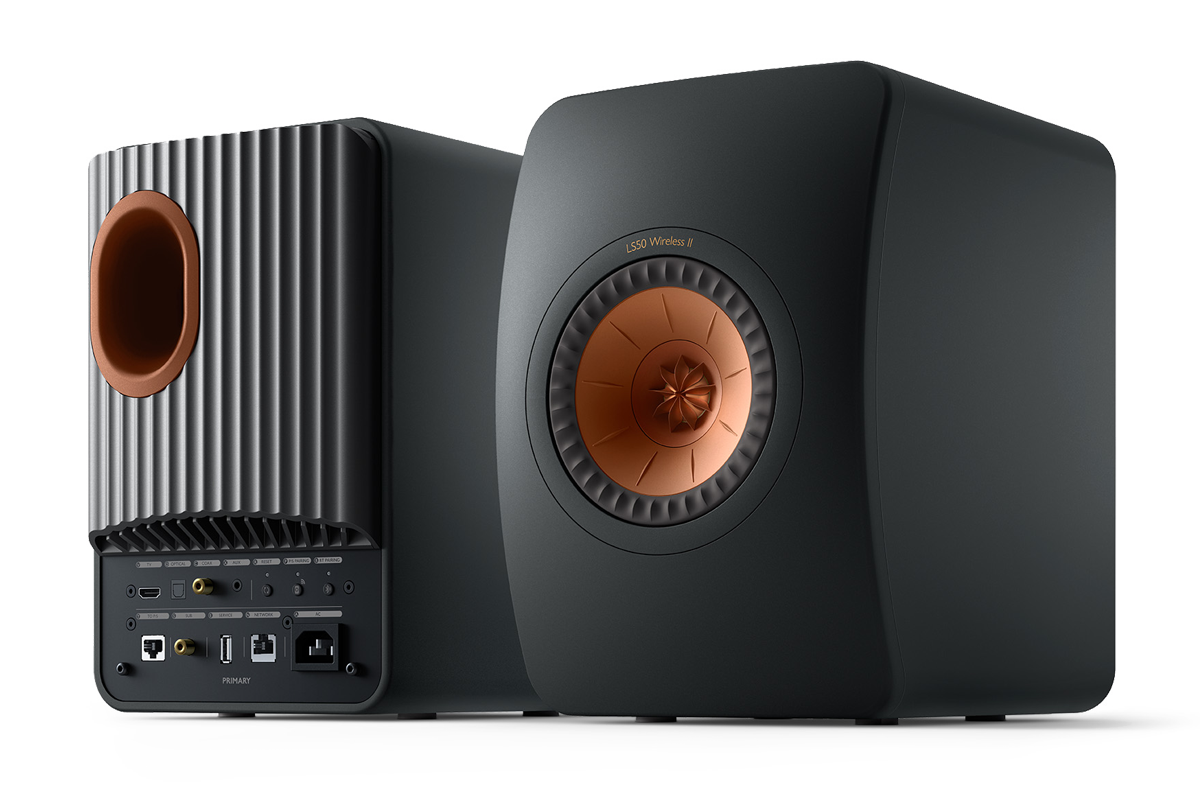 The II's biggest advance over the original LS50 Wireless is its new tweeter. Like the passive LS50 Meta ($1499.99/pair), the LS50 Wireless II features KEF's Metamaterial Absorption Technology (MAT). A 3″ MAT disc at the rear of the tweeter contains 30 tubes, of varying sizes and shapes, that absorb the driver's rearward energy to keep it from being reflected by the enclosure's interior surfaces and thus interfering with the tweeter's frontward radiation.
There are also improvements in usability and connectivity. As with the smaller KEF LSX active speakers ($1249.99/pair), the primary and secondary speakers can be linked wirelessly; the originals required a wired connection between the two speakers. Moreover, the LS50 Wireless II's wireless link can transmit up to 24-bit/96kHz audio, whereas the LSX is limited to 24/48 audio. The original version supported AirPlay 2 and Spotify Connect; the second-generation model adds Chromecast Built-in and is Roon Ready. Simplifi will have a full review of the LS50 Wireless II on July 15.
Of all the products I've reviewed for Simplifi, one of my favorites is the Bowers & Wilkins Formation Duo active speaker ($3999.98/pair), a visually striking two-way model with the tweeter-on-top design of some of B&W's flagship passive models. The Formation Duo employs a 6.5″ Continuum composite-cone midrange-woofer and 1″ carbon-dome tweeter, each powered by a 125W class-D amp. I loved the Formation Duos' sound and simplicity of setup.
One concern I had was B&W's minimalist Home app. In addition to initial setup, the app is used for basic adjustments such as bass and treble, and grouping Formation products for multizone playback. All Formation products support AirPlay and Spotify Connect, and are Roon Ready. But the original Home app didn't provide a way of controlling playback of locally stored music, or music from streaming services.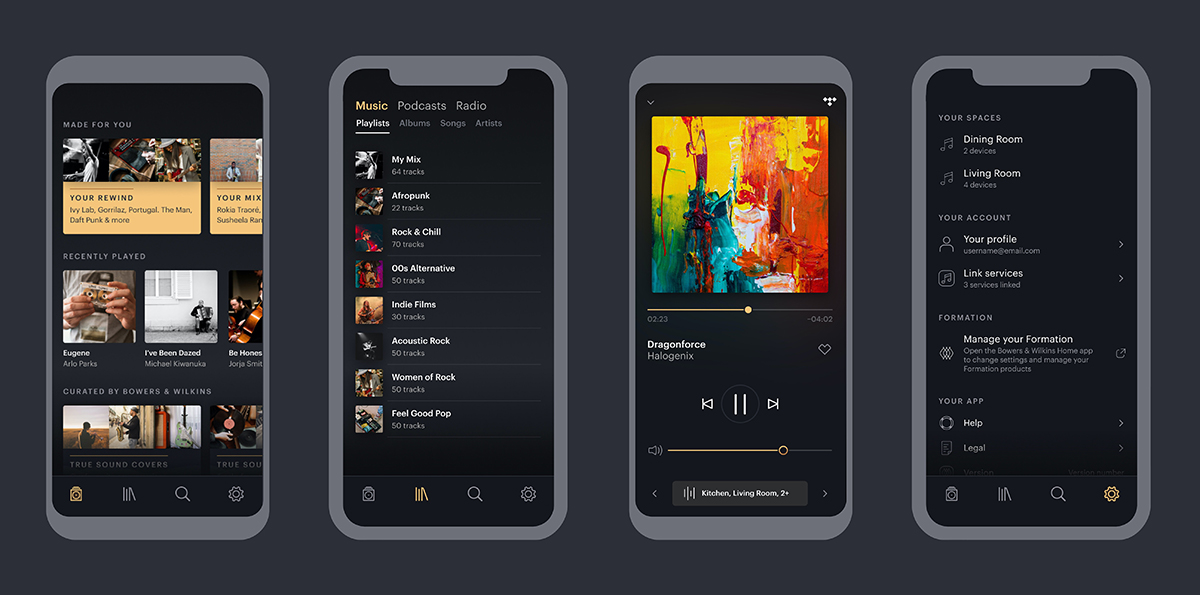 B&W's new Music app, released February 12, addresses some of those shortcomings. The new app has integrated support for Qobuz, Tidal, TuneIn, Dash Radio, NTS Radio, and SoundCloud, and its Qobuz client supports high-resolution playback up to 24/96. "More subscription services and streaming platforms [will] be added in the coming months," B&W said. At first, the Home and Music apps will operate independently; they'll be integrated later this year. For my June 1 feature, I'll be speaking with Andy Kerr, B&W's Director of Product Marketing and Communications, about the evolution of the Formation products.
In my review of the Formation Duo, I concluded that for "listeners who have wholeheartedly embraced streaming but want to up their audio game, . . . the Formation Duos may be transformative. You just plug them into the wall, run an easy-to-use app to connect them to your home network, and immediately start streaming music with sound quality that any audiophile couldn't help but admire. This is, almost literally, plug-and-play hi-fi."
The Danish brands Buchardt Audio, DALI, and System Audio, all of whose products I've reviewed on Simplifi, offer active speakers that work with matching wireless transmitters, and allow listeners to easily stream music from their smartphones. In different ways, all of these components are exactly in tune with the direction of recorded music.
The new music
In recent articles, I've cited statistics from the Record Industry Association of America (RIAA) about the growth of streaming in the US market. The same trends are occurring globally.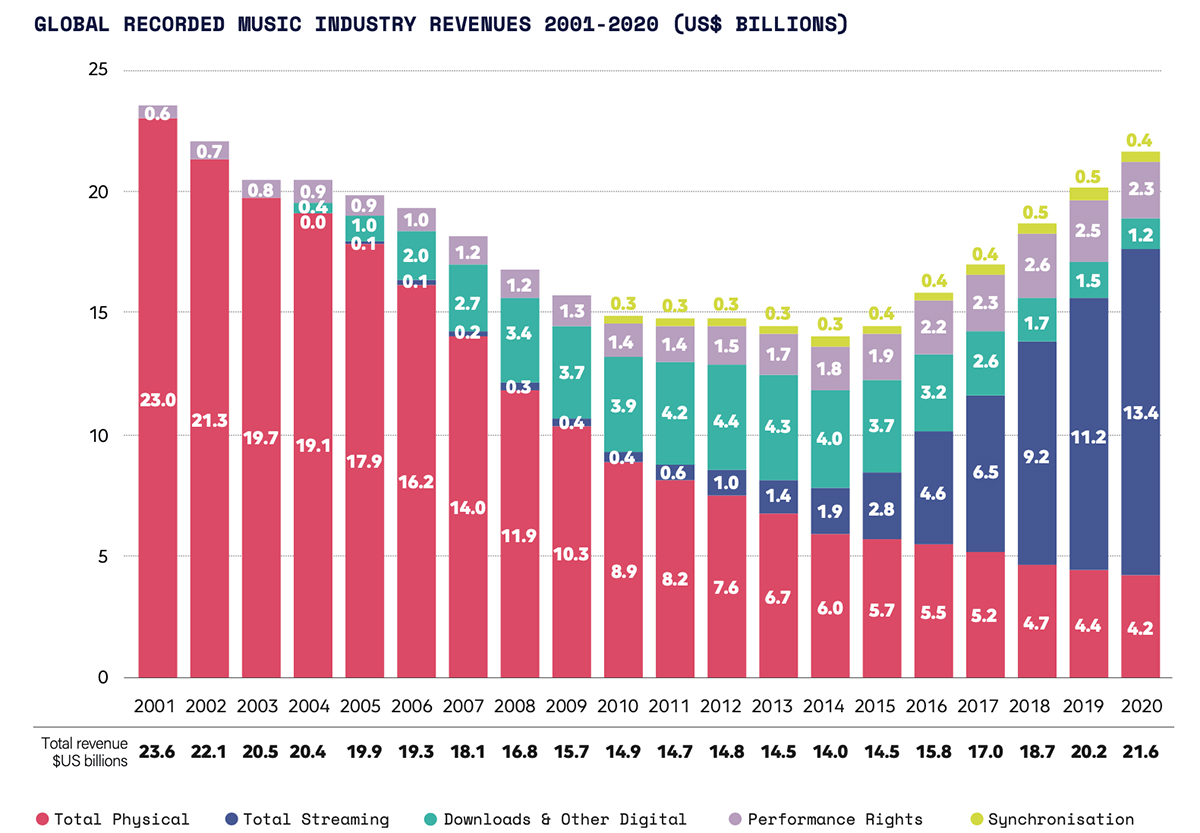 On March 21, the International Federation of the Phonographic Industry (IFPI) released its Global Music Report 2021. According to IFPI, global music-industry revenues in 2020 were $21.6 billion—7.4% higher than in 2019, and the highest since 2002. Worldwide revenues from streaming were $13.4 billion, up 19.9% from 2019, and accounted for 62.1% of industry revenues. Revenues from paid streaming services grew 18.5%, to $9.94 billion, representing 46% of total revenues.
According to IFPI, the top-selling single in 2020 was The Weeknd's "Blinding Lights," a single from the Canadian singer's After Hours, the No.2-selling album of 2020. The No.1-selling album was Map of the Soul: 7, by the Korean boy band BTS (Bangtan Boys), and No.3 was Billie Eilish's When We All Fall Asleep, Where Do We Go?
This is all young people's music—not that this aging boomer has any problem with that. Quite the contrary. For one thing, all of the major streaming services offer several lifetimes' worth of music for all kinds of listeners, including yours truly. Second, this wealth of music has the potential of making hi-fi a mainstream pursuit.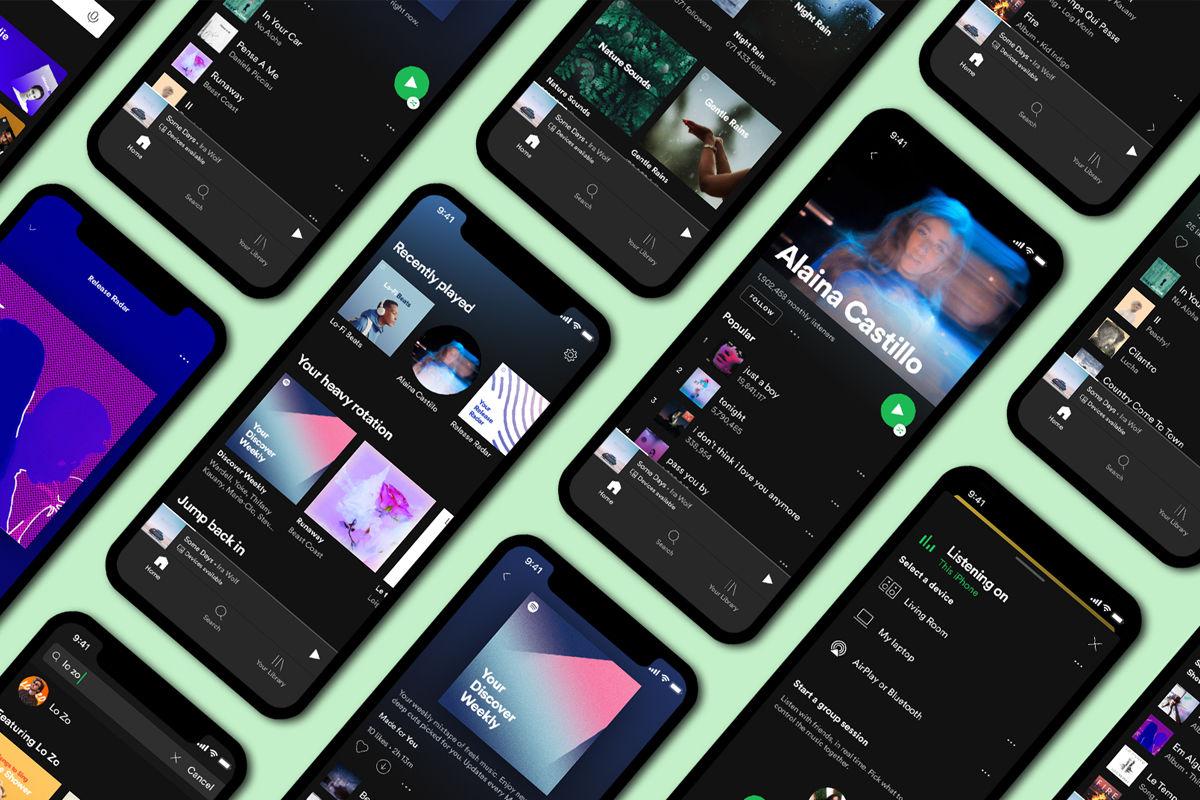 For years, audio manufacturers have been angsting about how to move beyond the industry's core audience of aging boomers to engage younger listeners in this wonderful hobby. As the IFPI's and the RIAA's data make abundantly clear, they're already engaged.
They already have their primary source component. It's a safe bet that the vast majority of teens, twenty-, and thirtysomethings who are streaming The Weeknd's "Blinding Lights" or Eilish's "Bad Guy" are listening through their smartphones, mainly with earphones and headphones, but also with portable Bluetooth speakers.
And it's a sure bet that most of those teens, twenty-, and thirtysomethings will grow up and settle down, and that many of them will want to listen through something better. All of the products I've outlined above, and many more, let listeners play music through speakers in glorious high fidelity, using apps they're familiar with.
Spotify subscribers can use Spotify Connect. Tidal subscribers can use Tidal Connect. Apple iPhone users can connect via AirPlay using their preferred apps. Music apps that support Casting can stream music to any component with Chromecast Built-in. In each case, users' favorite features remain available, and their playlists and social-media connections remain intact. That makes the transition from solo listening to stereo hi-fi almost completely seamless.
Golden age
What's more, these systems fit more gracefully into real-world listening spaces than the hi-fi systems people were buying in the 1970s and '80s. Many of them are downright gorgeous. People aren't going to want to hide KEF LS50 Wireless II active speakers behind a houseplant, or stash a Cambridge Evo streaming DAC-amp high up on a shelf. That makes it more likely that people will enjoy the sound quality they've paid for.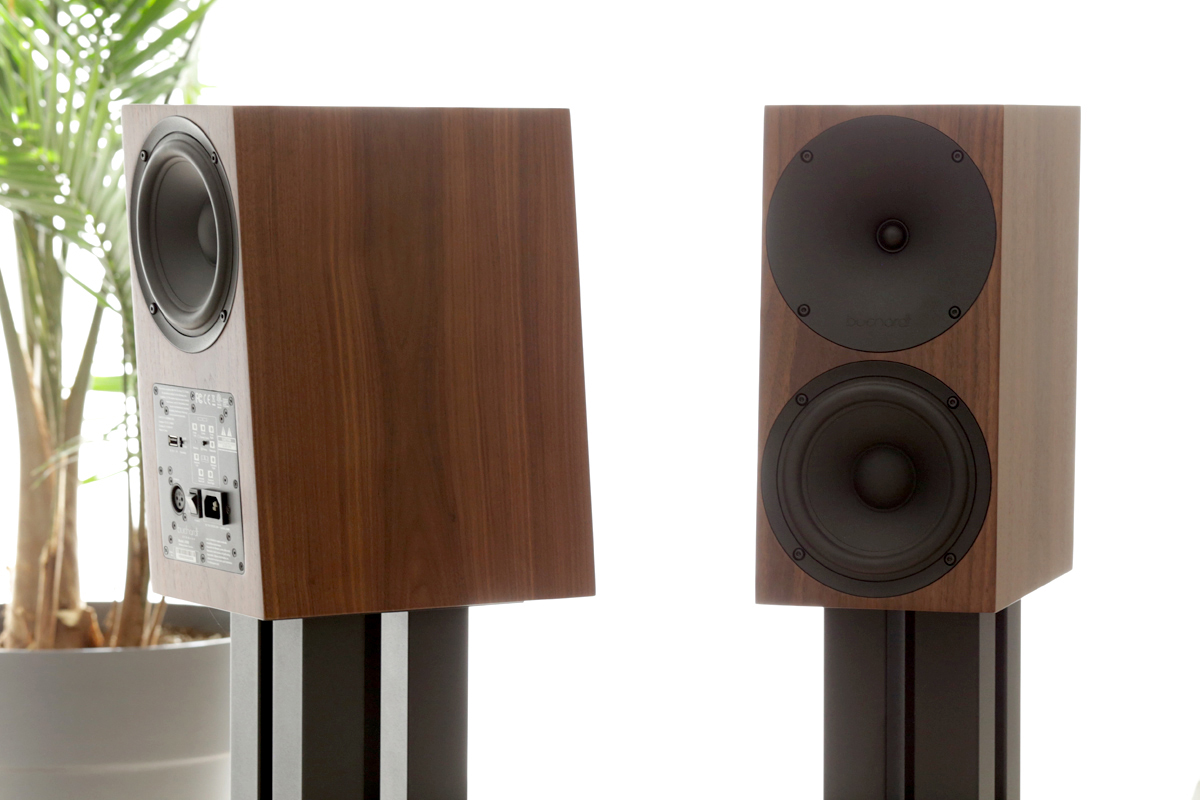 Some of these components offer amazingly big sound for their size, thanks to innovative mechanical designs and clever use of DSP. Buchardt Audio's A500 active stand-mount speaker (€3750/pair, including matching Stereo Hub WiSA transmitter, shipping, and taxes) delivers bass response down to 25Hz. Each A500 has two 6.5″ midrange-woofers and a waveguided 0.74″ fabric-dome tweeter, each driver with its own 150W class-D amp. As I concluded in my review of the A500s, "They're proof positive that you don't need a big stack of components to get exciting and dynamic sound, high-impact bass, commendably accurate vocal and instrumental timbres, and precise aural images on big soundstages."
We're going to see more and more of this. In the discussion that led to this article, Doug Schneider told me of brands that have given their engineering teams specific mandates to create smaller products that better fit people's lifestyles.
In my view, of all the technological leaps that occurred in the 20th century, the one that has brought the most joy into people's lives is recorded music. When I got involved in this hobby a half-century ago, I couldn't have imagined being able to take an electronic device out of my pocket, cue up any music I wanted to hear, and have it play in stunning fidelity from gorgeous speakers that, to my eyes and ears, beautifully blend into my living space.
In many ways, the world has become a frightening place. Plague, tyranny, ecological collapse, and grinding poverty stalk the earth, and encroach on our doorsteps. Music can offer solace from these existential threats. These are trying times—but in terms of access to music, we live in a golden age.
. . . Gordon Brockhouse
This email address is being protected from spambots. You need JavaScript enabled to view it.