It's hard for people who are passionate about something to imagine others not sharing their enthusiasm. How could anyone not appreciate small-batch bourbons? Or 35mm rangefinder cameras? Or vintage wristwatches?
And how about high-fidelity audio? By definition, SoundStage! readers are passionate about great sound. But does the rest of the world share their enthusiasm? If you think about how most people now discover and consume music, you might conclude that they don't.
Exhibit A: Right now, streaming on demand is by far the music industry's biggest moneymaker. According to the 2020 Year-End Music Industry Revenue Report of the Recording Industry Association of America (RIAA), US revenues from streaming in 2020 were $10.1 billion (all figures USD), up from $8.9 billion in 2019, and accounted for 83% of that year's total music-industry revenues. Most of this money—$7 billion—came from such paid subscription services as Amazon Music, Apple Music, and Spotify. And from 2019 to 2020, the number of paid streaming subscribers in the US grew 25%, from 60.4 to 75.5 million.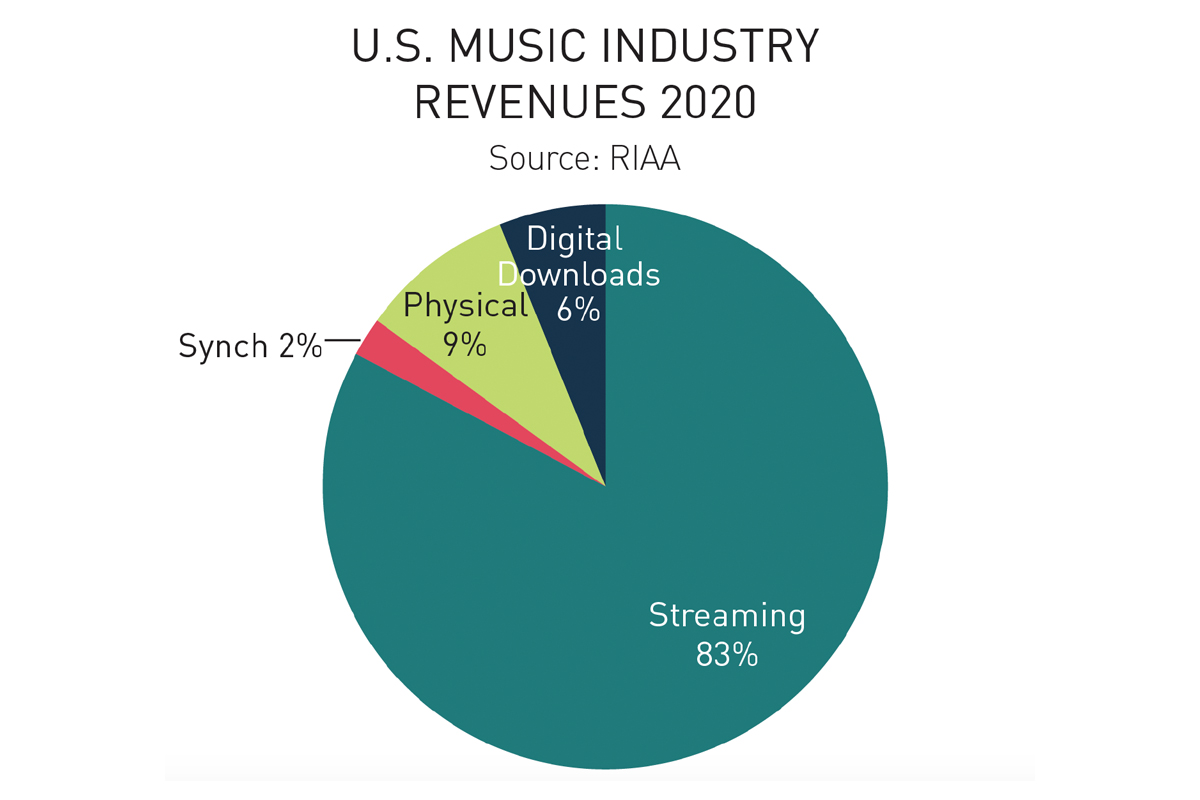 Exhibit B: Almost everyone listening to streaming services is hearing some form of compressed audio. With 345 million active users and 155 million paid subscribers worldwide, Spotify is the world's largest streaming service. It uses Ogg Vorbis compression, with a maximum bitrate of 320kbps. Apple Music, with 60 million subscribers, uses AAC, with a maximum bitrate of 256kbps. Amazon Music, with 55 million subscribers, uses MP3.
In addition to these multinational services are many large regional services, such as Gaana (201 million users) and JioSaavn (100 million), both in India, and Anghami (70 million), in Lebanon, all of which employ lossy compression.
Granted, a few services offer lossless CD-resolution streaming, and some also have high-resolution content. These include Deezer, Qobuz, and Tidal, as well as two services that specialize in classical music: Idagio and Primephonic. But these are small players. Tidal, for instance, has 4.2 million users and 3 million paid subscribers.
Only one major service offers lossless and hi-rez streaming—Amazon, which launched Amazon Music HD in September 2019. Ever since then, audiophiles have been wondering when the other major services might follow suit.
Higher fidelity
It happened on February 22 of this year. "For those listeners really passionate about audio quality, later this year, we'll be launching a new subscription offering—Spotify HiFi," announced Jeremy Erlich, Spotify's global co-head of music, 28 minutes into Spotify's big Stream On event.
Erlich then introduced "two people who really understand the art and science of sound": singer-songwriter Billie Eilish and her brother, producer, and collaborator Finneas O'Connell. Erlich's praise wasn't misplaced—Eilish's album, When We All Fall Asleep, Where Do We Go?, won several Grammy Awards in 2019, including Album of the Year and Best Engineered Album, Non-Classical; and one of its tracks, "Bad Guy," was Record of the Year and Song of the Year. O'Connell won the award for Producer of the Year, Non-Classical.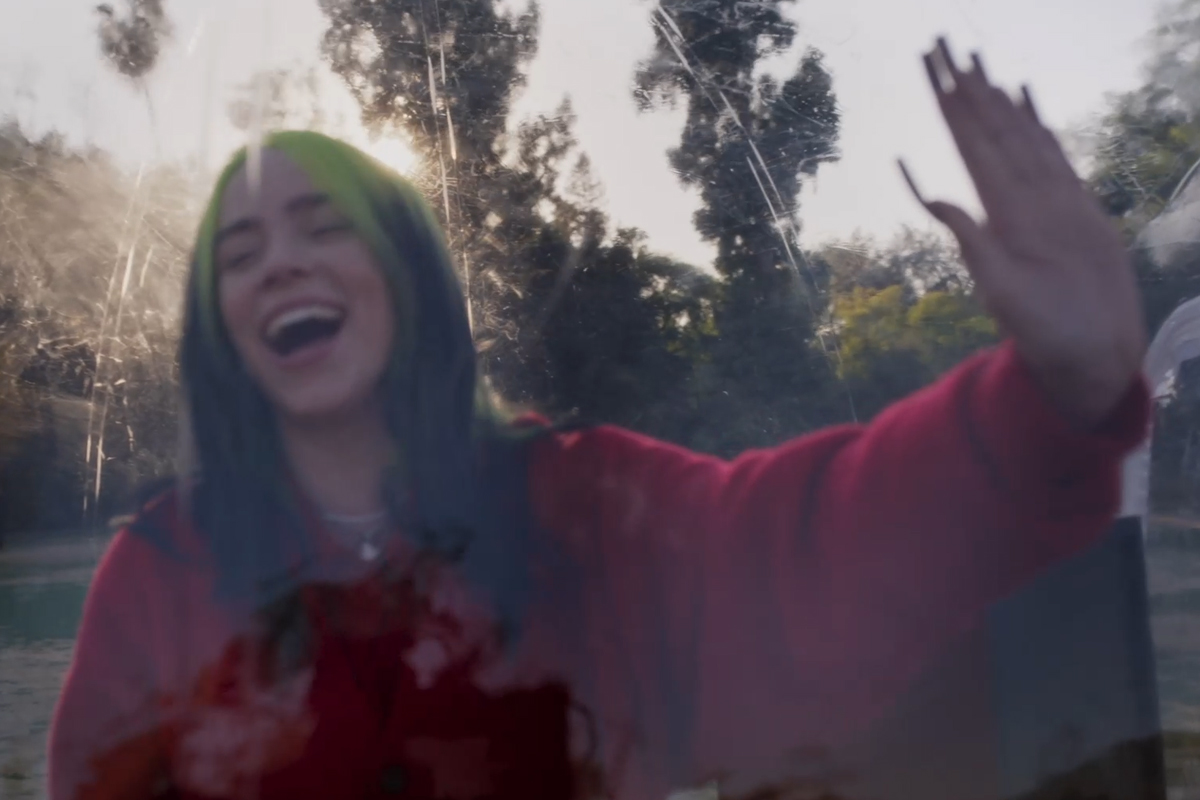 Billie Eilish images courty of Spotify's Stream On
That led to a recorded segment, with Eilish and O'Connell playing with a vintage sound system (old Pioneer receiver, huge JBL monitors) in a big outdoor space. "High-quality audio means just more information," Eilish said. "There's just things you will not hear if you don't have a good sound system."
"We work on songs way longer than we would have to," O'Connell added. "There's a lot of layers to what we're working on. . . . There's so many little weird things we've buried in all our stuff. There were times where Billie was chuckling in the background, or she'll do [a] whispered layer of each line."
To SoundStage! readers, these observations will seem platitudinous; but for many of Eilish and O'Connell's fans, their message might be salutary. Then again, maybe it's something they already know; maybe streaming listeners do care about sound. A backgrounder on Spotify's media site stated, "High-quality music streaming is consistently one of the most requested new features by our users."
Questions
Spotify spent most of Stream On talking about its ongoing global expansion, podcast initiatives, curated playlists, multimedia features like Enhanced Albums (see below), and tools that artists can use to increase their exposure and revenues. Including the segment with Eilish and O'Connell, the section on Spotify HiFi lasted only two minutes of Stream On's 101 minutes—and Erlich's actual announcement took all of ten seconds.
The announcement was more notable for what it didn't say. Spotify HiFi "will begin rolling out in select markets later this year," the backgrounder said, and will work via the Spotify app installed on such devices as smartphones, tablets, PCs, and Macs, and on components that support Spotify Connect.
But there was no information about timeline, launch markets, or pricing. Other questions: Will all tracks on Spotify be available at lossless CD resolution (16-bit/44.1kHz) to HiFi subscribers, or will some tracks be available only in lossy format? Will Spotify offer any albums with hi-rez audio?
Will HiFi subscribers get lossless audio when playing Enhanced Albums such as When We All Fall Asleep, Where Do We Go?, the first Enhanced Album released on Spotify? These albums have extra multimedia content, such as video content that plays along with the song, and short text blurbs about the songs.
As for support for HiFi on components with Spotify Connect, the backgrounder said, "We're working with some of the world's biggest speaker manufacturers to make Spotify HiFi accessible to as many fans as possible through Spotify Connect." I take this to mean that products will have to be updated to support Spotify HiFi.
Connecting
I believe that Spotify Connect is what makes the announcement of Spotify HiFi so significant for audiophiles, audio manufacturers, and Spotify subscribers who want to stream music through their home stereos without lossy compression.
Most networked audio components work with proprietary apps that let users choose and play locally stored music, as well as music from streaming services. As I've written previously, the user experience these apps deliver varies widely, from pretty awful to very good.
One variable is how many of the streaming service's features the manufacturer's software supports. For example, I use Qobuz heavily. With Qobuz's desktop and mobile apps, I can view liner notes for many albums. That feature is also available when streaming from Qobuz from within Roon—but it's not available in the integrated Qobuz client for any streaming component I've reviewed. With Qobuz's own apps, I can filter new releases by multiple genres. Some manufacturers' proprietary apps don't allow filtering by genre at all; others let you filter by one genre at a time, but not multiple genres.
Other variables include robustness (usually very good, but not always) and ease of use (this varies widely). But even if the manufacturer's user interface is excellent, it will always be different from the service's own app.
Instead of using a strategy of integration, in which playback is entirely controlled by the audio manufacturer's software, Spotify follows an endpoint strategy—Spotify Connect—in which playback is controlled from the Spotify app (with one exception: with Sonos, streaming from Spotify is controlled by the Sonos app).
Here's how Spotify Connect works. After you've cued up some music, you can tap the Devices Available icon in the Now Playing screen. That will take you to a list of components on your network that support Spotify Connect. Choose the one you want, and playback will shift to that component.
For listeners, this is huge—it means they can use the same app and device for playing through headphones when they're out and about, and for playing through their hi-fi when they're at home. And they can use all of the features available in the app, rather than being constrained by the integrated client in a manufacturer's app. For Spotify subscribers, this is really important. I'm not a regular Spotify user, but I know many people—my 25-year-old daughter is one—who love the service's discovery tools, abundant playlists, social features, and podcast integration.
It also means that they always have the same user interface. Granted, users may also be able to play from a streaming app to their audio components via AirPlay and/or Chromecast, if their components support those protocols.
Making it work
You might think endpoint strategies like Spotify Connect make life easier for equipment manufacturers, because they don't have to do the work of integrating streaming services into their software.
But as Andrew Haines, BluOS product manager for Lenbrook Industries, told me in a phone interview, it's more complicated. To add support for a streaming service, companies like Lenbrook rely on the service to provide source code that handles functions like authentication, handshaking, encryption, and synchronization, plus documentation that explains how to implement that code.
"If the originating service delivers a well-written integration package, we can be very quick in delivering an update to support that service," Haines explained. "With Qobuz, the first integration took only a couple of days." He also had high praise for Tidal, calling its integration package "really deep."
But Lenbrook recently implemented support for another service, to be added in the next update of BluOS. "That one took a year," Haines said. "Their disparate Software Development Kits (SDKs) were the most challenging we've ever seen."
Supporting an endpoint strategy like Spotify Connect can also "take a lot of time," Haines said, because there are communication and encryption elements that must be enabled on the hardware side. But Haines praised Spotify's updated SDK for Spotify Connect, which will enable HiFi support, calling it "really well written."
Tidal's Square deal
Last year, Tidal launched its own endpoint program, Tidal Connect, which is supported by all BluOS devices. These include Lenbrook's Bluesound products and BluOS-capable NAD components, as well as BluOS-capable products from DALI and Monitor Audio. Tidal created a Slack workplace channel, enabling interaction between Lenbrook's and Tidal's technical teams. "This made development wonderful," Andrew Haines told me. The total elapsed time for enabling Tidal Connect in BluOS was around three months, he said, including one month for quality assurance.
Tidal Connect is also supported by Cambridge Audio's CXN, CXN V2, 851N, Edge NQ, and StreamMagic 6 V2 streaming DACs (a firmware update scheduled for April 7 will add Tidal Connect support to the CXR120 and CXR200 receivers); iFi Audio's Aurora music player; KEF's LS50 Wireless II active speakers; and Lyngdorf's TDAI-3400 streaming integrated amplifier.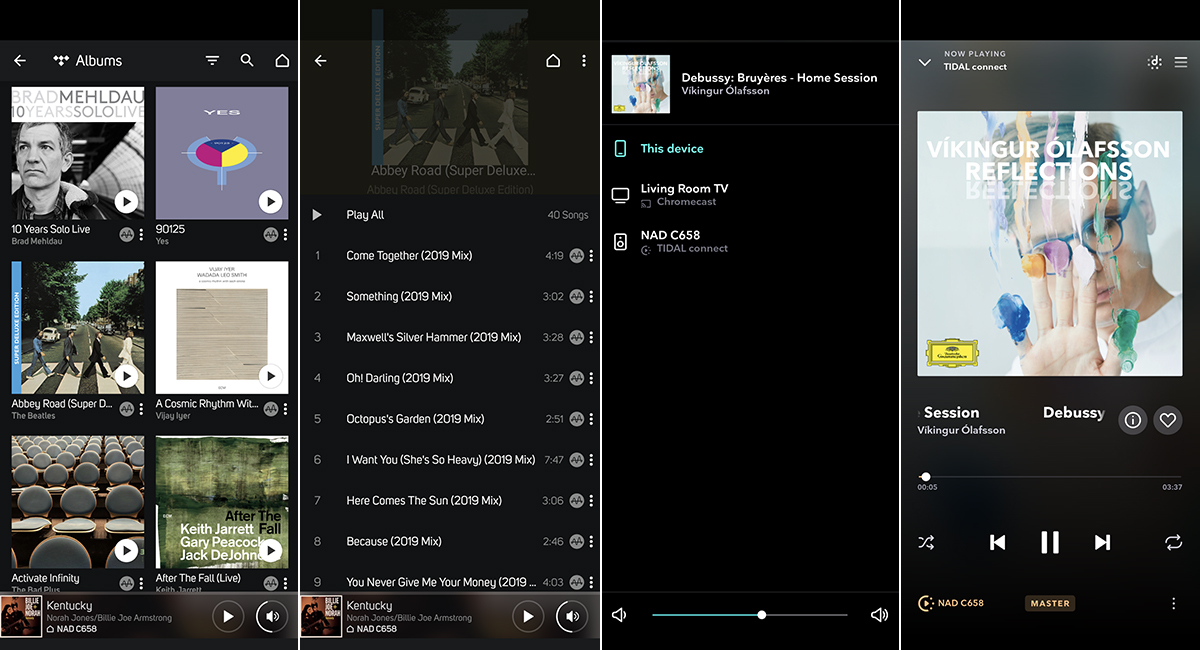 Tidal works just like Spotify Connect. In the Now Playing screen of the Tidal app, tapping the Devices icon at the bottom of the screen will take you to another screen that will show components on your network that support Tidal Connect. (You can also stream from the Tidal app via AirPlay and/or Chromecast, if available.) Unlike with Spotify Connect, the Tidal Connect user can use the Tidal app to stream to a supported component, or use the component manufacturer's own app.
An even bigger story around Tidal broke on March 4, when the e-payments company Square, Inc. announced that it was buying a majority stake in Tidal for $297 million in cash and stock. Square founder and CEO Jack Dorsey is also a co-founder and the CEO of Twitter, Inc. Tidal is currently owned by a consortium of artists headed by the rapper Shawn "Jay-Z" Carter, who will join Square's board of directors on completion of the deal. Tidal will continue to operate independently. All of Tidal's artist shareholders will continue to be co-owners of Tidal.
Tidal was the first streaming service to offer lossless CD-resolution music, and that has earned it a loyal following among audiophiles. When this deal closes, Tidal will be part of a group with formidable technical capabilities and business acumen. Spotify, too, has formidable technical know-how, and a clear vision of where it wants to go. Unlike Tidal, it also has a huge and rapidly growing subscriber base. And soon Spotify will offer lossless audio, which has always been one of Tidal's signature features. It will be fascinating to see how these stories play out.
. . . Gordon Brockhouse
This email address is being protected from spambots. You need JavaScript enabled to view it.