At the start of 2020 — it seems an age ago — I'd made some ambitious travel plans for the year: In March, I'd take the train to Montreal for the Audiofest; in April, I'd fly to Chicago for AXPONA. In May, I'd jet off to Munich for the High End show. In October I'd stay in my home city to attend the Toronto Audiofest, and in November it would be off to Warsaw for the Audio Video Show.
Those plans came crashing down in early March, as the COVID-19 virus spread around the world. One after the other, all of those shows were postponed, then canceled.
Of course, the pandemic has had — and is continuing to have — effects far more serious than the cancellation of a few audio shows. As I write this, there have been almost 60 million confirmed cases of the virus worldwide, and 1.4 million deaths. Untold millions more have seen their lives and livelihoods disrupted by the measures needed to control the virus's spread. Compared to this suffering, the effects of the virus on the audio world are small beer.
Still, those effects were real. I missed going to those shows. They provide a great opportunity to find out about new products, talk to the people who designed them, and line up products for review. But audio manufacturers never stopped launching new gear — the review pipeline at Simplifi never ran dry.
In fact, in 2020 I reviewed a lot of great products for Simplifi. Here are six of my favorites. In very different ways, they exemplify "convenient, lifestyle-oriented hi-fi," which is what Simplifi is all about. I wouldn't be surprised if some of them end up being named SoundStage! Network 2020 Products of the Year.
March — Sennheiser Ambeo Soundbar
The last audio show I attended was Audio Video Show 2019, in Warsaw, where I first heard Sennheiser's Ambeo Soundbar. At $2499.99 (all prices USD), the Ambeo is the world's most expensive soundbar. It's also the most advanced, and the best sounding.
The Ambeo has six front-firing 4″ long-throw woofers, three front-firing and two side-firing 1″ dome tweeters, and two upward-firing 3.5″ full-range drivers. Each driver is powered by its own 140W class-D amplifier. It uses virtualization technology developed at Germany's Fraunhofer Institute to deliver 5.1.4-channel immersive audio from Dolby Atmos and DTS:X soundtracks. The Ambeo can also upmix 5.1- and 2.0-channel content to 5.1.4. Its specified frequency response is 30Hz-20kHz, -3dB.
With films having Dolby Atmos soundtracks, surround effects were surprisingly immersive. In the pivotal subway scene of Joker, in which Arthur (Joaquin Phoenix) murders three obnoxious stockbrokers, the sounds of the train rattling down the tracks and echoing through tunnels filled my room. When Arthur kills the third stockbroker as he attempts to escape, the reverberation of the gunshots through the subway station extended far out into my room in every dimension, the echoes seeming to follow the trajectory of the shots.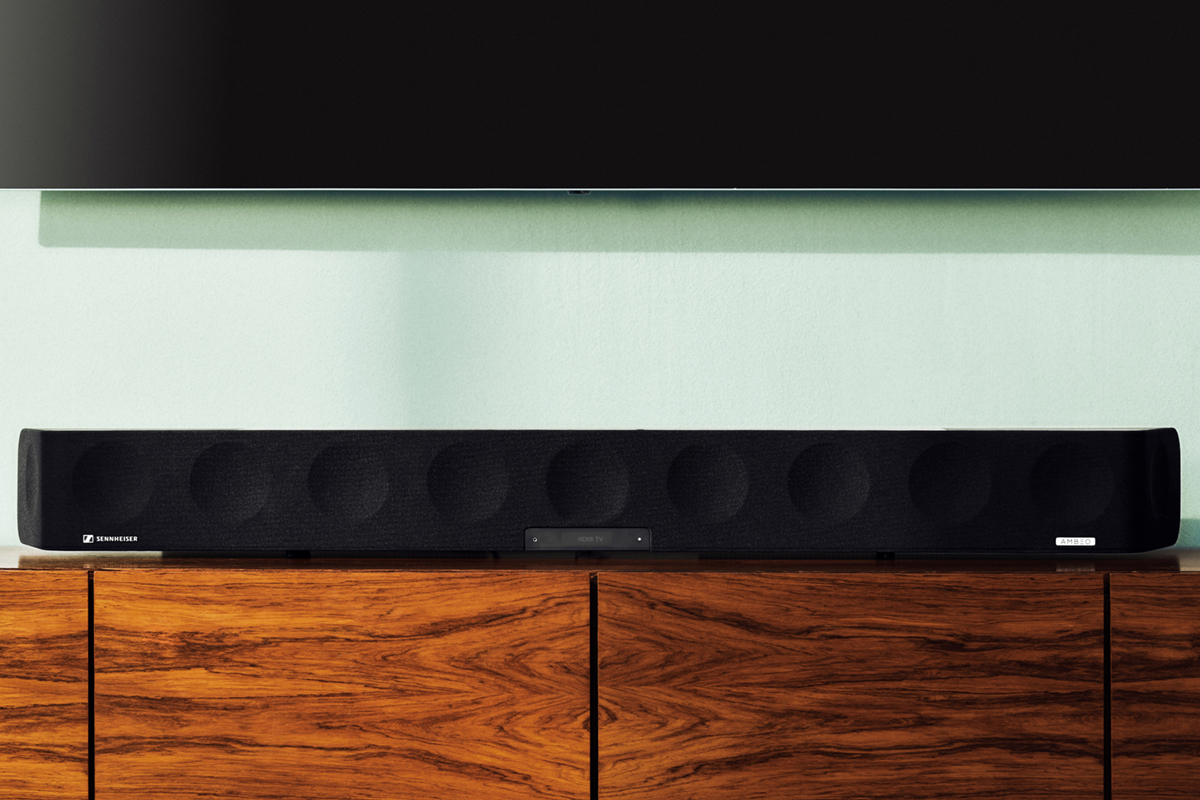 The Ambeo Soundbar also sounded very impressive with upmixed two-channel music. In "Me and the Devil," from Gil Scott-Heron's I'm New Here (16-bit/44.1kHz FLAC, XL/Qobuz), the screeching industrial effects and big hip-hop drums jumped out into my room, hitting way harder than anyone would expect from a mere soundbar. Scott-Heron's angry, weary, bluesy voice, half singing, half reciting, were profoundly affecting.
Last summer the Ambeo Soundbar made a return visit to my living room, when I used it to stream Atmos-encoded surround music. With the Atmos mix of "Heartless," from Kanye West's 808s & Heartbreak, Roc-A-Fella/Tidal), Kanye's Auto-Tuned singing and natural rapping voices were at the center, the calliope and piano extending way out to the sides, the droning bass wrapping around everything. His shouts of "Hey!" in the second verse extended even farther out, which added to their impact.
Soundbars are by definition compromise products, but the Ambeo makes fewer compromises than any soundbar I've encountered. Essentially, it's a self-contained, 5.1.4-channel, immersive-audio system that can fit on a shelf (or, in my room, a fireplace mantle) or be mounted on the wall.
May — Bryston BDA-3.14 Streaming DAC-Preamplifier
Bryston's BDA-3.14 streaming DAC-preamp ($4195) combines in a single case two products — the BDA-3 DAC ($3495), and a network streamer based on the BDP-Pi ($1495) — plus a digital volume control that lets it function as a preamp. You can connect it directly to a power amp or, as I did, to a pair of active speakers.
I first saw the BDA-3.14 on silent display at the Toronto Audiofest in October 2019, and requested a sample for review. Shipments began in early 2020, and my review sample arrived in March.
The BDA-3.14 is a very flexible component with a huge array of digital connections, including two asynchronous USB ports for connecting a computer, two USB accessory ports for connecting external drives, two coaxial S/PDIF (RCA), one optical S/PDIF (TosLink), one AES/EBU (XLR), and four HDMI 1.4a inputs and one HDMI output. The HDMI ports can be used for DSD and PCM playback from SACD players. You can also connect video sources, and output video to a connected display. The streamer module has built-in clients for Tidal and Qobuz, plus functions for playing music from connected and network drives.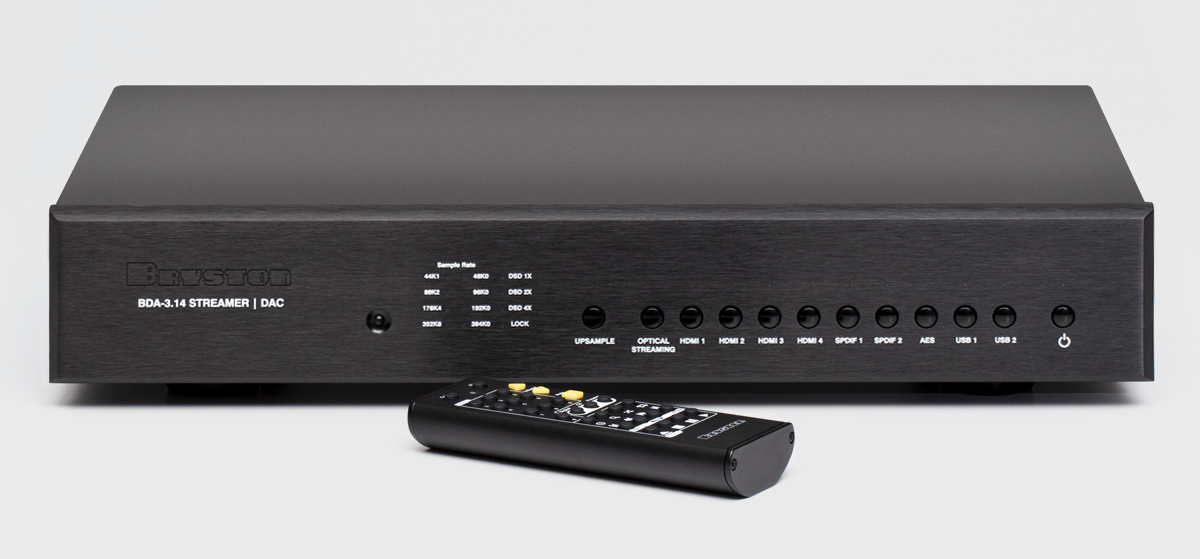 The BDA-3.14 has a few rough edges. Its HDMI board doesn't support Audio Return Channel (ARC), so you can't play audio from a connected display through it. It will pass through 4K video to a connected display, but not the extra bits required for high dynamic range (HDR) video.
While Manic Moose, the BDA-3.14's browser-based interface, worked reliably throughout my listening, I found it kind of kludgy and slow. Bryston is reportedly working on a new interface for its streaming products, so these problems may disappear. Moreover, the BDA-3.14 is Roon Ready, so users who want a slicker interface have that option.
But the BDA-3.14's sound is to die for. As I wrote in my review, "The BDA-3.14 had amazing dynamics and fluidity — the combination drew me into the music in a way I've rarely experienced." I was awed by the way the BDA-3.14 rendered the touch and expression of Icelandic pianist Víkingur Ólafsson in his wonderful recording of music by Rameau and Debussy (24/192 FLAC, Deutsche Grammophon/Qobuz), and by the tonal colors of his instrument. Of all the source components I've used with my Elac Navis ARF-51 active speakers, the BDA-3.14 is the one I've enjoyed most.
June — Focal Shape 65 Analog Active Loudspeakers
As I discussed in my July 1 article, "Turning Pro," professional studio monitors can work wonderfully for home listening. I've reviewed four such speakers for Simplifi, all of them analog active designs. I enjoyed them all, but my favorite was Focal's Shape 65 ($1998/pair), a two-way design combining a 6.5″ woofer driven by an 80W class-AB amplifier, and a 1″ aluminum-magnesium inverted-dome tweeter driven by a 25W class-AB amp.
The woofer's flax-sandwich cone is very light, and Focal says it has excellent damping characteristics. The woofer also incorporates Focal's Tuned Mass Damper (TMD) technology, which stabilizes the cone's motion at its resonant frequency, resulting in smoother midrange response and reduced distortion; and their Neural Induction Circuit (NIC), which makes the magnetic field consistent regardless of the position of the voice coil or the level of the signal — this is claimed to broaden the frequency response and reduce harmonic and intermodulation distortion.
The M-shaped inverted-dome tweeter minimizes directivity, resulting in a wider sweet spot, and it's surrounded by a waveguide that provides even vertical and horizontal directivity. Broad dispersion is useful in the studio, where a seated engineer and standing musicians may be monitoring a recording together, but it's obviously valuable for home listening as well.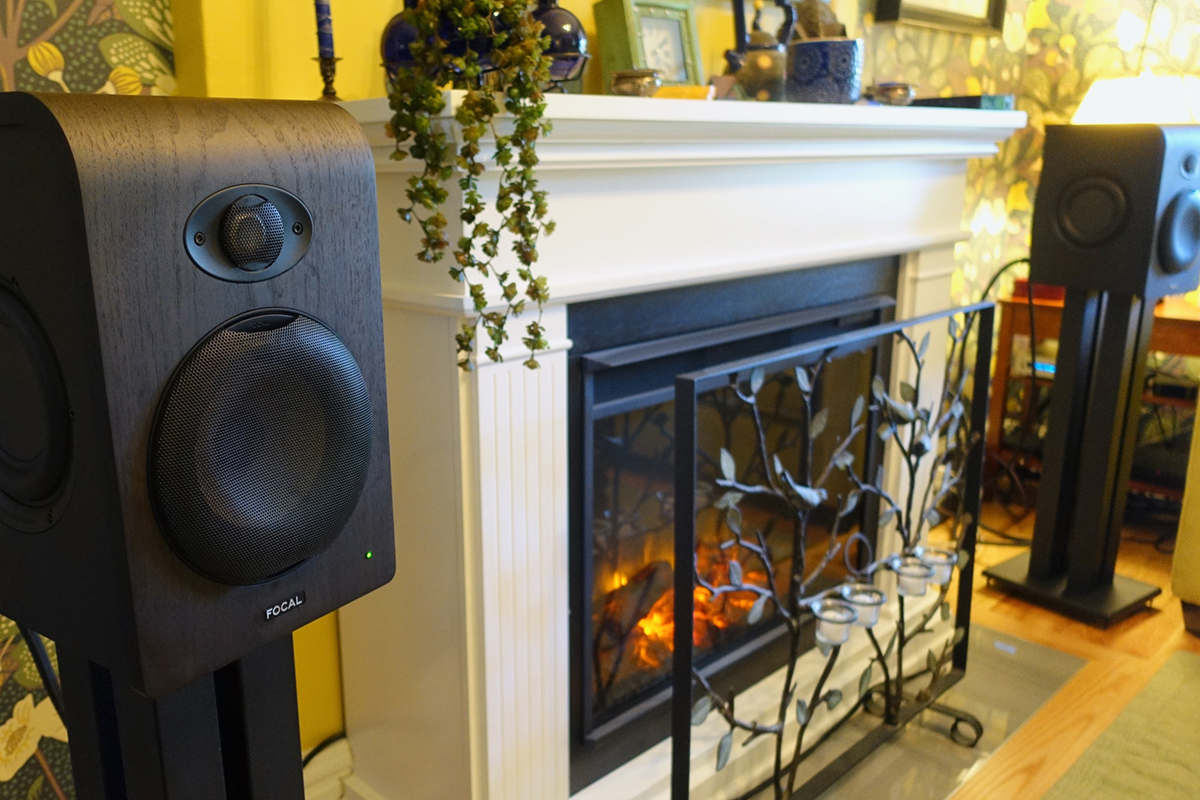 Instead of a rear bass port, the Shape 65 has two side-mounted 6.5″ passive radiators. This form of bass loading allows the speaker to be placed close to the wall behind it, which can be very useful in home or studio.
Rear-panel low- and high-frequency shelving controls, plus a lower-midrange frequencies (LMF) control, let users adapt the Shape 65 for different listening environments. I found these controls very useful, especially for nearfield listening, when I set up the Shape 65s on a credenza in my family room.
Most studio monitors have utilitarian styling that can make them look out of place in domestic settings. Not the Shape 65 — with its molded front baffle, black grille, dark walnut finish, and funky passive radiators, it looks stylishly retro. I liked the way the Shape 65s looked in my living room and family room — as did my design-conscious wife.
More important, I loved the way they sounded. The Shape 65s delivered gobs of excitement from a performance, by Le Concert de Nations under the direction of original-music specialist Jordi Savall, of Jean-Baptiste Lully's stirring Marche pour la cérémonie des Turcs, from the score for the 1991 film Tous les Matins du Monde (DSD64, Alia Vox). The historically correct violins had a lovely singing tone and sharp rosiny bite. The baroque drums beating out a ceremonial march rhythm sounded absolutely delicious, with fast, impactful initial strokes immediately followed by the big, resonant sound of the drumhead and body.
The Shape 65s could also re-create moments of surpassing beauty. In Rhiannon Giddens's performance of Carlisle Floyd's ballad "Trees on the Mountain," from her There Is No Other (24/96 FLAC, Nonesuch/Qobuz), her full soprano sounded rich in its lower range, and soared beautifully up to her high notes. Francesco Turrisi's acoustic piano, playing a simple line in the upper octaves, had a lovely ringing tone, notes decaying beautifully into a resonant acoustic.
The Shape 65 received a Reviewers' Choice award, but the honors didn't stop there. In his follow-up Take 2 video review, Jay Lee praised the Shape 65s' refined highs, effortless midrange, textured bass, expansive soundstage, and pinpoint imaging; and noted that they perform beautifully in both nearfield and farfield stereo listening. And in September, SoundStage! Hi-Fi named the Shape 65 a Recommended Reference Component.
July — Andover Audio Model-One Turntable Music System
Simplifi's mission, as stated on the SoundStage! Network portal, is to cover "convenient, lifestyle-oriented hi-fi." But, as I observed in my March 2019 feature, "Let's Keep it Simple," Simplifi'd hi-fi means different things to different people.
Convenience is important, but to me, the most important part of that mission statement is "hi-fi." For me, Simplifi'd hi-fi means being able to plunk myself down in the sweet spot of my sectional sofa, cue up any music I want on my iPad, and enjoy that music in glorious high fidelity.
Lots of other people put more stress on "convenient, lifestyle-oriented." They want to be able to put a record on their turntable, or cue up a Spotify playlist, and enjoy tunes while they entertain or do a crossword. They don't want to anchor themselves between a pair of speakers while giving their full attention to the music, and they don't want to clutter their living space with components. They want good sound, but they want it to be simple. It was for this group that Andover Audio created their Model-One Turntable Music System.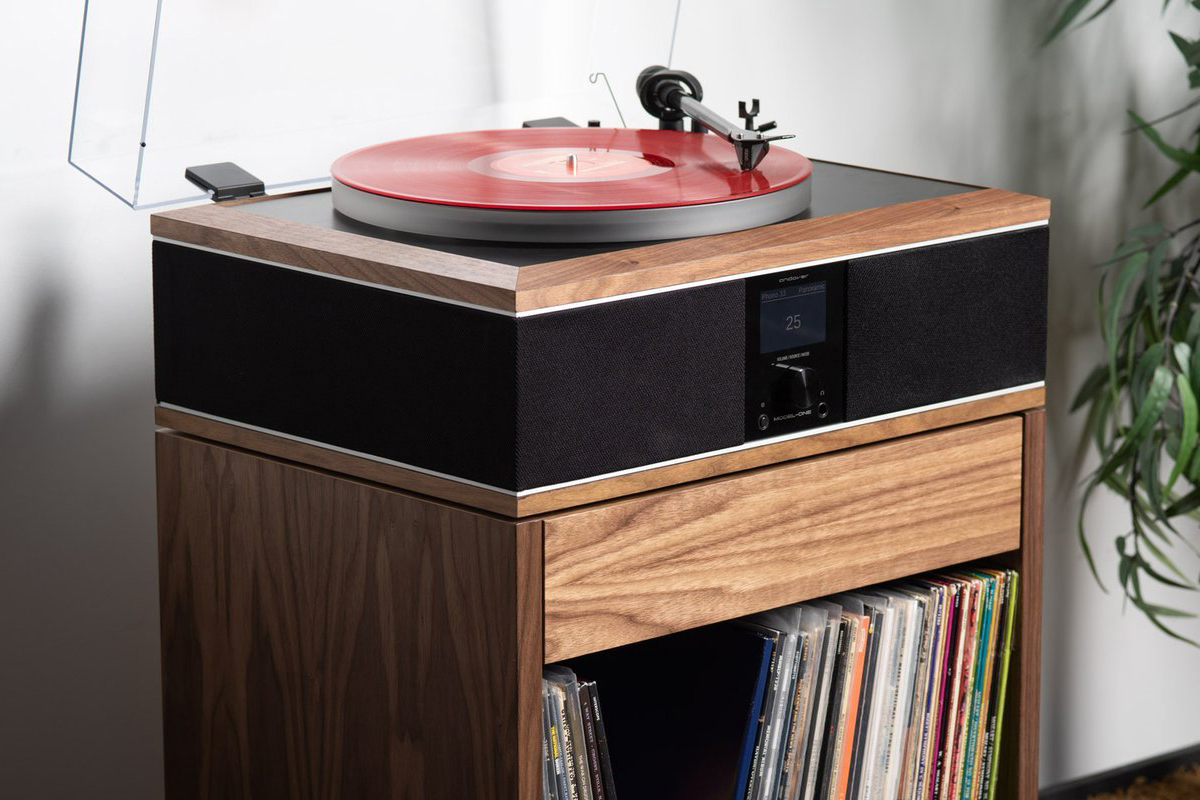 Doug Schneider reported on the Model-One's launch last February at Florida Audio Expo 2020 — the last big audio show before COVID-19 shut everything down. As soon as I read about the Model-One, I requested a review sample. Andover shipped it to me in late March, just before closing their warehouse during the pandemic's first wave.
Priced at $1999, the Model-One is an all-in-one music system that comprises a Pro-Ject Carbon Debut Esprit turntable with pre-fitted Ortofon 2M Silver cartridge in a cabinet that also contains two active stereo speakers. Bass and mids are reproduced by two side-mounted, inverted-dome aluminum woofers per channel, powered by a single 70Wpc amp; highs come from two front-mounted, Air Motion Transformer (AMT) tweeters powered by a single 30Wpc amp. The Model-One also has built-in Bluetooth with aptX support.
Designing a product like the Model-One poses some major challenges, including isolating the turntable from the speakers to prevent acoustic feedback, and delivering a convincing stereo soundstage. The Model-One addresses both challenges effectively. I never heard a hint of acoustic feedback; and it delivered open, spacious sound that remained so as I wandered around my listening room.
Along with the Model-One Music System, Andover shipped the Model-One Upper Stand ($299), which can hold 100 LPs, and a Model-One Subwoofer ($799). All three components are finished in dark walnut. Stacked together, they had a cool mid-century-modern look.
Playing "March Winds in February," from Van Morrison's Three Chords & the Truth (LP, Exile/Caroline International 0801664), I admired the way the whole system produced David Hayes's hard-driving bass-guitar lines. Individual notes were well delineated in pitch, and Hayes's bass and Bobby Ruggiero's kick drum were well differentiated. With the Andover's PanoM DSP mode engaged, the Model-One produced a wide soundstage and, from the vantage of my listening chair in front of the stereo, a pretty realistic stereo image. Dave Keary's electric guitar at center left and Jay Berliner's acoustic guitar at center right had wonderful tactilities that conveyed their different playing styles. The Model-One did a fine job of tracking Morrison's voice at center as he belted out this high-energy number, though it did slightly accentuate a hard edge when he ramped up the volume.
As I concluded in my review, I can see Andover's Model-One appealing to lots of people — not only non-audiophiles who want an easy-to-use music system for playing records and streaming from their smartphones, but also audiophiles who want a secondary system for entertaining and casual listening.
October — Buchardt Audio A500 Digital Active Loudspeakers
For me, the most exciting segment of audio right now is DSP-powered active loudspeakers. More than any product I reviewed in 2020, Buchardt Audio's A500 shows what digital signal processing (DSP) can contribute to a loudspeaker design.
The A500 is a sealed design with front- and rear-mounted 6″ woofers and a waveguided 0.74″ soft-dome tweeter, each driver powered by its own 150W class-D amplifier. The A500s can accept line-level audio from source components connected to their balanced (XLR) inputs, or wireless audio from a Wireless Speaker & Audio (WiSA) component such as Buchardt's Stereo Hub.
Buchardt sells direct to consumers. A pair of A500s finished in matte black or white sells for $4450, including the Stereo Hub; add $100/pair for walnut veneer. Those prices include worldwide shipping, duties, and all sales taxes.
The A500 uses DSP to implement the crossover, time-align the drivers' outputs, and smooth the frequency response. The crossover can be customized for different applications using a feature Buchardt calls Mastertunings. With the stock or default Mastertuning, the A500 is configured for 2.5-way operation; but Buchardt also offers a downloadable three-way Mastertuning. Other Mastertunings are available for nearfield listening, for using the A500 with a subwoofer, and for placing the A500 very close to the front wall.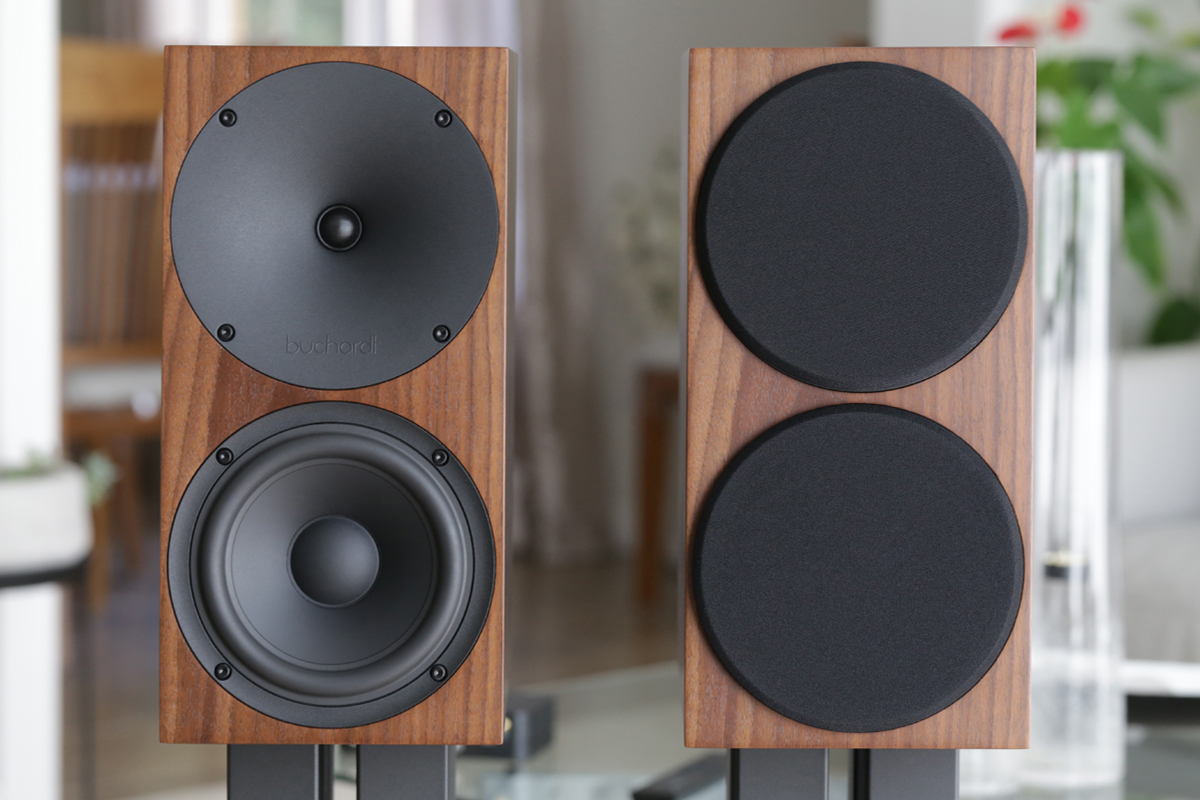 The A500's digital processor monitors and adjusts the woofers' output in real time, to maximize bass extension and output while minimizing distortion. The specified frequency response is 25Hz-40kHz, ±1.5dB. Can a pair of compact, stand-mounted speakers actually deliver bass down to 25Hz? The A500s definitely can, as I confirmed by measuring their in-room response using the Dirac Live feature on my NAD C 658 streaming DAC-preamp.
Most of my listening was done using the Stereo Hub and the 2.5-way stock Mastertuning. "Wind Whistles Through the Dark City," from Landfall, by Laurie Anderson and the Kronos Quartet (24/44.1 FLAC, Nonesuch/Qobuz), demonstrated the A500's astonishing bass capabilities. The album chronicles Anderson's experience of Hurricane Sandy in 2012. Subterranean electronic effects meant to evoke rolling thunder sounded deep and foreboding — I could feel as well as hear these notes.
The A500s were equally satisfying higher in the audioband. The Kronos's close-miked violins, portraying the wind whistling around darkened buildings, had just the right amount of steely edge. A mournful cello theme, evoking deserted streets, was rich and woody, creating a sense of pathos. The soundstage was huge, extending far to the sides and out into the room. Instruments and effects appeared effortlessly from seemingly random points, each well defined, creating a feeling of being alone in a deserted city as weird things happen on all sides.
My only disappointment was not being able to get Buchardt's room-correction app to work, despite hours of troubleshooting. The app, which runs on iOS devices, measures the in-room response, then uploads a correction curve to the Stereo Hub. Other reviewers and users have used the app successfully, so something weird in my network may have caused the problem. In any event, I ended up listening to the A500s without room correction, and, as my review attests, I loved what I heard.
As I concluded, the A500s are "proof positive that you don't need a big stack of components to get exciting and dynamic sound, high-impact bass, commendably accurate vocal and instrumental timbres, and precise aural images on big soundstages." Of the 19 products I've reviewed in 2020, the A500 is my favorite — and not by a small margin.
December — PSB Alpha AM5 Powered Loudspeakers
PSB's affordable Alpha-series loudspeakers have earned reputations for performance and value ever since 1991, when the first generation of models was introduced. Their new Alpha AM3 ($399/pair) and Alpha AM5 ($599/pair) powered speakers take those qualities to another level. Powered versions of PSB's Alpha P3 and P5 minimonitors, the AM3 and AM5 add built-in amplifiers with loads of input options.
I've just completed a review of the Alpha AM5. Like the Alpha P5, the AM5 is a two-way rear-ported speaker with a 5.25″ polypropylene midrange-woofer and a 0.75″ aluminum-dome tweeter. The primary (left) speaker houses the 50Wpc class-D amplifier that powers both channels. The AM5 has a high-precision phono stage made by PSB's sister company NAD, a 3.5mm line-level input, a TosLink input, a USB DAC, and wireless Bluetooth.
One very useful feature of the AM5s is their well-judged tone controls. The Bass and Treble controls have low Q values, so are gentle in their effects. The low shelving frequency of the Bass control — just above 100Hz — allowed me to tame some boom resulting from less-than-ideal placement without making the sound too lean.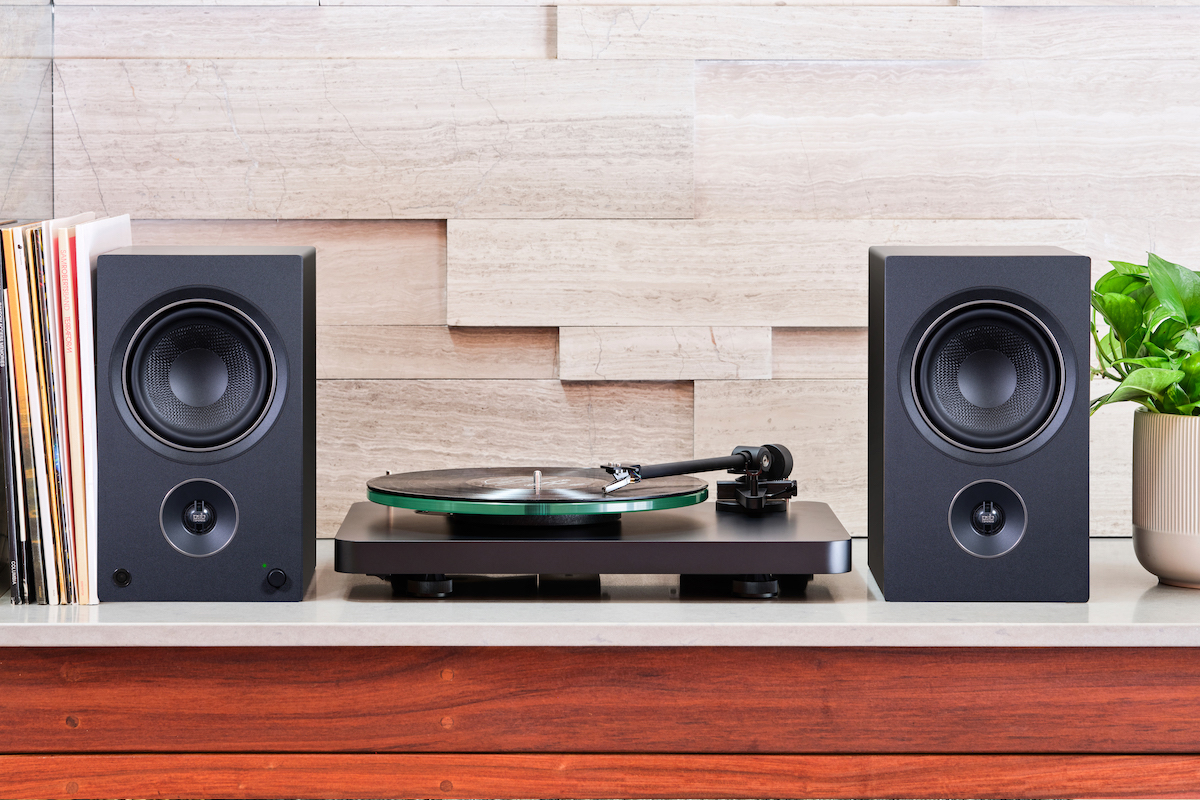 Unusually for a powered loudspeaker, the Alpha AM5 applies DSP to the signal before that signal is amplified. Among the DSP effects is MaxxBass, which is always active except when a subwoofer is connected. Licensed from Waves Audio Ltd., of Tel Aviv, Israel, MaxxBass analyzes the signal's low-frequency content and creates a harmonic series based on sounds that are below a crossover frequency set by the designer — in the case of the AM5, 38Hz. It removes bass below that frequency and replaces it with that harmonic series, to fool the listener's brain into "hearing" those missing fundamental frequencies.
I found MaxxBass very effective. In the title track of Flight of the Cosmic Hippo, an album of bluegrass-jazz fusion by Béla Fleck and the Flecktones (16/44.1 FLAC, Warner Bros./Qobuz), Victor Wooten plays a big, lumbering riff on his five-string fretless bass guitar, whose bottom string is tuned to B0 — about 31Hz. Through the AM5s, it was deep, punchy, and ballsy. Initial transients of plucks were fast and well defined, and decays were tuneful — I could appreciate the unique sound of Wooten's instrument, and how he played with pitch to evoke a hippo's awkward gait. The AM5s were just as satisfying higher in the audioband. Fleck's banjo attacks had delicious twang followed by warm, resonant decays; and Howard Levy's harmonica sounded sweet and saucy.
Throughout my listening, I admired the AM5s' accurate vocal and instrumental timbres, transparent orchestral textures, and precise imaging.
I think PSB's Alpha AM5 is one of the best bargains in hi-fi right now. It can serve as a great starter system for music lovers who are new to hi-fi, or a great second system for audiophiles who want high-fidelity sound in a home office or bedroom.
The year ahead
The last three months of 2020 saw a flurry of new audio products, many of which will be reviewed on Simplifi in early 2021. These will include: KEF's LS50 Wireless II active speakers ($2499.99/pair), which employ the same Metamaterial Absorption Technology (MAT) used in KEF's new LS50 Meta, along with an improved KEF Connect app; Q Acoustics' Q Active 200 active speakers ($1999/pair), which have two front-mounted Balanced Mode Radiator drivers and a rear-mounted 4.5″ woofer, each driven by a dedicated 100W amplifier; and Bluesound's Pulse Sub+ subwoofer ($749), which receives bass frequencies via Wi-Fi under control of the BluOS app. Product-wise, Simplifi will get off to a great start in the new year.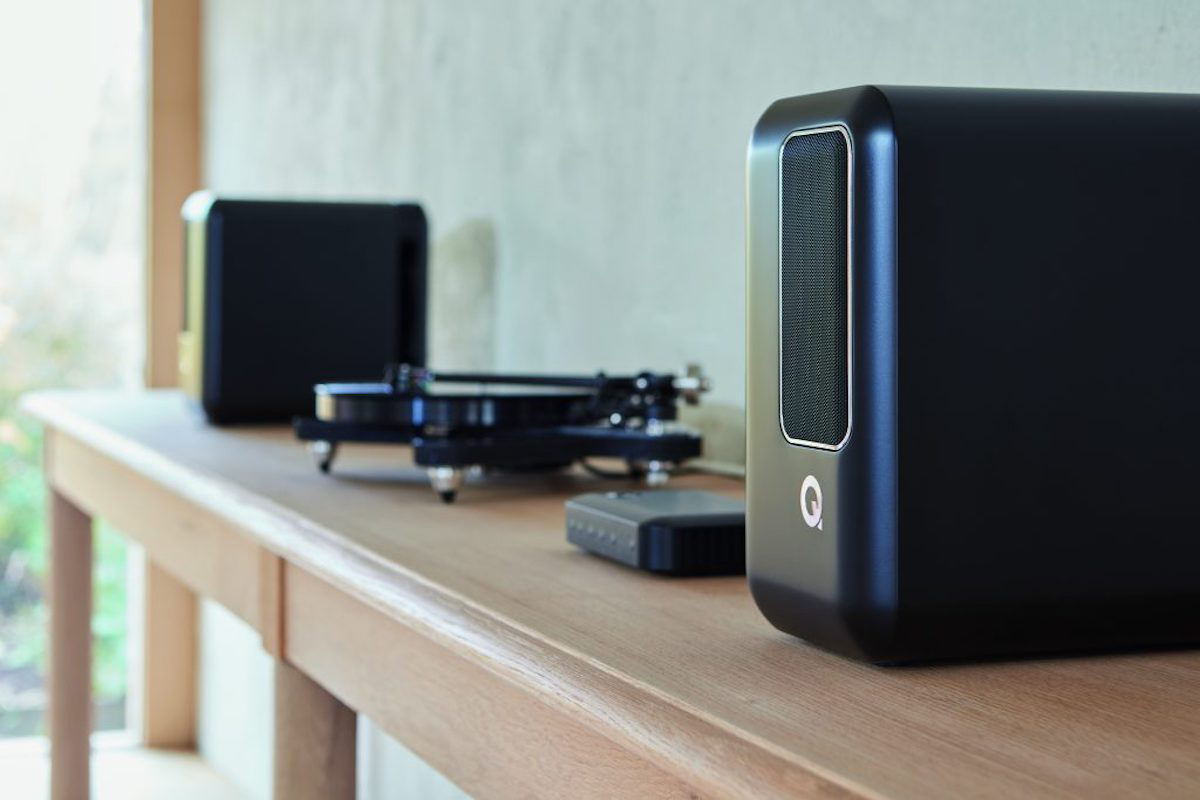 And with development of effective COVID-19 vaccines (Alleluia!), it looks as if audio shows will resume in 2021. The Montreal Audiofest is currently scheduled to run from March 26 to 28. That strikes me as overly optimistic, unless the organizers implement the draconian health measures they'd planned for the 2020 editions of the Montreal and Toronto Audiofests, before those events were canceled. The show dates for AXPONA in Chicago (August 27-29) and High End in Munich (September 9-12) seem more realistic, assuming vaccines have been widely deployed in the first half of 2021. Maybe I'll get to do some of that traveling I missed in 2020.
. . . Gordon Brockhouse
This email address is being protected from spambots. You need JavaScript enabled to view it.