Last spring, I added a new component to my audio wish list: a subwoofer. It happened after I'd conducted an experiment in which I compared my Elac Navis ARF-51 active floorstanding speakers ($4599.98/pair, all prices USD) with a pair of Elac Navis ARB-51 active stand-mounted speakers ($2299.98/pair), the latter augmented by an SVS PB-2000 Pro subwoofer ($899.99). I wanted to find out which would give me better sound: a pair of full-range floorstanders, or a pair of minimonitors plus a sub. The Navises employ the same drivers, crossovers, and amplifiers—in short, that minimum of variables made these two models an ideal test bed for my experiment.
After listening to a wide range of bass-heavy tracks, I concluded that "I preferred the sound of the ARB-51-and-PB-2000-Pro combination to my ARF-51s. But with my listening habits and preferred musical genres, the difference wasn't great enough to make me rethink my decision to buy the floorstanders. Visual footprint and simplicity are also important considerations, and for me they still tip the balance in favor of the ARF-51s."
At the end of my experiment, I couldn't resist trying out the SVS sub with my ARF-51 floorstanders. I loved what I heard: the bass went deeper, with more weight and slam, and there was greater ease higher in the audioband. Might there be a subwoofer in my future after all?
If there were, it would have to be a different kind of sub. Our music system is in the small living room of our 1920s Toronto rowhouse. Even if my design-conscious better half consented to admitting something like the PB-2000 Pro to our living room, I wouldn't go for it. That big black box would destroy the stylish vibe we've worked hard to create.
Another option
But there are other kinds of subwoofers, including models designed to be installed in walls. In-wall subs are available from such major speaker makers as KEF, Monitor Audio, Paradigm, PSB, Revel, and Totem Acoustic; from subwoofer specialists such as JL Audio; and from brands that specialize in custom home integration, e.g., Origin Acoustics, Savant Systems, Sonance, SpeakerCraft, and Triad. Whereas the vast majority of freestanding subs have built-in amplifiers, in-wall subs are all passive designs—they require an external amp.
Soon after my subwoofer feature was published, SoundStage! founder Doug Schneider asked if I'd be interested in trying out Savant's Artison RCC320-MK2 in-wall subwoofer ($1200) and RCC1000-SA monaural subwoofer amplifier ($1100). I sure was, but I had some reservations, as outlined below.
Based in Hyannis, Massachusetts, Savant Systems specializes in home-automation systems for controlling lighting, shades, heating and air-conditioning (HVAC), and security. In 2017, Savant branched out into audio through its acquisition of Artison, based in Minden, Nevada. Joining Savant as chief audio officer was Artison founder Cary Christie, best known to audiophiles as cofounder of Infinity Systems, with the late John Ulrick and the late Arnie Nudell.
Artison's lineup includes three in-wall subwoofers, each now in its second iteration. The middle model, the RCC320-MK2, employs four 4″ x 6″ long-throw, horizontally opposed woofers in an enclosure of black-anodized extruded aluminum. Sound vents into the room through a narrow slot that runs down the middle of the front panel. On the top are push-in speaker terminals that accept bare wire. The specified frequency response is 30-160Hz, ±3dB.
Two versions are available: the RCC320-MK2-PC for new construction projects, and, for retrofitting into existing dwellings, the RCC320-MK2-R. Both are designed to fit between standard 2″ x 4″ wall studs on 16″ centers. The preconstruction (PC) version, which Savant supplied, measures 13.9″W x 13.46″H x 3.5″D and weighs 22 pounds. Both models come with paintable grilles and mounting hardware. The PC version also comes with an HVAC-style grille for in-ceiling installation.
Weighing 10.97 pounds and measuring 19″W x 1.75″H x 13.0″D (including supplied rack ears), the RCC1000-SA is a class-D amplifier specified to output 1000W RMS. Per Savant, a single RCC1000-SA can power up to four RCC320-MK2 subs wired in parallel.
In most applications, the amplifier will be installed in an out-of-the-way equipment rack, but it does come with a small plastic remote control with membrane keys for power on/off, volume up/down, and Movie and Music modes. On the left side of the amplifier's front panel is a power on/off button, and next to that the IR sensor for the remote. On the left is a painted logo.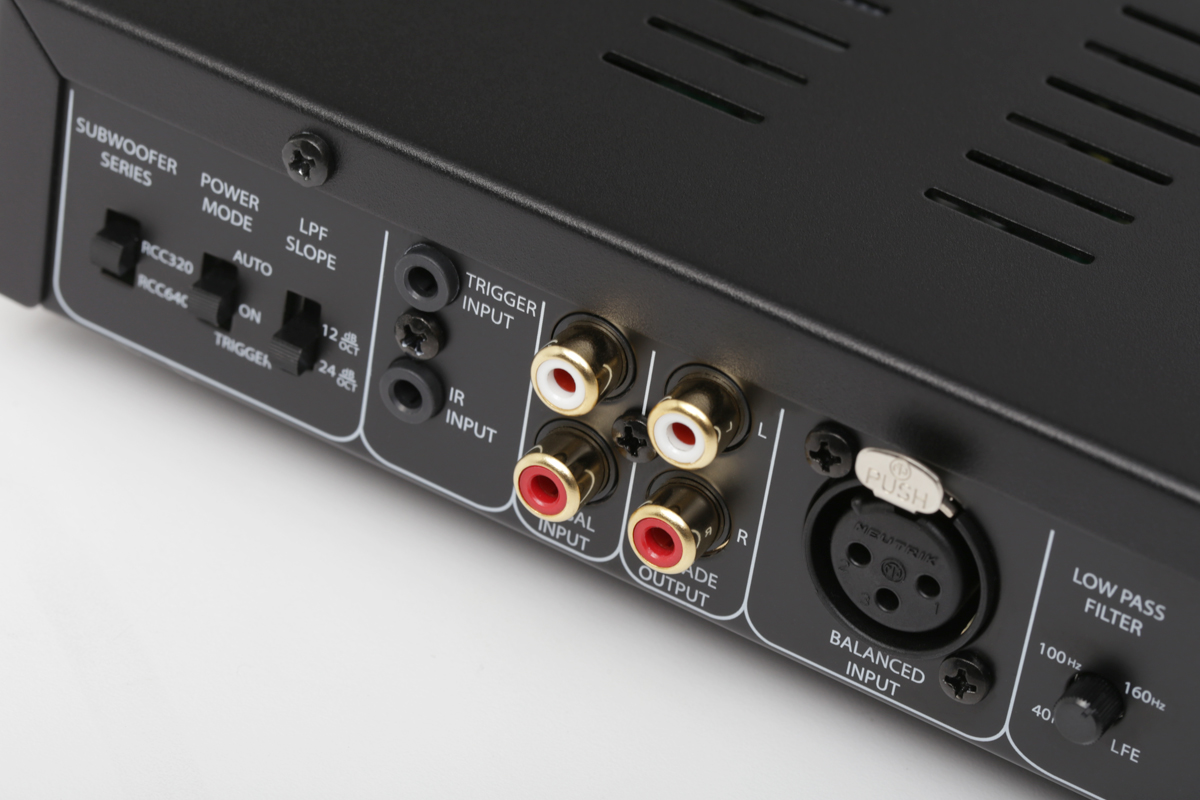 On the rear panel is a single balanced (XLR) input, plus left and right unbalanced (RCA) inputs, and outputs (RCA) for cascading multiple amps. The RCC1000-SA has preset, DSP-based equalization to optimize its response when used with Artison RCC subwoofers. You select the sub model you're using with a two-position slider switch on the left side of the rear panel. To the right of that switch is a three-position slider for power mode (Auto/On/Trigger), and a two-position slider for the slope of the amplifier's low-pass filter (12 or 24dB/octave). In the middle of the rear panel are three small dials, one each for choosing the crossover frequency for the Low Pass Filter (40-160Hz, plus LFE; i.e., no filter, for applications in which the crossover is implemented by a preamp-processor), Phase (0-180°), and Volume. To the right of these controls are: a USB Type-A port for installing firmware updates; high-quality binding posts that accept banana plugs, bare wire, or spade lugs; a fuse bay; a three-pronged 15A IEC power inlet; and the master Power switch.
Process
I approached this project with mild trepidation. I had a pretty good idea of how I'd review a freestanding sub, but I wasn't at all sure how I'd evaluate passive in-wall subwoofers and matching amplifiers. Fortunately, Steve Silberman, business development manager of Savant's audio division, provided plenty of guidance.
It turned out that my situation was analogous to that of the typical homeowner. Most people buying a freestanding sub will pick it up in a store or order it online, then install it themselves. The process will involve experimenting with the sub's position in the room, to maximize bass output and make the bass response as smooth as possible, then tweaking the level, phase, and crossover controls to get a seamless blend of the outputs of the sub and the main speakers.
With an in-wall subwoofer, there's no cheap or easy way to experiment—you have to get it right the first time. This can be a challenge, especially if the subwoofers are being installed as part of a new construction or renovation project. Typically, homeowners will consult with a custom integrator, and describe their room, listening habits, and goals. The integrator may have a showroom for conducting demos and discussing options.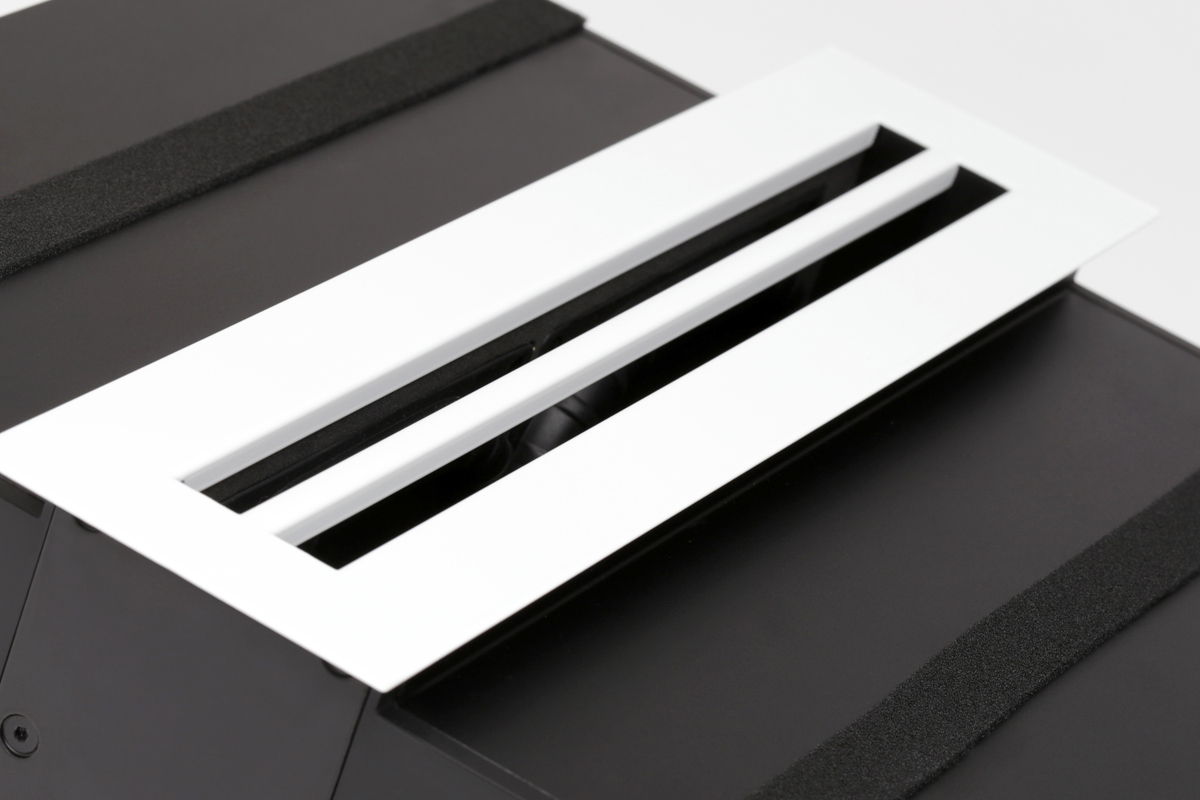 After the consultation, the integrator will make a proposal. If the budget allows, the "best" solution, per Savant's Installation Guide, is to use four subwoofers, installed in the ceiling or walls in each corner of the room. This will maximize output while providing consistent frequency response, Savant says. The "better" option—installing four subs, each in the middle of one wall—will make the response even more uniform, but the maximum output will be lower. The "good" option, per Savant, is 1/4 placement: two subs installed in the front wall, or two in the front wall and two in the rear wall, each 1/4 the room width from the nearest sidewall.
If the budget allows, Silberman recommends using a separate RC1000-SA for each sub—that will enable the integrator to tweak settings and apply EQ for each sub individually. But if money is tight, a single amp can be used to power two or four subwoofers.
When all is agreed on, the integrator will install the sub(s) and amp(s). If the project involves renovation or new construction, this will happen after the studs are in place but before the drywall goes up. When the room is finished, the integrator will return for final tuning, which is done using such software tools as Room EQ Wizard. "None of this can be done by ear alone," Silberman said. "Fine tuning requires measurement tools."
Setup
I didn't visit an integrator to describe my room, discuss options, and arrange for installation. But Savant's Steve Silberman and I did something similar in a process that involved two phone conversations, some e-mail exchanges, and a Webex video meeting.
It began with a phone call. Of course, there was no way I was going to cut drywall or plaster so that I could use the subs as they were designed to be used: in a wall or ceiling. But Silberman said I could still get the full Artison experience with the subs placed next to the wall.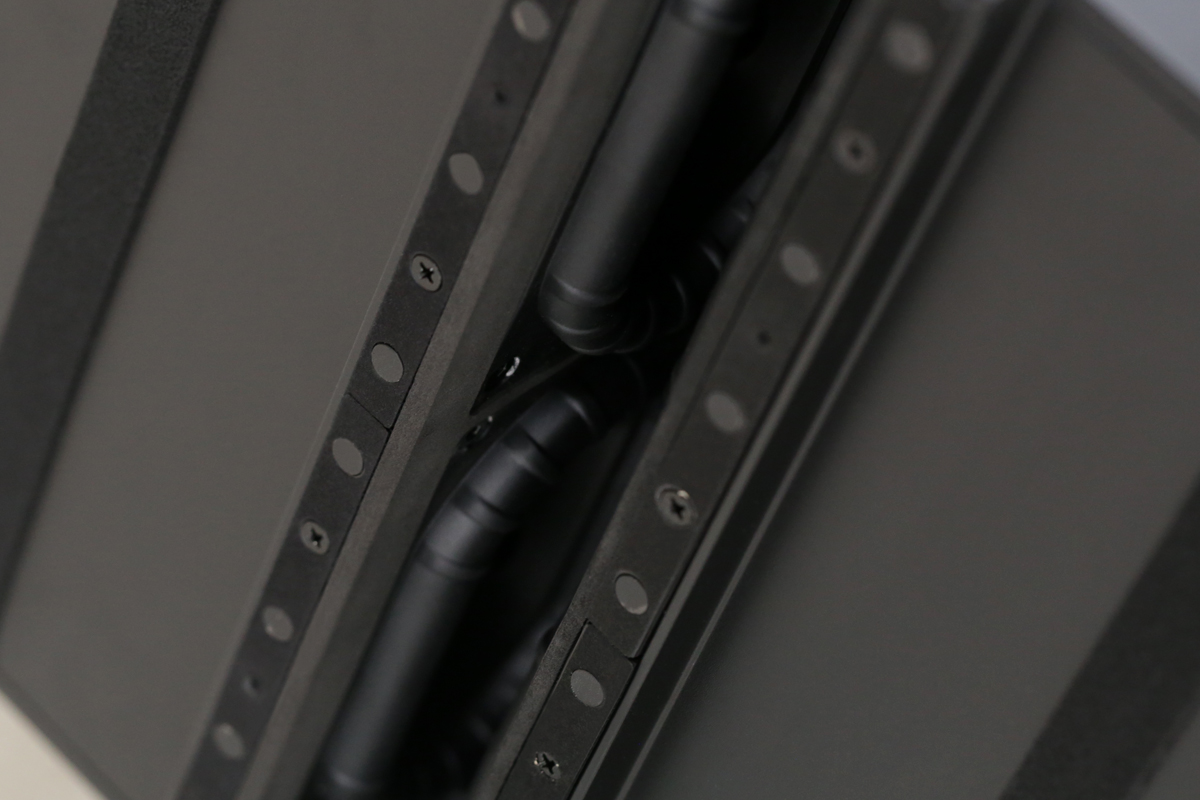 Well, not quite the full experience. According to Silberman, many homeowners are hesitant to install in-wall subwoofers; they worry that bass may bleed from the sub's enclosure, rattle the studs, and be transmitted to other rooms. The RCC320's Reactance Cancelling Configuration (RCC) technology—as Artison fancily calls their mechanically opposed woofers—and aircraft-grade aluminum enclosure make this a nonissue, he said.
With the subs placed next to rather than behind the wall, I had no way to test that claim. Still, I suspect that Silberman is right. After I'd got everything working, I played a 40Hz test tone through the RCC320-MK2s at 90dB and laid a hand on the side, top, front, and rear panels of their enclosures. I felt nothing at all. What energy these subs produced was vented into the room or absorbed inside the enclosure. I'm convinced that it won't leak out into the structure of the building. But I'm jumping ahead.
First, I had to set everything up. The subs would go in front of the walls of my living room—but where? In our living room, the positions of the sectional sofa, faux fireplace, and main speakers are all nonnegotiable. The subwoofers would have to be fitted in around them.
I shot a video of the room, with narration describing the layout and outlining the system's components, and sent it to Silberman. After viewing it, he suggested placing one sub in the right-front corner of the room, the other in the left-rear corner. Well, that wouldn't work—the right-front corner is occupied by my component stand. No problem, Silberman said—I could shift the sub a couple of feet to the left. We scheduled a Webex meeting for the following week, during which Silberman would guide me through setup.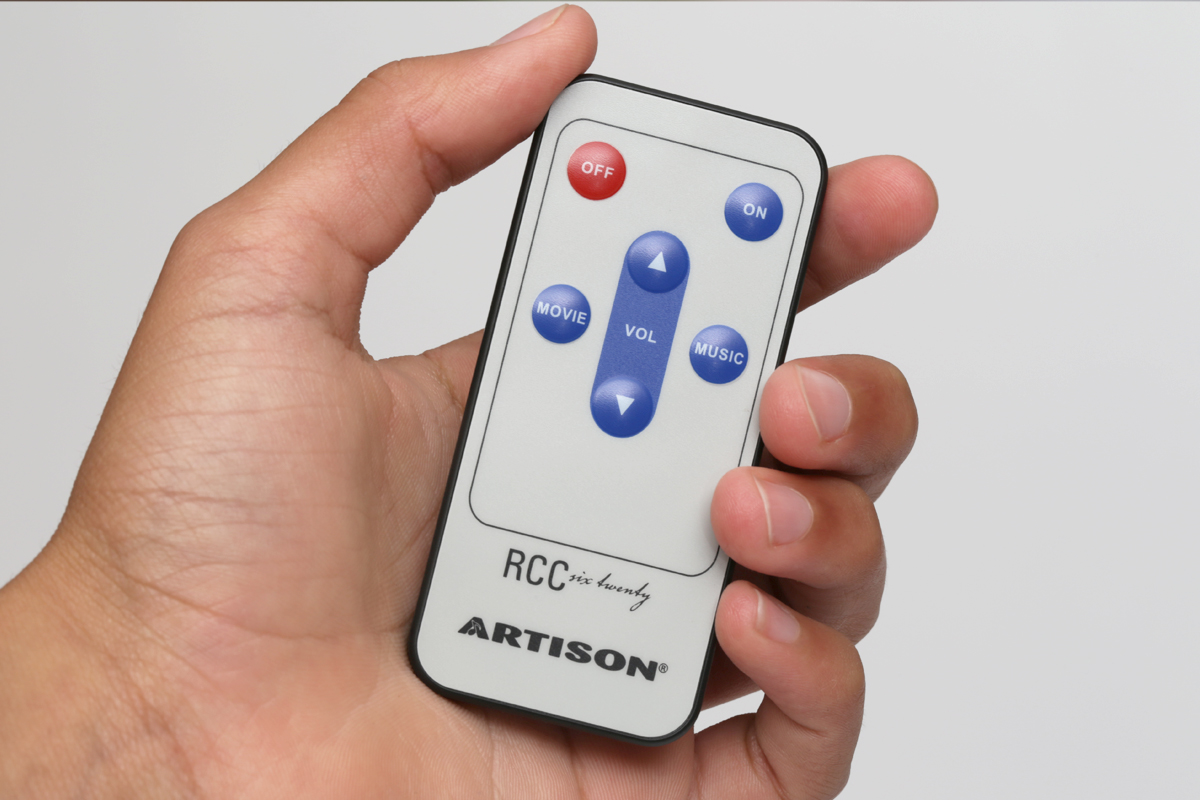 I connected the two amplifiers to the line-level outputs (RCA) of my NAD Classic C 658 streaming DAC-preamplifier ($1649), leaving my Elac Navis ARF-51 active speakers connected to the NAD's balanced outputs (XLR). I set each Elac high-pass filter and each RCC1000-SA low-pass filter to 80Hz and, per Silberman's suggestion, the amplifiers' slope settings to 24dB/octave.
Time to dial in levels. Silberman suggested we begin by matching the outputs of the subs and mains, so that we wouldn't have to resort to extreme EQ later on. First, I played a 200Hz sinewave through the main speakers with the sub amps turned off, and adjusted the NAD's volume control to achieve 75dB SPL, as measured with my handheld sound-pressure-level (SPL) meter. Next, I turned off the Navis speakers, turned on one Artison amp, played a 40Hz test tone, and adjusted the Artison's level control until its sub produced 72dB SPL. (I was comparing the output of a single sub with that of two main speakers, hence the target difference of -3dB.) This worked fine with the sub installed along the right front wall. But with the sub in the rear-left corner, I could get only to 62dB SPL with the RCC1000-SA's level control set to max. Clearly, that left-rear sub was producing a serious null at 40Hz at my listening seat. Time for a Plan B.
Per Silberman's recommendation, I moved the left sub to the front wall, its new position mirroring that of the right sub. Now the configuration conformed to Savant's "good" 1/4-room placement. That did the trick. With a quick adjustment of the level control, I got 72dB SPL in my listening chair from that sub, now in its new location.
The final step was to set up Dirac Live room correction on my NAD C 658, so that I could dial in EQ for the Navis-Artison combination. That, too, went smoothly. I performed the calibration for my listening chair and uploaded the new curve to the NAD. With this setup, Dirac Live saw the Artison subs and Navis floorstanders as a single pair of speakers, and EQ'd them accordingly.
In this screen grab from Dirac Live's iOS app, the faint green trace shows the uncorrected output of the right channel: There's a 10dB peak around 60Hz and an 8dB dip around 98Hz. The purple trace shows the uncorrected left-channel output: an 8dB peak around 50Hz and a 10dB dip around 98Hz. These measurements conform closely to those I've seen when I've done a Dirac Live calibration for the Navises on their own, and confirm the value of the level matching I performed under Silberman's guidance. The bolder yellow trace shows the target curve. As you can see, the Navis-Artison combo has solid output to below 25Hz. On their own, the Navis floorstanders roll off rapidly below 40Hz.
Later in this project, I connected the Artison amplifiers to the NAD C 658's subwoofer outs, and used the C 658's BluOS app to set the crossover frequency. With the C 658 implementing a low-pass filter for the sub and a high-pass filter for the mains, I set the RCC1000-SAs' crossover controls to LFE and the Navis ARF-51s' HF Filter switches to Flat, then performed a fresh Dirac Live calibration.
Theoretically, this should have produced better, or at least equivalent, results. It didn't. Dirac Live showed the same uncorrected peaks and dips I'd seen earlier, but now the LF response, both corrected and uncorrected, extended down to only 40Hz.
Moreover, when I played 40 and 200Hz test tones, the 40Hz tone was 6dB lower in level. But when I connected the Artison amps to the C 658's preamp outputs, and used the Artisons' controls to set the crossover frequency and level, the two test tones were identical in level. Not surprisingly, the sound was significantly leaner when I used the C 658's sub outputs and the BluOS app for subwoofer setup.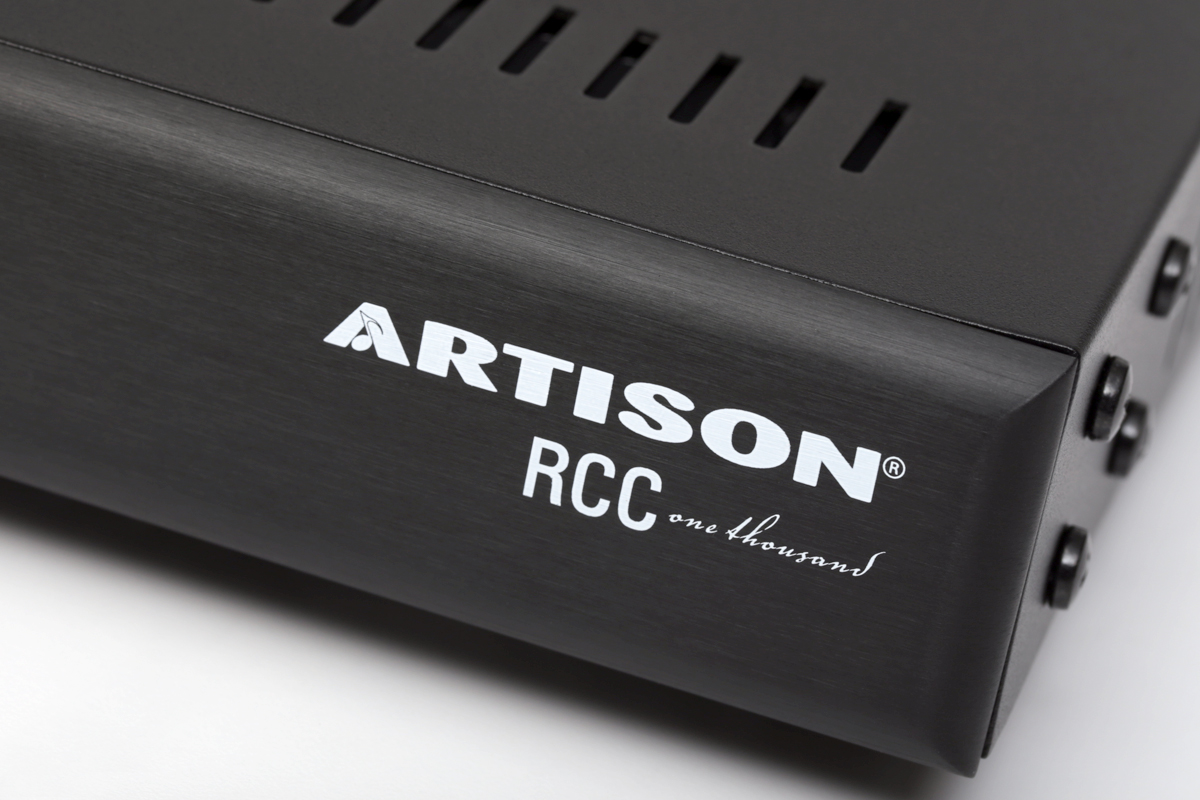 I can't account for this behavior, other than to note that NAD hasn't yet enabled Dirac Live Bass Management in the C 658, or in its Masters M10 streaming integrated amplifier ($2749). When Dirac Research announced this technology in August 2019, they said, "The M10 BluOS streaming amplifier and C 658 BluOS streaming DAC will be the first two products from NAD to feature Dirac Live Bass Management." When I asked the Lenbrook Group (parent company of NAD and Bluesound) about this, they were unable to tell me when Dirac Live Bass Management will be enabled on these two components.
There's been lively discussion about this on Internet forums and Bluesound's support pages, and also about the low levels of the C 658's and M10's subwoofer outputs. Until these issues are addressed by Lenbrook Group, if you want to connect a sub to the C 658 or M10, it's better to use their preamp outputs, as I did per Silberman's recommendation. This is also what Dirac recommends, and how I conducted almost all of my listening.
Listening at last
When I finally sat down to listen to music, I could hear the deeper bass the subs made possible, but that wasn't the only benefit—or even the most important.
I alternated between listening to the Navis floorstanders alone and with the Artison subs. Whenever I switched from 2.0- to 2.2-channel operation, I had to turn on the two Artison amps, change the HF Filter setting on both Elacs to 80Hz, and use the BluOS app to select the Dirac Live setting for the Elac mains plus Artison subs. Then, each time I switched back to the floorstanders alone, I had to reverse the entire process: turn off the Artison amps, set the Elacs' HF Filter switches to Flat, and select the Dirac Live curve for the Elacs alone. Each switchover took about 30 seconds.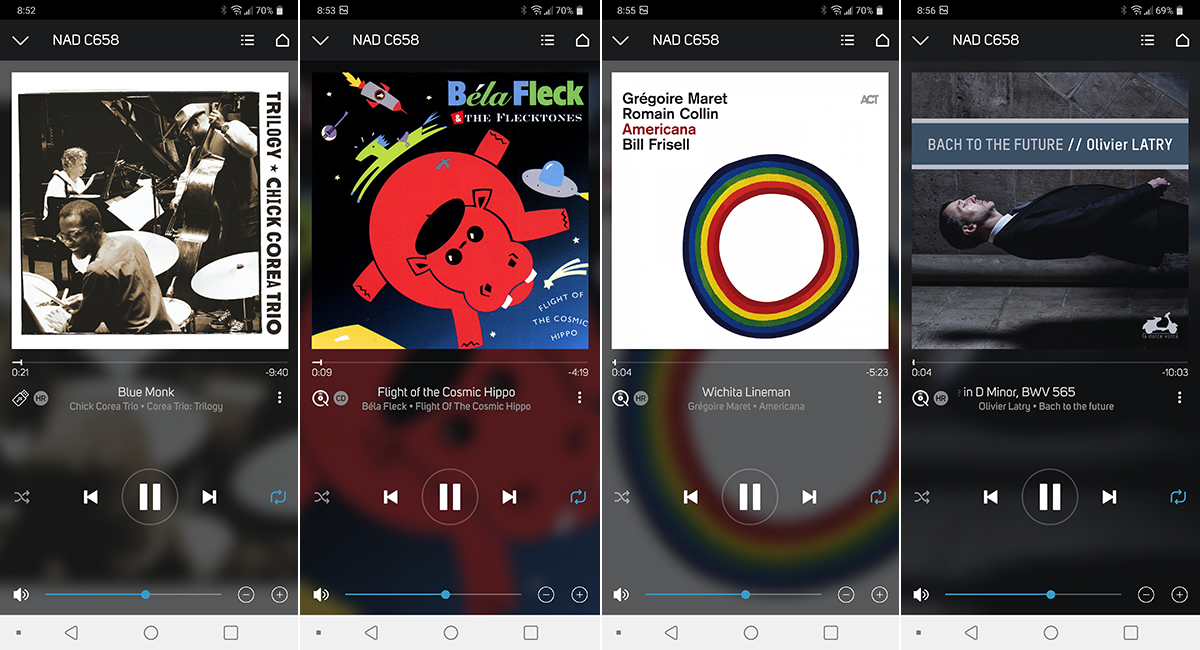 One of the first tracks I played was "Blue Monk," from the Chick Corea Trio's live album Trilogy (24-bit/96kHz FLAC, Concord Jazz). I often use the Trio's cover of this Thelonious Monk classic to assess bass definition. It begins with a double-bass solo by Christian McBride. He uses the full range of his instrument, whose bottom string is tuned to E1 (41Hz). With the Artison subs switched in, his double bass sounded snappier and faster. It sounded just as full and deep through the Elacs alone, but woolier. With the subs switched in, Brian Blade's kick drum, snare rolls, and rim shots hit harder, and the lower register of Corea's acoustic piano had more heft. The entire sound of this recording was weightier and livelier, with more space among the three musicians.
I fully expected the improvement in bass definition—it was the extra weight and liveliness that were such pleasant surprises. To ensure that the overall volume level was the same, whether the subs were active or not, I played pink noise through the Navis speakers alone, with the appropriate Dirac Live and HF Filter settings, and then through the Navises with the Artison subs, changing the Dirac setting and switching in the Elacs' high-pass filters. The levels were precisely the same.
Going a little deeper, I cued up the title track of Flight of the Cosmic Hippo, by Béla Fleck and the Flecktones (16/44.1 FLAC, Warner/Qobuz). Midway, Victor Lemonte Wooten plays a long solo on a five-string fretless bass guitar, its bottom string tuned to B0 (31Hz). Wooten plays the first chorus on the upper strings, the second mostly on the bottom string. With the Artison subs switched in, his instrument had markedly better definition, and in the second chorus its sound filled my room, sounding deep and tuneful. Through the Navises alone, the pitches of those low-bass notes were less distinct—they were better differentiated with the sub added. The synth drums played by Roy Wooten (aka Future Man) were more impactful with the sub switched in, the electronic kick drum having more kick—through the Navises alone, it was more of a thud.
In the cover of Jimmy Webb's "Wichita Lineman" on Americana, by guitarist Bill Frisell, harmonica player Grégoire Maret, and pianist Romain Collin (24/96 FLAC, ACT/Qobuz), Collin plays a Moog Taurus synthesizer as well as piano. Not surprisingly, his deep synth notes sounded more substantial and better defined with the subs switched in. The entire sound was bigger and more transparent, and individual elements such as Collin's piano playing stood out more.
Pipe-organ music is almost de rigueur for assessing or demonstrating a subwoofer. I played a stunning recording of French organist Olivier Latry playing J.S. Bach's famous Toccata and Fugue in D Minor, BWV 565, from his Bach to the Future (24/96 FLAC, La Dolce Volta/Qobuz). Latry plays the five-manual organ in Paris's Notre-Dame Cathedral. Built by the famed 19th-century organ builder Aristide Cavaillé-Coll, this massive instrument has a huge range of colorful stops, and 32′ pipes that play down to C0 (16Hz). This was the last recording of this organ made before the 2019 fire.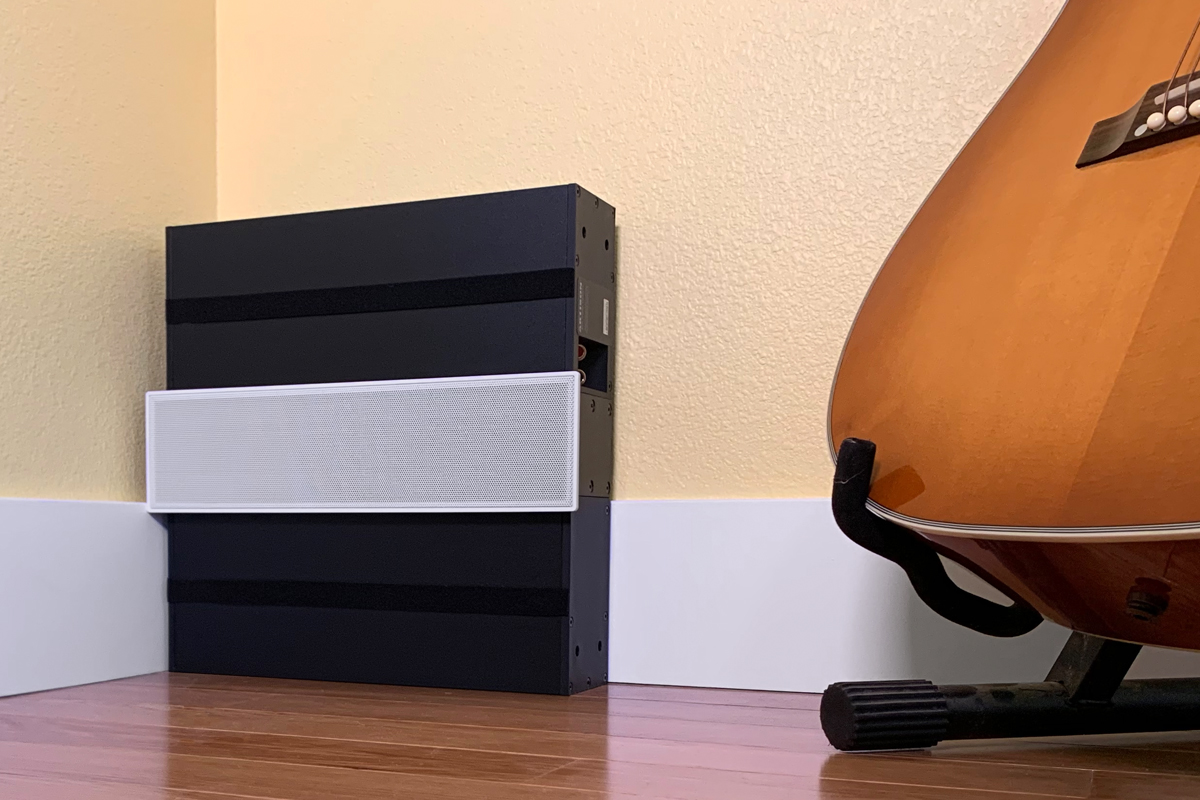 As I'd expected, the low pedal note that follows the opening flourish of the Toccata was more growly and articulate with the subwoofers switched in, and stood out more from the big rolled chord played above the pedal note. While the thunderous chords later in the Toccata were very satisfying through the Elacs on their own, the sound was more congested than with the subs. And in the Fugue, the quiet pedal note at the beginning was less faint and more growly with the subs active, the inner voices more clearly resolved—no mean feat, given the big symphonic instrument used on this recording and this vast venue, which has a reverberation time of seven seconds. The space portrayed sounded much bigger with the subs active—I had a better sense of that huge cathedral.
With the subs switched in, I heard improvements even in recordings that have little deep-bass content. The tone of Brad Mehldau's piano in "Ostinato," from his After Bach (24/96 FLAC, Nonesuch/Qobuz), sounded bigger and more dynamic. I had a better sense of the weight he gives each note—not only in the lower octaves, but throughout the instrument's range. The sound was weightier overall.
In fact, with everything I played with the subs engaged, I was conscious of more weight and palpability, and better portrayals of space. When I outlined my experience to Steve Silberman, he wasn't surprised, and told me of his "first epiphany" about the benefits of subwoofers. It happened in the 1990s, when he worked in retail, and a speaker vendor came in to conduct a subwoofer seminar for store staff and key clients. "The first track he played was a cappella female vocal," Silberman related; "one of the audiophile records du jour. There was an unbelievable difference. The subwoofer added weight and palpability. I heard chest and body from the singer, not just voice." Before my experience with the SVS and Artison subs, I might have raised a skeptical eyebrow on hearing this story. Not now.
Turn back the clock
Savant Systems sells most of its Artison subwoofers as part of architectural audio systems, with either in-wall or in-ceiling main speakers. Their business is split about 50/50 between dedicated home theaters and multipurpose living areas.
Applications like mine, in which in-wall subs are combined with freestanding full-range speakers, are comparatively rare. "But we see a huge opportunity here," Steve Silberman said. "There are lots of people who want to add bass but don't want to look at a big black box."
I'm one of those people. At this stage in my life, I don't know if I'd be willing to have walls cut open and cables snaked to other rooms to fit in a pair of in-wall subs—not only because of the cost (the complete Artison system, as tested, costs $4600, plus cables and installation), but of the domestic upheaval.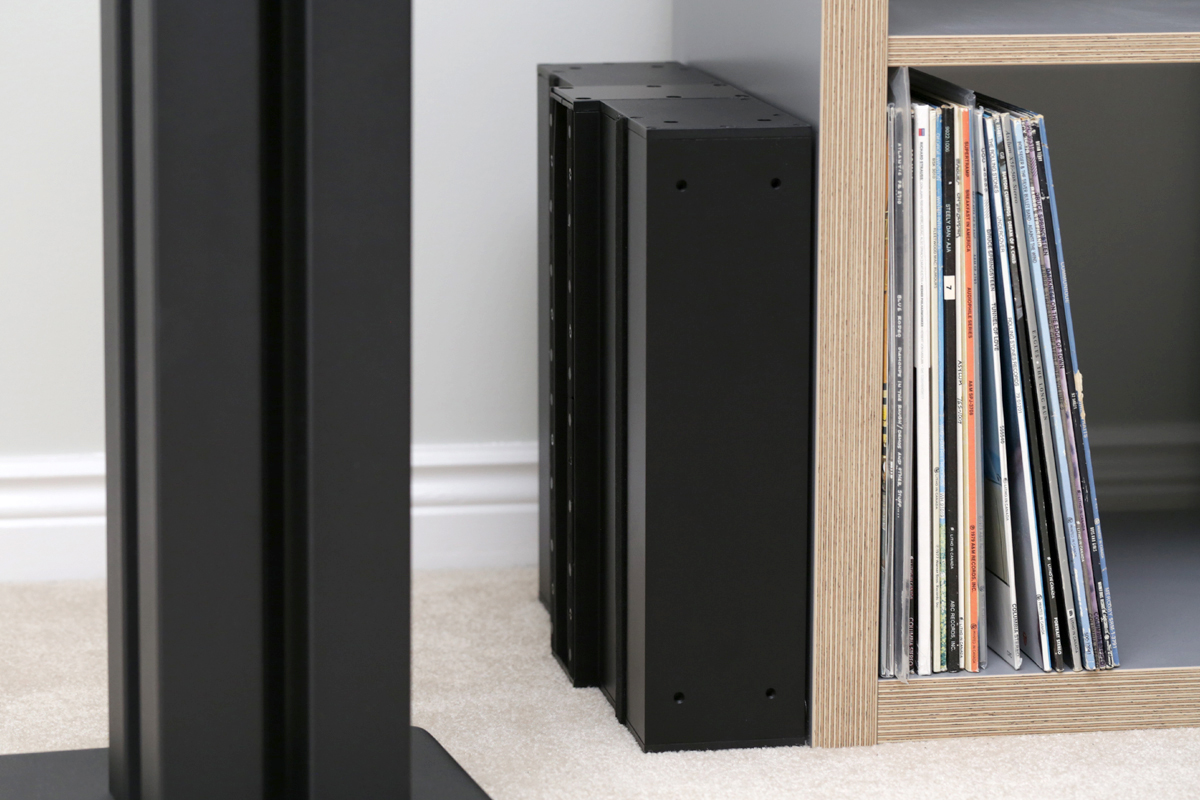 But if I could turn back the clock a few years, who knows? In early 2018, before my wife and I moved into our present home, we arranged for extensive renovations of it. Part of this involved replacing old knob-and-tube electrical wiring with modern copper. It would have been easy to fit the subs between the new studs installed by the contractor, and to feed wires down to the basement utility room directly below our living room, where I'd have installed the subwoofer amps. This could have worked.
But we didn't do it, and now, of course, it's just idle daydreaming. Anyway, my music system was then quite different—adding architectural subs wouldn't have occurred to me.
Most important, the entire process of renovation was hellish—as most such projects are. Tradespeople vied for access to our house so that the renovation didn't drag on interminably. Adding architectural audio to a project that included rewiring, new flooring, a new kitchen, a finished basement, plumbing, painting, and wallpapering could have been a marriage-killer.
Here's what I do know: Savant's Artison subwoofer system is sonically compelling and completely invisible. If I could have had it, it's the system I would have wanted.
. . . Gordon Brockhouse
This email address is being protected from spambots. You need JavaScript enabled to view it.