What would you rather do on a glorious Canadian autumn weekend: Go for a hike in the woods? Do some urban exploring? Listen to great audio equipment in a suburban hotel?
Over the weekend of October 18-20, 3500 people chose the third option, spending hours or days at the second edition of the Toronto Audiofest, held at the Westin Toronto Airport Hotel in Mississauga, Ontario.
These people might be hard-core, but they're definitely not crazy. Shows like Audiofest are a rare opportunity to experience a huge variety of state-of-the-art audio gear in a fun, no-pressure environment. Where else can you hear a dozen or more six-figure systems in a single day?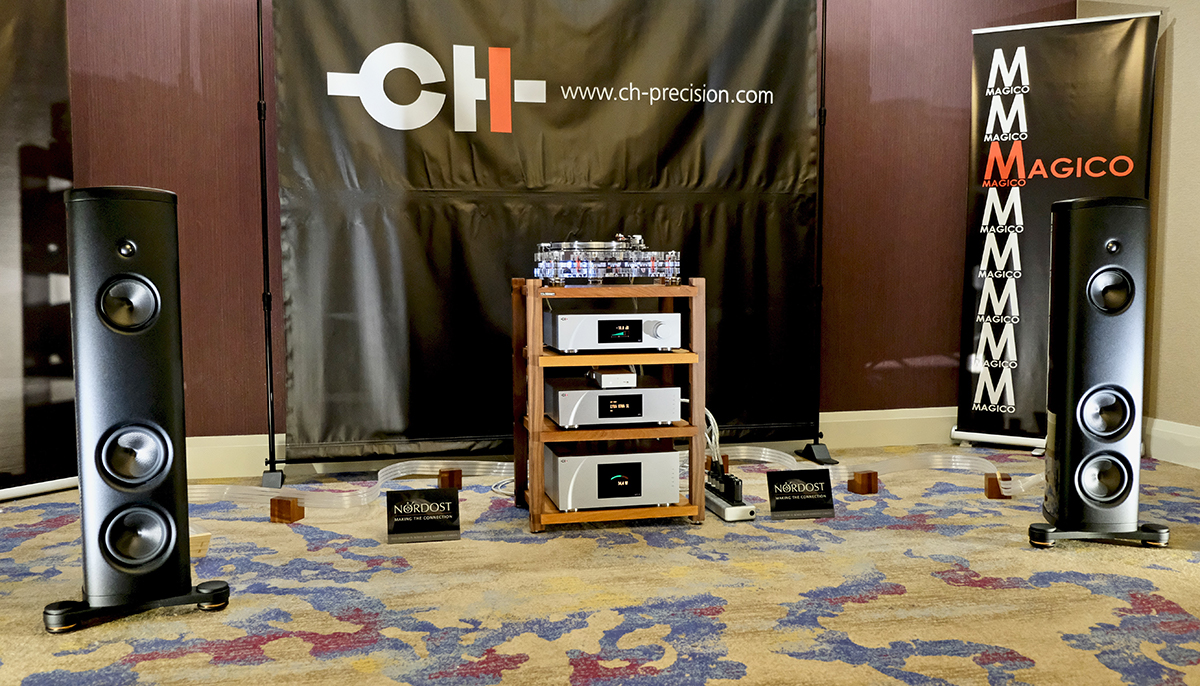 The ultra-high end isn't my beat, but I sure enjoyed experiencing the warmth and visceral slam of a $211,000 system comprising an Innuos Statement server, MSB Technology DAC, Dan D'Agostino monoblock amplifiers, and Wilson Alexia 2 speakers in the room of Audio Excellence, a retailer in Markham, Ontario, northeast of Toronto. Likewise, I was floored by the speed and clarity of a system comprising Magico speakers and CH Precision electronics in the room of Audio by Mark Jones, a dealer in Whitby, Ontario, a half-hour east of Toronto. To the vast majority of people, such systems are unattainable -- but it's great to hear them, if only to educate your ears about what no-holds-barred hi-fi can deliver.
There was also a lot of real-world hi-fi at Toronto Audiofest, including new products that fit Simplifi's mandate to cover "convenient, lifestyle-oriented hi-fi." Some of the products in this report were brand-new. Others had been announced earlier this year, but were making their Canadian or North American debuts at Toronto Audiofest. This being a Canadian show, all prices are in CDN$. I'll start with some Canadian brands, then follow with a few from Europe.
Totem Acoustic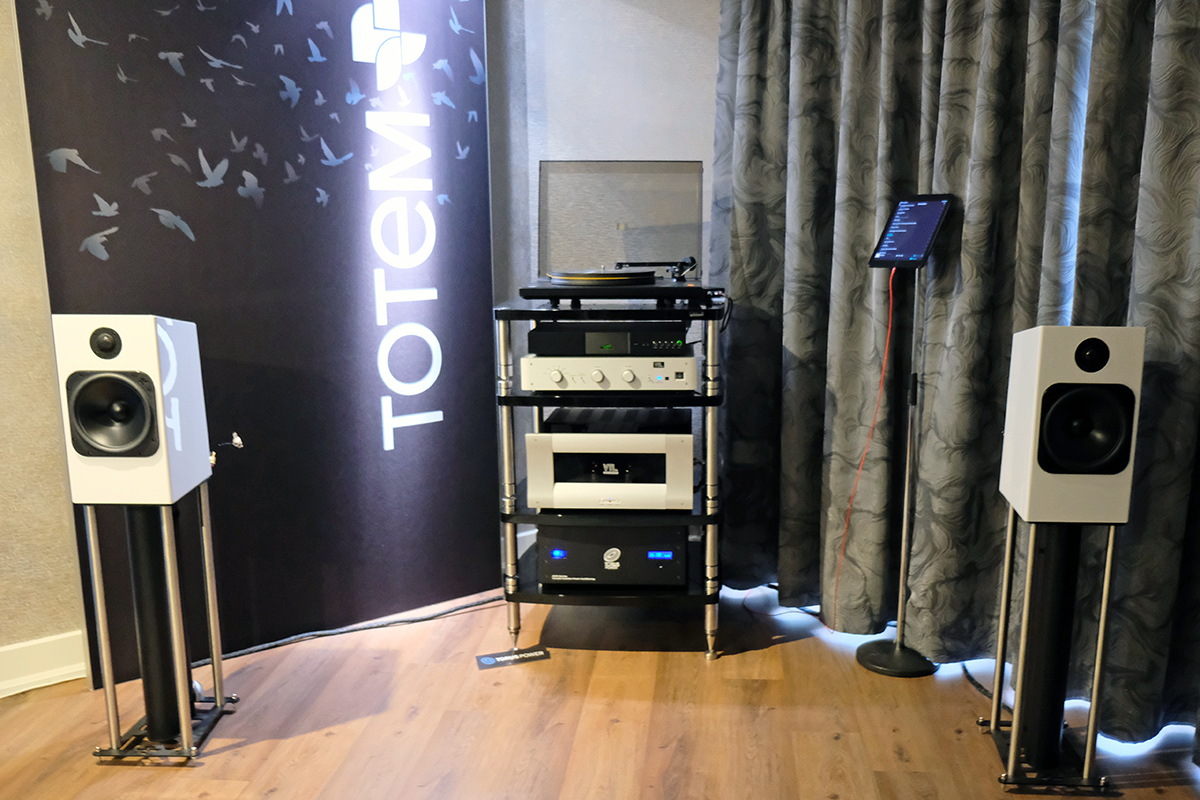 Totem had two systems playing in its suite. In one room, founder Vince Bruzzese was demonstrating the Element Fire V2 minimonitor ($8000/pair), which Totem launched last spring at High End, in Munich, in a system with VTL amplification and a Naim Audio network player. A recording of Julie London singing "Blue Moon" sounded lovely, with a big, effortless sound and disarmingly natural vocal timbre.
The Element Fire V2 doesn't fall under the Simplifi umbrella -- watch for a review of it on SoundStage! Ultra -- but the other system Totem demonstrated definitely does: the Kin Play powered speakers ($1250/pair), which I reviewed earlier this year, and which filled Totem's room with big, effortless sound.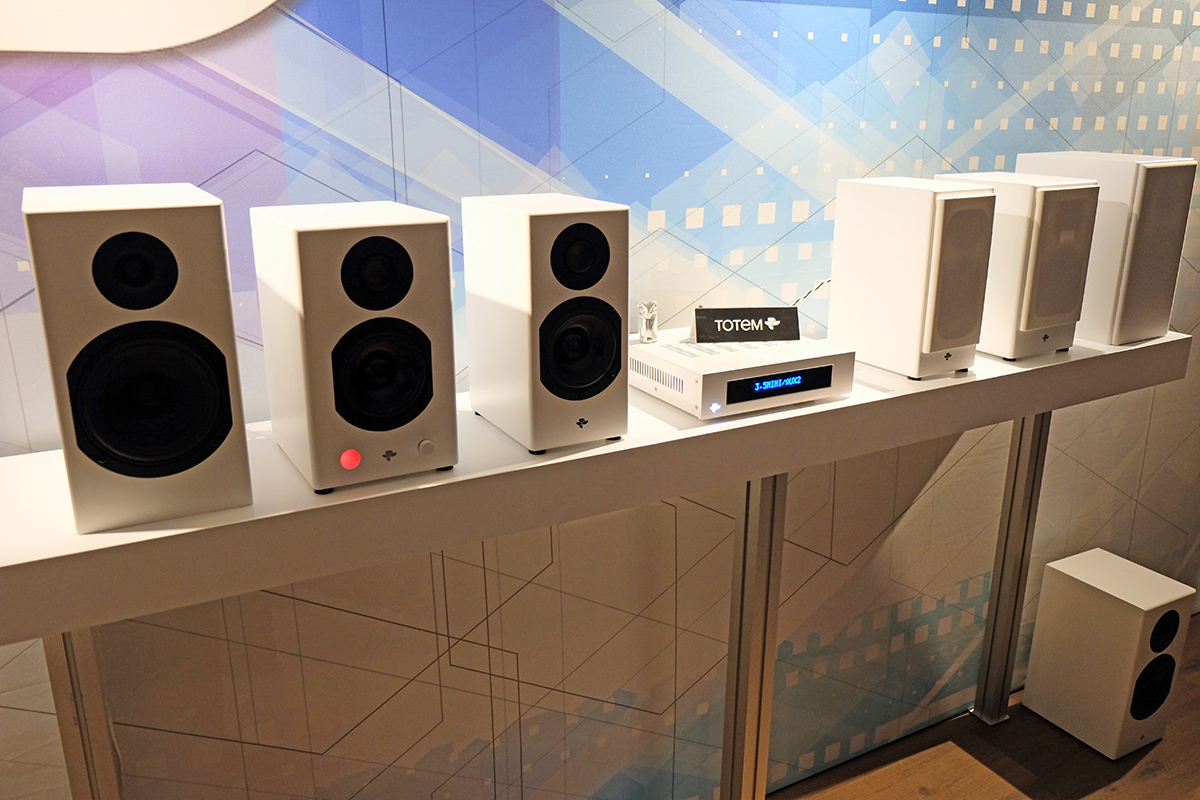 On silent display were several new Totem products, all announced in September at the CEDIA Expo, in Denver. Toronto Audiofest was the first public exhibition of the Skylight Monitor ($1000/pair), Kin Play Mini ($850/pair), and Kin Monitor ($699/pair) speakers, and the Kin Amplifier ($699).
Like the Kin Play, the Kin Play Mini powered speaker features aptX HD Bluetooth, RCA inputs switchable between moving-magnet phono and line-level operation, a 3.5mm analog input, a TosLink digital input, and a subwoofer output with 220Hz low-pass filter. But the Kin Play Mini has a smaller woofer (4" vs. 5.25") and a less powerful amplifier (70 vs. 120Wpc). The Kin Monitor is a passive version of the Kin Play Mini. All three Kin Play speakers have 1" metal-dome tweeters.
Specified to output 100Wpc, the Kin Amp is a class-D design with the same connectors as the Kin Play and Kin Play Mini powered speakers. All Kin products are available in black or white finishes. In coming months, watch for reviews of Totem's new Kins on SoundStage! Simplifi and SoundStage! Access.
Manufactured in Canada, the Skylight Monitor is the latest addition to Totem's Sky series, which also includes the Sky Monitor and Sky Tower. The Skylight employs a 5.75", long-throw, underhung woofer and a 1" soft-dome tweeter with neodymium magnet, housed in a lock-mitered monocoque enclosure made of variable-density fiberboard (VDF).
Silently displayed elsewhere in Totem's suite were two new passive soundbars, also announced at CEDIA: the two-channel Tribe Duo Solution ($2000) and the three-channel Tribe Trio Solution ($2800). The Duo has two 4", neodymium-activated, long-throw woofers and one 22mm soft-dome tweeter for each channel. The Trio uses the same drivers for the center channel, and for each of the left and right channels uses the same tweeter and a 5.75" woofer.
Bryston
As they did at last year's Toronto Audiofest, Bryston demonstrated a big active speaker system with two Model T active towers stacked in a line-source configuration for each channel, a BAX-1 active crossover, and a 21B3 three-channel power amp (600Wx1 plus 300Wx2) for each channel. The opposite of Simplifi'd hi-fi -- but pretty neat.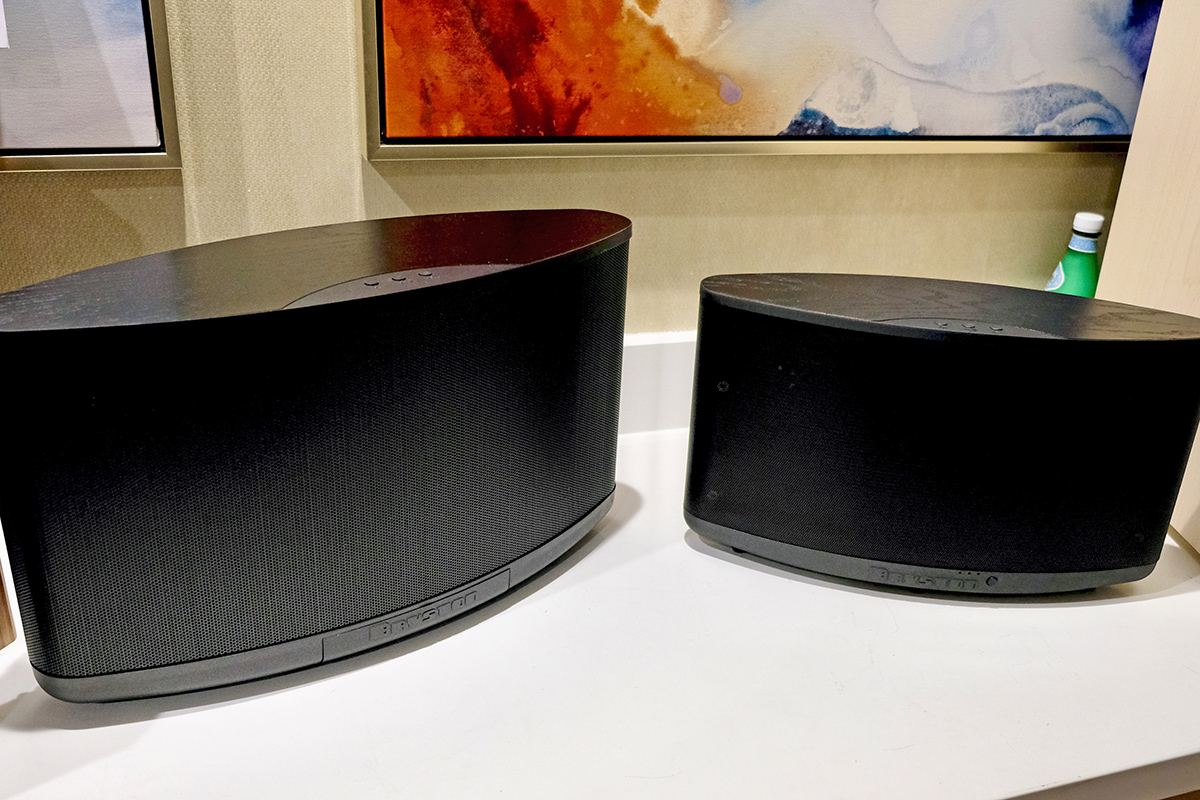 But Bryston did have some Simplifi'd products on silent display. These included a new version of the BryFi BW-1 tabletop music system, which Al Griffin reviewed for Simplifi in 2017. The BryFi BW-2 ($1500), about two-thirds the size of the BW-1, is a two- rather than a three-way speaker, with a 6.5" aluminum woofer and 1" titanium-dome tweeter for each channel. The BW-2's class-D amp is specified to output 150Wpc. The BW-2 Mini ($900) is even smaller, with a 1" tweeter for each channel, plus a shared 6.5" woofer with dual aluminum voice coils. Its specified power is 100Wpc. Both models have built-in Wi-Fi and Bluetooth, and updated software that supports Apple AirPlay, Spotify Connect, UPnP, and high-resolution playback to 24-bit/192kHz PCM.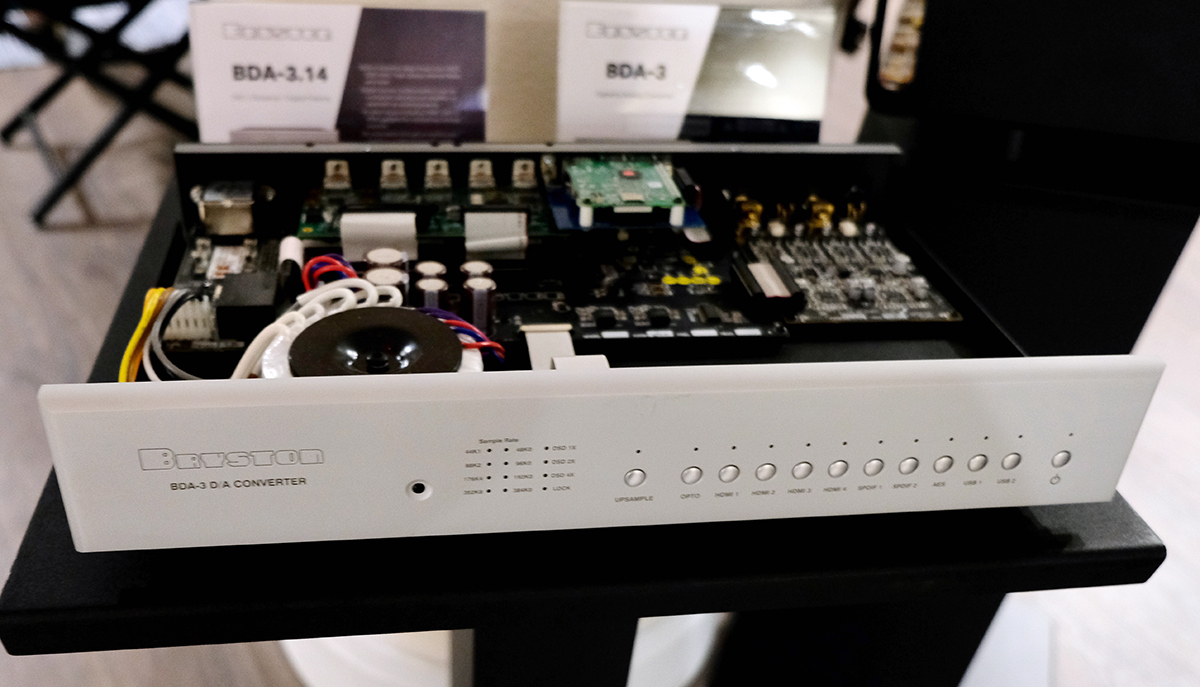 Also on silent display was the BDA-3.14 ($4195), a new version of Bryston's acclaimed BDA-3 DAC, but with added streaming capability based on a Raspberry Pi Linux module -- the little green circuit board at the back of the player in the photo above. (Yes, the model number is a pun.) That lets you play music from network and USB drives, as well as Qobuz, Tidal, Roon, and Internet Radio. Also new is a digital volume control, allowing direct connection to a power amp or active speakers. Like the BDA-3, the BDA-3.14 has a plethora of inputs, including four HDMI with support for two-channel PCM audio, asynchronous USB, AES/EBU, and coaxial and optical S/PDIF. Like the BDA-3, the BDA-3.14 can natively decode PCM up to 32/384 and DSD up to 1024.
exaSound
Last spring in Chicago, at Axpona, Toronto-based exaSound announced the Sigma network streamer ($750) and Gamma server ($2500, no internal drive). Toronto Audiofest 2019 was the first public exhibition of these products in Canada.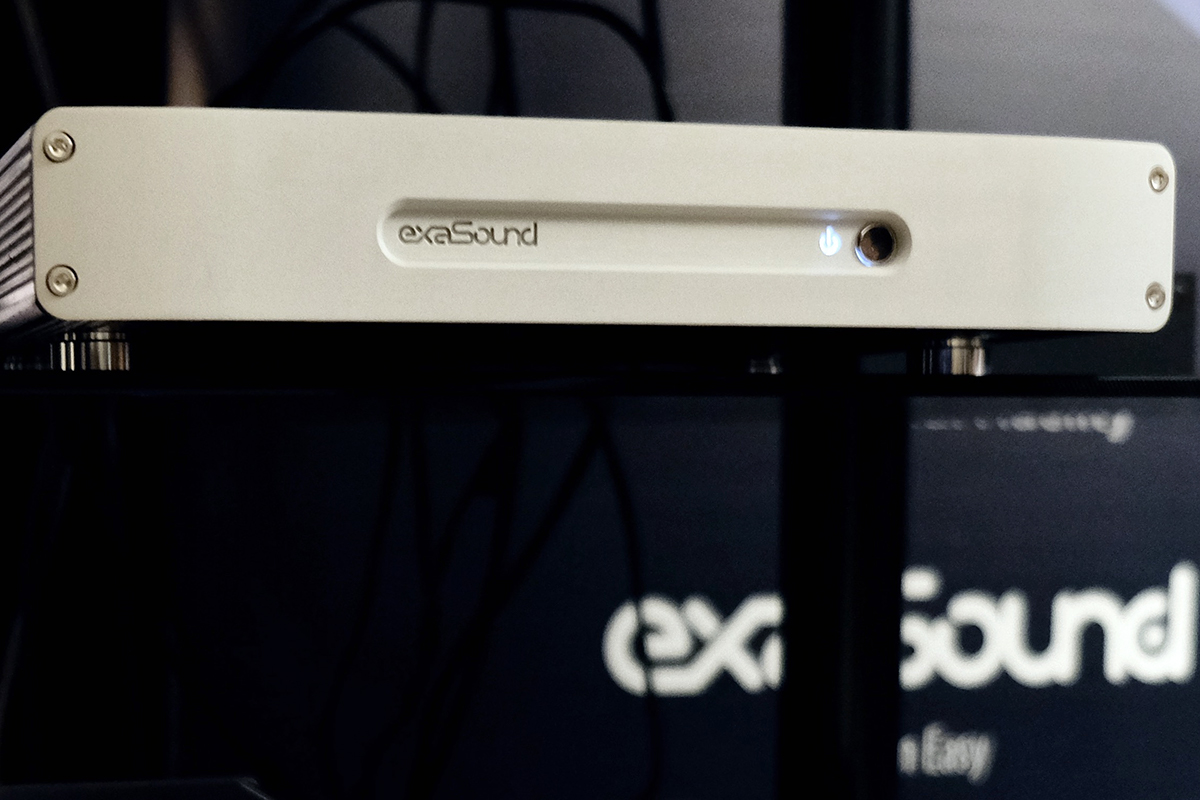 The Gamma (shown above) has exaSound's driver software, which optimizes the output for the company's highly regarded DACs -- with other DACs, it will operate conventionally. The Gamma can operate as a Roon Core server or Roon Ready player, a UPnP server or player, a Signalyst NAA player, or an Apple AirPlay player.
The Sigma streamer has built-in Wi-Fi with 802.11ac support, as well as a Gigabit Ethernet port. It's Roon Ready, and supports Apple AirPlay, UPnP, and HQPlayer. The only output option is USB. It can be used for stereo playback, or -- with a DAC such as exaSound's eight-channel e38 Mk.II -- for multichannel playback.
The Gamma and Sigma can both perform the first unfolding of MQA-encoded content. Their maximum resolutions are 32/384 PCM and DSD256.
Hegel Music Systems
Toronto Audiofest 2019 marked the first North American showing of the H120 streaming integrated amplifier ($3600) from Norwegian manufacturer Hegel Music Systems. The H120 succeeds the Röst integrated, favorably reviewed on this site by Al Griffin in 2017.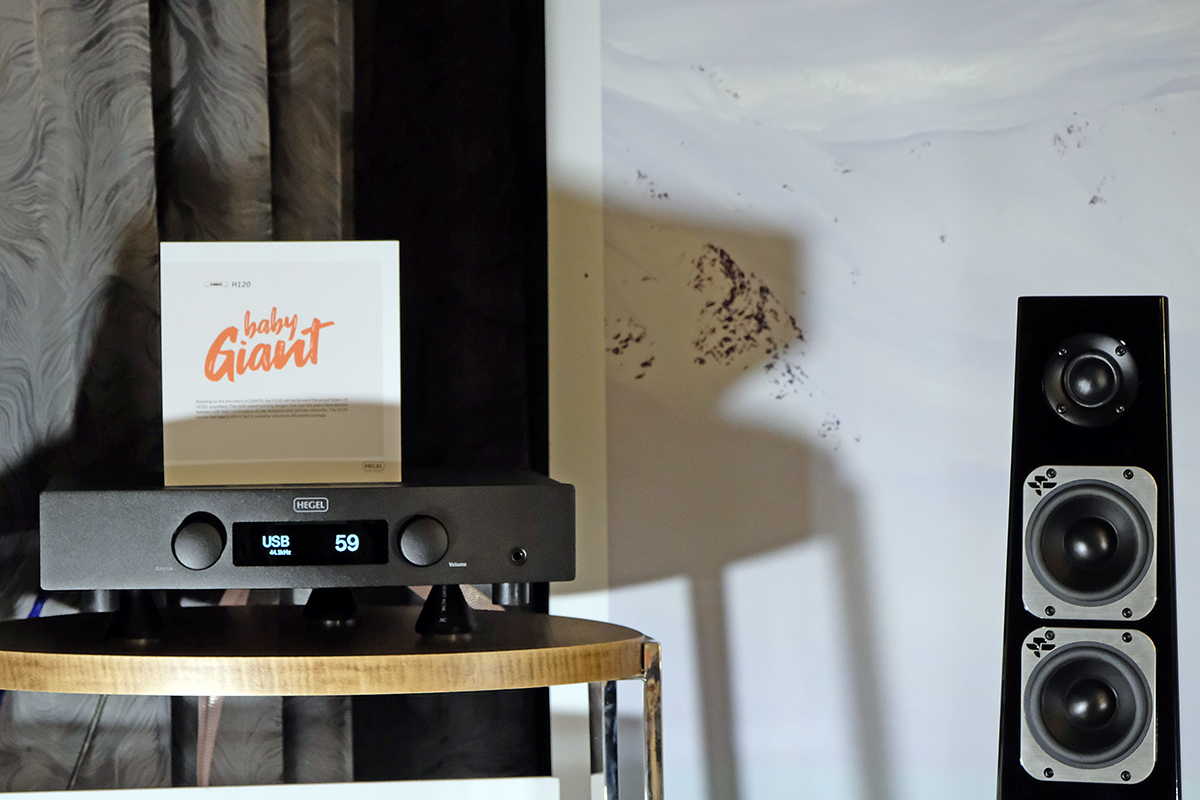 Available in finishes of black or white, the H120 is specified to output 75Wpc into 8 ohms. Playing Deadmau5's "Seeya" through a pair of Totem Tribe Towers, the bass was surprisingly robust, even prodigious, given those slim floorstanders' dual 4" Torrent woofers -- but also very well controlled, which the presenter attributed to the H120's unusually high damping factor of 2000. The H120 includes Hegel's SoundEngine 2 distortion-canceling technology, and has dual-mono architecture.
The H120 has an Ethernet port, and built-in support for Apple AirPlay, Spotify Connect, and UPnP/DLNA. Its digital inputs are asynchronous USB, three optical, and one coaxial S/PDIF; and, for line-level analog signals, two pairs of RCA and one set of XLR jacks. Simplifi will have a full review of the H120 in December.
Elac
Elac demonstrated two systems in separate rooms of its 15th-floor suite. The first was right in Simplifi's wheelhouse -- a pair of Navis ARF-51 active floorstanding speakers ($6000/pair), which I recently reviewed and subsequently purchased.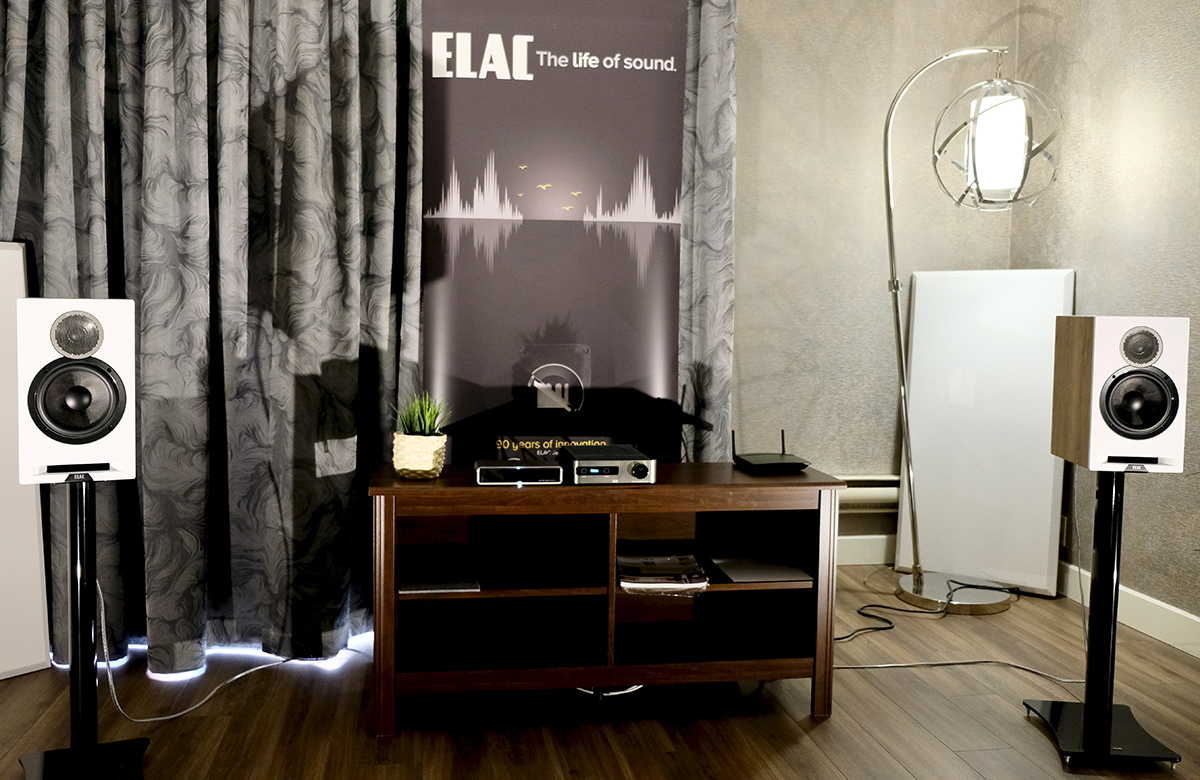 The other system was built around Elac's new Debut Reference 2.0 DBR62 minimonitor ($700/pair), announced at the CEDIA Expo in September and shown in Canada for the first time at Toronto Audiofest. Like the standard Debut, the Debut Reference 2.0 has a 6.5" aramid-fiber woofer and a 1" soft-dome tweeter, but also a new waveguide claimed to broaden the tweeter's dispersion and, on the front baffle, a bass slot port to permit greater flexibility in positioning. Both features are big wins for listeners who want to install their systems in multipurpose living spaces.
Another big win is the Auto Blend & Calibrate (ABC) feature in the EA101EQ-G streaming amplifier ($1300) that Andrew Jones, Elac's VP of engineering, used to demonstrate the system. With ABC, listeners can use a smartphone app to blend the outputs of the main speakers and a subwoofer, and to tailor the frequency response to the room and listening position. Specified to output 80Wpc into 8 ohms, the EA101EQ-G has built-in Wi-Fi and Bluetooth, and supports AirPlay, Spotify Connect, and Roon.
Asked if he'd used ABC for this demo, Jones said he hadn't: "I always recommend trying to fix the room first." Indeed, the demo room had been treated with diffusion panels. Also, Jones wanted attendees to hear an unadulterated demo of the new Debut Reference 2.0 speakers. "Bluesville," by Count Basie and His Orchestra, sounded big and robust. This really impressive Simplifi'd music system has a combined retail price of $2000.
Dynaudio
For many attendees, the star attraction in the demo rooms of Canadian distributor Gem-Sen was Dynaudio's new flagship stand-mounted speaker, the Confidence 20 ($17,000/pair including stands).
My main interest was a presentation of the advantages of active loudspeakers conducted by Brian Kjær, senior manager of the Dynaudio Academy at Dynaudio North America (shown in photo above). During his presentation, Kjær described Dynaudio's new R&D facility, which includes a 42.65' (13m) cubical chamber of thick concrete in which the company's engineers can conduct detailed measurements using a huge array of Brüel & Kjær microphones. The new facility enables Dynaudio to get new products to market much more quickly than in the past, he said.
Kjær also outlined the many advantages of Dynaudio's active designs. These advantages, which will sound familiar to regular visitors to SoundStage! Simplifi, include an all-digital signal path, a clutter-free setup, the abilities to match amplifiers precisely to drivers and to use DSP for room correction, and the convenience of wireless playback.
In Germany, the Netherlands, and Scandinavia, Kjær told me, annual unit sales of active speakers now exceed those of passive models. By contrast, in North America the split is about 15/85 in favor of passive speakers -- but here, too, active speakers are rising in popularity, especially on the West and East Coasts, Kjær said.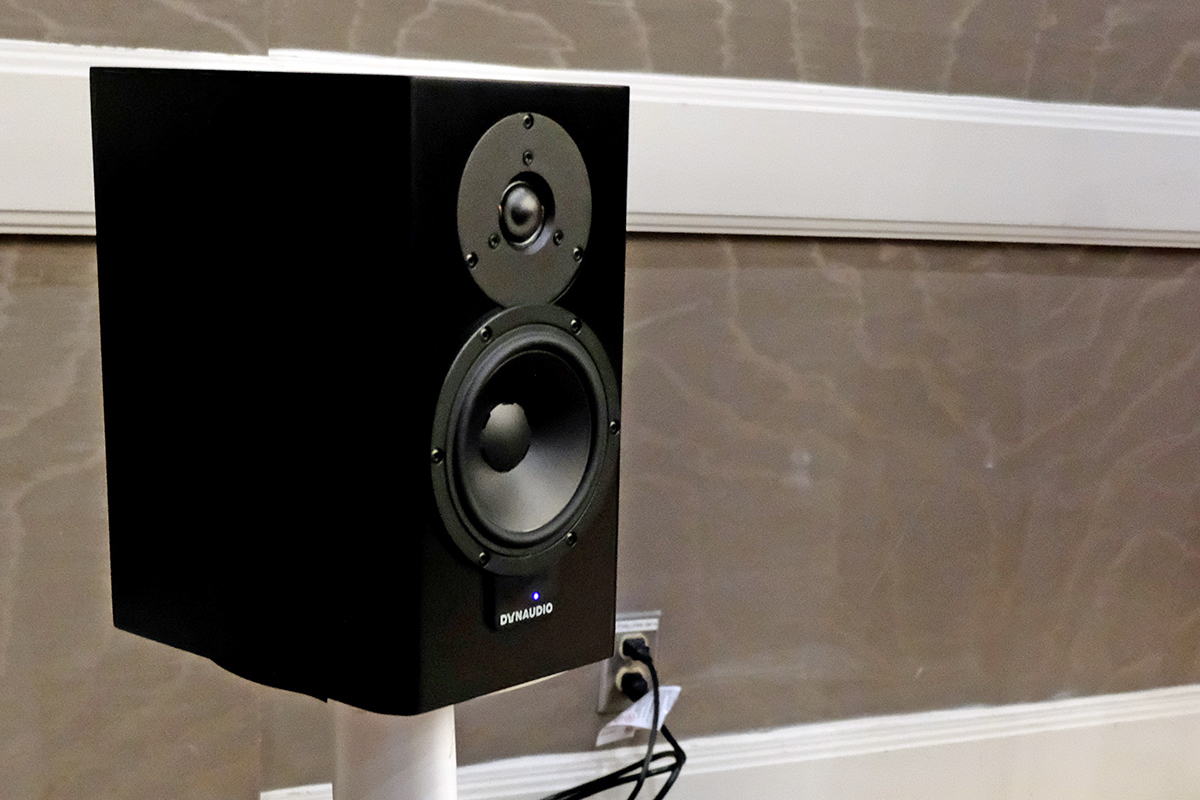 As part of his demonstration, Kjær played a selection of music through the small Xeo 20 active bookshelf speakers, which Dynaudio introduced last year. The little Xeo 20s delivered impressive output, filling the small conference room with music and not sounding at all strained. The Xeo 20 replaces the Xeo 4, a pair of which I have in my vacation home, and is more powerful and has more connections. I hope to review the Xeo 20 soon.
After hours
As is customary at the annual Salon Audio Montréal and the Toronto Audiofest, show organizer Michel Plante presented three Lifetime Achievement Awards during a cocktail party for industry members held after closing on Saturday evening.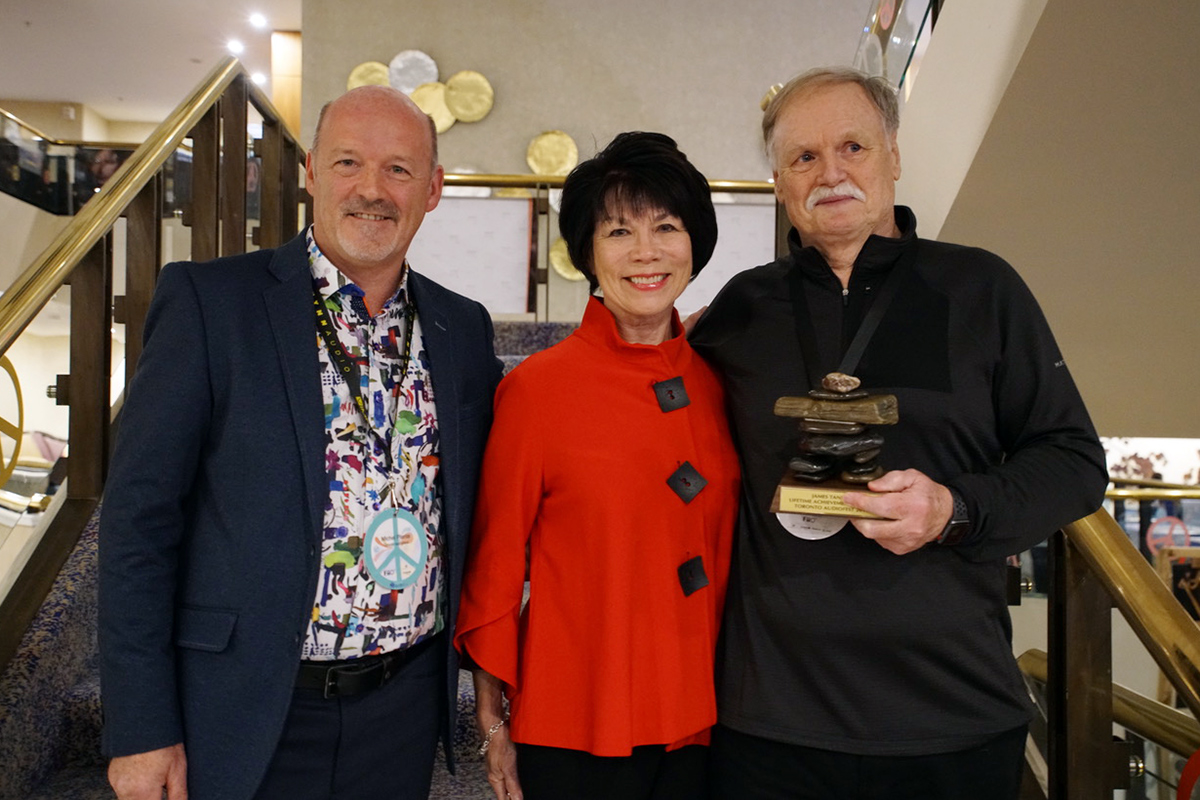 The three honorees were James Tanner, VP sales and marketing of Bryston Ltd. (on right in photo above, with Plante and Tanner's wife, Jacquelynn); Robert Deutsch, a longtime reviewer for Stereophile (at center in photo below, with Plante at left and Stereophile editor-in-chief Jim Austin at right); and Ernie Fisher, founder and editor of the Canadian enthusiast magazine The Inner Ear.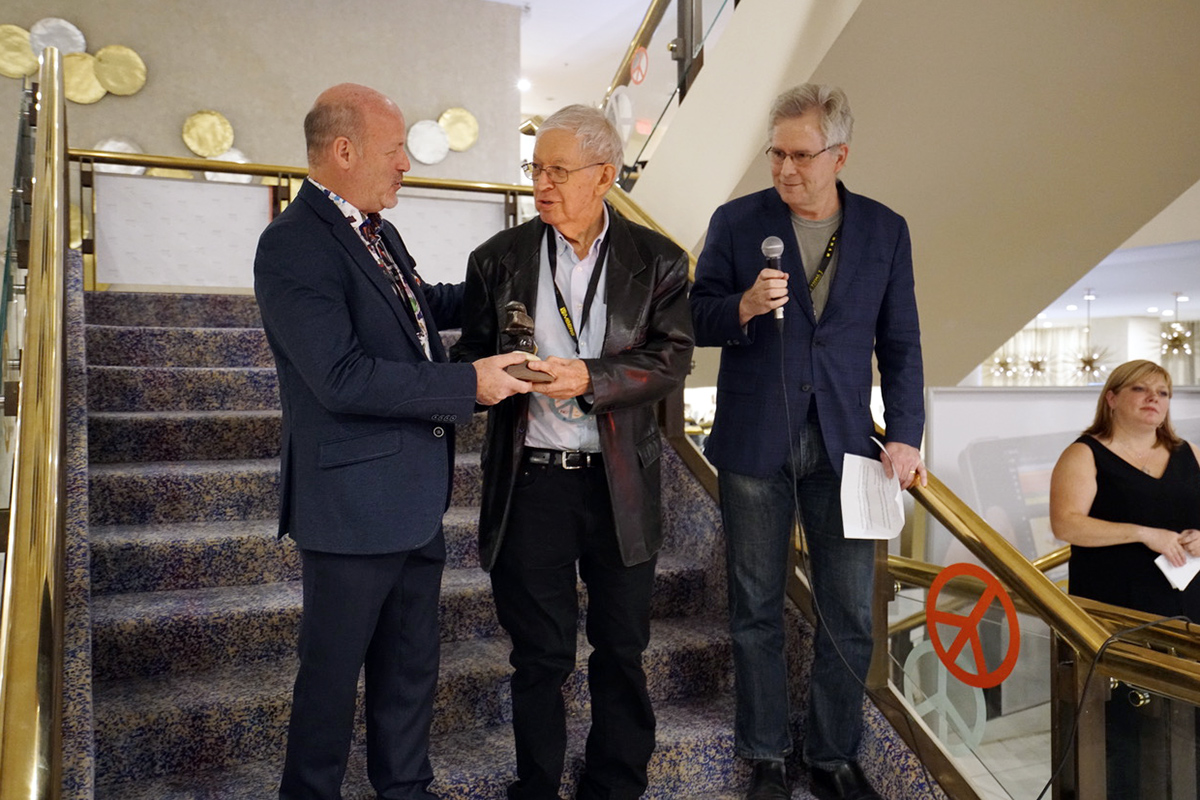 To my great regret, I couldn't attend the awards ceremony -- my right knee gave out a few hours before, and I had to go home to get some ice, anti-inflammatory meds, and a brace on it. My thanks to John Thomson, of WiFi HiFi, for graciously providing these pictures.
. . . Gordon Brockhouse
This email address is being protected from spambots. You need JavaScript enabled to view it.