Integrating a hi-fi system into a multipurpose living space can be complicated by all the wiring needed to connect the various components. This is particularly true of speaker cables, especially if they have to cross an open area of the room. Even if they aren't tripping hazards, they're unsightly.
Wireless Sound & Audio (WiSA) technology addresses that problem head-on. Developed by California-based Summit Wireless Technologies, WiSA can wirelessly send up to eight channels of 24-bit/96kHz audio to speakers deployed throughout a room. The system is scalable -- from a simple 2- or 2.1-channel setup intended mainly for music, to full-blown 7.1-channel surround sound, to even a 5.1.2 immersive audio system including height speakers.
You can connect your sources to a WiSA-capable preamplifier tucked away in a cabinet, a corner, or some other place out of the way. All WiSA speakers have built-in amplifiers, so no speaker cables are needed -- the only visible wires will be the speakers' power cords.
The Danish speaker brand System Audio has bet big-time on WiSA. Introduced in 2018, System's Legend Silverback range of WiSA-capable speakers comprises the Legend 40 Silverback ($5599/pair, all prices USD) and Legend 60 Silverback ($8749/pair) floorstanders; the Legend 10 Silverback center-channel speaker ($2249); the Legend 7 Silverback wall-mounted model ($2049); and the subject of this review, the Legend 5 Silverback two-way active minimonitor ($2899/pair). A WiSA-capable subwoofer is being developed.
System also offers a compact two-channel WiSA preamplifier-transmitter equipped with a broad range of analog and digital inputs. The Stereo Hub sells for $449 if purchased with Legend Silverback speakers, $785 if bought separately.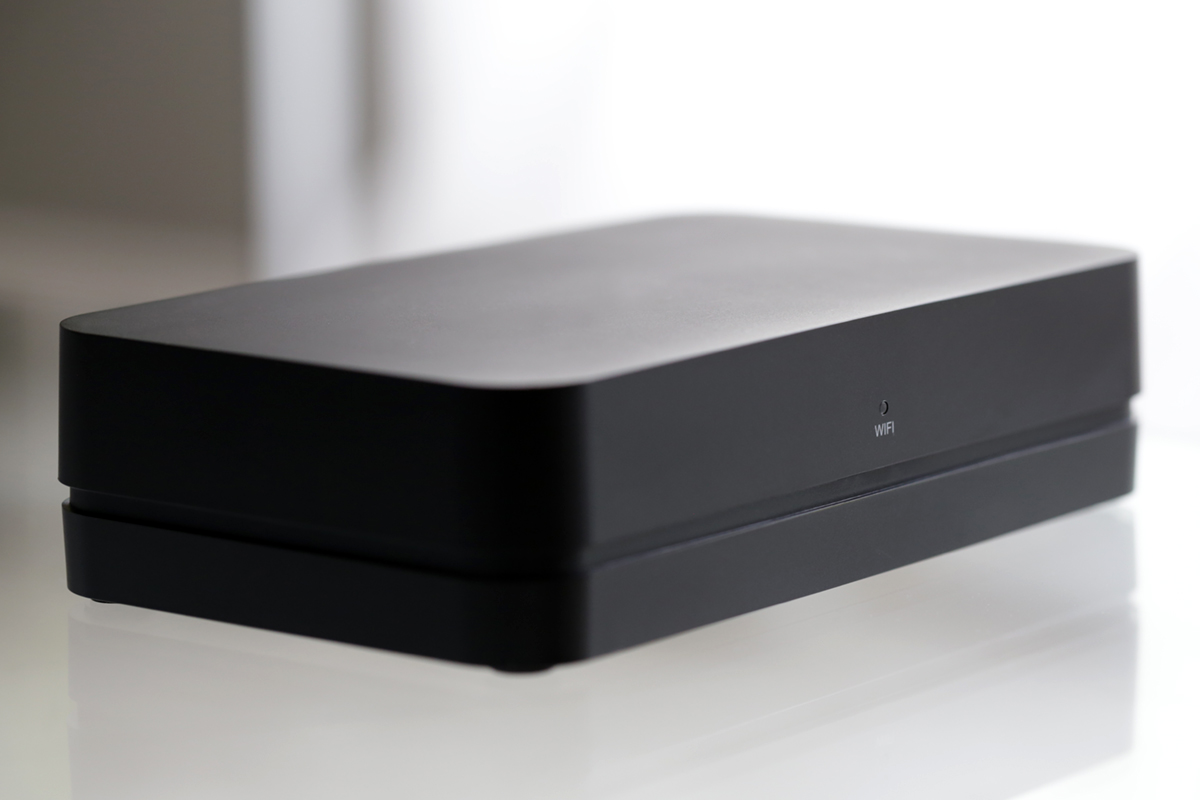 While System's Legend Silverback speakers can be paired with a WiSA transmitter, they don't have to be used that way. All models have XLR analog inputs, for connection to sources with XLR outputs, such as these streaming DAC-preamps, all of which I've reviewed: Bryston's BDA-3.14 ($4195), NAD's Classic C 658 ($1649), Pro-Ject's Pre-Box RS2 Digital ($2499), and iFi's Pro iDSD ($2499). But with an RCA-to-XLR adapter cable, you can also use these speakers with a source that has RCA line-level outputs.
The Legend 5 Silverback
Measuring 12.6"H x 7.5"W x 10.4"D and weighing 14.8 pounds, the Legend 5 Silverback is a two-way rear-ported speaker with a 5.5" long-throw woofer, crossed over in DSP at 3kHz with a 24dB/octave filter to a 1" soft-dome tweeter. Each driver has its own dedicated class-D amplifier, specified to output 150W.
In addition to performing crossover duties, DSP is used to smooth the amplitude and phase response, extend bass response, and implement dynamic equalization so that the bass sounds robust even at low listening levels.
According to System Audio, the woofer's unusually long voice coil makes possible excursions 40% greater than those of a typical 5.5" woofer, for greater bass output. The cone is a membrane of woven fiber claimed to provide high internal damping; the rubber surround has built-in resonance-control rings for smoother response.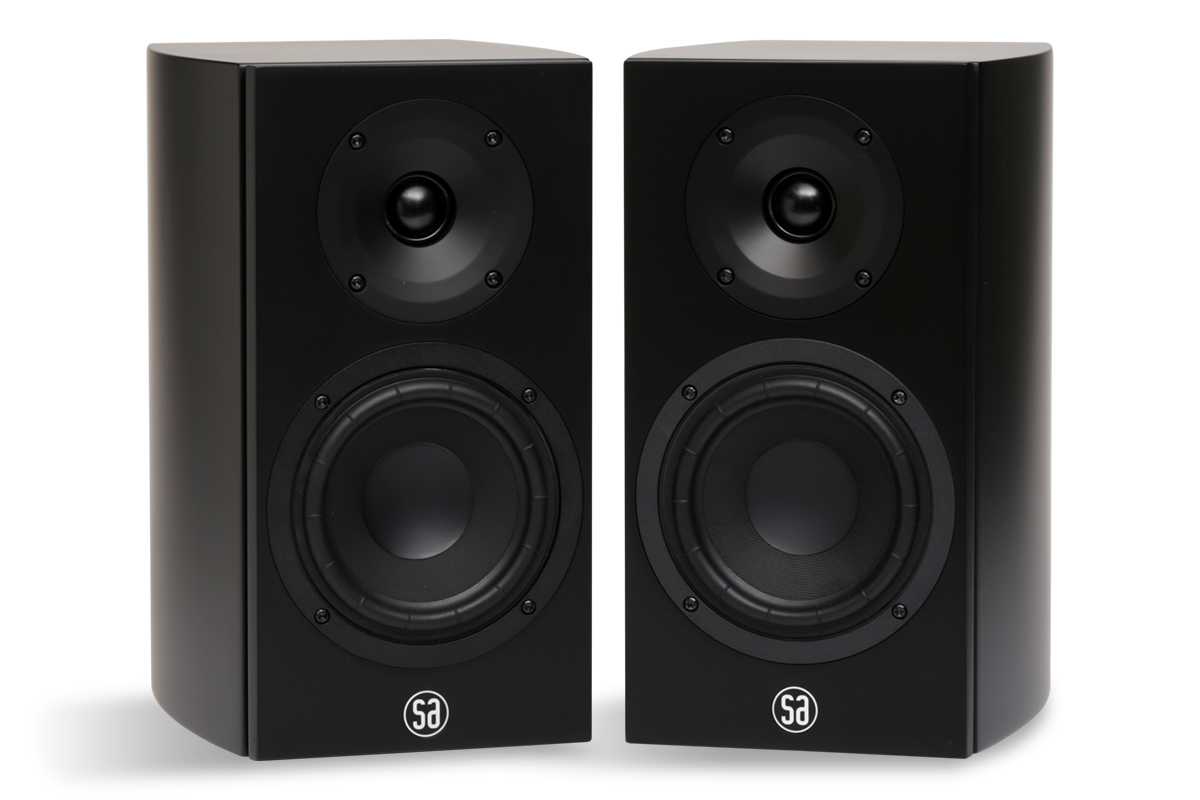 The tweeter's dome is made of coated silk fiber surrounded by a Diffraction eXpansion Technology (DXT) acoustic lens. Also used by such speaker brands as Kii and Grimm, DXT is claimed to provide constant directivity over the tweeter's operating range by narrowing its dispersion at lower frequencies and broadening it at higher frequencies. According to System Audio, the benefits include smoother off-axis response, a wider sweet spot, better integration with the midrange-woofer's output, and elimination of cabinet diffraction effects.
Like the other models in the Legend Silverback series, the 5 is available in finishes of black or white satin, and is shipped with magnetically attached grilles of the same colors. The side panels of the MDF enclosure taper gracefully from back to front. Behind the 29mm-thick front baffle is a 5mm inlay of walnut, whose edge is visible from the side.
From left to right at the bottom of the rear panel are an analog input (XLR), an On/Off rocker power switch, and a three-pronged IEC power inlet. Above the input are a USB Service port and a slider switch with settings of +6, 0, and -6dB, for adjusting the speaker's sensitivity with an analog connection. Above the power inlet and rocker is a panel with a little map of possible speaker/channel positions, and a Connect/Select Speaker button for choosing among these and pairing the speaker with a WiSA transmitter.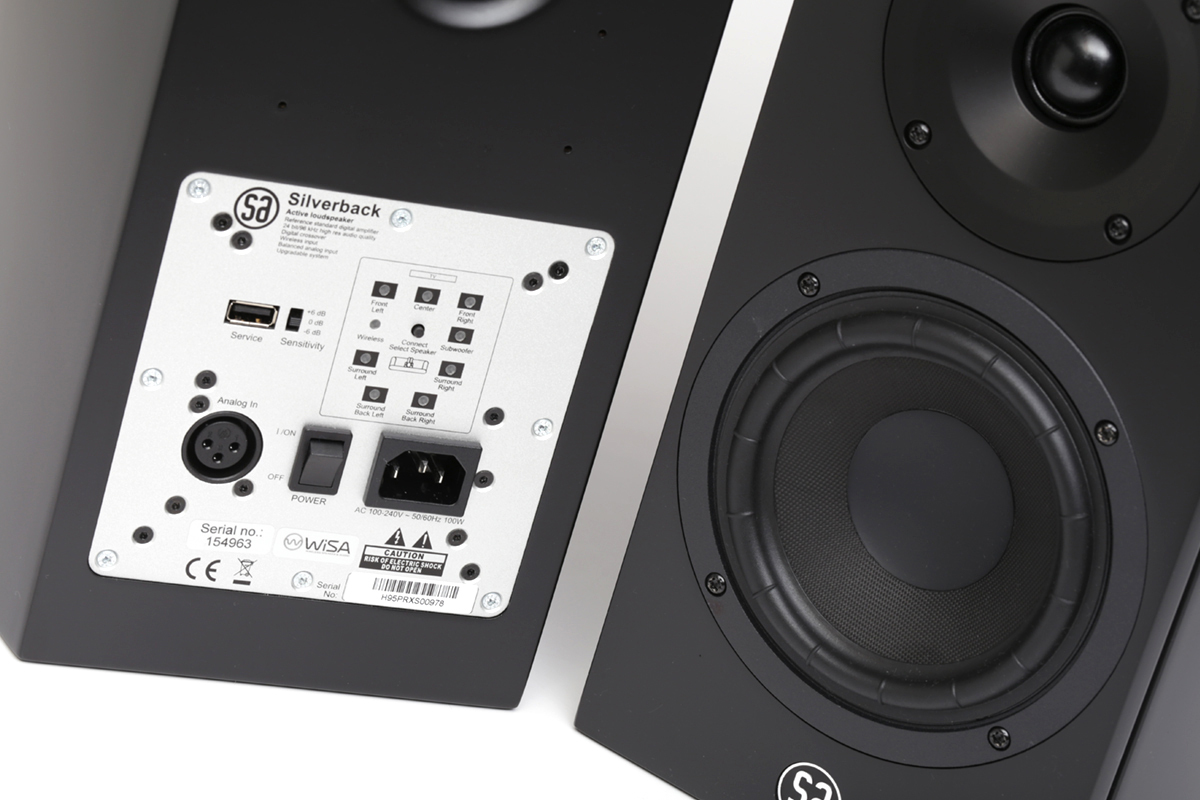 While System's Stereo Hub is a two-channel design, you can use the Legend 5 Silverbacks with WiSA senders that support surround sound. The speaker can be configured as a front left or right, center, surround left or right, or rear surround left or right speaker.
The Stereo Hub
The Stereo Hub is a plain-Jane plastic box measuring 6.7"W x 1.7"H x 3.9"D -- little enough to stash away in a small cabinet, completely out of sight. It comes with a handsome two-way RF remote, with source select, volume, mute, on/off, and track-skip functions.
On the rear of the Stereo Hub are one coaxial (S/PDIF) and three optical (TosLink) inputs, a combined analog/optical digital input (3.5mm), a pair of analog inputs (RCA), an HDMI-ARC input for connection to an HDTV, and a USB-B port for connection to a PC or Mac.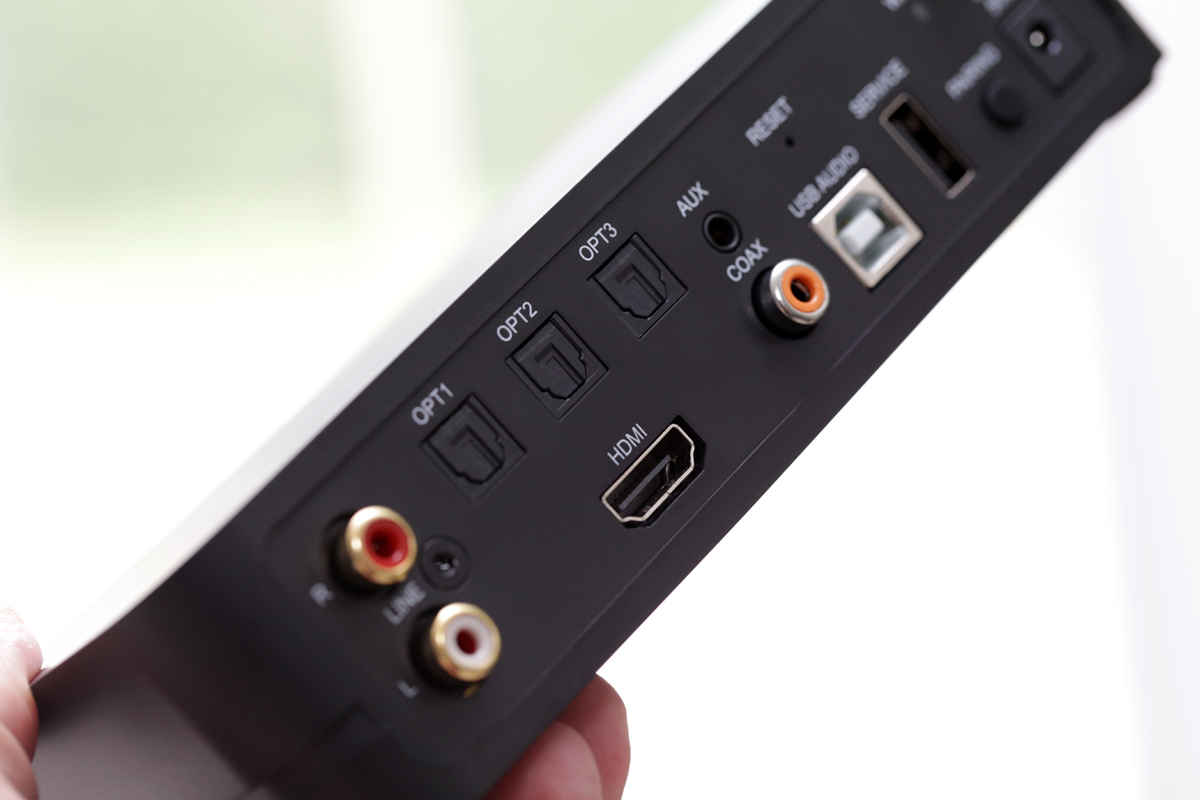 With a USB connection, you can't adjust the volume with the Stereo Hub's remote. You have to use a software volume control in whatever music-player app you're running on the computer connected to the Hub's USB input.
The Stereo Hub's maximum resolution via coaxial, optical, and USB is 24/192. It also has built-in Bluetooth and Wi-Fi. Connectivity options include Chromecast Built-in, whose maximum resolution is 24/96; Apple AirPlay, which supports streaming at 16/44.1; and Spotify Connect. While Spotify Connect and Apple AirPlay both support gapless playback, Chromecast does not. I'm not a Spotify subscriber, so couldn't test Spotify Connect support -- but AirPlay and Chromecast both worked seamlessly.
Setup and software
I placed the Legend 5 Silverbacks on 28"-high Monoprice Monolith speaker stands, on either side of the faux fireplace in our living room. In those positions, they were 16" from the front wall, 8' apart, and 8' from the sweet spot on the end cushion of our sectional sofa on the opposite wall. Per the manual, I toed the speakers in 15° toward the listening position.
The first task was to pair the remote with the Stereo Hub, done by holding down the Hub's Pairing button for six seconds, then pressing any button on the remote. Piece of cake.
Pairing the speakers with the Hub was just as easy. I pressed the Connect button on the back of each speaker for two seconds, then the Pairing button on the back of the Hub for two seconds. About a minute later, the pairing process was complete. I then clicked both speakers' Connect buttons again, to confirm their positions -- one front left, the other front right.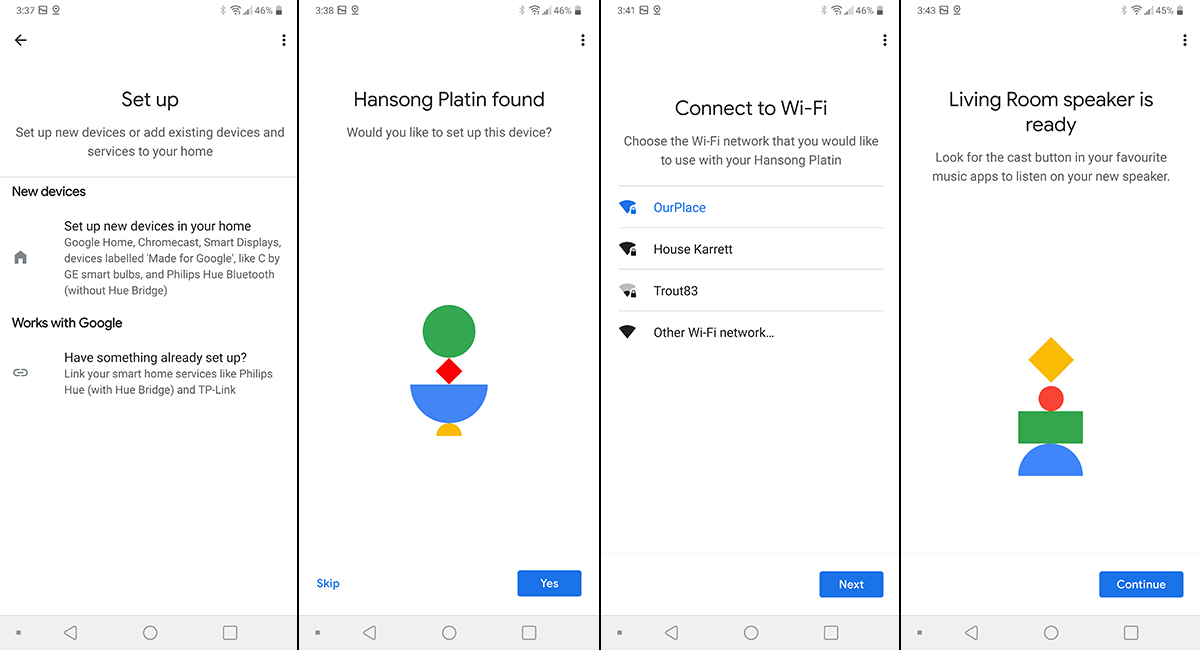 The next task was to get the Stereo Hub connected to my Wi-Fi network, and the easiest way to do this was to use the Google Home app. I'd already installed the app on my LG G7 ThinQ smartphone, and had created a Google Home, which I'd named "BrockHouse." After launching the app, I clicked the + button in the upper left corner, and in the next screen chose Setup device. Google Home found a new audio device called "Hansong Platin." Figuring this must be the Stereo Hub, I confirmed the selection. Google Home then asked me to specify the room in which it was installed -- I chose Living Room. In the next screen I selected my network from a list, and Google Home connected the Hub to my home network and linked it to my Google account. I added an extra step -- changing the default name "Living Room Speaker" to "SA Stereo Hub" in the Settings menu. Except for the weird device name -- the Stereo Hub is built for System Audio (SA) by Hansong Technology, in Nanjing, China -- it was all pretty straightforward.
For my listening, I streamed music to the Stereo Hub and Legend 5 Silverbacks from the Qobuz apps on my LG G7 ThinQ smartphone and Apple iPhone SE, using Chromecast for the LG, and Chromecast and AirPlay for the Apple. I also streamed music via Roon from the Mac Mini computer in my second-floor office, which runs Roon Core. The Stereo Hub is not Roon Ready, but Roon supports the device via Chromecast and AirPlay. Except for an occasional quiet, staticky tick, probably the result of a momentary blip in the WiSA connection between Hub and speakers, streaming was completely reliable.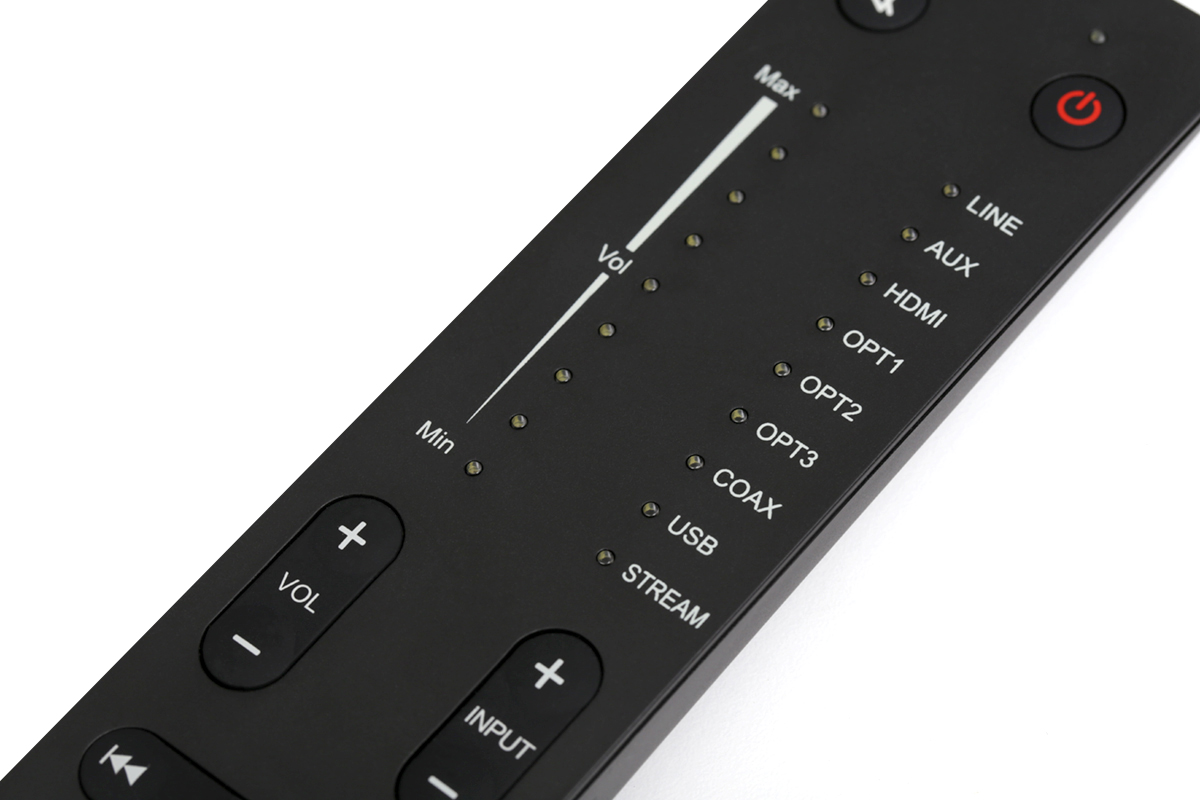 I also connected my MacBook Pro computer to the Stereo Hub's USB port, and played music via the Audirvana, Qobuz, and Roon apps. With this connection, I could stream in high resolution and get gapless playback. With Audirvana, I found it awkward using the app's software volume control -- instead of staying where I'd set it, it hopped around erratically. It was hard to make fine volume adjustments with the Qobuz app -- the sound got very loud very quickly when I moved the volume slider just a little past its minimum position. I haven't experienced these problems with other USB DACs. With Roon, the software volume adjustment worked fine.
System Audio offers a free iOS app called Room Service, which analyzes the room's acoustic and uploads a correction curve to the Stereo Hub. (An Android version is pending.) In an e-mail exchange, System Audio founder Ole Witthøft confirmed that the app can be used with any WiSA speakers paired with the Hub -- they don't have to be System Audio models. Free room correction that works with any WiSA speaker -- that's a pretty intriguing proposition.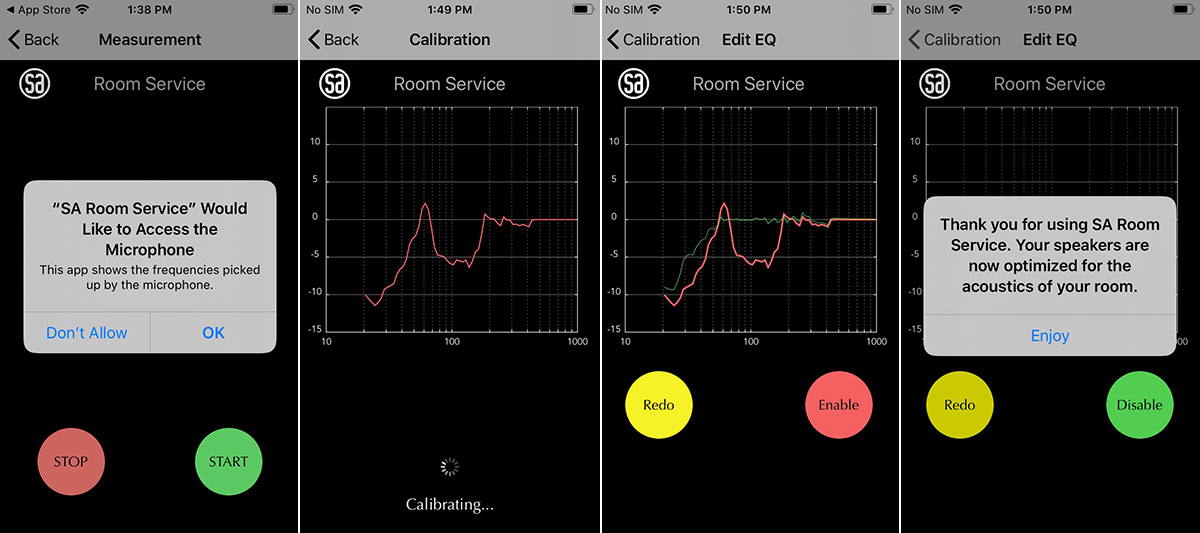 To run Room Service, your iPhone must be connected to the same Wi-Fi network as the Stereo Hub, and also connected to the Hub via Bluetooth, though the Bluetooth requirement is not mentioned in the app's meager instructions. To use Room Service, you walk around your listening room holding your iPhone for one minute as the app plays pink noise through the speakers. Room Service analyzes the results, then asks if you want to transfer the settings to the Hub.
Running the app on my iPhone SE, I was pleased to see that Room Service had identified the problems in my room that I discussed in my June 1 feature, "All About That Bass": a peak at 63Hz and a broad dip centered on 100Hz. I transferred the settings to the Stereo Hub, and the app confirmed that the speakers were "now optimized for the acoustics of your room."
Room Service has buttons that let you Enable and Disable room correction on the Stereo Hub. Surprisingly, when I toggled between these settings, I heard no difference whatsoever -- even with music that has lots of low-frequency content in the region Room Service had identified as problematic. When I addressed this in an e-mail exchange with Witthøft, he suggested I delete and reinstall the app, then repeat the process. I did, and got the same result. I even tried running Room Service on my wife's iPhone 8. Same result again.
Witthøft was mystified. He said the differences with Room Service enabled should be comparable to the differences I hear with the Dirac Live room correction built into my NAD Classic C 658 streaming DAC-preamp -- in a word, unmistakable. "I can't explain your experience," Witthøft wrote. "Very few users experience any problems with SA Room Service."
Listening
Throughout my listening, the Legend 5 Silverbacks exhibited all the qualities you'd expect from a well-engineered minimonitor: speed and agility; open, spacious sound; and holographic imaging. Music appeared in front of me as if by magic. These active monitors also had impressive dynamics, and a weighty authority that belied their small size. The Silverbacks never sounded harsh or strident, and exhibited commendable timbral neutrality -- I was never bothered by colorations of any sort.
Those virtues manifested themselves with a recording of a sparkling performance of "Blue Monk" by the Chick Corea Trio, from their live album Trilogy (24-bit/96kHz FLAC, Concord Jazz), which I streamed to the Stereo Hub from my music library via Roon. This Thelonious Monk classic begins with a 30-second solo by bassist Christian McBride. McBride's double bass sounded woody and robust but also taut and tuneful, with no hint of overhang -- even on the bottom E string.
Corea's piano and Brian Blade's drum kit were just as satisfying. Blade's rim shots had impressive snap and impact, and his cymbals had lovely metallic sheen, with convincing decay following the impact but no distracting splashiness. These little speakers made it easy to appreciate Blade's deft snare rolls -- and, when he hit his floor tom, provided a palpable sense of drum skins vibrating over a hollow body.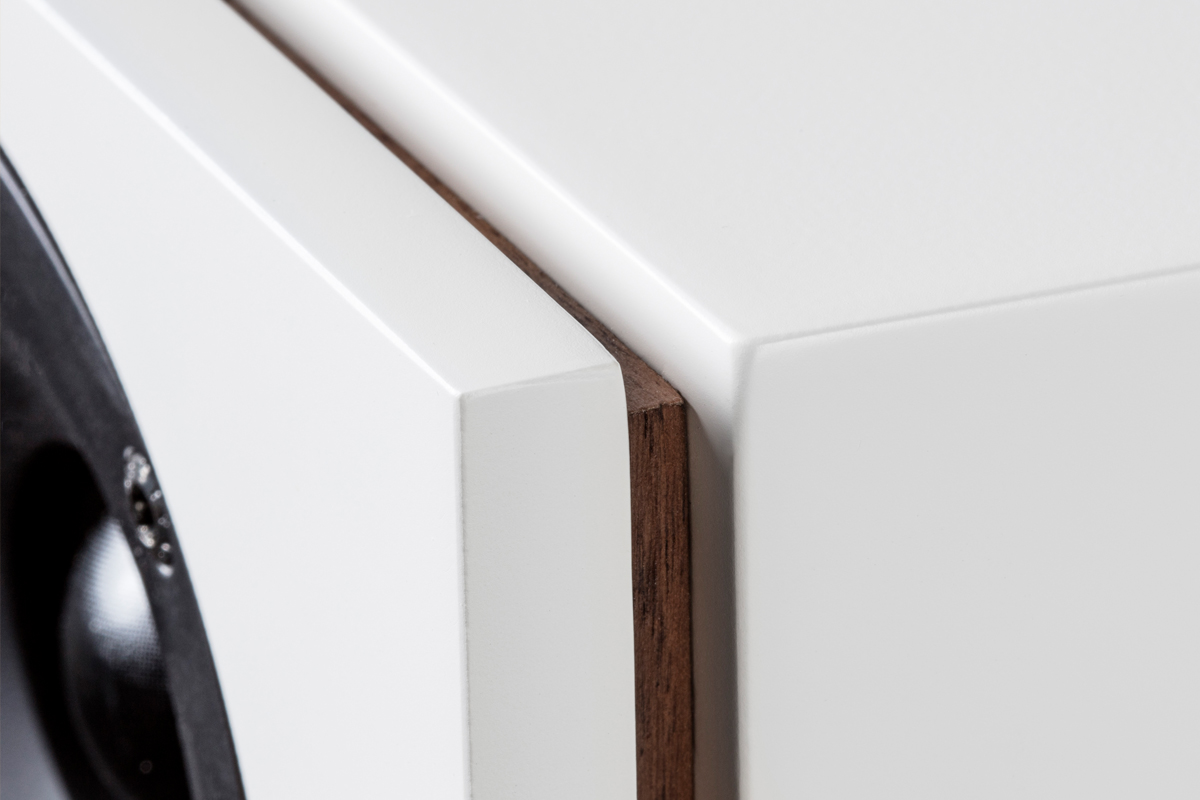 Likewise, I admired the clarity with which the Systems presented Corea's playing in the upper octaves. Transients were fast but not excessively so -- I could really appreciate not only Corea's virtuosic runs, but also his easygoing approach to the piece. The Systems conveyed his technique and his expressiveness in equal measure. In the lower octaves, piano tone had surprising heft for speakers this small.
Dynamics were excellent. When Corea hit a chord hard or Blade played a loud snare roll, the Systems followed them effortlessly. The speakers' reproduction of space, too, was superb. The soundstage extended a couple of feet beyond the speakers' left and right edges, and a couple of feet past the wall behind them. In that soundfield, each piano chord, each cymbal stroke and snare roll, each pluck of bass string, was locked in place with laser-like precision.
The little Silverbacks showed off a different aspect of their spatial capabilities when I played a wonderful recording of choral music by the Estonian composer Arvo Pärt, performed by the Elora Festival Singers under the direction of Noel Edison, accompanied by organist Jurgen Petrenko (16/44.1 FLAC, Naxos/Qobuz). Composed in 1990, The Beatitudes was Pärt's first setting of an English-language text, taken from the King James translation of the Gospel of Matthew.
I loved the way the Legend 5 Silverbacks presented this deceptively simple, profoundly affecting work. They threw a huge soundstage that evoked the warm, reverberant acoustic of Grace Church-on-the-Hill in Toronto, Ontario, where this recording was made. Every word was intelligible, a testament to the articulation for which this choir is admired, and to this recording's superb engineering. But the SA speakers, too, deserve credit for the agility with which they tracked the singers' dynamic shifts as they highlighted important phrases, such as the loud "Rejoice, and be exceeding glad" in the final verse, and for the clarity with which they presented Pärt's modal harmonies. Throughout this eight-minute work, the SAs reproduced the voices with a wonderful combination of transparency and richness.
Several phrases are underpinned by organ-pedal notes. While the System speakers didn't convey the full growl of 16' columns of air vibrating inside the instrument's largest, deepest-pitched pipes, they reproduced these pedal notes with enough bottom end to provide a satisfying foundation for these phrases, with pitches fairly well differentiated. Only in the final "Amen" and organ postlude did I sense that the little Silverbacks were being pushed past their limits. They didn't sound distressed, but they did sound like they were starting to run out of gas.
That postlude illustrated a weakness of the little Silverback's sound: a tendency toward congestion with dense music. I also noticed this with singer Cassandra Wilson's recording of "Strange Fruit" on her Coming Forth by Day (24/96 FLAC, Legacy), a tribute to Billie Holiday on the centenary of her birth.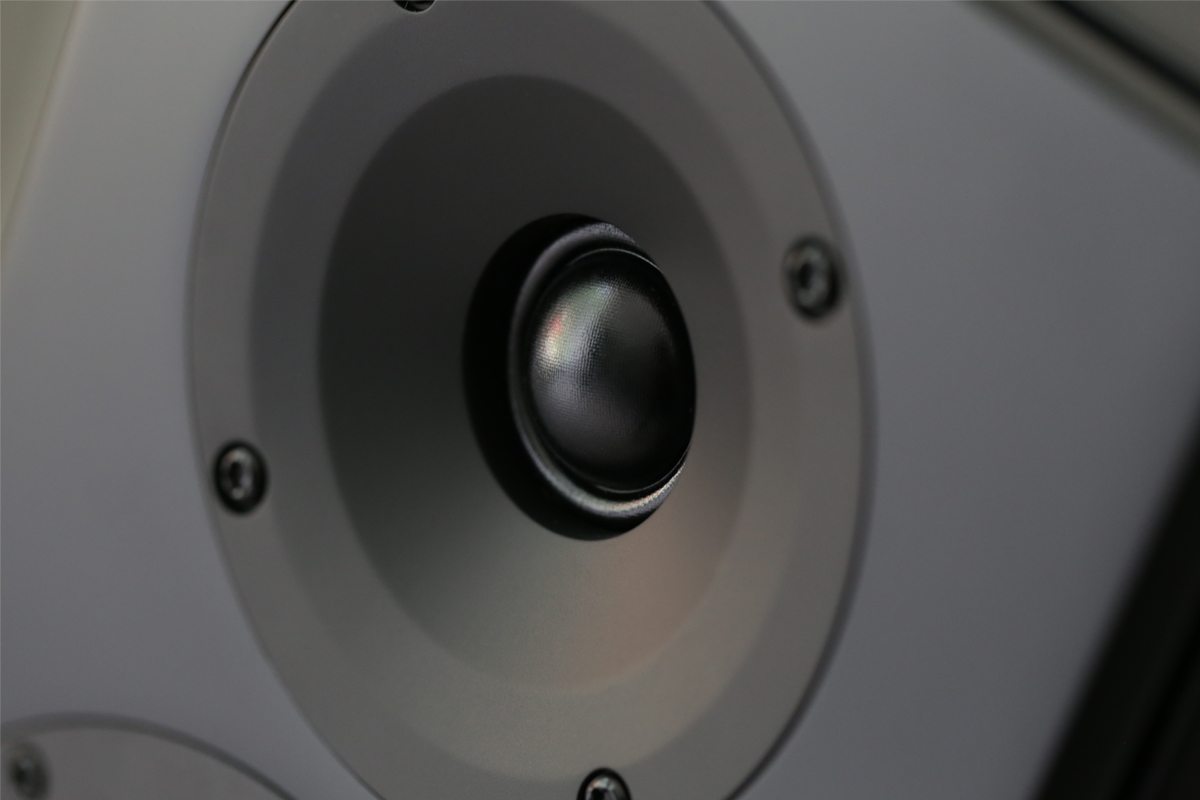 Is there a jazz standard more searing, more made for our present moment, than this song protesting the lynching of Black people, written in 1937 by Abel Meeropol, aka Lewis Allan, and recorded by Holiday in 1939? Wilson's performance is dark, dense, immensely powerful -- not surprising, given that this album was engineered and produced by Nick Launay, longtime producer for Nick Cave and the Bad Seeds. Through the Legend 5 Silverbacks, Thomas Wydler's kick drum and Martyn Casey's bass-guitar lines -- both players are from Cave's band -- hit surprisingly hard. Together with Jon Cowherd's bluesy piano riffs and the swirling electronic effects, this created a steamy tropical atmosphere dripping with menace and tragedy. The Systems tracked Wilson's reverb-laden alto beautifully. Again, the apparent space reproduced was huge, extending well past the speakers' outer edges.
In the last verse and final instrumental passage, Launay creates a massive wall of sound built of wailing electric guitars, string quartet, and woodwinds, in addition to the piano, bass, and drums all now playing frenetically. The Systems reproduced it all without distress, but with some congestion -- everything got a bit mushed together.
Comparisons
Wanting to hear how the Legend 5 Silverbacks would sound with an analog connection, I connected them to the XLR outputs of my NAD C 658 streaming DAC-preamp with 6' and 15' lengths of Benchmark's Studio&Stage interconnect; before listening, I disabled the NAD's Dirac Live room correction.
At first, you might think the Systems Audio products would sound better via direct analog connection, but it wasn't that simple. With the analog connection, the digital stream from Roon or Qobuz was converted to analog by the C 658, then converted back to digital in the System Audio speakers before being passed on to their built-in DSP. With the WiSA connection, audio remained in the digital domain until the speakers' amplifiers. In short, the XLR connection added D/A and A/D cycles to the signal path.
With the Elora Festival Singers' performance of Pärt's Beatitudes, the sound from the C 658 via XLR connection was a little smoother and refined, but also a little less transparent -- the big "Amen" at the end was a bit more opaque, the soundstage not quite as expansive.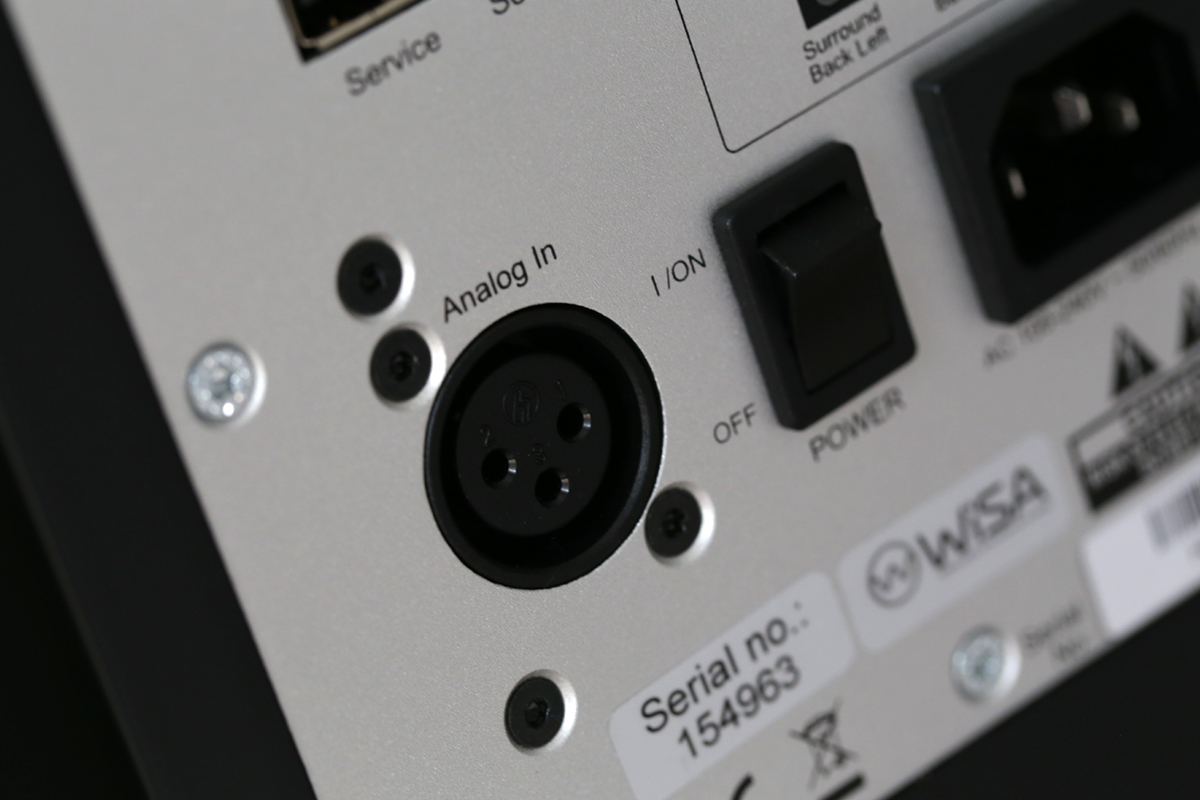 But when I played Cassandra Wilson's cover of "Strange Fruit" through the C 658 and Legend 5 Silverbacks, I heard subtle details in her singing that I hadn't with WiSA playback from the Stereo Hub. Through the analog connection, those details were less obscured by the heavy reverb used in this recording. But the big wall of sound was just as dense from the C 658's analog output as from the Stereo Hub's WiSA connection.
Next, I compared the System Legend 5 Silverbacks with Elac's Navis ARB-51 analog active speakers ($2299.98/pair). The three-way, rear-ported ARB-51 has a coaxial driver comprising a 4" midrange powered by a 100W BASH amplifier and 1" soft-dome tweeter powered by a 40W class-AB amp, above a 5.25" woofer powered by a 160W BASH amp. I played both pairs of speakers from the C 658's XLR outputs.
In "Strange Fruit," Wilson's voice had a slightly more convincing flesh-and-blood quality through the Elacs, and I was more aware of details of expression and enunciation in her singing. The kick drum and bass guitar didn't hit quite as hard through the Elacs, but had better definition. That big wall of sound at the end sounded more powerful through the Elacs, and less congested. Individual instruments stood out more, instead of being mushed together. And the Elacs threw a soundstage even wider than the Systems'.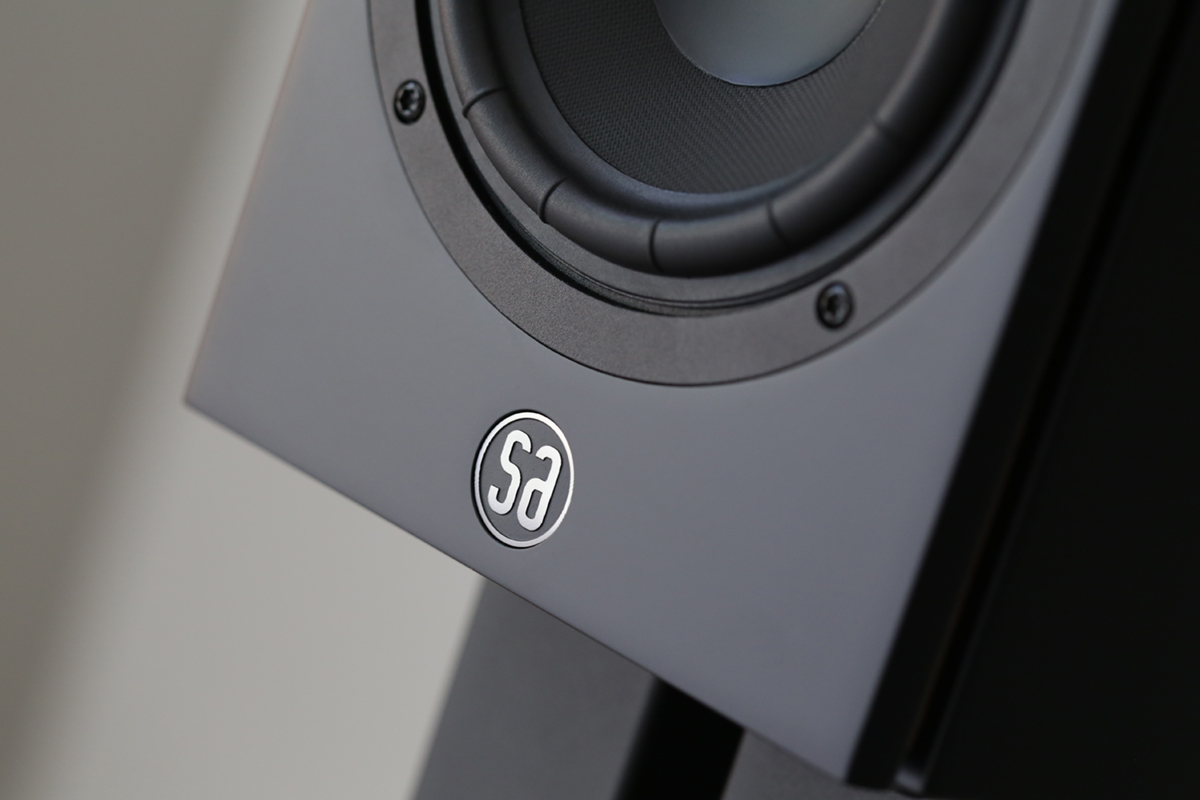 With Pärt's Beatitudes the Elacs sounded lusher, the Systems a bit more transparent. With the Elacs, I was more aware of the singers' voices reverberating through Grace Church-on-the-Hill. The Elacs also tracked shifts in dynamics with greater subtlety. While the Systems could go from soft to loud on a dime, the Elacs seemed to track more fine gradations of volume between these extremes. Jurgen Petrenko's organ-pedal notes were fuller and more robust through the Systems, but their pitches were more specific through the Elacs -- a bit less one-notish, a bit more "musical." And the big "Amen" and organ postlude at the end were a little less compressed through the Elacs.
In this comparison, System Audio's Legend 5 Silverback faced some serious competition. Not only did Elac's ARB-51 receive Reviewers' Choice honors, it was named a 2019 SoundStage! Network Product of the Year for Outstanding Value. But the Danish speakers held their own. And while they cost $599.02/pair more, they have a WiSA option. True, Elac offers a wireless transmitter for its Navis speakers -- but their Discovery Connect Wireless Transmitter ($459.98) is a proprietary two-channel solution. WiSA is supported by many manufacturers, and offers an upgrade path to surround sound, with or without height channels.
Conclusion
In the end, how you feel about System Audio's Legend 5 Silverback active speakers will partly depend on how you feel about WiSA. For use in multipurpose spaces such as our urban living room, WiSA is a very attractive proposition.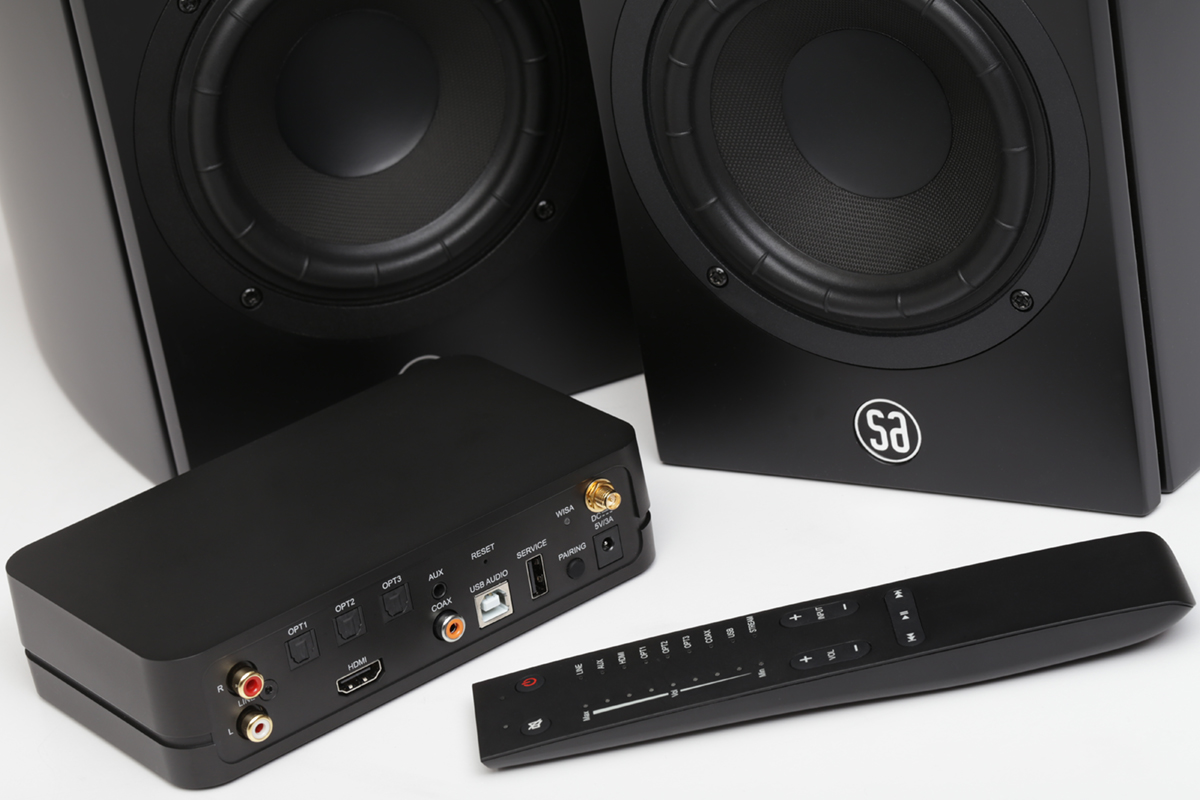 WiSA has been around for almost a decade but has been slow to take off. Now audiophile brands -- e.g., System Audio and Primare -- are betting on the technology. But WiSA also has support from several third-tier brands as well as from such heavyweights as Bang & Olufsen and Harman/Kardon, as well as Klipsch, whose RW-51M powered WiSA speakers I reviewed in February 2020.
As I noted in my review, the RW-51M is a one-trick pony -- WiSA is its only connectivity option. With System's Legend Silverback models, you have a choice of WiSA or XLR analog connection, so you're not betting the farm on WiSA. WiSA offers compelling domestic benefits, but even without it, System Audio's Legend 5 Silverback is an excellent speaker in its own right.
. . . Gordon Brockhouse
This email address is being protected from spambots. You need JavaScript enabled to view it.
Associated Equipment
Active loudspeakers -- Elac Navis ARB-51
Streaming DAC-preamp -- NAD Classic C 658
Sources -- Apple iPhone SE and LG G7 ThinQ smartphones, Apple MacBook Pro computer (early 2015) running Audirvana 3.5.58, modified Apple Mac Mini computer (mid-2011) running Roon, Samsung The Frame UN55LS003 HDTV
Interconnects -- Benchmark Media Systems Studio&Stage (XLR, 6', 15')
Digital link -- AudioQuest Pearl (USB, 2m)
Speaker stands -- Monoprice Monolith (28")
Network -- Google Wifi (three-node mesh)
System Audio Legend 5 Silverback Active Loudspeakers
Price: $2899 USD per pair.
System Audio Stereo Hub
Prices: $449 USD with Legend Silverback speakers; $785 if purchased separately.
Warranty: Two years parts and labor (increases to seven years on registration with System Audio).
System Audio A/S
Klosterengen 137 L
4000 Roskilde
Denmark
Phone: +45 36-45-80-80
E-mail: This email address is being protected from spambots. You need JavaScript enabled to view it.
Website: www.system-audio.com