"You want to put those in our living room?" Over the years, words like these have scuttled countless plans for new home-entertainment systems. If the components themselves didn't push the spouse acceptance factor into the red zone, the cables needed to connect them did.
That's especially true with home theater. A basic 5.1-channel surround system has six speakers, with cables connecting them to the A/V receiver or processor. A full-blown immersive Dolby Atmos/DTS:X system can have many more speakers -- which means many more cables.
As many long-suffering, partnered-up audiophiles can attest, component and cable clutter can be a problem with two-channel audio as well, especially with systems intended for use in multipurpose rooms.
But there are ways of making audio more domestic. On Simplifi, I've repeatedly touted the benefits of active loudspeakers -- not only their sound quality, but their room-friendliness. If the amplifiers are built into the speakers, there are no amps sitting on a rack in the corner of the room. Many active speakers have built-in Wi-Fi and music streaming, which means the system can be entirely self-contained, with no separate source components -- the only external wires are the power cords connecting them to the wall.
Look, honey -- no wires!
For full-blown surround sound, wireless capability is a comparative rarity -- but it's available. Developed by California-based Summit Wireless Technologies, Wireless Speaker & Audio (WiSA) technology allows up to eight channels of 24-bit/96kHz audio to be sent wirelessly to speakers deployed throughout the room. The system is scalable -- from a simple 2- or 2.1-channel setup intended mainly for music, to full-blown 7.1-channel surround sound or even 5.1.2 immersive audio. According to WiSA, the latency is very low -- 5.2msec -- so sound is in sync with video; and synchronization between channels is accurate to within a microsecond.
Founded in 2011, the WiSA Association now has 60 members, though only a dozen of them actually offer WiSA-capable products. But in 2019 WiSA picked up momentum, with major announcements from Harman, LG, and Klipsch.
In October, Klipsch announced the Reference Wireless series, which comprises the RW-51M bookshelf speakers reviewed here, the RW-34C center-channel speaker, and the RW-100SW subwoofer. In the US, new tariffs imposed on goods made in China, and applied since the products were announced, have pushed up prices for the Reference Wireless series. The RW-51M now retails for $799/pair (all prices USD), the RW-34C for $574, and the RW-100SW for $689. Klipsch says it will adjust these prices if and when these tariffs are reduced.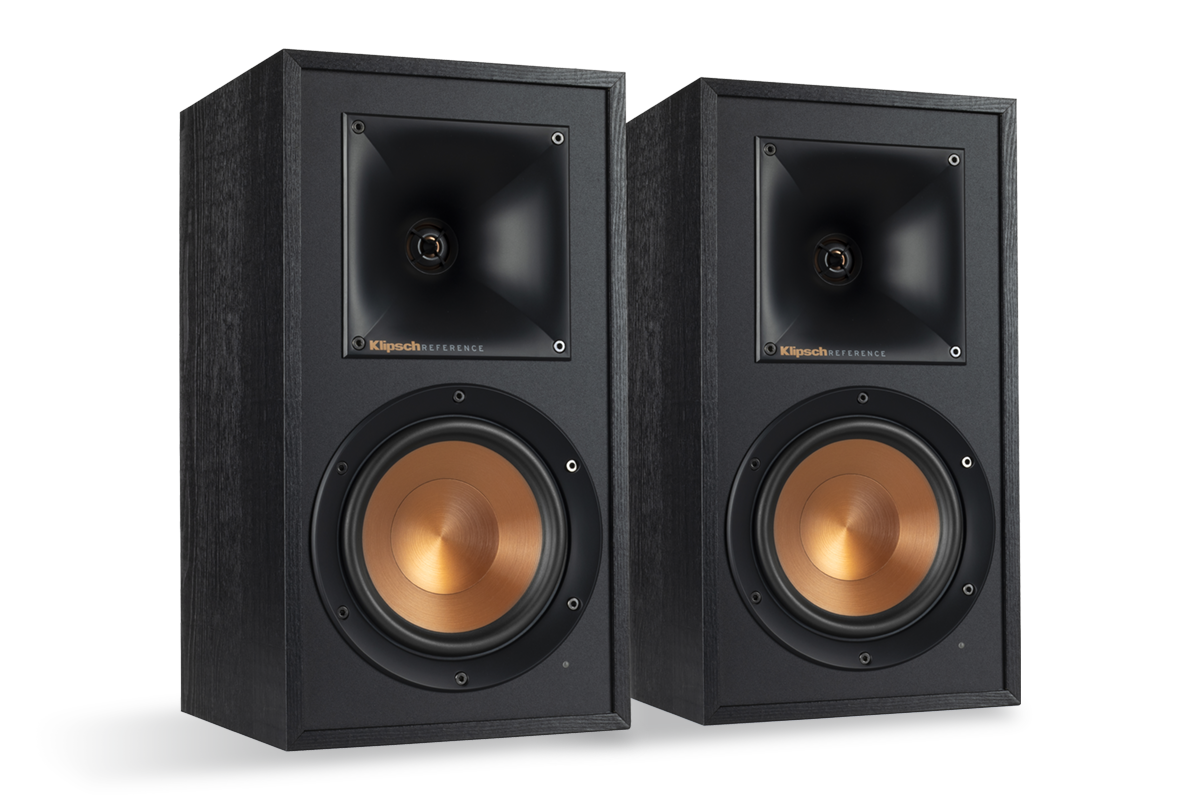 While the WiSA Association's membership includes such major A/V receiver brands as Denon, Marantz, Onkyo, and Pioneer, none of these has announced WiSA-capable models. But Klipsch suggests some interesting applications for its Reference Wireless speakers, all of them employing a WiSA transmitter from Axiim, a startup based in Bellevue, Washington. Priced at $229, the Axiim Link is a small cylindrical module that resembles an oversize hockey puck. Its only connector is a Micro-USB port on the back. The Axiim Link can transmit up to eight channels of 24/96 audio to up to 32 speakers. An infrared window on the front lets it receive commands from Harmony remote controls.
For home theater, the most intriguing application for the Axiim Link is to connect it to the USB port of a current LG television for wireless surround sound -- no A/V receiver required. WiSA is supported on LG's OLED and NanoCell TVs for the 2019 and 2020 model years. (NanoCell is LG's tradename for its premium LED-illuminated LCD TVs.) Using the LG TV's onscreen menus, you can configure a wireless surround system with up to 5.1 channels.
You can also connect the Axiim Link to an Xbox One, One S, or One X game console, and create a surround system with up to 7.1 channels. This lets users enjoy surround sound on videogames, as well as Blu-ray Discs, DVDs, and Xbox apps for streaming services such as Netflix and Disney+.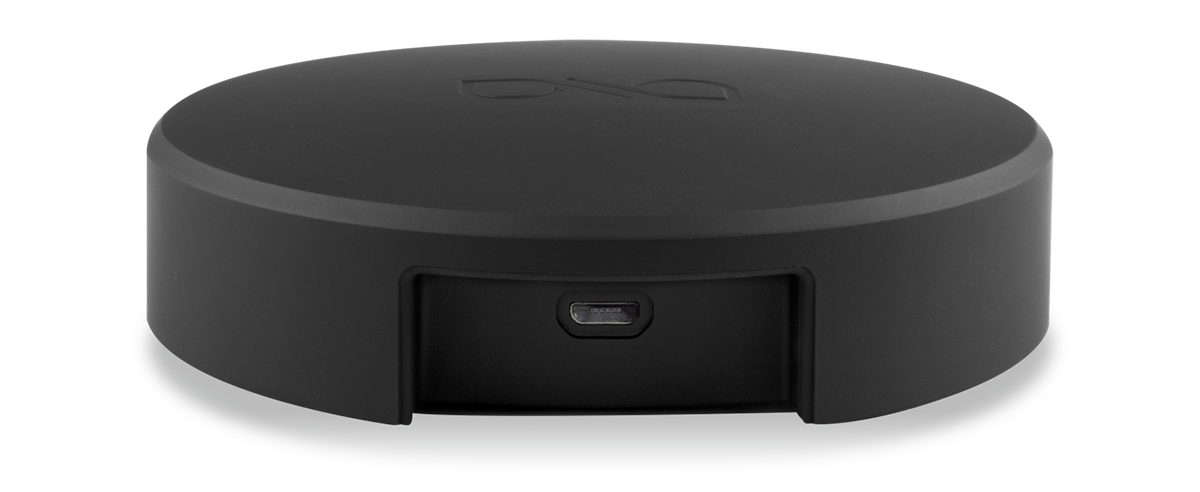 The third possibility is to connect the Axiim Link to a Mac or Windows 10 PC. Here, I suspect the main application will be wireless surround sound with PC gaming, though I can certainly see it being for video as well. But a 2- or 2.1-channel WiSA system could also be very attractive for music: Just plug the Axiim module into your laptop's USB port and cue up some tunes.
For use with an Xbox, Windows PC, or Mac, you configure the system with the Axiim Link app, which is available for iOS and Android -- I'll outline the process later. The Axiim Link app has other functions as well -- these include equalization (adjustable for each speaker), bass management, and firmware updates.
For all these applications, the only wires will be the USB cable connecting the Axiim Link to the source component (LG TV, Xbox console, Windows 10 PC, or Mac), and the power cords connecting the speakers to wall outlets.
Inside and out
For this review, Klipsch provided an Axiim Link WiSA transmitter, along with an RW-100SW subwoofer and a pair of RW-51M minimonitors.
From the front and sides, the RW-51M looks identical to Klipsch's R-51M bookshelf speaker, a conventional passive model. Both are rear-ported designs with the same outer dimensions: 13.3"H x 7"W x 8.5"D. Their reinforced-MDF enclosures are clad in a black-textured woodgrain vinyl, and have removable, magnetically attached grilles of woven cloth. The overall look is casual, if slightly dated.
The passive R-51M and wireless RW-51M share the same driver complement and crossover: a 5.25" copper-colored woofer with injection-molded graphite (IMG) cone hands off at 1660Hz to a 1" aluminum tweeter installed at the mouth of Klipsch's 90° x 90° Tractrix horn. The purpose of that horn, an iconic Klipsch element, is to direct the tweeter output at the listener, and reduce reverberation and interference caused by reflections from room surfaces. The result, Klipsch says, is improved clarity and dynamics.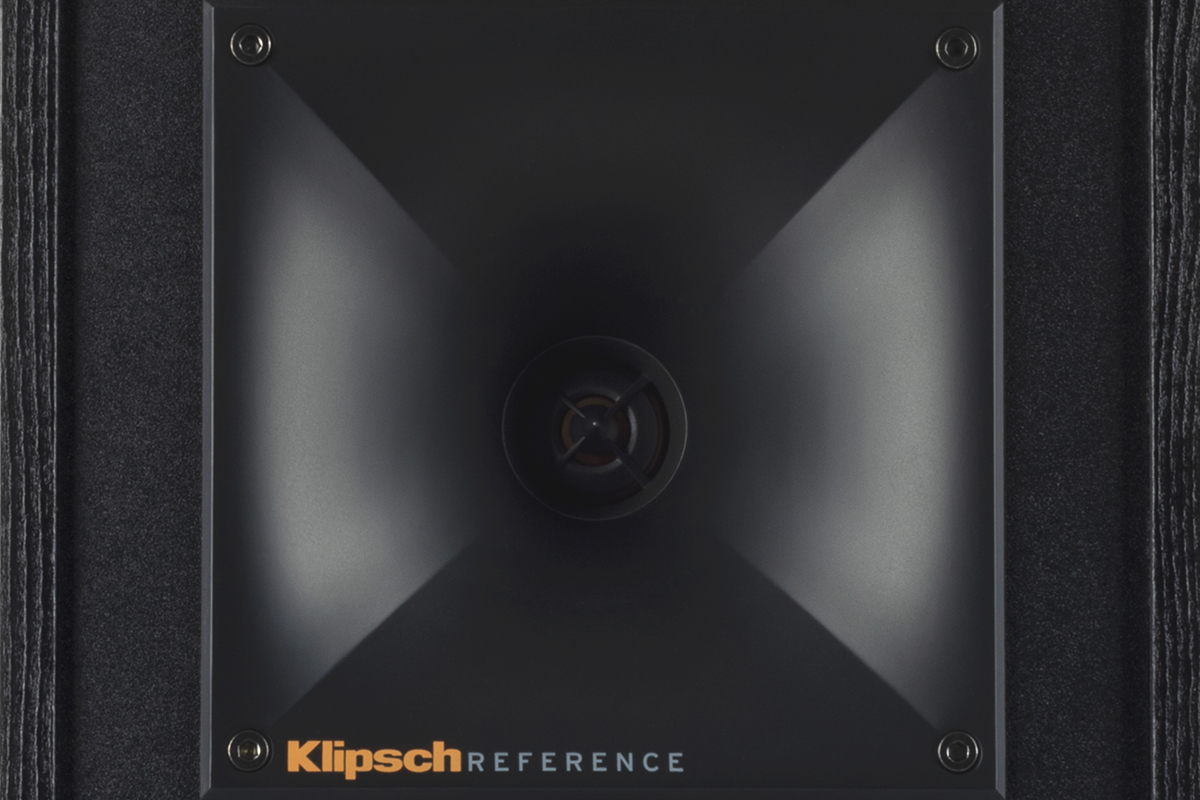 The difference between the R-51M and RW-51M becomes clear when you look at their rear panels. The R-51M has gold-plated binding posts, while the RW-51M has a two-prong AC connector for powering its built-in amplifier and WiSA radio, plus a reset button.
The RW-51M is a powered, as opposed to an active, speaker. In an active design, the crossover comes before the amplifiers in the signal path, and there are separate amplifiers for each frequency range. In a powered design, the crossover comes after the amplifier, just as in a conventional passive speaker, and there is a single amplifier per channel.
Essentially, the RW-51M is an R-51M with built-in WiSA receiver and class-D amplifier, the latter specified to output 60W continuous or 120W peak. The specified frequency response is 62Hz-21kHz, and the maximum resolution accepted is 24-bit/48kHz.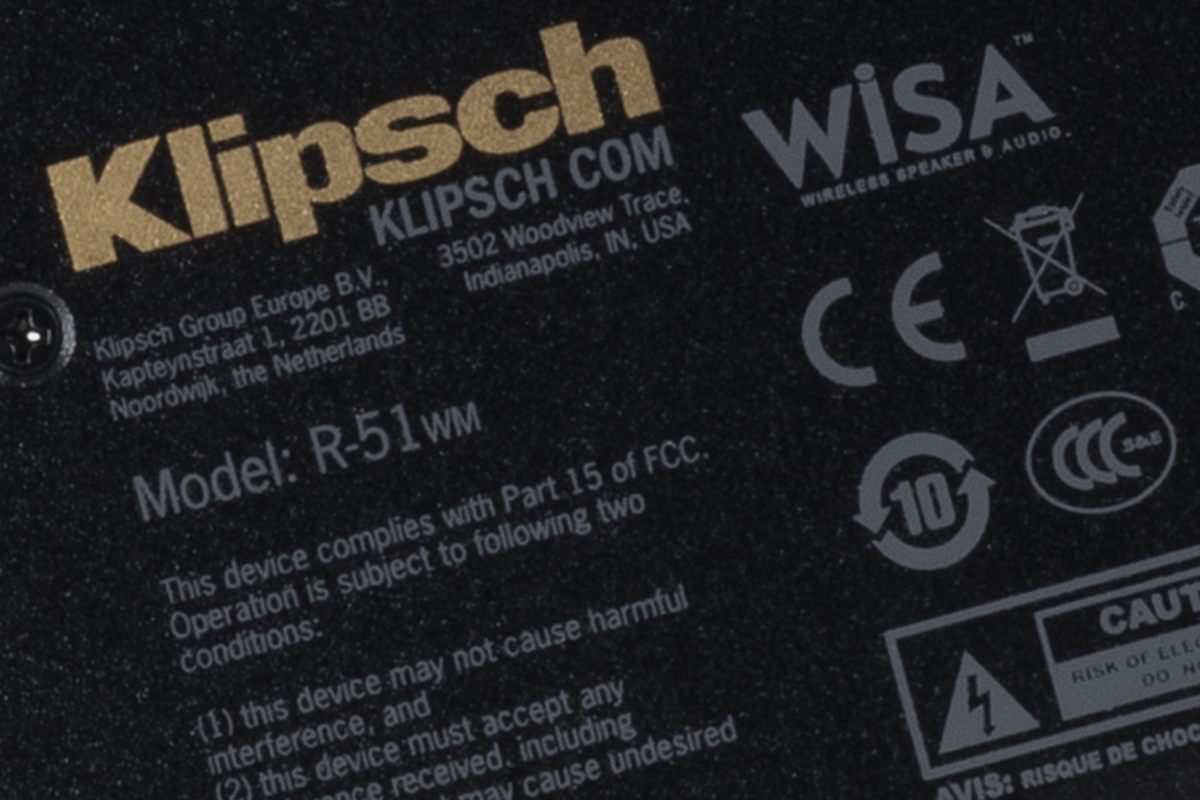 It would also be easy to mistake the RW-100SW wireless subwoofer for Klipsch's R-100SW powered sub. Both measuring 14.5"H x 12.5"W x 16.4"D, the two models employ a front-firing 10" high-excursion IMG woofer in a rear-vented enclosure clad in black-textured woodgrain vinyl. Both models have a class-D amp rated at 300W peak output. Whereas the R-100SW has RCA input jacks and controls for crossover frequency, level, and phase, the RW-100SW has just a power connector and a reset button. The RW-100SW is strictly for use in WiSA systems.
Software and setup
Klipsch's Reference Wireless speakers come with a self-styled "manual" that covers the entire range. Little more than a quick-start leaflet, it doesn't address any of the applications involving the Axiim Link that Klipsch promotes on its website. The manual's last page directs readers needing more guidance to a page on Klipsch's support website, but when I tried to open it, I got a "Page Not Found" message.
The Axiim Link manual, though, is quite good. The manual wasn't included with my review sample, but I found it on Axiim's website.
After unpacking the RW-51M speakers and placing them on a credenza in the basement family room of my Toronto home, I downloaded the Axiim Link app to my LG G7 ThinQ smartphone, per instructions in the Axiim Link manual. My initial experience was inauspicious. Per the manual, I connected the Axiim Link to a USB port on my Apple MacBook Pro using the supplied cable and launched the app, at which point it downloaded and installed a firmware update for the Link. That done, I specified my intended source (USB Audio in my case) and then, in the app's home screen, selected Speakers, then Search for Speakers. The last step is supposed to allow the app to discover nearby WiSA-capable speakers. Instead, it searched for speakers for several seconds, then crashed. This happened again and again. I tried downloading the iOS version to my iPad Mini and had exactly the same experience.
Next I tried selecting the View Speakers option, and the app did indeed see the two Klipsch speakers. But one was configured as the front left speaker, and the other as the right side (i.e., surround) speaker -- there was nothing I could do to change this. I tried pushing the reset button on both speakers and starting from scratch, to no avail. If I selected Search for Speakers, the app crashed. If I selected View Speakers, I saw the misconfigured Klipsch speakers but couldn't change the configuration. The Troubleshooting section of the Axiim manual provided no guidance.
Fortunately, there's an easy fix, which Axiim CEO James Hammer pointed out when he contacted me about the problem. After 20 minutes of troubleshooting, he suggested that I push the Unassociate button on the bottom of the Link. That button -- a little dimple of the same color and texture as the Link itself -- is easy to miss.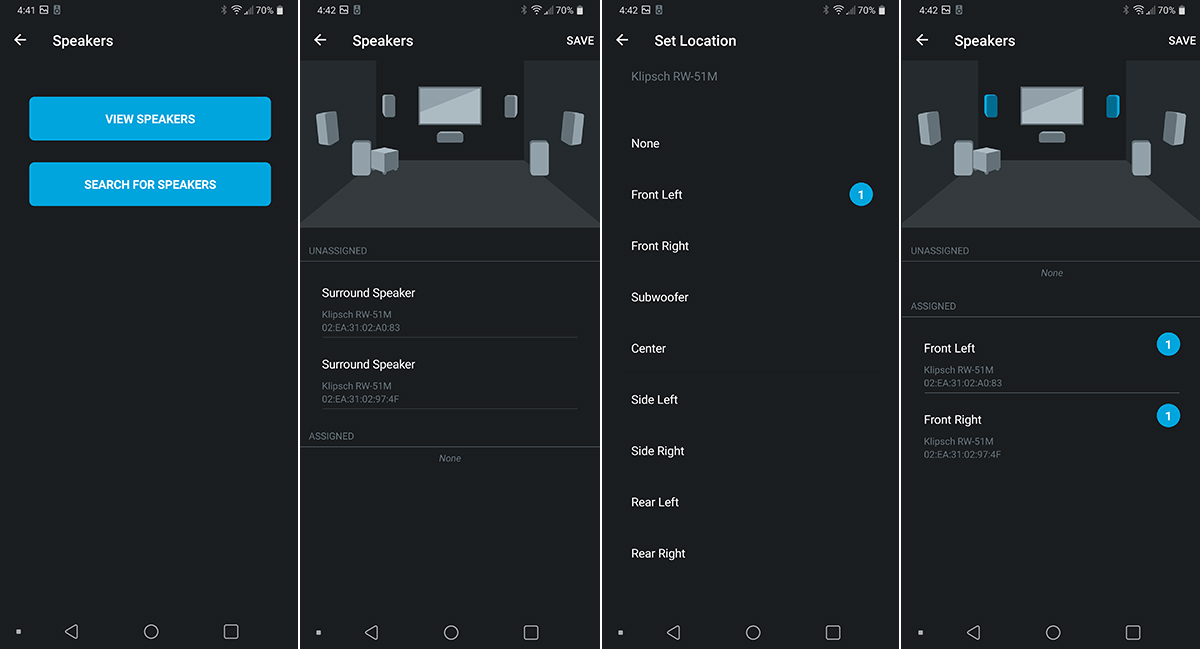 Hammer's suggestion did the trick. Now when I chose the Search for Speakers option, I saw a graphic that showed a full 7.1 system, and below it a list of unassigned WiSA speakers -- the two RW-51Ms. When I tapped on the first speaker on the list, a test tone played through the speaker on the right side of my credenza and a new screen appeared, showing all the possible channel assignments. After I selected Right Front, the app bounced me back to the previous screen, now with the right front speaker in the graphic colored blue, and only one unassigned speaker listed below. I tapped it, heard a test tone from the left side, chose Left Front as the channel assignment, and got back to the main speakers screen, now with both front speakers highlighted in blue. After I tapped the Save button, the correct configuration was stored in the app. Easy-peasy. No Wi-Fi setup was needed -- the Axiim Link hardware and app communicate automatically via Bluetooth.
But it's highly unlikely that any purchaser will experience the frustration I did -- as it turned out, my review samples had been previously used for dealer demos and had not been reset before being shipped to me.
I've outlined my experience for two reasons. First, there's clearly some buggy code in the app and/or hardware that caused those crashes, and Axiim or Klipsch needs to fix that. Second, readers who experience frustrations during setup should remember that little Unassociate button, and use it if they run into problems during setup.
The Axiim Link app has some very useful functions, including a ten-band graphic equalizer accessible from the Audio menu. For global EQ across all speakers there are presets for different genres, plus other settings, such as bass boost and loudness compensation. You can also set EQ separately for each speaker in your system.
For surround applications, the Axiim Link and its app have some serious limitations. Unlike most modern A/V receivers, there's no automated method for setting channel balance -- this must be done manually. When you enable the Per Speaker Volume function in the Audio menu, you'll see a set of controls that lets you apply a ±10dB adjustment for each speaker, but you have to set these by ear, or with the aid of a sound-pressure meter (and there's no pink-noise generator to help with the process). Also, there's no time-delay adjustment, which is important if the speakers are placed at different distances from the listener.
Listening
I did most of my listening in two-channel stereo mode, playing music from the Audirvana Plus app on my MacBook Pro. To do this, I selected the Axiim Link as the Preferred Playback Device in Audirvana's Preferences menu. Audirvana lets you use the Link in 7.1-channel mode, allowing for surround music, or in stereo mode, which is the option I chose. The Axiim Link was also available as a playback device in the Qobuz and Tidal apps on my MacBook. To use the Link with the macOS Music app, you have to select it as the sound output device in System Preferences.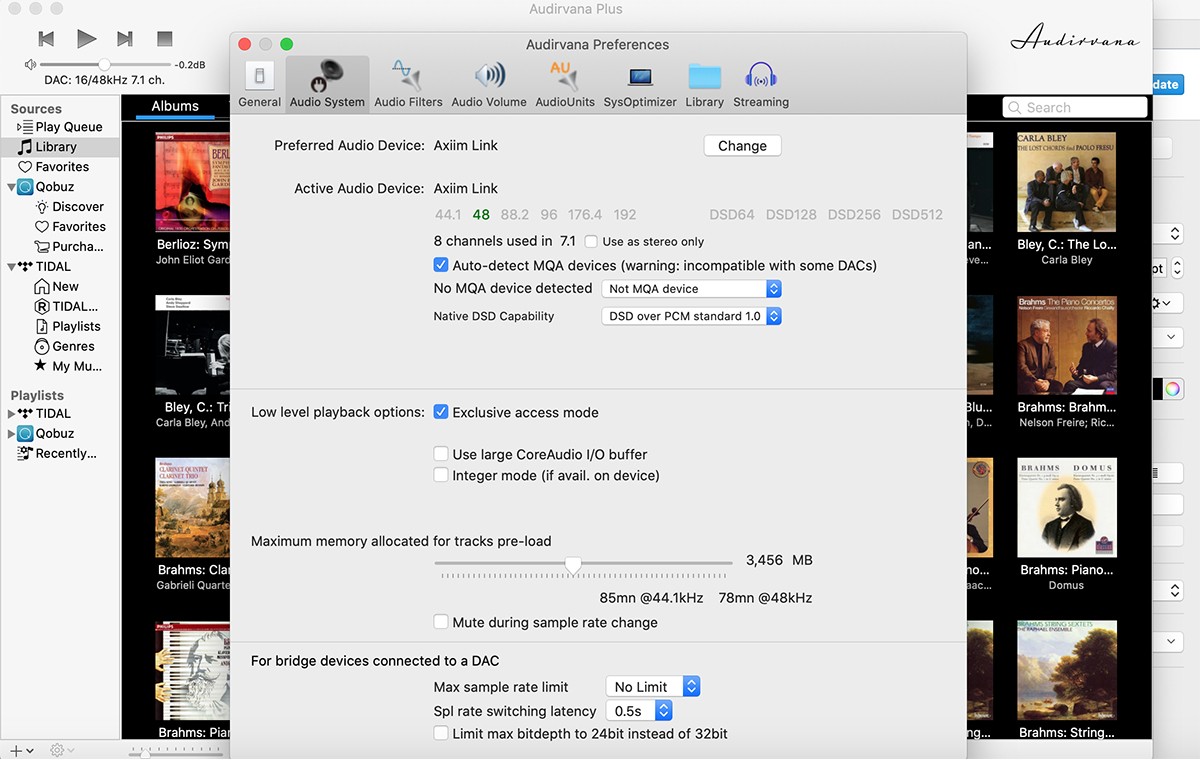 I really enjoyed the way this system sounded in my family room. It was impressively dynamic -- bigger and bolder than I'd expect from a pair of powered two-way bookshelfs costing $799/pr. ($1028 if you include the Axiim Link). The RW-51Ms imaged really well, creating a wide, deep soundstage from atop the credenza in our family room.
I loved the way these speakers sounded on the Thelonious Monk classic "Blue Monk," performed by the Chick Corea Trio on their live album Trilogy (24-bit/96kHz FLAC, Concord Music/ProStudioMasters) -- this track just swung. Christian McBride's double-bass solos were full, robust, and snappy. Brian Blade's kick drum sounded a bit thuddy and loose, but his rim shots and snare rolls were almost startlingly dynamic, if also a tad harsh. Corea's piano sounded neutral in tone from top to bottom. While these speakers didn't resolve nuances in his playing quite as well as other systems I've heard, they did awfully well in this regard. I could really appreciate Corea's legato touch when he punctuated McBride's bass solos. The soundstage was big and open, with lots of space around the musicians, so that I could really enjoy their interplay.
"Billie's Blues," from Coming Forth by Day, Cassandra Wilson's album of Billie Holiday songs (24/96 ALAC, Sony Legacy/HDtracks), begins with a big jungle beat on the floor tom played by Thomas Wydler, followed by Robby Marshall's growling bass clarinet, and then Kevin Breit on banjo and guitars, T Bone Burnett on baritone guitar, Jon Cowherd on Rhodes piano, and later Marshall on clarinet -- all in a huge, reverberant acoustic. Together, these instruments create a boozy, bluesy atmosphere that the Klipsch wireless speakers conveyed beautifully, albeit with some congestion that became worse in the dense instrumental passage late in the track. The floor tom was very impressive -- the Klipsches produced a palpable sense of mallets hitting skin. Wilson's sultry, dusky alto sounded wonderful, despite a slightly raspy edge up top. Her expressive snarls and whispers were nicely highlighted, so that the vulnerability and anger of the song's persona were right in the foreground.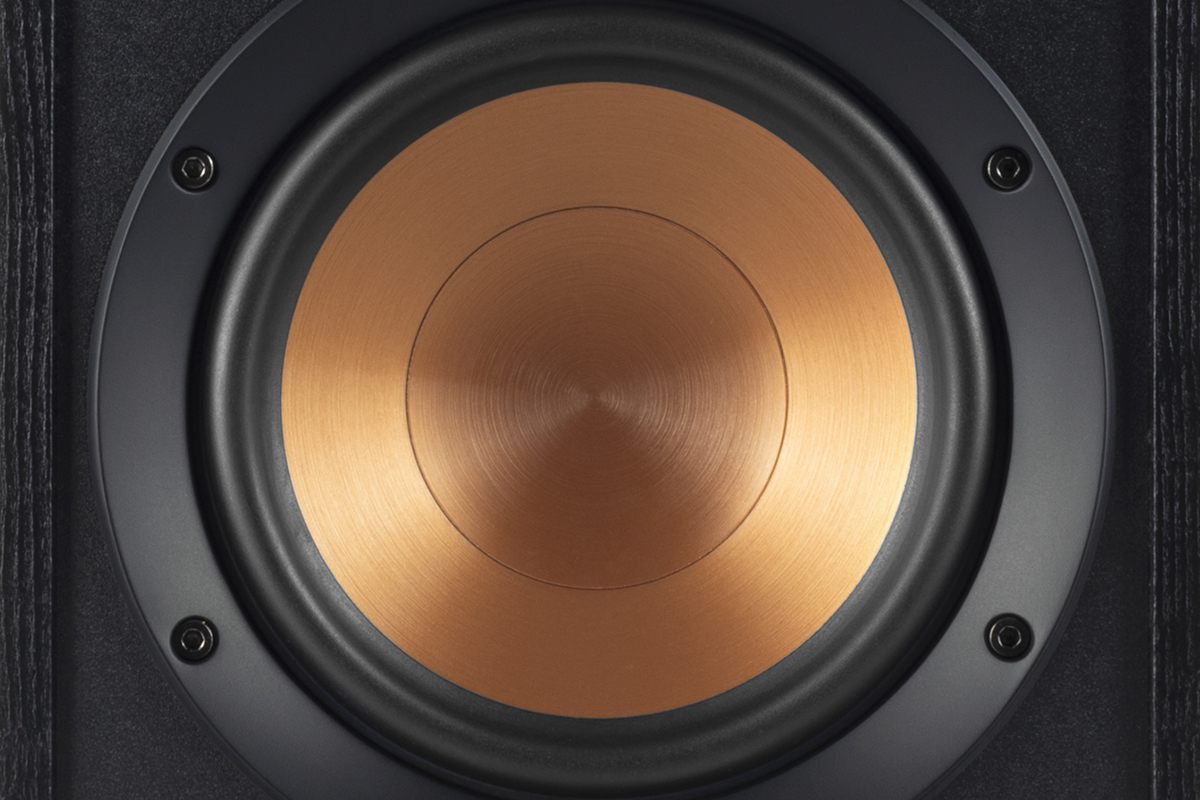 I was really impressed with the way the RM-51Ms tracked the dynamics of Van Morrison's voice in "Into the Mystic," from the 2013 remastering of his album Moondance (24/192 ALAC, Warner Bros./HDtracks), though there was a touch of hardness when he sang loudly at the top of his range, and a mildly cavernous quality in the middle. John Platania's fingerpicked guitar in the left channel had a lovely tactile quality, while the sharply strummed rhythm guitar on the right sounded fast and articulate. John Klingberg's bass guitar sounded full and robust, not at all boomy, providing a really satisfying foundation to the song.
From 2 to 2.1
While the focus of this review is the RW-51M monitors, I wanted to see what the Klipsch sub would add to the mix. Adding the RW-100SW to the system was pretty simple. I placed the sub to the left of the credenza on which sat the RW-51Ms, plugged it in, then selected the Search for Speakers function in the Axiim Link app. After several seconds the app found the sub, now colored blue in the app's diagram. Tapping the Save button in the upper-right corner of the screen updated the system configuration, and the sub was ready to go. Again, easy-peasy.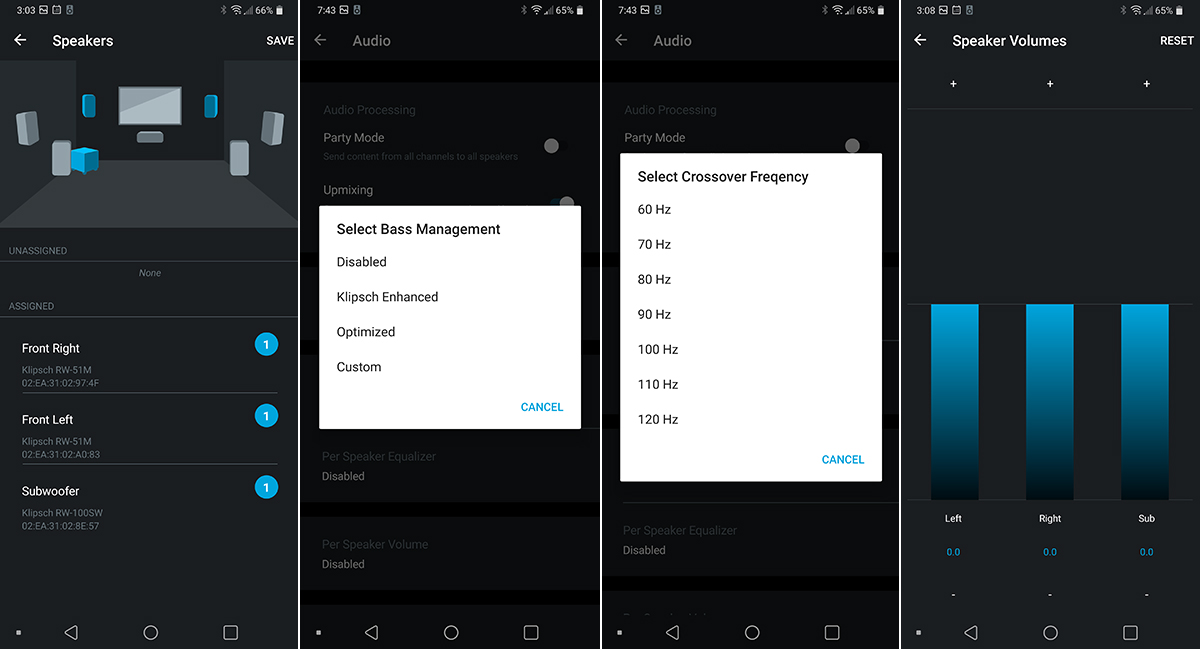 The app's Audio menu includes a Bass Management function, which was now enabled and set to Klipsch Enhanced mode. According to an e-mail I received from Klipsch, this mode "uses customized filters . . . designed to give the flattest response," but I found the bass a bit too fat with this setting. So I experimented with other modes -- Optimized and Custom. Custom Bass Management mode provides seven options for crossover frequency, from 60 to 120Hz. Optimized mode uses standard WiSA filters, and to me it sounded almost perfect. I could barely identify the sub as the source of the lowest frequencies, which very nicely blended with the main speakers' output.
I felt no need to adjust the subwoofer level, but you can do this by enabling the Per Speaker Volume function in the app's Audio menu. The screen provides a ±10dB adjustment for all speakers in your setup, including the subwoofer.
The subwoofer made a positive contribution to the system's sound, and not just in the bass. In "Billie's Blues," Wydler's big floor tom sounded bigger, more palpable, and better controlled, but there were also differences higher in the audioband. The big, cavernous acoustic was still there, but individual instruments stood out a bit more clearly. And that big instrumental passage late in the song sounded less congested.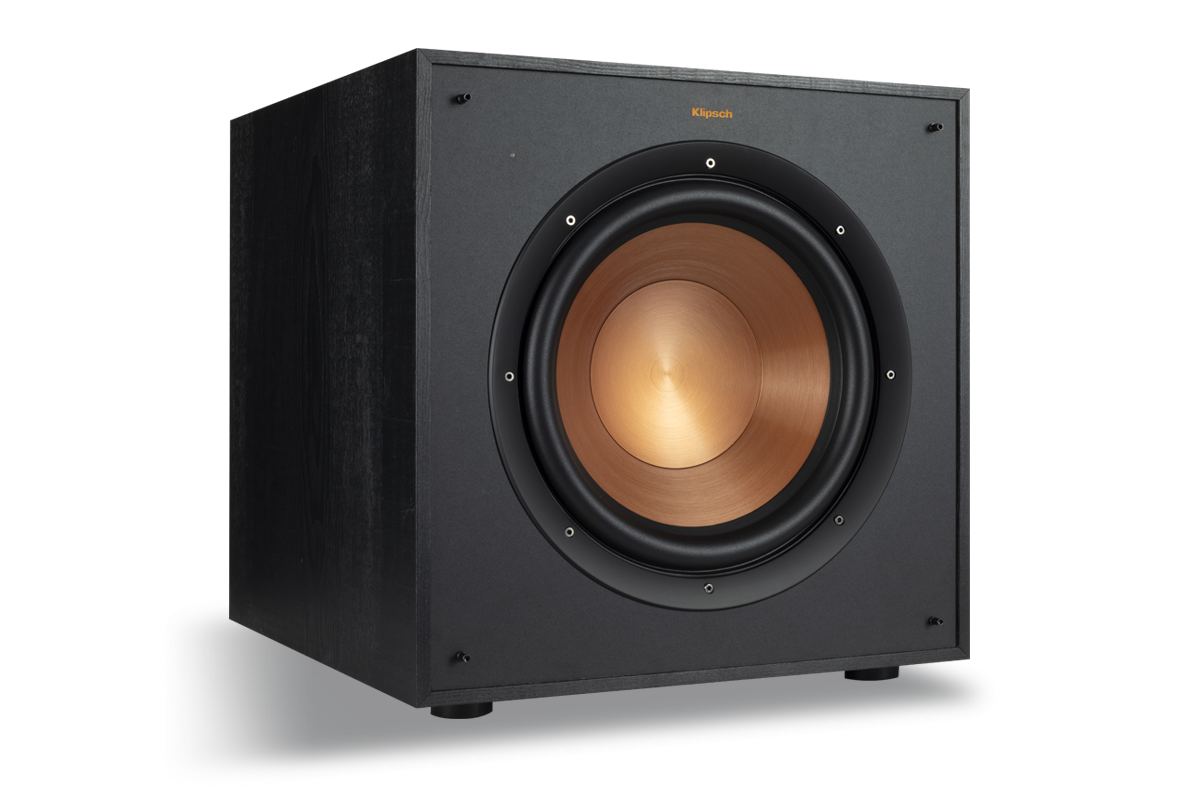 In "Blue Monk," I expected to hear an improvement in the sound of McBride's double bass, and I did -- it had greater depth and better control. So did Blade's kick drum -- that thuddiness was gone. With the sub added to the mix, I heard everything I'd enjoyed about the RW-51Ms' reproduction of this track -- just more of it. McBride's bass runs were a bit more articulate, and Corea's expressive piano flourishes were clearer. The overall sound was even bigger and more spacious, and more dynamic. Clearly, not requiring the RW-51Ms to produce the bottom two octaves made an improvement in the upper bass and mids.
Comparison
SVS's Prime Wireless speakers ($599/pair), which I favorably reviewed on Simplifi in March 2019, are similar to Klipsch's RW-51Ms in some respects. Both are two-way, rear-ported designs, and both have built-in amplifiers. But there are some significant differences. The Prime Wireless is an active design, with a DSP-based crossover, and a dedicated 50W class-D amplifier for each driver. It's smaller, and has a smaller woofer -- 4.5", compared to 5.25" on the Klipsch.
The speakers' connectivities, too, are very different. The Prime Wireless has built-in Wi-Fi and Bluetooth, and supports DTS's Play-Fi multiroom audio technology as well as Spotify Connect. It also has optical and analog inputs. WiSA is the only connectivity option with the Klipsch Reference Wireless series, but this allows for surround sound -- which isn't possible with the SVS Prime Wirelesses. The SVS speakers are definitely better-looking -- their enclosures have impeccable high-gloss finishes and elegantly chamfered front baffles.
Despite these differences, I found the comparison between the SVS Prime Wireless and Klipsch RW-51M (without sub, of course) very instructive.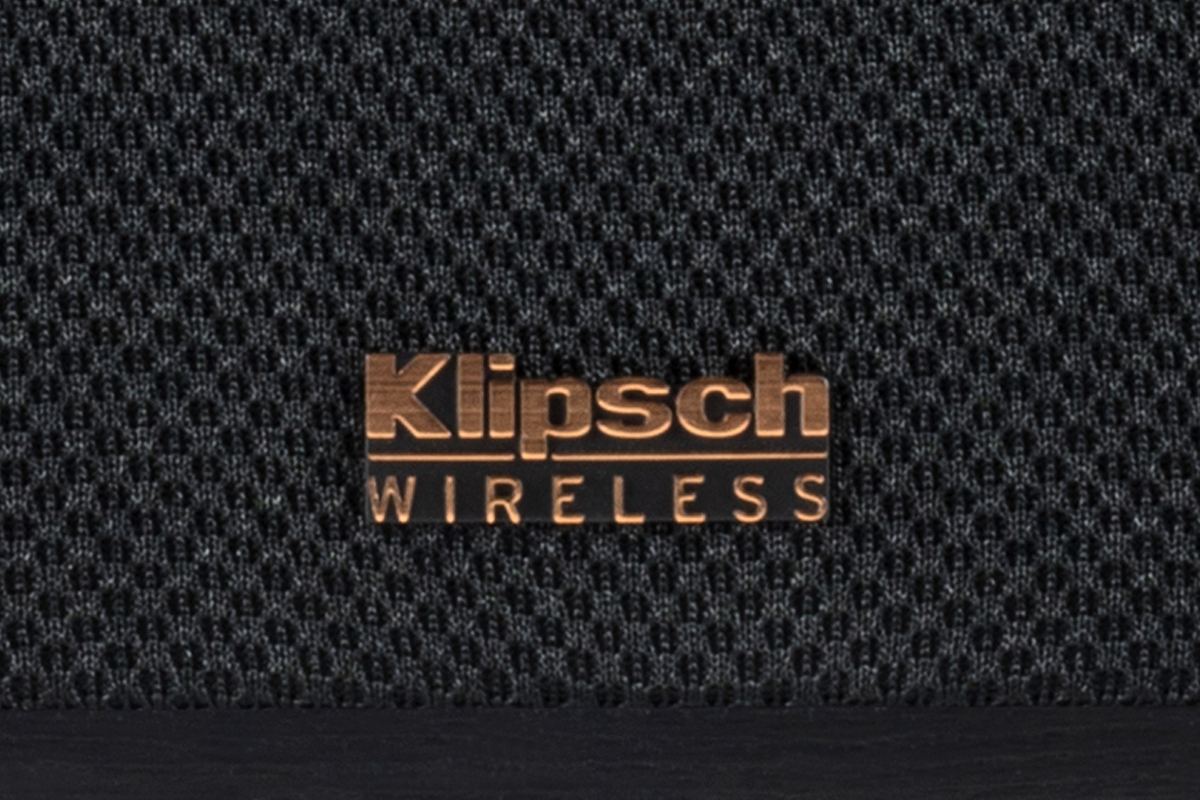 Streamed to the SVS Prime Wireless using the Play-Fi app on my LG G7 phone, Christian McBride's double-bass solo in "Blue Monk" sounded woodier on the upper strings, which I liked, but thuddier on the lower strings, which I didn't. But the rapid runs in his solos were resolved better by the Klipsches. Brian Blade's kick drum was thuddier through the SVS speakers. The rest of his drum kit sounded similarly snappy and dynamic through both models, but the Klipsches had a greater sense of palpability -- the skin of the floor tom was more apparent. The tone of Corea's acoustic piano was more consistent from top to bottom through the Klipsches, and dynamics were more refined -- I could hear more of Corea's expressive touches through the Klipsch than through the Prime Wireless speakers.
Through the Prime Wirelesses there was a mildly papery edge to Van Morrison's voice in "Into the Mystic" that I didn't hear from the Klipsches, but his lower range sounded more neutral with the SVSes. The guitars sounded bigger and woodier through the Klipsches. With the SVSes I was more aware of the sounds of picks and fingers hitting strings; with the Klipsches, I heard more of the instruments' bodies, which I preferred. The horn section sounded better balanced through the SVSes -- through the Klipsches, they had a slightly cavernous quality.
Conclusion
I was really impressed with the sound of the RW-51Ms -- these speakers delivered a lot for their asking price, even after the new tariffs. Their sound was consistently lively and engaging -- the hardness I occasionally heard didn't prevent me from really enjoying them. While all my listening involved music, I have no doubt that a Reference Wireless system would be equally satisfying with film soundtracks -- especially if that system included an RW-100SW subwoofer.
I think the Axiim Link is a solid product -- both the module and its companion app. I experienced no dropouts or stuttering during my listening, and I doubt anyone will suffer the frustration I felt during initial setup (if that happens, the system is probably a repack!). Responsiveness during setup was a little sluggish, but completely satisfactory in daily use. While the Link lacks such functions as time-delay adjustment, we have to temper our expectations -- after all, this thing costs $229.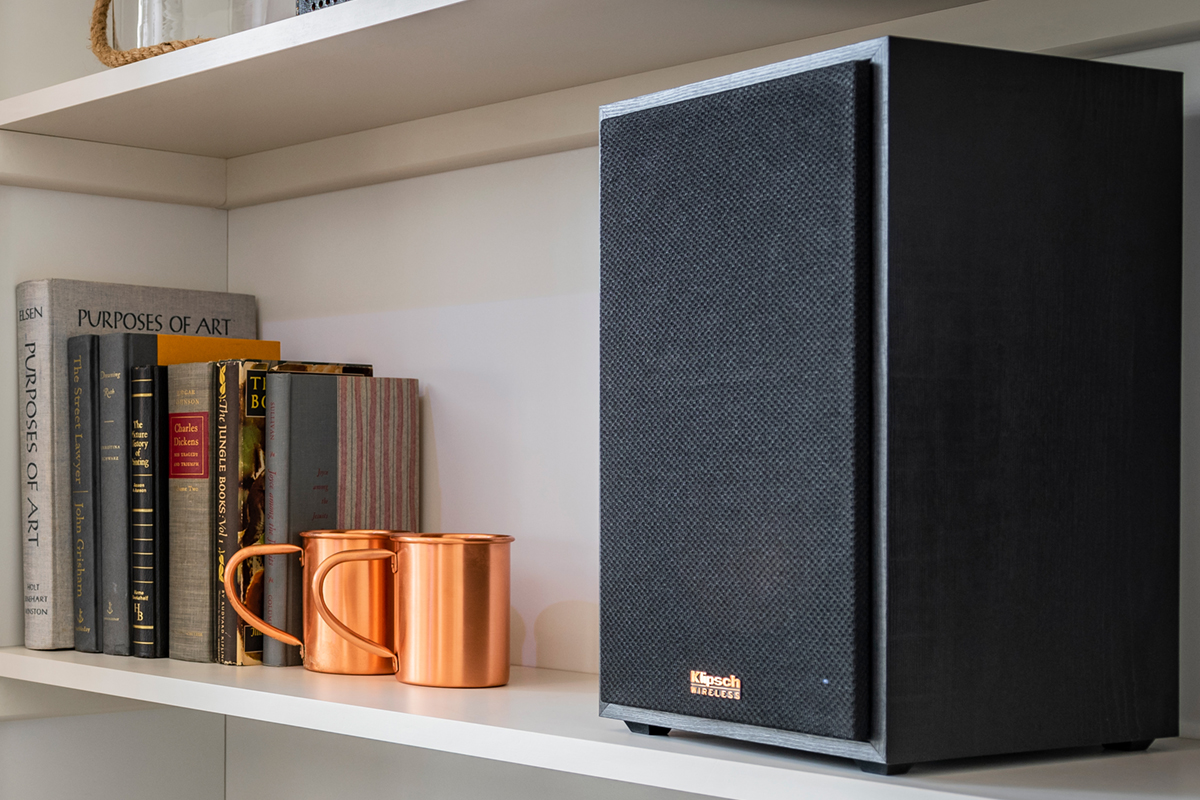 If I have any hesitation at all about the RW-51M, it's the fact that, in terms of connections, it's a one-trick pony. The only option is WiSA, which has been slow to take off but now seems to be gathering momentum.
I certainly liked being able to plug the Axiim Link into my MacBook and immediately start streaming music to the RW-51Ms. But I think that's a niche application for this product. I think more people will be excited about getting wireless surround sound from an Xbox One or LG TV. Right now, LG's OLEDs are among the best TVs on the planet, and the ability to add wireless 5.1-channel surround is awfully appealing. It could do wonders for domestic harmony in a great many households.
. . . Gordon Brockhouse
This email address is being protected from spambots. You need JavaScript enabled to view it.
Associated Equipment
Computer -- Apple MacBook Pro (early 2015) running Audirvana Plus 3.2.18
Active speakers -- SVS Prime Wireless
Control devices -- LG G7 ThinQ smartphone, Apple iPad Mini
Klipsch RW-51M Wireless Minimonitors
Price: $799 USD per pair.
Klipsch RW-100SW Subwoofer
Price: $689 USD.
Axiim Link USB WiSA Transmitter
Price: $229 USD.
Warranty (parts and labor): Klipsch speakers -- three years, drivers; two years, electronics. Axiim Link -- one year.
Klipsch Group
3502 Woodview Trace, Suite 200
Indianapolis, IN 46268
Phone: (800) 544-1482, (317) 860-8100
Fax: (317) 860-9178
Website: www.klipsch.com