The audio world knows of Pro-Ject Audio Systems as a major brand of turntables, but this Vienna-based company also makes an extensive line of electronics that lately have been winning all kinds of awards. For the past three years, Pro-Ject has received awards for its turntables and its electronic components from the Expert Imaging and Sound Association (EISA).
One of those components is the subject of this review: Pro-Ject's Pre Box RS2 Digital DAC-preamp-headphone amp ($2499, all prices USD). Along with the CD Box RS2 T CD transport ($2999), the Pre Box RS2 Digital won the award for Best Product 2019-2020: Digital Source.
The CD Box RS2 T is built around a top-loading mechanism and servo developed by StreamUnlimited, a Vienna company formed by ex-Philips engineers. The transport has optical and coaxial S/PDIF outputs, AES/EBU balanced output, and I2S + Masterclock output via HDMI.
The Pre Box RS2 Digital has an I2S-capable HDMI input specifically intended for use with the CD Box RS2 T. Pro-Ject describes I2S as "the perfect digital interconnect and . . . the ideal solution to bypass the limitations that inherently come with other forms of digital audio connections." For music lovers who still spin shiny discs, the Pre Box RS2 Digital and CD Box RS2 T form a compelling combination.
I've long since bailed on physical media -- all my music listening is from downloads, ripped CDs and SACDs, and on-demand streaming services, primarily Qobuz and Tidal. Fortunately, I had on hand an ideal streaming companion for the Pre Box RS2 Digital: Pro-Ject's Stream Box S2 Ultra network streamer ($849), which I connected to the Pre Box RS2 Digital's USB input using a 2m-long AudioQuest Cinnamon link. The Stream Box S2 Ultra is Roon Ready, so it could play music from the Apple Mac Mini in my second-floor office. I also streamed from Qobuz and Tidal using the Pro-Ject Play app on my iPad Mini.
Inside and out
In addition to its USB and I2S-capable HDMI inputs, the Pre Box RS2 Digital has one coaxial and two optical S/PDIF inputs, one AES/EBU digital input, and one set each of unbalanced (RCA) and balanced (XLR) analog inputs. The maximum resolution of the S/PDIF and AES/EBU inputs is 24-bit/192kHz. The USB interface can accept streams of up to 32/768 PCM and DSD512. The Pre Box RS2 Digital's hardware for full MQA decoding and rendering can be used for MQA-encoded Masters content from Tidal, as well as MQA-encoded CDs. Finally, there's built-in Bluetooth, with support for the base SBC codec, AAC, and aptX.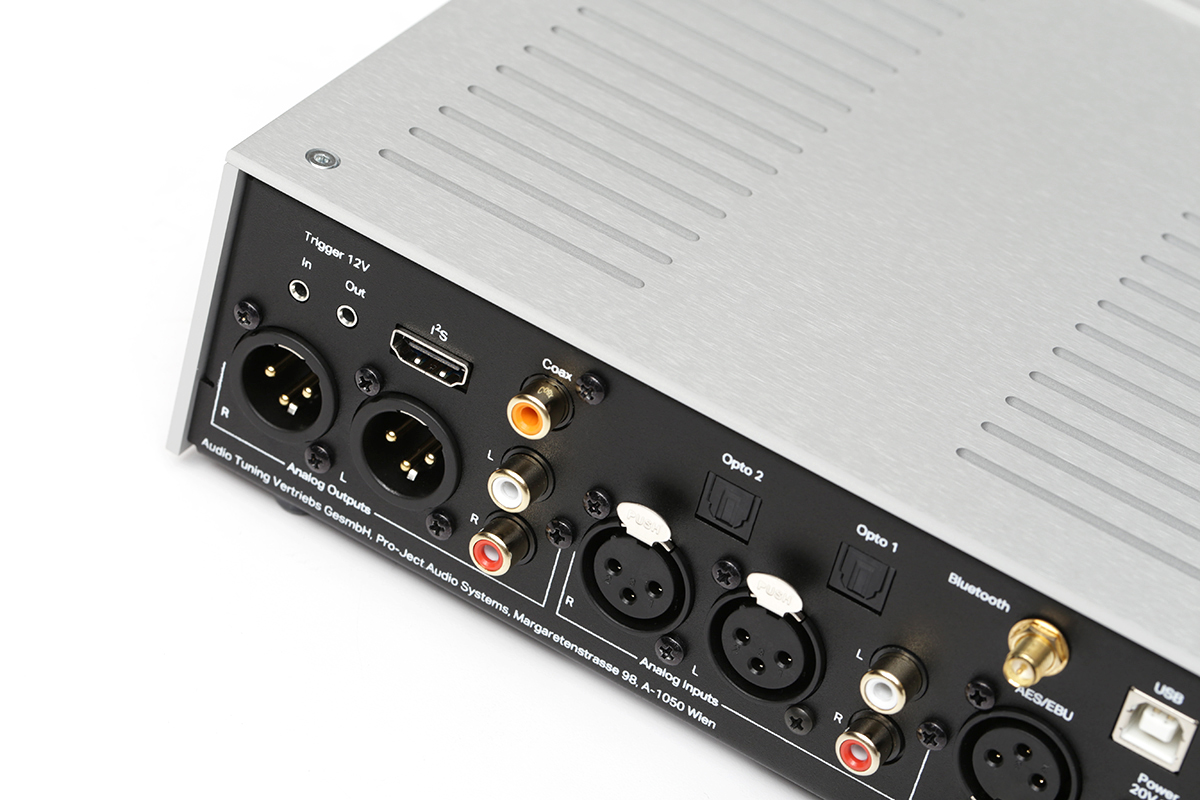 Pro-Ject groups its electronics under its sub-brand Box Design, well named for these models' small sizes and utilitarian aesthetic. Measuring just 8.1"W x 2.8"H x 8.74"D (including connectors) and weighing 3.77 pounds, the Pre Box RS2 Digital is available in black and silver finishes. While not luxurious by any means, its build quality is very good. Combine the Pre Box RS2 Digital with an identically sized CD Box RS2 T or a much smaller Stream Box S2 Ultra, and you have a small-footprint system that can easily fit into real-world living spaces. But wherever you install the Pre Box RS2 Digital, be sure to keep it well ventilated -- it runs a little hot.
On the left side of the front panel is a toggle power switch, and below it a 6.35mm headphone jack. On the right are four buttons for navigating menus, and below these a volume control, which on my review sample was a little noisy -- I heard static and swishing sounds through both speakers whenever I turned this knob. At the center of the front panel, a 2"H x 3"W OLED screen displays an abundance of information during playback: selected source, sample rate and bit depth, and many configuration options (I outline these below).
Employing two ESS Sabre ESS9038Q2M DACs, the Pre Box RS2 Digital is a fully balanced dual-mono design, with separate signal paths for the left and right channels. Output options include pairs of balanced (XLR) and unbalanced (RCA) jacks on the rear panel, plus the front-panel headphone jack.
There are two analog output stages: one solid-state, one tubed. The latter employs four 6922 dual-triode tubes. Using the Pre Box RS2's display, you can switch between these stages using the four buttons on the front panel -- their functions change with the menu selected -- or with the supplied remote control. If the tubed stage is engaged when you first power up the Pre Box RS2, a tube symbol on the display blinks on and off while the tubes warm up, then glows solid when their heater filaments are ready to move electrons on their way. Once the Pre Box RS2 is warmed up, you can switch between tubed and solid-state operation at any time, without delay.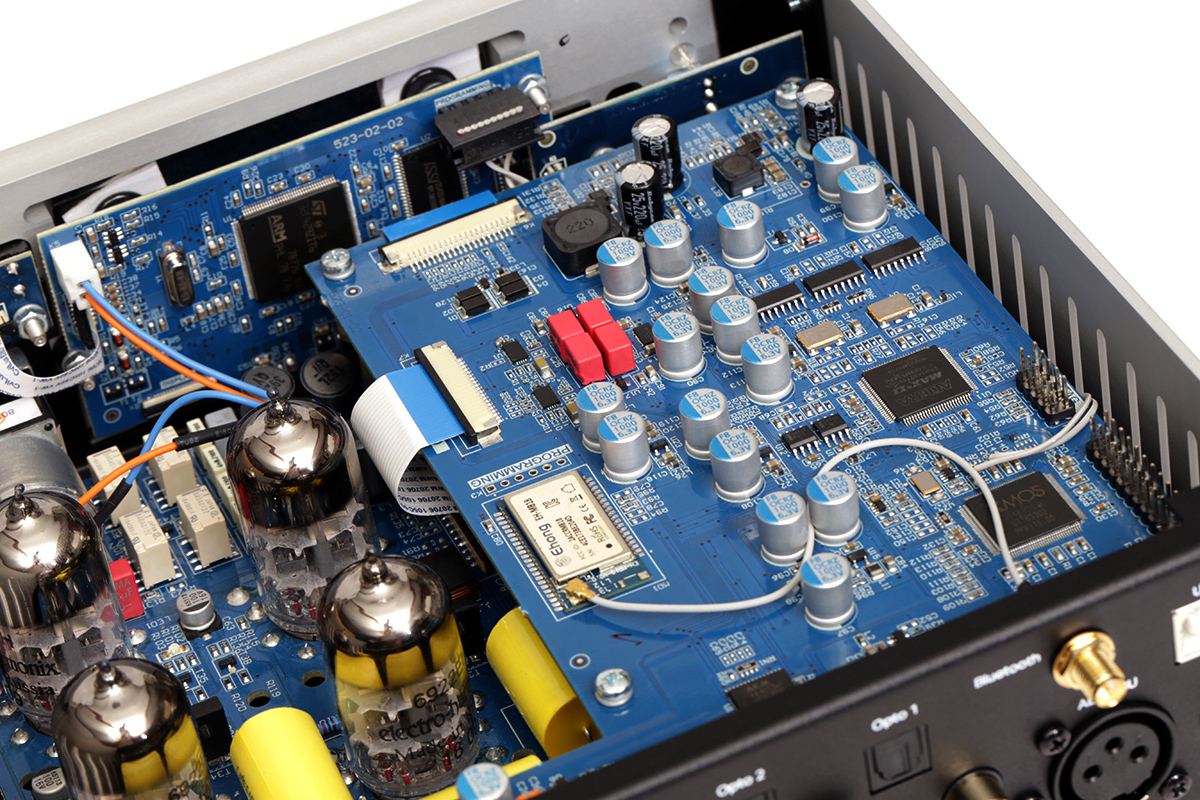 I asked Pro-Ject whether keeping the filaments warmed up shortens tube life. Their reply: "When the tubes are not being used, the current is dropped down to standby mode idle. Great tube life!"
There's no option for tubed headphone listening -- the headphone amp is strictly solid-state. It's a DC-coupled design with no coupling capacitors, even on the output. One annoyance: When you plug in a set of headphones, the line-level outputs are not muted. If you want to listen to headphones but not speakers, you'll have to turn off your power amp. That's not a big deal -- unless you're using active or powered speakers, as I do. When I wanted to use the Pre Box RS2 Digital's headphone output, I had to turn off the power switches at the bottom rear of my Elac Navis ARF-51 active speakers.
Options
The Pre Box RS2 Digital has eight digital filters, seven of them user-selectable. The eighth is automatically switched in during playback of MQA streams from Tidal or from MQA-encoded CDs. Users can disable upsampling if they want music played at the source format's native sampling rate, or leave it turned on only for MQA streams. Other options include reclocking of the datastream (according to the manual, "the overall effect on jitter is insignificant") and low-pass filtering of the analog output stage (switchable between 25 and 120kHz). All of these settings are indicated with easy-to-read icons on the display, and explained fairly well in the manual -- a plain-Jane, eight-page document that should tell most users all they need about configuring and using the Pre Box RS2.
After connecting the Pre Box RS2 Digital's balanced outputs to the balanced inputs on my Elac Navis ARF-51 active speakers ($4599.96/pair) using 2m Argentum Acoustics Mythos XLR interconnects, I did some casual listening to several favorite tracks (some high-resolution PCM, and others of CD resolution), cycling through the seven digital-filter settings (Linear Phase Fast, Linear Phase Slow, Minimum Fast, Minimum Phase Slow, Apodizing Fast, Corrected Phase Fast, Brick Wall) with the Filter button on the remote. Whatever differences in sound there were were vanishingly small. I settled on Linear Phase Slow, which I thought sounded ever-so-slightly more integrated than the other filters, though I could easily have been imagining this.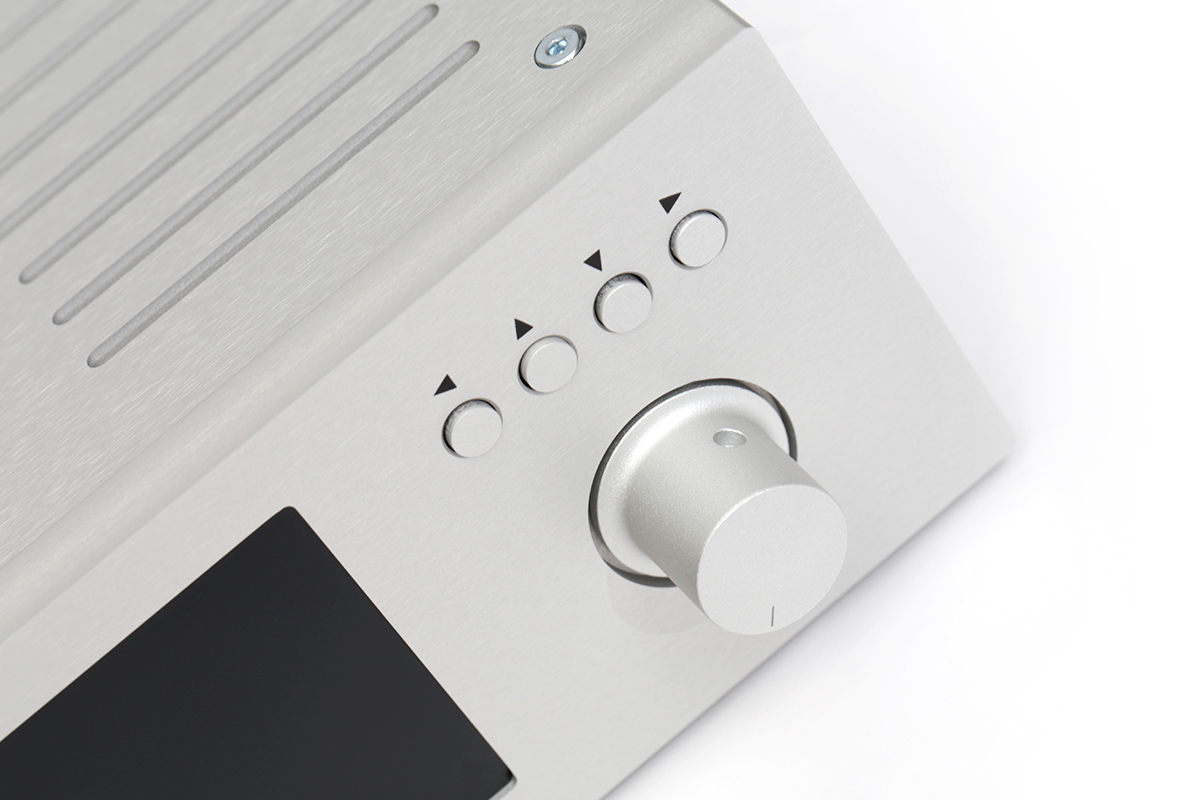 I recommend giving the filters a listen to hear if you have a preference. Also try disabling upsampling entirely, particularly if you're using an upsampling function in Roon or another music-player app. But after a little experimentation, just choose a setting and leave it there.
However, it's definitely worth spending some time comparing the tubed and solid-state output stages. I listened for a couple of hours in solid-state mode, then activated the tube stage. At first, the most obvious difference was an increase in noise -- a hiss that varied in level, and some occasional mild motorboat-like pulses. From my listening chair, 7' from the speakers, noise was almost always inaudible when music was playing, but when I paused playback I could clearly hear noise with the volume set to a comfortable level. Pro-Ject specifies the Pre Box RS2 Digital's total harmonic distortion (THD) plus noise as 0.006% in solid-state mode, 0.017% in tubed mode.
No matter -- that tubed stage served up an extra dollop of harmonic and spatial goodness. Voices were a little more embodied -- it was easier to appreciate that notes were being sung by flesh-and-blood human beings with bodies rather than a pair of vocal cords vibrating in space. While the soundstage wasn't wider or deeper in tubed mode, it was more filled in. Instead of a space between and behind the speakers in which sonic events were occurring, the soundstage became one big performance space.
While I enjoyed the sound of the Pre Box RS2's solid-state output stage, overall I preferred listening in tubed mode. Still, I can easily imagine many listeners preferring the more matter-of-fact sound, more silent backgrounds, and slightly greater articulation that the solid-state output stage delivered.
Listening through speakers
Something that consistently struck me was the Pre Box RS2 Digital's harmonic richness, whether I listened through its tubes or its transistors. Time and again, I marveled at the insights it made possible into the characters of voices and instruments. I also loved its reproduction of aural images -- not just its precision of limning those images, but of their corporeality. Musicians didn't merely occupy positions on the soundstage, each had a shape. I also found the Pre Box RS2's sound fast and nimble, a characteristic it took me a while to appreciate, given the component's harmonic richness.
As March 2020 marks the 250th anniversary of Beethoven's birth, I thought it fitting to use his two most recognizable compositions as musical examples for this review. As it happens, both recordings were made in Austria, Pro-Ject's home country. One of them is of the iconic first movement of Beethoven's Symphony No.5, in a classic 1975 recording by Carlos Kleiber and the Vienna Philharmonic Orchestra (DSD64 from 24/96 master, Deutsche Grammophon), which I streamed from the music library on my Apple Mac Mini to the Pro-Ject Stream Box S2 Ultra via Roon. The big moments had fabulous authority and density, and weren't the least bit congested. Orchestral textures were wonderfully transparent -- I could hear every expressive gesture. The VPO's fabled strings sounded luminous, the equally fabled brass section beautifully burnished. Through this little component, I could really appreciate the legendary acoustics of Vienna's Musikvereinssaal. From initial attacks to lovely, golden decays, every molecule of air between and behind my speakers seemed alive with music.
Switching between the Pre Box RS2's solid-state and tubed modes, I found that the tubes resulted in more transparent orchestral textures, but that string and brass attacks had more bite through transistors.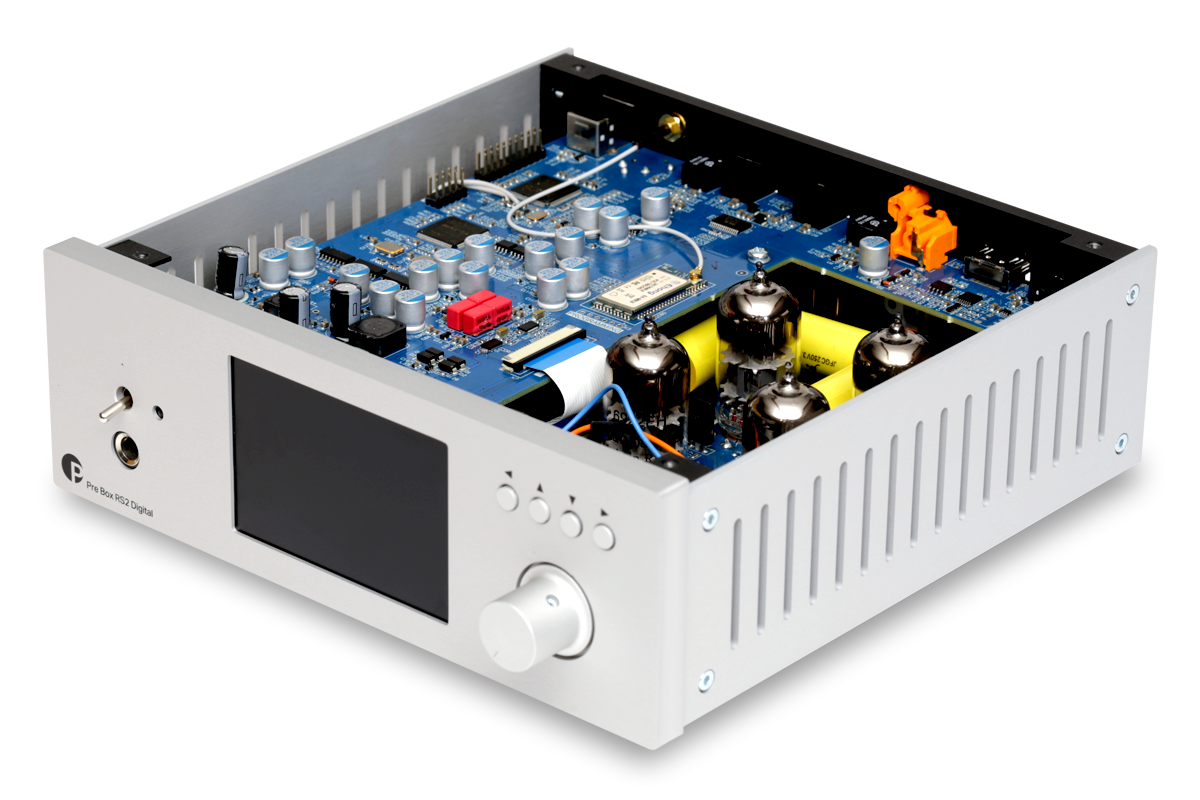 Lately, I've been listening to a new cycle of Beethoven's piano sonatas by the Turkish pianist Fazil Say (24/96 MQA, Warner Classics/Tidal), which I played from the Tidal client on the Stream Box S2 Ultra. While Say has drawn some criticism for his interpretive gestures and choices of tempo, I really like what I've heard from this set so far -- I find it fresh and invigorating. And the sound is superb.
In the famous first movement, Adagio sostenuto, of Piano Sonata No.14, "Moonlight," the reproduction of Say's touch was exquisite. With the Pre Box RS2 Digital in tubed mode, I loved his gentle right-hand attacks in the main theme, and the beautiful decays that followed. Say's pedaled legato phrasing in the left hand was just as wonderful -- the decays just went on and on. This made it easy to appreciate Say's inspired music-making, and the wonderful acoustic of the Grosser Saal of the Mozarteum in Salzburg, Austria.
In solid-state mode, the sound was slightly more articulate -- Say's right-hand attacks were just a tad faster -- but in tubed mode the Pre Box RS2 provided a bit more harmonic richness and a bigger soundstage.
The final movement of the "Moonlight," Presto agitato, is in complete contrast to the first -- it's fiery, tempestuous, dramatic -- and here I could really appreciate the dynamic capabilities of the Pre Box RS2 Digital. Say's muscular chords exploded out of my speakers, his runs were beautifully articulated -- and there was still that marvelous sense of the recording space.
In both movements, I admired the Pre Box RS2's portrayal of Say's instrument (a Steinway, judging from his YouTube video) -- immensely powerful, fast and brilliant in the upper registers, warm and authoritative in the lower registers.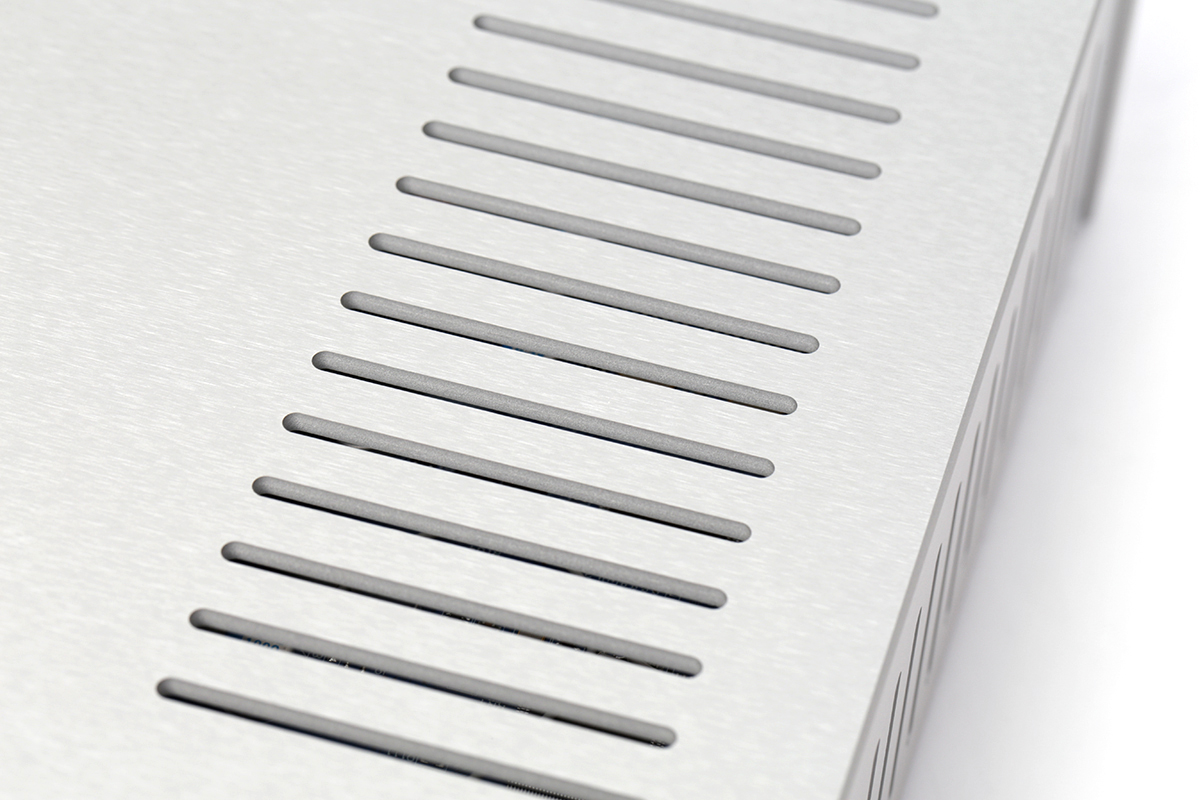 The Pre Box RS2 Digital turned in another great piano performance with "Kenner Boogie," the opening track of the album Hollywood Africans by Jon Batiste, the musical director of The Late Show with Stephen Colbert (24/96 FLAC, Verve/Qobuz). This high-energy boogie-woogie number for solo piano, composed by Batiste and named for his hometown in Louisiana, had gobs of power but never sounded hard or glary. Batiste's upright piano sounded fast, alive, and immediate.
Again, the portrayal of the piano was a little sharper and more muscular in solid-state, richer and more embodied with tubes. In tube mode, I had a slightly better sense of the recording venue, an unspecified church in New Orleans.
Turning to something more tender, I loved the way the Pre Box RS2 Digital reproduced Batiste's voice in "What a Wonderful World." His breathing, sibilants, consonants, and vowels were all clearly presented -- and all perfectly integrated. Batiste's pedaled ostinato notes had luxurious harmonic richness, and decayed magically into the reverberant acoustic of that New Orleans church.
Magical is also the word to describe how the Pre Box RS2 Digital reproduced soprano Marion Rampal's performance of Kurt Weill's "Youkali," from Bye-Bye Berlin, a collection of Weimar-era music featuring the Manfred String Quartet and clarinetist Raphaël Imbert (24/44.1 FLAC, Harmonia Mundi/Qobuz). Rampal's voice was wonderfully three-dimensional, with a real flesh-and-blood quality. The Pre Box RS2 captured every expressive nuance during her swells in the choruses, and her subdued, nostalgic singing in the conclusion. Cellist Christian Wolff's pizzicato attacks were ideally sharp, with marvelous body and a delicious woody tone. Later in the song, Marie Béreau's soaring violin above the vocal line was gorgeous. And the reproduction of the sound of the recording space, the Cité de la Voix, in Vézelay, France, was outstanding.
Comparison I
NAD's Classic C 658 BluOS streaming DAC ($1649) received a Reviewers' Choice award when I reviewed it on Simplifi in November. Wes Marshall, too, reviewed the C 658, for SoundStage! Xperience, and it won Reviewers' Choice honors there as well.
The C 658 is a full-size component with more functions than the Pro-Ject combo of Pre Box RS2 Digital and Stream Box S2 Ultra. These include Dirac Live room correction and a moving-magnet phono stage. Like the Pro-Ject kit, the C 658 is Roon Ready, but its underlying BluOS software is richer and more robust than the Volumio software in the Stream Box S2 Ultra. At a combined price of $3348, the Pro-Ject combo costs just over twice the C 658's price. You'd expect it to perform better sonically.
It did. The first movement of Beethoven's Fifth sounded a little denser through the NAD C 658 (with Dirac Live disabled) than through the Pro-Ject, and without as much harmonic richness. String textures were less transparent. Brass instruments had similar bite, but their tone wasn't as burnished. The sense of space was slightly dryer -- the warm glow of the Musikvereinssaal wasn't as obvious through the NAD as through the Pre Box S2 Digital. (Note: Roon was resampling this file to 24/176.4 PCM -- the C 658 doesn't support DSD.)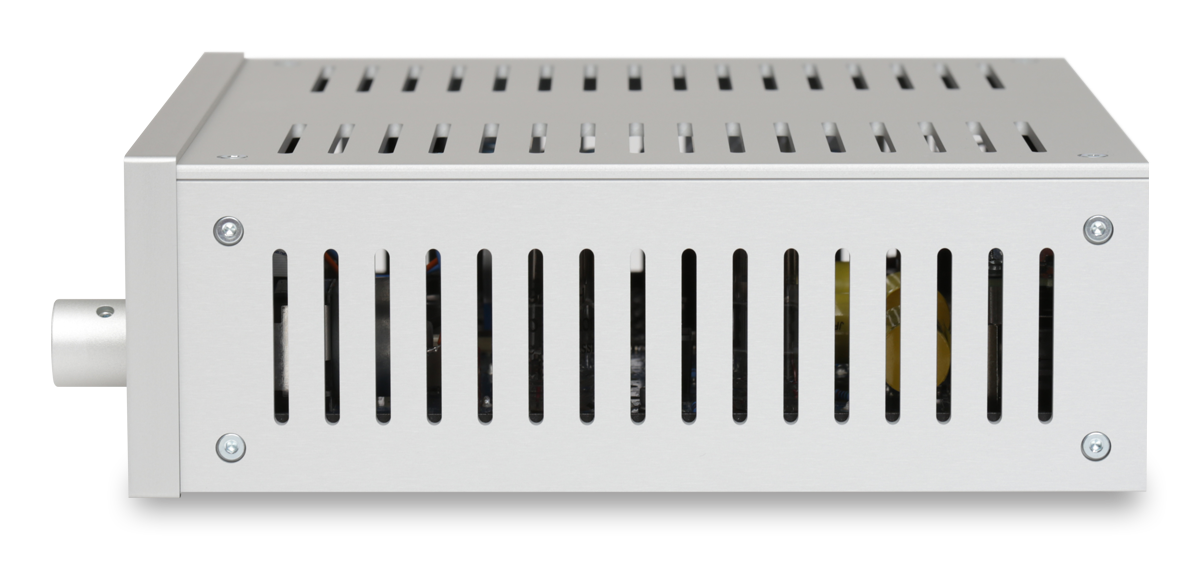 Enabling Dirac Live on the C 658 opened up the sound, giving me a better sense of the hall and more transparent orchestral textures. Even so, I preferred the Pro-Ject with this recording -- its sound in solid-state mode was warmer, more inviting, more open, and was even more so in tubed mode.
When I played "Kenner Boogie" through the C 658, Jon Batiste's piano sounded a bit harder than it did through the Pre Box RS2, and a little less harmonically rich. The NAD delivered comparable swing and power -- it was gobs of fun -- but less spaciousness to the sound. Again, enabling Dirac Live opened up everything, and now the sense of space was equal to that of the Pre Box RS2 Digital.
In "What a Wonderful World," Batiste's pedaled ostinato piano accompaniment didn't sound as rich through the C 658 as through the Pre Box RS2, and decays were less pronounced. His right-hand improvising between verses was comparably crisp and articulate, but a litter harder, through the NAD. Batiste's sibilants and breaths were slightly more pronounced through the NAD. Once again, switching on Dirac Live room correction opened up the sound; decays were longer, providing a better sense of the reverberant recording venue.
Listening through headphones
To assess the Pre-Box RS2 Digital's headphone amplifier, I used my HiFiMan Edition X V2 open-back planar-magnetic headphones ($1299, discontinued). For planars, they're pretty easy to drive, thanks to their low impedance (25 ohms) and high sensitivity (103dB). Specified to output 245mW into 33 ohms or 90mW into 300 ohms, the Pro-Ject Pre Box RS2 drove them with aplomb -- it didn't take long for me to conclude that this was a very capable headphone amplifier, with the same sonic virtues I admired when the Pre Box RS2 Digital was feeding my Elac Navis ARF-51 active speakers.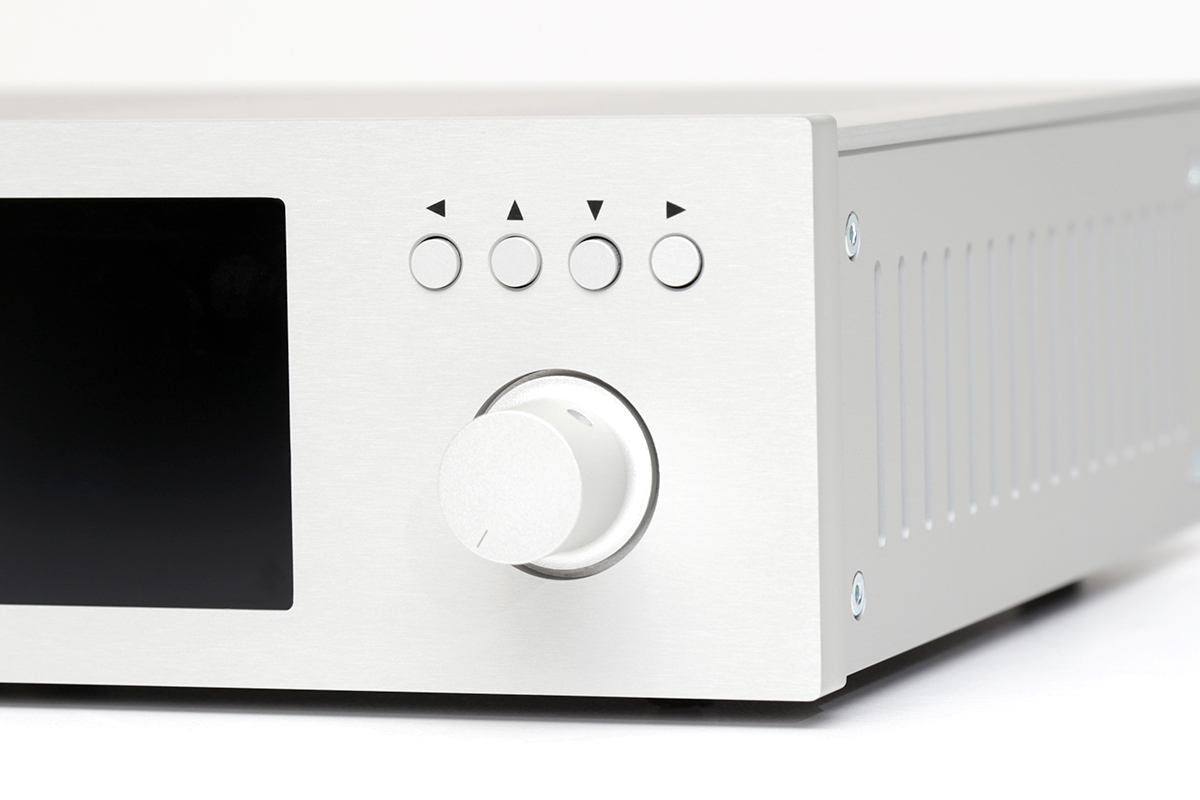 One of my favorite albums of 2020 so far is Yelena Eckemoff's Nocturnal Animals (16/44.1 FLAC, L&H Production/Tidal). Joining the Russian-born, US-based pianist-composer are double bassist Arild Andersen and drummers and percussionists Jon Christensen and Thomas Strønen. As the title suggests, this two-CD set comprises musical portraits of 14 creatures of the night. These portraits cover almost every animal classification -- insect, amphibian, reptile, bird, mammal.
"Fox" is a swingy post-bop number, and I loved the way the Pre Box RS2 Digital captured Eckemoff's skittering piano with just the right amount of transient attack. The long drum solo (or is it a duet?) near the end of the track was fast and impactful -- but equally important, the Pre Box RS2 presented each element clearly enough that I could follow them even as they all occurred together. Instead of a big loud mush, I could hear every surface in the drum kit(s) being struck. Throughout the track, the clear, open sound made it easy to follow these four musicians' interplay.
Comparison II
In addition to comparing the Pre Box RS2 Digital's and the NAD C 658's headphone outputs, I listened to the HiFiMan planar-magnetics through my desktop headphone amp, iFi Audio's iDSD Macro BL ($599).
With Eckemoff's "Fox," the iFi sounded a little bigger and more enveloping than the Pro-Ject, but also slightly more dense and hard. The Pre Box RS2 Digital was more spacious and articulate, making it easier to follow the musicians' interplay; and individual instruments had greater harmonic richness. Eckemoff's piano sounded fuller through the iFi, but the Pro-Ject better portrayed her touch. Andersen's double bass sounded woodier and snappier through the Pro-Ject, bigger and fuller through the iFi. Drum and cymbal attacks were sharper with the Pre Box RS2, brushed snares swishier; but through the iDSD Macro BL the drums sounded bigger and more robust.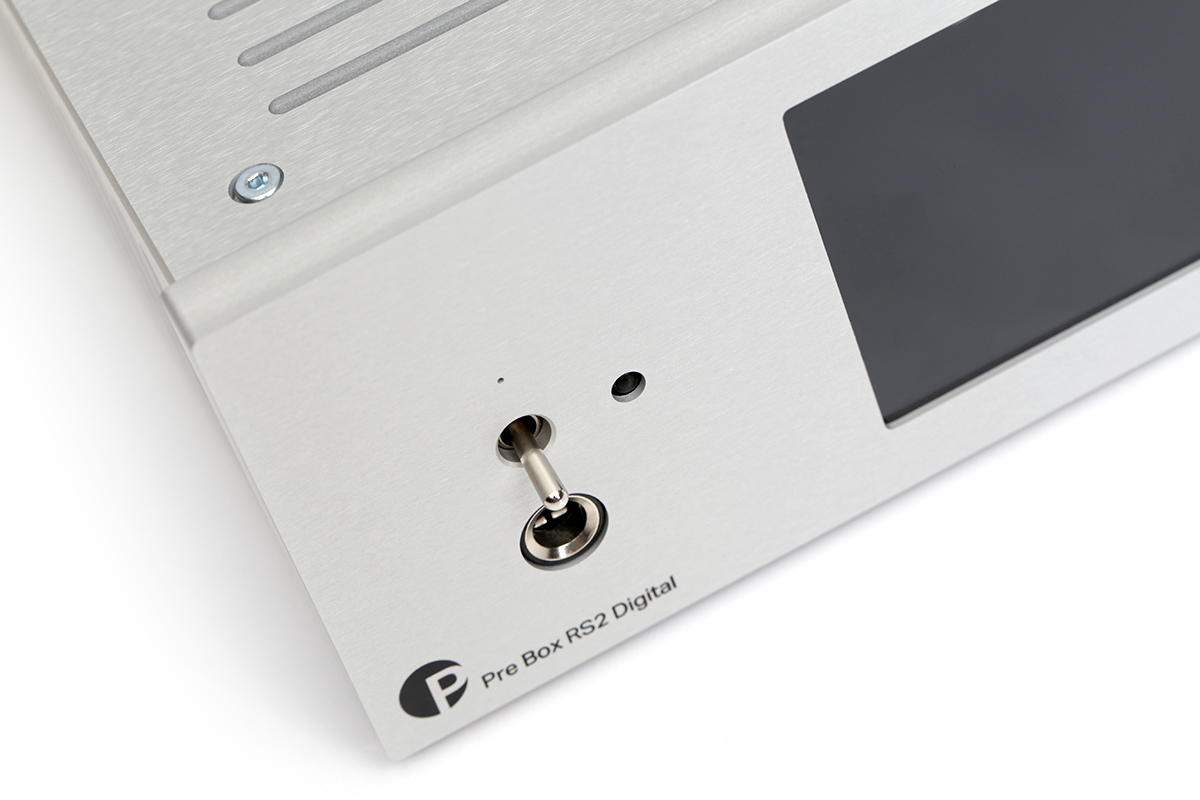 At first, the NAD C 658's headphone amp sounded slightly nimbler and more transparent with this track but also a little harder, while the Stream Box RS2 Digital was fuller, richer, smoother, and more inviting. Further listening revealed that the Pro-Ject's headphone amp was actually more agile than the C 658's -- inner voices and interplay among the quartet were better resolved. Through the Pro-Ject's headphone amp, drums and percussion had more impact but didn't sound at all hard, and Andersen's bass was richer and snappier.
Conclusion
I've raised a few concerns about the Pre Box RS2 Digital in this review: the noisy volume pot, the audible hiss of the tubed output stage, and that it doesn't mute its main outputs when you plug in headphones. But overall, I loved this component.
If I were to sum up my thoughts on Pro-Ject's Pre Box RS2 Digital in one word, that word would be gestalt, which Merriam-Webster defines as "something that is made of many parts and yet is somehow more than or different from the combination of its parts." Throughout my listening, I was struck by how integrated, how completely together, music sounded through the Pre Box RS2 Digital. Everything -- fundamentals and overtones; transient attacks, sustains, and decays -- cohered into a compelling sonic event.
Match the Pre Box RS2 Digital with a suitable source component -- a CD transport such as the CD Box RS2 T or a network streamer like the Stream Box S2 Ultra, both from Pro-Ject -- and you have a fabulous, small-footprint digital front end for a pair of analog active speakers like my Elac Navis ARF-51s, or for a more conventional system comprising a power amp and passive speakers.
. . . Gordon Brockhouse
This email address is being protected from spambots. You need JavaScript enabled to view it.
Associated Equipment
Active loudspeakers -- Elac Navis ARF-51
Interconnects -- Argentum Acoustics Mythos, balanced (XLR, 2m)
Network streamer -- Pro-Ject Stream Box S2 Ultra
USB link -- AudioQuest Cinnamon (2m)
Streaming DAC-preamp -- NAD C 658
Headphones -- HiFiMan Edition X V2
Headphone amplifier -- iFi Audio iDSD Macro BL
Music server -- Apple Mac Mini running Roon Core 1.7
Network -- Google Wifi three-node mesh network
Control device -- Apple iPad Mini 3 running Roon Remote, Pro-Ject Play, and BluOS apps
Pro-Ject Pre Box RS2 Digital DAC-Preamp-Headphone Amp
Price: $2499 USD.
Warranty: Two years parts and labor.
Pro-Ject Audio Systems
Margaretenstrasse 98
A-1050 Vienna
Austria
E-mail: This email address is being protected from spambots. You need JavaScript enabled to view it.
Website: www.project-audio.com
Canadian distributor:
Gentec International
90 Royal Crest Court
Markham, Ontario L3R 9X6
Phone: (905) 513-7733
Website: www.gentec-intl.com
US distributor:
Sumiko
6655 Wedgwood Road N.
Suite 115
Maple Grove, MN 55311-2814
Phone: (510) 843-4500
E-mail: This email address is being protected from spambots. You need JavaScript enabled to view it.
Website: www.sumikoaudio.net