If you want to establish a new audio brand, where do you start? That was the question faced by Andover Audio, a Boston-area company founded in 2012 by ex-employees of Cambridge SoundWorks, when they decided to offer products under their own brand.
"As Andover Audio, we were primarily doing OEM design work for companies who aren't in the audio industry," director of engineering Bob Hazelwood told me in a Skype interview. Andover's customers include manufacturers of videoconferencing systems and casino gaming machines. "That's not an audiophile product," said Hazelwood, grinning, "but something has to say, 'You're a winner.' We also did work for companies like Atlantic Technology and Outlaw Audio. But we always wanted to get back into our own brand. There are so many companies building amplifiers, speakers, and DACs, so we were looking for a niche."
Andover has found that niche with the Model-One Turntable Music System, which it unveiled in February at the Florida Audio Expo. Now priced at $1999 (all prices USD), the Model-One is a 21st-century update of the stereos that graced many North American living rooms of the 1960s. It integrates, into a single component that can sit on a credenza or side table, a Pro-Ject Debut Carbon Esprit turntable with pre-fitted Ortofon 2M Silver moving-magnet cartridge, and a six-driver, 200W audio system.
Andover offers three different accessories for configuring the Model-One as a floorstanding system: You can mount the Music System above a Model-One Upper Stand ($299) and Model-One Lower Stand ($199), each stand holding 100 LPs, and the Upper also including an accessory drawer. Or, for a total price of $3097, the Model-One Music System can be combined with an Upper Stand and a Model-One Subwoofer ($799) -- this is what Andover sent me to review. All Model-One products are finished in dark Walnut veneer, and the music system and sub have grilles of black cloth, for a funky mid-century-modern look.
Most Simplifi reviews focus on connected components with streaming capability. But, as I observed in my feature "Let's Keep It Simple," some music-lovers find streaming anything but simple.
The Model-One is a different take on Simplifi'd hi-fi. You can stream if you want to -- it has built-in Bluetooth, and digital inputs that let you add an outboard streamer. (Hazelwood told me that Andover may someday offer that option.) But its main application is playing records. "This is back to the future," he said. "You buy a record player, take it home, and play records."
Inside and out
Measuring 18"W x 8.5"H x 13.5"D and weighing 35 pounds, the Andover Model-One is a 2.5-way active/passive design, with an active DSP crossover centered on 2kHz. The bass section comprises two side-mounted, 3.5", inverted-dome aluminum woofers per channel, powered by a 70Wpc class-D amp. A passive low-pass filter limits the bandwidth of the two rear woofers to 55-400Hz. For the highs, the Model-One has a 30Wpc class-D amp powering a pair of front-mounted, air-motion transformer (AMT) tweeters.
In the center of the front panel is a monochrome status display, and below that a knob, labeled Volume/Source/Mode, for adjusting the volume, selecting the signal source, and navigating menus -- push it in to select among these modes. At bottom left is a power/mute button, and at bottom right a 6.3mm jack for the Model-One's built-in, class-A headphone amp.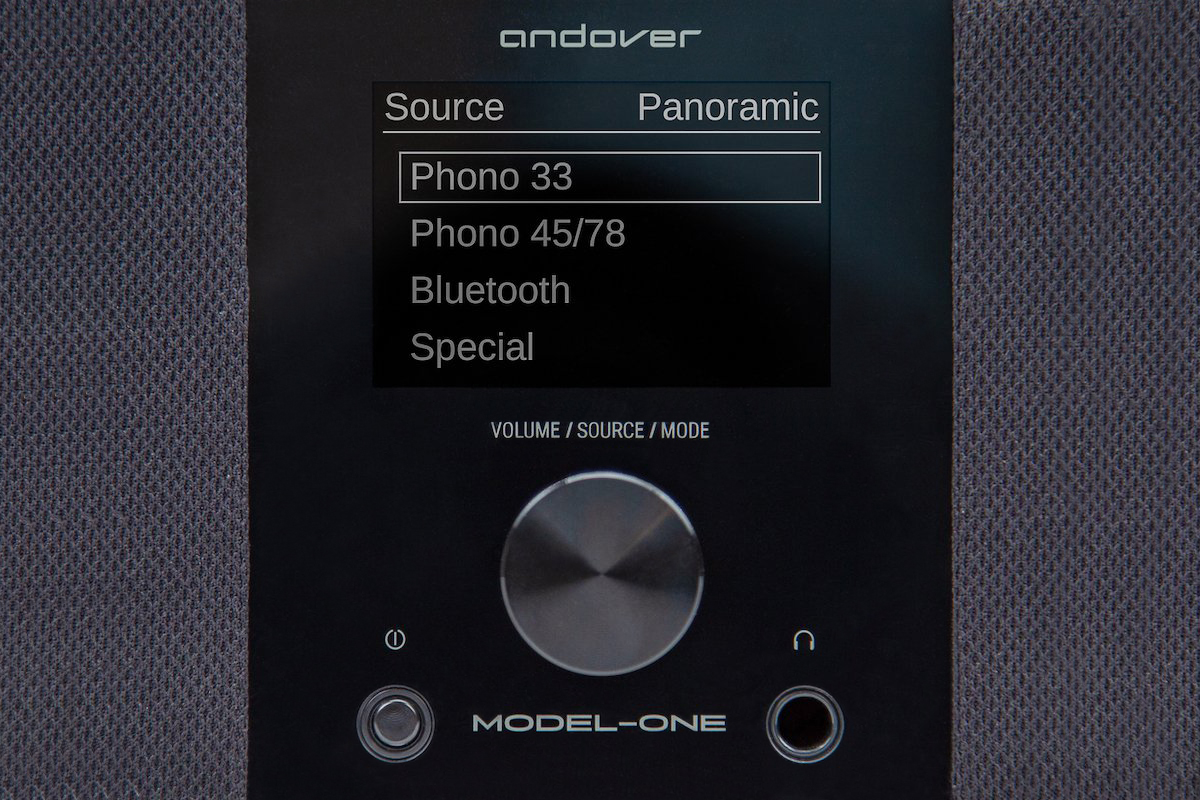 The rear panel has one set of analog input jacks (RCA), a combined analog/optical digital input (3.5mm), optical (TosLink) and coaxial (RCA) S/PDIF inputs, a Mini-USB input/output jack, a line-level analog output (RCA), and a subwoofer output (RCA). When you enable the subwoofer output in the Model-One's System Preferences menu, it activates a 24dB/octave high-pass filter for the main speakers, with a crossover frequency of 100Hz.
The Mini-USB port can be used to output audio to a computer (e.g., for making digital rips of LPs), or to accept digital audio from a computer. For USB audio in, the supported resolutions are 16-bit/44.1kHz and 16/48 PCM. For the S/PDIF inputs, the maximum resolution is 24/192.
Included with the Model-One is a very nice metal RF remote control with buttons for adjusting volume, cycling through sources, navigating menus, changing system settings and listening modes, and mute.
The Model-One Subwoofer has two side-firing 10" drivers with polypropylene cones and 2" voice coils, driven by a class-D amp specified to output 150W. There are three controls on the rear panel: knobs for adjusting the Volume level and Low Pass frequency (40-200Hz), and a three-way toggle switch for the Power Mode: On, Auto, or Off/Standby. For setups in which it's positioned separately from the rest of the system, the Model-One Subwoofer has an inlaid top panel of tempered glass. This panel is removed if you stack atop it an Upper Stand. The Subwoofer measures 18"W x 14.5"H x 13.5"D with top panel, 14"H without top panel.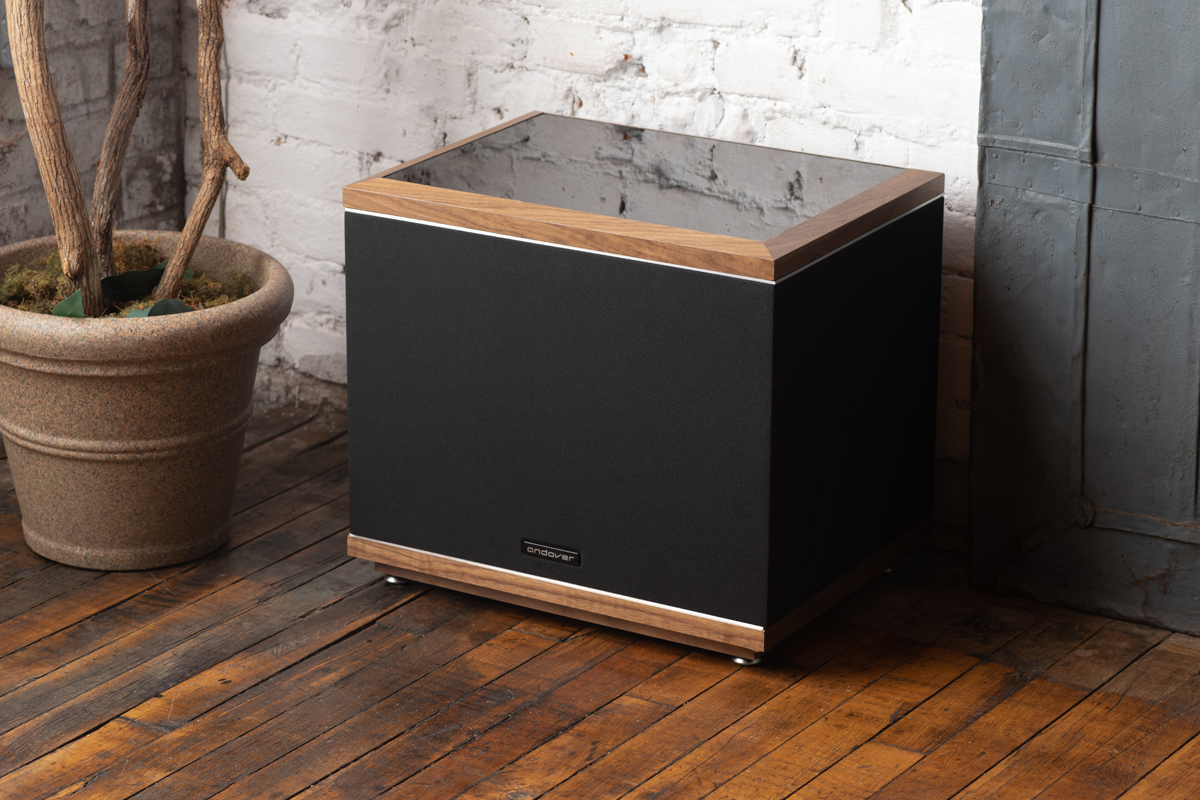 The Model-One Upper Stand measures 18"W x 17"H x 13.5"D. With the leveling feet for the subwoofer installed, the Model-One Turntable Music System, Upper Stand, and Subwoofer form a stack just under 41" tall.
Making it all work
The biggest engineering challenge Andover faced in designing the Model-One was isolating the turntable from vibrations created by the speaker drive-units. "We use a variety of measures," Bob Hazelwood told me, "none of which is enough on its own, but in combination, they work."
The most important measure was the configuration of the drivers -- placing the woofers on opposite sides of the cabinet, so that their forces cancel each other out. With vinyl, the bass content of the right and left channels is almost always identical, or close to it, but to ensure that the motions of those opposed woofers are entirely complementary, the Model-One also sums the two channels' bass via DSP. Andover also determined the points in the cabinet most affected by secondary vibrations, and applied to them internal bracing.
"Together, these three things reduced the amount of vibration transferred to the turntable enough that the turntable's suspension could handle whatever was left," Hazelwood explained. "The subwoofer was easier. [Its] being inherently mono, we didn't have to compensate for differences in the left and right channels. It's far enough removed from the record player that some of the finer cabinet vibrations weren't going to affect the turntable."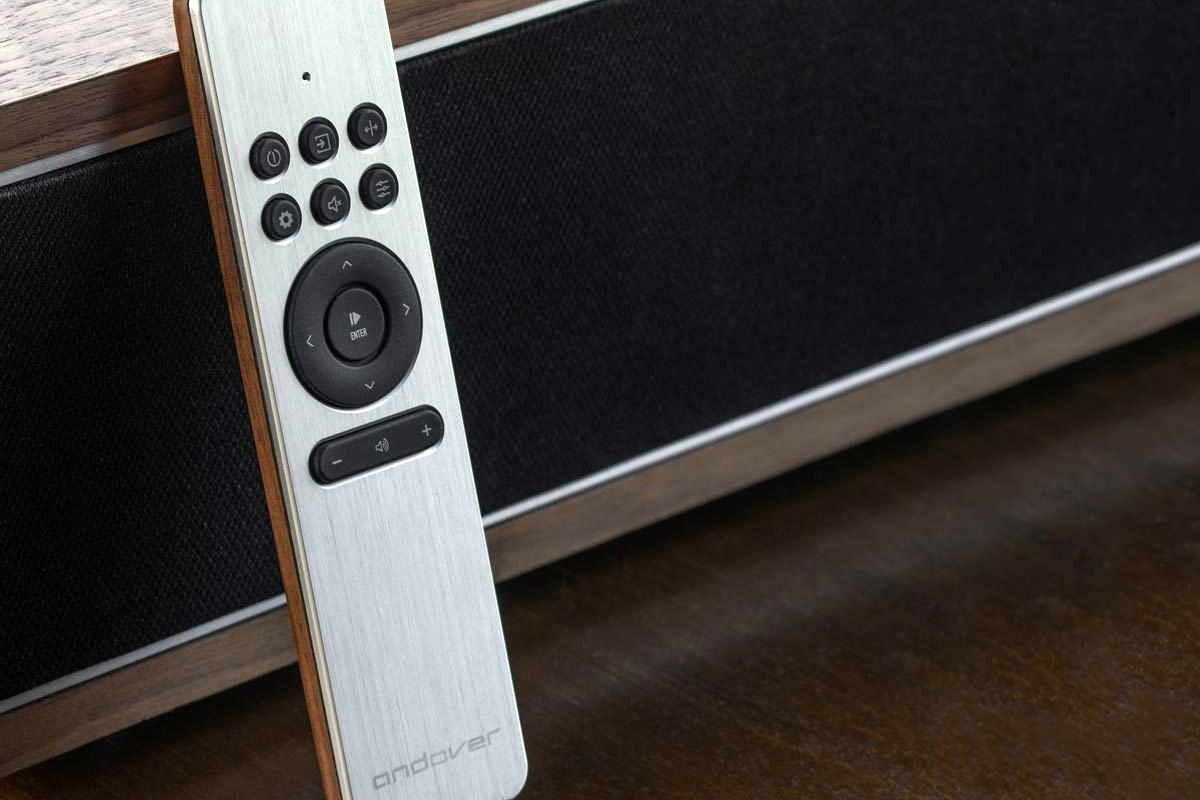 These measures appear to have been successful -- I never heard any evidence of acoustic feedback from the Model-One -- or, when I gave its case a tap while playing a record, of any microphonics through the speakers. The Model-One also seemed impervious to footfalls and other mechanical disturbances. (Granted, it was set up in a room with a concrete floor.)
Andover's other major challenge was getting a single small cabinet to produce a convincing stereo soundstage. For this the Model-One offers three panoramic DSP effects, selectable with successive presses of the Listening Mode button on the upper right of the remote control. Respectively, PanoL, PanoM, and PanoS simulate the experience of listening in a Large, Medium, or Small room. After experimenting with all three, I did most of my listening in PanoM mode -- it delivered an enjoyable expansion of the soundstage without sounding artificial. Listening Mode also includes Stereo and Mono options, but with either of these settings the "soundstage" didn't extend far past the confines of the Model-One itself.
These options are not addressed at all in the product manual, which I found otherwise generally clear. The menus were easy to navigate and well thought out.
Setup
I set up the Model-One in the high-ceilinged basement family room of our vacation townhouse in Southampton, Ontario, on the east shore of Lake Huron. For the record player, the principal task was setting up the turntable. This involved removing the two transit screws that secure the turntable to the chassis, looping the drive belt around the motor pulley and inner platter, lowering in place the acrylic main platter and felt record mat, putting the counterweight on the tonearm's stub end, balancing the arm, and hanging the antiskating weight -- all familiar fare for anyone who's ever set up a turntable, and pretty simple even if you haven't. To demonstrate all of this, Andover provides a helpful video.
To stack the Upper Stand atop the sub, you remove the sub's top panel, then install four IKEA-style fasteners to attach sub to stand -- again, territory familiar to anyone who's ever put together a piece of ready-to-assemble furniture.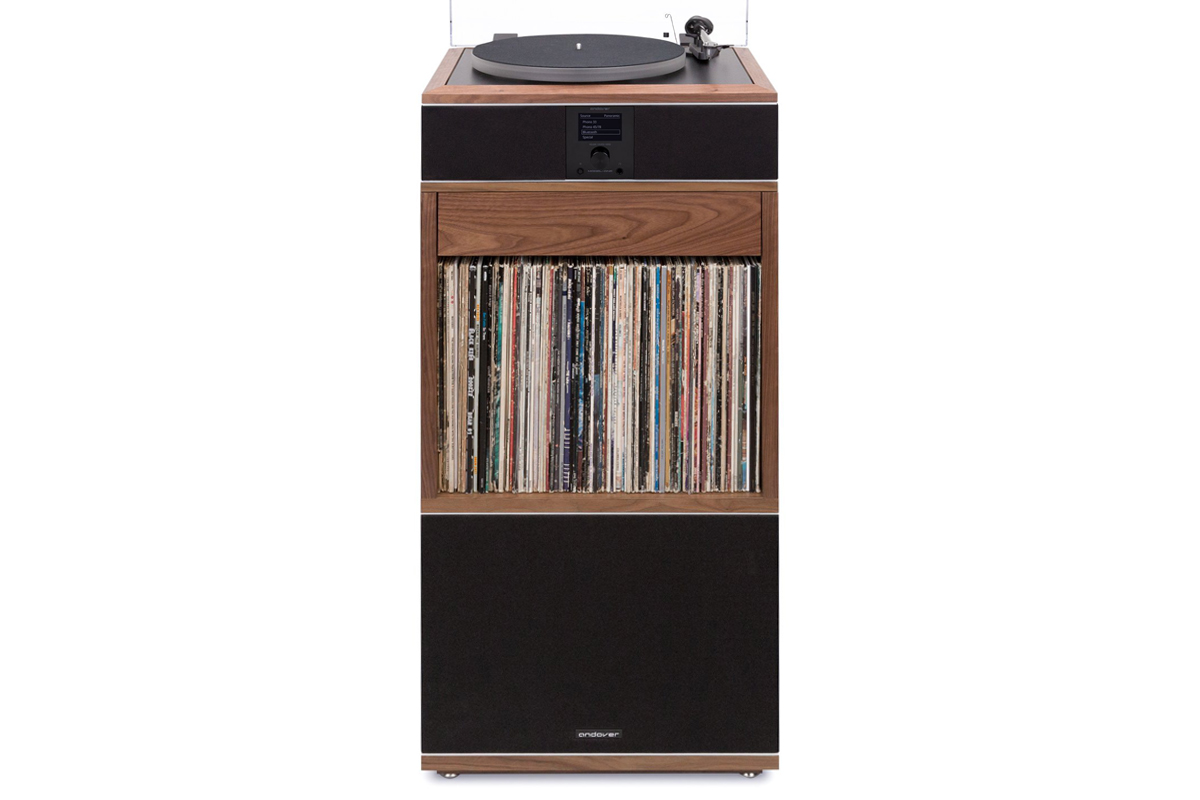 At the top of the Upper Stand are four holes that align with the record player's suspension feet. Drop the feet into place and you're almost done. All that remains is to connect the subwoofer's input to the record player's subwoofer output. For this application, Andover recommends setting the sub's Volume and Low Pass controls at their center detents: flat (Volume) and what looks like 90Hz (Low Pass). I briefly experimented with both controls and found that these default settings delivered the optimal blend of the record player's and subwoofer's outputs.
Per the manual's recommendation, I placed the assembled system next to the front wall, with no obstructions to either side. I did some of my listening from a chair placed about 7' in front of the Model-One, but also wandered around the room to determine how it would serve for casual listening.
Listening to vinyl
The first LP I spun on the Model-One's 'table was Two, a live-concert compilation featuring banjoist Béla Fleck and pianist Chick Corea (LP, Stretch/Concord Jazz CJA-38697-01). Listening to Corea's fast-paced "Señorita," I was impressed with how big and full-bodied the Model-One sounded. I sat directly in front of the Model-One with the PanoM Listening Mode engaged -- the soundstage extended several feet to either side, but had little depth. I was surprised at how precisely placed -- a little to right of center -- Fleck's banjo was on that stage, but the position of Corea's piano was more amorphous.
While the size of the banjo's aural image was realistic, the piano's was smaller than you'd hear from a well-set-up component stereo -- as was to be expected. The piano's tone had nice sparkle up top, but was a little lacking in weight in the middle and lower registers -- again, much as you'd expect from such a system.
As I walked around the room the tonal balance shifted slightly, becoming a little hollow by the time I was 45° off axis. But the sound remained open and spacious, even if the imaging went predictably vague. Clearly, this is a system that can be enjoyed from almost any spot in a room -- not ideal for critical listening, but great for entertaining.
Corea's right-hand runs and Fleck's picking weren't quite as well articulated as I've heard through other systems. But overall, this track was immensely enjoyable through the Model-One. In "Señorita," Corea plays mainly in the middle and upper octaves -- there's little bass content. Not surprisingly, switching the sub in and out made no difference that I could hear.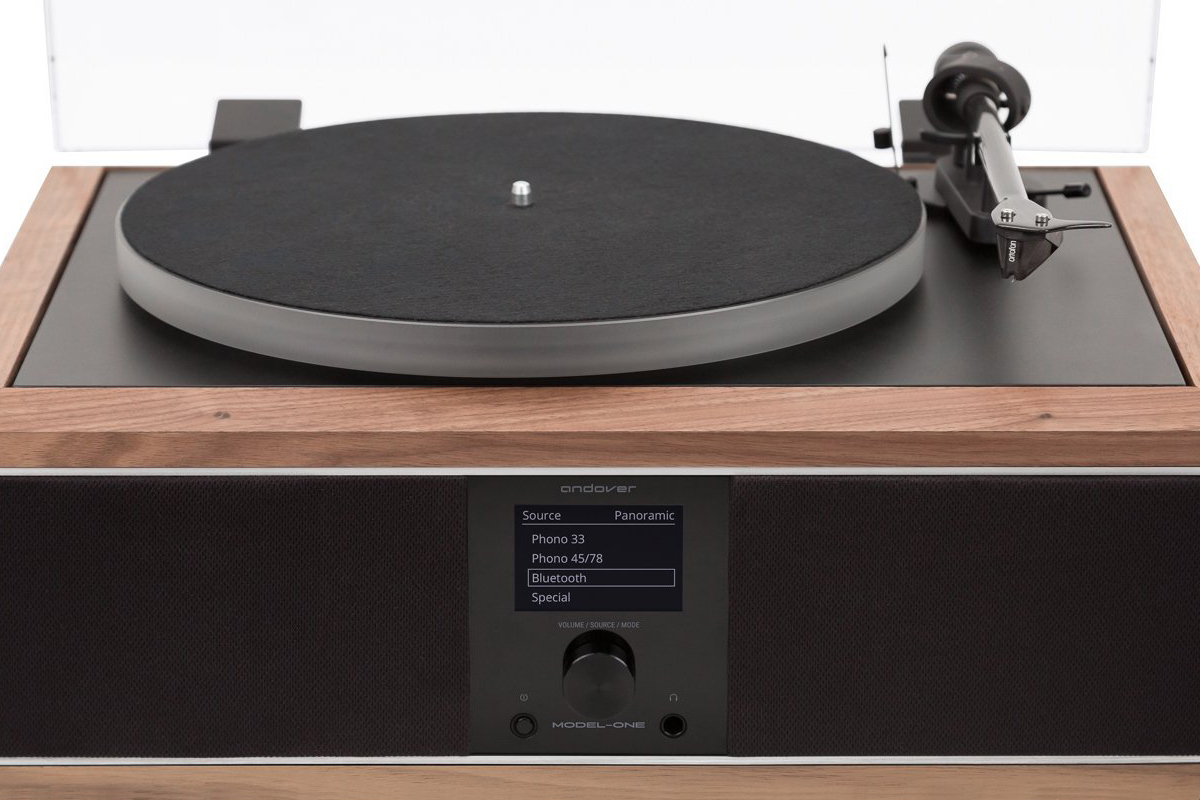 It was a different matter with "March Winds in February," from Van Morrison's Three Chords & the Truth (LP, Exile/Caroline International 0801664). Throughout this track, David Hayes plays a hard-driving line on the lower strings of his bass guitar. With the sub turned off, the portrayal of Hayes's bass was very impressive, given that I was hearing it through a tabletop stereo. But switching in the sub made that bass sound more robust and more defined. Notes were better delineated in pitch -- without the sub, bass had a bit of a one-note quality; with it, Hayes's bass was better separated from Bobby Ruggiero's kick drum. The sub also added scale -- with the sub doing the heavy lifting in the bottom two octaves, this track just sounded bigger.
For this track, the PanoM mode produced a wide soundstage with no apparent negative side effects and, from the vantage of my listening chair in front of the stereo, a pretty realistic stereo image. Tonality was excellent, dynamics impressive. Dave Keary's electric guitar at center left and Jay Berliner's acoustic guitar at center right had wonderful tactilities that conveyed their different playing styles. The Model-One did a fine job of tracking Morrison's voice at center as he belted out this high-energy number, though it did slightly accentuate a hard edge when he ramped up the volume.
Also impressive was the way the Model-One unraveled the mix -- from my listening chair, I was aware of each musician's contribution. When I wandered around the room, the image collapsed to a 2'- or 3'-wide area centered on the Model-One, but the tonal balance remained consistent, reinforcing its suitability as a living-room stereo to be used mainly for entertaining -- but also for serious listening. Overall, I loved how this great song sounded through the Model-One Music System and Subwoofer.
Listening via Bluetooth
To stream, you can connect an outboard streaming DAC like a Bluesound Node 2i ($549) to one of the Model-One's S/PDIF inputs (optical or coaxial), but I think most users will use the Bluetooth option.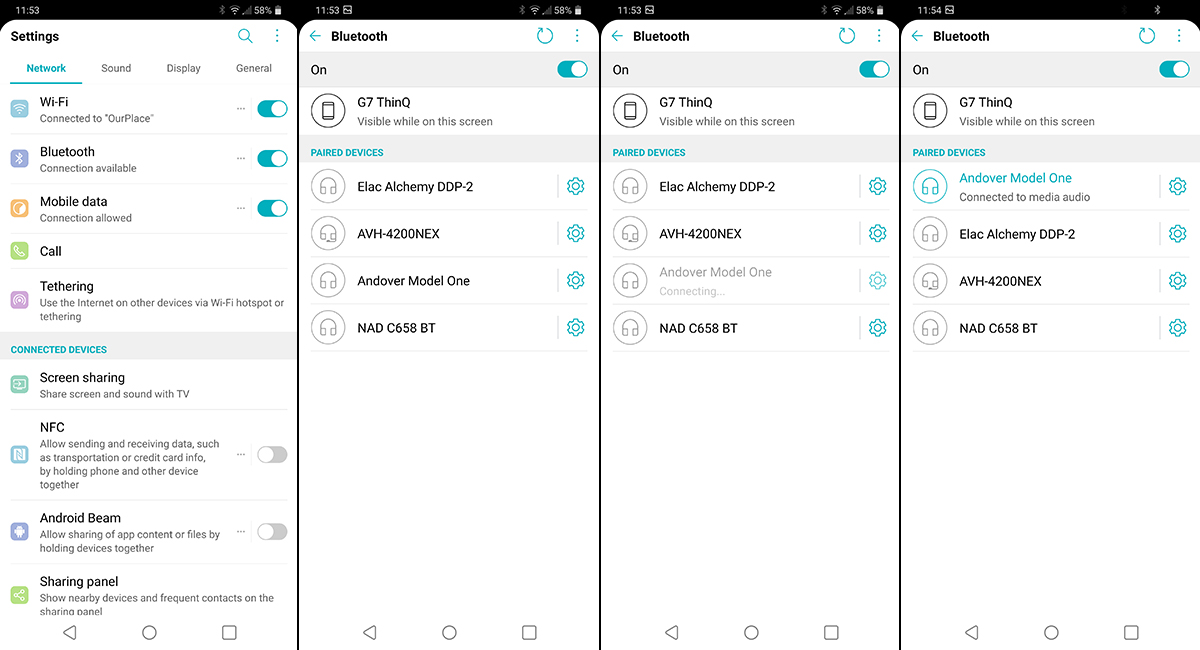 Connecting via Bluetooth was easy. When I selected the Bluetooth input, the Model-One appeared as a pairable device in the Bluetooth Settings menu of my LG G7 ThinQ smartphone. I selected it, and the Model-One emitted a tone that confirmed I was connected.
Streamed via Bluetooth from the Qobuz app on my G7, Corea and Fleck's recording of "Señorita" (24-bit/96kHz FLAC, Concord Jazz/Qobuz) sounded clearer than the LP: Corea's right-hand runs and Fleck's rapid picking were better delineated in the Bluetooth stream, and the piano tone wasn't as hard. Via Bluetooth, the upper octaves were a bit more crystalline. While the LP's sound was richer and more full-bodied, it was a bit more dense and opaque.
Morrison's "March Winds in February" (24/96 FLAC, Exile/Qobuz) had greater clarity and impact via Bluetooth compared to vinyl. Hayes's bass was better defined, Berliner's attacks on acoustic guitar and Keary's on electric a little more crisp. Individual elements in the mix, such as John Allair's Hammond organ, were resolved slightly more clearly via Bluetooth. But the LP's sound was warmer and more enveloping overall, and everything seemed a little more integrated -- the Bluetooth stream was drier and more clinical, and Morrison's voice sounded harder.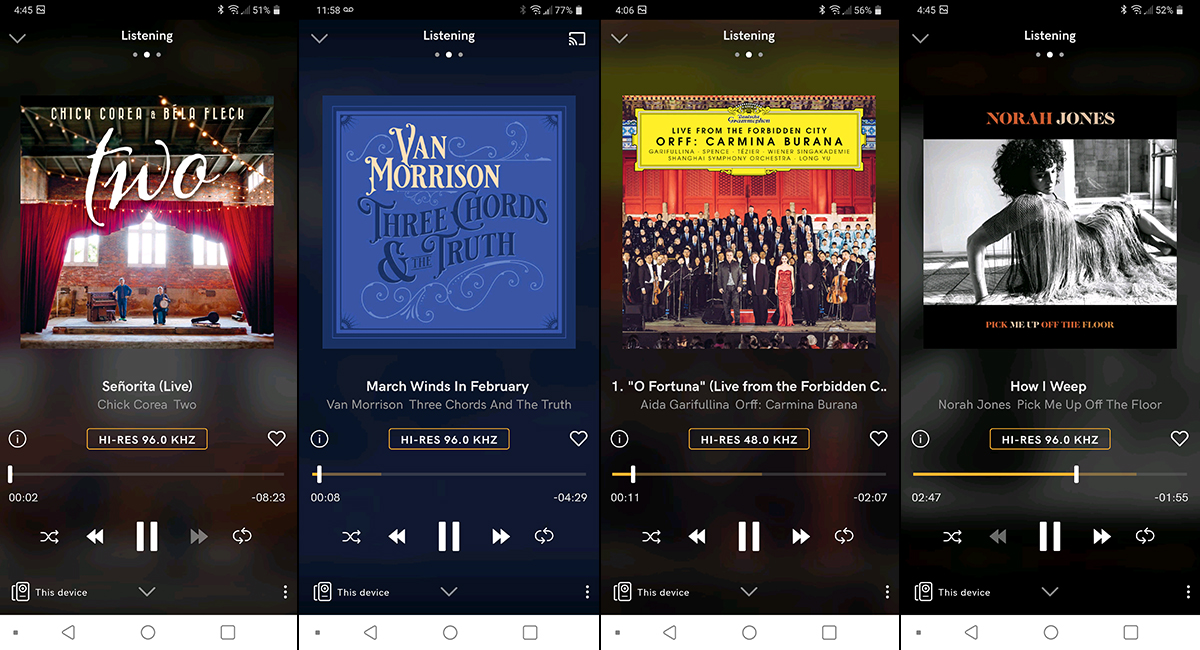 For a self-contained tabletop music system, I can't think of a crueler torture test than "O Fortuna," the massive opening movement of Carmina Burana, Carl Orff's cantata of secular songs. It begins with a huge choir and orchestra and two pianos immensely declaiming "O Fortune, like the moon you are changeable." Then, for just over a minute, the choir sings quietly, in a clipped, chanting style, softly accompanied by pianos and orchestra, before a dramatic conclusion in which the choir, in full voice, assails the monstrosity of fate.
How did the Model-One deal with a live performance from Beijing's Forbidden City, with Long Yu conducting the Shanghai Symphony Orchestra and Vienna Singakademie (24/48 FLAC, Deutsche Grammophon/Qobuz)? Way better than it had any right to. The dramatic opening sounded a bit compressed, but with no sense of distress. In PanoM mode, from my chair in front of the Model-One, the chanted passages had a nice spacious quality and good transparency, though image specificity was very limited. If I wandered around, the soundfield collapsed to the Model-One itself and the sound got a little hollow, but the transparency remained. In the dramatic conclusion the sound became a little congested, but the huge timpani and bass-drum strokes had impressive impact, even without the sub switched in. But the sub added depth and impact to the timpani.
For something closer to the Model-One's comfort zone, I streamed "How I Weep," from Norah Jones's Pick Me Up Off the Floor (24/96 FLAC, Blue Note/Qobuz). The sound was delectable, the Model-One conveying her slightly wispy voice with disarming naturalness, and beautifully tracking her expressive nuances. Paul Wiancko's plucked cello and Ayane Kozasa's plucked viola had lovely woody resonance and tactility, and when Kozasa used the bow, her viola had nice rosiny bite. In PanoM mode the soundstage extended several feet to either side when I sat directly in front of the Model-One, Jones and her piano occupying a specific spot at the center a bit behind the Andover, with the viola to the left and the cello to the right. Interestingly, while none of the instruments on this track approach the lowest musical frequencies, switching in the sub added weight and substance to the sound.
Listening to digital
While Bluetooth is undeniably convenient, you can get better sound from digital sources with a direct connection, as I confirmed by connecting my Apple MacBook Pro to the Model-One's USB port and playing music from Qobuz. To play from the Qobuz app on a Windows PC or Mac, you have to select "USB Audio Codec" as the audio output device in the Audio Devices menu, which you open by clicking the audio-player icon at the bottom of the screen.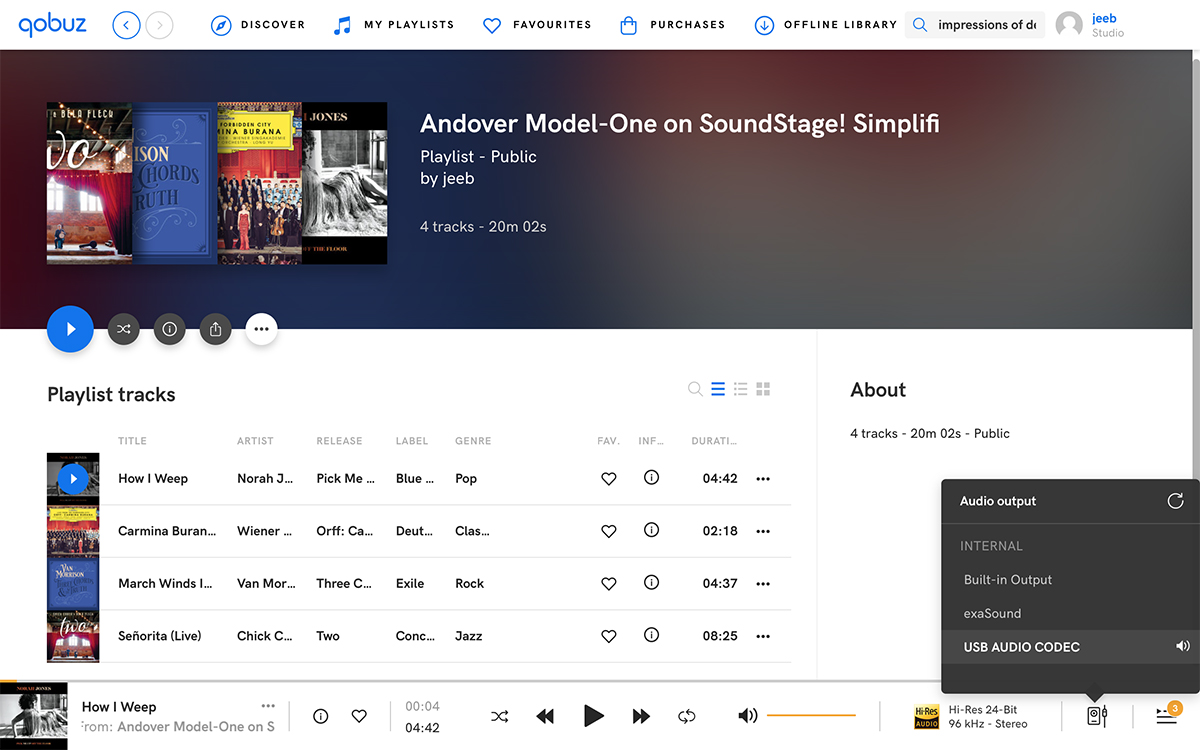 Played via USB from my MacBook Pro, "O Fortuna" from Carmina Burana was bigger and more powerful. The sound was more spacious, the soundstage more filled in. The sound with the Bluetooth connection was drier and more clinical. Via USB, I was more aware of those big drum strokes reverberating through the Forbidden City, and the big, dramatic conclusion was less congested -- groups of instruments and voices were better differentiated.
In "How I Weep," Norah Jones's voice was fuller and more embodied via USB, which brought more to the foreground the expressive nuances of her singing. Wiancko's cello and Kozasa's viola sounded richer and warmer. The initial rosiny bites of bows on strings were better separated from the tones of these instruments' bodies. The sound was bigger, more inviting via USB. Via Bluetooth, instruments and voices were more two-dimensional -- like cardboard cutouts arrayed around the stereo. Given the fact that Bluetooth employs lossy compression, these differences should come as no surprise.
In addition to the standard SBC Bluetooth codec, the Model-One is claimed to support Bluetooth AAC, aptX, and aptX-LL (low-latency). Normally, the Bluetooth settings menu of my LG G7 phone provides options for a more stable or a higher-quality Bluetooth connection -- choosing the higher-quality option activates a higher-resolution Bluetooth codec, such as aptX. But with the Model-One, the G7 didn't present this option, so I have no idea what Bluetooth codec was in use.
Switching between USB and Bluetooth, I ran into occasional operational quirks. Sometimes, when the Model-One lost the Bluetooth connection with my smartphone, I had to pair the phone and music player all over again. And sometimes, when I tried to do this, the pairing process didn't work, and the Model-One spontaneously switched back to the USB input. I could identify no pattern that led to this intermittent behavior.
Comparison
The Model-One is a unique product with no obvious candidate for comparison. The closest I could come was a system I put together for my sister-in-law and her husband a year and a half ago: a Pro-Ject Debut Carbon turntable with Ortofon 2M Red cartridge ($399), a Yamaha CD-S300 CD player ($299.95), a pair of Totem Acoustic Kin Play powered speakers ($1100/pair) sitting atop Target FS70B 28" speaker stands ($319/pair), and a Totem Kin Subwoofer ($800).
The total price for the 'table, powered speakers, and speaker stands is $1818 -- $181 less than the Model-One Turntable Music System -- and the Kin and Model-One subwoofers are priced identically. The Kin Plays have a very capable phono stage, TosLink input, and built-in Bluetooth, so connectivity is similar to the Model-One. While the system layouts are very different, on the bases of price and functionality these systems are quite comparable.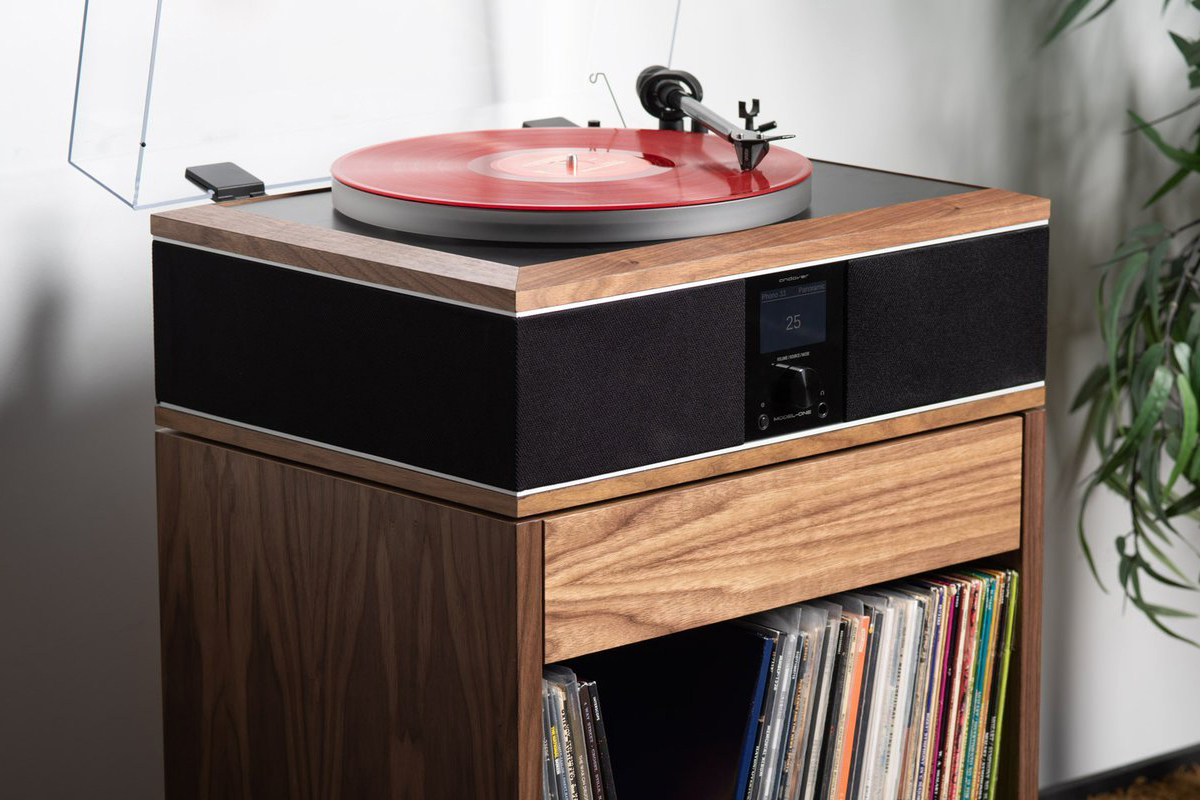 Although the COVID-19 pandemic meant that I was unable to directly compare the two systems, I've heard the Corea-Fleck LP many times on my in-laws' system. I used it in my original review of the Kin Plays, and in my review of Kanto Audio's Tuk powered speakers ($799.99/pair), for which I used the Kin Plays as a comparison.
It will come as no surprise that the Kin Plays, placed 6' apart in my in-laws' Toronto apartment, threw a bigger soundstage than the Model-One, with more precise imaging. Dynamics were also superior. Corea's piano had more authority in its lower octaves, which meant I was more aware of the power of his instrument, which also had a more pleasing crystalline character up top. Fleck's banjo sounded richer and twangier, and the dynamics when he stretches and releases strings were more dramatic.
Conclusion
Andover Audio's Model-One Music System is a niche product that was never intended to compete with conventional component systems. "Is this an audiophile product?" Andover's Bob Hazelwood asked me rhetorically. He didn't wait for an answer. "No, I wouldn't call it that. We're building a product with audiophile sensibilities for the average person to use in the way they live. When you walk around the room, you don't get the vast changes you hear from a normal system. For that kind of use, which is much more widespread than the typical audiophile listening scenario, it's totally appropriate. It allows you to have music where you may not otherwise be able to."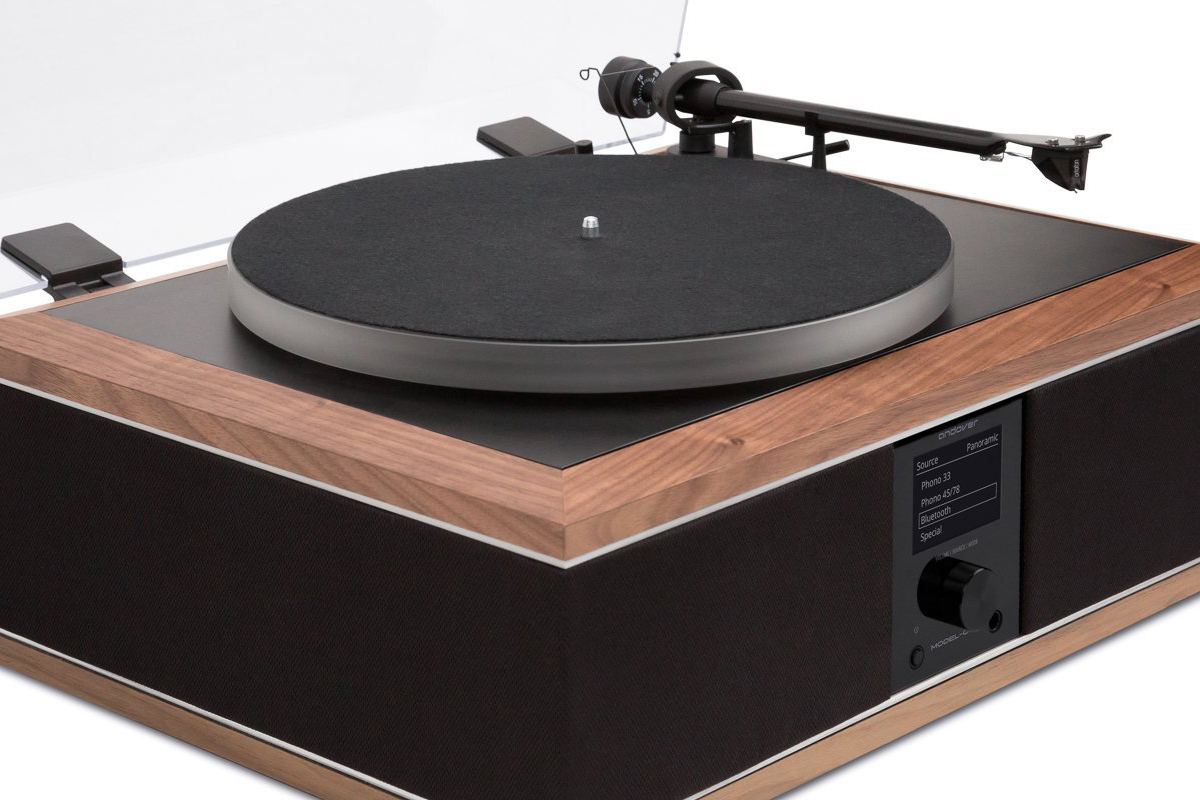 Which pretty much sums up my reaction to this system. I can see the Andover Model-One appealing to a lot of people -- not only to non-audiophiles who want a good-sounding, all-in-one system to spin their LPs and stream from their phones, but also serious audiophiles who have dedicated listening rooms and large vinyl collections, but want a stylish music system that they can use in their living rooms for casual listening and entertaining. Those niches are not small. If you fit one of them, it's worth checking out the Model-One.
. . . Gordon Brockhouse
This email address is being protected from spambots. You need JavaScript enabled to view it.
Associated Equipment
Powered loudspeakers -- Totem Acoustic Kin Play
Subwoofer -- Totem Acoustic Kin Sub
Sources -- Pro-Ject Debut Carbon turntable with Ortofon 2M Red cartridge, LG G7 ThinQ smartphone, Apple MacBook Pro computer (early 2015)
Andover Audio Model-One Turntable Music System
Price: $1999 USD.
Andover Audio Model-One Subwoofer
Price: $799 USD.
Andover Audio Model-One Upper Stand
Price: $299 USD.
System price as reviewed (Model-One Turntable Music System, Upper Stand, Subwoofer): $3097 USD.
Warranty: Two years parts and labor.
Andover Audio
15 High Street
North Andover, MA 01845
Phone: (978) 775-3670
E-mail: This email address is being protected from spambots. You need JavaScript enabled to view it.
Website: www.andoveraudio.com