In last month's editorial, I explained my decision to sit out this year's Consumer Electronics Show. Turns out my absence didn't make a difference: When Laundroid, the artificial intelligence-powered laundry-folding machine, was introduced at the Las Vegas Convention Center, plenty of news outlets were onsite to pick up the slack. I can't say I regret missing CES 2018, but I do wish I'd been around to see the LVCC's lights go out for two hours on opening day. An electronics show with no electricity -- now that's news.
But I read the coverage of CES, especially the contributions of Brent Butterworth and Roger Kanno, who did a thorough job of picking through the bones of the show's audio segment for SoundStage! Global -- and it turns out there was a decent amount of news and new-product introductions to report on after all. What follows is a breakdown of interesting Simplifi-related developments that emerged from CES 2018.
Hi-rez audio and streaming
The Hi-Res Audio Pavilion made its debut at CES 2017, and this year was back again at the LVCC. A range of new HRA-capable gear was on display, including smartphones from LG and Sony, portable players from iRiver and Onkyo -- even a car-sound system designed by Revel for the Lincoln Continental. From my perspective, however, the key announcements made at the Pavilion were those that involved hi-rez streaming.
Qobuz, a French music-streaming service that currently operates only in Europe, talked up its plans to expand to the US. Like Tidal, Qobuz has a lossless 16-bit/44.1kHz Hi-Fi tier ($199.99/year), but also offers Sublime+, their hi-rez tier for streaming at resolutions of up to 24/192 ($349.99/year). HRA download store HDtracks also dropped the news that its HDmusicStream service, which will use MQA for hi-rez streaming, is almost ready to launch. It appears that HRA via MQA is also in the cards for Deezer -- at CES, Deezer announced its intent to begin streaming using MQA in 2018.
Support of MQA by Roon has been a hot topic on Roon's user forum, and it now appears that it's coming: A press release during CES detailed how "Roon's desktop software will support local MQA file playback, as well as Tidal MQA streaming for HiFi subscribers." The same release stated that MQA decoding will be featured in the Audirvana Plus for Windows 10 software player, which should be available by the time you read this.
Google Assistant and Amazon Alexa
Most mainstream press coverage of audio products at CES centered on new speakers that tap the two leading voice-assistant technologies, Amazon's Alexa and Google Assistant. Countless such introductions were made at CES, most of them of small, inexpensive speakers aimed at kitchens and bedrooms. But there were also a few more serious speakers on display that incorporate Alexa and Google Assistant.
JBL Link 500
JBL's new Link 500 ($499) packs dual 3.5" woofers and 0.8" tweeters, each driver powered by a 15W amp. Google Assistant is onboard to provide smart-speaker functionality, and for multiroom streaming, Chromecast and Bluetooth are built in.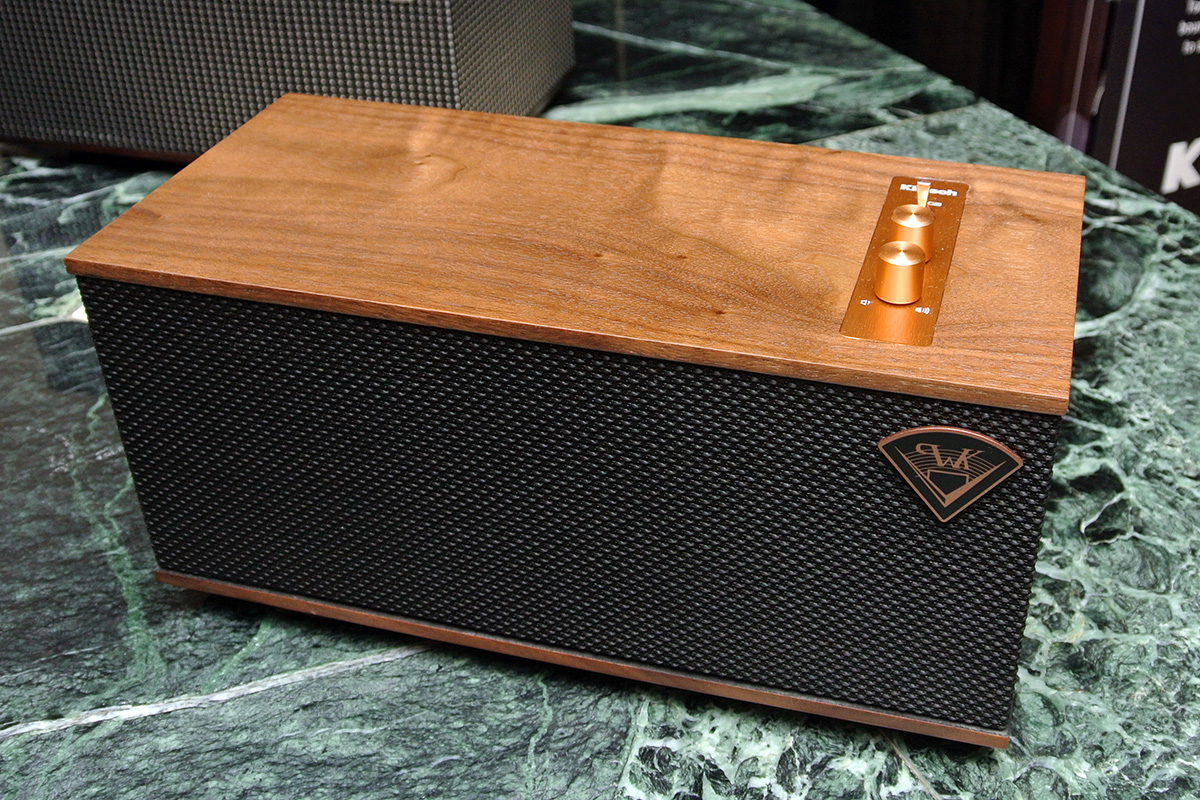 Klipsch Wireless One
Klipsch announced new versions of its Heritage Wireless One and Three Wi-Fi speakers with built-in Google Assistant. At a respective $349 and $499, they're priced the same as the current One and Three. Klipsch also announced, for early 2018, a firmware update for its entire wireless line that will let listeners control their speakers using Alexa-enabled devices such as Amazon's Echo and Dot.
Wi-Fi speakers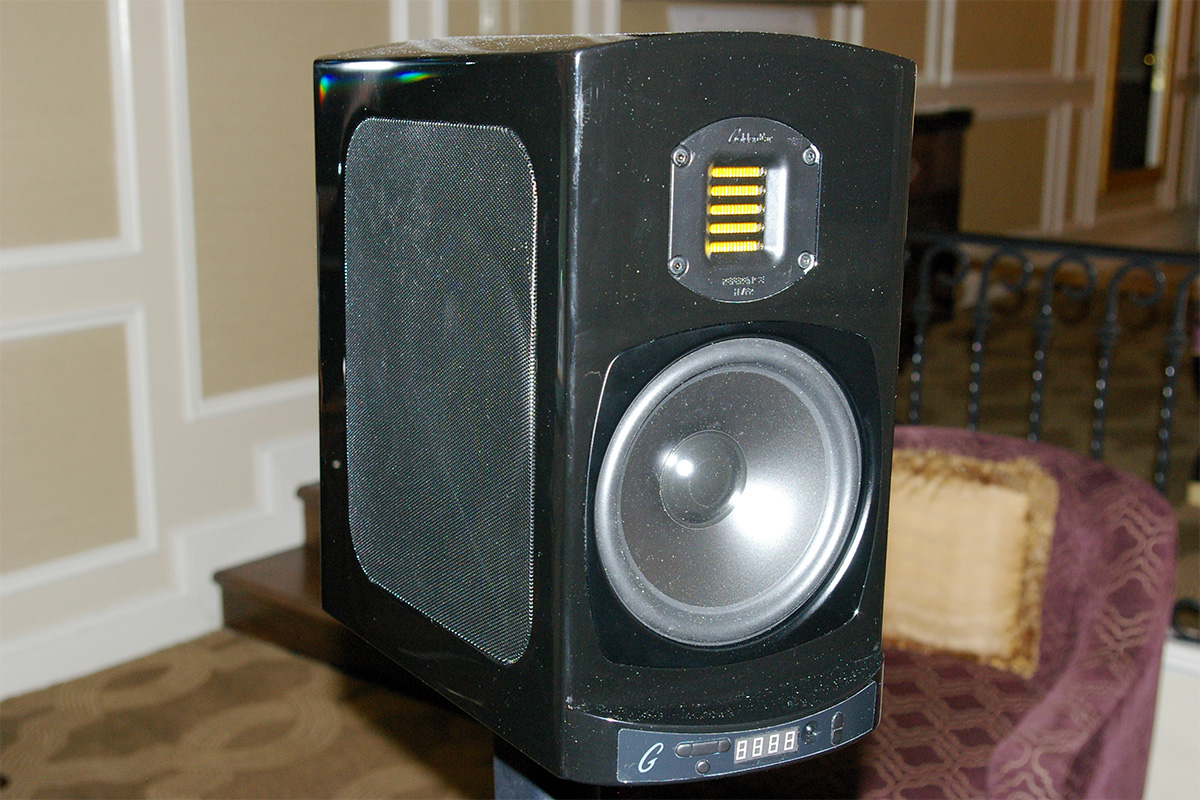 GoldenEar Technology DigitalAktiv 3
While GoldenEar Technology didn't have an active display at CES, company founder Sandy Gross was camped out at the Venetian hotel showing a prototype of the company's forthcoming DigitalAktiv 3 Wi-Fi speaker ($1000 each), which will use built-in Chromecast for wireless multiroom streaming. The DigitalAktiv's specifications indicate that it will be a more muscular offering than your typical Wi-Fi speaker, combining GoldenEar's High-Velocity Folded Ribbon tweeter with a 6" woofer and two passive radiators, and 200W and 60W class-AB amplifiers respectively powering the woofer and tweeter. Each DigitalAktiv has a subwoofer output, and, using the WiSA protocol, can be wirelessly paired with a second unit for true two-channel stereo playback.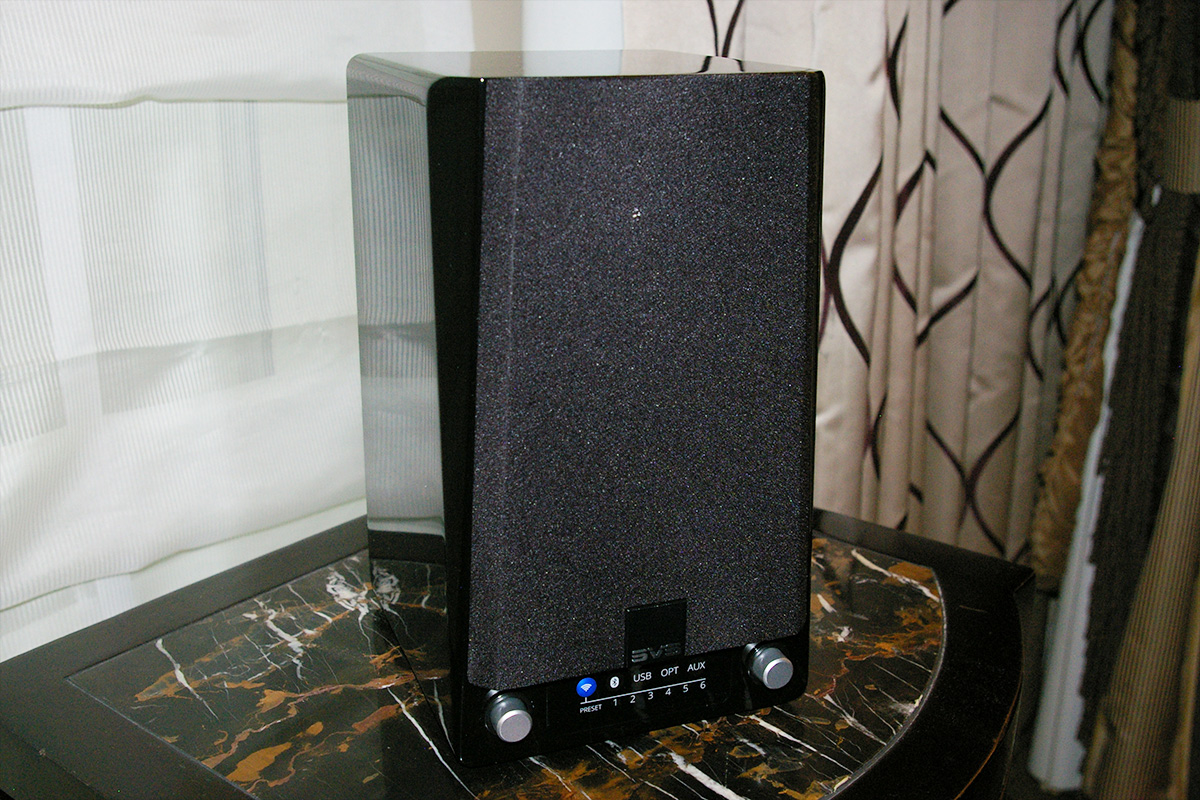 SVS Prime Wireless
SVS used CES 2018 to debut its Prime Wireless Wi-Fi speaker, a DTS Play-Fi model that also supports Bluetooth aptX. The speaker has a 1" aluminum-dome tweeter and a 4" bass-midrange driver, each powered by a 50W amp. Inputs include USB, optical digital, and analog, and there's a subwoofer output that automatically high-pass-filters the signal at 80Hz when a connected subwoofer is detected. The SVS Prime Wireless will cost $499/pair when it ships in late spring.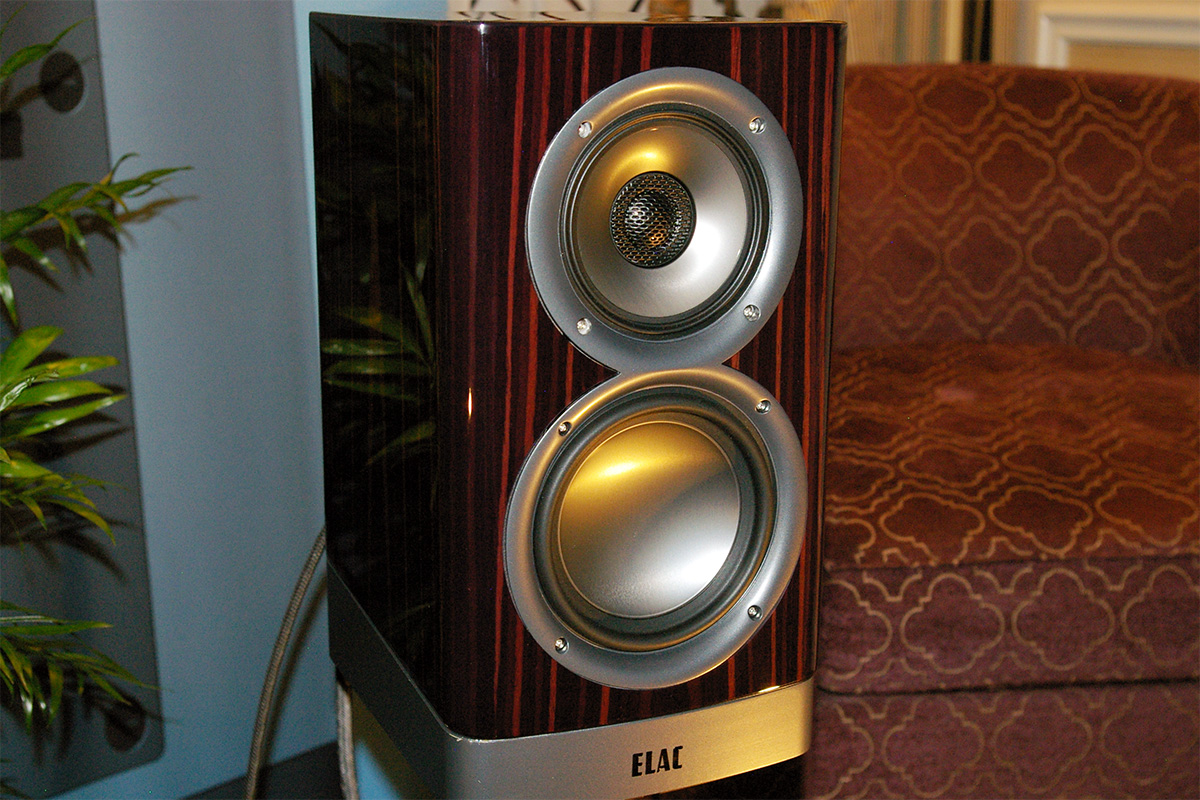 Elac Argo B51
Also new at CES was Elac's Argos line of powered speakers, comprising the F51 floorstander ($4000/pair) and B51 minimonitor ($2000/pair). Both three-way speakers combine a 4" aluminum-cone midrange driver with concentrically positioned 1" soft-dome tweeter and a 5.25" woofer(s): one woofer on the B51, three on the F51. In both models, a 30W class-AB amp powers the tweeter, a 70W BASH class-AB amp handles the midrange, and a 150W class-AB amp powers the woofer(s). The Argoses can be used as conventional powered speakers by connecting sources to their RCA or XLR inputs. Adding the optional Discovery Connect transmitter ($99) lets them go fully wireless, with support for Spotify Connect, AirPlay, and Bluetooth, as well as Elac's own Discovery protocol when used with Elac's Discovery music server. The Argos speakers will be available in May or June.
Electronics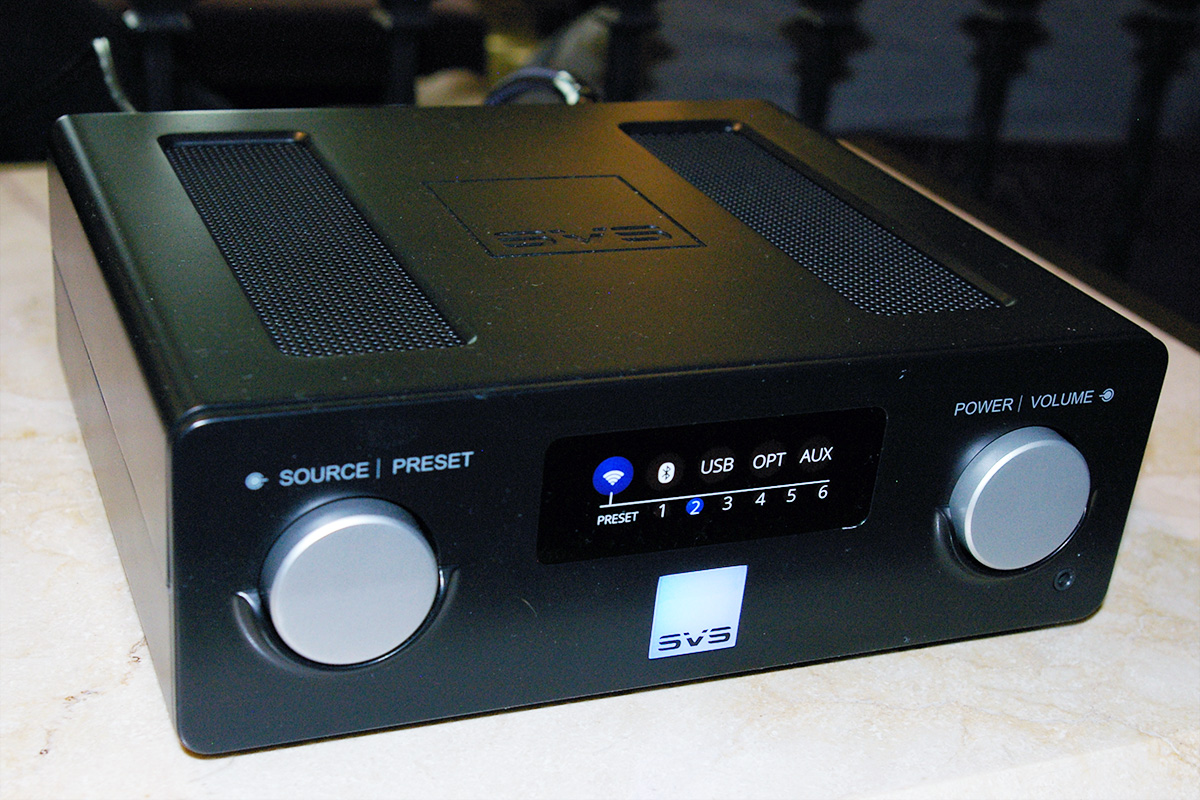 SVS Prime Wireless Soundbase
Along with its new Wi-Fi speaker, SVS's CES exhibit included a DAC-integrated amplifier -- a first for the company. The Prime Wireless Soundbase uses DTS Play-Fi for streaming, supports Bluetooth, and provides USB, analog, and optical digital inputs, an Ethernet port, and a subwoofer output. Amplifier power is 150Wpc -- impressive for a compact integrated amp, especially one costing only $399. Look for the Prime Wireless Soundbase in late spring.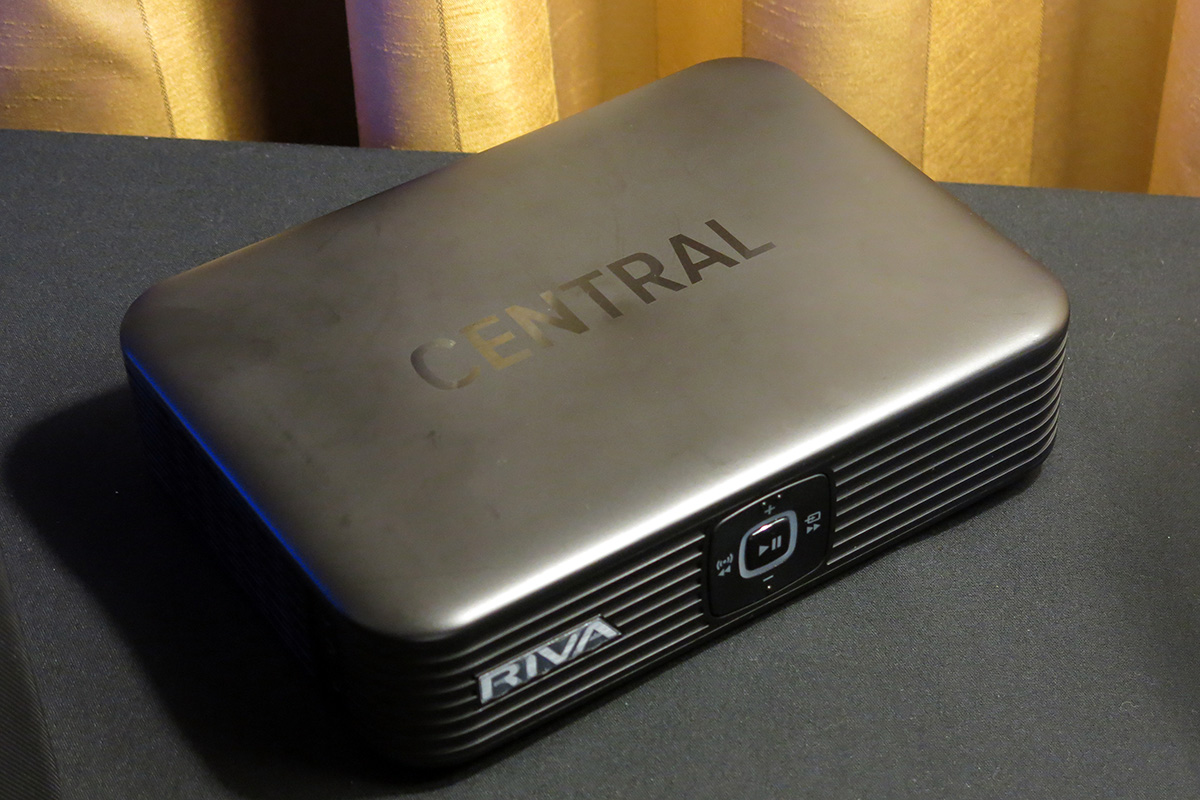 Riva Central
When I reviewed Riva Audio's Festival Wi-Fi speaker for Simplifi, I was impressed by its wide-ranging options for wireless streaming, which include AirPlay, Chromecast, Spotify Connect, and Bluetooth. Riva's new Central integrated amp ($399), introduced at CES, offers the same comprehensive suite of wireless options and also has optical digital and analog minijack inputs, a subwoofer output, and USB Type-A and Ethernet ports. The Central's class-D amp puts out 55Wpc into 4 ohms. It can also be configured for preamp-only output when used with an outboard power amp.
Pro-Ject Jukebox E
Among the coolest products featured in SoundStage! Global's CES coverage was Pro-Ject's Jukebox E, a turntable with a built-in phono preamp and 25Wpc class-D power amp. Add speakers and you have a complete playback system that already includes a Bluetooth transmitter for connecting to wireless headphones and speakers. The Jukebox E costs $499 and comes with an Ortofon OM-5 cartridge pre-installed. Let's hope Pro-Ject adds network streaming to the next version of its all-in-one turntable.
. . . Al Griffin
This email address is being protected from spambots. You need JavaScript enabled to view it.