Most all-in-one speakers are produced by generic audio companies looking to take a slice from the Sonos pie. That generalization doesn't apply to Riva Audio. This California-based outfit has a personality behind it -- that of Rikki Farr, a British music promoter and manager who gained fame as the ranting MC of the 1970 Isle of Wight festival, a notoriously off-the-hook event that nonetheless hosted an eclectic roster of artists ranging from Leonard Cohen and Miles Davis to Jimi Hendrix and the Who.
Farr's trajectory led him to the world of consumer-electronics manufacturing, and eventually to the founding of Riva, which makes the Festival ($499 USD) and Arena ($249) Wi-Fi speakers. What differentiates Riva's products from similar offerings is Farr's stated determination to deliver the experience of hearing live music in all its dynamic, uncompressed glory, via compact, affordable speakers that also provide the convenience features that today's listeners demand.
To achieve that goal, the Riva team developed Trillium, in which digital signal processing (DSP) is used to filter two-channel audio signals and upmix them to three channels for reproduction by three identical sets of drivers positioned on the speaker's front, left, and right sides. According to Riva, the result is the creation of "virtual left and right speakers outside the enclosure," along with "a wider listening area with a locked center location."
On the convenience side, the Festival's wide-ranging connectivity options include Apple AirPlay, Chromecast built-in, Wi-Fi, DLNA, Spotify Connect, and Bluetooth. In other words, Riva has made it easy for anyone to wirelessly stream anything to its speakers from any device. The Festival's DAC supports files of up to 24-bit/192kHz resolution, and the speaker can be controlled with both Google Home and Riva's own Wand app, a combination that lets you easily configure speaker groups for multiroom audio, as well as for stereo playback using a matched pair of Riva Audio speakers.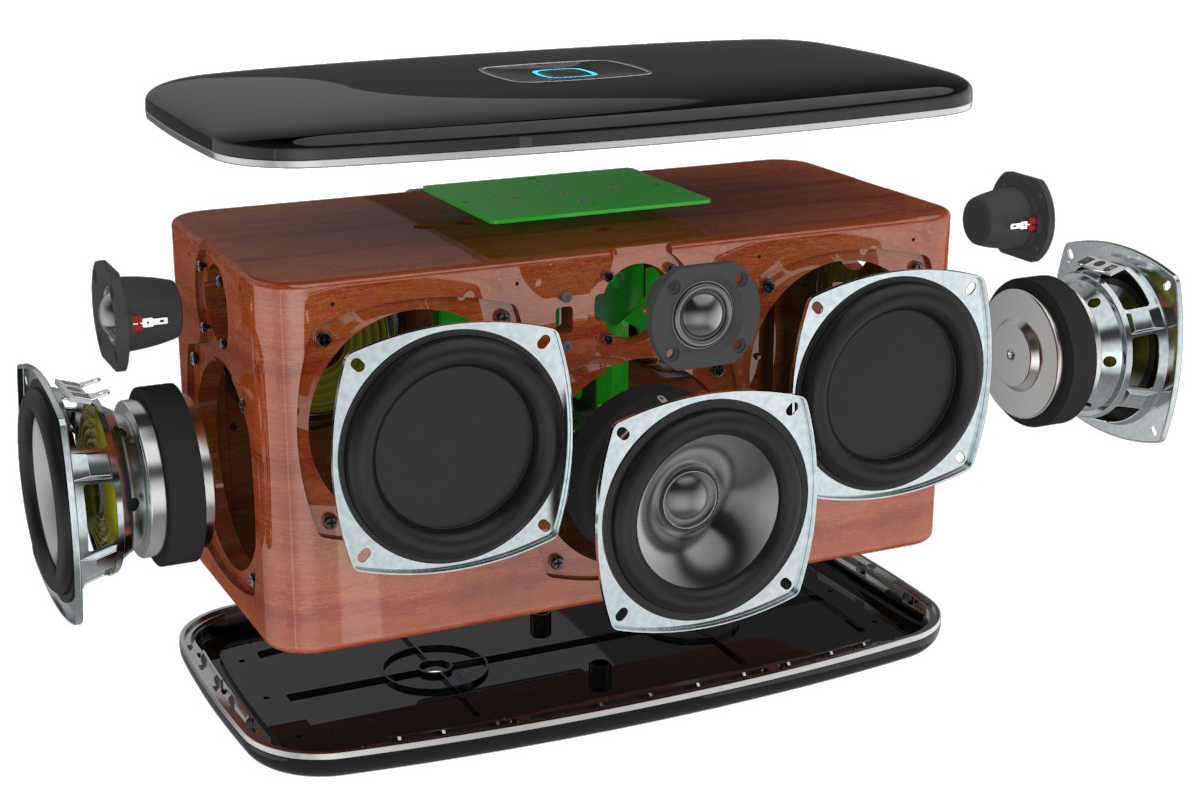 The Festival may look like a Sonos clone, but its appearance is nice enough. Available in black or white, its cabinet is wrapped in a metal grille, with top and bottom plates of molded plastic. There are surface-gripping rubber pads on the speaker's bottom, and rubber buttons on the top let you control playback, switch inputs, and adjust volume. Along with the Festival's wireless options, its rear panel provides optical digital, 3.5mm analog stereo, and USB Type-A connections.
For $499, the build quality is impressive. The Festival's three 0.75" tweeters and three 4" woofer drivers are mounted on and braced by an enclosure of solid wood, and its four 4" passive radiators -- two each on front and rear -- augment the bass output and reduce vibration. Each of the six drivers is driven by its own amp, for a total power output of 200W. The Festival measures 14.37"W x 7.87"H x 7"D and weighs 14.2 pounds.
Setup and use
After placing the Riva Festival on a low bookshelf in my bedroom, I set it up as an AirPlay speaker in my iPhone's Wi-Fi settings menu. I then used the Google Home app to configure it for Chromecast built-in streaming, and created a multiroom speaker group comprising the Festival and its little brother, the Arena. Riva's bare-bones Wand app can also be used for Wi-Fi setup and for DLNA streaming from a media server -- in my case, JRiver Media Center 21 running on a MacBook Pro.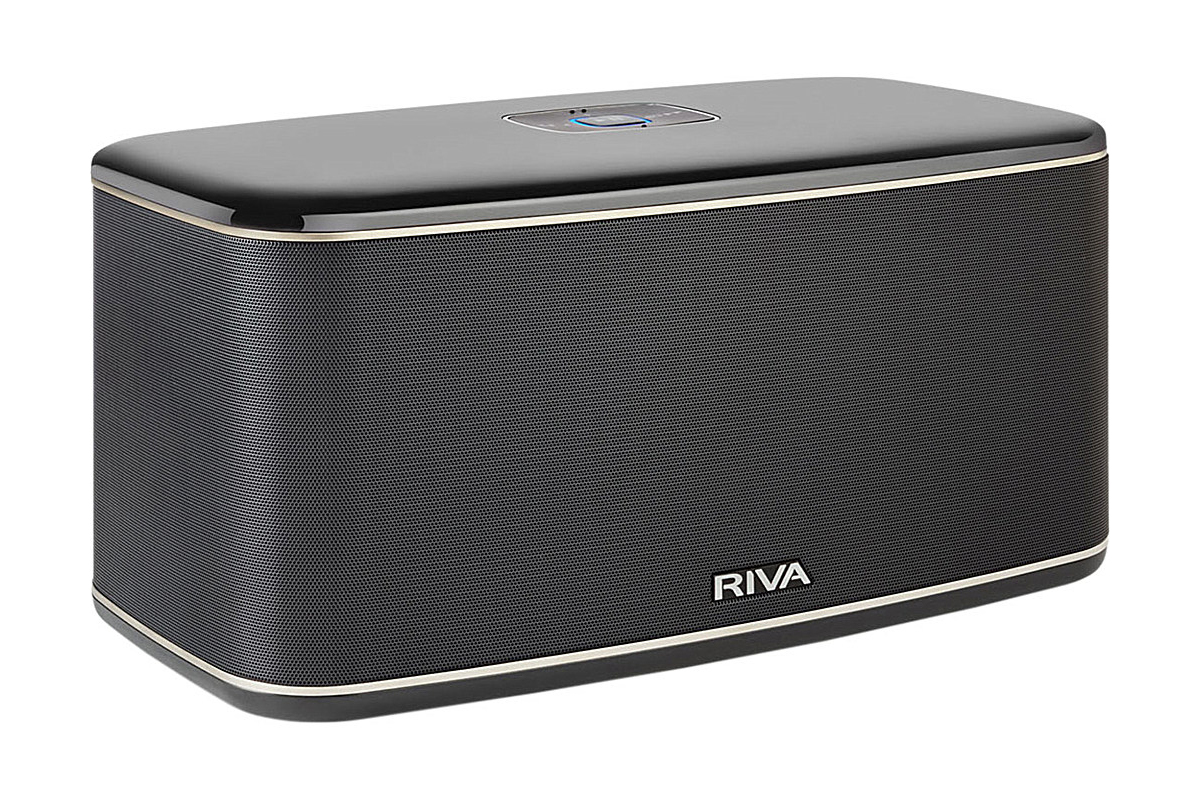 While the Google Home app worked well for setup, and could be relied on to find the speakers on my Wi-Fi network each time I powered them up, I had problems with it when adjusting volume. When I used the app's onscreen slider, the level would abruptly jump instead of smoothly tracking my adjustments by gradually increasing or decreasing. In most cases, it was easier to just get up and tweak the volume with the Festival's control buttons. When I switched to using AirPlay, however, the app-based volume control worked much better, accurately tracking any fine adjustments I made.
Sound
Curious to test Riva's claim of "virtual left and right speakers outside the enclosure," I played "French Spice," from jazz trumpeter Donald Byrd's Free Form (16-bit/44.1kHz FLAC, Blue Note/Tidal). This 1961 track has a stereo mix characteristic of its era, in which instruments are panned hard right and left. When I listen to it through my reference system, Wayne Shorter's tenor-sax solo emerges primarily from the right speaker, followed by Byrd's solo from the left. Through the Festival, both instruments emerged from the center. That's not to say the soundstage was compromised -- the Festival conveyed a sense of spaciousness that exceeded the speaker's physical confines. It was also consistent, the sound quality remaining uniform from any position in the room.
I then streamed "Thomas County Law," from Iron and Wine's newest, Beast Epic (16/44.1 FLAC, Sub Pop/Tidal). Sam Beam's voice, more intimate and unvarnished than on earlier I&W albums, was warm, with a convincing sense of body. The arrangement, with layers of muted percussion, piano, and strings, also came through clearly -- I didn't get a sense that any of its complexity was lost via the compact Riva speaker.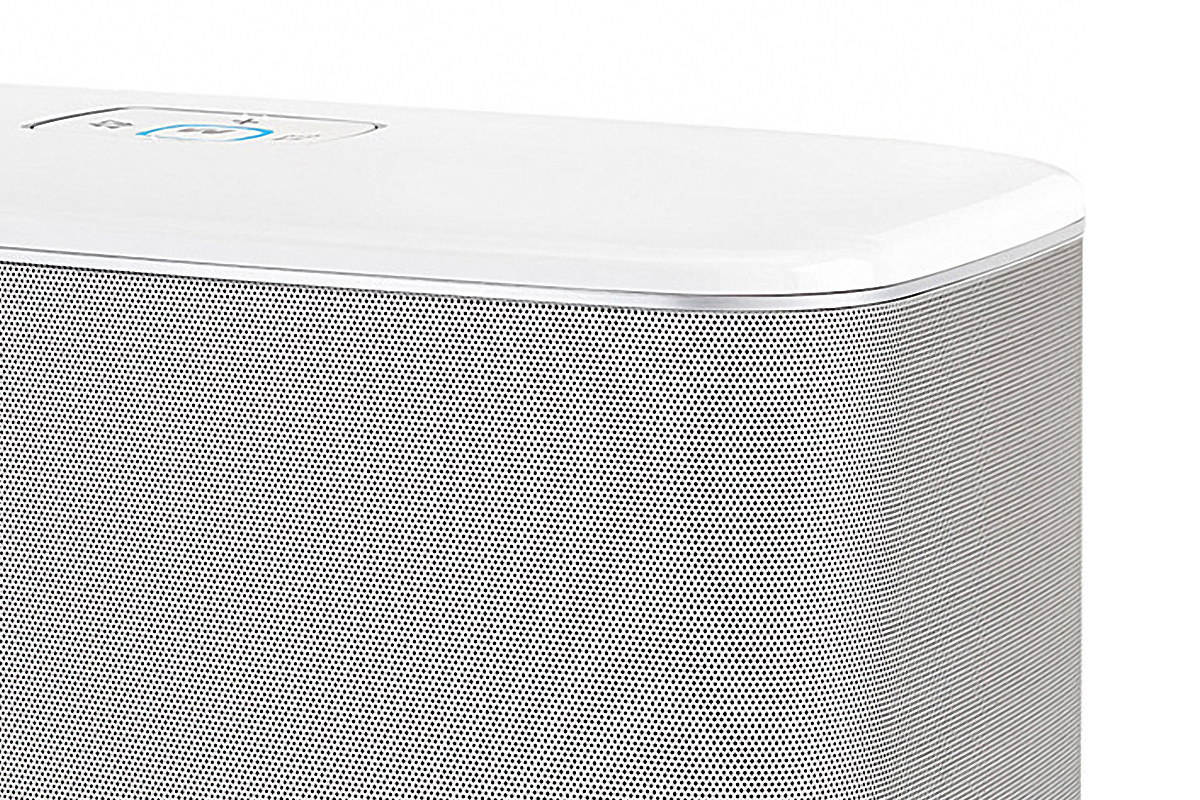 Next up was The Great Gate of Kiev, the concluding section of Mussorgsky's Pictures at an Exhibition, with Oliver Knussen conducting the Cleveland Orchestra in the orchestration by Leopold Stokowski (16/44.1 FLAC, Deutsche Grammophon/Tidal). The Festival delivered good dynamics and a surprisingly wide image of the orchestra. The blasts of brass at the beginning of the movement were powerful and clean, and swells of strings and woodwinds in subsequent passages had a textured quality and a good sense of depth. The rumble of timpani and the clashing cymbals at the end also retained much of the explosive power I expect to hear when listening to this version of Pictures.
To double-check myself I played "Airborne Latency," from Wonderland, by British electronic noisemakers Demdike Stare (16/44.1 AAC, Modern Love/Apple Music). Listening to the Festival ably weather this track's punishing beats, I remained impressed. It didn't plumb the lower bass depths, but the bass it delivered was robust and clean. This recording's strange spatial effects, which wrap around my head when I listen through my reference system, also came through, though not as vividly.
Comparison
I compared the Festival with Naim Audio's Mu-so Qb, an all-in-one speaker that, at $999, costs twice as much as the Riva. The Mu-so Qb handled the Donald Byrd track much as the Festival had, with both horns at the center of the soundstage. It also delivered the same crisp, airy quality with the solos, and clean renderings of the piano and double bass.
With The Great Gate of Kiev, the Mu-so Qb matched the Festival in dynamics and detail. However, the Festival's sound was more spacious and involving than the Naim's, which was a bit boxy in comparison. Things were mostly a draw with the Iron and Wine track -- both speakers reproduced Sam Beam's voice with clarity and warmth.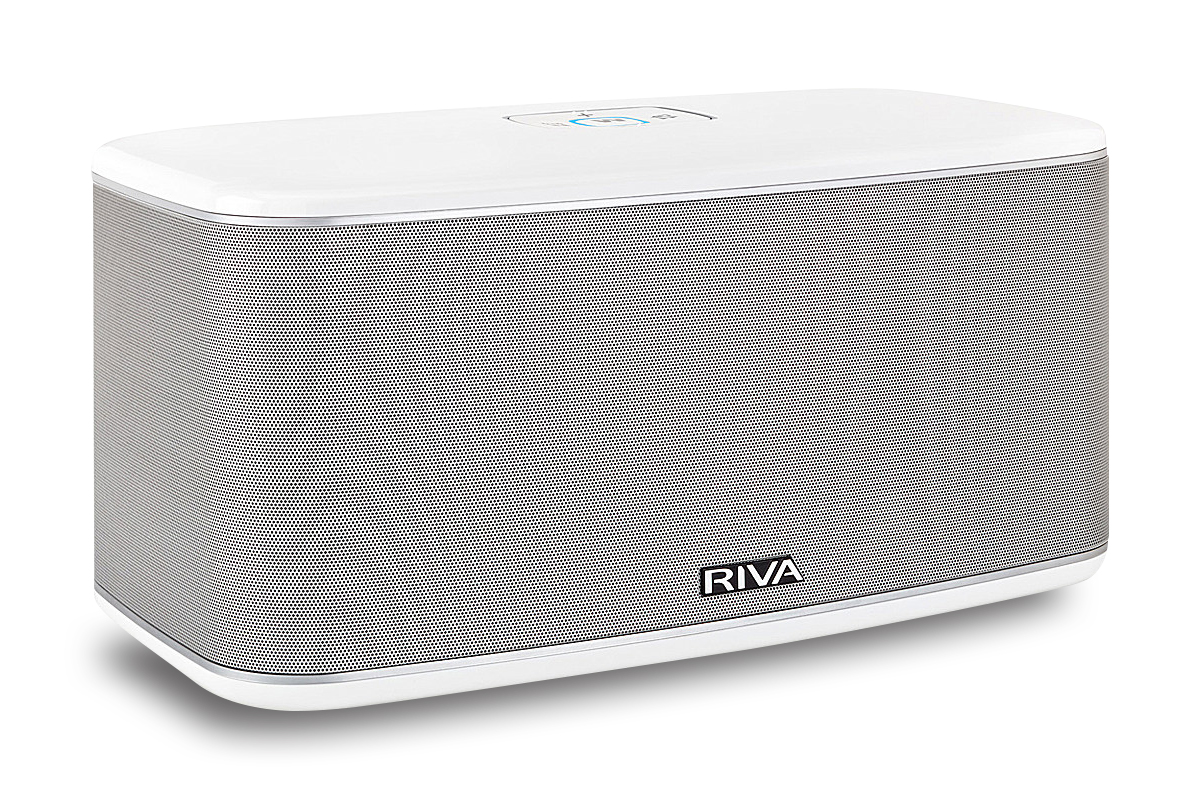 What does the Mu-so Qb offer to make it worth twice as much as the Festival? Naim's custom app, for one, which consolidates most streaming functions into a single interface. There's also the Mu-so Qb's unique design, as well as a control dial with indicator LEDs that let you know exactly where the volume level is set -- something I wished for when fumbling with volume adjustments on the Festival using the Google Home app.
Conclusion
While I can't say I heard "virtual left and right speakers outside the enclosure" from the Festival, I can say that Riva Audio's Trillium technology delivered a wide, involving aural image. The Festival's overall sound quality was impressive, characterized by warm mids, detailed highs, and punchy yet controlled bass. The Festival's well-above-average performance for an all-in-one Wi-Fi speaker, along with its support for almost any streaming protocol you can think of and its $499 price, make it an easy recommendation for anyone seeking a compact, affordable, all-in-one loudspeaker.
. . . Al Griffin
This email address is being protected from spambots. You need JavaScript enabled to view it.
Associated Equipment
Sources -- Apple MacBook Pro, iPhone 6, iPad 2, Apple Music, Tidal, JRiver Media Center 21
Speakers -- Naim Mu-so Qb, Riva Audio Arena
Riva Audio Festival Wi-Fi Speaker
Price: $499 USD.
Warranty: Two years parts and labor.
Riva Audio
Audio Design Experts, Inc.
17835 Newhope Street, Unit A
Fountain Valley, CA 92708
Phone: (844) 438-7482
E-mail: This email address is being protected from spambots. You need JavaScript enabled to view it.
Website: www.rivaaudio.com