For serious, sit-down stereo, active loudspeakers have traditionally been a tough sell. I've never understood why -- their domestic advantages are obvious. Active speakers can make possible audiophile-quality sound in spaces where traditional components are unwelcome -- as outlined in my recent feature on "How I Simplifi'd My Hi-Fi."
The sonic advantages are no less important. With active speakers, amps and drivers can be optimized for each other. In models that implement the crossover using DSP, designers can tailor crossover parameters for the individual drivers very precisely. This can result in flatter response, lower distortion, and higher output.
With the explosive growth in streaming and file-based playback, the time for active speakers may now have come. If you're not using physical media or source components, why not take the next step and get speakers with built-in amplifiers?
Gazillions of people are already doing that for casual listening: witness the popularity of all-in-one Bluetooth and Wi-Fi speakers. For serious listening, though, the default configuration is still a dedicated amplifier driving passive speakers.
Black boxes, white boxes
Aware of a sea change in listening habits, many audio brands are now introducing audiophile-grade active stereo speakers. The Callisto series from Danish Audiophile Loudspeaker Industries, aka DALI, is a particularly interesting example. There are two active models: the floorstanding Callisto 6 C, and the stand-mounted Callisto 2 C, reviewed here ($4750 USD per pair as reviewed). Both models incorporate DALI's hybrid high-frequency module, which combines 29mm soft-dome and 17 x 45mm ribbon tweeters. The dome is a low-resonance design that can operate comfortably down to 2kHz. The ribbon kicks in at 10kHz, and is claimed to extend the speaker's response to above 30kHz; it also broadens dispersion. The 2 C and 6 C use the same 6.5" woofer with wood-fiber cone; the 2 C has one of these, the 6 C has two.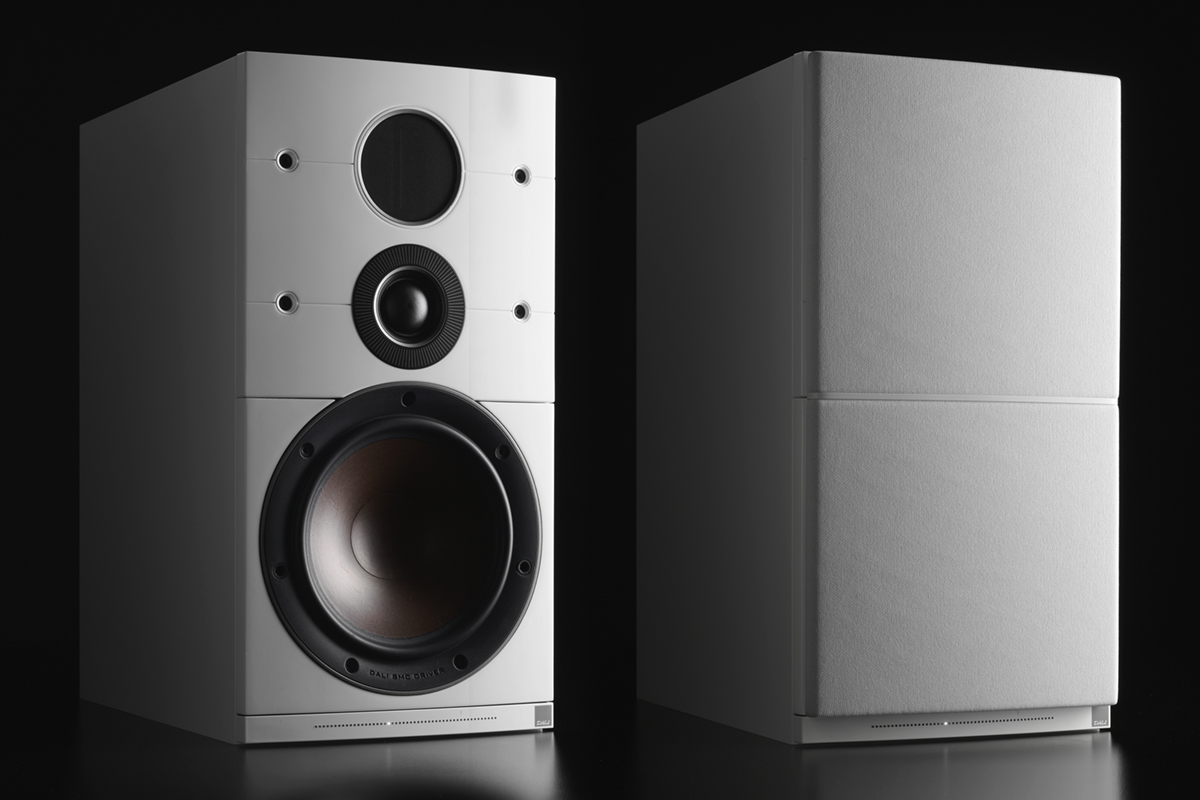 The low- and high-frequency sections of both the 2 C and 6 C each have a dedicated class-D amplifier specified to output 30W RMS. DALI says the Callisto's amplifiers can sustain 250W output for up to five seconds.
The rear-ported enclosures are made of 25mm-thick medium-density fiberboard, and are internally braced. They seem very rigid. My review sample of the Callisto 2 C passed the knuckle-rap test with aplomb.
The Callisto series is available in vinyl finishes of Black Ash or White. Up close, these finishes aren't as luxurious-looking as wood veneer, but they look fine from across the room. Along with their boxy shape, the vinyl finish gives the Callisto 2 C a bit of a 1990s look.
When you adjust the volume, a row of LEDs on the bottom of each speaker shines garishly to indicate the level. During regular operation, however, only a single blue-white LED lights up, for a more sedate visual effect.
On the rear of each speaker are a two-pole power input, a USB port (primarily for service), an on/off switch, and a single line-level input (RCA) that feeds an A-to-D converter inside the speaker. You can connect the line output of a preamp or source component separately to each speaker, but that's not how the Callistos are intended to be used.
Modern times
At the center of a Callisto system is the DALI Sound Hub, a stylish component that accepts inputs from analog and digital source components. The Hub sends digital audio wirelessly to the two speakers at resolutions of up to 24-bit/96kHz. On its front are a rotary volume control with numerical indicator, plus on/off, mute, and source-select buttons.
On the rear are two analog inputs (a pair of RCAs, plus a 3.5mm stereo mini jack), two optical digital inputs (one for TV, the other for an audio component), a coaxial digital input, and a USB port for powering a device like a Google Chromecast Audio dongle. The Sound Hub also has Bluetooth connectivity (with aptX and AAC support) for wireless streaming from a smart device. There are also preamp outputs, and a subwoofer output with 100Hz low-pass filter.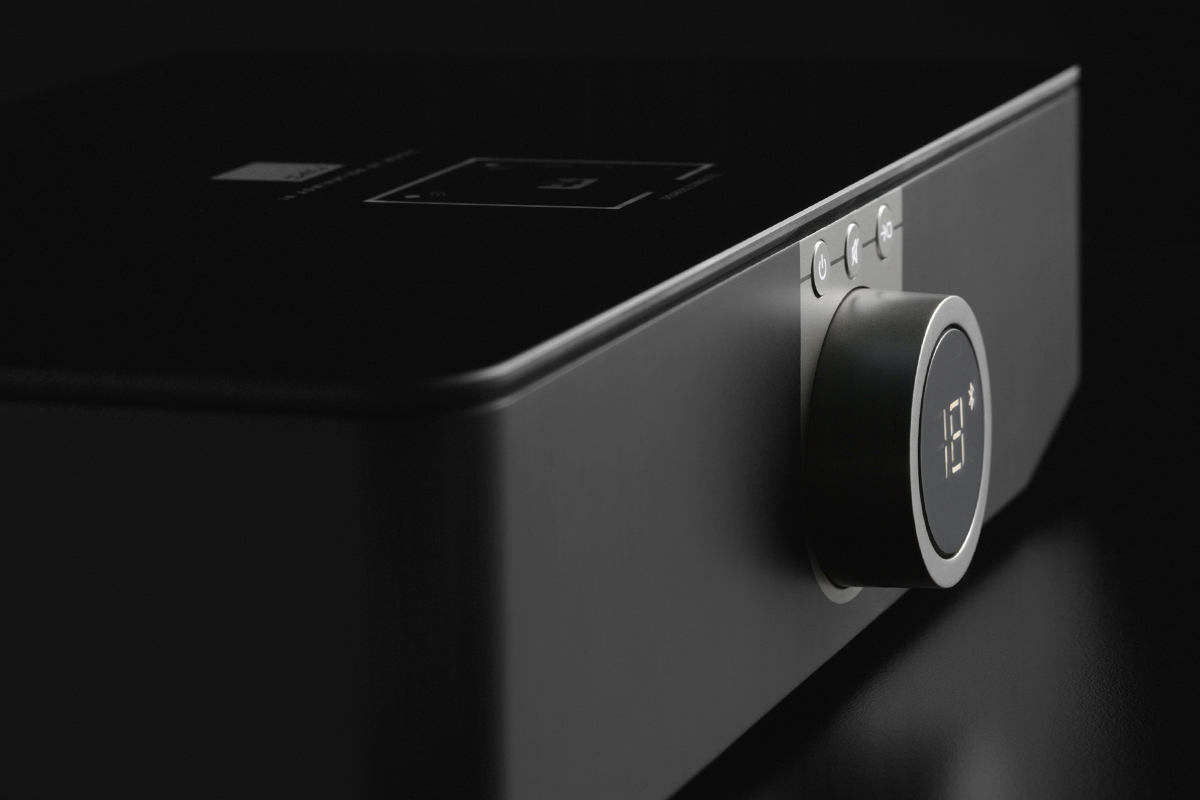 Above the jack panel are two expansion slots for modules that increase the system's functionality. The first such product is a BluOS module that adds Wi-Fi connectivity, network streaming, and compatibility with Lenbrook International's Bluesound wireless multi-room audio system. That module opens up a whole universe of possibilities. With it installed, you can make your Callisto speakers part of a Bluesound whole-house music system. Such a system can include Bluesound powered speakers (there are several models, including a very capable soundbar); a Bluesound streaming preamp or amplifier; an NAD amplifier equipped with a BluOS module; or a third-party product with BluOS support, such as the DALI system reviewed here. (Other brands, including Monitor Audio and Roksan, have also announced plans to adopt BluOS technology.)
Using the BluOS app on an iOS or Android device, you can send music from any supported streaming service to your Callisto speakers or any other BluOS-capable product. The list of supported services includes market leader Spotify but not No.2: Apple Music. More important to this site's readers are the three lossless services (Deezer, Qobuz, Tidal), all of which are supported. Moreover, Bluesound products (including the BluOS module) perform MQA decoding; so, between Tidal and Qobuz, you have your choice of two high-resolution services.
You can also play music from a USB drive (formatted for NTFS or FAT32) connected to any BluOS component in your network, or music stored on a Bluesound Vault music server. The app lets you group BluOS-capable components together, so you can stream the same music to different rooms simultaneously.
The Callisto speakers may look 1990s on the outside, but combine them with a Sound Hub and a BluOS module and you have a system that's pure 2010s.
Setup
DALI's Callisto 2 C speakers, Sound Hub, and the BluOS module ship in separate boxes. Included with the Sound Hub is a Bluetooth remote. You can adjust volume from the remote, from the BluOS app, or by running your finger along a touch-sensitive strip on the top surface of either speaker. Be prepared for the aforementioned light show.
The BluOS module is an add-on option. Lenbrook, which acts as DALI's American distributor, is encouraging dealers to bundle the speakers, Sound Hub, and BluOS module together. That makes a lot of sense to me -- the module is what makes this system really appealing.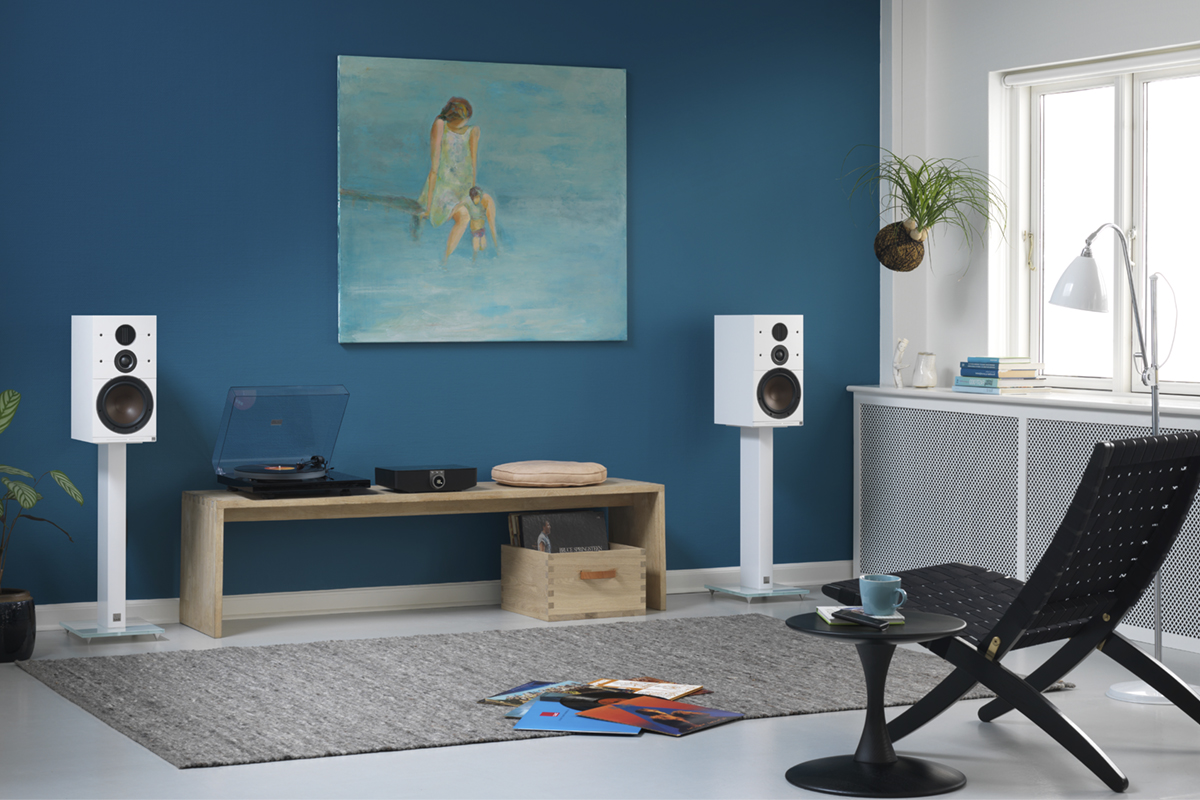 After unpacking the speakers and Sound Hub, the first task is to pair speakers to Hub. The process, well described in the Sound Hub's manual, is dead easy. Press the Link & Connect button on the rear of the Hub, then press the Link & Connect button on the rear of one of the speakers. Go back to the Hub, and press Link & Connect until the display on the top indicates the position of the speaker you've just paired. Repeat the process for the other speaker, press Link & Connect on the Hub one last time, and you're done.
The next step is to install the BluOS module. The module's Installation Guide shows how it should be placed in the DALI Sound Hub and how to connect the supplied Wi-Fi dongle. However, I was surprised to see that there are no instructions for getting the module connected to your home network, or for downloading the BluOS app needed to control the system. Informed of this oversight by your faithful correspondent, Lenbrook is amending the Guide to include this information; this shouldn't be an issue for much longer.
Software
If you're not already a Bluesound user, you'll need to download the BluOS app from Apple's App Store or the Google Play store. When you launch the app, you'll see on the home screen a button labeled Add a Player. Selecting that takes you to a page called "Connect a Player," and then to the Wi-Fi section of your device's Settings app. You should see the DALI Sound Hub in the list of available networks. Choose it, and return to the BluOS app. The app will grab your network settings (network name, password) from your device and upload them to the BluOS module.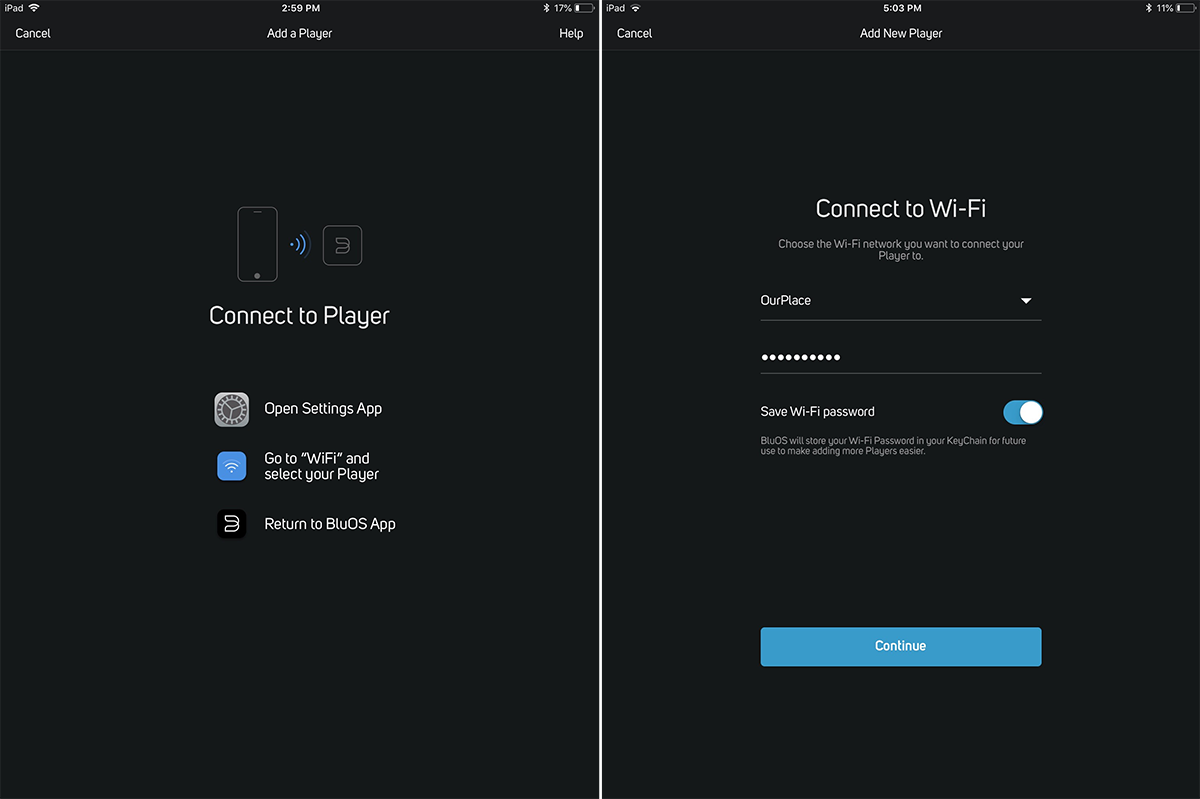 Now it's time to play some music. One of the options you'll see in the home screen is "Add a Music Service." Choose a service, and you'll be taken to a screen where you enter your username and password. That done, you'll be able to select music from your streaming services, an attached USB drive, or Internet Radio.
On a few occasions, the app wouldn't connect to the DALI Sound Hub, even though everything had been working fine the day before (or even a few hours before). The only fix was to completely restart my iPad Mini and relaunch the app. This happened on my iPhone SE as well. It's quite possible that this issue was caused by my own networking environment, but the workaround -- a hard restart -- was easy, once I found it.
It took some experimentation for me to get familiar with the BluOS app. For example, the little house icon takes you to different screens, depending on the context, rather than to the same home screen every time. But after a few days I was using the app quite comfortably. A minor quibble: the app displays the hi-rez logo when you're playing hi-rez content, but doesn't specify resolution. Sometimes, I'd like to know whether I'm hearing a 24/44.1 or a 24/192 file.
Overall, though, the BluOS app is robust, and has a relatively modest learning curve. Lenbrook has invested heavily in software development, and it shows. I'm not surprised that other brands are adopting BluOS technology, rather than trying to reinvent this particular wheel.
There's another software option. All BluOS components, including BluOS-equipped Callisto speakers, can function as endpoints in a system with Roon music-management software. During the listening period, Roon recognized the DALI Sound Hub but listed it as uncertified, so I had to manually set such parameters as MQA compatibility. The Sound Hub should be fully certified soon, so this, too, should soon no longer be an issue.
Listening
I installed the Callisto 2 C speakers on 24"-high speaker stands, which placed their tweeters right at ear height and their rear panels 14" from the front wall -- more than the 8" minimum specified by DALI. The speakers were toed in slightly.
I used the BluOS app rather than Roon for all my listening. In addition to streaming from Tidal and Qobuz, I played hi-rez files from a thumb drive plugged into one of the BluOS module's USB ports.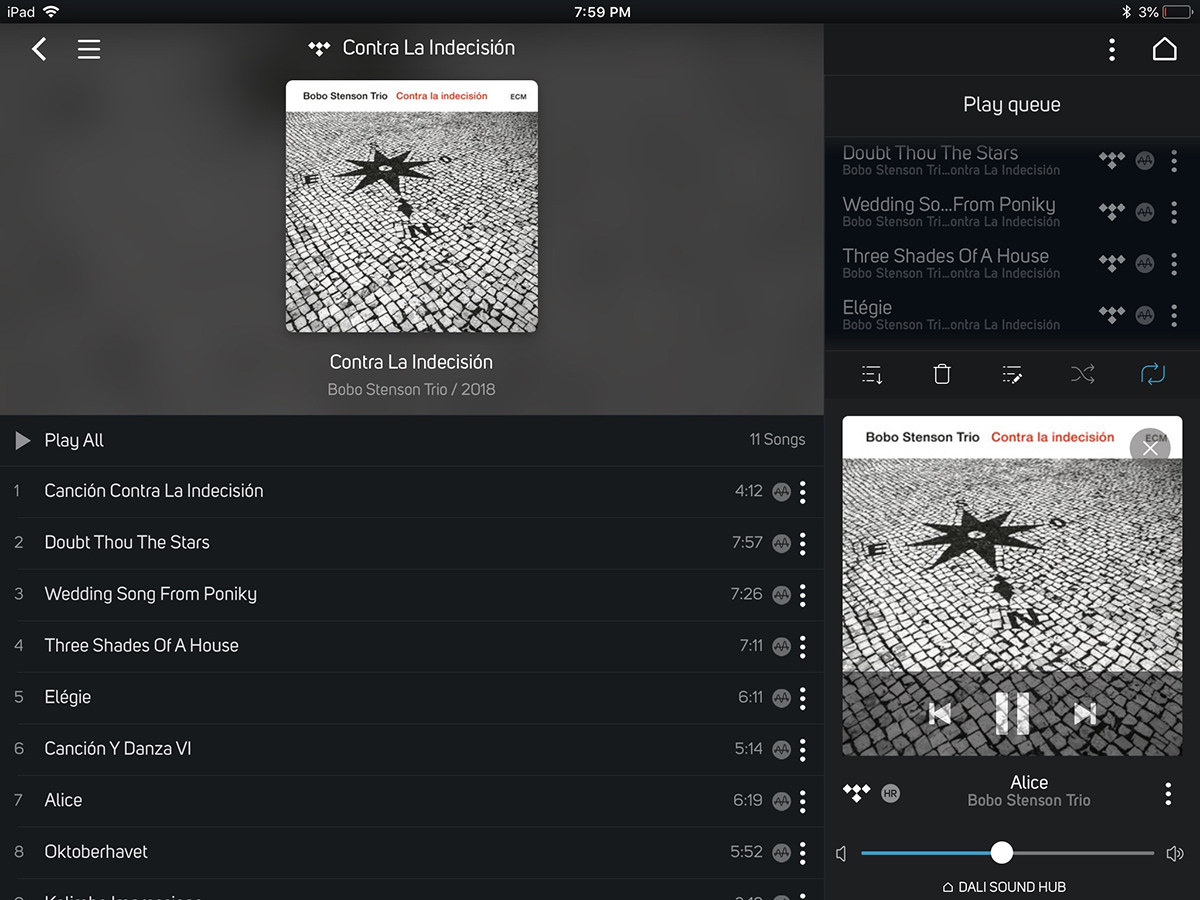 Right off the bat, several characteristics of the DALI Callisto 2 C made themselves manifest.
1) They had a rich, warm sonic signature. DALI says its Callisto speakers need to be broken in for 100 hours before they sound their best. When I first played them, the upper bass was a bit too fat for my taste. That excess warmth lessened markedly as the speakers burned in, but didn't entirely disappear.
2) They were smooth. You might expect a two-tweeter design to sound a little hot, but that was definitely not the case with the Callisto 2 C. This system produces some of the silkiest highs I've ever heard. Moreover, highs, mids, and lows were wonderfully integrated. Except for the aforementioned warmth, the response was seamless from top to bottom of the audioband.
3) They were forgiving. This followed from the two preceding characteristics. There are more revealing speakers out there, but I found the Callistos really, really easy to listen to.
4) They had serious stones. If their modest RMS power specification (30Wx2 per speaker) concerns you, I've got one or maybe three words of advice: fuggedaboudit! This system had great dynamics, and could play really loud without distress. If you want to focus on a number, focus on 250W. That's how much power DALI says the Callisto 2 Cs' amplifiers can sustain for five seconds.
5) They imaged superbly. In my living room, the Callisto 2 Cs produced a big, deep soundstage, with very good image specificity.
6) They were subtle. Throughout my listening, I was struck by this system's organic, tactile quality. One other welcome characteristic: This system sounded really good at modest volume levels.
An arrangement for two pianos of Stravinsky's The Rite of Spring, played by Marc-André Hamelin and Leif Ove Andsnes (24-bit/96kHz FLAC, Hyperion), revealed the Callisto system's astounding capabilities of dynamic range. This stunning recording contains huge dynamic swings that range from brooding mystery to pagan frenzy to ecstatic release, as two concert grands convey the power of Stravinsky's revolutionary score as effectively as a full symphony orchestra.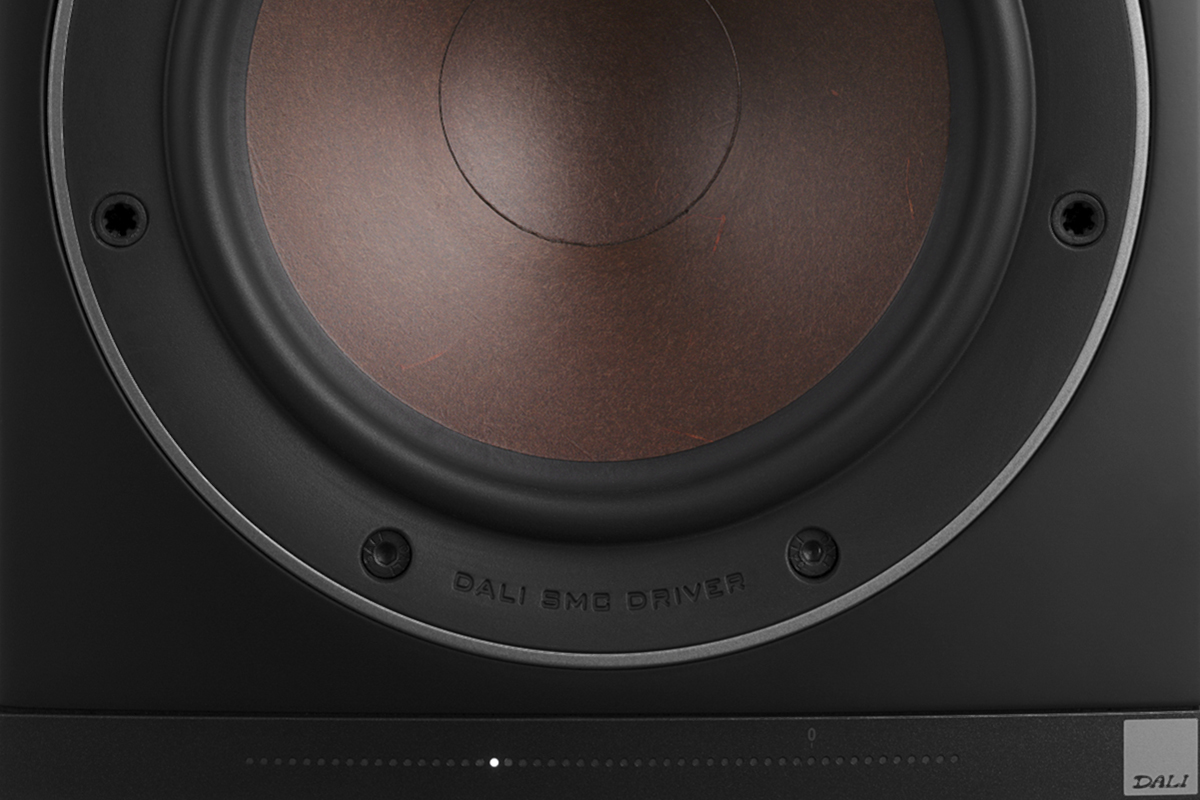 Through the Callisto 2 C system, the pianos were arrayed on a huge, deep soundstage during the magical opening. The upper notes sounded fast and articulate, but not at all glary. The bottom octaves had solid heft, although the lowest notes seemed a touch muddy. The Callisto system delivered the two pianists' pounding chords in the frenzied sections that follow with no hint of compression, and resolved their runs and arpeggios well. The effect was beyond thrilling.
Going back a few centuries, a performance of concerti grossi and a sonata by the Italian baroque composer Arcangelo Corelli posed some challenges for the Callisto system. This 2003 recording, with Simon Murphy leading the New Dutch Academy (24/96 FLAC, PentaTone/Qobuz), features a "large and varied continuo section for plenty of bass and groove" (to quote from the liner notes), with such instruments as archlute, theorbo, cello, multiple bass viols, and organ.
This was too much of a good thing for the Callistos. It was sometimes difficult to differentiate instruments like the archlute in the continuo section, and the upper strings didn't have quite enough bite. That said, this particularly rich-sounding recording was clearly intended to emphasize the lush, sensual character of Corelli's writing. During my time with the Callistos I played lots of baroque and classical music that sounded lovely on this system.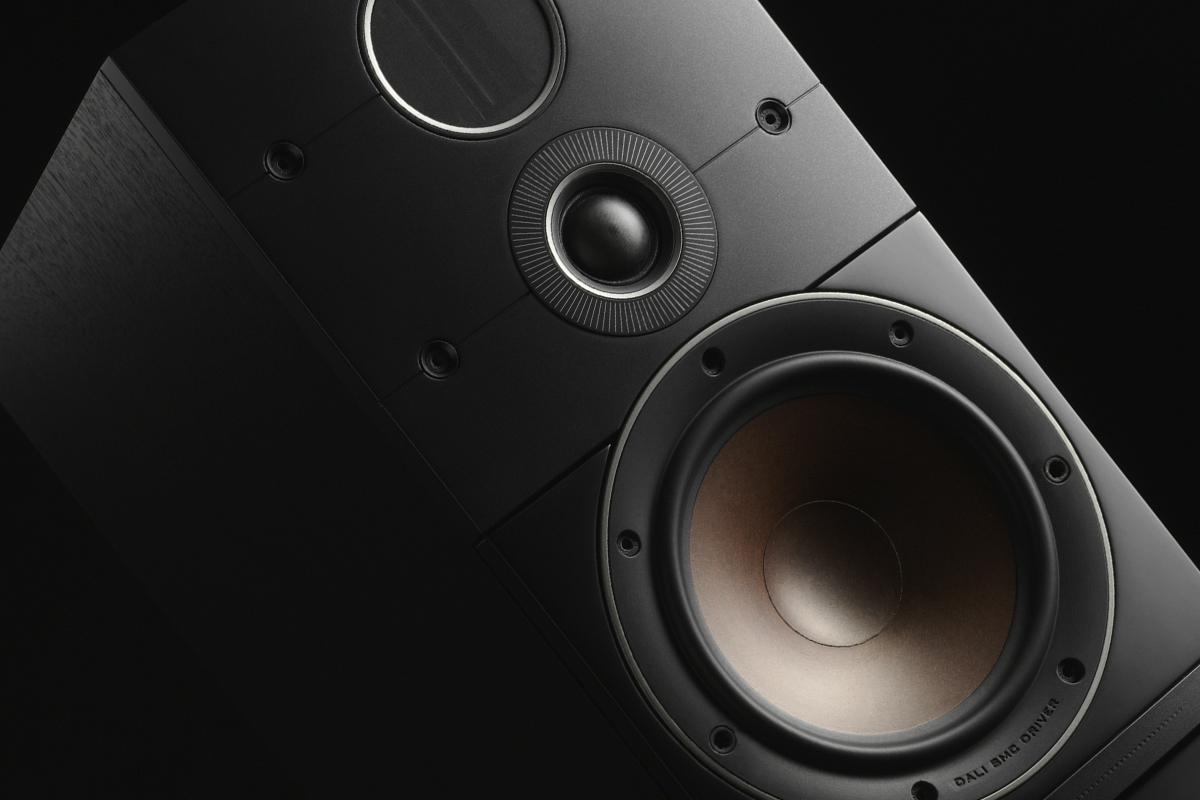 ECM's recordings are renowned for their spaciousness, a quality they share with this Callisto system. With The Other Side, a new jazz album by the Tord Gustavsen Trio (24/96 MQA, ECM/Tidal), the Callisto system presented the piano, bass, and drums on a huge soundstage that extended well beyond the front wall of my living room. These Norwegian musicians all have wonderfully deft touches, which the Callisto system highlighted beautifully. Its organic, tactile character was perfect for this record.
Comparisons
As it happens, I own two other stand-mounted active speaker systems made in Denmark, both from Dynaudio. One useful feature of both the Xeo 4 and Focus 200 XD is the ability to control the low-frequency output in situations in which one or both speakers are placed close to a corner or rear wall. DALI's Callisto speakers lack this feature. Dynaudio's active speakers also have more attractive finishes than the Callisto models -- the veneers on the Focus XD series are gorgeous.
On the other hand, if you buy a Callisto system with the BluOS module, you have everything you need for hi-rez digital playback. With Dynaudio's active digital speakers, you have to purchase the separate Connect wireless transceiver and then add a digital source, such as a PC, Mac, or music server.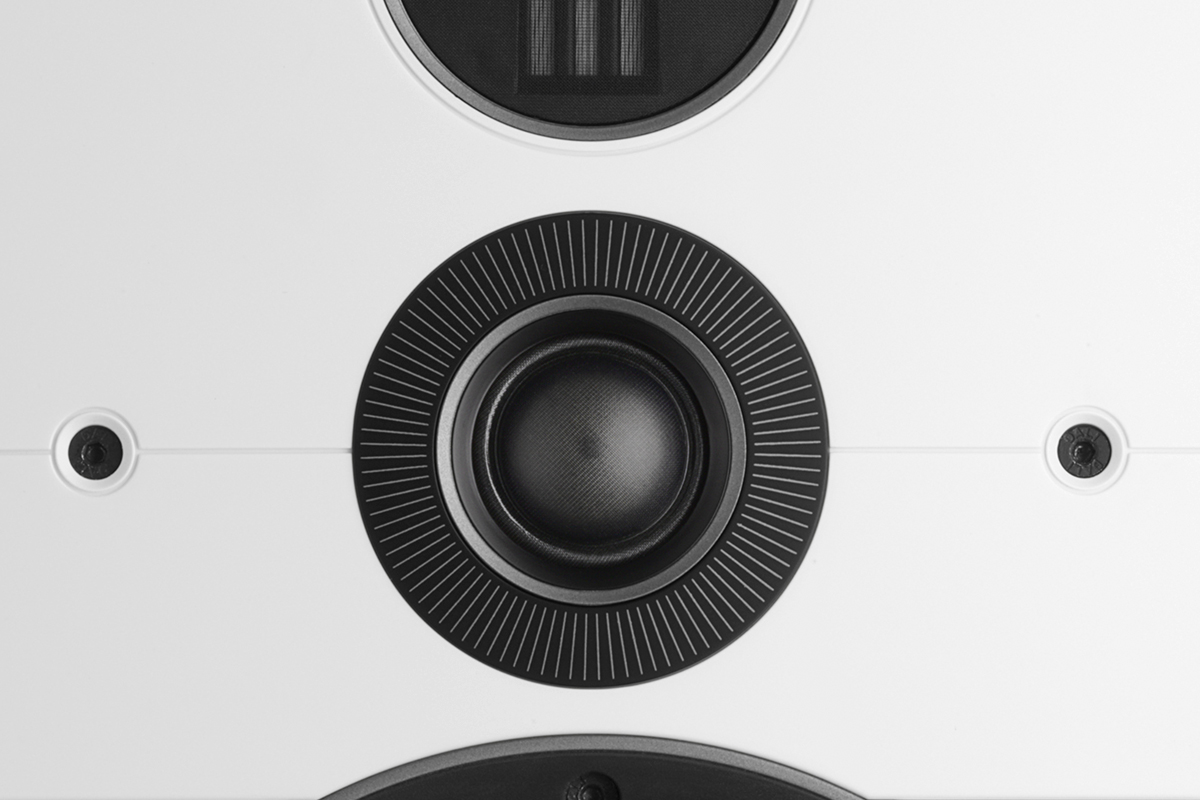 But this cuts both ways. With the Dynaudio systems, you can use a PC or Mac as your primary music source, and use whatever music-management software you wish. The Callisto system doesn't have that degree of flexibility.
Dynaudio Xeo 4: This model has just been replaced by the Xeo 20, which has upgraded cosmetics, more amplifier power, and enhanced connectivity. The driver complement remains unchanged: a 5.5" midrange-woofer and 29mm soft-dome tweeter. The new model sells for $2200/pair. Add a Connect box, and the price is still two grand south of the Callisto system with BluOS module.
Compared to the Xeo 4, the Callisto 2 C had better macro- and microdynamics. The Xeo 4 sounded compressed by comparison. Bass was deeper and snappier through the Callisto 2 C. With Ahmad Jamal's 2017 album Marseille (24/96 FLAC, Jazz Village/Qobuz), bass was indistinct through the Xeo 4s compared to the Callisto 2 Cs, which made it more difficult to differentiate the double bass from the kick drum. Given the difference in size and price, that shouldn't come as a surprise.
Dynaudio Focus 200 XD: My Focus 200 XD system has the latest firmware update, making it sonically and functionally identical to the newer Focus 20 XD. These Dynaudio two-way stand-mounters employ a 6.7" woofer and 28mm soft-dome tweeter, each driven by a 150W amplifier.
The Focus 20 XD sells for $6000-$6500/pair, depending on finish. Add a Connect transceiver and you're about $2000 north of the Callisto 2 C. Sonically, this was much more of a horse race than the price difference would indicate.
In the Hamelin-Andsnes recording of The Rite of Spring, piano attacks were sharper through the Focus XD system, which did a better job of delineating the pianists' runs and arpeggios. On the other hand, the Callisto 2 C more convincingly presented the sheer power of two concert grands, and threw a deeper image.
Not surprisingly, the New Dutch Academy's recording of Corelli concerti grossi sounded better through the Focus 200 XD. Strings had more resiny bite, and instruments in the dense basso continuo section were more clearly separated from one another.
Conclusion
The fact that DALI's Callisto 2 C active speaker holds its own against a highly regarded competitor costing about $2000 more is awfully impressive. Overall, I prefer the Dynaudio Focus XD system for its greater clarity and articulation -- but I couldn't argue with anyone who preferred the Callisto system.
The choice will come down to voicing, connectivity, and functionality. If you're looking for a thoroughly modern active speaker system, and gravitate to sound that's big, warm, and inviting, the Callisto 2 C system deserves serious consideration. It merits a solid recommendation and a Reviewers' Choice award.
. . . Gordon Brockhouse
This email address is being protected from spambots. You need JavaScript enabled to view it.
Associated Equipment
Speakers -- Dynaudio Focus XD 200 (with latest firmware update) with Stand 6 and Connect module, Dynaudio Xeo 4 with Stand 3 and Xeo Hub
Sources -- Apple MacBook Pro running Audirvana Plus 3.2.8, Mac Mini running Audirvana Plus 3.2.8
Cables -- AudioQuest Cinnamon Ethernet cable and USB link
DALI Callisto 2 C Active Speaker System
Price: $4750 USD, with DALI Sound Hub and BluOS module.
Warranty: Two years parts and labor.
DALI
Danish Audiophile Loudspeaker Industries
Dali Allé 1
9610 Nørager
Denmark
Phone: +45 9672-1155
E-mail: This email address is being protected from spambots. You need JavaScript enabled to view it.
Website: www.dali-speakers.com