In the last three years, Danish Audiophile Loudspeaker Industries (DALI) has introduced active versions of models from three of its speaker series:
In 2018, DALI launched active versions of two models from its middle-tier Callisto line. That November, when I reviewed the Callisto 2 C active minimonitor ($3900/pair, all prices USD), I admired their effortless dynamics, superb imaging, and warm, inviting sound.
In late 2019 DALI went upmarket, announcing active versions of two models from its premium Rubicon series. In reviewing the Rubicon 6 C active floorstander ($7900/pair) in March 2020, I concluded that "if you . . . are looking for a high-performance, self-contained music system for under $10,000, these are speakers you have to hear." Both the Callisto 2 C and Rubicon 6 C received Reviewers' Choice honors.
The active Callistos and Rubicons have RCA line-level inputs on the back of each speaker, for connection to a preamp. But they're really intended to be used with DALI's Sound Hub ($899), a small component with one coaxial and two optical S/PDIF inputs, 3.5mm and RCA line-level analog inputs, subwoofer output with 100Hz low-pass filter, preamp outputs, and support for Bluetooth's AAC, aptX, and aptX HD codecs. The Sound Hub transmits 24-bit/96kHz digital audio from any connected source to a pair of active DALI speakers.
The Sound Hub has two expansion bays that can accept optional modules such as the BluOS NPM-1 ($449). With the NPM-1 installed, the Sound Hub and associated DALI speakers can be used as part of a Bluesound whole-house music system controlled with the BluOS app running on an iOS or Android device. This way, you can play music from any streaming service supported by BluOS, or from a connected USB or network drive. Like other BluOS devices, the NPM-1 can unfold and decode MQA-encoded files from Tidal's Masters tier.
In late 2020, DALI shifted its sights downmarket, announcing active versions of three affordable Oberon-series speakers, all of which can also work with the Sound Hub: the Oberon On-Wall C ($899 each), the Oberon 7 C floorstander ($2499/pair), and the subject of this review, the Oberon 1 C bookshelf ($1499/pair).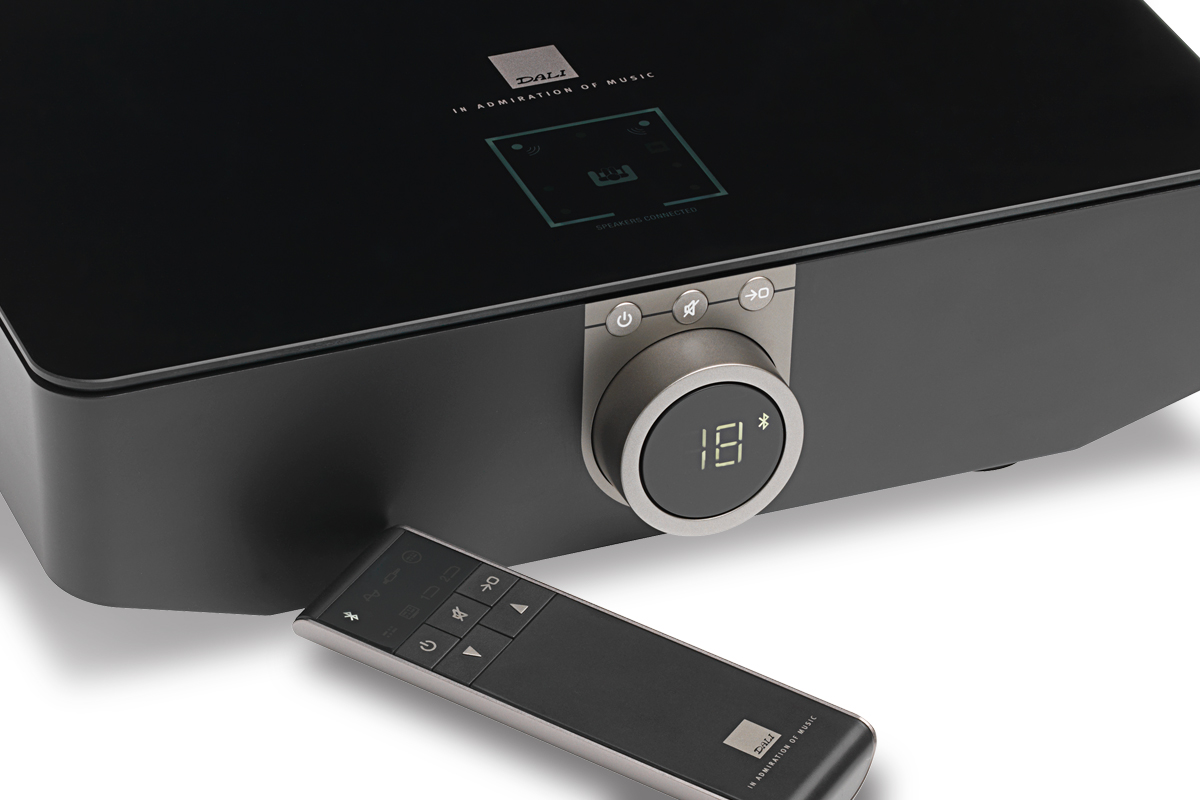 At the same time, DALI announced the Sound Hub Compact ($449), which has one pair of RCA analog inputs, two optical S/PDIF inputs, an HDMI input with Audio Return Channel (ARC), a subwoofer output, and Bluetooth connectivity. The Sound Hub Compact can be used with DALI's Callisto C and Rubicon C active speakers, as well as the new Oberon C series. But it has no expansion bays, so it won't work with the BluOS NPM-1 module.
Outside . . .
From the front and sides, the active Oberon 1 C looks identical to the passive Oberon 1 ($599/pair), with which it shares the same outer dimensions of 10.8″H x 6.4″W x 9.2″D and the same drivers: a 5.25″ midrange-woofer with wood-fiber cone and a 1.14″, ferrofluid-damped, fabric-domed tweeter. The speaker weighs 9.7 pounds.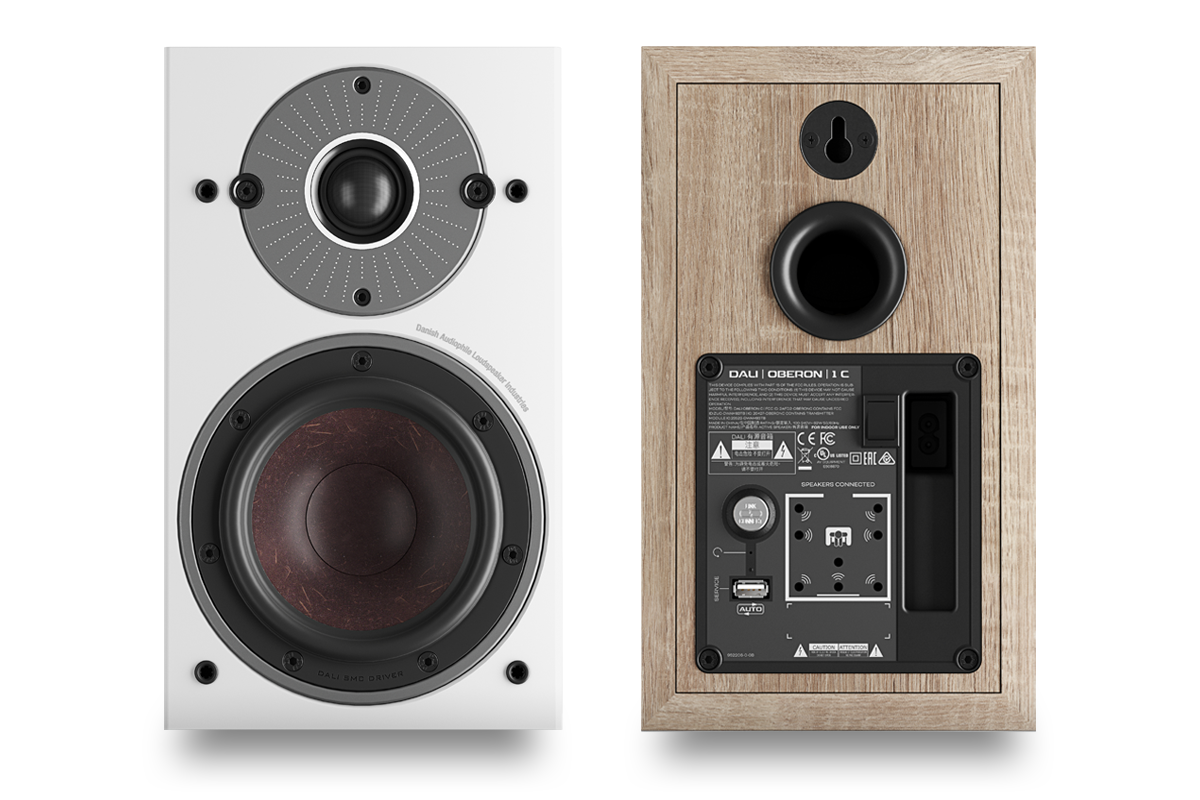 That midrange-woofer uses DALI's Soft Magnet Compound (SMC) technology, in which the driver's iron pole piece is crowned with an electrically nonconductive disc. DALI claims that the SMC disc reduces third-order harmonic distortion, while the tweeter's unusually large diaphragm and voice-coil increase its sensitivity and power handling while reducing distortion.
The enclosure's MDF panels are joined by corner fillets that add rigidity. The large, dual-flare, rear bass port minimizes turbulence, distortion, and compression.
There are keyhole slots on the back of each speaker to permit wall-mounting, for which adhesive rubber spacers are supplied. The Oberon 1 C can also be placed on a shelf or, as DALI recommends, on a stand. Adhesive pads for shelf and stand placement are included.
All Oberon speakers, active or passive, are available in four laminate finishes: matte White, Black Ash, Dark Walnut, and Light Oak. Peg-attached grilles are supplied. For this review, Lenbrook Group, DALI's North American distributor, supplied a pair of Oberon 1 Cs in Light Oak, along with a Sound Hub with pre-installed BluOS NPM-1 module. I was impressed with the quality of the textured vinyl finish. Up close, there was no mistaking it for real wood, but from a couple of feet away it looked like the real thing. The warm white baffles, visible behind the dark gray grilles, beautifully complemented the Light Oak top, bottom, and side panels.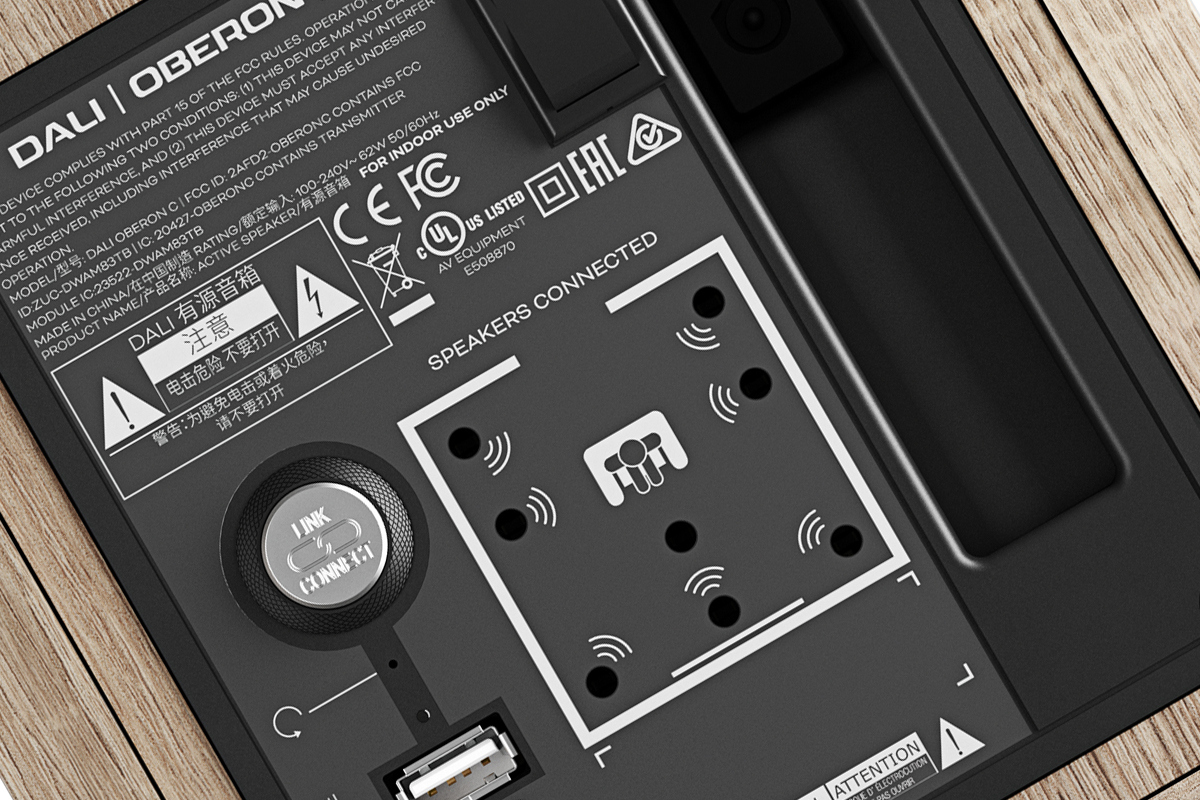 Instead of the binding posts found on the back of the passive Oberon 1, the Oberon 1 C has a panel with a two-prong AC inlet, an on/off switch, a Link & Connect button for pairing the speaker with a Sound Hub or Sound Hub Compact, and a small display showing the current channel assignment.
. . . and inside
Behind that rear panel is an electronic module containing a wireless receiver, a digital signal processor, two class-D amplifiers, and a switch-mode power supply.
The Sound Hub (or Sound Hub Compact) communicates with the Oberon 1 Cs using a proprietary 30-bit protocol, sending them uncompressed 24/96 audio, along with control data for error correction, volume setting, and speaker identification. DALI claims that the latency from input to speaker "is typically less than 15msec," and that the timing between channels is accurate to one sample, which at 96kHz is just over 10 microseconds. Latency and interchannel timing errors shouldn't be problems.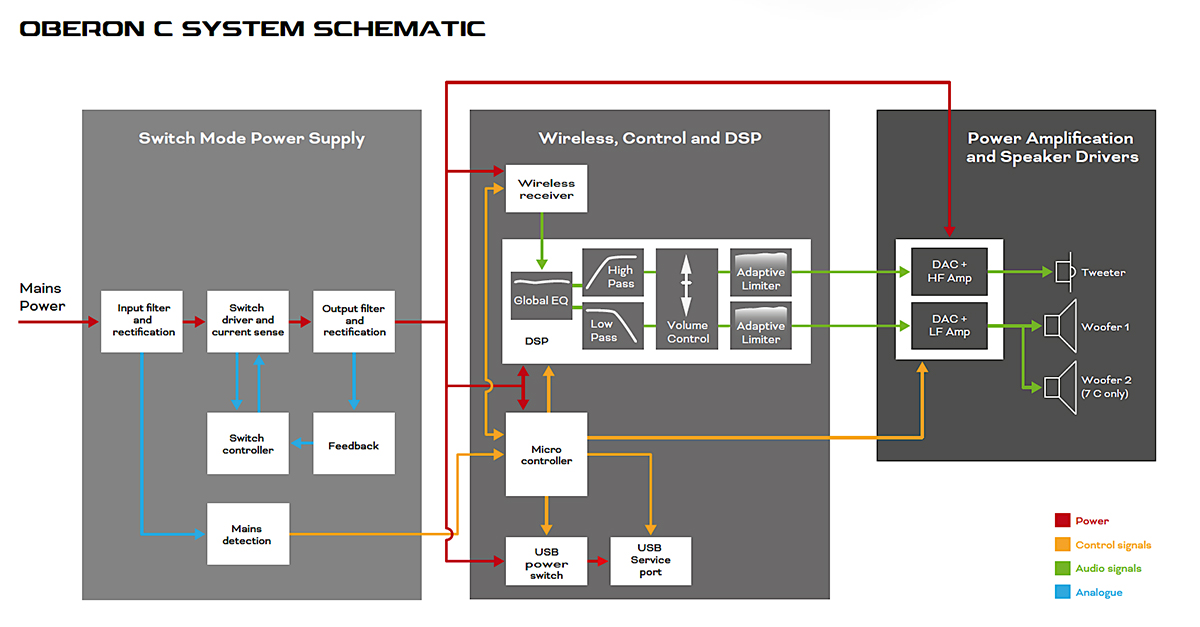 From the wireless receiver, digital audio flows to the speaker's digital signal processor, which first applies tonal equalization tailored for that specific model of speaker, then dynamic EQ based on program content and volume setting. This keeps the midrange-woofer operating within its limits, to minimize distortion and maximize bass output.
The DSP also implements the crossover, splitting the data into a low-pass-filtered stream for the mid-woof and a high-pass-filtered stream for the tweeter. Volume adjustment is made at the end of the digital signal chain, to maintain 24-bit resolution at all volume levels. From there, the signal flows to adaptive limiters that protect the drivers from being overloaded, and then to the class-D amps, one each for the midrange-woofer and tweeter, each specified to output 50W peak power.
Per DALI's white paper on the Oberon C series, "active amplification and DSP filter technology made it possible to create in the Oberon C speakers a level of performance significantly higher than their passive speaker counterparts." The advantages include deeper bass response. The Oberon 1 C's specified frequency response is 39Hz-26kHz, ±3dB, compared to the passive Oberon 1's 51Hz-26kHz, ±3dB.
Setup
I tested the Oberon 1 Cs in the small basement family room of our vacation home, a townhouse in Southampton, Ontario. Placed atop a pair of Dynaudio Stand 2 speaker stands, the DALIs were 30″ from the wall behind them, 7′ apart, and 7′ from my listening chair. DALI doesn't recommend toe-in, so I pointed the speakers straight ahead.

Most listeners will be able to get up and running using the Quick Start Guides packaged with the Sound Hub and Oberon 1 Cs, which are heavy on IKEA-style hieroglyphics but light on written instructions. For users who want more detailed guidance, a full manual is available online.
Per the speakers' Quick Start Guide, I connected them and the Sound Hub to the mains power and turned them on. To pair them, I pressed the Link & Connect button first on the Sound Hub, then on the left speaker, then repeated that process for the right speaker. A backlit display on the top of the Sound Hub confirmed that both speakers had paired successfully. Easy-peasy.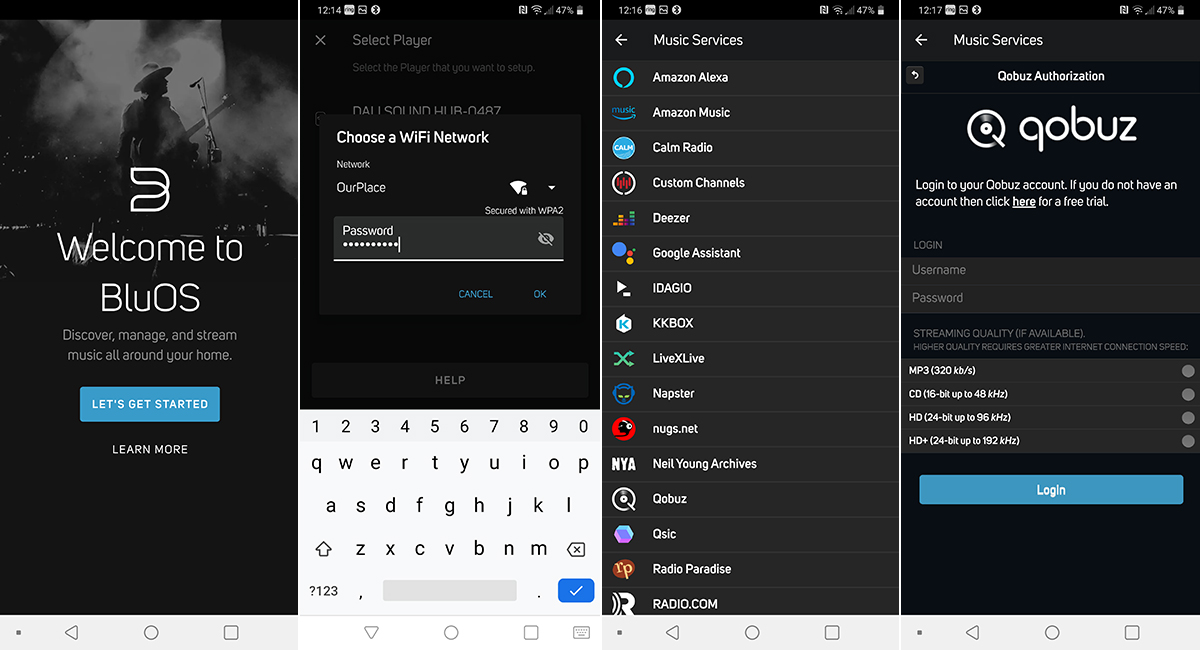 The next step was to connect the NPM-1 BluOS module to my Wi-Fi network. I selected Add a Player in the BluOS app on my iPhone 8, and was instructed to go to the iOS's Wi-Fi Settings menu, select the hotspot created by the BluOS module, then return to the BluOS app. BluOS detected the Sound Hub, but my network didn't appear on the list of available Wi-Fi networks. I found this weird, as my MacBook Pro laptop computer and my iPhone 8 and LG G7 ThinQ smartphones were all receiving a strong signal from the same network.
I had no problem connecting the NPM-1 to my Wi-Fi network with the Android version of the BluOS app, which detected the Sound Hub, then prompted me to choose my network from a list and enter the network password. Success! Next, in the BluOS app, I chose the Music Services option; in the following screens I selected Qobuz, then entered my username and password for that service. It was time to listen.
But first, a case of hiccups
I ran into a bit of network weirdness. Sometimes my iPhone 8 refused to connect with the DALI BluOS module, even though both were on the same network; but my LG G7 ThinQ Android phone always connected. And when I began playing music using the Android version of the BluOS app, the iOS app would then connect to the Sound Hub's BluOS module. Go figure!
There was a more serious problem of frequent dropouts that lasted a second or less each. Sometimes, there would be 10 or 12 dropouts during a single five-minute track; other times, only one or two.
At first, I wondered if the problem was my network or Internet connection, as I was streaming from the Qobuz client in the BluOS app. But I connected an Adata 128GB SSD to the spare USB port on the BluOS module (the Wi-Fi dongle and extension cable are in the other port), and played music from the drive. The dropouts persisted when playing from the USB drive—not just with high-resolution (24/96) music, but with 16/44.1 FLAC files as well. Clearly, the problem was not my Wi-Fi network. The Sound Hub was in the same room as and about 10ʹ from the speakers, with no obstructions between them.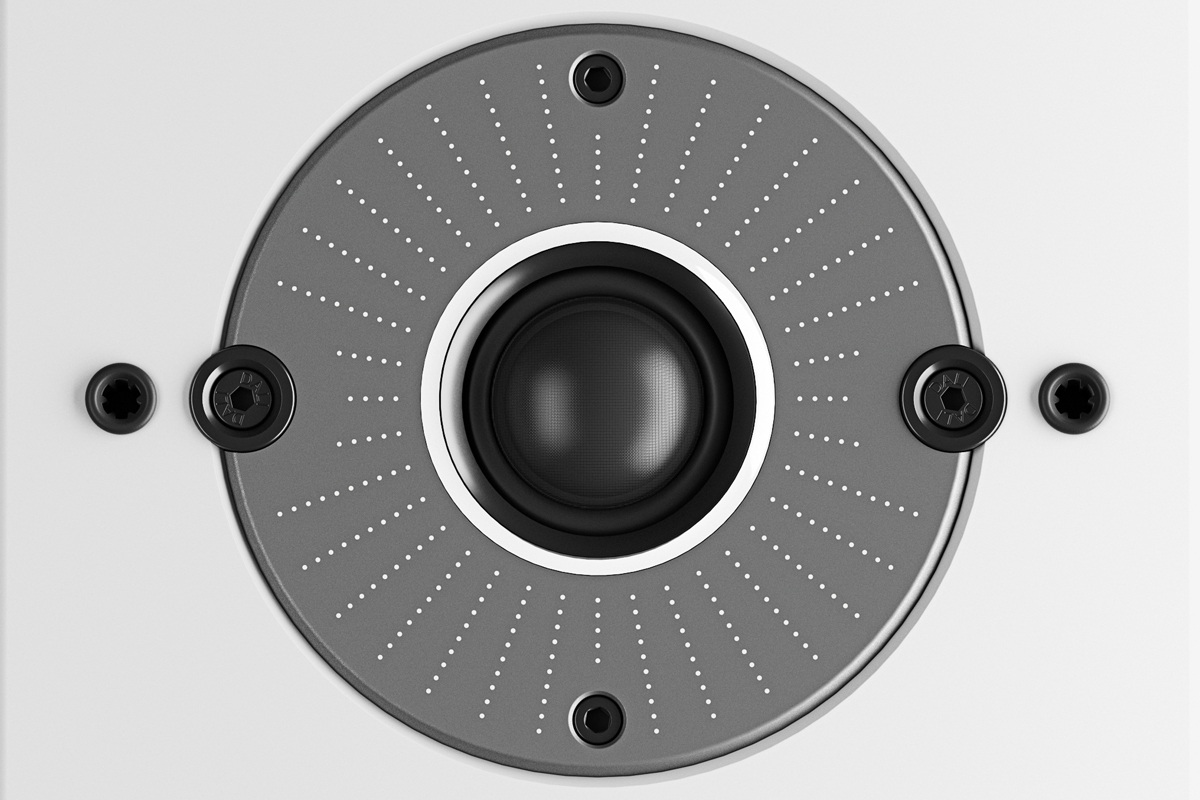 The dropouts also occurred when I later set up the Oberon 1 Cs and Sound Hub in our Toronto house—further confirmation that the network in our vacation place wasn't the problem. I also connected my MacBook Pro to the Sound Hub's optical input and played music stored on its internal SSD, so that I wouldn't be using the NPM-1 module at all. The dropouts persisted. The problem had to be the wireless connection between the Sound Hub and the Oberon 1 Cs.
On the off chance my review sample was defective, Lenbrook retrieved it and provided a second system. I set up the replacement system in my Toronto home, with the BluOS module connected to my home network. But I continued to experience dropouts, with both music streamed from Qobuz and music stored on an SSD drive. One other note: I never experienced dropouts when using the Sound Hub and BluOS NPM-1 module with DALI's Callisto 2 C and Rubicon 6 C speakers.
Listening
It's too bad about those hiccups, because I was really impressed with the sound that came out of these small speakers. They created a huge soundstage that extended far behind the plane described by the speakers' baffles, as well as far above the tops of their cabinets. Imaging was excellent, at times holographic. Instrumental and vocal timbres were consistently natural. Microdetail was excellent.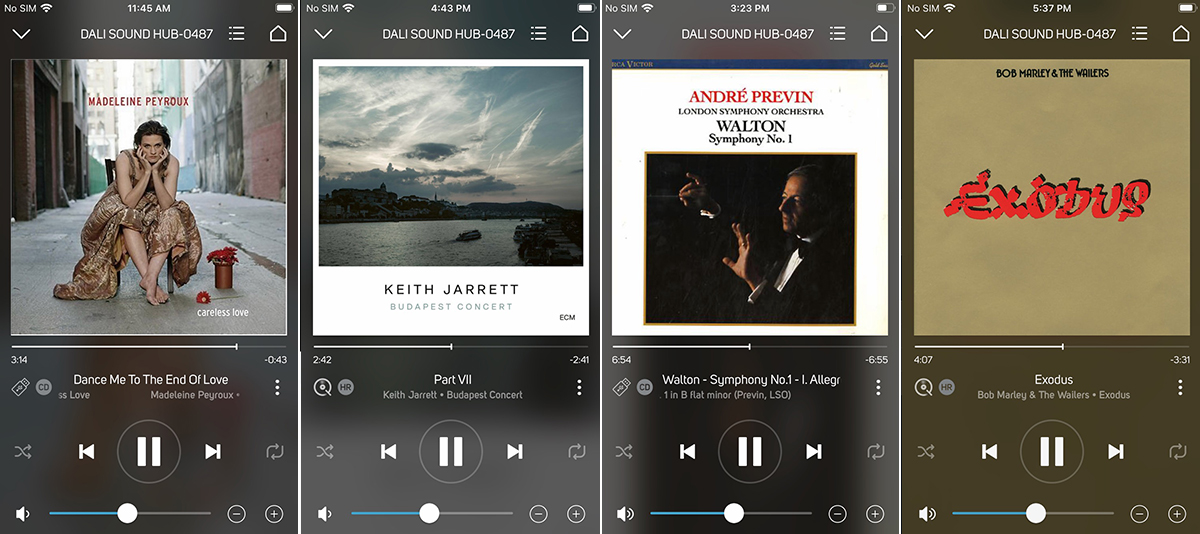 The huge soundstage thrown by the DALIs when I played Madeleine Peyroux's cover of Leonard Cohen's "Dance Me to the End of Love," from her Careless Love (16-bit/44.1kHz ALAC, Rounder), created an immersive atmosphere that well suited Peyroux's interpretation of this tragic song. Through the DALIs, it just swung, as if two death-camp inhabitants were quietly recalling long-past nights at a Berlin cabaret. Larry Goldings's piano stretched across the whole left side of the soundstage, and the little DALIs precisely reproduced the weight he gave each chord and phrase—the staccato attacks in his solo jumped into the room. Other instruments had natural timbres and precise locations: Dean Parks's muted acoustic guitar chords at left center, toward the back; Jay Bellerose's brushed snare at rear center; David Piltch's double bass at right center; and Golding's Etsey organ at far right. Peyroux's Billie Holiday-esque voice was locked at center, just a little behind the speaker plane, and the DALIs reproduced her consonants clearly and without exaggeration.
The little DALIs also re-created the huge soundstage of Keith Jarrett's wonderful Budapest Concert (24/96 FLAC, ECM/Qobuz). The tender, elegiac improvisation "Part VII" sounded meltingly beautiful: Piano timbre was natural, and consistent from top to bottom. The upper registers had a gorgeous crystalline quality, the lower registers surprising heft. With their excellent reproduction of microdynamics, the Oberon 1 Cs made it easy to appreciate Jarrett's phrasing and pedaling. His gentle attacks were conveyed without exaggeration, and the decays went on and on, reverberating through Budapest's Béla Bartók Concert Hall. I marveled at how the little DALIs unraveled Jarrett's rolled chords, each note separate but part of an organic whole. In his rollicking boogie-woogie improvising in "Part XII—Blues," the Oberons effortlessly tracked his staccato phrases and chords. This is a great album, and the little DALIs did it justice.
Other musical selections revealed the Oberons' dynamic limitations. DALI says the Oberon 1 C "is intended for smaller rooms where space is a precious commodity and volume levels are relatively modest." Indeed, the diminutive DALIs could sound harsh or congested when pushed hard.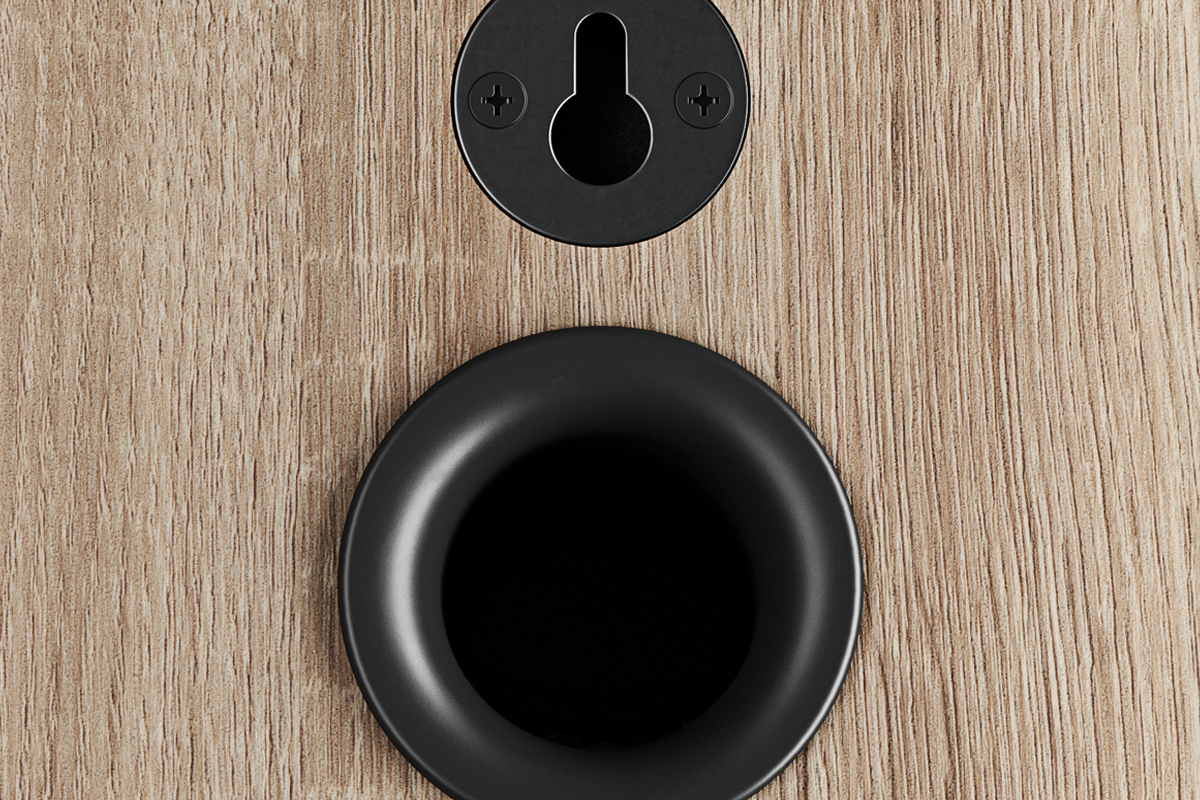 When I played André Previn's acclaimed 1966 recording of William Walton's Symphony No.1, with the London Symphony Orchestra (16/44.1 ALAC, RCA), the little Oberons again created a soundstage that was impressively wide and very deep. The infectiously jazzy first movement, Allegro assai, began very promisingly. The quiet timpani rolls at rear left had wonderful palpability—I could hear the initial attack of mallet on drumhead, followed by their rolling decay. The quiet entry of the horns, violins, and cellos, followed by solo oboe introducing the main theme, sounded gorgeous, and each instrument had a clearly defined position on that big soundstage. Instrumental timbres and textures were superb; especially the cellos, which had a wonderful woody growl. But the sound became a bit congested and hard in loud, dense sections; violins got a bit steely, brass strident, and flutes shrill. Dynamics were slightly compressed, as if the DALIs were starting to run out of gas.
The little Oberons' dynamic limitations became apparent on the titular track of Exodus, by Bob Marley and the Wailers (24/96 FLAC, Island/Qobuz). Played in our small basement family room at levels loud enough for dancing—as this track demands—the sound was harsh and congested, and it was hard to separate Marley from the backing singers. But when I turned back the wick, I heard a soundstage that evoked a big dance hall. At quieter levels, Carlton "Carly" Barrett's drums still hit satisfying hard—but Aston Barrett's Fender Jazz bass didn't pound enough, robbing the track of rhythm and momentum.
Comparison
I compared the DALI Oberon 1 C with another Danish active speaker: Dynaudio's Xeo 4. Like the Oberon 1 C, the Xeo 4 is a two-way, rear-ported minimonitor, but is slightly larger. It has a 5.5″ midrange-woofer and a 1.1″ soft-dome tweeter, each powered by a 50W amplifier. The Xeo 4 works with a companion wireless transmitter, the Xeo Hub, which has Mini-USB, TosLink and coaxial S/PDIF, and RCA and 3.5mm analog inputs.
The Xeo 4 and Xeo Hub have respectively been replaced by the Xeo 20 ($2499/pair) and Dynaudio Connect ($499). The Xeo 20 has the same drivers as the Xeo 4, but more powerful (65W) amplifiers, and rear-panel inputs that allow direct connection of digital and analog sources. The Xeo 4 has no direct connections—it must be used with a Xeo Hub or Dynaudio Connect. The Xeo 20 supports hi-rez audio to 24/96 with the Dynaudio Connect, compared to 16/48 for the Xeo 4 and Xeo Hub.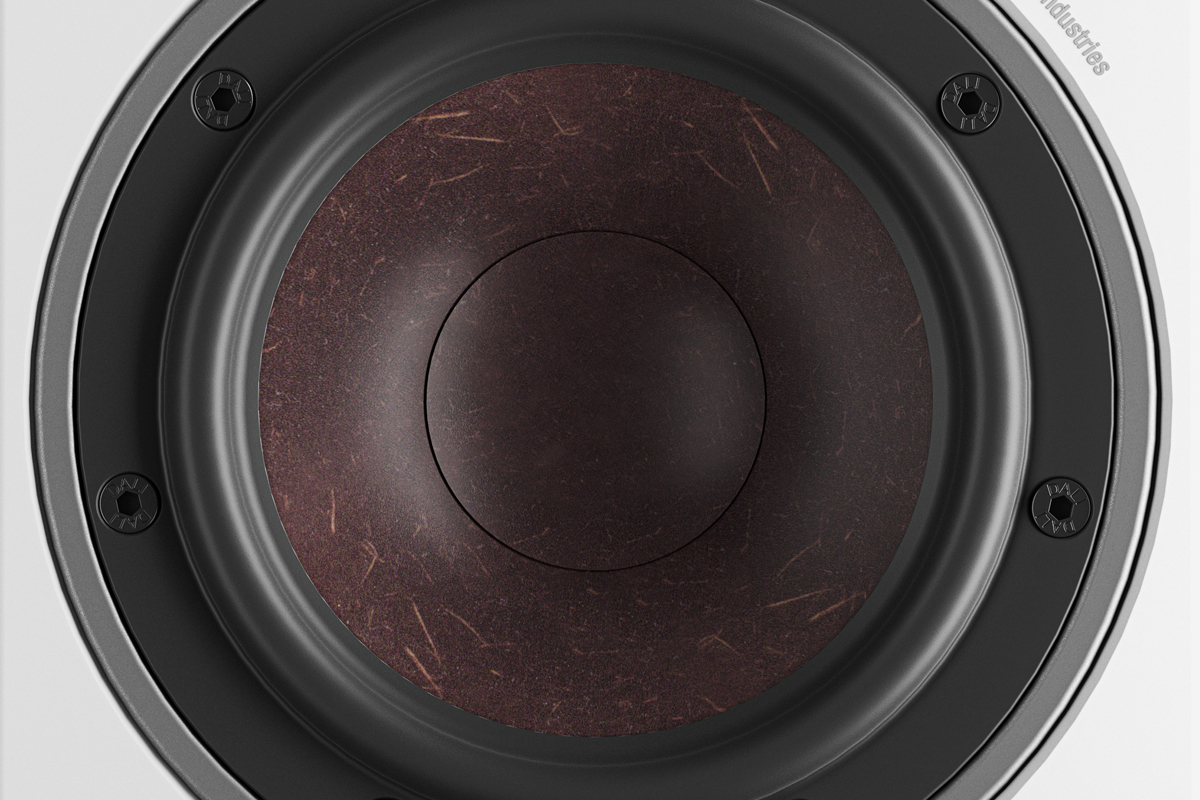 I played music through the Xeo 4s and Hub from a Pro-Ject Stream Box S2 Ultra streamer ($899) connected to the Hub's Mini-USB port. The current version of my Dynaudio setup (plus the Pro-Ject streamer) costs $1050 more than the DALI rig.
I experienced no dropouts at all with the Dynaudio system. With each musical selection, I matched the levels of the DALI and Dynaudio speakers to within 0.5dB using a pink-noise test tone and a sound-level app on my iPhone 8.
In Madeleine Peyroux's cover of "Dance Me to the End of Love," David Piltch's double bass and Dean Parks's acoustic guitar had more snap and body through the Dynaudios. While the soundstage wasn't quite as wide or as deep, instruments were more precisely positioned, which meant I could hear more deeply into the arrangement—through the DALIs, everything was a bit more mushed-together. Larry Goldings's staccato piano attacks were just as fast through the Dynaudios, but also more authoritative. Through the DALIs, I could hear more of Peyroux's enunciation—how she formed consonants—but her voice had a slightly more convincing flesh-and-blood quality with the Dynaudios. This song swung a bit more infectiously through the DALIs, and that big soundstage created more atmosphere. But the sound with the Dynaudios was smoother and thus more inviting.
Again, with the Walton symphony, the soundstage thrown by the Dynaudio Xeo 4s wasn't quite as deep or as high as the DALIs', but orchestral tone was weightier. While not louder, the quiet timpani rolls at the beginning of the first movement and the big thwacks at the end had more heft through the Xeos. In quiet passages, the DALIs presented orchestral textures with a bit more transparency—strings were more breathy. But in big dramatic moments, the advantage shifted to the Dynaudios. Here the sound was less congested, dynamics less compressed. Violins weren't steely and brasses weren't strident, as they'd been with the DALIs. Even as they blared impressively, horns and trumpets still had a lovely metallic glow through the Dynaudios.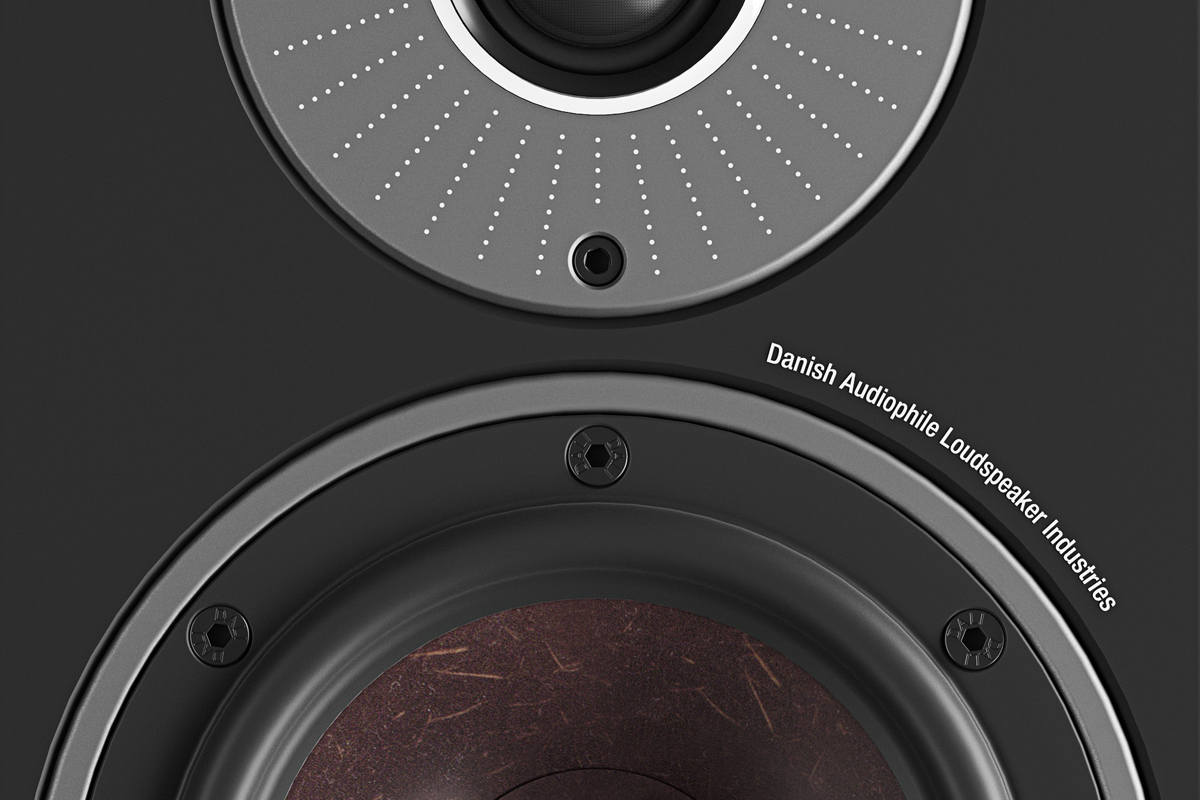 Jarrett's piano tone in Budapest Concert was fuller and more authoritative through the Xeos—I could more fully appreciate that he was playing a big Steinway grand—but the upper register wasn't quite as crystalline as through the DALIs, which threw a higher, deeper soundstage. The rollicking, boogie-woogie "Part XII—Blues" practically begs to be played loud, and the Dynaudios obliged, scaling up with ease. But when I turned up the DALIs' volume to similar levels, the upper register of Jarrett's piano became a little strident, the lower register a little thuddy, and the entire sound became more cavernous and compressed. The little DALIs recovered their composure when I turned down the volume to moderate levels.
With "Exodus," even at levels at which the DALIs were able to maintain some semblance of composure, Aston Barrett's Fender bass and Carly Barrett's drums hit harder through the Xeos. I was able to crank the Dynaudios to something close to party levels, and they were still able to present this dense mix without congestion—Marley's voice stood out better from the backing singers, who themselves were more clearly differentiated from each other. But the DALIs outperformed the Dynaudios in size of soundstage, more convincingly evoking a big London dancehall.
Conclusion
As I've said often on Simplifi, I love the convenience and flexibility offered by active wireless speakers such as DALI's Oberon 1 C. Put the speakers and transmitter in suitable places, plug them in, pair them, sit back, and listen—it's a pretty compelling proposition.
But Simplifi'd hi-fi isn't always simple, as illustrated by the dropout problem I experienced with the Oberon 1 Cs. As noted, I heard dropouts with two different systems in two different locations, over two different networks, with streamed and locally stored music, and with a hardwired source. I had no such problems with a similar competing system, nor with DALI's own Callisto 1 C and Rubicon 6 C when I reviewed those speakers.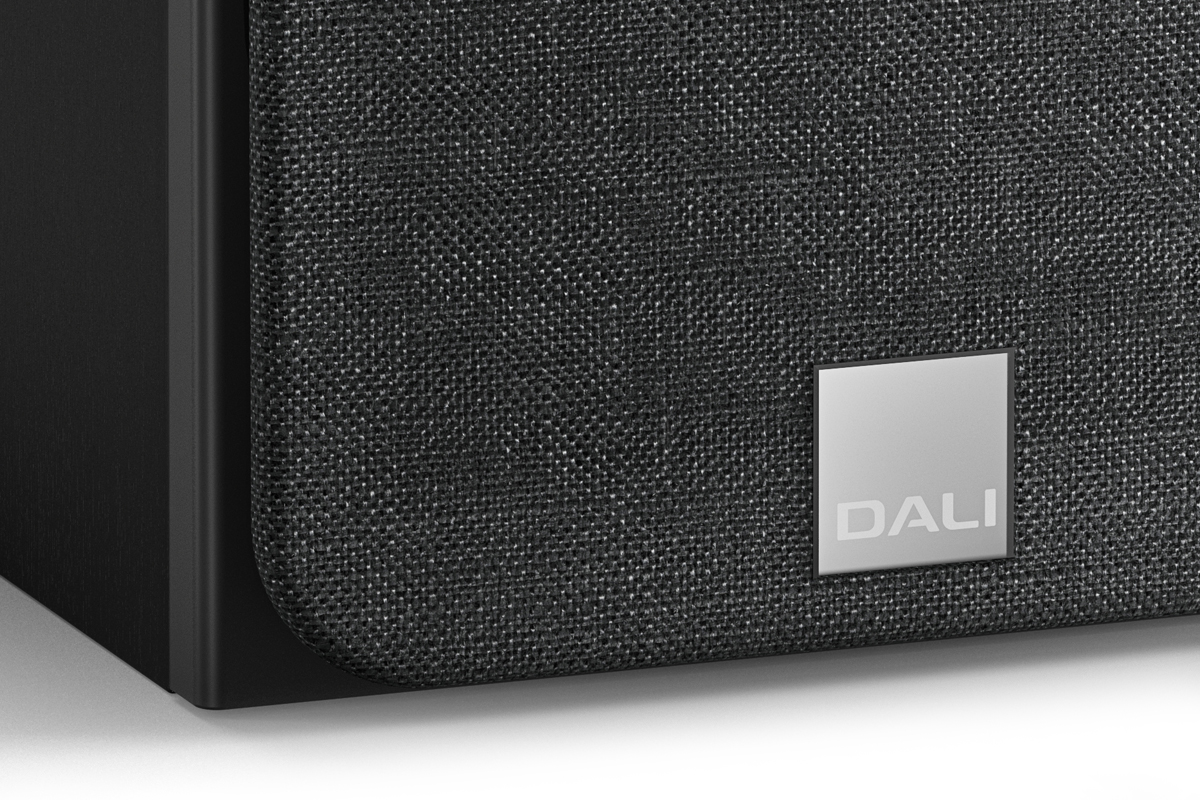 I hope my experience was atypical, because there's a lot to like about the sound of these active minimonitors: their huge soundstages, natural timbres, and exquisite microdetail. True, they're limited in how loud they can play, but for quiet listening and small rooms, DALI's Oberon 1 Cs could be just the ticket—as long as those dropouts don't interrupt your music.
. . . Gordon Brockhouse
This email address is being protected from spambots. You need JavaScript enabled to view it.
Associated Equipment
Active loudspeakers: Dynaudio Xeo 4 with Xeo Hub transmitter
Sources: Pro-Ject Stream Box S2 Ultra; Apple MacBook Pro laptop computer running Audirvana 3.20.0, connected to DALI Sound Hub via Belkin TosLink
Control devices: Apple iPhone 8, LG G7 ThinQ smartphones
Speaker stands: Dynaudio Stand 2
Network: Hitron CODA-4532 DOCSIS 3.1 Wi-Fi Gateway (Southampton); Google Wifi four-node mesh network (Toronto)
DALI Oberon 1 C Active Loudspeakers
Price: $1499 USD per pair.
DALI Sound Hub
Price: $899 USD.
DALI BluOS NPM-1 Module
Price: $449 USD.
Warranty (all): Two years parts and labor.
DALI
Danish Audiophile Loudspeaker Industries
Dali Allé 1
9610 Nørager
Denmark
Phone: +45 9672-1155
E-mail: This email address is being protected from spambots. You need JavaScript enabled to view it.
Website: www.dali-speakers.com