Is the Compact Disc on its last legs? It sure looks that way. According to the Recording Industry Association of America (RIAA), US sales of CDs fell 45.2% (units) and 47.6% (dollars) in the first half of 2020, compared to the same period a year earlier. In that same period, revenues from streaming grew 12%, to $4.8 billion—85% of recording-industry revenues in the US.
But while fewer and fewer music-lovers are buying CDs and SACDs, that doesn't mean they're not playing them. Many audiophiles have large collections on those formats, and even as they turn to streaming, they want to keep playing their shiny discs.
Aimed at these people are such components as Marantz's SACD 30n SACD/CD player ($2599, all prices USD). A two-channel disc player, it also has a full slate of digital inputs, all with support for high-resolution audio. You can connect a computer to its USB Type-B port and use it as a USB DAC, and other components to its coaxial and TosLink S/PDIF inputs. And it has Bluetooth, so you can stream from a smartphone.
The SACD 30n also has HEOS Built-in. HEOS is a high-resolution multi-room audio technology developed by Denon-Marantz, and is used in the two brands' network music products. With the HEOS app installed on an Android or iOS device, you can play music from, say, Amazon Music HD and Tidal through the SACD 30n. The player supports Apple AirPlay 2, so you can stream via AirPlay from an iOS device or Mac, or an iTunes library on a Windows PC. You can also stream to the SACD 30n music stored on your mobile device. And you can listen to Internet Radio, with or without the HEOS app.
You can also cue up music by voice. The SACD 30n supports the Amazon Alexa, Apple Siri, and Google Assistant voice-assistant protocols, as well as the less-well-known Josh.ai. (I've reviewed several components with voice support, and have never found this feature very useful.)
Marantz announced the SACD 30n in September 2020, along with the matching Model 30 integrated amplifier ($2599), specified to output 100Wpc into 8 ohms and sporting a moving-magnet/moving-coil phono stage. I think most buyers will combine these two models—but there are other possibilities. Obviously, you can mate the SACD 30n with any integrated amplifier or preamplifier. Or, if you use the player's variable line-level outputs, you can connect it directly to a power amplifier or, as I did, to a pair of active loudspeakers.
In any of these applications, the SACD 30n can serve as the hub for all your digital music, whether it's on a physical disc, stored on a computer or smartphone, or streamed from the Internet.
Inside and out
Measuring 17.4″W x 5.1″H x 16.7″D and weighing 29.75 pounds, the SACD 30n is a substantial piece of kit—you won't be hiding this baby on a lower shelf of a living-room end table. Like the Model 30 amp, the SACD 30n is available in two finishes: Silver-Gold, or the Black of my review sample.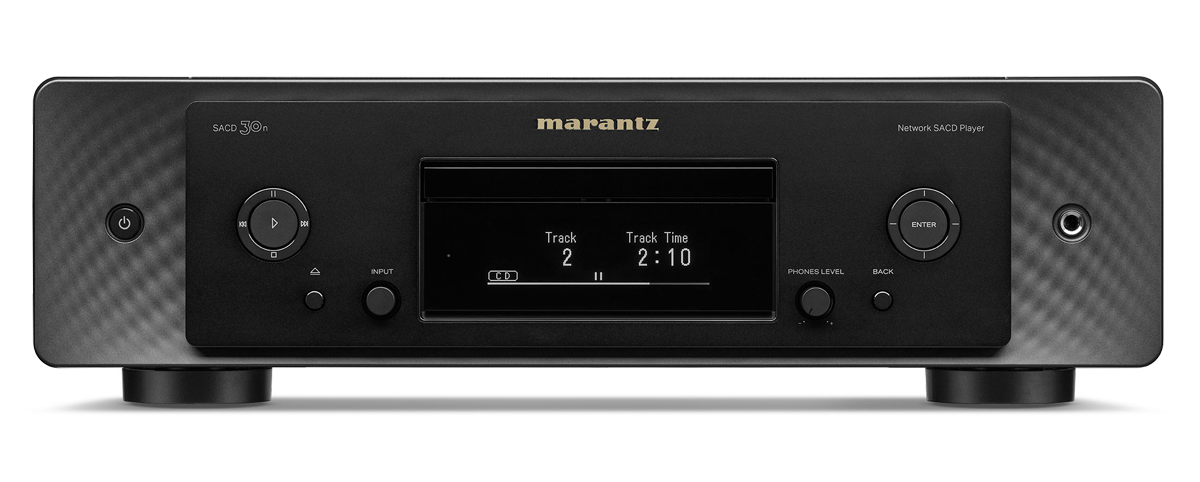 The build quality is exemplary. Like the Model 30, the SACD 30n has a steel top plate, with aluminum front and side panels. Both models depart significantly from Marantz's traditional design cues. Instead of side cheeks, each has a large, matte-finished control panel that stands about 0.3″ proud of the actual front plate, which has a textured diamond pattern.
On the left side of the SACD 30n's control panel is a circular cursor pad with a play button in the middle, and stop, pause/resume, and track-skip controls around the perimeter. To the right and slightly below this pad is a button for opening and closing the disc drawer, and to its right, a small Input knob. On the right side of the raised section is another cursor pad, this one for navigating the player's menus. To the left of that cursor pad is a Back button for exiting menus, and to its left, a volume knob for the headphone output. Smack-dab in the middle is the disc drawer and a dimmable, three-line OLED display.
The only things on the front plate proper are, respectively at far left and right, an on/off switch and a 1/4″ headphone jack. The front plate is subtly illuminated by light emanating from under the edges of the raised control panel: golden light with the Silver-Gold finish, cool white light with the Black. Using the menus or the remote control, this light can be dimmed or turned off entirely, though I don't know why anyone would choose the latter—it looks gorgeous.
At the top of the rear panel, on either side, are screw terminals for the supplied Bluetooth and Wi-Fi antennas. The SACD 30n supports only SBC and AAC, not the advanced aptX, aptX HD, or LDAC codecs.

At bottom left are two pairs of line-level RCA output jacks, one pair at fixed level, the other variable. Centered at the top are a USB Type-A port for connecting a USB drive or charging a mobile device, and an Ethernet port for connection to a home network. Farther right are coaxial and optical (TosLink) S/PDIF outputs and four digital inputs: USB DAC, coaxial, and two optical (TosLink).
At bottom right and working leftward are: a two-pronged IEC power inlet, in/out remote control jacks, an RS-232C port for use with home-automation systems, and terminals for an IR remote sensor.
The SACD 30n has a newly developed disc transport. In addition to CDs and SACDs, Marantz's SACDM-3L mechanism can play MP3, WMA, WAV, and DSD files burned to recordable CDs and DVDs. When a disc is not being played, power to the transport is cut off to reduce interference and noise.
When used as a USB DAC, the SACD 30n has maximum resolutions of 32-bit/384kHz PCM and DSD256; via coaxial and TosLink S/PDIF, the maximum resolution is 24/192. The SACD 30n can play WAV and FLAC files with up to 24/192 resolution, ALAC files up to 24/96, and DSD64 and 128 from an attached USB drive or streamed over a home network.
All digital streams are converted to DSD256 using the Marantz Musical Mastering (MMM) technology. PCM data are reclocked, then processed by a 32-bit floating-point DSP to produce a 1-bit/11.2MHz sigma-delta modulation stream. Those high-frequency pulses are then passed through the player's MMM Conversion Stage—a DSD-to-analog low-pass filter—to the analog circuitry.
The listener can use the player's menus to choose between two digital filters. Per a Marantz white paper on MMM conversion, "Filter 1 [provides] a slow roll-off and very short impulse response, the other [offers] the option of a medium roll-off with short pre-ringing and longer post-ringing." I tried both. Filter 1 sounded a little faster and sharper, Filter 2 smoother and more rounded. I did most of my listening with the default Filter 1.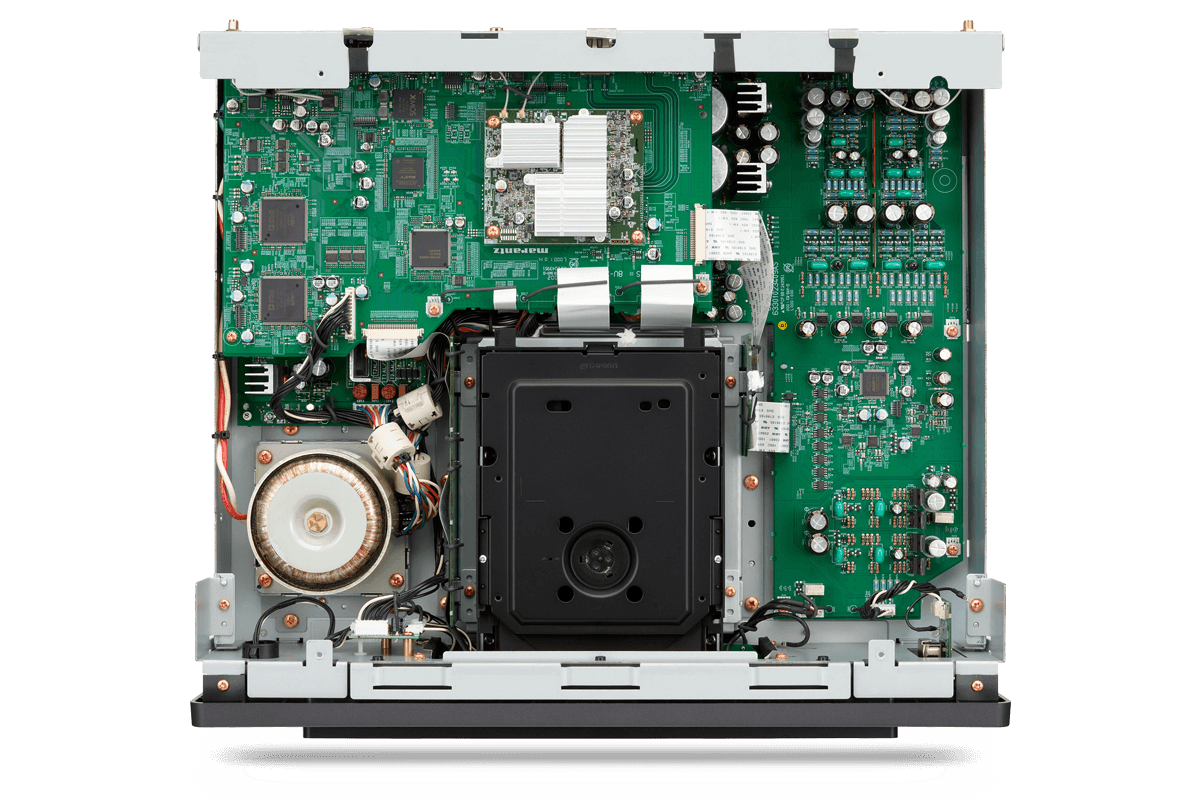 Included with the SACD 30n is a solid-feeling aluminum remote-control handset that can be used to control both the player and the Model 30 amplifier. You can use the remote to select inputs; stop, pause, and resume playback, skip forward and back; adjust and mute volume; navigate player menus; enter track numbers during disc playback and alphanumerical characters during network setup; and activate random or repeat playback.
Setup
As I mentioned at the start, my plan was to use the SACD 30n as a hub for playing music from all kinds of digital formats: CDs and SACDs, a drive connected to the USB Type-A port, my MacBook Pro laptop computer via its USB DAC, and Internet streams.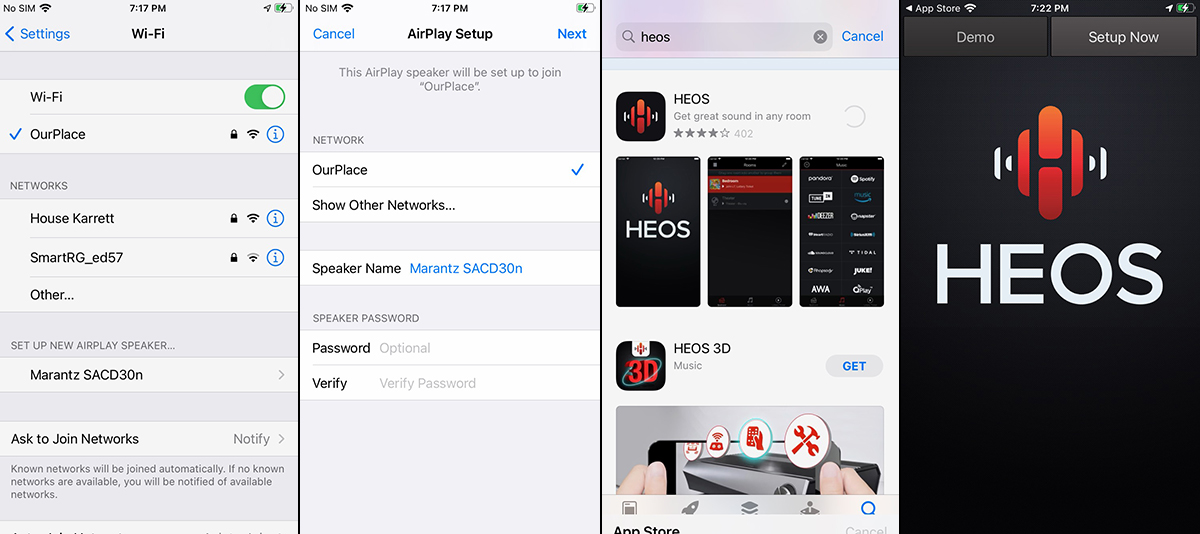 When you first power up the SACD 30n, you select the language, after which the player runs through a Quick Setup routine that takes just over a minute. The next step is to connect the player to your home network. There are four ways to do this.
The Wireless Accessory Configuration (WAC) option lets you confirm network information using an iOS device. This is the option I chose, and it was dead easy. Following a prompt on the SACD 30n's display, I opened the Wi-Fi Settings menu on my iPhone 8. Scrolling down, I saw an option for setting up the SACD 30n as an AirPlay speaker. I selected that, and in the next screen confirmed my network name. A few seconds later, I was connected.
Other options are using a wired connection to your router or an access point, Wi-Fi Protected Setup (WPS), and Wi-Fi Scan. If you have a WPS-capable router, you can just press the WPS button on the router, and the SACD 30n will automatically connect to your network.
Android users with non-WPS routers will have to use the Wi-Fi Scan option. After selecting your network from a list shown on the SACD 30n's display, you have to enter your password by tapping the number keys on the remote control—awkward! Unlike most streamers I've used, the SACD 30n doesn't offer automated network setup for Android users.
Network setup is covered somewhat cryptically in the Quick Start Guide packaged with the player. I strongly suggest that any buyer peruse the SACD 30n's interactive manual, which contains a lot of important information. You can read the manual online, or download a PDF version. For example, the full manual tells you how to adjust volume and activate mute using the supplied remote control—a function important to anyone connecting the player directly to a power amplifier or active speakers.

The SACD 30n's variable outputs are disabled by default. The Quick Start Guide explains how to enable them using the player's menus. After performing this simple step, I was able to adjust the volume using a slider control in the HEOS app, or the volume buttons on my Apple and LG smartphones while running HEOS. But I couldn't adjust volume with the SACD 30n's remote, even though the player's webpage says that this can be done.
Turns out there's another step, found on p.103 of the User Guide PDF but not mentioned in the Quick Start Guide. Out of the box, the remote handset is configured to control the volume of the Model 30 amplifier, which makes sense if you're using the two components together. To configure the remote to control the variable output of the SACD 30n, you have to press and hold for five seconds the remote's "2" and Enter keys. That done, I could use the remote to adjust and mute the SACD 30n's volume.
Software
To use the SACD 30n as a streamer, you need HEOS. With that app you can stream music to the SACD 30n from supported streaming services, and play music stored on the device running the app, or from network drives and USB drives connected to the SACD 30n's USB Type-A port.
I bailed on physical media several years ago, so for this review I borrowed from the Toronto Public Library a bunch of SACD/CDs of music I know well. I connected my early 2015 Apple MacBook Pro laptop computer to the SACD 30n's USB Type-B port, and played music using Audirvana Plus 3.2.20; I also connected a Samsung SSD loaded with music to the player's USB Type-A port and played them via the HEOS app. And I used HEOS to stream music to the SACD 30n from Tidal, and to play music stored on a microSD card in my LG smartphone.
I experienced a couple of software snags. Whenever I tried to use HEOS to view the contents of the Samsung drive by Artist, Album, or Track Name, all I got was an error message. I could, however, sort the contents of that drive by Genre; HEOS also let me view folders and files.
Although Marantz says DSD files can be played from a drive connected to the SACD 30n's USB Type-A port, with most of the DSD albums on that SSD all I got was cryptic error messages. I had problems with DSD albums I'd ripped from my SACD library using a hacked Sony PlayStation, and with albums I'd bought from download sites like Channel Classics. But a few DSD albums did play without problems. Go figure.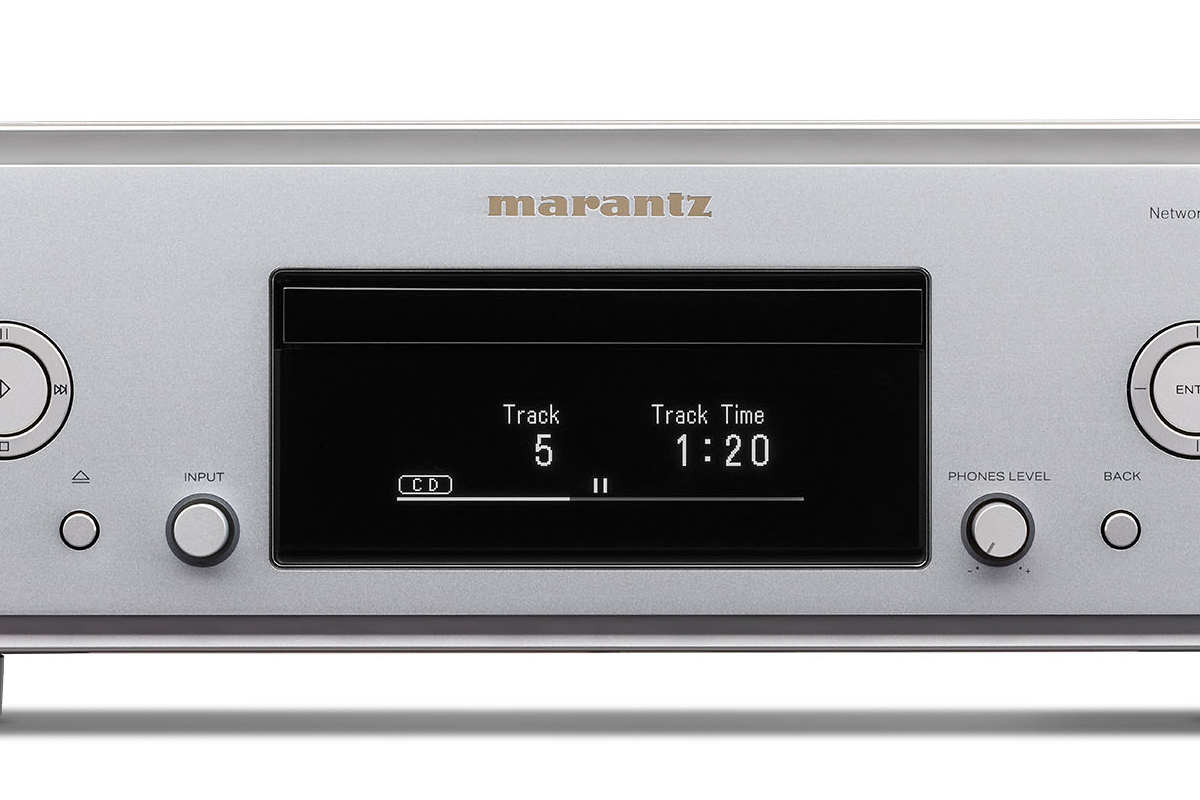 I reported these issues to Marantz's PR team. They asked me to send logs from the HEOS app, then set up a video meeting with two company representatives: global brand director Emmanuel Millot, and HEOS technical category director Nick Murrells.
After examining the player logs, Marantz engineers determined that some folders on that drive had invalid metadata. While other music-player apps might ignore invalid metadata and go ahead to sort by Album, Artist, or Track, the presence of just one file with invalid metadata rendered the HEOS app unable to access Album, Artist, or Track information for all files on the drive. "We haven't seen this before," Millot told me, "and it's something we have to fix."
Murrells e-mailed me a list of the albums that Marantz's engineering team had identified as having invalid metadata. It turns out that they were all DSD-encoded albums that could not be played through the HEOS app! After deleting those albums from the drive, I was at last able to sort the drive's contents by Album, Artist, and Track. But all along, I could play these files and view their metadata with other apps, such as Roon and Audirvana on my MacBook Pro, and the music-player app on my LG G7 ThinQ smartphone.
Listening through speakers
I connected the Marantz SACD 30n's variable analog outputs to the RCA inputs of my Elac Navis ARF-51 analog active speakers ($4599.96/pair) with AudioQuest MacKenzie interconnects. I enjoyed everything I heard from the SACD 30n. Its sound was revealing but never etched, warm and inviting but never bloated, muscular but never overbearing.
Playing an SACD of Prokofiev's ballet Romeo and Juliet, with Valery Gergiev conducting the London Symphony Orchestra (LSO Live LSO0682), I was bowled over by the SACD 30n's bold reproduction of the galumphing introduction to Dance of the Knights. The trombones and tuba accenting each phrase had tremendous power and bite, and the dramatic timpani strokes and snare rolls had fabulous impact—they just jumped from my speakers. This player had impressive dynamic chops. But the sound was never harsh, in fact the opposite: it was warm and inviting, as evidenced by the smooth, lush string tone. Solo and grouped instruments were precisely positioned on a soundstage that was high and wide but not especially deep.
I also admired the lovely, warm string tone in the introduction to the lyrical, tender Madrigal, the scene in which Romeo and Juliet first meet. Later in that section, when the strings swell to portray the lovers' growing passion, the lush string tone continued, the SACD 30n's sound scaling up effortlessly to convey this dramatic moment. Again, imaging was precise on a soundstage that was not especially deep.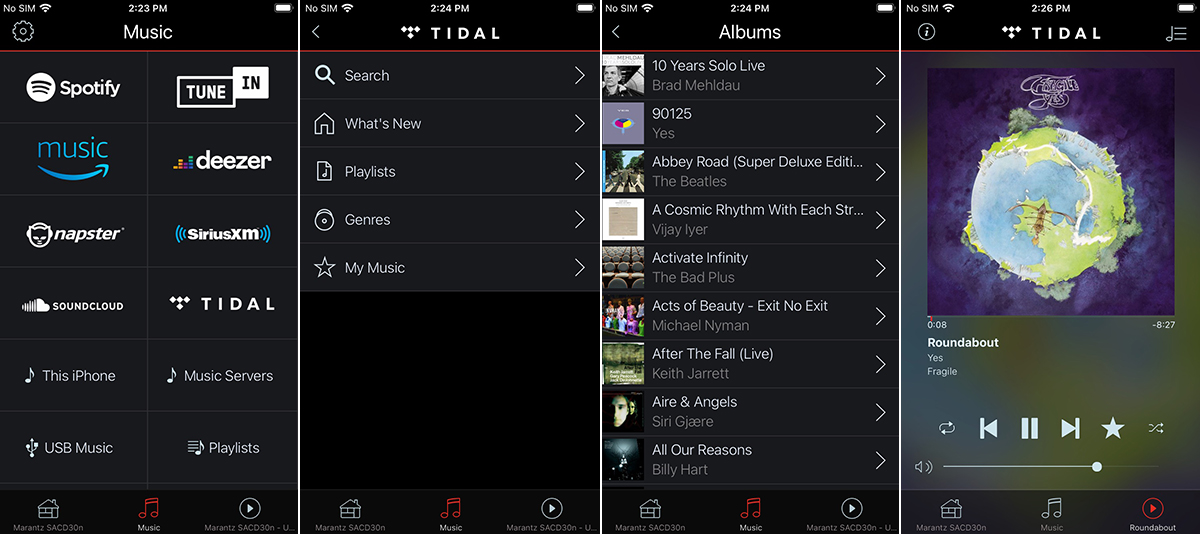 Streamed via HEOS from a microSD card on my LG G7 smartphone, the title track of the Tsuyoshi Yamamoto Trio's Misty (DSD64, Three Blind Mice) sounded glorious through the SACD 30n. Yamamoto's staccato right-hand notes and phrases in the upper register had near-explosive impact yet were never overbearing. The SACD 30n was just as satisfying with Yamamoto's legato left-hand accompaniment, delivering his gentle attacks and extended decays as convincingly organic wholes. I really liked the way the SACD 30n rendered Isoo Fukui's double bass: attacks were fast but not exaggerated, and segued into long, woody decays. Imaging was almost holographic, with Yamamoto's close-miked piano occupying almost all of the left side of the soundstage, Fukui's bass at center, and Tetsujiro Obara's brushed snare and cymbals at far right. Recorded in Tokyo's Aoi Studio in 1974, this album is an audiophile classic, and the SACD 30n did it full justice.
The SACD 30n's impressive drive and momentum really came through with "Roundabout," from the 2015 remastering of Yes's Fragile (16-bit/48kHz FLAC, Atlantic/Tidal). The song's intro, with Rick Wakeman's Moog chords swelling above Steve Howe's acoustic guitar, was pure magic. Wakeman's chords began at center, then expanded to fill the entire soundstage. The SACD 30n illuminated every aspect of Howe's guitar work: soft harmonics, quiet open notes, ringing chords. The SACD 30n again showed its dynamic chops in this track's dense central section, delivering the big wall of sound effortlessly. Chris Squire's trademark Rickenbacker bass and Bill Bruford's drums just pounded. And the SACD 30n threw a huge soundstage with this track: At the end, Jon Anderson's wordless singing at right and his bandmates' harmonizing at left extended far past my speakers' outer side panels.
Comparisons
I compared the SACD 30n with two other sources: exaSound's Sigma streamer ($750) and e32 Mk.II DAC ($2499, discontinued), and my NAD C 658 streaming DAC-preamp ($1649). When listening through the C 658, I turned off its built-in Dirac Live room correction. In both comparisons, I matched the volume levels to within ±0.5dB using a pink-noise test tone and a handheld SPL meter.
Streamed over my home network from my Mac Mini, which I use as a Roon server, to the exaSound combo, Prokofiev's Dance of the Knights sounded just as muscular as the SACD played through the Marantz, but more open and transparent—the violinists' bowings were more clearly conveyed, and their strings had more bite. On the other hand, string tone was a bit lusher through the SACD 30n. Timpani strokes were similarly powerful through both sources, but the initial strokes were a bit faster and harder with the exaSounds, a little blunter from the Marantz. The same was true of the tuba and trombones—the initial blast of each note was faster with the exaSounds.
The exaSounds' greater transparency was also noticeable in the tender Madrigal. Again, bowed strings were more clearly defined, so that I could more fully appreciate Gergiev's interpretive gestures—the Marantz sounded a little homogenized by comparison. On the other hand, string tone was lusher through the SACD-30n, a little steelier through the exaSounds.
Via Roon, the exaSound streamer and DAC created a deeper soundstage with the Yamamoto Trio's cover of "Misty." The pianist's staccato right-hand notes were just as explosive through the exaSounds, but also a bit more fleshed out, and I heard slightly more of their decay into the acoustic of the Tokyo studio. Similarly, with Isoo Fukui's double bass, the progression from attack to decay was longer and more natural.
Bear in mind that the exaSound duo costs $650 more than the SACD-30n, and lacks a disc transport.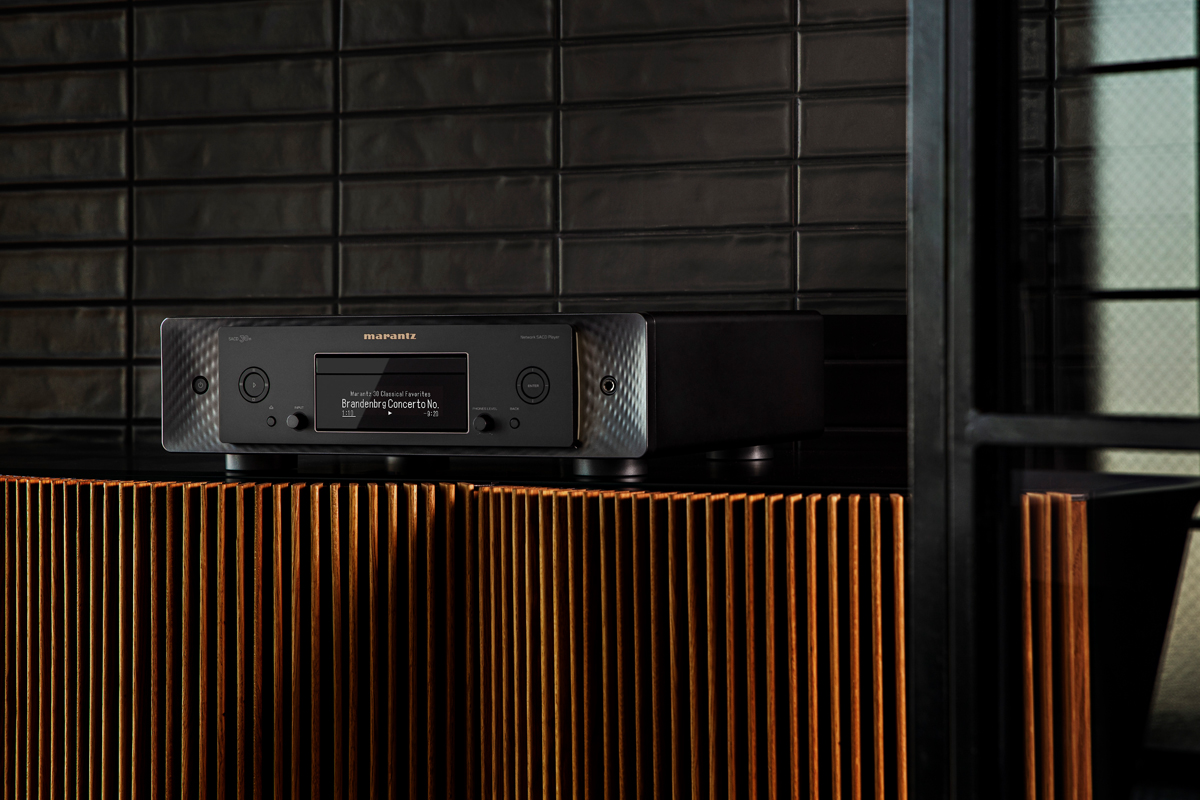 Like all products that use Lenbrook's BluOS multiroom streaming technology, the NAD C 658 includes MQA decoding—so the BluOS Tidal client played a 24/96 MQA stream of Yes's "Roundabout" rather than the 16/48 FLAC version streamed via HEOS to the SACD 30n. This track sounded livelier through the Marantz. Howe's acoustic guitar notes and chords had a bit more sparkle—attacks were faster, decays more extended. Squire's bass and Bruford's drums had a bit more punch through the SACD 30n. The NAD's reproduction of the dense middle section of this track was a little flatter and a bit edgier. The big wall of sound was denser through the C 658; the SACD 30n more clearly differentiated each element comprising that wall.
The C 658 costs $950 less than the SACD 30n. While it has no disc transport, it does have a phono stage and analog inputs, and the BluOS software platform is richer than HEOS. BluOS supports MQA—HEOS doesn't—and has built-in clients for many more streaming services. But HEOS has native support for DSD, which BluOS does not.
Listening through headphones
The SACD 30n's headphone amplifier employs an all-discrete module based on Marantz's HDAM-SA2 circuitry. This is the latest version of the company's Hyper Dynamic Amplifier Module; per Marantz, it delivers "wide dynamic range and wide frequency response with lowest distortion."
The headphone amp has three selectable gain settings, which Marantz says enables it to work with a wide variety of headphones. Setting Headphone Amp Gain to medium and the headphone volume knob to 12 o'clock was enough to deliver very satisfying levels with my HiFiMan Edition-X V2s—I'd have risked hearing damage had I increased the volume any more. For planars, the Edition-X V2s aren't especially demanding headphones to drive—rated sensitivity is 103dB and impedance is 25 ohms. Based on my experience, the SACD 30n should work well with more demanding, less-sensitive headphones.
As for the sound, it was excellent. Streaming Jennifer Warnes's cover of the late Jesse Winchester's "Fool for the Look (in Your Eye)," from the 2009 remastering of her The Well (16/44.1 FLAC, Impex), the SACD 30n produced the same inviting, muscular sound through my HiFiMan 'phones that I'd enjoyed from my Elac speakers. Vinnie Colaiuta's rim shots had fantastic impact, and Abraham Laboriel Sr.'s electric bass equally impressive punch. And the SACD 30n's headphone stage tracked Warnes's voice effortlessly and naturally.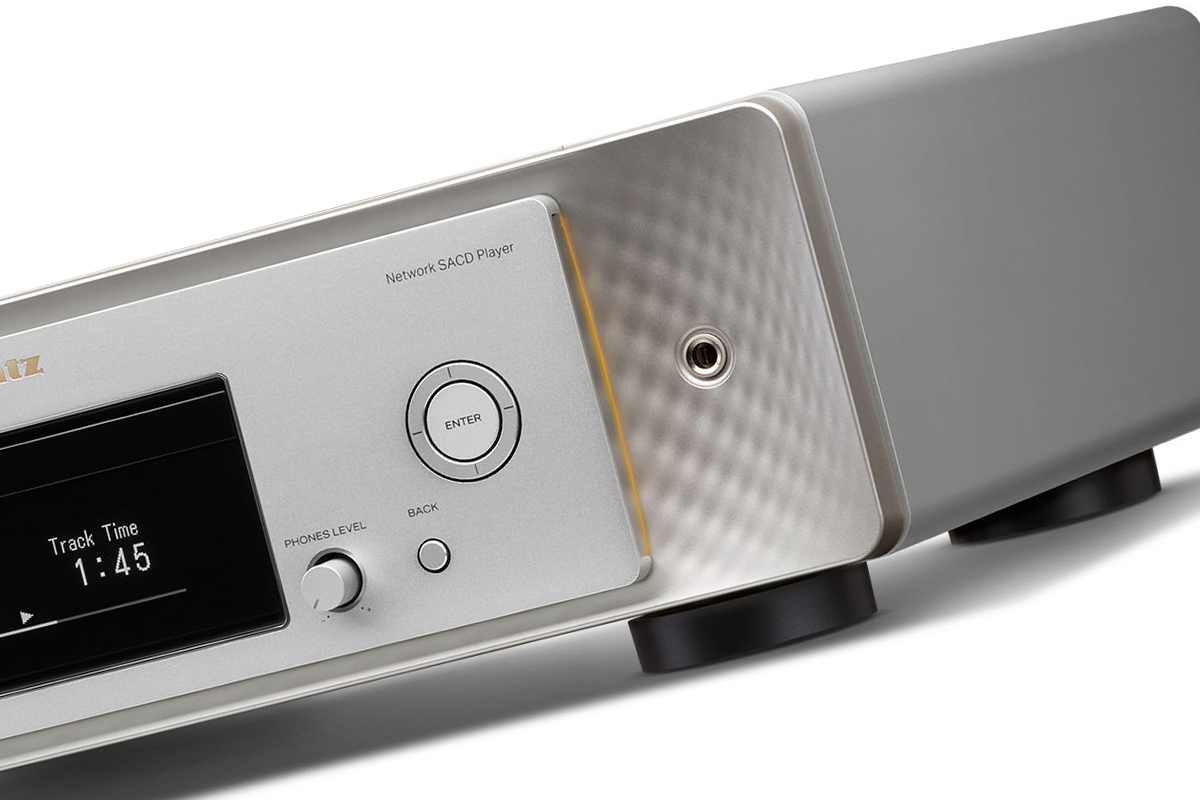 Through the headphone output of my NAD C 658, the same track was a little softer-edged. Colaiuta's drumming and Laboriel's bass were more muted—they had more punch through the SACD 30n. Dynamics were more compressed through the C 658's headphone output, and the sound was a bit more congested—the Marantz's headphone amp unraveled the mix more clearly than the NAD's. Through the SACD 30n's headphone output, the sound was bigger, livelier, more engaging.
Operationally, there are a couple of things worth noting about the SACD 30n's headphone output.
First, plugging headphones into the SACD 30n doesn't mute its line-level outputs. If you don't want to also hear music through your speakers, you'll have to turn off the amplifier or active speakers connected to its line-level outputs—alternatively, you could switch inputs on the amplifier or active speakers.
Second, you can't adjust the headphone volume with the remote control, or with HEOS or the volume controls on your smart device. The only way to adjust headphone volume is with the dedicated knob on the front panel.
These are minor quibbles. Bottom line: The SACD 30n has a seriously good headphone amplifier.
Conclusion
From the foregoing, it should be clear that I loved what I heard from the Marantz SACD 30n through my Elac active speakers and HiFiMan headphones. Throughout my listening, I admired the player's warm, inviting, muscular sound.
I experienced a couple of setup and software wrinkles. Android users who don't have WPS routers may find the awkward network-setup routine annoying. But network setup is something you have to do just once per disc player—it's not a daily challenge.
While I was disappointed by the inability of HEOS to display Album, Artist, and Track metadata for the music on my SSD, I very much appreciated Marantz's troubleshooting help and honest response—a refreshing contrast to the gaslighting I've occasionally received from other brands when I've raised problems with their software or connectivity. I experienced no other software or network hiccups with the SACD 30n.
If you're not bothered by the software issues I've raised and are looking for a single component that will let you play shiny discs, stream music from the Internet, and play music from your smartphone and computer, Marantz's SACD 30n should be high on your shortlist.
. . . Gordon Brockhouse
This email address is being protected from spambots. You need JavaScript enabled to view it.
Associated Equipment
Active loudspeakers: Elac Navis ARF-51
Headphones: HiFiMan Edition-X V2
Sources: exaSound Sigma streamer and e32 Mk.II DAC, NAD C 658 streaming DAC-preamplifier, LG G7 ThinQ smartphone, Apple MacBook Pro (early 2015) laptop computer running Audirvana Plus 3.2.20
Control devices: Apple iPhone 8, LG G7 ThinQ
Interconnects: AudioQuest MacKenzie (2m, 5m, unbalanced), Benchmark Media Studio&Stage (6′, 15′, balanced), XLO Pro XPA-2 (2m, balanced)
USB link: AudioQuest Pearl (2m)
Network: Google Wifi four-node mesh network
Marantz SACD-30n SACD/CD Player and Streaming DAC-Preamp
Price: $2599 USD.
Warranty: Five years parts and labor; three years, drive mechanism.
Marantz
Sound United, LLC
5541 Fermi Court
Carlsbad, CA 92008
Phone: (844) 298-5032
Website: www.marantz.com