The American brand Audio Alchemy was founded in the 1980s and folded a decade later. It re-emerged in the early 2000s, and was purchased by Elac in 2016, where it has undergone a renaissance. Audio Alchemy founder Peter Madnick now acts as a consulting engineer for Elac, and is responsible for developing Elac's Alchemy series of electronic components, now in their second generation.
Launched in early 2019, the new Alchemy series comprises the PPA-2 phono preamp ($1249.98, all prices USD); the DPA-2 class-D power amp ($1899.98), specified to output 225Wpc into 8 ohms at 1% THD; and the product reviewed here, the DDP-2 streaming DAC-preamp ($3099.98).
The Alchemy DDP-2 is uncommonly flexible -- it sports virtually every analog and digital interface under the sun, along with built-in Wi-Fi and Bluetooth, and a Roon Ready network streamer that supports Apple AirPlay, Spotify Connect, and UPnP/DLNA. The DDP-2 also has a built-in headphone amplifier.
I'm sure most buyers will mate the DDP-2 with a power amp, likely Elac's DPA-2. But you can also use the DDP-2 as the centerpiece of a Simplfi'd audio system, connecting it to a set of analog active speakers -- as I did.
Inside and out
The DDP-2 has precisely the same dimensions as its Alchemy siblings, the PPA-2 and DPA-2: 17.5"W x 2"H x 15"D, including jacks. It weighs 14 pounds, and its appearance is plain-Jane and basic black. The DDP-2 has a reassuringly solid feel; its overall build quality, while not luxurious, is very good. This thing seems built to last.
On the rear panel are three sets of analog outputs: one fixed and one variable unbalanced (RCA), and one variable balanced (XLR). There are also three sets of line-level analog inputs: two unbalanced (RCA) and one balanced (XLR). Analog signals remain in that domain from input to output.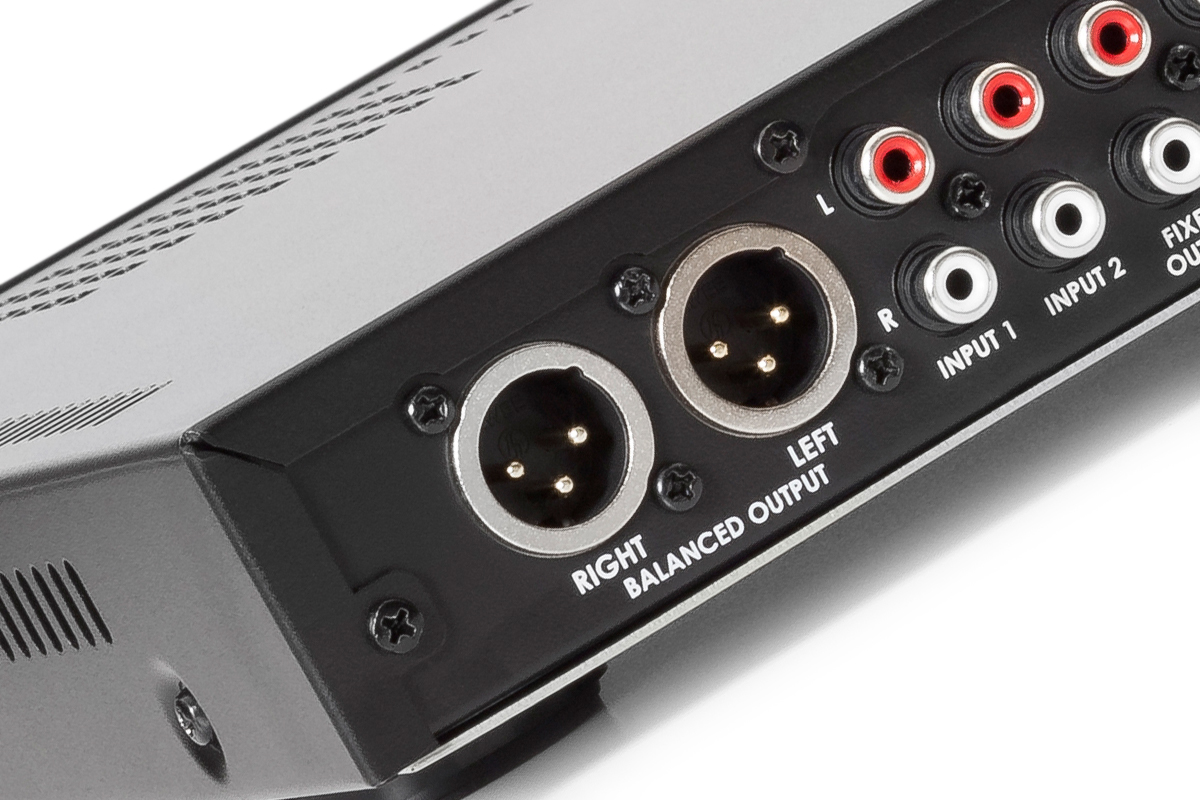 For digital sources, there are two optical (TosLink) and two coaxial (RCA) S/PDIF inputs, one AES/EBU (XLR) input, a USB Type-B port for connection to a computer, and two Inter-IC Sound (I2S) inputs (one five-pin mini-DIN, one HDMI) for connection to CD transports with I2S outputs. With I2S, the audio and clock data are carried on separate lines, so the interface is inherently jitter-proof. I2S is used in CD players as the internal interface between the player's transport and DAC sections; Audio Alchemy pioneered its use as an external interface.
The DDP-2 also has an Ethernet port, and built-in Wi-Fi and Bluetooth. The antennas are internal, which helps maintain the component's unusually low profile of 2". The DDP-2 doesn't support advanced Bluetooth codecs, only the standard SBC format. When I streamed high-resolution files from my LG G7 ThinQ smartphone to the DDP-2, the sound was more muffled and compressed with Bluetooth compared to network playback.
The streamer module has three internal I2S outputs to the DAC section, one each dedicated to Roon, Bluetooth, and streaming via AirPlay and UPnP/DLNA.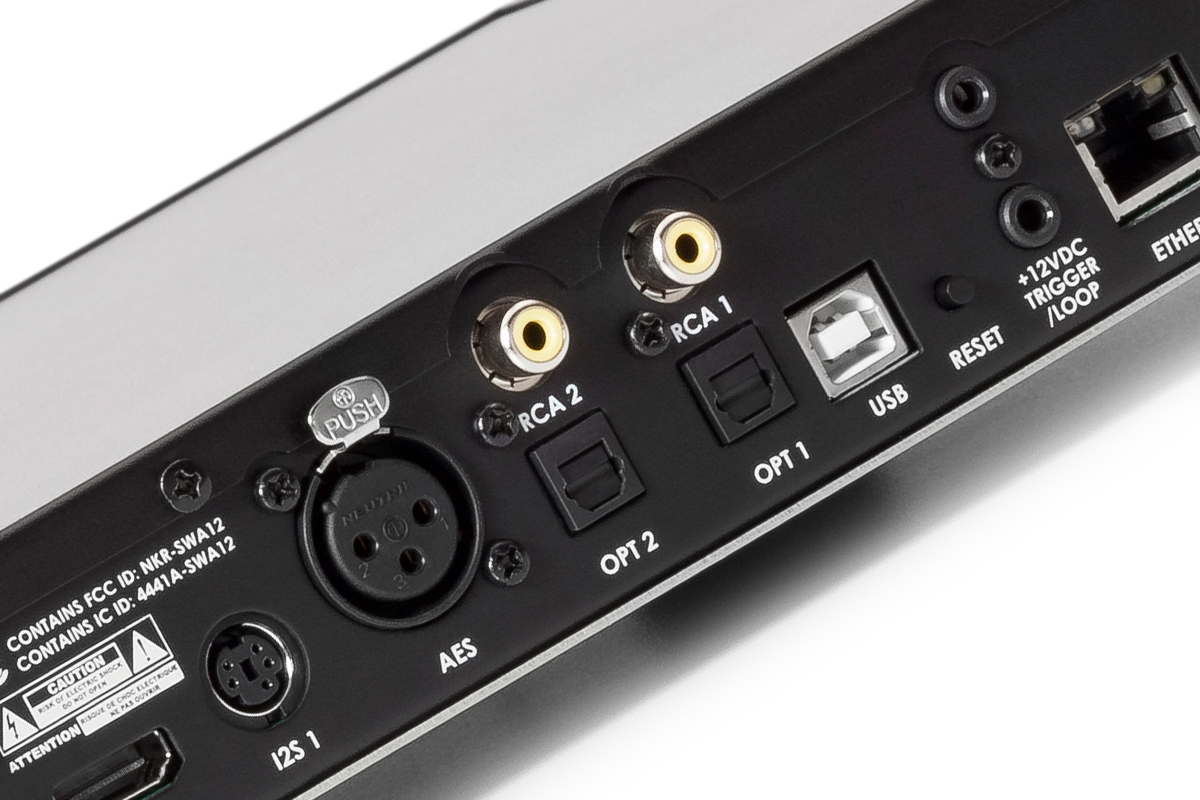 The DDP-2 has dual AKM 4493EQ DAC chips in balanced configuration. The DAC's maximum resolutions are 32-bit/384kHz via USB and I2S, 32/192 via Ethernet and Wi-Fi, and 24/192 via S/PDIF and AES/EBU. The DDP-2 supports DSD64 and DSD128 via its USB interface, and DSD64 via Roon network playback.
The user can apply to each digital input one of four different digital filters: linear phase, fast rolloff; linear phase, slow rolloff; minimum phase, fast rolloff; or minimum phase, slow rolloff (apodizing). For each of these, Resolution Enhancement can be turned on or off. I experimented briefly with these settings and found the differences very subtle. For most of my listening I settled on minimum phase, fast rolloff, with Resolution Enhancement -- this combination provided a good balance of articulation and spaciousness. Engaging the Upsample function, accessible from the remote control, made CD-resolution recordings sound just a bit more smooth and refined.
According to Elac's specifications, the Alchemy DDP-2 is "MQA-capable" -- but the product's web page says "MQA coming soon." It's still not here. In an e-mail exchange, Madnick told me, "The DDP-2 hardware was designed to do full MQA decoding. There is a plan to issue a software update in the future which will enable this feature." In the meantime, to perform the first unfolding of MQA-encoded Tidal Masters streams, Tidal subscribers can use Tidal's desktop app or a third-party app such as Amarra or Audirvana, if connecting to the DDP-2 via USB. For network playback, Roon will perform this function.
The DDP-2 has two internal power supplies: a linear supply with toroidal transformer for the analog section, and a switching supply for the digital section. To minimize noise and interference, the analog and digital circuit boards are completely separate, with separate ground planes, each isolated from chassis ground.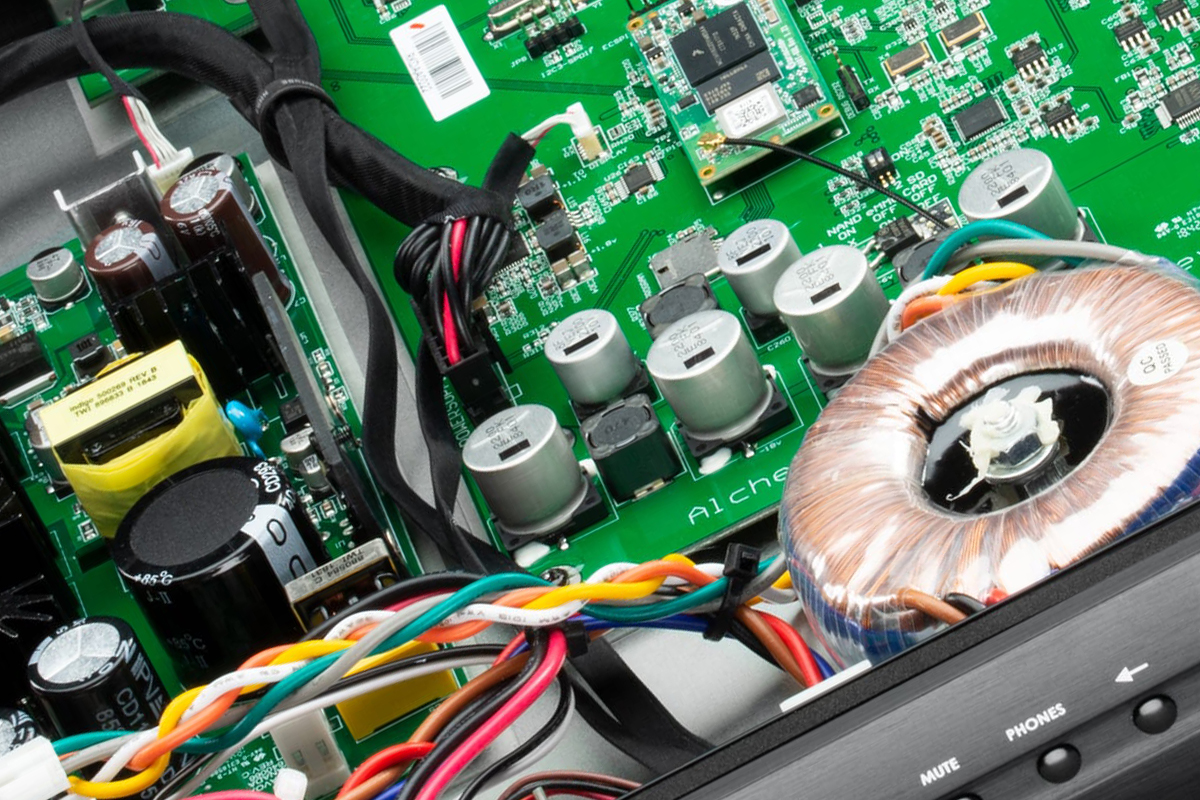 The front panel is attractively sparse, with (left to right) a power switch, 6.3mm unbalanced headphone jack, and mute and headphone LED indicators; then come buttons for mute, activating the headphone output, and menu navigation. At right is a small OLED display, and at farthest right a knob for adjusting the volume or selecting sources -- push it in to switch modes. This control has a lovely silky feel, and the pushbuttons feel satisfyingly solid.
The supplied plastic remote control lets users adjust volume and balance, activate and de-activate mute, cycle through inputs, choose digital filters, and turn the DDP-2 on and off. When streaming from Roon, users can use the remote to skip tracks, and to pause and resume playback.
Setup and software
If you plan to use the DDP-2 only as a DAC and preamp, setup and daily use are straightforward. Connect your source components, your power amp or active speakers, and you're all set. If you're connecting a computer to the DDP-2's USB input, you'll have to configure your music-player software to output audio to the DDP-2 -- again, not a big deal. All of this will be completely familiar to most audiophiles.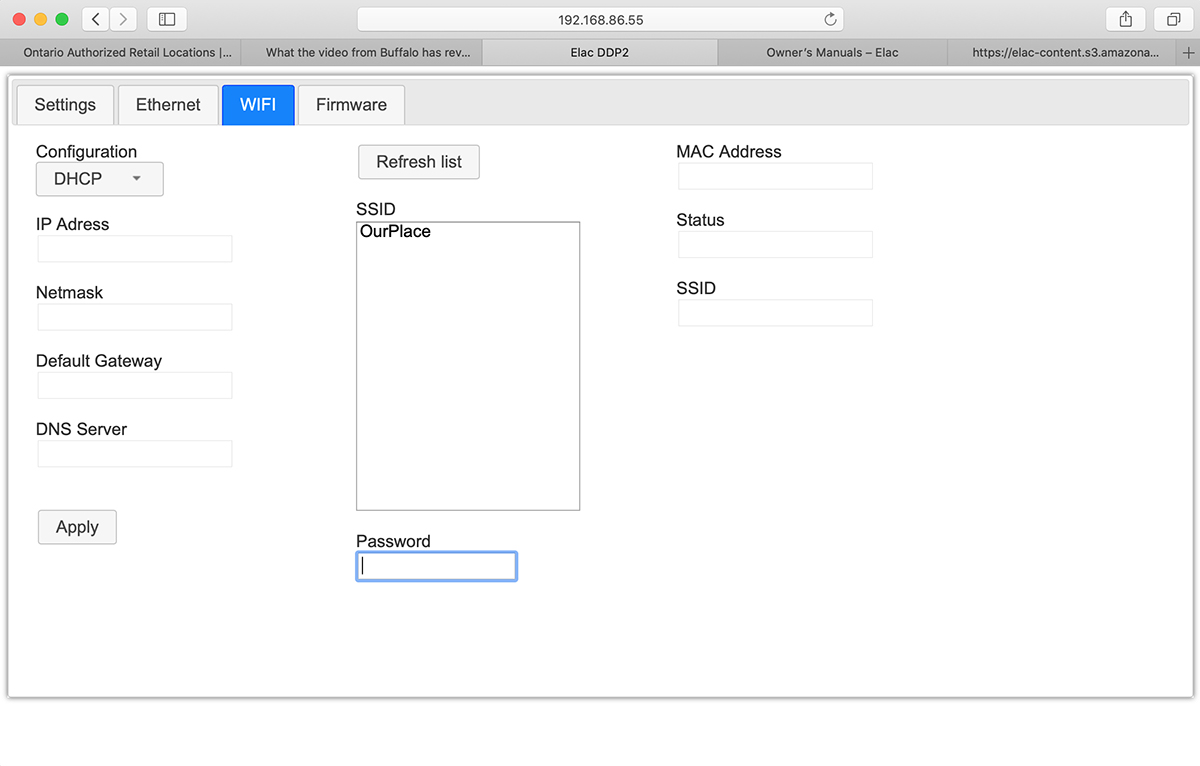 Network playback is a tad trickier. To use the DDP-2's streamer, you have to connect its Ethernet port to your network router or access point. If the router or access point is in your listening room, you're good to go. If not, you have to configure the DDP-2's Wi-Fi settings, after which you can disconnect the Ethernet cable and use the DDP-2 wirelessly.
You begin by determining the IP address that your network router has assigned to the DDP-2 (this information can be found in the About page on the DDP-2's display), entering this into the address line of a Web browser. That will open the Settings page, where you'll find a box for enabling Bluetooth (which also can be enabled through menus on the DDP-2's display). The Firmware tab lets you check for and install firmware updates. Clicking the WiFi tab takes you to a page where you can select your Wi-Fi network and enter your password.
Elac recommends using an Ethernet connection if possible, but I streamed to the DDP-2 via Roon and AirPlay over Wi-Fi, and experienced nary a hiccup or dropout.
Unlike many streaming DAC-preamps I've reviewed over the past year, the DDP-2 does not have a companion app -- you can stream to it via AirPlay, Spotify Connect, UPnP/DLNA, or Roon.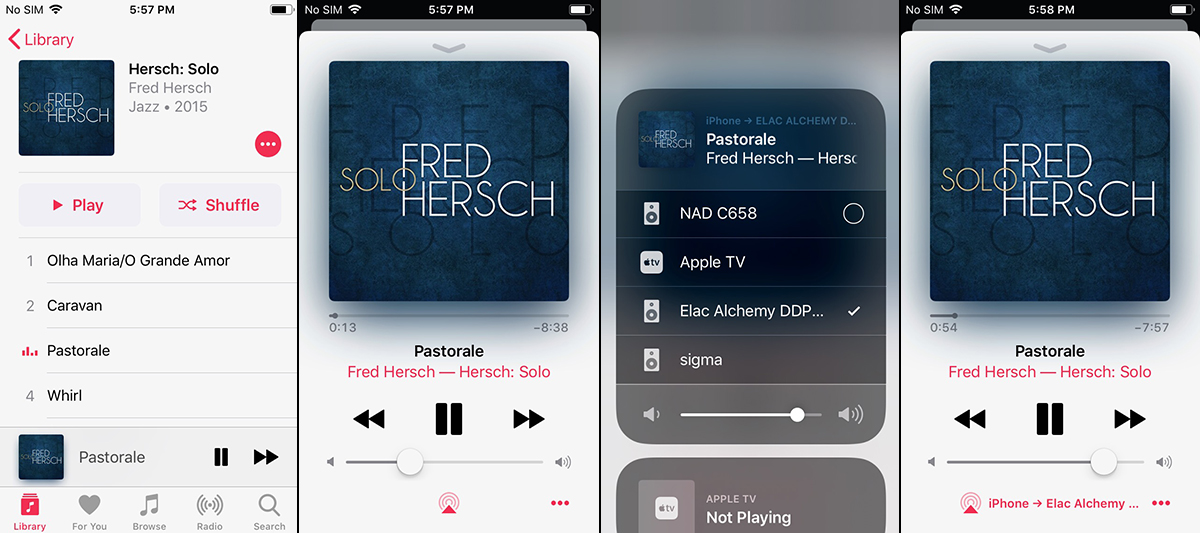 I'm not a Spotify subscriber, so couldn't test the Spotify Connect feature. I did stream to the DDP-2 from my iPhone SE via AirPlay, and it worked fine. I opened the Music app on my iPhone and selected a song, then tapped the AirPlay icon in the now-playing screen and selected the DDP-2 as the output device, and music began streaming from my phone to the DDP-2, regardless of the input setting.
I ran into one minor issue when streaming to the DDP-2 via DLNA. From the Bubble UPnP app on my LG G7 ThinQ smartphone and the Audirvana 3.5.57 app on my MacBook Pro, DLNA playback was limited to 16/44.1 -- higher-rez files were downsampled to "Red Book" resolution. Madnick told me that DLNA playback at native resolution may be enabled by a future firmware update.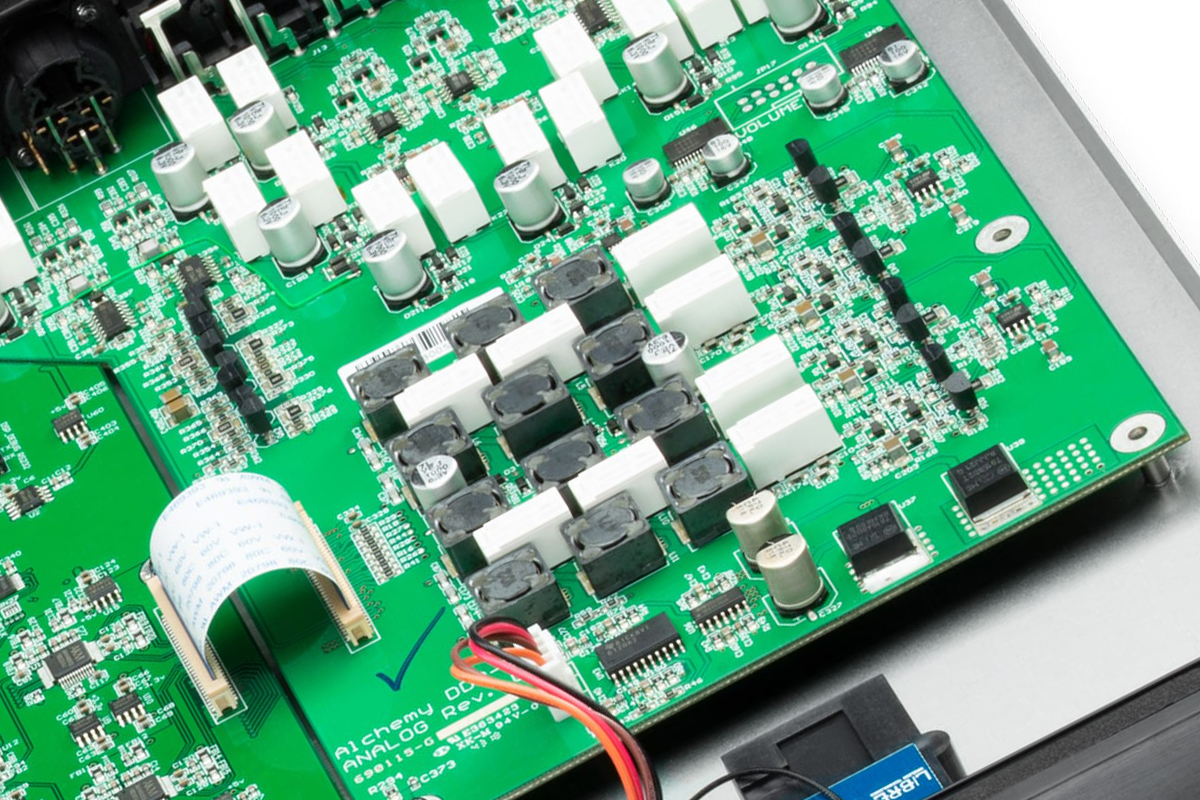 According to the manual, the streamer's three I2S outputs can all be assigned to Roon, allowing three different Roon streams to be sent to the DDP-2 simultaneously. Listeners could choose the stream they wanted by selecting the appropriate input. But in Roon's Audio Settings menu I saw only one Roon Ready endpoint for the DDP-2. Madnick told me that he's written a new version of the manual that correctly states that the DDP-2 has one available Roon endpoint, but during the review period only the old, incorrect manual was available on Elac's website.
In any event, I had no problem using the DDP-2 as a Roon endpoint. Again, when I started streaming from Roon, the music I had selected began playing through the DDP-2 regardless of input setting.
As Roon is the only option that currently allows hi-rez playback over a network, audiophiles who want to use the DDP-2's streaming functions should budget for Roon ($119/year, $699/lifetime).
Listening out loud
I did some listening from my LG G7 ThinQ smartphone via Bluetooth and UPnP/DLNA, from my iPhone SE via AirPlay, and from the Audirvana app on my MacBook Pro via USB. But I did most of my listening from Roon, playing music from Qobuz and from my music library, which is stored on a LaCie 2Big Thunderbolt 3TB RAID1 system attached to a modified Apple Mac Mini (mid-2011) running Roon Core 1.7.
I set up the Alchemy DDP-2 in my living room, and connected it to my Elac Navis ARF-51 analog active floorstanding speakers ($4599.96/pair) with a 2m pair of XLO Pro XPA-2 balanced interconnects (XLR). As outlined in my July 1 feature, "All About That Bass," I used two parametric EQ filters in Roon to counteract room modes in my listening environment, notably a large peak at 63Hz.
Several things struck me throughout my listening to the DDP-2: Dynamics were fast and powerful but completely natural. Sudden changes in loudness didn't call attention to themselves, but just happened. There was a satisfying fullness and solidity to the DDP-2's sound. Its beguiling ease of delivery, infectious swing and rhythm, and enveloping sound pulled me irresistibly into whatever music I was playing.
All of these qualities came through in an electrifying performance by Canadian pianist Stewart Goodyear of Lord Salisbury's Pavan and Galliard, by the English composer Orlando Gibbons (1583-1625), from Goodyear's For Glenn Gould (24-bit/192kHz FLAC, Sono Luminus/Qobuz). Goodyear's runs, trills, and arpeggiated chords sounded big and effortless, every note beautifully illuminated but not spotlit. Attacks were immediate and impactful, never exaggerated. In sustains and decays, I could appreciate the big, full-bodied tone of Goodyear's Steinway D concert grand.

Through the DDP-2 and Navis ARB-51s, it was easy to appreciate how Goodyear's treatment of this piece differs from the dedicatee's. Goodyear's playing is more legato than Gould's -- his phrasing is less rapid-fire, and his notes blend into one another more, without anything being fudged or blurred. Whereas Gould elicits a harpsichord-like crispness from the piano, Goodyear exploits his instrument's expressive capabilities. The DDP-2 beautifully communicated these aspects of Goodyear's playing, and convincingly portrayed the massive power of his Steinway D. When I closed my eyes, it was easy to imagine being at a live recital, about ten rows back from the stage.
An album that has lately been getting a lot of play in my system is Americana (24/96 FLAC, ACT/Qobuz), by the Swiss-born harmonica player Grégoire Maret and French-born pianist Romain Collin, who both now live in New York, and American jazz-guitar legend Bill Frisell.
"Re: Stacks" begins with Frisell playing a gentle acoustic-guitar riff in the left-center of the soundstage. Through the DDP-2, the sound of his fingernails sweeping the steel strings had just the right degree of transient attack -- fast and precise, but not etched -- followed immediately by the warm, resonant glow of the guitar body. As I experienced so often with the Elac, the instrument was just there, without it and the other components reproducing it calling attention to themselves. Collin's piano at center right was just as convincing, his gentle attacks perfectly reproduced. Right at the center of the soundstage, slightly behind the speaker plane, Maret's harmonica sounded lovely -- warm, reedy, and expressive, never squeaky.
Later in this track, Collin plays subterranean notes on a Moog synthesizer, along with ambient electronic effects that appear all over a big soundstage. Then Frisell adds electric-guitar accompaniment at center, and Collin plays lower-octave chords on piano while Maret improvises. In this section, the DDP-2 created a huge, enveloping sound that was utterly magical and transporting.
Staying in American Roots mode, I cued up a favorite vocal track -- "Julep," from the Punch Brothers' The Phosphorescent Blues (16/44.1 FLAC, Nonesuch/Qobuz). The DDP-2 got just about everything right in this meltingly beautiful bluegrass song about loss and the passage of time. Attacks on the instruments -- Paul Kowert on double bass at center, guitarist Chris Eldridge to the left, bandleader Chris Thile's mandolin at center right, and banjoist Noah Pikelny at far right -- all sounded perfect: fast and precise, but not etched or exaggerated. The decays that followed -- the twang of Pikelny's banjo, the wooden thuddiness of Eldridge's muted guitar chords, the huge woody body of Kowert's bass (both beating out the seconds like the grandfather clock in this song's lyrics) -- were just as convincing. Again, I wasn't aware of any componentry or processing -- just music.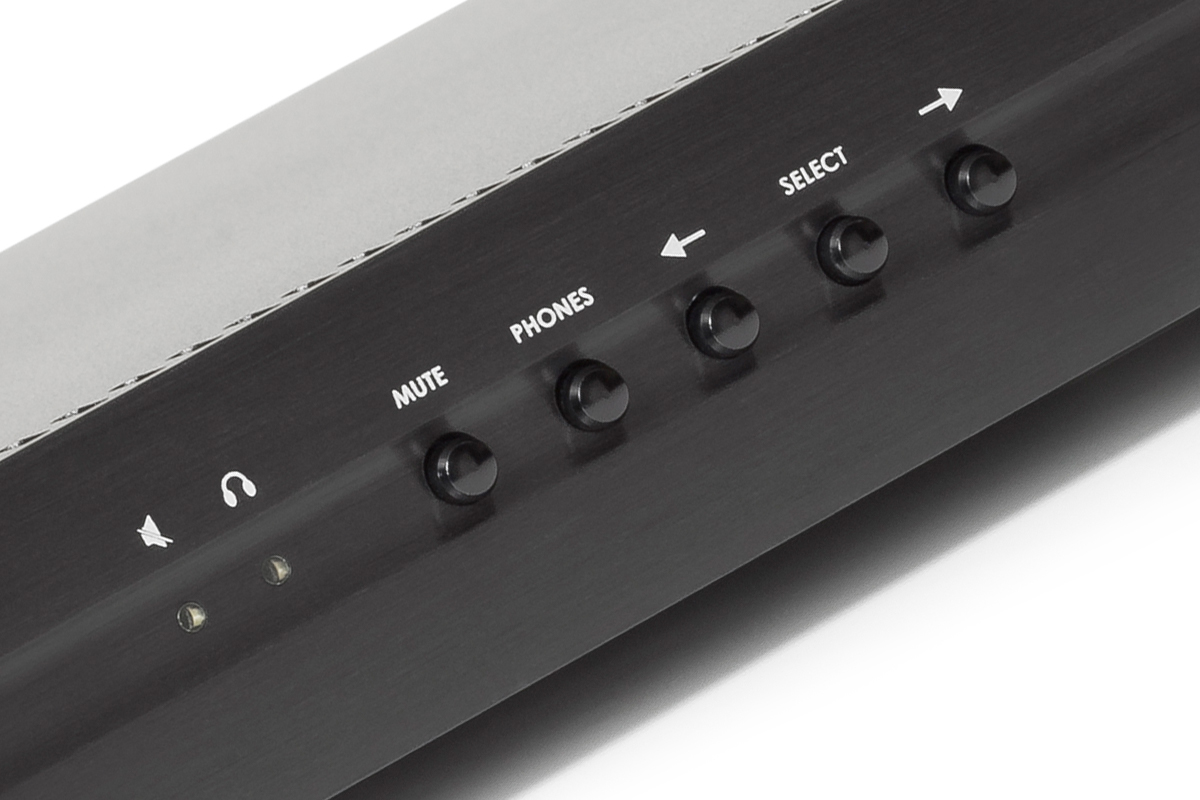 Thile's voice sounded convincingly embodied at the center of the soundstage and a little back from the speaker plane. The DDP-2 conveyed such details as Thile's breathing and enunciation of consonants without excessively spotlighting them. His p's in such words as happy, sleep, and julep had just the right degree of pop.
For something more raucous, I cued up "1983 Regional All-Star," by my favorite power-jazz trio, the Bad Plus, from their Never Stop II (24/96 FLAC, Legbreaker/Qobuz). Dave King's snare rolls, rim shots, and kick-drum beats had wonderful impact. Orrin Evans's staccato attacks on piano were beautifully crisp, his big piano chords were immensely powerful but not exaggerated, and his gentle pedaled phrases in the upper octaves had delectable sparkle. With this track, the DDP-2 and Navis speakers created an immense, enveloping soundstage. The entire production sounded huge yet effortless.
Comparisons
The combined price of exaSound's Sigma streamer ($750) and e32 Mk.II DAC ($2495) is just $145.02 more than the Alchemy DDP-2's $3099.98. While the e32 Mk.II lacks the DDP-2's extensive connectivity, it covers the basics (USB, optical and coaxial S/PDIF) and, like the DDP-2, has a capable headphone amp. Also like the DDP-2, the Sigma streamer can serve as a Roon endpoint, and supports AirPlay and UPnP/DLNA (but not Spotify Connect). And the exaSound combo can fully decode and render MQA streams, which the DDP-2 couldn't at the time of this review.
With Stewart Goodyear's performance of Gibbons's Lord Salisbury's Pavan and Galliard, the exaSound setup delivered similarly impressive dynamics. While Goodyear's playing sounded slightly more articulate through the exaSounds, it was also a bit more etched. Through the exaSound combo, the overall sound was a little cooler, the soundstage a little flatter and less filled in. Piano tone was fuller and warmer through the DDP-2.
With "Re: Stacks" from Americana, the transients of Frisell's guitar were a little sharper through the exaSounds -- I was more aware of the stroke of his fingernails on the steel strings and the resonant glow of the guitar's body. The exaSound setup also more clearly presented Maret's expressive phrasing on harmonica. While the exaSounds were marginally better than the Alchemy at separating individual musicians from one another, they didn't have quite the same embracing glow as the DDP-2.
NAD's C 658 streaming DAC-preamp ($1649) also combines a preamp, DAC, Roon Ready streamer, and headphone amp. While the C 658 doesn't have as many digital inputs as the Alchemy DDP-2 (no USB Type B or AES/EBU), it does have a built-in phono stage and can accept an optional HDMI module. Like the DDP-2, it supports Spotify Connect, but it also fully supports AirPlay 2 (not just AirPlay), for multizone streaming from Apple devices. And it works with the capable and robust BluOS app -- you can use the C 658 with Roon, but you don't have to. Finally, the C 658 has built-in Dirac Live room correction, a killer feature in problematic listening environments like mine.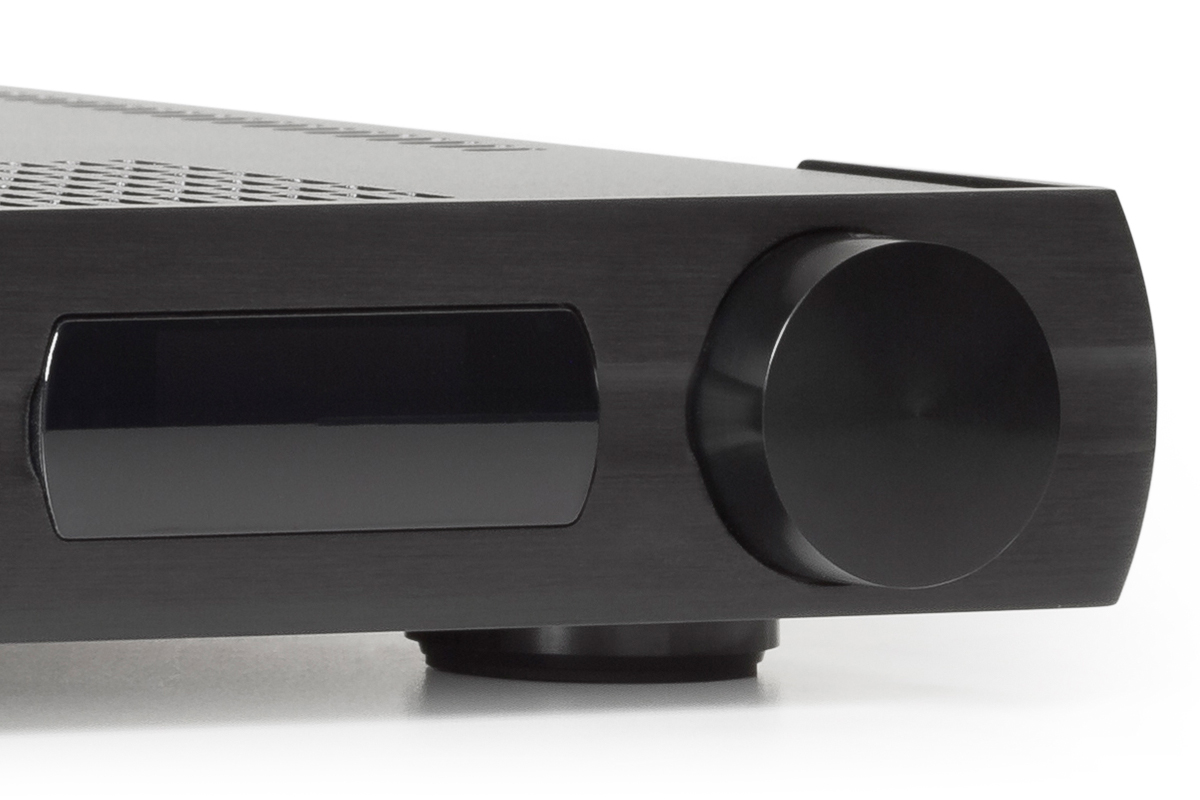 When I listened to the Punch Brothers' "Julep" through the C 658 with Dirac Live switched off but Roon's EQ settings enabled, the NAD's soundstage wasn't quite as big as the DDP-2's, and the mix sounded just a bit more congested -- the DDP-2 was better at separating the different musical lines while presenting them as an integrated whole. Instrumental attacks were slightly more muted, and Pikelny's banjo didn't have quite as much twang.
Enabling Dirac Live on the C 658 and disabling Roon's parametric EQ filters on the stream sent to the C 658 shifted the balance. Not only did this make the sound a bit smoother, especially in the bass; it opened up the mix. The five musicians were better separated from one another, were more embodied, and had more specific positions on the soundstage. I still found the DDP-2 more dynamic and expressive on this track, but with Dirac enabled, the C 658 was smoother and more refined.
Through the NAD C 658, with Dirac Live disabled and Roon's parametric EQ filters enabled, Dave King's rim shots in the Bad Plus's "1983 Regional All-Star" didn't hit quite as hard as they did through the DDP-2, and his kick drum was thuddier. Orrin Evans's staccato piano attacks were slightly more muted, his big chords a bit less powerful. The soundstage was smaller than through the DDP-2.
Again, enabling Dirac Live and turning off Roon's EQ filter opened up the mix and enlarged the soundstage. But dynamics were still superior through the Alchemy -- King's drumming and Evans's staccato piano phrases hit harder, and Evans's pedaled phrases in the upper octaves had more sparkle.
Listening through headphones
To assess the Alchemy DDP-2's headphone amp, I listened to a riveting performance of Edward Elgar's Cello Concerto by cellist Marie-Elisabeth Hecker, accompanied by the Antwerp Symphony Orchestra under the direction of Edo de Waart (24/48 FLAC, Alpha/Qobuz) through my HiFiMan Edition-X V2 open-back, planar-magnetic headphones ($1299, discontinued).
This concerto, composed in the aftermath of World War I and during the terminal illness of Elgar's beloved wife, Alice, is one of the most affecting in the classical repertoire. The DDP-2 and HiFiMan planars conveyed all the emotion in Hecker's performance of this tear-stained work. During her solo bowed passage in the dramatic opening to the first movement, I loved the natural way her rosiny attack on the strings segued into the sound of her cello's big, woody body. Throughout the movement, the DDP-2 tracked Hecker's dynamic shifts beautifully -- for example, in the descending motif that pervades the first five minutes of the first movement. It did the same for the Antwerp players -- when they suddenly ramp up the drama, the DDP-2 kept pace. Orchestral swells were enormously affecting. But while the DDP-2 effectively conveyed the power of a full orchestra, big crescendos sounded just a bit congested.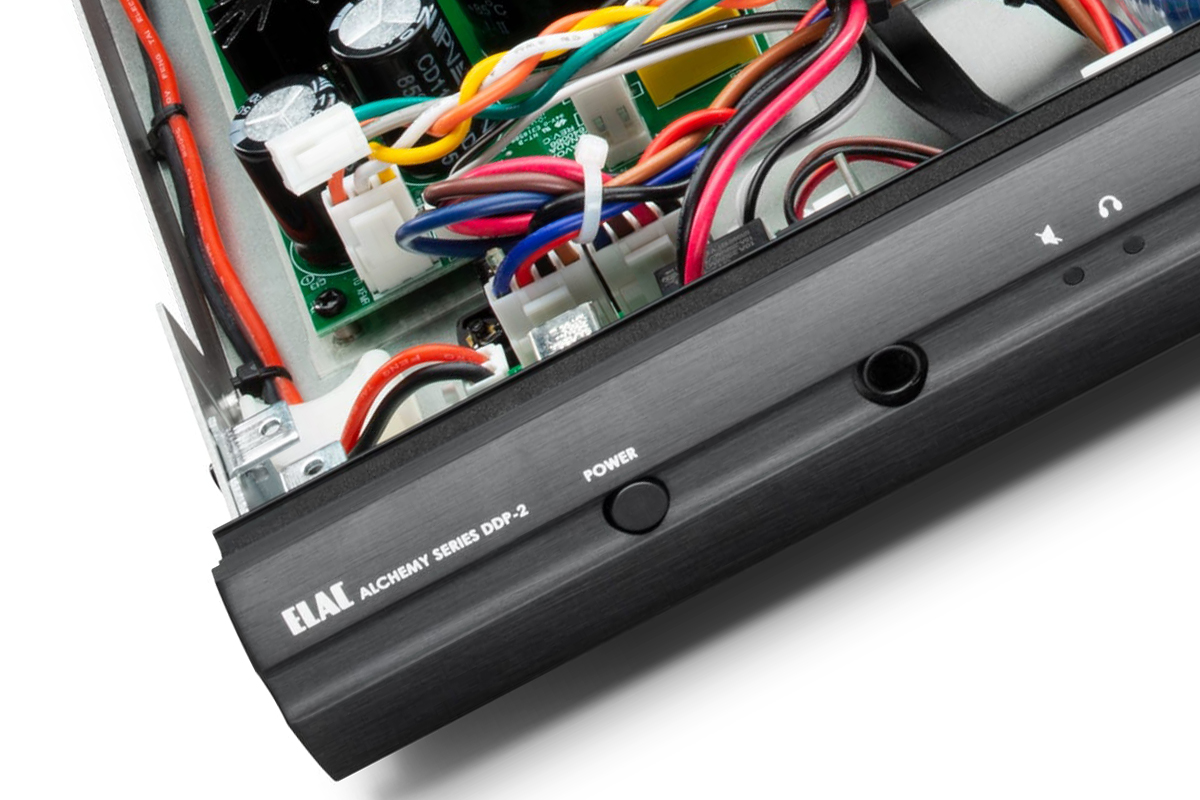 I found the exaSound e32 Mk.II more lithe and responsive in its portrayal of Hecker's cello -- I was more aware of expressive nuances in her bowing. Orchestral textures were more transparent through the exaSounds, tutti sections a little less congested. But orchestral tone was bigger and warmer through the DDP-2, which more convincingly tracked the Antwerpers' sudden dynamic shifts.
Dynamics through the NAD C 658's headphone amp weren't as dramatic, so I was a bit less aware of Hecker's expressive nuances, and of the rosiny bite of her bow on the strings; similarly, orchestral crescendos were slightly more compressed. But the NAD's sound through headphones was a tad smoother and more refined -- violin string tone was a bit more steely through the DDP-2.
I don't want to exaggerate these comparatively minor differences. This recording sounded wonderful through the Edition-X V2s with all three setups, which isn't surprising. For planar cans, the HiFiMan 'phones are pretty easy to drive, thanks to their high sensitivity (103dB) and low impedance (25 ohms) -- all three components drove them very effectively.
Conclusion
I've noted a few lapses in the execution of Elac's Alchemy DDP-2: inaccuracies and omissions in the manual, and the unexplained delay in implementing MQA even though the hardware design supports it. But in my view, this is nowhere near being a deal-breaker, especially given the DDP-2's superb sound -- which I consider killer for the price. Still, Elac offers no companion app for the DDP-2; buyers who want to use its streaming functions will probably want to factor into their calculations a subscription to Roon.
If I had to sum up the Alchemy DDP-2's sound in one word, that word would be natural. That might seem like damning with faint praise, but it's the opposite. Time and again, I found that the DDP-2 got out of the way, and let me immerse myself in the music I was hearing. It's hard to think of higher praise than that.
. . . Gordon Brockhouse
This email address is being protected from spambots. You need JavaScript enabled to view it.
Associated Equipment
Active loudspeakers -- Elac Navis ARF-51
Headphones -- HiFiMan Edition-X V2
Sources -- NAD C 658 streaming DAC-preamp, exaSound Sigma streamer and e32 Mk.II DAC, modified Apple Mac Mini (mid-2011) running Roon Core 1.7, Apple MacBook Pro (early 2015) running Audirvana 3.5.57, Apple iPhone SE and LG G7 ThinQ smartphones
Cables -- XLO Pro XPA-2 balanced interconnects (2m, XLR)
Network -- Google Wifi (three-node mesh)
Elac Alchemy DDP-2 Streaming DAC-Preamp
Price: $3099.98 USD.
Warranty: One year parts and labor.
Elac Americas, Inc.
11145 Knott Avenue, Suites E & F
Cypress, CA 90630
Phone: (714) 252-8843
Website: www.elac.com