At a press event last May at High End 2019, in Munich, a chorus of oohs and aahs rippled through the audience when iFi Audio unveiled, for the first time, its Aurora tabletop music system ($1399, all prices USD). A glance at the photographs accompanying this review make it easy to understand this reaction.
Clad in bamboo, the Aurora sits perched on -- rather, in -- an aluminum frame that lifts and angles it slightly upward. iFi says its creative director, Julian Haziza, drew inspiration for the Aurora from the architecture of Tokyo's Omotesandō and Harajuku districts.
But it wasn't only the Aurora's visual design that impressed. A single Aurora filled a big party room in the whiteBOX, an industrial building now used for artist studios and exhibitions in Munich's Werksviertel district, with big, rich sound -- and evidently wasn't straining to do so.
Based on what I saw and heard that evening, I knew I wanted to get an Aurora in for review. A review sample arrived at my home in Toronto in early December, in the middle of an early winter snowstorm.
Inside and out
The whiteBOX was an apt location for the Aurora's debut -- this player is a work of modern industrial art. Measuring 24"W x 11"H x 11"D and weighing 33 pounds, the Aurora has an OLED display on its front panel that shows such information as connected source, signal-processing options, system status, and the sample rate of the digital signal currently being processed. Through a little window to the right of this display can be viewed the single Russian 6N3P tube used in the Aurora's input stage. An LED in that window glows blue as the Aurora warms up (this takes about 30 seconds), and orange when the tube has reached operating temperature.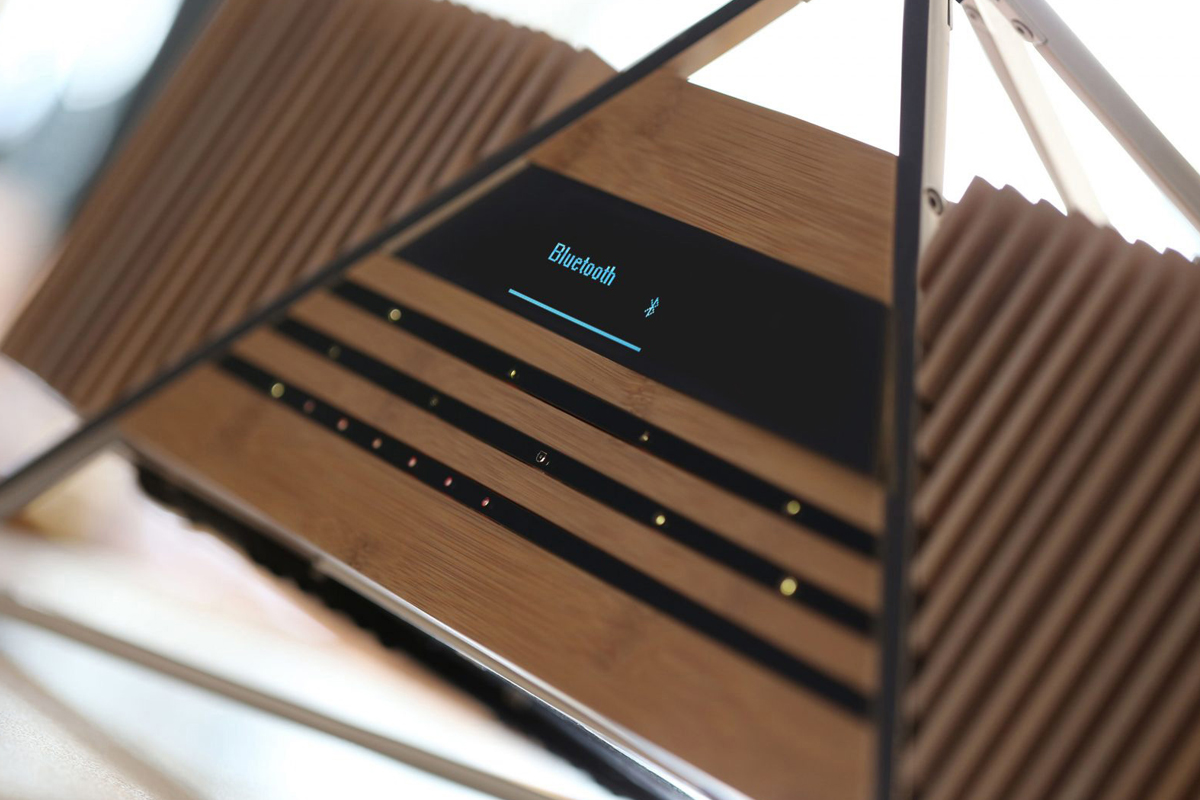 Below the display and window are three rows of LED-lit soft-key switches, the rows separated by horizontal bamboo slats. In the top row are a switch for adjusting the Aurora's illumination, two for controlling its signal-processing features (I explain these below), and a mute switch. The middle row has five controls, for selecting sources and initiating Bluetooth and Wi-Fi connections. In the bottom row is an on/off button and, to its right, a long slider for adjusting the volume, the level indicated by blue LEDs. The supplied remote-control handset can be used to mute or adjust the volume, pause or resume playback, cycle through sources, and control the Aurora's signal-processing features.
There's more to the Aurora than its gorgeous exterior -- it includes some unique technology. The signal path is unusual, in that all processing occurs in the analog domain.
The Aurora has built-in Wi-Fi (2.4GHz only), and a Bluetooth receiver that supports Qualcomm's aptX, aptX HD, and aptX LL (low latency) codecs; Sony's LDAC; Huawei's HWA; the AAC codec employed in Apple devices; and the standard Bluetooth SBC codec. For network playback, the Aurora supports UPnP/DLNA and Apple AirPlay.
On the rear panel are RCA and 3.5mm stereo analog jacks, TosLink and coaxial S/PDIF inputs with a maximum resolution of 24-bit/192kHz PCM, an Ethernet port, a slot for microSD memory cards, and a USB Type-A port for connecting an external drive. From Ethernet, Wi-Fi, USB, and microSD sources the Aurora supports a maximum resolution of 32/192 PCM. In addition to a three-pronged IEC power connector there's a 12V DC input, the latter allowing the Aurora to be used in mobile or marine applications.

Incoming digital signals are immediately converted to analog by an ESS Sabre DAC, under control of a system clock developed by iFi's parent company, Abbingdon Music Research (AMR). iFi says this Global Master Timing (GMT)/Memory Buffer System minimizes jitter. The signal is then passed to a 32-bit ARM Cortex analog signal processor with some very useful functions. Automatic Room Tailoring (ART) uses an array of six ultrasonic sensors on the rear panel to measure the distance to room boundaries, then adjusts the Aurora's sound output to suit the environment. SoundSpace performs matrix processing to expand the soundstage, while TrueBass enhances the low-frequency output. With ART switched on (the default setting), SoundSpace and TrueBass are controlled automatically. There's also an Audiophile mode that bypasses ART, in which case SoundSpace and TrueBass can be defeated, or set manually.
After processing, the signal is passed on to an analog volume control, and from there to the Aurora's TrueEmotion amplifier, which comprises a tubed input stage and an output stage with four 80W switching amplifiers. iFi's Current Multiplier circuit has an unusually high switching rate of about 1.5MHz -- much higher than those of conventional class-D modules -- to minimize noise and distortion, per iFi.
The driver complement, too, is unusual. Each channel has two 4.5" coated paper cones -- one firing forward, the other to the side -- and, on each front corner, a 1.1" silk-dome tweeter firing outward at an angle of 45° to the front drivers. The 4.5" drivers are crossed over acoustically to the tweeters at 8kHz with a simple first-order (6dB/octave) filter. As iFi says in its technical notes for the Aurora, at this unusually high crossover frequency, the 1.1" domes effectively act as supertweeters.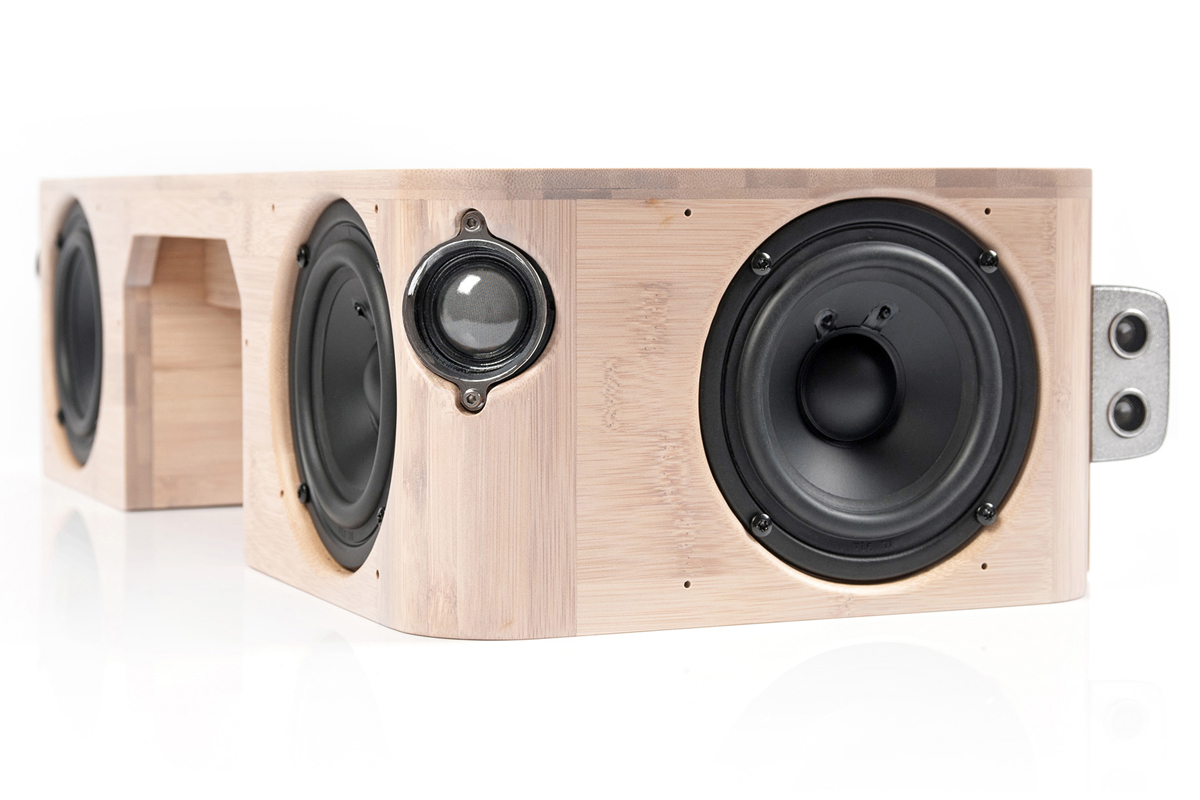 Venting down through the Aurora's bottom panel are two 4.5" x 8" rectangular passive radiators, their diaphragms made of a composite of carbon, iron, and ethylene-vinyl acetate, with a self-centering, double-ribbed surround. The Aurora's specified frequency range is 27Hz-35kHz.
This unusual acoustic design allows "a greater spectrum of the music to be reproduced without being discombobulated by crossovers," designer Thorsten Loesch explained in an e-mail message to me. "The result is that all the fundamental frequencies of musical notes and their formants (the harmonics that shape the 'tone' of instruments) are produced together, without the phase shift commonly found with traditional multiway-crossover speaker systems, be they using passive crossovers, active crossovers or DSP-based crossovers."
Setup and software
After unpacking the Aurora and placing it on a wide, deep credenza in the basement family room of our home in Toronto, I downloaded the Müzo Player app to my LG G7 ThinQ smartphone from Google Play, per instructions in the manual. I also downloaded, to my iPad Mini, the iOS version from Apple's App store.
Müzo gets a 2.1 rating on Google Play and 2.4 in Apple's App store. As the top score in both stores is five stars, those are failing grades. After my experience with Müzo and the Aurora, I don't think the reviewers on Google Play and the App Store are being unduly harsh.
I experienced some mild frustration integrating the Aurora into my Wi-Fi network. If your network router includes Wi-Fi Protected Setup (WPS), you can connect the Aurora to your network automatically by pressing the WPS button on your router and holding down the Wi-Fi soft key on the Aurora's front panel.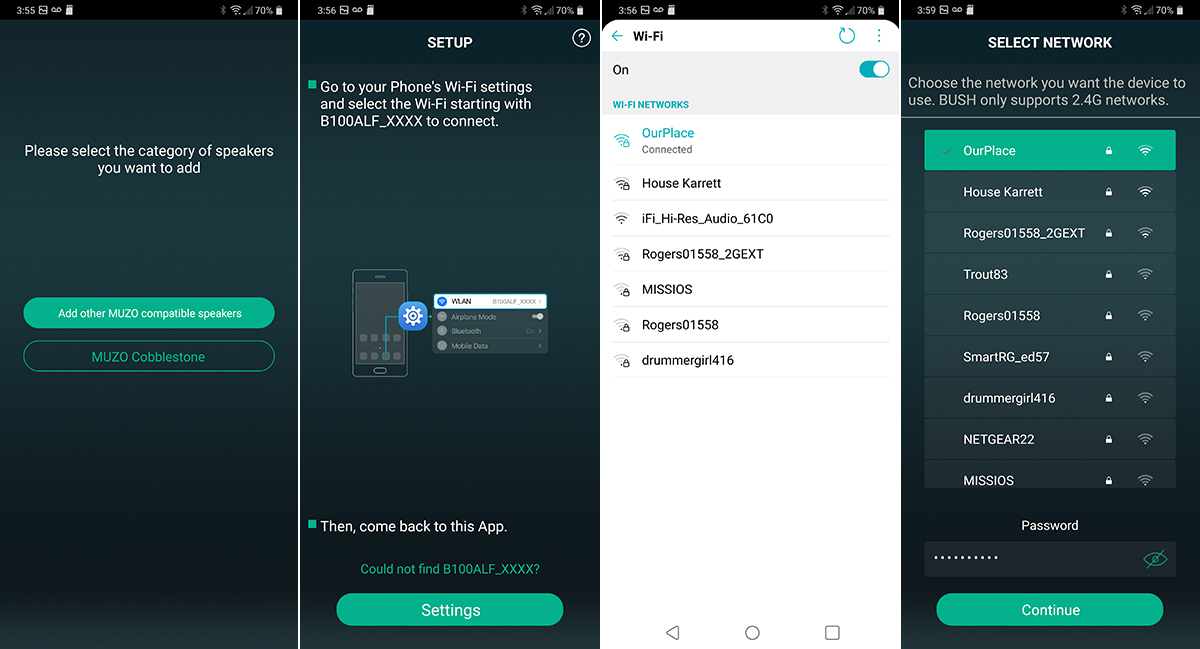 My Google Wifi mesh network lacks WPS, so I had to use Müzo to connect the Aurora to my home network. When I launched Müzo on my LG G7, it offered the option of adding a new device, which I chose. The next screen offered two choices: Müzo Cobblestone or other Müzo-compatible speakers. When I selected the latter, the next screen presented only one choice: BUSH. WTF?
Figuring I had nothing to lose, I chose BUSH, and was instructed to go to my phone's Wi-Fi Settings menu and select the hotspot network created by the player, which I did. I then tapped the Android back-arrow icon to return to the Müzo app, selected my network from the list of available networks, and entered my network password. A moment later, a voice from the Aurora announced "Wi-Fi connected," and shortly after that the Müzo app confirmed the same thing. The app then asked me to give the device a name -- I chose Custom, and entered "iFi Aurora." Next, it instructed me to return to the phone's Wi-Fi Settings menu and reconnect my phone to the home network -- something that most apps do automatically. All in all, Wi-Fi setup was a bit more fiddly than it should have been, but as this is usually a onetime process, it's not a huge deal.
However, I encountered other frustrations in daily use. Sometimes when I launched the Müzo app, it couldn't find the Aurora on my network. I had to close the app, turn the Aurora off and back on again, then relaunch Müzo before app and player would connect.
The Müzo app supports several Internet Radio and streaming services, including Qobuz and Tidal, both of which I use. As expected, the first time I accessed these services from within Müzo, I was prompted to enter my username and password for each service. While the app remembered this information, I had to manually reconnect to these services every time I launched the app. Again, most apps do this automatically; again, it was no big deal, just a minor irritation, but it shows a lack of polish.
The Aurora doesn't support MQA, so MQA-encoded Tidal Masters content was streamed in CD resolution, in 16/44.1 FLAC format. High-resolution albums on Qobuz were also streamed as 16/44.1 FLAC, which I found more surprising, as the Aurora supports resolutions up to 32/192 PCM via Ethernet, Wi-Fi, USB, and microSD.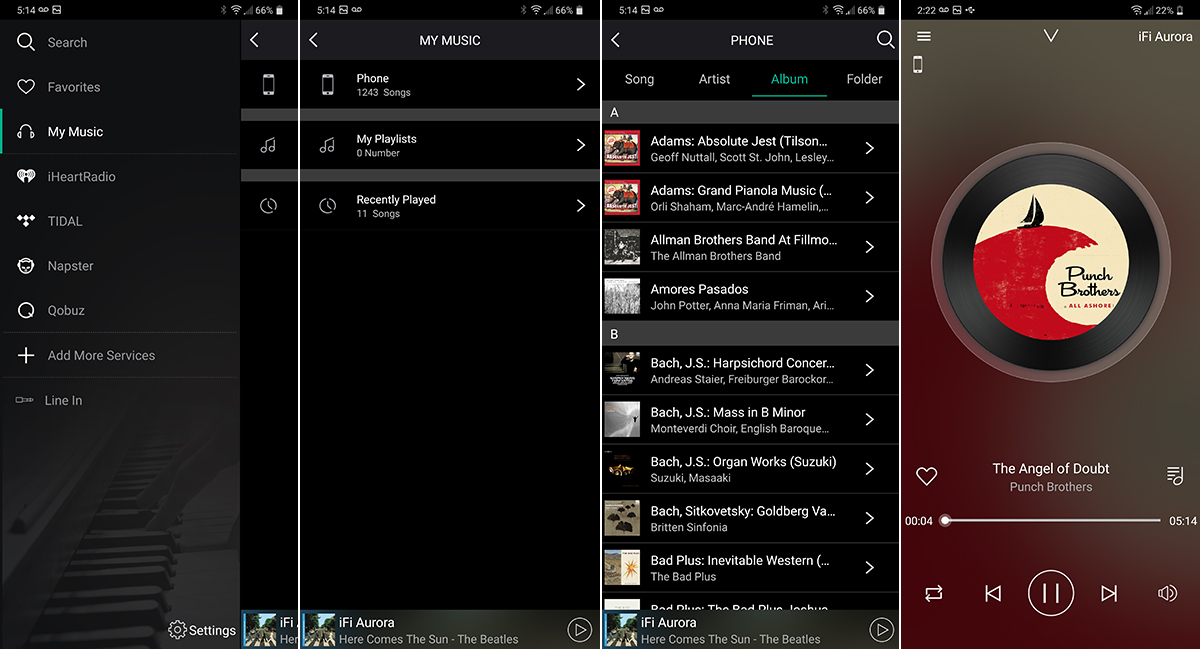 I confirmed that the Aurora could indeed play hi-rez signals by streaming albums stored on a microSD card in my LG G7 smartphone. After I selected My Music in Müzo's home screen, the next screen presented four options, the top one being music stored on the phone. The next screen let me view My Music by Song, Artist, Album, or Folder. I played FLAC-encoded albums with resolutions of 24/88.2, 24/96, and 24/192, and the Aurora's OLED display confirmed that it was indeed playing each in its native resolution. I was also able to stream hi-rez tracks to the Aurora via UPnP/DLNA from my MacBook Pro, using Audirvana Plus software. Occasionally when streaming hi-rez music to the Aurora, I experienced some stuttering.
Playing albums from the Aurora's USB and microSD inputs proved highly problematic, as I discovered after loading with music a Lexar 64GB thumb drive (formatted FAT32, per the manual) and inserting it into the iFi's USB port. I selected USB Devices as the source in the Müzo app, and then chose the My Music option. The app showed only an alphabetical list of files with no metadata at all -- no song titles, no album names, no artist names. Müzo didn't even provide a folder view of the drive's contents.
My experience was exactly the same when I transplanted the Kingston 128GB microSD card (also formatted FAT32) from my LG phone to the Aurora's microSD slot. Müzo showed no metadata at all, only filenames. One other wrinkle: sometimes Müzo didn't see the microSD card or its contents at all. Basically, this made the Aurora's USB and microSD inputs unusable.
The Müzo app doesn't support gapless playback, inserting a gap of about three seconds between tracks. This won't be a big deal with many albums or playlists, but it can be a very big deal with classical music, and some popular music -- for example, the eight-song medley at the end of the Beatles' Abbey Road.
That doesn't necessarily mean the software is a deal-breaker. If you stream to the Aurora via AirPlay, Spotify Connect, or Bluetooth, you may never have to interact with Müzo after initial setup. Roon subscribers can use Roon's AirPlay capability to stream to the Aurora. And if you have a WPS-capable router, you may never have to bother with Müzo at all.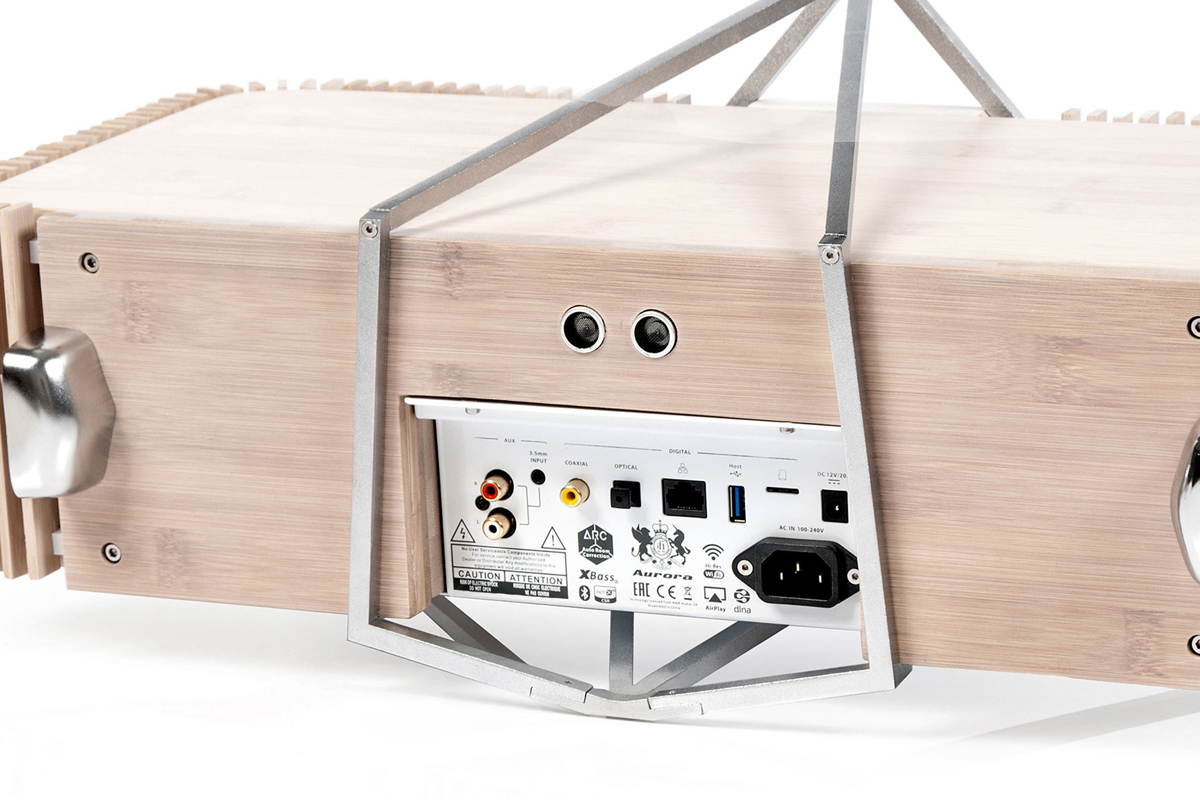 Moreover, AirPlay and Spotify Connect both support gapless playback. Streamed from the Qobuz app on my Apple iPhone SE via AirPlay, and from my Mac Mini via Roon and AirPlay, that Abbey Road medley played without interruptions through the Aurora.
In an e-mail exchange on these software issues, iFi acknowledged the Müzo app's limitations. While Müzo is required for connecting the Aurora to a Wi-Fi network, any DLNA player app can be used for playback. iFi recommends the mconnect app, which is available for both Android and iOS, and supports gapless playback.
There were some operational problems with the hardware itself -- again, not deal-breakers, but worth noting. The Aurora lacks network standby; to use any networked source, including AirPlay and Spotify Connect, the Aurora must be powered up and its Wi-Fi input selected. Again, this is different from other network music players I've reviewed.
I found the Aurora's response time a little sluggish. After I'd initiated playback of a track or album in the Müzo app, it often took five seconds or so for playback to begin. And when I pressed Pause on the remote control, it was several seconds before the music stopped. These delays were long enough to make me think I hadn't hit the right button; until I learned otherwise, I'd press Pause again -- which, of course, meant that playback resumed. Annoying.
Listening
I did all of my listening to the iFi Aurora with Automatic Room Tailoring engaged, which meant that the player was controlling SoundSpace and TrueBass processing automatically. Throughout my listening, I noted a few overall qualities:
The Aurora could play really loud without strain or distress. And its bass was really impressive. I couldn't confirm whether the Aurora actually went as low as 27Hz, but it reproduced instruments in the 32-64Hz octave with satisfying heft and excellent definition. It also had a coherent, immediate sound that really drew me into the music, even if, with some tracks, I also heard some hollowness and harshness.
One of my go-to tracks for assessing bass performance is Patricia Barber's composition "Regular Pleasures," from her Verse (16-bit/44.1kHz ALAC, Premonition/Blue Note), which I streamed to the Aurora from the music library on my Apple Mac Mini via Roon and AirPlay. The Aurora aced this test. Michael Arnopol plays a big, snappy double-bass line throughout the song, mostly in the lower strings, and through the Aurora it sounded fantastic -- taut and tuneful. At the end of every bar, Eric Montzka plays a huge bass-drum thwack, and the Aurora reproduced it with impressive depth and control. The rest of Montzka's drum kit sounded just as satisfying: His snare had satisfying snap, his hi-hat just the right amount of sizzle, his cymbals a lovely metallic sheen. Barber's voice, though, was slightly hollow, with a mildly papery quality that made her sibilants a tad too hot.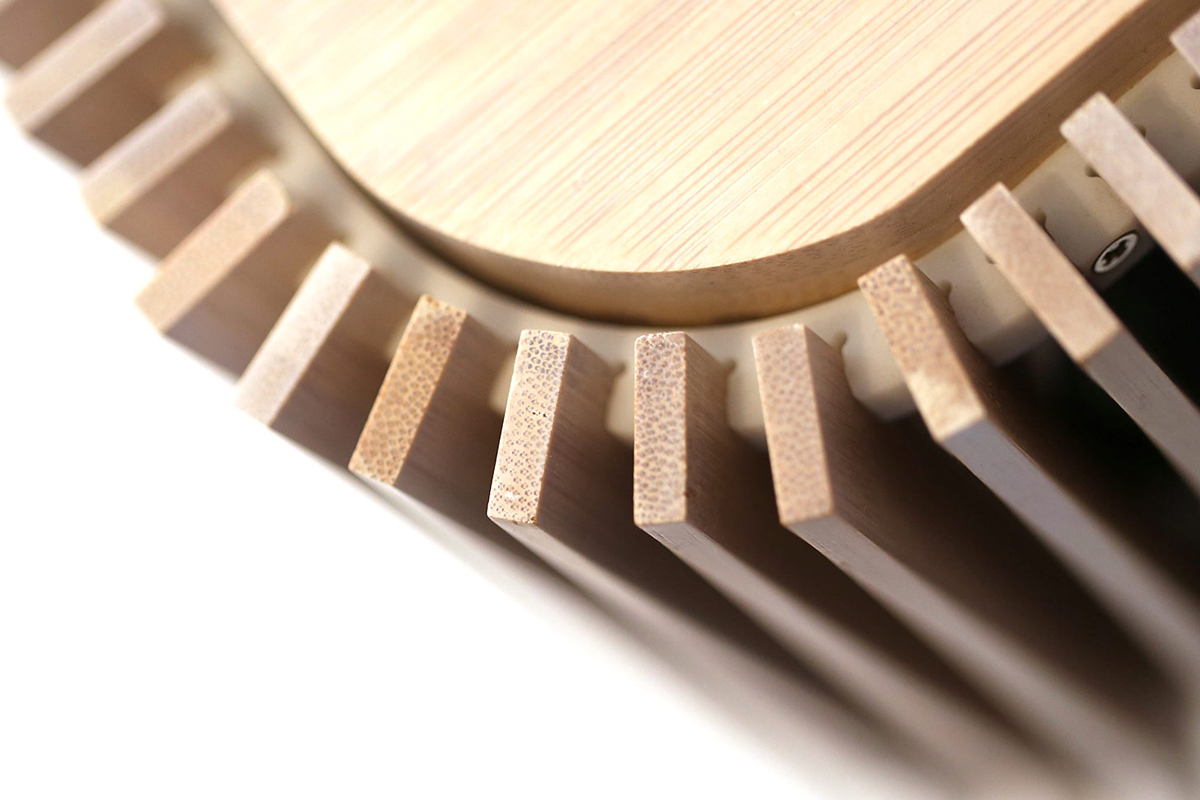 Given the Aurora's dependence on 4.5" paper-cone drivers run essentially full-range, supplemented by passive radiators and crossed over to tweeters at a very high frequency, I expected its sound to be fast and immediate. And so it was with André Previn and the London Symphony Orchestra's classic account of William Walton's Symphony No.1, completed in 1935 (16/44.1 ALAC, RCA Victor), which I streamed from my Mac Mini via Roon and AirPlay. In Previn's hands, the propulsive first movement has an infectiously jazzy feel, and through the Aurora it was tremendously exciting. The brass instruments were particularly impressive -- trumpets had fabulous bite, though they sometimes sounded a little too brash. Tubas had really satisfying growl, as did the double basses, and the strings as a whole had a nice breathy quality. When strongly bowed, violins had really nice rosiny bite but sounded a bit steely up top. For an all-in-one system, the sound of this big orchestral score was admirably transparent.
The Aurora supports every Bluetooth codec under the sun. Wanting to test them, I cued up "Just Look at This Mess," from the Punch Brothers' All Ashore (24/96 FLAC, Nonesuch), in the Music app of my LG G7. From the phone's Bluetooth settings menu I chose "Most stable" for the connection type. When playback began, a female voice from the Aurora announced "AAC," to inform me of the Bluetooth codec in use.
I really liked what I heard. Bandleader Chris Thile's mandolin sounded fast and articulate, his high tenor voice completely natural. Chris Eldridge's strummed chords on acoustic guitar combined fantastic woody body from the lower strings with metallic shimmer in the upper strings. Similarly, Gabe Witcher's fiddle combined an ideal rosiny bite at the beginning of each bow stroke with a lovely singing tone in the middle and finish. What most impressed me was Paul Kowert's plucked double bass, played mainly on its lower strings on this track -- it sounded big and robust, but also snappy and tuneful.
I returned to the LG phone's Bluetooth Settings menu, chose "Best sound quality," and the Aurora announced that the phone was now using the LDAC codec. I heard an unmistakable improvement -- not night-and-day, but definitely worthwhile. The overall sound was warmer and more expansive, and the individual contributions of each member of this quintet were better resolved. Subtle expressive flourishes in Thile's voice emerged more clearly.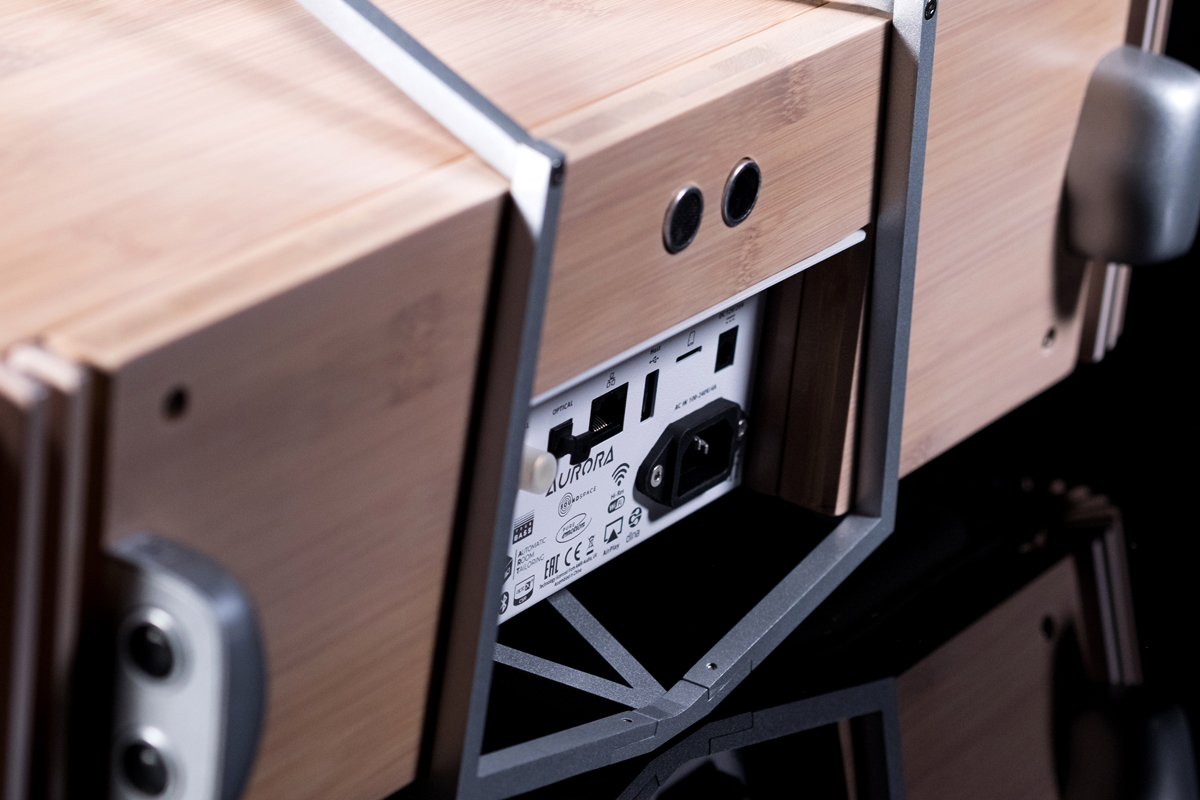 Next, I cued up the same song in the Müzo app, so that I'd be streaming it to the Aurora in native 24/96 PCM rather than compressed Bluetooth. This made an improvement comparable to going from Bluetooth AAC to LDAC. Thile's voice sounded a bit more embodied, with a more palpable flesh-and-blood quality. Witcher's fiddle was a little richer and more rosiny, and sang more beautifully in the upper strings. There was more space around the musicians.
I think all listeners will be happy with what they hear from the Aurora via standard Bluetooth, and the advanced codecs sound even better. But Wi-Fi is the way to go, if it's an option.
To experience how the Aurora could enhance TV sound, I connected it to the optical output of the Vizio D50-D1 50" HDTV in my family room, then cued up from Netflix Echo in the Canyon, a tribute to the Southern California music scene of the mid-1960s, hosted by Jakob Dylan. With archival footage, the Aurora made it easy to appreciate, say, the magical and enormously influential ringing treble of the 12-string electric guitar of Roger McGuinn, founder of the Byrds. During the tribute concert at L.A.'s Orpheum Theater, Jakob Dylan and Fiona Apple's performance of the Byrds' "It Won't Be Wrong" sounded big, warm, and full -- infinitely better than the speakers of my Vizio TV, which sounded tiny and tinny by comparison.
Comparison
A natural comparison for the iFi Aurora is Naim Audio's Mu-so 2nd Generation ($1599), which I reviewed in July 2019 and which received a SoundStage! Network 2019 Product of the Year Award for Outstanding Performance. These players are visually striking in very different ways -- the Mu-so 2nd is more luxurious, the Aurora funkier. I prefer the Aurora's design, but this is definitely a matter of taste.
The two players are also very different in terms of engineering design -- the Aurora eschews DSP, while the Mu-so 2nd uses it extensively. The Mu-so has more connectivity options, including an HDMI-ARC input, and supports Apple AirPlay 2 and Chromecast Built-in. And it's Roon Ready -- you can stream hi-rez music to the Mu-so 2nd from Roon, but not to the Aurora. The Naim app is much more polished and robust than the Müzo app that iFi uses for the Aurora, and the Naim player is more responsive.
What about the sound? I found this a case of swings and roundabouts. The Mu-so 2nd Generation matched the Aurora in terms of bass output and impact, but the Aurora's control of the bass was better.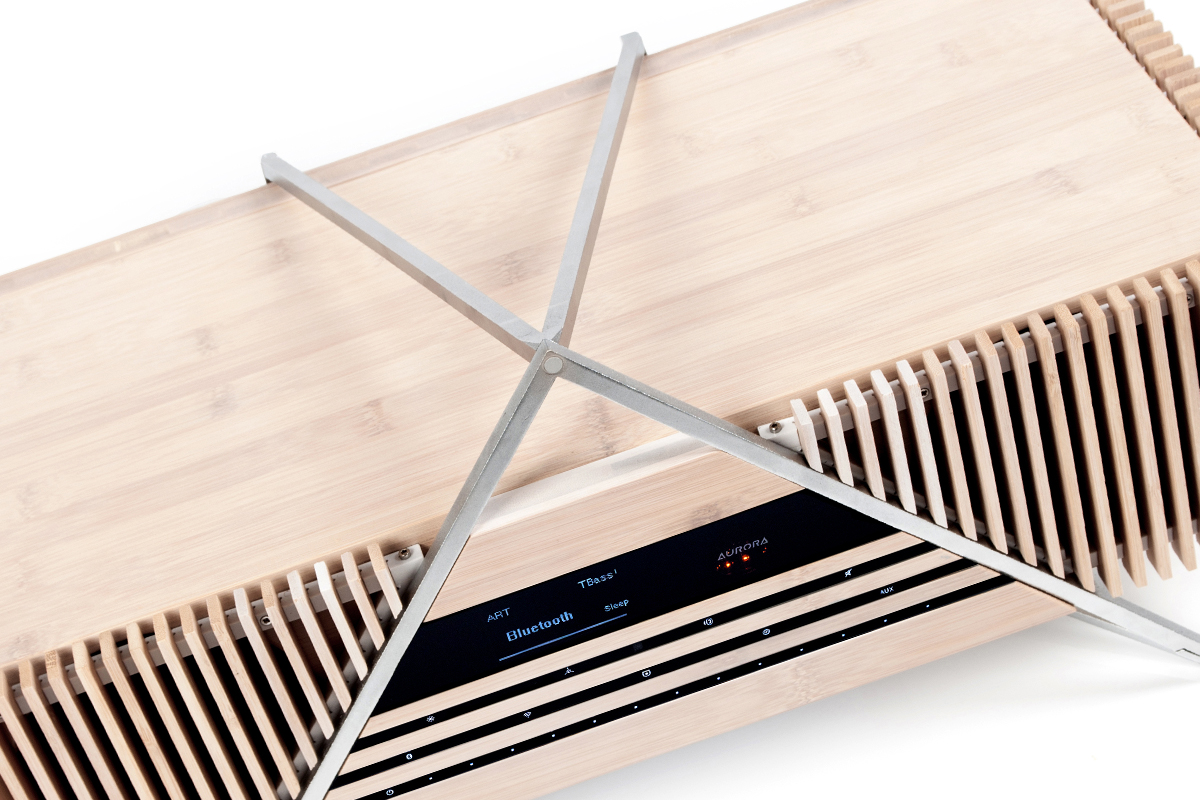 With Patricia Barber's "Regular Pleasures," Eric Montzka's bass drum and Michael Arnopol's double bass sounded a bit bigger and more dramatic through the Naim than through the Aurora -- but they also sounded more bloated. Through the Aurora, the initial attacks of drum and bass were faster than through the Mu-so 2nd, their decays more natural. However, I preferred how the Naim reproduced Barber's voice -- it sounded fuller-bodied and more natural, without the hollow, papery quality I heard with the Aurora.
The reproduction of dense passages in the Walton symphony was a little more transparent through the Mu-so 2nd, but double basses and tubas sounded thuddier. While brasses were a bit more brash and violins a bit steelier through the Aurora, the iFi also sounded more exciting, better communicating Previn's jazzy reading.
Streamed to the Mu-so 2nd from my Mac Mini using Roon, the Punch Brothers' "Just Look at This Mess" sounded bigger and warmer than through the Aurora, but the latter was faster and more incisive. Thile's voice was rounder and more human through the Naim, slightly papery through the Aurora. The transients of Thile's mandolin and Eldridge's guitar were faster through the iFi, but had more body though the Naim. Kowert's double bass had impressive depth and body through both players, but its definition was better with the Aurora.
I experienced some sputtering when streaming this track to the Aurora via Wi-Fi from my LG phone, but the Naim, sitting right next to the Aurora, streamed the same track from my Mac Mini without hiccups. In fact, I've never had any home-network hiccups with the Mu-so 2nd.
Conclusion
The industrial design of iFi Audio's Aurora is likely to be somewhat polarizing. It won't be to everyone's taste, but those who love it will really love it. I know I do. For those who share that response, and the responses of those who attended the Aurora's debut in Munich last May, a purchase decision will come down to two factors: sound and software.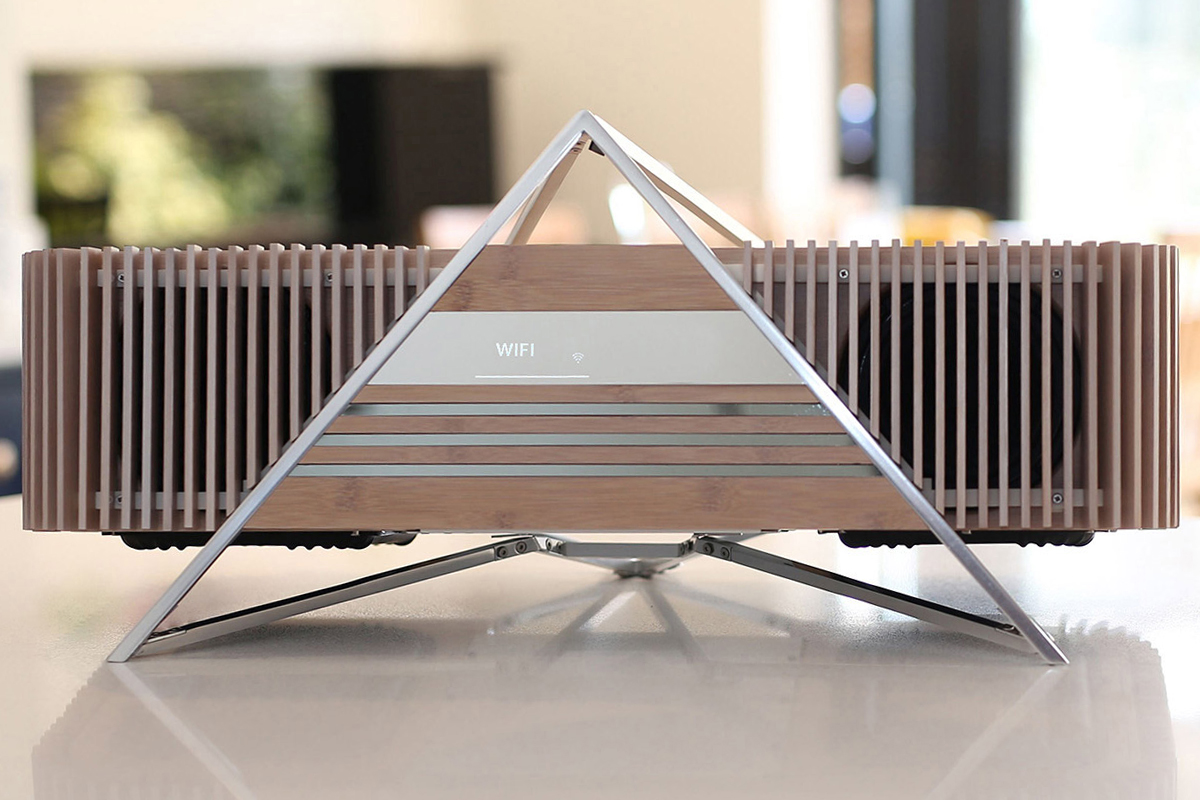 Sonically, the Aurora did not disappoint -- quite the contrary. It didn't only meet the lofty expectations I'd formed during its launch at Munich's whiteBOX, it exceeded them. It's voiced differently from other all-in-one players I've reviewed recently, and I really like that voicing. Indeed, the Aurora is one of the best-sounding tabletop music players I've heard.
I've noted my concerns about the Aurora's software and its responsiveness. These will be deal-breakers for some people. But for people who are streaming to the Aurora via AirPlay, Spotify Connect, or Bluetooth, or are willing to explore alternative apps like mconnect, these concerns may be irrelevant. If you're in the latter camp and find yourself smitten by the Aurora's looks, you should definitely give it a listen.
. . . Gordon Brockhouse
This email address is being protected from spambots. You need JavaScript enabled to view it.
Associated Equipment
Wireless music system -- Naim Audio Mu-so 2nd Generation
Sources and control devices -- LG G7 ThinQ smartphone; Apple iPhone SE, iPad Mini, Mac Mini running Roon 1.7
Display -- Vizio D50-D1 50" HDTV
Network -- Google Wifi three-node mesh network
iFi Audio Aurora Wireless Music Player
Price: $1399 USD.
Warranty: One year parts and labor; six months, tube.
iFi Audio
Balmoral Lodge
139-141 Cambridge Road
Southport, Merseyside PR9 7LN
England, UK
Phone: +44 (0)1704-227-204
Website: www.ifi-audio.com