When Naim Audio introduced a new version of its acclaimed Mu-so wireless music system in May 2019, at Munich's High End, it seemed inevitable that an updated version of the Mu-so Qb would soon follow. And so it did. In early August Naim announced the Mu-so Qb 2nd Generation ($899, all prices USD), and in late October my review sample arrived.
Like the original Mu-so Qb, the Qb 2nd is a compact, cubical (Qb, get it?) version of the much larger Mu-so. The Mu-so Qb 2nd Generation incorporates advances similar to those made in its full-size sibling, which I reviewed in July, and which subsequently received a SoundStage! Network Product of the Year Award for Outstanding Performance. Those advances include a more functional controller, more powerful processor, additional connectivity options, and new loudspeaker drivers.
Inside and out
All Mu-so players have built-in Wi-Fi and Bluetooth, an Ethernet port, a TosLink input with maximum resolution of 24-bit/96kHz PCM, a 3.5mm stereo analog input, and a USB Type-A port for attaching an external drive. The new Mu-sos, though, have faster dual-band Wi-Fi, with support for the 801.11ac standard.
Both first-generation Mu-so players supported Apple AirPlay and Spotify Connect. The 2nd Generation models upgrade Apple capability to AirPlay 2, which permits simultaneous streaming to multiple AirPlay 2 devices, and add Chromecast Built-in, for high-resolution streaming from devices running the Google Home app. Like the Mu-so 2nd, the Mu-so Qb 2nd is Roon Ready.
The original Mu-sos could accept digital files up to 24/192 PCM via USB or Ethernet, or up to 24/48 via Wi-Fi. The 2nd Generations can accept files of resolutions up to 24/384 PCM and DSD128, via Ethernet, USB, and Wi-Fi. Internally, though, all digital streams are resampled to 24/88.2, then passed on to the digital processing engine.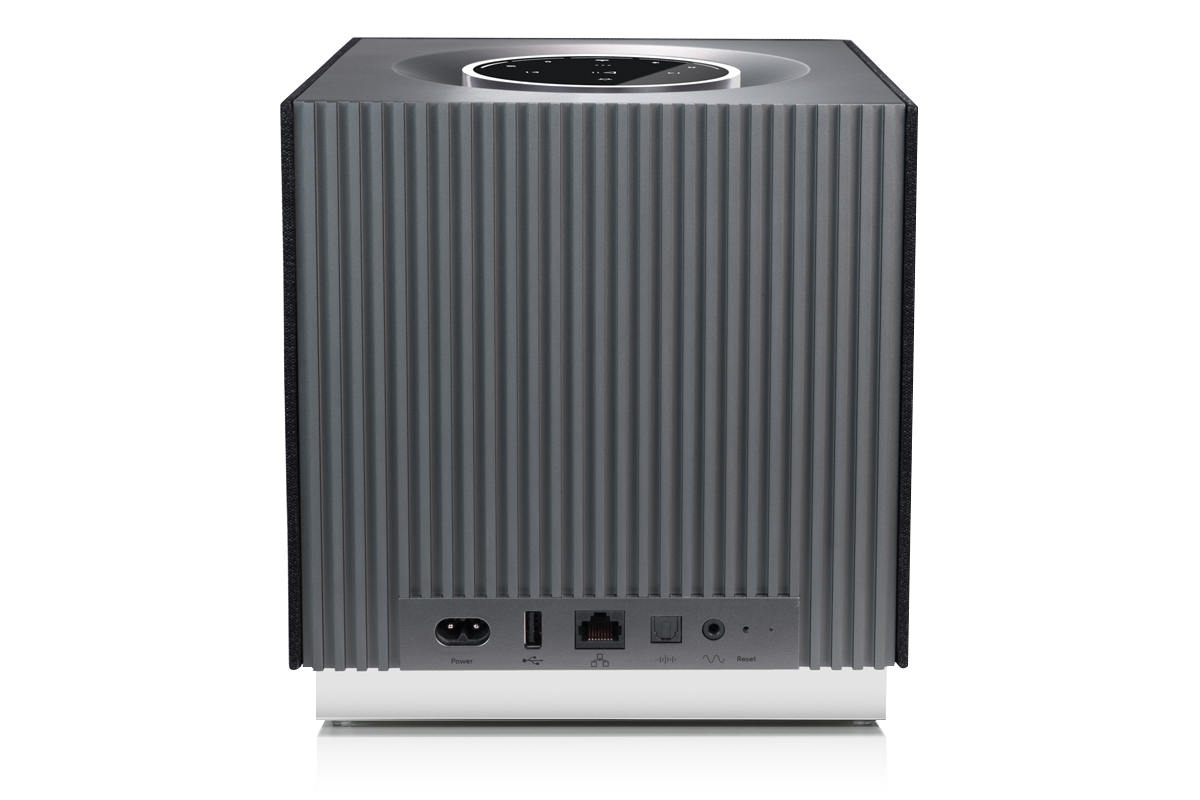 Naim says that the 16-core DSP chip used in its 2nd Generation Mu-sos is 13 times more powerful than the single-core chip used in the originals. This allows playback of hi-rez files and enables other functions, such as an enhanced limiter algorithm that lets the player maintain its composure at high volume levels.
From the outside, the Qb 2nd looks virtually identical to the first-generation Qb: gorgeous. Measuring 8.5"H x 8.25"W x 8.4"D and weighing 12.4 pounds, and supported by an illuminated mirrored base, both Qbs have an anodized aluminum outer shell and milled, anodized heatsinks on the rear. The main difference is the finish -- a lovely dark gray that looks more elegant than the original Qb's silver. The player's front and sides are covered in a single-piece, removable black grille. If you want to brighten up the Mu-so Qb 2nd, you can substitute an optional accessory grille for $85 -- the options are Olive, Peacock, and Terracotta.
On the top surface is one of the Mu-so's and Mu-so Qb's design hallmarks: a large, weighted dial that can be used to adjust volume, cycle through hardwired sources, pause and resume playback, and skip to the next or previous track. Channeling This Is Spinal Tap, the controller's perimeter is divided into 11 illuminated segments that indicate volume level -- yes, you can turn any Mu-so up to 11. A proximity sensor wakes the controller when you wave your hand above it.
New functions have been added to the controller on both 2nd Generation players. In addition to choosing from among five favorite Internet Radio stations, programmable using the Naim app, the new players let you select Spotify presets from the control dial. You can also use the dial to pair the Qb 2nd with Bluetooth devices, create a multi-room system with other Naim players, and resume playback from a Spotify queue.
Included with the Mu-so Qb 2nd is a plastic remote control that lets you adjust and mute volume, cycle through Internet Radio and/or Spotify presets, cycle through connected sources, initiate multi-room playback, and adjust the player's lighting (you can also do this from the Naim app).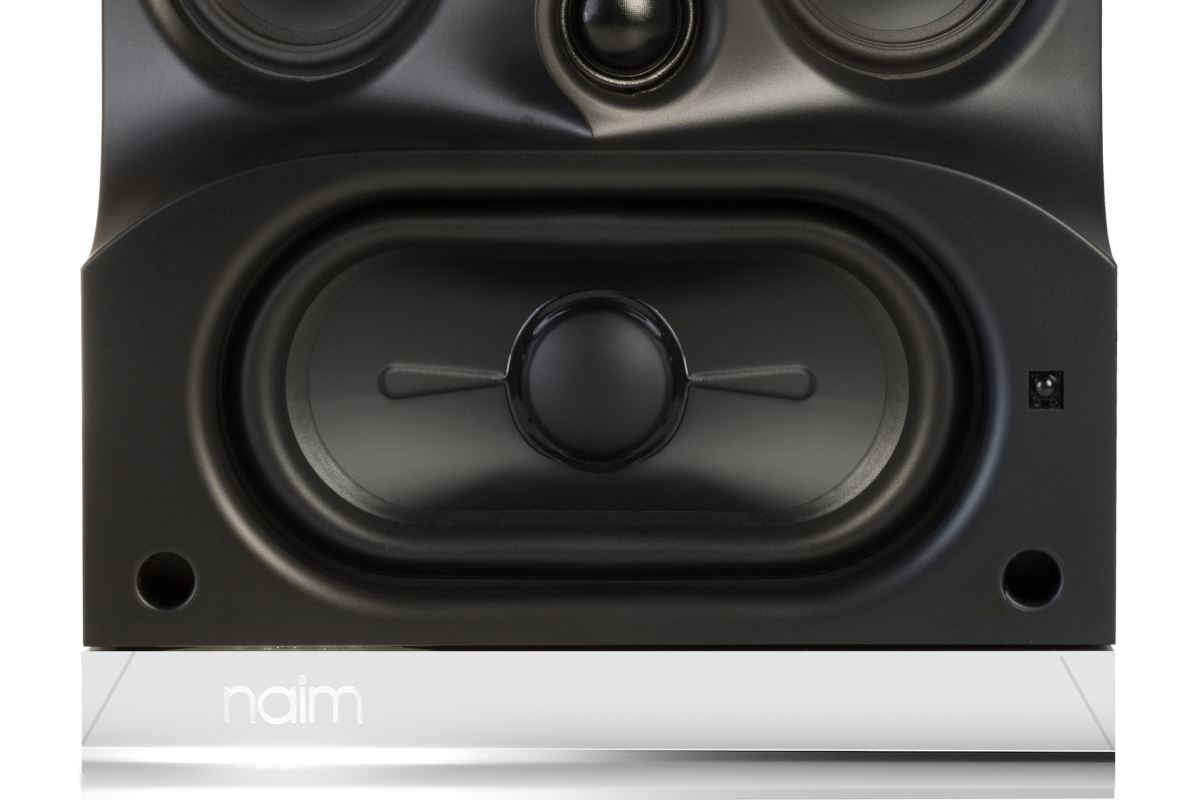 Like the original Qb, the Qb 2nd has a single front-mounted, 5.25" x 2.5" racetrack-shaped woofer shared by both channels and powered by a 100W class-D amp, and supplemented by a 6" x 3" passive radiator on each side panel. Above the woofer are one 2.5" midrange driver and one 0.75" dome tweeter for each channel, each powered by a 50W class-D amp, and all angled outward to create a sense of space. Crossover functions are performed in DSP. The woofer is crossed over to the midrange drivers at 400Hz, and the midrange drivers hand off to the tweeters at 3.5kHz; the slope for both crossovers is 24dB/octave.
For the 2nd Generation Mu-so players, Naim redesigned the drivers in collaboration with its sister company, Focal. The front baffle was also updated, employing a new honeycomb material that Naim says enhances stiffness.
Software and setup
The included Quick Start Guide covers the basics very well, providing all the guidance most users will ever need. The first step is to download the Naim app to your iOS or Android device from Apple's App Store or Google Play.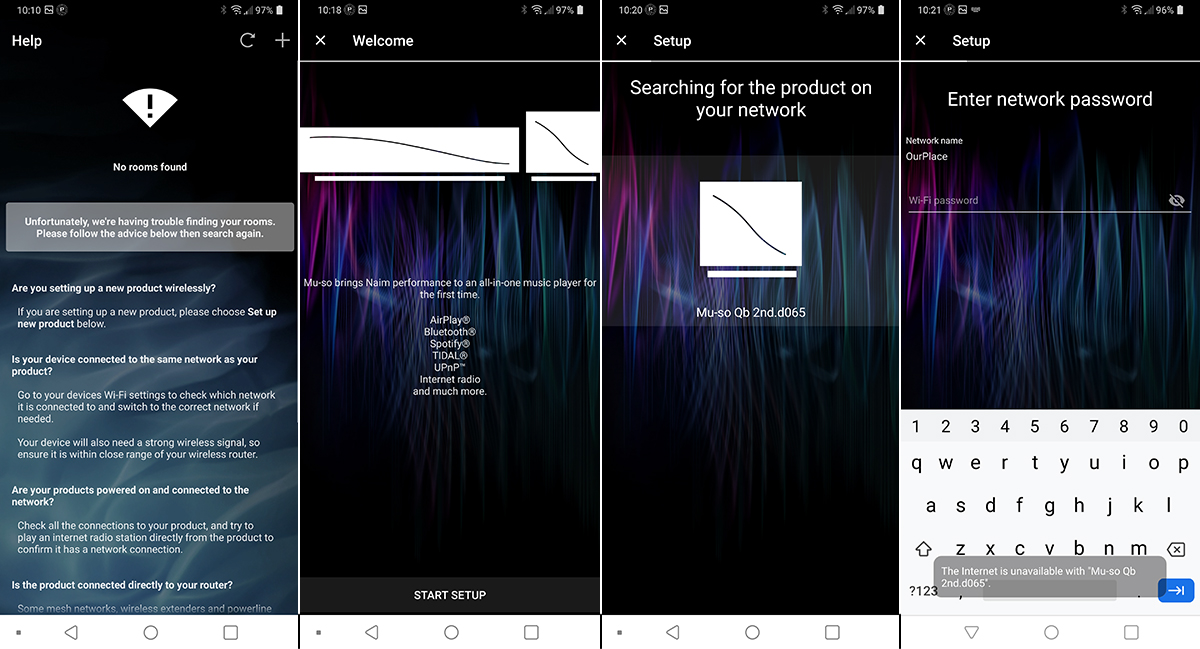 I had no Naim devices running on my home network when I unpacked the Qb 2nd, so, as expected, Naim's app found no rooms with Naim players. Per the onscreen instructions, I clicked the + button in the top left of the screen. That took me to the Add Room screen, where the first option was "Mu-so, Mu-so Qb." I selected that, then Start Setup in the following Welcome screen. After I'd confirmed that the color of the status LED at the rear was flashing purple, indicating that the Qb 2nd was ready to be set up, the app found the player and connected to it, then prompted me to enter my network password. The app then installed a firmware update, which took about ten minutes over a very fast Internet connection. To complete setup, I confirmed my location, then came up with a name for the room where I was using the product: "Mu-so Qb 2nd."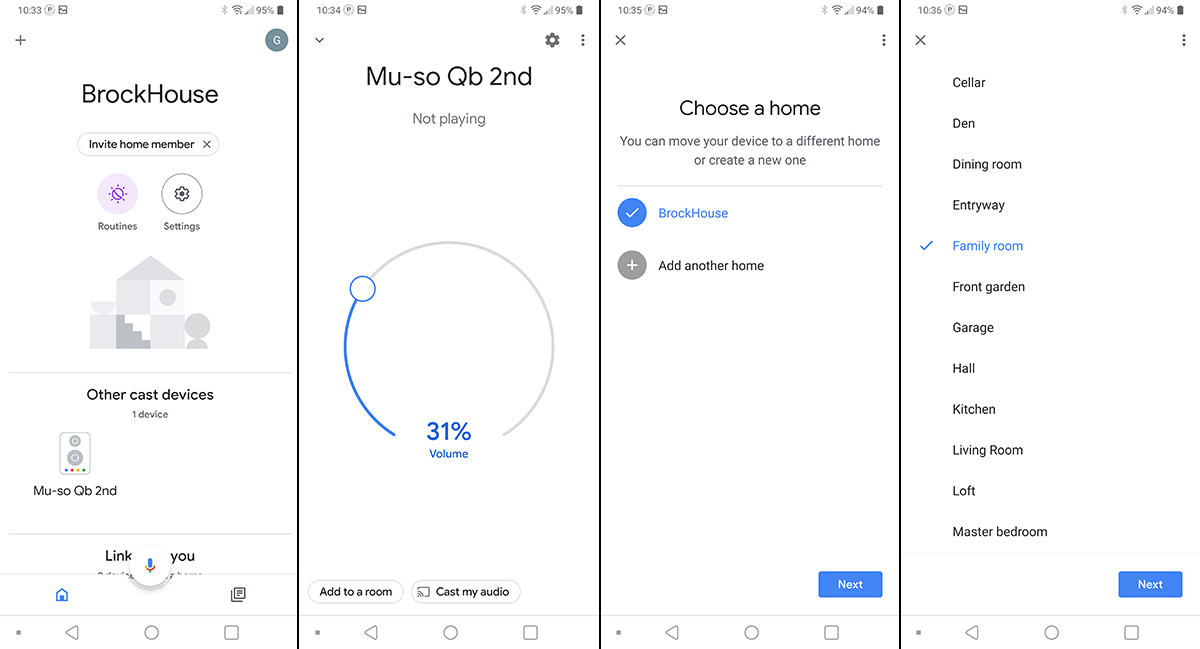 The Naim app then invited me to open the Google Home app, already installed on my LG G7 ThinQ smartphone. The Mu-Qb appeared as a Cast device in Google Home. I chose the "Add to a Room" option, then chose Family Room as the area where I was using it. While I found the Google Home setup a trifle confusing, the Naim setup process was commendably straightforward.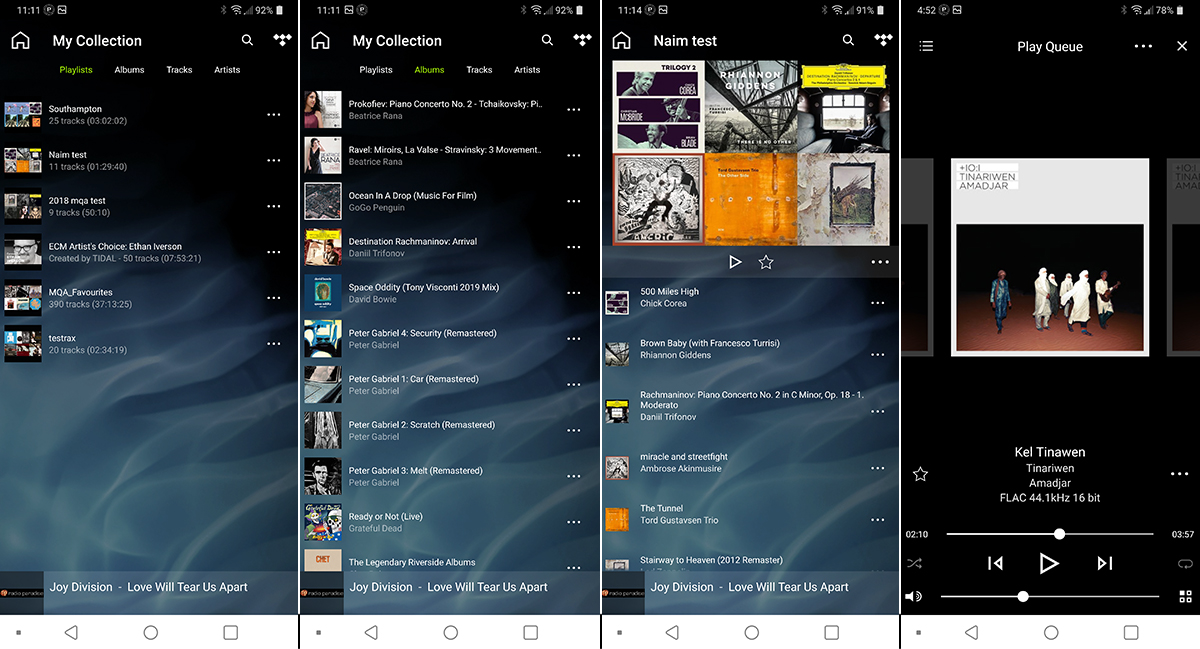 If you subscribe to Spotify or Tidal, you can access those services from the Naim app. Spotify users can also use Spotify Connect to stream to the Qb 2nd directly from the Spotify app. I subscribe to Tidal but not to Spotify. I selected the Tidal option; the Naim app prompted me to enter my username and password, after which My Favorite Tidal albums and playlists appeared.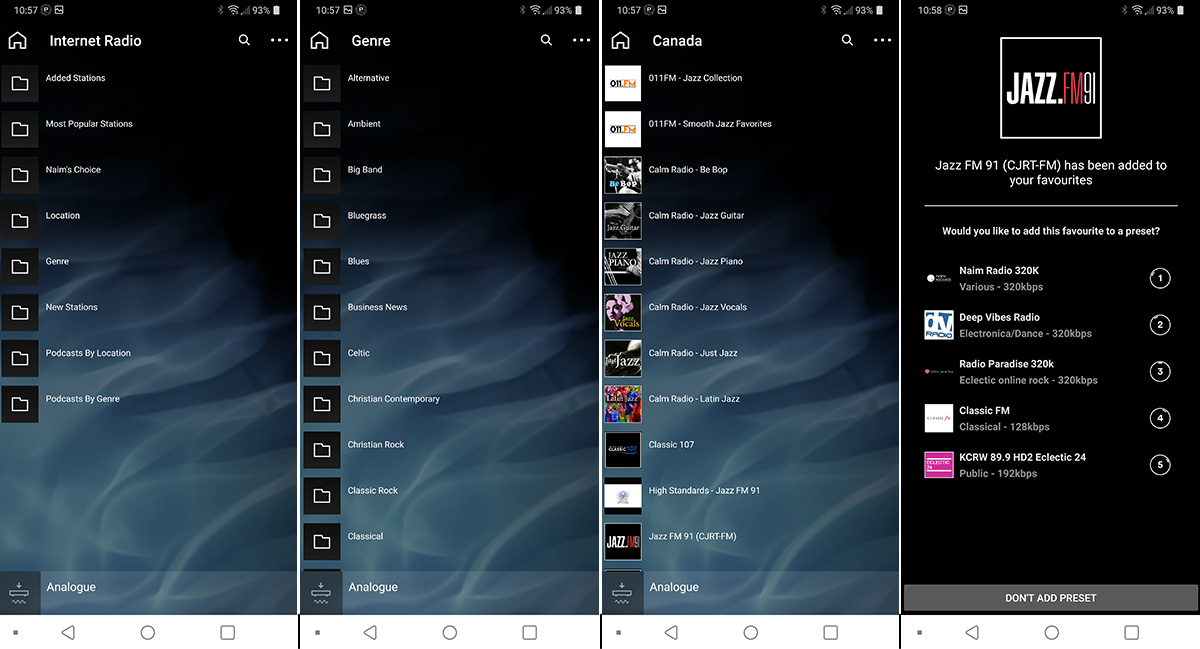 When playing Internet Radio, you can click a little star icon in the Now Playing screen to designate the station you're listening to as a favorite, after which it's accessible from the remote control or control dial. That lets you cue up some background music without launching the Naim app -- a welcome feature for casual listening, or for the technophobes of your household.
Almost by definition, casual listening is what a compact all-in-one music system like the Mu-so Qb 2nd is intended for, and that's how I spent much of my time with it. I placed the Qb 2nd on a credenza in the basement family room of our Toronto home, and later on a bedside table in the master bedroom of our vacation home, in Southampton, Ontario. I listened casually while going about my business, making mental notes and stopping to write down some of these, and later supplementing those notes with observations made in serious sit-down listening.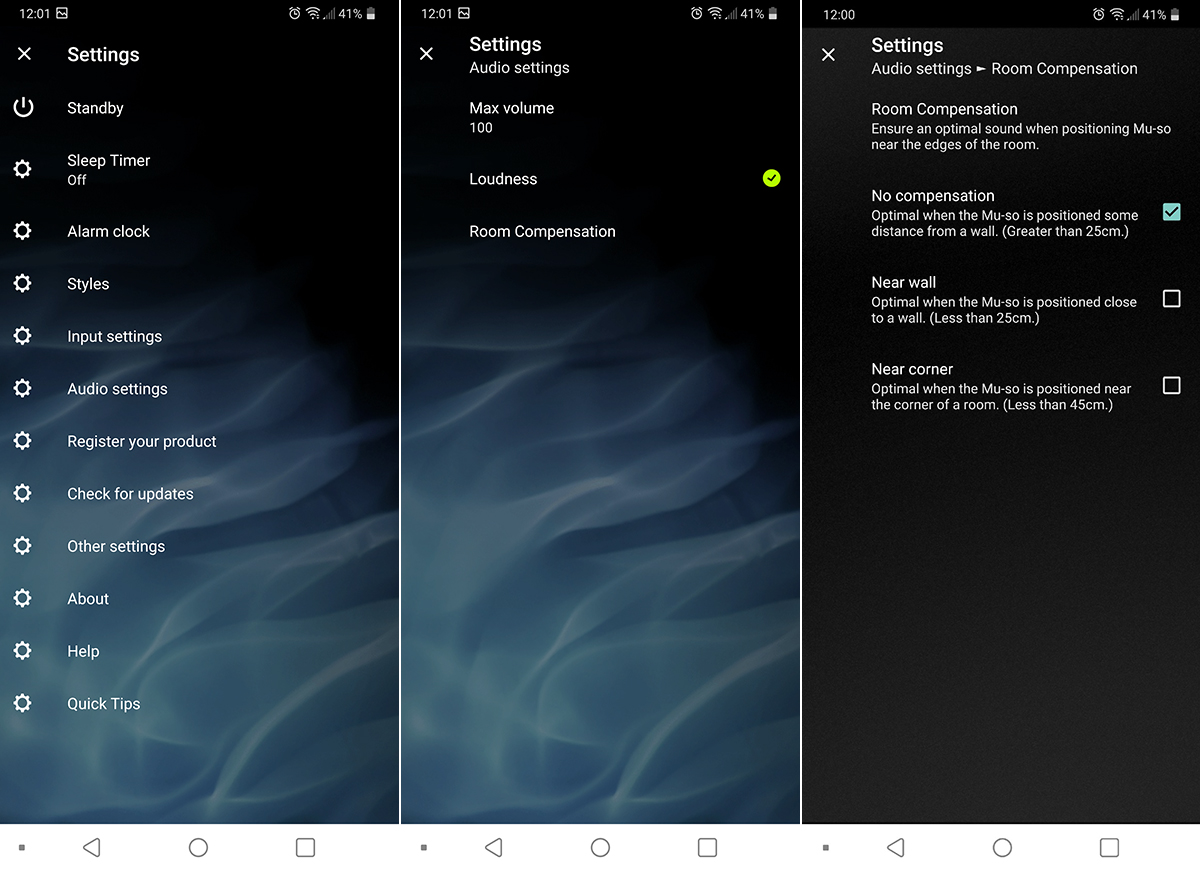 The Naim app's Audio Settings menu has a Room Compensation function, for situations in which the player is placed near a wall or corner. I chose No Compensation, this option recommended for when the Mu-so is placed 10" or farther from a wall, as was the case in both homes. I left Loudness Compensation turned on (the default setting), as I found it added a welcome touch of warmth at low listening levels, and wasn't at all obtrusive in its effects.
For my listening tests I combined several favorite tracks into a Tidal playlist, then played them from the Naim app. I also streamed music to the Qb 2nd from my LG smartphone via Chromecast, and from my iPad Mini via AirPlay. In Toronto, I used Roon to stream music to the Mu-so Qb 2nd from the Mac Mini in my second-floor office, which runs Roon Core 1.7. Roon, AirPlay, and Chromecast all worked seamlessly with the Qb 2nd, with no network or connectivity hiccups.
Listening
There's no way an all-in-one music system like the Mu-so Qb 2nd can take the place of a full-fledged stereo system. But time and again during my listening, this elegant, compact player reached out and grabbed my attention.
Streaming "The Tunnel," the quiet, reflective opening track of the Tord Gustavsen Trio's The Other Side (16-bit/44.1kHz FLAC, ECM/Tidal), I was wowed by the warmth, depth, and tactility of the lower strings of Sigurd Hole's double bass -- and the speed and articulation with which the Qb 2nd reproduced Hole's rapid improvising on the upper strings was just as impressive. I also loved the way the new Qb reproduced drummer Jarle Vespestad's deft snare work and his cymbals' beautiful metallic sheen. Through the Qb 2nd Gustavsen's piano tone was convincing, his lovely legato touch very nicely conveyed.
Of course, there was no stereo soundstage, even when I sat right in front of the Mu-so Qb 2nd -- how could there be? What this little system did, though, was create a satisfying sense of space around the instruments, thanks, I'm sure, to those outward-angled mid- and high-frequency drivers. This made it easy to follow the musicians' interplay, whether from that chair in front of the speaker, or from other areas of the room as I walked about.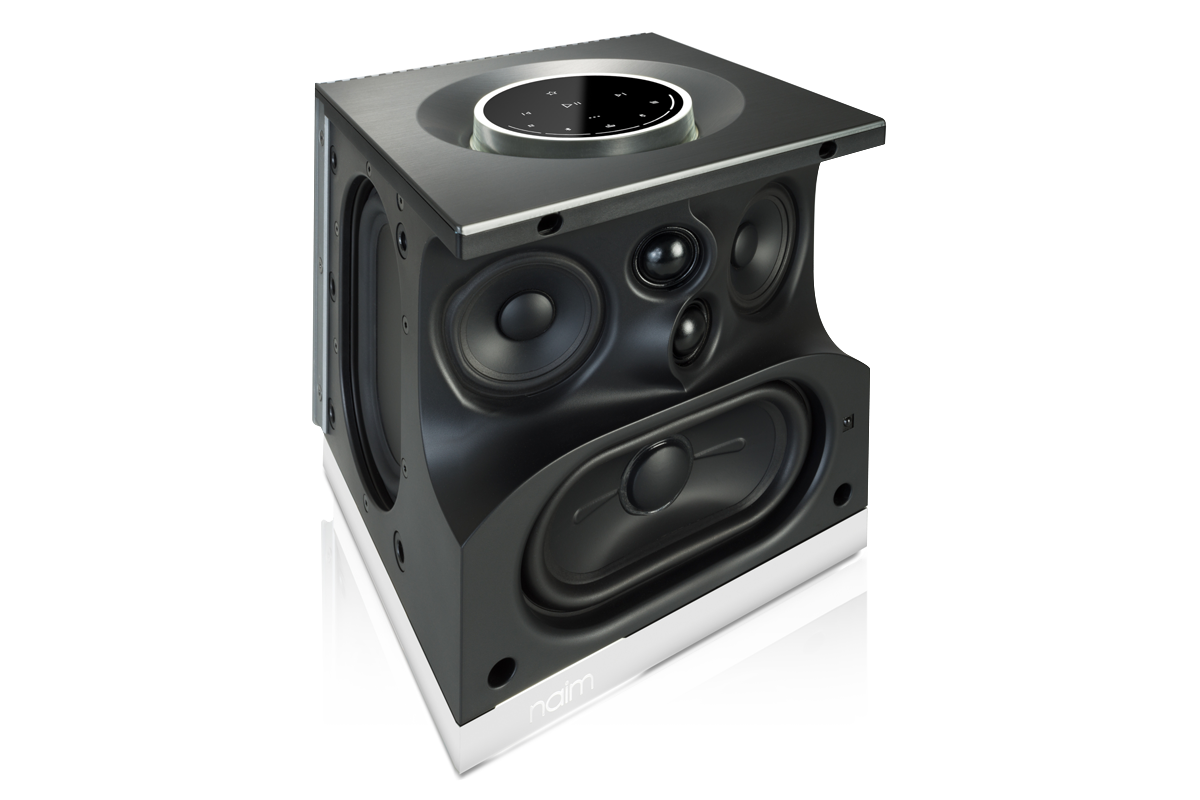 One of my favorite albums of 2019 was Leonard Cohen's posthumous Thanks for the Dance (24/44.1 FLAC, Columbia/Legacy/Qobuz), co-composed, arranged, and produced by Cohen's son, Adam, using vocal tracks laid down in the last months of his father's life. Streamed via Roon to the Qb 2nd, the first track, "Happens to the Heart" stopped me dead in my tracks.
The instrumental accompaniment sounded lovely. Michael Chaves's acoustic guitar and Javier Mas's laúd (a Spanish cittern that looks like a lute or oud), both had a deliciously woody presence; and Zac Rae's felt piano, in which the middle pedal inserts a layer of felt between hammers and strings, added an element of nostalgic mystery to the song.
The star of the show is Cohen's voice, extremely closely miked and still amazingly expressive, even though at the end of his life his tonal and dynamic range were more limited than ever. Behind Cohen's half-sung, half-spoken delivery were layer on layer of meaning -- little whispered inflections at the end of a line, ironic and throaty self-examinations -- that this little system revealed beautifully.
I did hear a slight chesty coloration at the bottom of Cohen's range. Switching off the Loudness Compensation didn't much alleviate this, but choosing the Near Wall setting in the Naim app's Room Compensation menu did. Sitting on the credenza in our family room, the rear panel of the Qb 2nd was 15" from the wall -- half again as far as the 25cm (10") recommended for such placement.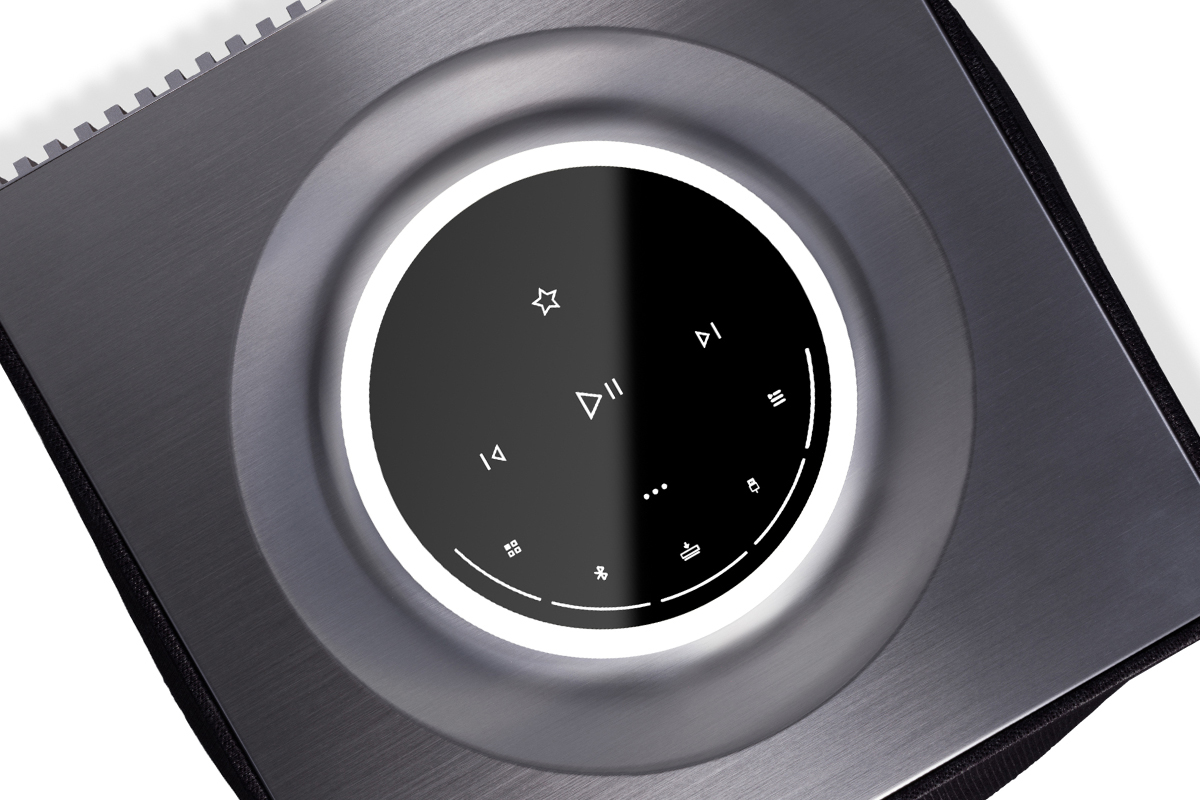 Not surprisingly, there was also some congestion -- Adam Cohen's gorgeous arrangement wasn't as fully unraveled as it would be through a full stereo system. But let's get real -- given the size of this system, what the Mu-so Qb 2nd did with this recording was extraordinary. I noticed these flaws only when I forced myself to put on my reviewer's hat.
Vivaldi, a collection of vocal and instrumental music by the famed Venetian composer of the baroque, played by the French ensemble Jupiter under the direction of lutenist Thomas Dunford (24/96 FLAC, Alpha Classics/Qobuz), also revealed the Mu-so Qb 2nd's ability to convey rich instrumental colors. In Vivaldi's Bassoon Concerto in G Minor, RV 495, Peter Whelan's bassoon sounded deliciously, almost comically (in a good way) woody and reedy, full of color and character. In the first and third movements, a Presto and an Allegro, the sound of this rather reverberant recording, made in a recently restored late-18th-century theater in Arras, France, was a little dense -- inner orchestral voices were a bit mushy. But the slow second movement, a Largo, was lovely -- the double bass and chamber organ of the basso-continuo section sounded full and warm, and not at all boomy or indistinct.
On the same recording, mezzo-soprano Lea Desandre sings arias from Vivaldi's operas and oratorios, and these tracks demonstrated the Qb 2nd's dynamic capabilities. In "Gelido in ogni vena," from the 1727 opera Farnace, the heroine laments the apparent death of her son. The Qb 2nd beautifully tracked Desandre's passionate singing with very convincing vocal timbre. The orchestral accompaniment, too, was very satisfying, notably the antique violins in the introduction, which combined dramatic bite with a ripe, singing tone; and the rich, multi-layered sound of the continuo of lute, double bass, and harpsichord gave this dramatic passage a really satisfying foundation.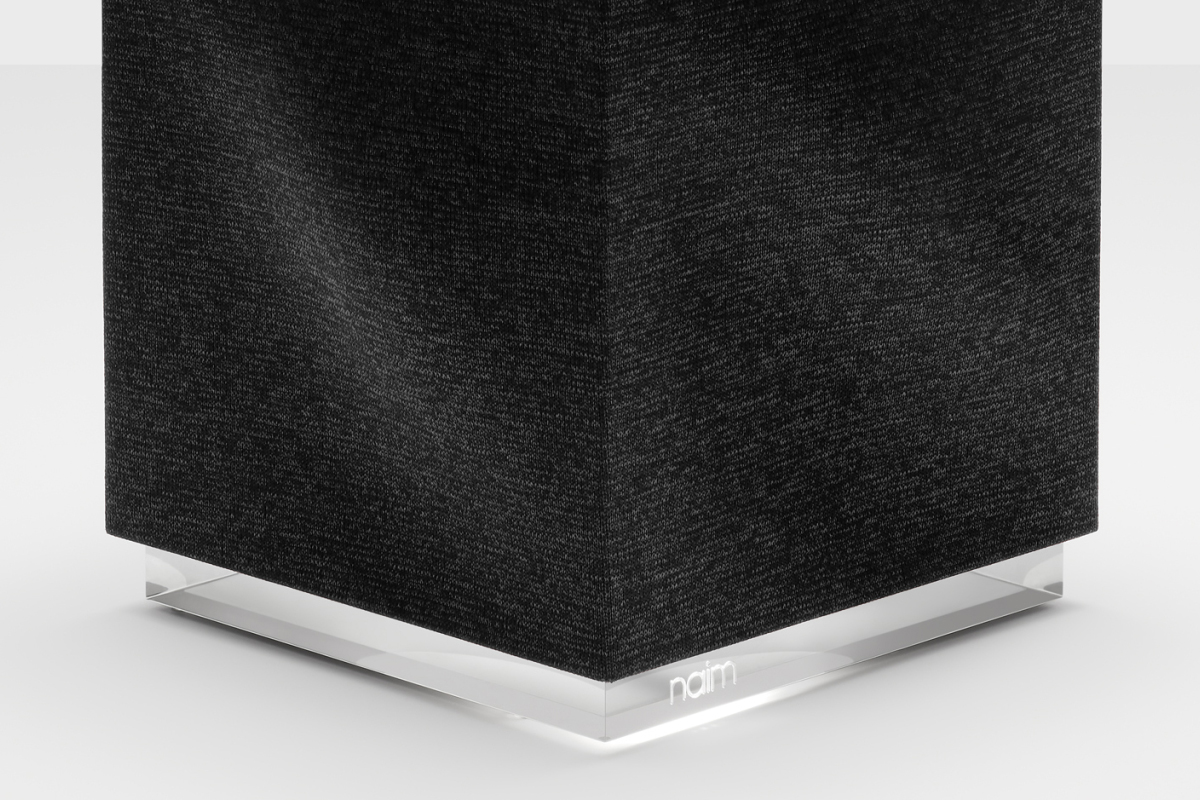 Amadjar, a new album by the Malian desert blues band Tinariwen (16/44.1 FLAC, Anti-/Tidal), showed the Qb 2nd's ability to deliver sound far larger than its size would lead you to expect. Recorded in a makeshift outdoor studio in Mauritania, the album features some of the greatest guitar playing -- acoustic and electric -- you'll ever hear, supported by Malian percussion instruments such as the djembe, a large, goblet-shaped, hand-beaten drum.
Through the Qb 2nd, bandleader Ibrahim Ag Alhabib's fingerpicked acoustic lead guitar in "Kel Tinawen" sounded wonderful, with sharp transients and full-bodied decays. I could also appreciate the contributions of the other three guitarists, which included a guest appearance by American Cass McCombs. I was impressed that this compact all-in-one music system could resolve all these strands. Eyadou Ag Leche's electric bass and Saïd Ag Ayad's djembe provided a deep, resonant heartbeat without bloat or boom, making it impossible not to sway to the song's exotic desert rhythm.
Comparisons
The Mu-so 2nd Generation is significantly larger than the Qb 2nd. With 450W of onboard amplification it's also 150W more powerful, and at $1599, it costs $700 more. Given these differences, you'd expect the Mu-so 2nd to sound better than its smaller sibling, and it did. But what this comparison reinforced for me is that the Mu-so 2nd and Mu-so Qb 2nd are clearly members of the same family.
With Leonard Cohen's "Happens to the Heart," the Mu-so 2nd sounded bigger and fuller than its little brother. There were tradeoffs -- the heaviness in Cohen's voice was more pronounced with the full-size Mu-so, even after I'd enabled the Near Wall setting in the Room Compensation menu. But Cohen's voice sounded even more expressive through the Mu-so 2nd than the Qb 2nd -- his subtle whispered inflections were more in the foreground.
The biggest difference, though, was the instrumental accompaniment. Caimin Gilmore's double bass sounded deeper and fuller. The transients of Michael Chaves's acoustic guitar and Javier Mas's laúd were sharper, decays longer. Most important, stringed and woodwind instruments that were hard to discern through the Qb 2nd were considerably clearer through the Mu-so 2nd, adding to my appreciation of Adam Cohen's wonderful arrangement.
With the Vivaldi recording, string tone was smoother and orchestral textures more transparent. This made it easier to appreciate the rich continuo in the aria from Farnace. The larger player tracked the dynamics in Lea Desandre's dramatic singing more effectively, adding to the pathos. And, of course, the Qb 2nd's reproduction of space was more closed-in -- how could it be otherwise?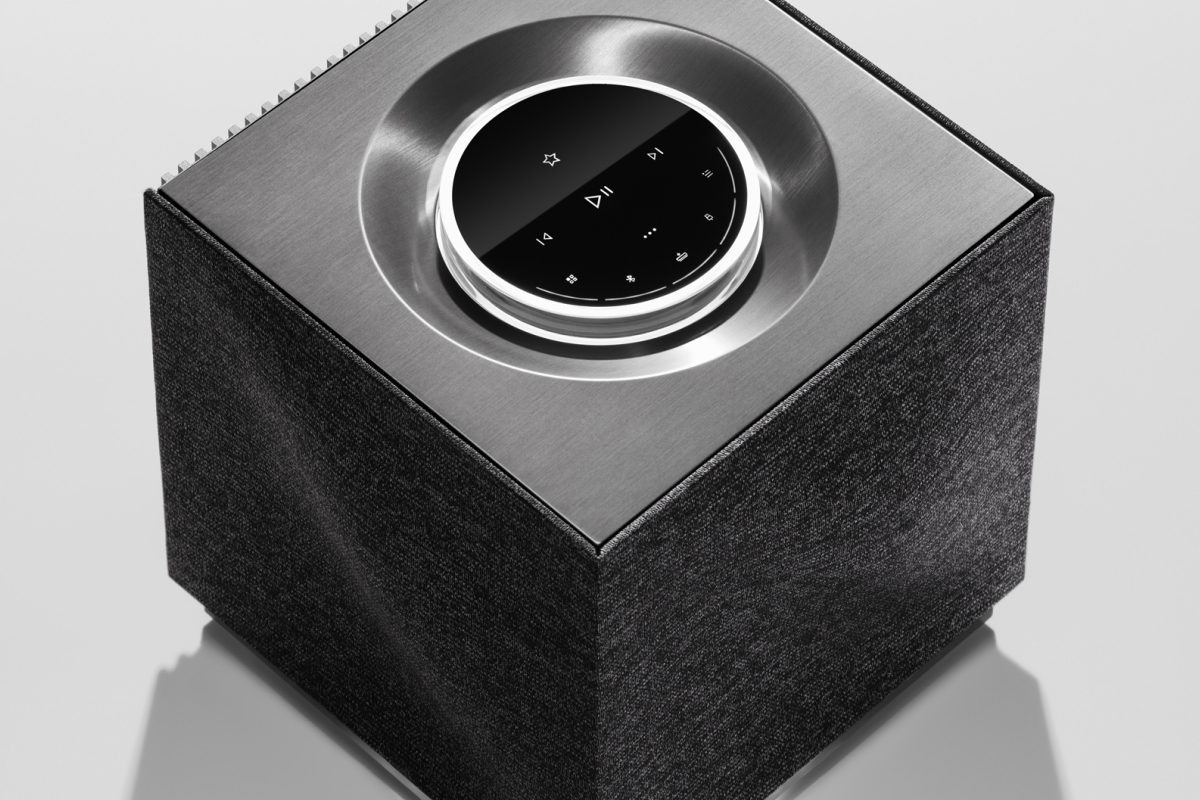 In the fast first and third movements of the bassoon concerto, the Mu-so 2nd brought inner orchestral voices out of the reverberant soundfield more effectively than the Qb 2nd. In the slow second movement, the double bass and chamber organ had more detail and texture, which made it much easier to appreciate their individual contributions -- they sounded deeper and warmer as well.
Wanting to also compare the Mu-so Qb 2nd Generation to the original Qb, I drove to Trutone Electronics, in Mississauga, Ontario, ten miles from my home in west-end Toronto. Trutone still had the first-generation Qb in stock, and graciously let me spend part of an afternoon in their showroom comparing it with my review sample of the Qb 2nd.
Using the Naim app to stream "Brown Baby," from Rhiannon Giddens's There Is No Other (16/44.1 FLAC, Nonesuch/Tidal), I found the original Mu-so Qb to sound a little darker than the 2nd, but also gentler. Giddens's voice sounded a bit more forward and expressive through the Qb 2nd, a little more human and rounded through the original. Through the Qb 2nd, the transients of Giddens's big, woody minstrel banjo were sharper, and Francesco Turrisi's piano chords emerged more clearly. The conclusion of the song sounded more compressed through the original Qb.
With "Here Come the Girls" from With You in Mind, Stanton Moore's 2017 collection of Allen Toussaint songs (16/44.1 FLAC, Cool Green/Tidal), the Qb 2nd sounded a little brasher than the original, the first-generation Qb a bit more closed-in. Moore's drumming had more snap, and brass -- especially Trombone Shorty's long solo -- had more bite and personality through the Qb 2nd.
Conclusion
Sonically, the Mu-so Qb 2nd Generation provides an extra dollop of clarity and excitement over its predecessor. Functionally, it's a significant upgrade, with new features like Chromecast Built-in, Roon Ready capability, and AirPlay 2, as well as fuller support of hi-rez audio.
Of course, the Mu-so 2nd Generation is even better. But there are many situations for which, for reasons of cost and/or space, a full-size Mu-so isn't practical -- in those cases, the Qb 2nd will be a brilliant compromise.
Like the original Qb and both Mu-so players, Naim Audio's Mu-so Qb 2nd Generation oozes elegance and luxury. If you're looking for a compact, classy, all-in-one music system for use in a bedroom, kitchen, office, or den, I doubt you can do better.
. . . Gordon Brockhouse
This email address is being protected from spambots. You need JavaScript enabled to view it.
Associated Equipment
Speakers -- Naim Audio Mu-so 2nd Generation and Mu-so Qb (original version)
Sources and control devices -- Apple iPhone SE and LG G7 ThinQ smartphones; Apple Mac Mini computer (mid-2011) running Roon Core 1.7, with music library on LaCie 2Big Thunderbolt 6TB RAID system
Network -- Google Wifi three-node mesh network
Naim Audio Mu-so Qb 2nd Generation Wireless Music System
Price: $899 USD.
Warranty: Two years parts and labor.
Naim Audio Ltd.
Southampton Road
Salisbury, Wiltshire SP1 2LN
England, UK
Phone: +44 (0)1722-426600
Fax: +44 (0)871-230-10-12
E-mail: This email address is being protected from spambots. You need JavaScript enabled to view it.
Website: www.naimaudio.com