In mid-July, a SoundStage! reader posed this question on SoundStage! founder Doug Schneider's LinkedIn page: "Can someone point me to an article that tells me in simple terms why I should be using Roon?"
"I'm already paying for Apple Music and Spotify," wrote Jeff Jones. "I do not have gigabytes of hi-rez music files, nor am I inclined to start paying for them now. When I'm at home I'm mostly listening to vinyl or compact discs. I own a megaton of music in both formats. In the car, it's Spotify or Apple Music thru CarPlay."
On LinkedIn, Doug had referenced my article about Roon ARC and Muse Precision Audio Control on SoundStage! Simplifi: Roon ARC is a smartphone app that lets you access your Roon library just about anywhere, and Muse is a set of DSP tools for optimizing audio on your playback device.
I get where Jeff is coming from. A Roon subscription costs $14.99 per month (all prices in USD), which is more than he's paying for either of his streaming services. Jeff could save a few dollars by opting for an annual subscription ($149.88). And if Jeff thought he'd like to use Roon forever, he could plunk down $829.99 for a lifetime subscription—that's up from $499.99, which is what a lifetime subscription cost when Roon first launched.
So should Jeff be using Roon? Looking at his music consumption habits, I'd say probably not. Roon lets users manage digital music libraries (these can be downloads or files ripped from your own record collection), but Jeff listens mainly to packaged media. Roon also has integrated support for three music-streaming services—Qobuz, Tidal, and KKBox—but Jeff doesn't use any of these.
But I'm certain that many digital audiophiles can benefit from Roon. Anyone with a large library of ripped and downloaded files should check it out, especially if they subscribe to a streaming service supported by Roon.
Roon 101
I'll start with a quick description of how Roon works. You can find a detailed explanation of Roon's architecture on Roon Labs' website. What follows is a simplified CliffsNotes version. If you're already familiar with Roon, skip ahead to the next section.
A Roon setup consists of three elements: Roon Core, the server that stores your music library and manages playback devices; Roon Control, an app that lets you browse your library and cue up the music you want to play; and the devices that you use to play music.
Your subscription fee allows you to install Roon Core on a single device. That can be a Windows PC, Apple Macintosh, Linux computer, NAS system, or a dedicated server such as a Roon Nucleus or exaSound Delta. Your Roon Core will manage your music library, which can be stored on an internal drive, an external USB drive, a network drive, or a combination of these. Roon will also integrate tracks, albums, and playlists from supported streaming services with your library. Currently, Roon supports Qobuz, Tidal, and KKBox. Roon supports virtually every audio file format, including hi-rez PCM (up to 768kHz) and DSD (up to DSD512), and can perform MQA core decoding.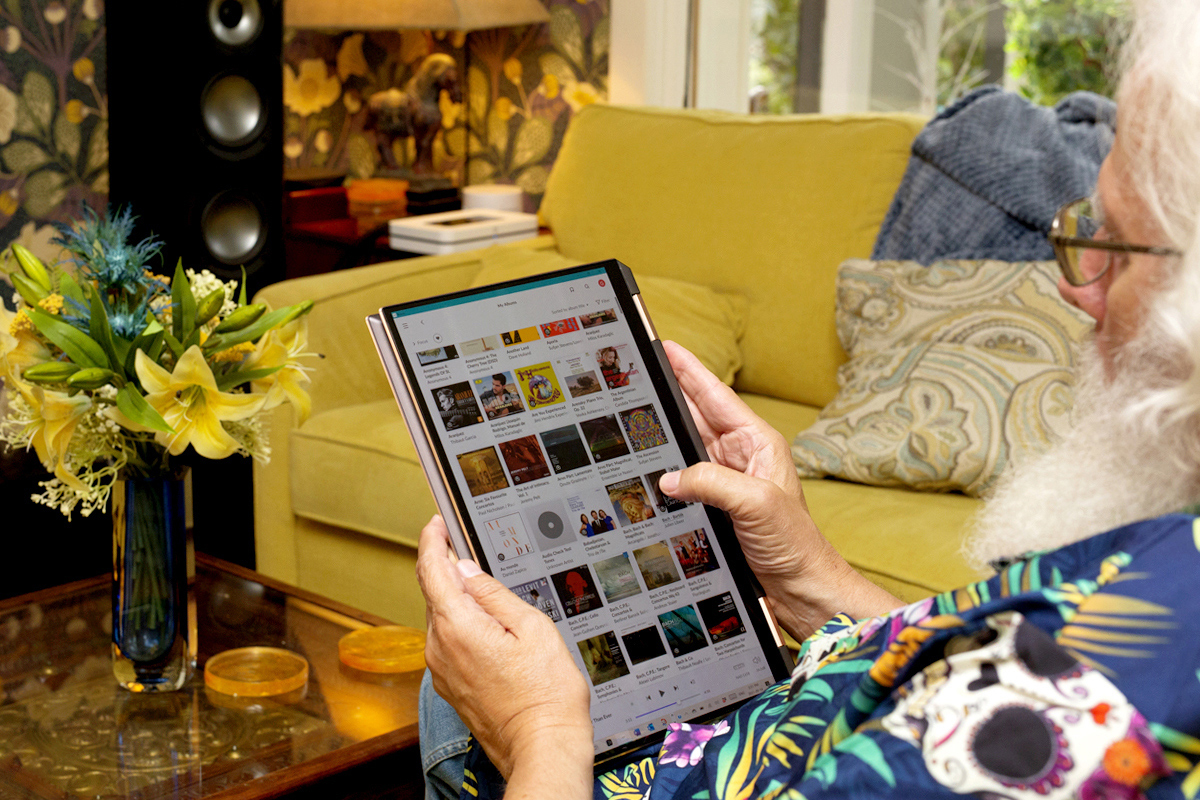 You can choose music from your Roon Core, or from the Roon Control app running on a personal computer, smartphone, or tablet. You can install the Roon Control app on as many devices as you please. In my system, I use an Apple Mac Mini to run Roon Core, and I run Roon Control on my HP Spectre x360 convertible notebook PC, iPhone 14, Apple MacBook Pro, iPad Mini, and Google Pixel 4a 5G smartphone.
You can play music through devices connected to your Roon Core, and stream music over your home network to other devices. These can be Roon Ready (devices that have been certified to work with Roon), devices that are running the Roon Control app (and DACs connected to those devices), or devices that support AirPlay and/or Chromecast. You can use Roon with as many playback devices as you wish, as long as they're on the same network as your Roon Core.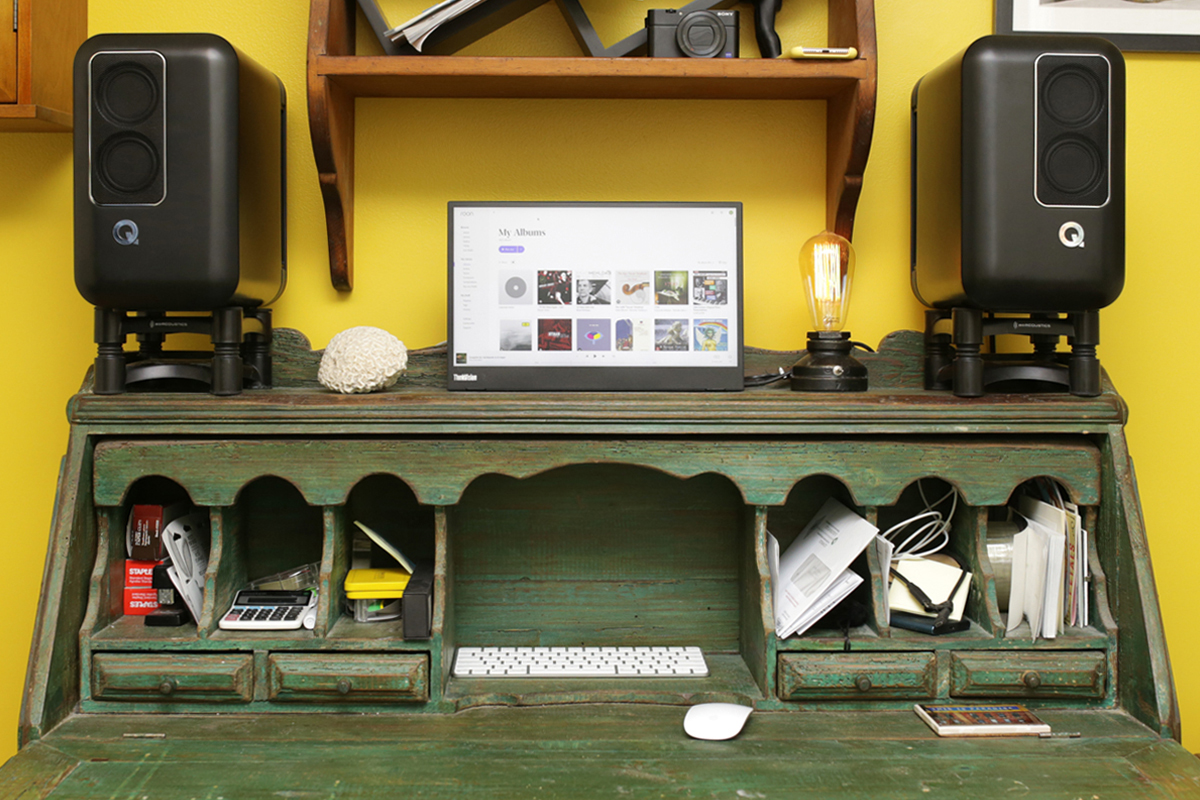 I play music from Roon through a KEF LS60 Wireless active speaker system in my living room, a Q Acoustics Q Active 200 speaker system in my home office, an iFi Audio iDSD Black Label DAC–headphone amp connected to the Mac Mini that runs Roon Core, and a Bowers & Wilkins Panorama 3 soundbar in my basement family room. The B&W bar is not Roon Ready, so I stream to it via AirPlay. I also use Roon to play music through many of the streaming components I review for Simplifi.
So, what are the arguments for using Roon?
1. Roon probably works better than your current streamer
Most audio components with streaming capability come with a companion app whose functionality, superficially at least, is similar to Roon's. Such apps let you cue up music from a smart device or personal computer. Typically, these apps support a few streaming services; and many also let you play music files stored locally, or on an attached or network drive.
Software design is an exacting discipline, and not all audio companies are good at it. I've reviewed streaming components whose apps display albums in haphazard order, making it hard to find the music you want to hear. Even worse, some display and play songs in alphabetical order when you select an album stored on a local or network drive, rather than playing the album tracks sequentially.
That said, the apps provided with most streaming components work fine, even if they aren't particularly elegant or user-friendly. To cite one example, Bryston's outstanding BR-20 streaming DAC-preamp uses a web interface called Manic Moose to control playback from USB drives, network drives, and supported streaming services. When Evan McCosham reviewed the BR-20 for SoundStage! Hi-Fi, he found Manic Moose "a little awkward." I had the same reaction to Manic Moose when I reviewed the BR-20 for SoundStage! Simplifi. But that deficiency wasn't enough to keep the BR-20 from receiving Reviewers' Choice honors for both reviews, and from being recognized as a Recommended Reference Component.
The BR-20 retails for $6795, or $7500 with an optional HDMI board. A component like this will likely be part of a system costing at least $20,000. For anyone with such a setup, the cost of a Roon license is a small price to pay for a much better experience when playing streamed and file-based music. Apparently, many Bryston owners have figured this out. The BR-20 is Roon Ready, so many BR-20 owners are now using Roon rather than Manic Moose, reports Bryston CEO James Tanner.
I've singled out Bryston (who is working on a new interface to replace Manic Moose), but I could have cited many other examples. In my five years with Simplifi I've reviewed dozens of streaming components, many of which came with companion music-management apps. Some of these apps were excellent, some were shoddy, and most were just OK. But in terms of functionality, flexibility, and robustness, Roon is better than any of them.
2. You can use Roon to control more than one system
A related benefit of Roon is that it works with components from many different brands. As Rob Darling, Roon Labs' director of strategy, explained when I interviewed him in 2019, components are subjected to an exhaustive testing process before they receive Roon Ready certification. This assures that they work reliably with Roon, and that they can all work together. There are now thousands of Roon Ready components, including active speaker systems, streaming integrated amplifiers, and streaming DACs. And as mentioned, you can also stream from Roon to any AirPlay or Chromecast device on your home network.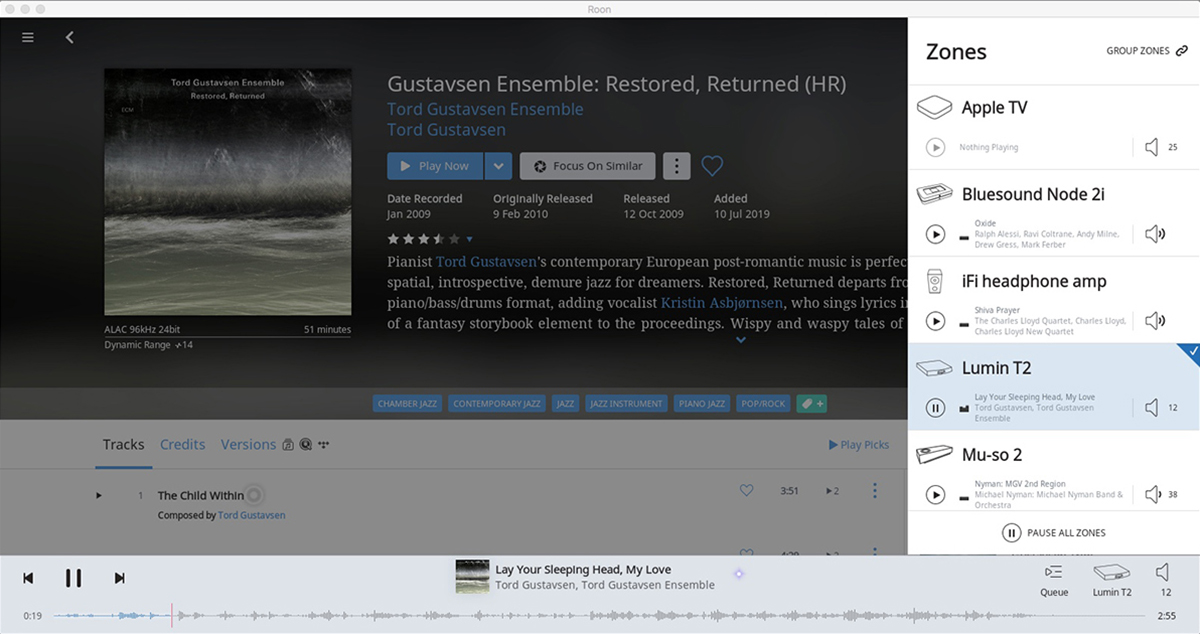 This means you can use Roon to play music through different systems installed in different rooms in your house. What's more, everyone in your household can use the same app to control music systems from different brands. That way, they get a consistent experience regardless of which system they're using at the moment. If you decide to upgrade an existing system or add a new system for another zone, you can use Roon with your new gear—you don't have to figure out how to use the app it comes with.
Roon also lets you group systems in different rooms together so that you can stream the same music to them simultaneously, with independent volume control for each zone. Essentially, Roon lets you combine components from different brands into a multiroom music system.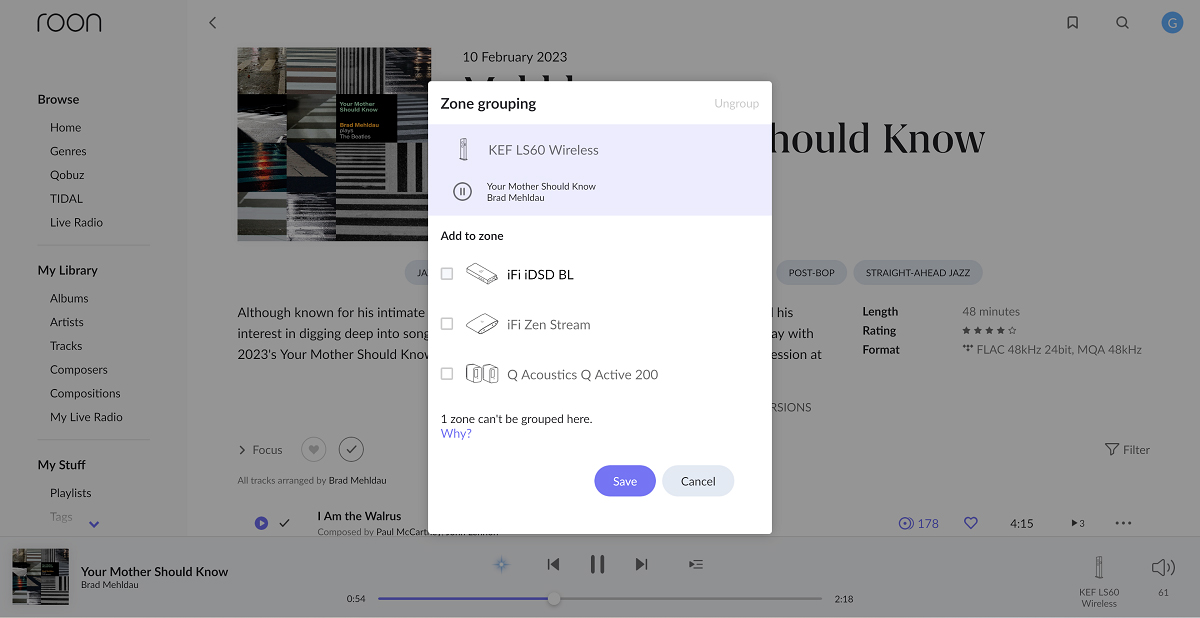 However, there are limitations. You can combine Roon Ready components and devices running the Roon Control app (and DACs connected to those devices) into a zone grouping. But you can't combine devices that use different streaming protocols into the same group. For example, I could create a Roon zone grouping that includes the KEF LS60 system in my living room and the Q Active 200 system in my home office. Both systems are Roon Ready, and Roon uses the proprietary RAAT protocol to stream to them. But I couldn't include the B&W soundbar in my basement family room in such a group, because it's not Roon Ready. Roon streams to the Panorama 3 via AirPlay. (There's a workaround. The KEF and Q Acoustics systems both support AirPlay, so I could configure Roon to stream to all three systems via AirPlay, but that would mean that everything is sent at 16-bit/44.1kHz resolution, even though the maximum resolutions of the LS60 and Q Active 200 are 24/192 and 24/96 respectively.)
3. You can integrate your streaming favorites with your personal music collection
As noted, Roon has integrated support for Qobuz and Tidal, and recently added support for Taiwan-based KKBox. Tracks, albums, artists, and playlists that you've designated as favorites in the apps for those services will be integrated with your personal music library. You can also search for music on your supported streaming services from within Roon, and add albums and tracks from those services to your Roon library. When you do that, they'll also show up in the streaming service app as a favorite. When you browse your Roon library by artist, album, track, or composer, you'll see music from your library and your music services.
Many bundled apps have support for streaming services, but I don't know of any that integrate your streaming favorites and personal library so tightly. Instead, your local music library and each supported streaming service are siloed. With Roon, it's easier to create playlists that combine streamed and locally stored content, and it's easier to find music by a specific artist. You don't have to browse your local library and streaming services separately.
Roon has another feature that I believe is unique: the ability to edit album, track, and artist names for your streaming favorites. As I explained in a 2019 article, my musical tastes are very broad, encompassing classical, jazz, roots, rock, and other genres. When I started building a music library, first by ripping CDs and later by purchasing downloads, I established naming conventions to make it easier to find the music I want to hear, and edited metadata for my albums so that they adhered to those conventions. There are many inexpensive metadata editors for Windows and macOS; I used a macOS app called Tag.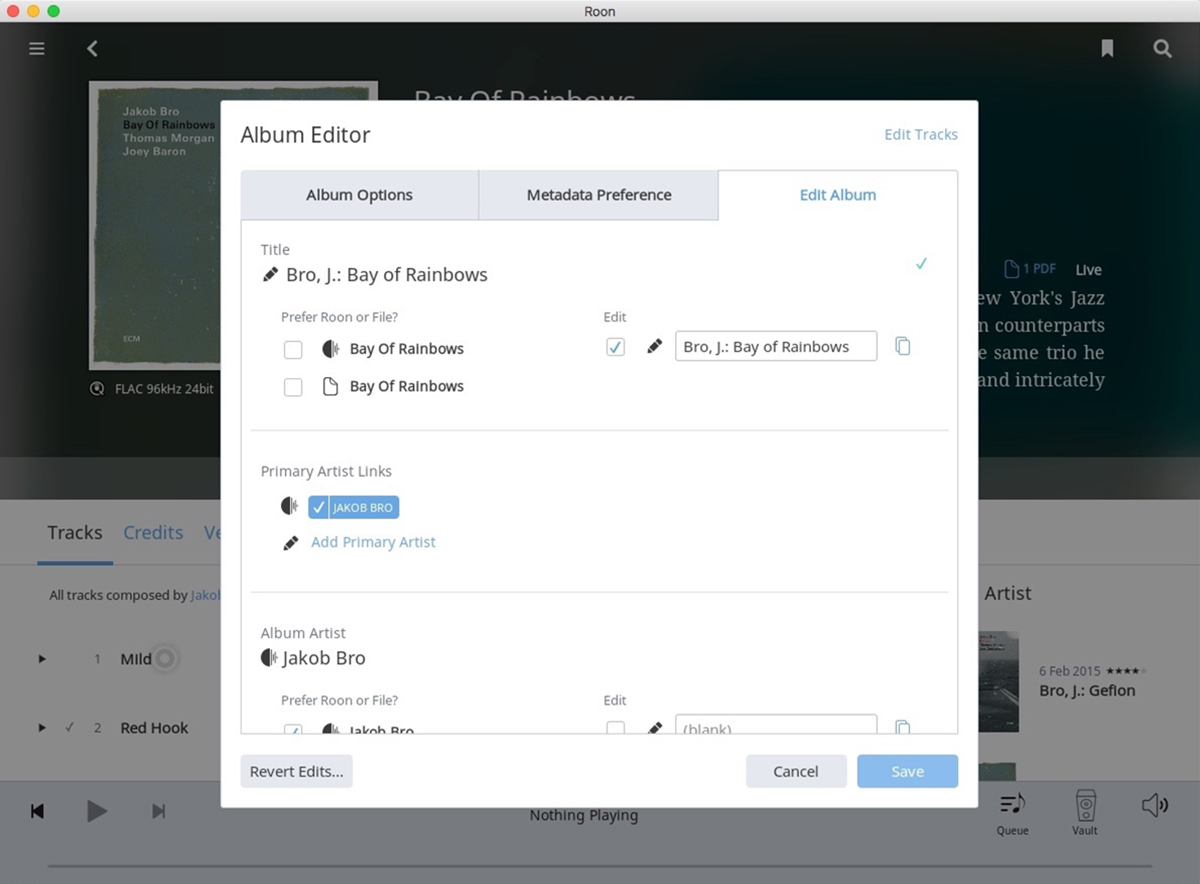 With Roon, I can do the same for my streaming favorites. For example, I've edited the names of my Jakob Bro albums so that they display as "Bro, J.: Album Name." That way, I can see all my Jakob Bro albums in the same place when I'm browsing Roon by album name. This makes it far easier for me to navigate a library that now comprises almost 3000 albums (streaming favorites as well as CD rips and downloads). I suspect that few listeners will want to go to this trouble, but music lovers who share my nerdy obsessive streak will love this feature.
4. Roon has rich editorial content
Roon's most noticeable feature is its rich editorial content—album art, album reviews, artist bios and photographs, and song lyrics, all hyperlinked so that it's easy to explore your library and discover new music. Whenever you add new music to your Roon library, Roon automatically adds content related to that music, including bios of the people involved in its creation (not just performers, but producers and composers as well), along with links that let you explore other music from those creators.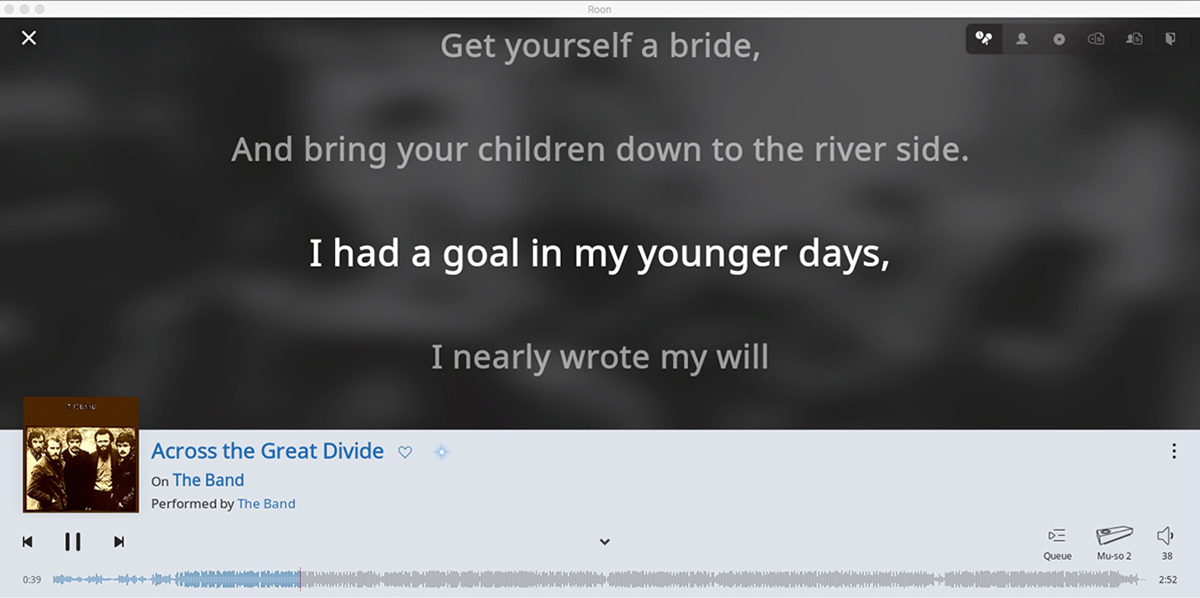 Many streaming apps also offer hyperlinked content like artist bios and song lyrics, but I haven't seen a streaming app with content as rich as Roon's. And Roon also offers enhanced content for locally stored music. That can be music you've ripped from CD or purchased as a download. This content doesn't have to be on your hard drive—Roon finds it on the internet. If I want to sing along to the 24/192 FLAC file of The Band's "Across the Great Divide" stored on my hard drive, Roon will find the lyrics and display them for me. And it will link to The Band's other albums, and to information on everyone involved with this album, complete with links to their other work.
5. You can use Roon to tweak the sound
If rich metadata is Roon's most visible and most appreciated feature, Muse Precision Audio Control may be its most underrated feature—but not by me. Muse, which is how Roon is now branding its suite of DSP tools, is a feature I value enormously. Muse's functions include parametric and procedural equalization, sample-rate conversion, headroom management, and crossfeed adjustment (this provides a more speaker-like experience when listening through headphones).
As I've written many times on this site, there are some nasty standing waves in the main-floor living room of the 1920s rowhouse I share with my infinitely better half. These can make bass sound very boomy. For years, I used Dirac Live room correction—a key feature of the NAD C 658 streaming DAC-preamp in my living room system—to deal with this problem.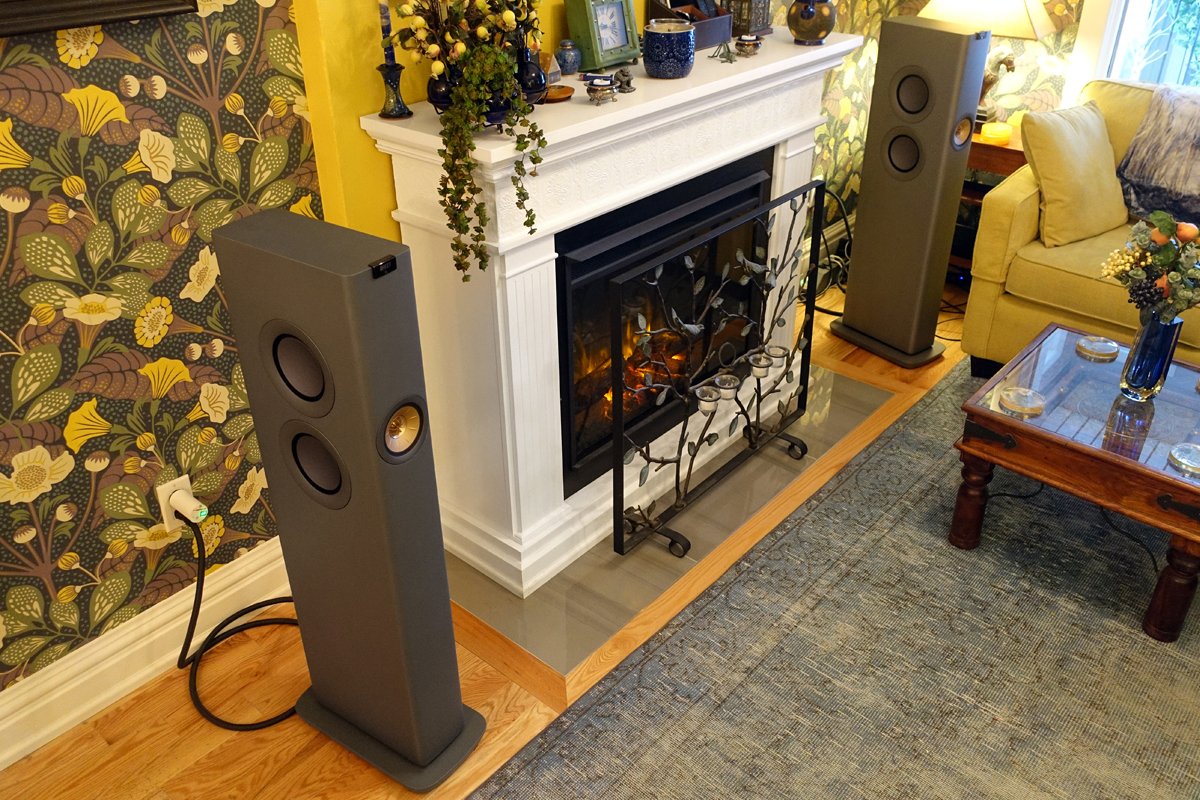 A year ago, I replaced the C 658 and my Elac Navis ARF-51 active loudspeakers with a KEF LS60 Wireless active speaker system. The LS60 system has a built-in streamer and preamp functions, so I no longer needed the C 658. However, removing the NAD preamp from my system meant that the room boom I'd been experiencing before I got the C 658 was back.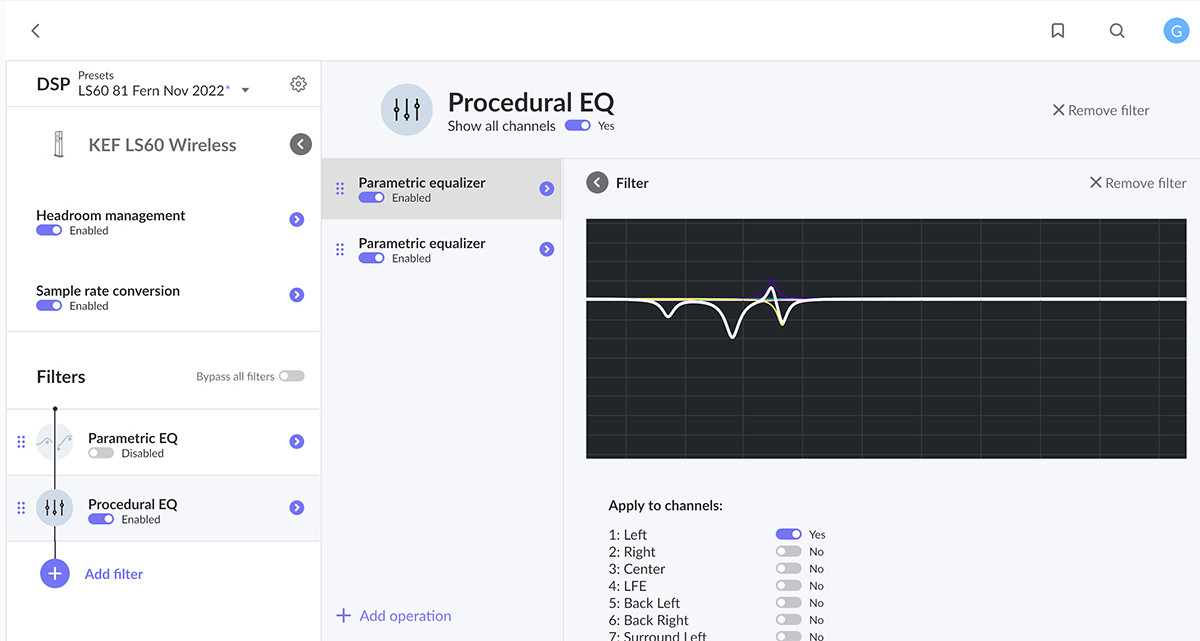 So what to do? As I detailed earlier this year in an article on my new living room setup, I used Roon's procedural EQ feature to create filters that counteract the worst effects of these standing waves. This feature lets me apply correction independently for the left and right channels. Given the asymmetrical layout of my room, this is very helpful.
While not as transformative as Dirac, these EQ adjustments improved the sound tremendously. I confirmed this by playing one of my go-to tracks for assessing bass performance—"Regular Pleasures" by Patricia Barber, from her album Verse (16/44.1 ALAC, Premonition / Blue Note). With my EQ settings enabled, Joey Baron's bass drum thwacks had much more definition. I could clearly hear the sound of the mallet hitting the drumhead, followed by the resonance of the drum body. Likewise, low notes on the double bass had more texture and detail; I could now hear Michael Arnopol's string plucks, and the vibration of the strings themselves.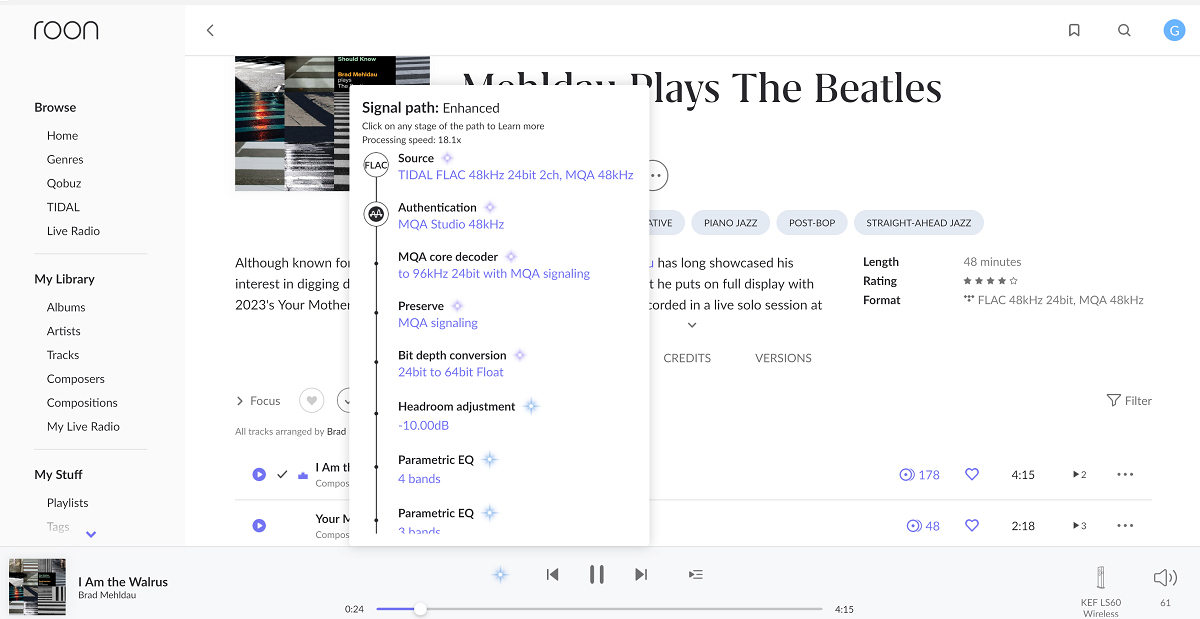 Another welcome feature is the ability to see all the ways the signal is being processed, not just by Roon's DSP engine, but also by your playback hardware. When I click the little signal path icon, I can see all the ways the sound is being processed, all the way from input to output. If I'm streaming to the LS60 system in my living room, I'll see that Roon is performing headroom management, sample-rate conversion, and EQ, and that the LS60 system is performing phase correction, room boundary correction, and balance adjustment.
6. You can use Roon away from home
As noted earlier, a Roon subscription lets you set up one Roon Core in your home. But as I explained in the feature that Doug referenced in his LinkedIn post, Roon ARC lets you access your Roon library when you're away from home. I use Roon ARC to stream music to my smartphone when I'm at my vacation home, in my car, or in a café.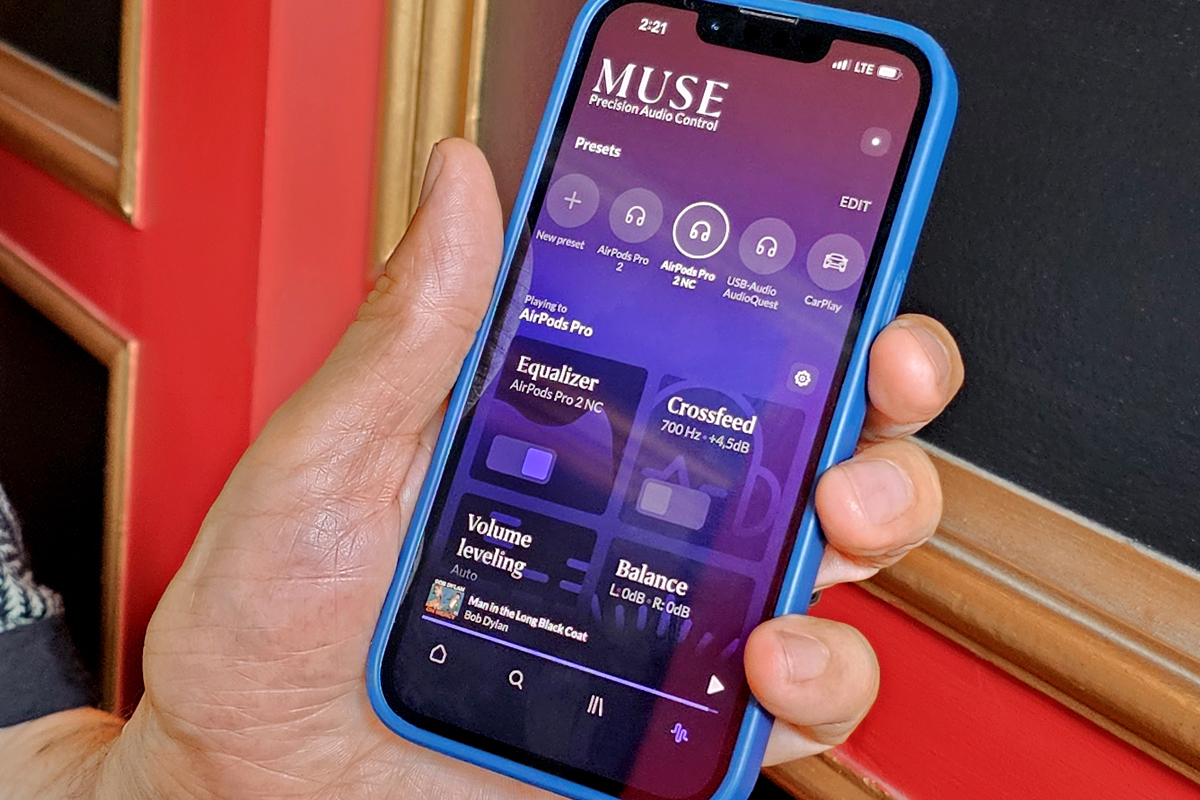 In mid-June, Roon added its Muse suite of DSP functions to Roon ARC. I use Muse on my iPhone to apply parametric EQ to my Apple AirPods Pro earphones, and on my Google Pixel phone to apply EQ for my NAD Viso HP50 headphones and DragonFly Cobalt micro-DAC.
Not for everyone
When Jeff Jones asked if someone could point him to an article that explained in simple terms why he should be using Roon, I doubt he expected it would lead to a feature dedicated to that very question. But Jeff has already read some of the other articles about Roon on Simplifi, and decided he's "going to give Roon a try soon." Good call.
As I said at the beginning, I don't know if Roon is right for Jeff, but it is right for a lot of people. I think you can draw an analogy between Roon and Adobe Creative Cloud. For most users, the standard photo apps that come with Windows and macOS are sufficient. But some imaging enthusiasts may want the enhanced capabilities available in Adobe's Lightroom or Photoshop, and they'll spring for a subscription. Similarly, many music lovers will be perfectly happy with the apps for their streaming services or the software that comes bundled with their music systems. But Roon offers more. Like Adobe Creative Cloud, Roon isn't cheap, but for serious digital audiophiles, it's worth it.
. . . Gordon Brockhouse
This email address is being protected from spambots. You need JavaScript enabled to view it.