Do you need a powerhouse computer just to play music? Not everyone does -- I use a nine-year-old, mid-tier Apple Mac Mini, and it does just fine. I've modified it for music playback, swapping out its spinning hard-disk drive for a solid-state drive (SSD), and bumping up its RAM from 4 to 16GB, so that music plays from memory rather than storage.
But Toronto-based exaSound Audio Design believes that some music lovers need all the horsepower they can get. In April 2019, at Axpona in Chicago, exaSound introduced the sleek Gamma music server ($2499, not including storage; all prices USD). Intended primarily for use as a Roon server, the Gamma employs an Intel Core i7 8th Gen processor, and its specs and price are very close to Roon's premium Nucleus+ server ($2498).
According to exaSound president George Klissarov, some customers needed even more number-crunching capability than the Gamma could provide. Some requested a server that could play multichannel DSD audio through exaSound's e38 Mk.II eight-channel DAC ($3999), which has maximum resolutions of 32-bit/384kHz PCM and DSD256, while streaming music to other zones and exploiting Roon's DSP features.
Those features include upsampling to high-resolution PCM or DSD using different digital filter settings, up to seven bands of parametric equalization, headroom management to prevent clipping (very useful if you use EQ to boost the low frequencies), and, for power users, convolution filters for optimizing a system's in-room impulse response. So at Florida Audio Expo 2020 in early February -- the last major audio show held in North America before COVID-19 shut everything down -- exaSound introduced an even more powerful server: the Delta.
Inside and out
ExaSound builds all Delta servers to order, a process that typically takes five to ten business days. In its standard configurations, the Delta employs an eight-core Intel Core i9-9900 9th Gen processor, one of Intel's most powerful CPUs. The same family of chips are used in ultra-high-end, liquid-cooled gaming desktop PCs, such as Dell's Alienware models -- computers that can render immersively detailed 3D worlds that respond instantly and seamlessly to players' movements. It's appropriate to think of this CPU enabling the Delta Server to create immersive, high-resolution aural environments.
Those standard configurations include the Delta M100 ($2999), with 8GB of RAM, and a 128GB solid-state drive (SSD) for the operating system and Roon software; the M110 ($3149), which adds a 1TB SSD for music storage; and the M111 ($3429), with 1TB SSD plus a 7" touchscreen that connects to one of the Delta's USB ports.
As we'll see in the "Benchmarks" section below, the Delta is indeed a powerhouse -- not everyone will need its prodigious ability to crunch digits. Custom configurations based on Intel's i3, i5, i7, and i9 Core processors are available for users of more modest needs. Other options include upgrades to 32GB of RAM, 2TB (SSD) of music storage, and a second internal drive, either an SSD or a spinning hard drive.
A near-cube measuring 10.8"H x 10.3"W x 10.3"D and weighing 21 pounds, the Delta Music Server has finned panels of extruded aluminum on all four sides. My review sample was finished in black; silver is also available. There's no internal fan -- the Delta relies on convection cooling -- so it's completely silent.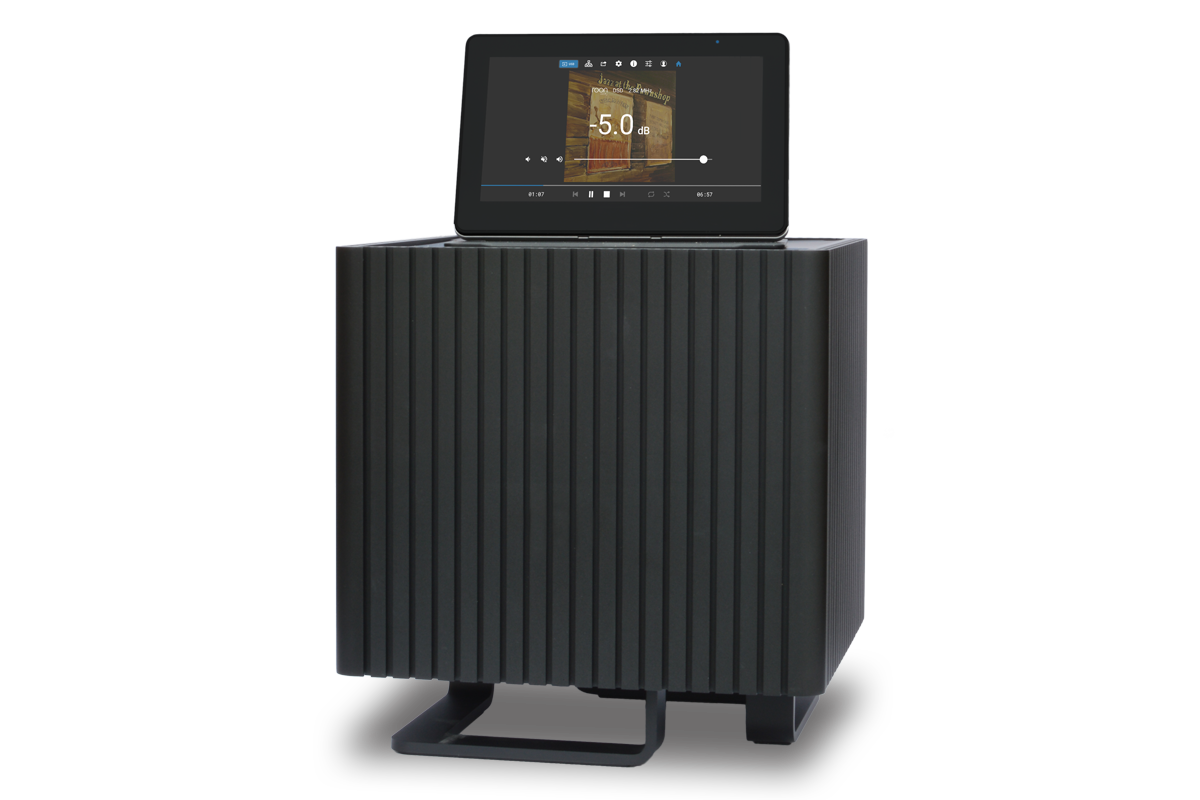 The Delta is raised above whatever surface it's placed on by two large L-brackets, because all its connectors are on its bottom panel: a Gigabit Ethernet port; four USB 3.0 ports for connecting external drives, an optical drive, a DAC, and the optional 7" capacitive touchscreen; an HDMI port that can be used for monitor or audio output; and an inlet for the 19V external power supply.
Also on the bottom panel is an expansion slot covered with two plates -- that slot can be used to add extra USB ports. There's also a DisplayPort connector that exaSound uses for servicing the Delta; and 3.5mm stereo analog in/out jacks. Klissarov says the analog output is "useless from an audiophile perspective," but the analog input might be used in the future for plugging in a calibration mike for taking room-correction measurements.
The optional 7" LCD touchscreen is nice but unnecessary. It displays such housekeeping information as network setup and support options, and, when a DAC is directly connected to a USB port, information about the file being played -- and if the DAC has a software volume control, that can be used via the touchscreen.
Usefully, the Delta has a CD-ripping function. Connect an optical drive, and you can rip CDs to the Delta's internal storage.
Running a slim version of Linux that exaSound calls exaOS, the Delta can be used as a Universal Plug and Play (UPnP) server, streaming music to UPnP audio devices under control of a UPnP app such as mConnect or Bubble UPnP. And when a DAC is directly connected to one of the Delta's USB ports, it can be used with Signalyst's HQPlayer multichannel upconverting software. But the Delta's primary function is running Roon, which was how I used it. The Delta can manage Roon libraries of over 200,000 tracks, exaSound says.
Setup and software
Setting up the Delta server was dead simple. I ran a standard network cable from its Gigabit Ethernet port to the Google Wifi module that serves as my main network hub. My music library lives on a LaCie 2Big Thunderbolt 3TB RAID1 system with Thunderbolt and USB 3.0 interfaces, normally connected to my Mac Mini via Thunderbolt. I disconnected it from the Mac Mini and plugged it into one of the Delta's USB ports. I also connected the touchscreen and an ASUS optical drive.
The Delta server comes with the Roon software preinstalled. To control Roon, you need to install the Roon app on a smartphone, tablet, PC, or Mac. When you launch Roon, you'll be asked if you want to connect to the Delta, then prompted to set up an account (or to enter your account information, if you're already a Roon user). Those already subscribed to Roon will also have to deactivate Roon Core on the server they currently use -- the Roon license permits only one server, but there's no limit on the number of playback and control devices. All of this is explained in the commendably clear and complete manual.
The Delta also has a web interface, which you access by entering delta.local in the address line of any web browser. In addition to such housekeeping functions as drive configuration and network management, the web interface also has links to the product manual and online tutorials. If the Delta is connected directly to a DAC via USB, you can control the output of each channel from the web UI -- this is particularly useful for multichannel playback.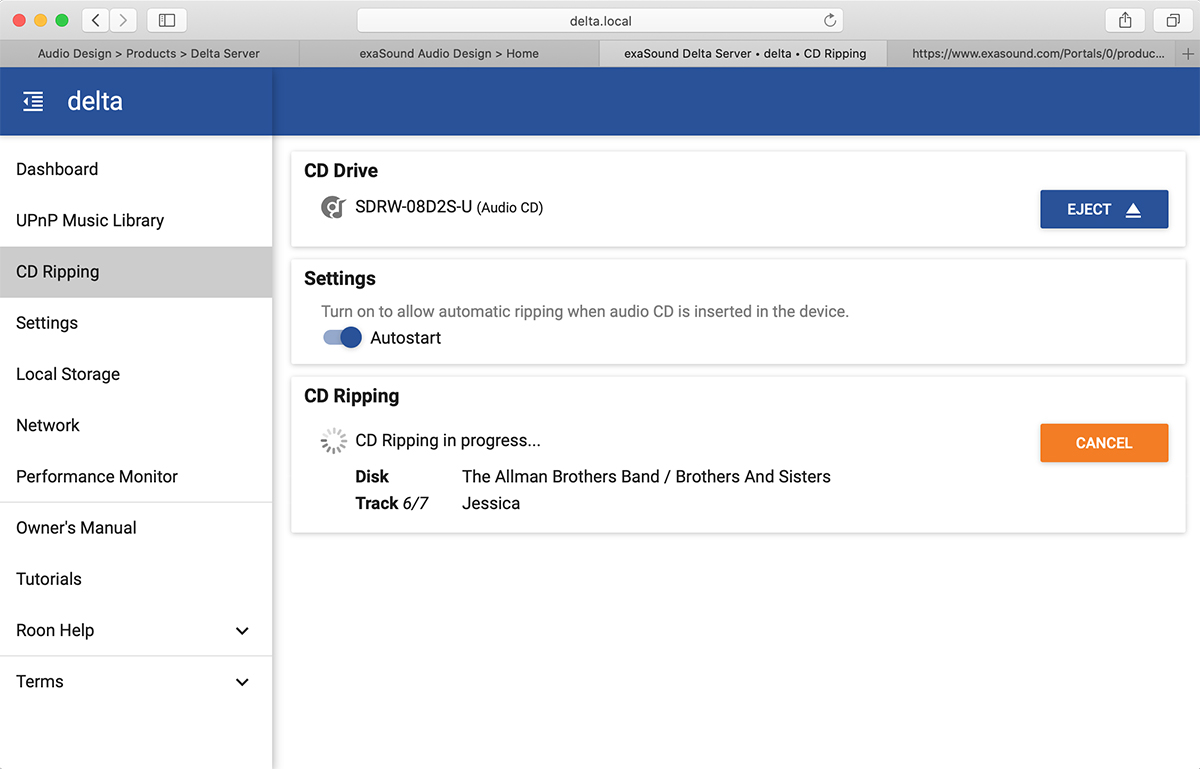 Ripping CDs, too, was dead easy. After inserting a CD in the ASUS drive, I clicked the CD Ripping tab in the left pane of the web interface, then the Start button in the right pane. About three minutes later, the process was complete. The web interface also provides an option to start ripping as soon as a CD is inserted into a connected drive.
The Delta's CD-ripping function downloads metadata from CDDB.com. But when you play the ripped CD from Roon, by default Roon fills in its own metadata, which is usually more complete -- you get the full Roon experience, as shown below.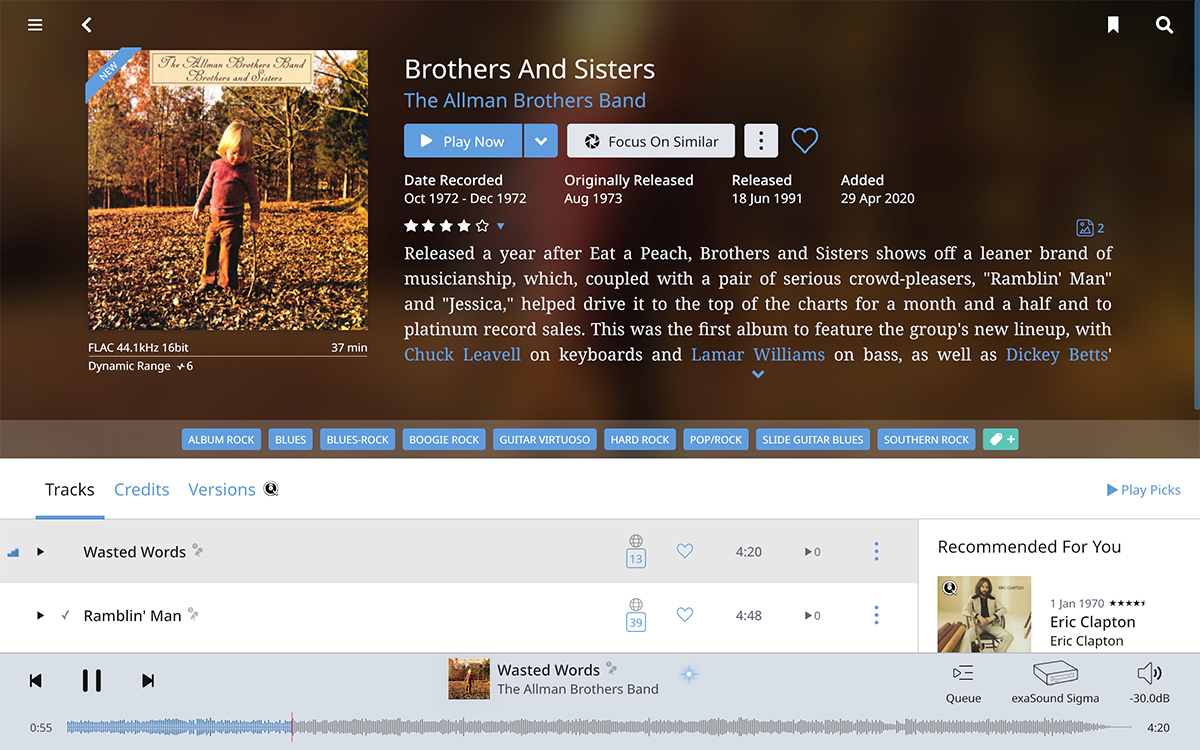 The Delta rips in lossless FLAC format and stores ripped files in a folder on its internal drive. These settings address the needs of most users, but I'd have liked to rip the CD to my LaCie RAID system, and there was no way to do this. I see no reason not to rip to the FLAC format, but some users prefer to rip to uncompressed WAV or AIFF files. Klissarov told me he omitted those options to keep the ripping function as simple as possible; but recognizing that Delta purchasers are likely to be power users who value flexibility, he's now considering adding them through an update.
I tried copying the ripped album from the Delta's internal drive to my RAID system using macOS Finder, but that didn't work either. As it turns out, my LaCie drive is formatted as a Mac OS Extended volume. The Linux-based Delta can read data from that drive, but can't write to it. Klissarov told me that there are no such problems with NTFS-formatted drives, the standard format for Windows, nor with FAT32-formatted drives. This is something Mac users may want to keep in mind.
Just before I began evaluating the Delta, exaSound added a Performance Monitor to the Delta's web interface. This feature, which displays the Delta's CPU and memory use as well as its core temperature, proved useful for comparing the performances of the Delta and my Mac Mini.
Benchmarks
I began by using my everyday setup: the Mac Mini streaming via Roon to our living-room music system, which comprises an NAD C 658 streaming DAC-preamp ($1649) and Elac Navis ARF-51 analog active loudspeakers ($4599.96/pair). I apply a little DSP -- maximum power-of-two upsampling. Since the C 658 has Dirac Live room correction, I don't need to use Roon's parametric equalizer.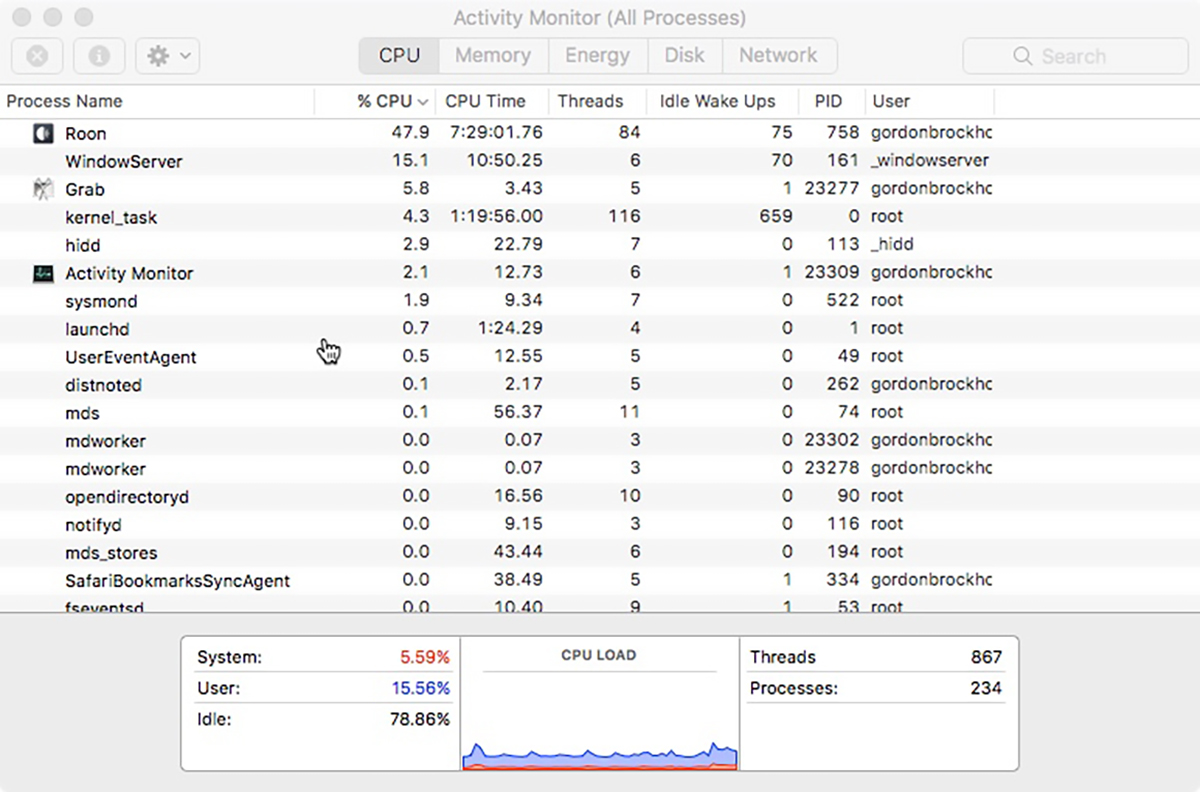 Apple's macOS includes a little utility program, Activity Monitor, that lets you track CPU, memory, disk, and network use. When I sent a 16/44.1 FLAC file to the C 658, Activity Monitor indicated that the Mac Mini's total CPU load was about 15%, including background system tasks. The Mini had to work a bit harder when I cued up a DSD file. The C 658 doesn't support DSD, so Roon had to convert the DSD64 stream to 24/176.4 PCM. The Mini's CPU load rose slightly, to about 22% -- not unduly taxing, and not enough to get its fan whirring.
To see how my Mac Mini would deal with more demanding applications, I swapped out the NAD C 658 for exaSound's Sigma streamer ($750) and e32 Mk.II DAC ($2499), whose maximum resolutions are 32/384 PCM and DSD256. In Roon's DSP settings, I selected DSD256 upsampling; and since I was no longer using Dirac Live room correction, I used Roon's parametric EQ to deal with some troublesome room modes.
As soon as I began playing a 16/44.1 FLAC file with those settings, the Mac Mini's fan started spinning, and no surprise -- CPU use had jumped to 40%. CPU use was about the same when I played a DSD64 file, with Roon applying parametric EQ and upsampling to DSD256, and the fan noise was just as loud -- not crazy loud, but I wouldn't want it in my listening room.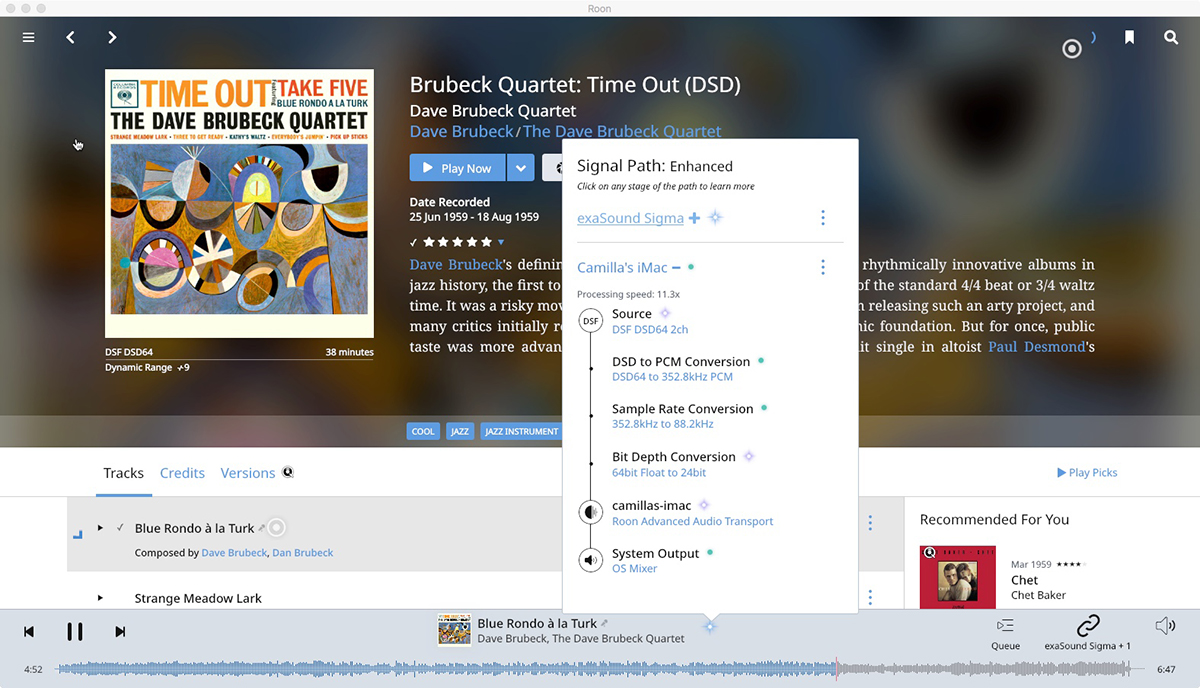 To see how the Mac Mini would handle playing the same music in two different zones on our main floor, I grouped the exaSound Sigma with the Apple iMac computer in my wife's home office -- the iMac's audio output is connected to a pair of PSB Alpha PS 1 powered speakers and a SubSeries 100 subwoofer. So in addition to upsampling and applying parametric EQ for the Sigma streamer, Roon was downsampling the DSD64 stream to 24/88.2 for playback through the iMac and PSBs. That pushed the Mini's CPU use to 50% and got that fan really whirring.
One more bit of pressure -- with the DSD64 album streaming to the exaSound Sigma+e32 Mk.II and my wife's iMac, I played a 24/96 FLAC album through my iFi iDSD Micro BL DAC-headphone amp, which was connected to one of the Mac Mini's USB ports, and activated two DSP functions: Roon's preset EQ for Audeze's LCD-X headphones, and DSD128 upsampling. This simulated a small party going on downstairs as someone did some private headphone listening upstairs, and, as shown below, pushed the Mini's CPU load to 75%. Yikes!
I could have added more zones and more processing, and at some point the Mac Mini would have shut down to keep from overheating. But you get the picture -- my nine-year-old Mini is fine for streaming two-channel music to a single zone, as long as I don't apply too much DSP. If I ask it to do more, it starts begging for mercy.
I can't say for certain that there's an exact correspondence between exaSound's Performance Monitor and Apple's Activity Monitor CPU usage readings, but given the dramatic difference in results, it doesn't really matter. Playing the same music through the same devices with the same settings that pushed the Mac Mini's CPU load to 75%, exaSound's Performance Monitor reported that use of the Delta's CPU was under 4%.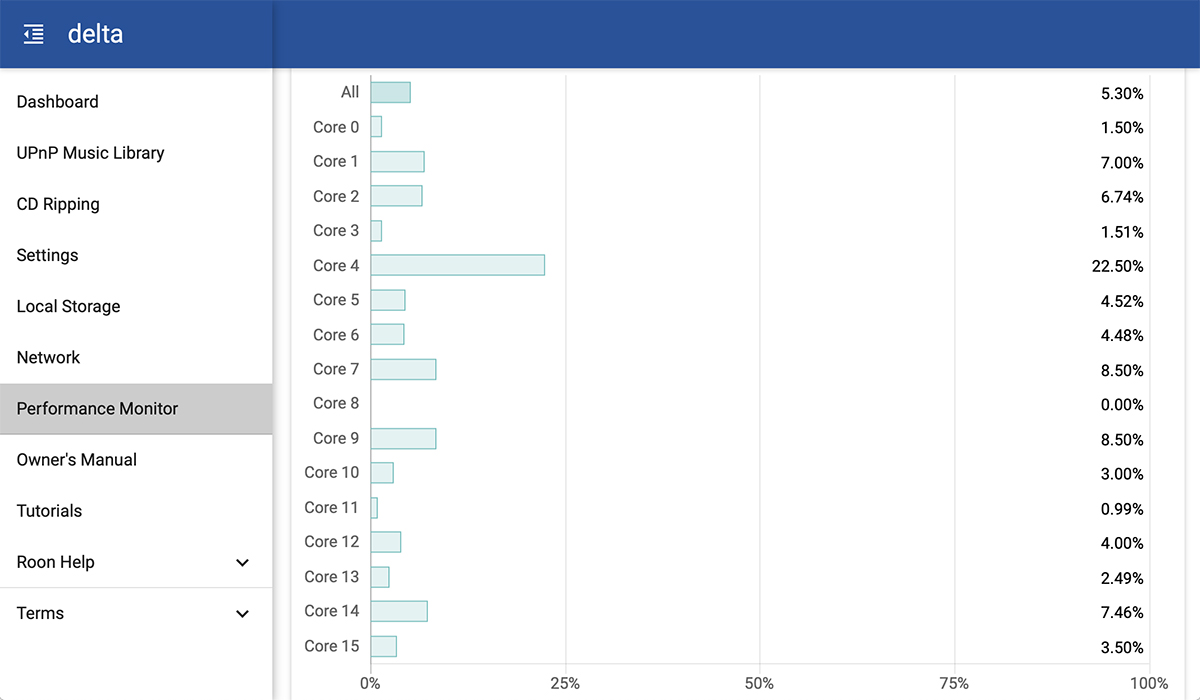 Wanting to apply more pressure, I added two zones, streamed a 16/44.1 FLAC file to my NAD C 658, and selected maximum power-of-two upsampling in Roon -- and sent a 24/88.2 album to Pro-Ject's Stream Box S2 Ultra ($849) and Pre Box RS2 Digital ($2499), both of which were connected to HEDD System 07 studio monitors ($1700/pair, review pending), with DSD128 upsampling and five-band parametric EQ enabled. That got the Delta working a bit harder -- its CPU use hovered around 5%, as shown in the graphic above. I then turned up the heat a little more by streaming another DSD64 album (Roon had to resample it to 24/176.4 PCM) to a Bluesound Node 2i. The Delta's CPU use peaked at 7%.
After I'd added the sixth zone, Roon displayed an error message: a track was taking longer than expected to load. On the Pro-Ject/HEDD system in the basement zone (the farthest in our house from a Google Wifi node), playback stuttered. The Delta's specification for multiple Roon zones is "over five zones, typical." But even with the processor basically loafing, was I encountering some I/O bottleneck in the Delta -- or was the problem on my network? While the Delta was connected directly to my router, all playback devices other than the iFi DAC-headphone amp were connected by Wi-Fi.
Listening
To assess the exaSound's sound quality, I streamed audio from the Mac Mini and Delta to exaSound's Sigma streamer and e32 Mk.II DAC, whose balanced outputs I connected to my Elac Navis ARF-51 active speakers with a 2m pair of Argentum Acoustics Mythos balanced (XLR) cables. I question whether it's even meaningful to discuss the sound quality of a music server when it's used solely for network playback. Indeed, when I streamed the same files from the Mini and exaSound Delta to the Sigma+e32 Mk.II, I heard no difference.
That's not to say there's no sonic benefit to using a powerhouse server like the Delta. As noted above, the Delta can perform heavy-duty DSP without breaking a sweat. Streaming "I Fall in Love Too Easily"/"The Fire Within," from Keith Jarrett's At the Blue Note: The Complete Recordings (16-bit/44.1kHz FLAC, ECM/Qobuz), DSD256 upconversion made a subtle but worthwhile improvement. Piano tone was a little less clangy, and transitions from attack to sustain to decay were longer and more natural.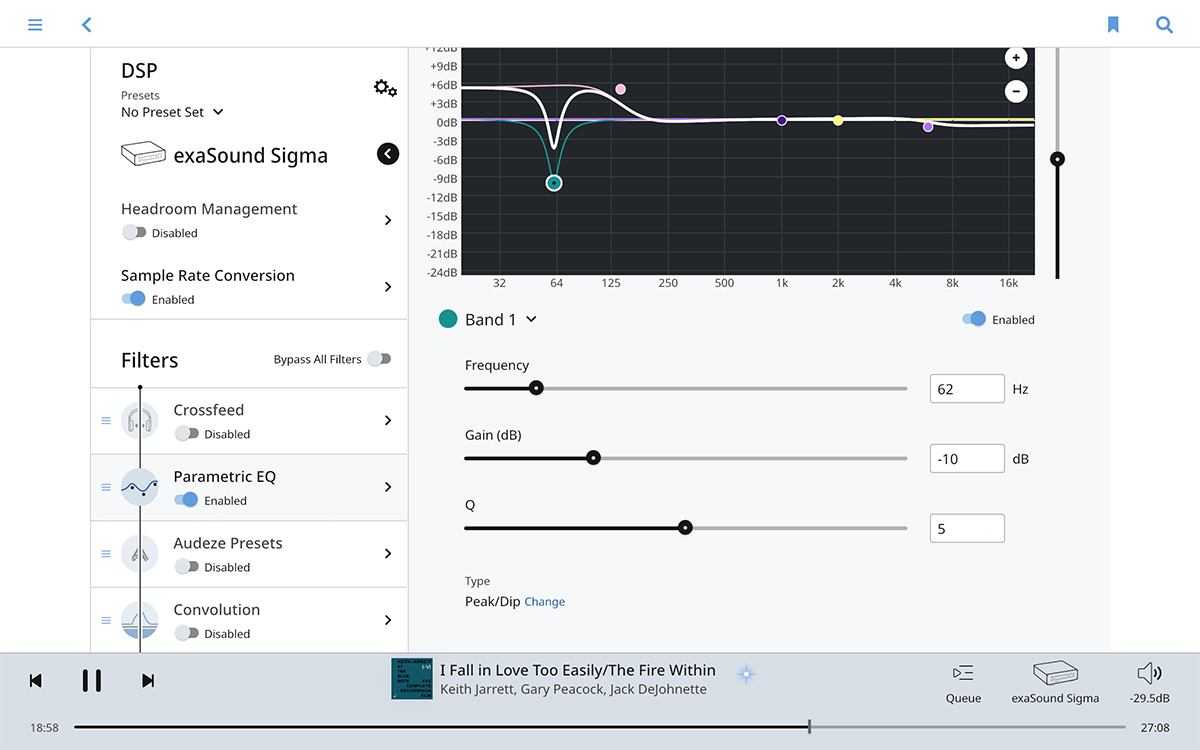 The contribution of parametric EQ definitely was not subtle. I implemented a steep (-10dB) filter to deal with a troublesome room mode at 62Hz; and, per Diego Estan's May 1 feature, "Bass -- How Much Is Enough?," on SoundStage! Access, I added a low-shelf boost filter to add 5dB of bass reinforcement, and a high-shelf filter to attenuate the highs by 1dB. As a result, Jack DeJohnette's floor toms and Gary Peacock's double bass had not only greater impact, but also greater tautness and palpability.
In addition, the Delta can function as a player-renderer when connected to a DAC via USB. Paired with one of exaSound's asynchronous USB DACs, the Delta provides a bit-perfect signal path, with volume for each channel controllable from the web UI or its own touchscreen.
To test the Delta's capabilities as a player-renderer, I reverted to using my Mac Mini to run Roon Core, and used the Delta and MacBook Pro as endpoints. This configuration may strike some as strange, but there was a method to my madness. Wanting to keep the comparison as level as possible, I didn't want to have the Delta operating as server and endpoint. Given its prodigious processing capabilities, I'm sure I was being excessively scrupulous.
Before I could compare the sound of the MacBook and Delta playing and sending files via USB to the e32 Mk.II, I had to download and install Mac drivers for the e32 Mk.II. Switching between the MacBook and Delta involved shutting off the DAC, swapping interconnects, turning the DAC back on, switching inputs in Roon, and reinitiating playback. Given that this process took over 30 seconds, I advise caution about my observations -- but here goes.
Playing an SACD rip of Mahler's Symphony No.2, "Resurrection," performed by the Budapest Festival Orchestra conducted by Iván Fischer (DSD64, Channel Classics), I thought the Delta sounded a little smoother and more transparent through the exaSound DAC, and the MacBook a tad brash by comparison. Similarly, the CD-resolution Jarrett recording sounded fuller from the Delta -- the MacBook Pro was a little glary. Played from the Delta, the Jarrett track had a little more flow and momentum.
It was much easier to conduct this comparison with Bryston's BDA-3.14 streaming DAC-preamp ($4195), which has two USB inputs. Nor did this setup quite permit instantaneous comparisons. When I selected USB1, which I used for the Delta, Roon didn't see the MacBook Pro as an endpoint until I'd selected USB2, at which point it would no longer see the Delta. So after I switched inputs on the BDA-3.14, I also had to select the new endpoint with Roon. While that process took a few seconds, it didn't take nearly as long as it did making the same comparison through the Sigma and e32 Mk.II.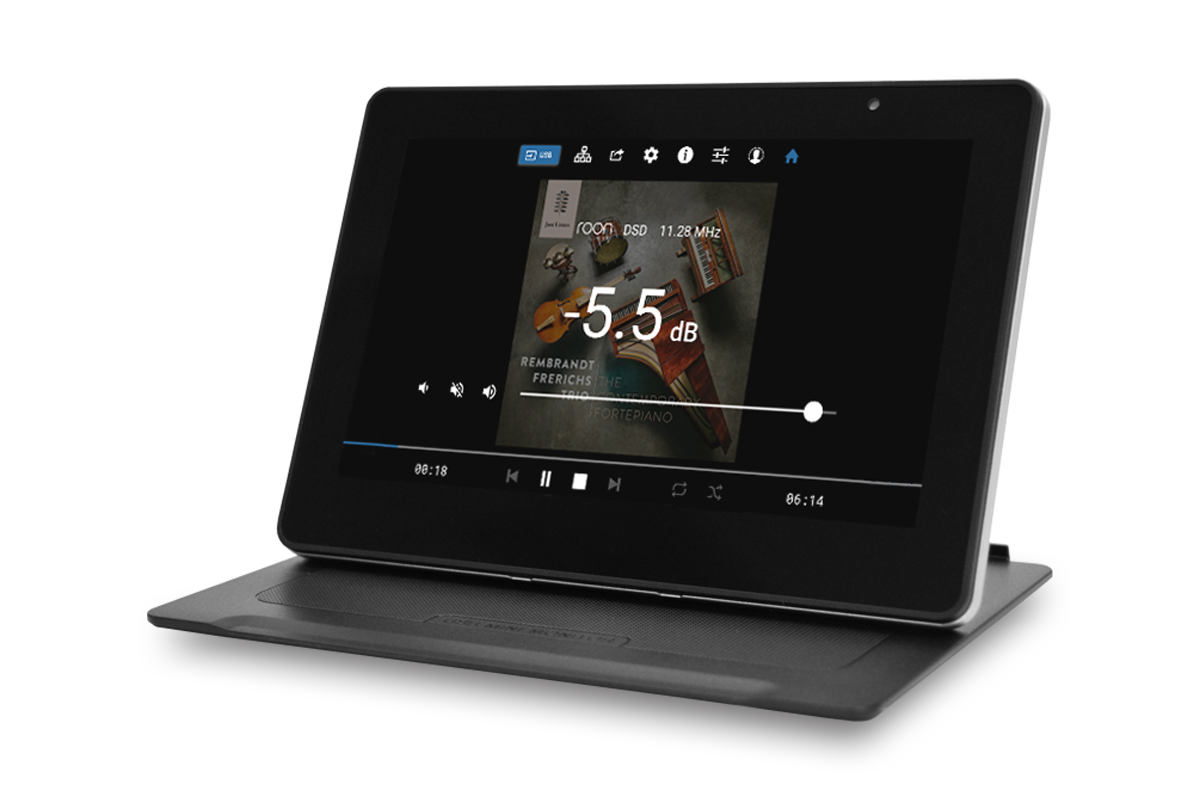 Playing the Jarrett trio's medley of "I Fall in Love Too Easily"/"The Fire Within" from the Delta, there was a bit more space around notes compared to the MacBook Pro. Peacock's bass and DeJohnette's floor tom had a bit more body and palpability. Through both the MacBook and the Delta, Jarrett's attacks were fast and articulate; but through the Delta, his piano had greater harmonic richness and longer decays, and there was a greater sense of flow -- through the MacBook Pro, the sound was more matter-of-fact. The difference was nowhere near night-and-day, but I definitely had a preference: the Delta.
My experience was similar with the Mahler symphony. In the first movement, orchestral textures were slightly more transparent as played from the Delta; the MacBook sounded slightly congested by comparison. The Budapest strings sounded just a bit breathier played from the Delta, and the portrayal of space was also a little more convincing -- I could better appreciate the acoustic of Budapest's Palace of Arts.
Conclusion
The exaSound Delta's convection-cooling design allows it to be used as both a player-renderer and as a music sever -- it won't pollute your listening environment with fan noise. That alone makes a dedicated Roon server like the Delta a more attractive option than a general-purpose PC or Apple Mac. If you're looking for a server that can also work as a player-renderer, my remarks on sound quality will be relevant.
If you're looking for a device that you'll use only as a server, a different set of questions emerge.
Is the Delta robust? I had it in my system for about a month and experienced not a single crash or hiccup -- the Delta worked. I was always able to connect to Roon when using the Delta to run Roon Core. Running Roon Core on my Mac Mini, I occasionally get connection failures.
How much horsepower do you need? As noted, not everyone needs the Delta's prodigious ability to crunch data; for those folks, exaSound offers other options.
My old Mac Mini struggled with anything more than single-zone stereo playback, but a newer PC or Mac could certainly do more, which brings up this question: If you're not using the server in your listening room, would you be better off with a general-purpose PC or Mac? With the Delta, you're basically married to Roon, although it also supports UPnP and HQPlayer. With a PC or Mac you have other software options, such as the excellent Audirvana app. In terms of cost-effectiveness and flexibility, a general-purpose PC is the better option.
On the other hand, Microsoft and Apple regularly issue updates to their operating systems, and this can sometimes cause nasty surprises. I've had software applications that stopped working after I updated macOS on my Macintoshes. I can't see this problem occurring with the Delta.
If you're a Roon power user, and looking for a Roon Core server that can stream to multiple zones with a lot of heavy DSP, exaSound's Delta deserves a serious look. Potentially, it's an endgame purchase.
. . . Gordon Brockhouse
This email address is being protected from spambots. You need JavaScript enabled to view it.
Associated Equipment
DACs and streamers -- Bryston BDA-3.14, exaSound e32 Mk.II and Sigma, iFi Audio iDSD Micro BL, NAD Classic C 658, Pro-Ject Stream Box S2 Ultra and Pre Box RS2 Digital
Active and powered loudspeakers -- Elac Navis ARF-51, HEDD System 07, PSB Alpha PS1; PSB SubSeries 100 subwoofer
Computers -- Apple: MacBook Pro (early 2015), Mac Mini (mid-2011), iMac (late 2015)
Control device -- Apple iPad Mini 3
External storage -- LaCie 2Big Thunderbolt 3TB RAID1 system
Network -- Google Wifi three-node mesh network
exaSound Delta Music Server M100
Price: $2999 USD.
Warranty: One year parts and labor
exaSound Audio Design
3219 Yonge Street, Suite 354
Toronto, Ontario M4N 3S1
Canada
E-mail: This email address is being protected from spambots. You need JavaScript enabled to view it.
Website: https://www.exasound.com/