When Naim Audio released its first wireless music system, the Mu-so ($1500 USD), in late 2014, the slab-like speaker grabbed attention with its sleek, decor-friendly looks. But the Mu-so was more than just a pretty face: packing dual three-way speakers, each driver separately powered by a 75W amp, the Mu-so was designed not only to deliver background tunes, but for serious listening. A year later, at the Consumer Electronics Show in January 2016, Naim was already demoing a new variation on the theme: the Mu-so Qb.
The cubic Mu-so Qb ($999) looks like a literal chip off the old Mu-so block. Like its progenitor, it contains dual driver sets -- each, in this case, comprising a 1" microfiber dome tweeter and 2.5" midrange. Bass is produced by a 5.7" x 3", racetrack-shaped woofer augmented by two passive bass radiators. Total system power is 300W. Like the Mu-so, the Mu-so Qb includes a 32-bit digital signal processor (DSP) to optimize its drivers' outputs and reduce distortion.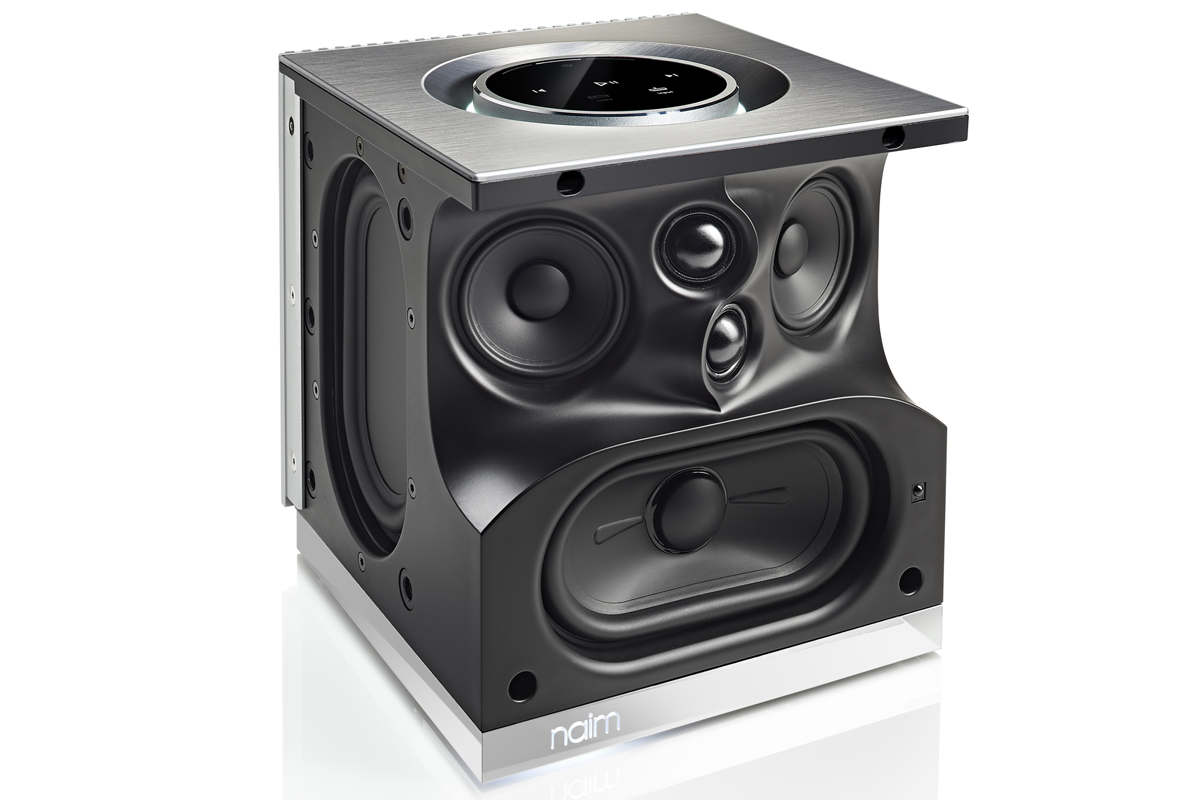 Naim deserves recognition for figuring out how to cram all those drivers into a single small cabinet -- at 8.25" x 8.5" x 8.4", the Mu-so Qb is compact enough to sit comfortably even on a desk as narrow as mine. The tweeters and midrange drivers are angled to maximize dispersion and thus enhance the stereo effect. The powered woofer takes up the bottom half of the front face, with the passive radiators on the left and right sides. My review sample came with a black mesh grille; red, blue, and orange grilles are available.
There are many ways to send music to the Mu-so Qb. TosLink digital and 3.5mm analog jacks are provided on the rear panel, next to a USB port for plugging in a USB stick, iDevice, or other digital player. Wireless streaming options include AirPlay and aptX Bluetooth. The Qb's 2.4GHz Wi-Fi is supplemented by a LAN port for a wired Ethernet connection. WAV, FLAC, and AIFF file formats with up to 24-bit/192kHz resolution are supported, and the Qb can handle Apple Lossless files up to 24/96. When used in a wireless network, however, the Qb can accept files with sampling rates of only up to 48kHz.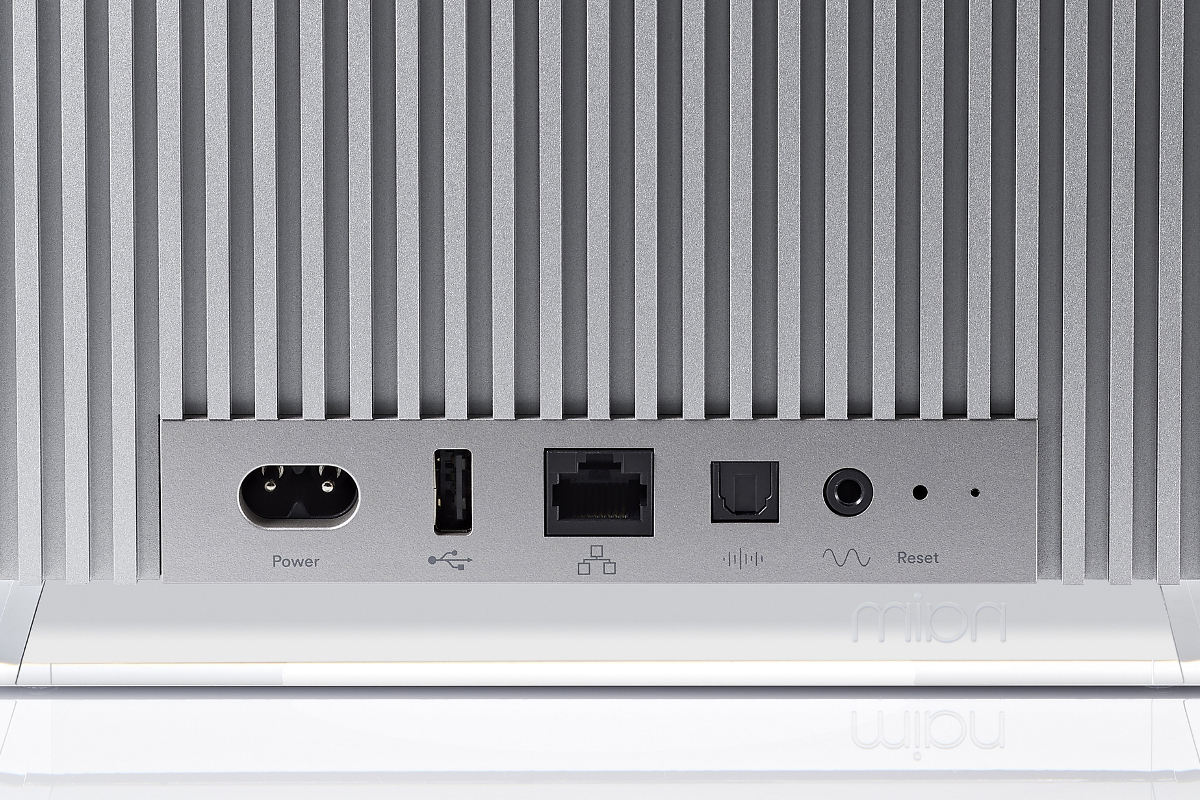 The Qb's integration of Tidal, Spotify, and Internet Radio means you don't have to exit Naim's control app (for iOS or Android devices) when those sources are selected. UPnP support also lets you use the Qb as a media renderer to play music streamed from a UPnP/DLNA server. The Naim app's UPnP handling goes well beyond the basics, providing detailed browsing features, along with extra content, including album reviews, artist bios, and discographies pulled from the Rovi database.
Naim's multiroom support enables the linking of up to five Mu-sos or Mu-so Qbs for separate control via the Naim app, as well as synchronized playback of all units. Other setup options let you adjust the lighting intensity of the Qb's translucent base, set EQ to compensate for close placement to a wall, and configure a maximum volume level for each unit -- a useful feature in multiroom setups. The app even provides an alarm clock so the Qb can wake you up in the morning.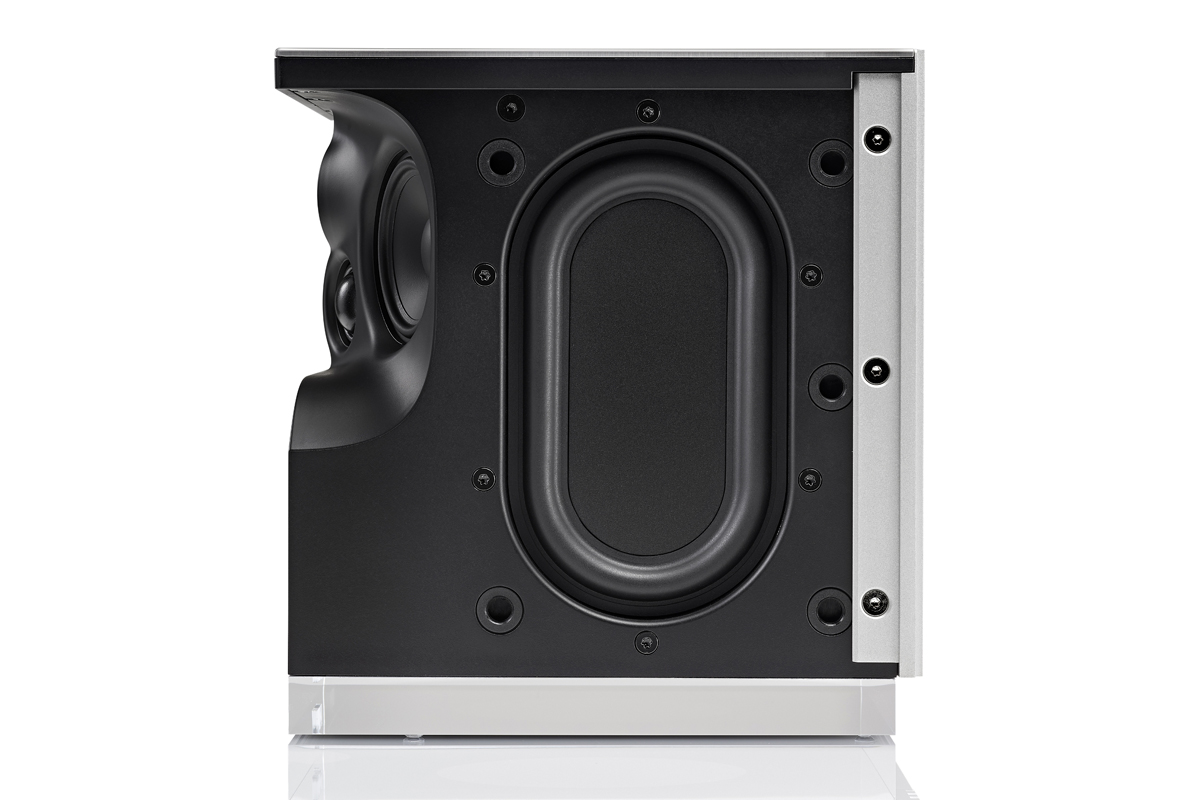 In the box
Like other all-in-one wireless speakers, the Qb comes with a power cord, a printed quick-start guide, and that's it. An optional hardware remote control can be had from your Naim dealer for around $16.
Use
I used the Mu-so Qb in my office and my bedroom -- both likely destinations for a compact, all-in-one wireless speaker. While the Qb has rubber tabs on its underside, I tacked on heavy-duty rubber feet for my installation. This tweak helped tighten the bass and enhanced midrange clarity. For Apple Music playback, I streamed music via AirPlay from my iPhone 6. Naim's control app, meanwhile, handled playback from Tidal and UPnP. The UPnP server software I used on my computer was JRiver Media Center 21 for Mac.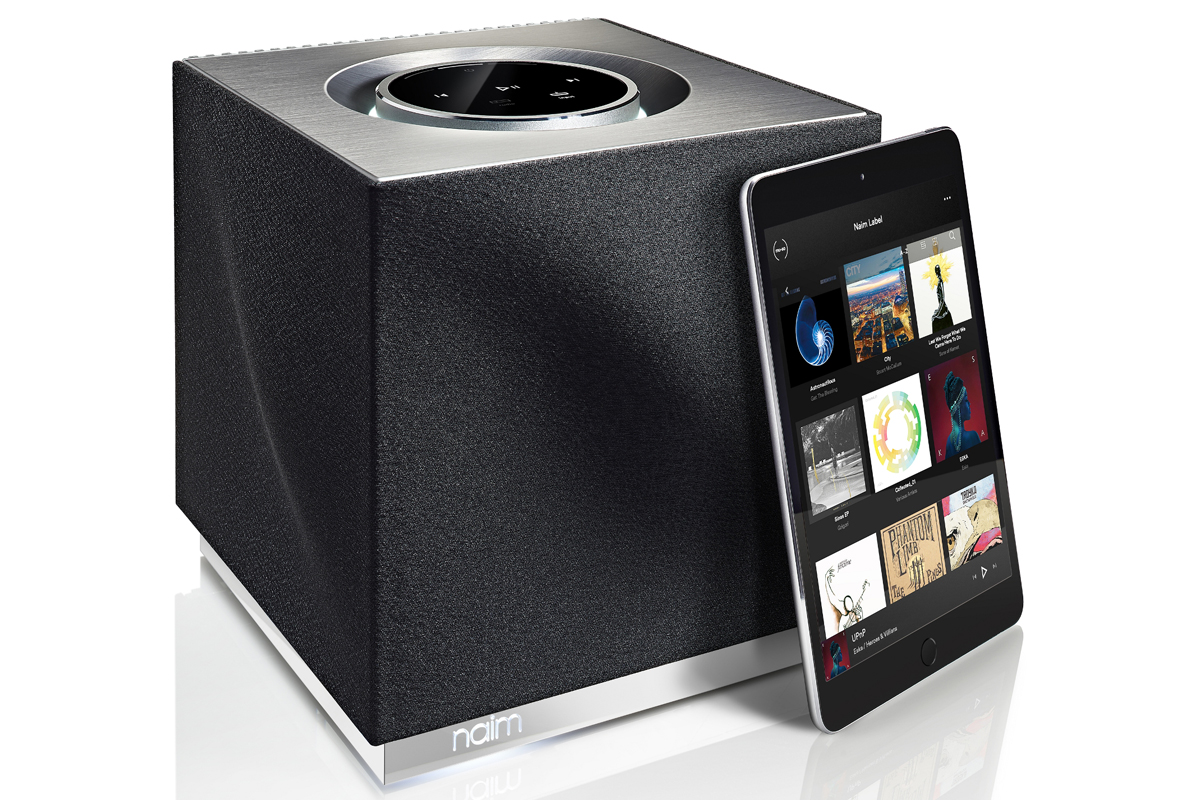 Naim's control app was a pleasure to use. To set up the speaker, I first selected Add New Mu-so. The app then guided me through linking the Qb to my Wi-Fi network, a colored indicator light on the speaker's rear panel providing status feedback. Once linked, the app's main window let me select between the Qb's wired and integrated source options (Tidal, Spotify, etc.). I particularly liked the Tidal integration, which provided that service's full array of features plus a volume-control slider -- an amenity oddly absent from Tidal's standalone app. The extended browsing capabilities and extra content provided for UPnP playback also encouraged me to dig into my digital library and explore music I'd ripped long ago but had never got around to listening to.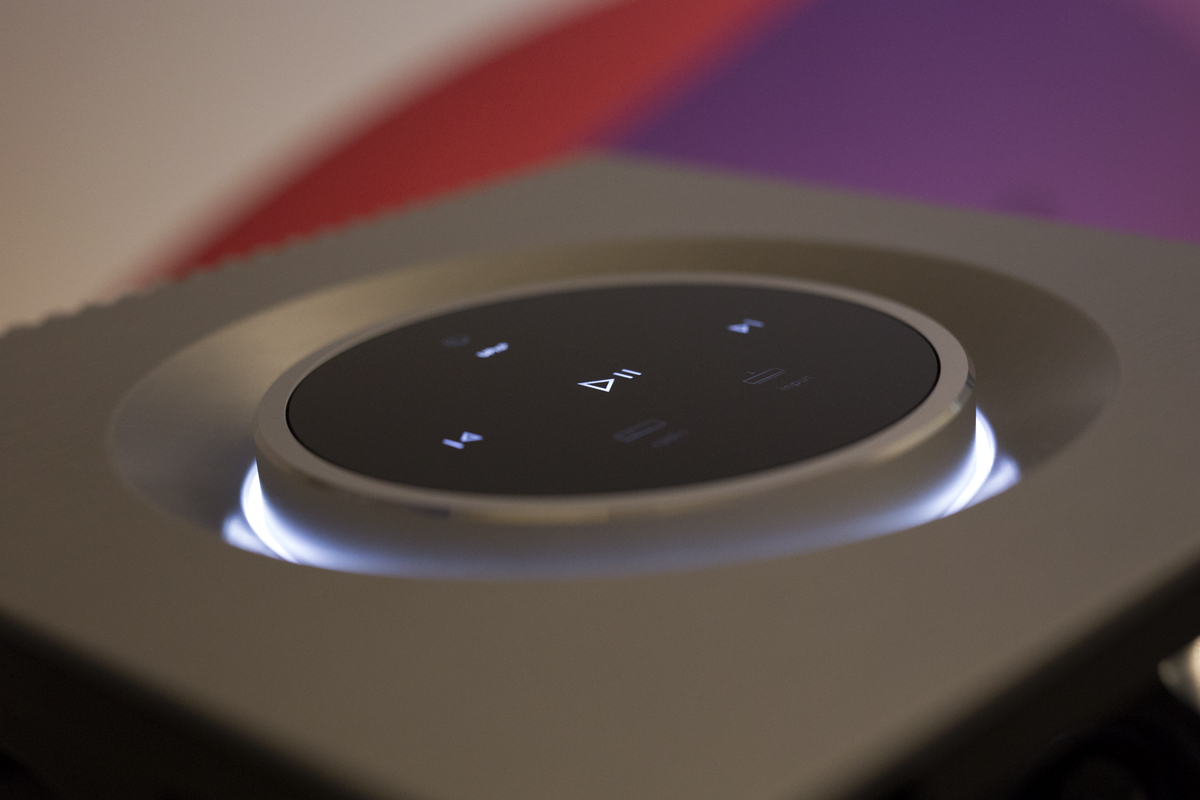 App aside, the Mu-so Qb itself has an appealing physical interface. The volume is adjusted by twisting a large disc on the Qb's top. The motion is smooth, and adjustments are tracked by a trail of LEDs. The Qb's touch-sensitive surface also provides controls to switch inputs, select Internet Radio stations, and to Play/Pause and Skip tracks.
Sound
Sitting on my desk, the Mu-so Qb sounded good, but was too close to my ears to deliver any discernible sense of space from recordings that contained it. I got much better sound with the speaker positioned on a low shelf in my bedroom, where I did most of my listening, from a distance of around 10'.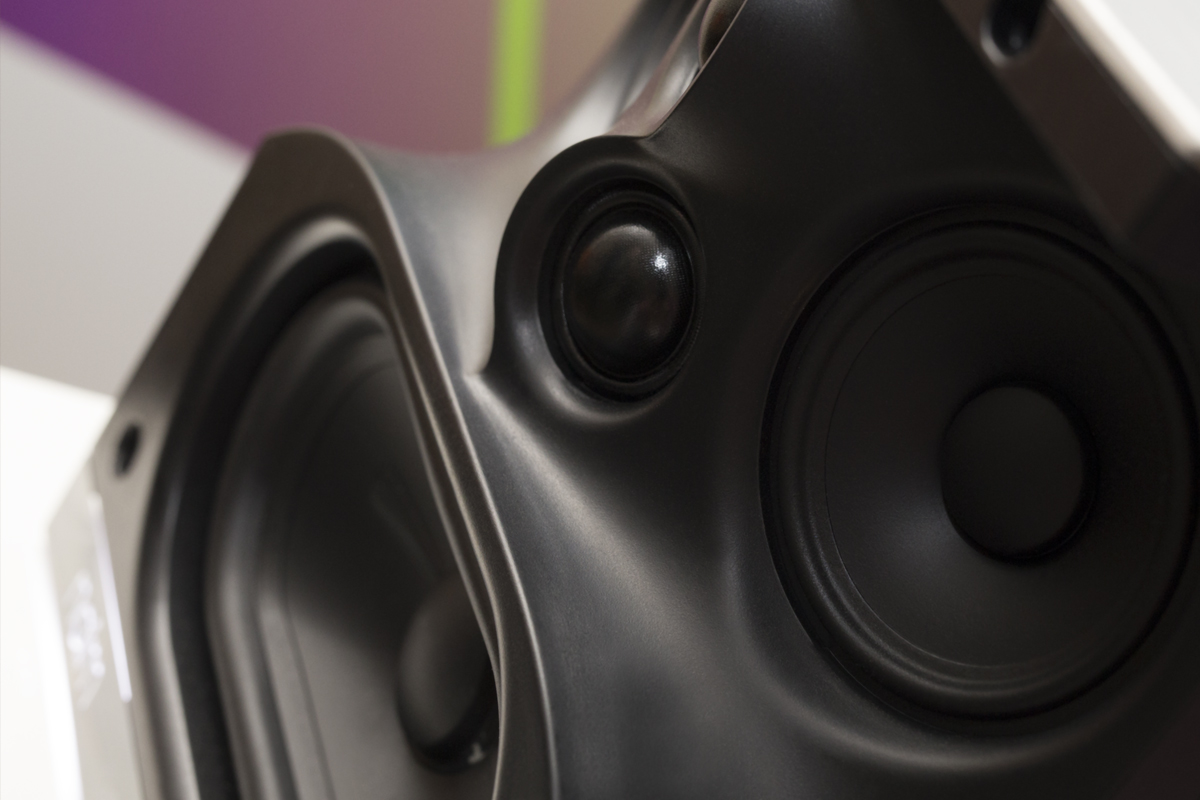 The acoustic guitars in "The Peasants," from Hope Sandoval's new solo album, Until the Hunter (16-bit/44.1kHz FLAC, Tendril Tales), sounded full and natural, and the Mazzy Star singer's intimate, breathy voice was warm and extended. I could also clearly hear subtle details, such as brushes scraping across a snare-drum head. Overall, the Mu-so Qb did an impressive job of conveying the lush ambience of this track, and managed to avoid the boxy sound produced by many compact all-in-one systems, especially when they're pushed past a background listening level.
Moving on to another indie-rocker solo album -- this one by Jim James, of My Morning Jacket -- I listened to "Here in Spirit," from Eternally Even (16/44.1 FLAC, Capitol). The Qb managed a deft balance of this song's aggressive and subtle elements: up-front drums and piano sounded crisp and dynamic, while James's smooth, plaintive voice came across as larger than life. Again, I heard no boxiness in the Qb's sound, though pushing the volume up into the discomfort zone did reveal a degree of strain.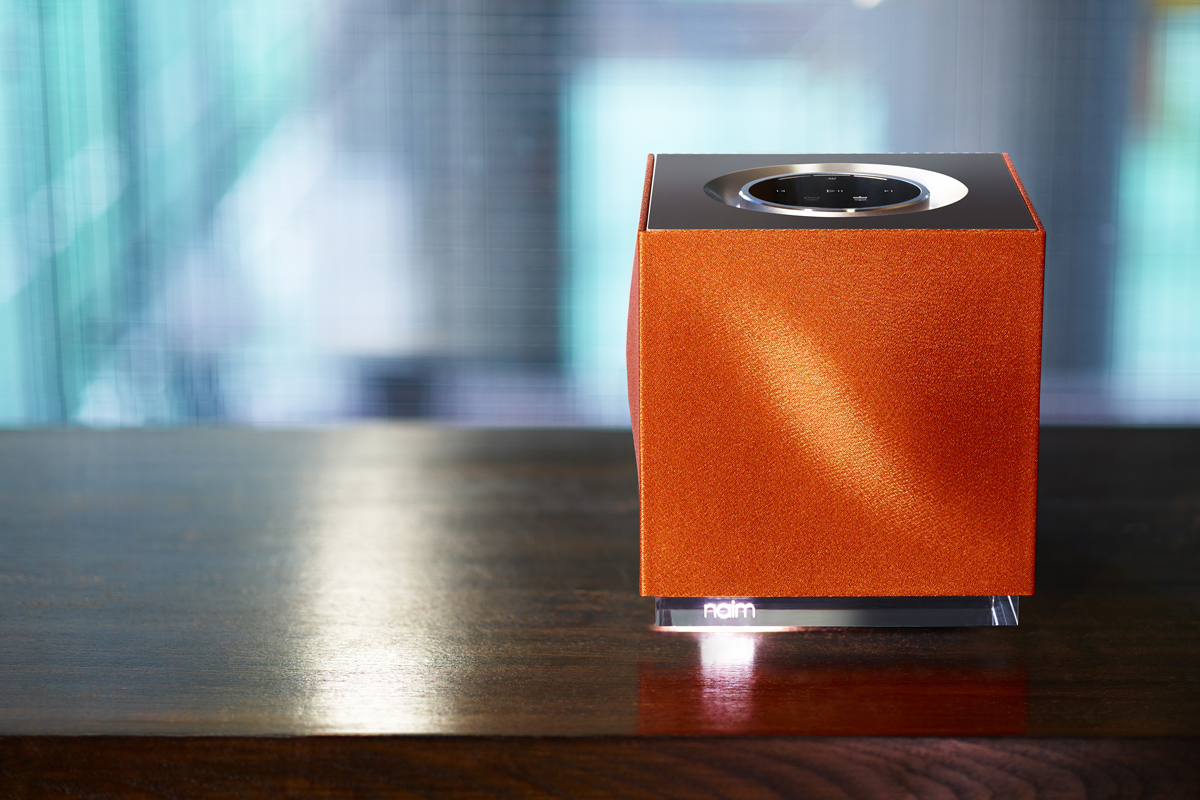 My curiosity about the Mu-so Qb's bass capabilities had me browsing the Minimalist Techno aisle of my Tidal library, where I eventually fished out "Laptevinmeri/Laptev Sea," from the Finnish duo Pan Sonic's Katodivaihe/Cathode Phase (16/44.1 FLAC, Capitol). I was surprised at how well the Naim was able to handle the low-reaching bass notes in this track; not only that, it reproduced them tightly and tunefully. Electronic textures were cleanly rendered, with plenty of breathing space between the layers of synthesized sound.
Conclusion
Naim Audio's Mu-so Qb punched well above the quality of sound you'd typically expect from a compact, wireless speaker. Its sound was dynamic and coherent, with impressive bass, and imaging that extended well outside its small, cubical enclosure. Played within its operating limits, it delivered music, as opposed to a mass of sound emanating from a discrete location on a shelf, table, or desk.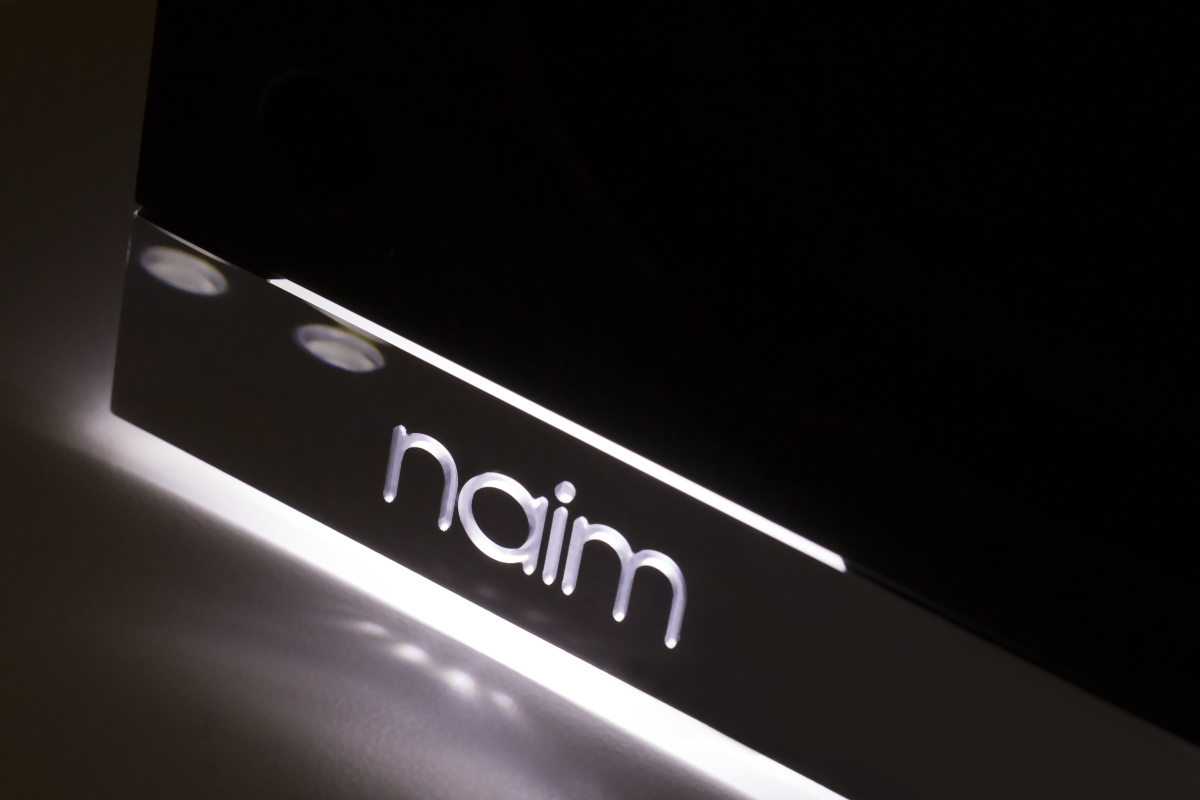 The Mu-so Qb also benefits from a well-designed control app that integrates Tidal and Spotify and, when used with media-server software on a computer or NAS drive, will make streaming your collection of ripped music an engaging, interactive experience. At $999, the Mu-so Qb isn't cheap, but its combination of good looks, solid features, and sound and build quality make it a winning all-in-one for someone wanting to fill a small space with big sound.
. . . Al Griffin
This email address is being protected from spambots. You need JavaScript enabled to view it.
Associated Equipment
Sources -- Apple MacBook Pro and iPhon 6, Apple Music, JRiver Media Center 21, Tidal HiFi
Naim Audio Mu-so Qb WiFi Speaker
Price: $999 USD.
Warranty: Two years parts and labor.
Naim Audio Ltd.
Southampton Road
Salisbury SP1 2LN
England, UK
Phone: +44 (0)1722-426600
Fax: +44 (0)871-230-10-12
E-mail This email address is being protected from spambots. You need JavaScript enabled to view it.
Website: www.naimaudio.com
North American distributors:
Audio Plus Services (US)
156 Lawrence Paquette Industrial Drive
Champlain, NY 12919
Phone: (800) 663-9352
Mu-so installation: (800) 961-5681
Website: www.audioplusservices.com
Plurison (Canada)
313 Marion Street
Le Gardeur, Quebec J5Z 4W8
Phone: (866) 271-5689
Website: www.plurison.com