For people who want to enjoy their music in real-world living spaces, two of the most welcome developments of recent years have been the integration of streaming capability into integrated amplifiers, and the downsizing of these components. With a streaming amplifier and good pair of speakers, you have everything you need to enjoy a vast range of music, in sound quality far beyond that of most all-in-one tabletop speakers. And you can do this without breaking the bank, or cluttering up your living area with audio gear.
A case in point is Yamaha's WXA-50 MusicCast streaming amplifier. At $499.95 (all prices USD), it's very affordable. It's also very compact -- in horizontal configuration, and excluding the Wi-Fi antenna, the WXA-50 measures 8.4"W x 2"H x 9.6"D and weighs 4.28 pounds. A supplied stand lets you orient the WXA-50 vertically, which can save even more space.
This little amp packs a punch. It uses ICEpower class-D amplifier modules with a specified power output of 55Wpc into 8 ohms, 70Wpc into 6 ohms, or 105Wpc into 4 ohms (all 20Hz-20kHz, 0.06% THD, both channels driven). The WXA-50 runs a little hot -- give it space for ventilation.
The WXA-50 has attractive styling and impressive build quality. Its aluminum case is finished in black on top and bottom, and dark silver on the front, sides, and rear. On the front panel are buttons for power, toggling through connected and networked sources, and Play/Pause/Connect, as well as three status lights and a large volume dial.
On the rear panel are: speaker binding posts that accept spade lugs, bare wire, and banana plugs; a TosLink input; line-level analog input and output jacks; a subwoofer output jack; an Ethernet port; a USB Type-A port for connecting an external drive; a receptacle for the Wi-Fi antenna; and a small slider switch for activating the Wi-Fi and Bluetooth radios.

From networked sources and connected USB drives, the WXA-50's maximum resolution is 24-bit/192kHz PCM and DSD128. Yamaha confirms that its subwoofer jack outputs full-range audio -- if you're connecting a sub, you'll have to set its crossover frequency using controls on the sub.
The WXA-50 has been on the market for a couple of years, so in terms of connectivity it's not entirely au courant. Its single-band Wi-Fi circuitry lacks 802.11ac support, but that doesn't particularly bother me. The network check utility for my Google Wifi mesh network reported throughput of 40Mbps for the WXA-50 -- more than enough for any high-resolution stream sent its way. During the review period I never once experienced a hiccup or dropout.
The WXA-50 supports Apple AirPlay, via which you can stream music to the amplifier from an iOS device or Mac computer. AirPlay 2, which is supported by some Yamaha components -- though not the WXA-50 -- lets you stream from an Apple device to multiple AirPlay 2 devices for multiroom playback. The WXA-50 permits only one-to-one streaming, via AirPlay. Also, the WXA-50 has Bluetooth, but doesn't support such advanced Bluetooth codecs as aptX and aptX HD.
The basic manual packaged with the WXA-50 is clear, with enough information for most users. Yamaha also offers a downloadable Owner's Manual (Advanced). In my tests, the WXA-50 worked fine with its factory default settings. But if you want to tweak the amp's performance, you'll find the info you need in the advanced manual.
Also included with the WXA-50 is a membrane-key remote control that lets you choose sources, adjust volume, and skip tracks. You could connect a source and speakers to the amp, maybe pair your Bluetooth phone, and start playing music.
Software and setup
For streaming, you need to connect the WXA-50 to your home network and download to your mobile device Yamaha's MusicCast app, available at Google Play and at Apple's App Store. If you have an Ethernet drop in the spot you're placing the WXA-50, just connect it to the amp's Ethernet port and the Yamaha is online.
I wanted to connect the WXA-50 via Wi-Fi. After launching the MusicCast app on my LG G7 ThinQ smartphone, the app asked me to press and hold the Connect button on the WXA-50's front panel, then found my Wi-Fi network, asked me to enter the password, and uploaded the information to the WXA-50. This was followed by an automatic firmware update. And that was it -- easy-peasy.
Yamaha offers a wide range of MusicCast products, including surround-sound A/V receivers, stereo receivers and amplifiers, soundbars, all-in-one tabletop speakers, and active stereo speakers. The WXA-50 can be used solo, or integrated into a whole-house sound system with other Yamaha components. Sources connected to one MusicCast device can be played through MusicCast components in other rooms. I used the WXA-50 only as a standalone component, controlling it with the MusicCast app on my LG phone.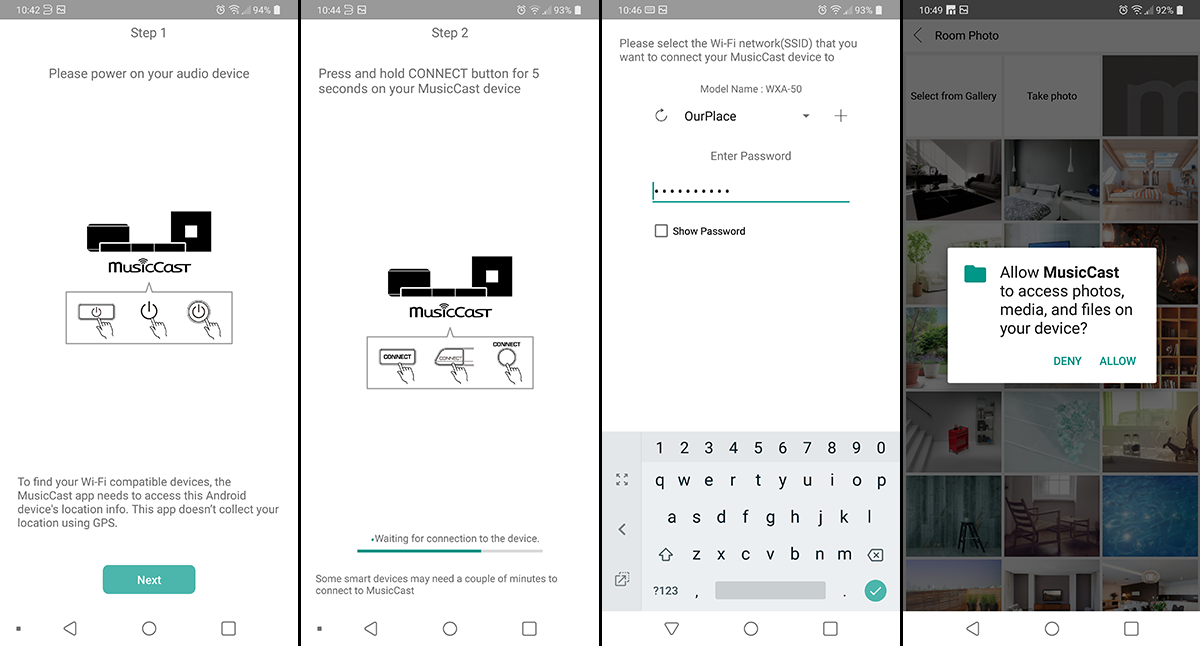 You can stream music stored on the device running MusicCast to the WXA-50, including hi-rez files -- I had no trouble streaming DSD64 and 24/192 PCM files from my LG G7 ThinQ to the WXA-50. You can also play Internet Radio, and music from the supported streaming services: Deezer, Napster, Pandora, SiriusXM, Spotify, and Tidal. MQA is not supported, so hi-rez playback from Tidal isn't possible. Other multiroom music platforms, such as Bluesound and Sonos, support more services, and Bluesound supports MQA as well.
The MusicCast app also lets you select music from connected USB drives. This function worked fine for me, except for one thing: Although the album art was embedded in the music files I'd loaded onto a thumb drive, MusicCast wouldn't display it. And instead of track metadata, the app listed file names. But more important, tracks and albums were displayed in the correct order.
Also, MusicCast was sometimes slow to load my Tidal favorites. Neither of these issues is anywhere near being a deal-breaker, but the next one may be -- MusicCast does not support gapless playback. It inserts a four-second break between every track. This may not matter much to people who listen only to single songs, or playlists. But if you listen to entire albums at a sitting, this could be a big deal, especially with albums in which tracks are supposed to follow one another without interruption -- think live albums, for example. Other than these issues, MusicCast worked solidly in my tests.
Recently, Yamaha added Alexa voice control to MusicCast, and I found the multistep process for enabling this function somewhat circuitous. After I'd chosen the Alexa setup function in MusicCast, the app asked me to register for a Yamaha Connect ID. After doing that and setting up a Yamaha account, I was bounced back to the Alexa setup function in MusicCast. Then I had to open the Alexa app on my phone (I already had an Alexa account) and enable the MusicCast skill. After that, I was kicked back to the Yamaha Connect ID page so I could give the MusicCast skill permission to access my account, then back to the Alexa app so it could discover my MusicCast device -- which then asked if it could use my Yamaha Connect ID, and from there to the Alexa app. Phew!
After that, I was able to perform functions like pausing and resuming music, muting and unmuting, adjusting volume, and initiating playback from preset favorites with voice commands. I'm not sure this was worth all the trouble, but if you're interested in this capability, Yamaha has a page on Alexa support.
Listening downstairs
I can think of many applications for a compact amplifier like the Yamaha WXA-50. It could be used in a secondary music system, say in a den or home office. I also think it will appeal to apartment dwellers who want to assemble a serious but cost-effective hi-fi system.
With those uses in mind, I connected the WXA-50 to a pair of Q Acoustics 3020i bookshelf speakers ($299.99/pair), set up on either side of a deep, wide credenza in the basement family room of our Toronto home. The unusually deep, rear-ported enclosure of each of these stylish speakers houses a 5" woofer and a 1" tweeter. (Roger Kanno's review of the Q 3020i will soon appear on our sister site SoundStage! Hi-Fi.)
On Rhiannon Giddens's wonderful new album There Is No Other (16-bit/44.1kHz FLAC, Nonesuch/Tidal), the American roots singer is joined by another multi-instrumentalist, jazz musician Francesco Turrisi, whose fascinating range of instruments includes many with an exotic Mediterranean or Middle Eastern flavor. In a cover of "Brown Baby," a civil-rights anthem by Oscar Brown Jr., Turrisi provides accompaniment on piano and frame drum, while Giddens sings and plays minstrel banjo, a larger, deeper, richer-sounding, fretless precursor of the modern banjo.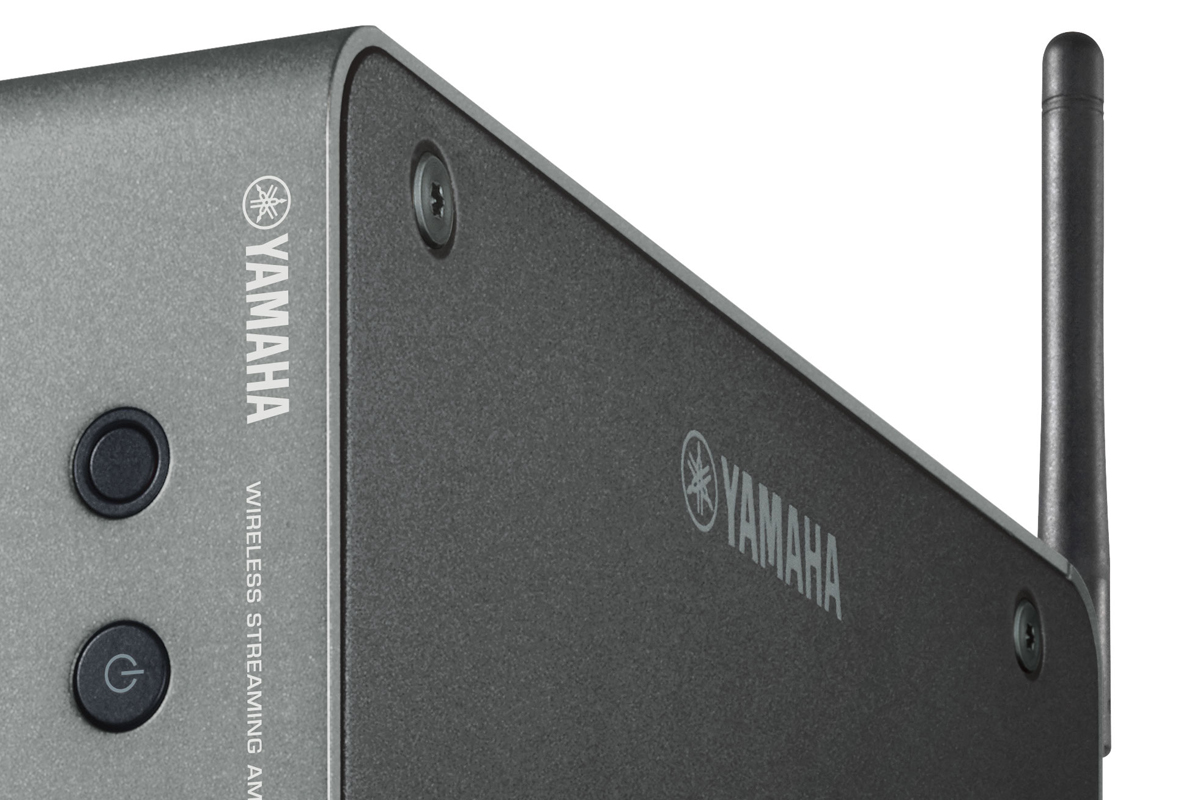 Streamed from Tidal to the WXA-50 and Q speakers, and controlled with the MusicCast app on my LG G7 ThinQ smartphone, the lower strings of the banjo had a deliciously woody attack, and Turrisi's big, resonant frame drum had wonderful body and impact, imparting to this track impressive dynamic swing. The Yamaha and Qs also turned in a lovely job of reproducing Turrisi's magical piano chords and the upper strings of Giddens's banjo.
One of the albums I'd loaded onto the thumb drive connected to the WXA-50's USB Type-A port was Never Stop II, by the power-jazz trio The Bad Plus (16/44.1 WAV, Legbreaker). With "1983 Regional All-Star," a higher-energy track, the WXA-50 again showed surprising dynamics that belied its small size. Drummer Dave King is an absolute animal, and the WXA-50 highlighted the feral quality of his playing. Pianist Orrin Evans's sudden staccato attacks sounded fast but not edgy. Equally impressive was how the Yamaha-Q combo reproduced Evans's legato phrasing and use of the sustain pedal, and the natural way the sound of his acoustic piano decayed into the background.
Could a little amp like the WXA-50 bring down the house? There's nothing like playing a Mahler symphony to find out, so I cued up a new recording of his Symphony No.1, in an earlier incarnation as a five-movement symphonic poem -- the Blumine movement, later dropped by Mahler, is included. It's conducted by François-Xavier Roth and performed by Les Siècles, an ensemble that specializes in authentic performances of the late romantic and early modern repertoire (16/44.1 FLAC, Harmonia Mundi/Tidal).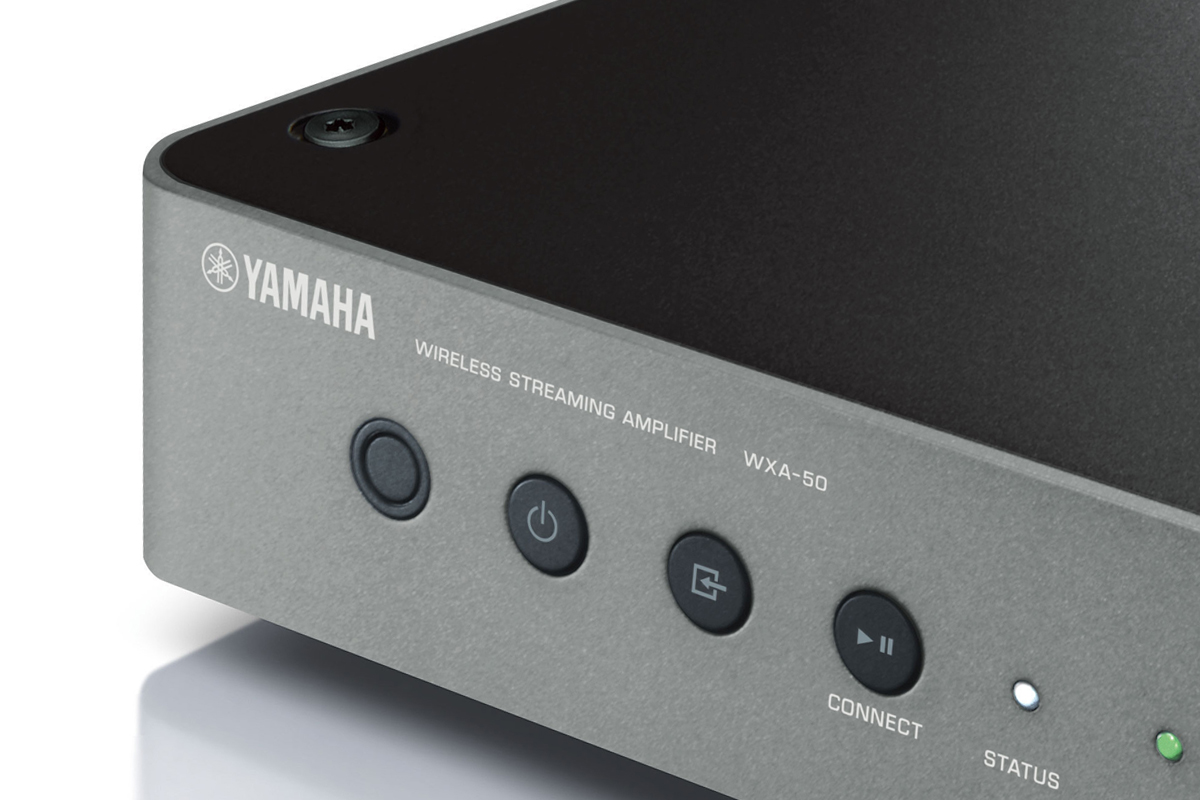 The final movement begins with massed strings, brass, and timpani all invoking titanic struggle. Not surprisingly, this section sounded slightly congested through the WXA-50 and the Q Acoustic bookshelf speakers, and string tones were a bit wiry. All things considered, though, the sound was impressively dynamic and powerful for so small a system. In the dreamy interlude that follows, I admired the way the WXA-50 layered the strings, and tracked dynamics when the volume swelled to convey pathos and drama. But while left/right imaging was fine, the soundstage lacked depth.
Listening upstairs
Wanting to hear how the WXA-50 would sound in a bigger room with bigger speakers, I moved it up to my main-floor living room, which opens onto an adjoining hallway and dining room, and connected it to Totem Acoustic's Sky Tower floorstanding speakers ($2250/pair). Favorably reviewed by Philip Beaudette on SoundStage! HiFi, the Sky Tower has a slender, rear-ported enclosure containing a 5.75" woofer and a 1.3" soft-dome tweeter connected with a first-order crossover.
Mahler isn't most people's first choice for testing an amp's ability to shake things up. I'm no head-banger, but after participating in Doug Schneider's recent comparison of seven versions of AC/DC's Back in Black , I figured that album would be as great a challenge for the WXA-50 as Mahler's First. I used the MusicCast app on my LG G7 ThinQ smartphone to cue up Back in Black (16/44.1 FLAC, Atco/Tidal).
If any audio nuances are hidden away in this heavy-metal classic, I'm not the guy to find them. But right from the tolling bell that opens track 1, "Hells Bells," it was clear that this little amp punched way above its weight. The WXA-50 and Sky Towers delivered the insane riffing of guitarists Angus and Malcolm Young, Phil Rudd's frenzied drumming, and Brian Johnson's screeching with no sign of distress. More important, it differentiated these elements without turning them into mush.
Sad to say, my next-door neighbors can confirm that too. We live in a row house -- when I turned down the volume for a minute, I could hear that the Aussie metal-heads had awakened our neighbors' two-year-old son from his afternoon nap. Sorry, guys.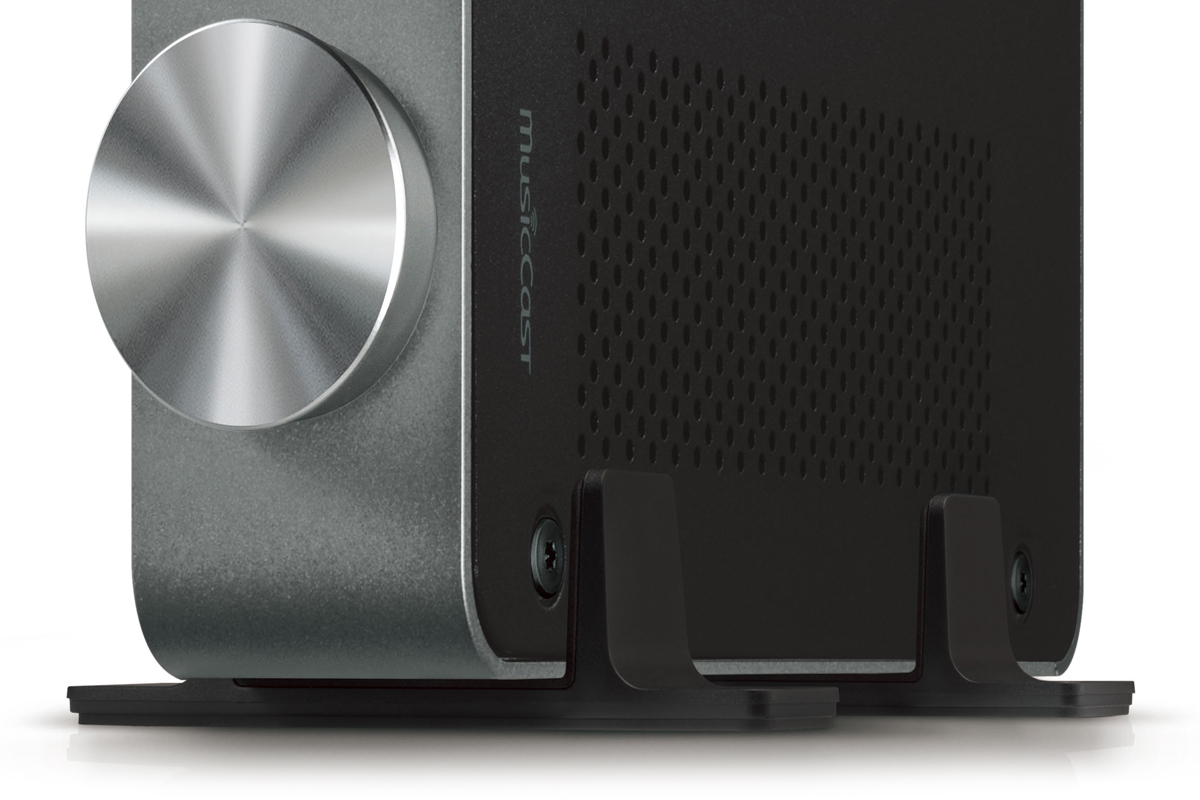 Staying in the infernal regions, I streamed "Road Outta Hell," from Big Rude Jake's Quicksand (16/44.1 ALAC, Rude), from my iPhone SE to the WXA-50 via AirPlay. Based in Toronto, Jake Hiebert is a master of American roots genres, including rockabilly, jump, blues, and swing. He's also a fabulous songwriter.
"Road Outta Hell" begins with Hiebert and bandmate Gary Justice chanting chain-gang style, quickly followed by an emphatic walking bass line. Then the drums enter, Jake sings, and Justice plays acoustic guitar, in the background a muted trumpet. Through the WXA-50 and Totem Sky Towers, this song just swung. George Koller's bass guitar had fantastic body and Vito Rezza's brushed snare drum had excellent snap, the combination driving this number forward irresistibly. I also admired the attacks on the fingerpicked guitar solos, and the expressiveness of Jake's snarling vocal. The stereo image had excellent lateral spread and height, but was slightly limited in terms of depth.
I closed with something loftier. One of my favorite albums of 2018 was After Bach, by jazz pianist Brad Mehldau (24/96 FLAC, Nonesuch), which I streamed to the WXA-50 via MusicCast and my LG G7 ThinQ smartphone. On this record Mehldau intersperses selections from J.S. Bach's The Well-Tempered Clavier with his own Bach-inspired compositions. In one of the latter, "Ostinato," Mehldau plays mostly legato, with liberal use of the sustain pedal. The WXA-50 and Sky Towers' rendering of this moody piece was hugely impressive, highlighting this pianist's expressive touch and the authority of his left-hand ostinatos, which underpin the piece. However, a little hardness crept in in the higher octaves when Mehldau began playing mezzo-forte, especially with the volume turned up.
Comparison
To get a better handle on the sound of the Yamaha WXA-50, I compared it with another budget-priced integrated amp, the NAD D 3045 ($699), which Doug Schneider recently reviewed in his "System One" series in December, on SoundStage! Hi-Fi. While the NAD is bigger than the Yamaha, both amps are compact designs that can be oriented vertically or horizontally.
In term of features, I was comparing an apple to an orange. The D 3045 lacks Wi-Fi and streaming capability, but it does have a phono stage, USB DAC, and HDMI-ARC input for connection to a TV -- none of which the WXA-50 has. The PowerNode 2i BluOS streaming amplifier ($799), from NAD's sister brand Bluesound, would be a more natural comparison. However, both the D 3045 and PowerNode 2i are built around a 60Wpc Hypex Ncore Hybrid Digital class-D amplifier. Given their close family ties and almost identical specs, I suspect that the sonic characteristics of the D 3045 and PowerNode 2i are virtually identical.
As the D 3045 doesn't stream, I connected my MacBook Pro computer to its USB port using a 1.5m AudioQuest Pearl USB link, and played music using Audirvana 3.2.16 and Roon 1.6 software.
In a 24/96 MQA stream of Rhiannon Giddens's cover of "Brown Baby" sent through the NAD D 3045 and Q Acoustics speakers, her minstrel banjo had greater harmonic richness, and Turrisi's piano accompaniment was rendered with a bit more delicacy. The sound was more spacious, the piano appearing almost out of thin air. But the Yamaha was more dynamic, delivering more swing and momentum than the NAD.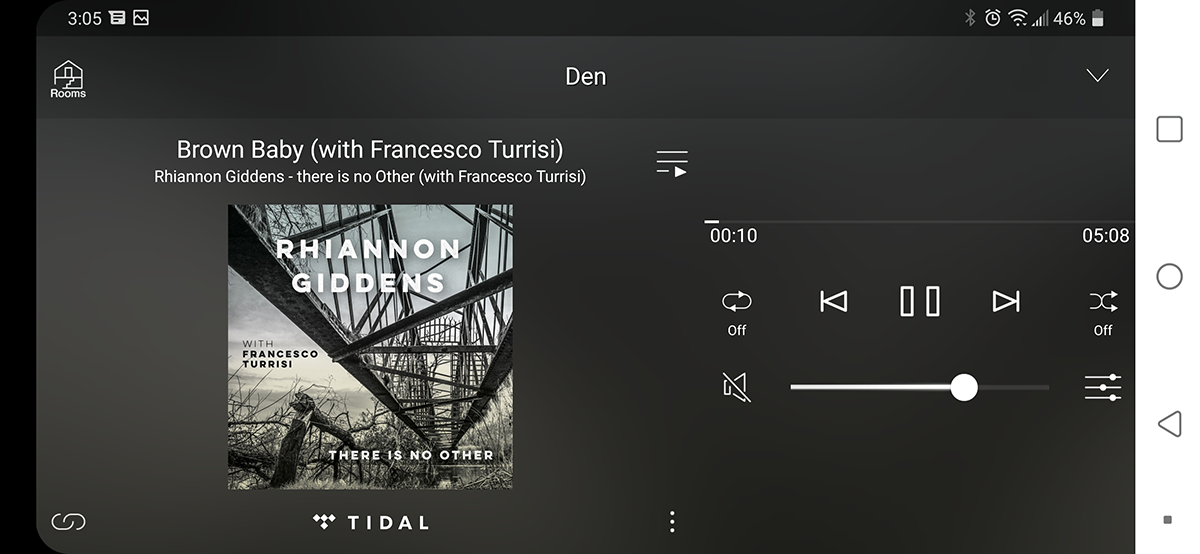 With the same setup, the opening section of the final movement of Mahler's First sounded less constrained through the NAD, with better layering of the orchestral sections. String tones were breathier, and the soundstage was deeper and more spacious. But in terms of dynamic excitement, the WXA-50 kept up with the D 3045 and may even have surpassed it.
The piano tone in The Bad Plus's "1983 Regional All-Star" was warmer and fuller through the NAD. I was more aware that this was a really big piano -- not because it sounded louder through the NAD, but because it sounded richer and weightier. The NAD threw a noticeably deeper soundstage. But this track had better dynamic swing through the Yamaha, with more snap in Evans's staccato attacks and King's drumming.
Through the Totem Sky Towers, the NAD D 3045 reproduced Big Rude Jake's "Road Outta Hell" with a greater sense of ease than the Yamaha. The soundstage was bigger and more open, with greater depth. The snare drum had less snap but more body. The fingerpicked guitar sounded bigger and woodier, though attacks weren't as sharp. Through the Yamaha, the sound of the bass guitar was punchier, giving this track greater dynamic drive.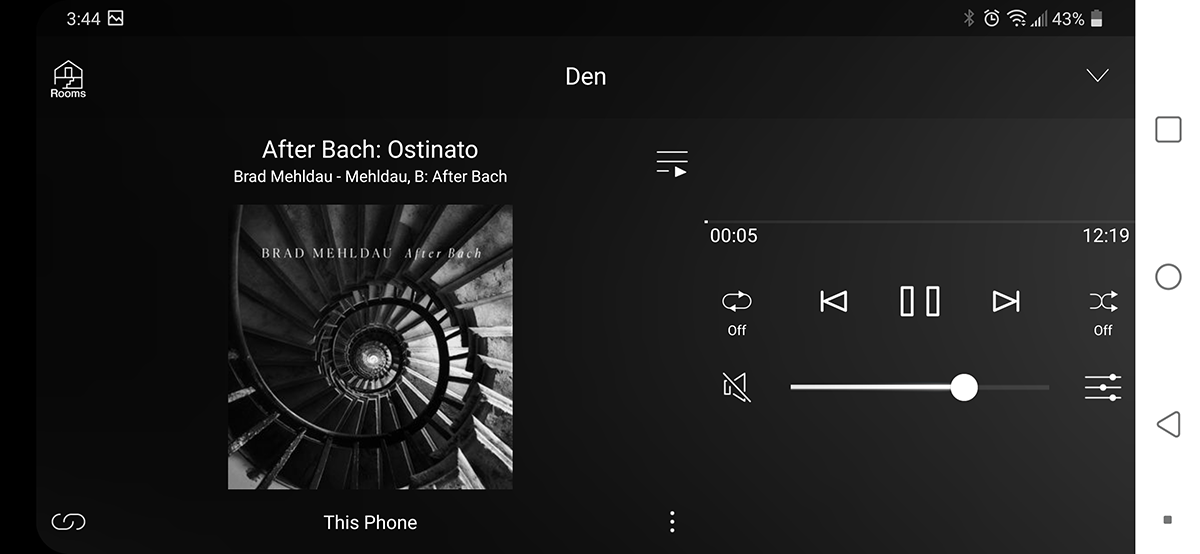 Staying with the Sky Towers, I found Brad Mehldau's piano tone in After Bach weightier through the NAD, and it didn't sound hard in loud passages played at high volumes. The sound was also more three-dimensional through the D 3045. However, the Yamaha WXA-50 seemed faster and more articulate -- it was easier to follow the dense counterpoint, especially when Mehldau was freely using the sustain pedal.
This is a classic case of swings and roundabouts. Compared to the Yamaha WXA-50, I found the sound of the NAD D 3045 richer, more refined, more three-dimensional, and providing a more palpable feeling of music being played in a real acoustic space. I suspect that the Bluesound PowerNode 2i shares these characteristics, but of course can't say for certain. On the other hand, I found the Yamaha more dynamic and expressive. It imparted to most of the music I played an infectious swing and momentum.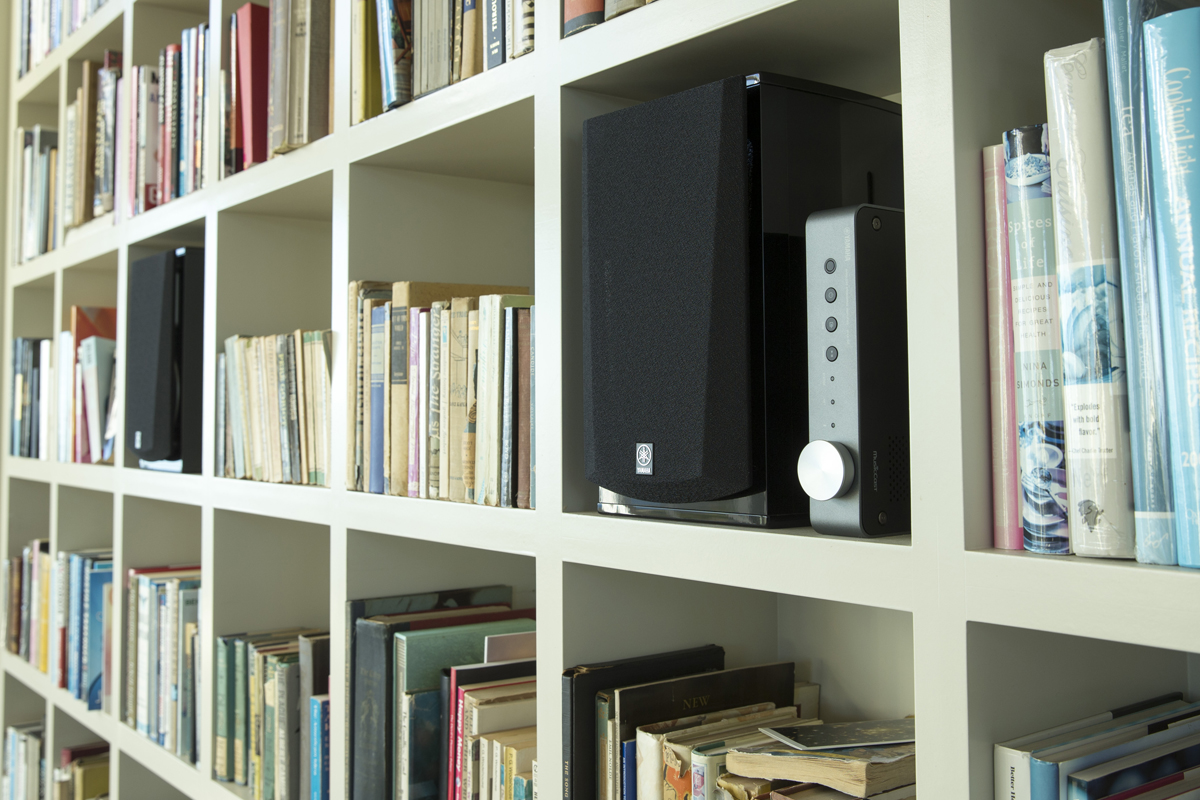 It's also worth noting that Bluesound's BluOS is a richer, more polished platform than Yamaha's MusicCast, and supports many more streaming services. But MusicCast is solid, and provides all of the functions most people will need.
Conclusion
For a nickel under $500, Yamaha's WXA-50 delivers huge bang for the buck. With its streaming capability, this little integrated amp can serve as the foundation for a really nice hi-fi. Add a pair of capable speakers -- e.g., Q Acoustics' 3020i bookshelfs -- and you've got a dynamite little sound system for under $800. But as my experience with the Totem Acoustic Sky Towers confirms, the WXA-50 is more than a starter amp -- matched with higher-quality gear, it scales really well. However, people whose listening is focused on albums rather than individual tracks should be aware of MusicCast's lack of support for gapless playback. On the other hand, Yamaha's many other MusicCast products make it easy for the WXA-50 to be part of a whole-house audio system. The Yamaha WXA-50 is an amplifier you can grow with, and grow into.
. . . Gordon Brockhouse
This email address is being protected from spambots. You need JavaScript enabled to view it.
Associated Equipment
Speakers -- Q Acoustics 3020i, Totem Acoustic Sky Tower
Integrated amplifier-DAC -- NAD D 3045
Sources/control devices -- Apple iPhone SE and LG G7 ThinQ smartphones, Apple MacBook Pro computer running Audirvana 3.2.16 and Roon 1.6
Network -- Google Wifi three-point mesh network
Yamaha WXA-50 MusicCast Streaming Amplifier
Price: $499.95 USD.
Warranty: Two years parts and labor.
Yamaha Corporation of America
6600 Orangethorpe Avenue
Buena Park, CA 90620
Website: usa.yamaha.com