Last October, Lenbrook International announced a comprehensive upgrade of its Bluesound lineup of whole-house audio products. Bluesound's 2i series offers such new features as Apple AirPlay 2 support, improved Bluetooth capability, Amazon Alexa voice control, and updated Wi-Fi connectivity.
Generation 2i products include the Vault 2i ripper/server/streamer ($1199; all prices USD), the Node 2i streaming preamp ($499) and PowerNode 2i streaming amplifier ($799), the Pulse Soundbar 2i ($799 in black, $899 in white), and three powered tabletop speakers: the Pulse Flex 2i ($299, reviewed on SoundStage! Xperience on February 1), the Pulse Mini 2i ($499), and the subject of this review, the top-of-the-line Pulse 2i ($799).
Bluesound's 2i-series tabletop speakers have new driver configurations and more powerful amplifiers than their predecessors. Unlike the Pulse 2, which had dual 2.75" midrange-tweeters and a shared 5.25" woofer, the Pulse 2i is a true stereo speaker in a single box, with pairs of 5.25" woofers and 1" dome tweeters. Like all Bluesound speakers, it's an active design, with DSP-based crossover and a dedicated amplifier for each driver: 65Wx2 for the woofers, 10Wx2 for the tweeters.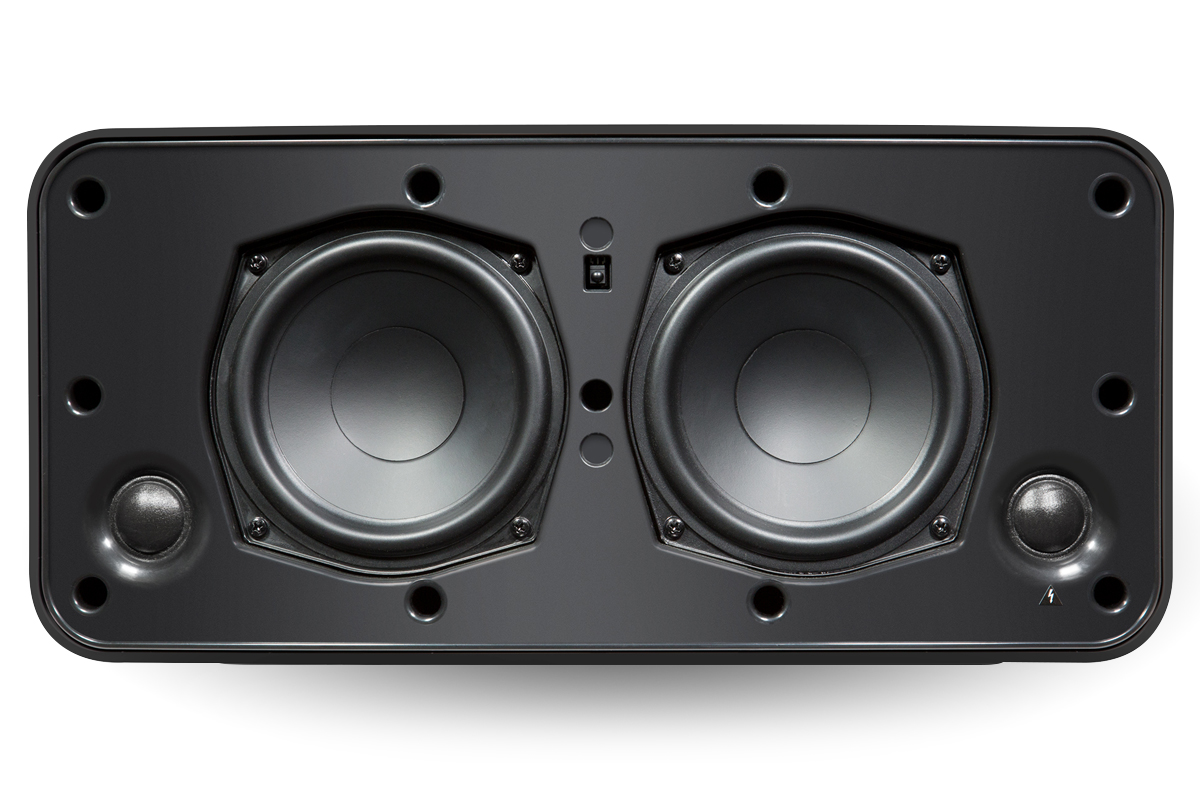 Available in black and white finishes, the Pulse 2i has the same overall dimensions (16.5"W x 7.8"H x 7.55"D) as its predecessor, but is lighter (11.11 vs. 13.45 pounds). The styling is almost identical: On the top are touch controls that let you pause and resume playback, skip to the next or previous track, and adjust volume, without using the BluOS app. On the back are a port for connecting a USB drive, an Ethernet networking port, a combo 3.5mm TosLink/stereo analog input jack, a 3.5mm stereo headphone output jack, and, to be used only for servicing, a Mini-USB port.
New features
Support for Apple AirPlay 2 by Bluesound's Gen 2i products was enabled by a firmware update released by Lenbrook on December 11, 2018. AirPlay 2 allows streaming from iOS devices and Macs to compatible components over Wi-Fi, with Siri voice control. In the Listening section, I'll describe how AirPlay 2 and the Pulse 2i can be used to view videos on an iPad. Readers who want to learn more about how AirPlay 2 works with Bluesound's Gen 2i products should check out the "AirPlay and Siri" section of my review of the Vault 2i, published January 15.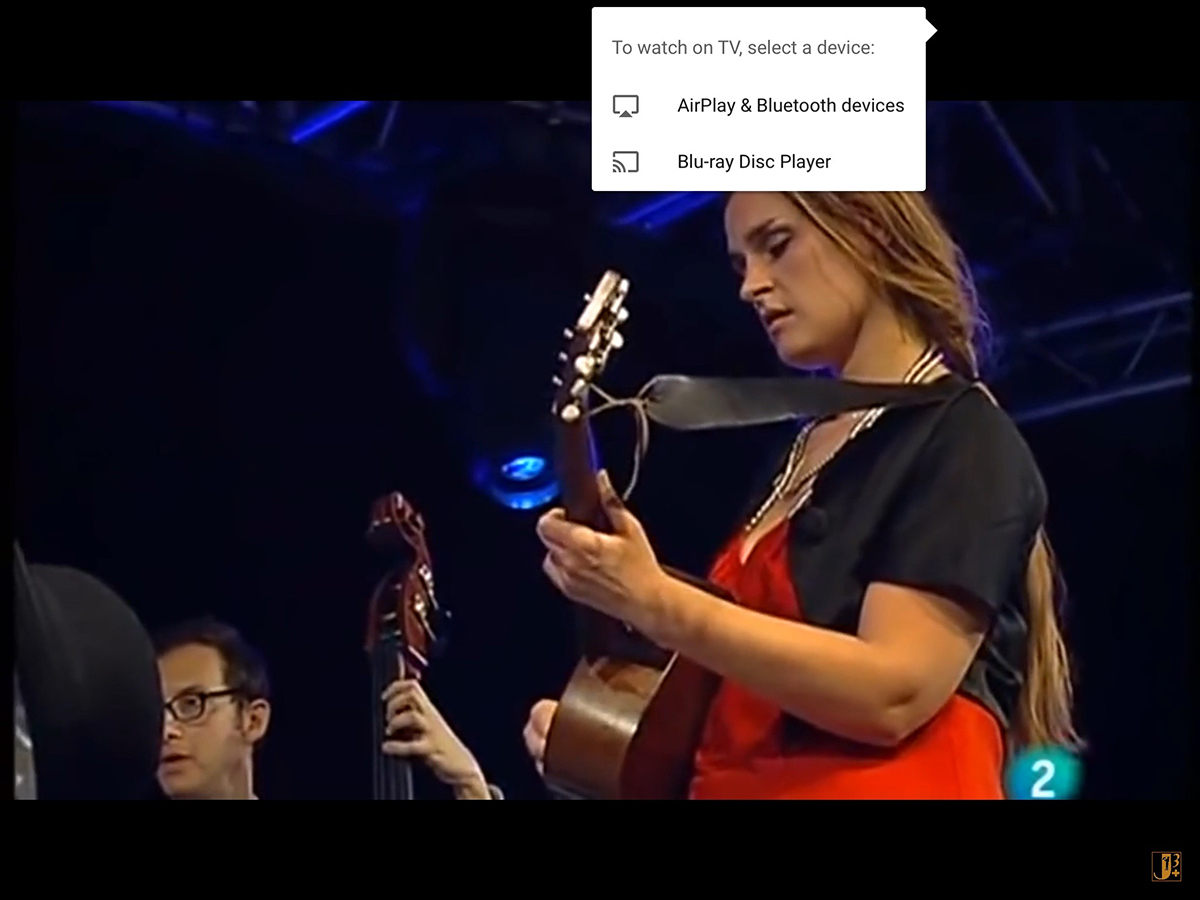 Another new feature is bidirectional Bluetooth capability, offered in all models except the Pulse Flex 2i. Not only can you stream wirelessly to a Bluesound Gen 2i component from a smart device, you can stream from a Gen 2i component to Bluetooth headphones. Again excepting the Pulse Flex 2i, all new models support the Bluetooth aptX HD protocol, which can stream audio of resolutions up to 24-bit/48kHz at 4:1 compression. Both features are covered in detail in the Bluetooth section of my Vault 2i review, so I won't go over that ground again here.
The new series also has dual-band (2.4/5GHz) Wi-Fi capability, with support for the faster 802.11ac standard in addition to 802.11b/g/n. Gen 2 models lacked 802.11ac support, and used only the 2.4GHz band. The Network Check utility for my Google Wifi network reported throughput of 94Mbps for my review sample of the Pulse 2i. That's ten times the data rate of uncompressed 24-bit/192kHz PCM, the highest resolution supported by Bluesound products.
Voice control
Bluesound's other major initiative is the inclusion of Amazon's Alexa voice control. On October 1, 2018, Lenbrook released a new version of its BluOS software, which controls all Bluesound components, as well as BluOS-capable products from NAD and third-party brands. On January 15, it released an Alexa skills library that enables voice control of products running BluOS 3.0 or later.
Voice control will work with all Bluesound components running the latest BluOS software -- not just the new Gen 2i models, but Gen 1 and 2 models as well. However, no Bluesound product incorporates Alexa voice services and the far-field microphones needed for Alexa voice control. To operate a Bluesound component by voice, you'll need a separate Alexa-enabled device, such as Amazon's Echo smart speaker.
Presumably, if you want to add Alexa voice control to a Bluesound product, you already own an Alexa-enabled device and have set up the Alexa app on a smartphone or tablet. To voice-enable the Pulse 2i or other Bluesound product, access the Settings menu in the Alexa app by tapping the three-line icon at upper left, then choose Skills & Games. On the next screen, tap the magnifying-glass search icon in the upper right, and on the next screen search for BluOS. On the screen after that, press the button for enabling BluOS Voice Control.
Next, you have to enable Alexa control in the BluOS app independently for each Bluesound device in your house. After choosing the Bluesound device you want to control by voice in the Player Selection drawer (click the little house icon at upper right), go to the Navigation drawer (click the three-line icon at upper left) and choose Music Services. Then, on the next screen, choose Amazon Alexa. On the following screens you'll choose a room name, enter your Amazon username and password, then confirm that you want to allow Alexa to control BluOS. If all this sounds a bit fiddly -- it is -- check out the commendably lucid guide to Alexa on Bluesound's support site. Setting up Alexa worked for me first time around, with no surprises.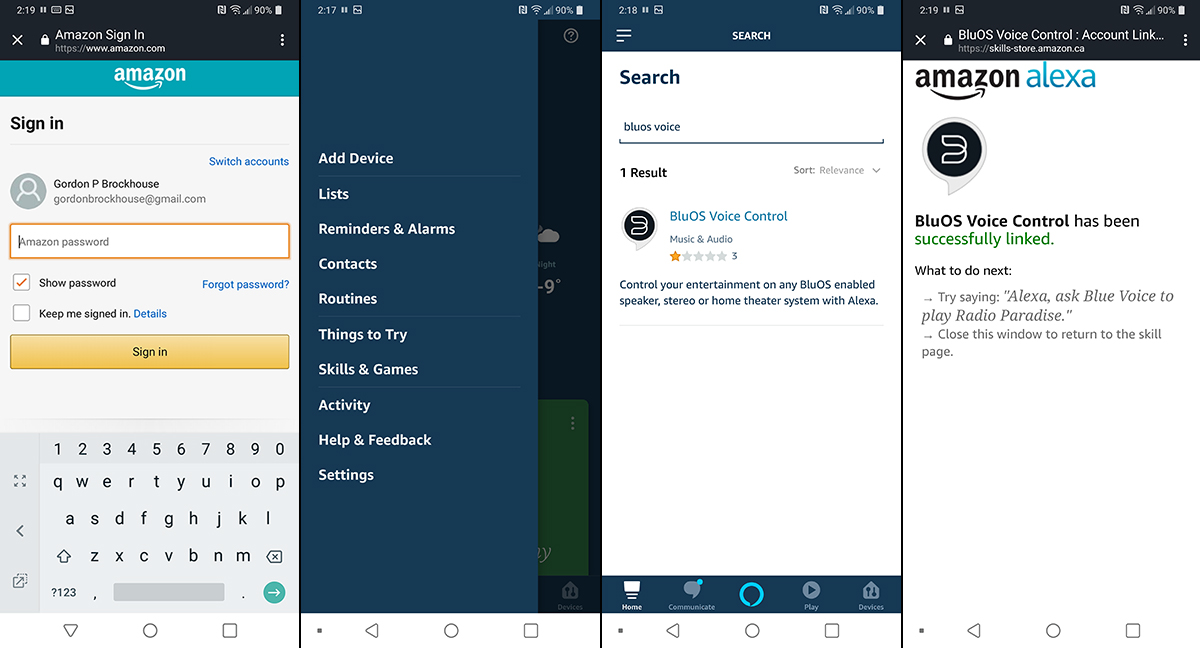 Bluesound's support page links to a document titled "BluOs Alexa Skill Commands." These include adjusting volume, pausing and resuming playback, asking what's playing now, and grouping zones for synchronized playback. You can't cue up specific tracks, albums, artists, or genres by voice, but you can use spoken commands to shuffle favorite tracks from selected streaming services and your local music library. New music and top tracks on Amazon, Deezer, and Tidal can also be selected by voice; so can recommended songs on Tidal. To control Bluesound devices by voice, preface each command with, "Alexa, ask BluVoice to . . ."
I don't have an Amazon Echo, but I do have a smart switch, an Ecobee Switch+, in the master bedroom, which is right next to my office, where I was testing the Pulse 2i, and that switch has a built-in Alexa voice assistant. So after enabling the BluVoice skill, I went into the bedroom and said, "Alexa, ask BluVoice to play recommended songs on Tidal." Alexa replied, "Playing recommended songs from Tidal in the Pulse." A couple of seconds later, the Pulse 2i began playing some rap music: "Black" by Dave, followed by "Flat Tummy Tea" by Freddie Gibbs. Not exactly my thing, but never mind. My next command was, "Alexa, ask BluVoice to play my Qobuz favorites." Alexa replied, "Playing favorite songs from Qobuz in the Pulse" and began playing "Songworld," from pianist Joachim Kühn's Melodic Ornette Coleman. Much more to my taste.
One BluOS feature that really lends itself to voice control is presets. In the Navigation Drawer of the BluOS app, select My Presets, then tap the + icon to add a preset. On the next screen, select the Preset Sound option to choose the source you want -- options include a component hardwired to any Bluesound player, TuneIn radio, Qobuz and Tidal playlists, and Radio Paradise. After choosing one of these, navigate to the content you want to program as a preset, specify a preset number, and you're done.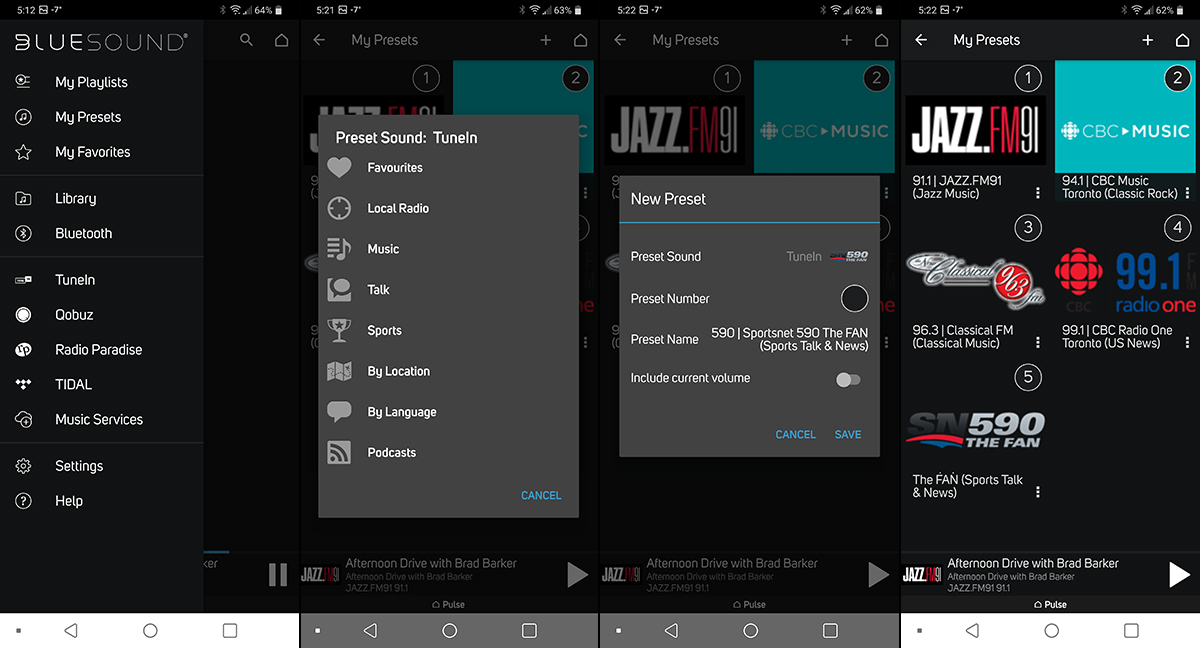 I followed this procedure, which is clearly explained on Bluesound's support pages (bluesound.com/presets), to program as TuneIn presets a few local radio stations, including Toronto's Jazz FM 91.1. Then I went into the bedroom and said, "Alexa, ask BluVoice to play Preset 1," to which she replied, "Playing Preset 1 in the Pulse." A few seconds later, Thelonious Monk's "Bye-Ya" began playing in my office.
I ran into a couple of wrinkles with Alexa voice control on the Pulse 2i. For example, when I mistakenly gave a command that BluVoice couldn't execute, it would reset the Bluesound component to whatever state it had been in when it was last playing: If I'd been streaming a playlist from Tidal, it would resume that playlist. Otherwise, I found Bluesound's voice control mostly straightforward, and pretty cool.
If you want to hear a specific song or album, it's much easier to find it with the BluOS app. But when you want to make a quick adjustment, or just cue up some background tunes, voice control can be pretty convenient.
Listening
But how did the Pulse 2i sound?
For what it is, very good indeed. Of course, the Pulse 2i can't deliver true stereo, as separate speakers can. But the Pulse 2i has a Wide mode, accessible from Player section of the Settings menu, that expands the soundstage on many tracks. With 150W of onboard amplification, the Pulse 2i could fill a big area with very pleasing sound, as I confirmed when I set it on the mantle of the faux fireplace in our living room, which opens into an adjoining dining room and hallway.
A few days after seeing Bohemian Rhapsody, the recent biopic about Freddie Mercury and his band, Queen, I streamed through the Pulse 2i the 2011 remastering of the group's breakthrough album, A Night at the Opera (24-bit/96kHz MQA, Universal/Tidal). In the harmony vocals that open "Bohemian Rhapsody," I noticed a slight cavernous coloration -- a characteristic that occasionally manifested itself with other music I played through the Pulse 2i. Other than this, the Pulse 2i sounded commendably neutral. Mercury's voice was completely convincing throughout its extraordinary range. The Pulse 2i was slightly congested in the frenetic middle section, but it tracked this classic track's rapid shifts in dynamics very impressively. Selecting Wide mode really helped convey the wild stereo panning effects on this song.
Also in my living room, I streamed The Gleaners, a wonderful solo album by jazz double bassist Larry Grenadier (24/96 FLAC, ECM/Qobuz). In "Woebegone," his plucked notes had excellent impact and snap, and decayed beautifully into the background. Halfway through the song, when Grenadier adds overdubbed bass tracks, the Pulse 2i resolved the different strands -- all in the same tonal range -- as well as anyone could expect from a tabletop speaker. And it conveyed the big, woody tone of Grenadier's instrument wonderfully. While the Pulse 2i lost a little gas in the lowest notes, its sound never became boomy or thuddy.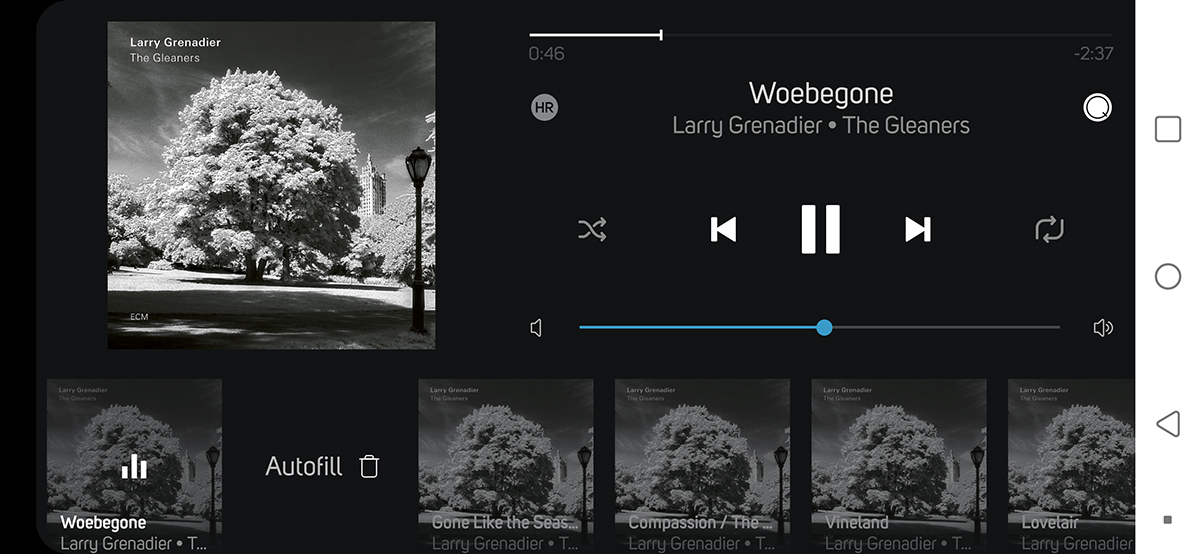 I did most of my listening in my office, with the Pulse 2i placed on a small table across the room from a two-seat couch where I sprawl when I'm not pounding out text at my desk. I think this layout is typical of most people who would use a product of this nature.
Although the half-hour version of "Oasis" on Nude Ants, by Keith Jarrett's European quartet (16/44.1 FLAC, ECM/Tidal), cries out for true stereo, I was very impressed with the Pulse 2i's performance. Recorded in May 1979 at New York's Village Vanguard, this Jarrett composition progresses from exotic mystery to pagan frenzy to ecstatic joy and finally to quiet celebration, and the Pulse 2i beautifully communicated that huge emotional range. While left/right separation was confined to the Pulse 2i's outer dimensions (even in Wide mode), the speaker produced some front-to-back layering, with Jon Christensen's drums a little behind Jarrett's piano and Jan Garbarek's soprano sax -- this greatly helped resolve the different strands of this piece in its wilder, more frenetic sections.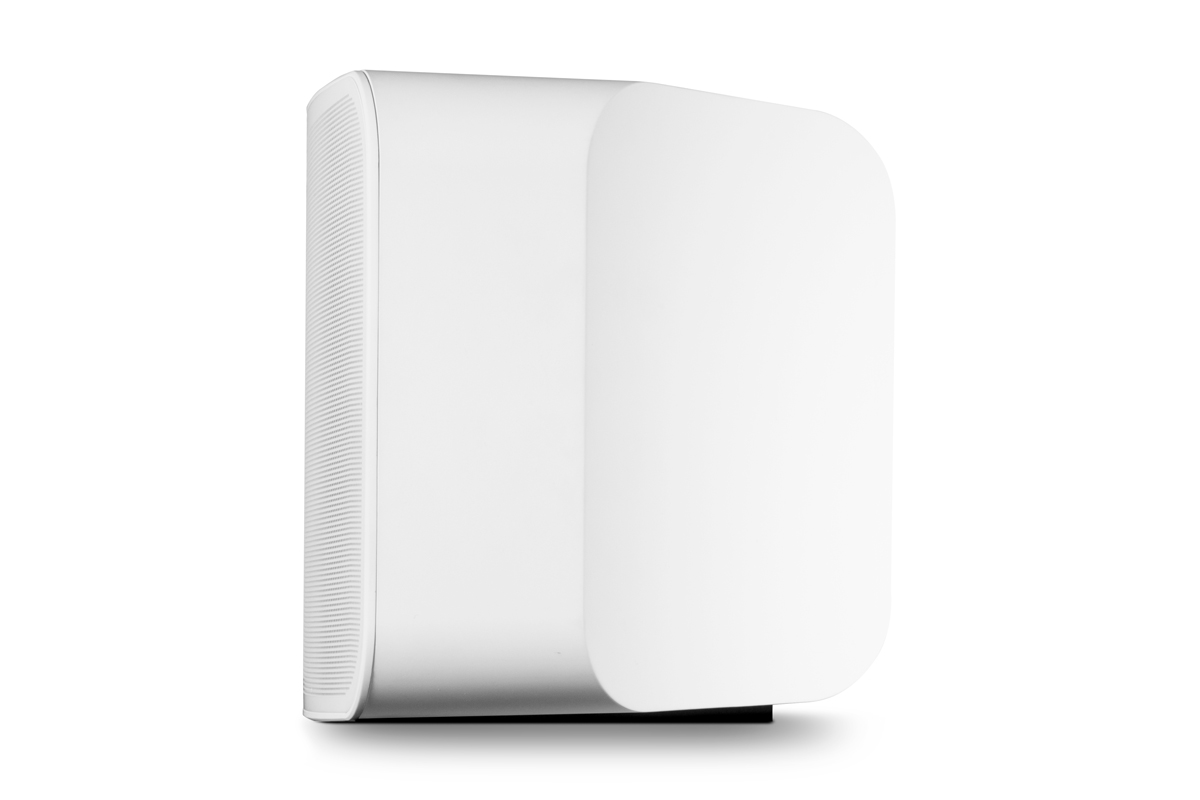 Instrumental timbres were satisfying throughout. Garbarek's sax sounded appropriately reedy, and was consistently natural throughout its range. Every instrument in Christensen's kit sounded fantastic. Cymbals -- struck, I think, with the thick end of the stick -- were convincingly metallic, not at all glary or splashy. Floor toms had solid impact, with zero overhang. Palle Daniellson's double bass had great snap and definition, and no bloat. The piano, which in this track Jarrett plays mainly in the middle and upper octaves, was also equally convincing.
As noted in the "New features" section above, Bluesound's new AirPlay capability lets you stream audio from an iPad for listening out loud. To do this, you simply tap the sharing icon in the playback app you're using, then select the Pulse 2i (or whatever AirPlay component you want to use). This capability is attractive not only for movies but for YouTube concerts -- I spent a very pleasant hour playing Madeleine Peyroux's concert at the 2009 Festival de Jazz de Vitoria-Gasteiz, the Pulse 2i reproducing Peyroux's Billie Holiday-esque singing with disarming naturalness. Instrumental accompaniment was likewise convincing, especially Barak Mori's deep, impactful double bass. The entire sound was big, warm, and inviting. If it were just me taking in this concert, I'd probably plug some headphones into the iPad. But for two people watching a concert or film and sitting side by side, streaming audio to a capable speaker like the Pulse 2i is infinitely more satisfying than listening through an iPad's built-in speaker.
Comparison
The most direct competitor to the Pulse 2i is probably Sonos's flagship tabletop speaker, the Play:5 ($499.99). The 2015 remake of the Play:5 features a sealed enclosure, with three tweeters along the top and three midrange-woofers along the bottom. Sonos doesn't specify driver type or size, or amplifier power. The left and right tweeters are angled outward, the central one firing straight ahead. I assume that the left and right channels are summed into the midrange-woofer and tweeter in the center of the baffle. Presumably, the point of this design is to enhance the stereo effect.
Laid on its side, the Play:5 functions as a self-contained "stereo" speaker. Set on end, it automatically switches to mono mode. You can then use the Sonos app to pair two Play:5 speakers for full-blown stereo.
I listened to the Play:5 in stereo mode in my office, placing it in the same spot the Pulse 2i had occupied when I auditioned it. I thought the Play:5 produced the fuller, warmer sound, but the Pulse 2i sounded bigger, more dynamic, and more exciting. The subtly cavernous character I'd heard with the Pulse 2i didn't occur with the Play:5, but the Sonos did produce some upper-midrange edginess that the Bluesound didn't.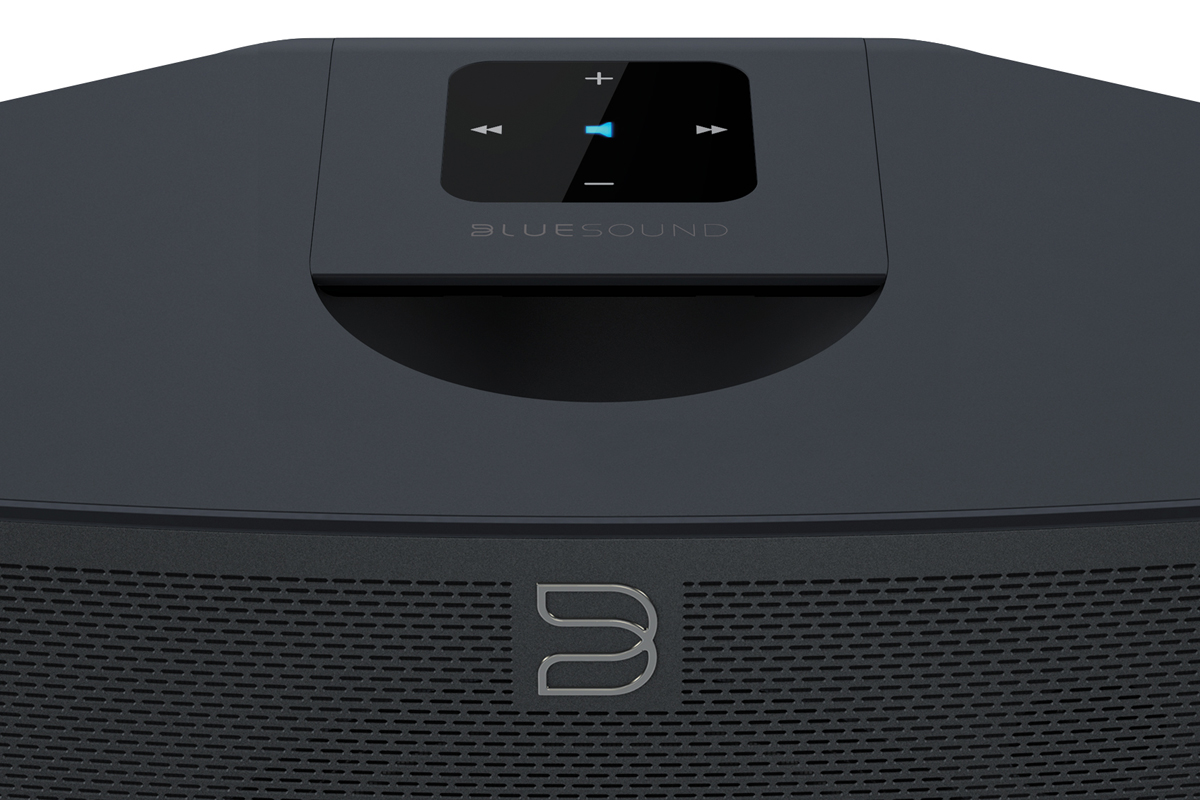 In Jarrett's "Oasis," plucked double-bass notes and floor toms sounded deeper and more impactful through the Play:5 than through the Pulse 2i, but bowed bass notes were muddier. Jarrett's piano had a slightly jangly edge and Garbarek's soprano sax a slightly reedy edge, neither of which I'd heard through the Pulse 2i, through which Jarrett's piano sounded weightier. As "Oasis" waxed frenetic, the Play:5 sounded a bit compressed compared to the Pulse 2i.
A self-contained tabletop stereo speaker is, by definition, a compromised product. In their flagship models of this type, Bluesound and Sonos have made different compromises and have executed them well. Neither speaker is intended for critical listening, but I think most music lovers would be delighted with either for casual listening. If I had to characterize the two speakers in a single phrase, I'd say that the Play:5 is more euphonic, the Pulse 2i more accurate.
There are differences in features. Both speakers support AirPlay 2 and Alexa voice control. Like the Pulse 2i, the Play:5 lets you pause and resume, adjust volume, and skip tracks with voice commands. Unlike the Bluesound, with the Sonos you can cue up music by artist or album name. When I walked to my Ecobee Switch+ and said, "Alexa, play some Van Morrison in the Office" (the name I'd given the Play:5 in setup), Alexa replied, "Shuffling songs by Van Morrison in office, playing on Amazon Music." Shortly thereafter, I heard his "Bright Side of the Road" through the Play:5, followed by "And It Stoned Me."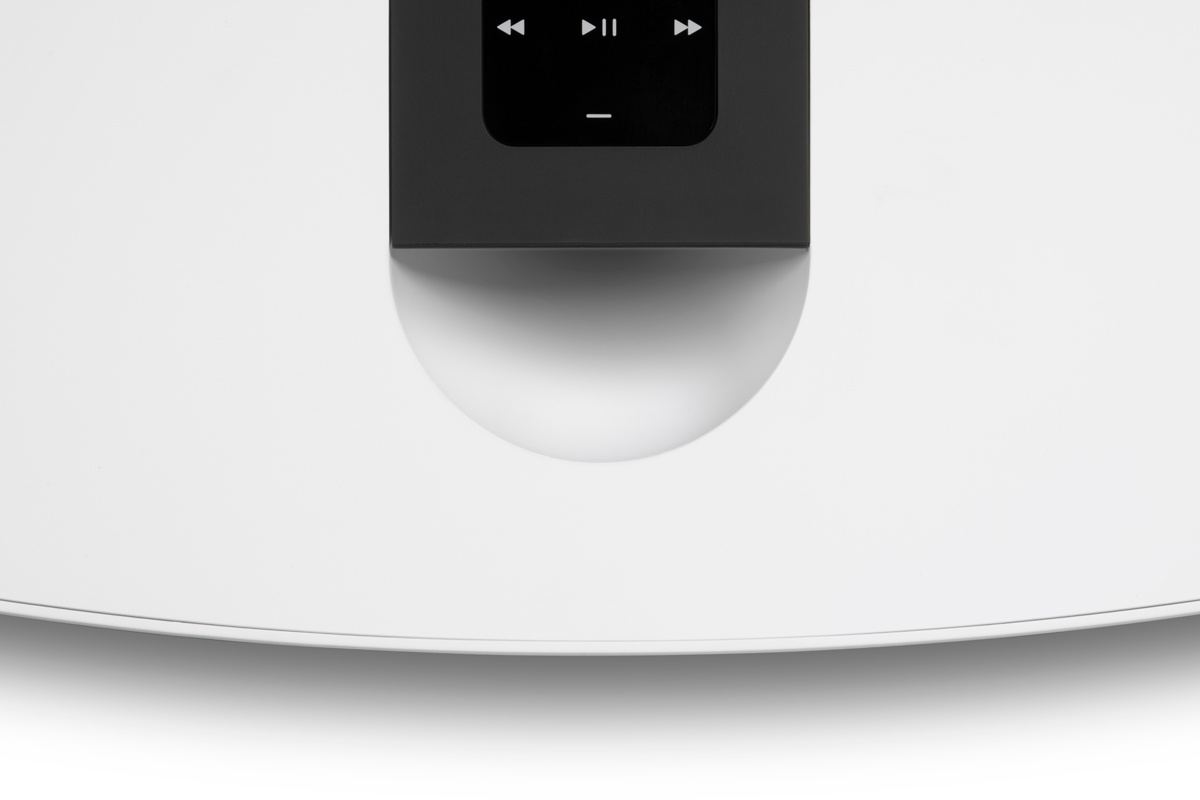 A major consideration for many consumers will be the ecosystem of products surrounding these two speakers. In addition to self-contained tabletop speakers like the Play:5 and Pulse 2i, Sonos and Bluesound offer streaming amplifiers, soundbars, and subwoofers. Sonos has two speakers with built-in Alexa voice assistants, which Bluesound does not, but Bluesound has a CD ripper/server/streamer, the Vault 2i -- Sonos makes no product of this type. Sonos has just introduced a series of architectural speakers codeveloped with Sonance. Under its NAD brand, Lenbrook offers a BluOS-capable network music player designed for custom installation.
In audiophile-grade products, the balance shifts decisively in favor of Bluesound, whose sister brand NAD offers BluOS-capable integrated amplifiers and DACs. And Lenbrook is opening up BluOS to third parties. DALI makes two active speakers that can work with optional BluOS modules, one of them being the Callisto 2 C, which I reviewed in November 2018. Monitor Audio and Roksan have signed on as BluOS licensees.
For most SoundStage! readers, the kicker may be Sonos's lack of support for high-resolution audio. When I tried streaming 24/96 files on my LG G7 ThinQ smartphone to the Play:5, I got either dead air or weird clicking noises. Bluesound supports hi-rez audio to 24/192, and all BluOS-capable products can decode MQA. This might not be a big deal if you're just listening through an all-in-one tabletop speaker like the Pulse 2i or Play:5 -- but if that speaker is part of a whole-house system with audiophile-grade components, it might be a big deal indeed.
Conclusion
I continue to be impressed by BluOS software, and with the excellent support Lenbrook provides for it. While not absolutely bug-free (no software ever is), BluOS is rich and stable, and has only a modest learning curve. Lenbrook offers an abundance of information on its support pages for BluOS, all of it commendably clear.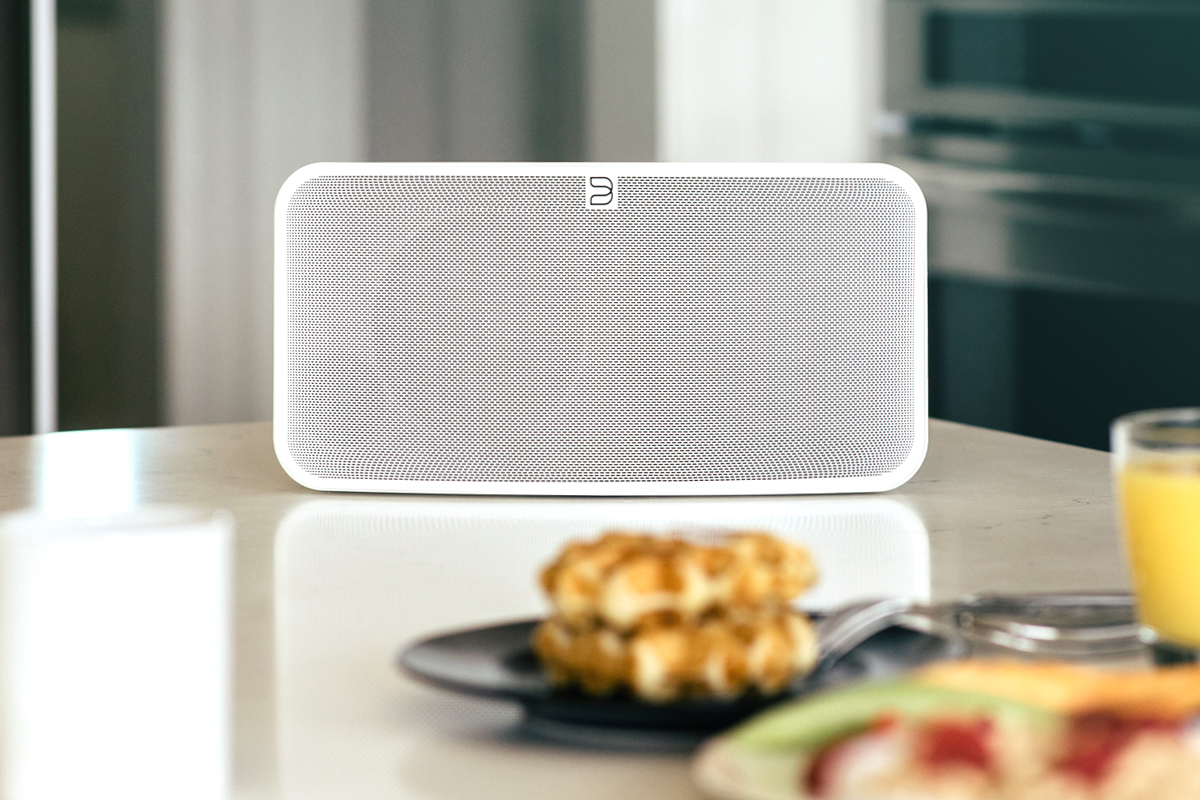 The Bluesound Pulse 2i is an excellent-sounding, all-in-one stereo music system made more appealing by such features as AirPlay 2 support, upgraded Bluetooth and Wi-Fi, and Alexa voice control. But what's most attractive about the Pulse 2i is the world it lives in: Lenbrook's excellent BluOS software, and the extensive range of BluOS-capable products with which the Pulse 2i can be used.
. . . Gordon Brockhouse
This email address is being protected from spambots. You need JavaScript enabled to view it.
Associated Equipment
Tabletop speaker -- Sonos Play:5
Sources -- Bluesound Vault 2i, Mac Mini running Roon Core
Control devices -- Apple iPad Mini and iPhone SE, LG G7 ThinQ smartphone
Network -- Google Wifi three-point mesh network, central node connected to Internet gateway with 5m AudioQuest Cinnamon Ethernet cable.
Bluesound Pulse 2i Wireless Speaker
Price: $799 USD.
Warranty: One year parts and labor.
Bluesound International
Lenbrook Industries Limited
633 Granite Court
Pickering, Ontario L1W 3K1
Canada
Phone: (905) 831-6333
Website:www.bluesound.com