So much is made these days of powered speakers with Bluetooth connectivity that, presented with one of these wonder puppies, I was prompted to plug it in, invoke Bluetooth, link it to my iPhone, et voilà -- music!
There's a lot to be said for that. Indeed, in the last few years we've seen an explosion of powered speakers with Bluetooth connectivity in addition to their stereo RCA, mini-jack, and optical inputs. But what all the "powered speaker" ballyhoo misses is the subtle -- sometimes not-so-subtle -- development of a new incarnation of the venerable integrated amplifier. Yes, the integrated amp, that tunerless audio workhorse of five decades past. It's ironic that, late in the second decade of the 21st century, innovative manufacturers are not only embracing the integrated, but further refining it with the additional integration of high-quality speakers -- which is, essentially, what the SYD is. I've reviewed a number of these, including the Audioengine B2 and the Bluesound Pulse Mini, but nothing I've yet used offers the versatility of the Kanto SYD.

In the box
The Kanto SYD ($329.99 USD) measures 17.5"W x 5.7"H x 6.9"D and weighs a hefty 9.9 pounds. On its ungrilled front panel are two 4" Kevlar midrange-woofers and two 1" silk-dome tweeters, arrayed in a stereo configuration. There are also the all-important infrared sensor/status LED, and a combination source-selection switch and volume control. On the rear panel are three inputs: stereo RCA, 3.5mm mini-jack, and TosLink optical. The pair of RCA jacks can be used for line-level or phono signals, courtesy an RCA Phono/Line toggle. There are also a subwoofer out jack, a grounding post for a turntable, a USB charging port, an AC power receptacle, a master Power switch -- and two 2"-diameter ports, for augmenting the midrange-woofers' bass output.
Once you've made your connections, there will seldom be a need to futz with that single front-panel control -- the SYD's generously appointed remote-control handset puts all its functionality at your fingertips. When the SYD is powered up, it's in standby mode until you press the remote's power button. Press that button again to return the SYD to standby. Also on the remote are five source-selection switches: RCA, Aux (the 3.5mm mini-jack input), Optical, Bluetooth (with aptX), and Bluetooth Reset. If you want to disconnect a Bluetooth device -- say, to connect another -- press Bluetooth Reset. There are Volume, Bass, and Treble controls, including handy Reset (return to flat) buttons for the latter two, and Left and Right Balance controls with their own Reset button. Finally, there are Bluetooth source controls: Play, Pause, Previous, and Next.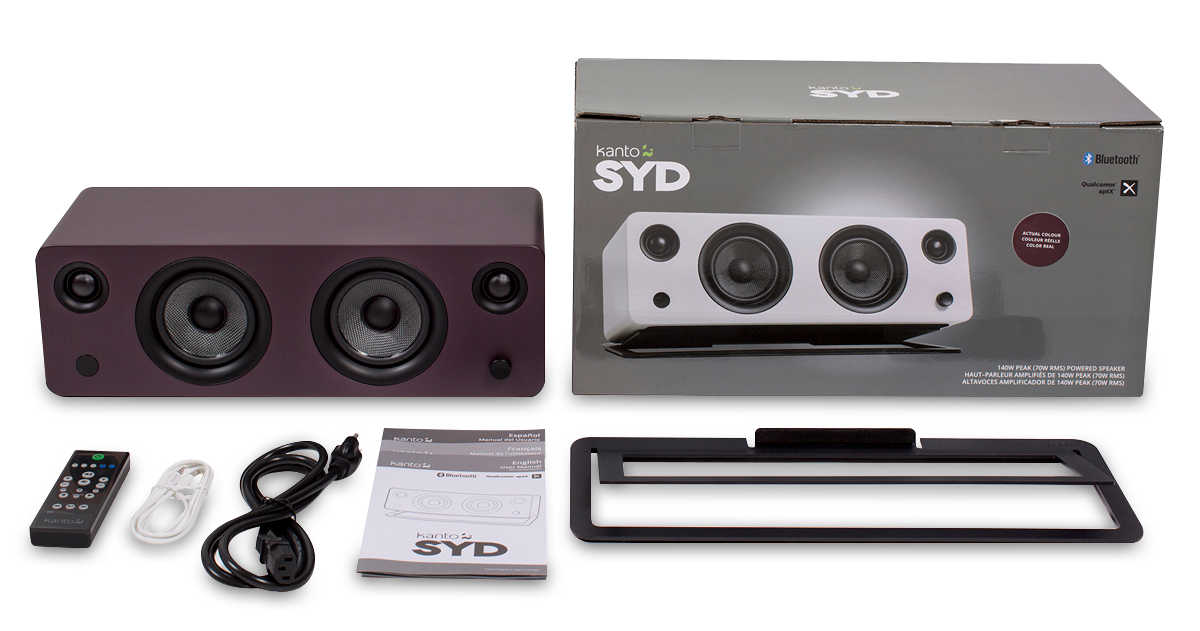 The SYD's class-D, two-channel power amplifier is specified to output a nominal 35Wpc RMS into 8 ohms. Its peak output is 70Wpc, for a total of 140W peak. The claimed frequency response is 60Hz-20kHz, with no internal crossover for the subwoofer output. The SYD comes in one of four colors -- Pink, Burgundy, Matte Black, and Matte White -- and with its own sturdy metal stand, which cants it back 16°.
Setup
Getting the SYD up and running was ridiculously easy: Plug it in, turn it on, connect a sound source, play.
I began with Bluetooth, turning on the SYD with the remote, and found it on my iPhone. I started up Radio Paradise. Voilà! Music! Next, I plugged my trusty, dusty iPod into the SYD's Aux slot, selected Aux on the remote, and played The Traveling Wilburys Vol.1 (16-bit/44.1kHz WAV, Wilbury/Warner Bros.). In short order, I'd also connected my Oppo UDP-203 BD player to both the stereo RCA and optical inputs, in this instance using the Oppo as a CD player. Finally, I connected my Rotel RP-955 turntable with Shure M95ED V15 III cartridge to the RCA jacks and flipped the "RCA" toggle from Line to Phono. Each sound source played flawlessly -- I had no problem connecting any of them to the SYD.

After listening to the SYD on its own, I hooked it up to a Polk Audio DSWPro550wi subwoofer -- also a snap -- and set the DSWPro550wi's crossover at 80Hz, a fairly standard frequency for a wide variety of speakers. While the SYD will still attempt to render the full sound spectrum, its rated lower-frequency limit is 60Hz, which means that a sub is necessary for anything below that. After installing the sub, it was clear that the lower frequencies were more fully rendered, but it was not clear how much was duplicated between 60Hz and 80Hz. However, it was crystal clear that with the deep bass provided by the DSWPro550wi, the SYD's midbass strengths shone brightly.
Listening
Bluetooth. Although Radio Paradise streams MP3s, proprietor Bill Goldsmith rips MP3 files using his own algorithm, which in my opinion yields a cleaner, deeper sound than the garden variety downloadable from most label and artist sites. MP3s are a sonic compromise of major proportions, so critical listening using them approaches folly. That said, the SYD's rendering of Radio Paradise equaled anything else I'd heard, and easily surpassed others.
Next I hooked up my iPod. Is The Traveling Wilburys Vol.1 really 30 years old? It's one of my favorites, with perhaps the superest of supergroups: Bob Dylan, George Harrison, Roy Orbison, Tom Petty, and Jeff Lynne. The album is an object lesson in collaborative songwriting and performance. You'd think that with that much star power in the room, the walls would bow from the clash of inflated egos, but apparently not. When I got my new iPod, lo, these many years ago, after the Beatles and Steely Dan, this was one of the first CDs I ripped. But I didn't rip those CDs to MP3s -- I chose uncompressed audio ripped as 16/44.1 WAV files.
What I found first, and would continue to find through the other playback options, was that while the SYD's sound was as clean, deep, and detailed as from a good set of small bookshelf speakers, such standard audiophile expectations as soundstaging and stereo separation were minimal. The SYD did throw a decent and cohesive sound wall, however, and especially off axis. While the source of the sound was apparent, the lyric sublimity of "Handle With Care" wasn't localized. Indeed, the small, unobtrusive SYD filled my room with sound.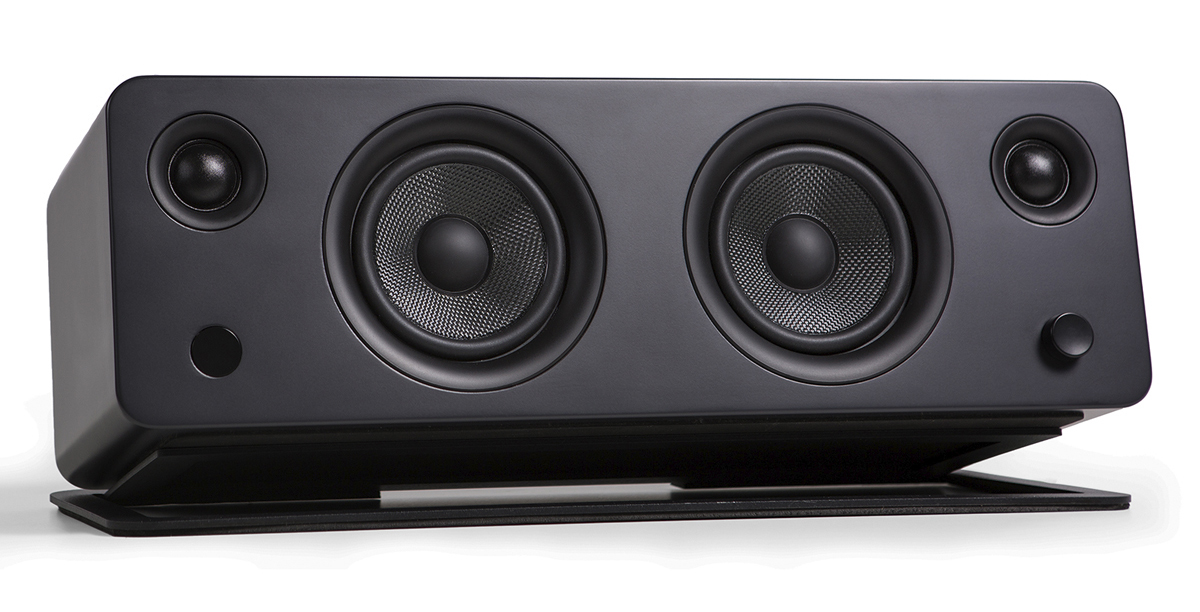 Have you ever had a friend who insisted that the best place for speakers was right next to each other, on either a bookshelf or [shudder] the floor? For such folks, music, however essential, is a soft soundtrack to the workaday world. Of course, you and I cringe at such placements -- "You're missing all that's good and right with stereo!" we're tempted to exclaim. But choose the wiser path and keep yer trap shut. The SYD is two little speakers permanently sitting next to each other. It can neither help nor escape this fate.
It was with the iPod, ancient and battery challenged, that the SYD proved its mettle. After too many hours of playing, the iPod's battery screamed, "Power me!" Easy. I plugged the iPod's power cord into the SYD's USB charger, and power was no longer an issue. This is a great feature if you're doing some longer, perhaps shuffled, listening with an iPod, iPhone, iPad, or any other USB-rechargeable device. You're guaranteed a full charge as long as you want it.
For the CD option, I chose the 1990 reissue of the Beach Boys' Pet Sounds (Capitol CDP 7 48421 2), the only version I own, in Brian Wilson's original mono mix. Right out of the gate, "Wouldn't It Be Nice" soared. Wilson used only session instrumentalists, but relied utterly on the Beach Boys' trademark vocal harmonies, spearheaded by his own gentle falsetto, to carry the songs. Pet Sounds is enough to transmit involuntary shivers of joy, and I found the SYD's reproduction of it, especially of the distinct rendering of the separate harmony lines, no less compelling. You won't get this completeness of sound from a small Bluetooth speaker with a single driver.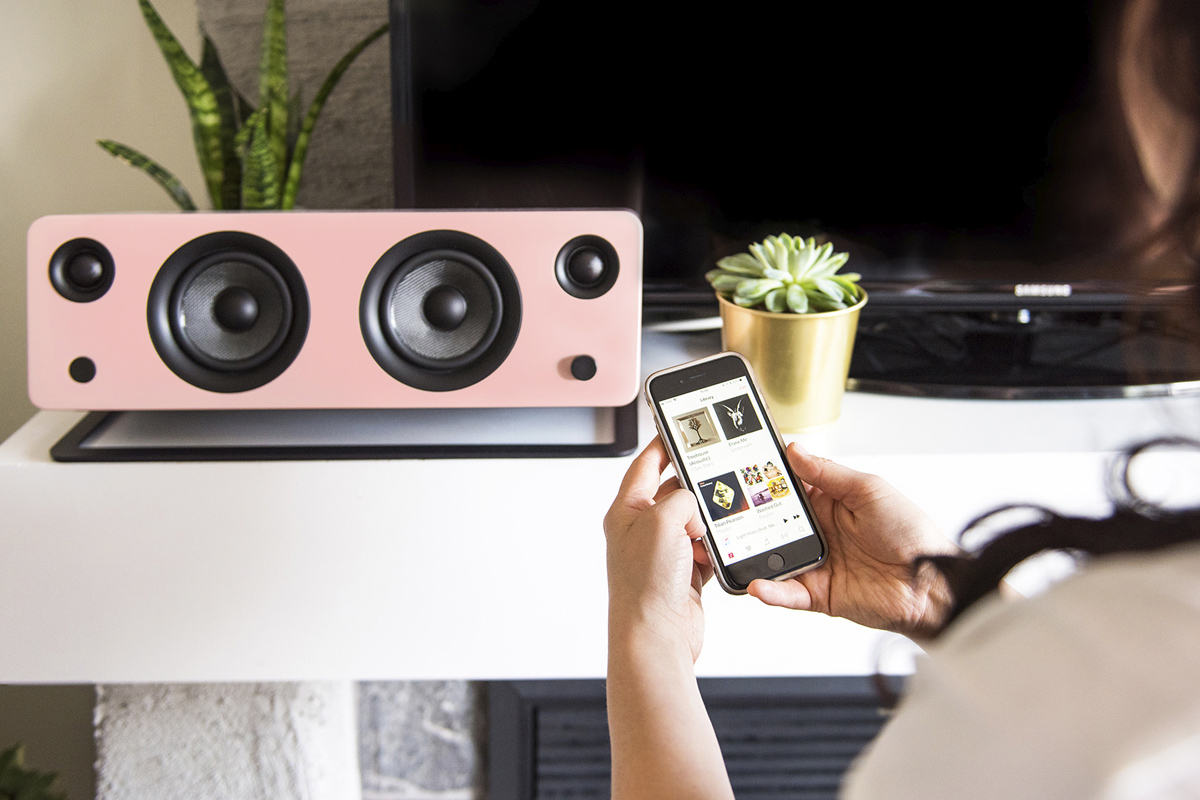 "God Only Knows," besides being one of the greatest love songs ever, with a lead vocal by Brian's brother Carl, features both Carol Kaye's Rickenbacker bass and a harmonizing line by Ray Pohlman's Danelectro bass. The SYD effortlessly channeled Kaye's deep bass to my PSB sub, while Pohlman's instrument was captured by the SYD's impressive midbass capabilities. While no doubt the SYD's midbass could ably carry the song, the addition of the sub afforded "God Only Knows" and most of the songs I listened to, regardless of sound source, an extra depth. Smart of Kanto to equip the SYD with a subwoofer output.
Next up was listening to the TosLink optical input fed CD sound from the Oppo. Like all the Beatles' recordings, Sgt. Pepper's Lonely Hearts Club Band was engineered in multitrack and mixed down to mono. Stereo was an afterthought, a nod to their label's insistence on that option -- one of the few instances in which the suits guessed right about the audio market. I listened to first the original mono and then the new stereo mix from last year's monumental boxed-set reissue (Apple LCO 1846). I wanted to test the theory that the SYD's drivers' proximity to each other would make the mono and stereo mixes minimally distinguishable.
What I found was that, by and large, the minute differences I heard were artifacts of the mastering process. For instance, in the new stereo mix, John Lennon's vocal in "Lucy in the Sky with Diamonds" has been panned hard center, which gives it a more ethereal quality through speakers placed properly far apart. Otherwise, through the SYD I heard few noteworthy differences between the two mixes.
But again, the midbass shone. Paul McCartney's bass lines, one after another, and especially in "A Little Help from My Friends" and "Getting Better," danced with humor, depth, and sparkle. In fact, the sonic artifacts that so distinguished Sgt. Pepper when it debuted were prominently displayed: Ringo's deft cymbal work, the chiming guitars, the seemingly random sound effects. Everything was there: unfettered, crystalline highs, silky mids, meaty lows -- nothing was lost save for the last iota of deep bass, everything under about 60Hz. Switching in the subwoofer cured this. For such a small, single speaker, this is impressive performance.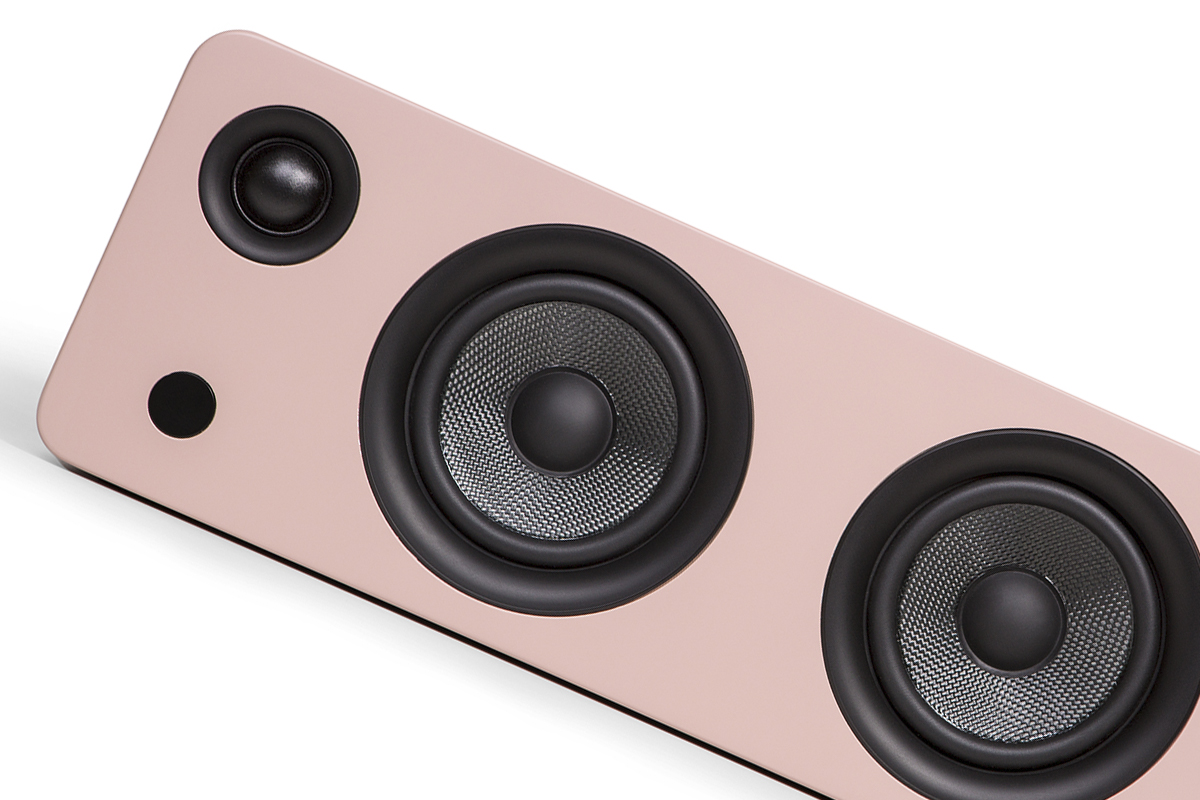 Next up was vinyl via the SYD's RCA inputs, and drawing the long straw was Dave Mason's Alone Together (Blue Thumb BTS 19). This was Mason's first post-Traffic solo album, and he drew his musicians from the orbit surrounding Leon Russell, who was the glue among acts as diverse as Joe Cocker, Delaney & Bonnie Bramlett, and Eric Clapton/Derek and the Dominos. It was also the hippie-dippy album of 1970, with its luscious and ever-mesmerizing swirl of multicolored vinyl. From the opening acoustic guitar of "Only You Know and I Know" to the closing electric-guitar frenzy of "Shouldn't Have Took More Than You Gave" -- even some of the song titles bear Russell's unmistakable fingerprints -- the SYD did Mason justice. Yes, this well-worn LP, having survived heavy co-op music-room rotation and other indignities, simply rocked. The highlight was Jim Keltner's rolling drumwork in "Just a Song," which propelled the song into high gear and never let go, thanks to the SYD's generous midbass punch.
The SYD projected a solid if compressed wall of sound that again filled my room with sound, even when I listened off axis. What was made clear, much to my surprise, was the role of the SYD's preamplifier in delivering not only LP sound but sound from all sources: it was dead quiet, with not even a skosh of electronica. We've come to expect such eerie silence from modern preamps; it's noteworthy that such a lack of component noise can exist in a little $329.99 box crowded with stuff. Good show.
Conclusion
The Kanto SYD will accommodate components with stereo RCA, 3.5mm, and TosLink optical outputs -- and, with the flick of a switch, a turntable. It has a subwoofer output, for the reproduction of bass deeper than it can itself provide. It rendered sound that was clear, clean, and detailed. And no, it didn't project such standard audiophile qualities as stereo separation and soundstaging, both very difficult for a single small speaker enclosure to do.
However, checkmarks on audiophile wish lists are hardly the issue -- the SYD is a compact hi-fi for the rest of us. It offers stellar sound and a cornucopia of inputs in an attractive package at a dorm-room price: the ideal one-box solution for small spaces. Got that first teeny studio apartment in Brooklyn? A great-room vacation hideaway? Kanto's SYD will give you great sound, ease of use, and options galore. I'm not sure, at this price, that that combination can be beat. Recommended.
. . . Kevin East
This email address is being protected from spambots. You need JavaScript enabled to view it.
Associated Equipment
Sources -- Apple iPhone and iPod, Oppo UDP-203 BD player, Rotel RP-955 turntable with Shure M95ED V15 III cartridge
Subwoofer -- Polk Audio DSWPro550wi
Kanto SYD Bluetooth Speaker
Price: $329.99 USD.
Warranty: Two years parts and labor.
Kanto Audio
110-2440 Canoe Avenue
Coquitlam, British Columbia V3K 6C2
Canada
Phone: (888) 848-2643
E-mail: This email address is being protected from spambots. You need JavaScript enabled to view it.
Website: www.kantoaudio.com