Is there a speaker brand that does retro as well as Klipsch? I doubt it. Klipsch's big horn speakers hark back to the middle of the 20th century, and so do their lifestyle products.
A case in point are The Fives, a pair of two-way active speakers ($799/pair, all prices USD), which are available in Walnut and Matte Black finishes. The Walnut enclosures are clad in genuine wood veneer; the Matte Black enclosures are painted. They come with magnetically attached cloth grilles -- a coarse weave of black, white, and yellow for the Matte Black finish, and a finer weave of black, gray, and white for the Walnut. Except for their small size, and the knurled control wheels on the top of the primary speaker, The Fives look like the speakers seen in North American hi-fi stores in the 1960s.
They may have that mid-20th-century look, but inside, The Fives are pure 21st-century. Their two enclosures comprise a complete two-channel system with a full suite of inputs, Bluetooth, built-in amplifiers with 160W total output, and sophisticated digital signal processing that lets them deliver bigger, more powerful sound than you'd expect from cabinets so small. Connect your choice of sources (TV, turntable, disc player, game console, computer) or stream from your phone, sit back, and listen.
Inside and out
For this review, Klipsch supplied a pair of The Fives in Matte Black. Their fit and finish were excellent; I suspect I'd have found the same true of a pair in Walnut.
Each enclosure measures 12"H x 6.5"W x 9.25"D, and houses a 4.5" long-throw woofer with fiber-composite cone and 1.5" voice coil, crossed over at 1.8kHz to Klipsch's 1" titanium LTS dome tweeter. Both drivers come from Klipsch's Reference Premiere line of passive speaker models. The tweeter fires into a 90° x 90° Tractrix horn -- a signature Klipsch element. More unusually, the bass port at the rear is also loaded by a Tractrix horn. The primary speaker, which houses the amplifiers for both channels, weighs 11.8 pounds; the secondary speaker weighs 10.7 pounds.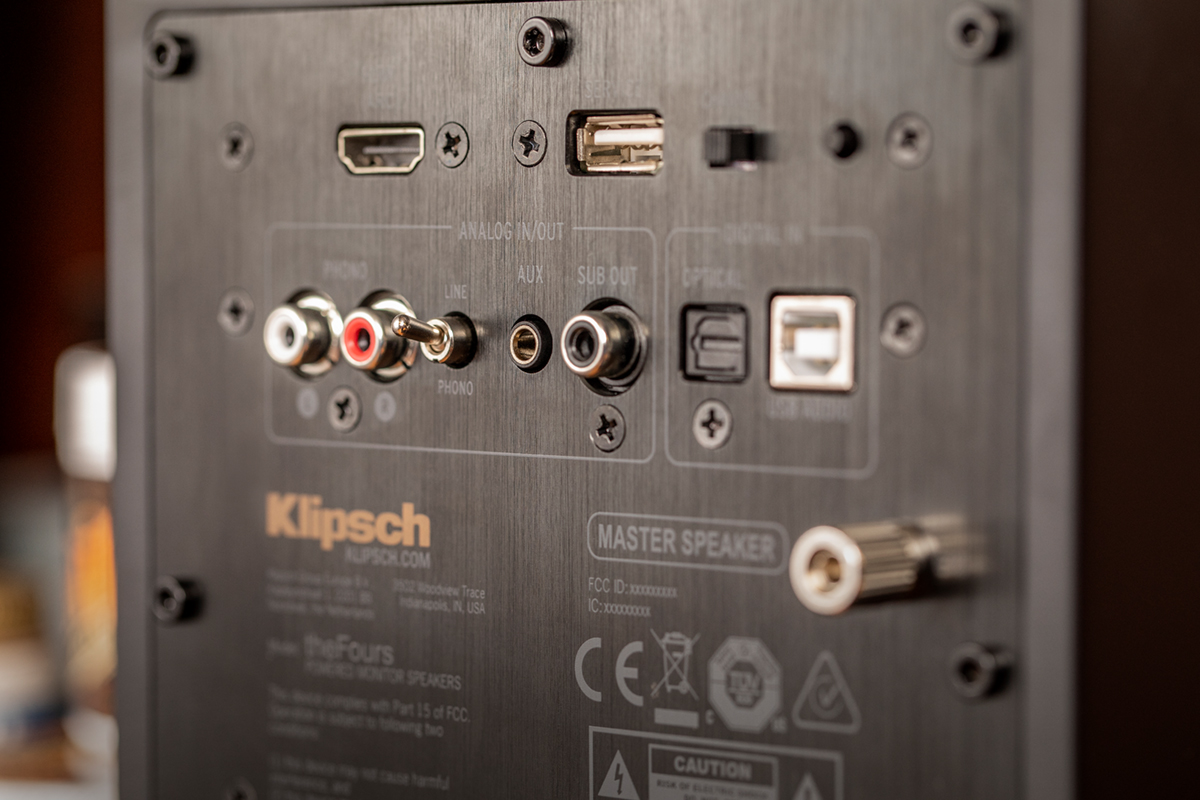 On the rear panel of the primary speaker are all the switches and connectors for the pair. In the top row are an HDMI-ARC input for connection to a TV, a USB Type-A port for installing software updates, a slider switch for choosing whether the primary speaker reproduces the left or the right channel, and a Bluetooth pairing button. Below that row are a pair of RCA jacks switchable between phono and line-level operation, a 3.5mm stereo analog input, a subwoofer output jack (RCA), an optical digital input (TosLink), and a USB Type-B port for connecting a computer. Below these is a ground post for a turntable. At bottom right is the two-prong AC connector, and at bottom left a proprietary four-conductor port for sending, via a supplied 4m-long cable with matching connectors, speaker-level audio to the secondary speaker: separate signals for the woofer and tweeter. The only connector on the secondary speaker is its own four-conductor port for receiving those signals. One welcome feature of this arrangement is that it's impossible to get the speaker polarity wrong. Another is the fact that the primary speaker can be used for either channel -- many active and powered speakers lack this flexibility.
The maximum resolution of the TosLink and USB digital inputs is 24-bit/192kHz. The subwoofer output is low-pass-filtered with a crossover frequency of 80Hz. When the subwoofer output is activated, The Fives implement a high-pass filter for the main speakers at the same frequency of 80Hz, which should result in smoother upper and midbass.
Although Klipsch bills The Fives as powered speakers, the crossover, implemented by a digital signal processor (DSP), comes before the amplifiers in the signal path. This means that they're actually active speakers, according to the definitions used across all the SoundStage! sites. Each woofer is driven by its own 60W class-D amplifier, each tweeter by its own 20W class-D amp. In addition to implementing the crossover, the DSP performs dynamic bass equalization, speaker EQ/voicing, and compression/limiting to optimize the output at high listening levels. The dynamic bass EQ boosts the bass at low playback levels, and can be defeated using the remote control.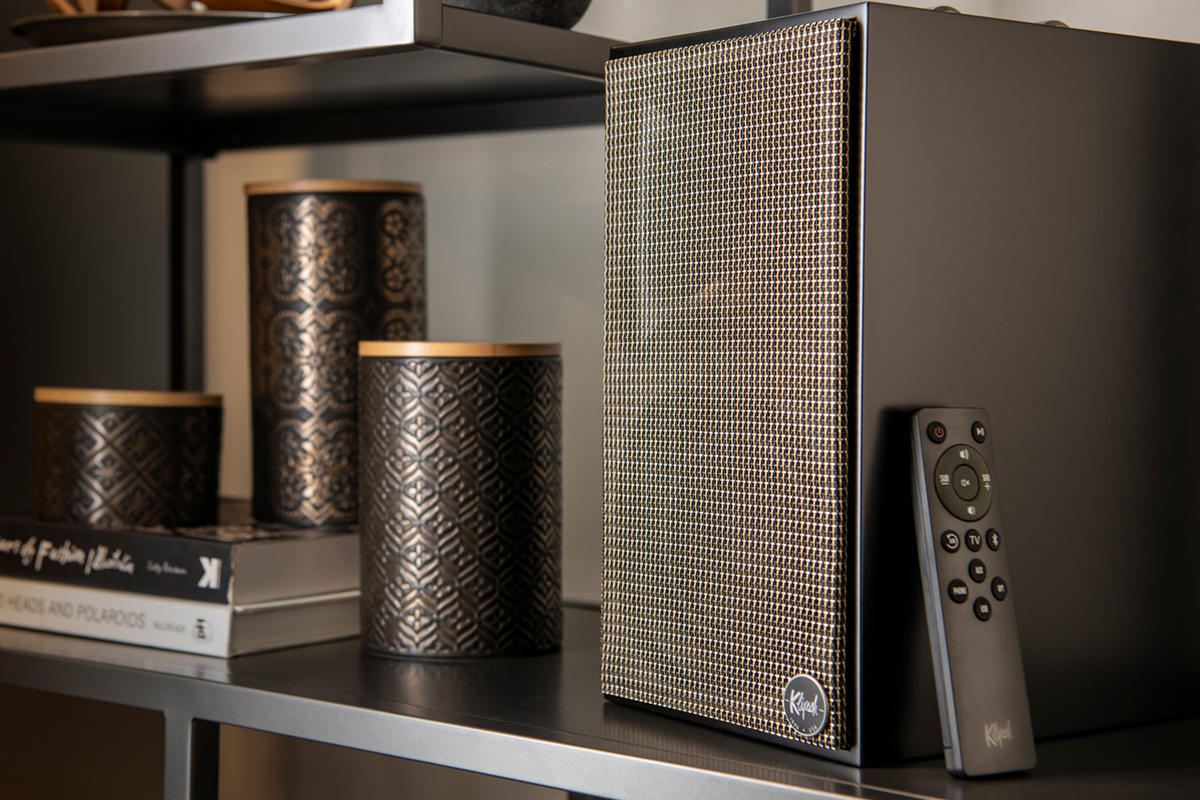 In addition to the 4m speaker cable, The Fives come with 1.5m-long USB and HDMI cables, a main power cord, and a plastic remote control with batteries. The remote lets you adjust volume, select sources, mute the sound, control subwoofer output, initiate Bluetooth pairing, and pause and resume playback when streaming via Bluetooth.
To operate The Fives without the remote, the large and prominently raised control wheels on the top of the primary speaker can be used to select the source and adjust the volume. These classy, knurled wheels have nice, smooth action.
Listening I
I did most of my listening with The Fives set up on IsoAcoustics ISO155 desktop stands atop a credenza along one long wall of our basement family room. They were 4' apart, and 5' from the listening chair against the opposite wall; their rear panels were 14" from the wall behind them.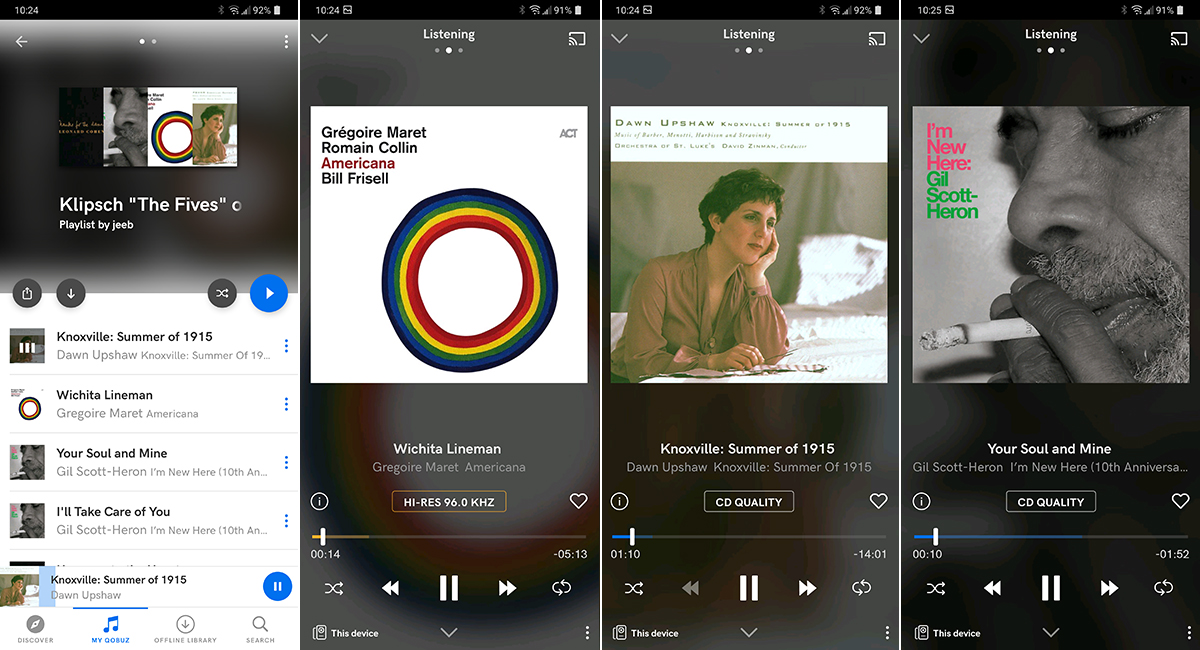 In this season of discord, I thought it fitting to audition these very American-looking speakers with a gorgeous instrumental cover of Jimmy Webb's "Wichita Lineman," from Americana (24-bit/96kHz FLAC, ACT/Qobuz), by American jazz-guitar legend Bill Frisell, Swiss-born harmonica player Grégoire Maret, and French-born pianist Romain Collin, the latter two now both living in New York. Streamed via Bluetooth from the Qobuz app on my LG G7 ThinQ smartphone, the sound was big, warm, and enveloping. Frisell's acoustic guitar at left center of the soundstage had a lovely metallic ring that made the sounds of his nails on the steel strings convincingly palpable. The Fives also made it easy to appreciate his expressive touches -- such as pulling strings with his left hand -- on overdubbed electric guitar.
The sound of Maret's harmonica was rich and reedy, which made his melancholic playing only more expressive. Collin's acoustic piano had very nice weight in the lower register -- impressive for a pair of active minimonitors. The full, deep sound of Collin's Moog Taurus synthesizer gave this track a warm foundation, but I found that it overwhelmed the mix, even with The Fives' dynamic EQ turned off.
At low volumes, that dynamic EQ provided an extra dollop of bass that I think many listeners will enjoy; at higher levels, its effect was more subtle. But while dynamic EQ made the sound warmer, it also added some bloat. I preferred the sound without dynamic EQ, and that's how I did most of my listening.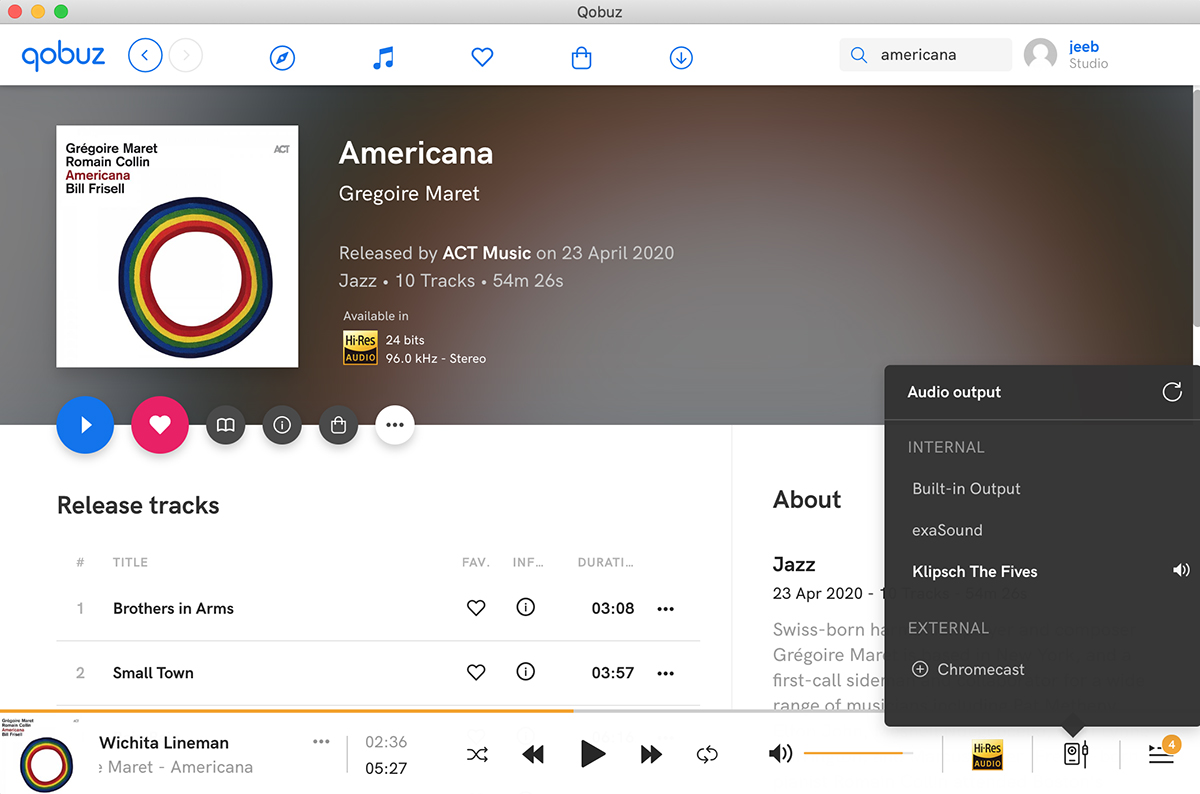 I also played "Wichita Lineman" from the Qobuz app on my Apple MacBook Pro laptop computer, which I'd plugged into The Fives' USB port. The soundstage was a bit more open, a little more filled in. There was more microdetail, which made the transient attacks of Frisell's guitars sound a little more tactile, a little less glary. But the differences weren't enough to offset the greater convenience of a wireless Bluetooth connection.
Not wanting to break my nostalgic mood, I streamed from my LG smartphone, via Bluetooth, a performance of Samuel Barber's Knoxville: Summer of 1915, with American soprano Dawn Upshaw accompanied by the Orchestra of St. Luke's conducted by David Zinman (16/44.1 FLAC, Nonesuch/Qobuz). Composed in 1937, Knoxville is a setting of a prose poem by James Agee that portrays a child's idyllic experience of a summer evening in the early 20th century.
I enjoyed the way The Fives tracked Upshaw's expressive singing, especially in the work's dramatic middle section, but they added a slightly hollow character to her lower range. Orchestral tone was lush and warm, which greatly helped to convey this work's nostalgic character. While orchestral textures became a bit congested in loud passages, I admired how The Fives delivered sudden instrumental flourishes -- dynamics were impressive for an affordable pair of active minimonitors. The top ranges of high-pitched instruments such as violins and flutes seemed slightly truncated, a bit lacking in air. The double basses sounded big and robust, but also boomy and somewhat indistinct.
Turning to our turbulent present, I streamed the disturbingly prophetic song "Your Soul and Mine," from Gil Scott-Heron's final album, I'm New Here, from 2010 (16/44.1 FLAC, XL/Qobuz). Through The Fives, it sounded impressively dynamic. The looped cellos had lovely, woody warmth. The bass-drum machine was powerful and impactful, but too boomy -- as was true of the droning bass synth notes. Scott-Heron's voice sounded very natural. In this track he speaks rather than sings, and The Fives did full justice to his powerful baritone intoning, "In the wilderness of heartbreak and a desert of despair / Evil's clarion of justice shrieks a cry of naked terror / Taking babies from their mamas, leaving grief beyond compare."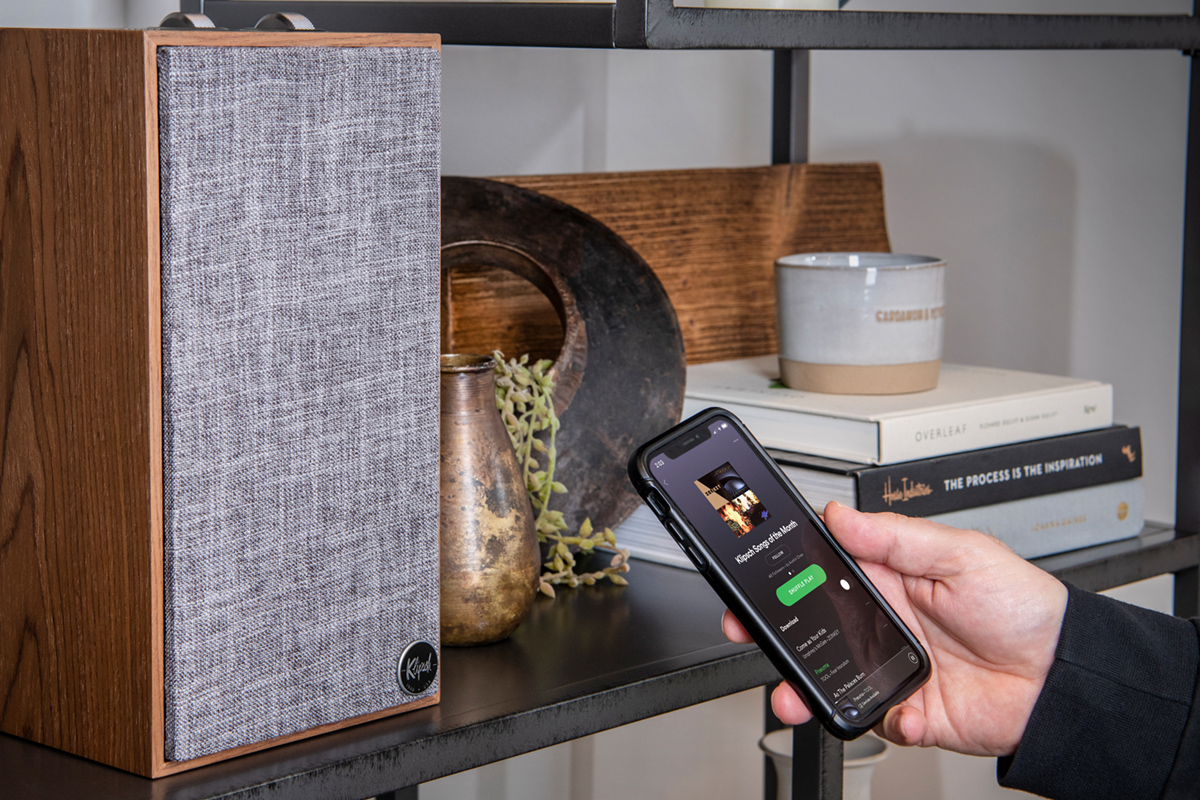 Scott-Heron's singing voice was equally satisfying, in a bluesy, compassionate cover of Brook Benton's "I'll Take Care of You." Though still a bit boomy, the bass-drum machine didn't overwhelm the mix as much as it had in "Your Soul and Mine," and the quartet playing Lawson White's string arrangement sounded gorgeous, with rosiny bite and woody resonance. The piano was big and dynamic, with really satisfying weight.
After listening to lots of music, I connected The Fives to the HDMI-ARC port of the Vizio D50-D1 HDTV mounted on the wall above the credenza and cued up Blade Runner: The Final Cut in the TV's Netflix app. The TV recognized The Fives, allowing me to adjust their volume from the TV's remote. The rumbling bass effects, explosive chimney flares, and overhead fly-bys all had impressive impact -- far better than through the TV's built-in speakers -- but the deepest effects were a bit boomy and indistinct. Dialogue was natural and intelligible. In the dystopian city scenes, Foley effects such as falling rain extended far beyond the screen, and were crisp and well defined. Vangelis's electronic score spread out effortlessly, far to either side of the speaker plane.
Comparison I
Triangle's Elara LN01A powered loudspeakers ($859/pair) are similar to The Fives in many respects. Like the Klipsches, they have RCA inputs switchable between phono and line-level operation, a TosLink input, and Bluetooth, but they lack USB and HDMI-ARC ports. The Elara LN01A is a two-way, rear-ported design with a 5.1" woofer and a 1" waveguided, silk-dome tweeter, powered by a 50Wpc class-D amplifier housed in the right speaker.
Playing "Wichita Lineman" through the Triangles, I heard more reedy expression from Maret's harmonica, with more sweetness up top. The upper register of Collin's piano had more clarity and sparkle, but the lower register sounded weightier through the Klipsches. The steel strings of Frisell's acoustic guitar had more metallic sheen through the Triangles, and the microdynamics were better -- I heard more expression in his playing, and clearer differentiation of notes in Collin's arpeggiated piano chords. The deep notes of Collin's Moog provided a beautifully warm foundation to the track without overwhelming the mix, as happened with The Fives. Aural images were more precisely outlined through the Triangles, and set on a bigger soundstage.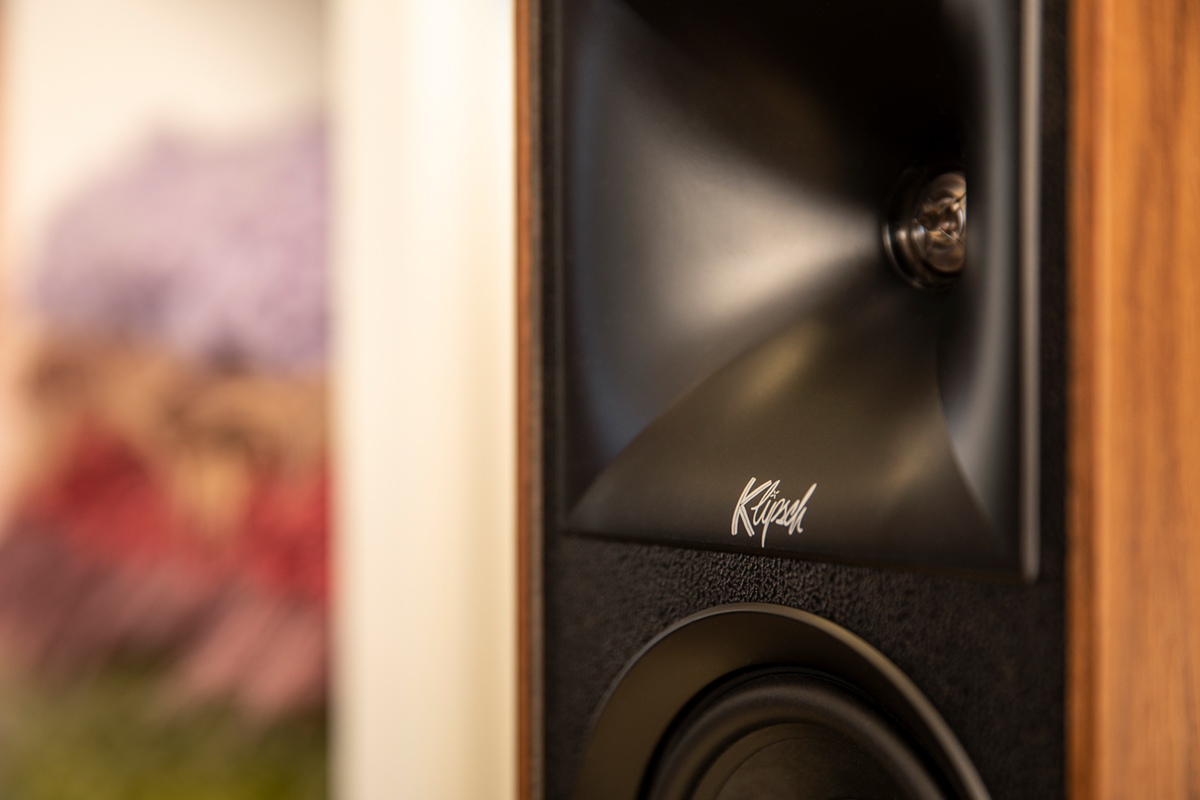 In Barber's Knoxville: Summer of 1915, Dawn Upshaw's voice soared more beautifully at the top of her range through the Triangles, without the slight hollowness in the middle of her range that I'd heard through The Fives. Orchestral textures were more transparent through the Elara LN01As, but the sound was fuller and lusher through The Fives. Through the Triangles, little flute and oboe flourishes were more precisely placed on the soundstage, and double basses had a nice, breathy growl instead of an indistinct boom. Through the Elaras, some hardness crept into orchestral climaxes when I ramped up the volume -- The Fives were more composed in these passages.
With Gil Scott-Heron's "Your Soul and Mine," the bass-drum machine and droning synth-bass notes were too pronounced through the Triangles, but not as boomy as through The Fives. And they had definition, rather than being an opaque mush. The synth drums, too, were crisper through the Elaras. But Scott-Heron's voice had a raspy edge through the Triangles that I hadn't noticed with the Klipsches.
I heard the same rasp in "I'll Take Care of You," but the metronomic bass drum had more texture and less boom through the Triangles. The string quartet lacked the woody warmth I'd heard through The Fives, but had more texture -- the attacks of pizzicato violin notes were a bit faster. Piano had a little more sparkle up top, a little less weight down low. Both tracks sounded fuller and more enveloping through the Klipsches, which could reproduce them at higher levels with less strain and hardness.
Listening II
To assess The Fives' phono stage, I hauled them over to the apartment of my sister-in-law and husband. I set them atop Target FS70 speaker stands to either side of the sideboard in their dining room, then connected my in-laws' Pro-Ject Debut Carbon turntable ($399, including pre-mounted Ortofon 2M Red cartridge) to The Fives' RCA inputs. The Fives were 5' apart, 1' from the wall behind them, and 7' from my listening chair.
The Fives' phono stage is quiet. With the volume set to normal listening level and my ear 1' away from one of The Fives' tweeters, I heard only a little hiss. At any greater distance, I heard no hiss.
My in-laws were on holidays, so I was able to spend the better part of a day dipping into their vinyl collection. One of those LPs was Leonard Cohen's extraordinary posthumous album, Thanks for the Dance (Columbia/Legacy 19075978661). Through The Fives, "Happens to the Heart" (words by Leonard Cohen, music and arrangement by his son, producer Adam Cohen) sounded big and powerful, but also close and intimate. Cohen's aging baritone sounded a bit chesty, but that seems to be a quality of the recording. I admired the way The Fives reproduced Cohen's slightly whispered delivery, conveying his sadness and vulnerability, and how they scaled dynamically when he raised his voice. Michael Chaves's bass guitar had impressive depth and definition for such small speakers, and provided a satisfying foundation for this miraculous song. Javier Mas's laúd (a 12-string Spanish lute) had a nice woody quality, but transients seemed a touch blunted -- as was true of Chaves's acoustic guitar.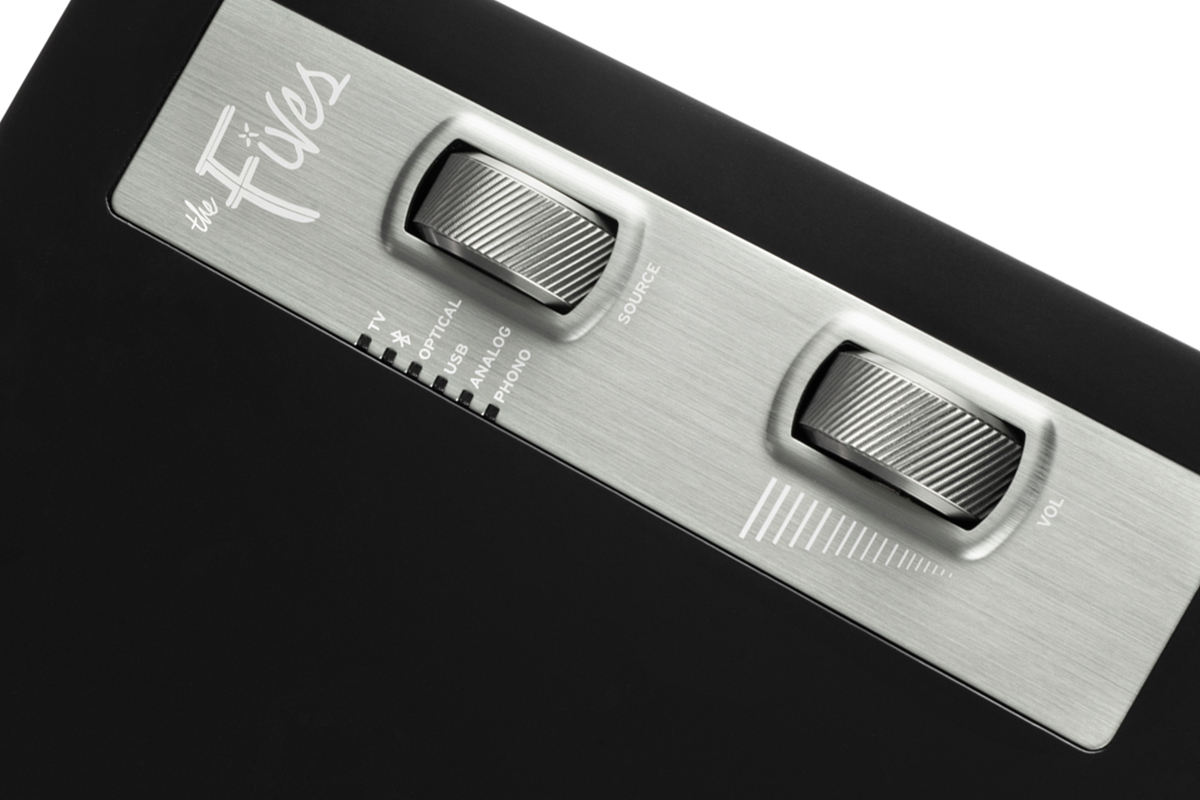 My in-laws' Totem Acoustic Kin Play powered speakers ($1100/pair) have 5" woofers with natural-fiber cones and 1" metal-dome tweeters, powered by a 120Wpc class-D amp in the left cabinet. Input options include a pair of RCA inputs switchable between phono and line-level, a 3.5mm stereo analog input, a TosLink S/PDIF input, and Bluetooth.
The Totems produced Cohen's voice in "Happens to the Heart" a bit more convincingly than did the Klipsches. The whispery edge in quiet phrases was more in the foreground, making me more aware of Cohen's frailty in his last year of life. While Chaves's bass guitar didn't sound as robust or as well defined through the Kin Plays as it had through The Fives, his attacks on acoustic guitar now sounded crisper, which allowed them to emerge more clearly from the mix. The same was true of Zac Rae's felt piano, which heightened the feeling of sad nostalgia that pervades this song. Through the Totems, I was more aware of how the gentle transients of Mas's plucked laúd segued naturally into the woody resonance of the instrument's body.
Conclusion
My main problem with Klipsch's The Fives was their tendency to make the deep bass sound boomy. While moving the speakers farther from the wall behind them might have tamed that boominess, I think my listening setup is typical of the way The Fives will be used.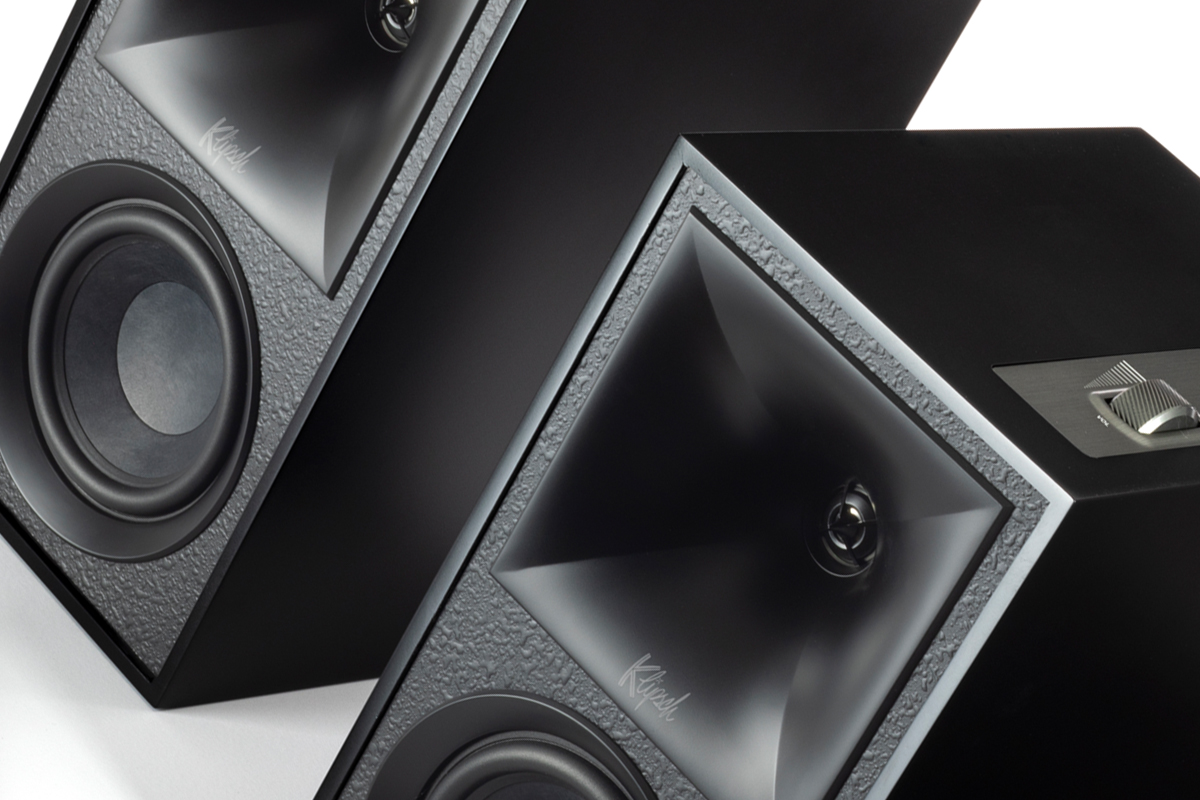 I didn't have an opportunity to test The Fives with a subwoofer, but given the fact that they implement a high-pass filter for the main speakers when a sub is in circuit, I strongly suspect that using The Fives in a 2.1-channel system would provide two advantages: deeper, better-defined bass, and the ability to mitigate that boom.
The Fives offer a lot for $799/pair: warm, enveloping sound; funky, retro design; excellent fit and finish; abundant connectivity options; easy setup; and virtually foolproof operation. If you're looking for an affordable, low-footprint sound system for a small room, Klipsch's The Fives deserve a listen.
. . . Gordon Brockhouse
This email address is being protected from spambots. You need JavaScript enabled to view it.
Associated Equipment
Powered loudspeakers -- Totem Acoustic Kin Play, Triangle Elara LN01A
Sources -- LG G7 ThinQ smartphone, Apple MacBook Pro computer, Pro-Ject Debut Carbon turntable with Ortofon 2M Red cartridge
Speaker stands -- IsoAcoustics ISO-155 (desktop), Target FS70 (floor)
Klipsch The Fives Active Loudspeakers
Price: $799 USD per pair.
Warranty (parts and labor): Three years, drivers; one year, electronics.
Klipsch Group
3502 Woodview Trace, Suite 200
Indianapolis, IN 46268
Phone: (800) 544-1482, (317) 860-8100
Fax: (317) 860-9178
Website: www.klipsch.com