For the past couple of decades, the audio industry has been angsting about how to get young listeners interested in hi-fi. It's not that teens and twentysomethings don't love music; it's that their musical lives revolve around smartphones, headphones, maybe a Bluetooth speaker. How can they be introduced to the joys of listening to real stereo from real hi-fi speakers?
I can think of no better way than a pair of powered stereo speakers with Bluetooth connectivity and a broad range of digital and analog inputs for adding other sources. I've reviewed two such speakers for Simplifi, both from Canadian brands: Totem Acoustic's Kin Play ($1100/pair, all prices USD) and Kanto Audio's Tuk ($799/pair).
Triangle Manufacture Electroacoustique, a French brand, offers a similar product: the Elara LN01A ($859/pair). Like the Totem and Kanto speakers, the LN01A has a built-in phono stage as well as line-level and digital inputs. The LN01A is available in two standard finishes, matte black and matte white. This year, Triangle has added two special finishes -- Abyss Blue and Eggplant (a dark grayish purple). For this review, Triangle supplied review samples in Eggplant, which is unusual and striking but won't fit all décors. I liked it; my design-conscious better half didn't.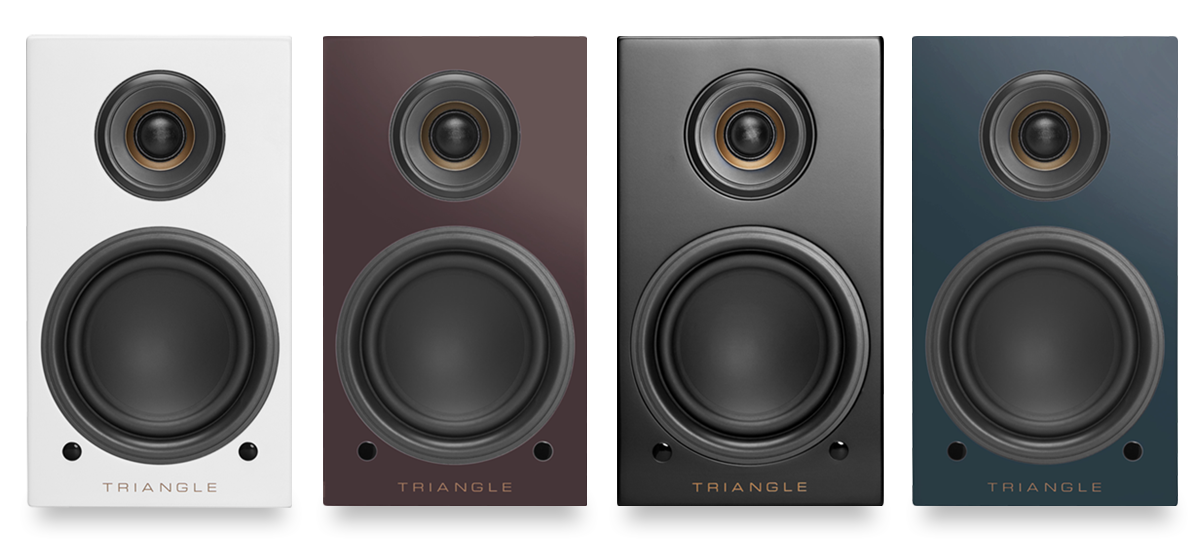 Triangle also offers the speaker as part of the Elara LN01A Turntable Edition ($1399), which includes a turntable and tonearm custom-made for Triangle by Pro-Ject. Finished to match the speakers, the turntable includes a pre-mounted Ortofon OM10E moving-magnet cartridge.
Of course, powered speakers such as the Elaras aren't just for the young. While they'll work beautifully in a college dorm or a teenager's bedroom, they'll serve grown-up music-lovers equally well as a secondary system for a home office or den.
Inside and out
Triangle describes the Elara LN01A as a "wireless active speaker" -- but according to the definitions we use on SoundStage! it's a powered speaker, with a conventional passive crossover that comes after the amplifier in the signal path.
Each rear-ported cabinet measures 11.5"H x 6.5"W x 9.25"D. The two-way LN01A has a 5.1" midrange-woofer with a treated-paper cone, crossed over at 1.8kHz to a 1" silk-dome tweeter. The specified frequency response is 56Hz-22kHz, ±3dB. The speakers are supplied with magnetically attached cloth grilles, at the bottom of each grille a large Triangle logo.
The left-channel speaker weighs 10.2 pounds. The only connectors on its rear panel are a pair of binding posts that accept bare wire, banana plugs, or spade lugs -- the left-channel LN01A looks like, and is, a conventional passive two-way minimonitor.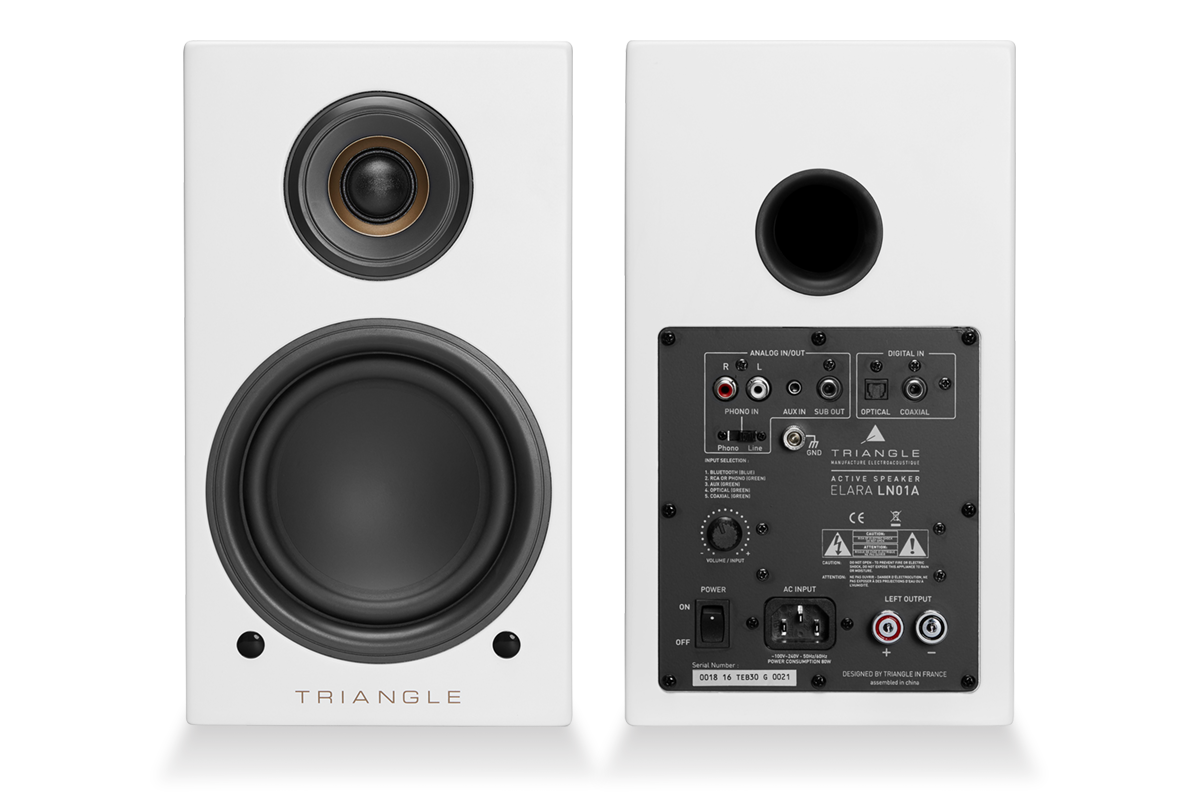 The right-channel unit is the primary speaker. Weighing 11.5 pounds, it houses all the electronics, including the 50Wpc class-D amplifier that powers both speakers. On the rear of the right speaker are two analog inputs (RCA), switchable between Phono and Line-level operation; a stereo Aux In jack (3.5mm); a Sub Out jack (RCA); S/PDIF inputs (optical, coaxial); and a ground post for use with a turntable. The subwoofer output provides a full-bandwidth signal -- the low-pass filter must be set on the sub itself. Triangle recommends starting with a setting of 80Hz, then making further adjustments by ear.
Below the jack pack is a knob -- turn this to adjust the volume, or press it to cycle through the inputs. Below this knob are the main power rocker, a three-pronged IEC power inlet, and the binding posts for sending signals to the left speaker. Connect the supplied 3m-long speaker cable, stripped and tinned on both ends, to the posts on both speakers. Caution: It's critical to match the speakers' polarities by ensuring that the same conductor connects the positive (red) terminals on both speakers, and the other conductor the negative (black) terminals on both speakers. The only thing differentiating the speaker cable's conductors is some very faint lettering on the sheath of one of them.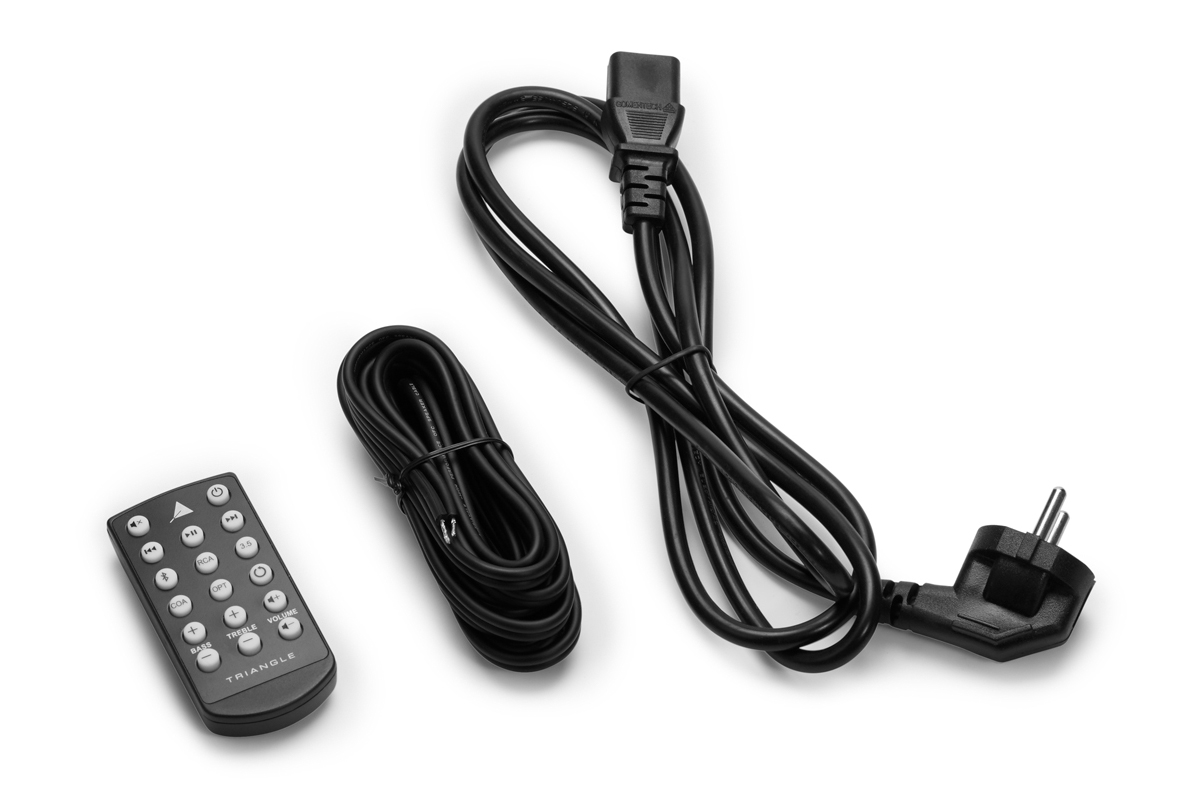 Included with the Elara LN01As is a small plastic remote control. At the top are the Mute and Power buttons; below these are the Previous, Play/Pause, and Next controls, for controlling Bluetooth sources; five input buttons for choosing sources; up/down controls for Bass, Treble, and Volume; and, above the Volume buttons, a reset button that returns the bass, treble, and volume settings to their factory defaults. The Bass control operates from 400Hz down, Treble from 2kHz up. Within a range of -6 to +6dB, each tap of the Bass or Treble control adjusts the output of that control's bandwidth by 2dB.
Listening I
For my first round of listening, I placed the Triangle Elara LN01As atop IsoAcoustics ISO155 desktop speaker stands that in turn sat on a deep credenza placed against one long wall of the basement family room of our Toronto rowhouse. The speakers were 13" from the wall behind them, 4' apart, and 5' from my listening chair against the opposite wall. I can imagine these small powered speakers being used in slightly-farther-than-nearfield setups like the one I've just described.
Though manufactured in China, the Elara LN01A is designed in France, so I thought I'd start with a staple of the French orchestral repertoire: Ravel's La Valse, in a concert recording by Les Siècles under the direction of François-Xavier Roth (24-bit/44.1kHz FLAC, Harmonia Mundi/Qobuz). Based in France, Les Siècles specializes in late romantic and early modernist classical music, using instruments and performance practices typical of those eras.
Premiered in December 1920, La Valse was originally conceived as a tribute to the waltz form and Johann Strauss II. But it sounds more quirky, dark, and modern than anything composed by the waltz king. Streamed via Bluetooth from the Qobuz app on my LG G7 ThinQ smartphone, this 12-minute track showed off the Elaras' many strengths -- and their weaknesses.
La Valse begins with a brief, growling motif in the double basses. This passage is not loud, but through the Triangles it was barely audible. That shouldn't surprise -- it's played on the instrument's lowest string, which, when played open, produces a frequency of 41Hz (E1). Also not surprisingly, the bass-drum beats later in the piece were a little lacking in impact. I tried boosting the bass setting to see if that would make the opening bass motif more audible. It didn't -- what it did was make the upper bass boomier. In their position atop the credenza, the Elaras sounded best with the bass control in the flat position.
Above the lowest notes, the basses had a nice growly breathiness, as did the cellos. The nostalgic waltz theme sounded delectable as played on Les Siècles' period violins, their gut strings producing a beautifully sweet tone. I also loved the way the Elaras conveyed the clear, ringing tone of the small-bore brasses.
While the soundstage wasn't especially deep, it was wide and open, convincingly evoking La Philharmonie de Paris, where this performance was recorded in November 2019. Dynamics scaled with impressive ease for a small, two-way, 50Wpc powered speaker. However, the loudest sections sounded slightly congested; and when I cranked up the volume, a little hardness crept in during loud passages. Otherwise, the little powered Triangles were beautifully transparent, conveying all the magic of this magical score.
Moving 500 miles south, I streamed the third version of the titular composition on Marseille, by Ahmad Jamal (24/96 FLAC, Jazz Village/Qobuz), which features the French singer-songwriter Mina Agossi. The Triangles reproduced Agossi's languid soprano with no hint of coloration or spittiness. When she sings in French, I could clearly appreciate her Gallic consonants, such as the rolled r's and extended s's in such words as caresse and tristesse.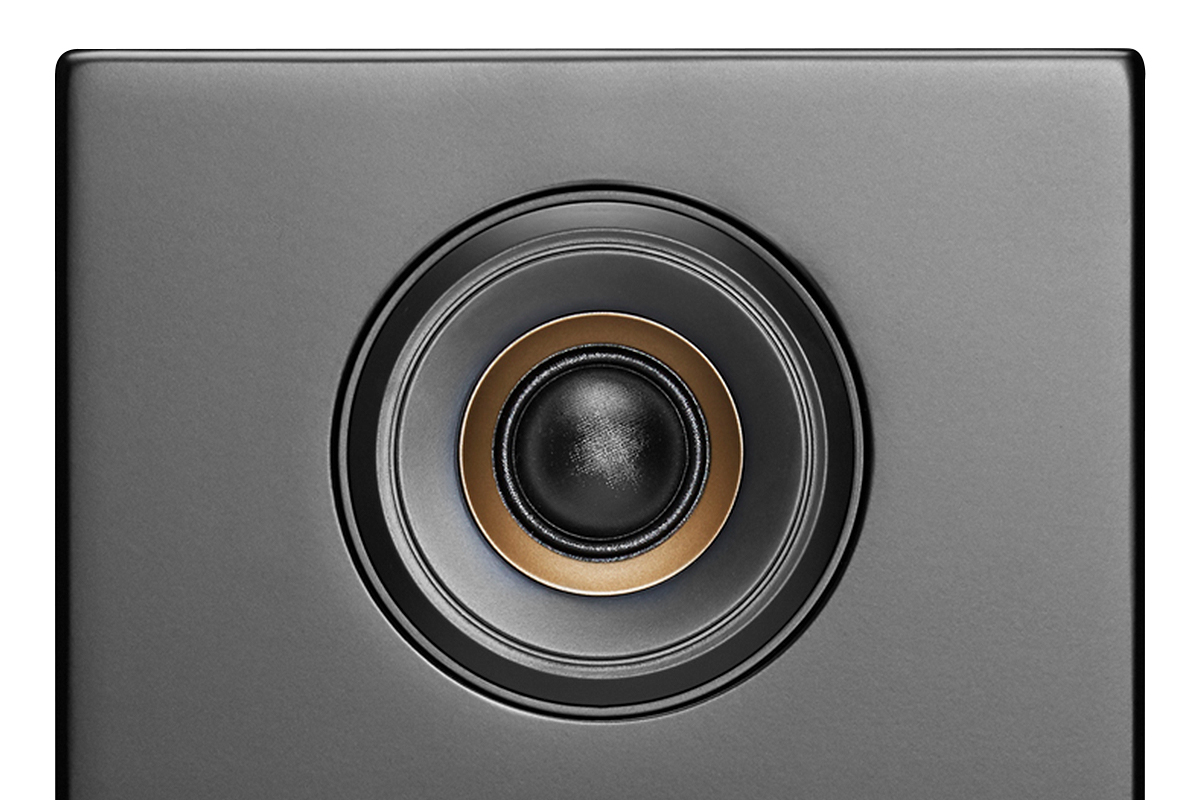 Jamal's piano sounded wonderful, with satisfying heft in the lower and middle registers, crystalline clarity up top, and consistent timbre throughout its entire range. Herlin Riley's floor tom had fantastic palpability. Percussionist Manolo Badrena's chimes and Riley's cymbals had great metallic clarity, and no annoying splashiness. James Cammack's double bass sounded robust right down to the lowest notes, but also a little muddy -- possibly because the Triangles were closer than ideal to the front wall.
Throughout "Marseille," the little Triangles threw an impressively wide soundstage, with excellent image specificity -- Agossi's voice at center, Jamal's piano to the right, Cammack's bass to the left, and behind them, Badrena's percussion battery. Like the Ravel recording, it was magical.
Comparison I
Next up in my review schedule is Klipsch's The Fives ($899/pair), a truly active two-way speaker employing a 4.5" fiber-composite cone woofer driven by a 60W class-D amp, crossed over in DSP to a 1" horn-loaded titanium dome tweeter driven by a 20W class-D amp. The Fives have more connectivity options than the Triangle Elara LN01As. In addition to Bluetooth, phono and line-level inputs, and sub out, they have a USB port for connection to a computer, and an HDMI-ARC input for connection to a TV.
With Les Siècles' performance of Ravel's La Valse, the Fives sounded bigger and more powerful than the Triangles, but slightly less refined. The Klipsches reproduced the bass drum and timpani with greater impact, but sounded a little thuddier. Nor did double basses and cellos have the same growly, breathy quality through the Klipsches -- they were a bit muddier. Violin string tone wasn't quite as sweet. While the Klipsches created a slightly deeper soundstage, orchestral textures weren't as transparent -- everything was a bit more homogenized. The Fives could play a bit louder than the Elara LN01As without sounding hard.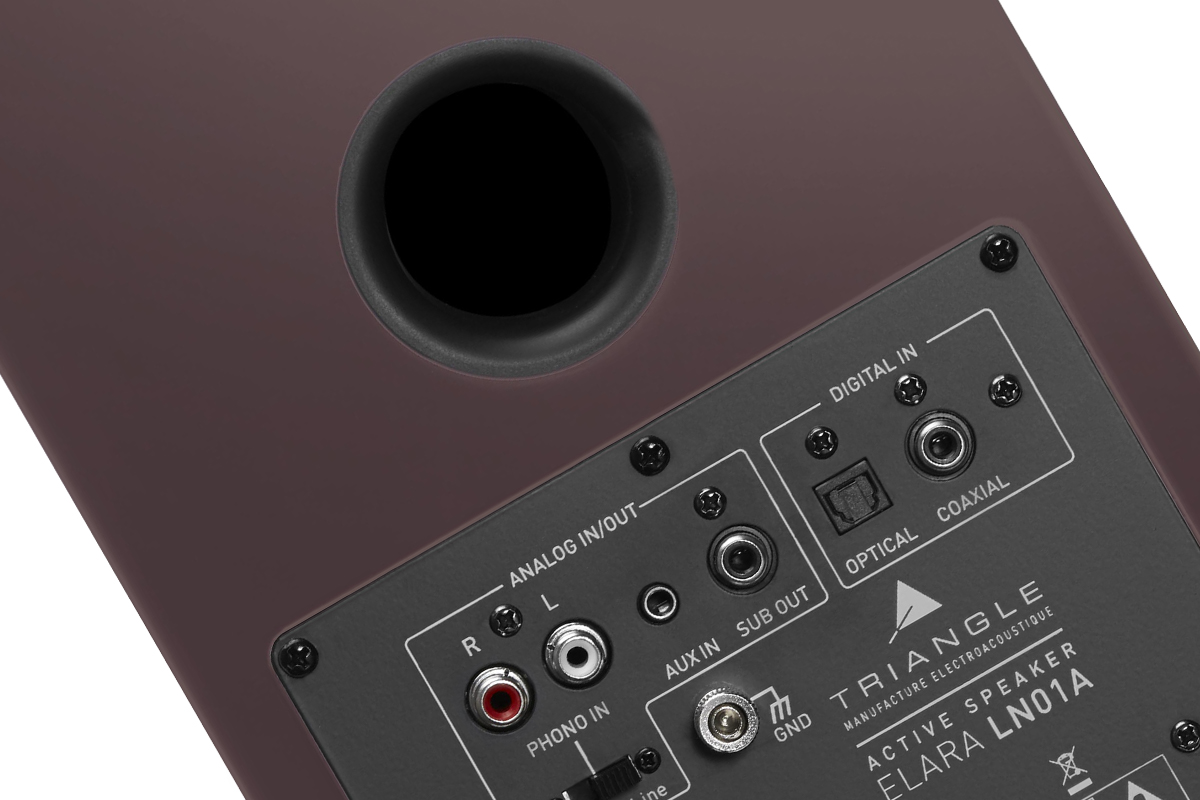 With "Marseille," through the Klipsches James Cammack's double bass sounded more robust but thuddier and less distinct -- it slightly overpowered the sound. The proximity of the rear-ported Klipsches to the wall behind them may have been a factor with them as well, though I think such positioning is typical of the way these speakers will be used. The Triangles had better microdynamics: I was more aware of expressive nuances in Agossi's singing and Jamal's playing, such details as arpeggiated chords sounding a bit better articulated through the Triangles. The timbral quality of Jamal's piano seemed more consistent throughout its range through the Elaras, and chimes and cymbals had more metallic shine.
Listening II
For my second round of listening, I hauled the Elara LN01As a few blocks to the two-floor apartment of my sister-in-law and her husband, to listen to some LPs on their Pro-Ject Debut Carbon turntable ($399, including pre-installed Ortofon 2M Red MM cartridge). I placed the Triangles against one wall of their dining room, atop the Target FS70 floor stands on which usually perch their Totem Acoustic Kin Play powered speakers. The LN01As were 5' apart, 1' from the front wall, and 7' from my listening chair on the other side of the room.
Before I played any music, I set the volume to a moderately loud level, selected the phono input, and listened for noise and hum. With my ear 6" from the left speaker's tweeter, I could hear a very faint hiss -- any farther away and I heard no noise.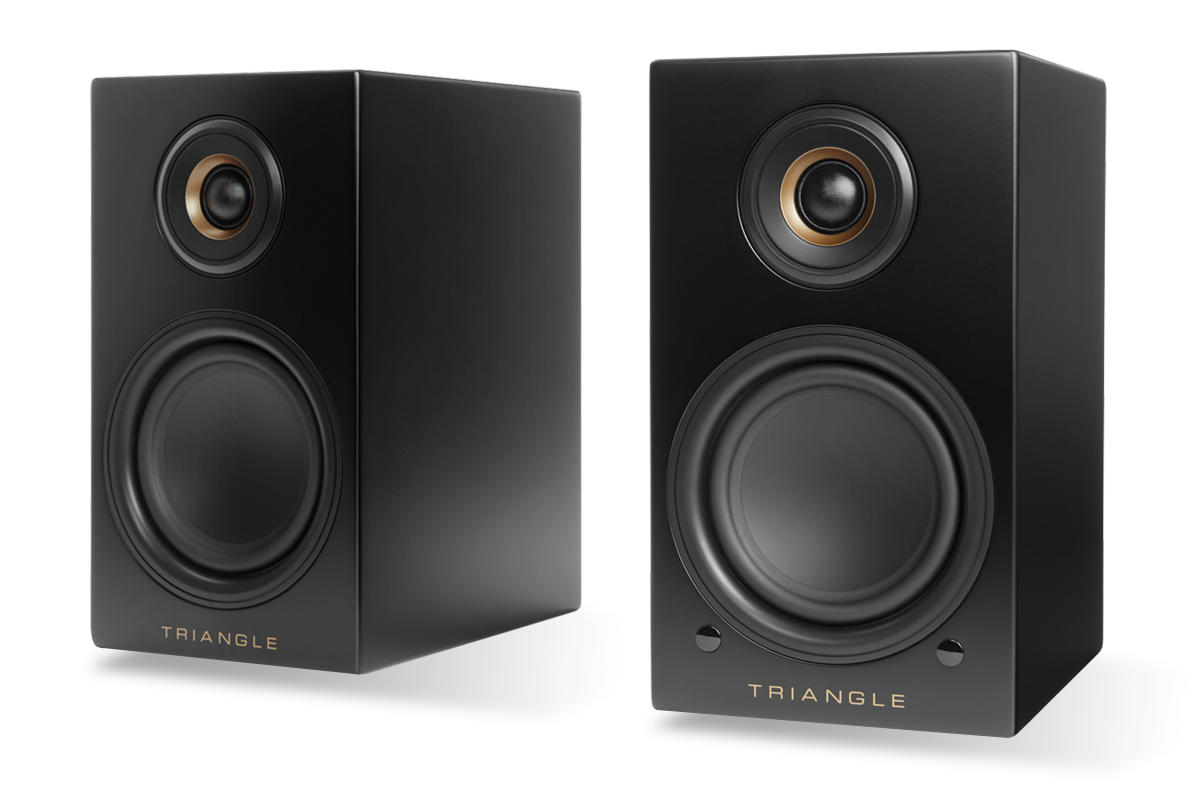 The first track I played was "Scarlet Town," from Chris Thile & Brad Mehldau (LP, Nonesuch 558062-1), a bluegrass-jazz fusion duo album by mandolinist Thile and jazz pianist Mehldau. Thile's slightly nasal tenor and Mehldau's baritone voices were spot on, without bothersome colorations or excess sibilance. Image specificity was very good: Mehldau's and Thile's voices were at left and right center of the soundstage, with Mehldau's piano at left and Thile's mandolin to the right. Instrumental timbres, too, were very satisfying. The transient attacks of Thile's pick on the strings segued naturally into the sound of his mandolin's body. The lower octaves of Mehldau's piano were slightly indistinct, but the middle and upper registers sounded completely natural.
Next up was Glenn Gould's 1981 recording of J.S. Bach's Goldberg Variations (LP, CBS Masterworks IM 37770). Again, piano tone in the lower octaves was a little muddy, but the middle and upper registers sounded lovely -- natural and extended, but not hyperdetailed, so that Gould's crisp trills and runs were really well articulated. What most impressed me was how the little Triangles handled sudden dynamic shifts. For example, after the serene opening Aria, Variation 1 explodes with joy and abandon. The Elara LN01As did full justice to this moment.
Comparison II
The feature set of my in-laws' Totem Kin Plays is virtually identical to that of the Triangle Elara LN01As. The two models' driver complements are also similar, but the Kin Plays are larger, with more powerful amplification. The two-way Kin Play is a rear-ported speaker with a 5" natural fiber woofer and a 1" metal-dome tweeter. The left channel serves as the primary speaker, and houses the single 120Wpc amplifier that powers both speakers.
The Totems reproduced Thile and Mehldau's "Scarlet Town" with a bit more flow and rhythm than did the Triangles. Microdynamics were slightly superior -- I was more aware of Mehldau's touch on the keys, which had similar heft but better definition in the lower register, and a little more sparkle up top. Thile's mandolin attacks were crisper through the Totems without sounding at all etched or spotlit. Through the Totems the sound was a bit more open, a little less mushed together.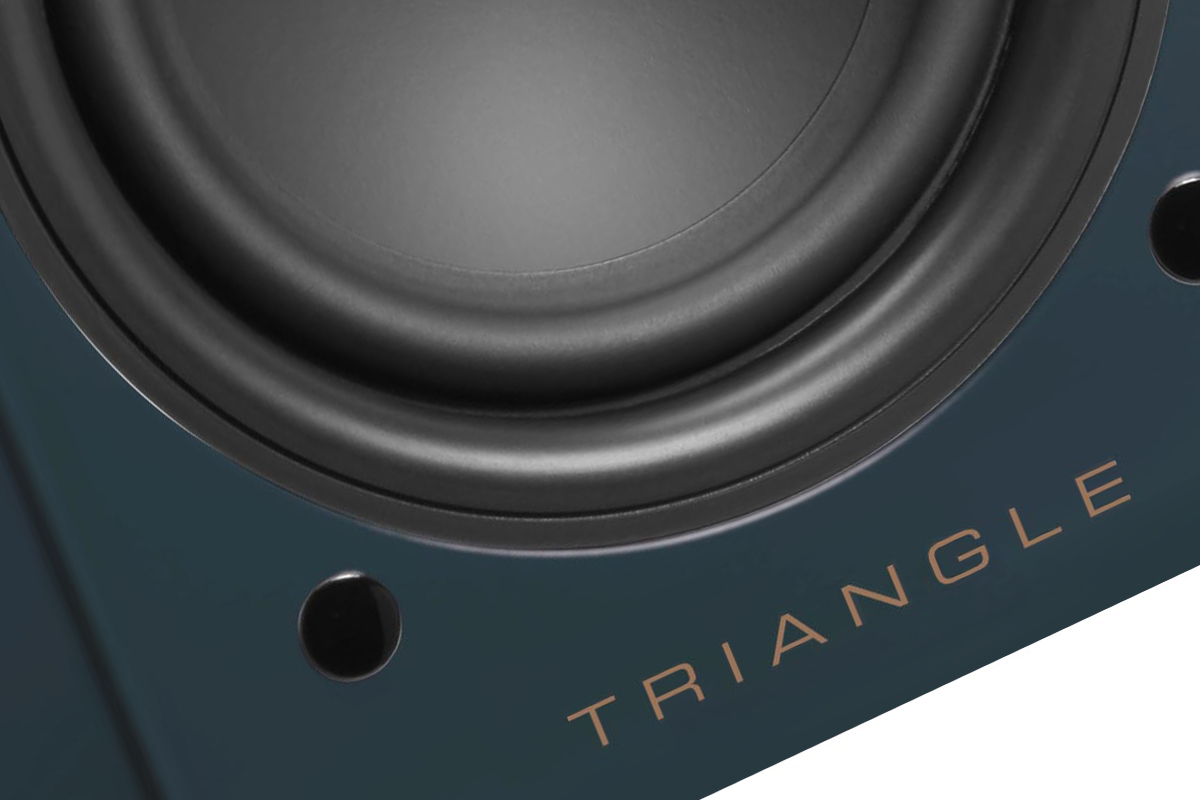 In Gould's Goldbergs the lower octaves of the piano had better definition through the Totems, a little more clarity in the upper octaves. But in that explosion of joy at the beginning of Variation 1 the piano tone was a bit more clangy. It's worth noting that this is a very early digital recording made in 1981, and was miked quite closely, with almost no reverb. In reproducing it, the Totems were clearly less forgiving than the Triangles.
Conclusion
As I said in the introduction, Triangle's Elara LN01A could serve as a great introduction to the joys of hi-fi -- but this little speaker could also work well as a secondary system in a secondary room. The LN01A can be used to stream music in true stereo from a smart device, but can also serve as the core of a sound system including a turntable, a disc player, a game console, a TV, and other sources.
My wife's misgivings not withstanding, I think many people will be grabbed by the Elara's spiffy new finishes. But for those who prefer speakers to blend into their décors rather than jump out at them, the Elaras are also available in basic matte finishes of black and white. Whichever sort of finish you prefer, Triangle's Elara LN01A is a convenient, low-footprint, low-cost way to add music to any small space.
. . . Gordon Brockhouse
This email address is being protected from spambots. You need JavaScript enabled to view it.
Associated Equipment
Speakers -- Klipsch The Fives (active), Totem Acoustic Kin Play (powered)
Sources -- Pro-Ject Debut Carbon turntable and tonearm with Ortofon 2M Red cartridge, LG G7 ThinQ smartphone
Stands -- IsoAcoustics ISO155 (desktop), Target FS70 (floor)
Triangle Elara LN01A Powered Loudspeakers
Price: $859 USD per pair.
Warranty: Two years parts and labor.
Triangle Manufacture Electroacoustique
44 rue Barreyre -- CS40099
33 070 Bordeaux Cedex
France
Phone: +33 (0)3-23-75-38-20
Fax: +33 (0)3-23-75-38-21
E-mail: This email address is being protected from spambots. You need JavaScript enabled to view it.
Website: www.trianglehifi.com