The 2017 edition of the Custom Electronic Design & Installation Association's annual exposition, formerly called the CEDIA Expo but now simply CEDIA, took place in early September at the San Diego Convention Center. Though CEDIA is ground zero for networked audio, most of the products displayed this year were in-wall and in-ceiling speakers connected to multizone amps operated by proprietary, keypad-controlled, home-automation systems. In other words, CEDIA was packed with gear designed to be heard, not seen -- products mainly of interest to custom-installation professionals. Since the dawn of Sonos, however, a stream of consumer-oriented products have popped up amid the aisles of nondescript hardware, and virtually all of it -- mostly streamers and speakers -- uses wireless technology. Much of it is affordable, simple to install, and can run on a home's Wi-Fi network. Here are the most interesting products I spied while roaming the aisles of the SDCC with my Simplifi goggles on. All prices are in USD.
Bang & Olufsen BeoSound Shape
Bang & Olufsen introduced its BeoSound Shape at a press conference that had attendees at first puzzling over a curious array of hexagonal, wall-mounted panels. Turns out it was the company's new wireless speaker system, comprising groups of hexagonal tiles variously serving as speaker, amp, wireless hub, and sound absorber.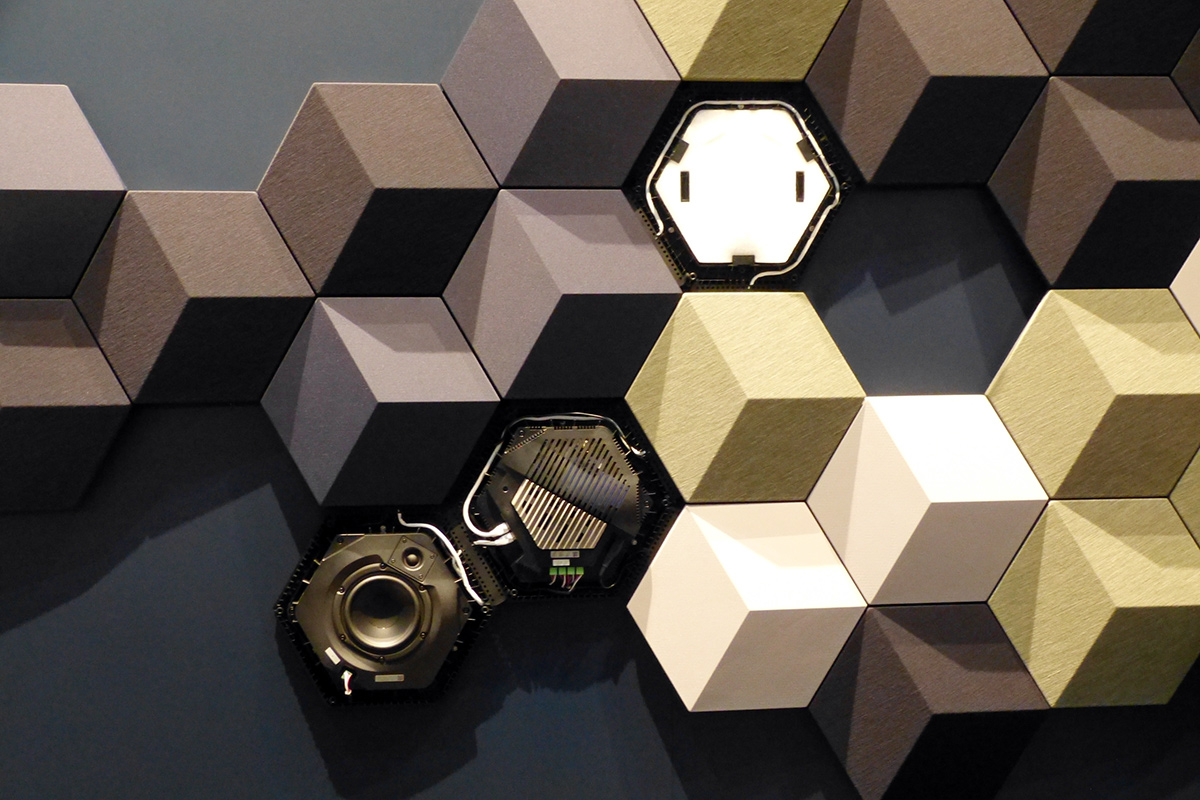 While a base Shape configuration consists of six interconnected tiles, two of them speakers, a single Shape system can include as many as 44 speakers. Each Shape speaker panel has a 0.75" tweeter and a 5.25" woofer. Amplifier panels conceal an 8x80W amp that can power up to four speakers. B&O's Core connectivity module is compatible with Apple AirPlay, Chromecast built-in, and Bluetooth, meaning that most anyone, visitors included, can instantly connect to and start playing music on a Shape system. To ensure even distribution, a proprietary upmixing algorithm spreads sound across the tiles, centering voices and nudging instruments to the sides. Shape speakers can also link up with other B&O products for multiroom applications.
A base Shape system costs $5000; additional speaker pairs, amps, and Core modules sell for $999, $1499, and $999, respectively. A system's colors, fabrics, and layout can be customized using a tool on the B&O website. The BeoSound Shape is available now in the company's retail stores.
Electrocompaniet Rena SA-1 streaming DAC-amplifier
Recently, at a dealership in the San Francisco Bay area, I heard the Tana SL-1 Wi-Fi speaker from Norway's Electrocompaniet, and was impressed with its precise, effortless sound. Since then I've been nagging the company to send me products to review. Fortunately, Electrocompaniet exhibited at CEDIA this year for the first time, showing the Tana SL-1 alongside other products from their EC Living portfolio, which includes the Rena SA-1 streaming DAC-amplifier.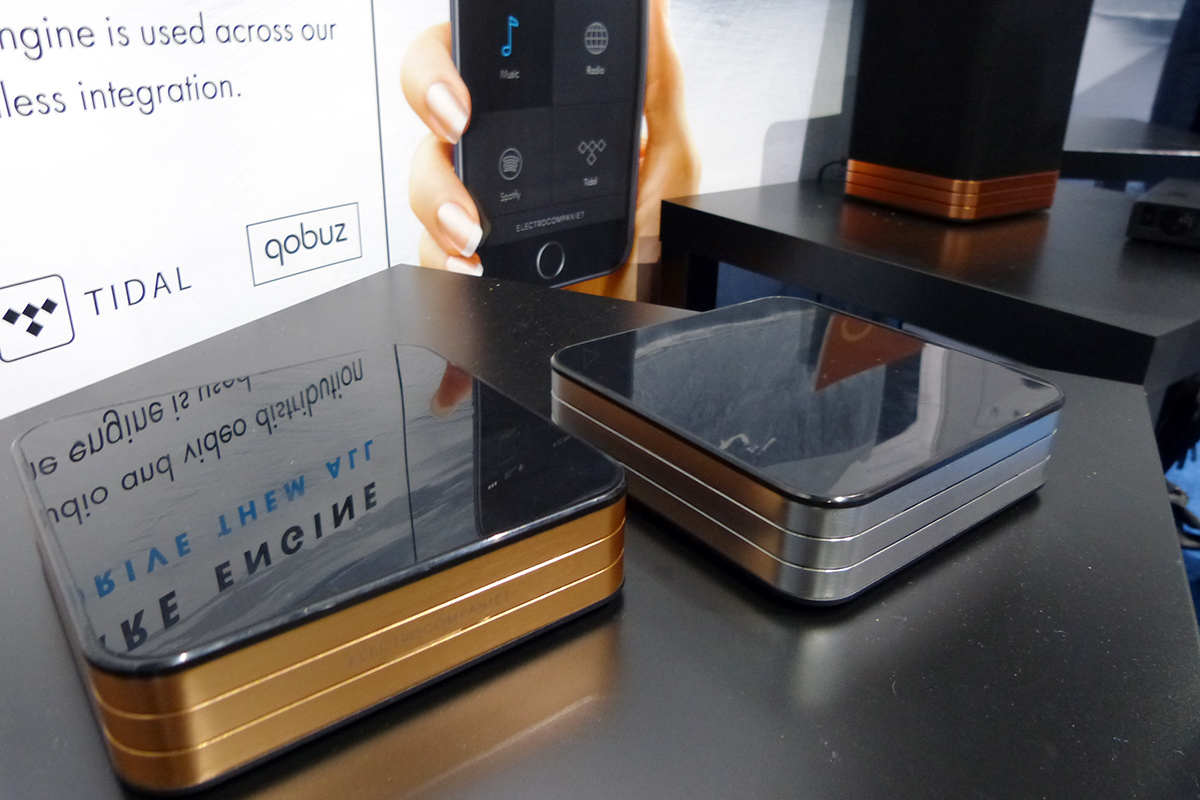 The Rena SA-1 has a high-end look for a lifestyle product, its casing wrapped in bronze, silver, or black finishes and capped with a gloss-black top and bottom. The SA-1's class-D amp provides 75Wpc, and its DAC supports up to 24-bit/192kHz PCM and 5.6MHz DSD. It streams music via AirPlay and Wi-Fi, and supports services including Tidal, Spotify, and Qobuz (Deezer, Pandora, and Napster are soon to come). Control is carried out using the EC Living iOS/Android app, and connections include coaxial and optical digital inputs, coaxial digital and stereo analog outputs, and a USB port for external storage. In addition to its regular speaker connections, the SA-1 can wirelessly link to add-on Wi-Fi speakers such as the company's Tana SL-1.
The Rena SA-1 (around $799) and other products in the EC Living portfolio are available now.
Roon Nucleus server
Roon's foray into hardware, the Nucleus server, was first previewed at High End, in Munich. At CEDIA, Roon seemed to be in all-out launch mode, with a late-September date anticipated for shipping its hardware to Roon users who want an out-of-box server for streaming their music collections to Roon endpoints.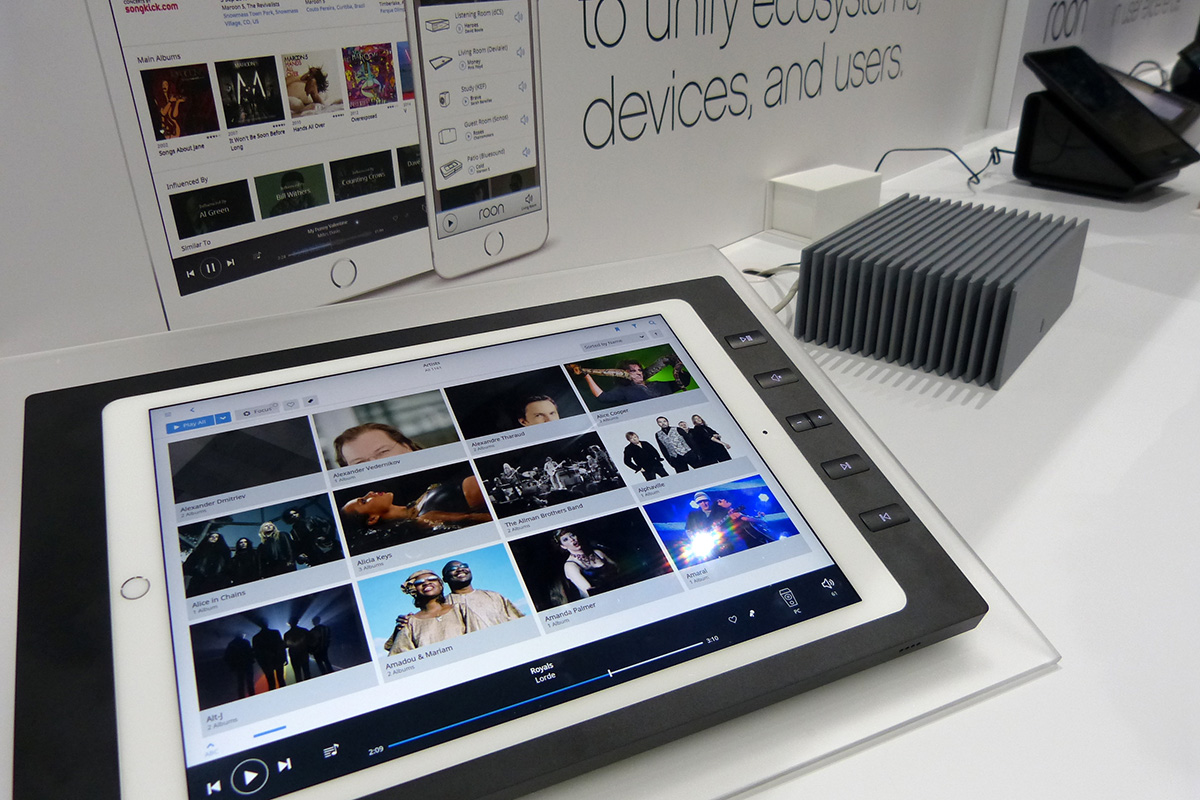 Based on an Intel NUC, a mini PC that lets you add custom memory, storage, and operating-system options, the Nucleus comes in two flavors: Standard, with an i3 processor, 4GB RAM, and 64GB SSD storage; and Nucleus+, with an i7 processor, 8GB RAM, and 128GB SSD storage. A Roon license, which costs $119/year or $499/lifetime, is not included. The prices will be $1200 for the Standard option, $2000 for the Nucleus+.
Yamaha R-N803 network stereo receiver
With Onkyo and Integra having released their first network-capable stereo receivers earlier this year, it was only a matter of time before other receiver makers launched their own offerings. At CEDIA, Yamaha unveiled its new R-N803 network stereo receiver, a dignified-looking component that delivers 145Wpc into 8 ohms and includes the company's YPAO auto-EQ processing.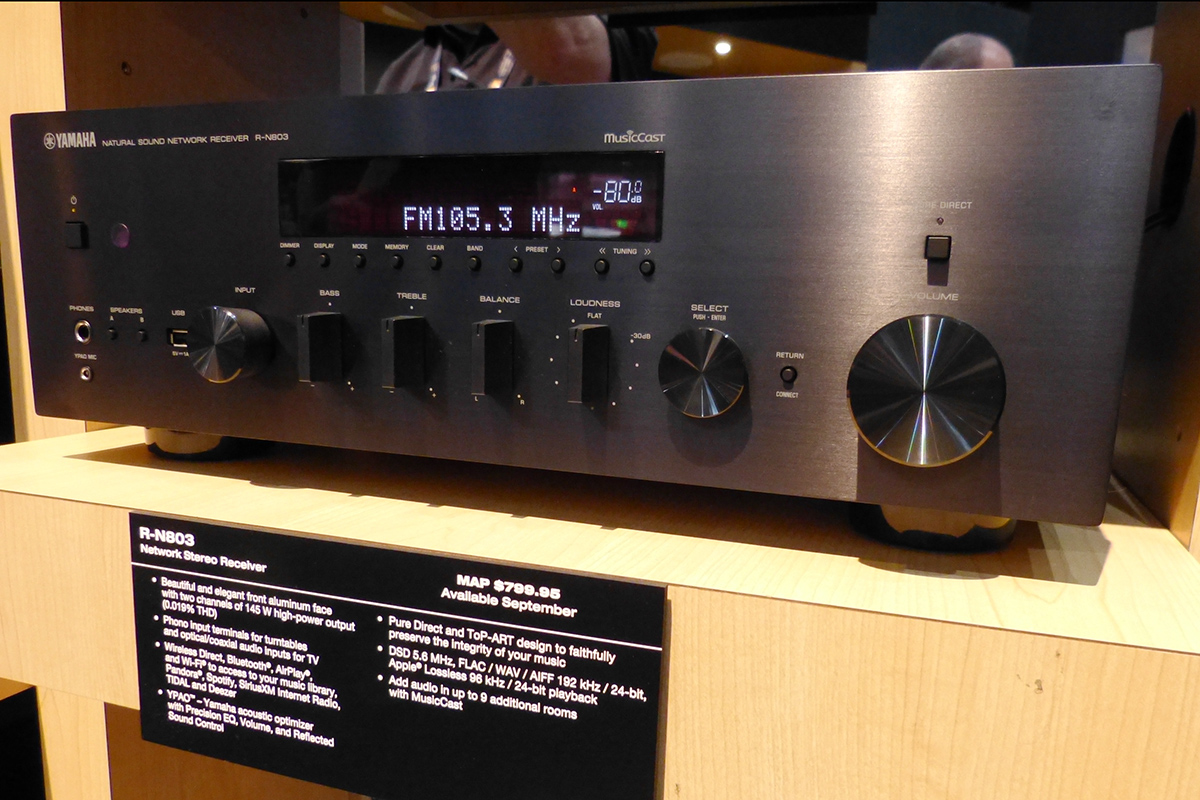 The R-N803 streams tunes via Wi-Fi, AirPlay, DLNA, and Bluetooth. Integrated apps include Tidal, Spotify, Pandora, and Deezer, and the Yamaha's ESS Technology DAC can handle formats including AIFF, WAV, and FLAC up to 24/192, ALAC up to 24/96, and DSD up to 5.6MHz. The company's MusicCast technology lets you stream audio to other MusicCast devices (e.g., Yamaha's Wi-Fi speakers) in other rooms, and there's a phono input for connecting a turntable. The R-N803 will be available in September for $799.
Paradigm PW 300 Wi-Fi speaker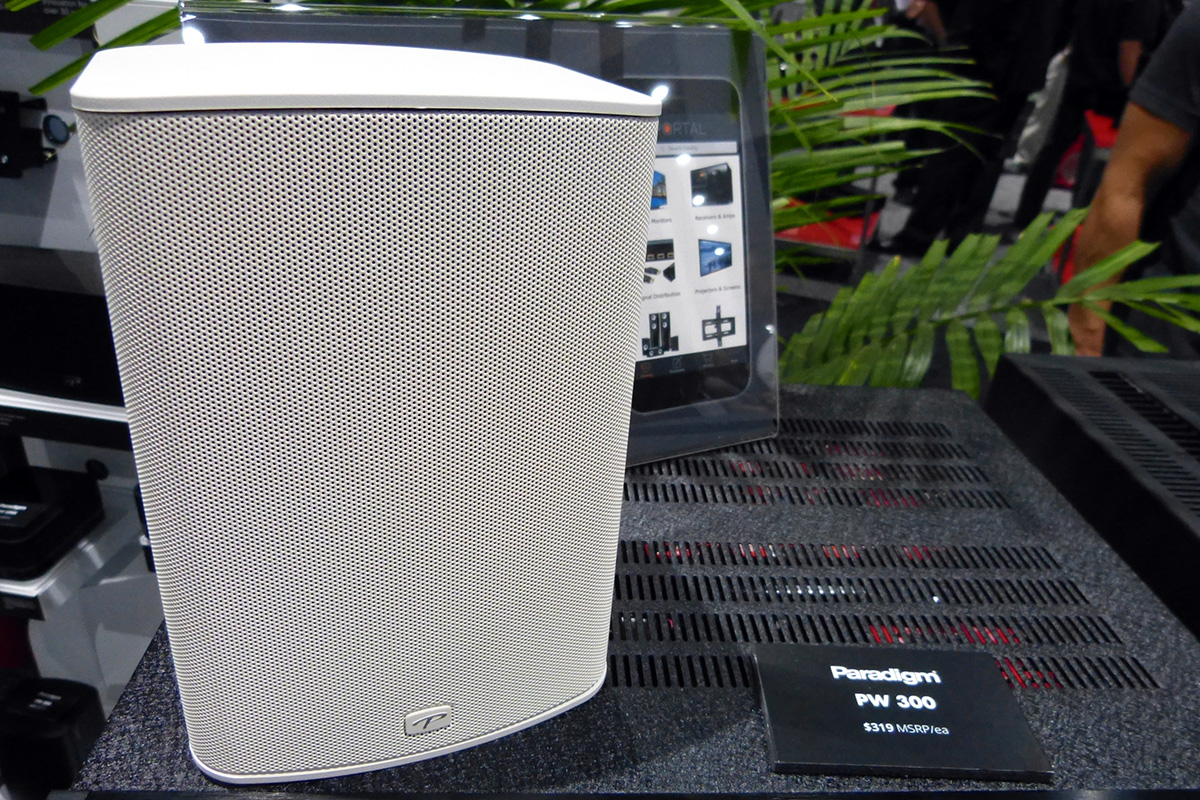 Paradigm has rounded out its Wi-Fi speaker line with the new PW 300, a compact two-way model with a 0.75" tweeter and a 4" bass-midrange driver, powered by a 40W RMS (80W dynamic peak) class-D amp. The speaker streams signals up to 24/192 via DTS Play-Fi, with Bluetooth provided as backup. There's also a LAN port for installations in which a hardwired Ethernet connection is preferred. Two PW 300s can be paired for stereo playback, and the Play-Fi app lets you set them up as surround speakers in a wireless five-channel system. The PW 300, available in black or white, will ship this fall for $319 each.
Triad One streaming amplifier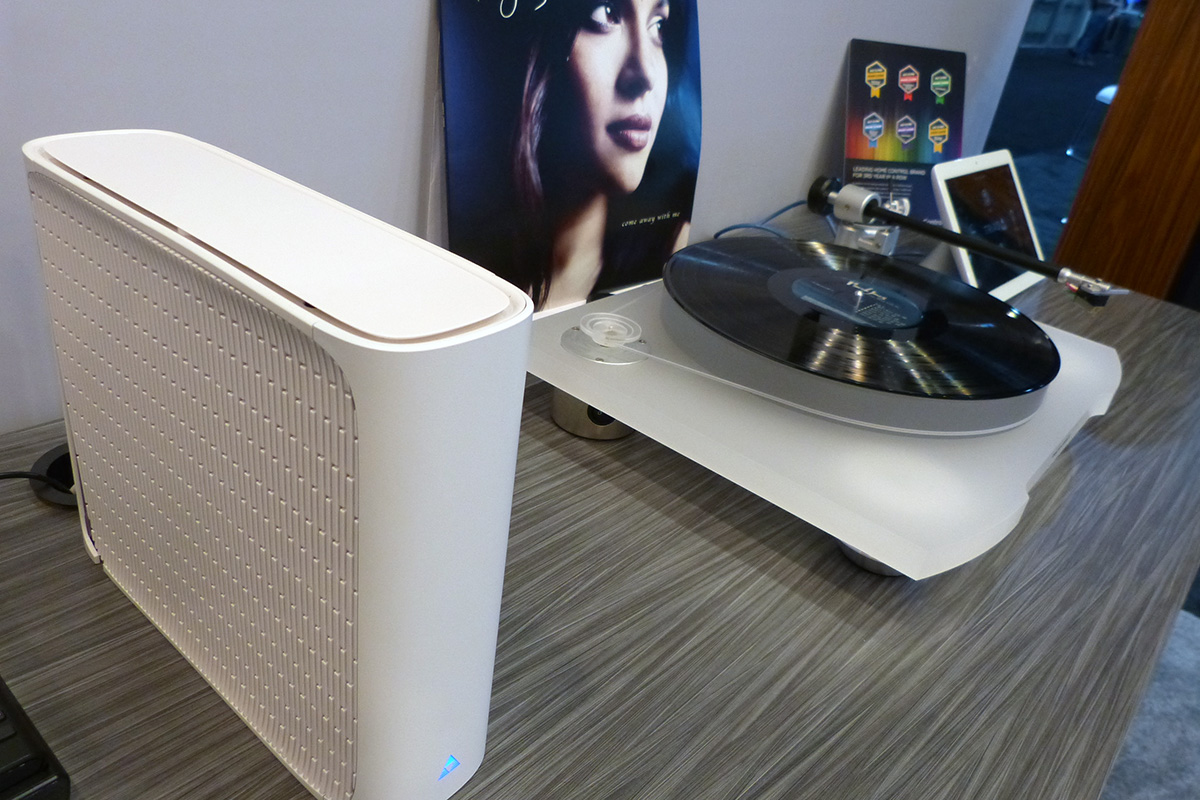 Triad, best known for architectural speakers and subwoofers, was recently acquired by home-automation company Control4. One new product to arise from that union is the Triad One, a 100Wpc streaming amplifier. Along with wired and wireless connection options, the One provides multiple digital and analog inputs, making it a full-featured integrated amp suitable for single-zone use. A subwoofer output is provided, and Control4's app lets you set crossover filters and apply a ten-band parametric EQ. The app can also access a range of streaming services, including Tidal, Spotify (with native integration), iHeartRadio, Deezer, and TuneIn. The Triad One costs $700 and is available now from Control4 dealers.
. . . Al Griffin
This email address is being protected from spambots. You need JavaScript enabled to view it.