Once a business with an all-you-can-eat model, media streaming has begun to carve out niches to serve more narrowly defined interests. Take Disney, which recently announced that it would pull its content from Netflix to create its own streaming platform aimed at parents of young children who eagerly consume Disney and Pixar movies. Then there's FilmStruck, a service created by Turner Classic Movies and the Criterion Collection to stream their catalogs directly to equally eager cineastes.
While niche streaming might make sense from the perspectives of films and TV, it's less clear how the model would apply to music. It's generally a snap to search for music on services like Spotify or Tidal, which also group artists and albums into genres that can be readily browsed using a mobile or desktop app. Looking for a specific Beatles release? Type Let It Be into a search window, and you can listen to it and add it to your collection. Feeling like downtempo jazz? Browse Jazz and choose from the myriad Miles Davis and Bill Evans titles on offer.
However, one genre is not well served by the all-you-can-eat streaming model: classical music. Here's how Tidal, the preferred service of audiophiles, handles classical: Once you scroll past the self-promoting, UI-clogging posts from Tidal owner Jay-Z (I won't knock him too hard -- Netflix does the same with its Netflix Original content) and click the Genre tab, you'll find just a handful of curated playlists and new releases. In other words, you need to perform a search to find most classical releases on Tidal. That's not a problem if you know the exact version, conductor, orchestra, and label of the work you're seeking, but it's not ideal for classical music discovery.
Classical doesn't get much more attention from other leading music-streaming services. With a focus on curated playlists, Apple Music's classical section serves up a few good options, such as composer-themed playlists. But there are just as many examples with banal titles like Dinner Party. Spotify, meanwhile, one-ups Apple Music and Tidal by augmenting its composer-themed playlists with Similar Artist links, and About pages that feature a biography and images of a composer. Not bad, but it can be done better.
Primephonic time
Primephonic is a new classical-only service that seeks to address -- and to redress -- shortcomings in classical-music streaming. Based in the Netherlands, the service grew from Primephonic's music download site, which sells classical recordings in uncompressed WAV, FLAC, and DSD formats. A selling point of Primephonic is that it streams in FLAC, although users with bandwidth-limited connections can switch to an MP3 option on the fly. A subscription costs $14.99/month -- $5 less than Tidal's uncompressed-quality HiFi tier -- and gives you access to Primephonic's expanding library, which at the moment I'm writing consists of 6296 albums from 313 labels. A free 30-day trial lets you check things out without having to enter your credit-card data.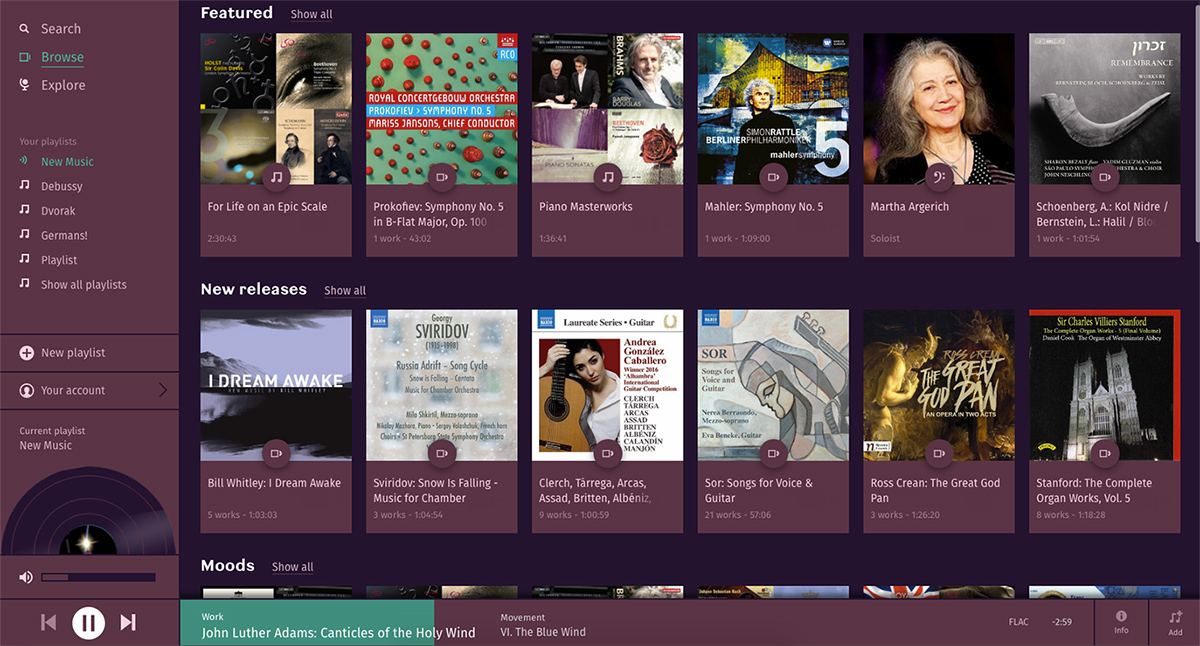 When I spoke recently with CMO Jonathan Bradley about Primephonic's motivation for starting a classical-only streaming service, he mentioned that since classical listeners comprise only 3% of the music-streaming audience, there's "no economic imperative for services to invest in classical-music information databases and metadata." He further explained that 60% of the subscription money collected by services such as Spotify is paid out to labels -- only a tiny slice of that goes to classical artists. With Primephonic, the same 60% label cut stands, but all of that goes directly to classical artists. And when Primephonic meets its goal of 20,000 subscribers -- a not-unrealistic number for a niche streaming service -- it will eventually "feed millions of dollars back into the cash-starved classical-music industry."
How does Primephonic improve on mainstream music streaming? Other than offering an all-classical catalog, its Browse section lets you seek out music by Mood, Genre, and Label. An Explore section lets you dig deeper, with sections listing Composers, Artists, Works, and Periods (Late 20th Century, Romantic, Medieval, etc.). More important, Primephonic's extensive metadata, which extends to orchestras, conductors, and even soloists, lets you easily jump around its library, which helps enormously with discovering new music. The service's original content is impressive: pages dedicated to composers provide detailed bios and lists of works and related albums. Additional pages, each dedicated to a specific work by a composer, provide a summary of the work and list the date and location of its first performance, and links to the various recorded versions available for streaming.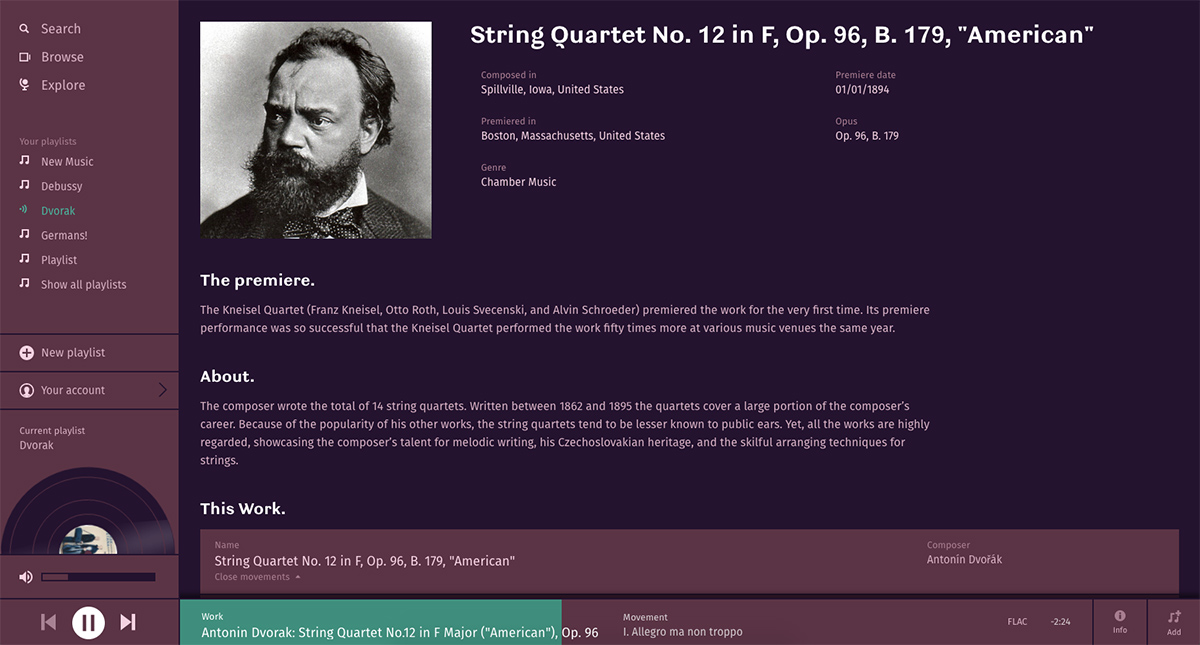 At present, Primephonic only lets you add albums and tracks to custom playlists that you create, a filing system I found somewhat awkward to use. But Primephonic's biggest limitation is its lack of an iOS/Android app -- you can stream only via the company's Web-based browser. A workaround would be to access Primephonic via a smartphone or tablet using a browser app, but since iOS devices don't support FLAC, the streaming quality would be limited to MP3.
Primephonic has fixes in the works for both limitations. According to Bradley, you'll soon be able to add favorite albums and tracks to a general library, not just playlists. Android/iOS apps are planned for release next year, and will provide an offline listening feature for track downloads. Furthermore, Primephonic has an API in development that will open up future integration possibilities with services like Roon's music library and discovery software and also Google Home/Amazon Alexa -- the latter a no-brainer, as the No. 4 music request made of Alexa is "Alexa, play classical music."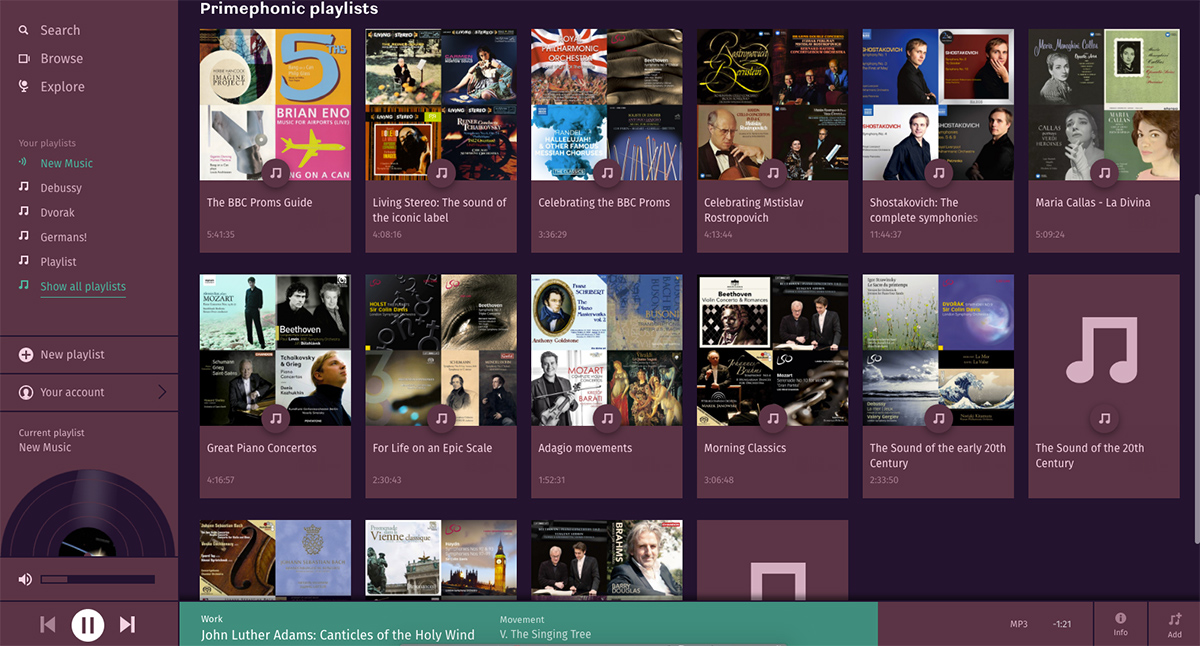 Is a monthly subscription to Primephonic worth $14.99? If you're a classical-music enthusiast, or are interested in learning more about the genre, then yes, absolutely. Primephonic combines high-quality sound with a large and quickly expanding library of recordings. And its metadata and original content elevate browsing and the discovery of new music and recordings to levels other services can't touch. While most classical recordings can be easily streamed from Spotify, etc., it's not easy to find a specific recording of a specific work. Primephonic solves that problem by bringing metadata-driven precision to classical-music streaming, and in doing so provides a model for how the genre should be handled in this era of streaming media.
. . . Al Griffin
This email address is being protected from spambots. You need JavaScript enabled to view it.