I never wanted to purchase new speakers. I never wanted to go digital. It all happened by accident.
My younger brother Erich, who used to be a reviewer for the SoundStage! Network, has been into audio for a very long time, and even as a teen I became a repository for Erich's used gear. Getting expensive equipment from family seemed to be the way to go: a set of Mirage M-760 speakers, a Yamaha CX-800U preamp, and a Yamaha MX-600 power amp was the first of several batches of hand-me-downs. As Erich's system got better, so did mine. This went on for almost a decade before I purchased my only "new" stereo equipment, in 1995: a pair of Bowers & Wilkins Matrix 804 loudspeakers, finished in walnut, for $2400 (all prices in USD).
The B&Ws were paired with my discount Counterpoint SA-100 amp and SA3 preamp, along with a refurbished California Audio Labs Icon MkII CD player, which had replaced Erich's cast-off Yamaha CDX-510. For 20-plus years, those warhorses provided high-quality stereo sound for my entire house. I would merely crank the volume on the Counterpoint hybrid preamplifier and be able to hear the Matrix 804s in every room. When that became too much for my wife—which happened very quickly—I purchased 50′ of 16-gauge wire, ran it through the wall, hooked up my brother's old Mirage M-90 standmount speakers, plunked them on top of the refrigerator in my kitchen, and was happy. Until 2018, my living room housed the 804s, and the kitchen was wired for sound.
But times changed, and my wife and children were getting tired of having to walk into the other room to tell me to turn down the music.
Love at first sight
It was two years earlier, in the winter of 2016, when I first saw Devialet's Silver Phantom; I was taken aback. My youngest brother, Hans, also a SoundStage! reviewer, had one in for review, and I was smitten by the shapely appearance and sonic power of such a physically small speaker. This was the top-of-the-line, 3000W Phantom (the other, less expensive model in Devialet's initial lineup was the 750W Phantom, while the 4500W Gold Phantom came later) and didn't look at all like a traditional speaker. Futuristic, to say the least: the concentric circles on the front with a nice metal lattice over the tweeter as a focal point, as opposed to the industry-default mesh grille, and two silver woofers on either side that looked like they had been stolen from Devo's hat closet. This could have been a speaker designed by Andy Warhol. "Cool-looking bookshelf speaker," I thought, until Hans told me the price tag for one speaker was $2390. Umm, no. And $1990 for the little brother with 2250 fewer watts was also a hard no. A house, cars, children, a dog, and all they entailed precluded me from even thinking about purchasing one, let alone two of these rugby-ball-shaped sonic powerhouses. But there was more, as a $329 Devialet Dialog component was required to create a stereo pair. A whopping total of $5109 for the Silver Phantom Duo, while the junior circuit pair with the required accessories was a mere $4309. Warhol-esque prices to match the look. They were out of my league.
I should have walked away from those Silver Phantoms six years ago. But I didn't. I listened anyway. The deep bass—a basic need for me—and clear imaging, and such power from a compact, 24-pound speaker was difficult to fathom. When Hans cranked them up to a mere 50% of their capability and I saw the silver woofers pulsate to the beat of Pink Floyd's "Run Like Hell," it was over. I was going to own a pair.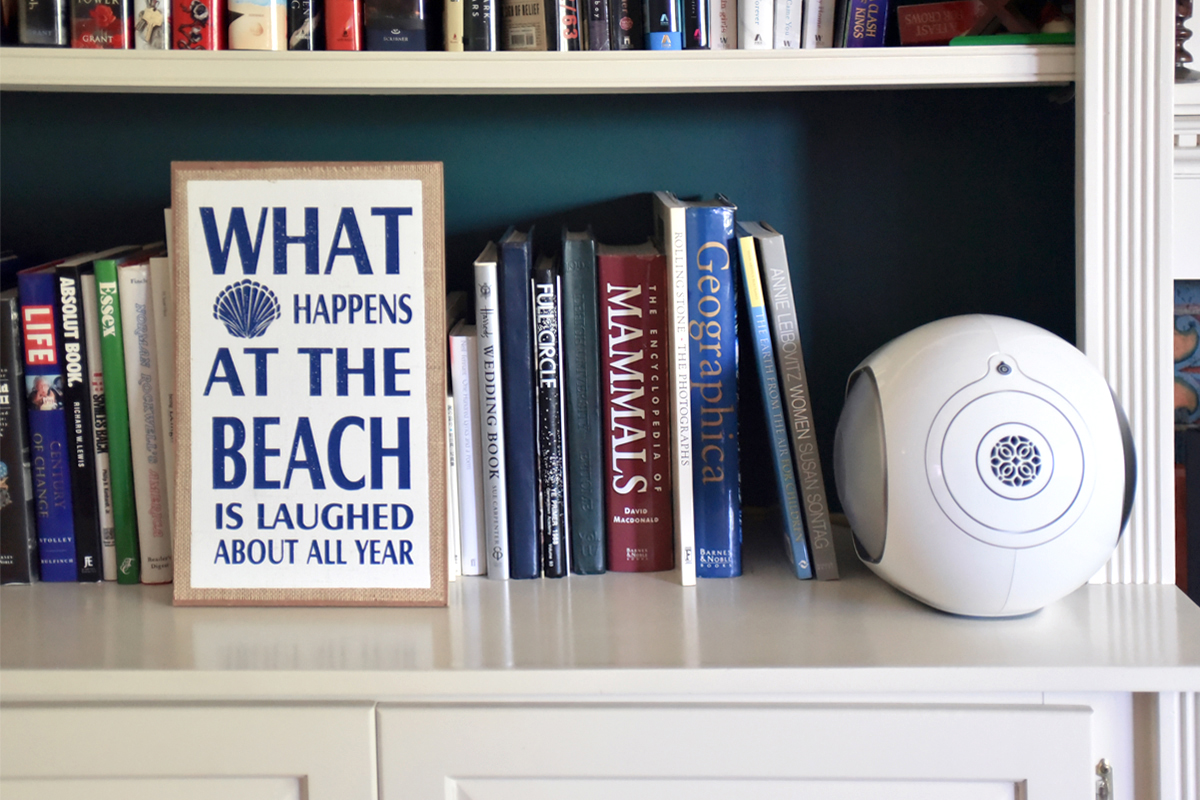 Plotting and scheming commenced. It took two years to develop my pitch to "explain" to my wife why this was something we—meaning I—had to have: "Honey, these speakers have it all. Bluetooth, so you can play our 900-plus ripped CDs from your phone, the children can stream Spotify, and they're still loud enough and clear enough for me. Look, they even fit on a table and don't take up half the living room!" That last one was a good point—other equipment had rolled in over the years. A pair of Amphion Ion+ bookshelf speakers had come into my side room for a test drive; a used California Audio Labs CL-5 CD player was an upgrade on its single-disc sibling; and the Benchmark Media Systems DAC1 USB made my CD collection sound even better. My wife had seen these "tweaks to the system" for most of our married life. Her response was simple: "Sell, Mortimer! Sell!"
That line from Eddie Murphy's classic movie Trading Places has been a recurring theme in our house for years. I don't part with things easily. But these speakers were special, so almost everything went. Does anyone want a set of Matrix 804s? The Counterpoint amp and preamp; the ancient Onkyo TX-8410 receiver; the Benchmark DAC: all gone. Then the search was on, and eBay was happy to assist my treasure hunt for all-in-one speaker perfection. Near misses, and several "Hell no, those woofers are battered" offerings finally lead to the purchase of two Silver Phantoms, in the original boxes, in July 2018. I got them on eBay for less than half the original list price.
They were divine. Heavenly. LOUD. I could hear subtleties of tone, underlying guitar melodies, delicate background vocals, and even some of the imperfections in my earliest CD recordings that I never noticed before. The family barometer for any audio purchase has always been Dire Straits' Brothers in Arms, and the Phantoms passed the test in spectacular fashion.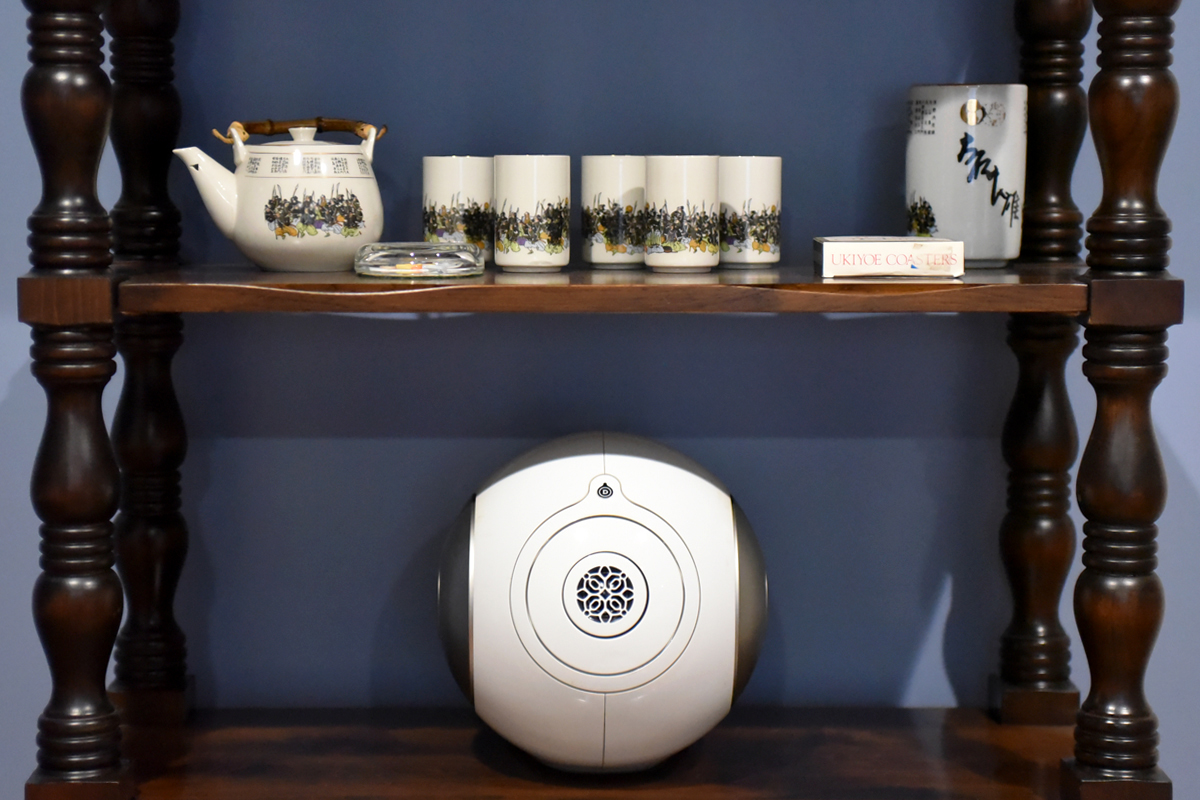 The saxophone entry on "Your Latest Trick," paired with the tinkling of the keyboard and guitar riffs in the first minute or so, were delicate yet individually substantial. The thunderstorm in the background on the title track and the low rumble that resonates through the 59-second mark; and then, switching to Mark Knopfler's soundtrack for Local Hero, the crack of Knopfler's voice at the end of the opening of "The Mist Covered Mountains"; these moments confirmed that the Phantoms were the speakers for me. The bass drum, with visual cues provided by the jumping of the silver woofers, resonated much longer than I had ever heard through my 804s and all the aforementioned electronics. I enjoyed watching my new toys as much as I loved listening to them.
Everything thereafter—Genesis, The Who, VNV Nation, Daft Punk, George Frideric Handel, George Winston, 2 Live Crew, Disturbed, Beastie Boys—was easily handled by these wonderfully crafted pieces of aural artistry, especially when the volume was turned up to a bone-rattling, Spinal Tap–like 11. The sound was different from my 804s. Going from a pair of freestanding 4′ towers to bookshelf speakers was always going to create a different soundstage, but the biggest difference I heard was that the music was just cleaner, crisper, and more defined. This combined with a stronger bass presentation made the Silver Phantoms an easy choice for me.
All through the house
I was totally smitten, and wanted more. In February 2020, I replaced the Mirages on my refrigerator with a single Silver Phantom, complete with the matching carrying case. (You know, just in case I want to take it on vacation.) Again, on eBay. Again, a bargain. My wife's refrain of "We don't need it" was belied by her daily use of it. February 2021 saw another Silver Phantom arrive in the mail.
"We don't need one in the side room either." She uses it every time she sits down to play video games.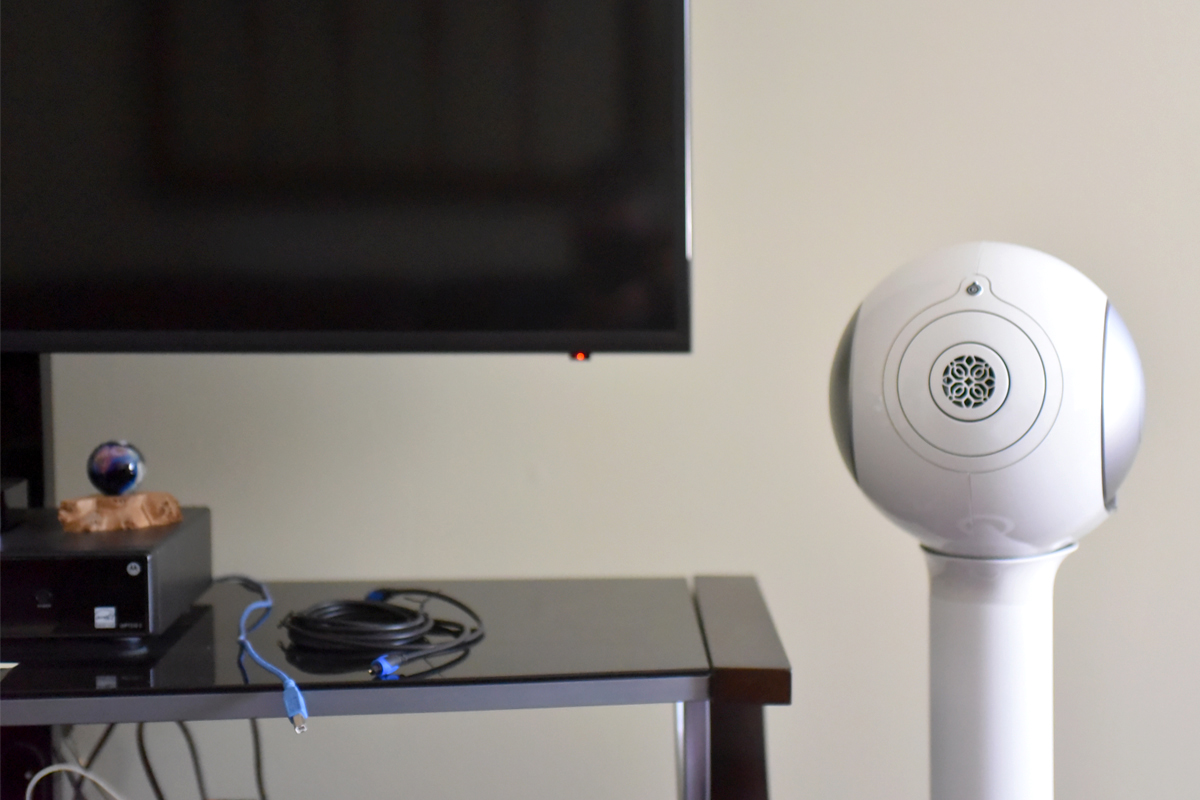 Then the coup de grâce, just one month later: another pair of Silver Phantoms, with matching stands and remote, showed up in the original packaging and in near-perfect condition. And once again, all at a fraction of the sticker price. The original set has taken up residence on the bookshelf in our side room, the single Silver Phantom from the side room has relocated to the bedroom, and the newest pair proudly resides in the living room. There, they stream music, and are also hooked up to our TV. Our music has never sounded better, and I can pair all six speakers with a few taps in the Devialet app and wander around the house without missing a beat.
The Devialet app is clean and simple, and just works. One tap of the screen and all the speakers show up. If I want to pair with one, two, or three speakers, it's a simple two-touch process to tap the link button and select a speaker to pair with the master. Then I just fire up a music source on my phone and AirPlay or Bluetooth directly to the chosen speaker. And as it says in the app, "Enjoy." Even if I choose to listen via UPnP, I just have to launch the UPnP controller, push play, and select a speaker. Intuitive and easy. A cool extra is that I can set different volumes in different rooms and the app allows me to control an individual speaker without leaving the volume screen. I can even have three people with three different sources using three different speakers at the same time and the Phantoms handle it all with aplomb.
Perhaps it's too easy, because my wife can now turn the music down from wherever she is in the house, as her way of telling me it's too loud. I shouldn't protest—she rarely complains about the just over $6000 cost, or the Dialog hub collecting dust in the basement following a firmware update for the Phantoms that rendered it obsolete a mere three years after it was introduced. Relinquishing a little control is a small price to pay for the acquisition of a stable of Devialet Silver Phantoms.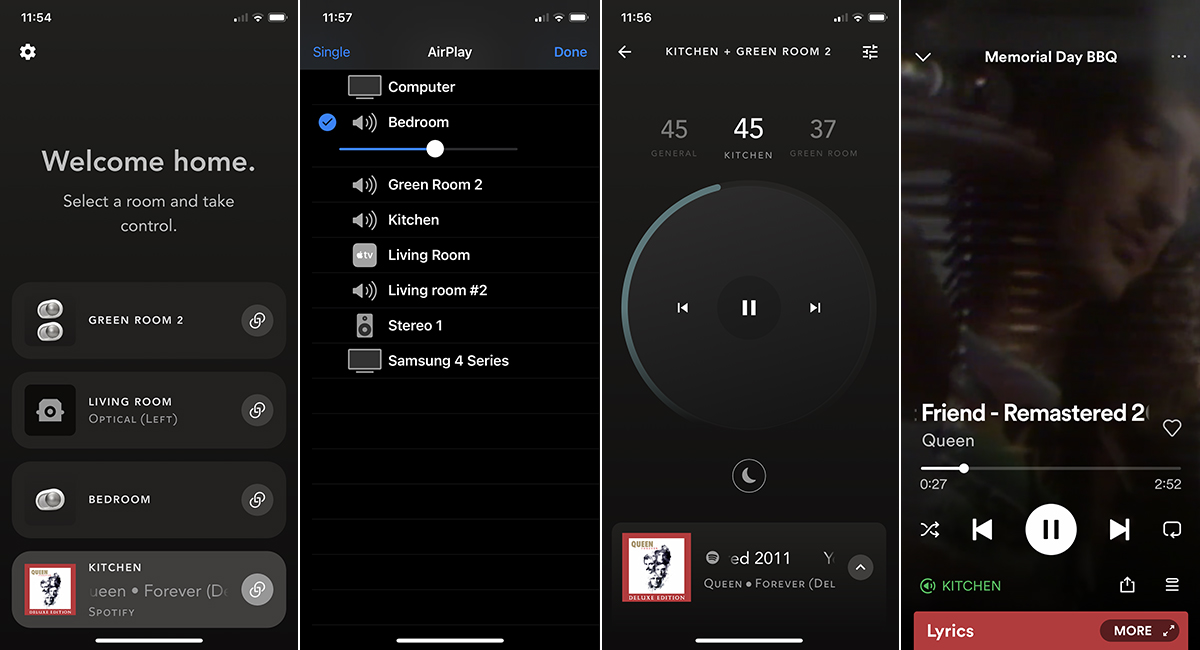 In the app's settings, I can check the latencies, network interfaces, and serial numbers of all the speakers, perform firmware updates, and configure stereo pairs with a simple tap of a button. Adding a new speaker, as I have done four times now, is easy, too. Grant permission for the app to use Bluetooth and Location Services, click on the power button of the new speaker three times, and it appears in the app, ready to be named and set as the right or left speaker if part of a configured pair. Nothing overly fancy—it just works like it should.
The hiccups have been negligible: the "turn it off / turn it on again" issues inherent in modern technology; forgetting that the hardwired TV connection overrides streamed music; and the speakers and app getting confused on occasion if too many people connect to the system and don't disconnect from the speakers when they're done. Such glitches are annoying, to be sure, and I never had them with my hardwired hand-me-down gear. However, I would never go back to my old system. The iOS Devialet app is excellent, and now we have high-quality sound throughout our house. I couldn't be happier. Unless I could find just one more to make a stereo pair in the kitchen. . . .
. . . Kurt Wetzel
This email address is being protected from spambots. You need JavaScript enabled to view it.