Ah, Munich in the spring. Strolling the banks of the Isar. Pedaling a boat across the Kleinhesseloher See (a lake) in the English Garden. Then, to wind down the day, hoisting a stein in the biergarten of the Augustinerkeller.
I've never visited Munich, Germany -- I cribbed all that from a tourism website -- but to judge from the SoundStage! Global coverage of High End 2017, which took place May 18-21 at the Munich Order Center, the city has become the place to see and hear the widest range of interesting new hi-fi products from all over the world. Combing through the extensive show reports on SoundStage! Global is a huge job, so I've rounded up the products that should be of most interest to readers of SoundStage! Simplifi. Kudos to my globetrotting colleagues for their ace reporting -- you can read in full their coverage of everything from speakers and headphones to audio racks here.
Hegel Music Systems H90 integrated amplifier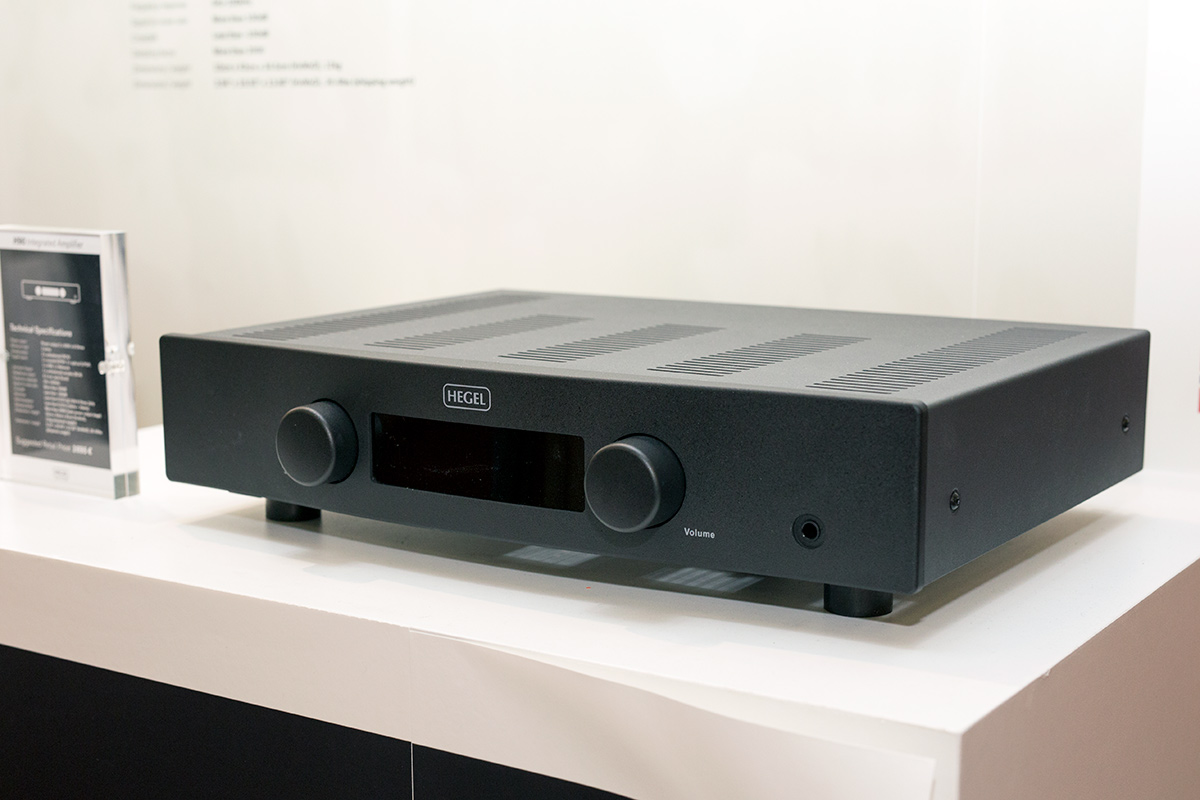 Hegel's new integrated amp replaces the H80, its long-lived entry-level model. The H90 offers many of the same features found in Hegel's Röst, including a USB port for a computer, a LAN port for a wired network connection, and AirPlay for uncompressed streaming from an iPhone or iPad. It also features SoundEngine2, the latest generation of Hegel's proprietary distortion-reducing technology for amplifiers, currently available only in the Röst and the company's flagship H360 integrated. Other amenities include a headphone output and a revamped remote control. However, the H90 omits Control4 support for multiroom audio -- one of the Röst's key features -- and its power output is 60Wpc into 8 ohms, compared with the Röst's 75Wpc. The H90 will sell for $2000 when it becomes available in late 2017.
Bryston BryFi BW-1 wireless loudspeaker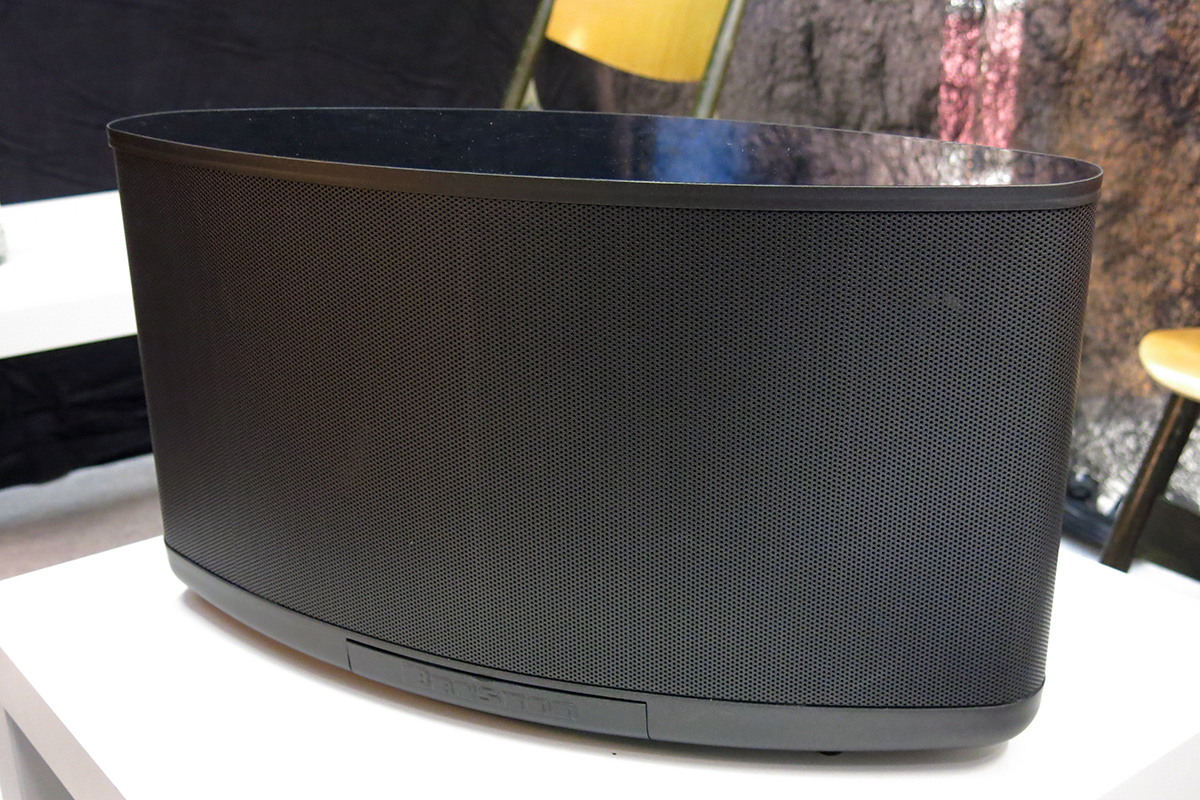 Speakers are a relatively new thing for Bryston, and their latest is the BryFi BW-1 ($1495). This portable wireless speaker packs into its single cabinet two of Bryston's Mini A speakers, a three-way design with a 6.5" woofer, a 3" midrange, and a 1" tweeter. Amp power is 75Wpc. The BryFi links to a home network via 2.4GHz Wi-Fi, and has a LAN port for a wired Ethernet connection. It supports AirPlay and UPnP, has USB ports for storage, and is controlled by Bryston's BryFi iOS/Android app. Two slots are onboard for the optional rechargeable batteries ($150 each), which can power the speaker for up to eight hours. There's no onboard Bluetooth, but two 3.5mm stereo inputs let you plug in a portable device when you take the BryFi on the road. Available now, the BryFi BW-1 will soon be reviewed on SoundStage! Simplifi.
Constellation Audio Dominion Series Leo smart music system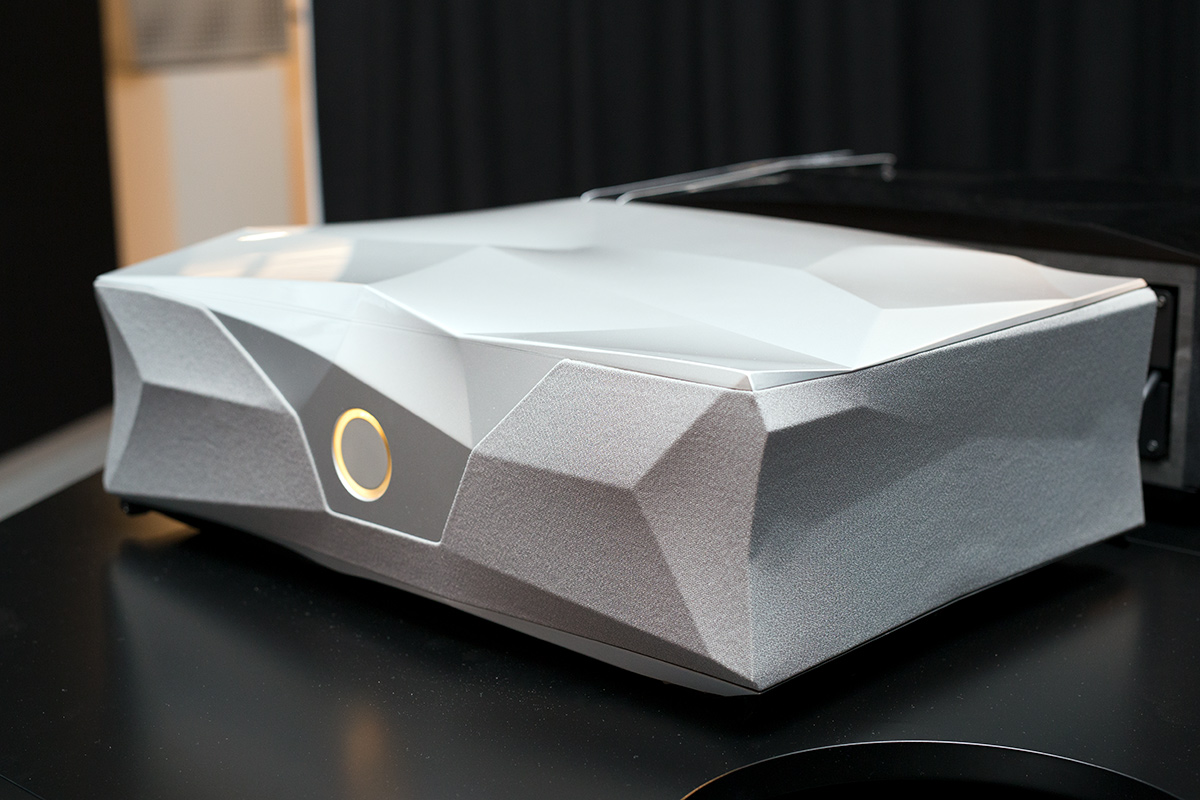 I hadn't been familiar with Constellation Audio, but after hearing about the Dominion Series Leo smart music system the company displayed at High End 2017, they're definitely on my radar. Like Bryston's BryFi, the Leo's futuristic cabinet packs a pair of speakers. In this case, however, each speaker's 6.5" woofer is paired with a 2.5" midrange and a 0.75" tweeter. Crossover duties are carried out via DSP, and separate class-D amps are used to power each driver: 140W per woofer, and 70W each for the midrange and tweeter. You can stream music to the Leo using AirPlay, Chromecast, or Bluetooth, and it has a LAN port for a wired network connection. The Leo is also Roon Ready and can decode MQA. An MM/MC phono input is onboard for a turntable, and there are TosLink and analog RCA stereo inputs for other sources. Think 560W isn't enough power for a compact system? Feel free to use Constellation's control app to pair two Leos for stereo playback, for even greater output and better channel separation. The Leo should be available later this year for under $5000 apiece.
Elac Discovery Z3 zone music system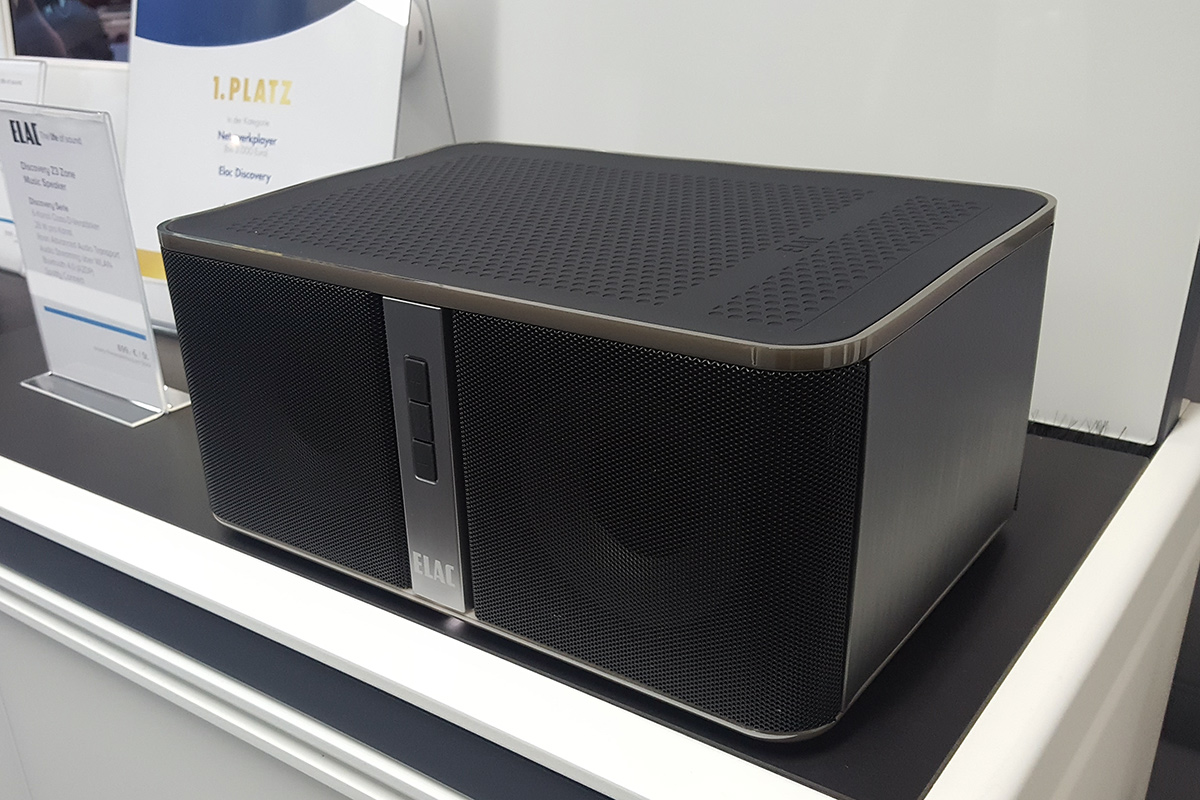 Elac's Discovery Z3 zone music system has one key advantage right out of the box: Based on Elac's well-regarded Uni-Fi bookshelf speaker, it features the same concentric 1" tweeter and 4" midrange drivers, in this case complemented by a pair of 4" woofers, each driver powered by its own 28W amp. The compact, Sonos-like Discovery Z3 connects to your home network via Wi-Fi, supports Bluetooth and Spotify Connect, and can function as a Roon endpoint when paired with Elac's Discovery DS-S101-G music server ($999). Elac plans to sell the Discovery Z3 for $599 each when it ships this summer -- a big bump over the $399 anticipated price tossed around at the 2017 Consumer Electronics Show. Nonetheless, I expect big things from Elac's wireless speaker.
YBA Genesis R8 integrated amplifier
Sporting the same sleek, minimalist façade found on the company's more mainstream products, YBA's streaming-friendly Genesis R8 integrated amplifier has a class-AB amp that delivers 50Wpc into 8 ohms, a LAN port for hookup to a wired network, and multiple USB ports for computer and storage connections. A phono jack accommodates a turntable, and there are three additional analog inputs, plus coaxial and optical digital connections. Onboard support is provided to stream Tidal, Spotify, and Deezer, and the Genesis R8 can handle 24-bit/192kHz PCM streams and up to quad-rate DSD. Look for this French import to land in September at €2000 (about $2150).
Ayre Acoustics AX-8 integrated amplifier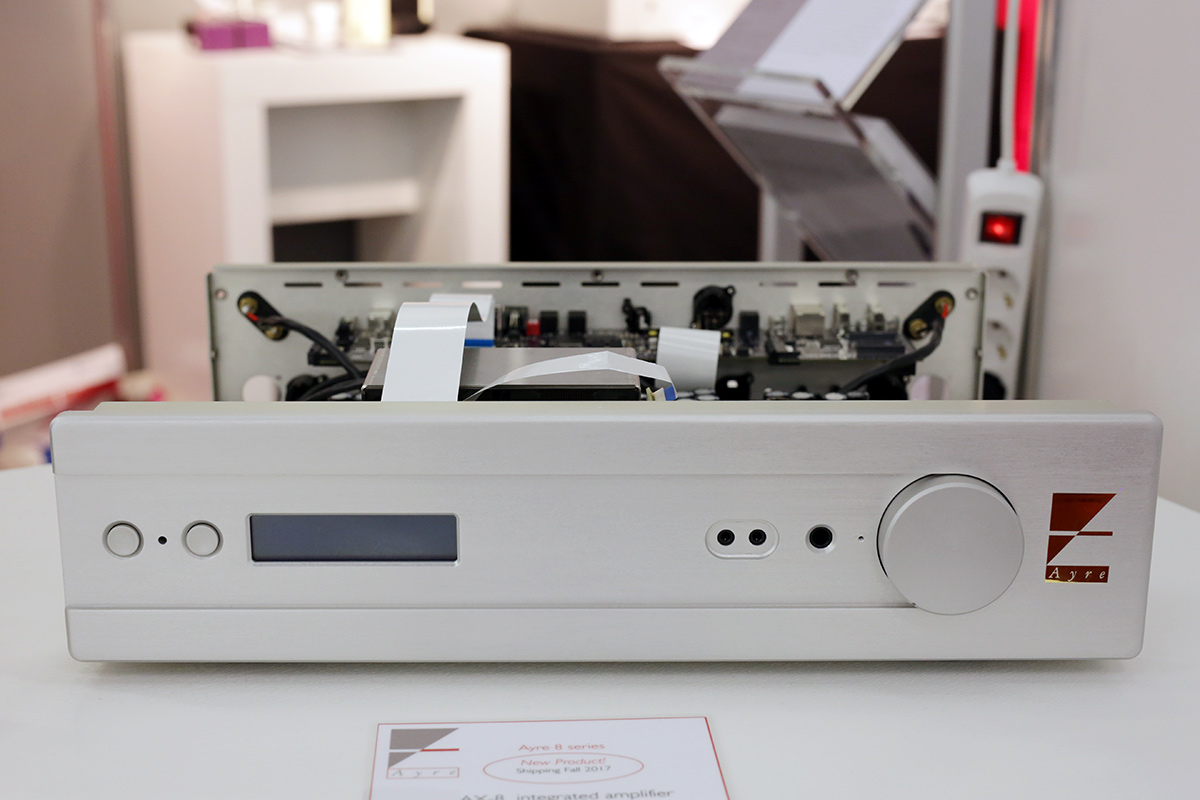 The AX-8 ($7500) is part of Ayre Acoustics' new 8 series, a line aimed more at entry-level audiophiles. This new integrated delivers 80Wpc into 8 ohms, and uses the Double Diamond output stage found in Ayre's more expensive AX-5 (a SoundStage! Product of the Year for 2014). Along with its LAN port, the AX-8 offers asynchronous USB as well as AES/EBU, coaxial, and optical digital inputs. There are also three analog inputs, and XLR and RCA preamp and subwoofer output jacks. Integrated streaming options include Tidal, Spotify, and Qobuz, and the AX-8 is Roon Ready. Look for it to arrive later this fall.
. . . Al Griffin
This email address is being protected from spambots. You need JavaScript enabled to view it.