Once in a while, I come across a product that has me scratching my head: What's this thing really for, and who needs it? Then a light goes on, and I get it: Hey, this product is really cool, and really useful. Why did it take so long for someone to come up with this idea?
Aurender's S5W battery-powered wireless active loudspeaker ($3000 USD per pair) is just such a product. From the front, the S5W looks like a conventional but unusually robust active speaker. On its front baffle is a 4.5" midrange-bass driver and 1" soft-textile dome tweeter, each powered by a 50W class-D amplifier.
Check out the S5W's rear panel and you'll see what makes this Korean-made speaker unique. There are no input jacks for signal cables, just a threaded screw for attaching the supplied antennas. At the bottom of each rear-ported enclosure is a large compartment that accepts a Bosch 18V FatPack power-tool battery. There are also pushbutton switches for Power, High+ (treble boost), and Bass+ (bass boost).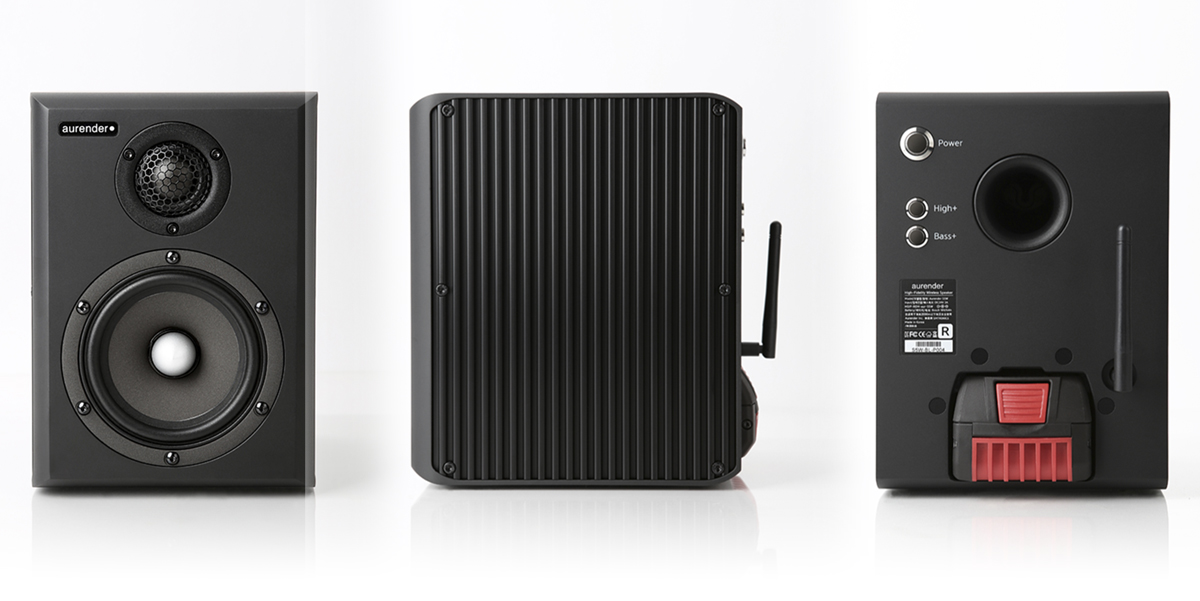 The tweeter, made by Danish company Scan-Speak, is housed in a nonresonant, die-cast chamber. The woofer, made by the Norwegian firm SEAS, has a cone coated with Nextel, a material chosen for its smooth response and low distortion, Aurender says. Heavy copper rings mounted above and below the pole piece reduce distortion and improve power handling, they add. The internal digital crossover has the woofer handing off to the tweeter at 2kHz and a slope of 24dB/octave (fourth order). The S5W's specified frequency response is 50Hz-22kHz, -6dB.
The build quality is superb. On the sides of the machined-aluminum enclosure are what appear to be heatsinks. The S5W is available in three finishes: Black, Wine Red, and Dark Blue. Each speaker weighs about 13 pounds with its battery installed. The tweeter is protected by a perforated metal grille; the woofer is exposed.
Operation
Hidden inside each speaker's battery compartment is a small receptacle for the 24V power supplies (included) that let you use the S5Ws with household power. But battery operation is what makes this small speaker system so interesting and so versatile.
Aurender recommends Bosch BAT622 batteries ($129 each), with a capacity of six ampere-hours (6Ah) -- enough for 50 hours of continuous play or 30 days of idle (standby) time, per Aurender. Budget another $48 for Bosch's BC660 charger. Lower-cost battery options include the BAT621, with 5Ah capacity (40 hours play, 25 days idle), and the BAT620, with 4Ah capacity (30 hours play, 20 hours idle). If you want to go cheaper still, third-party knockoffs are available.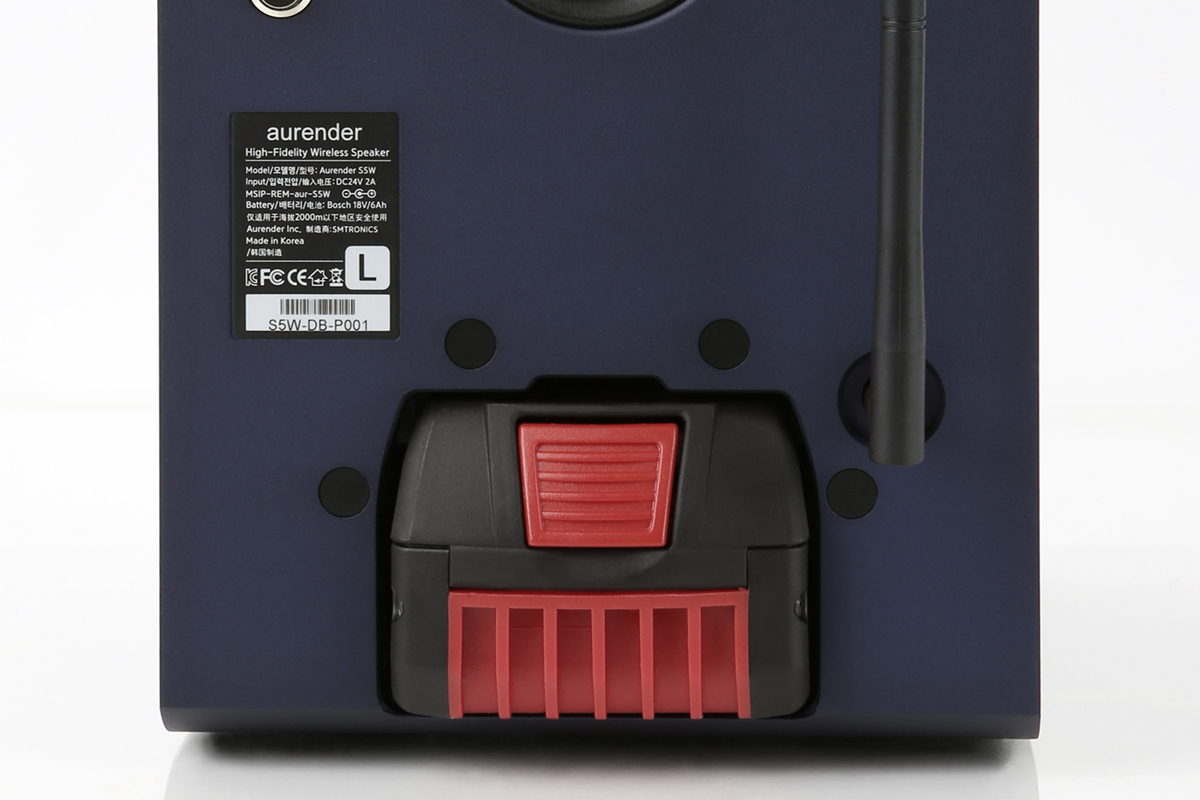 To use the S5W, insert a charged battery pack into each speaker, or connect each speaker to its power supply. Next, attach the two antennas, which enable the speakers to communicate with the matching wireless dongle. That dongle, which sends uncompressed PCM audio at 16-bit/44.1kHz to each speaker, can be plugged into a USB port on a Windows PC or Mac. You'll have to select Aurender Wireless Speaker as the output device in Windows' Sound menu or macOS's System Preferences. Alternatively, you can set the Aurender system as the output device in your music-playback software.
You can also connect the dongle to an Android smartphone or tablet using the supplied Android USB-OTG (On the Go) cable. For iPhones and iPads, you'll need Apple's USB Camera Kit cable ($33), sold separately. Android and iOS should automatically recognize the dongle and output sound to the Aurenders.
Now you're ready to listen. You can use whatever software you want: the music player on your computer or smart device, or the desktop or mobile app for your favorite streaming service. You can also use the system with one of Aurender's music servers by connecting the dongle to one of the server's USB ports. You may need to update the server's firmware, as well as Aurender's iPod Conductor app, which controls playback.
The supplied remote control lets you adjust volume, play and pause tracks, and skip forward/back when you're using an Aurender server as your source. With a PC or Mac, the remote provides play/pause and volume up/down functions.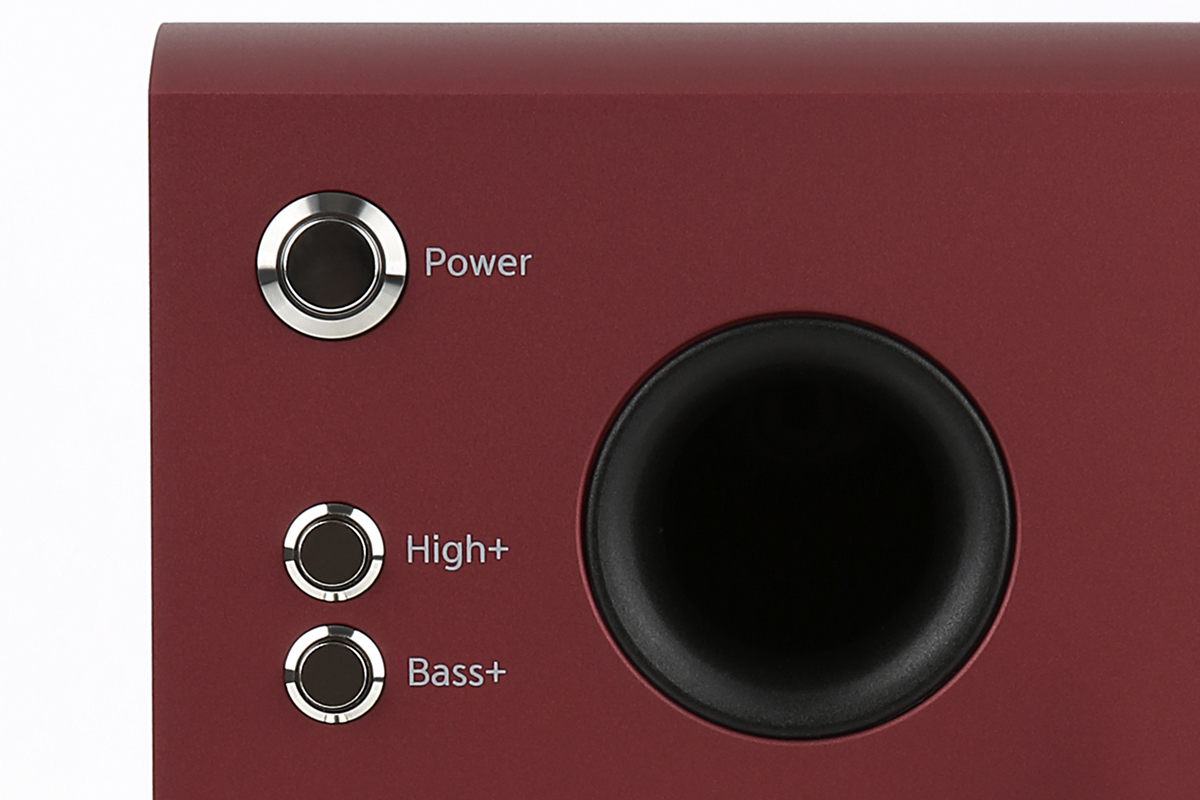 If you lose the USB dongle, the S5Ws are basically boat anchors. Replacement dongles are available from Aurender America for $30 plus S&H.
Possibilities
When I first heard about the Aurender S5W, I thought its main application would be outdoor audio. To get outdoor music in most such situations, you have to place the system near your house, close to an AC outlet. That's not ideal. The best place for outdoor speakers is almost always along the edge of your property. That makes it easier to focus sound on the listening area, and to avoid disturbing the neighbors. But few homes have AC outlets along the perimeter of the yard.
Unless you're installing a permanent landscape music system, the easiest way to direct sound inward toward the listening area is with a battery-powered system. While most battery-powered speakers are fine for background music, they're not powerful enough for partying or serious listening, and they don't deliver real stereo. A pair of S5Ws, however, delivers all of this.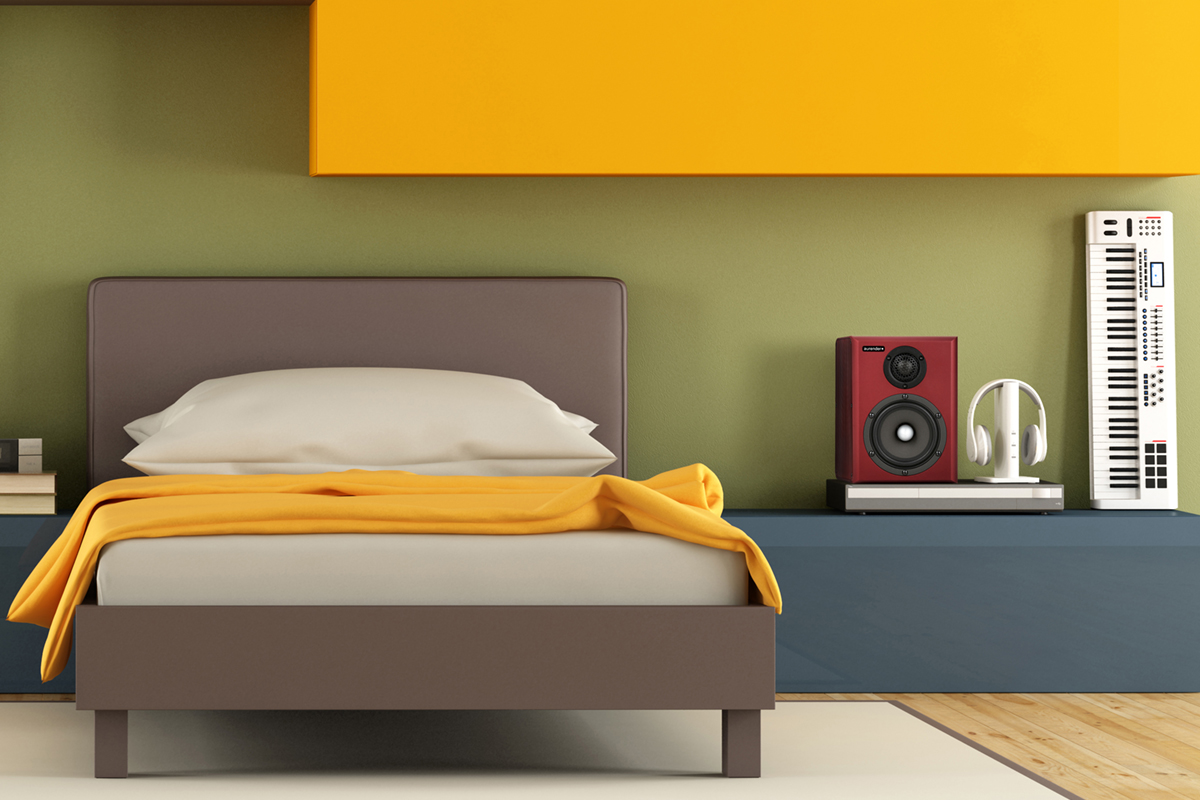 SoundStage! Network editor-in-chief Jeff Fritz clued me in to some indoor uses as well. As Jeff noted, there isn't always a convenient AC outlet in the location where you'd like to place an active speaker. This is something I should have known. Our newly renovated Toronto row house has AC outlets every 9' (current building codes in most jurisdictions require an outlet every 12'). Our previous home, built in 1911, had wiring dating back several decades, and many rooms had only one outlet. In the upstairs den, where I might have used the S5W, the only outlet is on the wall diagonally opposite the best location for stereo speakers. To use an AC-powered system, I'd have had to run extension cords along the perimeter, and pass them over a doorway or fireplace mantle.
The Aurender S5W's small size makes it useful for desktop audio, an application in which wirelessness and battery operation might seem irrelevant. But especially with a notebook PC, a system like the S5W is way more convenient than conventional computer speakers. You can plunk your notebook down on the desk, connect the dongle, power up the speakers, and enjoy really good sound.
Sitting back
For sit-back stereo listening, I tested the Aurender S5W in the medium-size living room of our vacation condo townhouse, near Lake Huron. I placed my review samples, finished in black, on white Dynaudio Stand 3s, which normally support Dynaudio Xeo 4 bookshelf speakers. The speakers were about 10" from the wall behind them. The source component was a MacBook Pro (early 2015) running Audirvana Plus 3.2.12 music-management software.
In "St. James Infirmary," from Allen Toussaint's The Bright Mississippi (16-bit/44.1kHz ALAC, Nonesuch), guitarist Marc Ribot strums a slow, muted walking line supported by David Piltsch on double bass, while Toussaint carries the melody on piano. About a minute in, Jay Bellerose begins beating a slow march time on a big bass drum, adding cymbal clashes on the upbeat. Halfway through, Ribot plays a wonderful picked guitar solo.
The Aurender system reproduced this track very nicely. The bass drum sounded bigger than it had any right to, given the size of the system, and I was impressed with the little S5Ws' dynamics, especially with piano and guitar transients. Toussaint's piano had nice sparkle, though loud notes in the upper octaves were a bit edgy.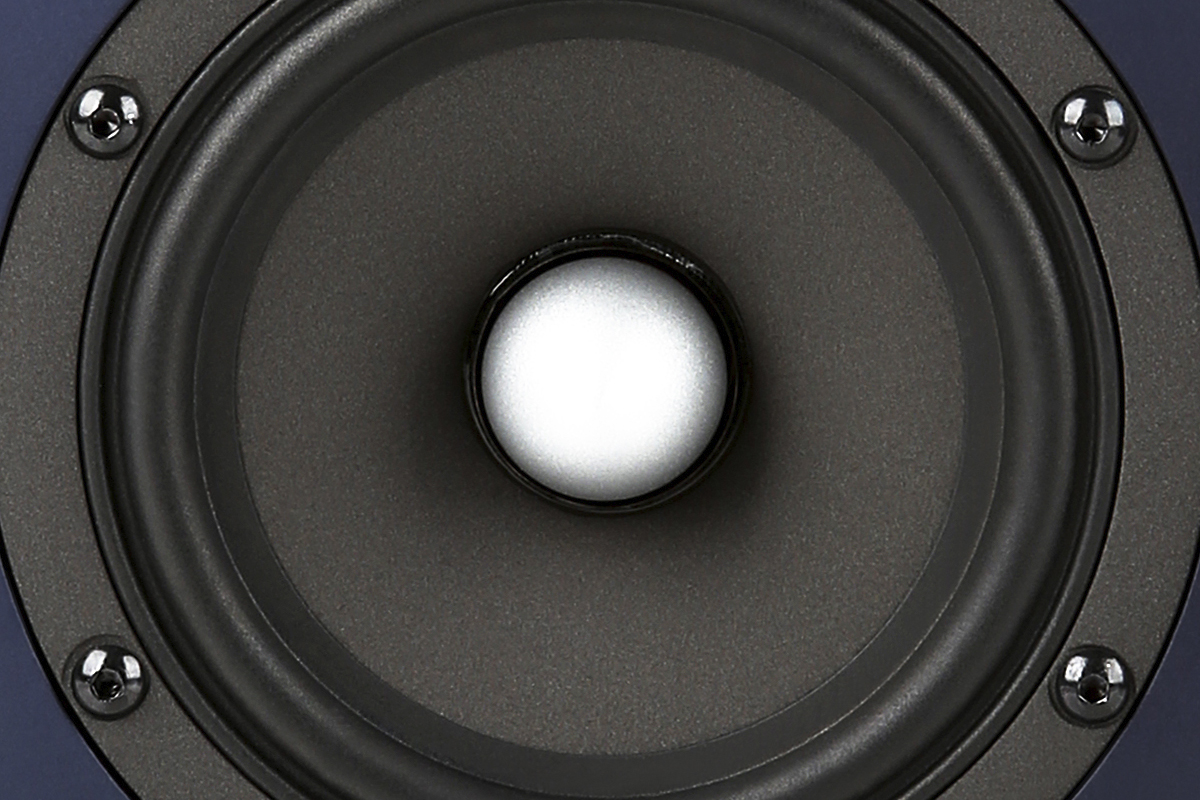 One of my favorite albums of 2018 is All Ashore, by the Punch Brothers, a contemporary bluegrass quintet led by singer and mandolinist Chris Thile (24/96 FLAC, Nonesuch/Qobuz). "The Angel of Doubt" is like a little morality play, starting with a dialog between the singer's persona and a disturbed ex-lover, and concluding with an extended spoken taunt by the antagonist's inner demon, voiced by Thile.
Thile's mandolin and Noam Pilkeny's banjo had great definition, and Thile's lead vocal, and the harmonizing by other band members, were commendably natural. However, Chris Eldridge's muted strumming on the lowest strings of his guitar sounded a bit thuddy, as did Paul Kowert's hard-driven double-bass accompaniment to the spoken conclusion.
The S5Ws had no trouble producing moderate sound-pressure levels in this space, which opens up into an adjoining dining area. But when I tried to make this system play really loud, the sound became a little hard.
Comparison
Except for its lack of battery operation, my Dynaudio Xeo 4 system is similar to the Aurender S5W. Both have soft-dome tweeters, but the Xeo 4 has a larger woofer: 5.5" as opposed to the Aurender's 4.5". As with the S5W, each driver in the Xeo 4 has its own 50W amplifier. The Xeo 4 can receive digital audio at 16/44.1 or 16/48 resolution from the matching Xeo Hub wireless transmitter.
The Xeo 4 ($2100/pair) has been discontinued. Its replacement, the Xeo 20, has the same driver complement, but enhanced connectivity and more amplifier power (65W per driver). It sells for $2200/pair; add $349 for the Xeo Hub or $500 for the Xeo Connect (which adds hi-rez support and built-in Wi-Fi), and you have a total price of $2549 (with Hub) or $2700 (with Connect).
With the Punch Brothers track, mids were smoother, highs less edgy, and bass (not the strong suit of either speaker) better defined through the Dynaudio system. With "St. James Infirmary," the piano sound was more natural, and the acoustic guitar had better definition but less of an edgy quality. The bass drum didn't sound as big, but was better controlled.
The imaging of both tracks was better through the Xeos. I had a stronger feeling of musicians playing in a single continuous space. Through the Aurenders, musicians seemed more like individual cutouts between the speakers.
Up close
For nearfield listening, I placed the S5Ws on IsoAcoustics ISO-L8R155 desktop stands, which are almost the perfect size for these speakers, and installed them on the top surface of the secretary desk in my home office. The music source was the same as that used for the living-room test: a MacBook Pro running Audirvana Plus 3.2.12.
The back of each speaker was only a couple of inches from the wall behind it -- definitely closer than ideal for a rear-ported speaker, but typical of this application.
I really like solo-piano recordings for assessing a speaker's dynamics and freedom from troublesome resonances. Two-piano recordings pose an even greater challenge, so I cued up a wonderful arrangement of the Beatles' "The Fool on the Hill," from jazz pianists Chick Corea and Hiromi's Duet (16/44.1 ALAC, Blue Note). It begins with Corea (I think) playing muted lower chords in percussive fashion in the left channel; in the right channel, the other pianist responds with upper-octave chords, setting up the melody. As the performance builds, one player carries the melody in the lower octaves, the other (Hiromi?) responding in the right channel. As the two switch roles, back and forth, the playing becomes freer and more inventive.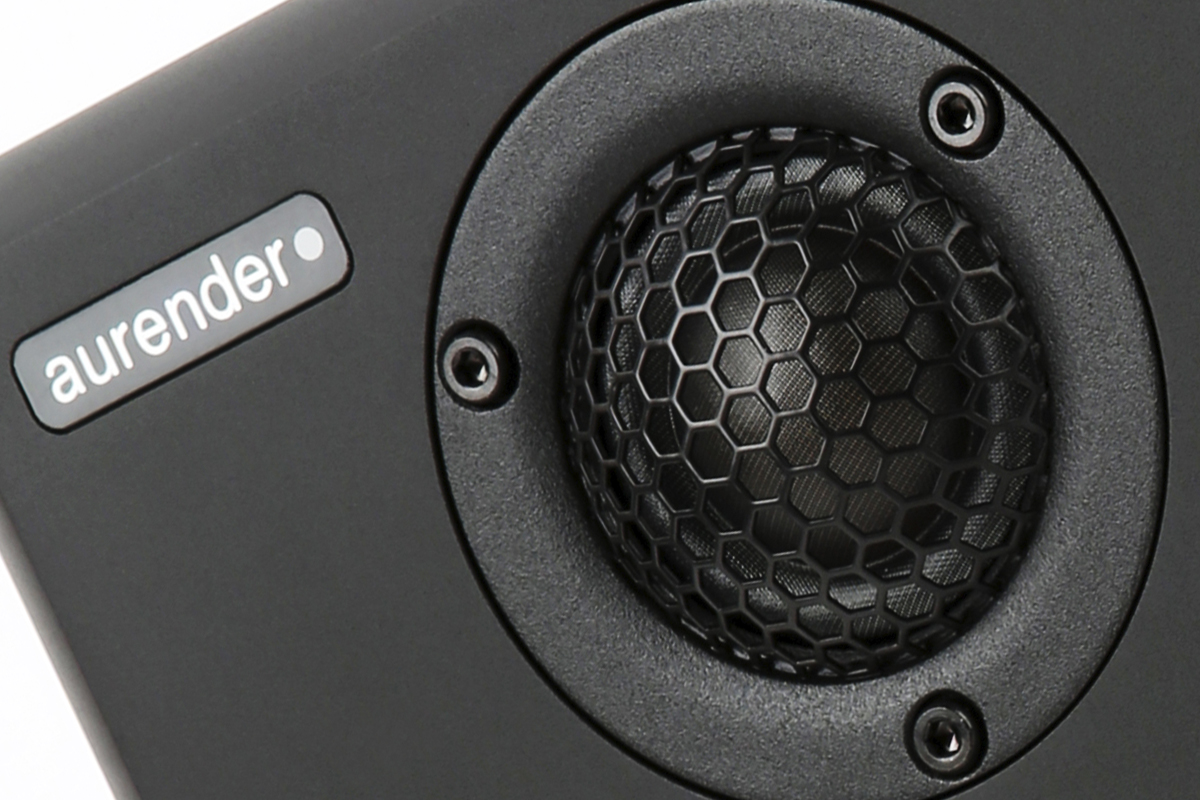 This little system filled my office with big, bold, dynamic sound, and beautifully captured the musicians' interplay. While the percussive effects at the beginning of "The Fool on the Hill" sounded solid and well controlled, chords in the lower octaves were a little thuddy and one-note-ish. Moving the speakers father out on my desk surface reduced but did not eliminate the thudding, and piano tone in the middle and upper octaves was a little clangy.
The Italian Job, a lovely collection of baroque music performed by the chamber ensemble La Serenissima, directed by violinist Adrian Chandler (24/96 FLAC, Avie/Qobuz), opens with a joyous sinfonia by Antonio Caldara (1670-1736). This baroque bon-bon is scored for pairs of oboes, bassoons, and trumpets, plus solo violin, strings, basso continuo, and timpani. The varied instrumentation makes this piece a good test for neutrality and transparency.
Played through the Aurender system, the antique strings had a nice, resiny bite but sounded a little wiry. Brass instruments also had good bite, without sounding edgy. Instruments were arrayed nicely in a stereo image that was wide but not deep. From the speakers' default position, atop my secretary desk near the wall, low timpani notes sounded thuddy. Again, moving the speakers down to the work surface reduced this effect.
Comparison 2
My wife has a conventional computer speaker system: two PSB Alpha PS1 powered speakers mated to a PSB SubSeries 100 subwoofer. For this review, I moved the PSB system up to my second-floor office, then connected the PS1 to the audio output of my MacBook Pro and the SubSeries 100 to the PS1's sub output, and set the crossover frequency to 100Hz.
The Alpha PS1 was a SoundStage! Network Product of the Year in 2013. Each rear-ported enclosure houses a 3.5" midrange-woofer with metalized propylene cone and a 0.75" aluminum-dome tweeter, all powered by a single 20Wpc amp housed in the left speaker. The SubSeries 100 has a 5.25" woofer powered by a class-D amp specified to output a continuous 50W. PSB now sells the Alpha PS1s and SubSeries 100 as a bundled system, the Alpha 1-100 ($549).
Through the PSB system, piano tones were more neutral, less clangy, in Corea and Hiromi's rendition of "Fool on the Hill." In the Caldara sinfonia, string tone was a little smoother through the PSB system, but the Aurenders did a better job of separating orchestral strands. With both tracks, the sound was more compressed and less dynamic through the PSBs. I preferred the Aurenders -- which, given the big difference in price, isn't a surprise.
Outside
To assess the S5W's ability to play music outdoors, I placed the speakers, together with the IsoAcoustics stands, on two wooden chairs retrieved from our garage. Chairs, speakers, and stands were arrayed to either side of the chimenea on the back-yard deck of our Toronto home. It was an ideal setup: the speakers were about 20" from the wall of our garage, firing inward toward the deck.
On a lovely fall evening in late September, my sister-in-law and her husband, Paul, joined us for a barbeque. After dinner, we gathered around a blazing fire in the chimenea for roasted marshmallows and music. I passed Paul the S5W dongle connected to an Apple USB adapter; he plugged it into his iPhone and cued up a Creedence Clearwater Revival album. There was no muss, no fuss, no pairing -- this was literally plug-and-play. When it was my turn, I plugged the dongle and cable into my iPhone, then streamed Chris Thile and Brad Mehldau's performance of "Scarlet Town" from Tidal; Paul downloaded the album, Chris Thile & Brad Mehldau (Nonesuch), the next day.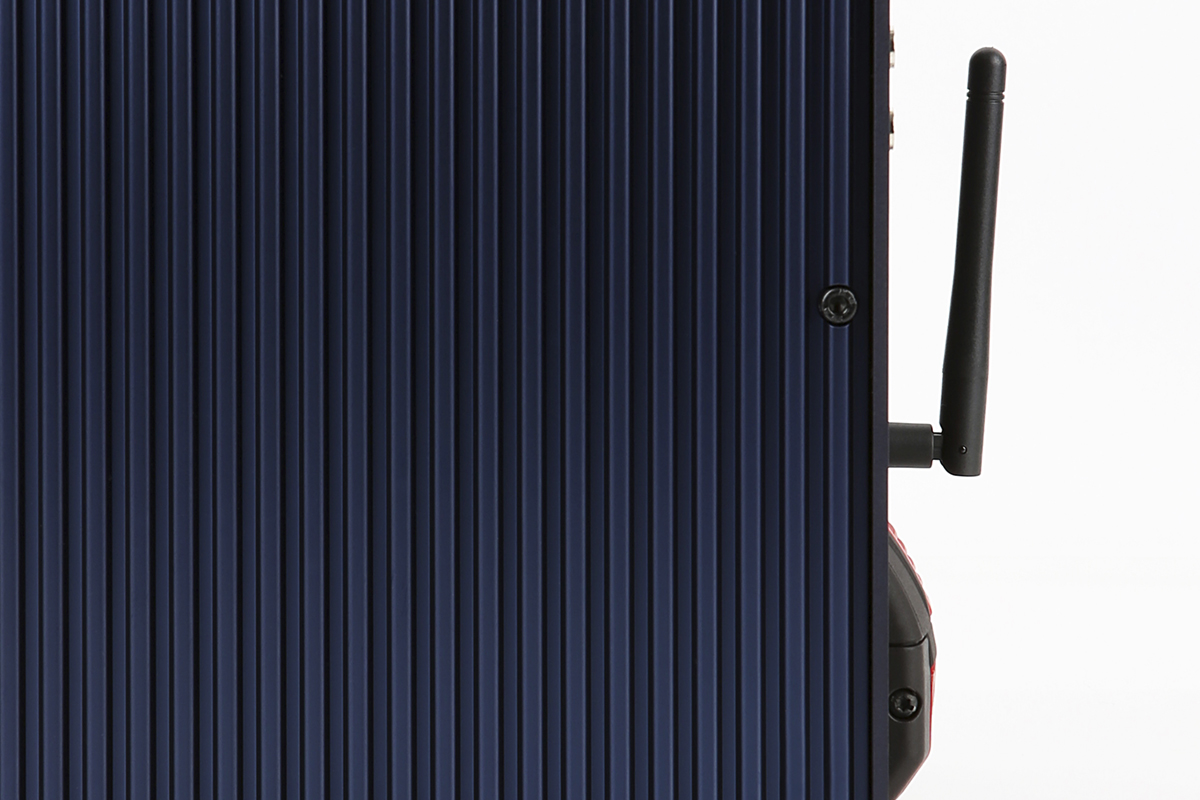 The following weekend, I went outside to do some focused listening on my own. I decided to start with something really fun: a rendition of Nat Simon's "Poinciana" by Keith Jarrett's Standards Trio, from their Whisper Not (16/44.1 ALAC, ECM). This is a delicious track, and the Aurender system did it justice. Jarrett's piano tone had lovely sparkle. The sound of Jack DeJohnette's tom-tom was gorgeously tactile. Gary Peacock's double bass had good snap in the upper strings, but sounded faint and muddy in the lower strings.
Another infectious track is Cécile McLorin Salvant's rollicking performance of "John Henry," from her Woman Child (16/44.1 ALAC, Mack Avenue). The snappy rhythm section and instrumental solos have lots of sharp transients, with fundamental notes that cover most of the audioband. Aaron Diehl's piano and James Chirillo's banjo sounded wonderful through this system, and Salvant's sassy vocal sounded very natural. Most of Rodney Whitaker's hard-driving bass had good snap but sounded a bit weak. Herlin Riley's kick drum was also weak, and a bit thuddy.
Some perspective is needed here. Outdoors, there are no room boundaries to create a sense of envelopment and reinforce the low frequencies. Even so, this little system could fill a small back yard with sound. If you want casual background music, it will oblige. The S5W could also party heartily enough to piss off the neighbors if you're so inclined -- but if you want to sit back and enjoy music in real stereo as you sip something cool, you can do that too.
Comparison 3
I'd have liked to compare the S5W with a battery-powered Bluetooth or Wi-Fi speaker; but had none on hand. The closest I could come was NAD's excellent Viso 1 iPod speaker dock, which has stereo 2.75" full-range drivers and a shared 6" woofer. The iPod version of the Viso 1 is no longer available, nor are the AirPlay and Bluetooth versions that succeeded it.
The Viso 1 operates only on AC, so I strung a power cord from my garage. Compared to the Aurender system, the Viso 1 sounded more neutral through the midband. On the Jarrett and Salvant tracks, double bass sounded nice and snappy, and not thuddy.
A one-piece system like this can't deliver real stereo, and it can't fill a backyard with sound -- it's not surprising that the NAD speaker dock sounded nowhere near as dynamic as the S5Ws. If you want really nice background music when entertaining outdoors, a product like the Viso 1 will definitely do the job -- but it can't party like the S5Ws.
Conclusion
I've outlined three scenarios for using Aurender's S5W, but I can imagine many others. Condo dwellers could use the S5W in their units, then bring it to the party room when hosting large gatherings. Cottage owners could have an S5W system in their main residence, then pack it into the car, to enjoy good sound during a holiday. Boat owners could use an S5W system below deck during a nautical party. With no cables or complex pairing procedures, all of these possibilities become practical.
Not only is this little system versatile, it's dead easy to set up and use. But this simplicity comes at the cost of reduced connectivity. Lacking input jacks, there's no way to connect conventional CE components.
As for its sound quality, and notwithstanding the criticisms made above, I like the S5W a lot. Any time I took off my critic's hat, I really enjoyed what I was hearing. And I loved the fact that I could enjoy real stereo music almost anywhere I wanted it.
In short, Aurender's S5W is a beautifully made active wireless speaker that offers a unique mix of simplicity and versatility. It's not for everyone, but for some it will be just the ticket. By now, you should know if it's just the ticket for you.
. . . Gordon Brockhouse
This email address is being protected from spambots. You need JavaScript enabled to view it.
Associated Equipment
Speakers -- Dynaudio Xeo 4 with Stand 3 and Xeo Hub; PSB Alpha PS1 desktop speakers, SubSeries 100 subwoofer; NAD Viso 1 iPod speaker
Sources -- Apple MacBook Pro running Audirvana Plus 3.2.12, Apple iPhone SE smartphone with Apple Camera Kit USB adapter, LG G7 One smartphone
Cables -- AudioQuest Cinnamon 2m USB-A-to-Mini cable
Accessories -- IsoAcoustics ISO-L8R155 desktop speaker stands
Aurender S5W Battery-Powered Wireless Active Loudspeakers
Price: $3000 USD per pair.
Warranty: Two years parts and labor.
Aurender America Inc.
17911 Sky Park Circle, Suite H
Irvine, CA 92614
Phone: (888) 367-0840
E-mail: This email address is being protected from spambots. You need JavaScript enabled to view it.
Website: www.aurender.com