The Canadian electronics manufacturer New Acoustic Dimension, since renamed NAD Electronics, was founded in 1972, and released its famous 3020 integrated amplifier in 1978. For many in the late 1970s and 1980s, the 3020 was their first serious audio purchase. Five years ago, to mark its 40th anniversary, NAD released the first version of the D 3020 integrated amplifier ($499 USD), to positive reviews. Last January, at the 2018 Consumer Electronics Show, they announced the launch of the D 3020 V2 ($399). Along with a $100 reduction in price from the original D 3020, NAD has added a full-range preamp-only output and an RIAA-equalized moving-magnet phono stage, while dropping one of the optical inputs and the USB input. The V2 shares the original D 3020's compact case -- they're identically sized -- and is energy efficient. While both versions produce 30Wpc, the V2 offers slight improvements in its specified signal/noise ratio and channel separation.
The sample of D 3020 V2 I was sent was attractively packaged. An outer paperboard sheath depicts a line drawing of the component and enumerates its basic features, and bears a sticker: "Now Plays Vinyl." Inside this was a black cardboard box that presented the amp and accessories as Apple does its product (and as most everyone does now). Inside a black felt bag was the D 3020 V2 itself. Included accessories comprise a minimalist remote-control handset, a detachable IEC power cord, an adapter for using the subwoofer output (mini-jack to monaural phono plug), and a warranty card. NAD no longer provides printed owner's manuals -- they're available online -- but does include a quick-start poster that provides all necessary connection information.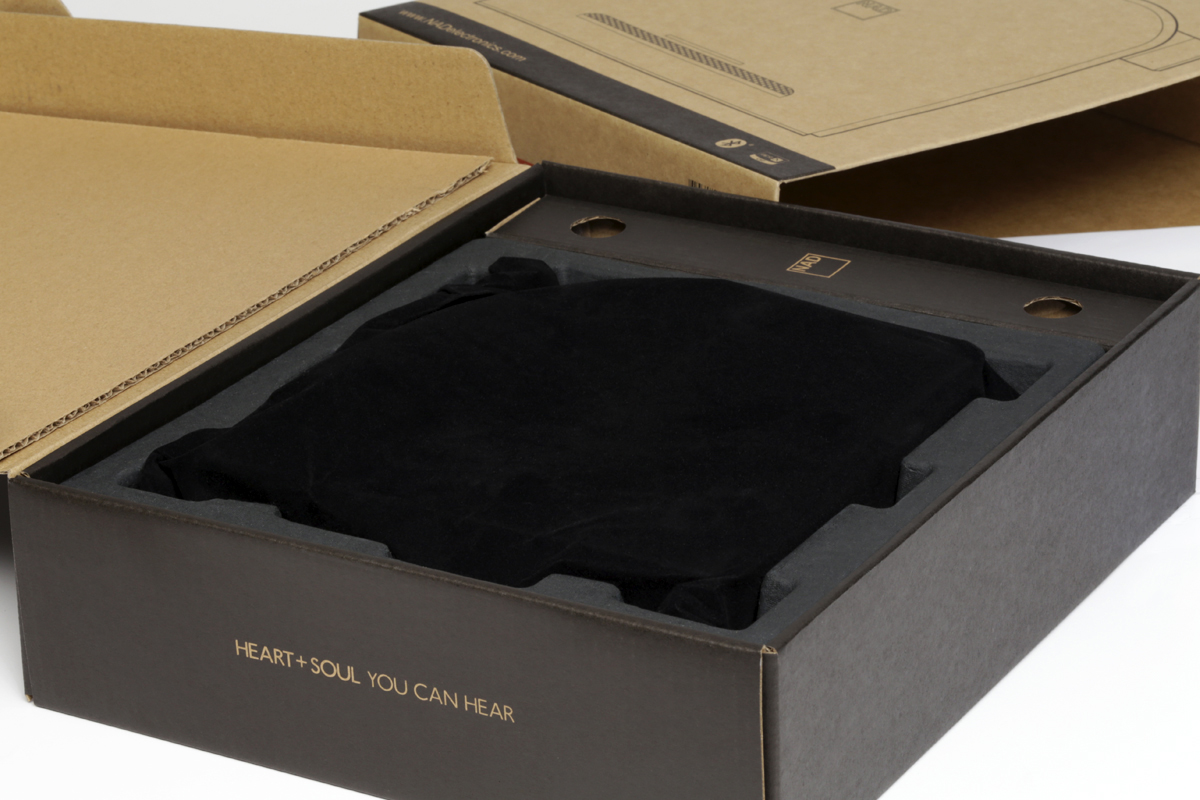 The D 3020 V2 itself sits upright, like a handsome book bound in black -- it's 7.3"H x 2.3"W x 8.6"D, weighs 3 pounds, and its rounded top front edge makes it look like a capital D when viewed from the side. Though the D 3020 V2 runs much cooler than traditional amplifier designs, its side vents mean it probably shouldn't be squeezed between other components . . . or books.
The hard controls are minimal: two buttons on top for Power and Source, a large volume knob high on the narrow front panel, a 1/8" headphone jack, and source and volume indicators. Recessed is a Bass EQ button -- press this for a 7dB boost in bass response. NAD explains the Bass EQ approach: "Because we expect this amplifier will often be used with smaller speakers that have limited bass extension, we have brought back NAD's Bass EQ feature, a high-Q filter centered on 80Hz with about 7dB of boost. This gives just the right amount of 'heft' to small bookshelf speakers without adding chesty coloration to male voice. It also attenuates infrasonic response to avoid overdriving small woofers."
Connectivity is a combination of old and new. Perhaps owing to the vinyl revival, NAD has added, "by popular request," a phono input to complement the line-level analog, optical, and coaxial inputs; the digital inputs support resolutions up to 24-bit/192kHz. The Bluetooth A2DP (SBC) and Qualcomm aptX wireless codecs are supported. The D 3020 V2 can be used as an integrated amplifier driving a pair of passive speakers while also feeding a powered subwoofer -- or as a preamplifier only, via its preamp output. There's also a 12V trigger for integrators.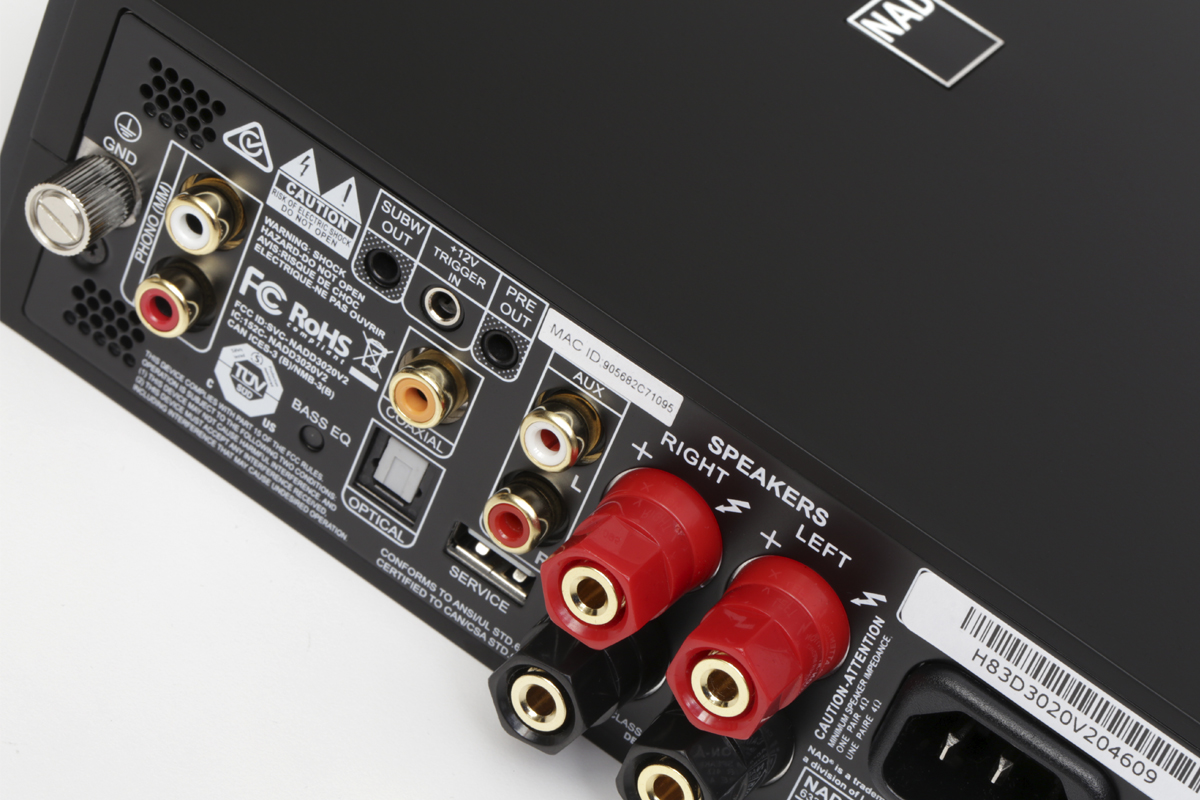 Features
The D 3020 V2 includes NAD's HybridDigital and PowerDrive technologies. In 2009, NAD released the well-received Masters Series M2 amplifier, which they described as "a DAC that amplifies." Several other NAD models adopted this DirectDigital technology, which uses a fully digital signal path from input to output, and digitizes signals sent to the analog inputs. With HybridDigital, NAD incorporated technology from Dutch firm Hypex Electronics, which took a different approach as NAD describes in their white paper "HybridDigital": "Unlike DirectDigital, which starts with a digital signal and uses active digital processing to perform error correction, the UcD [Universal class D] concept is a switching analogue amplifier with all parameters highly optimized to allow self-regulation." The design allows for reduced distortion across the audioband; analog signals remain analog and digital signals remain digital. Volume is digitally controlled but remains within the analog domain. NAD eschews capacitors in the forward signal path, and the D 3020 V2 is DC-coupled from input to output. NAD's Asymmetrical PowerDrive promises to optimize available power by more efficient distribution, controlling the power envelope. With a well-regulated power supply, the resulting sound should be detailed, neutral, and fatigue free at high levels with low power consumption.
When the Power button is pressed, the D 3020 V2 takes about ten seconds to awaken from Standby, which it does with a subtle sound sent through the speakers; it defaults to the source in use when it was last turned off. The NAD can be configured to go back to sleep in the absence of any controls being touched or any input signal for 30 minutes. Unfortunately, a resumption of signal does not wake it up. There is no direct selection of sources, on either the top panel or the remote -- you cycle through all sources in order. But when I noticed that the D 3020 V2's remote was also switching on my NAD C 356BEE integrated amp, I tried the C 356BEE's remote on the D 3020 V2. That worked -- with the C 356BEE's remote I was able to directly select sources. This means that direct source selection could be possible with a Logitech Harmony universal remote or similar solution. It's a good compromise: deliver a simple, minimalist remote, but leave control features enabled for those who need or want them. In addition, a common complaint in reviews of the original D 3020's remote has been addressed: the buttons and the case are now different colors. I also liked that the D 3020 V2's volume control works in much finer increments of adjustment than does the C 356BEE's remote.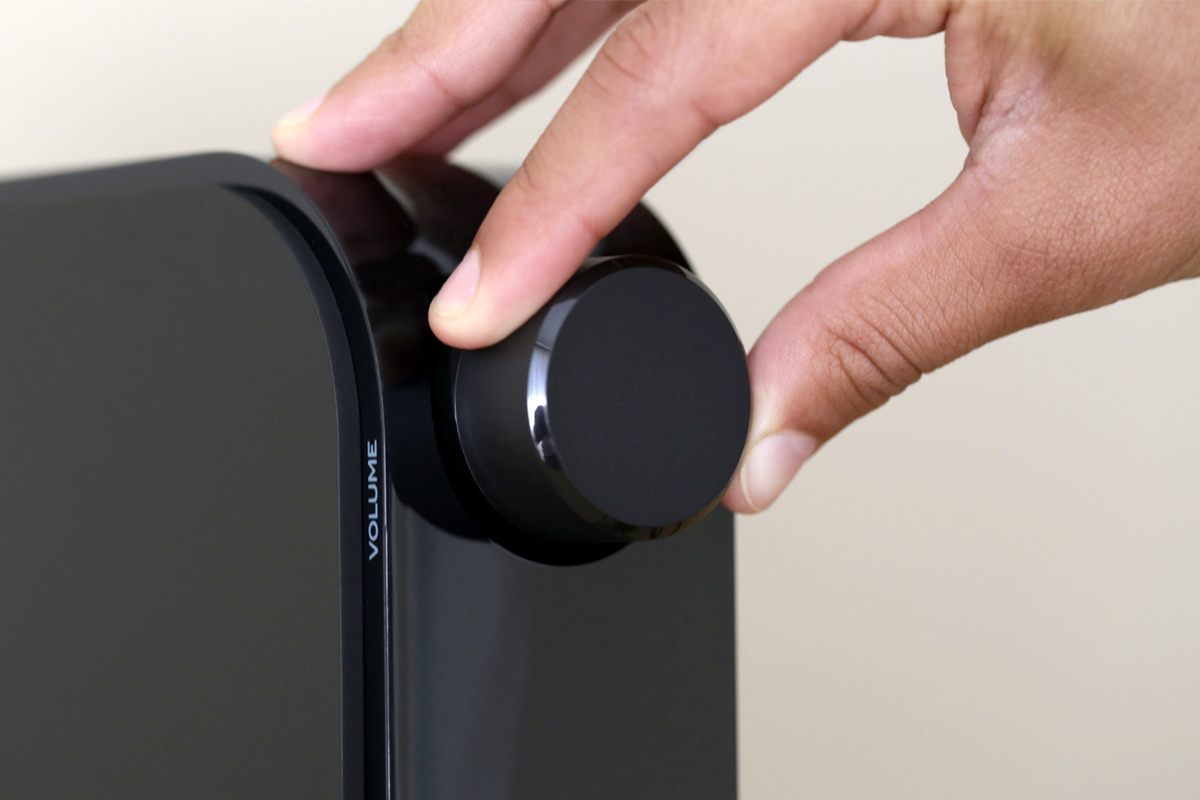 The D 3020 V2's built-in DAC is Cirrus Logic's CS42528 chip. NAD explains this choice: "This DAC is widely used in high quality AVRs because it is eight channels in one package. We implement this part as a two-channel DAC by implementing a dual differential configuration which uses the extra channels to reduce noise and expand linearity which improves audible performance."
The D 3020 V2 lacks a few features found in similar products, though perhaps not any costing $399: Ethernet, Wi-Fi, DLNA, and, most surprisingly, USB. Looking at the rear panel, it may be there was just a lack of physical space to mount the connectors. I asked NAD to explain this decision: "A couple of reasons. Vinyl playback is a very desirable feature as Millennials discover the LP. A good RIAA input costs money for the precision and low-noise parts required, so we would have to raise the price to include the USB circuitry. In addition, the computer as a music source is in decline with tablets and phones replacing laptops (desktops are long gone) and with the availability of affordable high quality streamers taking their place. Last month at the High End show in Munich we wanted to demonstrate the USB input on a new product and could not locally source the correct cable (USB Type A to USB Type B). The young staff at the venue we were using had never seen such a cable!" Given changes in the market over the last five years, this is an understandable response.
By using Bluetooth rather than Wi-Fi, power consumption, and thus heat, are reduced, at the cost of reduced bandwidth. However, the promise of the efficient aptX codec is the delivery of high-quality audio via smaller bandwidth.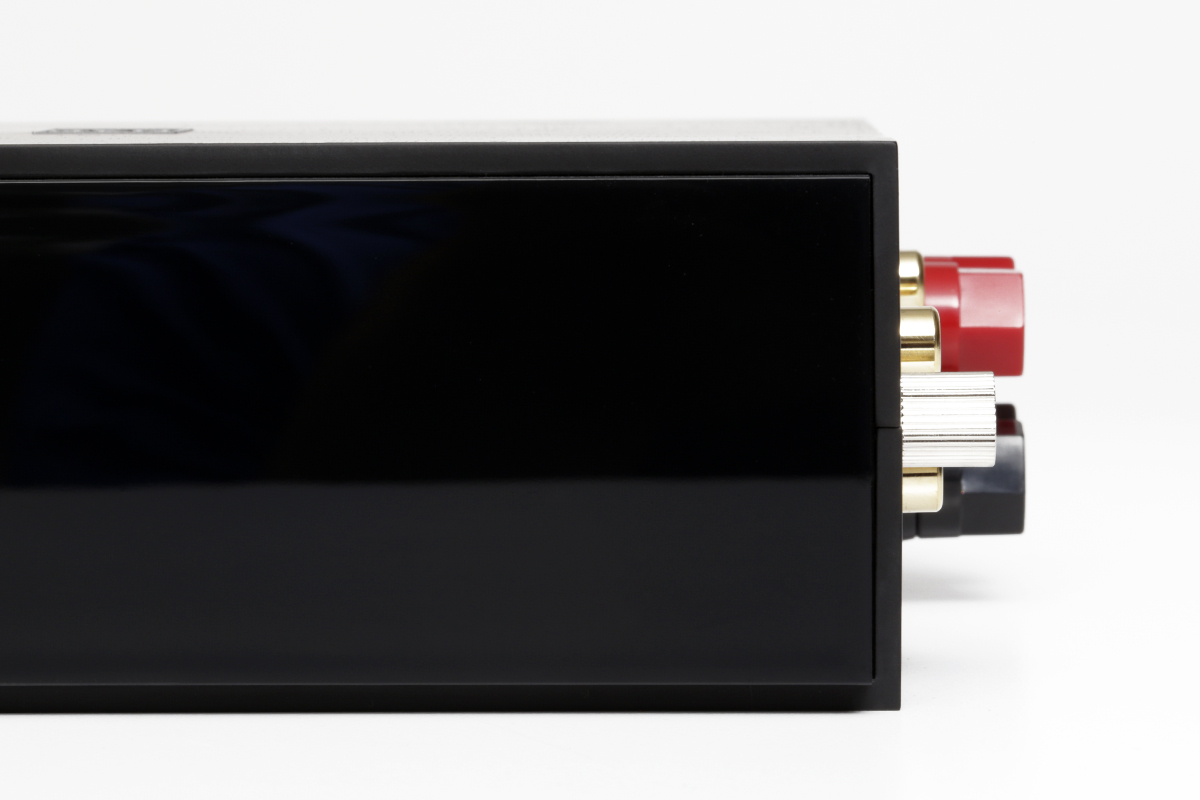 I biwired the D 3020 V2 to Sonus Faber Principia 3 minimonitor speakers. My sources for most of my listening were a Music Hall MMF CD-25 CD player and Goldring GR1 turntable. The D 3020 V2's lack of a USB input meant that I was unable to use my usual high-resolution music streamer.
Sound
I listened to CDs over an optical connection, using the D 3020 V2's built-in DAC. Early-1990s CDs, such as Santana's Sacred Fire: Live in South America (CD, Polydor 314 521 082-2), can sound a bit harsh through the Burr-Brown 1732 DAC built into my older Music Hall CD player. Yet the D 3020 V2 was able to extract a nonfatiguing warmth from Santana's guitar in "Black Magic Woman/Gypsy Queen." Through minimonitors, I found the bass response plenty adequate, given sufficient volume level, but NAD's Bass EQ definitely gave rock more kick, with no ill effects. However, Bass EQ does in general reduce detail and shrink dynamic range -- I wouldn't necessarily use it with well-recorded classical music. A better option was to use the D 3020 V2's 150Hz high-pass-filtered subwoofer output with a powered subwoofer. Santana's rambunctious "Guajira" had a wider soundstage than I'd expected, the drum kit at far right. As the band got its groove on, the D 3020 V2 had no trouble keeping up.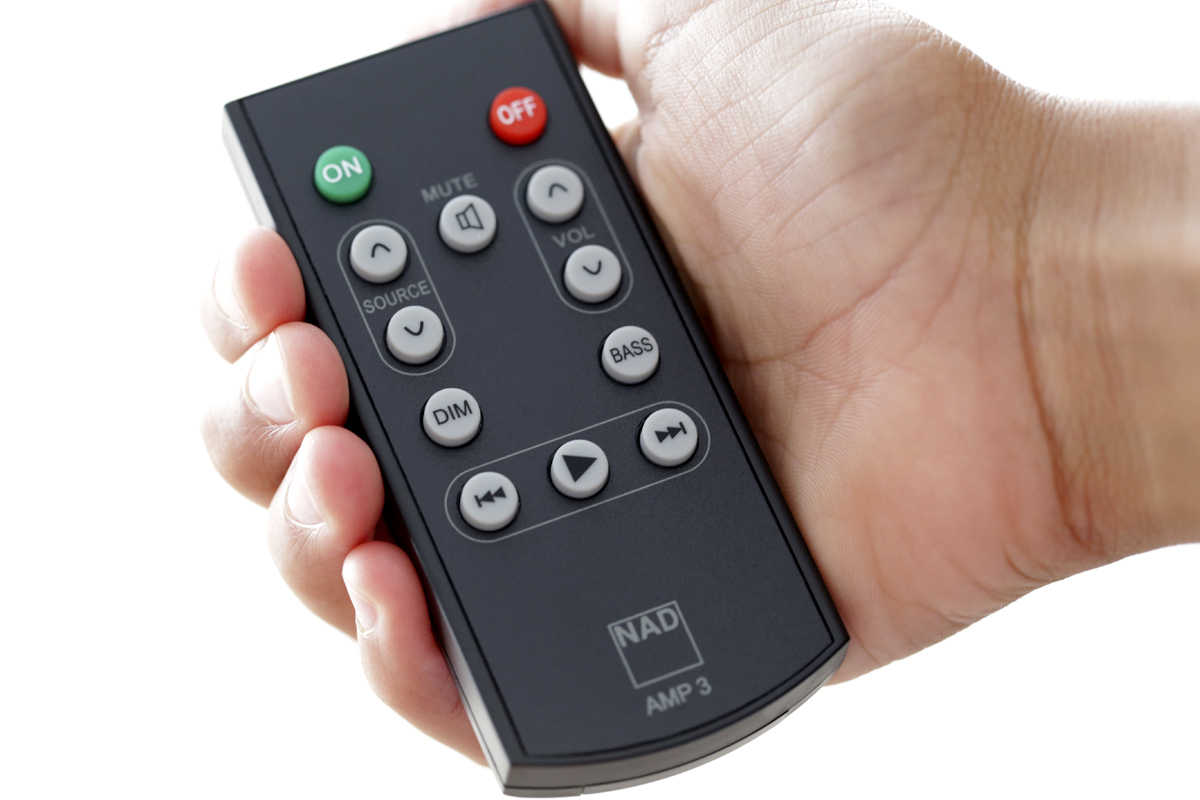 The D 3020 V2 excelled with recordings of small classical ensembles, providing a warm, rich sound when suitable -- as with the string quartets of Shostakovich, performed by the St. Petersburg Quartet (CD, Hyperion CDA67154). Given the size of my listening room and the distance between the speakers, the size of the string quartet's image was about right. The fourth movement includes a "walking" pizzicato line in the cello and wide dynamic range. Decays were handled well, tapering off evenly. I was impressed with the D 3020 V2's rapid reflexes and its get-out-of-the-way approach to tonality. It was clean and crisp; with four acoustic instruments, there was nowhere to hide.
I then tried some works for full orchestra, including Janácek's tone poem Taras Bulba, performed by Leipzig Gewandhaus Orchestra led by Kurt Masur (CD, Philips 432 983-2). The orchestral bells in the first movement had clear, ringing decays, and the syncopated trombone passages were exciting, but there was a hint of congestion during the fluid interplay of bells and strings. The gallop of The Death of Ostap was a bit distant, and the room-filling brass swells that end the piece were less than crystalline. In Slava, from Janácek's Glagolithic Mass (on the same disc), NAD's Bass EQ gave more of a kick, and filled in the low end of the choral passages sung by the Prague Radio Chorus, the sound of which was otherwise a bit thin. When, using an SPL meter, I matched the levels of the D 3020 V2 and my NAD C 356BEE integrated-DAC, the D 3020 V2's volume dial had to be set far higher to produce the same SPL. Its power capabilities aside, the C 356BEE, at twice the D 3020 V2's price, maintained better control throughout the audioband -- percussion strokes were tighter, decays more elongated. On the whole, the D 3020 V2 did not enunciate these as well. Where swells in Taras Bulba were congested through the D 3020 V2, they were smooth and clear through the C 356BEE.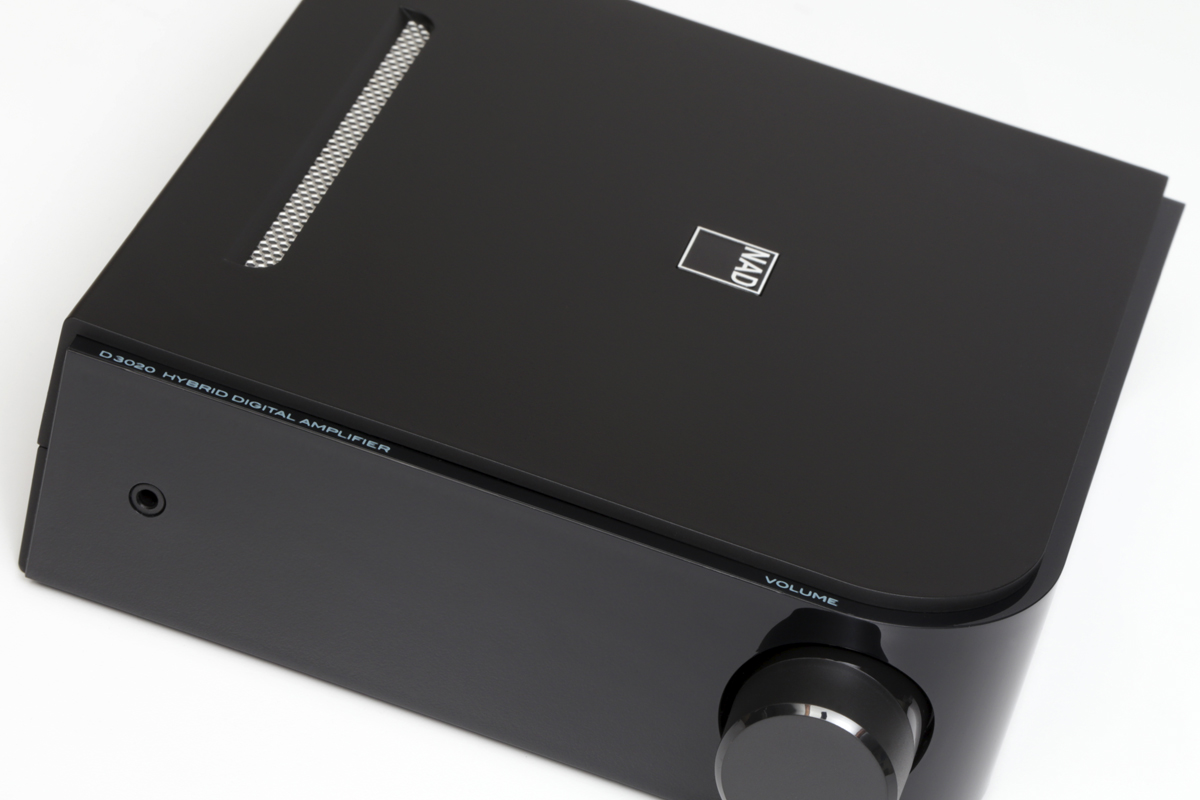 To isolate the D 3020 V2's DAC and preamp from its power amp for comparisons, I connected the D 3020 V2's pre-out to the C 356BEE's main input. The first 3.5mm-to-RCA cable I tried added substantial noise -- not apparent when using in a phone headphone to line-in configuration -- so I used a different one. As I suspected, the D 3020 V2's DAC is a good one: crystal clear, with transparent, nonfatiguing imaging. With the C 356BEE providing the power and the D 3020 V2 the DAC, there was greater detail of instrumental tonality. The combination was better than either component on its own.
The D 3020 V2 performed well with high-resolution recordings. Through the D 3020 V2's DAC and a network player in for review, Kenny Barron's piano had a light, delicate touch in "Afternoon in Paris," from his and vibraphonist Mark Sherman's Interplay (24-bit/192kHz AIFF, Chesky). The vibraphone was mixed hard right, completing a very wide soundstage. The pair were tightly cohesive as they tossed the melody of "Venture Within" back and forth. Overall, the sound was pleasant and nonfatiguing, with rounded and neatly clipped bell tones.
I was impressed with the performance of the D 3020 V2's phono stage. Compared with an external Cambridge Audio 540P phono preamplifier ($125, discontinued), the NAD provided a broader, more detailed soundstage. The castanets in Debussy's Ibéria, with Pierre Dervaux conducting the Concerts Colonne Orchestra Paris (LP, Sine Qua Non SQN-7775), were more distinct and identifiably crisp. String passages were warmer, the violas cutting through and centered on the stage. Ibéria's opening was light and joyous through the NAD -- the Cambridge 540P veiled the sound, rolling off too much of the highs, and narrowing the soundstage until the instruments were crowded together. Through the NAD, LPs were generally more engaging.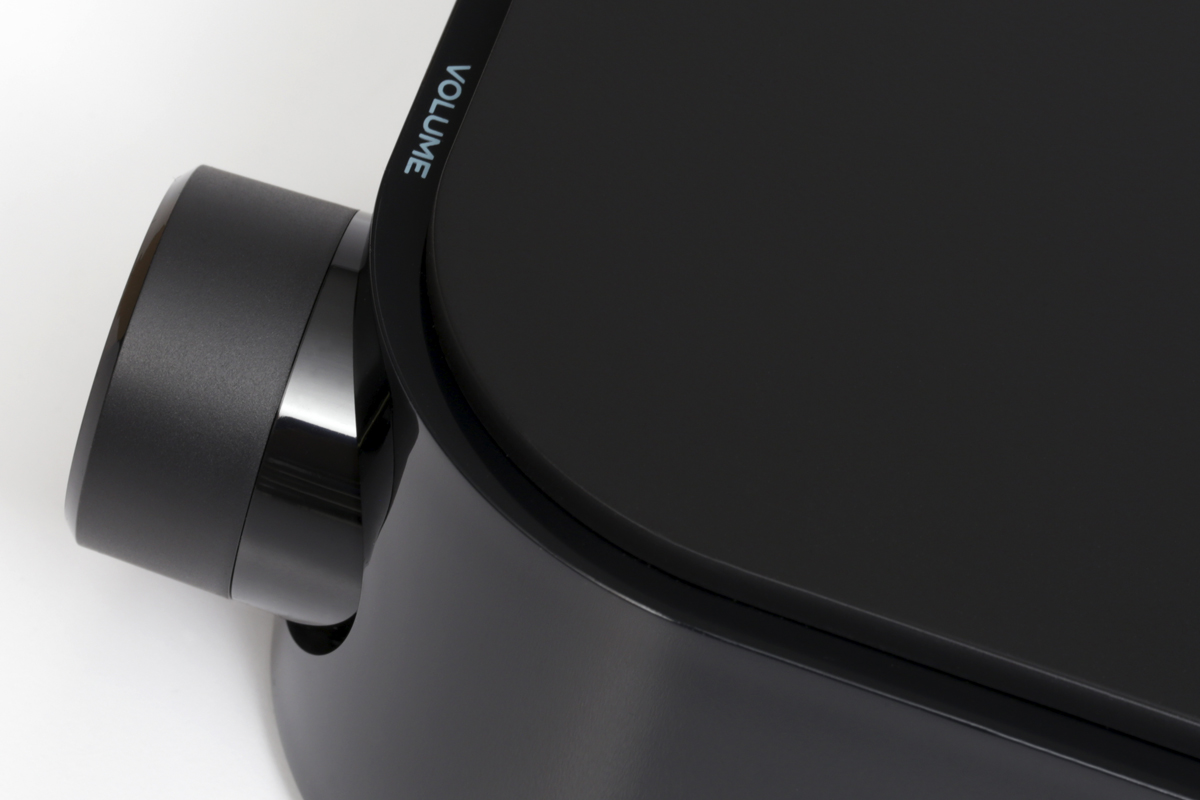 While they support the Bluetooth A2DP profile, none of my mobile devices supports aptX, though plenty on the market do. With the banishment of headphone jacks from many high-end smartphones, one can expect aptX and its successor, aptX HD, to become more common. (The D 3020 V2 doesn't include aptX HD, but more expensive NAD models do.) I connected a USB Bluetooth radio dongle with aptX to my Windows PC. This was my first experience with aptX, and I found it quite an improvement in terms of clarity and dynamics over the standard SBC codec used with A2DP -- admittedly, a low bar. While both technologies use lossy compression, I find A2DP fine for podcasts but unsuitable for music -- aptX is quite acceptable for both, and latency was also reduced. Still, for serious listening, you're better off connecting a wire, if possible. The D 3020 V2's support of aptX and the more common A2DP SBC are a welcome and, generally, vendor-agnostic convenience feature. Still, it's NAD's C 338 that provides my preferred wireless, mobile-friendly solution: Chromecast.
The D 3020 V2's 1/8" headphone jack mutes the speaker outputs when in use. Through Grado SR80 headphones I heard substantial stereo separation in "Washington Square Park," from Anat Cohen's Notes from the Village (CD, Anzic ANZ-1302). Cohen's soprano saxophone cut through her small ensemble as the melodic line was passed around. It was delicate and energetic.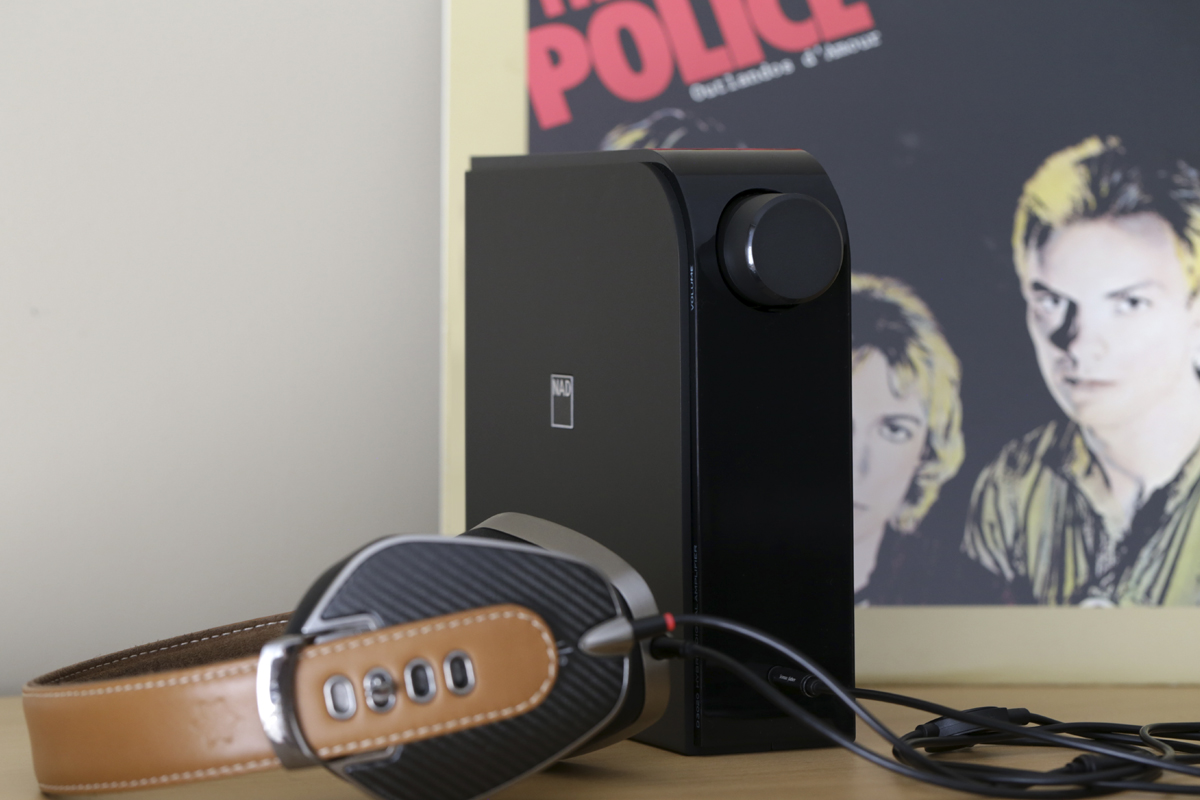 But the Grados are easy to drive; I swapped them out for the more challenging and better-sounding HiFiMan HE-500s. While I had to turn up the volume a lot, the D 3020 V2 drove the HiFiMans without problem, extracting greater detail from the music, especially in the natural decays of Gilad Hekselman's guitar in his solo. Rather than the soundstage being mixed hard left and right, through the HE-500s the band had some depth. The D 3020 V2 proved that its headphone amp is not an afterthought -- it's worthy of better headphones.
Wrap-up
With its wide variety of feature sets and prices, NAD offers something for everyone. The D 3020 V2 is an excellent value, especially for rooms and performing ensembles of small to medium size, incorporating music from a wide range of sources, both old and new. I was especially impressed with the built-in phono stage and DAC of this $399 product -- to do dramatically better, an outboard device would likely cost more than the D 3020 V2 itself. With the inclusion of an auxiliary input, either can be upgraded, but most customers won't find it necessary.
As was its ancestor the 3020, the D 3020 V2 is an affordable entry to the audio hobby, and is well suited to powering a small system for very little outlay.
. . . Sathyan Sundaram
This email address is being protected from spambots. You need JavaScript enabled to view it.
Associated Equipment
Speakers -- Sonus Faber Principia 3 and Principia C; Wharfedale Diamond 8.2, Diamond 8 Centre, and PowerCube 10 subwoofer; Infinity Primus P162
Headphones -- Grado SR80, HiFiMan HE-500
Analog sources -- Goldring GR1 turntable, Rega Research RB100 tonearm, Goldring Elektra cartridge; Cambridge Audio 540P phono preamplifier; Onkyo TA-RW244 dual-well cassette deck
Digital sources -- Music Hall MMF CD-25 CD player; Pioneer DV-563A DVD/SACD player; Google Chromecast Audio; Monoprice HDX-401TA; Pro PC (Build 1803) running Windows 10 with CSR BC8 Harmony Bluetooth stack with aptX and optical output
Streaming service -- Google Play Music All Access (via Chromecast Audio)
Integrated amplifier -- NAD C 356BEE with MDC DAC2
Power conditioner -- APC Line-R LE1200
NAD D 3020 V2 Bluetooth Integrated Amplifier-DAC
Price: $399 USD.
Warranty: Two years parts and labor.
NAD Electronics International
633 Granite Court
Pickering, Ontario L1W 3K1
Canada
Phone: (905) 831-6555
Fax: (905) 837-6357
Website: www.nadelectronics.com