We live in the era of the wireless speaker. I say that not only because of the proliferation of Sonos and its clones. Nor am I talking about Bluetooth speakers, which have become the default music-playback option for most folks. What makes me think that the wireless category has finally, truly arrived are new options from companies such as Dynaudio and Devialet -- wireless, powered speakers that provide high-performance alternatives to traditional wired hi-fi systems.
With the release of its new BeoSound 2 ($1895 USD), Denmark's Bang & Olufsen has delivered yet another equally intriguing option. The BeoSound 2 is an all-in-one system that can wirelessly stream audio via AirPlay, Google Cast, Bluetooth, or DLNA. It offers integrated access to Spotify, Deezer, and TuneIn online radio, so you don't have to cue those services up using your phone or other device. The BeoSound 2 can also link with other wireless-capable B&O speakers to form a multiroom system controllable with the company's BeoMusic app.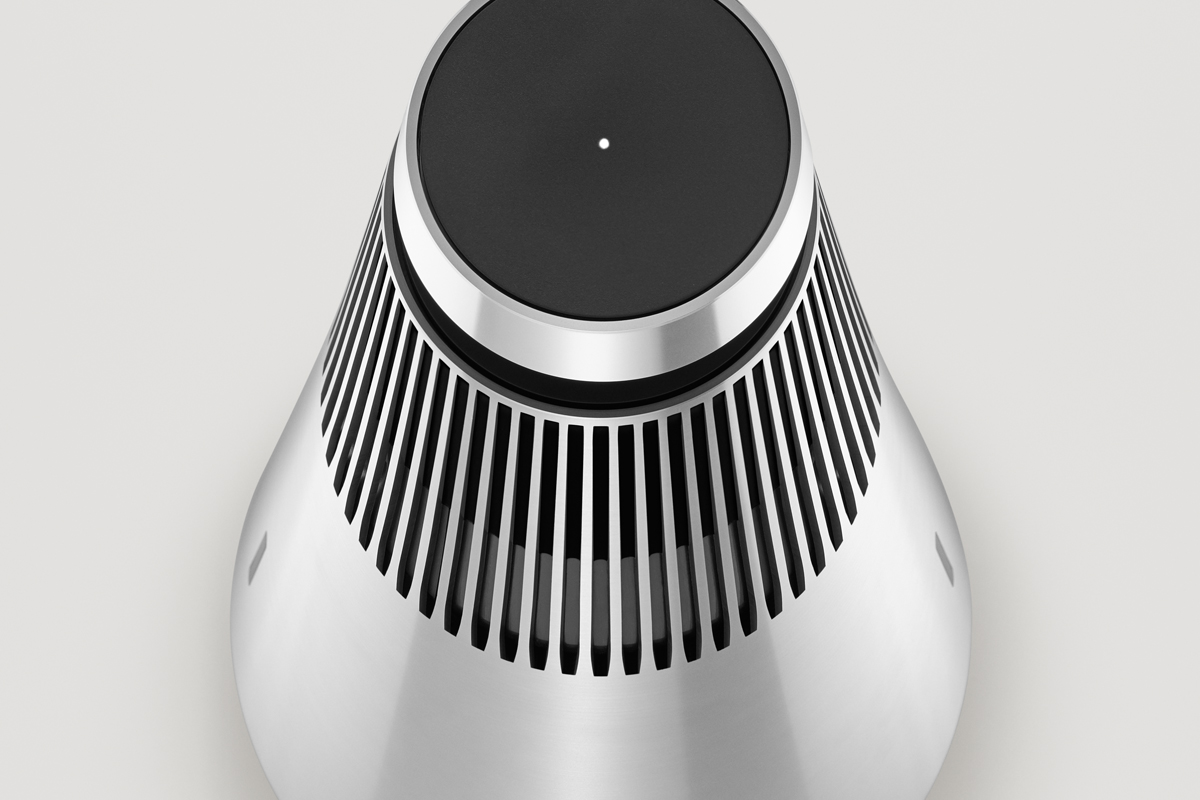 As with all B&O products, what's most unique about the BeoSound 2 is its appearance. Made of extruded aluminum, the conical BeoSound 2 is like nothing else on the market -- it looks more like a sculpture than a speaker. I find it to be one of the better-looking products in B&O's design-centric lineup.
More important, the BeoSound 2 is engineered to be placed anywhere in a room and still sound good, a situation made possible by B&O's Acoustic Lens technology. In the BeoSound 2, this takes the form of a downward-facing, 0.75" tweeter that fires into a reflector to disperse high-frequency sound to 360°. The rest of the speaker's range is handled by two 2.5" midrange drivers and a 5.25" downfiring woofer, each driver powered by its own class-D amp: 40W for the tweeter, 11W for each midrange, and two 20W amps for the woofer.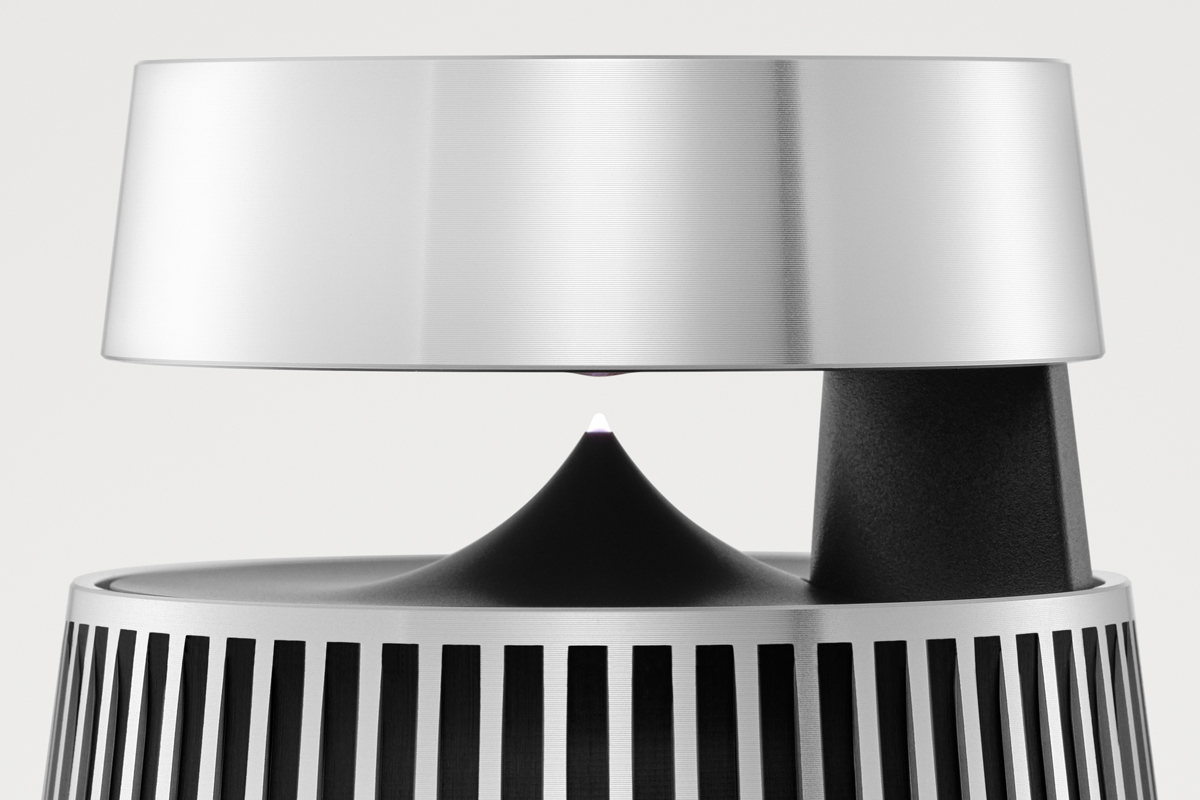 In contrast with its little brother, the BeoSound 1, the BeoSound 2 lacks a rechargeable battery for portable use. At first I thought the power cord dangling from the speaker detracted from its aesthetic appeal, but I soon acclimated and moved on. The same shallow compartment in the speaker's base that houses the AC power connection provides an analog minijack audio input, and a LAN port solely for software upgrades. Since B&O doesn't provide a remote handset, the BeoSound 2 is controlled with the BeoMusic app, or by working the touch-sensitive wheel on the speaker's top.
In the box
Unlike products from another well-known Scandinavian company, nothing about the BeoSound 2 needs assembling; just plug it in and it's ready to play. A quick setup guide is provided; in it is the URL for the speaker's full user manual.
Use
Following that URL to B&O's online support pages, you'll find a series of videos that whisk you through setup. You'll need to use the BeoMusic app to link the BeoSound 2 to your Wi-Fi network, and, if you're using an iDevice, configure it as a new AirPlay speaker in the iOS Wi-Fi settings panel. To use with Google Cast, you'll need to "accept" Google's privacy policy, which gives the company license to gobble up your usage data. Bluetooth setup is a simple matter of linking to the BeoSound 2 in your device's Bluetooth setup menu.
Once streaming settings are configured, the BeoMusic app lets you do pretty much anything that needs doing. During my time with the BeoSound 2, I switched seamlessly between Google Cast for Tidal HiFi and AirPlay for Apple Music on my iPhone. When the speaker detects a stream, it automatically powers on and starts playing. BeoMusic features an onscreen wheel to adjust volume, and has controls to pause/play a stream, as well as skip to the next or previous track.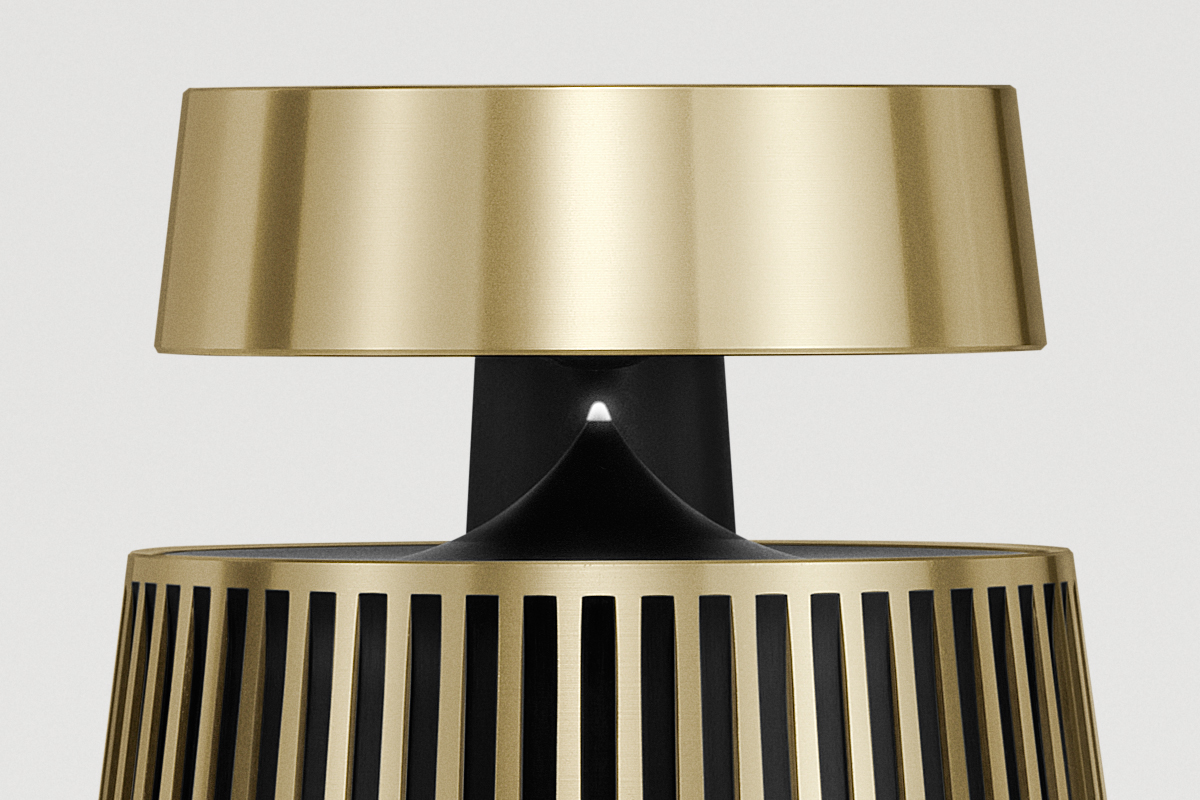 Wireless magic aside, the cool stuff happens when you put down your phone and physically interact with the BeoSound 2. A proximity sensor detects which direction you approach the speaker from, and correspondingly aligns the controls on the operation wheel. Twisting the wheel left or right adjusts the speaker's volume. Tapping its touch-sensitive top surface powers it on/off, while multiple taps let you jump between the integrated services (TuneIn, Spotify, etc.). To switch between tracks or Internet Radio stations, swipe left/right. An LED on top provides visual feedback that, in a subtle design flourish, is echoed by a second LED at the tip of the high-frequency reflector, where it can be seen across the room.
Sound
Right off the bat, the BeoSound 2's sound came across as spacious, immersive, and free of the boxed-in quality typical of many all-in-one systems. True to B&O's claim, the speaker did sound equally good from any seat. I set it up between the tower speakers in my living room, then switched between two listening positions: my regular center seat, and then a chair located at a 90-degree angle from the speaker. Moving from chair to chair, I was struck by the consistency of the BeoSound 2's sound: it was only when I stood up that its sound quality changed; but even then, the difference was minimal.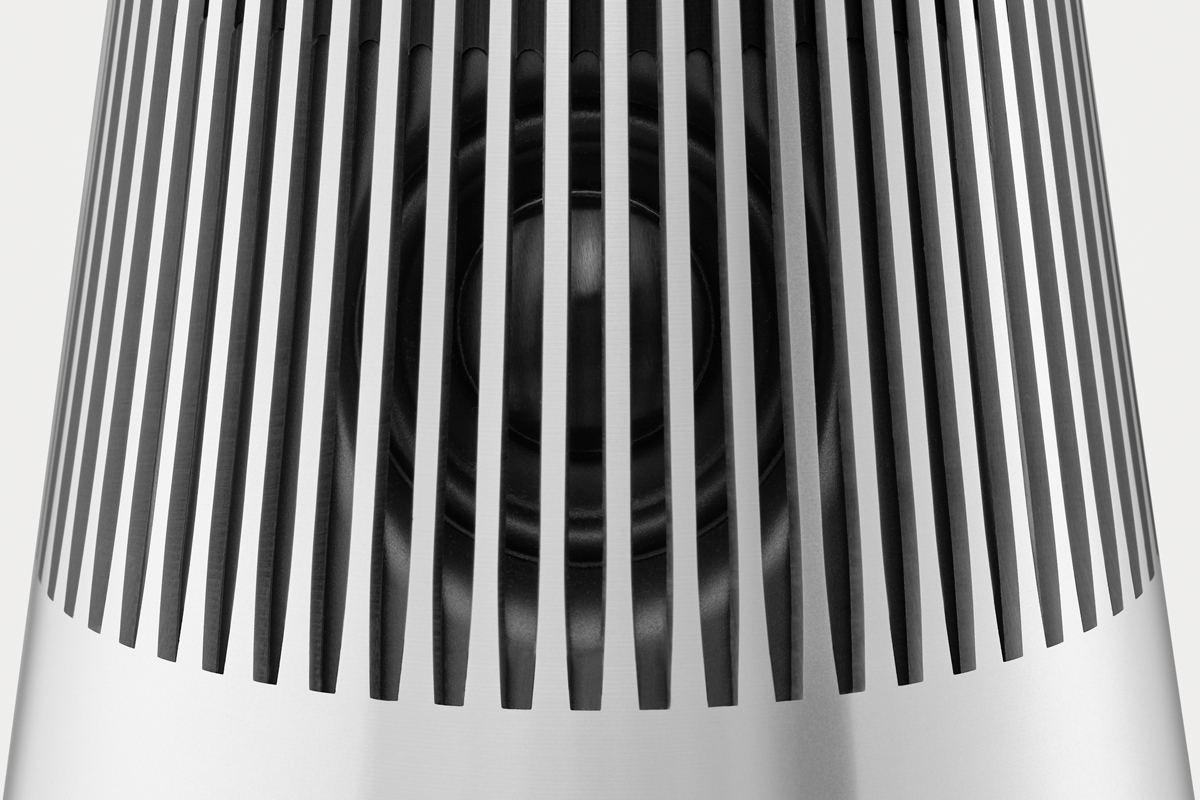 The BeoSound 2 includes B&O's Adaptive Bass Linearization technology, which, B&O claims, "harnesses surplus capacity in the amplifiers and driver units to bring you even more bass," and also monitors for peaks. As with other speakers capable of putting out ample bass, the BeoSound 2's proximity to walls will affect its low-end performance. In my living room, I needed to position the speaker at least 2' out from the front wall to avoid boom and a general muddying of the upper bass. When I moved the speaker to my bedroom, the bass was smoother, but it could be a bit overwhelming in that smaller space. During my evaluation, I found the BeoSound 2's sound to scale evenly with volume changes: If the music contained bass, I heard it, even at background-listening levels.
The BeoSound 2's immersive capabilities were definitely on display when I played "Olé," from Luisa Maita's Fio da Memoria (16-bit/44.1kHz FLAC, Cumbancha/Tidal). Rather than emerge from a definite point in space, the Brazilian singer's breathy voice seemed to be all places at once. The snaky electric bass guitar came across as solid and tuneful, while percussion instruments in the background had a crisp presence. Overall, the BeoSound 2's handling of this track displayed excellent integration of the various elements of the sound, along with an ability to cast an image that far exceeded the speaker's modest size.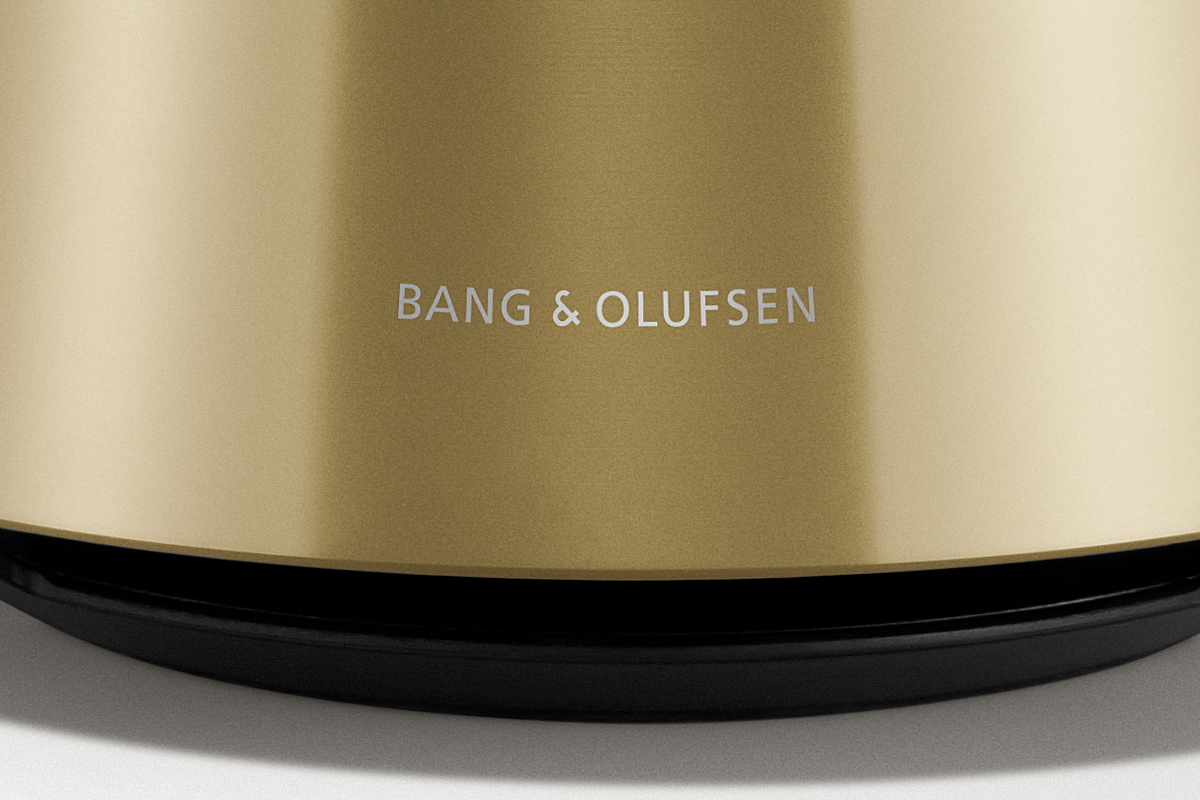 Sticking with female singer-songwriters, I gave a listen to "Do You Need My Love," from Weyes Blood's Front Row Seat to Earth. Natalie Mering's atmospheric chamber pop sounded appropriately dense through the BeoSound 2. Her alto voice and the Mellotron-esque keyboards sounded rich yet cut cleanly through the mix, while subtle background details, such as the multilayered background vocals, were easy to distinguish.
Stepping up the sonic intensity, I subjected the BeoSound 2 to DJ Shadow's new album, The Mountain Will Fall (16/44.1 FLAC, Mass Appeal/Tidal). As I listened to "Bergschrund," a collaboration with keyboardist and composer Nils Frahm, the BeoSound 2 proved capable of reproducing surprisingly low-reaching bass. The aggressive synth samples in this track had a distinctly powerful envelope, and I heard no dynamic compression by the B&O even when I pushed the volume to near-window-rattling levels. Wow. It might look like modern sculpture, but the BeoSound 2 could definitely rock.
Conclusion
Bang & Olufsen's BeoSound 2 is a prime example of a speaker designed to satisfy both lifestyle and audiophile expectations. It's beautiful-looking, it's compact enough not to dominate a living space, and it incorporates forward-looking technology that delivers benefits in both ergonomics and sound quality. The 360° sound touted by the company for its speaker also lives up to the hype: I was impressed by how easily the BeoSound 2 could fill a room with detailed, dynamic sound that remained consistent from a range of listening positions.
The BeoSound 2's charms don't come cheap -- at $1895, it's one of the more pricey all-in-one speaker options out there, exceeding by $300 the cost of Dynaudio's Xeo 2 system, recently reviewed on SoundStage! Access. At this price, you might expect it to incorporate automatic room equalization, a feature found in other B&O products that's present even in less expensive wireless speakers from such companies as Paradigm and Sonos. Room EQ could help tame the BeoSound 2's prodigious bass and give the user even more flexibility in placement.
Those concerns aside, I really liked listening with the BeoSound 2 -- and I certainly enjoyed looking at it.
. . . Al Griffin
This email address is being protected from spambots. You need JavaScript enabled to view it.
Associated Equipment
Source -- Apple iPhone 6 streaming Apple Music and Tidal HiFi
Bang & Olufsen BeoSound 2 Wi-Fi Speaker
Price: $1895 USD.
Warranty: Three years parts and labor.
Bang & Olufsen A/S
Peter Bangs Vej 15
DK-7600 Struer
Denmark
Phone: (847) 590-4900
Website: www.bang-olufsen.com