If there's one thing I know about Onkyo, it's that the company's A/V receivers are the first to pack any new feature. Dolby or DTS have a new format or technology? Look for Onkyo to incorporate it as quickly as the silicon is minted. With stereo receivers enjoying a rebirth (look for a review of Outlaw Audio's new RR2160 on our sister site SoundStage! Access), Onkyo's models continue the company's tradition of feature one-upmanship -- not that I'd have expected anything less.
The cut sheet for the TX-8270, now Onkyo's top stereo receiver, is seriously impressive for a model costing only $499 USD. It features both wired and dual-band Wi-Fi network connectivity, and integrated support of Tidal, Pandora, Spotify, Deezer, and TuneIn. While those options alone would be enough to satisfy most listeners, the TX-8270 also supports streaming via AirPlay, DTS Play-Fi, Chromecast built-in, FireConnect, DLNA, and Bluetooth.
The differences that make the TX-8270 stand out from other new-school stereo receivers are its four HDMI inputs and single HDMI output (with Audio Return Channel). These make it a perfect option for an A/V system dedicated to two-channel playback. The TX-8270's HDMI ports are all version 2.0a, and thus support pass-through of 4K/60Hz video and the high-dynamic-range formats of Dolby Vision and HDR10. Like several other new stereo receivers, the Onkyo also has a subwoofer output -- actually, two -- and a variable crossover with settings ranging from 40 to 200Hz.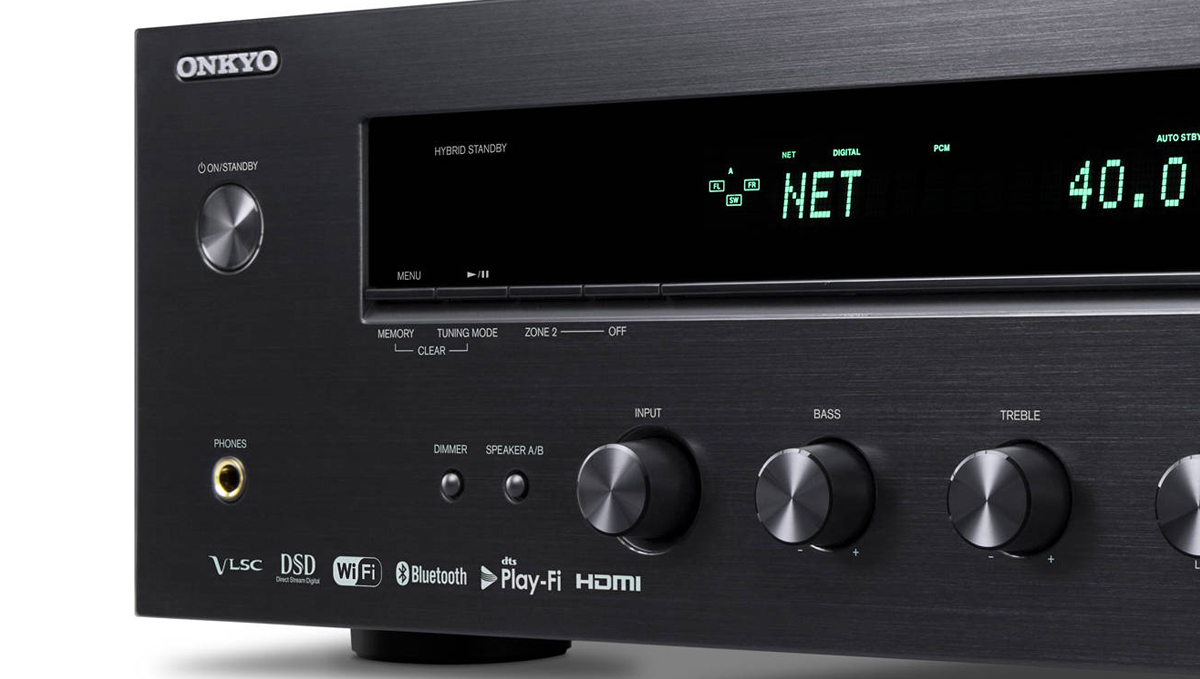 The TX-8270's class-AB amplifier puts out 100Wpc into 8 ohms (20Hz-20kHz), and its AK4438 DAC supports up to 24-bit/192kHz PCM and FLAC, along with ALAC, WMA Lossless, and DSD 2.8 and 5.6MHz. It also features Onkyo's Vector Linear Shaping Circuitry (VLSC), claimed to filter the audio output to "remove pulse noise generated in D/A conversion" and "reassemble the audio signal to its original form following processing."
Viewed straight on, the TX-8270 shares the Onkyo family look: basic, black, with big knobs. The build quality is about what you'd expect from a $499 receiver. Besides its Volume, Input, Bass, Treble, and Balance knobs, the front panel has a USB port, a headphone output, and buttons for AM/FM tuning, program presets, dimming the display, choosing between speakers A and B, Zone, Setup, Enter, Return, and BGM 1 through 4.
Along with the HDMI and subwoofer connections listed above, the inputs on the TX-8270's rear panel include one coaxial and two optical digital, three stereo analog RCA, and a phono jack to hook up a turntable with a moving-magnet cartridge. There are also Ethernet and USB ports; terminals to connect the Bluetooth, Wi-Fi, and AM/FM antennas; and IR input and output jacks. The receiver's speaker binding posts can accept banana plugs, pins, and bare wire.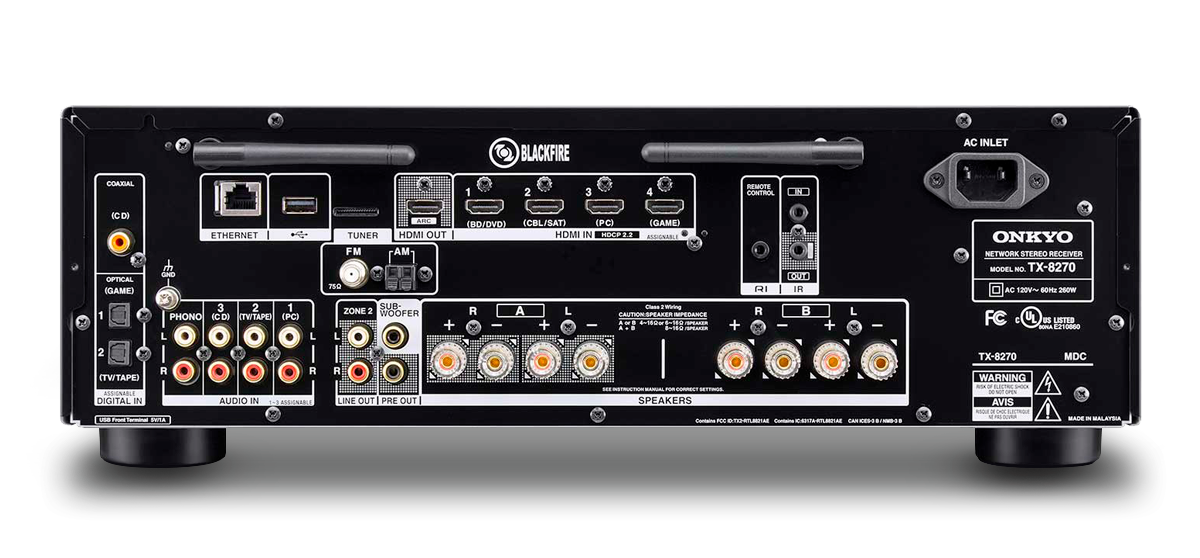 The TX-8270's multiroom options include a Zone 2 line output and wireless connectivity using the FireConnect protocol, which lets you stream network and analog sources from the receiver to FireConnect-compatible speakers in other rooms. Other wireless multiroom options are provided via the TX-8270's DTS Play-Fi and Chromecast built-in support.
Setup and use
My first step in setting up the Onkyo was to establish a network connection by running an Ethernet cable from a powerline adapter to its Ethernet port. I then updated its firmware -- easily done via the network. Sources used for my evaluation included a Pioneer BDP-88FD universal player, a Pro-Ject Debut turntable, JRiver Media Center 21 running as a DLNA media server on my MacBook Pro, and Tidal and Apple Music for network streaming. Speakers were primarily GoldenEar Technology Triton Five towers.
Onkyo provides a standard, remote-control handset with the TX-8270. It's somewhat flimsy but quite usable, with a clean keypad layout that provides a direct button for each source at top, and large volume up/down buttons at the center that are easy to find by touch alone.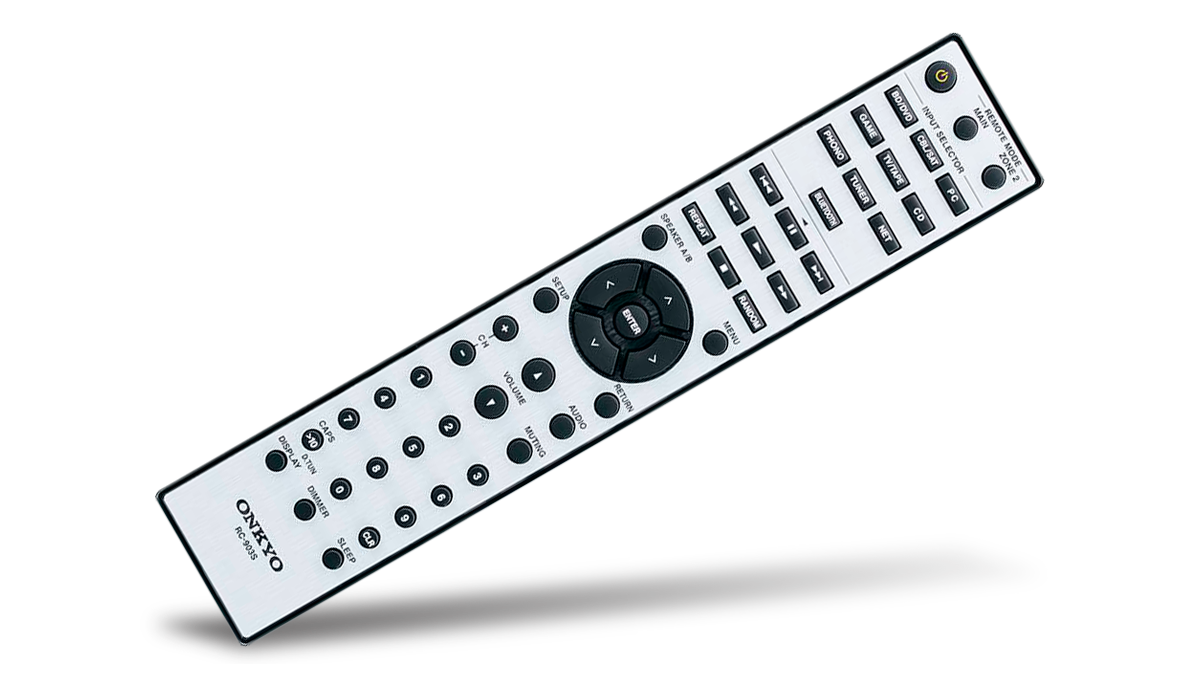 Most remote-control operations can also be carried out using Onkyo's Controller app, which lets you switch between hardware and streaming sources. I used the app mainly to control Tidal and to select tracks for playback via DLNA on my MacBook Pro. In neither case can I say that I loved the app's browsing interface, which was folder-based and devoid of cover art, though it does display art for the selection currently playing. I found browsing Tidal particularly a slog -- there was no "history" option for reviewing recently added content. As a Roon user, I guess I've become spoiled.
Sound
I began by spinning CDs and comparing the sound of the TX-8270's built-in DAC with a Pioneer BDP-88FD universal BD player's analog output. In "Moon River," from Bill Frisell with Dave Holland and Elvin Jones (CD, Elektra/Nonesuch 7599796242), Frisell's acoustic guitar had a glassier tone with the Onkyo handling the conversion. Through the Pioneer, his guitar sounded warmer, and his plucked harmonics resonated with greater detail. Otherwise, the Onkyo presented a solid image of the trio, as well as impressive bass extension and control in Holland's double-bass solo.
Listening next to a stream of "Thomas County Law," from Iron and Wine's Beast Epic (16-bit/44.1kHz FLAC, Sub Pop/Tidal), Sam Beam's voice had good body, and I heard a decent rendering of the ambience around the percussive beat of a slapped acoustic guitar. The strings and piano in the background also came through with good detail.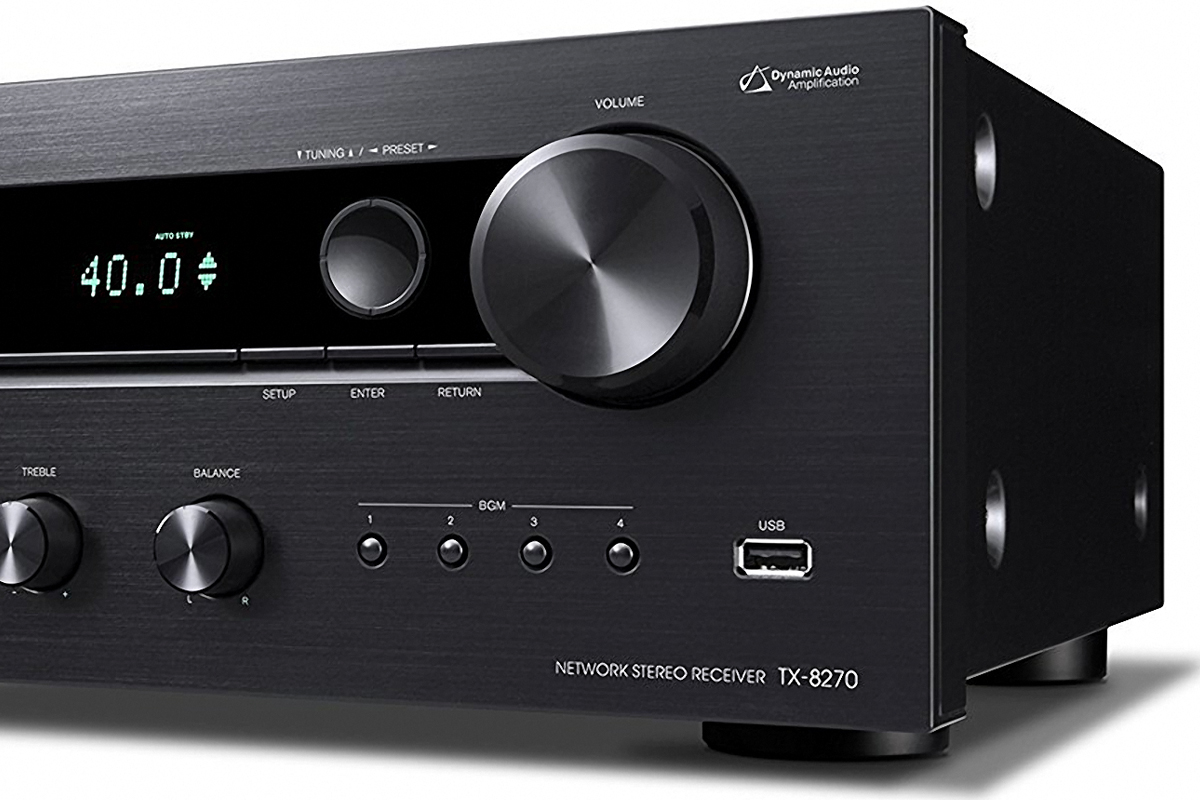 Switching things up, I next streamed, via JRiver Media Center 21, a CD rip of Squarepusher's Go Plastic (16/44.1 FLAC, Warp). The Onkyo proved well up to the task of conveying the expansive soundscape of the hard-driving "The Exploding Psychology." It also did a good job of revealing fine details in the multilayered synths, and powerfully rendered the bass. My only complaint was that the sound was too crisp -- it made me want to reach for the big Treble knob on the TX-8270's front panel (though I could make the same adjustment from my seat using Onkyo's app).
While networked audio is the TX-8270's main selling point, I couldn't resist the urge to give its phono stage a listen. In "Into the Mystic," from Van Morrison's Moondance (LP, Warner Bros./Rhino 8122799070), the guitar, bass, and piano had a smooth quality that stood in sharp contrast to the edgier sound of Van's voice. However, the sound was somewhat flat, which I don't hear when I stream the same track via Tidal. Still, compared to the built-in phono stages of other receivers and integrated amps I've tested, the TX-8270's was extremely quiet: I could boost the volume to a high level and hear no background noise.
Comparison
To give the Onkyo some competition, I listened to it alongside Outlaw Audio's RR2160 ($799), another new-school stereo receiver that lacks the Onkyo's network feature but provides roughly the same power output -- and has a massive toroidal power transformer for a stereo receiver.
I played "Moon River" through both receivers' digital inputs. With the Outlaw, the acoustic guitar had a richer range of tones, and I heard more detail from a brushed snare drum. There was greater image specificity in the Iron and Wine track, and the voices came across with even more clarity. The Outlaw also had an advantage when I played Squarepusher, sounding impeccably clean even with the volume pushed to a near-uncomfortable level. With the Onkyo, the slight edginess I heard with this track at a regular volume became more apparent at much louder levels.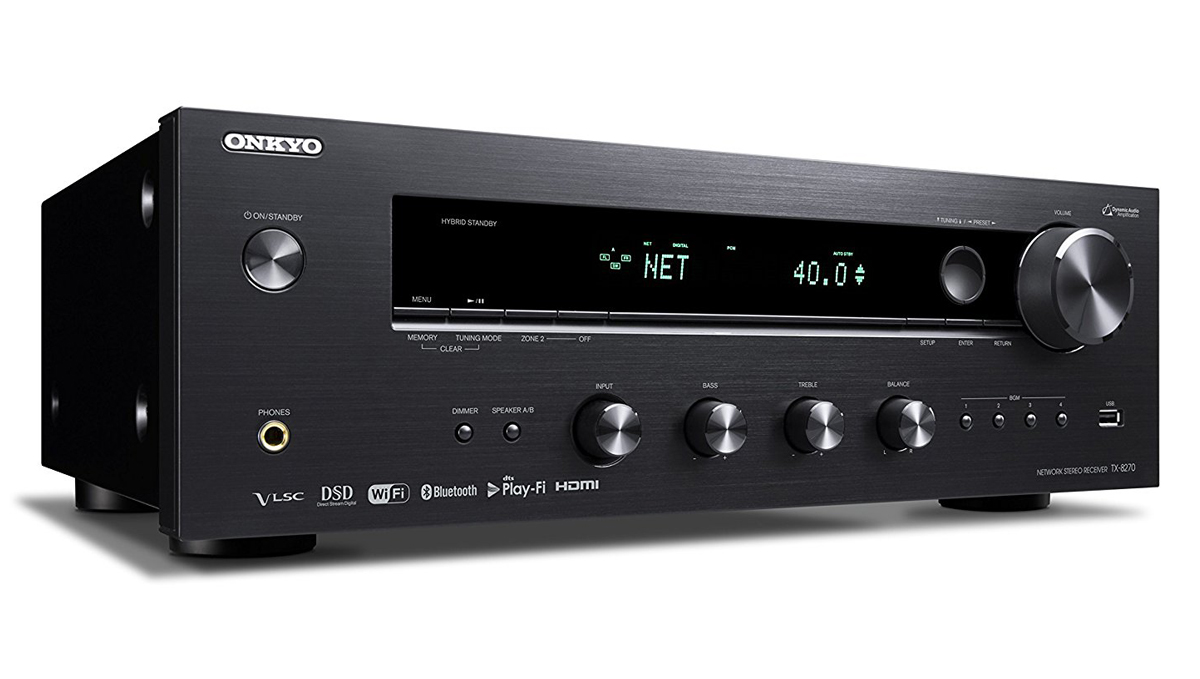 Lastly, vinyl: Through the Outlaw, the acoustic instruments in "Into the Mystic" sounded even more laid-back and liquid, while the crisp tone of Van Morrison's voice was better integrated. On the downside, the Outlaw's phono section was much quicker to produce background noise than the Onkyo's when I jacked up the volume.
Conclusion
At $499, Onkyo's TX-8270 is about as packed with features as a stereo receiver gets. Not only does it provide network streaming and support for the AirPlay, DTS Play-Fi, FireConnect, and Chromecast built-in wireless protocols, it also has HDMI switching, subwoofer output with bass management, and multizone playback. It even decodes DSD! The TX-8270's build and sound quality are about average for an under-$500 receiver -- neither grabbed my attention. But if you're looking for a stereo receiver that offers network connectivity and HDMI switching and DSD, right now, Onkyo is the only game in town.
. . . Al Griffin
This email address is being protected from spambots. You need JavaScript enabled to view it.
Associated Equipment
Sources -- Pioneer BDP-88FD universal player, Pro-Ject Debut turntable with Clearaudio Aurum Beta/S MM cartridge, Apple MacBook Pro and iPhone 6, JRiver Media Center 21, Apple Music, Tidal
Speakers -- GoldenEar Technology Triton Five and Triton Two
Stereo receiver -- Outlaw Audio RR2160
Speaker cables -- Nordost Purple Flare
Analog interconnects -- AudioQuest Victoria (RCA)
Onkyo TX-8270 Network Stereo Receiver
Price: $499 USD.
Warranty: Three years parts and labor.
Onkyo USA
18 Park Way
Upper Saddle River, NJ 07458
Website: www.us.onkyo.com