Based in Florence, Italy, Volumio is best known for its open-source music-management software, which has become very popular with DIYers looking to build a headless music streamer on the cheap. But Volumio also offers three domestically manufactured streaming products: the Rivo streamer, Primo streaming DAC, and Integro streaming integrated amplifier, the subject of this review. With a streamer, a DAC, and an amplifier combined in a single elegant chassis, the Integro needs just a pair of speakers, and it's ready to play.
Volumio sells its products directly and through a network of distributors. The Integro retails for $1199 (all prices USD), including import duties, sales taxes, and shipping. Video support sessions, half-an-hour and one-hour long, are offered for a fee.
Features
Measuring 2.0″H × 10.6″W × 5.9″D and weighing 6.0 pounds, the Integro would fit nicely on a desk or small shelf or inside an audio cabinet. Its sleek, minimalist design reminded me of Quad gear from the 1970s. The chassis is dark-shade brushed aluminum; its faceplate and rear panel are solid metal covered in acrylic. The faceplate offers two reddish-orange knobs on either side: the left knob functions as a power button and a source-selector dial; the right knob serves as a mute button and a volume dial. A 6.3mm (¼″) headphone jack is found just left of center, where a 1.3″ OLED screen displays the active input source and volume level.

Along with a pair of speaker terminals suitable for spades and banana plugs, the back of the device hosts an array of inputs and outputs: USB 2.0 and USB 3.0 ports, an ethernet port, a MicroSD card slot, coaxial (RCA) and optical (TosLink) S/PDIF inputs, RCA analog inputs, an HDMI output, and a subwoofer output. A 24V DC jack connects the power supply unit (provided). The Integro offers Wi-Fi and Bluetooth connectivity. Maximum resolution is 24-bit/192kHz via ethernet, USB, Wi-Fi, coaxial S/PDIF, or optical S/PDIF. Analog input is converted to 24/192 PCM.
Volumio says it designed the Integro with three principles in mind: ease of use, universal compatibility with music sources, and sound quality. The Integro is specified to output 50Wpc into 8 ohms or 70Wpc into 4 ohms. A class-D design, it employs two Infineon MA12070P power-amplifier modules in a dual-mono configuration. In a video presentation in mid-June, hardware engineer Dario Murgia said it took several months to fine-tune the amplifier's output filter, which employs WIMA polypropylene capacitors and high-saturation-current inductors. The dual-mono topology minimizes crosstalk, Murgia noted.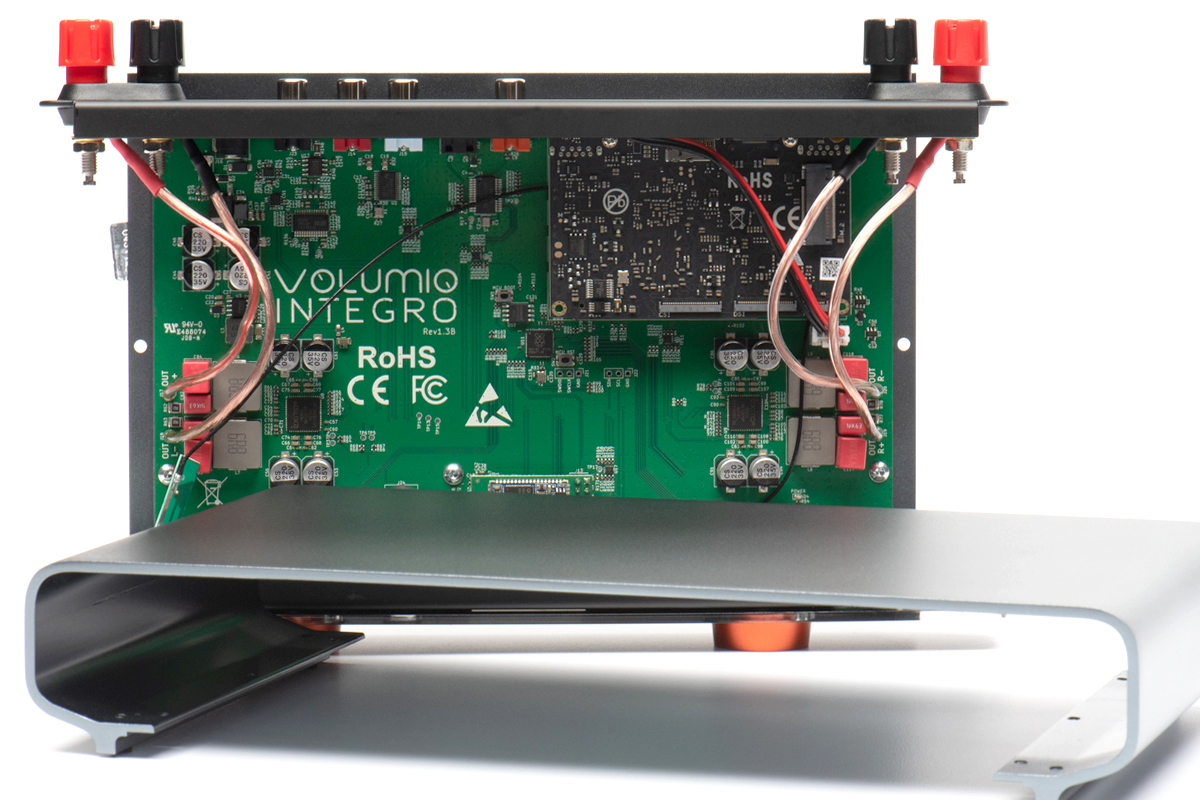 Instead of pulling audio for the headphone output from the output stage, the Integro has a dedicated class-AB headphone amplifier, which is based on the TPA6120A2 module from Texas Instruments. The rated power output is 2 × 300mW RMS into a 64-ohm load or 2 × 480mW RMS into a 32-ohm load. The headphone section has a dedicated DAC, a TI PCM5122. Another dedicated DAC is used to deliver a summed mono signal to the subwoofer output.
Inside is a single-board computer that runs the Volumio 3 OS. You can control the amplifier using the Volumio app, which is available for both Android and iOS devices. The app allows you to stream music from services such as Tidal and Qobuz. You can also play music from a drive attached to one of the Integro's USB ports, from a network drive, or from an optical drive. The Volumio app lets you rip music from CDs, but I didn't test this function. The HDMI port allows a monitor to be connected to the Integro, and the USB ports allow a mouse or a keyboard (or both) to be connected to it for navigating menus. Murgia said Volumio plans to add HDMI eARC capability to the Integro in a future firmware update.
The Integro is Roon Ready, and it also supports Spotify Connect and Tidal Connect, so you can cue up music in the respective apps and transfer playback to the amplifier. Support for AirPlay is provided by a plug-in called Shairport Sync.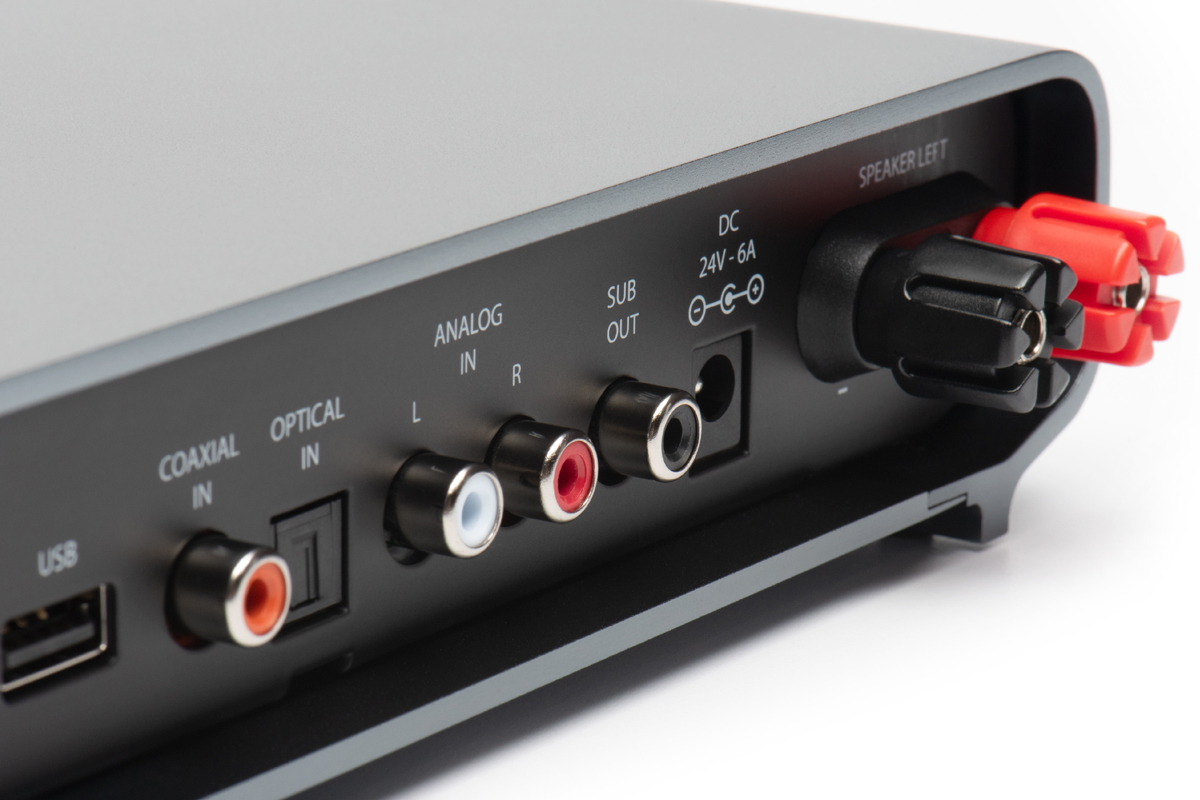 Volumio bundles a suite of premium features with the Integro that is otherwise available only by subscription. These include an AI-powered search engine that creates playlists based on your musical interests expressed in natural language, an Infinity Playback function that continues to stream tracks from your music library when your queued music ends, and an automatic backup and sync to Volumio's cloud storage.
Setup
The Volumio Integro comes with a 20-page user manual, covering initial setup, specs, software description, and instructions for connections, software updates, and factory resets.
The first step is to connect a pair of speakers (and an active subwoofer if you have one) and then power the amp. I connected the Integro to a pair of Klipsch RP-160M speakers via Better Cables' Premium Anniversary Edition speaker cables. Part of Klipsch's Reference Premiere line, the RP-160M is a very efficient two-way, rear-ported design with a 6.5″ midrange-woofer and 1″ horn-loaded titanium tweeter. The speakers were on 26″ homemade stands, 7′ apart with a slight toe-in, 28″ from the front wall, and 40″ from the side walls. My listening position was 7′ away in a 14′W × 16′D room.
The manual advises not to operate the amp for at least five minutes on initial power-up. I used this time to download the Volumio app for Android. I then opened it and followed the prompts. A small LED status light next to the display indicates progress, turning from red (standby) to green (loading) and lastly to blue (ready). Once the LED indicates the Integro is ready, the setup process continues.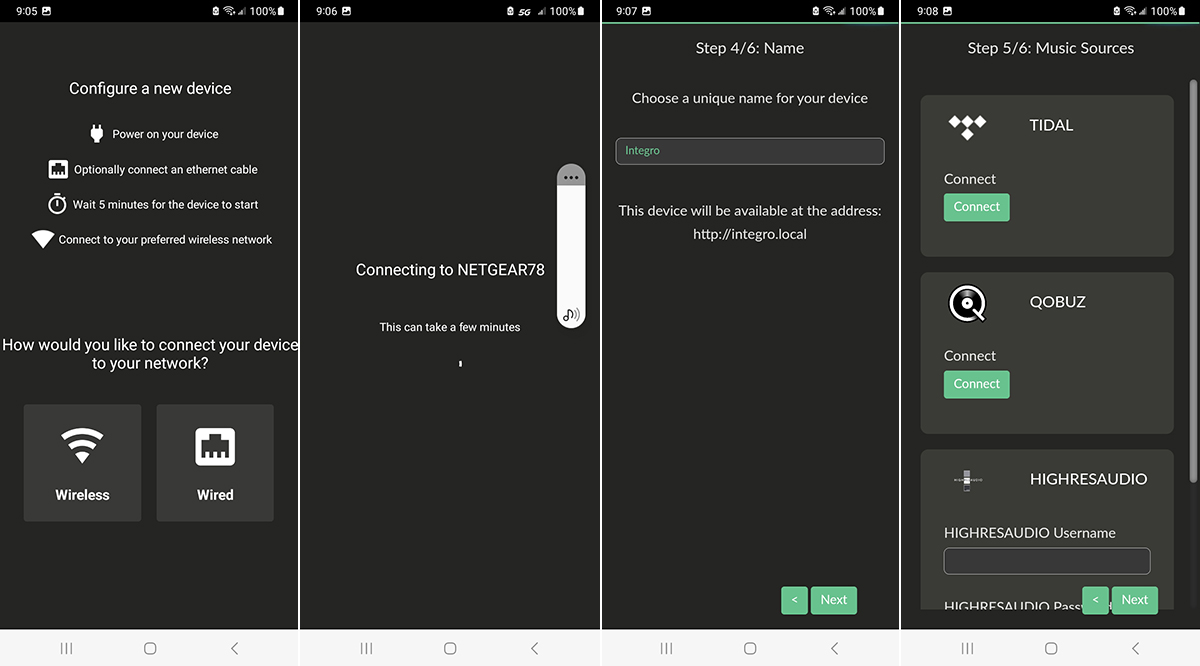 First, you select the device. Unless you have other Volumio devices, the Integro is the sole choice. Next, you choose whether to connect the amp to your network via Wi-Fi or by an ethernet cable. I was wireless all the way and waited for Volumio to scan and find my wireless network. After selecting it and entering my password, I was connected and taken to the startup screen, which presented several menus with various options. I found the app intuitive, and after going through its functions a couple of times, I could easily get it to do whatever I wanted. You can also control the Integro with a web browser.
The Sources menu opens to a screen that lists several options, including Media Servers, Web Radio, Inputs, Favorites, Music Library, and Playlists. You can also login to Qobuz and Tidal from here.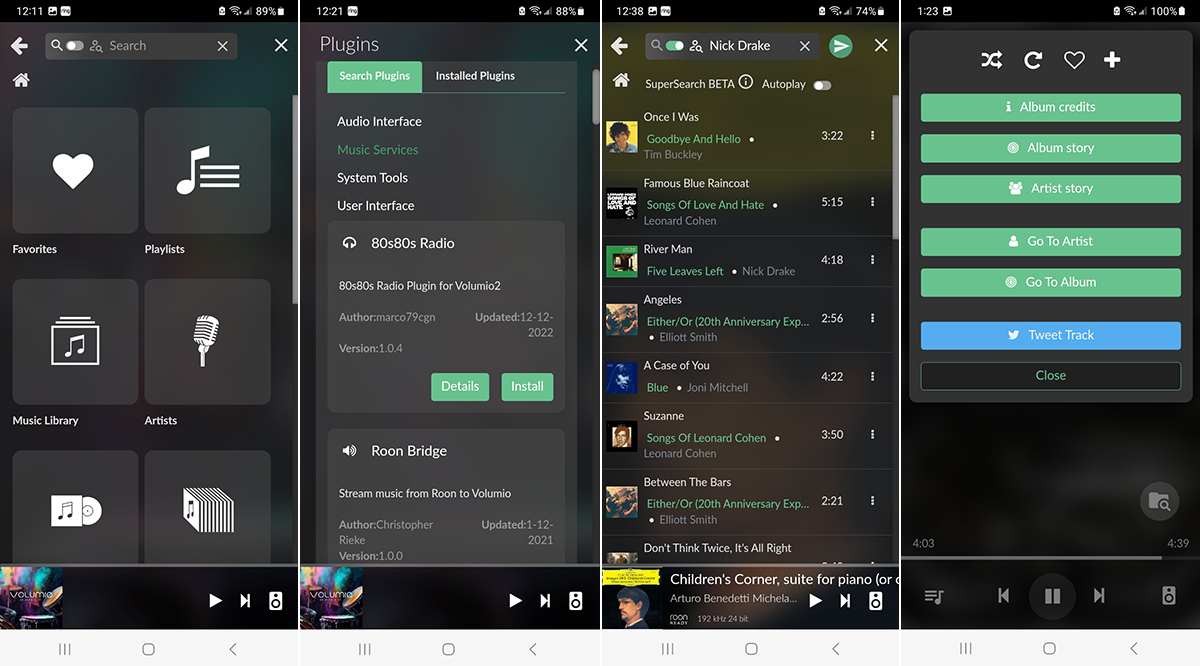 Want to play music from a shared volume on your computer? Connect it using a USB cable and select the Music Library option from the Sources menu. You can then easily control playback with your tablet, smartphone, or computer. Closing the main browsing window reveals the album art, artist name, track title, file type, and resolution, along with other details. You can designate a track as a favorite or add it to a playlist using the conventional heart and plus icons. Tap the three-dot (hamburger) icon, and the fun continues with six more options to explore, including album credits, album story, and artist story.
Streaming
Volumio's open-source software allows for seamless integration with music streaming platforms and online radio stations. Using the Volumio app, I streamed to the Integro from Qobuz, my favorite music streaming service, and played music stored on a thumb drive connected to one of the Integro's USB ports. I also played vinyl using the Integro's knobs and display directly, without the app's mediation.
As I listened to music through the Integro, one word kept coming to my mind: neutral. Across a wide range of musical styles and playback volumes, I never felt fatigued or saturated. On the contrary, I was drawn in deeper and deeper by the rich, detailed, smooth sound of this amplifier.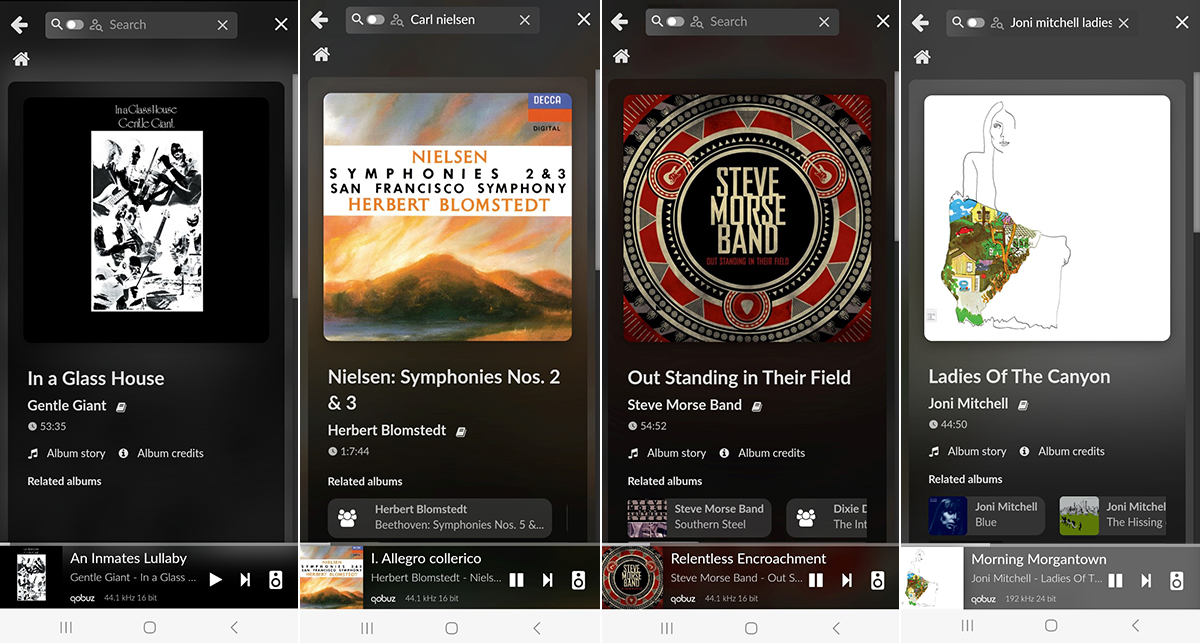 Like most of its musical output, Gentle Giant's In a Glass House (16-bit/44.1kHz FLAC, Alucard Music / Qobuz) contains a bevy of challenging arrangements and sounds. The Integro didn't hold back on "The Runaway," the glass-shattering foray that opens the album. But what caught my ear was more subtle. On the second track, "An Inmate's Lullaby," Kerry Minnear's vibes ring with sustain that's not reverb-like but the kind you hear when you're near the instrument itself. The detail and rendering were mesmerizing, and I found myself wholly captivated. After listening to the following track, "Way of Life," with Ray Shulman's four-string lines prominent in the mix, any doubt I may have had about the Integro's ability to deliver solid bass completely vanished.
Symphony No. 3, Sinfonia Espansiva, was the first of Carl Nielsen's six symphonies to achieve critical acclaim. A great two-for-one entry into the Danish composer's symphonic world is Nielsen: Symphonies Nos. 2 & 3, with Herbert Blomstedt conducting the San Francisco Symphony Orchestra (16/44.1 FLAC, Decca Records / Qobuz). Right from its opening bars, this work bursts with life, pulsing with strings and percussion. Its visceral rhythms had concert-hall energy with the Integro. I could easily picture the seesawing bows across the cello strings, the rolling mallets on the timpani. Never muddy or slow to respond, the Integro infused excitement into the music—as a live performance does. It did this with everything I threw at it.
Guitarist Larry Carlton has been responsible for some of the most memorable solos in popular music. His work on Steely Dan's "Kid Charlemagne" remains the de facto six-string break for session wannabes worldwide. Carlton's musical instincts and sweet tone are at the forefront of his 1982 release Eight Times Up (16/44.1 FLAC, Warner Music Group / Qobuz). Recorded live in Tokyo, in January of that year, this performance sounds like a live gig and captures Carlton's ability to make jazz smooth without going off the boil into fern-bar Muzak. The Integro's strengths seemed to all coalesce here and unveil each instrument—from guitar to Fender Rhodes to bass and percussion—in crisp, engaging detail.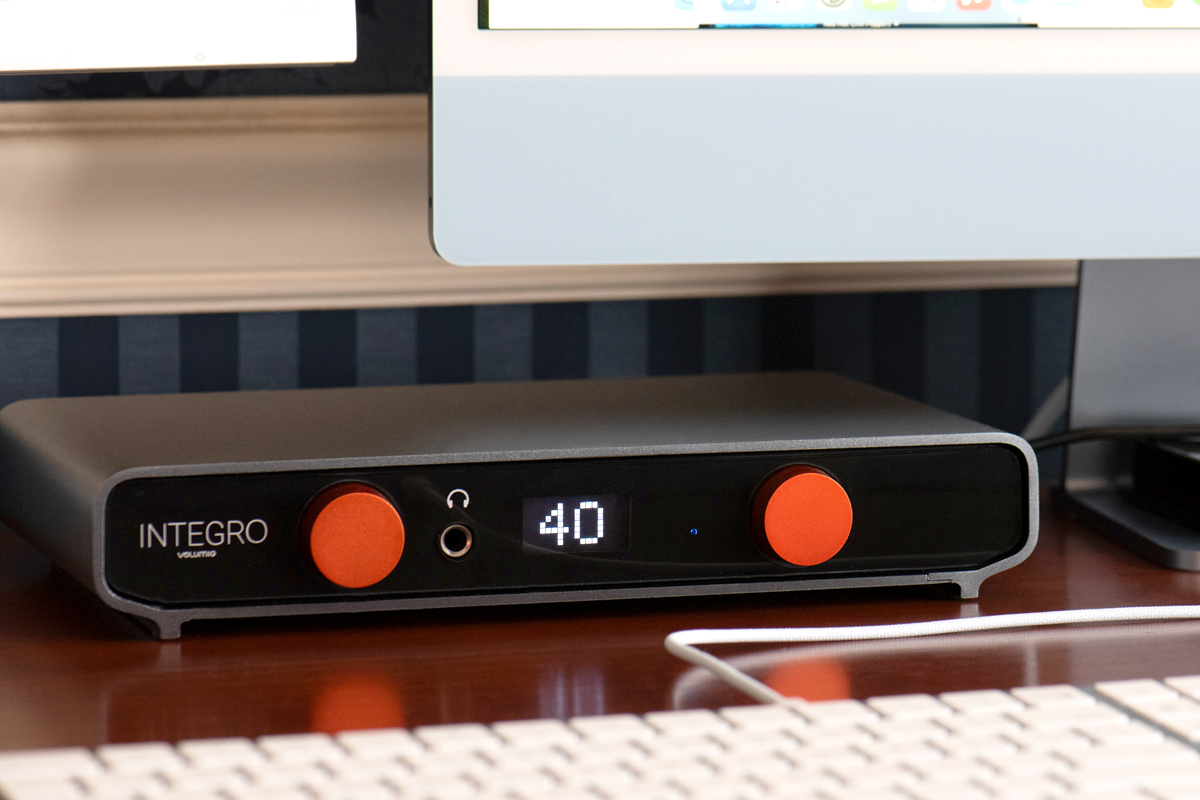 Charlie Christian's The Genius of the Electric Guitar (16/44.1 FLAC, Columbia Records / Qobuz) is a set of 16 tracks the guitar pioneer recorded in New York and Los Angeles between 1939 and 1941, primarily with band leader Benny Goodman. The collection also features jazz luminaries Lionel Hampton, Fletcher Henderson, and Count Basie and is a must for those interested in the rising role of electric guitar as a solo instrument in popular music. Christian's supple tone is never lost, whether he's comping chords in Goodman's orchestra or in smaller band settings, and his improvisatory flights were presented with engaging vitality by the Integro.
Steve Morse is one of my favorite guitarists. Out Standing in Their Field (16/44.1 FLAC, earMUSIC / Qobuz) by the Steve Morse Band, is a hearty smorgasbord of gritty rock, Dixie-Dregs-style fusion, and delicate classical-guitar styling. It's an energetic affair that blooms with Morse's immaculately picked lines and bassist Dave LaRue's liquid licks. On "Relentless Encroachment," drummer Van Romaine's toms sounded so immediate that I thought someone was knocking on my wall. But I was enthralled by every track on this album.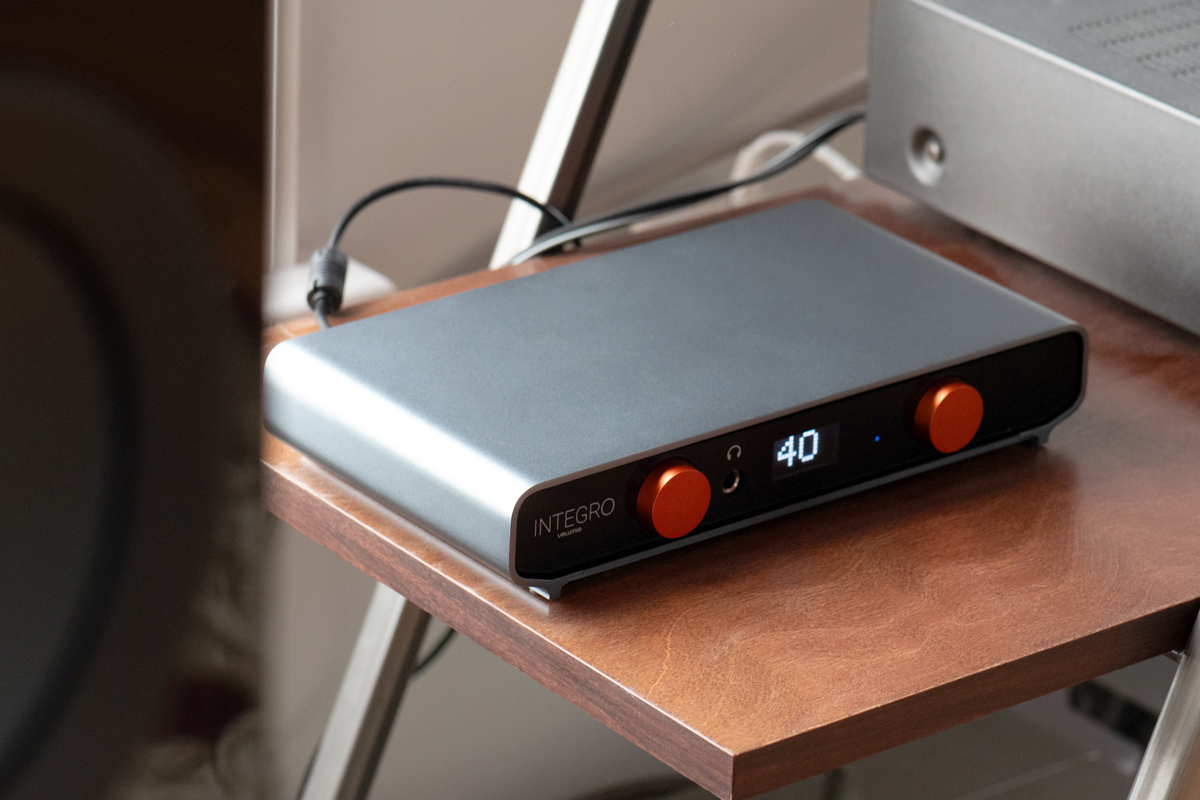 Joni Mitchell is rarely mentioned among the pantheon of great guitarists, but she should be. A master of open tunings, she influenced countless acoustic players, including the incomparable late Michael Hedges. Her palette of steel-string colors emblazes her early solo releases like a prism. Mitchell's Ladies of the Canyon (24/192 FLAC, Rhino-Warner Records / Qobuz) is a favorite of mine. Her voice on "Morning Morgantown" is so young and spritely, she sounds like a different artist from the one who would find radio fame a few years later. With the Integro, I didn't have to strain to hear the breath in Mitchell's singing as she spins the tale of a street-corner clarinet player on "For Free." The imaging was superb—clear, bright, gorgeous. It was easy to fancy Mitchell right there in the room.
My guitar journey with the Integro ended with Uncle Tupelo's swan song, the 1993 alt-country masterpiece Anodyne (16/44.1 FLAC, Sire-Warner Records / Qobuz). The title track shimmered with Lloyd Maines's pedal steel guitar floating around Jay Farrar's vocals. I listened to this cut again and again. I just loved hearing the guitars and Jeff Tweedy's bass so exposed and present in the mix. Tweedy's manic vocal energy on "We've Been Had" and the toned-down back-porch stomp of "New Madrid" were delivered with an intoxicating mix of power and finesse.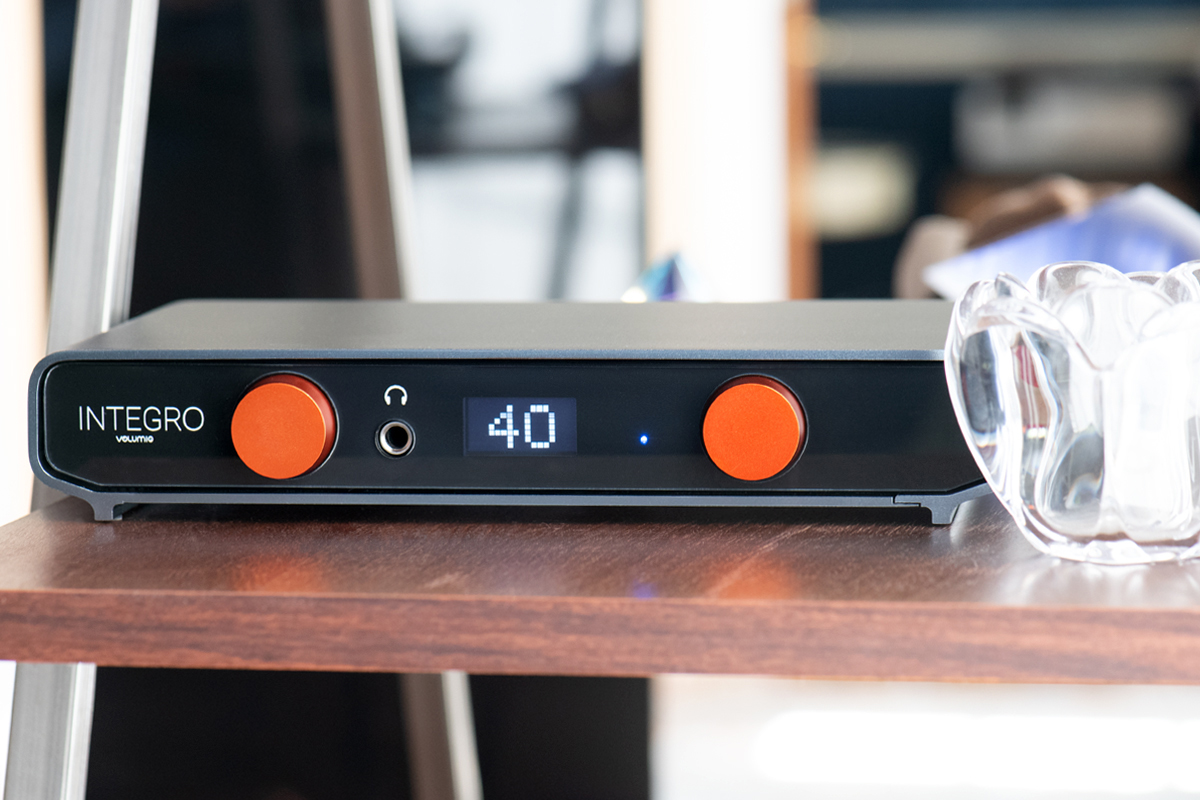 The Integro made jazz and jazz-rock a fine listening experience too. It first proved its ability with these genres in the classic moment at the beginning of John Coltrane's immortal "A Love Supreme" (24/96 FLAC, Impulse! Records / Qobuz) where the bass line introduces the song's main theme after 'Trane's fiery saxophone entrance. Equally impressive was the Integro's presentation of Charles Mingus's bass on his sublimely mournful "Goodbye Pork Pie Hat," from Mingus Ah Um (24/192 FLAC, Columbia-Legacy / Qobuz). From there I went to Jaco Pastorius's fretless bass on Pat Metheny's sparkling "Bright Size Life," from the eponymous album (24/96 FLAC, ECM Records / Qobuz). This all-in-one amp just got out of the way, adding immensely to my enjoyment of these monumental works and giving me a greater appreciation for the music.
Hatfield and the North's The Rotters' Club (16/44.1 FLAC, EMI Records / Qobuz) is a jazz-rock classic that has the smooth, detailed sound associated with the Canterbury, England, progressive rock scene. Hearing this album with the Integro reinforced my enthusiasm for this band. Richard Sinclair's bass and Robert Wyatt's kick drum received their well-deserved spot in the mix. Such listening is addictive.
Ornette Coleman's landmark 1959 recording, The Shape of Jazz to Come (24/192 FLAC, Rhino-Atlantic / Qobuz), was rendered exuberantly by the Integro, the sharp harmonies, dizzying runs, and dramatic accents from Coleman's saxophone and Don Cherry's cornet ringing with energy. As these two brilliant horn players unfurl cascades of notes, drummer Billy Higgins plays it so cool that it's easy to take his bedrock rhythms for granted. He swings, he glides, he lays back, all the while sustaining a driving cadence in these challenging compositions.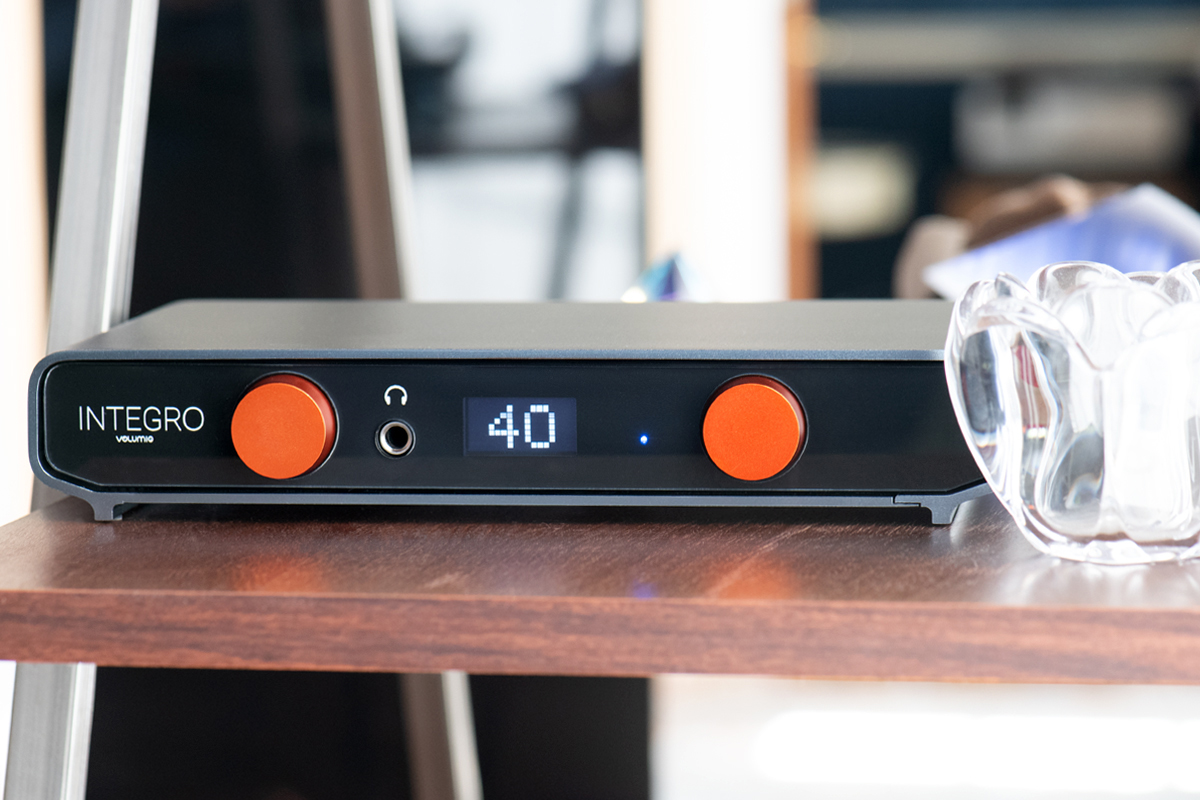 But the revelation here was Charlie Haden's bass, whose strings, at times, were vibrating tangibly around and through my body. It's one thing to hear an acoustic bass, quite another to feel it. That's something one expects to experience only during live gigs in intimate jazz clubs; but with the Integro, the weighty notes were reverberating with an eerie but delightful presence.
Miles Davis's recordings of the early to mid-1970s are among the most challenging and exploratory of the innovative trumpeter's career. The compositions on the 1975 live album Agharta (16/44.1 FLAC, Legacy-Columbia / Qobuz) are a witch's brew of dark, heavy, and explosive forays into the outer limits of electronic instrumental music. Davis takes a side seat in this recording, allowing his supporting cast to shine, and the result is mind-blowing. The six-string manipulations of guitarists Pete Cosey and Reggie Lucas sounded variously like ravens cawing, glass shattering, and volcanoes erupting. Saxophonist Sonny Fortune's astringent lines careen over the driving rhythms of drummer Al Foster and percussionist Mtume. This is dense, intense music. Played through the wrong system, it can quickly go from interesting to uncomfortable. The Integro not only captured the fiery beauty and sizzle of the performance as a whole, but also distilled each musician's part into a focused sonic image. Dynamics, tone, and tempo shimmered in a gorgeous blooming fury without brittleness or blending into a colorless cacophony.
Spinning
While I continue to explore all-in-one digital-streaming products, I've been listening to vinyl. My humble vinyl setup, a Audio-Technica LPW40WN turntable and U-Turn Audio Pluto 2 phono preamp, sounds better than its price tag might suggest. I was eager to hear it paired with the Integro.
The 1982 John Lennon Collection (Geffen Records GHSP 2023) is a greatest-hits compilation of solo works by the former Beatle. The original recordings are flawed sonically, marred by haze and murkiness, and were later remastered. The Integro exposed these deficiencies but painted a coherent, well-imaged sonic picture, presenting musical gems such as "Mind Games" and "Love" with undeniable charm.
By contrast, Demos, by Crosby, Stills & Nash (Rhino Records 519625), is a set of nakedly pure recordings from 1968 to 1971 that showcases the songwriter as he works through the unfinished landscape of the tune. The bare-bones version of David Crosby's "Déjà Vu," with its crystalline guitar lines and earthy vocals, sounded in-room live. Arpeggios and harmonics rang and decayed with great realism. At the end, Crosby scats the vocal line, finding harmony where words have yet to be found. I was captivated once more by the Integro's imaging and lifelike presentation.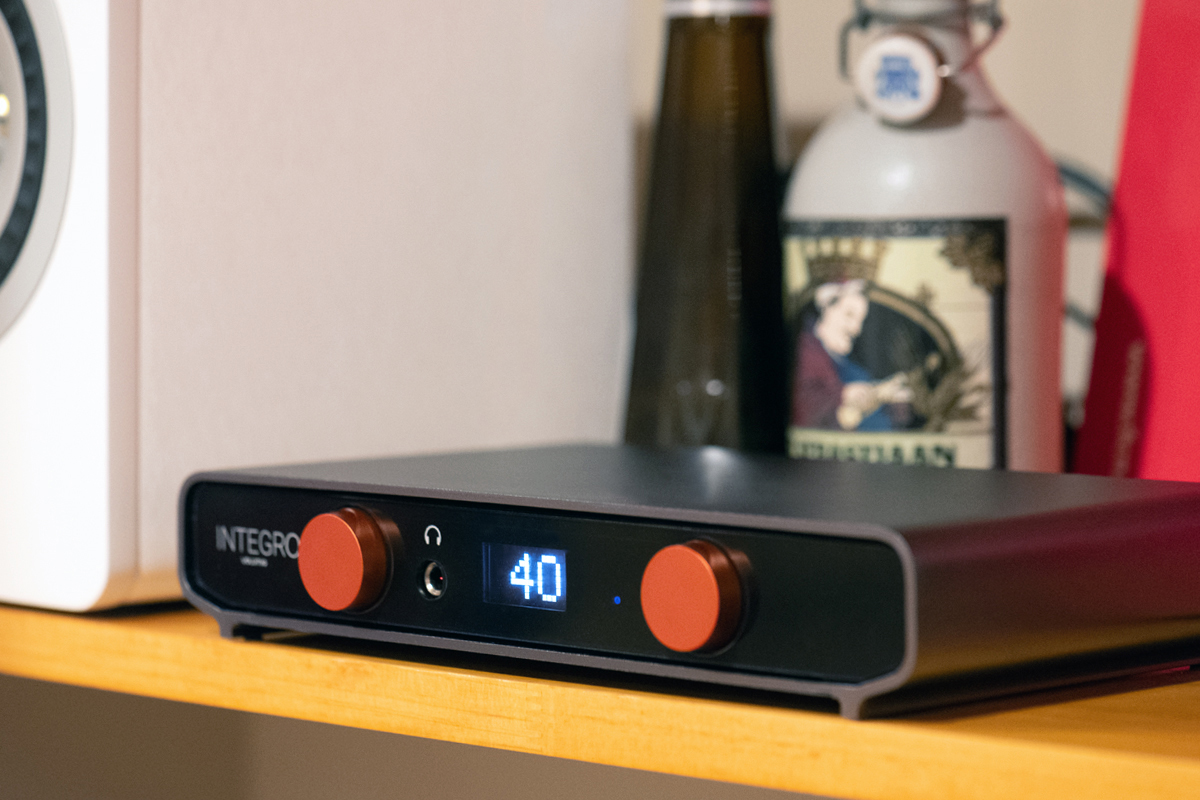 Years before Night Moves made him a household name, Bob Seger was rocking out with his band, the Bob Seger System. The group's 1970 release, Mongrel (Capitol Records SKAO-499), is a slab of fierce R&B-fueled rock tempered with a few gentler moments. One not-so-gentle moment is the fiery title track, which threatens to jump the groove and sweep away anything in its path. Seger's later "Heavy Music" could easily have been a tribute to the beefy portion on this platter. Listening to this kind of music, I tend to revert to my teenage years, when the measure of a stereo was how loud it could play. The Integro measured up to my adolescent standard and then some, bringing out the "rock" and soul in the music. I found little wanting and felt wanting more.
Quieter fare, such as the gentle pop-rock of Bread, proved equally engaging. If you're looking for an inexpensive but great-sounding LP, The Best of Bread (Elektra Records 75056) is easy to recommend. This record is populated by the radio-friendly hits of David Gates, including "Make It with You," "Diary," and "It Don't Matter to Me." These arrangements are based on acoustic guitar and the ultrasmooth voice of Gates. I could hear the subtlest nuances of emotion in Gates's voice and guitar playing, and when such metamusical cues emerge from a tune, passive listening turns into a truly engaging experience.
Headphones on
Given that the Integro has distinct speaker and headphone amplifiers, I was interested to hear how the two compare. I have a few digital files on a thumb drive and chose Rush's Power Windows (16/44.1 FLAC, Mercury 314 534 635-2). I listened to it alternately through the speakers and through the headphones. The speaker amp was impressive with this recording. "Manhattan Project" had an alluring warm richness and spread that I don't associate with this period of Rush's career. Through the headphones, some of this was lost, but Neil Peart's snare drum had a crisper, sharper presence, and Alex Lifeson's chiming guitar parts were plenty spiky. Overall, the headphones presented a cooler delivery but offered greater musical detail.
Comparison and final thoughts
I recently reviewed the Bluesound Powernode Edge streaming integrated amplifier and found it to be excellent value for money. Certain listening situations call for a bit more power than the Powernode Edge can deliver, but it does offer some options not found in the Integro, such as wireless subwoofer capability and HDMI eARC. (As noted, though, eARC will be enabled on the Integro by a forthcoming firmware update.) Moreover, its BluOS software natively supports several more streaming services than Volumio OS. Retailing for $550 less than the Integro, the Powernode Edge is hard to beat for value.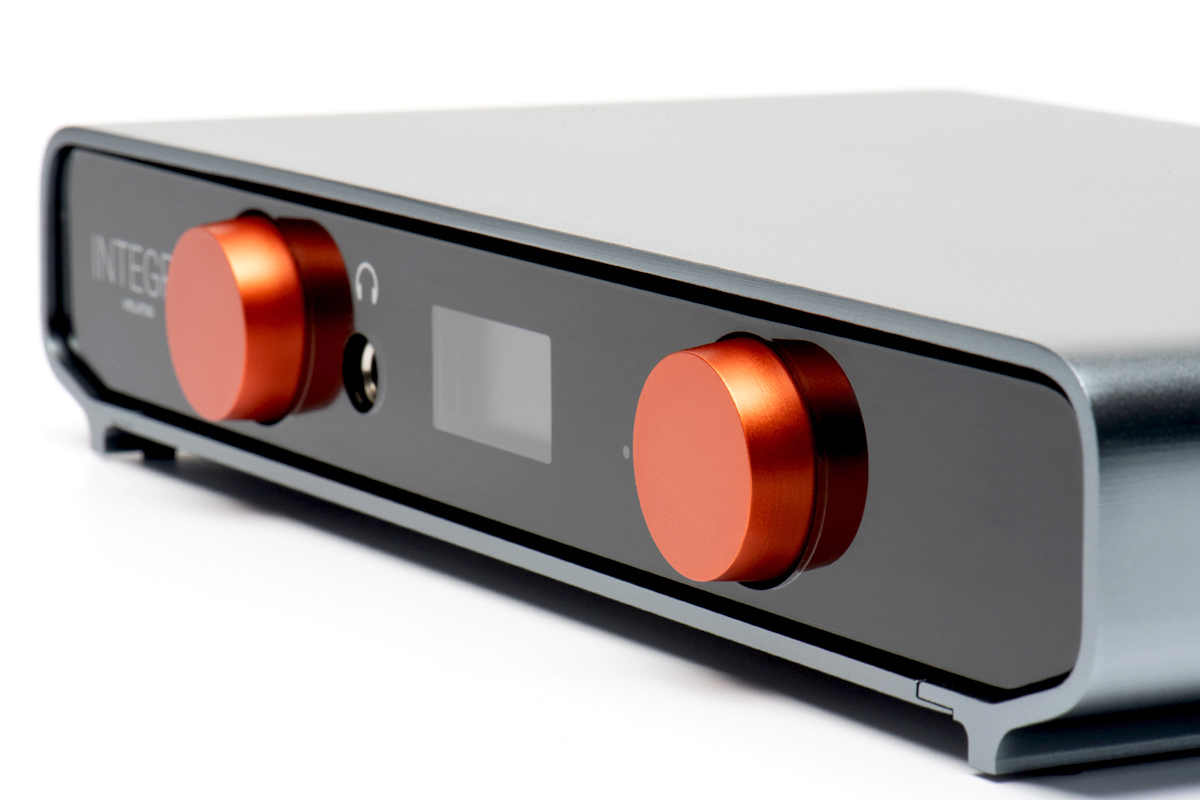 That said, the Integro offers a more sophisticated amplifier, headphone stage, and connection options, and it has a more eye-catching design. Throw in Volumio's premium extras and reliable platform support for its impressive open-source software, and the Integro's value looks better and better. It's not cheap, but the Integro is an excellent choice for music lovers and audiophiles who want high-quality sound, a user-friendly interface, and options to incorporate traditional audio components.
... Todd Whitesel
This email address is being protected from spambots. You need JavaScript enabled to view it.
Associated Equipment
Loudspeakers: Klipsch RP-160M.
Turntable: Audio-Technica LPW40WN with AT-VM95E moving-magnet cartridge.
Phono Preamp: U-Turn Audio Pluto.
Speaker cables: Better Cables Premium Anniversary Edition.
Headphones: Equation Audio Eartools RP-10.
Thumb drive: Kingston DataTraveler 8GB.
Control devices: Samsung Galaxy A32 5G smartphone and Dell Inspiron 3847 notebook PC.
Network: Netgear Nighthawk R6400v2-AC1750.
Volumio Intrego Streaming Integrated Amplifier
Price: $1199, including shipping, import duties, and sales taxes.
Warranty: Two years, parts and labor.
Volumio Srl
Borgo Albizi 15
50121 Firenze
Italy
P.IVA 07009020483
Website: www.volumio.com
Email: This email address is being protected from spambots. You need JavaScript enabled to view it.