Note: for the full suite of measurements from the SoundStage! Audio-Electronics Lab, click this link.
From the perspective of a pre-teen in the late 1970s, it seemed as if hi-fi was everywhere, and separate components ruled. In our living room, we had shag-white carpet, a Dual turntable, and a Marantz cassette deck and receiver. I remember the receiver's gorgeous blue front lighting and joy-to-use Gyro Wheel tuner. A pair of Pioneer speakers with lustrous woodgrain cabinets rounded out the system. But I envied neighbors who had flashier systems from JVC, Sansui, and Technics. One friend had a complete silver Pioneer system at home, including the stunning CT-F1000 cassette deck, which I lusted after but couldn't possibly afford. So, I compromised. I saved $200 from my allowance and summer jobs and bought a Panasonic all-in-one, which included a turntable, receiver, cassette deck, and matching speakers—my first stereo system.
In many ways, that Panasonic system was my favorite piece of audio gear ever. It wasn't the greatest-sounding stereo, but I didn't care. It was compact—the whole thing fit on a shelf near my bed—and had everything I needed. It was simple to use, and use it I did. I played along with drums through headphones and listened to records and tapes day and night.
Fast-forward 45 years, and the way we listen to music has profoundly changed. Though vinyl records are back in vogue and compact discs still abound, most music lovers have at least dabbled in digital music from web radio, streaming services, and file downloads. Many have gone all-in, jettisoning physical media altogether. I'm somewhere in the middle. I still love to spin vinyl and have a dedicated CD/SACD player, but I also have a large library of digital files, and I stream music from Amazon Music Unlimited. I'm not ready to give up traditional media, but I'm all for convenience too.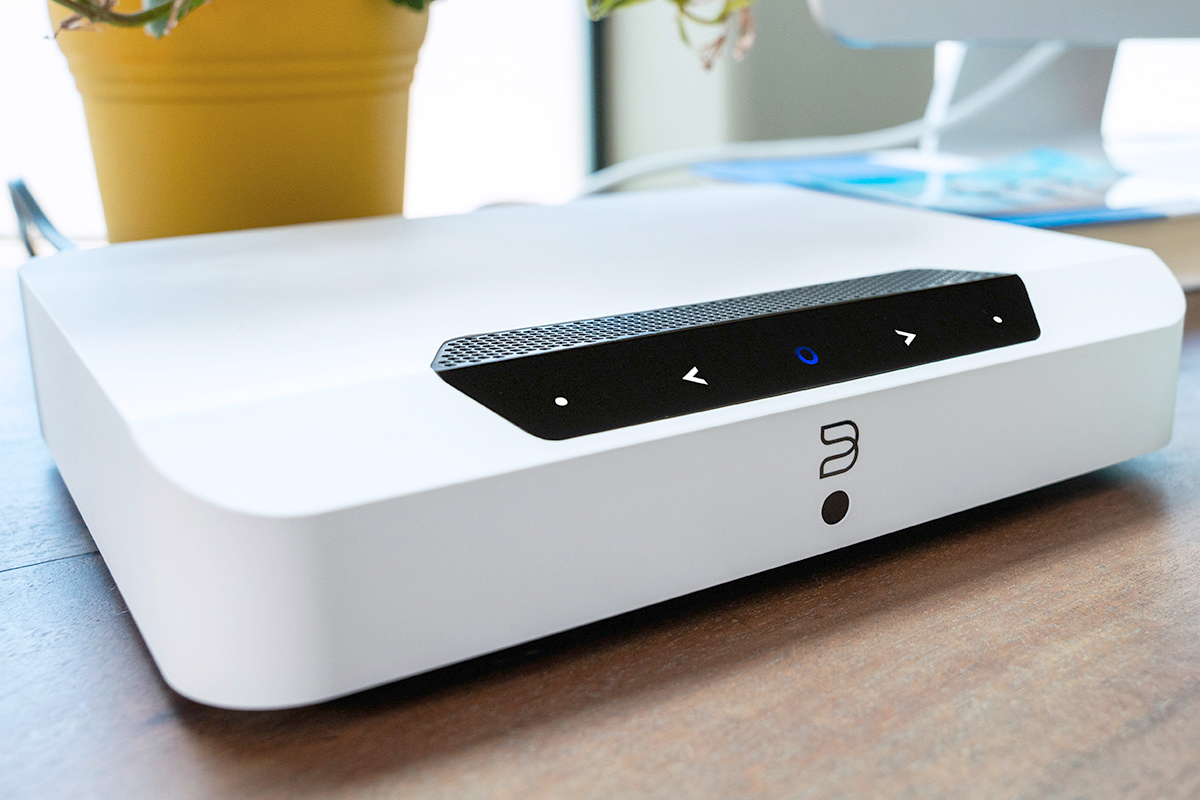 I was therefore keen to audition the Bluesound Powernode Edge ($649, all prices in USD) and get a taste of what today's streaming amps can do. Along with a factory-fresh unit, Bluesound sent its wireless Pulse Sub+ wireless subwoofer ($749), which lets you create a 2.1-channel setup using the Powernode Edge or the large, more powerful Powernode ($949).
Small, smart, and simple
Many music lovers dream of having a dedicated listening space with plenty of room for LPs, CDs, components, and accessories. Most of us, though, must compromise and tuck our components into a living room, a bedroom, or an office. In these small spaces the Powernode Edge shines. The multifunctional Powernode Edge combines a 40Wpc amplifier and network streamer into one compact unit. Measuring a modest 1.8″H × 8.6″W × 7.6″D and weighing just over three pounds, it's about the size of a hardcover book and can fit on a bookshelf. With the included four-way mounting bracket, you can also affix it to a wall. Two finishes are available: black and white. My review sample was black.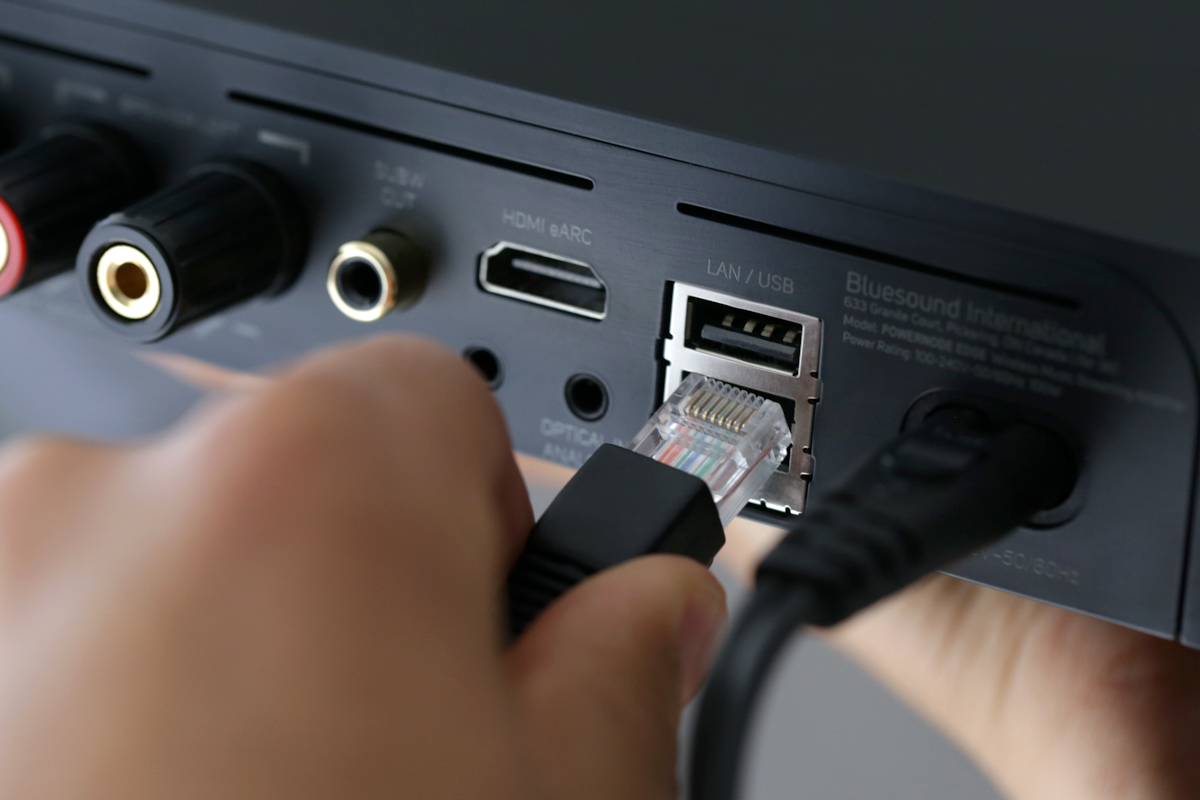 Along with Wi-Fi and Bluetooth connectivity, the Edge offers six hardwired connections: subwoofer out, IR in, HDMI eARC, optical/analog in, ethernet, and USB Type A. The HDMI eARC port is a nice option for folks who want to connect the Edge to a TV for a better sound than the built-in speakers. Throw in a sub for a 2.1-channel TV/audio setup. The Powernode Edge incorporates a Dolby Digital decoder, so you can create a 4.1-channel setup by using the Bluesound Pulse Soundbar for the front channels, the Pulse Sub+ for the subwoofer, and a pair of speakers driven by the Powernode Edge for the rear channels.
Like all Bluesound products, and a growing number of components from NAD and third-party licensees, the Powernode Edge works with the BluOS Controller app, which is available for Android, iOS, macOS, and Windows. The BluOS app comes with two free music services preinstalled: Radio Paradise and TuneIn Radio. The former is a lossless playlist-centric station that broadcasts four different mixes in either MQA or CD-resolution FLAC format—this is a fun way to discover new music. The latter is a portal to internet radio stations across the globe. You can tune in to classic rock from Botswana or folk music from Peru—and everything in between.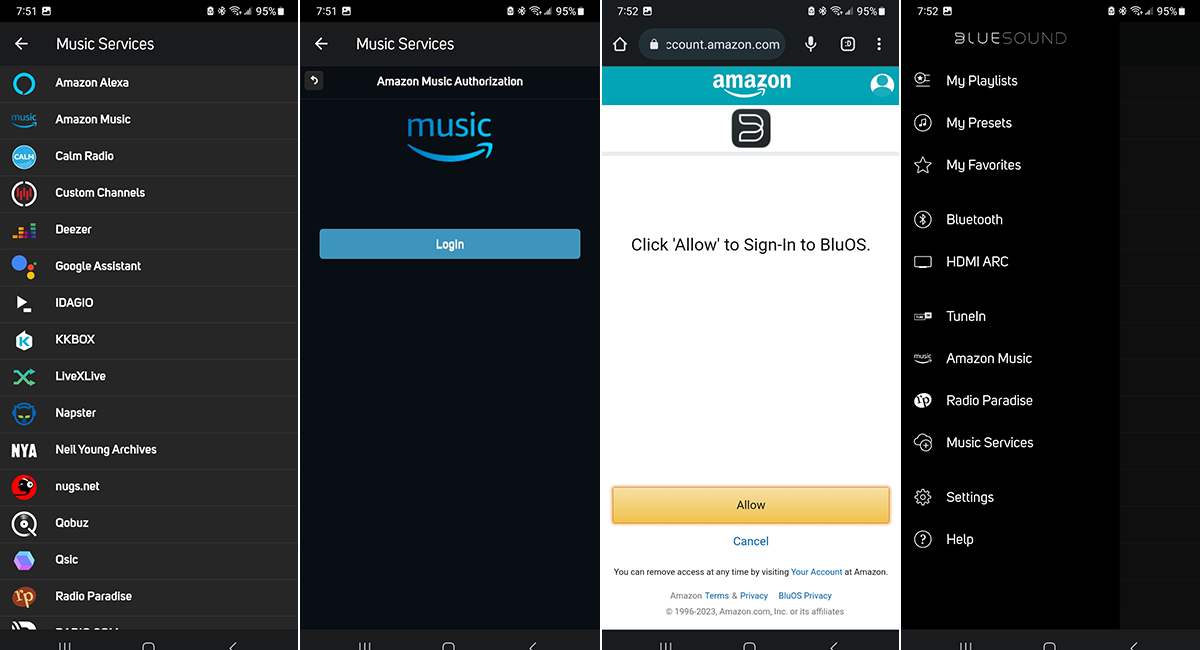 BluOS also has integrated support for more than 20 subscription-based music-streaming services, including several that deliver lossless and high-resolution audio. To play music from any of the supported subscription-based services, you simply select it from a menu of sources in the BluOS Controller app. (On initial selection, a login is required.) The Powernode Edge supports Apple AirPlay 2, so you can stream audio from any app on a Mac or an iOS device. Spotify Connect and Tidal Connect are also supported, so you can transfer playback from the apps for those services to the Edge. The Powernode Edge is also Roon Ready.
You can also access music libraries stored on a portable drive connected to the amplifier's USB port or on a NAS. This is where the desktop version of the BluOS Controller app comes in handy; it's easier to navigate a complex folder hierarchy on a larger screen. Configuring the Pulse Sub+ subwoofer is also easier with the desktop version.
You can throw just about any file type at the Powernode Edge, from lossy WMA, OGG, and MP3 files to uncompressed 24-bit/192kHz AIFF and WAV files. The Edge can perform MQA decoding and rendering for hi-rez streaming from Tidal and Radio Paradise.
Setup
The Powernode Edge comes with a bare-bones Quick Start Guide containing mounting and setup instructions and a description of connections. A detailed owner's manual is available online. The Powernode Edge is easy to set up, and the BluOS Controller app is very intuitive. The manual does not provide much information about the BluOS app, but extensive documentation about it is available in the support section of the BluOS website.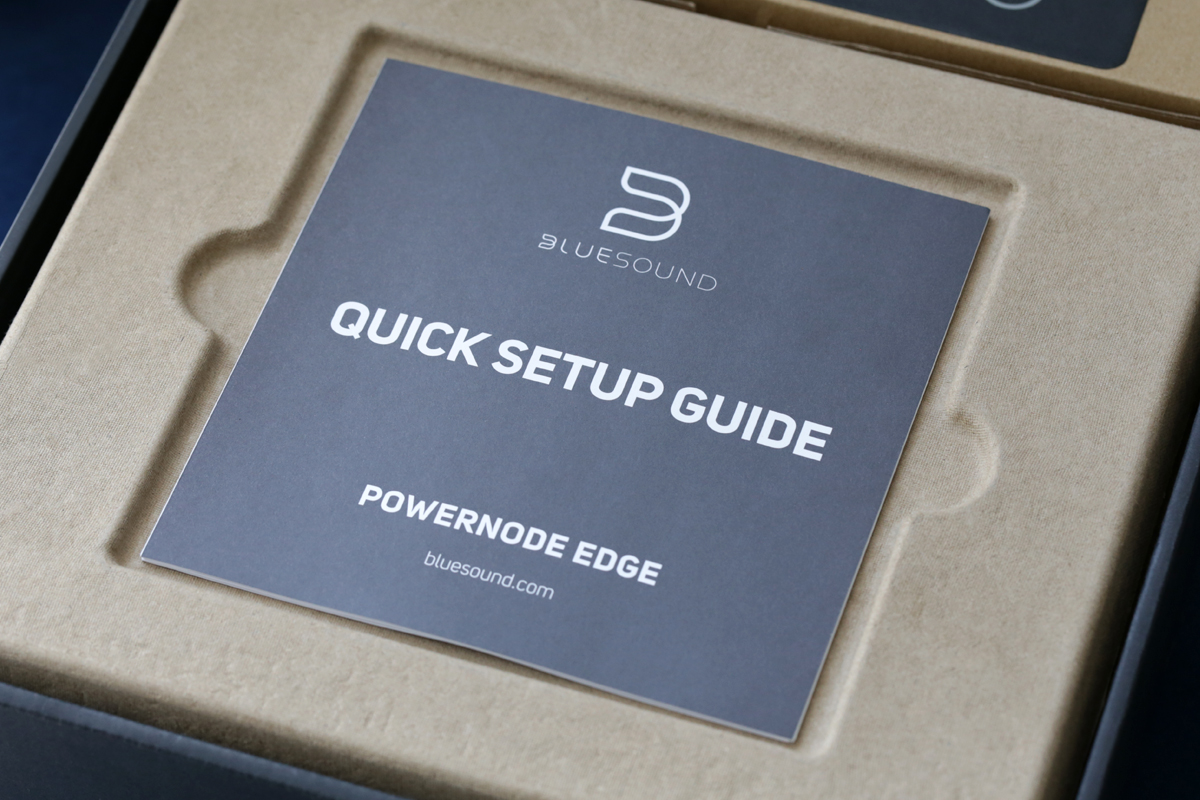 The Powernode Edge connects to your home network automatically when an ethernet cable is plugged into its LAN port. Connecting wirelessly is easily done through the BluOS Controller app. A few moments after the unit is powered up, it becomes ready for network connection in hotspot mode; a flashing green LED turns solid to indicate this status. Once ready, you launch the Add A Player wizard in the BluOS Controller app, which searches for and lists available players, and select the Powernode Edge. (This wizard is also used to connect the Pulse Sub+ subwoofer.) Next, you connect the Powernode Edge to your Wi-Fi network: on iOS, the BluOS app discovers it automatically; on Android, you use a wizard to select and log in to your Wi-Fi network. The status indicator turns blue once connection is established. This process may sound involved, but it took me less than five minutes to complete.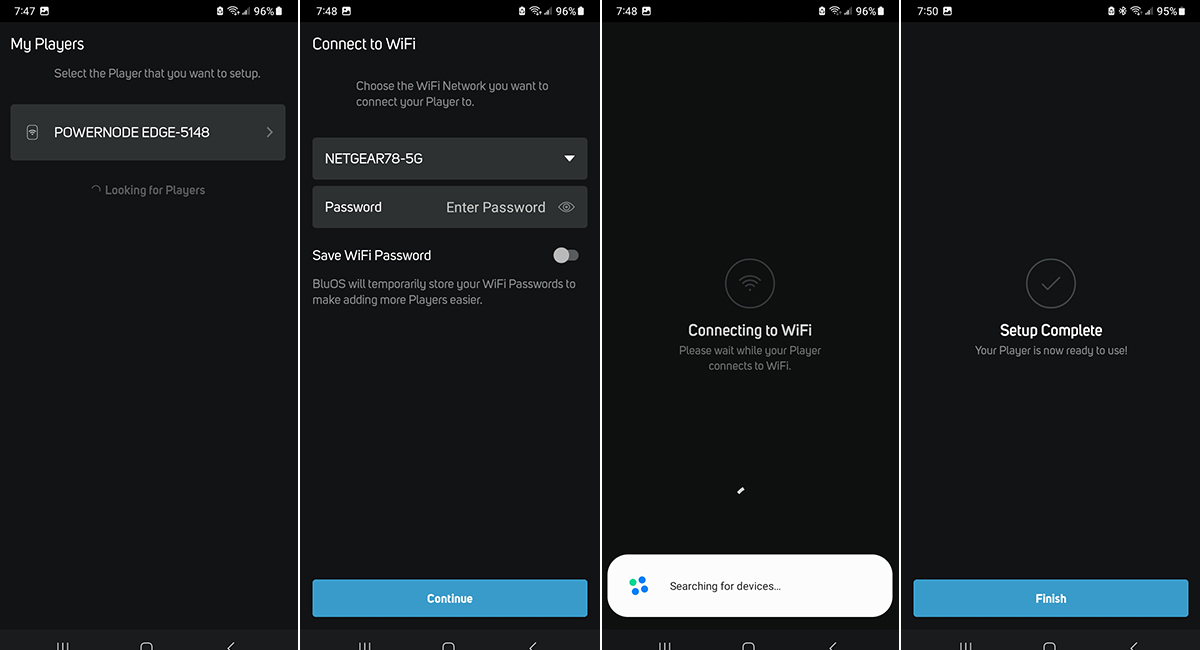 Most users will use the BluOS Controller app to control the Powernode Edge. (A third-party infrared remote control can be used to adjust volume or skip tracks.) For quick adjustments, the Powernode Edge has a capacitive touch panel that offers play/pause, mute, skip, and volume functionality.
Review system
I auditioned the Powernode Edge with a pair of Klipsch RP-160M speakers ($374 per pair) on 26″ homemade stands, connected to the Powernode Edge via Better Cables' Premium Anniversary Edition speaker cables. The speakers were 7′ apart with a slight toe-in, 28″ from the front wall, and 40″ from the side walls. My listening position was 7′ away in a 14′W × 16′D room.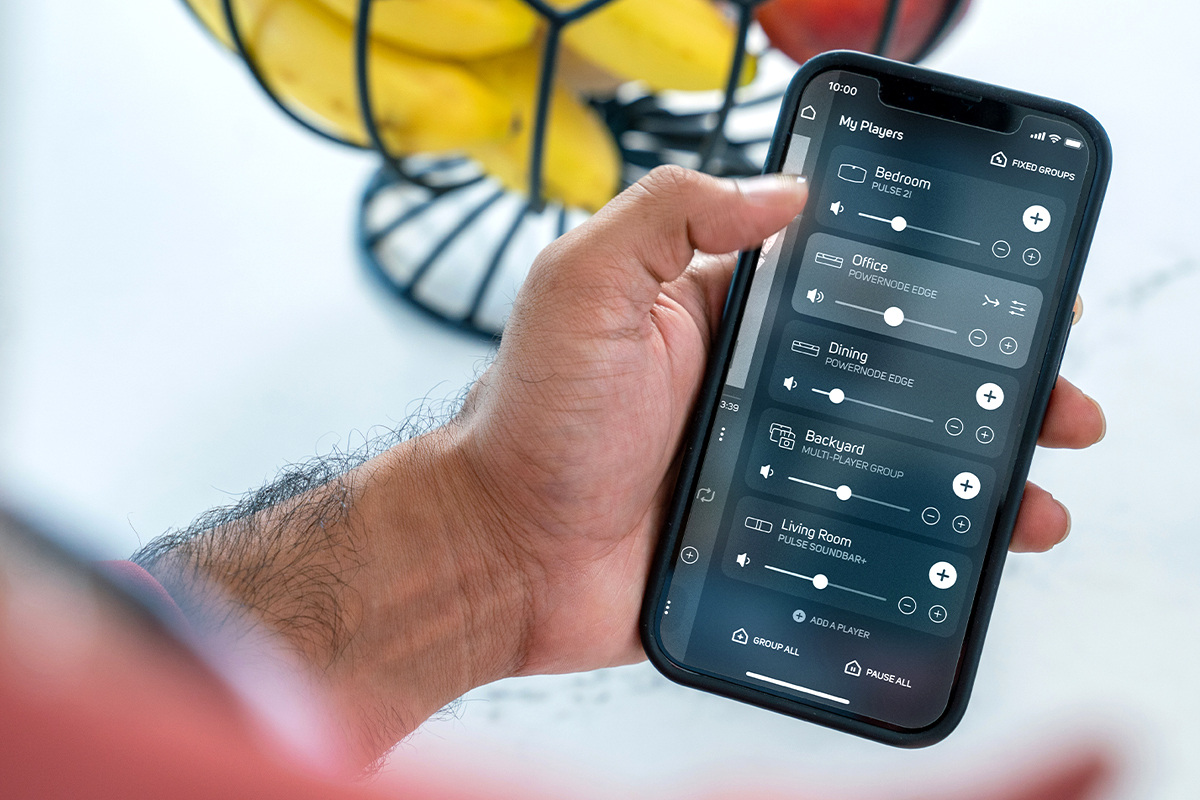 The Pulse Sub+ stood upright on its magnetic rubber feet about a foot to the right of the right-channel speaker. I began my audition with the Klipsches alone and engaged the Sub+ only later. I also listened through a pair of Sony WF-C500 wireless earphones, to assess the Powernode Edge's Bluetooth feature. A Yamaha CD-S1000 CD player spun my CDs for this audition.
Sound
I listened to many tracks, from CD-resolution to 24-bit/192kHz. Three adjectives kept coming to my mind: clean, open, and detailed. Also notable was the sense of space around instruments and vocals. The Powernode Edge amp won't shake the walls, but it was powerful enough for me. When pushed to its limits, the sound remained coherent but became a bit shrill.
"Beyond The Pale," from Procol Harum's 1974 album Exotic Birds and Fruit (16-bit/44.1kHz FLAC, Esoteric / Amazon Music HD) is as a flamboyant display of Gary Brooker's barrelhouse-like piano playing and B. J. Wilson's inimitable drumming. The Powernode Edge presented the music with depth, whether it was Mick Grabham's gritty guitar solo or Alan Cartwright's rolling bass lines. Brooker's vocals had an open airiness that sounded just right.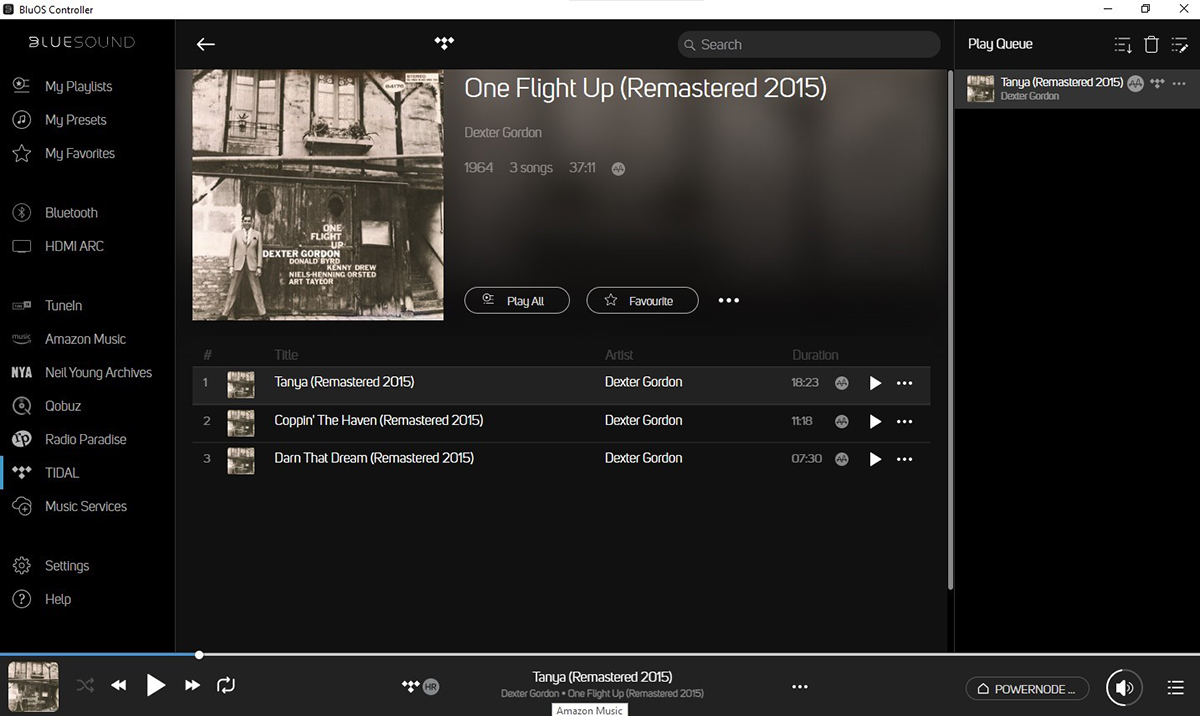 Turning to classic jazz, I cued up Dexter Gordon's 1965 release, One Flight Up (24/192 MQA, Blue Note / Tidal). The album opens with Donald Byrd's "Tanya," an infectious vamp stretching more than 18 minutes, where Gordon and his bandmates trade licks, and the musical spotlight, over Art Taylor's creative drum fills. The track is easygoing yet spiky and angular. The Powernode Edge did a good job delineating the instruments in the mix while maintaining overall coherence.
One of my favorite streaming sources among those supported by BluOS is Neil Young Archives. Young has long championed hi-rez audio, and a subscription to the site is a great way to hear his studio and live recordings, done his way, in the best possible resolution. I was excited to see his eponymous debut album available in CSG Reversed Mono. Haeco-CSG (Compatible Stereo Generator) was a process used in the late 1960s, during the transition from monophonic to stereophonic sound, to make stereo records compatible with monophonic playback gear. Young's label took the recordings for his first album and mastered them using CSG, but Young felt the result was "a disaster." They were ultimately able to reverse the CSG process and retrieve the original mono version of this album. In Young's words, "I think this version is closest to what the original master sounded like before the CSG process." Listening to this version of Neil Young (24/192 FLAC, Neil Young Archives) is a testament to the legitimacy of well-produced mono recordings. Jim Messina's bass and Young's guitar sounded fantastic here.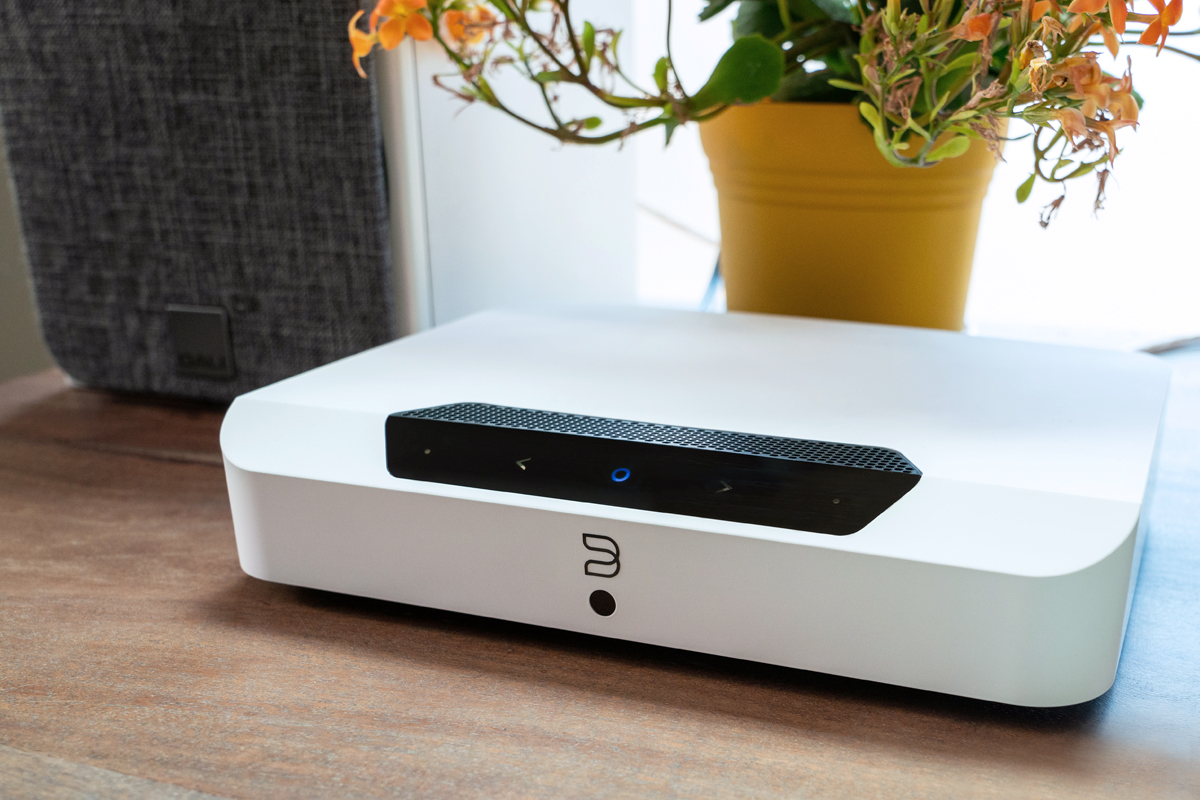 The Powernode Edge did particularly well with vocals. In "The Musical Box," from the Genesis album Nursery Cryme (16/44.1 MQA, Atlantic/Tidal), Peter Gabriel sings with real intimacy in the quieter opening minutes, his breath accenting the lyrics. When Gabriel and Phil Collins sang in harmony, I was right there with them.
Another demonstration of the Powernode Edge's aptitude with vocals was John Martyn's "So Sweet," from Glasgow Walker (16/44.1 FLAC, Craft Records / Qobuz). This track is an intimate affair, marrying a hypnotic groove to hypnotic vocals, with Martyn's voice bouncing from background to foreground. The music was delivered with a shimmer that drew me in and kept me there.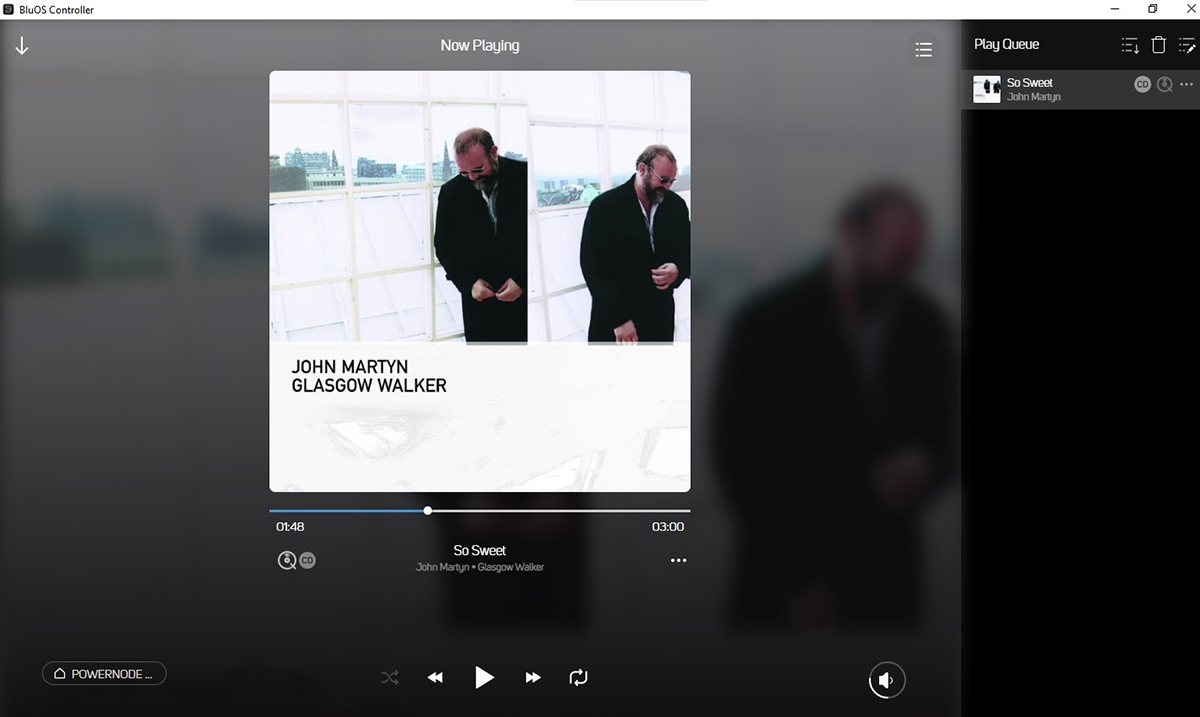 After listening to music from streaming services, I wanted to hear the Powernode Edge with optical media. To this end, I connected my Yamaha CD-S1000 SACD/CD player to the Powernode Edge's optical S/PDIF input using the supplied mini-jack-to-TosLink adapter and an optical cable.
The first disc I played was Budgie's 1975 release, Bandolier (Noteworthy Productions NP6). This 2004 CD remaster brings out the beauty and the beast of the Welsh power trio. The opener, "Breaking All the House Rules," was delivered with crunch, clarity, and excellent separation between instruments. Burke Shelley's bass punched with power and heft, Tony Bourge's guitar riffs had plenty of muscle, and Steve Williams's snare drum sounded like a snare drum, which is more than I can say about many other hard rock recordings. I planned to listen to just a track or two but ended up spinning the disc through twice in a row.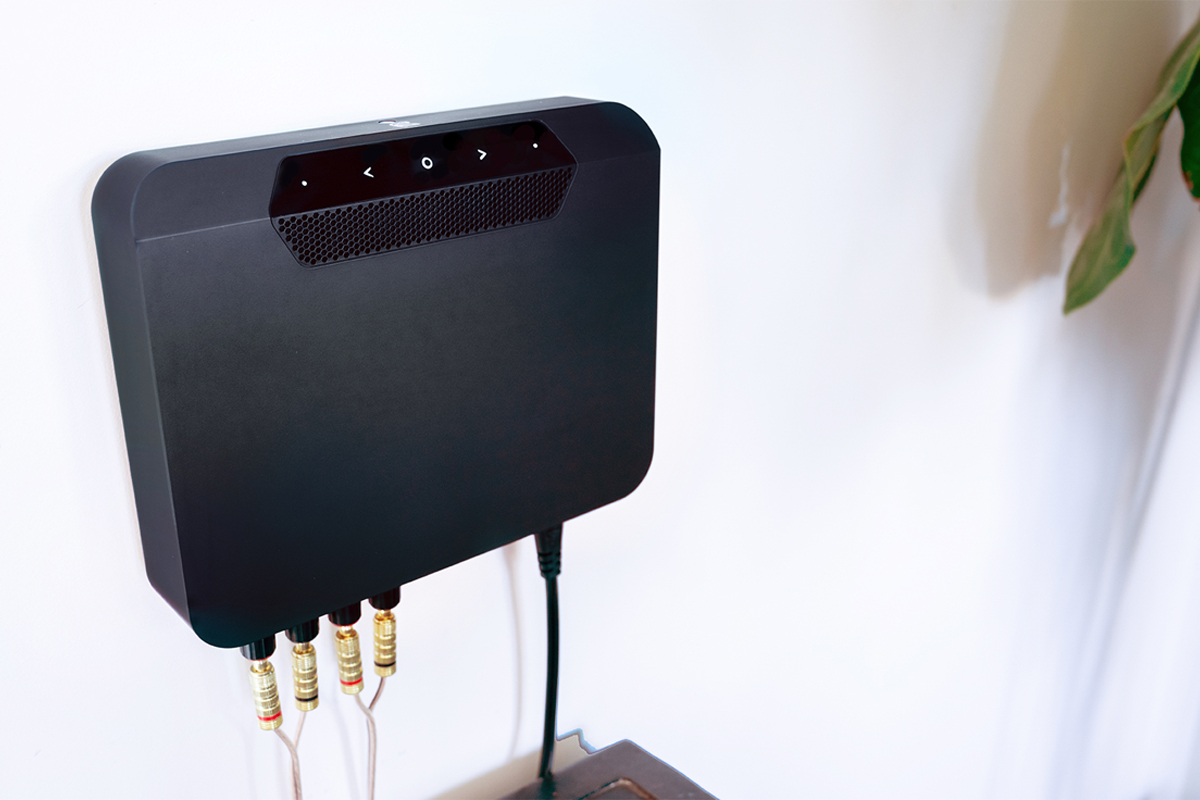 I next played Blue Öyster Cult's Curse of the Hidden Mirror, released in 2001 (Frontiers Music FR CD 1037). This album opens with a terrific track, "Dance on Stilts," a chunky rocker led by Buck Dharma's guitar and vocals. It's got a jerky, start-and-stop rhythm, punctuated by drummer Bobby Rondinelli's perfectly placed accents. The Powernode Edge delivered this track with a concert-like presence.
Listening to CDs with the Powernode Edge was as enjoyable as listening to it streaming.
Sub on
Having found the Powernode Edge so enjoyable in two-channel stereo, I was keen to listen to it with the Pulse Sub+ subwoofer in a 2.1 setup. The BluOS Controller app makes it easy to turn the subwoofer on and off and make adjustments on the fly. You can tweak crossover frequency, fine-tune subwoofer level, and adjust phase so that the sub and main speakers blend seamlessly. After some experimentation, I left the crossover point at the default 80Hz and bumped up the volume trim to around 4dB. This gave me a satisfying sound without overemphasizing the bottom end.
Deep Purple's "The Mule," from their 1971 Fireball (16/44.1 FLAC, Rhino-Warner Records / Qobuz), is a psychedelic-tinged masterwork driven by Ian Paice's repetitive drum pattern. While guitarist Ritchie Blackmore and keyboardist Jon Lord provide the trippy melodies, bassist Roger Glover plays a simple riff that mimics Paice's rhythm. Glover's part is subtle in the mix and so closely woven with the drums that it's easy to trick yourself into hearing the two instruments as one.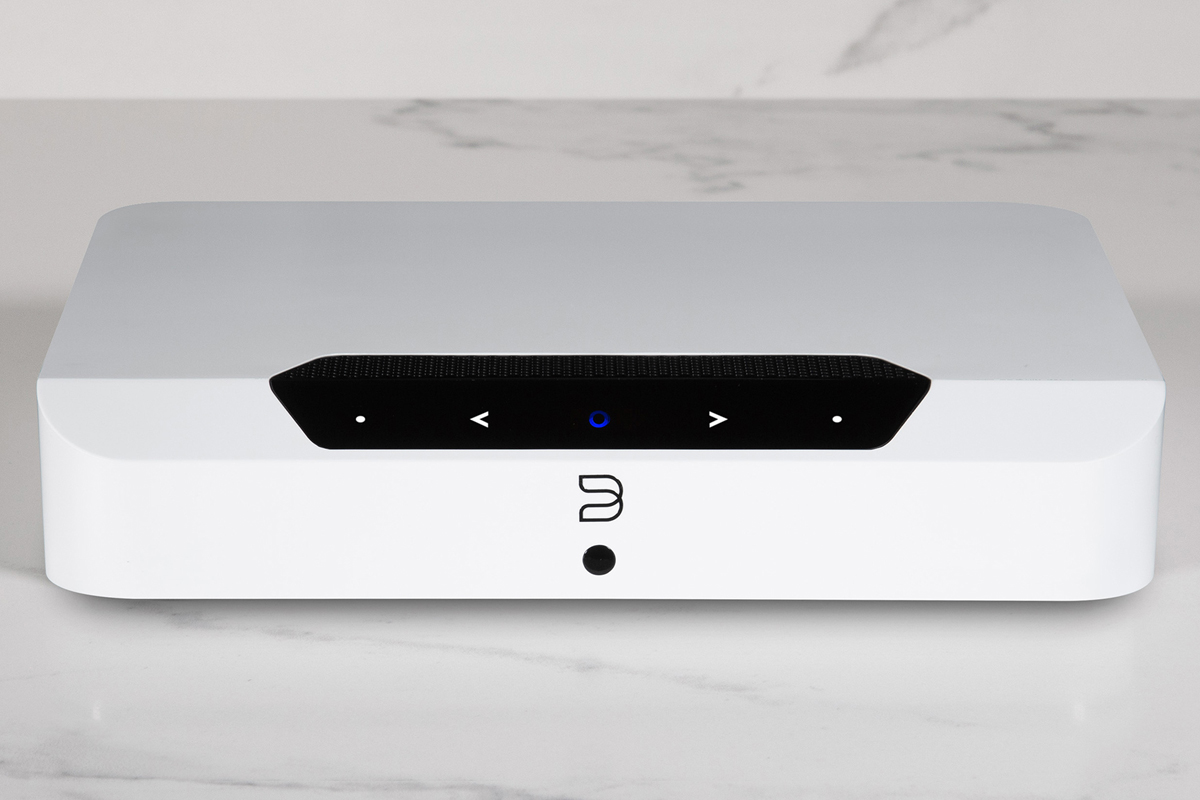 That perception changed when I turned on the Pulse Sub+. It was as if Glover's bass part had been doubled, with a lower octave now present, his instrument appearing more prominent in the mix. When I turned off the sub and listened to the same tune again, it sounded leaner. It wasn't unpleasant, but I preferred the sound with the subwoofer engaged—it was more rounded and complete and had greater depth and muscle.
On a few bass-heavy recordings, the extra oomph came at the cost of midrange clarity, even though I had made a conscious effort to set the sub's output so that it added to the mix without overwhelming it. On the infectiously peppy "Blue Tip," from The Cars' 2011 release Move Like This (16/44.1 FLAC, Hear Music / Tidal), with the subwoofer in the mix, the lower registers competed too much with Ric Ocasek's vocals. I preferred this track—this album—played through the Klipsches alone.
Bluetooth headphones
Pairing my wife's Sony WF-C500 Truly Wireless earphones with the Powernode Edge proved challenging. In theory, the process is straightforward: in the BluOS Controller app, you call the Bluetooth-headphones wizard from the context menu of the connected Powernode Edge, and then select your 'phones from the list of found Bluetooth devices. But the app seemed not to recognize the C500s; that blue circle kept spinning and spinning.
I rebooted the Powernode Edge, restarted my phone, paired the C500s to my phone and unpaired and then paired again—still no connection. And when the C500s finally did show in the list of found devices, I still couldn't get the app to stream to them. It took some 90 minutes before connection was somehow established. This was the only glitch I encountered with the Powernode Edge.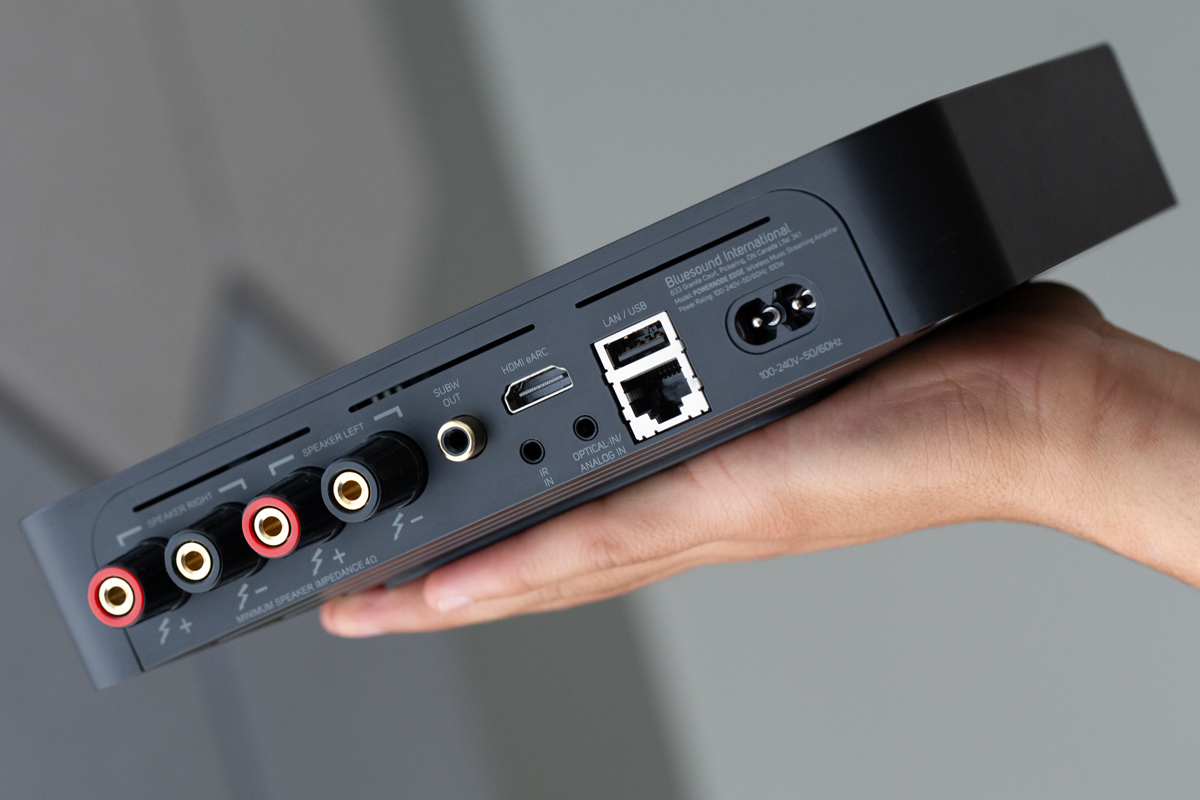 But after that, the Bluetooth connection remained robust. I was able to move throughout the house without losing connection. I did notice, though, that the volume dropped as I moved farther from the unit and needed to be adjusted to stay at the same level.
The first album I listened to through the wireless earphones was the Grateful Dead's Cornell 5/8/77 (24/96 FLAC, Rhino / Qobuz). This legendary concert includes what many argue is the greatest version of "Morning Dew" the Dead ever delivered. Jerry Garcia's snake-like guitar lines and Phil Lesh's loping bass lead the listener through a 13-minute musical journey full of peaks and valleys. The song builds to an astonishing climax that begins around the 11-minute mark. Guitars, drums, and keyboards twist into an intense whirling vortex that continues for nearly two minutes before Garcia brings it down with the plaintive closing lyric "I guess it doesn't matter anyway." The detail that emerged from the vast acoustic space in this recording with the wireless earphones was truly rewarding.
Final thoughts
As my time with the Powernode Edge drew to an end, I reflected on how much I enjoyed having this streaming amp as my companion. It made me want to listen to music and keep listening, to discover new tracks and revisit old favorites. At times, I wished the Powernode Edge had a bit more oomph to fully flesh out music at lower volumes, but considering its price and overall performance, this is more of a nit to pick than a sticking point.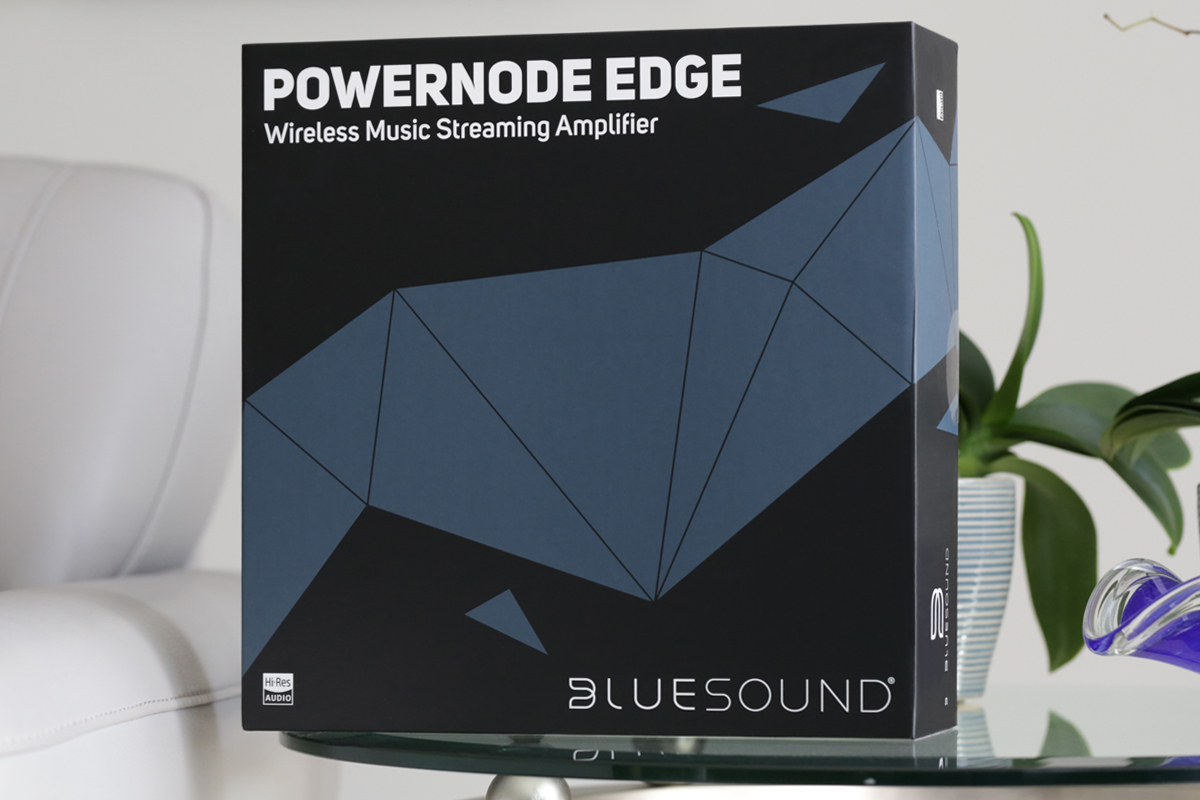 If you're looking for a streaming solution that offers excellent sound, ease of use, versatility, and just plain fun, the thoughtfully designed Powernode Edge deserves serious consideration. Place it in a small- to medium-size listening room, bedroom, or office; combine it with suitable speakers; then get ready to have a blast. I did.
. . . Todd Whitesel
This email address is being protected from spambots. You need JavaScript enabled to view it.
Note: for the full suite of measurements from the SoundStage! Audio-Electronics Lab, click this link.
Associated Equipment
Loudspeakers: Klipsch RP-160M.
Subwoofer: Bluesound Pulse Sub+.
Disc player: Yamaha CD-S1000.
Speaker cables: Better Cables Premium Anniversary Edition.
Earphones: Sony WF-C500.
Control devices: Samsung Galaxy A32 5G smartphone and Dell Inspiron 3847.
Network: Netgear Nighthawk R6400v2-AC1750.
Bluesound Powernode Edge Streaming Integrated Amplifier
Price: $649.
Warranty: One year, parts and labor.
Bluesound
633 Granite Court
Pickering, Ontario L1W 3K1
Canada
Phone: (855) 531-4666
Fax: (905) 831-6936
E-mail: This email address is being protected from spambots. You need JavaScript enabled to view it.
Website: www.bluesound.com