For many people, computers have become an indispensable tool for listening to music. Computers rip CDs, and play tracks using software such as Audirvana Plus, iTunes, and JRiver Media Center. They download high-resolution files from sites such as HDtracks, and stream music from services that include Spotify and Tidal. Linked via USB to a DAC, preamplifier, or integrated amp, a computer can function as a source component. Alternatively, in a networked setup, it can be tapped to direct the flow of data via Ethernet.
Now that I've made the case for using computers in hi-fi, I'll step back and say that some listeners might want to avoid them altogether. Is that scenario any longer even possible? Yes -- when using NAD's M50.2 digital music player ($3999 USD). Part of the company's Masters Series of components, the M50.2 was conceived, in NAD's words, to "replace the computer in computer audio with an audio device that would eliminate the fans, viruses, program conflicts, poor audio signal handling, and everything else that makes computers a bad idea for playing music."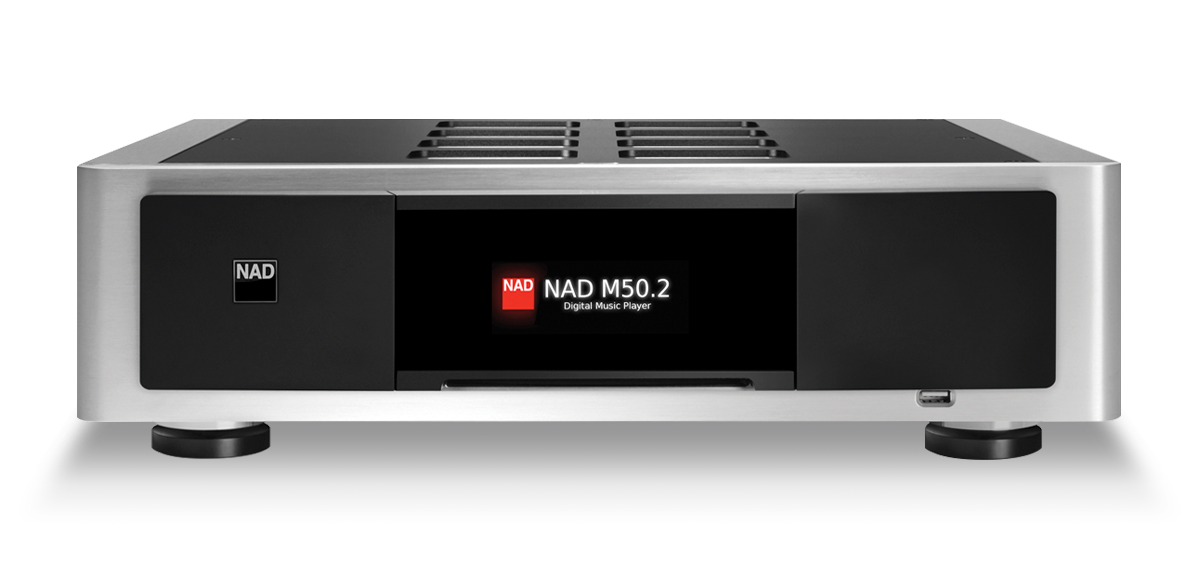 The M50.2 can both play CDs and rip them to a 2TB internal hard disk that's backed up in a mirrored RAID configuration. (RAID stands for "redundant array of independent disks.") Wi-Fi and wired LAN connections enable it to download metadata and artwork for ripped CDs, as well as stream music from services that include Deezer, Qobuz, Rhapsody, Spotify, Tidal, and TuneIn. You can also directly download to the M50.2 files of resolutions up to 24-bit/192kHz from HDtracks.com and HighResAudio.com -- no computer required. There's even aptX Bluetooth onboard, for streaming music directly from a smartphone or tablet.
While a selling point of the M50.2 is its ability to function as a standalone music-playback component, two key features connect it to the wider world of networked audio. The first is compatibility with the BluOS operating system. This lets you use the BluOS Android/iOS app for control (the M50.2 doesn't come with a remote-control handset), as well as browse streaming apps and select tracks stored on its built-in hard disk. It also lets you stream your collection of ripped CDs to NAD's Bluesound multiroom Wi-Fi speakers and players. The second feature is Roon readiness, which allows the M50.2 to function as a Roon endpoint when using the Roon music library/playback app. Since most Roon subscribers use it to manage a music library stored on a computer or NAS, I'm not sure how applicable this feature will be for the average M50.2 customer, but at least NAD has included it.
Like other Masters Series components, the M50.2 combines striking looks with substantial build quality. It has a brushed-aluminum case, a black front panel, and a sizable color touchscreen that displays album-cover art and can be used to browse stored CDs and control setup and playback. The disc slot is directly below the display, with a USB port at lower right. The M50.2 sits on four pointed magnetic feet, each foot paired with a corresponding "shoe" during installation.
The NAD's outputs include coaxial, optical, and AES/EBU digital connections, and an HDMI port that passes along PCM audio and mirrored video output of the front-panel display. It also has coaxial and optical digital and stereo analog RCA inputs, with analog sources converted to 16/48 PCM. Other jacks on the M50.2's rear panel are: one Type-B and two Type-A USB ports; Gigabit Ethernet, RS-232C, IR, and 12V trigger inputs; and a 12V trigger output. Lastly, there is one screw input terminal each for the included Wi-Fi and Bluetooth antennas.
Setup and use
Setting up the M50.2 was incredibly simple. I linked it to my home network using a power-line adapter, then connected it to the coaxial digital input on a Hegel Music Systems Röst integrated amp. After updating the BluOS app on my iPhone to the latest version, I selected the M50.2 as a player, and logged in to my Tidal account to enable streaming. I later switched to using Roon as my control app, which worked seamlessly with the M50.2 once the Roon core had detected the NAD on my network.
The process of ripping CDs to the M50.2 was similarly painless. I inserted a CD in the slot and a dialog window popped up in the BluOS app, asking if I wanted to play or rip the disc. After ripping some CDs, I found I preferred using the app for browsing and playback control over the M50.2's front-panel touchscreen, which could be pokey and unresponsive. I was disappointed that it didn't display cover art when streaming tracks from Tidal, though it did display the app's logo plus the artist, album, and track info. Also, the MQA logo popped up onscreen, alongside the blue dot that indicates authenticated delivery of the hi-rez content of MQA tracks streamed from Tidal Masters.
Sound
Listening to CDs stored on the M50.2's hard drive, I heard no differences in sound between those ripped files and the discs themselves. For example, in "Don't Let It Bring You Down," from Neil Young's Live at Massey Hall 1971 (CD, Reprise 43327), Young's acoustic guitar had the warm yet textured quality I'm used to hearing, while his reedy voice floated perfectly before me, front and center.
I then plugged a USB stick containing hi-rez files into the M50.2's front USB port and played "Empty Pages," from Traffic's John Barleycorn Must Die (24-bit/192kHz FLAC, Island/HDtracks). The bass and drums displayed a fantastic sense of drive, with Jim Capaldi's hi-hat and snare cutting through the mix in an engaging manner. Details like the grunt of Steve Winwood's Hammond organ also came through clearly, for a dynamic, present sound.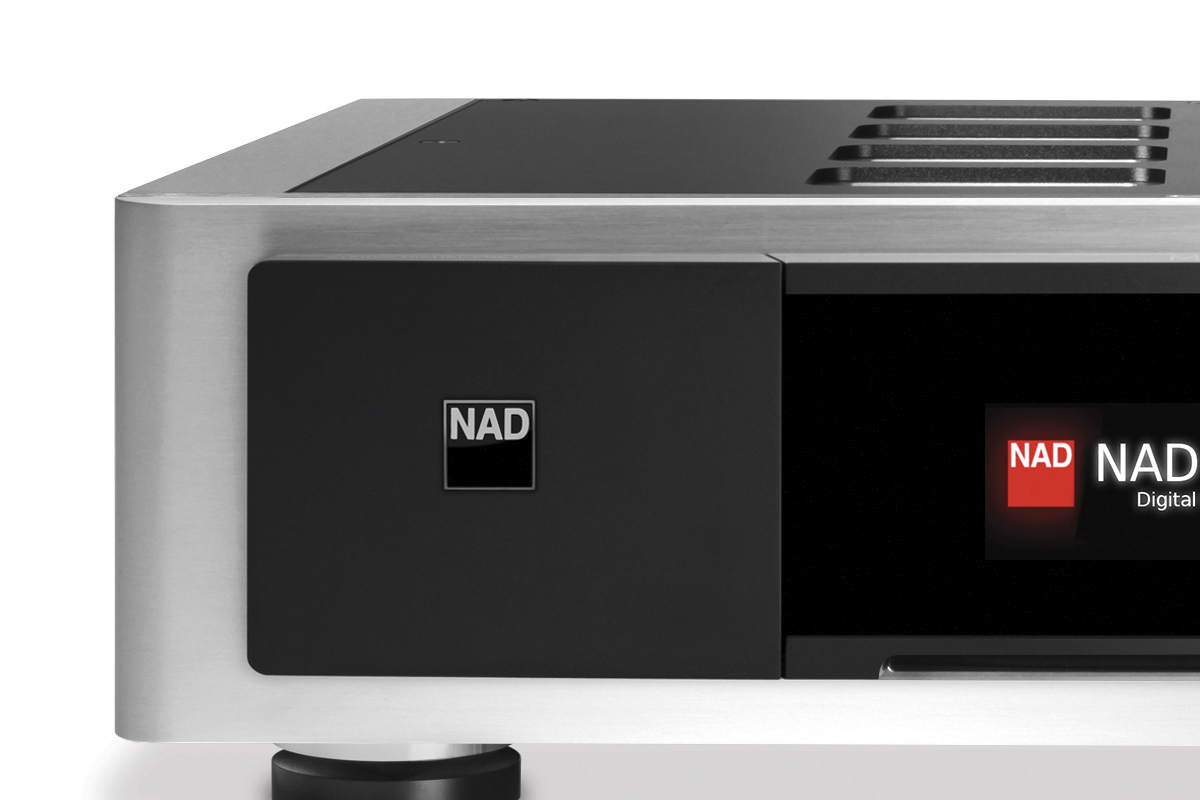 The M50.2 also functioned faultlessly as a streamer. As I listened to The Adoration of the Earth -- Spring Khorovod, from Part One of Stravinsky's The Rite of Spring, with Esa-Pekka Salonen conducting the Philharmonia Orchestra (16/44.1 FLAC, Sony Classical/Tidal), the NAD easily conveyed the movement's delicacy and thunder, from frothy woodwinds to hammered timpani. I was impressed by the swells of brass that cut vividly across the soundstage and created a realistic sense of the orchestra's size.
There might be some debate about the ultimate need for MQA, but I heard little to complain about when listening to the MQA'd "Chariot," by indie duo Beach House (24/44.1 FLAC, Sub Pop/Tidal). The sound was smooth and wide, Victoria LeGrand's voice merging with keyboards and guitar to create a pillowy cloud of sound. Even so, I could hear clear delineation of the vocal and instrumental layers in this dense, dreamlike track.
Comparison
Arcam's rPlay music streamer ($599) isn't as multipurpose as NAD's M50.2, but since both models function as streamers, I figured a comparison was in order. Listening to the Beach House track, I had a slightly better sense of foundation and bass heft with the NAD. I also noted finer rendering of voices and instruments in the wall-of-sound mix. These differences were more subtle than dramatic, however, and what I heard could have been due to the M50.2's MQA decoding -- a feature the rPlay lacks.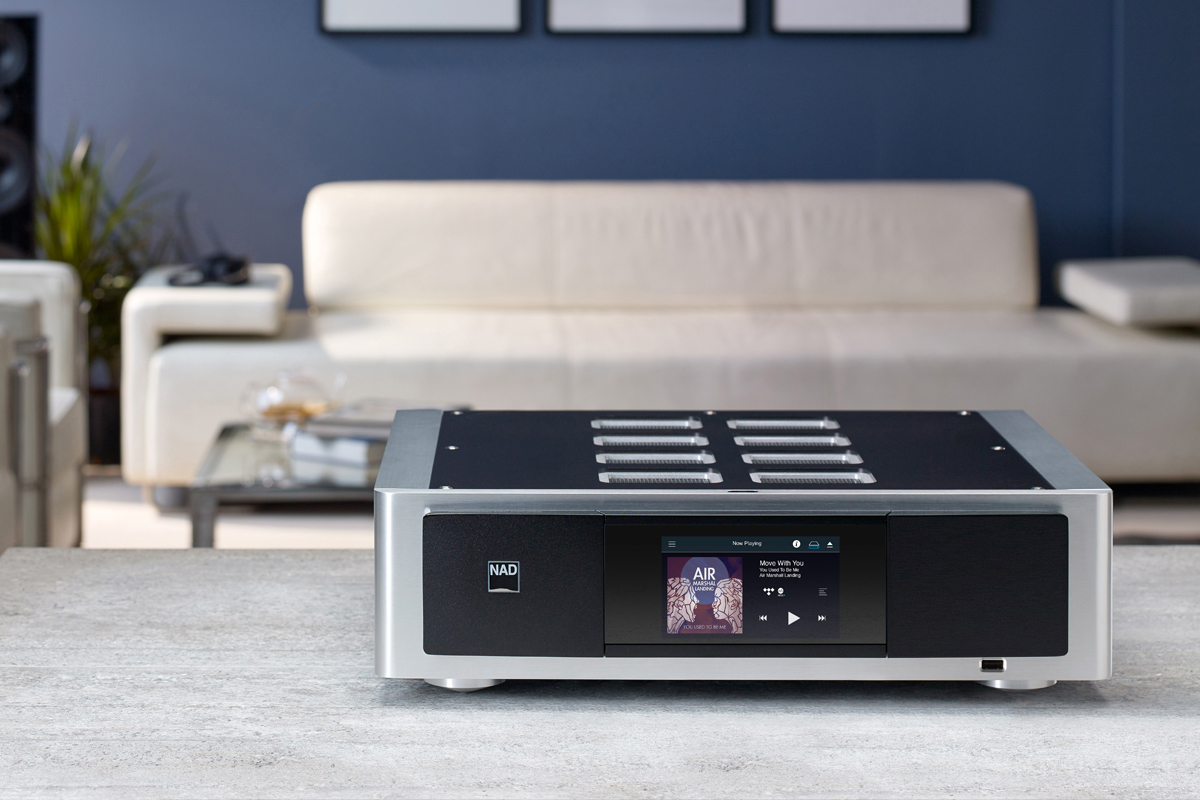 After streaming a non-MQA track -- "Woodstock," by jazz supergroup Hudson (16/44.1 FLAC, Motéma/Tidal) -- I was still left with the impression that the M50.2 delivered a slightly more vivid and engaging sound than the Arcam. Details like the crisp bite of John Scofield's electric guitar and the overtones of drummer Jack DeJohnette's cymbals seemed a bit more fleshed out with the NAD, while the sound of Larry Grenadier's double bass was even more full and powerful.
Conclusion
NAD's M50.2 is unique in accommodating listeners who'd prefer to keep their hi-fi systems computerless, while providing all the functionality you need for a computer-based, networked audio setup. Ripping CDs, and browsing them using NAD's BluOS app, couldn't have been more easy and intuitive. And the M50.2's Roon readiness and hi-rez streaming support make it the equal of many other components I've used to stream or access tracks with my MacBook Pro. Most important, the M50.2 sounds great, and it provides the high-end looks and build quality that audiophiles crave. It may not be the right solution for everyone, but those who embrace the M50.2 are certain to be satisfied.
. . . Al Griffin
This email address is being protected from spambots. You need JavaScript enabled to view it.
Associated Equipment
Sources -- Pioneer BDP-88FD universal BD player, Apple MacBook Pro, iPhone 6, iPad 2, Apple Music, Tidal, Roon
Speakers -- GoldenEar Technology Triton Five and Triton Two
Integrated amplifier -- Hegel Music Systems Röst
Speaker cables -- Nordost Purple Flare
Analog interconnects -- AudioQuest Victoria (RCA)
NAD Masters Series M50.2 Digital Music Player
Price: $3999 USD.
Warranty: One year parts and labor.
NAD Electronics
Lenbrook Industries Limited
633 Granite Court
Pickering, Ontario L1W 3K1
Canada
Phone: (905) 831-6333
Website: www.nadelectronics.com