Finding a perfect integrated amplifier isn't easy. While most now provide a USB input for hooking up a computer, many lack a wired Ethernet or Wi-Fi connection for streaming. Some integrated amps are compatible with AirPlay, and others are Roon Ready. Many provide a phono input for a turntable, but definitely not all.
Auralic's Polaris wireless streaming integrated amplifier ($3799 USD) comes remarkably close to providing all that I want in an integrated amp. Based on the company's upgradeable, Tesla quad-core hardware platform, the Polaris can decode almost any format you feed it, including up to 32-bit/384kHz PCM and DSD256 files -- it accepts them via Wi-Fi using Auralic's Lightning Streaming technology, which also offers features such as gapless and memory-cached playback. The Polaris has multiple USB ports for computer input and storage connections, and functions as a DLNA/UPnP renderer and Roon Ready endpoint. It also supports AirPlay and Bluetooth, and offers native streaming of Tidal, Qobuz, and Internet Radio.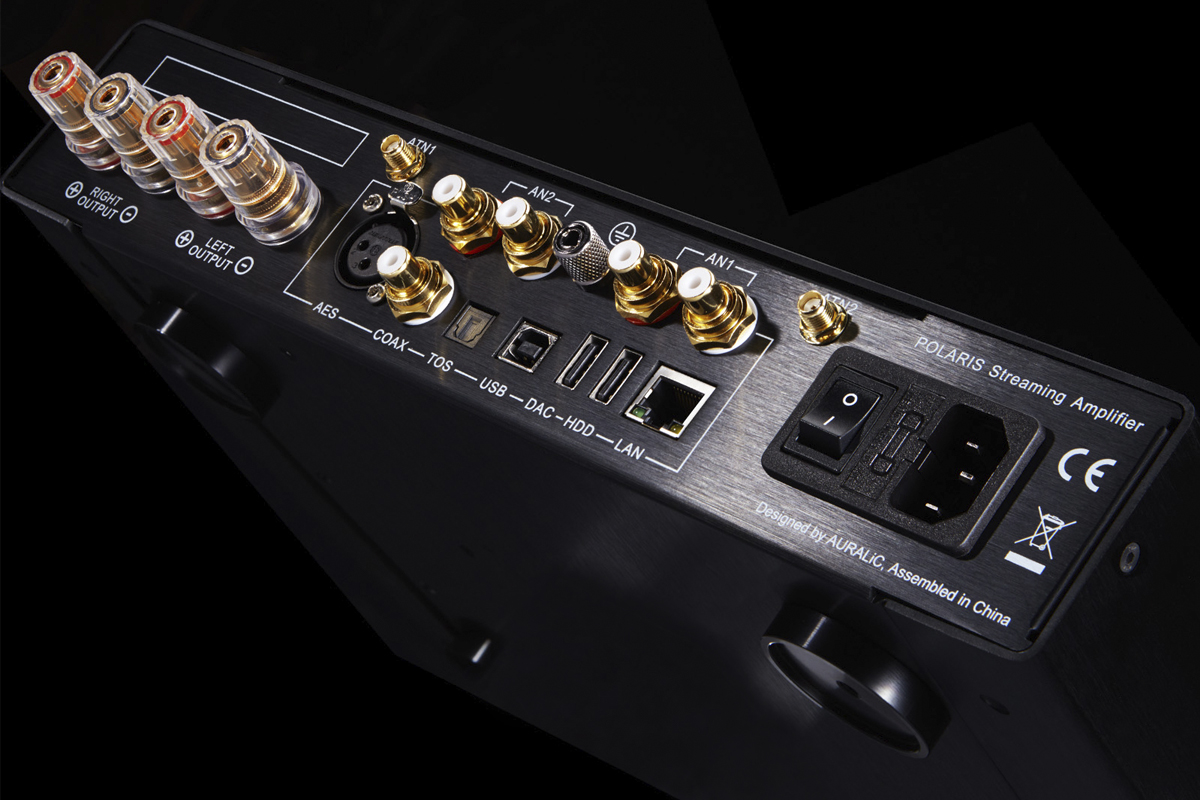 As if all that weren't enough, the Polaris's AES/EBU, coaxial, and optical digital jacks provide a complete range of input options for other sources. One of two multipurpose RCA analog stereo jacks can be configured as a moving-magnet phono or line stage input, the other as a line-stage input or preamplifier output. Other jacks include a USB DAC output, screw inputs for the Polaris's Wi-Fi antennas, and a LAN port for a wired network connection. If you've got something to plug in, the Polaris can take it. Speaker output connections are high-quality five-way binding posts.
The specified power output of the Polaris's Hypex UCD180 class-D amp module is 120Wpc into 8 ohms or 180Wpc into 4 ohms. Its ESS Sabre 9018K2M DAC chip benefits from a dual-frequency Femto master clock that separately handles recordings sampled at multiples of 44.1 and 48kHz, and is driven by its own low-noise power supply. The Polaris also provides multiple options of digital filtering derived from the Flexible Filter modes of its Vega digital audio processor.
Like many other class-D-powered integrated amps, the Polaris is small and light: 13"W x 2.6"H x 10.2"D and ten pounds. It's clad in a brushed-aluminum case with a large LED display that indicates source input, sampling rate, and volume selection. There's a USB port at the far right, and just to the left of that, in a recessed section, is a rounded knob -- also aluminum -- for adjusting the volume and navigating the menus. According to Auralic, the Polaris's hybrid volume control attenuates analog signal levels in 12dB steps, then passes control on to the DAC for fine adjustments, for lower distortion and wider dynamic range.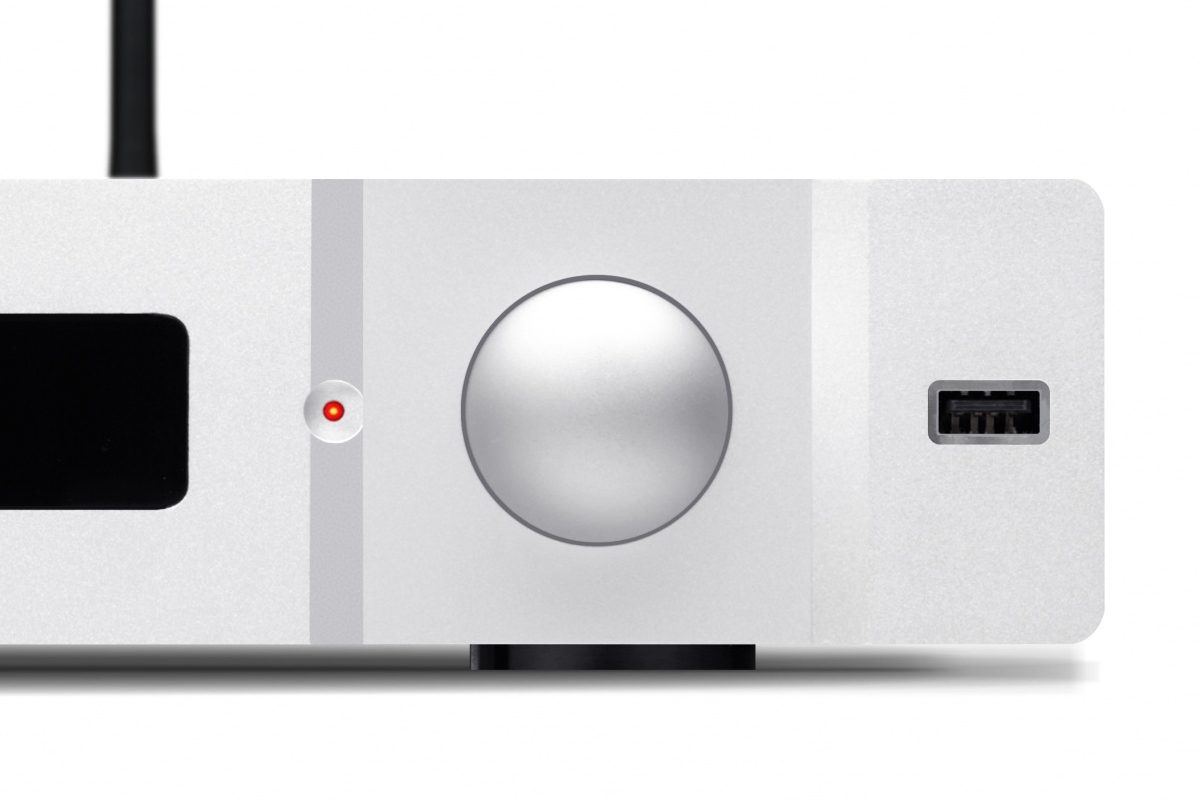 While the control knob works fine for switching inputs and zipping through setup menus, Auralic also includes a regular remote control. With small, rubbery buttons bunched close together and hard to tell apart, this plastic-cased handset isn't easy to love but gets the job done. IR range was good enough to bounce signals off my room's front wall, which meant that I didn't have to point it at my audio rack -- a gesture that requires me to swing my arm through a full 90°. The main thing that irked me about the remote was the iPod label for the streaming input button. Who still uses an iPod? But I'm being fussy . . .
Setup and use
Setting up the Polaris went without glitch. I connected my Pro-Ject Debut turntable and Pioneer Elite universal BD player to its analog inputs, and used the setup menu to configure the turntable input for phono-preamp operation. At first I ran an Ethernet cable from a powerline adapter to connect the Polaris to my network, but later tapped the Auralic's Wi-Fi capabilities for streaming. The media server software was Roon, running on a MacBook Pro.
When you first launch Auralic's Lightning DS app, you're asked to set up an account -- unusual, but not unheard of. That done, you can use the app to configure the Polaris for AirPlay, Bluetooth, and Roon; adjust DAC filter modes, channel balance, and output phase; and set up the Polaris as a DLNA renderer. The app's interface presented big cover art when playing tracks from Tidal, along with indicators for file format, sampling rate, and streaming bit rate. Though I ended up using Roon for most of my listening, I was mostly impressed with Auralic's app. The thing I didn't like was that it worked only for streaming; it couldn't be used for most regular control functions, such as switching the Polaris's inputs.
Sound
I began by playing CDs, switching between my Pioneer Elite player's coaxial digital and analog outputs to get a handle on the sound of the Auralic's DAC. As I listened to "Counterfeiters," from indie folk-rocker Meg Baird's Don't Weigh Down the Light (CD, Drag City 632), her otherwise wispy voice had better body and weight with the Polaris crunching the numbers, and I could more clearly hear separation between the acoustic, electric, and pedal steel guitars. The most striking difference delivered by the Polaris was a wider soundstage and better layering of sounds on it. The Pioneer, in comparison, sounded flatter and drier, with a narrower stage.
I streamed tracks to the Polaris via Roon using wired Ethernet, but switched to Wi-Fi after hearing an improvement in sound quality with a wireless connection -- a testament to Auralic's Lightning Streaming platform. As I listened to the title track of Roger Waters's Is This the Life We Really Want? (16-bit/44.1kHz FLAC, Columbia/Tidal) -- which sounds as if Waters is being backed by Radiohead (no surprise: the new album was helmed by Radiohead producer Nigel Godrich) -- his dry voice sounded both intimate and transparent as it floated dead center in the panoramic mix. Bass guitar was tight and tuneful, and the crisp orchestral flourishes added dynamic intensity to this dirge-like track.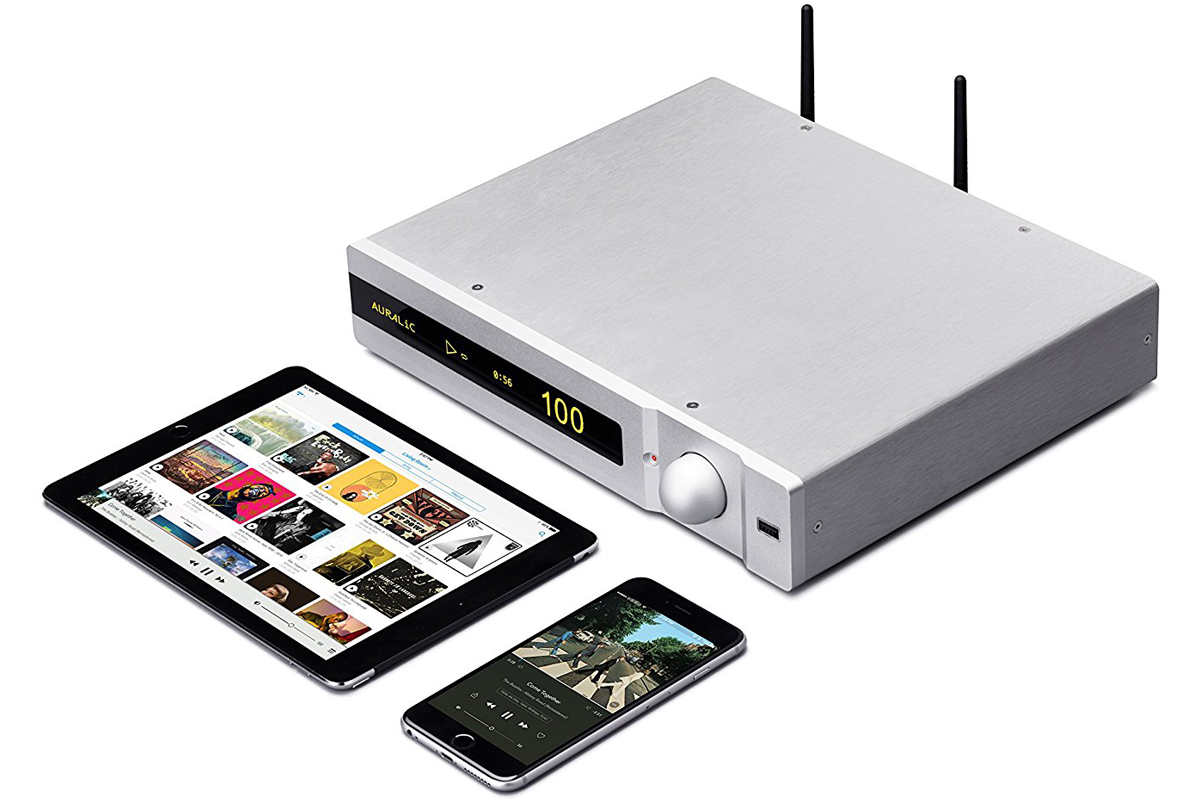 Up next was "A Murder of Thoughts," from Stubborn Persistent Illusions (16/44.1 FLAC, Constellation/Tidal), by Toronto-based post-rockers Do Make Say Think. The Polaris perfectly conveyed the dense yet ethereal sound of this instrumental -- the opposite of what I heard with the Waters track. Drums were huge and reverberant, and the squalls of guitar meandering in and out of the mix sounded clean and not even a bit edgy. I was most impressed by the warmth of the sound, and by the Polaris's ability to deliver atmosphere and detail in equal measure.
That combination of warmth, atmosphere, and detail carried over when I streamed "Turn Out the Stars," from the Bill Evans Trio's Some Other Time: The Lost Session from the Black Forest (DSD256, Resonance). Evans's piano sounded dynamic, with a clean tone. Eddie Gomez's double bass was liquid and full, and the decays of Jack DeJohnette's snare drum and cymbals were spacious and natural. Switching between the Auralic's filter modes didn't turn up major differences in sound quality -- the Precise mode sounded a bit more trebly than the Smooth mode I used for most of my listening. Auralic recommends Smooth as the "all-best" option for most music, and my listening experience supported that.
Spinning some Rickie Lee Jones to gauge the Auralic's phono performance, I listened to "Under the Boardwalk," from Girl at Her Volcano (10" EP, Warner Bros. 23805-1 B). I've streamed this track countless times from Tidal, and was interested to hear how the vinyl version, which I recently scooped up, would compare. With the Polaris, the background sounded quiet, and the soaring vocals and acoustic guitars had impressive texture. The dynamic snare-drum thwacks I'm used to hearing lacked a bit of power, but overall, the sound held up well compared with the Tidal stream.
Comparison
Though by this point I was already smitten with the Polaris's sound, I had to plug in Hegel Music Systems' Röst integrated amp (about $3000) to hear how it would compete. With the Roger Waters, the Röst conveyed the same dry vocal, tight and powerful bass, and dynamic orchestral accents. Waters's voice in particular had good presence, and stood out slightly more forward in the mix than through the Polaris.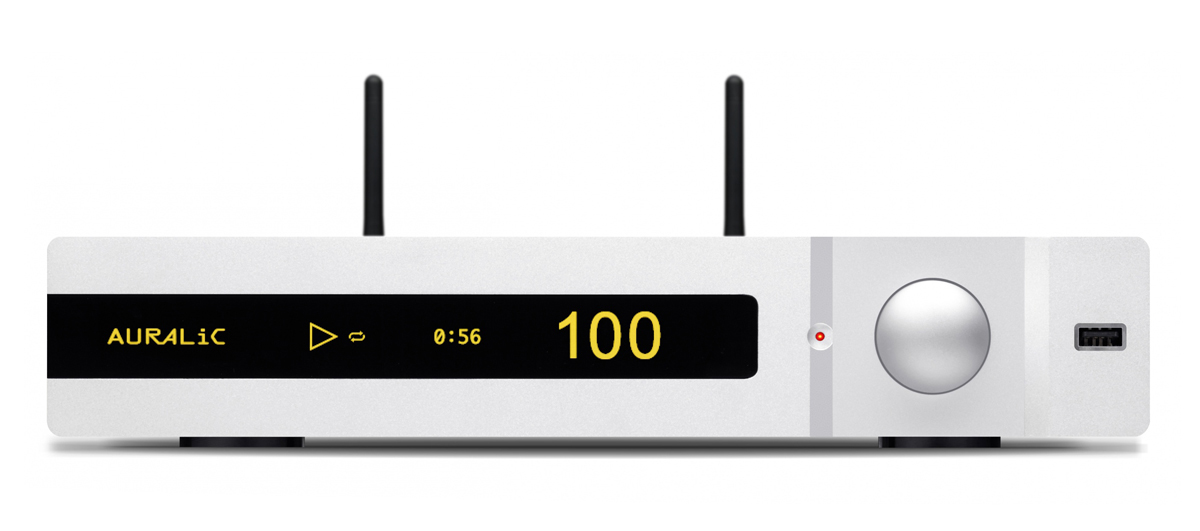 Differences between the Polaris and Röst were much more apparent when I played Do Make Say Think. The Röst, too, managed to deliver a dense, deep soundscape, but its sound seemed more neutral and less lush. The guitar tone in "A Murder of Thoughts" was similarly clean, but slightly crisper, with more treble energy, through the Röst. Given the Röst's ample dynamic capabilities, I wasn't surprised to hear it excel at conveying the simmering, powerful buildup of percussion near the end of this track. However, the Polaris had also impressed me with its handling of the same -- so in terms of bass control and dynamics, I'd have to call it a draw.
Conclusion
The pursuit of convenience usually requires compromise. When it comes to integrated amps, that can mean sacrificing some aspects of sound quality for specific streaming features, or the ability to connect, say, a turntable. But listening to Auralic's Polaris wireless streaming DAC-integrated, I didn't feel I was missing anything. Its menu of streaming capabilities and connectivity options are about as complete as I've seen on a hi-fi component. And its sound quality was equally impressive, blending power, detail, and warmth in equal measure. At $3799, the Polaris is hardly a budget option. But if your expectations for an all-in-one audio component are high, it won't disappoint you.
. . . Al Griffin
This email address is being protected from spambots. You need JavaScript enabled to view it.
Associated Equipment
Sources -- Pioneer Elite BDP-88FD universal BD player, Pro-Ject Debut turntable with Clearaudio Aurum Beta/S MM cartridge, Apple MacBook Pro, iPhone 6, iPad 2, Apple Music, Tidal, Roon
Speakers -- GoldenEar Technology Triton Five and Triton Two
Integrated amplifier -- Hegel Music Systems Röst
Speaker cables -- Nordost Purple Flare
Interconnects -- AudioQuest Victoria (RCA)
Auralic Polaris Wireless Streaming DAC-Integrated Amplifier
Price: $3799 USD.
Warranty: Three years parts and labor (with product registration).
Auralic (Beijing) Co., Ltd.
1F, Building No.17, 1A Chaoqian Road
Beijing 102200
China
Phone: +86 (0)10-57325784
Auralic North America, Inc.
711 Dawson Drive, Suite A
Newark, DE 19713
USA
Phone: (302) 314-5555
Website: www.auralic.com